June 2008
1 JUN | 7 JUN | 15 JUN | 21 JUN | 22 JUN | 28 JUN | 29 JUN
1 JUNE 2008: QUITO ULTIMAS NOTICIAS 15KM, ECUADOR
Photos: Armando Prado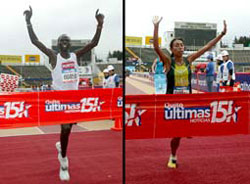 More than 15,000 runners flooded on to the streets of the Ecuadorean capital for 48th edition of the country's most important road race.
The top class field started at 08:30 and surpassed performances of the previous year but Ecuadoreans could not lift the gold in either category.
Africans filled the first two places in the men's race before local hero Franklin Tenorio came in third. Among the women Diana Landi managed a close second.
MEN:
1  Isaac KIMAIO                      KEN  46:13
2  Reta ALENA                        ETH  46:21
3  Franklin TENORIO                  ECU  46:43
4  Paulino C CANCHAI                 COL  46:49
5  Edilberto M HERNANDEZ                  47:07
6  Segundo O JAMI                         47:15
7  Lazarus NIAKERAKA                 KEN  47:45
8  Johnny A C VALASCO                ECU  48:04
9  Segundo G P ALVARADO                   48:26
10 Didimo A S MENDOZA                     48:34

WOMEN:
1  Karina P DELGADO                  MEX  53:37
2  Diana J L ANDRADE                 ECU  53:43
3  Emily SAMOEI                      KEN  54:23
4  Julia R LOPEZ                          55:08
5  Rosa A CHACHA                     ECU  55:25
6  Jeanneth N C TOAPANTA                  56:35
7  Martha I REY                      COL  57:05
8  Viviana R A ANDALUZ                    57:35
9  Marlene C A ZAPATA                     57:56
10 Katherine L V CAIZA               ECU  57:58
1 JUNE 2008: SAO PAULO INTERNATIONAL MARATHON, BRAZIL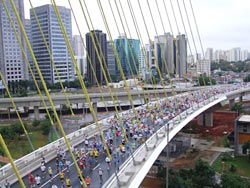 Claudir Rodrigues, from the south of the country, and Maria Zeferina Baldaia from the central state of Minas Gerais won the 14th edition of the race on a cool but humid morning (14°C, 68%). Over all events, including races of 4.5km and 10km as well as the marathon, 12.000 runners were entered.
A new course was used, with all races starting at the Avenida Roberto Marinho and the 10km and Marathon finishes in Ibirapuera Park.
After two years of Kenyan victories the race returned to Brazilian ownership. The winners were surprising though, as 32-year old Rodrigues was by no means the favourite but ran a tactically perfect race, only taking the lead in the final stages. The conditions seemed to help the shorter distance specialists and Luis Carlos do Cruzeiro in particular was pleased with second place in his first marathon.
Maria Zeferina Baldaia won the race in 2002 but had suffered a series of setbacks since then. Over the last year she has made a real return to form. "The cold made it hard" she said, and she was also uncertain of her recovery since running the Hamburg Marathon five weeks previously.
MEN:
1  Claudir RODRIGUES                 BRA  2:17:07
2  Luiz C FERNANDES DA SILVA         BRA  2:17:24
3  Marcos A PEREIRA                  BRA  2:18:09
4  Francisco B DOS SANTOS            BRA  2:18:25
5  Rotich CHEMLANY                   KEN  2:18:46
6  Adriano BASTOS                    BRA  2:19:26
7  Bento P DE OLIVEIRA               BRA  2:20:01
8  Charles K KORIR                   KEN  2:20:45
9  Elson A GRACIOLI                  BRA  2:21:37
10 Mauro T PINTO                     BRA  2:21:45

WOMEN:
1  Maria Z BALDAIA                   BRA  2:42:20
2  Edielza ALVES DOS SANTOS          BRA  2:42:44
3  Marizete M DOS SANTOS             BRA  2:43:28
4  Luzia DE SOUZA PINTO              BRA  2:46:05
5  Sueli A VIEIRA                    BRA  2:50:14
6  Andrea C DA SILVA RAMOS BENIT     BRA  2:50:34
7  Marluce Q F BORGES                BRA  2:51:39
8  Sandra DE LAS M R MOSQUE          ECU  2:55:50
9  Ilaine WANDSCHEER                 BRA  2:57:52
10 Denise P L CAMPOS                 BRA  3:00:24
1 JUNE 2008: ZELENOGRAD HALF MARATHON SPRANDI, RUSSIA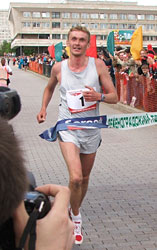 The 12th edition coincided with International Children's Defence Day and started with a mini-marathon (420m) for children under 10. The main race started 15 minutes later. Runners from 38 regions of Russia (of 84 in total) and from 10 other countries took part. Given the windy weather 28-year old Ljubov Morgunova who won this year's Rotterdam marathon (2:25.12) – preferred a tactical rather than a fast race. She ran with Zinaida Semenova (marathon best of 2:26:57) and only in the last few kilometres did Morgunova, who being fourth-ranked in the marathon this year will not be running the Olympic Games in Beijing, get away from Semenova in a relatively modest winning time. The men's struggle for victory was similar: only 300m from the finish line did last year's winner, 33-year old Sergey Lukin, accelerate ahead of 21-year old Ethiopian Asfaw Birhanu.
MEN:
1  Sergey LUKIN                      RUS  1:07:35
2  Asfaw BIRHANU                     ETH  1:07:39
3  Dmitriy LUKIN                     RUS  1:07:48
4  Ivan MOTORIN                      RUS  1:11:02
5  Aleksey ASHMANOVICHUS             RUS  1:11:19
6  Sergey SOROKIN                    RUS  1:12:18
7  Oleg KRAPIVIN                     RUS  1:13:23
8  Aboye ABOYE                       ETH  1:14:09
9  Timifey KJUN                      RUS  1:15:14
10 Vitaliy LOGINOV                   RUS  1:15:52
 
WOMEN:
1  Ljubov MORGUNOVA                  RUS  1:15:51
2  Zinaida SEMENOVA                  RUS  1:16:04
3  Rimma PUSHKINA                    RUS  1:17:19
4  Elena SOKOLOVA                    RUS  1:18:20
5  Irina KOZUBOVSKAIA                RUS  1:19:31
6  Zhanna MALKOVA                    RUS  1:19:54
7  Tatjana PEREPELKINA               RUS  1:21:53
8  Lidia VASILEVSKAIA                RUS  1:22:01
9  Natalia KAPUSTIAN                 RUS  1:24:56
10 Ekaterina KOKLEVA                 RUS  1:26:35
7 JUNE 2008: NIGHTMARATHON, ITALY
MEN:
1  Philemon M KIKERING               KEN  2:41:21
2  Ivano NOVELLO                     ITA  2:41:38
3  Andrea RIGO                       ITA  2:46:13
4  Joan VAIDA                             2:49:22
5  Daniele SANTARELLI                ITA  2:52:07
6  Enrico MARTELLO                   ITA  2:55:06
7  Marco GRIMAZ                      ITA  2:55:44
8  Andrea NELLI                      ITA  2:58:18
9  Vrhunc MATJAZ                     SLO  2:58:32
10 Alessandro MELIZZA                ITA  3:00:50
 
WOMEN:
1  Marija VRAJIC                     CRO  2:58:54
2  Cristina M ORLANDI                ITA  3:18:21
3  Alessia CARRER                    ITA  3:21:27
4  Marilena DALL'ANESE               ITA  3:24:12
5  Simonetta CASTELLI                ITA  3:25:28
6  Debora AIELLI                     ITA  3:28:35
7  Annalisa MINESSO                  ITA  3:29:35
8  Anna BOTTO SACCO                  ITA  3:30:06
9  Ana Marija KRUSIC                 SLO  3:32:31
10 Melania POLLEY                    ITA  3:39:35
 
HALF MARATHON
MEN:
1  Enrico VIVIAN                     ITA  1:10:10
2  Mohammed EL MANSOURI              ITA  1:10:10
3  Fabrizio PRADETTO                 ITA  1:10:18 
 
WOMEN:
1  Beth EBURNE                       GBR  1:20:35
2  Jennifer MORESI                   SUI  1:24:33
3  Francesc L CASTELLANI             ITA  1:25:14
15 JUNE 2008: COMRADES MARATHON, SOUTH AFRICA
Leonid Shvetsov raced into the Comrades Marathon record books by smashing Vladimir Kotov's eight-year-old "up" run record by 47 seconds. He won by 13:41, one of the largest margins in recent Comrades' history. Shvetsov becomes the first man since Bruce Fordyce to win in both directions and to own both records.
After the race, Shvetsov said "Last year I knew from a long way out that the record was in the bag, but this time it was touch and go." Jaroslav Janicki continued with his fine Comrades record taking his fifth top-10 placing, including a single win back in 1999.
First South African was Harmans Mokgadi in sixth, while 50-year-old Vladimir Kotov, who saw his course record evaporate while he was still out on the road, received some consolation with his eighth place. Willie Mtolo, who finished second way back in 1989, grabbed the final gold medal, much to the delight of the local Comrades fans.
The Russian juggernaut continued in the women's race. Once again the Nurgalieva twins dominated, with Elena collecting her third straight "up" run victory, five minutes short of her record set two years ago. In fifth, behind Tatiana Zhirkova and Marina Myshlyankova, Marina Bychkova completed Russian domination of the women's competition with her eighth top-10 placing. Pretoria's Riana van Niekerk ended Farwa Mentoor's long domination as first South African.
MEN:
1  Leonid SHVETSOV                RUS  5:24:46
2  Jaroslav JANICKI               POL  5:38:27
3  Stephen MUZHUINGI              ZIM  5:39:40
4  Oleg KHARITONOV                RUS  5:42:05
5  Grigory MURZIN                 RUS  5:43:08
6  Harmans MOKGADI                RSA  5:47:11
7  Mncedisi MKHIZE                RSA  5:48:19
8  Vladimir KOTOV                 BLR  5:48:44
9  Johannes OOSTHUIZEN            RSA  5:50:54
10 Willie MTOLO                   RSA  5:53:38

WOMEN:
1  Elena NURGALIEVA               RUS  6:14:38
2  Olesya NURGALIEVA              RUS  6:15:53
3  Tatyana ZHIRKOVA               RUS  6:17:46
4  Marina MYSHLYANOVA             RUS  6:30:48
5  Marina BYCHKOVA                RUS  6:38:03
6  Riana VAN NIEKERK              RSA  6:43:32
7  Maria BAK                      GER  6:53:34
8  Farwa MENTOOR                  RSA  6:59:42
9  Carol MERCER                   RSA  7:09:38
10 Davera MAGSON                  RSA  7:10:11
15 JUNE 2008: LAGUNA PHUKET INT'L MARATHON, THAILAND
MEN:
1  Stephen PAINE                     AUS  2:37:52
2  Brent C ROEGER                    USA  2:41:57
3  Wu YUNG-FA                        TPE  2:44:42 
4  Chadarak CHAIKAMJORN              THA  3:02:43
5  Hiroshi KOGANE                    JPN  3:05:38
6  Seijiro SATAKE                    JPN  3:09:42
7  Niwat SOMJIT                      THA  3:12:40
8  Fong Chi MAN                      CHN  3:14:37
9  Seehanart NGAOSRI                 THA  3:16:40
10 Jarae JEARRANAI                   THA  3:19:21

WOMEN:
1  Angela LOUISE STEVENS             AUS  3:14:17
2  Peta-Jane HARTHEN                 AUS  3:35:32
3  Miho MIYASHIRO                    JPN  3:40:18
4  Premchit NARULA                   THA  3:45:31
5  Kim Joanna ISAAC                  GBR  3:53:05
6  Chie SANO                         JPN  3:58:11
7  Cindy Kin-Mi TSUI                 CHN  3:59:54
8  Jacqueline L PRINSLOO             RSA  4:01:49
9  Pen Chun LIEN                     TPE  4:03:47
10 Tsurumi YUKIKO                    JPN  4:17:38

HALF MARATHON
MEN:
1  Stefano PASSARELLO                ITA  1:13:26
2  Niwat OITHIP                      THA  1:19:30
3  Sitti Pong CHANGLAI               THA  1:23:36
 
WOMEN:
1  Nicola GREEN                      GBR  1:34:51
2  Emily WOODFIELD                   GBR  1:36:18
3  Kerrie Elizabeth EDWARDS          AUS  1:40:57
21 JUNE 2008: MIDNIGHT SUN MARATHON, NORWAY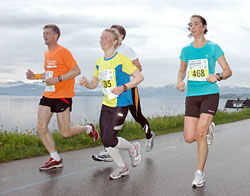 Kiprotich Samwel Chepno, running in Norway for the first time in his life, took a commanding win over last year's winner David Kanyari. He was surprised at how good the running conditions were so far north (70 deg N). There was some rain before the start, but only a light breeze and a temperature of about 9°C during the race.
This 19th edition of the race sold out, with 500 runners in the marathon field. In all events (including half marathon, 10km and fun run) there were 2850 runners from 44 different countries, with 217 of these coming from the UK.
MEN:
1  Kiprotich Samwel CHEPNO          KEN  2:23:14
2  David KANYARI                    FIN  2:29:49
3  Tatu AIRISNIEMI                  FIN  2:33:57
4  Andrew DAVIES                    GBR  2:37:52
5  Jens-Kristian BERG               NOR  2:38:42
6  Saegrov LEIF                     NOR  2:44:59
7  Gerry HOGG                       GBR  2:50:21
8  Mark BRALEY                      GBR  2:52:50
9  Charles CHRISTIANSEN             NOR  2:55:06
10 Andrea GALIGANI                  ITA  2:57:36
 
WOMEN:
1  Mona RYDLAND                     NOR  3:17:51
2  Merete ERGA                      NOR  3:22:54
3  Brenda O DONAGHUE                IRL  3:25:02
4  Priska VON BUEREN                SUI  3:26:59
5  Maria NORDFJELL                  NOR  3:28:42
6  Kate MESSENGER                   GBR  3:29:21
7  Wenche DORUM                     NOR  3:33:21
8  Martinal FOEIDL                  ITA  3:34:00
9  Ursula HOPFNER                   GER  3:35:50
10 Tomoyo FUGIWARA                  GBR  3:38:34

HALF MARATHON:
MEN:
1  Morten SKARSTAD                  NOR  1:06:59
2  Bernt MUSHOM                     NOR  1:16:42
3  Audun Domaas PEDERSEN            NOR  1:18:19

WOMEN:
1  Manuela KRAMER                   GER  1:26:21
2  Ruth CLIFTON                     GBR  1:29:28
3  Berit Marie SKORPEN              NOR  1:29:30
22 JUNE 2008: SCOTIABANK VANCOUVER HALF MARATHON, CANADA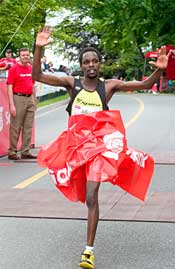 Moses Macharia cruised to a comfortable victory ahead of compatriot Josephat Ongeri, while 24-year old Florence Jepkosgei had an even easier time of things in taking the women's title more than 3 minutes ahead of Calgary's Lisa Harvey. Conditions were good for running, with overcast skies and a temperature of 12°C at the 07:00 start although some stiff breezes and humidity mitigated against really-fast times. A record 4,220 participants took part in this 10th Anniversary edition, from 7 Canadian provinces, 38 American states, and 24 different countries. Another 500 took part in the accompanying 5km fun run, helping to raise $200,000 for 10 local charities.
Macharia and Ongeri took charge from the start, going through the first kilometre in 3:04, with Toronto's Danny Kassap being the only Canadian to hang onto them. Ongeri made a move between 4-5km, and from there Macharia and Ongeri matched strides through 9k. Turning onto Marine Drive for the precipitous downhill to Spanish Banks, Ongeri threw in a 2:44 kilometre, to pass 10k in 30:24 at the bottom of the hill. Macharia stayed close, looking very comfortable, and then pressed his case on the short, sharp rise from Jericho Beach up to West 4th. Ongeri struggled on the incline, and by 12km he was 20m down - a gap he was never able to close. Macharia passed 15km in 45:51, taking the occasional glance back, as he cruised passed Kits Beach, over the Burrard Bridge, and down Pacific Avenue to the finish line in Vancouver's world-famous Stanley Park. Ongeri finished 25 seconds back, and Danny Kassap held onto third, and first Canadian, in a disappointing 67:26 - well off the 64:03 he ran for second last year.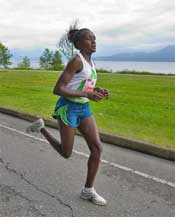 Florence Jepkosgei was never challenged in the women's race, leading from start to finish. The second-youngest of 9 children from Eldoret, she was pleased to have an easy win for her 10th and final outing of her Spring season in North America, before returning home on Wednesday. The $1500 she takes with her from Vancouver, will go towards school fees for her sisters' children.
Behind Lisa Harvey Milton in second, Ontario's Josiane Aboungono and Whistler's Kristina Rody had a great see-saw battle with Aboungono finally prevailing. British Columbia has always had a very strong Masters running scene. Coquitlam's Nancy Tinari, at 49 years of age, placed fifth overall while on the men's side Louis Philippe Garnier of Montreal, fought off a West coast pack for the victory in 1:13:08.
MEN:
1  Moses MACHARIA                    KEN  1:04:50
2  Josephat ONGERI                   KEN  1:05:15
3  Danny KASSAP                      CAN  1:07:26
4  Jim FINLAYSON                     CAN  1:07:50
5  Todd HOWARD                       CAN  1:09:15
6  Mark BOMBA                        CAN  1:09:51 
7  Amor DEHBI                        CAN  1:09:54
8  Graeme WILSON                     CAN  1:11:29
9  Paul CHAFE                        CAN  1:12:14
10 Steve MURENBEELD                  CAN  1:12:54
 
WOMEN:
1  Florence JEPKOSGEI                KEN  1:14:04
2  Lisa HARVEY                       CAN  1:17:29
3  Josiane ABOUNGONO                 CAN  1:20:27
4  Kristina RODY                     CAN  1:20:31
5  Nancy TINARI                      CAN  1:21:03
6  Natasha FILLIOL                   CAN  1:24:11
7  Joan MACGRATH                     CAN  1:24:40
8  Heather GALLAGHER                 CAN  1:26:36
9  Laura DEMUNAIN                    CAN  1:26:42
10 Helen RITCHIE                     CAN  1:28:03
22 JUNE 2008: MARATON DE QUITO, ECUADOR
MEN:
1  Leonso Jimenez CHITAN          COL  2:29:30
2  Edgar Chancusiq LINARES        ECU  2:30:24
3  Claudio Ramos NUNEZ            ECU  2:31:44
4  Antonio Almache CONDO          ECU  2:33:43
5  Cesar Wilson CAMACHO           ECU  2:34:07
6  Bayardo BURBANO                ECU  2:35:10
7  Milton ARQUELLO                ECU  2:35:43
8  Jose Francisco ARANGO          ECU  2:36:16
9  Patricio DE LA CRUZ            ECU  2:36:17
10 Meneses WASHINGTON             ECU  2:37:39

WOMEN:
1  Alicia Gabriela CEVALLOS       ECU  2:55:12
2  Nancy ROSERO                   ECU  2:59:50
3  Olga TABLA GOMEZ               COL  3:12:18
4  Nancy OSORIO NARANJO           ECU  3:17:21
5  Ma.Carmen CURICHO              ECU  3:22:19
6  Patricia ASCUNTAR              ECU  3:26:29
7  Ma.Acuena PATINO               ECU  3:26:46
8  Herlinda IBARRA                ECU  3:26:50
9  Narcisa Trujillo RUANO         ECU  3:27:34
10 Enma Pepe CULQUI               ECU  3:27:35
22 JUNE 2008: TANGAMANGA MARATHON, MEXICO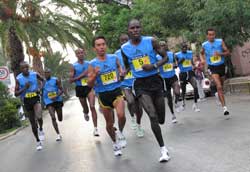 More than 2500 runners all wearing a blue t-shirt - even the elite athletes were in blue - began to run shoulder to shoulder as a wave through the Mexican city of San Luis Potosi. The scenic course enhanced the sight - everybody moving in common, using the same language of running.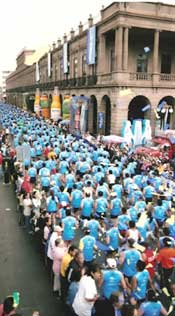 The course itself was green, passing through the third largest park in Central and South America, the Tangamanga Park. Here runners could enjoy the beauty of nature before emerging amid more attractive sites. Music played around the course, and people cheered runners on by the names that were printed on their bib numbers. Runners came from different countries and experienced a sense of Mexico: from Belgium, Germany, one runner from Finland, USA, Kenya and Ethiopia. The medal design was a world encircled by runners of all kinds: a child, a fireman, a policeman, a woman elite runner, a mother, a wheelchair participant, a blind runner. The meaning of the medal was the equality of the road running community and friendship around the world.
The day before 5000 children ran as part of the "See better to learn more" program, helping other children to be provided with lenses and 2500 trees were given as a gift to the kids, under an adopt-a-tree initiative. All the aid station glasses and bottles were recycled. They ran through the marathon finish line feeling like grown ups, and they will be the marathon runners of the future.
The 25th Aniversary will be held on 21 June 2009, you are invited to come and enjoy this FIESTA with us.
MEN:
1  Christopher KIPYEGO            KEN  2:18:30
2  Alene RETA                     ETH  2:18:41
3  George OKWORO                  KEN  2:19:24
4  Hugo Romero MENDEZ             MEX  2:19:34
5  Jose Arredondo ESPERICUETA     MEX  2:20:08
6  Stephen Kibet CHERAL           KEN  2:20:34
7  Juan Vargas SANCHEZ            MEX  2:20:51
8  Samuel ROTICH                  KEN  2:24:15  
9  Andres Juarez CAPILLA          MEX  2:25:37
10 Jackson KIPNGOK                KEN  2:25:42

WOMEN:
1  Sara Cedillo SANCHEZ           MEX  2:40:28
2  Paula Apollonio JUAREZ         MEX  2:42:32
3  Mariela Gonzalez TORRES        CUB  2:45:08
4  Liliana Merlo FERNANDEZ        MEX  2:47:33
5  Chemareng Chepkoro LOSIAKAT    KEN  2:52:29  
6  Penelope Lona GUERRERO         MEX  3:01:21
7  Margarita Huerta RAMIRES       MEX  3:03:04
8  Candida Gachuz PEREZ           MEX  3:06:22
9  Rose CHICHI                    KEN  3:13:43
10 Lourdes Bautista RODRIGUEZ     MEX  3:17:21
22 JUNE 2008: 23rd LAKE SAROMA 100km, JAPAN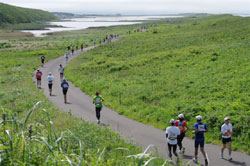 Under cloudy conditions (14°C) with a little rain, MasakazuTakahashi won the men's race and Hiroko Sho, who was the third in last year's IAU 100km World Cup, the women's writes Souhei Kobayashi.
There were 2,811 participants in the 100km and 2,053 runners (73%) finished within 13 hours. Four men finished under seven hours and three women ran under eight hours. Top nine male and female runners from this race will be selected for the 2008 IAU 100km World Cup, to be held in Italy.
MEN:
1  Masakazu TAKAHASHI             JPN  6:42:05
2  Hideo NOJO                     JPN  6:46:48
3  Mitsuru SHINIHARA              JPN  6:57:13
4  Shinji NAKADAI                 JPN  6:58:15
5  Yasukazu MIYASATO              JPN  7:03:03
6  Yoshiki TAKADA                 JPN  7:08:34
7  Yoshihumi KIYOMOTO             JPN  7:15:10
8  Yasutoshi OSHIMA               JPN  7:20:33
9  Yoshiyuki SAITO                JPN  7:24:00
10 Takehiro MATSUSHITA            JPN  7:27:18

WOMEN:
1  Hiroko SHO                     JPN  7:38:04
2  Yoko YAMAZAWA                  JPN  7:58:08
3  Naoko OTA                      JPN  7:59:14
4  Mai FUJISAWA                   JPN  8:01:54
5  Kazuho IZUTSU                  JPN  8:10:32
6  Yuki NOSE                      JPN  8:24:54
7  Takako ASANO                   JPN  8:29:54
8  Miki SAKAMOTO                  JPN  8:40:21
9  Mitsuyo OKADA                  JPN  8:45:41
10 Akiko KOMATSU                  JPN  8:57:13
28 JUNE 2008: PAAVO NURMI MARATHON, FINLAND
MEN:
1  Janne KLASILA                  FIN  2:47:02
2  Jaakko MIEMINEN                FIN  2:48:17
3  Torre GRONLUND                 FIN  2:48:49
4  Emil SODERLUND                 FIN  2:51:42
5  Pasi NYMAN                     FIN  2:55:08
6  Kari SALOMAA                   FIN  2:56:25
7  Tomi RINNE                     FIN  2:57:16
8  Jani HASPALS                   FIN  2:57:44
9  Markus KARLSSON                FIN  3:03:48
10 Teemu-Ville AHOKAS             FIN  3:05:18

WOMEN:
1  Pauliina TOMMOLA               FIN  3:02:37
2  Susanna RAITAMAKI              FIN  3:14:14
3  Laura NIEMINEN                 FIN  3:18:05
4  Hanna ASCHAN                   FIN  3:29:34
5  Jonna BACKMAN                  FIN  3:38:39
6  Johanna KATAJISTO              FIN  3:38:57
7  Jenni VIROLAINEN               FIN  3:43:39
8  Terhi SALONEN                  FIN  3:45:46
9  Essi KANGASAHO                 FIN  3:46:47
10 Kirsi TAPONEN                  FIN  3:50:53
28 JUNE 2008: VIDOVDAN 10KM ROAD RACE, BOSNIA
The race takes place in the self-governing town of Brcko in the north-east corner of Bosnia-Hercegovina. Local favourite Olveria Jevtic, from across the border in Serbia, won the women's race for the third straight year. Isaac Macharia, runner-up to Haile Gebrselassie in the Dubai Marathon earlier this year, won the men's race. Serbian Mirko Petrovic ran an aggressive race to finish third and split the Kenyans, among whom six-time Honolulu Marathon winner, Jimmy Muindi, in his first short road race for years, was seventh.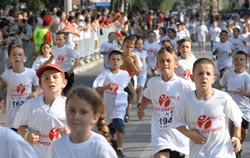 Jevtic won the women's race by over a minute but Lucia Kimani, the transplanted Kenyan, continues to improve with personal bests from 3000m to the marathon this year. Her participation in Vidovdan was in preparation for the Olympic Games, where she will represent Bosnia and Herzegovina in the marathon. Sonja Stolic, twice former winner, filled third place.
The elite athletes may have been the main feature but the 5000 children participating in the series of races from 400m to 5km were the highlight.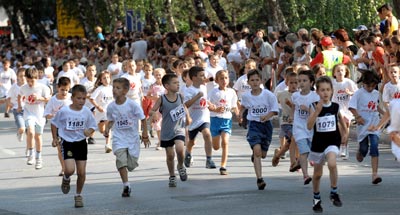 MEN:
1  Isaac MACHARIA                   KEN  28:38
2  Sammy KARANJA                    KEN  28:50
3  Willy MWANGI                     KEN  29:00
4  Mirko PETROVIC                   SRB  29:00
5  Boniface MBUVI                   KEN  29:30
6  Wilberforce TALEL                KEN  29:33
7  Jimmy MUINDI                     KEN  30:23
8  Dariusz KRUCZKOWSKI              POL  30:27
9  Charles WONJOHI                  KEN  30:47
10 Tamas KOVACS                     HUN  30:52
 
WOMEN:
1  Olivera JEVTIC                   SRB  32:04
2  Lucia KIMANI                     BIH  33:13
3  Sonja STOLIC                     SRB  33:53
4  Ana SUBOTIC                      SRB  34:27
5  Zivile BALCINAITE                LIT  34:50
6  Beata RAKONCZAI                  HUN  35:59 
7  Ida KOVAC                        HUN  36:58
8  Snezana KOSTIC                   SRB  37:04
9  Biljana CVIJANOVIC               BIH  38:05
10 Jelena MARKOVIC                  SRB  39:00
28 JUNE 2008: SANTA CLAUS MARATHON, FINLAND
MEN:
1  Olli KYYHKYNEN                 FIN  3:13:46
2  Radoslaw WIELICZKO             POL  3:14:46
3  Bryan ABELL                    GBR  3:16:54
4  Andrzej BORN                   POL  3:25:54
5  Kristjan PUUSILD               EST  3:27:10
6  Wolfgang SCHMIDT               AUT  3:39:27
7  Werner GRITTNER                GER  3:41:27
8  Jari OJA                       FIN  3:43:12
9  Ville-Veikko KYKYRI            FIN  3:54:05
10 Jari KOLPPANEN                 FIN  3:55:42

WOMEN:
1  Maria SELIN                    FIN  3:27:59
2  Erja KIVINIEMI                 FIN  3:38:19
3  Maureen TOBIN                  USA  3:40:08
4  Ann-Christin VALLASKIVI        FIN  3:49:30
5  Irmgard UHLIG                  GER  3:52:33
6  Galina SOLOVYEVA               RUS  4:03:20
7  Marita RICHTER                 GER  4:09:24
8  Satu KARPPINEN                 FIN  4:18:51
9  Chantelle KIRKMAN              AUS  4:33:46
10 Anja ROIKONEN                  FIN  4:33:58
29 JUNE 2008: CITY OF RIO DE JANEIRO MARATHON, BRAZIL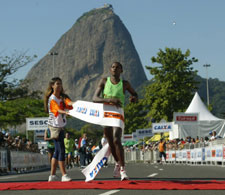 A successor to the Rio marathon that was a founder member of AIMS in 1982, the City of Rio de Janeiro Marathon was reborn five years ago with a point-to-point course along the eight main beaches of Rio. Now, recovering its attraction for mass runners and tourists, 12,000 runners participated in three simultaneous events (family run, half marathon and marathon).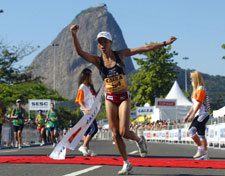 The main race had two great moments: the winter cool gave a pleasant 18°C at the start, crossing the green area of Barra da Tijuca at around 18km and at the end the race by Flamengo Park when the winner Domingos Nonato crossed the line in brilliant sunny contrast (22°C) with the Sugar Loaf Mountain as backdrop. Silvio Guerra, a running legend from Ecuador, ran well in trying to qualify for Beijing, but unsuccessfully clocked 2:18:28.
Six young Kenyans led the race but dropped back in last few kilometres. Marizete Moreira, from the national capital Brasilia won her first marathon.

MEN:
1  Domingos NONATO DA SILVA         BRA  2:17:20
2  Eliesio V OLIVEIRA               BRA  2:17:47
3  Mauro T PINTO                    BRA  2:18:14
4  Silvio GUERRA                    ECU  2:18:28
5  Marcos Alexandre ELIAS           BRA  2:18:56
6  Antonio F DA SILVA               BRA  2:19:11
7  Jose GUTEMBERG                   BRA  2:19:25
8  Jose PEREIRA DA SILVA            BRA  2:19:30
9  Adriano BASTOS                   BRA  2:20:03
10 Nestor ARIEL GARCIA              BRA  2:20:08

WOMEN:
1  Marizete Moreira DOS SANTOS      BRA  2:39:09
2  Edielza Alves GUIMARAES          BRA  2:41:26
3  Ilaine WANDSCHEER                BRA  2:49:00
4  Sueli Aparecida VIEIRA           BRA  2:50:45
5  Marlene TEIXEIRA                 BRA  2:51:08
6  Denise PAIVA LUCAS               BRA  2:51:31
7  Conceicao DE MARIA CARVALHO      BRA  2:56:24
8  Nercy F DA COSTA                 BRA  2:57:38
9  Leone JUSTINO DA SILVA           BRA  2:58:09
10 Leah Jelegat KIPCHUMBA           KEN  2:59:15

HALF MARATHON
MEN:
1  Luis P DA SILVA ANTUNES          BRA  1:04:08
2  Willy Kangogo KIMUTAI            KEN  1:04:15
3  Cosme ANCELMO DE SOUZA           BRA  1:04:33

WOMEN:
1  Simone ALVES DA SILVA            BRA  1:19:15
2  Salina JEBET                     KEN  1:20:16
3  Roserene F DE MORAES             BRA  1:23:16
29 JUNE 2008: VIRGINIA MASON TEAM MEDICINE MARATHON AT SEAFAIR, USA
Nearly 5,000 runners took part, crossing the 520 Floating Bridge and running through several communities while raising money for Cancer Research at Virginia Mason Medical Center.
MEN:
1  Edward KIPTUM                  KEN  2:20:29
2  Bethuel CHERUIYOT              KEN  2:21:02
3  Andrew MUSURA                  KEN  2:21:47
4  Travis BOYD                    USA  2:25:13
5  Brett WINEGAR                  USA  2:37:01
6  Clay WING                      USA  2:40:12
7  Chad RICKLEFS                  USA  2:42:33
8  Andy OTTELE                    USA  2:54:02
9  Chip JACKSON                   USA  2:57:18
10 Michael SIEGEL                 USA  2:58:09

WOMEN:
1  Wendy TERRIS                   USA  2:50:56
2  Claudia COLITA                 CAN  2:51:53
3  Marlene FARRELL                USA  2:58:57
4  Devon CROSBY-HELMS             USA  3:10:28
5  Jill BEALS                     USA  3:17:18
6  Carol FINN                     USA  3:25:45
7  Stephanie SCHULZ               USA  3:26:33
8  Jeanne HARSHBARGER             USA  3:27:02
9  Julie GOLDING                  USA  3:27:24
10 Eva LUST-WRIGHT                USA  3:28:13
June 2008