April 2008
1 APR | 6 APR | 13 APR | 19 APR | 20 APR | 21 APR | 27 APR
1 APRIL 2008: NORTH POLE MARATHON, NEUTRAL POLAR OCEAN
The race took place at 04:30 GMT in perfect 24-hour daylight and -29°C temperature. The men's race was close to start with before Sik-Ahn Byeung's persistent pressure on the frozen ice floes finally began to tell. He widened the gap over his opponents during the second half, well ahead of the Lithuanian Ignas Staskevicius, who had overhauled Charles Sanders of Great Britain for second place. Cathrine Due and Margit Andersen, the two Danes in the women's event, battled thoughout. Due proved stronger in the latter stages.
Unfortunately, unusual logistical delays at the Pole this season caused a five-day delay and this led to two competitors having to withdraw before the race began. Furthermore, an effective cut-off time of seven-and-a-half hours was abruptly forced upon competitors by the logistics company in order for them to make a return flight to Norway.
Nevertheless, all participants stood at 90 degrees North, the precise Geographic North Pole. In addition, the few remaining competitors who were agonisingly close to completing the 26.2-mile distance have been invited to attend for free next year, the centenary of Man reaching the Pole. To register for the race, which is now expected to occur in early April 2009, see www.npmarathon.com.
MEN:
1  Sik-Anh BYEUNG                 KOR  4:02:37
2  Ignas STASKEVICIUS             LIT  4:19:05
3  Charles SANDERS                GBR  4:21:27
4  Jurgen HEILBOCK                GER  4:50:01
5  Hans-Willem HANKE              GER  5:21:07
6  Craig DAVIS                    AUS  5:47:50
7  Darius JURGAITIS               LIT  5:54:18
8  Peter FERRIS                   IRL  6:12:05
9  Steve BICKNELL                 GBR  6:27:10
10 Christopher KLINGSPOR          SWE  7:01:10

WOMEN:
1  Catherine DUE                  DEN  5:37:14
2  Margit ANDERSEN                DEN  5:53:10
3  Kirsty DEVONPORT               GBR  6:12:05
4  Allison GILL                   GBR  6:44:08
5  Marie-Hamren LARSSON           SWE  7:04:32
6 APRIL 2008: 28TH VATTENFALL BERLIN HALF MARATHON, GERMANY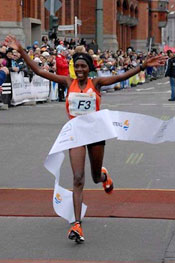 Defending champion Patrick Makau bested Eshetu Wondimu by one second while Peninah Arusei ran the third fastest time in the world this year writes Jorg Wenig.
In uncomfortably cold conditions the men's early pace was well off record target as a large group reached 5km in 14:07, but the official pacemaker was already well behind. After passing through 10km in 28:22 and 15km in 42:48 a lead group of four emerged, and it was Wondimu who surged ahead at 19km. Makau responded immediately and the pair passed through 20km in 57:00. Makau secured victory only in the last few metres. "We intended to run faster but it was simply too cold today" said Makau, adding. "I intend to come back to Berlin next year to break my course record (58:56 from last year)." He still clocked the seventh fastest time of the year and the seventh fastest ever in the race.
The cold weather also affected the women's race although Peninah Arusei improved her personal best by 61 seconds. "In warmer weather I could have run faster. I think 67 minutes is possible for me" said the 29-year-old Kenyan. For much of the race it had looked as she would surpass Philes Ongori's world leading time (67:57 minutes in Marugame/JPN) as she passed 10km in 31:56 (only 14 seconds slower than her personal best at 10km) and 15km in 48:12, but she slowed towards the end. Arusei returns to Berlin in four weeks for the Berlin 25km race, which she won two years ago.
A record 20,660 runners came from 86 countries, and it was the first time that a half marathon in Germany had over 20,000 entries.
MEN:
1  Patrick MAKAU                  KEN  1:00:00
2  Eshetu WONDIMU                 ETH  1:00:01
3  Elijah KEITANY                 KEN  1:00:10
4  William TODOO                  KEN  1:00:12
5  Joseph MAREGU                  KEN  1:00:48
6  Wilson KIPSANG                 KEN  1:01:03

WOMEN:
1  Peninah ARUSEI                 KEN  1:08:22
2  Pauline WANGUI                 KEN  1:09:51
3  Isabellah ANDERSSON            SWE  1:11:24
4  Dulce Maria RODRIGUEZ          MEX  1:11:25
5  Milka JEROTICH                 KEN  1:12:18
6  Beatrice OMWANZA               KEN  1:12:40
6 APRIL 2008: 32nd PARIS MARATHON, FRANCE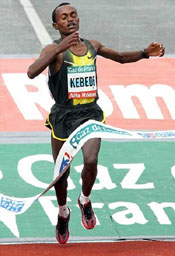 20-year-old Ethiopian Tsegaye Kebede ran the second fastest time in the world this year while Kenyan Martha Komu smashed her personal best by seven minutes writes P-J Vazel. On a sunny, cold (5°C) and still morning 29,706 runners took part. Conditions favoured fast times and the top eight men and top seven women set personal bests. The top 12 men dipped under 2:10 and Kebede came within seven seconds of the 5-year old course record.
A large men's pack cruised past halfway in 1:03:40 and positions remained largely unchanged until 30km when six Kenyans and two Ethiopians led the race. The second uphill stretch on the circuit caused the most damage as by 35km there were only three runners battling for the victory: Kebede, countryman Gudisa Shentema and Kenya's Kimeli Arusei. All were running much faster than their personal bests.
Arusei was in his fifth marathon after a modest career on the track; the young Kebede debuted last October in Amsterdam with 2:08:16; Shentema, 27, in his tenth marathon had most recently ran 2:09:27 in Dubai on 18 January. But Shentema was the first to go, with 5km remaining, and eventually faded to 4th place. Kebede finally pulled away from Arusei after 40km.
Former Kenyan Simon Munyutu took more than 2 minutes off his own personal mark to place 11th in 2:09:24 and looks set to be selected for the French team for Beijing. Sixteen minutes later his fiancée Martha Komu won the women's race.
Five runners emerged as contenders in the early stages of the women's race. The two fastest in the field the Ethiopians Worknesh Tola (2:25:42) and Shitaye Gemeshu. Despite her impressive PB, Tola couldn't find a way to break away from the surprising Komu, who finally pulled away to win in the last 200m of the race.
MEN:
1  Tsegaye KEBEDE                  ETH  2:06:40  
2  Moses Kimeli ARUSEI             KEN  2:06:50  
3  Josea ROTICH                    KEN  2:07:24  
4  Gudisa SHENTEMA                 ETH  2:07:34  
5  David KEMBOI                    KEN  2:08:34  
6  Abraham CHELANGA                KEN  2:08:56  
7  Samson BARMAO                   KEN  2:09:01  
8  Paul KOSGEI                     KEN  2:09:15  
9  Benson BARUS                    KEN  2:09:23 
10 David KIYENG                    KEN  2:09:23 
 
WOMEN:
1  Martha KOMU                     KEN  2:25:33  
2  Worknesh TOLA                   ETH  2:25:37 
3  Lenah CHERUIYOT                 KEN  2:26:00  
4  Shitaye GEMESHU                 ETH  2:26:10  
5  Alice TIMBILIL                  KEN  2:26:45  
6  Tanya FILONYUL                  UKR  2:28:40  
7  Aimaz MEGERSA                   ETH  2:29:53  
8  Mindaye GISHU                   ETH  2:30:20 
9  Gulnara VIGOVSKAYA              RUS  2:30:33 
10 Olga GLOK                       RUS  2:30:40
6 APRIL 2008: POZNAN HALF MARATHON, POLAND
MEN:
1  Nathan SOIMO                     KEN  1:05:59
2  Marek JAROSZEWSKI                POL  1:08:14
3  Yevgen SIROTIN                   UKR  1:08:25
4  Alexey GURKINA                   RUS  1:08:28
5  Maciej LUCYK                     POL  1:10:55
6  Vladimir KOTOV                   RSA  1:13:25
7  Tomasz WILCZYNSKI                POL  1:13:41
8  Bence KHOOR                      HUN  1:13:49
9  Przemyslaw WALEWSKI              POL  1:13:52
10 Aron PRZYBYL                     POL  1:15:44
 
WOMEN:
1  Karolina JARZYNSKA               POL  1:12:33
2  Dorota USTIANOWSKA               POL  1:12:42
3  Wioletta URYGA                   POL  1:16:30
4  Agnieszka JANASIAK               POL  1:17:14
5  Renata ANTROPIK                  POL  1:21:22
6  Magdalena BARTOSZEWICZ           POL  1:24:55
7  Monika STRANC-WALEWSKA           POL  1:28:18
8  Marta MIKOLAJCZYK                POL  1:31:46
9  Kata GYULAVANI                   HUN  1:33:36
10 Iwona BALCERZAK                  POL  1:33:53
6 APRIL 2008: MARATON INTERNACIONAL DE SANTIAGO, CHILE
MEN:
1  Roberto Etcheverría              CHI  2:15:37
2  Peter MWANGI                     KEN  2:18:59
3  Philip KIPKEMBOI                 KEN  2:19:48
4  Samuel KIPROTICH                 KEN  2:22:16
5  Miguel MELENDEZ                  CHI  2:24:48

WOMEN:
1  Natalia ROMERO                   CHI  2:45:42
2  Susana REBOLLEDO                 CHI  2:47:05
3  Julia RIVERA                     CHI  2:50:30
4  Natalia CASTILLO                 CHI  2:59:28
5  Virginia PENA                    CHI  3:00:32

13 APRIL 2008: TURIN MARATHON, ITALY
Photo: Lorenzo Sampaolo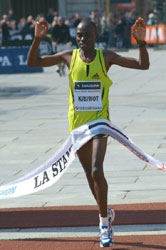 Stephen Kibiwott won the Turin Marathon for a second time with a personal best of 2:10:12 in a close battle over the final kilometres writes Diego Sampaolo. Vincenza Sicari dipped under 2:30 in the women's race for an Olympic qualifying time.
The men's race was tactical from the beginning as the first half passed in 1:05:30 with pacemakers Hillary Bett and Wilson Busienei leading a group which eventually comprised six Kenyans, two Ukrainians and one Russian. They passed 30km in 1:30:20 but nobody took the initiative until after 35km.
Kibiwott and Lomala began to push hard at 37km Sitkovsky fought hard and in the final two kilometres it was Kibiwott and Sitkovsky who had the neck to neck battle with Lomala slightly adrift. With a final kilometre of 2:50 Kibiwott took the win by five seconds while Lomala smashed his previous personal best by four minutes in third place, holding off debutant John Komen by four seconds.
The women's race focused on Vincenza Sicari's attempt to run under the 2:30 qualifying time set by the Italian Athletics Federation for the Beijing Olympics. Sicari's previous attempt to qualify one month ago failed when she dropped out of the Rome Marathon. In Turin she ran the first 16km with Kenyan Catherine Kurui and Oksana Slyarenko from Ukraine. Breaking away, she built up an 8-second gap by halfway and continued at a consistent pace. In the final 500m she suffered from a stitch but managed to accomplish her target by finishing in 2:29:50.
MEN:
1  Stephen KIBIWOTT                KEN  2:10:12
2  Oleksander SITKOWSKY            UKR  2:10:17
3  Joseph LOMALA                   KEN  2:10:21
4  John KOMEN                      KEN  2:10:25
5  Vasyl MATVICHUK                 UKR  2:10:36
6  Andreev GRIGORIY                RUS  2:11:00
7  Joseph NGENY                    KEN  2:11:39
8  Philemon TARBEI                 KEN  2:11:50
9  Daniel LIMO                     KEN  2:12:33
10 Teshome GELANA                  ETH  2:13:31

WOMEN:
1  Vincenza SICARI                 ITA  2:29:50
2  Catherine KURUI                 KEN  2:35:11
3  Oksana SLYARENKO                UKR  2:36:13
4  Elisa DESCO                     ITA  2:36:53
5  Petra TEVELI                    HUN  2:37:27
6  Letay NEGASH                    ETH  2:42:19
7  Shebire FISSEHA                 ETH  2:50:44
8  Sara FERROGLIA                  ITA  2:54:26
9  Loretta GIARDA                  ITA  2:55:59
10 Frederica VIANO                 ITA  3:00:33
13 APRIL 2008: CANBERRA MARATHON, AUSTRALIA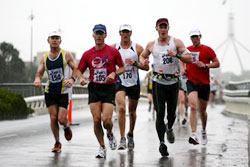 Mark Tucker and Jackie Fairweather won the men's and women's marathons but did not stop there. For the past 15 years Canberra has incorporated a 50km option, and any marathon finisher is able to continue on and officially complete the ultra. This year, for the first time, both marathon winners opted to continue, and both of them not only did the marathon/50km double but also broke the Australian 50km records.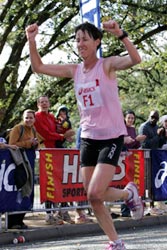 Jackie Fairweather (nee Gallagher), the 1996 World Triathlon champion and 2002 Commonwealth Games marathon bronze medallist, in addition to the double win and national record, also lowered the World Masters record for 50km, although this is pending ratification by the International Association of Ultrarunners.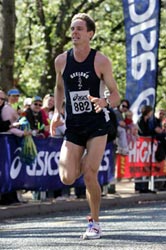 Mark Tucker, better known as a 1500m runner, announced just two weeks ago that he was retiring from the sport because he had missed selection for the Beijing Olympic Games. However he did add that he was going to make his marathon debut before hanging up his shoes. His debut was so successful in Canberra with the marathon/ultra double, that he is now re-considering his options. Particularly as his prize from Canberra is an Asics travel award to run another marathon in Japan.
The marathon continues to be a significant tourism event for Australia's national capital with over 80 per cent of the 1153 entrants being visitors. The Asics Marathon Eve 5km and 10km Fun Runs and the award winning Kids Marathon had record numbers with the event attracting over 2500 participants across race weekend.
MEN:
1  Mark TUCKER                     AUS  2:24:13
2  David CRINITI                   AUS  2:27:34
3  Andrew TUCKEY                   AUS  2:29:19
4  Jeremy HORNE                    AUS  2:32:35
5  Anthony FARRUGIA                AUS  2:34:09
6  Bruce GRAHAM                    AUS  2:36:40
7  Tim COCHRANE                    AUS  2:38:50
8  Damien JACKEL                   AUS  2:39:02
9  Ian BRADE                       AUS  2:40:56
10 Matthew RICHES                  AUS  2:41:31

WOMEN:
1  Jackie FAIRWEATHER              AUS  2:46:01
2  Tina MAJOR                      AUS  2:47:58
3  Jenny WICKHAM                   AUS  2:48:46
4  Glenda BANAGHAN                 AUS  2:52:41
5  Verity TOLHURST                 AUS  2:55:10
6  Natalie WOOD                    AUS  2:59:29
7  Bridget WETHERALL               AUS  3:00:18
8  Johanna PARSONS                 AUS  3:01:38
9  Lynda MCRAE                     AUS  3:03:58
10 Suzanne KELLY                   AUS  3:07:08

50km
MEN:
1  Mark TUCKER                     AUS  2:53:47  
2  David CRINITI                   AUS  2:58:21
3  Tim COCHRANE                    AUS  3:13:16

WOMEN:
1  Jackie FAIRWEATHER              AUS  3:19:12
2  Kerrie BREMNER                  AUS  4:01:16
3  Lisa-Anne CAREY                 AUS  4:02:36
13 APRIL 2008: FORTIS MARATHON ROTTERDAM, NETHERLANDS
Photo: John de Pater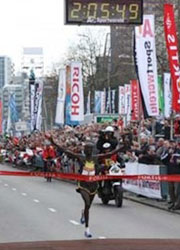 William Kipsang set a new course record in winning the 28th Fortis Rotterdam Marathon, while Lyubov Morgunova came from behind in the second half of the race to win the women's event writes Wim Van Hemert. Kipsang bettered Felix Limo's 2004 time by 25 seconds. Many of the top finishers in both races set personal bests, which included a new Finnish record of 2:10:46 for Janne Holmen in ninth place.
After the extreme heat of last year conditions were ideal with a light wind and a temperature of 12°C. Before 15km a group of seven had formed, containing Kipsang, Daniel Rono, Charles Kamathi, Richard Limo, Paul Kirui, Benjamin Maiyo and Daniel Yego and this group stayed together until 25km (1:14:31). The group broke up after 30km (1:29:41) and by 35km Kipsang was seven seconds clear. Behind him Kamathi, Rono and Limo formed the chasing pack. At 40km he was 40 seconds ahead and Rono was alone in second place. "In the Kralingse wood, Kipsang was awfully strong, running one kilometre in 2:49", Rono said afterwards.
The 37-year-old Russian Lyubov Morgunova was 19 seconds behind Ethiopian Zekiros Adanech at 25km but 5km later they were level, and in the following 5km the experienced Russian pulled ahead, gaining a lead of over two minutes by 40km and setting a new personal best. "Although I was behind at half way, in the final phase of the race I felt very strong." she said.
MEN:
1  William KIPSANG                 KEN  2:05:49
2  Daniel RONO                     KEN  2:06:58
3  Charles KAMATHI                 KEN  2:07:33
4  Richard LIMO                    KEN  2:08:43
5  Paul KIRUI                      KEN  2:09:46
6  Tom Van HOOSTE                  BEL  2:10:38
7  Daniel YEGO                     KEN  2:10:41
8  Benjamin MAIYO                  KEN  2:10:44
9  Janne HOLMEN                    FIN  2:10:46
10 Driss El HIMER                  NED  2:12:08

WOMEN:
1  Lyubov MORGUNOVA                RUS  2:25:12
2  Zekiros ADENACH                 ETH  2:27:32
3  Alessandra AGUILAR              ESP  2:29:03
4  Alice CHELAGAT                  KEN  2:30:18
5  Ines MONTEIRO                   POR  2:30:36
6  Yesenia CENTENO                 ESP  2:33:01
7  Viktoriya TRUSHENKO             NED  2:33:50
8  Shiru DERIBA                    ETH  2:37:11
9  Pauline CURLEY                  NED  2:39:05
10 Bertha SANCHEZ                  COL  2:39:12
13 APRIL 2008: SAO PAULO HALF MARATHON CORPORE, BRAZIL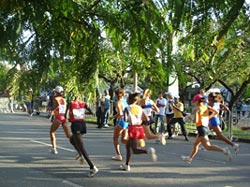 The 9th edition of the race attracted more than 11,000 participants. A nice day and a festival atmosphere contributed to the continuing growth and development of the event within the City's sporting calendar. At 05:30, before the first rays of the sun, the University precinct was alive with movement. The elite women were set off at 07.15, with the mass field following 15 minutes later.
There was a large peloton until 6km, when the Kenyan Kiprono Mutai Chemwolo began to build a lead over Paulo Almeida, who also finished second last year, which extended to 98 seconds by the end of the race. Edielza Alves dos Santos finished third behind the Kenyans Anne Bererwe and Eunice Jepkirui and said "the contest with the Kenyans was good, but when they opened up a gap I had a fight to keep third place". Anne Bererwe, who stormed away to win by over a minute and break the course record, commented that the course was good and fast.
MEN:
1  Kiprono Mutai CHEMWOLO         KEN  1:04:06
2  Paulo Roberto ALMEIDA PAULA    BRA  1:05:44
3  Francisco Barbosa DOS SANTOS   BRA  1:06:06
4  William Salgado GOMES          BRA  1:06:15
5  Alex JANUARIO                  BRA  1:06:50
6  Ivanildo Pereira DOS SANTOS    BRA  1:07:12
7  Gilson Rodrigues DE MIRANDA    BRA  1:07:32
8  Domingos Nonato DA SILVA       BRA  1:07:42
9  Bernardo Alves DA SILVA        BRA  1:07:49
10 Marildo Jose BARDUCO           BRA  1:07:59

WOMEN:
1  Anne Cheptanui BERERWE         KEN  1:13:51
2  Eunice JEPKIRUI                KEN  1:15:00
3  Edielza ALVES                  BRA  1:15:46
4  Luiza DE SOUZA                 BRA  1:17:11
5  Marizete MOREIRA               BRA  1:17:24
6  Edna MUKHWANS                  BRA  1:19:07
7  Adriana APARECIDA              BRA  1:20:00
8  Flaviana FERREIRA              BRA  1:21:55
9  Rosangela Figueredo SILVA      BRA  1:23:46
10 Ana Patricia do NASCIMENTO     BRA  1:33:10
19 APRIL 2008: 21st BANCA INTESA BELGRADE MARATHON, SERBIA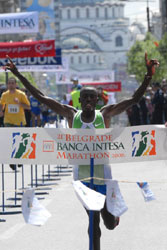 William Kipchumba became the ninth Kenyan winner and nine of the top 10 men were Kenyan writes Pat Butcher. With the temperatures escalating from a perfect 12°C to the mid-20s by the end, the pace dropped and despite finishing two minutes ahead Kipchumba was well adrift of the course record. Natalija Chatkina of Belarus also slowed in the rising heat but ran a personal best by five minutes. Nilaj Essen of Turkey in second place became Balkan champion.
The men went through the first 10km at 2:09 pace, but by halfway (1:05:45) Elijah Bitok was alone with the pacemakers, with a group of six 30seconds beghind. As Bitok disintegrated in the second half, Kipchumba struck out by himself at 35km, breaking up the group but Mark Kipsaina and Victor Robert ensured their podium places by following him.
Local hero Olivera Jevtic prepared for the Olympic marathon in Beijing by winning the half-marathon in a course record of 1:11:41. The men's race was also a course record, Willy Mwangi of Kenya winning in probably the best performance of the day, 62:51.
Guest of honour, 800m world record holder and three-time world champion, Wilson Kipketer said: "Seeing everyone here makes me want to run. But the marathon is too far, maybe I'll start with the 5000m (fun-run) here next year". Last time Ron Hill was in Belgrade was in 1962, when he dropped out of the European Games (as it was then called) marathon. He was back this year in the 5km fun run.
MEN:
1  William KIPCHUMBA              KEN  2:14:03
2  Jonathan KIPSAINA              KEN  2:16:14
3  Victor ROBERT                  KEN  2:16:47
4  Benjamin TABUT                 KEN  2:18:47
5  Veres GERRABZIABHER            ETH  2:19:18
6  Pius MUTUKU                    KEN  2:22:22
 
WOMEN:
1  Natalija CHATKINA              BEL  2:46:24
2  Nilaj ESSEN                    TUR  2:55:47
3  Mercy TOO                      KEN  2:57:24
4  Jane KOSGEI                    KEN  2:57:46
19 APRIL 2008: PARDUBICE WINE HALF MARATHON, CZECH REPUBLIC
MEN:
1  Robert STEFKO                  CZE  1:06:39
2  Martin FREI                    CZE  1:07:00
3  Petr PECHEK                    CZE  1:07:37
4  Pavrl BRYDL                    CZE  1:08:04
5  Daniel ORALEK                  CZE  1:08:07
6  Kamil KRUNKA                   CZE  1:08:46
7  Jan HAVLICEK                   CZE  1:09:15
8  Tomas BLAHA                    CZE  1:09:20
9  Dusan PODROUZEK                CZE  1:10:02
10 Tomas ONDRACEK                 CZE  1:10:11

WOMEN:
1  Ivana SEKYROVA                 CZE  1:17:28
2  Marta VLCOVSKA                 CZE  1:20:00
3  Lenka SIBRAVOVA                CZE  1:20:36
4  Irena PETRIKOVA                CZE  1:22:29
5  Milada BARESOVA                CZE  1:25:21
6  Denisa KOZAKOVA                CZE  1:26:41
7  Jana LELUT                     CZE  1:26:56
8  Marie DOSTALOVA                CZE  1:27:12
9  Veronika FAKTOROVA             CZE  1:29:25
10 Vanda BREZINOVA                CZE  1:31:16
20 APRIL 2008: 6th ZURICH MARATHON, SWITZERLAND
Weather and conditions were perfect and although the course records remained unbeaten many runners achieved personal bests and shouted with joy as they finished. Of 4780 who started, 4588 finished (3777 men and 811 women) within the 5.30 hours limit.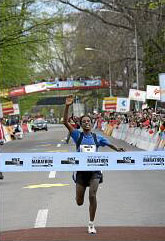 Oleg Kulkov (RUS) and Tadelech Birra (ETH) won the open races in personal best times, with Tarcis Ancay (14th, 2:22:32) and Maya Neuenschwander (7th) taking the Swiss titles. While Kulkov scored his first big race victory and cut his best time by four minutes, Birra (33) was only 24 seconds short of her five-year old personal best set when winning in Hannover.
Mirja Jenni, who was trying for Beijing qualification, abandoned at 27km but Marcel Tschopp, second Swiss, managed Olympic qualification through his dual Swiss-Liechtenstein citizenship. His 2:24:10 back in 16th place was 15 seconds under the Liechtenstein qualifying time.
MEN:
1  Oleg KULKOV                     RUS  2:11.16
2  Edwin KIBOWEN                   KEN  2:11.50
3  Stanley LELEITO                 KEN  2:13.41
4  Anderson CHIRCHIR               KEN  2:14.02
5  Kimutai H KIPTANUI              KEN  2:14.22
6  Assefa W MEZGEBU                ETH  2:14.52
7  Tesfaye ETICHA                  ETH  2:16.26
8  Wilson PKORKOR                  KEN  2:17.55
9  Joseph K KIPKOECH               KEN  2:18.22
10 David K KIPLAGAT                KEN  2:18.48

WOMEN:
1  Tadelech T BIRRA                ETH  2:32.09
2  Karolina JARZYNSKA              POL  2:33.16
3  Prisca KIPRONO                  KEN  2:34.14
4  Nina PODNEBESNOVA               RUS  2:35.36
5  Etafereh G TAREKEGN             ETH  2:37.05
6  Holly RUSH                      GBR  2:37.35
7  Maja NEUENSCHWANDER             SUI  2:40.42
8  Patricia MORCELI                SUI  2:46.03
9  Daniela VASSALLI                ITA  2:48.33
10 Nelly F GLAUSER                 SUI  2:48.57
20 APRIL 2008: NICE INTERNATIONAL HALF MARATHON, FRANCE
MEN:
1  Dennis NDISO                         1:00:54
2  Robert KIPCHUMBA                KEN  1:00:57
3  Joseph MAREGU                        1:01:21
4  Samuel KWAANGUO                      1:02:08
5  Justus KIPRONO                  KEN  1:02:10
6  Isaac KIPLAGAT                  KEN  1:03:01  
7  Lukas KANDA                          1:03:05
8  Samson CHEROP                   KEN  1:03:36
9  David KISANG                         1:03:38
10 Antony NZOMO                         1:04:22

WOMEN:
1  Astede ABTAMU                   ETH  1:10:49
2  Lydia CHEROMEI                  KEN  1:10:59
3  Muriel LORY                          1:12:52
4  Lydia NJERI                          1:13:15
5  Ingrid LOPERGOLO                     1:18:08
6  Loubna IRIZI                         1:22:46
7  Christel ROBIN                       1:23:16
8  Monika RIECK                         1:23:19
9  Nathalie GUICHOUX                    1:23:49
10 Ignazia CAMMALLERI                   1:24:56
20 APRIL 2008: NAGANO OLYMPIC COMMEMORATIVE MARATHON, JAPAN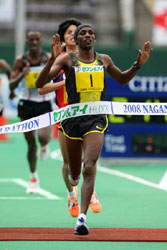 Among a record field of 7444 (1240 women) the defending champions, Nephat Kinyanjui of Kenya and Alevtina Ivanova, of Russia won the 10th edition writes Ken Nakamura. Kinyanjui won, like on the other two occasions, with a mad dash to the line - although this year was the slowest ever winning time. Ivanova broke away from Kate Smyth, her final challenger, at 31km and won by two minutes in the third fastest winning time recorded in the event and the fastest yet on the current flatter course that starts in Nagano Park and finish in Nagano Olympic stadium.
The men's was reduced to 10 runners by half way (1:05:56). The pace slowed and from 25-30km took 16:32. Tomohiro Seto made the first move at 31km, gaining a few seconds, but Kinyanjui led the chasing pack back into contact. With seven runners biding their time, the pace stayed slow. Only Gemechu Woyecha was dropped before 40km. Arkadiusz Sowa and then Yoshiyuki Suetsugu lost contact before the final scramble over the last 200m. Kinyanjui, took the lead with 100m to go but won with the narrowest margin. Both Kinyanjui and Seto were credited with the same finishing time, 2:14:17.
In the women's race, only seven runners were left at 5km (17:39, 2:29 marathon pace). Six of them stayed together through half way (1:14:40) and 25km (1:28:04), but in the 26th kilometre four runners were dropped and only Ivanova and Australia's Kate Smyth were left. They ran together for the next 5km, but at 31km Ivanova surged and by 35km she was 27 seconds ahead. Ivanova ran the next 5km even faster(16:48) and by 40km, she was clear by 1:44. She won comfortably in a personal best by more than a minute (her previous marathon best was 2:27:48 when she won Nagano last year). In second, Smyth improved by nearly five minutes. Former world record holder Tegla Loroupe finished 12th in 2:49:15.
MEN:
1  Nephat KINYANJUI                KEN  2:14:17
2  Tomohiro SETO                   JPN  2:14:17
3  Fayisa TUSSE                    ETH  2:14:19
4  Gidey AMAHA                     ETH  2:14:19
5  Yoshiyuki SUETSUGU              JPN  2:14:31
6  Arkadiusz SOWA                  POL  2:14:39
7  Tekeste KEBEDE                  ETH  2:15:21
8  Gemechu WOYECHE                 ETH  2:15:27
9  Halefom ABEBE                   ETH  2:16:01
10 Gemechu DESSALEGE               ETH  2:17:20

WOMEN:
1  Alevtina IVANOVA                RUS  2:26:39
2  Kate SMYTH                      AUS  2:28:51
3  Dorota GRUCA                    POL  2:31:54
4  Miyuki ANDO                     JPN  2:34:25
5  Asnakech MENGISTU               ETH  2:37:02
6  Mai TAGAMI                      JPN  2:38:43
7  Sunmani ABETZ                   ETH  2:39:11
8  Chihiro TANAKA                  JPN  2:39:45
9  Kidist TEKA                     ETH  2:40:56
10 Ruth WANJIRU                    KEN  2:44:19
20 APRIL 2008: VANCOUVER SUN RUN 10km, CANADA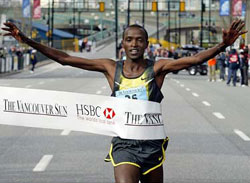 Kenya's Festus Langat kept the Kenyan winning streak going but local favourite Ryan Hayden almost got himself into second place. He was also third last year, but "I was the guy who faded at the end," he said. "This year, I was really coming on at the end."
Langat and second-placed Phillip Koech train together and ran shoulder-to-shoulder down Georgia Street, along Lagoon Drive in Stanley Park and then onto Beach Avenue. Langat made his move mid-race on the Burrard Bridge and was only ever challenged by the very cold conditions. In all 59,179 runners participated - a new record.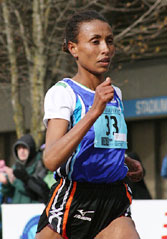 It was the slowest women's race since 1991. Genet Gebregiorgis, coming back after four years off with a heel injury, retained the title for Ethiopia. Her time was nearly three minutes slower than Isabella Ochichi's 2006 course record of 30:55. Sun Run regular Lisa Harvey (38), competing in the race for the sixth time, finished 100m behind Gebregiorgis. Harvey, who was third last year, came through in the later stages to pass Cheryl Murphy and Kirsty Smith, and was closing on the winner in the last couple of kilometres.
Gebregiorgis photo: Teresa Nightingale
MEN:
1  Festus LANGAT                  KEN  29:26
2  Phillip KOECH                  KEN  29:36
3  Ryan HAYDEN                    CAN  29.38 
4  Steve MACINTYRE                CAN  30:09
5  Mark BOMBA                     CAN  30:10
6  Derek NAKLUSKI                 CAN  30:12
7  Jeremy DEERE                   CAN  30:16
8  Jim FINLAYSON                  CAN  30:19
9  Ryan DAY                       CAN  30:38
10 Nathan KENDRICK                CAN  30:39

WOMEN:
1  Genet GEBREGIORGIS             ETH  33:36
2  Lisa HARVEY                    CAN  33:58
3  Kirsty SMITH                   CAN  34:12
4  Cheryl MURPHY                  CAN  34:14
5  Edyta SIEMINSKA                CAN  35:11
6  Marilyn ARSENAULT              CAN  35:14
7  Suzanne EVANS                  CAN  35:25
8  Paula WILTSE                   CAN  35:29
9  Natalie THOMPSON               CAN  35:56
10 Rachel RUUS                    CAN  36:23
20 APRIL 2008: INT'L MARATHON ALEXANDER THE GREAT, GREECE
MEN:
1  Chebet B KIPRUTO                KEN  2:13:08
2  Leonard K KIPYEGO               KEN  2:13:17
3  Benson CHERUIYOT                KEN  2:14:04
4  Iaroslav MUSINSCHI              MDV  2:14:57
5  Yared M TEMESGEN                ETH  2:16:46
6  Chepkwony D KIPTANUI            KEN  2:16:59
7  Jacob K MENGICH                 KEN  2:17:10
8  Simon K TONUI                   KEN  2:19:53
9  Ahmed J JABER                   QAT  2:24:34
10 Aknello RUTTO                   KEN  2:25:37

WOMEN:
1  Elizabeth CHEMWENO              KEN  2:35:04
2  Hirut A LEGESSE                 ETH  2:45:42
3  Girma W TAFA                    ETH  2:50:06
4  Samirawit B OBSA                ETH  2:51:14
5  Alevtina NAUMOVA                RUS  2:52:15
6  Vinera SARMOSOVA                RUS  3:03:02
7  Abeba B HAILEMARIAM             ETH  3:05:36
8  Sofia A ROBA                    RUS  3:07:57
9  Maria KALENTZI                  GRE  3:23:03
10 Niki MPOUKOUVALA                GRE  3:28:11
20 APRIL 2008: DALIAN INTERNATIONAL MARATHON, CHINA
[no results yet obtained]
21 APRIL 2008: 112th BAA BOSTON MARATHON, USA
After a sedate start the men's race picked up quickly, passing 10km in 30:19, and by 15km the lead group was on to course record pace. At 20km the pack was down to nine, and soon afterwards reduced to six, thanks to aggressive running by defending champion Robert Cheruiyot. He continued to push and into the hills forced open a gap on the others. Passing 30km in 1:29:11 he was now on sub-2:06 pace, with Abderrahime Bouramdane in second and James Kwambai in third. On Heartbreak Hill Cheruiyot began to slow but was 30 seconds ahead of Bouramdane as Adillo moved ahead of Kwambai into third place. The pace continued to slow as Cheruiyot passed 40km in 2:00:43 now again outside course record schedule, but still leading by 52 seconds. He soldiered on to join Clarence DeMar, Gerard Cote, Bill Rodgers and Catherine Ndereba as four-time winners of Boston.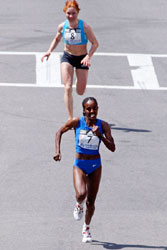 Inaugural Olympic women's marathon champion Joan Samuelson set the elite women's field off 25 minutes before the men and the mass race. With the US women's trials held on a different course in Boston the day before, there was no home interest among the select field. Defending champion Jelena Prokopcuka led through 5km in 17:09. Others took up the running, at first at 2:24 pace but then slowing to 2:27 pace at 10km (34:50). They reached halfway in 1:14:45, only just inside 2:30 schedule. Prokopcuka made a move after 25km but soon fell back to leave a group of four, as Alevtina Biktimirova led Ethiopians Dire Tune and Askale Magarsa, along with 2006 winner Rita Jeptoo. Margarsa dropped back at around 30km, passed in 1:45:24, and Jeptoo also fell back shortly afterwards. At the front, Biktimirova was making all the running but Tune tracked her doggedly through 40km. It came down to a sprint and Dire Tune edged ahead in the final 300m to win by a couple of seconds.
MEN:
1  Robert CHERUIYOT               KEN  2:07:46
2  Abderrahime BOURAMDANE         MAR  2:09:04
3  Khalid EL BOUMILI              MAR  2:10:35
4  Gashaw ASFAW                   ETH  2:10:47
5  Kasime ADILLO                  ETH  2:12:24
6  Timothy CHERIGAT               KEN  2:14:13
7  Christopher CHEBOIBOCH         KEN  2:14:47
8  James KWAMBAI                  KEN  2:15:52
9  James KOSKEI                   KEN  2:16:07
10 Nicholas ARCINIAGA             USA  2:16:13

WOMEN
1  Dire TUNE                      ETH  2:25:25
2  Alevtina BIKTIMIROVA           RUS  2:25:27
3  Rita JEPTOO                    KEN  2:26:34
4  Jelena PROKOPCUKA              LAT  2:28:12
5  Askale MAGARSA                 ETH  2:29:48
6  Bruna GENOVESE                 ITA  2:30:52
7  Nuta OLARU                     ROM  2:33:37
8  Robe Tola GUTA                 ETH  2:34:37
9  Lidiya GRIGORYEVA              RUS  2:35:37
10 Stephanie HOOD                 CAN  2:44:44
27 APRIL 2008: CONERGY MARATHON HAMBURG, GERMANY
Photo: Bongarts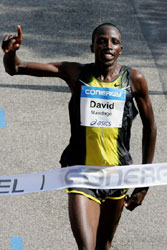 David Mandago and Wilfred Kigen pushed each other to 2:07 times, while Irina Timofeyeva broke the course record by 21 seconds in the women's race writes Jorg Wenig. Despite the course record the men's event produced the best results of the day. Almost 20 runners reached the half way mark in 1:03:17, among them the four-time Hamburg champion Julio Rey. But Rey lost lost contact at 25km and only finished a lowly 16th in 2:13:20. Mandago decisively broke away after the 35 km mark but later said "I did not expect to win, and did not think it would become such a fast race." Kigen again narrowly missed victory. The three-time winner of the Frankfurt Marathon again finished second.
Germany's Falk Cierpinski did well although he missed the qualifying time for the Beijing Olympics. The son of the double Olympic marathon champion Waldemar Cierpinski improved his personal best by more than three minutes, to 2:15:48 in 22nd place. Cierpinski had run the first half in 1:06:03 aiming for the 2:13 the German demands for selection. Although he missed this time he has now established himself as Germany's number one marathon runner. And there is room for further improvement.
Irina Timofeyeva broke both the course record and her personal best. The 38-year-old passed half way in 1:11:47 but was more than four minutes ahead of Pamela Chepchumba at the end. Disaster struck Ulrike Maisch in the fight for Olympic selection. The surprise winner of the European Championships in 2006 gave up after only 16km, blaming "heavy legs". In all, 23,230 runners had registered for Germany's second biggest marathon behind only Berlin.
MEN:
1  David MANDAGO                     KEN  2:07:23
2  Wilfred KIGEN                     KEN  2:07:48
3  Tariku JUFAR                      ETH  2:08:10
4  Tessema ABSHIOR                   ETH  2:08:26
5  Sammy KURGAT                      KEN  2:08:55
6  Laban KIPKEMBOI                   KEN  2:09:46
7  Mesfin ADIMASU                    ETH  2:10:23
8  Kiprotich KENEI                   KEN  2:10:33
9  Ahmed BADAY                       MAR  2:10:59
10 Ketema AMENSISA                   ETH  2:12:02
 
WOMEN:
1  Irina TIMOFEYEVA                  RUS  2:24:14
2  Pamela CHEPCHUMBA                 KEN  2:28:36
3  Asha GIGI                         ETH  2:29:28
4  Yesenia CENENO                    ESP  2:31:16
5  Mulu Seyfu SEBOKA                 ETH  2:31:45
6  Rasa DRAZDAUSKAITE                LIT  2:31:59
7  Nebiat HABTEMARIAM                ERI  2:32:04
8  Olga ROSSEYEVA                    RUS  2:32:10
9  Leonor CARNEIRO                   POR  2:33:15
10 Ayelech WORKU                     ETH  2:33:19
27 APRIL 2008: VIENNA CITY MARATHON, AUSTRIA
Photo: Victah Sailer / photorun.net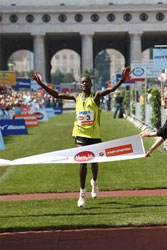 Kenya's Abel Kirui won the 25th edition with a new course record. The 25 year-old Kenyan broke 2:08 for the first time in Vienna and three others finished inside 2:09. Defending women's champion Luminita Talpos retained her title with the third fastest time ever run on the course.
In all 30,072 runners from more than 100 nations entered made the Vienna City Marathon and its associated events the biggest running festival ever seen in Austria.
Passing through 63:44 at halfway and 1:30:26 at 30km four runners from Kenya were still contesting: Abel Kirui, debutant Duncan Kibet, Paul Biwott and William Rotich. It was Kirui and Kibet, the training partner of marathon greats Martin Lel and Robert Cheruiyot, who increased the pace and broke away. Kirui opened the decisive gap at 35km (1:45:04) and at first looked on course for sub-2:07, but later explained: "running alone was hard. I got tired and it got very warm." He improved the 2:08:20 mark run by Lahoucine Mrikik (MAR) in 2006.
Tomo Morimoto was women's race favourite after her 2:24:33 win in 2006: "But it felt hard right from the beginning and I got problems at around 17km," she said. Defending champion Luminita Talpos then took the lead and constantly increased it. She improved her five-year old personal best by 49 seconds and expects to gain selection for Beijing.
MEN:
1  Abel KIRUI                        KEN  2:07:38 
2  Duncan KIBET                      KEN  2:08:33
3  Paul BIWOTT                       KEN  2:08:53
4  Willliam ROTICH                   KEN  2:12:18
5  Andrew LIMO                       KEN  2:12:27
6  Samson LOYWAPET                   KEN  2:13:23
 
WOMEN:
1  Luminita TALPOS                   ROM  2:26:43
2  Tomo MORIMOTO                     JPN  2:29:01
3  Beatrice OMWANZA                  KEN  2:37:36
4  Oksana KUZMICHEVA                 RUS  2:39:54
27 APRIL 2008: MARATHON POPULAR DE MADRID, SPAIN
Photo: Mareas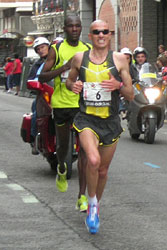 José Manuel Martínez won the 31st Madrid Marathon convincingly, for his victory win in 10 marathon appearances writes Emeterio Valiente. Known as "Chema" Martínez, the former European 10,000m champion clocked 2:12:42 to build a one-minute margin over Kenya's Frederick Cherono.
Due to its 650m altitude Madrid is not the place to run fast times at distance events but the leading group went through 10km section in a quick 30:45 with five Kenyans accompanied only by Martínez. The half marathon split of 1:04:19 still promised an assault on the Madrid all-comers best, Olympic champion Stefano Baldini's 2:09:59, but the rising temperature and the hilly closing section defeated that purpose. By halfway the Madrid-native Martínez and the Kenyan trio of Cherono, Abraham Keter and Robert Cheruiyot were away. Martinez made his move at 30km, reached in 1:32.39. Firstly Cheruiyot and then Keter simply could not live with the pace. The local hero also managed to leave Cherono with the clock reading 1:44 (34th km) and then romped home unopposed, just outside the Olympic qualifying standard of 2:12:30. His clocking of 2:10:12 in 2007 will give him qualification. "It's great to succeed in front of your home crowd," said the ecstatic victor, who also confessed that his knowledge of the circuit had benefited him.
The women's race witnessed a battle between the unheralded Kenyan Rael Kiyara Kguriatukei and Ethiopia's twice Olympic 10,000m champion Derartu Tulu. The former had a 200m margin over Tulu by halfway and the illustrious Ethiopian's come-from behind tactic in the second half was not enough to catch the Kenyan, who finished 17 seconds ahead of Tulu. It was Tulu's first outing - at any event – since the Helsinki 2005 World Championships where she finished fourth in the marathon.
MEN:
1  Chema MARTINEZ                   ESP  2:12:42 
2  Frederick CHERONO                KEN  2:13:42 
3  Abraham KETER                    KEN  2:14:48 
4  Robert CHERUIYOT                 KEN  2:15:32 
5  Larbi ESRADI                     FRA  2:16:48 
6  Yusuf SONGOKA                         2:16:55
7  Jonatahan KIPKOSGEI              KEN  2:17:07
8  Joseph KAHUGU                         2:17:31
9  Raymond KIPKOECH                 KEN  2:18:29
10 John EWOI                             2:20:19
 
WOMEN:
1  Rael Kiyara KGURIATUKEI          KEN  2:36:15 
2  Derartu TULU                     ETH  2:36:32 
3  Kenza DAHMANI                    ALG  2:39:38 
4  Pauline CHEPKORIR                KEN  2:40:35 
5  Eunice Jepkoech KORIR            KEN  2:40:37
6  Monica A DIAZ                         3:07:52
7  Noelia M ARRIBAS                      3:10:40
8  Rebeca A SEOANE                       3:18:23
9  Lydia O MEDINA                        3:18:51
10 Isabel R MARTINEZ                     3:19:42
27 APRIL 2008: iWELT MARATHON WUERZBURG, GERMANY
MEN:
1  Kidus GEBREMESKEL                ETH  2:27:10
2  Oliver NEUMANN                   GER  2:40:16
3  Uwe REINKE                       GER  2:42:57
4  Gerald DR LEHRIEDER              GER  2:47:52
5  Michael NEHER                    GER  2:54:16
6  Walter VOGG                      GER  2:54:25
7  Michael PLAUM                    GER  2:55:48
8  Elmer ZOELLER                    GER  2:55:50
9  Thomas KARLE                     GER  2:56:11
10 Stephen SCHUPPEL                 GER  2:56:26

WOMEN:
1  Carolin MEYER                    GER  3:01:10
2  Elke BRENNER                     GER  3:01:19
3  Carola ROSENWIRTH                GER  3:06:28
4  Sabine PULLNS                    GER  3:09:16
5  Astrid STAUBACH                  GER  3:14:29
6  Sandra DURR                      GER  3:22:44
7  Raileen BOURGUIGNON              GER  3:23:05
8  Katja FRIEDLANDER                GER  3:26:11
9  Mareile HERTEL                   GER  3:27:31
10 Ingrid SCHWENZER-MULLER          GER  3:27:37
27 APRIL 2008: BIG SUR INT'L MARATHON, USA
MEN:
1  Andy MARTIN                       USA  2:29:50
2  Jesus CAMPOS                      USA  2:30:21
3  Robert ROSASCO                    USA  2:38:38
4  Jeff GARDINA                      USA  2:41:07
5  Eric BOWLES                       USA  2:42:08
6  Van MCCARTY                       USA  2:45:11
7  Oswaldo LOPEZ                     USA  2:45:42
8  Michael NEWMAN                    USA  2:45:56
9  David DE STEIGER                  USA  2:46:24
10 Christopher RATLIFF               USA  2:47:33
 
WOMEN:
1  Kris LAWSON                       USA  3:00:53
2  Annie FISHER                      USA  3:18:47
3  Christina WILK                    USA  3:20:16
4  Sarah LAVENDER SMITH              USA  3:21:30
5  Jennifer FLINT                    USA  3:21:31
6  Rachael WOODS                     USA  3:22:20
7  Amy MARR                          USA  3:23:36
8  Aracelly CLOUSE                   USA  3:24:02
9  Rochelle VERONNEAU                USA  3:24:57
10 Laurel JOHNSTON                   USA  3:24:57
27 APRIL 2008: MARATONA SANT ANTONIO, ITALY
Francis Kirwa, now representing Finland, won easily from Alberico Di Cecco on a warm day, but there was a home win in the women's race writes Diego Sampaolo.
A group of 12 men ran sub-2:10 pace for the first 10km (30:44) and at halfway (1:04:45) the 2003 course record (2:10:38) was still under threat with five men still together. The last pacemaker, Henry Rutto, took them through 25km in 1:16:50. First Haron Toroitich at 28 km and then Phillip Biwott at 30km (1:32:17) tried to break away but the trio formed by Toroitich, Kirwa and Di Cecco held together. Biwott got away just before 35km (1:47:46) but Kirwa soon got back on level terms as Di Cecco fell back behind Toroitich. By 38km Kirwa was 23 seconds clear. Although Di Cecco suffered from cramps in the final stages he came through for second place as Biwott struggled and then dropped out at 38km, as the temperature rose to 25°C. Kirwa moved to Finland in 2001 and obtained citizenship in 1 January 2003. "I chose to represent Finland because I realized that I had more chances to compete in international major events."
In the women's race 2:28 runner Alina Gherasim set the early pace, passing halfway in 1:14:55 to lead by 46 seconds from Spain's Teresa Pulido and Italy's Marcella Mancini. Gherasim suddenly began to struggle and dropped out at 25km. Mancini then took the lead with a gap of 14 seconds over Pulido, which she stretched to 52 seconds at 30km (1:48:27) and 1:53 at 35km. She went on to take her third victory in the event.
MEN:
1  Francis KIRWA                    FIN  2:11:00
2  Alberico DI CECCO                ITA  2:13:09
3  Haron TOROITICH                  KEN  2:13:24
4  Amos MASAI                       UGA  2:16:09
5  Scott WESTCOTT                   AUS  2:16:28
6  Hamed NASEF                      MOR  2:17:14

WOMEN:
1  Marcella MANCINI                 ITA  2:35:24
2  Dolores PULIDO                   ESP  2:39:24
3  Josephine Wangoi NJOKI           KEN  2:48:19
27 APRIL 2008: ENSCHEDE MARATHON, NETHERLANDS
MEN:
1  Silas TOEK                       KEN  2:10:40
2  Sammy KIBET                      KEN  2:11:49
3  Tekeste NEKATIBEBE               ETH  2:12:00
4  Dereje TESFAYE                   ETH  2:12:00
5  Nicholas CHELIMO                 KEN  2:12:29
6  Deriba DEME                      ETH  2:13:03
7  Abdellah FALIL                        2:13:37
8  Joseph MUTISO                    KEN  2:13:47
9  Josphat YEGO                     KEN  2:16:54
10 Youssef EL KALAI                      2:17:21
 
WOMEN:
1  Polly NKAMBI                          3:12:41
2  Klara DAVINA                     NED  3:17:31
3  Gabriela G SANABRIA              NED  3:22:09
4  Brigitte LANGKAMP                     3:29:19
5  Gerry VISSER                     NED  3:33:09
6  Elly BUIJVOETS                   NED  2:39:43
7  Judith DE BRUIN                  NED  2:39:58
8  Ellen WOPEREIS                   NED  2:44:53
9  Natalie FAIST                         2:45:10
10 Wiggers MECHTHILD                NED  2:46:23
 
HALF MARATHON
MEN:
1  Christophe CLYNCKE               NED  1:09:40
2  Christoph HAKENES                     1:10:17
3  David STEVENS                    NED  1:11:29
 
WOMEN:
1  Jacqueline RUSTIDGE              NED  1:22:22
2  Kristel GEEROMS                  NED  1:29:35
3  Katharina HAUERTMANN                  1:31:46
27 APRIL 2008: RIJEKA HALF MARATHON, CROATIA
MEN:
1  Isaac TANUI                    KEN  1:03:57
2  Moses ALIWA                    UGA  1:04:01
3  Roman KEZJAR                   SLO  1:06:29
4  Duro KODZO                     BIH  1:06:35
5  Drazen DINJAR                  CRO  1:08:35
6  Drago PARIPOVIC                CRO  1:10:49
7  Bela HORVATH                   HUN  1:11:42
8  Istvan ORI                     HUN  1:11:56
9  Sadet CAUSEVIC                 SLO  1:12:24
10 Goran MURIC                    CRO  1:14:45

WOMEN:
1  Helena JAVORNIK                SLO  1:12:12
2  Ida SURBEK                     SLO  1:18:52
3  Marija VRAJIC                  CRO  1:23:45
4  Antonija ORLIC                 CRO  1:27:25
5  Sanja BEGOVIC                  CRO  1:29:30
6  Marijana COTA                  CRO  1:30:58
7  Jasminka VONAR                 CRO  1:39:49
8  Ana BALOBAN                    CRO  1:40:20
9  Ivanka SIRCA                   SLO  1:43:30
10 Suzi PERUC                     CRO  1:45:11
27 APRIL 2008: SOCIETY OF TORUN MARATHON, POLAND
MEN:
1  Adam DOBRZYNSKI                POL  2:23:19
2  Tomasz DRAG                    POL  2:26:07
3  Robert CELINSKI                POL  2:26:57
4  Artur PELO                     POL  2:28:40
5  Adam THIEL                     POL  2:29:16
6  Marek WOJTAS                   POL  2:30:28
7  Krzysztof SZCZEPANSKI          POL  2:30:34
8  Jerzy CHMARZYNSKI              POL  2:32:14
9  Ireneusz WIELIGDA              POL  2:36:21
10 Marek DZIEGIELEWSKI            POL  2:36:40

WOMEN:
1  Svetlana STANKO                UKR  2:43:52
2  Arleta MELOCH                  POL  2:44:43
3  Volha YUDZIANKOVA              BLR  2:47:16
4  Renata ANTROPIK                POL  2:53:46
5  Dominika STAWCZYK              POL  3:03:22
6  Agnieszka MALINOWSKA           POL  3:09:11
7  Dorota PRZYBYSZ                POL  3:09:35
8  Marta LEANDOWSKA               POL  3:24:21
9  Ewa KOWALSKA                   POL  3:28:21
10 Elzbieta BUNIEWSKA             POL  3:33:33
April 2008