March 2008
2 MAR | 3 MAR | 5 MAR | 9 MAR | 16 MAR | 22 MAR | 27 MAR | 29 MAR | 30 MAR
2 MARCH 2008: XXIII LOS ANGELES MARATHON, USA
MEN:
1  Laban MOIBEN                    KEN  2:13:50
2  Christopher KIPROTICH           KEN  2:14:17
3  Khalid Kamal YASEEN                  2:15:22
4  Augustus KAVUTA                 KEN  2:15:58
5  Franklin TENORIO                ECU  2:16:27
6  Odilion CUAHUTLE                     2:16:40
7  Benson MBITHI                   KEN  2:16:58
8  Lamech MOKONO                   KEN  2:18:39
9  Peter AYIENI                    KEN  2:18:55
10 Edward KIPTUM                   KEN  2:19:19

WOMEN:
1  Tatiana ARYASOVA                RUS  2:29:09
2  Yuliya GROMOVA                  RUS  2:34:13
3  Jacqueline NYTIPEI              KEN  2:37:38
4  Albina GALYAMOVA                RUS  2:37:51
5  Mary PTIKANY                    KEN  2:40:13
6  Claudia CAMARGO                 ARG  2:45:18
7  Jennifer DE REGO                     2:46:22
8  Katie LAYMAN                    USA  2:53:39
9  Kathryn KASISCHKE               USA  2:53:46
10 Teresa YANEZ                    USA  2:59:09
2 MARCH 2008: BARCELONA MARATHON, SPAIN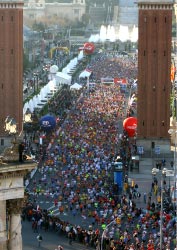 With high temperatures, strong wind and a sun that shone all day, this edition of the race was the most popular yet, with half of the competitors coming from outside Spain. Kenyans and Ethiopians dominated, but the men's winner, Hosea Hogei, said "It was a hard race because of the heat and the headwind for almost all the route".
Women's winner, 20-year old Mihret Tadesse was very satisfied "to win this Marathon is very good for my sporting career".
The race festivities extended over three days, with many live acts around the city to engage the record 7,634 finishers.
MEN:
1  Hosea HOGEI                     KEN  2:14:42
2  Johnstone CHEBII                KEN  2:16:32
3  Roger Roca DALMAU               ESP  2:16:53
4  Kebede BEKELE                   ETH  2:18:15
5  Kiprop KORIR                    KEN  2:18:44
6  Teshoime TSIGE                  ETH  2:23:04
7  Habib MOSBAH                    FRA  2:23:25
8  Samson CHEBOSWONY               KEN  2:23:52
9  Joan Prats ESPAR                ESP  2:28:04
10 Marco A CEPEDA                  ESP  2:31:20

WOMEN:
1  Mihret TADESSE                  ETH  2:42:12
2  Mihret ANAMO                    ETH  2:43:43
3  Tabita KIBET                    KEN  2:47:49
4  Julia MYATT                     GBR  2:50:33
5  Margarethe LOGAVLEN             NOR  2:51:58
6  Grace KYTONGA                   KEN  2:52:42
7  Azeb SHEWAMARE                  ETH  2:53:08
8  Noelia ROMAN                    ESP  2:58:58
9  Marina ZANARDI                  ESP  2:59:53
10 Maria LOPEZ                     ESP  3:00:54
2 MARCH 2008: LALA MARATHON, MEXICO
Photos: Alan Brookes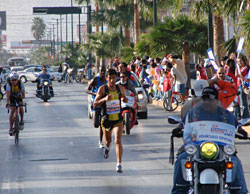 Both Procopio Franco and Patricia Retiz recorded impressive come-from-behind victories at the 20th Anniversary race in the city of Torreón writes Alan Brookes.
Torreón is an industrial city of 1 million, at 1000m altitude, spread out across the high desert of northern Mexico and bounded by the Cerro de las Noas Mountains. It is home to the Lala milk company – one of the country's largest dairy processors and distributors – and the marathon is their gift to "La Lagunera", the city and region surrounding it. As Mexico's top marathon, it attracts tens of thousands of spectators who line the flat, 42km route in this "Fiesta Lagunera". More than 40 bands along the course cranked up the carnival atmosphere for the record field of 4,494.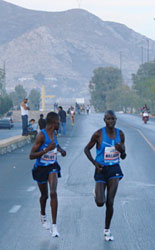 Conditions were warm: 18°C at the pre-dawn starts (elite at women 06:40, others at 07:00) and Hillary Kimayo and Julius Kipyego took off like they couldn't wait to get to the post-marathon party at Bosque Venustiano Carranza – a miracle park of green grass and trees, made possible only by irrigation. They blitzed the first kilometre in 2:50, and were 14:53 at 5km. They followed up with 5km splits of 15:12 and 15:17, before the wheels started to come off. The veteran Procopio Franco, himself known as a frequently-injudicious front-runner, ran a wonderfully patient race as he worked with Guanajuato's Carlos Cordero to close the gap. By 30km he had the Kenyan pair in his sights, but Kimayo dropped Kipyego in a vain but valiant effort to stay ahead of the charging Franco. Franco floated by Kipyego, and nailed Kimayo at 36km. Kimayo hung on for second, with the surprised Cordero coming through for third, as the cheers of "México, México" rose up from the grandstand, and the relentless desert sun beat down. This was the 34-year old Franco's first Lala victory, after two seconds and a fourth place in previous editions, when he unwisely led the early charge to the front.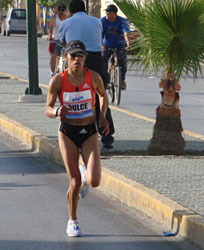 The women's race was almost a carbon copy drama, played out by Mexicans Dulce Maria Rodríguez and Patricia Retiz. Paced by her Kenyan training partner, Genoveva Jelegat, Rodríguez broke away early from a lead pack of six. It was not until 35km that Retiz reeled in the fading Rodríguez. This was a second major victory for Retiz who had bested Madai Perez, Mexico's top women's marathoner, at the Guadalajara Half Marathon a week earlier.
With more than 4,000 volunteers, great sponsors and tremendous crowds, Maratón Lala provides a fine example of how well Mexican marathons are doing nowadays. Lala is their showcase, providing quality and a special "fiesta" experience.
MEN:
1  Procopio FRANCO                MEX  2:12:38
2  Hilary KIMAIYO                 KEN  2:13:08
3  Carlos CORDERO                 MEX  2:13:28
4  Isaac KIMAIYO                  KEN  2:13:58
5  Christopher KIPYEGO            KEN  2:16:03
6  Julius KIPYEGO                 KEN  2:16:22
7  Thomas LUNA                    MEX  2:16:39
8  Edilberto MENDEZ               MEX  2:16:51
9  Jonnatan MORALES               MEX  2:17:48
10 Carlos ROMERO                  MEX  2:18:49

WOMEN:
1  Patricia RETIZ                 MEX  2:30:29
2  Dulce Maria RODRIGUEZ          MEX  2:33:23
3  Karina PEREZ                   MEX  2:35:07
4  Judith RAMIREZ                 MEX  2:36:29
5  Jessica RODRIGUEZ              MEX  2:36:32
6  Viola BOR                      KEN  2:41:14
7  Jaqueline ORELLANA             MEX  2:43:27
8  Maria Guadelupe SANTANA        MEX  2:43:57
9  Alicia RODRIGUEZ               MEX  2:44:55
10 Ariana QUINO                   MEX  2:46:08
2 MARCH 2008: LAKE BIWA MARATHON, JAPAN
Photo: Victah Sailer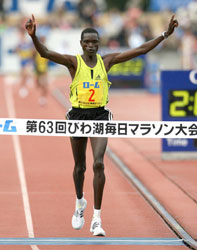 Surging away from Yared Asmeron at 36km, Mubarak Shami (formerly Richard Yatich of Kenya) won the 63rd annual Lake Biwa Marathon by 70m writes Ken Nakamura. Asmeron improved his personal best by nearly seven minutes. Satoshi Osaki closed to within 10m of Asmeron at the finish and also set a personal best. He said: "I was thinking about the Olympics and kept on pushing. I was not going to give up". As he was first Japanese and faster than Arata Fujiwara's time of 2:08:40 in the Tokyo Marathon three weeks ago, he is likely to be selected. In fourth, Yuzo Onishi said "I am frustrated that the first Japanese was only 100m ahead", especially as he cut four minutes from his personal best time. In fifth Tomoya Shimizu debuted with 2:09:23. Seven men ran sub-2:10, equalling the record set in 2003 and 2004.
Takashi Matsuyama and Koji Inagaki took the leaders of the 172-strong field through the first half with steady 5km splits at an average pace of 2:59, 2:59, 3:01, 3:00, and 3:01, although swirling wind made some of the kilometre split times look erratic. The race really began to take shape after passing halfway in 1:03:22, five seconds slower than the record pace. Right after that, Dmytro Baranovsky, 2:08 runner Masakazu Fujiwara fell behind. Eleven runners were inside record pace at 25km. At 30km, just after the last pacemaker Isaac Macharia dropped out of the race, the lead pack of four runners was split into two - Shami and Asmeron in front and Osaki and Rios just behind, while Tomoyuki Sato was still keeping close. Asmeron tried to shake off Shami, but the gap always stayed between 5-10m. Sato was only 6-7m behind Osaki and Osaki later admitted "I was scared". But Sato was unable to close the gap, which started to increase after 32km. At 33km Shami pulled alongside Asmeron, and they ran together for the next 3km. Shami's surge won him a lead of 20m within a kilometre, and by 40km he was 23 seconds ahead of Asmeron.
The comeptition behind, for the last place on the Japanese Olympic team, was still being closely fought. At 36km Onishi passed Sato to move into fifth. Osaki was slowing down, but needed to finish under 2:08:40 for Olympic consideration. At 37km Osaki realized that he had to run the final 5km in 15:36, and he soon started to pull away from Rios. With 3km to go Osaki needed to run 3:06/km. "At 40km I decided to go after the time," he said. In doing so, with a final 400m lap of 72 seconds, he just failed to catch Asmeron. Behind him Onishi passed Rios at 39km but was unable to close on Osaki. The Beijing Olympic team will be announced on 10 March. "I will wait for the good news," concluded Osaki.
MEN (only):
1  Mubarak SHAMI                QAT  2:08:23 
2  Yared ASMERON                ERI  2:08:34
3  Satoshi OSAKI                JPN  2:08:36
4  Yuzo ONISHI                  JPN  2:08:54
5  Tomoya SHIMIZU               JPN  2:09:23
6  Jose RIOS                    ESP  2:09:38
7  Tomoyuki SATO                JPN  2:09:59
8  Kazuki IKENAGA               JPN  2:10:44
9  Masakazu FUJIWARA            JPN  2:12:07
10 Toshiya KATAYAMA             JPN  2:12:30
2 MARCH 2008: INTERNATIONAL OGER ANTALYA MARATHON, TURKEY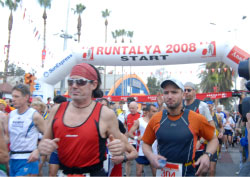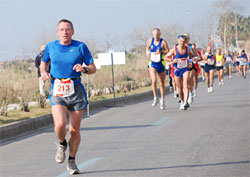 Numbers were well up on the first edition held last year, with 433 Marathon, 1017 Half Marathon, 496 10km runners and 72 Team Marathon competitors, who turned the start into a festival area. There were another 3500 fun runners. After the start the stadium became packed with supporters as they awaited the lead runner. Philip Makau broke the previous best time with his 2:16:14.
MEN:
1  Philip Makau MUIA           KEN  2:16:13
2  John Kipkoskei NGENY        KEN  2:19:32
3  John Musila KIOKO           KEN  2:21:06
4  William Kimutai KURGAT      KEN  2:25:14
5  Muammer ALTINOK             TUR  2:35:07
6  Yusuf ZEPAK                 TUR  2:39:03
7  Kiyasettin YALCIN           TUR  2:40:46
8  Murat KAYA                  TUR  2:42:37
9  Zekeriya DIKMENER           TUR  2:42:40
10 Mustafa YOLDAR              TUR  2:43:17
 
WOMEN:
1  Kristina LOONEN             NED  2:42:55 
2  Yeter GULAL                 TUR  2:50:02
3  Joanna CHMIEL               POL  2:50:15
4  Salome Jepkoech KIMUTAI     KEN  3:01:43
5  Birgit BARTELS              GER  3:04:58
6  Inge RAABE                  GER  3:12:44
7  Elena POLYAKOVA             TUR  3:13:36
8  Carmen VALERIUS             GER  3:29:23
9  Lütfiye KAYA                TUR  3:31:10
10 Josi GUTTENBERGER           GER  3:55:54

HALF MARATHON
MEN:
1  Iaroslav MUSINSCHI          MDV  1:04:32
2  Isaac Kinyuha WANJOHI       KEN  1:04:52
3  Moses TOO                   KEN  1:05:27

WOMEN:
1  Lyuba MORGUNOVA             TUR  1:14:10
2  Lucia Miwhiki KIMANI        BIH  1:14:49
3  Ilona BARVANOVA             UKR  1:15:53
2 MARCH 2008: KILIMANJARO MARATHON, TANZANIA
MEN:
1  Jumanne TRUWAY                 TAN  2:15:37
2  Andrea SYLVIN                  TAN  2:16:22
3  Mashaka MAUMBUKO               TAN  2:16:57
4  David Kipkorir BUTOH           KEN  2:17:29
5  Basweti ONYANCHA               KEN  2:20:04
6  Eric KIPROTICH KIGEN           KEN  2:20:09
7  Isaal KIMAIYO                  KEN  2:20:10
8  Malack OLE MHNGERA             TAN  2:20:45
9  John BALASI                    TAN  2:21:59
10 Jonathan KIPRONO               KEN  2:22:14

WOMEN:
1  Banuelia BRIYITON              TAN  2:48:37
2  Rysper KIMAIYO                 KEN  2:52:13
3  Flora KAGALI                   TAN  2:53:47
4  Tausi SAIDI                    TAN  2:55:26
5  Sarah SELU                     TAN  2:59:03
6  Aisha RAJAB                    TAN  3:08:25
7  Rebecca KAVINA                 TAN  3:09:59
8  Sara KAVINA                    TAN  3:11:12
9  Philipina JOHN                 TAN  3:15:50
10 Beatrice MUAGURI               KEN  3:22:10

HALF MARATHON
MEN:
1  Damian CHOPA                   TAN  1:04:54
2  Marco JOSEPH                   TAN  1:04:58
3  Ezekiel NGIMBA                 TAN  1:04:59

WOMEN:
1  Fabiola WILIAMU                TAN  1:23:39
2  Genevive NJOKO                 NGR  1:34:47
3  Joyce KUNGU                    KEN  1:34:53
3 MARCH 2008: 100km DEL SAHARA, TUNISIA
Stage 1 (22km) Chenini - Garat Douiri
The winner of the first stage was the event specialist Jorge Balle, with a time of 1:33, followed by the Tunisian Rouissi Abdelwahed and the Swiss Helmuth Steinacher.
Luisa Zecchino won the women's event from Paola Tagliavini and the American Susan Nowell.
Former New York City Marathon Champion Orlando Pizzolata led the stretching exercises beforehand, and finished 11th overall, while Laura Fogli, a world leading runner of the same vintage as Pizzolato, finished 5th in the women's section.
Afterwards everyone relaxed to a spectacular fokloric display to round off the first day's proceedings.
4 MARCH 2008: Stage 2 (19.8km) Garat Douiri - Camp Laaraj
After yesterday's difficult stage, Sharon Kovar, last years female winner and the Race's Promotions Manager for North America, had to pull out. She had not been well in recent months but still came to the race with a group of 27 runners and also attempted to compete. Now she will work solely as a member of the race staff for the remainder of the race.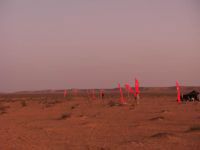 The walkers started at 09.30 and the runners at 10.30 with much cooler conditions than yesterday. Light cloud and a little wind gave some relief to the runners. The course was also easier. The path was mostly flat with hard packed sand with few areas of deep sand to plough through.
There were check points at 10km and at 16.7km, after that runners could see the camp in the distance.
The stage was won by the Tunisians Adbelwahed Rouissi and Kelid Hezhi in 1:17:22, half a minute ahead of the Swiss Helmuth Steinacher in third place with the German Jorge Balle coming in just a few seconds behind him.
Afterwards runners prepared themselves for the Night event, which is included for the unique experience of running under the Saharan night sky.
4 MARCH 2008: Stage 3 (8km) Camp Laaraj circuit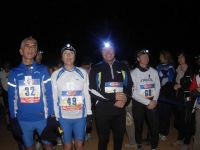 As always the night event took place under a starry sky which only the Tunisian Desert can offer.
A group from Italian State Broadcasting RAI is participating of which the leader, Gianfranco Comanducci, is pictured with the former Italian champion Laura Fogli.
Runners were sent off in groups of four at 30 second intervals, and in the reverse of their order in the overall standings.
The stage was won by the Tunisian Kelid Hezhi ahead of Helmuth Steinacher. These two athletes have been the revelation of this 10th edition of the race. Third, but only a second further behind, was Jorg Balle, who controlled his effort in anticipation of the Marathon stage and of running on the Ksar Ghilane dune on the final day of the event. The expert German runner is the real specialist in this event and knows the tactics required to succeed.
5 MARCH 2008: Stage 4 (Marathon) Camp Laaraj - Aouinet Essbat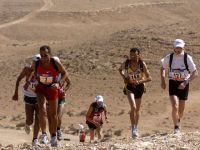 Helmuth Steinacher beat Jorge Balle by a little over a minute to take the stage, but the surprise of the day was the performance by the Canadian Jamieson Amstrong. He came in third, 15 minutes behind the leading pair, to move up the general standings from eighth to fifth. Ivan Zufferli also moved up a place.
Luisa Zecchino continued to dominate the women's competition. She more than doubled her lead to put herself 40 minutes ahead of Susan Nowell, who overtook Paola Togliavini on this stage. The final stage involves a crossing of the dunes that make up part of the Tunisian Grand Erg before reaching the finish line in the oasis of Ksar Ghila.
6 MARCH 2008: Stage 5 (24km) Aouinet Essbat - Ksar Ghilane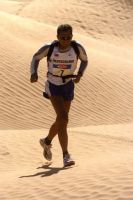 After a night in the desert with the temperature dropping down to 0°C the runners departed on the final stage at 09:30 with a strong cutting wind. The first part of the course was flat, but was followed by a series of 20m high dunes before the final run in towards the oasis of Ksar Ghilane, the traditional finish of the 100km del Sahara.
Jorge Balle retained his title in the 10th edition of the race, concluding with a stage victory alongside Helmuth Steinacher. The brave Swiss, in his first experience of this kind of competition, ceded just over a minute to the experienced Balle over the entire four-day event.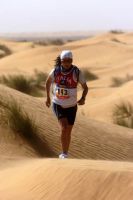 The Canadian Armstrong finished a strong third on the stage, and in the overall standings this left him in fifth, just a few seconds behind Ivano Zefferli.
Luisa Zecchino further insreased her overall lead on the final stage ahead of the American Susan Nowell. Running strongly on the final stage, Luigina Rosati and Claudia Gerling moved ahead of Paola Togliavini to finish third and fourth overall. Jennifer Gourley, who had a bad marathon stage the day before, stormed through in second place to move herself back up to seventh overall.
MEN:                        
1  Jorge BALLE                    GER  8:12:43
   1:33:06  1:17:56  26:51  3:15:41  1:39:09

2  Helmuth STEINACHER             SUI  8:13:46
   1:35:34  1:17:53  26:50  3:14:20  1:39:09

3  Hezhi KELID                    TUN  8:47:13
   1:37:48  1:17:23  26:08  3:33:00  1:52:54

4  Ivan ZUFFERLI                  ITA  9:06:14
   1:43:36  1:21:37  28:14  3:39:53  1:52:54

5  Jamieson ARMSTRONG             CAN  9:06:31
   1:49:43  1:27:23  30:17  3:30:23  1:48:45

6  Abdelwahed ROUISSI             TUN  9:12:09
   1:34:40  1:17:22  27:26  3:59:47  1:52:54

7  Kevin MUSCAT                   MLT  9:18:03
   1:49:34  1:24:33  30:16  3:36:58  1:56:42

8  Jamel SAGHRAOUI                TUN  9:26:37
   1:44:52  1:20:35  27:55  4:00:21  1:52:54

9  Giulio SIMONELLI               ITA  9:31:00
   1:48:34  1:30:37  33:05  3:45:50  1:52:54

10 Davide CASSANI                 ITA  9:38:06
   2:00:47  1:31:33  33:16  3:43:42  1:48:48

WOMEN:
1  Luisa ZECCHINO                 ITA  10:15:51
   2:02:08  1:33:47  33:32  3:59:25  2:06:59

2  Susan NOWELL                   USA  11:07:22
   2:11:41  1:40:14  36:19  4:21:59  2:17:09

3  Luigina ROSATI                 ITA  11:32:33
   2:17:09  1:47:55  40:02  4:29:27  2:18:00

4  Claudia GERLING                GER  11:39:58
   2:18:50  1:50:42  35:35  4:32:10  2:22:41

5  Paola TOGLIAVINI               ITA  11:46:18
   2:08:59  1:42:08  35:55  4:28:14  2:51:02

6  Louise SIMMS                   CAN  11:48:56
   2:19:45  1:45:32  38:24  4:35:52  2:29:23

7  Jennifer GOURLEY               CAN  12:14:51
   2:25:28  1:46:14  36:27  5:11:34  2:15:08

8  Catherine POULAIN              BEL  12:20:05
   2:37:20  1:59:18  38:56  4:32:30  2:32:01

9  Cosetta GROTTI                 SUI  12:24:16
   2:19:51  1:49:49  39:39  4:48:31  2:46:26

10 Laura FOGLI                    ITA  12:25:56
   2:16:42  1:52:07  38:23  4:47:43  2:51:01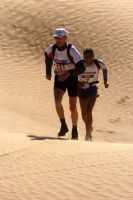 5 MARCH 2008: ANTARCTICA MARATHON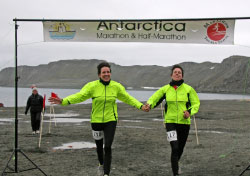 Maria and Catharina Schilder, identical twins from the Netherlands, clocked identical winning times as they crossed the finish line wearing matching gear and holding hands writes Patrice Malloy. Poland's Robert Celinski, 28, dominated the men's race.
The three champions were part of a contingent of 173 athletes from 17 countries who participated in the ninth running of the event. The 126 marathon and 51 half marathon entrants were treated to relatively mild weather conditions that included near-freezing temperatures, light winds, fog and grey skies.
Held on King George Island off the coast of the Antarctic Peninsula, the race features a two-loop course that includes a 1200m trek up and down an icy glacier as well as jaunts through snow, mud, rocks and glacial streams. The course treats participants to frequent penguin sightings and a tour through Russian, Chilean, Uruguayan and Chinese research bases.
Running as a pair during the entire race, the Schilder sisters, 37, overtook Denise Sauriol of Chicago at 27km. Celinski, who prepared for the hilly, rugged course by logging miles in the Polish mountains, led from the start to win by over 20 minutes.
MEN:
1  Robert CELINSKI                POL  3:09:43
2  Filippo FARALLA                RSA  3:30:52
3  David SMITH                    GBR  3:41:11
4  Stephen HIBBS                  USA  3:56:23
5  Joan LLOPART                   ESP  3:58:41
6  Jeremy BOLT                    USA  4:07:08
7  Bryce DUFF                     GBR  4:12:12
8  Timothy KRIPS                  USA  4:16:41
9  Christopher D'ANGELO           USA  4:24:52
10 John SHEFFIELD                 USA  4:25:30

WOMEN:
1  Catharina SCHILDER             NED  4:21:42
2  Maria SCHILDER                 NED  4:21:42
3  Denise SAURIOL                 USA  4:25:05
4  Stacey PADDOCK                 USA  4:28:55
5  Erin SPRAGUE                   USA  4:30:01
6  Laura NOTTIE                   USA  4:36:32
7  Paola SANDRONI                 USA  4:42:07
8  Andrea LUONGO                  USA  4:48:00
9  Mary-Ann WEBER                 USA  4:51:18
10 Jeanne SCHAARF                 USA  4:56:04

HALF MARATHON
MEN:
1  Greg HALES                     USA  1:42:48

WOMEN:
1  Tara LUNN                      USA  2:06:15
9 MARCH 2008: 29th NAGOYA INT'L WOMEN'S MARATHON, JAPAN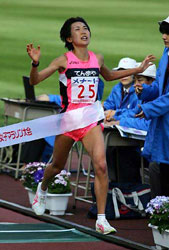 Marathon debutante Yurika Nakamura convincingly surged away from her opposition with 10km to go, but has not necessarily done enough to win Olympic selection writes Ken Nakamura. Her winning time is 17 seconds slower than that recorded by Tomo Morimoto in Osaka, although Morimoto finished only second. Also in Nakamura's favour are the 16:31 and 16:44 she recorded for her 5km splits from 30-35km and 35-40km. Reiko Tosa and Mizuki Noguchi are certainties, but the Japanese selectors will decide who fills the third place on 10 March.
Although a newcomer, Nakamura ran like a veteran, surging into a 17 second lead by 35km and was unchallenged thereafter. Yoshimi Ozaki, another marathon debutante, finished second. 2000 Olympic champion Naoko Takahashi, who attracted most media attention before the race, fell behind the leaders early, at 9km, and finished a disappointing 27th in 2:44:18. It was by far her slowest marathon time.
The race started slow and 31 runners passed 5km in 17:53. Takahashi was one of the seven dropped before 10km (35:47). The halfway split of 1:14:43 was the slowest since 1997. Yumiko Hara surged at 25km, before Naoko Sakamoto took over at 28.5km, leading a group of six clear. On an uphill section at 31km Chika Horie surged and Sakamoto and Hara lost ground. Slightly more than one kilometre later Nakamura upped the pace with kilometres of 3:13 and 3:14. "I kept on pushing, imagining that someone was just behind me. I was also thinking I must at least break 2:26," she said.
Yuri Kano tried to stay close to the leader, but with 5km to go Ozaki passed her to move into second.
WOMEN (ONLY):
1  Yurika NAKAMURA                JPN  2:25:51
2  Yoshimi OZAKI                  JPN  2:26:19
3  Yuri KANO                      JPN  2:26:39
4  Yumiko HARA                    JPN  2:27:14
5  Chika HORIE                    JPN  2:27:16
6  Megumi OSHIMA                  JPN  2:29:03
7  Yumi HIRATA                    JPN  2:29:23
8  Maya NISHIO                    JPN  2:29:34
9  Harumi HIROYAMA                JPN  2:29:50
10 Naoko SAKAMOTO                 JPN  2:30:21
9 MARCH 2008: 1st LAGO MAGGIORE HALF MARATHON, ITALY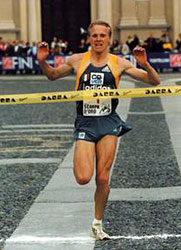 MEN:
1  Sergiy LEBID                   UKR  1:03:32
2  Abdelkebir LAMACHI             MAR  1:04:01
3  Adi BOUAFIF                    MAR  1:04:08
4  Nahashon RUGUT                 KEN  1:04:35
5  Joachim NISHIRIMANA            BDI  1:06:38
6  Armando SANNA                  ITA  1:06:45
7  Tito TIBERTI                   ITA  1:06:52
8  Mirko ZANOVELLO                ITA  1:08:33
9  Marco BRAMBILLA                ITA  1:08:50
10 Tommaso VACCINA                ITA  1:09:57

WOMEN:
1  Melissa PERETTI                ITA  1:14:50                
2  Monica BOTTINELLI              ITA  1:22:09
3  Emanuela BRIZIO                ITA  1:23:14
4  Elisa PAVENETTO                ITA  1:26:20
5  Cecilia MORA                   ITA  1:26:24
6  Cristina PIERI                 ITA  1:27:49
7  Ilaria ZACCAGNI                ITA  1:28:48
8  Annalisa BOMBELLI              ITA  1:29:24
9  Elisabetta COMERO              ITA  1:29:36
10 Graziella CONSOLI              ITA  1:30:26

9 MARCH 2008: 30TH FERRARA MARATHON, ITALY
MEN:
1  Alexsander MEDHANIE            ERI  2:15:24
2  Samuel GOITOM                  ERI  2:17:48
3  Khalid EN GUADY                FRA  2:21:58
4  Djuro KODZO                    BIH  2:32:50
5  Giuseppe VELETTI               ITA  2:37:25
6  Hrvoje KOVAC                   CRO  2:37:50
7  Corrado REGGIANI               ITA  2:38:01
8  Roberto BIANCHI                ITA  2:38:17
9  Goran MURIC                    CRO  2:38:38
10 Marco VERARDO                  ITA  2:41:16
 
WOMEN:
1  Antonija ORLIC                 CRO  2:57:52
2  Daniela SCUTTI                 ITA  2:58:59
3  Lorenza BEATRICI               ITA  3:01:51
4  Rossella PIOVESAN              ITA  3:08:12
5  Elsa MARDEGAN                  ITA  3:19:57
6  Ramona VALENTINI               ITA  3:20:20
7  Veronika JURISIC               CRO  3:29:19
8  Tiziana CARUSO                 ITA  3:30:33
9  Paola COCCATO                  ITA  3:33:19
10 Anna PEDRAZZINI                ITA  3:35:23
9 MARCH 2008: HALF MARATHON OF SAO PAULO, BRAZIL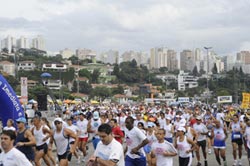 Kenyans dominated this second edition of the race, with start and finish in the Praca Charles Miller. In winning their races Kiprono Mutai and Eunice Kirwa both set new course records. In the struggle for Olympic qualification Vanderlei de Lima, who took the bronze medal in Athens, and Maria Zeferina Baldaia were highest placed among the Brazilians. The accompanying "quarter" marathon attracted 6000 participants and transformed the area into a grand festival.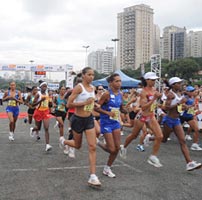 Mutai, 21 years old, was flattered to defeat De Lima, who he regarded as an icon of the sport. Eunice Kirwa was also surprised with the margin of her win as she arrived from Kenya only two days before the race. With Franck Caldeira absent because of a virus De Lima was the main draw of the event. He said he was not yet in 100% condition but his run had given him the confidence needed to fulfil his dream of participating in his fourth Olympic Games. He will run the Turin Marathon on 13 April in an attempt to qualify. Maria Zeferina Baldaia is also gradually returning to top form and will pursue her challenge for an Olympic place in the Hamburg Marathon on 27 April.
MEN:
1  Kiprono C MUTAI                  KEN  1:04:02
2  Vanderlei C DE LIMA              BRA  1:04:10
3  Anoe DOS SANTOS DIAS             BRA  1:05:24
4  Giomar P DA SILVA                BRA  1:05:28
5  Marcos A PEREIRA                 BRA  1:05:43
6  Ivanildo P DOS ANJOS             BRA  1:05:45
7  Marcos A ELIAS                   BRA  1:05:49
8  Paulo ALVES DOS SANTOS           BRA  1:05:57
9  Luiz C FERNANDES DA SILVA        BRA  1:06:02
10 Cosme ANSELMO DE SOUZA           BRA  1:06:07
 
WOMEN:
1  Eunice J KIRWA                   KEN  1:15:08
2  Ednah MUKHWANA                   KEN  1:16:11
3  Maria Z R BALDAIA                BRA  1:16:22
4  Marily DOS SANTOS                BRA  1:17:17
5  Edielza ALVES DOS SANTOS         BRA  1:17:57
6  Andrea C DA SILVA RAMOS BENIT    BRA  1:18:12
7  Lucelia DE OLIVEIRA PERES        BRA  1:19:31
8  Simone ALVES DA SILVA            BRA  1:19:39
9  Maria L SANTOS DO NASCIMENTO     BRA  1:19:50
10 Adriana APARECIDA DA SILVA       BRA  1:19:57
9 MARCH 2008: 15th KYOTO CITY HALF MARATHON, JAPAN
On a cool spring morning (7°C) 6500 men and 1000 women took part on the streets of the old Japanese capital.
MEN:
1  Soji IKEDA            JPN  1:02:10
2  Kazuo IETANI          JPN  1:02:18
3  Yuichi TOKUCHI        JPN  1:02:41
4  Tsukasa MORITA        JPN  1:02:47
5  Takuya ISHIKAWA       JPN  1:03:02
6  Makoto FUKUI          JPN  1:03:24
7  Syota YAMADA          JPN  1:03:57
8  Takahiko ONISHI       JPN  1:04:01
9  Yohei YAMAMOTO        JPN  1:04:02
10 Makoto OGURA          JPN  1:04:07

WOMEN:
1  Aki FUJIKAWA          JPN  1:10:41
2  Yui SAKAI             JPN  1:11:05
3  Ryoko KIZAKI          JPN  1:11:16
4  Seika NISHIKAWA       JPN  1:12:03
5  Miho IHARA            JPN  1:13:02
6  Akiko MATSUNAGA       JPN  1:13:14
7  Yuri SUGIYAMA         JPN  1:13:30
8  Kate SMYTH            AUS  1:13:54
9  Chizuro IDETA         JPN  1:14:01
10 Tomomi HIGUCHI        JPN  1:14:01
16 MARCH 2008: SEOUL INT'L MARATHON, KOREA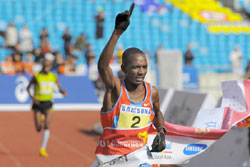 Cool conditions (4°C) and a steady, fast pace through the first half (20km in one hour) left three runners still together at 40km (2:00:48), but it was Sammy Korir - one of only three men to have run sub 2:05 - who proved strongest at the finish writes Mirko Javala. It was the fourth fastest time in the 36-year old's career as he led two of his countrymen - Jason Mbote and Edwin Komen - home under 2:08. China's Zhang Shujing, running her fastest time since her 2003 victory in this race, had it easier in winning ahead of the race revelation Wang Xueqin.
Last year's surprise winner Lee Bong-Ju, the Korean record holder, dropped back before 20km, but even at 30km (1:30:24) a group of five Kenyans were still together. Charles Kibiwott and then Francis Kiprop dropped back as the podium places were fought out in the closing stages. Mbote and Komen were among 11 of the top 20 finishers who set personal best times.
After 15km of running in the women's race Zhang had only Hellen Kimutai (KEN) and another Chinese, Wang Xueqin, for company. Wang's only previous marathon was 2:45:45 but, after they ran through 20km together in 1:09:14 it was Kimutai who dropped back before 25km, passing through 100m down on the Chinese pair. Zhang moved ahead before 35km. Kimutai just kept ahead of Tabitha Tsatsa (ZIM) who improved her own national record, set in this race last year, by 48 seconds. Helaria Johannes set a Namibian national record in 7th.
MEN:
1  Sammy KORIR                  KEN  2:07:32
2  Jason MBOTE                  KEN  2:07:37
3  Edwin KOMEN                  KEN  2:07:45
4  Francis KIPROP               KEN  2:08:30
5  Charles KIBIWOTT             KEN  2:08:33
6  Albert MATEBOR               KEN  2:11:01
7  Kim YI-YONG                  KOR  2:11:14
8  Lee BONG-JU                  KOR  2:12:27
9  Laban KIPKEMBOI              KEN  2:14:07
10 Ji YOUNG-JOON                KOR  2:15:07

WOMEN:
1  Zhang SHUJING                CHN  2:26:11
2  Wang XUEQIN                  CHN  2:28:39
3  Hellen KIMUTAI               KEN  2:29:11
4  Thabita TSATSA               ZIM  2:29:20
5  Lee EUN-JUNG                 KOR  2:29:32
6  Lee SUN-YOUNG                KOR  2:32:17
7  Helaria JOHANNES             NAM  2:33:06
8  Chae EUN-HEE                 KOR  2:33:28
9  Youn SUN-SOOK                KOR  2:34:18
10 Chang JIN-SOOK               KOR  2:36:44
16 MARCH 2008: CITY OF ROME MARATHON, ITALY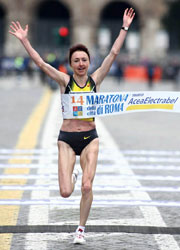 Galina Bogomolova won impressively and set a new Italian all-comers' record while men's winner Jonathan Yego ducked under 2:10 just ahead of Philip Kimutai and Henry Kapkyai with all three setting personal bests writes Diego Sampolo.
Bogomolova ran fast from the start, breaking away at 5km and passing through 15km in 50:43, 1:23 ahead of a group of six. The top Italians Vincenza Sicari and Ornella Ferrara, who were aiming for a 2:30 time and Olympic qualification, dropped out of the race. At halfway (1:11:20) Bogumolova was nearly two minutes ahead of Larissa Zousko and Aniko Kalovics but continued to push hard in the second half of the race (1.24:40 at 25km and 1:41:40 at 30km) to open up a huge gap as she crossed the finish line in the famous Fori Imperiali in the heart of the Eternal City with the third fastest time of the year. "When I realized I could dip under 2:23 I pushed hard in the last kilometres," she said. She earned €16,000 for the win and €50,000 as bonus for the Italian all-comers record.
In second, 39-year old Zousko said "it was easier [last time I ran here] because I was two years younger." Kalovics also dipped under 2:30 in third place in 2:29:04.
While the women's race was dominated by runners from Eastern Europe, the men's race was an African affair. It was decided in the final stages and on the hardest section of the course where runners had to battle against a strong wind. Pacemakers had set a sub-2:09 pace up to halfway (1:04:13), and they were still in front at 30km, passed nine seconds ahead of the chasing group in 1:32:02, formed by five Kenyans and an Ethiopian. The top Italian, Ottaviano Andiani, pulled out at 32km with a groin injury. From 30km Kapkyai pushed ahead and built up a 10 second lead over Kimutai and the Ethiopian Dejene Berhanu, but conditions were tough over the final kilometres. On an uphill section Yego and Kimutai caught Kapkyai at 37km and Yego continued to push hard to the end, taking a narrow win.
MEN: 
1  Jonathan Yego KIPTOO         KEN  2:09:58
2  Philip Sanga KIMUTAI         KEN  2:10:02
3  Henry Kimeli KAPKIAY         KEN  2:10:16
4  Peter KORIR                  KEN  2:10:48
5  Jonathan Kipkorir KOSGEI     KEN  2:11:13
6  David TARUS                  KEN  2:11:18
7  Dejene BIRHANU               ETH  2:11:23
8  Michael Kimani NJOROGE       KEN  2:11:37
9  Antonenko MIKOLA             UKR  2:11:57
10 Philip SINGOEI               KEN  2:12:05
 
WOMEN: 
1  Galina BOGOLOMOVA            RUS  2:22:53
2  Larissa ZOUSKO               RUS  2:28:18
3  Aniko KALOVICS               HUN  2:29:04
4  Flora KANDIE                 KEN  2:32:39
5  Baysa ATSEDE                 ETH  2:33:07
6  Lema Haile KEBUBUSH          ETH  2:34:03
7  Anastasiya PADALINSKAYA      BEL  2:34:08
8  Hellen CHERONO               KEN  2:34:45
9  Tanith MAXWELL               RSA  2:37:35
10 Justyna BAK                  POL  2:38:03
16 MARCH 2008: EDP LISBON HALF MARATHON, PORTUGAL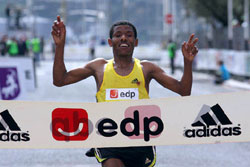 Haile Gebrselassie dominated from the start and ran alone after 10km, in complete contrast to the women's race where Salina Kosgei took her third victory in Lisbon only after winning a desperate final sprint for the top 5 positions writes Antonio Manuel Fernandes.
Gebrselassie, along with the Kenyans Charles Kamathi and Robert Cheruiyot, took the lead from a small group at 5km (14:00), but before 10km (27:59) he broke away. Passing through 15km in 42:03, Gebrselassie later said: "I tried to push myself but I couldn't do better. It's a little bit hot, I'm feeling well, but I couldn't achieve my goal. It's no excuse." Cheruiyot (six times on the podium in Lisbon without a victory) passed his compatriot Kamathi in the final metres. In a strong Portuguese showing Eduardo Henriques, who turns 40 next week, was fifth and three others finished in the top 10.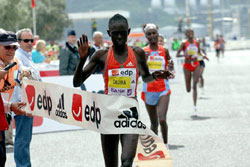 Salina Kosgei played a waiting game in the women's race. With the confidence of having won a blanket finish in Ras Al Kaimah five weeks earlier (where the first three finished with the same time) she left it to a sprint and came in two seconds ahead of Pamela Chepchumba and Souad Aït Salem. Berhane Adere, and the improving Tigist Tufa also finished close.
MEN:
1  Haile GEBRSELASSIE              ETH    59:15
2  Charles KAMATHI                 KEN  1:00:45
3  Robert Kipkoech CHERUIYOT       KEN  1:00:50
4  Samuel KARANJA                  KEN  1:00:52
5  Eduardo HENRIQUES               POR  1:02:10
6  Manuel DAMIAO                   POR  1:03:07
7  Paulo GOMES                     POR  1:03:20
8  Hermano FERREIRA                POR  1:03:22
9  Nixon KIPRONO                   KEN  1:03:25
10 Jaouad GHARIB                   MAR  1:04:28 

WOMEN:
1  Salina KOSGEI                   KEN  1:09:57
2  Pamela CHEPCHUMBA               KEN  1:09:59
3  Souad Aït SALEM                 ALG  1:09:59
4  Berhane ADERE                   ETH  1:10:01
5  Tigist TUFA                     ETH  1:10:03
6  Atsede HABTAMU                  ETH  1:10:15
7  Jo PAVEY                        GBR  1:10:39
8  Madai PEREZ                     MEX  1:11:02
9  Pasalia CHEPKORIR               KEN  1:11:15
10 Askale MAGARSA                  ETH  1:11:48
16 MARCH 2008: STANDARD CHARTERED STANLEY MARATHON, FALKLAND ISLANDS
Bright sun and a light breeze marked the start of the world's most southerly AIMS-certified marathon in which 34 individual runners and 31 relay teams participated. Only one runner, suffering from an old injury, failed to complete the race.
The fine weather (15°C and untypically little wind at only 4.5m/s) brought a new course record and a new winner. The winner for the past three editions, Hugh Marsden, came second but still beat his own best time for the course. The pair literally ran side by side all the way up to the last mile when Simon Almond picked up the pace to get away.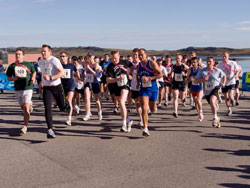 Standard Chartered Bank Falkland Islands is proud to have staged the fourth Standard Chartered Stanley Marathon as a strong team effort among staff. All entry fees and any money raised from the marathon will be donated to Standard Chartered's Seeing Is Believing programme – a global community initiative driven by the Bank's staff to raise awareness of avoidable blindness issues and to raise $10 million by 2010 to make a difference to the lives of 10 million people across 20 countries.
MEN:
1     Simon ALMOND            GBR   2:55:46
2     Hugh MARSDEN            GBR   2:56:59
3     Marcelo DE BERNARDIS    ARG   3:07:29
4     Rupendra GURUNG         NEP   3:11:18
5     Terry REDHEAD           GBR   3:17:13
6     Christopher QUINN       GBR   3:29:32
7     Derek MCKEWAN           GBR   3:35:04
8     Kevin LUCAS             GBR   3:38:16
9     Resham SHREES           NEP   3:41:15
10    Lee GREEN               GBR   3:44:22
 
WOMEN:
1     Amy CRUICKSHANK         GBR   3:44:48
2     Gail FISHER             GBR   3:47:04
 
4-MEMBER RELAY TEAMS:
1     FIDF                          2:56:47
2     Hofmeisters                   3:03:35
3     IPC Select                    3:04:45
4     Morrison                      3:07:18
5     Griffin                       3:08:31
6     Air Force One                 3:10:39
7     Maximum Break 147             3:11:02
8     Res Rockets                   3:19:43
9     G E F Gazelles                3:23:28
10    FIDF B                        3:25:25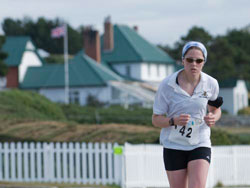 22 MARCH 2008: TWO OCEANS MARATHON, SOUTH AFRICA
MEN:
1  Marco MAMBO                    ZIM  3:11:35
2  Mzwaele MAPHEKULA              RSA  3:12:30
3  Simon PEU                      RSA  3:13:33
4  Mluleke NOBANDA                RSA  3:14:10
5  Bethuel NETSHIFHEFHE           RSA  3:14:15
6  Mabule RHAPOTLE                RSA  3:14:15
7  Peter MUTHUBE                  RSA  3:15:13
8  Stephen MUZHINGI               RSA  3:15:28
9  Johannes MASEKO                RSA  3:16:03
10 Sipho NGOMANE                  RSA  3:16:40

WOMEN:
1  Olesya NURGALIEVA              RUS  3:34:53
2  Elena NURGALIEVA               RUS  3:35:25
3  Tatyana ZHIRKOVA               RUS  3:39:24
4  Madina BIKTAGIROVA             RUS  3:46:52
5  Riana VAN NIEKERK              RSA  3:53:09
6  Carol MERCER                   RSA  4:05:23
7  Farwa MENTOOR                  RSA  4:07:33
8  Ursula FRANS                   RSA  4:08:36
9  Grace DE OLIVEIRA              RSA  4:10:19
10 Leanne JUUL                    RSA  4:13:37

HALF MARATHON
MEN:
1  George MAJIJI                  ZIM  1:03:31
2  Lusapho APRIL                  RSA  1:03:34
3  Luwis MASUNDA                  ZIM  1:03:59

WOMEN:
1  Mamorallo TJOKA                LES  1:15:05
2  Tabitha TSATSA                 ZIM  1:15:08
3  Samukeliso MOYO                ZIM  1:16:47
27 MARCH 2008: JERUSALEM HALF MARATHON, ISRAEL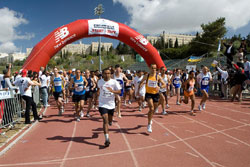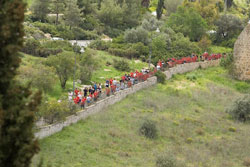 MEN: 
1  Daraja TEDESTA                 1:09:22
2  Destau SWANH                   1:10:34
3  Hielle SATAIN                  1:10:34
4  Memo ASERET                    1:12:15
5  Hervee ATALY                   1:12:16
6  Jacek CIELUSZECKI              1:20:18
7  Alexe MACHENKO                 1:21:09
8  Sharon ZECHARYA                1:23:08 
9  Anner SHERMAN                  1:23:08
10 Zion NAGAR                     1:23:44

WOMEN:
1  Svetlana BEHMEND               1:20:56
2  Blancha KALKIDA                1:20:56
3  Loris MANDLOVIC                1:29:28
4  Dorit SHUVALY                  1:40:28
5  Orly AMOS                      1:41:17
6  Or Mamo CARMELI                1:42:09
7  Jesica SPECTOR                 1:42:28
8  Efrat KELER                    1:43:35
9  Inez NAROSHEK                  1:44:38
10 Hadassa BRUNSCHWIG             1:44:48
29 MARCH 2008: HERVIS PRAGUE HALF MARATHON, CZECH REPUBLIC
Expectations for a new course record had been high but strong winds in the Czech capital dashed any hopes for bettering Patrick Ivuti's 1:01:00 from last year's race as Kenya's Eliah Muturi Karanja and Ethiopia's Asha Roba Gigi took top honours. A total of 5812 runners took part in the 10th anniversary race, 20% up on last year's figures.
Kenya's Jackson Kiprono Kirwa was race favourite, and was led out by Mark Tanui at a blazing pace. They were well clear by 5km but at 10km Kirwa was losing ground to Tanui as both of them were being swept up by a more cautious-starting pack. While Kirwa faded to eighth in 1:04:42 Tanui pressed on with the pack and had enough left at the end to grab third place.
Caroline Caroline Kwambai's 1:10:08 course record from 2006 was safe, but the Kenyan was soon dropped by Asha Gigi and had to settle for runner-up spot for the second successive year as both of them finished streets ahead of the rest of the women.
MEN:
1  Eliah Muturi KARANJA           KEN  1:02:08 
2  Mugi MUHUGU                    KEN  1:02:23
3  Mark TANUI                     KEN  1:02:41
4  Paul BIWOTT                    KEN  1:02:58
5  Cheruiyot KOSGEI               KEN  1:02:59
6  Wilberforce TALEL              KEN  1:03:11
7  Eliah MBOGO                    KEN  1:03:59
8  Jackson KIRWA                  KEN  1:04:42
9  Julius MURIUKI                 KEN  1:05:06
10 Wilson ONSARE                  KEN  1:06:32 

WOMEN:
1  Asha Roba GIGI                 ETH  1:12:00
2  Caroline KWAMBAI               KEN  1:12:31
3  Yelena SOKOLOVA                RUS  1:17:03
4  Magdalini GAZEA                GRE  1:17:20
5  Jana KLIMESOVA                 CZE  1:21:15
6  Eniko JAKAB                    ROM  1:23:20
7  Sarah HAINES                   GBR  1:23:58
8  Eva STROBLOVA                  CZE  1:24:26
9  Anna RIBERTI                   ITA  1:26:56
10 Birgit KRETZSCHMAR             GER  1:27:28
30 MARCH 2008: 36th IAAF WORLD CROSS-COUNTRY CHAMPIONSHIPS, EDINBURGH, GREAT BRITAIN
A cold, blustery and windswept Edinburgh greeted the runners, in complete contrast to the heat and humidity of last year's Championships in Mombasa. Holyrood Park's serpentine course and soggy ground sent runners sprawling at the sharp corners. The sharp incline of the rocky outcrop called "Haggis Knowe" and the swift descent that followed contributed to some explosive finishes. Without an individual win last year Ethiopia took all four titles this time around, the last such sweep having been by Kenya back in 1994.
SENIOR MEN: Bekele reclaims his crown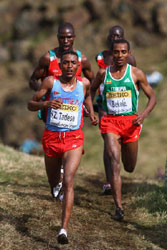 Kenenisa Bekele almost met with disaster when, at one of the tighter corners on the course, the lead runners bunched and slowed and Bekele's shoe was trodden off. He took his time to fix it back in place but kept his cool, carefully worked his way back into contention, and then drove decisively for home on the last lap.
Bekele controlled the pace from the front with aplomb for the first lap but after his mishap he finished the second lap back in 12th and was still in eighth place after the third lap. Defending champion Zersenay Tadese then launched a sustained drive which pulled a Kenyans Leonard Komon and Joseph Ebuya clear with him. Bekele responded, and effortlessly slipped in among them. Bekele took the lead early on the sixth and last lap, dropping Ebuya in doing so. As he approached the hill for the last time Bekele was already building a winning lead as the 20-year old Komon struggled to maintain contact. Tadese, who had led most of the race, professed himself content with third: "a bronze medal for my country is still important to me".
1  Kenenisa BEKELE                ETH  34:38
2  Leonard KOMON                  KEN  34:41
3  Zersenay TADESSE               ERI  34:43
4  Joseph EBUYA                   KEN  34:47
5  Moses MASAI                    KEN  35:02
6  Felix KIBORE                   QAT  35:15
7  Gideon NGATUNY                 KEN  35:16
8  Ahmad ABDULLA                  QAT  35:18
9  Habtamu FIKADU                 ETH  35:19
10 Bernard KIPYEGO                KEN  35:24
 
TEAMS:
1  Kenya            39 pts
2  Ethiopia        105 pts
3  Qatar           144 pts
4  Eritrea         164 pts
5  Morocco         197 pts
SENIOR WOMEN: Dibaba drives from behind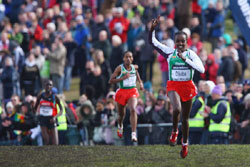 Priscah Jepleteng led for much of the first two laps as the lead group diminished but remained large. Mestawet Tufa and Gelete Burka then took up the running and after the third lap seemed to have only the Kenyan junior talent Linet Masai for company. But Tirunesh Dibaba was only a couple of seconds further back, and later said that a stitch had made her fall back in mid-race.
Gelete Burka forged a significant lead during the last lap but in dropping Tufa and Masai provided convenient targets for Dibaba. Masai fought back alongside the charging Dibaba as Tufa caught Burka and all four were together approaching the hill with 400m to go. But Burka was broken, losing a further two places in the finish straight, and Dibaba quickly pushed clear of Tufa to win. She led Ethiopia to the team title for the seventh consecutive year but, led in by Masai, the Kenyan women pressed them all the way.
1  Tirunesh DIBABA                ETH  25:10
2  Mestawet TUFA                  ETH  25:15
3  Linet MASAI                    KEN  25:18
4  Doris CHANGEWO                 KEN  25:34
5  Hilda KIBET                    NED  25:35
6  Gelete BURKA                   ETH  25:35
7  Priscah JEPLETENG              KEN  25:36
8  Margaret MURIUKI               KEN  25:46
9  Meseret MELKAMU                ETH  25:51
10 Grace MOMANYI                  KEN  25:54
 
TEAMS:
1  Ethiopia         18 pts
2  Kenya            22 pts
3  Australia        84 pts
4  United States    87 pts
5  Morocco         100 pts
JUNIOR MEN: Track speed takes it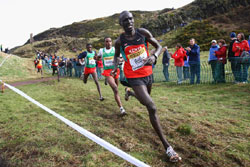 World Junior 10,000m champion Ibrahim Jeilan coped with the short sharp ascents on the longer laps and used the downslope to launch a blistering finish. Benjamin Kiplagat of Uganda forced the pace for much of the race. By the third of four laps the lead group had reduced to 10 runners, with Kiplagat, Matthew Kisorio and Lucas Rotich in front and Jeilan and his compatriot Ayele Abshero tucked in behind them.
Abshero mounted a serious attack up the sharp slope of Haggis Knowe but Jeilan immediately tucked in behind him as they both drew clear. The downward slope assisted his impressive leg speed as he sprinted clear to take the title. Lucas Rotich professed himself disappointed with his bronze medal-winning run, but led Kenya to their 20th team victory in 21 years.
1  Ibrahim JEILAN                 ETH  20:38
2  Ayele ABSHERO                  ETH  22:40
3  Lucas ROTICH                   KEN  22:42
4  Benjamin KIPLAGAT              UGA  22:43
5  Titus MBISHEI                  KEN  22:45
6  Matthew KISORIO                KEN  22:51
7  Peter SOME                     KEN  22:55
8  Geofrey KUSURO                 UGA  22:56
9  Amanuel MESEL                  ERI  23:00
10 Levy OMARI                     KEN  23:03
 
TEAMS:
1  Kenya            21 pts
2  Ethiopia         28 pts
3  Uganda           39 pts
4  Japan           119 pts
5  Morocco         136 pts
JUNIOR WOMEN: An emerging dynasty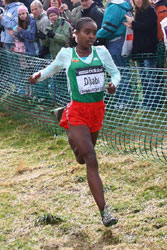 Genzebe Dibaba demonstrated her older sister Tirunesh's commanding tactics and style in holding back for almost the entire race before unleashing a killer kick.
It all unfolded on the last lap as first Emebet Bacha attacked. Irene Cheptai took over with a hard effort ascending the hill as Dibaba now started to chase in earnest. "[Earlier] I expected to get a medal but I didn't expect to win. On the third lap I realised I could" she said later. She took the lead on the steepest part of the hill and it was then Cheptai doing the chasing. "I have looked up to my sisters for so so long. I am very happy to be like them," said Dibaba. Ethiopia took odd places and Kenya even as both teams' four scorers finished ahead of anyone else, with the result a narrow victory for Ethiopia, for the first time since 2004.
1  Genzebe DIBABA                 ETH  19:59
2  Irine CHEPTAI                  KEN  20:04
3  Emebt ETEA                     ETH  20:06
4  Delvine MERINGOR               KEN  20:06
5  Emebet BACHA                   ETH  20:11
6  Jackline CHEBII                KEN  20:11
7  Betelhem MOGES                 ETH  20:13
8  Dorcas KIPTARUS                KEN  20:17
9  Tigist MEMUYE                  ETH  20:27
10 Yukino NINOMIYE                JPN  20:30
 
TEAMS:
1  Ethiopia         16 pts
2  Kenya            20 pts
3  Japan            57 pts
4  Great Britain    95 pts
5  Canada           99 pts
30 MARCH 2008: NOVI SAD HALF MARATHON, SERBIA
MEN:
1  Gebreslase GENERINER              ETH  1:06:44
2  Eshetu ESTEFANOS                  ETH  1:07:51 
3  Vitalie GHEORGHITA                MOL  1:08:06
4  Legesse TAMRAT                    ETH  1:08:12
5  Velimir BOJOVIC                   SER  1:08:19
6  Sreten NINKOVIC                   SER  1:08:35
7  Viorel GHEORGHITA                 MOL  1:09:31
8  Milos MILOVANOVIC                 SER  1:13:29
9  Cristian PRASMEAC                 ROM  1:13:42
10 Dragan PANDUREVIC                 SER  1:14:05
 
WOMEN:
1  Jelena MARKOVIA                   SER  1:25:06
2  Bodlovic KSENIJA                  SER  1:29:42
3  Milana GAVRILOV                   SER  1:31:38
4  Katerina DIMOVSKA                 MAK  1:32:34
5  Biljana GRUBOR-VOZAREVIC          SER  1:39:15
6  Mirjana PERENDUA                  SER  1:52:31
7  Dianne ATTWOOD                    SER  1:54:35
8  Rackel STAPLETON                  SER  1:54:46
9  Karolina MADARAS                  SER  1:57:13
10 Dragana RAKIC                     SER  1:58:12
30 MARCH 2008: AMBANK KUALA LUMPUR INT'L MARATHON, MALAYSIA
MEN:
1  Nelson K ROTICH                  KEN  2:15:32
2  Luka K CHELIMO                   KEN  2:15:39
3  Kipkering K CHRIST               KEN  2:16:30
4  Daniel KIPKEMEI                  KEN  2:16:44
5  Frimin K KIPCHOGE                KEN  2:21:00
6  Lewis A ONDATI                   KEN  2:21:25
7  Benjamin K METO                  KEN  2:22:39
8  Hillary K KIPKOECH               KEN  2:26:38
9  Philip TARUS                     KEN  2:26:59
10 Yapa M NIMAL                     SRI  2:32:24
 
WOMEN:
1  Fridah C LODEPA                  KEN  2:54:23
2  Jane W WAWERU                    KEN  3:01:00
3  Magret KIPLAGAT                  KEN  3:06:03
4  Apassara P THINPHIMAI            THA  3:08:30
5  Anne QI HUI DATE                 SIN  3:11:27
6  Kigen C JERUTO                   KEN  3:24:53
7  Mattika RAKKHAPHAN               THA  3:28:34
8  Tan Sok Hue SUMIKO               SIN  3:35:13
9  Tan LI LIAN                      MAS  3:37:29
10 Kat JA FINK                      SUI  3:37:31
 
HALF MARATHON
MEN:
1  Julius K MBUGUA                  KEN  1:09:30
2  Geoffrey K BIRGEN                KEN  1:10:16
3  Robert K KOSGEI                  KEN  1:14:17
 
WOMEN:
1  Jane N KANGARA                   KEN  1:21:46
2  Rose CHEROTICH                   KEN  1:27:48
3  Sarah CHEBET                     KEN  1:36:14
30 MARCH 2008: MONACO INTERNATIONAL MARATHON, MONACO
MEN:
1  Geoffrey MUTAI                   KEN  2:12:40
2  Jacob KITUR                      KEN  2:13:22
3  Joel K KIPLIMO                   KEN  2:13:50
4  Henry TARUS                      KEN  2:16:57
5  Folisho T TUM                    ETH  2:19:33
6  Sergey FEDOTOV                   RUS  2:20:40
7  Aliaksey C HAURY                 BLR  2:20:52
8  Stanley R KIPROTICH              KEN  2:22:09
9  Andrei BRYZGALOV                 RUS  2:23:15
10 Patrick K CHUMBA                 KEN  2:24:25
 
WOMEN:
1  Elena KOZHEVNIKOVA               RUS  2:41:21
2  Elena TIKHONOVA                  RUS  2:48:10
3  Jeanna MALKOVA                   RUS  2:50:37
4  Kristijna LOONEN                 NED  2:51:30
5  Nadezda SEMILETOVA               RUS  2:56:53
6  Chantel BOIS                     FRA  3:16:41
7  Claudia BAUDRY                   FRA  3:23:34
8  Marie Anne C BOULOC              FRA  3:25:35
9  Chantal ANDRADE                  FRA  3:26:03
10 Sylvie GUASCH                    FRA  3:27:55
30 MARCH 2008: TREVISO MARATHON, ITALY
MEN:
1  Denis CURZI                    ITA  2:13:27
2  Peter Esakete LOMURIA          KEN  2:13:47
3  Samson KOSGEO                  KEN  2:15:10
4  Kenneth KIPTOO                 KEN  2:15:39
5  Joshua Kipchumba ROP           KEN  2:16:41
6  Said BOUDALIA                  ITA  2:17:14
7  Clint VERRAN                   USA  2:17:51
8  Hermann ACHMULLER              ITA  2:19:50
9  Jason MAYEROFF                 USA  2:23:39
10 Filippo Lo PICCOLO             ITA  2:24:24

WOMEN:
1  Helena JAVORNIK                SLO  2:28:36
2  Laura GIORDANO                 ITA  2:37:36
3  Sisay MEASO                    ETH  2:42:26
4  Monica CARLIN                  ITA  2:44:44
5  Marinella CURRELI              ITA  2:48:03
6  Marina ZANARDI                 ITA  2:50:43
7  Greta VARCHI                   ITA  2:53:55
8  Ulrike RAICH                        2:54:42
9  Sonia DONNINI                  ITA  3:01:11
10 Rosanna SARAN                  ITA  3:05:26
30 MARCH 2008: TARSUS INTERNATIONAL HALF MARATHON, TURKEY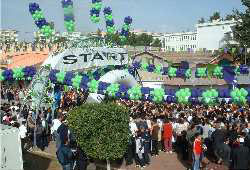 MEN:
1  Wilson Kipsang KIPROTICH       KEN  1:02:50 
2  James KIRWA                    KEN  1:03:32 
3  Bekir KARAYEL                  TUR  1:05:54 
4  Mehmet ÇAGLAYAN                TUR  1:06:35 
5  Belachew Amare SHIBESHI        ETH  1:06:45
 
WOMEN:
1  Damla Yenigelen ÇELIK          TUR  1:23:13 
2  Birgül ÖZCAN                   TUR  1:23:19 
3  Yesim Yeter GULAL              TUR  1:23:30 
4  Hülya BASTUG                   TUR  1:24:04
30 MARCH 2008: INCHEON INTERNATIONAL HALF MARATHON, KOREA
In cloudy, cool weather (7.5°C) more than 13,000 runners completed, among whom 11 foreign countries were represented.
MEN:
1  Luke METTO                     KEN  1:03:27
2  Andrew SAMBU                   TAN  1:04:03
3  Chokri DHAOUADI                TUN  1:04:15
4  Assefa Worku BEYENE            ETH  1:04:46
5  Simon SAWE                     KEN  1:05:23
6  Su-Hyun CHO                    KOR  1:05:26
7  Ji-San RYU                     KOR  1:05:29
8  Masahiro FUJITA                JPN  1:05:42
9  Sung-Min BAE                   KOR  1:05:44
10 Byung-Ryul KIM                 KOR  1:05:55 

WOMEN:
1  Sung-Eun KIM                   KOR  1:14:44
2  Min-Jung CHOI                  KOR  1:15:07
3  Kyung-Hee CHOI                 KOR  1:16:23
4  Yu-Jin CHANG                   KOR  1:16:35
5  Jin-Sook CHANG                 KOR  1:16:58
6  Eun-Ju KWON                    KOR  1:17:04
March 2008