February 2008
3 FEB | 8 FEB | 15 FEB | 17 FEB | 24 FEB | 25 FEB
3 FEBRUARY 2008: BEPPU-OITA MAINICHI MARATHON, JAPAN
Taking the lead at 38.9km when he passed Elijah Mutai, marathon debutant Tomoya Adachi won the 57th annual Beppu-Oita Marathon writes Ken Nakamura. It was the first debut win since Koichi Morishita's 1991 victory, after which he went on to become 1992 Olympic silver medalist.
Adachi, only 22, has a 10000m best of 28:36 but was not even an invited runner. "Winning the race was not in my mind. I thought 'I am lucky' when I saw the leader coming back to me," said Adachi after the race.
Sixteen runners, including pacemakers Stephen Chelimo and Elias Maindi, passed 10km in 30:29 and halfway in 1:04:47. Yoichi Watanabe fell at 17km, and Daniel Mwangi fell and lost his shoes just before halfway, but both soon rejoined the lead pack. After passing 25km (1:16:57), Chelimo and Maindi - picked up the pace, taking Elias Mutai five seconds clear as Adachi held back. The pacers dropped out at 30km (1:32:20), leaving Mutai in front with six runners - Scott Wescott, Rachid Kisri, Adachi, Takeyasu, Watanabe and Mwangi - chasing. At 35km Mutai was 38 seconds clear but a kilometre later Adachi set off in pursuit. He steadily closed the gap, and passed Mutai at 38.9km, followed by Wescott, who also passed Mutai. Kisri also passed the faltering Mutai to move into third. Mutai soon dropped out. Then a few hundred metres later, Kisri caught and passed Wescott to move into second.
MEN:
1  Tomoya ADACHI            JPN  2:11:59
2  Rachid KISRI             MAR  2:13:07
3  Scott WESCOTT            AUS  2:13:36
4  Masahiko TAKEYASU        JPN  2:14:18
5  Daniel MWANGI            KEN  2:14:28
6  Yoichi WATANABE          JPN  2:15:17
7  Michitane NODA           JPN  2:16:01
8  Akira KINIWA             JPN  2:16:36
9  Tomokazu SAKAMOTO        JPN  2:17:00
10 Tokio MIYAZAKI           JPN  2:19:36
3 FEBRUARY 2008: KAGAWA-MARUGAME HALF MARATHON, JAPAN
Ongori Philes of Kenya led from the start to finish and won the 62nd Marugame Half Marathon in the fastest time of the year writes Ken Nakamura. It was a personal best for her by nearly two minutes. She started fast, passing 5km in 15:33, only seven seconds slower than Kayoko Fukushi's record pace two years ago when setting an Asian record of 1:07:26. But for Philes, with a 5000m best of 14:50.15 last October, it was not an overly ambitious pace. She continued to push, covering the next 5km in 15:51. Although she fell further behind Fukushi's record pace the gap back to Ozaki and Hiroyama grew. Philes slowed further but continued to pull away as Harumi Hiroyama was left behind, leaving Yosimi Ozaki and Mari Ozaki (no relation) to fight it out for the runner-up spot. Philes won in the third fastest time on the course, behind Fukushi's 1:07:26 and Mizuki Noguchi's 1:07:43, both recorded two years ago. Philes is based in Japan and according to her coach: "We will think about moving up to the marathon after Beijing, perhaps after she runs a 1:06 half marathon."
Harun Njoroge, Joseph Mwaniki and Martin Waweru, three young Kenyans who run for Japanese corporate track teams, dominated the men's race. A huge pack led by Kenyans covered 5km in 14:41 and 10km in 29:16. The pack reduced to about 10 runners when Mwaniki picked up the pace after 12km. Five Japanese were able to stay with three Kenyan leaders through 15km (43:58), but when the Kenyan trio surged, none of the Japanese could respond. The race was between Njoroge and Mwaniki after 20km, and at the entrance to the stadium, it was Njoroge who broke away from Mwaniki.
Not yet 20, Njoroge is new on the Komori Corporation team. He has run 28:14.36 for 10000m and this was his first half marathon. Mwaniki, who runs for Konica-Minolta, is also 19 years old. Waweru, who turns 20 three days after the race, graduated from Aomori Yamada high school in Japan and now runs for Fujitsu. He ran 28:27.53 for the 10000m.
MEN:
1  Harun NJOROGE             KEN  1:01:35  
2  Joseph MWANIKI            KEN  1:01:39
3  Martin WAWERU             KEN  1:02:02
4  Ryoji MATSUSHITA          JPN  1:02:14
5  Tomoo TSUBOTA             JPN  1:02:17 
6  Tomoaki BUNGO             JPN  1:02:30 
7  Yoshihiro YAMAMOTO        JPN  1:02:30
8  Keisuke NAKATANI          JPN  1:02:30 
9  Michinori TAKANO          JPN  1:02:59 
10 Makoto IWASE              JPN  1:03:00 

WOMEN:
1  Ongori PHILES             KEN  1:07:57
2  Yoshimi OZAKI             JPN  1:09:30 
3  Mari OZAKI                JPN  1:09:58 
4  Harumi HIROYAMA           JPN  1:10:09 
5  Yumi HIRATA               JPN  1:12:21
6  Takami NISHIYAMA          JPN  1:12:27 
7  Mikie TAKANAKA            JPN  1:12:52
8  Ho-Sun PARK               KOR  1:12:58
9  Hisako KOGURO             JPN  1:12:58 
10 Miki WATANABE             JPN  1:13:00
3 FEBRUARY 2008: OHME-HOCHI 30km ROAD RACE, JAPAN
The race was cancelled due to heavy snow.
08 FEBRUARY 2008: RAS AL KHAIMAH HALF MARATHON, UNITED ARAB EMIRATES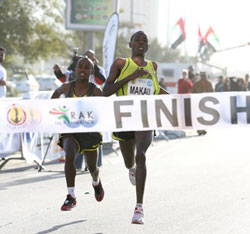 It needed two photo-finishes to separate seven athletes as Patrick Makau and Salina Kosgei snatched victories by the slightest of margins, winning $25000 each in the world's richest half marathon writes Pat Butcher.
Only 15 years ago that Moses Tanui clocked 59:47 in the first ever sub-hour half marathon. Patrick Makau has now done it five times in 12 months, the first one coming when he finished second here in the inaugural race a year ago.
There were still 10 men in contention at halfway, but that quickly reduced to five when Makau went to the front at 14km. The 21 year old Ethiopian debutant, Tsegaye Kebede took up the pace 3km later, and he and Makau went away from the others, swapping the lead through the last two kilometres. Makau had the edge in the final straight although the Ethiopian finished on the same time.
In the three years since Makau began running seriously, he has established himself as one of the world's leaders at the half-marathon, underlining that with victory in Berlin nine months ago in his fastest yet, 58:56, and then finishing second in the world championships last October. Dickson Marwa of Tanzania had his best race ever, coming from behind to take third and beat his more famous compatriot, former world half-marathon champion Fabiano Joseph, although Joseph was rewarded with his first sub-60 clocking.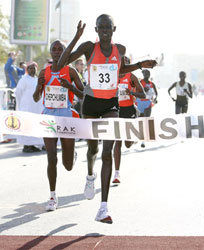 The women's finish was even closer than the men's, with the leading trio crossing the line abreast, and the next pair just two seconds down. But the winner, Salina Kosgei, owed her victory to the lethargy of her rivals. The veteran Kosgei, a former 800m runner turned marathoner, had been dropped off the pack by 14km, but so gentle was the ensuing pace that she was able to claw back the deficit. She then dredged up some of that 800m speed from her memory bank, to outsprint her more fancied colleague, Pamela Chepchumba, and the Ethiopian Atsede Habtamu. All three were given the same time, the pedestrian early pace contributing to the relatively slow time, but also to the much-appreciated frantic finish.
MEN:
1  Patrick MAKAU                  KEN    59:35
2  Tsegaye KEBEDE                 ETH    59:35
3  Dickson MARWA                  TAN    59:52
4  Fabiano JOSEPH                 TAN    59:56
5  Mekubo MOGUSO                  KEN  1:00:35
6  Matthew KOECH                  KEN  1:00:59
7  Kiplimo KIMUTAI                KEN  1:01:00
8  Dieudonné DISI                 RWA  1:01:07
9  Tewodros SHIFERAW              ETH  1:02:09
10 Paul KOSGEI                    KEN  1:02:17
 
WOMEN 
1  Salina KOSGEI                  KEN  1:12:27
2  Pamela CHEPCHUMBA              KEN  1:12:27
3  Atsede HABTAMU                 ETH  1:12:27
4  Alice TIMBILIL                 KEN  1:12:29
5  Helalia JOHANNES               NAM  1:12:29
6  Helena KIPROP                  KEN  1:12:33
7  Deriba ALEMU                   ETH  1:12:36
8  Nataliya BERKUT                UKR  1:12:42
9  Atsede BAYSA                   ETH  1:15.12
10 Inga ABITOVA                   RUS  1:15.42
15 FEBRUARY 2008: EGYPTIAN MARATHON
MEN:
1  Hassan MARZOK                  EGY  2:32:44
2  Mahmoud AWAD                   EGY  2:46:34
3  Abdelrahman ELZAMLY            EGY  2:47:57
4  Martin SCHAEFERS               GER  2:58:56
5  Scott MCIVOR                   GBR  3:13:16
6  Gordon BENNETT                 USA  3:35:13
7  A MAHMOUD                      EGY  3:26:58
8  Olivier PONSET                 FRA  3:27:56
9  Amr SHALBY                     EGY  3:32:15
10 Curtis CANNON                  USA  3:34:32

WOMEN:
1  Suzette VERMAAK                RSA  3:15:48
2  Susa CHRISTIANE                FRA  3:56:06
3  Elena MARTINEZ                 ESP  4:01:38
4  Zohra MERABET                  ALG  4:03:31
5  Lobna MAHMOUD                  EGY  4:08:30

LUXOR RUN 22.3km
MEN:
1  Nader HASSAN                   EGY  1:21:22
2  Mohamed ELNIL                  EGY  1:21:23
3  Tarq IBRAHIM                   EGY  1:21:24

WOMEN:
1  Michelle HAMBURG               USA  1:46:14
2  Anna BARTLETT                  GBR  1:56:34
3  Monika MAESS                   GER  1:56:35

RAMSES RUN 12.3km
MEN:
1  Raghab AHMED                   EGY    41:25
2  Sayed EISA                     EGY    41:34
3  Ahmed MOSTAFA                  EGY    41:52

WOMEN:
1  Gamalat SHIBL                  EGY    53:23
2  Abeer ELGHOOL                  JOR    54:13
3  Leanne MORROW                  CAN  1:00:12
17 FEBRUARY 2008: MARATHON POPULAR DE VALENCIA, SPAIN
Photos: Chris Parry, Marathon-photos.com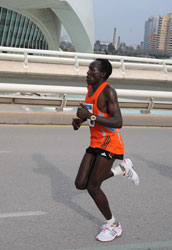 Cool (12°C) overcast and occasionally blustery weather and an improved course provided good enough conditions for the event record to be broken in the 28th edition. Philip Manyin and Christopher Rutto came onto the track for the final 300m with only a dozen metres or so separating them, but Manyin strode out to score a convincing win.
Behind a leading group of eleven, mainly Kenyans, that broke away very early in the race the Spanish championship was fought out at a more moderate tempo. The lead group passed 10km in 30:28, already 50 seconds up on the leading Spanish runner. Apart from Maria Jose Bergua and last year's winner Zinas Alemu the women also held back from the early pace, three of them passing through 10km in 36:30.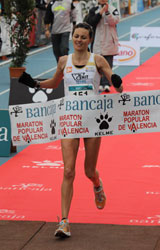 By halfway (1:05:14) little had changed for the men, but Bergua (1:15:30) was away by a margin of two minutes from Alemu, who was being pegged back by the group of three, including Sandra Ruales, who holds dual Ecuadorean and Spanish nationality. The men's group gradually splintered in the second half, with Manyin holding out for his narrow win, but Bergua went further and further ahead from the rest of the women while Ruales proved strongest of those chasing. Alemu faded slightly in the later stages while local runner Marta Ayora was delighted with her third place.
MEN:
1  Philip MANYIN                  KEN  2:11:29
2  Christopher RUTTO              KEN  2:11:36
3  Joseph Kimeli LAGAT            KEN  2:12:27
4  Jonathan KIPKOSGEI             KEN  2:15:00
5  Asier Cuevas ETTCHETO          ESP  2:15:00
6  Amara Abrah MULU               ETH  2:15:23
7  Peter BIWOTT                   KEN  2:16:20
8  Elias Dominguez CABRAL         ESP  2:16:42
9  Hassane AHOUCHAR               MAR  2:16:57
10 David Solis LUENGO             ESP  2:19:00

WOMEN:
1  Ma Jose Pueyo BERGUA           ESP  2:32:22
2  Sandra RUALES              ECU/ESP  2:37:45
3  Marta Castro AYORA             ESP  2:38:39
4  Ma Jose de TORO SAIZ           ESP  2:40:25
5  Zinas ALEMU                    ETH  2:42:50
6  Elena Ma Espeso GAYTE          ESP  2:50:49
7  Sonia Martin GARCIA            ESP  2:55:03
8  Beatriz Pelicier AMAT          ESP  2:56:29
9  Noemi Bachero ALGUACIL         ESP  2:56:40
10 Eva Britt KARLSSON             SWE  3:02:52
17 FEBRUARY 2008: TOKYO CITY INT'L MARATHON, JAPAN
Photo: Yohei Kamiyama/Agence SHOT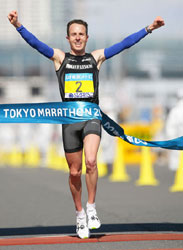 Viktor Röthlin, bronze medalist in the 2007 World Championships in Osaka, won the 2008 Tokyo Marathon in a new course record and a personal best - which surpassed his own Swiss record by nearly a minute writes Ken Nakamura. Röthlin was ecstatic, repeating "unbelievable" several times in his post-race interview but adding: "I think I am on the right track for Beijing."
Two athletes both running their second marathons made huge improvements. Julius Gitahi, in third, improved by 8.5 minutes from his 2:17:26 debut last year and second-placed Arata Fujiwara improved on his 2:38:37 debut by half an hour. "Since the weather was good (sunny, 3°C, 42% humidity and little wind), I expected the pace to be fast" he said. "I decided to stay with the pace as long as I could." The Japanese favourite Toshinari Suwa, seventh in the 2004 Olympics, could manage only fourth, and second Japanese - dashing his hopes of again making the Olympic team. Defending champion Daniel Njenga slumped to 13th in 2:14:11. Jon Brown, Abel Kirui and Hailu Negussie all dropped out, while Samson Ramadhani finished in 2:18:47 and Eric Wainaina in 2:20:01. The race has yet to invite elite women runners so the winning time was modest.
A total of 27,386 runners started the race, selected by lottery from 150,000 applicants. A lead pack of around 25 of them passed through 20km in 1:00:18. The real racing started after 25km as David Kemboi picked up the pace, reducing the lead pack to eleven runners at 27km. Kemboi dropped out at 30km, his pacing duties done, and Irifune made a move but then Röthlin surged. He reduced the lead pack to six runners, and by 33km had only Fujiwara and Gitahi for company. After passing 35km in 1:45:57, Röthlin stepped up a gear and a kilometre later was on his own. Fujiwara trailed him by 44 seconds at 40km and cramped in the final stages, but still held off Gitahi. As the first Japanese, with a sub-2:09 time, Fujiwara could win Olympic selection depending on what happens in the Lake Biwa Marathon on 2 March.
MEN:
1  Viktor ROTHLIN              SUI  2:07:23
2  Arata FUJIWARA              JPN  2:08:40
3  Julius GITAHI               KEN  2:08:57
4  Toshinari SUWA              JPN  2:09:16
5  Satoshi IRIFUNE             JPN  2:09:40
6  Kurao UMEKI                 JPN  2:11:00
7  Seiji KOBAYASHI             JPN  2:11:02
8  Toshikazu TAKATSUKA         JPN  2:11:05
9  Hiroyuki HORIHATA           JPN  2:11:47 
10 Takashi OTA                 JPN  2:12:10

WOMEN:
1  Claudia DREHER              GER  2:35:35
2  Risa MIZUTANI               JPN  2:48:59
3  Yoshimi KASEZAWA            JPN  2:51:18
4  Mineko YAMANOUCHI           JPN  2:52:02
5  Miyo TANABE                 JPN  2:52:07
6  Yuko ISHIDA                 JPN  2:53:02
7  Yasuko TSUKAMOTO            JPN  2:53:53
8  Wan-Ling WU                 TPE  2:54:11
9  Keiko HIYAMA                JPN  2:54:20
10 Hikaru TANAKA               JPN  2:54:45
17 FEBRUARY 2008: STANDARD CHARTERED HONG KONG MARATHON, CHINA
With the race incorporating the 11th Asian Marathon Championships Kenyan dominance was finally broken in the men's race writes Elshadai Negash. Koichiro Fukuoka finished more than two minutes ahead of second placed Kenyan Cyprian Kiogora, who nonetheless led the Kenya to the team title in the final of the Greatest Race on Earth series.
The women's race was closely fought between the North Korean duo of Kim Kum-ok and Jong Yong-ok right until the end. Rather than try to out sprint each other, the pair crossed the finish line together, holding hands. Although both were timed at 2:36:40 Kum-ok was credited with the victory.
Anne Jepkemboi Kosgei of the Kenyan B team finished in fourth place to ensure her team's overall victory in the women's section of the Greatest Race on Earth series.
MEN:
1  Koichiro FUKUOKA               JPN  2:16:50
2  Cyprian MWOBI                  KEN  2:18:03
3  Phillip BANDAWE                ZIM  2:18:21
4  Paul SUMAYE                    TAN  2:19:52
5  Ser-od BAT-OCHIR               MGL  2:20:18
6  Alex MALINGA                   KEN  2:20:58
7  John Tubei CHIRCHIR            KEN  2:21:07
8  Richard BWALYA                 ZAM  2:21:44
9  Valerij PISAREV                KGZ  2:21:45
10 Ryo Pong HYOK                  KOR  2:22:09

WOMEN: 
1  Kim Kum OK                     PRK  2:36:43
2  Jong Yong OK                   PRK  2:36:43
3  Mika HIKICHI                   JPN  2:36:50
4  Anne Jepkemboi KOSGEI          KEN  2:41:09
5  Fabiola William JOHN           TAN  2:43:46
6  Sunisa SAILOMYEN               THA  2:48:48
7  Elizabeth Esteves DE SOUZA     BRA  2:49:04
8  Luliia FERNAS                  KGZ  2:50:15
9  Wenron ZHENG                   CHN  2:51:39
10 Debbie COSLETT                 GBR  2:54:12

HALF MARATHON
MEN:
1  Ka Ho CHAN                     HKG  1:12:01
2  Motoharu FUKUNAGA              JPN  1:12:01
3  Gi Ka MAN                      HKG  1:12:39

WOMEN:
1  Sara Hoi Wah CHEUNG            HKG  1:28:51
2  Fong Leng CHAO                 CHN  1:31:44
3  Nina ZHOU                      USA  1:32:11
24 FEBRUARY 2008: XXIV MARATON CIUDAD DE SEVILLA, SPAIN
MEN:
1  Samsom Kiptoo BUNGEI           KEN  2:10:52
2  Jonathan Kibet KIPKOSGEI       KEN  2:11:38
3  Adem Jemal HUSSEIN                  2:12:24
4  William BIAMA                  KEN  2:12:44
5  Debelu Lemma ALEMU             ETH  2:13:02
6  Girma Elala BEDADA             ETH  2:13:44
7  Thomas KIPKOSGEI               KEN  2:14:33
8  Andrey BRYZGALOV               RUS  2:16:13
9  Edwin Kimutai KIPCHOM          KEN  2:16:55
10 Felix Marube MONINDA                2:27:19

WOMEN:
1  Ana DIAS                       POR  2:29:22
2  María Abel DIEGUEZ             ESP  2:33:33
3  Svetlana BAYGULOVA             RUS  2:37:41
4  Hirut Legesse ABERA            ETH  2:39:13
5  Gesta Girma TADESSE            ETH  2:44:01
6  Kristijna LOONEN               NED  2:45:33
7  Nedezda SEMILETOVA             RUS  2:46:49
8  Cristina Gomez ALMARAZ         ESP  2:49:02
9  Maxine MCKINNON                GBR  2:49:18
10 Grace Wayua KITONGA            KEN  2:50:49
24 FEBRUARY 2008: WORLD BEST 10K, PUERTO RICO
Photo: Denni Lozza, Island Photography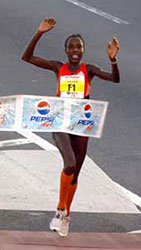 Lornah Kiplagat defended her title for a fifth consecutive win, and sixth overall, by edging out Mestawet Tufa writes Dave Kuehls. In the men's race, a last minute gaffe by Silas Kipruto cost him the win and a sub-28 minute clocking.
At 3km (9:06) Kiplagat led a line of seven contenders among whom were Turkey's Elvan Abeylegesse, Ethiopia's Elegayehu Dibaba and Tufa. The World Cross and World Road Running champion controlled the race from the front and gradually dropped the pretenders. At 5km (15:03) Kiplagat bounced along in her trademark orange socks but a woman a head shorter than her was not going away. Tufa stayed a step or two off Kiplagat's shoulder, out of sight but not out of mind.
Coming off the bridge, Kiplagat had discarded her sunglasses and appeared under strain. Passing over a highway overpass at 8km (24:40) Kiplagat surged but the Ethiopian came right back to her. It seemed she was biding her time to make a decisive move. At 9km Kiplagat surged again. Tufa went to the front to cover, and then slowed so that Kiplagat almost crashed into her. Apparently energized by the incident Kiplagat bolted into a 10m lead. "She wanted to slow me down. I realised that she had no power anymore and I went by her," said Kiplagat, who did not slow down.
In the men's race Deriba Merga, twice outkicked in very fast half marathon races last year, led from the gun and appeared to have the race in the bag until Kenya's Silas Kipruto made a furious charge.
Kipruto went by Merga about 400m out and seemed assured of a win and a fast sub 28-minute clocking, when he followed a motorcycle to the wrong side of a fence. He soon realized his mistake and back-tracked to get on the right side, but by then it was too late. Merga was already past and away to take the win.
MEN:
1  Deriba MERGA                   ETH  28:03
2  Silas KIPRUTO                  KEN  28:04
3  Wilson KIPSANG                 KEN  28:09
4  Wilson KIPROTICH               KEN  28:09
5  Linus MAIYO                    KEN  28:10
6  Samuel KOSGEI                  KEN  28:13
7  Demssew TSEGA                  ETH  28:24
8  Boaz CHEBOIYO                  KEN  28:25
9  Peter KAMAIS                   KEN  28:30
10 John KORIR                     KEN  28:41

WOMEN:
1  Lornah KIPLAGAT                NED  31:02
2  Mestawet TUFA                  ETH  31:12
3  Elvan ABEYLEGESSE              TUR  31:38
4  Dire TUNE                      ETH  31:46
5  Zhor EL KAMCH                  MAR  31:53
6  Linet CHEPKIRUI                KEN  32:07
7  Aselefech MERGIA               ETH  32:26
8  Luminta TALPOS                 ROM  32:27
9  Nataliya BERKUT                UKR  32:28
10 Lyudmila BIKTASHEVA            RUS  32:42
24 FEBRUARY 2008: 11th VERDI MARATHON, ITALY
MEN:
1  Paolo BATTELLI                 ITA  2:25:43     
2  Piergiorgio CONTI              ITA  2:30:40
3  Karim ABDELRAIM                ITA  2:31:48
4  Paolo PROSERPIO                ITA  2:34:50
5  Andrea RIGO                    ITA  2:35:29
6  Martino Guiseppe MASSIGNANI    ITA  2:36:21
7  Anronio CUFFARO                ITA  2:37:02
8  Massimo SPAGNOLI               ITA  2:39:00
9  Lorenzo BAZZANA                ITA  2:40:55
10 Pio MALFATTI                   ITA  2:41:08
 
WOMEN:
1  Simonetta MAGNANI              ITA  2:57:52
2  Antonella CHINI                ITA  3:10:13
3  Irene PSAIER                   ITA  3:13:36
4  Nadia Ben DAL                  ITA  3:14:53
5  Federica CECCOLINI             ITA  3:15:08
6  Monica BARCHETTI               ITA  3:16:47
7  Anna Botto SACCO               ITA  3:18:33
8  Mariangela BACCHINI            ITA  3:27:06
9  Elena SIMSIG                   ITA  3:27:50
10 Josefina LOPEZ                 MEX  3:31:27
24 FEBRUARY 2008: PHILIPPINE MARATHON FOR THE PASIG RIVER
Geoffrey Kiprotich became the first foreign winner besting defending champion and multi-titled local bet Eduardo Buenavista. They battled it out until 22km where the Kenyan surged ahead for a runaway win.
The defending women's champion Jho-Ann Banayag successfully defended her title — her third — and towed compatriot Christabel Martes, herself a former champion, to the finish line. Kenyan Caroline Jeruto Kigen in third, and American Katie Fischer in sixth were the first foreign female runners to place highly in the event.
This eighth edition of the race drew 1,105 registered runners in the marathon — more than ever before. Foreign runners came from Germany, Egypt, Australia, Singapore and Malaysia. There were also 920 runners in the 10km, 4,125 in the 5km and 422 in the 3km associated events. The race also featured a new route from Marikina City to Manila on streets and bridges along and across the Marikina, San Juan and Pasig rivers.
The race has established itself as a highly anticipated event in the running calendar. It also helps keep alive the hope of a rehabilitated Pasig River, being organized by the Clean & Green Foundation and held on behalf of the Pasig River Rehabilitation Commission.
MEN:
1  Geoffrey KIPROTICH             KEN  2:20:12
2  Eduardo BUENAVISTA             PHI  2:25:33
3  Robert KOSGEI                  KEN  2:29:06
4  Allan BALLESTER                PHI  2:31:05
5  Bernardo DESAMITO              PHI  2:32:41
6  Juniel LANGUIDO                PHI  2:32:52
7  Cresenciano SABAL              PHI  2:33:34
8  Julius KIMUGE                  KEN  2:35:44
9  Rogelio SARMIENTO              PHI  2:38:56
10 Rolando PIAMONTE               PHI  2:43:08

WOMEN:
1  Jho-Anne BANAYAG               PHI  3:02:26
2  Christabel MARTES              PHI  3:06:50
3  Caroline KIGEN                 KEN  3:10:26
4  Joanne MANANGAT                PHI  3:37:33
5  Flor DONOS                     PHI  3:42:46
6  Katie FISCHER                  USA  3:46:09
7  Anna VARGAS                    PHI  3:48:16
8  Enate SAYROL                   PHI  3:54:56
9  Jenny KINSELLA                 PHI  3:55:01
10 Geraldine SEALSA               PHI  3:58:31

10km
MEN:
1  Julius SERMONA                 PHI  32:31
2  Rene HERRERA                   PHI  32:47
3  Ally QUISAY                    PHI  33:02

WOMEN:
1  Mercedita FETALVERO            PHI  36:06
2  Maricel MAQUILAN               PHI  39:50
3  Flordeliza CARREON             PHI  40:29
25 FEBRUARY 2008: SAHARA MARATHON, ALGERIA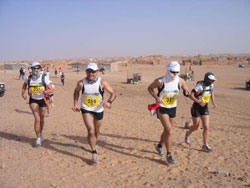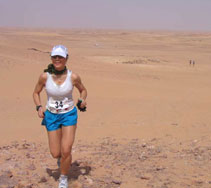 MEN:
1  Pedro Jose SANCHEZ             ESP  2:43:25
2  Daniel MOTHIBE                 RSA  2:52:09
3  Ziane Ald ORZAK                ALG  2:52:40
4  Juan Antonio MUNOZ             ESP  2:55:01
5  Luis Gregorio AJA              ESP  2:55:01
6  Manuel Moriente PAEZ           ESP  3:05:00
7  Rafael Garcia FERNANDEZ        ESP  3:07:10
8  Ahmed MESTEFAOUI               ALG  3:08:45
9  Francisco SANTAMARIA           ESP  3:13:15
10 Mohammed Mostafa SIDHACH       SAH  3:14:32

WOMEN:
1  Madeleine LORENZ               GER  3:30:26
2  Angelina MIRO                  ESP  3:43:18
3  Vera NYSTAD                    NOR  3:43:21
4  Elsa Leonie GARAGNON           FRA  4:40:10
5  Chiara BENEDETTI               ITA  4:41:04

HALF MARATHON
MEN:
1  Latfi YOUSFI                   ALG  1:14:20
2  Abidi BRAHIM                   ALG  1:14:21
3  Hadj Youcef AZIZ               ALG  1:18:08

WOMEN:
1  Dimokatso MOROBI               RSA  1:24:51
2  Maria Dolores JIMENEZ          ESP  1:28:53
3  Sabina Moreno GARRIDO          ESP  1:37:27
February 2008