January 2008
1 JAN | 5 JAN | 6 JAN | 10 JAN | 18 JAN | 19 JAN | 20 JAN | 27 JAN
1 JANUARY 2008: ST CROIX INTERNATIONAL MARATHON, US VIRGIN ISLANDS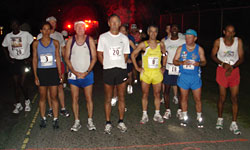 St. Croix offers the first sunrise of the year under the US flag and it also brings light for runners with the world's first marathon of the year, now run for the sixth time.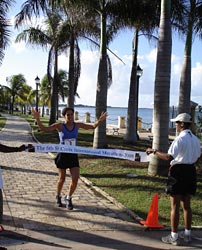 Twenty-two local and international runners registered for the race, sixteen started and fifteen completed. Jose Rodriquez, third in 2006, took the lead at the ¾ mile mark from women's winner Ruth Ann David, who always leads out the race no matter who is in the race. Rodriguez cruised through 10 miles in about one hour, by which time he was well ahead of David. Last year David had faltered in the final miles of the race and was taken to the hospital with dehydration, but this year she held on to take first place ahead of four-time winner Theresa Harper, who has been recovering from major injuries over the past few months. Both David and Harper ran times which qualified them for Boston, as did Michell and Nicholls in the men's race. For John Wallace of USA, in ninth place with 4:11:46, it was his 296th marathon (88 countries), while Italy's William Govi made St Croix his 676th marathon.
MEN:
1  Jose RODRIGUEZ       PUR  2:55:39
2  Matt PERRY           GBR  3:17:21
3  Ernest MITCHELL      ISV  3:22:22
4  Wayne NICHOLLS       ISV  3:34:43
5  Richard JEANPIERRE   ISV  3:38:33
6  Lloyd HENRY          ISV  3:41:55
7  Arcadi ALIBES        ESP  3:56:49
8  Scott FRICKS         ISV  4:05:42

WOMEN:
1  Ruth Ann DAVID       ISV  3:35:06
2  Theresa HARPER       ISV  3:47:13
5 JANUARY 2008: XIAMEN INTERNATIONAL MARATHON, CHINA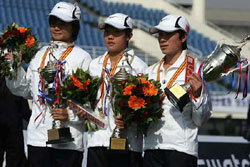 Competing in just her third Marathon, 18-year-old Zhang Yingying ran a World junior best over the distance writes Mirko Javala. Zhang had already run 2:27:20 in Beijing last October finishing second but in Xiamen she stormed into world class by cutting almost five minutes from her best time, while bettering the previous fastest by a junior, Min Liu's 2:23:37 set at the 2001 Beijing Marathon. Winning the race sub-2:24 also secured her the third place on the team for the Bejing Olympic Marathon, although she has also qualified for 5000m and 10000m with performances of 15:06.08 and 31:17.30 set shortly after the Beijing Marathon. In theory the timetable would allow room to contest all three distances, although there is only one day between the 10,000m and Marathon races. World Championships silver medallist Zhou Chunxiu and Zhu Xiaolin, who finished fourth in Osaka, had been selected for the Chinese Olympic team earlier.
Wei Yanan was the early leader in the race setting the pace until 20km with Bai Xue, Zhang, and Sun Yingjie, who returned to competition from a two year doping ban, also in the leading group. Zhang and Bai finally broke away from Wei after the 32km mark with Zhang easily sprinting to the victory.
Bai Xue bettered her old PB of 2:27:46 in her fifth career marathon but Sun Yingjie faded to 2:38:21 in her comeback race.
It came down to a sprint finish between the two Kenyan leaders in the men's race, with Kiprotich Kenei edging out Elias Kemboi by a single scond. Third place probably secured Deng Haiyang the last available spot on the Chinese Olympic marathon team alongside national record holder Ren Longyun (2:08:15 in 2007) and Han Gang (2:08:56 in 2007).
MEN:
1  Kiprotich KENEI                KEN  2:09:49
2  Elias KEMBOI                   KEN  2:09:50
3  Deng HAIYANG                   CHN  2:10:43

WOMEN:
1  Yingying ZHANG                 CHN  2:22:38
2  Xue BAI                        CHN  2:23:27
3  Yanan WEI                      CHN  2:25:10
5 JANUARY 2008: KINMEN MARATHON, CHINESE TAIPEI
MEN:
1  Disdery HOMBO                  TAN  2:23:41
2                                      2:23:57
3                                      2:35:07

WOMEN:
1  Irina SONGERLAYNEN             RUS  2:44:57
2  Su Hua CHENG                        2:57:26
3  Min WU                              3:08:01
6 JANUARY 2008: MIZUNO HONG KONG HALF MARATHON CHAMPIONSHIPS, HONG KONG
MEN:
1  Ho Ka CHAN                        1:12:41
2  Andy NAYLOR                       1:13:43
3  Jonny Yan Hok LAI                 1:13:50
4  Andrew STEVENSON                  1:14:19
5  Ming Tat CHOI                     1:14:30
6  Roberto VENEZIAN                  1:15:28
7  Matthew JONES                     1:16:05
8  Yin Chiu LEUNG                    1:16:17
9  Ngai Chun CHEUNG                  1:16:20
10 Yu Kwong CHAN                     1:16:52
 
WOMEN:
1  Ping Siu WONG                     1:25:00
2  Ping Sui FAN                      1:26:53
3  Fei Suet LI                       1:27:17
4  Rebecca YAU                       1:27:39
5  Wai Ka LAI                        1:27:50
6  Ching Kit YIU                     1:28:16
7  Yee Kit CHAN                      1:28:54
8  Wah Hoi CHEUNG                    1:29:08
9  Fan Yuen LEONG                    1:29:16
10 Rachel SPROSTON                   1:30:05
10 JANUARY 2008: TIBERIAS MARATHON, ISRAEL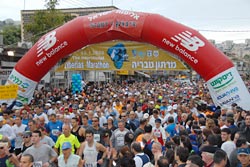 Five runners surpassed the old course record and ran under 2:12, also breaking the Israeli all-comers. A new participation record was also established as approximately 1000 runners took part, from 21 countries. The 31st edition was the most successful race so far. Leonard Muchera, who last year represented Bahrain, reverted to Kenyan allegiance and won the race again.
Haile Stayin, an Israeli Marathon runner already qualified for Beijing 2008 was returning from a training camp in Ethiopia and arrived in the early hours, only making it to the start line with 13 minutes to spare. He was the top Israeli runner through 32km but then had to retire. Zvadya Vodage won the national title, clocking 2:18:44, with last year's winner Assaf Bimro only a few steps behind in 2:18:46. Nili Abramsky won the women's race outright and became national champion. This was her 11th Tiberias Marathon win. About 5,000 people took part in the various races during the two days of events.
MEN:
1  Leonard MUCHERA                KEN  2:10:32
2  Kenneth Mburu MUGERU           KEN  2:10:37
3  Jackson KIPKOECH               KEN  2:10:57
4  Samuel MUTURI                  KEN  2:11:05
5  Etama GELANA                   ETH  2:11:58
6  Temesgen Yared MEKKONEN        ETH  2:17:50
7  Wadage ZEVADIA                 ISR  2:18:45
8  Asaf BIMRO                     ISR  2:18:46
9  Maweu Meshack MUTUNGI          KEN  2:19:08
10 Benjamin Kipketer BOR          KEN  2:20:18

WOMEN:
1  Nili ABRAMSKY                  ISR  2:39:15
2  Grace Wavuwa KITONGA           KEN  2:47:43
3  Ruth KALUNBA                   KEN  2:52:31
4  Loris MENDELOVICH              ISR  2:58:11
5  Orna BLOW                      ISR  3:07:13
6  Kalkidan BALCHA                ETH  3:15:38
7  Lila FRENKEL                   ISR  3:16:10
8  Dorit SHOBALI                  ISR  3:18:59
9  Nechama ABRAMOFF               ISR  3:19:27
10 Milka GUTEMA                   ETH  3:19:32
18 JANUARY 2008: STANDARD CHARTERED DUBAI MARATHON, UAE
Haile Gebrselassie ran the second fastest marathon in history, 2:04:53, but a suicidal early tempo ruined any chance of breaking his own world record writes Pat Butcher.
The weather was perfect for marathoners, global warming, or in the Gulf, global cooling kept the 07:00 start temperature down to 11°C, rising to just 14°C at the finish. Passing 10km in 28:39, Gebrselassie was 45 seconds up on his Berlin record pace, and at halfway (61:27), that advantage had stretched to a minute. He maintained his advance on a new world mark until 35km, when he still had 25 seconds in hand. The last pacemaker, Abel Kirui, had dropped out at 30km, and the pace was dropping inexorably. The million dollars for a new record, offered by Dubai Holdings, evaporated before 40km, and in the end the 34 year old Ethiopian was 27 seconds shy of his record. Nevertheless, he consolidated his position as the world's best marathoner and won the biggest prize in marathon history, $250,000. Gebrselassie conceded that the start was too fast, "I wanted to do 62 minutes for halfway, and I paid the price in the final stages, but I'm happy to run this time."
The women's race was far more competitive, and also fast in the early stages, though not in the same register as Gebrselassie. Seven women were still together at halfway in 70 mins, but similarly, class told in the end. Berhane Adere ran away in the last few kilometres, to win less than two minutes outside her national record, and also won $250,000. Bezunesh Bekele made one of the fastest marathon debuts in history to finish second and defending champion Askale Magarsa also set a personal best in third. Lornah Kiplagat dropped out just after halfway with the recurrence of a calf problem, and Olivera Jevtic of Serbia lasted until 30km when stomach problems forced her out.
MEN: 
1  Haile GEBRSELASSIE             ETH  2:04:53
2  Isaac MACHARIA                 KEN  2:07:16
3  Sammy KORIR                    KEN  2:08:01
4  Gudisa SHENTAMA                ETH  2:09:27
5  Tesfaye TOLA                   ETH  2:09:38
6  Raymond KIPKOECH               KEN  2:09:39
7  Deressa CHISMA                 ETH  2:10:16
8  Asnake FIKADU                  ETH  2:11:04
9  Gashaw MELESE                  ETH  2:12:03
10 William Todo ROTICH            KEN  2:12:20
 
WOMEN: 
1  Birhane ADERE                  ETH  2:22:42
2  Bezunesh BEKELE                ETH  2:23:09
3  Askale Tafa MAGARSA            ETH  2:23:23
4  Rose Jelagat CHERUIYOT         KEN  2:25:48
5  Alice CHELANGAT                KEN  2:27:29
6  Asha Gigi ROBA                 ETH  2:28:24
7  Shitaye GEMECHU                ETH  2:30:20
8  Roba Guta TOLA                 ETH  2:33:44
9  Kidst TEKA                     ETH  2:35:58
10 Lucia KIMANI                   KEN  2:37:37
19 JANUARY 2008: CABO HALF MARATHON, MEXICO
MEN:
1  Joseph MUTISYA                 KEN  1:04:34
2  Sergio Pedraza GONZALES        MEX  1:04:38
3  Francisco Posadas CRUZ         MEX  1:04:46
4  Jose Uribe MARINO              MEX  1:05:24
5  Cesar Luis MIRAVETE            MEX  1:06:56
6  Francisco Fernandez MIRANDA    MEX  1:07:51
7  Alejandro Salvador CRUZ        MEX  1:10:15
8  Israel Avila ACOSTA            MEX  1:10:26
9  Kiprot KIBET                   KEN  1:11:36
10 Luis Ceron TORRES              MEX  1:13:40

WOMEN:
1  Teresia MBUGUA                 KEN  1:16:59
2  Sara Cedillo SANCHEZ           MEX  1:17:21
3  Truphena JEMELI TARUS          MEX  1:23:08
4  Esther JURASEK                 USA  1:27:41
5  Yesemnia Felix VARELA          MEX  1:32:42
6  Martha Arroyo MALDONADO        MEX  1:34:10
7  Maria Billar ALCANTARA         MEX  1:34:26
8  Josefina Diaz MARTINEZ         MEX  1:34:53
9  Teresa Rodriguez SAAVEDRA      MEX  1:34:57
10 Cathy ARMSTRONG                USA  1:35:06
20 JANUARY 2008: STANDARD CHARTERED MUMBAI MARATHON, INDIA
Photo: Getty Images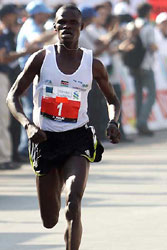 On a morning that was cool by Mumbai standards a large group set off at an ambitious sub 2:10 pace, with a sizeable group of women also on schedule to go under 2:30 writes Ram. Murali Krishnan. Mulu Seboka went on to set a course record and Indian all-comers record in winning for the third time, following up on her 2005 and 2006 victories while John Kelai successfully defended the men's crown.
Seboka improved her own course reord from 2006 by over three minutes. Helped by an untypically cool 20°C at the start of the race she was led out by pacemaker Hellen Nzembi as Seboka remained in the bunch at 10km with 35:36. She went ahead after 15km and registered 1:14:30 at halfway but was still being hotly pursued by the fast-improving Irene Mogaka.
Daniel Rono, the 2006 winner at Mumbai, acted as a pacemaker, leading through the first half in 64:51. It increased the high expectation among the fans, thousands of whom assembled on the roadside as well as millions of television viewers who watched it live from their homes across the country on national television. Five runners led on the return journey after the turnaround point at 23km. The most signficant rise on the course comes at 35km, and on the descent a kilometre later defending champion John Kelai led with Philemon Boit and Tariku Jifar tracking him. The trio stayed together for the long exposed stretch along Marine Drive before turning away from the sea towards the finish with less than 2km to run. Kelai had not shied away from leading and his strength told in the final kilometre as he took a small but decisive lead from Jifar. He finished with a time four seconds faster than last year, only 20 seconds outside the course record set by Daniel Rono in 2006.
In a strong run Ram Singh Yadav, the first Indian finisher, broke 2:20 and made the top ten but just missed the Olympic qualifying "B" standard of 2:18.
Indian runners held centre-stage in the Half-Marathon as Surendra Singh overpowered Jutsi Utrianen of Finland. Kavita Raut got the better of compatriot Preeja Sreedharan in the women's race.
The number of participants grows each year. Apart from the marathon and half-marathon, a 6km Dream Run, a 4.3km Senior Citizens' Run and a 2.5km wheelchair event were also conducted. Prizes were also given to Best Costumed participants. The organisers, Procam International, had to restrict entries even though a record 33,000 ran this year. Apart from its competitive side a festive atmosphere prevailed as industrialists, film personalities, politicians, journalists and players from various sports joined together with commoners to keep the spirit alive year after year.
MEN:
1  John KELAI                     KEN  2:12:23
2  Tariku JIFAR                   ETH  2:12:28
3  Rhilemon BOIT                  KEN  2:12:35
4  Amersisa KETEMA                ETH  2:13:37
5  Elijah NYAMBUTI                KEN  2:14:28
6  Enoch MITEI                    KEN  2:16:13
7  Evans RUTO                     KEN  2:17:06
8  John Maluni KATIO              KEN  2:17:35
9  Zachary KIHARA                 KEN  2:18:19
10 Ram Singh YADAV                IND  2:18:24 

WOMEN:
1  Mulu SEBOKA                    ETH  2:30:04
2  Irene MOGAKA                   KEN  2:32:51
3  Margaret TOROITICH             KEN  2:33:56
4  Winifrida KWAMBOKA             KEN  2:37:35
5  Kebebush HAILLE                ETH  2:37:36
6  Moges ZEBENAY                  ETH  2:37:36
7  Nailya YOULANONOVA             RUS  2:37:39
8  Letay NEGASH                   ETH  2:39:53
9  Marashet JIMMA                 ETH  2:40:42
10 Katerina STETSENKO             UKR  2:43:10
20 JANUARY 2008: CHINA COAST MARATHON, HONG KONG
Gunnar Rethfeldt claimed his third victory in Hong Kong's longest running marathon. He won comfortably but had looked set for a faster time before the heat seemed to take its toll in the second half. Veteran John Lane, 71, continued his streak of having competed in every China Coast Marathon since its inception.
MEN:
1  Gunnar RETHFELDT            HKG  2:47:19
2  Ping Chuen WONG             HKG  2:52:23
3  Ming Fai LAI                HKG  2:56:05
4  Larsen MIKKEL                    3:03:35
5  Luen Pai WONG                    3:04:11
6  William DAVIES                   3:07:21
7  Wai Ming CHIANG                  3:07:57
8  Yiu Fun Jonathan LAU             3:08:46
9  Chun Sing FAN                    3:08:55
10 Mau Fai CHUNG                    3:09:51
 
WOMEN:
1  Pui Shan CHAN                    3:32:33
2  Jane WARD                        3:35:23
3  Angelina Fung Sin KONG           3:38:17
4  Wiwin LEUNG                      3:41:34
5  Mei Lun YEUNG                    3:45:48
6  Mari KAURI                       3:45:57
7  Lok LAI                          4:00:42
8  Fung In TAI                      4:01:26
9  Chui Ha KWAN                     4:02:41
10 Carolyn KNG                      4:07:49
 
HALF MARATHON
MEN:
1  Andy NAYLOR                      1:15:27
2  Roberto VENEZIANI                1:16:14
3  Tat Ming CHOI                    1:17:14

WOMEN:
1  Kit Yee CHAN                     1:32:17
2  Rosamund Alehea BARKER           1:34:00
3  Wynnie FUNG                      1:34:19
20 JANUARY 2008: SUBIC MARATHON, PHILIPPINES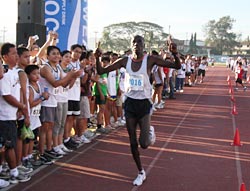 Nelson Kirwa Rotich took a runaway victory at Subic Bay Freeport Zone, while Filipino regional race winner Eduardo Buenavista managed to keep ahead of another Kenyan invited runner, Sammy Kiprono Kosgei. Homegrown talents dominated in the women's race.
This first international event was an instant success with more than 5,000 runners competing in 3km, 5km, 10km, 21km and 42km events. A number of participants came from as far away as USA, UK, Kenya, Malaysia and New Zealand.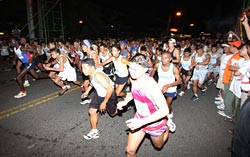 Philippine runners also came from far and wide: Baguio City, Laguna, Tarlac, Pampanga, Metro Manila, students from Olongapo City and police trainees from various Police Regional Training Schools. The huge turn-out of runners surpassed the expectations of both Police Director German Doria, and the City Mayor of Olongapo, the Honorable James Gordon, who both attended the event. The races were organized primarily to generate awareness among the public for the PNP's advocacy campaign of transforming itself into a more capable, efficient and credible police force, according to Police Chief Superintendent Samson R. Tucay, the Director of the Police National Training Institute and prime mover of the event. The races also promote fitness and healthy living, and showcase Subic as a major tourist destination in Asia.
The marathon traces its beginnings in 2005 to the morning road-runs of policemen who experienced deep personal change while undergoing leadership training in Subic.
MEN:
1  Nelson Kirwa ROTICH        KEN   2:27:12
2  Eduardo BUENAVISTA         PHI   2:27:56
3  Sammy K KOSGEI             KEN   2:28:18
4  Albert OMBUGA              KEN   2:29:54
5  Elkana K KIPKETER          KEN   2:30:44
6  Richard M MUTISYA          KEN   2:30:47
7  Cresenciano SABAL          PHI   2:31:39
8  Thomas KIPROTICH           KEN   2:35:09
9  Julius K KIMUGE            KEN   2:37:47
10 Mamerto CORPUZ             PHI   2:41:42
 
WOMEN:
1  Estrella DIAZ                    3:22:00
2  Ailene TOLENTINO                 3:26:10
3  Amanda CORPO                     3:57:10
4  Fiona OTTIGER                    3:57:50
5  Jennie KIL                       3:59:10
 
HALF MARATHON
MEN:
1  Kennedy LILAN                    1:16:20
2  Elmer SABAL                      1:18:30
3  Gerald SABAL                     1:18:40

WOMEN:
1  Mercedita FETALVERO              1:31:50
2  Maracil MAQUILAN                 1:41:40
3  Liza YAMBAO                      1:44:40
27 JANUARY 2008: OSAKA INTERNATIONAL LADIES MARATHON, JAPAN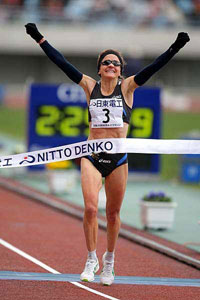 Photo: Kazutaka Eguchi/Agence SHOT
Britain's Mara Yamauchi passed Japan's Kayoko Fukushi at 34.6km and went on to win writes Ken Nakamura. It was a personal best by three seconds and the first marathon victory for Yamauchi. Tomo Morimoto, in second, was the only one of the top five who did not set a new personal best. Japan-based Kenyan Julia Mombi, in third, and Miki Ohira in fourth both improved by more than three minutes. Madoka Ogi debuted in fifth place.
Previous winner Lidia Simon finished sixth in her fastest time since 2005. Altogether thirteen runners broke 2:30, but pre-race co-favourite Yumiko Hara pulled out of the race at the last minute citing a cold.
Kayoko Fukushi pulled away from the pack after the first kilometre and then ran alone for the next 33km. A pack of 18 chased Fukushi who was already 22 seconds ahead by 5km. At 10km Fukushi led 15 runners by 43 seconds; at 15km they were 96 seconds in arrears. By 20km, the chasing pack was down to 14 runners and by 25km 10 were left. In the next 5km the chase pack thinned to eight, but started to close the gap on Fukushi. Fukushi encountered real trouble after 31km, taking 3:44 for the next kilometre and then 3:56 between 33-34km.
Morimoto then started to push and soon she only had four runners for company – Tomo Morimoto, Mara Yamauchi, Madoka Ogi and Julia Mombi. Starting at 32km, Yamauchi started opening a gap on her three opponents. The sustained attack by the Briton was enough for Yamauchi to catch and pass the slowing Fukushi at 34.6km. Morimoto and Mombi also passed faltering Fukushi, while Ogi was losing ground to this pair.
Yamauchi continued to pull ahead, while Morimoto and Mombi were running together, 10 seconds behind at 35km. It grew to 28 seconds by 40km, as Morimoto pulling six seconds ahead of Mombi. Morimoto chased Yamauchi hard but could only narrow the gap by a few seconds.
"I was hoping to run little faster, but a win is a win, so I am very happy," said Yamauchi, who is married to a Japanese national and lives in Japan. She gave her post-race interview in Japanese. "Because I slowed down on the same course last year in the World Championships, I made sure to finish strongly today."
WOMEN (ONLY):
1  Mara YAMAUCHI                  GBR  2:25:10
2  Tomo MORIMOTO                  JPN  2:25:34 
3  Julia MOMBI                    KEN  2:26:00
4  Miki OHIRA                     JPN  2:26:09 
5  Madoka OGI                     JPN  2:26:55 
6  Lidia SIMON                    ROM  2:27:17 
7  Mika OKUNAGA                   JPN  2:27:52    
8  Aki FUJIKAWA                   JPN  2:28:06 
9  Constantina DITA-TOMESCU       ROM  2:28:15
10 Christelle DAUNAY              FRA  2:28:24
27 JANUARY 2008: KHON KAEN MARATHON, THAILAND
MEN:
1  Luka K CHELIMO                 KEN  2:21:21
2  Geoffrey K BIRGEN              KEN  2:21:28
3  Philip TARUS                   KEN  2:22:10
4  Samwel K LIMO                  KEN  2:22:19
5  David S CHERUI                 KEN  2:23:37
6  David K KIPSANG                KEN  2:24:32
7  Birhanu M ASFAW                ETH  2:24:38
8  Mbui D MWITI                   KEN  2:24:41
9  James K KARANJA                KEN  2:25:10
10 Nathan KIPLIMO                 KEN  2:25:33
 
WOMEN:
1  Sunisa SAYLOMYEN               THA  2:52:12
2  Wioletta URYGA                 POL  3:00:07
3  Arpassara PRASATHINPIMAI       THA  3:01:36
4  Norah CHEPTOO                  KEN  3:02:07
5  Amnuay KHIAMNGULUEAM           THA  3:08:32
6  Montian KANKAEW                THA  3:20:47
7  Sayamol PHUKMIT                THA  3:21:40
8  Dusanee CHAEHAENG              THA  3:23:13
9  Nopparat PREEKLANG             THA  3:31:58
10 Kan KUSUWAN                    THA  3:32:23
 
HALF MARATHON
MEN:
1  Kosgei ROBERT                  KEN  1:05:37
2  Mekonnen EMIRU                 ETH  1:05:40
3  Kennedy LILAN                  KEN  1:07:09
 
WOMEN:
1  Saiphon BOONJANG               THA  1:20:50
2  Patcharee CHAITONGSRI          THA  1:21:55
3  Salome A WOLDEAB               ETH  1:23:15
January 2008