March 2014
2 MAR | 9 MAR | 10 MAR | 15 MAR | 16 MAR | 20 MAR | 21 MAR | 23 MAR | 29 MAR | 30 MAR
2 MARCH 2014: OEGER ANTALYA INT'L MARATHON, TURKEY
MEN:
1  Shaban MUSTAFA                 BUL  2:26:36
2  Murat KURTAK                   TUR  2:37:01
3  Muharrem YILMAZ                GER  2:37:45
4  Salih OZTURK                   TUR  2:38:07
5  Murat KAYA                     TUR  2:38:59
6  Fatih BUZGAN                   TUR  2:54:06
7  Mahmat YAVUZ                   TUR  2:57:48
8  Ole KARLSEN                    DEN  2:58:29
9  Tamer GOKOGLAN                 GER  3:00:43
10 Mehmet GUNDEM                  TUR  3:01:19

WOMEN:
1  Svetlana SEPELEVA              RUS  2:56:53
2  Marina ZHALYBINA               RUS  3:01:25
3  Umvan DEMIR                    GER  3:22:19
4  Barbara MALLMANN               GER  3:25:32
5  Rita NOWOTTNY-HUPKA            GER  3:28:05
6  Petra HERKE                    GER  3:32:51
7  Martine NOLAN                  IRL  3:33:00
8  Tina BERNHARDT                 GER  3:36:18
9  Birte BERNHARDT                GER  3:41:16
10 Carole MULLER                  GER  3:41:29

HALF MARATHON
MEN:
1  Fetme Alemu REGASA             ETH  1:07:20
2  Uzeyir SOYLEMEC                TUR  1:09:20
3  Benedikt HOFFMANN              GER  1:10:25

WOMEN:
1  Olesya NURGALIEVA              RUS  1:17:19
2  Elena NURGALIEVA               RUS  1:17:25
3  Taiina TEISALA                 FIN  1:26:34
2 MARCH 2014: KILIMANJARO MARATHON, TANZANIA
MEN:
1  David RUTOH                    KEN  2:16:06
2  Julius KIPLIMO                 KEN  2:16:19
3  Victor SEREM                   KEN  2:16:31
4  Maina THEURI                   KEN  2:17:20
5  Ezekiel KIMUTAI                KEN  2:17:57
6  Barnabas KIPTUM                KEN  2:18:10
7  Sigifred NGOLLY                TAN  2:18:27
8  Alex BARTILOL                  KEN  2:18:33
9  Daniel KIPLIMO                 KEN  2:18:34
10 Daudi LWABE                    TAN  2:18:42
                                 
WOMEN:                           
1  Fridah LODEPA                  KEN  2:40:09
2  Joan ROTICH                    KEN  2:42:44
3  Jackline KITHIA                KEN  2:55:22
4  Abigael TOROITICH              KEN  2:57:21
5  Gladys CHERUIYOT               KEN  2:57:23
6  Isabella JEPCHUMBA             KEN  2:57:38
7  Hellen CHENGONE                KEN  2:58:23
8  Lucy MALAKWEN                  KEN  3:03:03
9  Banuelia KATESIGWA             TAN  3:12:30
10 Naomi JEPKOSGEI                KEN  3:25:08
                                 
HALF MARATHON                    
MEN:                             
1  Alfers LAGAT                   KEN  1:02:37
2  Silah LIMO                     TAN  1:03:08
3  Keneth KANDIE                  KEN  1:03:23
                                 
WOMEN:                           
1  Jackline SAKILU                TAN  1:12:43
2  Cynthia TOWETT                 KEN  1:14:35
3  Naomi MAIYO                    KEN  1:17:49
2 MARCH 2014: LAKE BIWA MAINICHI MARATHON, JAPAN
Bazu Worku broke away from defending champion Vincent Kipruto with less than 2km to go to win the 69th edition of Lake Biwa Marathon writes Ken Nakamura. It was Worku's fourth marathon win in five outings since the start of last year.
No less than 40 men passed 10km in 30:07 but by 26km it had reduced to nine, of which three were pacemakers. By the time they dropped out at 30km only Worku, Kipruto and Japan's Satoru Sasaki remained together. This trio played cat-and-mouse with each other over the next 10km covering the 5km sections in a pedestrian 15:50 and 16:06. Only then did Worku, who had gone through a bad patch just after 35km and was briefly lagging behind, make his decisive surge. Sasaki passed Kipruto on the track 300m from the finish to place second, nearly two minutes faster than his previous personal best of 2:11:28. Japan's big hope Yuki Kawauchi started to fall off the lead pack just beyond 22km, but he still ran a tenacious and well-timed race to pick off the faltering runners one by one in the final 10km to eventually finished fourth. Two weeks ago he had won the Kumamoto Castle Marathon in 2:10:14.
MEN (ONLY):
1  Bazu WORKU                     ETH  2:09:10
2  Satoru SASAKI                  JPN  2:09:47
3  Vincent KIPRUTO                KEN  2:09:54
3  Yuki KAWAUCHI                  JPN  2:10:38
2 MARCH 2014: LALA MARATHON, MEXICO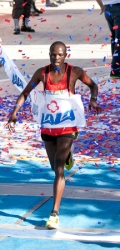 Stephen Njoroge snatched a dramatic come-from-behind victory over Mexican favourite Daniel Vargas in the 26th edition writes Alan Brookes. Shewarge Amare had a more comfortable victory in the women's race to become the first Ethiopian champion in Latin America's fastest marathon.
It was already 16°C on the startline in front of the Grupo Lala headquarters, and 22°C degrees by the time the winners reached the finish line at the Bosque Venustiano Carranza. The race winds its way through the cities of Torreon, Lerdo and Gomez Palacio at an elevation of 1000m. and is a gift from the dairy conglomerate Grupo Lala to the community that it calls home.
A new event, the recreational "Rodada Ciclista" with 1700 riders was held on the full marathon course the Sunday before to begin a week-long "Fiesta Lagunera". Equally impressive, a 25m high permanent arch was erected at the Finish Line. "El Grito de Triunfo" was created by Torreon architect Mario Talamás Murra, and also featured on this year's t-shirts and Finishers' medals. A record, sold-out crowd of 5000 runners from eight countries took part and more than 100,000 spectators lined the streets.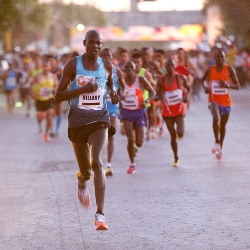 Hillary Kimaiyo charged to the front from the start. It is a tactic that has won him many victories in Mexican races, including the 2011 edition of this race where he set the course record of 2:08:17 — the Latin American All-Comers Record. Kimaiyo pulled a lead pack of eight through 5km in 15:36. After 8km they split into two groups of four — the first group continuing to push the pace. Vargas led through halfway in 1:05:38 with only Simon Kariuki now tailing him. By 25km he was on his own and almost a minute ahead of Njoroge. The gap had increased slightly by 30km and all the way through Gomez Palacio Vargas looked to be comfortably heading for a popular Mexican victory. Then disaster struck as he was forced to stop and stretch with leg cramps just before 35km. He stopped a second time at 36km, and again with 40km in sight. Njoroge patiently closed the gap to overtake him at 40km and open up a 50 second gap by the time they reached the Grito de Triunfo.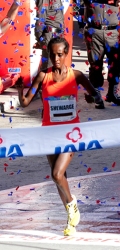 The women's race provided an early duel between Ethiopian Shewarge Amare and Kenya's Emily Chepkorir. They went through 10km together in 35:37 before Chepkorir opened a 13-second lead at 15km. By Halfway they were back together, before the Ethiopian took control to eventually build up a comfortable five-minute winning margin.
MEN:
1  Stephen NJOROGE                KEN  2:15:40
2  Daniel de Jesus VARGAS         MEX  2:16:32
3  Stephen KIBET                  KEN  2:19:22
4  Pedro ESPINOZA                 MEX  2:19:23
5  Jose Amado GARCIA              GUA  2:19:39
6  Miguel ALMACHI                 ECU  2:20:31
7  Hugo ROMERO                    MEX  2:22:52
8  Timothy CHICHESTER             USA  2:23:02
9  Alfredo PASCUAL                MEX  2:25:22
10 Abraham ARTEAGA                MEX  2:26:32

WOMEN:
1  Shewarge AMARE                 ETH  2:35:31
2  Emily CHEPKORIR                KEN  2:40:05
3  Lady Yohanna TOBON             MEX  2:41:20
4  Liliana CRUZ                   MEX  2:46:16
5  Melissandre PASSERAT           MEX  2:46:57
6  Patricia RETIZ                 MEX  2:53:26
7  Judith RAMIREZ                 MEX  2:55:11
8  Elena GARCIA                   MEX  2:57:03
9  Maria Isabel VELEZ             MEX  3:02:33
10 Maria del Rocio NAVARRO        MEX  3:04:38
2 MARCH 2014: SEMI MARATHON INT'L DE PARIS, FRANCE
MEN:
1  Mulle WASIHUN                  ETH  1:00:08
2  John LOITIANG                  KEN  1:00:40
3  Mike KIGEN                     KEN  1:00:44
4  Asmeraw MOALIGN                ETH  1:00:55
5  Ketema BEHAILU                 ETH  1:00:58
6  Robert KWAMBAI                 KEN  1:01:18
7  Daniel SALEL                   KEN  1:01:42
8  Jackson LIMO                   KEN  1:01:45
9  Vincent CHEPKOK                KEN  1:01:46
10 Victor KIPCHIRCHIR             KEN  1:02:08

WOMEN:
1  Yebrgual MELESE                ETH  1:09:23
2  Georgina RONO                  KEN  1:09:31
3  Sarah CHEPCHIRCHIR             KEN  1:09:38
4  Mercy KIBARUS                  KEN  1:09:42
5  Monica JEPKOECH                KEN  1:09:44
6  Polline WANJIKU                KEN  1:10:53
7  Claire LEROUX                  FRA  1:11:34
8  Corinne HEBRETEAU              FRA  1:14:09
9  Carmen OLIVERAS                     1:15:10
10 Eunice KIOKO                   KEN  1:17:07
2 MARCH 2014: NEW TAIPEI WAN JIN SHI INT'L MARATHON, CHINESE TAIPEI
MEN:
1  Hassane AHOUCHAR               MAR  2:17:17
2  Gudisa Shentema KUDAMA         ETH  2:17:18
3  Wilson KIBET                   KEN  2:19:11
4  Yong Ho RI                     PRK  2:19:32
5  Geoffrey BIRGEN                KEN  2:19:52
6  Sho MATSUMOTO                  JPN  2:23:09
7  Jackson CHIRCHIR               KEN  2:23:34
8  Richard KIPROTICH              KEN  2:25:15
9  Bjorn Henrik JANNBORG          SWE  2:36:03
10 Joel Kiplimo KEMBOI            KEN  2:40:03

WOMEN:
1  Ji Hyang KIM                   PRK  2:34:52
2  Ednah MUKWANAH                 KEN  2:36:40
3  Kum Hui RIM                    PRK  2:36:54
4  Shoko SHIMIZU                  JPN  2:38:18
5  Tigist Abdi SHENI              ETH  2:42:53
6  Jeanette FABER                 USA  2:43:57
7  Tinbit Gidey WELDEGEBRIEL      ETH  2:45:16
8  Kiyoko SHIMIHARA               JPN  2:46:59
9  Tigist Worku NERI              ETH  2:50:27
10 Satoko UETANI                  JPN  2:54:54
2 MARCH 2014: TREVISO MARATHON 1.1., ITALY
MEN:
1  Simon RUGUT                    UGA  2:16:32
2  Geoffrey NGUGI                 KEN  2:20:25
3  Hamid MOHAMMENDNUR             ERI  2:21:03
4  Massimo LEONARDI               ITA  2:23:40
5  Alberico DI CECCO              ITA  2:25:08
6  Linus NILSSON                  SWE  2:28:17
7  Charlie CILIA                  MLT  2:38:05
8  Gianluca COLA                  ITA  2:38:28
9  Fabrizio PARO                  ITA  2:38:29
10 Francesco PALATTELLA           ITA  2:38:53

WOMEN:
1  Laura GIORDANO                 ITA  2:46:36
2  Francesca IACHEMET             ITA  2:50:07
3  Francesca MARIN                ITA  2:54:16
4  Lara MUSTAT                    ITA  2:57:36
5  Sara CREMONESE                 ITA  2:59:18
6  Elena NERI                     ITA  3:00:41
7  Juliet CHAMPION                FRA  3:03:28
8  Emanuela Scilla TONETTI        ITA  3:04:52
9  Rosanna SARAN                  ITA  3:05:43
10 Monia COLETTI                  ITA  3:08:38
9 MARCH 2014: LAGO MAGGIORE HALF MARATHON, ITALY
MEN:
1  Edwin KIBET                    KEN  1:00:47
2  Hillary KIPCHUMBA              KEN  1:01:11
3  Daniel WANJIRU                 KEN  1:01:39
4  Tsedat AYANA                   ETH  1:02:02
5  Chalachev TIRUNEH              ETH  1:02:04
6  Tigabu ASEFA                   ETH  1:03:07
7  Fikadu TSADIK                  ETH  1:04:12
8  Sammy KIPRONO                  KEN  1:04:52
9  Jose Manuel PERINO             SUI  1:10:11
10 Alberto MOSCA                  ITA  1:11:33

WOMEN:
1  Waganesh AMARE                 ETH  1:10:08
2  Yinli HE                       CHN  1:11:34
3  Yingying ZHANG                 CHN  1:12:35
4  Meixa ZHANG                    CHN  1:13:47
5  Zhenzhu LI                     CHN  1:14:04
6  Xiaoli JIANG                   CHN  1:16:34
7  Humin XIAO                     CHN  1:17:48
8  Ilaria ZACCAGNI                ITA  1:18:23
9  Conny BERCHTOLD                SUI  1:19:36
10 Romina CAVALLERA               ITA  1:20:11
9 MARCH 2014: NAGOYA INTERNATIONAL WOMEN'S MARATHON, JAPAN
WOMEN (ONLY):
1  Maria KONOVALOVA               RUS  2:23:43
2  Jelena PROKOPCUKA              LAT  2:24:07
3  Ryoko KIZAKI                   JPN  2:25:26
4  Eri HAYAKAWA                   JPN  2:25:31
5  Tomomi TANAKA                  JPN  2:26:06
6  Agnes KIPROP                   KEN  2:27:51
7  Misato HORIE                   JPN  2:27:57
8  Asami KATO                     JPN  2:29:08
9  Ashete DIDO                    ETH  2:29:21
10 Agnes BARSOSIO                 KEN  2:30:37
9 MARCH 2014: SIHANOUKVILLE INT'L HALF MARATHON, CAMBODIA
MEN:
1  Hem BUNTING                    CAM  1:16:10
2  Ma VIRO                        CAM  1:16:18
3  Phan SOPHEAK                   CAM  1:23:43
4  Frederic DEBASTE               BEL  1:25:29
5  Yan DEFOND                     FRA  1:30:59
6  Cheng Shen CHIU                TPE  1:31:35
7  Lachlan LEE                    AUS  1:33:02
8  Nick SIMPSON                   GBR  1:36:07
9  Thomas ROSWELL                 USA  1:40:02
10  Julien MARIANI                FRA  1:40:51

WOMEN:
1  Veronique MESSINA              FRA  1:42:37
2  Becky SNYDER-BALLOU            USA  1:50:16
3  Ceri DAVIES                    IRL  1:51:36
4  Maki KUNIMATSU                 JPN  2:07:06
5  Wei YI                         USA  2:07:41
6  Sreythouch SAT                 CAM  2:07:59
7  Wai-Yan CHEUNG                 CHN  2:09:57
8  Olivia DAVIDSON                GBR  2:12:16
9  Nadia WELSH                    AUS  2:17:07
10 Li-Tign HOAC                   FRA  2:17:53

10.5km
MEN:
1  Chea SAMPHORS                  CAM  39:46
2  Franz GRADINGER                AUS  40:13
3  Tep THEARA                     CAM  42:25

WOMEN:
1  Chloe LABOISNE                 FRA  51:48
2  Michu HENG                     CAM  52:05
3  Gabi KUESTER                   GER  54:08
9 MARCH 2014: 10km INT'L TAROUDANT, MOROCCO
MEN:
1  Hassan EL ABBASI               MAR  28:04
2  Aziz LAHBABI                   MAR  28:07
3  Daniel CHEBII                  KEN  28:11
4  Birhanu Legese GURMESA         ETH  28:22
5  Getaneh Tamire MOLLA           ETH  28:22
6  Polat Kemboi ARIKAN            TUR  28:29
7  Peter Kariuki WANJIRU          KEN  28:47
8  Begale Seyoum GOSA             ETH  28:48
9  Anis SELMOUNI                  MAR  28:51
10 Edwin Kiptop KIPTOO            KEN  28:56

WOMEN:
1  Asma LAGHZAOUI                 MAR  32:31
2  Bouchra BENTHAMI               FRA  32:42
3  Joan CHELIMO                   KEN  32:58
4  Winnie JEPKORIR                KEN  32:59
5  Kelthoum BOUASRIYA             MAR  33:20
6  Salima CHARKI                  MAR  33:43
7  Hana MEGERSA                   ETH  34:30
8  Nazha MACHROUH                 MAR  35:16
9  Aniko KALOVICS                 HUN  35:18
10 Faiza BACHAR                   MAR  35:45
10 MARCH 2014: ANTARCTICA MARATHON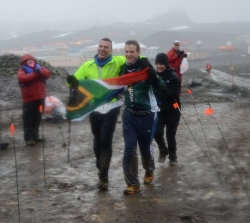 The 15th Antarctica Marathon attracted 187 runners from 22 countries; one of them was the first totally blind runner to finish the event writes Patrice Malloy. Thirteen temporarily resident base personnel representing Chile and China joined the field.
Blind since birth, south African adventurer Hein Wagner had to recruit a fellow entrant, Nic Kruiskamp as a late substitute to guide him during the race. Kruiskamp was tethered to Wagner by a short stick and gave him constant voice instructions to help Wagner navigate the muddy, brutally hilly course. The two men, who met for the first time less than a week prior, finished the gruelling event in under six hours. "I do not recommend anyone running this course with their eyes closed," said Wagner "I had to have full concentration so to not fall and injure myself."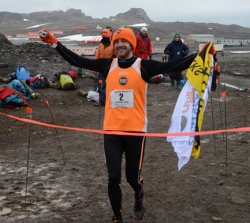 The Marathon and Half-Marathon courses use rudimentary gravel roads that connect the research bases of Uruguay, Chile, China and Russia on King George Island, located at the tip of the Antarctic Peninsula. Race day temperatures were around 2°C with sleet, intermittent rain and 40km/hour winds. The event was held in two stages on 9 and 10 March to observe environmental restrictions of a maximum 100 visitors on shore in any single landing area.
Bartosz Mazerski of Poland went to the front early and opened an insurmountable lead to cruise home to victory. Women's winner Stephanie White of New Zealand placed ninth overall. Twenty runners completed their goal of finishing marathons or half-marathons on all of the Earth's seven continents and were inducted into the Seven Continents Club.
MEN:
1  Bartosz MAZERSKI               POL  3:17:55
2  Michael DUFFY                  USA  3:34:50
3  Nathaniel ORDERS               USA  3:36:09
4  Aitor ELUSTONDO                ESP  3:44:06
5  Alexander SCHERZ               SUI  3:56:29
6  Robert MARSHALL                USA  4:00:06
7  John SHEWAN                    NZL  4:16:28
8  Michael YASINSKI               CAN  4:17:47
9  Fred TASSINARI                 CAN  4:30:43
10 Jan KAWA                       POL  4:33:43

WOMEN:
1  Stephanie WHITE                NZL  4:23:03
2  Victoria TOOGOOD               AUS  4:48:40
3  Suzy DROLET                    CAN  4:54:04
4  Kelly PARRISH                  USA  4:54:29
5  Holly BOHENSKY                 USA  4:58:57
6  Tracie WINTERS                 USA  5:03:51
7  Sophia Le SHI                  USA  5:09:25
8  Kathleen HOLMES                USA  5:20:18
9  Retha JANSE VAN BERG           RSA  5:24:38
10 Amanda GODDARD                 USA  5:30:24

HALF MARATHON
MEN:
1  Juan BALTIERRA                 CHI  1:57:17
2  Ricardo SANCHEZ                CHI  2:08:26
3  Claudio MUNOZ                  CHI  2:11:53

WOMEN:
1  Kathryn EMICK                  USA  2:21:52
2  Mindy MONTANO                  USA  2:39:43
3  Christine CHA                  USA  2:52:31
15 MARCH 2014: ROCK N ROLL USA MARATHON
MEN:
1  Adam DOHERTY                   USA  2:33:52
2  Brian BENESTAD                      2:36:32
3  Eric SENSEMAN                       2:39:52
4  Matt FLYNN                          2:41:27
5  Miles AITKEN                        2:44:56
6  Hendrik SPOERING                    2:45:50
7  Ryan SAMUEL                         2:46:01
8  Liam QUINN                          2:46:24
9  Eddie KRAFTCHISIN                   2:46:57
10 Jim DRISCOLL                        2:48:42

WOMEN:
1  Nuta OLARU                     ROM  2:43:00
2  Rebecca BADER                       2:53:10
3  Kristin JOHNSON                     2:57:54
4  Silvia BAAGE                        3:04:16
5  Stephanie KNAST                     3:07:00 
6  Amanda HICKS                        3:07:11
7  Dara DALMATA                        3:08:53
8  Catherine SHALLOW                   3:12:04
9  Emily RENNER                        3:12:29
10 Kimberly GAYTAN                     3:13:23

HALF MARATHON
MEN:
1  Abiyot ENDALE                  ETH  1:06:27
2  Ayele KASSAYE                  ETH  1:08:29
3  Matt RAND                      USA  1:09:24

WOMEN:
1  Christine RAMSEY               USA  1:19:27
2  Kerry ALLEN                    USA  1:19:46
3  Teal BURRELL                   USA  1:21:37
16 MARCH 2014: ZURICH MARATO DE BARCELONA, SPAIN
MEN:
1  Abayu Getachew GIRMA           ETH  2:10:44
2  Thomas Kiplagat RONO           KEN  2:12:11
3  Boaz KIPRONO                   KEN  2:12:43
4  Dickson KIMELI                 KEN  2:13:13
5  Samir Ait BOUCHMANE            MAR  2:16:06
6  Kedir HIKADU                   ETH  2:17:12
7  Renars ROZE                    LAT  2:19:01
8  Samsom Bor KIBOR               KEN  2:19:42
9  Yuri TARASOV                   RUS  2:22:28
10 Adria Garcia IBANEZ            ESP  2:24:28

WOMEN:
1  Frashiah Nyambura WAITHAKA     KEN  2:32:25
2  Naomi Jepkogei MAIYO           KEN  2:40:11
3  Hasna BAHOM                    ESP  2:45:25
4  Noelia PAEZ VACA               ESP  2:47:26
5  Laia Andreu TRIAS              ESP  2:49:37
6  Elena Diaz TOREEVEJANO         ESP  2:55:59
7  Angelica Esparza CHAVEZ        ESP  2:56:25
8  Amparo Monleon RIBAS           ESP  2:56:41
9  Cecile CAUSSE                  FRA  2:58:54
10 Anna Riera PIA                 ESP  3:01:34
16 MARCH 2014: LIMASSOL MARATHON GSO, CYPRUS
MEN:
1  Wojciech KOPEC                 POL  2:17:27
2  Tamas NAGY                     HUN  2:23:56
3  Ahmet Kazahoum JEBEL           CYP  2:38:26
4  Gabor VAS                      HUN  2:43:31
5  Manolis SIFAKIS                GRE  2:46:50
6  Charalambos IOANNOU            CYP  2:48:37
7  Brian OKEEFE                   GBR  2:53:00   
8  Tim ARTUS                           2:55:57
9  Tasos TSERONIS                 CYP  2:56:25
10 Konstantinos KONSTATINIDES     CYP  2:58:23

WOMEN:
1  Cecilia BACKMAN                FIN  3:02:06
2  Paola HADJIPAPA                CYP  3:39:30
3  Imogen HAWLEY                  GBR  3:42:25
4  Morven SOUTHAM                 GBR  3:42:33
5  Deborah BRANT                  GBR  3:44:57
6  Apine LIGA                     CYP  3:45:09
7  Ioulia KANNAVA                 CYP  3:50:16
8  Maria Lambrou SAVVA            CYP  3:50:17
9  Silvia CONSTANDINIDOU          CYP  3:55:34
10 Rosemary NIXON                 FRA  3:59:58

LIMASSOL HELECTOR HALF MARATHON
MEN:
1  Maciek MIERECZKO               POL  1:08:31
2  Ivan TUTUKIN                   RUS  1:08:58
3  Dmitry POLYANSKIY              RUS  1:09:09

WOMEN:
1  Nicola DUNCAN                  GBR  1:14:09
2  Tunde SZABO                    HUN  1:18:48
3  Issy MENZIES                   GBR  1:23:47
16 MARCH 2014: MEIA MARATONA DE LISBOA, PORTUGAL
Track specialist Bedan Karoki made a great debut over the half marathon distance to win in an under-the hour performance writes Antonio Manuel Fernandes. Karoki was in some discomfort in the early stages and lagged behind the leading group, but he got to the front at 10km, joining his countrymen Silas Kipruto and Ezekiel Chebii, and Eritrea's two-time world cross-country medallist Teklemariam Medhin. Mehdin briefly took the lead but the Kenyan trio overtook him in the final quarter of the race before engaging in their own private battle for the podium places. Chebii lost contact with his comptariots in the 14th kilometre and although Kipruto stayed with Karoki until just after 18km, Karoki proved too strong for him over the final 3km.
"This wasn't the debut race I dreamed about," said Karoki, who will switch his attention back to the track this summer and then contest another half marathon late in the year. "I had problems. The course is great, totally flat, I'm sure it is the place to do it [break the world record — the last two of which were set on this course by Erritrea's Zersenay Tadese]. I expected more [of myself]." But Karoki is now a force to be reckoned with on the roads after also making his debut over 10km in San Juan three weeks earlier, winning the World's Best 10km in 28:35.
On an unseasonably hot day in the Portuguese capital, with temperatures rising to 22°C, many struggled to cope with the conditions. Despite some small changes to the course designed to make it flatter and faster, the winning men's time has only once been slower in the past decade.
In the women's race Ethiopia's Werknesh Degefa held off Kenya's Jemima Jelagat to win by two seconds in 1:08:46, 18 seconds short of the course record set by her compatriot Aberu Kebede in 2011. Jelagat and Flomena Chepchirchir forced the pace from 10-15km, with Degefa and Kenya's Eunice Kirwa just behind them, but the Ethiopian kicked hard at 20km and only Jelagat could stay with the change of gear, before losing out to her at the finish..
MEN:
1  Bedan Karoki MUCHIRI           KEN    59:58
2  Silas KIPRUTO                  KEN  1:00:17
3  Ezekiel CHEBII                 KEN  1:00:50
4  Teklemariam MEDHINE            ERI  1:01:47 
5  Richard SIGEI                  KEN  1:01:57
6  Abaneh AYELE                   ETH  1:02:14
7  Paul TANUI                     KEN  1:02:48
8  Amos MITEI                     KEN  1:02:48
9  Albert MATEBIOR                KEN  1:02:54
10 Michael SHELLEY                AUS  1:02:58

WOMEN:
1  Worknesh DEGEFA                ETH  1:08:46
2  Jemima JELEGAT                 KEN  1:08:48
3  Filomena CHEPCHIRCHIR          KEN  1:08:51
4  Eunice KIRWA                   KEN  1:08:59
5  Josephine CHEPKOECH            KEN  1:09:20
6  Valeria STRANEO                ITA  1:09:47
7  Jane Jelegat KIPTOO            KEN  1:09:53
8  Philes ONGORI                  KEN  1:10:29
9  Gladys KIPSOI                  KEN  1:11:42
10 Dulce FELIX                    POR  1:13:54
16 MARCH 2014: SEOUL INT'L MARATHON, KOREA
Yakob Jarso took almost five minutes off his previous best to become the first ever Ethiopian men's winner at this famous race which can trace its history back to 1931 writes Phil Minshull.
Jarso led 10 runners through halfway in 1:03:23 and this pack was still together at 30km, reached in exactly 1:30:00. The crucial move came just after 35km when Jarso and Stephen Chemlany started to surge. One-by-one the other contenders dropped away as these two led Gilbert Kirwa and Tariku Jufar by eight seconds at 40km. Jarso then attacked again and it was enough to gain a crucial advantage which he held to the line. Chemlany improved his best by 80 seconds. In women's race, Kenya's Helah Kiprop was together with Ethiopia's Ashu Kasim at 40km but, in similar fashion to the men's race, she then pushed hard to leave her rival trailing in her wake.
MEN:
1  Yacob YARSO                    ETH  2:06:17
2  Stephen CHEMLANY               KEN  2:06:24
3  Gilbert KIRWA                  KEN  2:06:44
4  Tariku JUFAR                   ETH  2:07:02
5  Abraham CHERKOS                KEN  2:07:08
6  James KWAMBAI                  KEN  2:07:38

WOMEN:
1  Helah KIPROP                   KEN  2:27:29
2  Ashu KASIM                     ETH  2:27:45
3  Helalia JOHANNES               NAM  2:28:27
4  Songeun KIM                    KOR  2:29:31
5  Azalech MASRESHA               ETH  2:29:47
20-23 MARCH 2014: BALATON SUPERMARATHON (195.4km), HUNGARY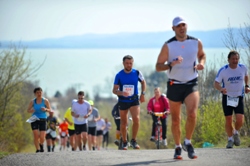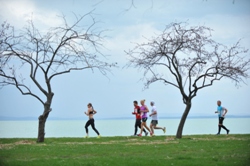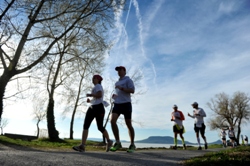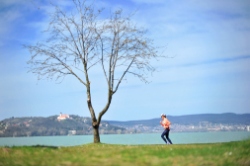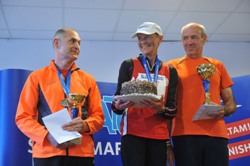 The race is a four-day long ultra around the biggest lake in Central Europe, passing through 42 towns, and villages. Participants came from 18 different countries and included a German group of 24 runners. Runners enjoyed good weather throughout, 14-20°C and sunny. The oldest was Miklós Szucs, 73 years, who ran in a relay team. The Swede Monika Udd celebrated her 65th birthday on the last day of the race and celebrated both her retirement and victory in her age category with 24 hours 29 minutes.
MEN:
1  Peter STEIB                    HUN  13:21:05
2  Rene STROSNY                   GER  14:23:18
3  Tamas CSERPAK                  HUN  15:53:50
4  Gyorgy HAVASI                  HUN  15:54:23
5  Chi Shing TO                        16:08:03
6  Zoltan CSECSEI                 HUN  16:09:00
7  Gaston PRUFER                       16:14:29
8  Csaba TOTH                     HUN  16:17:51
9  Horatiu MORAR                       16:18:30
10 Christof LINDENBECK                 16:19:24
 
WOMEN:
1  Veronika GOROG                 HUN  16:27:46
2  Edit VARJU                     HUN  18:12:52
3  Henrietta DOBAI                HUN  18:39:43
4  Jutka TOTH                     HUN  18:47:53
5  Beata VIDA                     HUN  19:02:27
6  Andrea PLAVEC                       19:24:40
7  Nora GYURUS                    HUN  19:38:03
8  Beata SOLTI                    HUN  20:12:49
9  Krisztina CSAKANY              HUN  20:17:54
10 Adrien ZSUPANY                 HUN  20:27:24
 
HALF (2 DAYS)
MEN:
1  Aron BELLUS                    HUN   6:46:41
2  Daniel MARGULL                       7:15:11
3  Zoltan MATHE                   HUN   7:28:36
 
WOMEN:
1  Eva KOVACS                     HUN   8:17:08
2  Emilia BOLA                    HUN   8:48:29
3  Viktoria PETO                  HUN  10:14:30
21 MARCH 2014: JERUSALEM INT'L MARATHON
21 MARCH 2014: JERUSALEM INT'L MARATHON 

MEN:
1  Ronald Kimeli KURGAT           KEN  2:16:08
2  Patrick Wachira MURIUKI        KEN  2:16:34
3  Luka Kipkemoi CHELIMO          KEN  2:18:07
4  Abraham Kabeto KETLA           ETH  2:19:50
5  Gosa Girma TEFERA              ETH  2:20:10
6  Ashenafi DEME                  ETH  2:28:45
7  Noga Maketa                    ISR  2:41:56
8  Gary HYNES                     IRL  2:44:59
9  Vladi IKSULL                   ISR  2:51:35
10 Petersen SOLVEIRA              BRA  2:54:25

WOMEN:
1  Alemtsehay Mesfin DEN          ETH  2:47:23
2  Lemelem Berha YACHEN           ETH  2:47:28
3  Abebech Etcha BULBULA          ETH  2:47:30
4  Mihiret Anamo ANTONIOS         ETH  2:47:50
5  Hirut Beyene GUANGUL           ETH  2:51:29
6  Margaret NJUGUNA               KEN  2:59:13
7  Frida SODERMARK                SWE  3:07:30
8  Yaara ZANGI                    ISR  3:14:08
9  Johanna DREWNICKA              ISR  3:39:50
10 Michaela ANTONINI              ITA  3:41:13

HALF MARATHION 
MEN:
1  Zaile GEBRE                    ETH  1:11:36
2  Egziabher GEDAMU               ETH  1:15:05
3  Marcos Rogerio COSTA           BRA  1:16:53

WOMEN:
1  Edinah KOECH                   KEN  1:22:05
2  Carolima Lorena CHENTAI        ISR  1:22:22
3  Azeb WELDEHAWARIAT             ETH  1:26:13
23 MARCH 2014: ROME MARATHON, ITALY
Photo: Organizers
Shume Hailu and Geda Ayelu Lemma scored a double Ethiopian win at the 20th edition of the ACEA Maratona di Roma writes Diego Sampaolo. Rain and wind affected the winning times and made the course very slippery.
The men's lead group of nine went through 10km in 30:21 and halfway in 1:04:25, by which time six of them remained. Just before 35km, Hailu, Sisay Jisa and Leonard Langat broke away, but Langat dropped behind the Ethiopian pair 2km later and Hailu started his kick from 38km. He finished strongly despite the conditions to become the seventh Ethiopian runner to win the Rome Marathon.
Lemma led the women's race from gun-to-tape taking a 50-second lead in the first 5km, and had increased it to three minutes by halfway, reached in a quick 1:13:31. Her paced slowed dramatically in the second half but she still marginally increased her advantage.
MEN:
1  Legese Shume HAILU             ETH  2:09:47
2  Mekonnen Sisay JISA            ETH  2:11:20
3  Leonard LANGAT                 KEN  2:14:08
4  Domenico RICATTI               ITA  2:15:07
5  Beyene Effa SEBOKA             ETH  2:16:13
6  Jackson KIPKOECH               KEN  2:17:09
7  Weldon Kiprono KORIR           KEN  2:17:40
8  Carmine BUCCILLI               ITA  2:22:07
9  Luca MASSIMINO                 ITA  2:27:46
10 Luca PARISI                    ITA  2:28:09

WOMEN:
1  Ayelu Lemma GEDA               ETH  2:34:49 
2  Janat HANANE                   MAR  2:38:08
3  Emma QUAGLIA                   ITA  2:43:24
4  Marcella MANCINI               ITA  2:44:54
5  Elina JUNNILA                  FIN  2:56:34
6  Maria Grazia BIANCHI           COL  2:57:27
7  Catherine MARTENS              BEL  2:58:46
8  Doris MARQUARDT                GER  3:01:57
9  Maurizia CUNICO                ITA  3:03:06
10 Sara CARDUCCI                  ITA  3:04:16
23 MARCH 2014: STANDARD CHARTERED STANLEY MARATHON, FALKLAND ISLANDS
Conditions were tough for the tenth edition, with temperatures between 5–7°C, winds gusting up to 80km/hour and wintery showers.
A record 60 runners, 50 men and 10 women, took part and 12 teams competed in the relay. A total of 17 international runners travelled to Stanley to take part in the event, representing seven nationalities, including the UK, France, Argentina, Nepal, South Africa and Australia.
His Excellency The Governor Mr John Duncan officiated at the start and presented prizes at the Town Hall award ceremony. Proceeds from the race totalling over $10,600 (including matching by Standard Chartered) will be donated to Standard Chartered Bank's nominated charity, Seeing is Believing
MEN:
1  Timothy DREW                   2:54:39
2  Iain BAILEY                    3:02:52
3  Martin COLLINS                 3:16:47
 
WOMEN:
1  Teslyn BARKMAN                 3:34:40
2  Jane BROCKLEBANK               3:56:05
3  Henrietta TIMMS                3:59:39
 
RELAY
1  Mount Pleasant Pacers          3:03:09
29 MARCH 2014: IAAF/AL BANK WORLD HALF MARATHON CHAMPIONSHIPS COPENHAGEN, DENMARK
Photos: Getty Images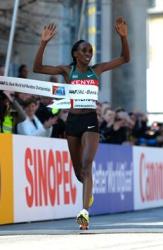 Kenya dominated the women's race to take the top five places and reclaim team honours from their Ethiopian rivals writes Mike Rowbotham.
The race got underway in bright sunshine, a temperature of about 14°C lightened by a breeze. Despite her protestations the day before, Italy's Valeria Straneo was soon pushing the pace at the front, just as she had during the IAAF World Championships Marathon in Moscow last summer. By 3km the field had elongated, with those still bunched at the front around Straneo including Croatia's Lisa Stublic.
Shortly before 5km (16:14) the Kenyans made their move. Before long the five of them were arraigned across the road, their arms and legs pumping in unison, issuing the unspoken message: "Pass us if you dare." Four Ethiopians were ranged behind them, along with Straneo and France's Christelle Daunay.
Although the pace increased a bit, with a group of nine passing 10km in 32:13, no one did dare. Straneo determined to stay on an even pace and drifted off the leading group to eventually finish eighth. Daunay likewise found the pace too hot and eventually took seventh.
By 13km only Ethiopians Netsanet Gudeta and Hirut Alemayehu were offering a challenge to the Kenyan quintet, with the latter beginning to fade.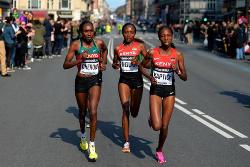 A kilometre further on the leading group was down to four Kenyans — Cherono, Chepyego, Wacera and Kabuu, with Wacera checking back down the road to see the two Ethiopians fast losing distance.
Kabuu, who was the fastest half marathoner in the world last year with 1:06:09 was the one who dropped out of the medal placings at around 16km. Cherono made her decisive move at 19km, as the course started to climb gently towards the finish. Her strength was immediately apparent as the other two were swiftly outpaced.
Once safely over the finish line all five Kenyans embraced each other, enveloped by their national flag. It had been a perfect performance.
There were 37 personal bests from the 88 finishers in the women's race — a testament to the conditions and the course.
Iceland's Martha Ernsdottir, aunt of world youth 800m champion Anita Hinriksdottir, became the oldest ever competitor at the World Half Marathon championships, finishing 82nd in 1:24:24. The 2000 Olympian had competed at the first edition of the World Half Marathon Championships back in 1992.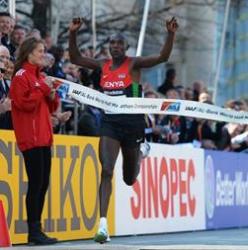 In the men's race Zersenay Tadese, the dominant force in men's half-marathon running for almost a decade, was finally run out of the medals. He dropped back two-thirds of the way through the race as Kenya's Geoffrey Kipsang Kamworor took his crown and posted the fastest time of the year in doing so.
But the twist in the tale was that Tadese, after earning six consecutive silvers for Eritrea in the team event, finally got his hands on a team gold thanks to the additional efforts of Samuel Tsegay, who won the battle with Ethiopia's Guye Adola to take silver in a personal best, and Nguse Amlosom in fifth place. Kenya, team gold medallists on the past six occasions, had to settle for silver this time around, with bronze going to Ethiopia.
Wilson Kiprop, returning to the event for the first time since winning the individual title in 2010, was billed as Tadese's main rival, but it was Kipsang who proved stronger than either.
In his record ninth appearance in the Championships Tadese's medal-winning sequence of five golds and a silver in the previous six editions ended with a fourth place. Yet his time was faster than his winning performances from 2008 and 2012.
The medal winners had effectively separated themselves by 15km, with Kipsang driving ahead and Tsegay tracking him, a few metres ahead of the Ethiopian. At one point Tsegay strained to look back to see how far behind his famous compatriot in the pale blue shirt was. The gap was too much to make up, and Tsegay, whose previous best at these championships was fifth, concentrated on his own performance.
The early lead had been taken by the Japanese through Kenta Murayama, Hiroto Inoue and Masato Kikuchi, but it was only a matter of time before the Kenyan, Ethiopian and Eritrean runners massed just behind them started to shape the main race.
By the 5km Tadese had moved into the lead, with his team-mates Tsegay and Amlosom running at his shoulder, and Moses Kibet of Uganda also showing well.
The Kenyans soon responded and within another kilometre Kipsang and Kiprop led, with Tadese just a stride behind in the centre of the leading group, and a rank of Ethiopian shirts also in contention.
By 12km mark the leading group of six had broken clear, and as Kipsang continued to drive up the pace from the front, six soon became three, and the only remaining question was which order the three leaders would assume on the podium.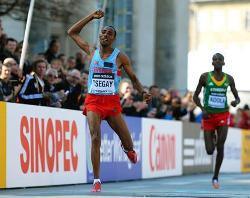 Tsegay eventually won the battle for silver with Adola and looked pleased enough as he crossed the line, skipping and punching the air with a broad grin on his face before turning to await his labouring compatriot, whom he briefly embraced.
Tadese, sweat beading on his brow and shoulders rolling with effort, came home in a time that was more than a minute slower than the world record of 58:23 he set in Lisbon four years ago.
The last time Tadese had finished outside the top three in a half marathon was as a 21-year-old, 11 years ago. His last defeat to a fellow Eritrean was back in 2002 at the World Half Marathon Championships in Brussels.
Eritrea's team title brought Tadese's medal tally at the World Half Marathon Championships to a record 13, six of them gold.
The flat and fast course around the city centre allowed 13 of the first 20 men home to set personal bests. Among the 30000 runners who set off immediately behind the elite men's field there would have been many more.
MEN:
1  Geoffrey KIPSANG               KEN    59:08
2  Samuel TSEGAY                  ERI    59:21
3  Guye ADOLA                     ETH    59:21
4  Zersenay TADSESE               ERI    59:38
5  Nguse AMSOLOM                  ERI  1:00:00
6  Wilson KIPROP                  KEN  1:00:01
7  Ghirmay GHEBRESELASSIE         ERI  1:00:10
8  Samsom GEBREYOANNES            ERI  1:00:13
9  Adugna TEKELE                  ETH  1:00:15
10 Kenneth KIPKEMOI               KEN  1:00:29
                                 
Teams:                           
1  Eritrea                             2:58:59
2  Kenya                               2:59:38
3  Ethiopia                            3:00:48
4  South Africa                        3:03:13
5  Uganda                              3:04:39
                                 
WOMEN:                           
1  Gladys CHERONO                 KEN  1:07:29
2  Mary Wacera NGUGI              KEN  1:07:44
3  Selly Chepyego KAPTICH         KEN  1:07:52
4  Lucy Wangui KABUU              KEN  1:08:37
5  Mercy Jerotich KIBARUS         KEN  1:08:42
6  Netsanet GUDETA                ETH  1:08:46
7  Christelle DAUNAY              FRA  1:08:48
8  Valeria STRANEO                ITA  1:08:55
9  Tsehay DESALEGN                ETH  1:09:04
10 Genet YALEW                    ETH  1:09:15
                                 
Teams:                           
1  Kenya                               3:23:05
2  Ethiopia                            3:27:05
3  Japan                               3:31:33
4  Italy                               3:31:57
5  USA                                 3:32:48
30 MARCH 2014: 34th VATTENFALL BERLIN HALF MARATHON, GERMANY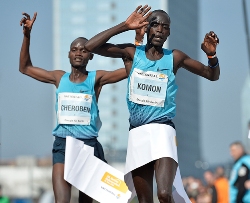 Running his debut at the distance Leonard Komon just edged out training partner Abraham Cheroben in a sprint finish. His time is an unofficial world debut record. With a tailwind during the first 10km the pace was fast, with a group of four passing 5km in 13:39 — pacemaker Vincent Rono led Komon, Cheroben and Daniel Chebii and reached the 10km point in 27:40, on world record pace. But as Rono finished his pacing duties and the group of three turned into Kurfurstendamm after 11km they were running into a headwind. While Chebii could no longer hold on, Cheroben (with a previous personal best of 60:38) took the lead. But the pace did drop and the world record became unrealistic after 15km was reached in 41:44 and it became all about winning the race. In a sprint finish Komon, who is the world record holder at 10km and 15km, just nipped Cheroben. The course record remains at 58:56, set by Patrick Makau (Kenya) in 2007. Komon finished ahead of eleven fellow Kenyans.
In the women's race Kenya's Agnes Mutune and Tadelech Bekele led from the beginning. With just over 2km to go 22 year-old Bekele moved ahead.
MEN:
1  Leonard KOMEN                  KEN    59:14
2  Abraham CHEROBEN               KEN    59:14
3  Richard MENGICH                KEN  1:00:17
4  Sylas KIMUTAI                  KEN  1:00:17
5  Daniel CHEBII                  KEN  1:00:40
6  John KIPKOECH                  KEN  1:01:38
7  Peter MATELONG                 KEN  1:01:57
8  Lucas ROTICH                   KEN  1:01:57
9  Hosea KIPLAGAT                 KEN  1:02:09
10 Eliud KIPLAGAT                 KEN  1:02:11

WOMEN:
1  Tadelech BEKELE                ETH  1:10:05
2  Agnes MUTUNE                   KEN  1:10:13
3  Sabrina MOCKENHAUPT            GER  1:11:43
4  Maja NEUENSCHWANDER            SUI  1:12:43
5  Alice KIBOR                    KEN  1:13:15
6  Claire MACCARTHY               IRL  1:16:25
7  Sandra URACH                   AUT  1:17:52
8  Kukka-Maria MUSTONEN           FIN  1:19:43 
9  Victoria BRANDT                GER  1:20:25
10 Cornelia SCHINDLER             GER  1:21:00
30 MARCH 2014: DIACORE GABORONE MARATHON, BOTSWANA
MEN:
1  Matjeane MASILO                LES  2:15:37
2  Tshepo MAKEPE                  BOT  2:17:20
3  Motsieloa RAMOLEFI             LES  2:17:30
4  Simeon SHIIMI                  BOT  2:18:59
5  Kelebonye SIMBUWA              BOT  2:21:16
6  John TAPELA                    BOT  2:22:42
7  Raobine RAMOSEKA               BOT  2:23:00
8  Kauanivi MYNHARDT              NAM  2:24:50
9  Mathews MUYANYA                ZAM  2:26:28
10 Tswelelo PATIKEGO              BOT  2:33:08

WOMEN
1  Ekandjo LEENA                  NAM  2:40:39
2  Anna AMUTOKO                   BOT  2:45:59
3  Faithy NYASANGO                ZIM  2:54:44
4  Masaile MAKAMPONG              LES  3:01:28
5  Claire LANE                         4:23:37
6  Teedzani MAGIMBA               BOT  4:23:40
7  Martina BERLIN                      4:23:40 
8  Ella CADURI                    BOT  4:24:43
9  Kiley CLARK                         4:38:49
10 Mankwane MAELA                 BOT  5:02:21

HALF MARATHON
MEN:
1  Uveni-nawa JUUGONGWELA         BOT  1:07:44 
2  Wendel ANESHO                  BOT  1:08:40 
3  Godiraone NTHOMPE              BOT  1:08:57 

WOMEN:
1  Constance NYASANGO             ZIM  1:19:16
2  Tiiango MEMA                   BOT  1:25:34
3  Matshidiso TAMARI              BOT  1:34:41
30 MARCH 2014: NOVI SAD INT'L HALF MARATHON, SERBIA
It was sunny and unseasonably hot, but over 1000 people ran this flat course that starts and finishes in the square in front of City Hall. Visitors had great views along the race route which passes through the most beautiful parts of Novi Sad: along the banks of the Danube, new bridges, the University district, the Tanurdziceva Palace, the old House of Assembly and the Petrovaradin fortress.
MEN: 1 Goran UKIC SRB 1:10:48 2 Dejan POPOVIC SRB 1:13:49 3 Niksa PAPIC SRB 1:13:56 4 Marko MILOVANOVIC SRB 1:14:33 5 Milos GASOVIC SRB 1:16:37 6 Branko MILOSEV SRB 1:18:56 7 Zoran MARKOVIC SRB 1:18:56 8 Radu MILEA ROU 1:19:09 9 Miodrag JOVANOVIC SRB 1:19:44 10 Mladen MINIC SRB 1:19:56 WOMEN: 1 Sofija JOVANOVIC SRB 1:32:41 2 Olga-Iulia GHINGA ROU 1:38:15 3 Dorotea REBERNIK SLO 1:40:14 4 Marija KANACKI SRB 1:40:39 5 Duska KAPUN SRB 1:41:05 6 Aneli CEBEK SLO 1:44:25 7 Victoria ROWE GBR 1:45:16 8 Sonja KULJANSKI SRB 1:46:56 9 Ksenija DUNDERSKI SRB 1:47:12 10 Nina RACEK SLO 1:47:39
30 MARCH 2014: SEMI MARATHON DE RABAT, MOROCCO
Postponed
30 MARCH 2014: 261 WOMEN'S MARATHON, SPAIN
WOMEN (ONLY):
1  Beatriz MOLINA BAILEN          ESP  2:57:29
2  Jeannine ISELI                 ESP  3:21:55
3  Maite ROJO                     ESP  3:25:18
4  Elena DAVI                     ESP  3:26:57
5  Maria Amparo MENENDEZ          ESP  3:27:41
6  Simone GUIKEMA                 NED  3:28:01
7  Johanna MACDONALD              GBR  3:34:16
8  Olga HURTADO AZATEGUI          ESP  3:37:13
9  Lola CHICO                     ESP  3:38:55
10 Ana COS MORERA                 ESP  3:39:30

10km
1  Vanessa VEIGA COMESANA         ESP  37:10
2  Beatriz ANTILIN PEREZ          ESP  38:06
3  Maria PUJOL PEREZ              ESP  38:07
March 2014