July 2010
3 JUL | 4 JUL | 10 JUL | 11 JUL | 18 JUL | 25 JUL | 31 JUL
3 JULY 2010: PAAVO NURMI MARATHON, FINLAND
MEN:
1  Janne KLASILA                  FIN  2:50:39
2  Patric MASAR                   SUI  2:51:42
3  Tomi HALME                     FIN  2:53:39
4  Emil SODERLUND                 FIN  2:54:30
5  Tuomas MIKKOLA                 FIN  2:59:30
6  Miika LAHTELA                  FIN  3:00:27
7  Masamichi SUZUKI               JPN  3:00:33
8  Markus KARLSSON                FIN  3:01:47
9  Niklas WICKHOLM                FIN  3:06:30
10 Antii AMMUNET                  FIN  3:06:39
 
WOMEN:
1  Laura NIEMINEN-TOMMINEN        FIN  3:21:31
2  Johanna YLANEN                 FIN  3:26:57
3  Hanna-Mari HANNIKAINEN         FIN  3:49:55
4  Mimmi SINERVO                  FIN  3:51:20
5  Elina JUNNILA                  FIN  3:54:44
6  Mariane KANKAANMAKI            FIN  3:59:10
7  Minna HARTONEN                 FIN  4:16:14
8  Sari LAHDENIEMI                FIN  4:16:23
9  Eija AHONEN                    FIN  4:16:25
10 Nina KARAPUU                   FIN  4:17:47
 
HALF MARATHON
MEN:
1  Yuri VONOGRADOV                RUS  1:12:14
2  Aleksandr BABYKIN              RUS  1:12:30
3  Miika HENRIKSSON               FIN  1:13:59
 
WOMEN:
1  Irene CHEPKIRUI                KEN  1:21:39
2  Usila KOECH                    KEN  1:23:18
3  Suvi MIETTINEN                 FIN  1:23:41
4 JULY 2010: GOLD COAST AIRPORT MARATHON, AUSTRALIA
MEN:
1  James KARIUKI                  KEN  2:13:53
2  Peter KIPROTICH                KEN  2:15:47
3  Ben KIPRUTO                    KEN  2:17:18
4  Raphael NJENGA                 KEN  2:17:25
5  Oswald REVELIAN                TAN  2:17:55
6  Rowan WALKER                   AUS  2:20:18
7  Rowan HOOPER                   NZL  2:22:05
8  Nathan HARTIGAN                AUS  2:23:27
9  David CRINITI                  AUS  2:25:21
10 Johhny Hok Yan LAI             HKG  2:28:38
 
WOMEN:
1  Yoshida KAORI                  JPN  2:31:33
2  Matsuo CHIHARU                 JPN  2:36:53
3  Mayumi FUJITA                  JPN  2:39:10
4  Sarah MCCRAE                   AUS  2:39:41
5  Chihiro TANAKA                 JPN  2:41:09
6  Shireen CRUMPTON               NZL  2:41:21
7  Megan HEPP                     USA  2:45:42
8  Anita KEEM                     AUS  2:48:06
9  Kirsten MOLLOY                 AUS  2:49:09
10 Tina MAJOR                     AUS  2:49:55
 
ASICS HALF MARATHON
MEN:
1  Jeffrey HUNT                   AUS  1:03:18
2  Martin DENT                    AUS  1:03:21
3  Hironori ARAI                  JPN  1:03:24
 
WOMEN:
1  Lisa WEIGHTMAN                 AUS  1:09:00
2  Cassie FIEN                    AUS  1:11:45
3  Jessica TRENGOVE               AUS  1:12:48
10 JULY 2010: ZERMATT MARATHON, SWITZERLAND
MEN:
1  Patrick WEISER                 SUI  3:09:35
2  Gerd FRICK                     ITA  3:13:37
3  Jean-Christophe DUPONT         FRA  3:14:47
4  Thomas GEISENBERGER            GER  3:25:37
5  Helmut PERRETEN                SUI  3:25:49
6  Ralf BIRCHMEIER                SUI  3:26:26
7  Ulrich BENZ                    GER  3:26:29
8  Thomas HANSEN                  GER  3:28:48
9  Martin SCHMID                  SUI  3:32:40
10 Guy SCHEIWILLER                SUI  3:39:37
 
WOMEN:
1  Claudia LANDOLT                SUI  3:44:06
2  Simona STAICU                  HUN  3:52:44
3  Tanja AMIET                    SUI  3:59:21
4  Andrea HUSER                   SUI  4:00:56
5  Lizzy HAWKER                   GBR  4:01:34
6  Carolina REIBER                SUI  4:02:29
7  Corinne WARIDEL                SUI  4:15:40
8  Jacqueline RUEGGER             SUI  4:24:26
9  Karin ERNE WURENLINGEN         SUI  4:28:28
10 Claire BOLAY                   SUI  4:31:14
11 JULY 2010: MARATON DE QUITO, ECUADOR
MEN:
1  Festus KIKUMU                  KEN  2:23:37
2  Leonso Jimenez CHITAU          ECU  2:23:48
3  Edison BURBANO                 ECU  2:24:23
4  Cristobal Narvaez ANRANGO      ECU  2:24:39
5  Isaac WAWERU                   KEN  2:25:23

WOMEN:
1  Caroline CHEMWOLO              KEN  2:49:09
2  Nancy Osorio NARANJO           ECU  2:54:42
3  Martha TENORIO                 ECU  2:56:21
4  Olga GOMEZ                     ECU  3:00:34
5  Maria Paredes RIOS             ECU  3:04:19

HALF MARATHON
MEN:
1  Franklin TENORIO               ECU  1:09:13
2  Walter Balboa ACSRO            ECU  1:10:53
3  Luis Quingaluisa MALDONADO     ECU  1:11:01

WOMEN:
1  Rosa Alba CHACHA               ECU  1:21:50
2  Jeanneth Colahuaco TOAPANTA    ECU  1:23:04
3  Evelyn Anangono GODOY          ECU  1:25:02
18 JULY 2010: MARATHON OF RIO DE JANEIRO, BRAZIL
MEN:
1  Jose Ricardo DA SILVA          BRA  2:29:10
2  Paulo Rogero Braga GONCALVES   BRA  2:31:35
3  Ibrahim Orozil NETO            BRA  2:34:26
4  Jose Alfonso SILVA             BRA  2:35:47
5  Abel DE SOUZA                  BRA  2:35:51
6  Flavio Roberto DOS SANTOS      BRA  2:41:11
7  Divino Pereira FARIAS          BRA  2:41:28
8  Hefer Cardoso DE FREITAS       BRA  2:42:25
 
WOMEN:
1  Sirlene De Sousa DE PINHO      BRA  2:43:15
2  Sueli Pereira SILVA            BRA  2:45:24
3  Conceicao de M C OLIVEIRA      BRA  2:48:42
4  Ilda Alves DOS SANTOS          BRA  2:48:57
5  Antonia Bernadete L DA SILVA   BRA  2:49:55
6  Elizabete Esteves DE SOUZA     BRA  2:50:33
7  Gisele Brros DE JESUS          BRA  2:51:44
8  Gisele Lisboa Oliveira RIBEIRO BRA  2:52:31
9  Andrea GRACIANO                BRA  2:53:20
10 Mary Emanuela DA COSTA         BRA  2:54:09
25 JULY 2010: SAN FRANCISCO MARATHON, USA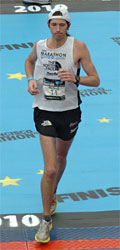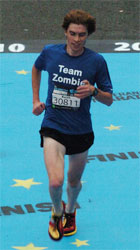 Over 24,000 runners registered and the first two to finish both broke the old course record of 2:25:57 set by Andrew Cook in 2007. Keith Bechtol, an astrophysicist at Stanford University, set the new record of 2:23:28 in his debut marathon in which he only decided to compete six weeks beforehand. His request for elite athlete status was denied by the organisers because he had no previous official marathon times.
The 25-year old won from the second wave start, two minutes behind the favoured elite. Official times are taken from the starting gun and do not account for this discrepancy. Both Bechtol, and second-placed Michael Wardian come from Virginia, but Bechtol had taken a three-year break from competition after graduation. Wardian, aged 36, had returned to San Francisco as pre-race favourite, but came in two minutes behind despite an almost two-minute "lead" on Bechtol. However, he took a wrong turn along the hilly course which probably cost him at least a minute.
Third-placed Harm Sengers of the Netherlands was on a company trip to Chicago but bought a ticket to San Francisco for a 24-hour Marathon whirlwind, hopping a plane back to Chicago within hours of the race. Asked what he thought of San Francisco, he said "the course was so incredibly beautiful... I want to come back next year."
MEN:
1  Keith BECHTOL                  USA  2:23:28
2  Michael WARDIAN                USA  2:25:21
3  Harm SENGERS                   NED  2:29:23
4  David LA PORTIO                     2:32:26
5  Tyler SMALL                         2:34:01
6  Chad RICKLETS                       2:35:20
7  Zack ELLIS                          2:36:16
8  Ian SHARMAN                         2:36:35
9  Jason KARBELK                       2:36:51
10 Florian SCHEULEN                    2:37:08
 
WOMEN:
1  Chikara OMINE                       2:42:12
2  Emily HARSIN                        2:51:54
3  Brandy BENGOECHEA                   2:53:26
4  Morgan ROBINSON                     3:01:11
5  Renee LANE                          3:04:48
6  Amanda GRAMLY                       3:06:55
7  Kate EVANS                          3:07:05
8  Jenny ROBBINS                       3:08:11
9  Kristin WALSTADT                    3:08:27
10 Stefanie FINELLI                    3:08:28
25 JULY 2010: WESTLINK M7 CITIES MARATHON, AUSTRALIA
The $50,000.00 prize pool again attracted some quality runners from Australia and overseas among the 260-strong field, supplemented by 44 relay teams. The interesting traffic-free course is mainly on the Westlink M7's shared pathway, alongside the motorway. There were a large number of marathon debutants. Five Australian states were represented and international entrants came from the USA, Hong Kong, New Zealand, Kenya, South Africa and Papua New Guinea.
Among the quality local runners were two Kenyan athletes: Cleophas Rop and Josephat Mwangi. Thomas Kiprotich, a Kenyan runner living in Hong Kong also had a chance to take out the $10,000.00 first prize. Among the women were four-time winner Magda Karimali-Poulos, 2006 winner Verity Breen and visiting South African Ursula Frans.
Conditions were ideal for a marathon at the 07:00 start, as runners were set off by Liverpool City Councillor Wendy Waller. A group of seven runners maintained a slow early pace until David Criniti took off to get a good lead, which he held for 16km before withdrawing with a calf injury. At halfway, seven runners went through in 1:14. In the second half five runners picked up the pace, and with three kilometres to go Rop started to pull away from the others to win. He ran the second half in 1:08:54; the first five ran negative splits.
Magda Karimali-Poulos, Jackie Fairweather and Helena Stanton were within two minutes of each other at halfway, after which Fairweather edged ahead, running close to even splits of 1:21:19 and 1:21:26 to set a new course record on her first Westlink M7 Cities Marathon.
MEN:
1  Rop CLEOPHAS                   KEN  2:23:22
2  Mark TUCKER                    AUS  2:24:50
3  Josphat MWANGI                 AUS  2:25:20
4  Scott MC TAGGART               AUS  2:26:31
5  Scott RANTALL                  AUS  2:28:00
6  Darren MOYLE                   AUS  2:34:31
7  Thomas KIPROTICH               KEN  2:35:58
8  Ben BELL                       AUS  2:36:32
9  Brendan DAVIES                 AUS  2:37:15
10 Dan THOMPSON                   AUS  2:41:48

WOMEN:
1  Jackie FAIRWEATHER             AUS  2:42:45
2  Magda KARIMALI-POULOS          AUS  2:44:46
3  Karen BARLOW                   AUS  2:49:35
4  Helen STANTON                  AUS  2:50:28
5  Verity BREEN                   AUS  3:02:30
6  Johanna PARSONS                AUS  3:04:47
7  Ursula FRANS                   AUS  3:05:52
8  Julie HOWLE                    AUS  3:21:15
9  Cheryl HOUNSLOW                AUS  3:24:11
10 Stephanie GRAVES               AUS  3:24:28
31 JULY 2010: SWISS ALPINE MARATHON DAVOS 78KM, SWITZERLAND
Photos: swiss-image.ch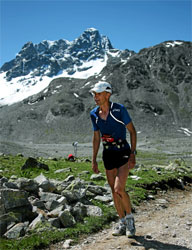 "This 25th anniversary Swissalpine marathon was the best ever," said race director Andrea Tuffli, who started the event in 1986 and has directed it ever since. The record number of participants (5910 entries), the elite fields for the headline 78km event (won by Jonas Buud and Jasmin Nunige) and the superb conditions with beautiful weather all contributed to a memorable occasion.
Jonas Buud left the whole field trailing for the fourth time. He missed his personal best, set last year, by only 28 seconds. He ran the section to Filisur faster than ever, but as he explained: "I matched my speed to the competition." Thomas Lorblanchet from France and Bruno Heuberger set the fast early pace in their first appearances in Davos.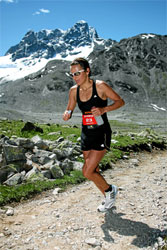 They led at half-way with Buud following but on the ascent to the Keschhütte Buud moved into first place and did not relinquish it for the rest of the race. Like last year, he took around 10 minutes out of the competition from the highest point to the finishing line. "I have the greatest respect for Buud's performance," was the reaction from both Lorblanchet and Jean-Yves Rey in third place. Buud is also the first runner to win the Swissalpine marathon four times in a row.
Jasmin Nunige took her third Swissalpine marathon title, in a time 20 minutes faster than her wins in 2005 and 2008. Maja Meneghin-Pliska and Corinne Zeller fought out a thrilling duel for second and third. Meneghin, 10 years younger, finished 35 seconds ahead.
MEN:
1  Jonas BUUD                     SWE  5:49:14
2  Thomas LORBLANCHET             FRA  6:04:38
3  Jean-Yves REY                  SUI  6:09:02
4  Johan OOSTHUIZEN               RSA  6:15:00
5  Bruno HEUBERGER                SUI  6:16:59
6  Matthias DIPPACHER             GER  6:19:43
7  Beat RITTER                    SUI  6:20:26
8  Csaba NEMETH                   HUN  6:27:18
9  Thomas ENGELI                  SUI  6:40:21
10 Gion-Andrea BUNDI              SUI  6:43:27

WOMEN:
1  Jasmin NUNIGE                  SUI  6:39:28
2  Maja MENEGHIN-PLISKA           SUI  6:43:52
3  Corinne ZELLER                 SUI  6:44:33
4  Gloria VINSTEDT                SWE  7:19:45
5  Denise ZIMMERMANN              SUI  7:23:55
6  Jeanette DALCOLMO              SUI  7:26:29
7  Gaby STEIGMEIER                SUI  7:26:41
8  Zelah MORRALL                  GBR  7:41:25
9  Anita LEHMANN                  SUI  7:54:49
10 Miriam SCHMIDT                 GER  8:01:08

42KM MARATHON
MEN:
1  Huw LOBB                       GBR  3:16:03
2  Thierry BREUIL                 FRA  3:18:25
3  Dirk STROTHMANN                GER  3:23:24

WOMEN:
1  Maud GIRAND                    FRA  4:04:24
2  Manuela JENNY                  SUI  4:14:15
3  Regula MEIER                   SUI  4:16:51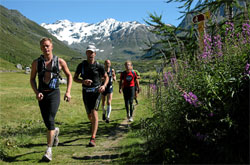 31 JULY 2010: AUSTRALIAN OUTBACK MARATHON, AUSTRALIA
Race day was a perfect dawn, the sun painting Uluru (Ayers Rock) a luscious pink against a clear blue sky as runners began their race to the sound of a didgeridoo. The full marathon was two laps of a 21km circuit, nearly all of it on a mixture of unsealed red-earth roads, tracks and bush fire trails and almost constant views of either Uluru or Kata Tjuta (The Olgas).
The inaugural marathon fielded just under 200 competitors, including about 50 from the USA and others from Australia, Canada, Denmark, Germany, India, Japan, Luxembourg, New Zealand and Romania. Most tackled the full marathon but there was also a half marathon, 11km and 6km run.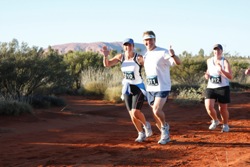 From 6-9km runners get stunning views across to Kata Tjuta, some 20km away. The name means "many heads", an apt description for a collection of rocks that weathered apart over millions of years from a single giant rock formation. Runners pass through the village of Yulara at 9km and head out towards the airport before turning at 12km and tackling the route back to the start/finish area. After turning runners get the views of Uluru, 11km away, its colour changing almost hourly. Unlike Kata Tjuta, Uluru is made of arkose sandstone. Its dramatic colour is caused by iron in the arkose rusting as it oxidises.
The course includes a few small sand dunes, by which time runners are well strung out, which provides a chance to take in the scenery and enjoy the silence of the desert. After another short stretch of sealed road at 15km there is a 6km stretch of pure Australian outback – just you, the track, the bush and Uluru keeping constant watch from a distance. The temperature stayed fairly cool for the second lap and running was pleasant. There is something special about this area; its vastness, its age, its red earth and its silence.
MEN:
1  Robert WOOLLEY                 AUS  3:07:26
2  Andrew COHEN                   AUS  3:09:14
3  Paul HODGES                    AUS  3:18:03
4  Sorab SHAVAKSHA                AUS  3:19:44
5  James MORAN                    AUS  3:21:06
6  Joe GODSELL                    AUS  3:23:08
7  Michael MESSERSCHMI            USA  3:28:07
8  Joseph CLARK-MURPHY            AUS  3:28:57
9  Gary ZUPAN                     AUS  3:33:14
10 Bruce VEENSTRA                 AUS  3:38:05

WOMEN:
1  Deborah CROPPER                USA  3:12:38
2  Nicole BUTTERFIELD             AUS  3:19:21
3  Cheryl CARTER                  AUS  3:40:46
4  Clare WALL                     AUS  3:45:02
5  Kelly ALLEN                    USA  3:49:58
6  Keri VAUGHAN                   AUS  3:50:02
7  Patricia STITCHBURY            NZL  3:58:08
8  Brooke CURRAN                  USA  3:59:39
9  Maia PUCAY                     USA  4:02:36
10 Michelle JOHNSTON              AUS  4:13:17

HALF MARATHON
MEN:
1  Michael WILLIAMS               AUS  1:31:27
2  Andrew COUANIS                 AUS  1:42:22
3  Adam FREDERICKS                AUS  1:46:05

WOMEN:
1  Tawnecia SAUVE                 CAN  1:48:52
2  Michelle MCGAVIN               AUS  1:49:50
3  Frances CRANSTON               AUS  1:52:45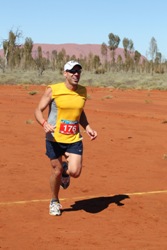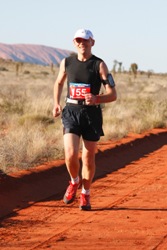 July 2010