June 2010
5 JUN | 6 JUN | 12 JUN | 13 JUN | 19 JUN | 20 JUN | 26 JUN | 27 JUN
5 JUNE 2010: STOCKHOLM MARATHON, SWEDEN
MEN:
1  Joseph LAGAT                   KEN  2:12:48
2  Johannes KEKANA                RSA  2:16:09
3  Jonah K KIBIWOTT               KEN  2:16:47
4  Hilary KIPCHUMBA               KEN  2:16:56
5  Daniel YEGO                    KEN  2:19:35
6  Adil BOUAFIF                   SWE  2:21:47
7  James BETT                     KEN  2:22:09
8  Erik PETERSSON                 SWE  2:23:46
9  Kristoffer OSTERLUND           SWE  2:24:14
10 Martin KJALL-OHLSSON           SWE  2:26:15

WOMEN:
1  Isabellah ANDERSSON            SWE  2:31:35
2  Aberash TESFAYE                ETH  2:37:20
3  Seada KEDIR                    ETH  2:37:28
4  Irina MASHKANTSEVA             RUS  2:43:43
5  Irina KOZUBOSKAYA              RUS  2:44:47
6  Gladys CHEBET                  KEN  2:44:56
7  Gabriella SAMUELSSON           SWE  2:46:33
8  Leena POUTINIEMI               FIN  2:47:39
9  Therese NORDSTROM              SWE  2:48:19
10 Zinash ALEMU                   ETH  2:48:49
5 JUNE 2010: FREIHOFER'S 5K RUN FOR WOMEN, USA
1  Emily CHEBET                   KEN  15:12 
2  Edna KIPLAGAT                  KEN  15:20  
3  Mamitu DASKA                   ETH  15:23  
4  Teyba ERKESSO                  ETH  15:36  
5  Belainesh ZEMEDKUN             ETH  15:44  
6  Julliah TINEGA                 KEN  15:48  
7  Benita WILLIS                  AUS  15:49  
8  Amane GOBENA                   ETH  15:50  
9  Rebecca DONAGHUE               USA  15:50  
10 Elizabeth MALOY                USA  15:53
6 JUNE 2010: METROPOLIS MARATHON BYDGOSZCZ-TORUN, POLAND
MEN:
1  Joel KOMEN                     KEN  2:19:42
2  Mumanyi BASWETI                KEN  2:19:44
3  Julius KIPKORIR                KEN  2:20:32
4  Bane TOLA                      ETH  2:22:09
5  Andreij GORDZIEJEW             POL  2:23:35
6  Joseph Muia KIMISIA            KEN  2:29:08
7  Wiktor STARODUBCEW             POL  2:34:23
8  CHEMODANOV                          2:36:59
9  Sergei BRUMAREL                UKR  2:41:03
10 Grazys VYTAUTAS                LIT  2:42:49
 
WOMEN:
1  Nataliya LEHONKOVA                  2:50:29
2  Arleta MELOCH                  POL  2:58:28
3  Nancy LANGAT                   KEN  3:03:48
4  Leyla Reshed DELESE            ETH  3:11:59
5  Monika UKLEJA                  POL  3:24:08
6  Ewa OCHMANSKA                  POL  3:39:35
7  Ilona GRACZYK                  POL  3:43:31
8  Katarzyna KRYSTOSZYK           POL  3:45:48
9  Katarzyna LEWICKA              POL  3:47:22
10 Renata SADOWSKAJA              LIT  3:55:25
6 JUNE 2010: ZELENOGRAD HALF MARATHON, RUSSIA
MEN:
1  Sergey LUKIN                   RUS  1:07:27
2  Alexai PLAGUSHIN               RUS  1:08:02
3  Loeonid ISAYEV                 RUS  1:09:05
4  Vsevolod KHUTAKOV              RUS  1:09:22
5  Andrei9 SMIRNOV                RUS  1:09:28
6  Alexandr GUSEV                 RUS  1:09:31
 
WOMEN:
1  Lyubov MORGUNOVA               RUS  1:17:02
2  Elens TIZHONOVA                RUS  1:19:17
3  Yulia KHAZOVA                  RUS  1:19:30
4  Irina PANKOVSKAYA              RUS  1:21:06 
5  Natalya MAKAROVA               RUS  1:21:49
6  Tatiana PEREPELKINA            RUS  1:24:26
12 JUNE 2010: SANTA CLAUS MARATHON, FINLAND
MEN:
1  Jarmo MALMI                    FIN  2:58:44
2  Marc BERGMANN                  SUI  3:05:08
3  Juha LILJA                     FIN  3:14:21
4  Edward KIFT                    AUS  3:22:48
5  Leopold DEPESTEL               BEL  3:24:08
6  Jorma KINNUNEN                 FIN  3:24:56
7  Joao HEBIL                     POR  3:27:08
 
WOMEN:
1  Fiona OAKES                    GBR  3:03:33
2  Evelyna SHAMAROVA              RUS  3:35:04
3  Christer MATTISSON             SWE  3:39:10
4  Minna PORPOLA                  FIN  3:39:32
5  Susanne THIES                  GER  3:47:36
6  Marja SELIN                    FIN  3:39:41
12 JUNE 2010: LAGUNA PHUKET INT'L MARATHON, THAILAND
MEN:
1  Charkrit BOONKONG              THA  2:40:08
2  Stephen PAINE                  AUS  2:47:30
3  Santi FUNGFUANG                THA  2:51:56
4  Prayuk KONGIAD                 THA  2:53:26
5  Somechoke JAENGWANG            THA  2:53:43
6  Wicharn DUANGSAKET             THA  3:01:45
7  Jaray JEAVANAI                 THA  3:06:05
8  Adul KONSAMUL                  THA  3:08:38
9  Somporn INTSRI                 THA  3:17:58
10 Nattanan HATHAKIJJAKAMKUL      THA  3:28:04
 
WOMEN:
1  Thanyathorn SAMUTNOI           THA  3:21:24
2  Amanuay KIAMNGOOLEARM          THA  3:22:09
3  Noriko YAMAGUCHI               JPN  3:26:16
4  Alison SHAW                    GBR  3:27:43
5  Tomomi AKITA                   JPN  3:40:52
6  Katja FINK                     SUI  3:41:22
7  Anna PILLINGER                 GBR  3:43:16
8  Veronica TANG                  SIN  3:43:23
9  Kan KUSUWAN                    THA  3:44:15
10 Kendra GOFFREDO                USA  3:44:56
13 JUNE 2010: QUITO ULTIMAS NOTICIAS 15km, ECUADOR
MEN:
1  Diego COLORADO                 COL  46:30
2  Byron Efren Poedra AVILES      ECU  47:00
3  Isaac KIMAIYO                  KEN  47:04
4  Constantino LEON               ECU  47:07
5  Patrick NTHIWA                 KEN  47:13
6  Vladimir Guerra BURBANO        ECU  47:17
7  Paulino CANCHANYA              ECU  47:39
8  Miguel Angel Almachi CONDOR    ECU  47:50
9  Raul PACHECO                   ECU  48:01
10 Pedro Manuel Ramos IMBAQUINGO  ECU  48:28
 
WOMEN:
1  Diana Judith Landi ANDRADE     ECU  51:57
2  Ogla KIMAIYO                   KEN  52:02
3  Katina Perez DELGADO           MEX  53:48
4  Dulce Ma Rodriguez DE LA CRUZ  MEX  54:38
5  Genoveva JELAGAT               KEN  55:33
6  Rocio CANTARA                       56:03
7  Jimeno Amparo Salazar CHECA    ECU  56:42
8  Martha Ines Ronceria REY       ECU  57:21
9  Nancy Mercedes Osorio NARANJO  ECU  58:28
10 Maria Paredes RIOS             ECU  58:37
19 JUNE 2010: MIDNIGHT SUN MARATHON, NORWAY
Photo: Marius Hansen – iTromsø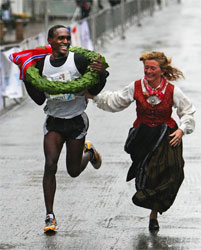 Breaking away from his competitors shortly after start, David Kanyari front-ran all the way to win by almost eight minutes from local Tromso runner Jens Kristian Berg. Under 2:30 won him a 10,000 NOK bonus, and this is a good time in the cold and rainy conditions. It was his second victory in the race. Norwegian Mari Brox won the women's race more than 16 minutes ahead of the next runner.
A total of 3,237 runners took part in all events, coming from 60 countries, with the 600 limit reached in the full marathon. There was a 30% increase in the Toro Halfmarathon with almost 650 participants, and in all distances the women's share was close to 50%.
Chip timing was used for the first time and was well received by the runners.
MEN:
1  David KANYARI                  KEN  2:28:42
2  Jens-Kristian BERG             NOR  2:36:54
3  Jonas HOLMBERG                 SWE  2:38:11
4  Leif SAEGROV                   NOR  2:41:48
5  Birhaanu WAGJIRA               NOR  2:46:32
6  Diriba GAMACHU                 NOR  2:50:58
7  Tomas PERSSON                  SWE  2:53:04
8  Nicola PRETTO                  ITA  2:54:10
9  Øystein RINGNES                NOR  2:56:44
10 Matteo CIOCIOLA                ITA  2:57:15
 
WOMEN:
1  Mari BROX                      NOR  2:59:17
2  Mona RYDLAND                   NOR  3:15:36
3  Aynsley KLASSEN                CAN  3:15:59
4  Helene SCHUTRUPF               GER  3:17:59
5  Maria NORDFJELL                SWE  3:25:26
6  Orla MURPHY                    IRL  3:26:29
7  Gayle ZORRILLA                 USA  3:26:35
8  Anna MATTSSON                  SWE  3:28:50
9  Jocelyn PAYNE                  GBR  3:30:33
10 Annie RISTERBRATEN             NOR  3:34:25

HALF MARATHON
MEN:
1  Ronny JAKOBSEN                 NOR  1:18:08
2  Marco FERRIERO                 ITA  1:18:25
3  Jan Inge DAHL                  NOR  1:18:52
 
WOMEN:
1  Manuela KRAMER                 GER  1:24:23
2  Frida THORBERGSEN              NOR  1:32:59 
3  Megan OSADNICK                 USA  1:34:26
20 JUNE 2010: MARATHON DE L'ILE MAURICE, MAURITIUS
MEN:
1  Jacek Krystian CIELUSZECKI     POL  2:47:53
2  Simone BANDINI                 ITA  2:50:48
3  Vishal ITTOO                   MRI  2:56:18
 
WOMEN:
1  Sarah TAYLOR                   RSA  4:00:00
2  Naomi PRASAD                   GBR  4:04:29
3  Stephanie RICHARD              MRI  4:26:48
 
HALF MARATHON
MEN:
1  Mikael GOASDUFF                FRA  1:12:30
2  David BATTISTA                 FRA  1:19:26
3  Jean Marie Eric CICERON        MRI  1:20:47
 
WOMEN:
1  Christianne LOUIS              MRI  1:40:50
2  Valerie GERARD                 MRI  1:46:41
3  Nathalie NICOLIN               MRI  1:51:57
26 JUNE 2010: OLOMOUC HALF MARATHON, CZECH REPUBLIC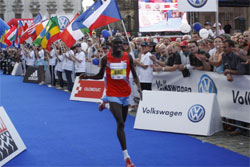 Perfect weather conditions, a fast, flat course and a strong elite field combined to yield an inaugural course record of 59:59. 1,850 runners filled the City's main square just before 19.00 on Saturday evening in an unbeatable setting for a race that is sure to become an annual event.
The pace was fast from the gun as three men broke away after 6km in the Flora Park. Exiting the Park, Stephen Kibet, Stephen Tum and Musyoky were leading as the tempo really picked up. Starting the second lap, the favourite, Joserph Maregu, was two minutes down but Kibet broke away, quickly establishing a gap and finishing strongly just under the magical hour mark, with Tum in second and Maregu managing to pass Musyoki for third.
The women's race follow a similar pattern as Asnakech Mengitsu, broke away after a few kilometres and ran almost the entire race on her own. Mengitsu passed the 10km mark in 34:11, 55 seconds up on Mercy Jemutai and Lucia Kimani. As Mengistu forged further ahead Kimani passed Jemutai to take second place. Petra Kaminkova, an Olomouc native, finished fourth and was very excited about the race and the number of spectators that had turned out to watch.
MEN:
1  Joseph MAREGU                  KEN  1:03:20
2  Dennis NDISO                   KEN  1:04:24
3  Benson OLENAKERI               KEN  1:04:58
4  Joshat KUTTO                   KEN  1:06:23
5  Robert MBITHI                  KEN  1:06:30
6  Daniel ORALEK                  CZE  1:10:29
7  Jan KOHUT                      CZE  1:13:33
8  Miroslav HOLUB                 CZE  1:15:35
9  Milan UCHYTIL                  CZE  1:16:22
10 Jakub TEJCHMAN                 CZE  1:16:42
 
WOMEN:
1  Asnakech MENGISTU              ETH  1:13:13
2  Lucia KIMANI                   BIH  1:16:09
3  Mercy JEMUTAI                  KEN  1:17:23
4  Petra KAMINCOVA                CZE  1:22:12
5  Radka CHURANOVA                CZE  1:23:18
6  Jana DORAZILOVA                CZE  1:30:12
7  Marcela HMIROVA                CZE  1:32:28
8  Eliska RASPLICKOVA             CZE  1:32:53
9  Vera CEJKOVA                   CZE  1:34:53
10 Alena KRCHAKOVA                CZE  1:36:03
26 JUNE 2010: VIDOVDAN 10km ROAD RACE, BOSNIA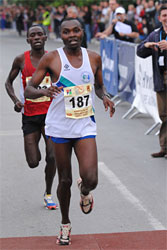 Gordon Mugi Mahagu set a new event record holder finishing 28:11, just a fraction of a second ahead of fellow Kenyan Sammy Kiprono Kurui. A new, faster course brought the record and attracted thousands of spectators to line the streets of Brcko. The women's race was dominated by Edith Chelimo, but the highlight of the day was the traditional children's races, with more than 2000 participating.

MEN:
1  Gordon MAHAGO                  KEN  28:11 
2  Sammy KIPRONO                  KEN  28:11
3  Josphat KIPKIRONG              KEN  28:52
4  Laszlo TOTH                    HUN  30:29
5  Tomas TOTH                     HUN  31:54
 
WOMEN:
1  Edith CHELIMO                  KEN  34:08
2  Simone STAICU                  HUN  35:51
3  Ida KOVACS                     HUN  36:14
26 JUNE 2010: PORTUMNA MARATHON, IRELAND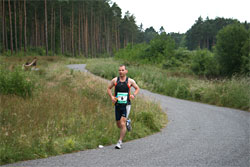 After a trial last year the official inaugural Marathon, 50km and 100km races were held under ideal conditions. A compact field of 38 athletes lined up for the marathon held entirely within the Portumna Forest Park in the West of Ireland. Organisers expect the event to grow substantially over coming years. The marathon was staged over an enclosed 5km loop through mature woodland over good tarmac roads that were entirely traffic free.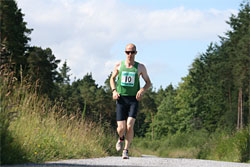 John O'Connor, of local club Athenry AC said, "It was a beautiful race. It was so refreshing to be running through such a natural, uncluttered setting. The surroundings really added to the overall race experience."
Race organiser, Seb Locteau commented: "We've started small but have concrete plans to make this a bigger and better event in years to come. For this race we concentrated on getting the details right. We have a beautiful venue that we believe will prove attractive to both competitive and recreational runners alike."
MEN:  
1  John DESMOND                   IRL  3:06:37
2  Johnny OCONNOR                 IRL  3:14:04
3  John CHAPMAN                   IRL  3:22:43
4  Patrick MALONE                 IRL  3:24:21
5  Phillip RAINEY                 IRL  3:26:18
6  Dennis MCMONAGLE               IRL  3:32:40
7  Victor RODRIGUEZ               ESP  3:34:57
8  Terry HINDSON                  GBR  3:42:20
9  Frank MCDERMOTT                IRL  3:42:22
10 Dipak VALA                     RSA  3:43:01
 
WOMEN:
1  Ruthann SHEAHAN                IRL  3:45:54
2  Aoife CRAMPTON                 IRL  4:00:27
3  Sinead BRACKEN                 IRL  4:14:06
4  Lucy FOLEY                     IRL  4:51:39
5  Joan MCGUINESS                 IRL  4:55:34
 
50km
MEN:
1  Michael RICE                   IRL  3:24:39

WOMEN:
1  Deirdre FINN                   IRL  4:17:35
 
100km
MEN:
1  Justin MCEEVER                 IRL  8:36:18
27 JUNE 2010: SCOTIABANK VANCOUVER HALF MARATHON, CANADA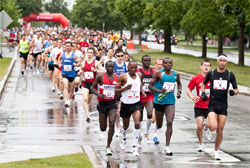 Defending champion Kip Kangogo and Calgary veteran Lisa Harvey made it a good morning for Alberta as both earned comfortable victories in the 12th edition of the race. The record total 5,471 runners were drawn from 11 countries, 21 American states, and 8 Canadian provinces, and another 963 participated in the accompanying 5km. Combined, they raised an impressive $524,000 for 29 charities in the Scotiabank Group Charity Challenge.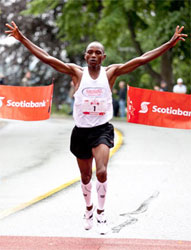 147deg;C, light rain and a slight breeze made for good runing conditions. A group of seven men quickly formed, but after only 2km (passed in 6:02) it was down to three: Kangogo, his training partner Willy Kimosop, and Josephat Ongeri. The fourth kilometre was run in 2:53, and the fifth in a spritely 2:49 [14:47 at 5km] with Ongeri pushing the pace. That took care of Kimosop, and Ongeri and Kangogo then ran shoulder to shoulder. They hit 10km on the flats of Spanish Banks in 29:38 with a picture-perfect Pacific NorthWest vista: mist over the ocean and the North Shore Mountains. Kangogo pulled away hard just after 11km (32:35). Ongeri dropped like a stone and it became a time-trial. Kamgogo passed 15km in 44:49, striving to break the course record of 1:03:10. for a $1,000 bonus. The chance slipped away with an 18th kilometre of 3:15, over the Burrard Bridge and into the breeze, and from there Kangogo coasted down Pacific to enter the park and cross the line in 63:51.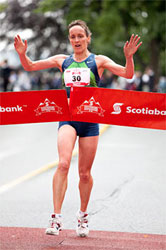 Lisa Harvey led the women's race from start to finish, to claim her second victory in the Scotia Vancouver Half, after finishing second for the past three years in a row. She also turned the tables on last year's champion, Lioudmila Kortchaguina of Toronto who crossed the line just over half a minute behind. Kortchaguina was pleased to be back racing and returning to form after a Springtime of injury challenges.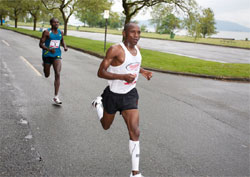 MEN:
1  Kip KANGOGO                    KEN  1:03:51
2  Josephat ONGERI                CAN  1:05:37
3  Willy KIMOSOP                  KEN  1:07:29
4  Steve OSADUIK                  CAN  1:07:45
5  Tristan SIMPSON                CAN  1:08:28
6  Scott SIMPSON                  CAN  1:08:42
7  Matt CLOUT                     CAN  1:08:59
8  Nixon KIPROTICH                KEN  1:09:45
9  Rachem BAGHDAD                 CAN  1:10:17
10 Kevin OCONNOR                  CAN  1:10:17
 
WOMEN:
1  Lisa HARVEY                    CAN  1:17:46
2  Liudmila KORTCHAGUINA          CAN  1:18:19
3  Josiane ABOUNGONO              CAN  1:20:47
4  Suzanne EVANS                  CAN  1:20:55
5  Gillian MOODY                  CAN  1:21:00
6  Katherine MOORE                CAN  1:21:16
7  Katrina DRIVER                 CAN  1:21:32
8  Rachel RUUS                    CAN  1:21:53
9  Isabelle LEDROIT               CAN  1:23:38
10 Jane CULLIS                    CAN  1:24:13
27 JUNE 2010: TANGAMANGA MARATHON, MEXICO
MEN:
1  Miguel Leon ALCOLZI            MEX  2:31:07
2  Gabriel Reza SANTOS            MEX  2:31:08
3  Gerardo Serrato HERNANDEZ      MEX  2:31:38
4  Antionio Rodriguez ESPINOZA    MEX  2:34:52
5  Jose Omar Casta SUSTAITA       MEX  2:50:04
 
WOMEN:
1  Irma Carina Sanchez MOCTEZUMA  MEX  2:56:59
2  Cinthia Espinoza Valdez        MEX  3:35:54
3  Claudia Plata TORRES           MEX  3:43:51
4  Ines Adriana Wing DIAZ         MEX  3:47:42
5  Claudia Estela Cortes RAZO     MEX  3:50:24
27 JUNE 2010: STANDARD CHARTERED KL MARATHON, MALAYSIA
MEN:
1  Nelson Kirwa ROTICH            KEN  2:16:43
2  Lilian Kenedy KIPROO           KEN  2:16:54
3  Luke Kipkemboi CHELIMO         KEN  2:16:56
4  Chipyegon Daniel KIPKORIR      UGA  2:17:07
5  Julius Nderitu KARINGA         KEN  2:17:48
6  Robert KIPLAGAT KOSGEI         KEN  2:18:33
7  John Stephen ROGATH            TAN  2:23:24
8  Mathew Kipkorir SIGEI          KEN  2:23:25
9  Eliud Kimaiyo LAGAT            KEN  2:28:23
10 Gichnmi Jesse NJOROGE          KEN  2:31:51
 
WOMEN:
1  Goitetom Jaftu TESEMA          ETH  2:46:43
2  Yenaleam Ayanu BULI            ETH  2:46:53
3  Marta Markos AYELE             ETH  2:46:56
4  Meseret Hailu DEBELE           ETH  2:47:43
5  Jaqueline NYETIPEI             KEN  2:47:49
6  Fridah Chepkiite LODEPA        KEN  2:48:06
7  Emily KIMURIA                  KEN  2:48:18
8  Elcer Chelimo LORWAPEI         KEN  2:48:28
9  Lilian CHELIMO                 KEN  2:50:01
10 Doreen KITAKA                  KEN  2:54:11
 
HALF MARATHON
MEN:
1  David Kipkirui MUTAI           KEN  1:09:36
2  Hillary LAGAT                  KEN  1:10:03
3  Yin Reng MOK                   SIN  1:10:22
 
WOMEN:
1  Eunice Nyawira MUCHIRI           KEN  1:23:09
2  Elinor SUHARA JAMAL              MAS  1:23:46
3  Mary Grace Baylon DE LOS SANTOS  PHI  1:26:16
27 JUNE 2010: ERGO WHITE NIGHTS INT'L MARATHON, RUSSIA
MEN:
1  Mikhail BYKOV                  RUS  2:19:15 
2  Joel Kemboi KIPLIMO            KEN  2:19:48
3  Aleksei VESELOV                RUS  2:20:28
4  Alexsei PALAGUSHIN             RUS  2:20:39
5  Segey LUKIN                    RUS  2:22:07
6  Oleg GUR                       BLR  2:22:26
7  Andrei BRYZGALOV               RUS  2:23:49
8  Oleg KNYAGIN                   RUS  2:25:03
9  Marat ABUBAKIROV               RUS  2:26:52
10 Sergei ZYRYANOV                RUS  2:27:01
 
WOMEN:
1  Olga MALEVICH                  BLR  2:41:22 
2  Elena KOZHEVNIKOVA             RUS  2:46:45 
3  Veronica LOPATIN               RUS  2:48:22 
4  Nadezhda SEMILETOVA            RUS  2:51:11 
5  Irina SAFAROVA                 RUS  2:52:25 
6  Vera ILINA                     RUS  2:53:29
7  Olga SHIBALINA                 RUS  2:58:06
8  Larisa USACHEVA                RUS  3:01:00
9  Natalya SUKHORUKOVA            RUS  3:01:56
10 Ann DYRKILBOTH                 NOR  3:11:43
 
10km
MEN:
1  Ivan BUCHIN                    RUS  31:54
2  Mikhail ANDREYEV               RUS  32:29
3  Artem ZHELEZNOV                RUS  32:37
 
WOMEN:
1  Margarita PLAKSINA             RUS  33:40
2  Tatiana ALEXEYEVA              RUS  37:37
3  Anna KAZAKOVA                  RUS  37:47
27 JUNE 2010: LAKE SAROMA 100km, JAPAN
MEN:
1  Erick WAINANA                  KEN  6:39:52
2  Nonyuki ARAKI                  JPN  6:41:07
 
WOMEN:
1  Emi MATSUSHITA                 JPN  7:49:31
June 2010