March 2010
7 MAR | 12 MAR | 14 MAR | 18 MAR | 21 MAR | 27 MAR | 28 MAR
7 MARCH 2010: LAKE BIWA MAINICHI MARATHON, JAPAN
Photo: Yohei Kamiyama/Agence SHOT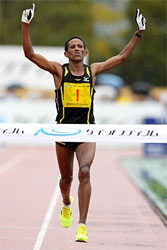 Breaking away from the lead pack after halfway Yemane Tsegaye won the 65th edition and recorded his 4th consecutive sub-2:10 time writes Ken Nakamaura. He was only 21 seconds behind course record pace at 30km but the weather slowed him in the final stages.
194 runners started the race in light rain, and 39 of them passed through 5km in 15:10 and 10km in 30:21. By 20km (60:41) there were still 25 runners together, but Tsegay urged the pacemakers to increase the pace and the pack broke apart. Soon three pace makers and Yemane Tsegay led, with South African Hendrick Ramaala several metres behind. Pacemaker Stephen Mokoka dropped out at 25km (1:15:41) leaving Yemane and two pacemakers 10 seconds up.
Around 29km, Ramaala and Tomoya Shimizu fell behind and at 30km the last pacemaker dropped out. Tsegay now led the chase pack by 48 seconds and although he slowed markedly, taking 15:40 to cover 30-35km, he increased his lead to 70 seconds.
With Tomoyuki Sato (a dismal 31st at the Fukuoka Marathon) pushing, the remaining pursuers began to gain on Tsegay although the pack was falling apart. At 37mm, Satoshi Yoshii fell behind, followed by Ken-ichiro Setoguchi and then Naoto Yoneda, leaving just three: Sato, Abraham Tadesse and marathon debutant Yukihiro Kitaoka in the chase. Tsegay kept slowing, but held on to finish 33 seconds up on Sato.
Combined with last weekend's Tokyo Marathon performances (Japanese filling the first five places) the Lake Biwa results brightened the outlook for Japanese marathoning after gloom descended with last December's Fukuoka Marathon, when no Japanese cracked the top eight.
MEN:
1  Yemane TSEGAY                  ETH  2:09:34
2  Tomoyuki SATO                  JPN  2:10:07
3  Abraham TADESSE                ERI  2:10:46
4  Yukihiro KITAOKA               JPN  2:10:51
5  Naoto YONEDA                   JPN  2:11:00
6  Ken-ichiro ETOGUCHI            JPN  2:11:44
7  Satoshi YOSHII                 JPN  2:12:24 
8  Tomoya SHIMIZU                 JPN  2:13:25
9  Munehiro SUGAYA                JPN  2:15:07
10 Takeshi UENO                   JPN  2:15:26
7 MARCH 2010: MARATO DE BARCELONA, SPAIN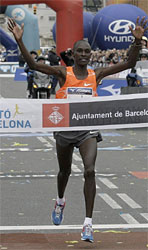 Jackson Kotut set the fourth best time of the year so far, and set a new Spanish all-comers record and beat the course record by over two minutes in the 30th edition of the race writes Bep Sole. The women's winner, Ethiopian Debele Wudnesh Nega set a new course record. Kotut is ony 21 years old and overcame his compatriot Felix Kenya with a great home straight finish to beat his personal best by over a minute. A total of 10551 runners took part.
African dominance in this edition was amazing. During most of the race a group of 13 Kenyans, two Ethiopians and the Moroccan based in Barcelona, Mohamed Blal, set a devastating pace, passing halfway in 1:04:43. The pace of the lead group increased after 30km so that the kilometre splits were soon consitently under three minutes.
Félix Keny, Jackson Kotut and the Ethiopian Hsailo Mekonnen led through 35km, and the two kenyans were still together at 40km (2:00:52), almost a minute ahead Woldeamanuel Gebrmiskel as Mekkonen faded. In the last 100m Kotut kicked away decisively. The first six all beat the previous fastest marathon time ever run in Spain.
In the women's race four African runners imposed a strong pace from the start. Ethiopians Debele Wudnesh Nega, Roman Gebre Gesesse and Yenealem Ayano Bule, along with Serkalem Bist Abrha opened up a big gap. Nega outran Gesesse for the victory.
MEN:
1  Jackson KOTUT                  KEN  2:07:30
2  Felix KENYA                    KEN  2:07:36
3  Samuel Woldemanuel GEBRMISKEL  ETH  2:08:45
4  Silas TOEK                     KEN  2:09:09
5  Bellor YATOR                   KEN  2:09:21
6  Raymond Kiplagat KANDIE        KEN  2:09:23
7  Siyoum Debele TSEGAYE          ETH  2:12:17
9  Hailo MEKONNEN                 ETH  2:12:36
10 Mohamed BLAL                   ESP  2:13:07
 
WOMEN:
1  Debele Wudnesh NEGA            ETH  2:31:50
2  Roman Gebre GESESSE            ETH  2:32:28
3  Serkalem Bist ABRHA            ETH  2:33:52
4  Yenealem Ayanu BULE            ETH  2:34:10
5  Salome Kimutai JEPKOECH        KEN  2:38:27
6  Tadelech Biru GUDETA           ETH  2:43:29
7  Tina SKOGLAND                  NOR  2:44:17
8  Paola SANNA                    ITA  2:47:04
9  Josephine AMBJORNSSON          SWE  2:53:58
10 Ma Raquel Miras COSTA          ESP  2:56:11
7 MARCH 2010: SEMI MARATHON DE PARIS, FRANCE
MEN:
1  Wilson KIPROP                  KEN  1:01:26
2  Lelisa DESISA                  ETH  1:01:28
3  Bettona SAHLE WARGA            ETH  1:01:32
4  Raji ASSEFA                    ETH  1:01:34
5  Jairus CHANCHIMA               KEN  1:01:38
6  Alfred KERING                  KEN  1:02:30
7  John KOMEN                     KEN  1:03:15
8  Robert CHERUIYOT               KEN  1:03:16
9  James ROTICH                   KEN  1:03:20
10 Ernest KIMELI                  KEN  1:03:20

WOMEN:
1  Atsede BAYSA                   ETH  1:11:05
2  Tirfi TSEGAYE BEYENE           ETH  1:11:13
3  Halima BERISO                  ETH  1:11:34
4  Gisaw MELKAM                   ETH  1:11:56
5  Miriam WANGARI                 KEN  1:12:33
6  Olga FIRSOVA                   RUS  1:17:40
7  Maria LOPEZ DE TEJADA          FRA  1:18:30
8  Nathalie VASSEUR               FRA  1:21:40
9  Jenny BREITSCHMID              SUI  1:23:12
10 Catherine WILDING              GBR  1:24:29
7 MARCH 2010: OEGER ANTALYA INT'L MARATHON, TURKEY
MEN:
1  Sascha VELTEN           GER  2:36:46
2  Muharrem YILMAZ         TUR  2:45:41
3  Murat KAYA              TUR  2:46:32
4  Ole KARLSEN             DEN  2:47:11
5  Mahmut YAVUZ            TUR  2:48:27
6  Ahmet BAYRAM            TUR  2:48:53
7  Kiyasettin YALCIN       TUR  2:50:13
8  Salih OZTURK            TUR  2:53:08
9  Umut CAVUSOGLU          TUR  2:58:38
10 Cetin NEJAT             TUR  2:58:51

WOMEN:
1  Birgit LENNARTZ         GER  3:10:30
2  Ulrike MAYER-TANCIC     GER  3:11:06
3  Barbara MALLMANNI       GER  3:21:27
4  Nursel KARATAS          TUR  3:33:06
5  Anne WANJEK HAACK       GER  3:41:52
6  Kathrin PALM            GER  3:49:52
7  Alexandra MOELLERS      GER  3:50:55
8  Barbara WASSERFUHR      GER  3:51:59
9  Bakiye DURAN            TUR  3:56:22
10 Mine KILIC              TUR  3:56:26

HALF MARATHON
MEN:
1  Ercan MUSLU             TUR  1:08:00
2  Ali M AKBAS             TUR  1:08:22
3  Selmani ABIS            TUR  1:09:06

WOMEN:
1  Olesya NURGALIEVA       RUS  1:15:02
2  Mehta SIZMAZ            TUR  1:16:47
3  Angela SANDY            GBR  1:20:54
7 MARCH 2010: LAO MAGGIORE HALF MARATHON, ITALY
MEN:
1  Mourice M MUSYOKI              KEN  1:02:35
2  Gunther WEIDLINGER             AUT  1:02:40
3  Abdelkebir LAMACHI             MAR  1:04:43
4  Samwel GICHOHI                 KEN  1:06:19
5  Benazzouz SLIMANI              MAR  1:06:30
6  Joachim NISHIRIMANA            ITA  1:07:45
7  Mikhail MAMLEEV                RUS  1:07:50
8  David VALTERIO                 SUI  1:09:38
9  Salah OUYAT                    MAR  1:10:45
10 Franco CHIERA                  ITA  1:11:59

WOMEN:
1  Lydiah N MATHATHI              KEN  1:12:18
2  Patricia MORCELI               SUI  1:14:39
3  Anna VON SCHENCK               SWE  1:17:15
4  Sussane RUEGGER                SUI  1:23:19
5  Monica BOTTINELLI              ITA  1:23:23
6  Cecilia MORA                   ITA  1:23:36
7  Ilaria ZACCAGNI                ITA  1:25:16
8  Francesca MARIN                ITA  1:25:29
9  Alice BERTERO                  ITA  1:26:32
10 Jennifer GALFANO               USA  1:28:41
7 MARCH 2010: LALA MARATHON, MEXICO
Photos by Alan Brookes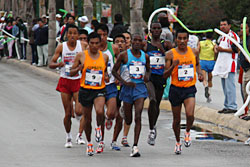 With over 4,000 runners from every Mexican state and several countries the 22nd edition reinforced the race's reputation as Mexico's #1 marathon writes Alan Brookes. The course runs through the cities of Torreon, Gomez Palacio and Lerdo on the border of Coahuila and Dorango states in Northern Mexico. This is high-desert, cowboy country (1000m above sea-level) which provided sets for the classic John Wayne Western films. It's a brown, parched land that has an average annual rainfall of 183mm.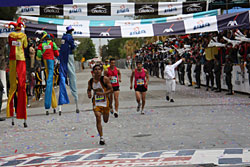 The race is a gift to the area from the Lala milk company, based in La Lagunera. While Technical Director Ruben Romero provides outside expertise, Director General Martin Arballo and 1300 Lala employees provide all of the management as well as the race sponsorship and approximately 50% of the volunteers. The other 50% of the volunteers come from the friendly, tri-city community of 1.5 million, that this year also provided a record number of spectators, focused around 37 colourful community entertainment sites along the course. Despite the 06.40 start, the crowds in Gomez Palacio and Lerdo in the first 10km were strong and animated, the best ever.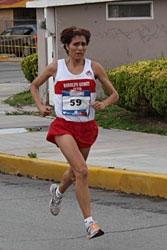 Conditions were challenging — 16°C, 82% humidity (normally 25-50%), and some wind, after a remarkable night of light rain — the first rain to Fall in Torreon in this year. The women took off first from outside the Lala factory and Adriana Fernandez led from start to finish, crossing the line of the flat, point-to-point course at the beautiful Bosque Venustiano Carranza park almost 5 minutes ahead. The Bosque is a green oasis that grows only through irrigation, to provide the heart and the "lungs" of this industrial region.
In the men's race Joseph Mutinda was always in contention, but was happy to sit back in a group of eight that went through 10km in a leisurely 32:36 and 15km in 48:43. Then Mutinda and fellow Kenyan Shadrack Kipkorir Kiyai ran 2:59 for the 18th kilometre and the group was down to 6. By halfway (67:29) there were only the two Kenyans with the eventual second placer, Arturo Regules dropped a kilometre earlier. Kiyai kept up until around 29km, after which Mutinda ran solo to the finish.
MEN:
1  Joseph MUTINDA                 KEN  2:15:35
2  Arturo J REGULES               MEX  2:17:12
3  Christain A E NOGUEZ           MEX  2:18:31
4  Daniel De Jesus S VARGAS       MEX  2:19:44
5  Gualberto J S VARGAS           MEX  2:20:10
6  Reuben CHESANG                 KEN  2:26:03

WOMEN:
1  Adriana M FERNANDEZ            MEX  2:43:39
2  Regina M YAMIN                 MEX  2:48:18
3  Adriana R MEDEL                MEX  2:48:27
4  Alicia S RODRIGUEZ             MEX  2:51:32
5  Elena M DIAZ REYNA             MEX  2:54:31
7 MARCH 2010: SAO PAULO INT'L HALF MARATHON, BRAZIL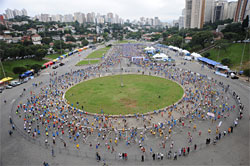 The 4th edition was the most exciting yet. The race attracted over 9000 runners, who started and finished in front of Pacaembu Stadium. The course passed besideall of the most significant sights of Sao Paulo city. Giomar Pereira da Silva finished just a few seconds ahead of Kenyans Kiprop Mutai and Mathew Cheboi, winners of the inaugural edition. In the 10km, two-time NYC Marathon winner Marilson Gomes dos Santos won easily in 29:06, preparing for the NYC Half Marathon on 21 March.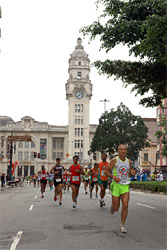 In the last 300m of the half marathon, Da Silva was vocally lifted by the crowd shouting 'Brazil, Brazil!' He finished just a second ahead Mutai and 6 seconds ahead Cheboi. The Charles Miller Square, in front of Pacaembu stadium, instantly transformed into a big party, with the champion running around the podium waving a Cruzeiro flag.
In the women's race Rumokol Elizabeh Chepkanan had no opposition. Despite being a newcomer in Brazil and recovering from flu she won only too easily: "I could have got a better time" she said. "I wasn't feeling well and am off my best by three minutes, but I am happy to win."
A Greek delegation was in Brazil to promote the Athens Classic Marathon, which is celebrating 2,500 years of the Marathon legend. The 18th World Congress of AIMS will be held in the Greek capital from 28-30 October.
MEN:
1  Giomar Pereira DA SILVA        BRA  1:04:31
2  Kiprop MUTAI                   KEN  1:04:32
3  Mathew Kiptoo CHEBOI           KEN  1:04:37
4  José Magno dos Santos MOTA     BRA  1:05:05
5  William NARANJO                BRA  1:05:06

WOMEN:
1  Elisabeth Chepkanan RUMOKOL    KEN  1:14:35
2  Simone Alves DA SILVA          BRA  1:15:43
3  Adriana Aparecida DA SILVA     BRA  1:15:56
4  Maria Zeferina BALDAIA         BRA  1:16:28
5  Michele Cristina DAS CHAGAS    BRA  1:16:50

10km
MEN:
1  Marilson Gomes DOS SANTOS      BRA  29:06
2  Caio da Rocha SILVA            BRA  31:56
3  Antonio José DA COSTA          BRA  32:04

WOMEN:
1  Luizane ALVES                  BRA  41:40
2  Andréa Keilla Galvão LEMES     BRA  41:57
3  Jéssica dos Santos VIERA       BRA  43:53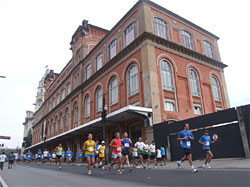 7 MARCH 2010: ANTARCTICA MARATHON
Apart from the male-female pairing who took top spots in each race, following hard on the heels of each other, the next place was taken by second in line to the Dutch throne, Pieter-Christiaan Van Oranje — a veteran of several marathons in Europe and North America.
MEN:
1  Robert YOUNGREN                USA  3:50:02
2  Pieter-Christiaan VAN ORANJE   NED  4:22:55
3  Peter BARBERA                  USA  4:23:28
4  Andrew BERKOSKI                USA  4:33:09
5  Bob LASHUA                     USA  4:34:56
6  Robert BRITAIN                 USA  4:41:10
7  Cedric PLACHOT                 FRA  4:44:25
8  Richard ERVAIS                 USA  4:47:27
9  Shane WHEELER                  GER  4:49:20
10 Christopher BULLOCK            USA  4:51:58
 
WOMEN:
1  Kathryn YOUNGREN               USA  3:58:59
2  Marit JANSE                    USA  4:57:40
3  Kelly HANSEN                   USA  5:04:11
4  Ivana PILATOVA                 CZE  5:16:55
5  Christine GARY                 USA  5:33:25
6  Caryl OLMSTEAD                 USA  5:57:10
 
HALF MARATHON
MEN:
1  Fred LIPSKY                    USA  2:25:52
2  Olav BEKKER                    NED  2:45:55
3  John SHULL                     USA  2:56:29
 
WOMEN:
1  Cynthia TAM                    USA  2:56:16
2  Kasey JENACK                   USA  2:57:20
3  Judy BOYD                      USA  3:00:01
12 MARCH 2010: 100KM DEL SAHARA, TUNISIA

MEN:                    stage 1 stage 2 stage 3 stage 4  total
1  Thomas WITTEK    GER 1:59:00 1:04:54 3:27:22 1:41:17  8:12:33
2  Maurizio MURARO  ITA 1:59:09 1:04:59 3:30:12 1:42:17  8:16:37
3  Paolo MORELLI    ITA 1:58:55 1:02:18 3:40:39 1:39:44  8:21:36
4  Ernesto MARCHESI ITA 2:01:36 1:01:44 3:34:31 1:44:30  8:22:21
5  Stefano BINELLI  ITA 2:04:36 1:05:43 3:30:11 1:42:30  8:23:00
6  Enzo BACCA       ITA 1:59:13 1:05:43 3:39:16 1:47:57  8:32:09
7  Stefano RUZZA    ITA 2:11:21 1:04:48 3:30:11 1:45:54  8:32:14
8  Salvatore RUSSO  ITA 2:02:19 1:08:00 3:50:23 1:47:56  8:48:38
9  Fabrizio MOALLI  ITA 2:04:52 1:07:00 3:49:00 1:48:19  8:49:11
10 Bruno TRIGONA    ITA 2:02:18 1:08:00 3:50:18 1:48:35  8:49:11
 
WOMEN:
1  Daniela GILARDI  ITA 2:04:11 1:06:58 3:39:27 1:47:57  8:38:33
2  Monica AQUILERA  ESP 2:10:18 1:08:31 3:42:41 1:54:26  8:55:56
3  Luisa ZECCHINO   ITA 2:14:30 1:12:30 3:55:04 1:59:42  9:21:46
4  Daniela CARPANI  ITA 2:15:42 1:12:41 4:22:23 2:00:08  9:51:04
5  Sabrina SABATINI ITA 2:27:34 1:19:02 4:21:45 2:10:02 10:18:23
6  Claudia GERLING  GER 2:31:35 1:18:17 4:26:35 2:06:25 10:22:52
7  Beatriz CAMIADA  ITA 2:37:05 1:20:49 4:41:25 2:20:17 10:59:36
8  Andrea HELMUTH   GER 2:44:46 1:26:52 4:41:18 2:24:31 11:17:37
9  Claudia MEIER    SUI 2:52:20 1:27:13 4:43:15 2:20:02 11:22:50
10 Ana BIZZI        ITA 2:48:21 1:28:53 4:51:39 2:26:03 11:34:56
14 MARCH 2010: NAGOYA INT'L WOMEN'S MARATHON, JAPAN
Photo: Kazuaki Matsunaga, Agence SHOT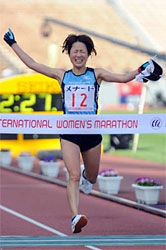 Yuri Kano took her first win in any of Japan's big three marathons with a break on the uphill section at 31km, writes Ken Nakamura. The race doubled as the national championships.
Ethiopia's Derartu Tulu, who was considered the co-favourite with Kano, dropped off the pace after half way but then worked her way back to finish second, a minute behind. Hiromi Ominami finished third in the 20th marathon of her career and her sixth Nagoya Women's Marathon. She has lived in the city for the last 16 years, and moves to Tokyo next month so was determined to give her best, but she was unable to stay with Kano when she surged. Debutante Mai Ito surprised by staying with Kano longest and finishing a very respectable fourth.
Hiromi Ominami lead from the start, taking 20 runners past 5km in 17:53 and 10km in 35:14. After 15km (52:43) the pace hotted up and runners started to fall off the pace. Ominami passed halfway in 1:13:51, and as the pace increased, the lead pack strung out. Ominami, Kano and Ito formed the lead group, followed closely by Derartu Tulu and Yuko Machida, who dropped back after 27km.
The gap between three leaders and Tulu grew, but after 30km (1:44:36) Ominami drifted back. leaving Kano and Ito together. After the uphill at 31km Ito also fell back, trailing Kano by 19 seconds at 35km (2:01:53). Ominami was 51 seconds down, and Tulu a further 11 seconds back, but Tulu now started to close, passing Ominami at 37km and Ito at 38.6km. But Kano maintained her advantage to the end.
WOMEN (ONLY):
1  Yuri KANO                  JPN  2:27:11
2  Derartu TULU               ETH  2:28:13 
3  Hiromi OMINAMI             JPN  2:28:35 
4  Mai ITO                    JPN  2:29:13 
5  Mayumi FUJITA              JPN  2:29:36 
6  Akane WAKITA               JPN  2:29:54 
7  Mika OKUNAGA               JPN  2:30:19 
8  Yuko MACHIDA               JPN  2:31:42 
9  Aimi HORIKOSHI             JPN  2:32:44 
10 Rose NYANGACHA             KEN  2:33:16
14 MARCH 2010: TREVISO MARATHON, ITALY
MEN:
1  Ottaviano ANDRIANI             ITA  2:12:49
2  Daniele CAIMMI                 ITA  2:12:49
3  Mostafa ERREBBAH               ITA  2:16:31
4  Taoufique EL BARHOUMI          ITA  2:18:58
5  Hermann ACHMEULLER             ITA  2:18:59
6  Filippo Lo PICCOLO             ITA  2:19:25
7  Giorgio CALCATERRA             ITA  2:22:30
8  Patrick ENGSTROM               SWE  2:23:37 
9  Marco BOFFO                    ITA  2:27:28
10 Franco PLESINKAR               ITA  2:27:28
 
WOMEN:
1  Amelework Fikadu BOSHO         ETH  2:33:09
2  Emily Perpetua CHEPKORIR       KEN  2:35:37
3  Laura GIORDANO                 ITA  2:35:52
4  Josephine N. WANGOI            KEN  2:41:04
5  Laura CAVARA                   ITA  2:47:17
6  Epiphanie NYIRABARAME          RWA  2:48:09
7  Marta SANTAMARIA               ITA  2:57:28
8  Federica POESINI               ITA  2:59:25
9  Rosanna SARAN                  ITA  2:59:36
10 Roberta LAZZAROTTO             ITA  2:59:38
14 MARCH 2010: STANLEY MARATHON, FALKLAND ISLANDS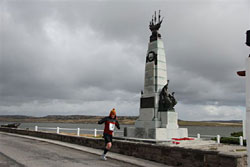 This year's weather was definitely 'Antarctic' for the world's most southerly certified marathon, with the wind gusting over 65kph, and occasional rain showers with hailstones: it was also cold. Despite the last-minute cancellation of the weekly LAN Chile flight (which carried a number of international runners) due to weather, 40 marathon runners and 84 relay runners made a total of 124 participants - two more than last year. Despite the conditions, the course record was broken by Steven Frear from the Royal Air Force at the local air base, Mount Pleasant. He set the new record of 2:43:05 in his first ever marathon.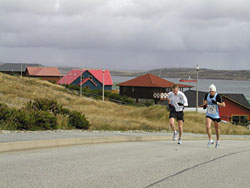 The event this year was graced with the participation of Steven Seaton, Managing Editor of Runners World (UK) and blind runner Henry Wanyoke and his guide Joseph Kibunja who are "Seeing is Believing" global ambassadors. Wanyoke is world record holder at 5000m, 10000m and marathon for blind runners, and performed an exhibition run.
All entry fees were donated to Standard Chartered's "Seeing is believing" charity, raising awareness of avoidable blindness and aiming to raise $20m by 2013 to restoire sight to 20 millioin poeople in 20 countries. Stanley Marathoin contributed $5000.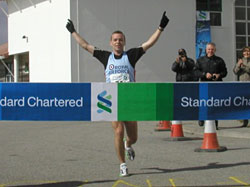 The crowd, and the atmosphere during the race and trophy presentations were exceptional for a place like Stanley. The Acting Governor and the Commander of British Forces presented the trophies at the Town Hall and praised the staff of Standard Chartered for organising such an outstanding event. The entire event was organised by the few staff of the Standard Chartered Bank branch who, with help from family, worked exceptionally hard from start to finish.
MEN:
1  Stephen FREAR                  GBR  2:43:05
2  Martin COLLINS                 GBR  3:21:39
3  Ben STAIT                      GBR  3:24:33
 
WOMEN:
1  Teslyn BARKMAN                 FKL  4:08:33
2  Lynsey SUTCLIFFE               GBR  4:52:22
3  Sarah PRESTON                  GBR  5:37:16
 
RELAY TEAMS:
1  Falkland Islands F C           FKL  3:03:49
2  The Gurkhas                    NEP  3:05:37
3  Log SP Squad                   GBR  3:08:51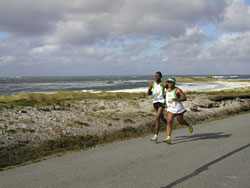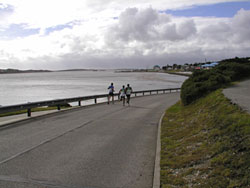 18 MARCH 2010: JERUSALEM HALF MARATHON
Only two days before the race it had been 30°C but race day cool temperatures greeted the 4500 runners including 500 from 30 countries: Greece, USA, Ireland, Finland, Portugal, France, Holland, Sweden, Italy, Ethiopia and more.
The course running past the Book of Shrine Museum, the Hebrew University, the Knesset (Parliament), the Crusaders' Monastery and the Jerusalem Forest Park.
This year for the first time 100 runners joined the Charity Run "Running with Shalva", together with 400 "Shalva Kids" — on programs for children with special needs — joining them for 400m sections.
MEN:
1  Bikale BEYZE                   ETH  1:10:50
2  Assaf BIMRO                    ISR  1:11:04
3  Assaf MEMMO                    ISR  1:11:22
4  Yosseph BADDIA                 ISR  1:12:12
5  Nagossa TAGGI                  ISR  1:14:34
 
WOMEN
1  Kaklidan BALCHA                ETH  1:19:34
2  Orna BLAU                      ISR  1:31:07
3  Keren MERETZ                   ISR  1:37:47 
4  Adina TABK                     ISR  1:39:34
5  Bat-Chen COHEN                 ISR  1:41:24
21 MARCH 2010: 20TH EDP HALF MARATHON OF LISBON, PORTUGAL
Zersenay Tadese ran a brilliant solo second half to record a new world record of 58:23, 10 seconds faster than that set by Sammy Wanjiru three years ago and 84 seconds ahead of his nearest competitor, Sammy Kitwara. Peninah Arusei won the women's race by an even bigger margin but lost time in the latter stages after a very ambitious start.
By contrast Tadese's pace was according to plan for the first 5km (13:55) but dropped slightly behind schedule in the next few kilometres. Hanging in with a group of 15 as long as he could afford, Tadese decided soon after 8km that the pace was not enough for him, and gradually glided away from his opposition. He passed 10km in 27:53, now significantly behind schedule, but was picking it up all the time, passing 15km in 41:32 and coming home with a margin to spare. IAAF President Lamine Diack was on hand to award the trophy and cheque to Tadese.
It was a good day for Portugal as well as evergreen Fernanda Ribeira, Olympic 10000m champion back in 1996, took third place in the women's race. 1988 Olympic Marathon champion Rosa Mota completed the 8km fun run alongside the Mayor of Lisbon.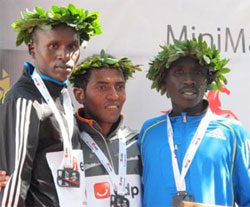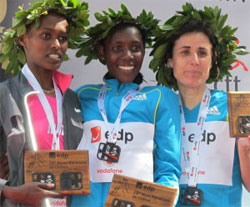 MEN:
1  Zersenay TADESE                ERI    58:23
2  Sammy KITWARA                  KEN    59:47
3  Emmanuel MUTAI                 KEN  1:00:03
4  Duncan KIBET                   KEN  1:00:21
5  Gilbert MASAI                  KEN  1:00:28
6  Jaouad GHARIB                  MAR  1:00:33
7  Gideon NGATUNY                 KEN  1:01:07
8  Matthew KISORIO                KEN  1:01:10
9  Samuel KOSGEI                  KEN  1:01:57
10 ERnest KEBENEI                 KEN  1:02:01
 
WOMEN:
1  Peninah ARUSEI                 KEN  1:08:38
2  Askale Magarsa TAFA            ETH  1:10:46
3  Fernanda RIBEIRO               POR  1:12:17
4  Maria Jose PUEYO               ESP  1:13:21
5  Olga GLOK                      RUS  1:14:00
6  Yesenia AGAFONOVA              RUS  1:14:24
7  Elizaveta GRECHISHNIKOVA       RUS  1:14:29
8  Monica ROSA                    POR  1:14:35
9  Constantina DITA               ROM  1:14:39
10 Cruz Nonata DA SILVA           BRA  1:14:58
21 MARCH 2010: SEOUL INTERNATIONAL MARATHON, KOREA
Kenyan Sylvester Teimet took a surprise win and set a new course record in the 81st edition writes Mirko Jalava. The men's race was fast from the start so that only nine were together at 10km (30:00). By 20km (1:00:35) four Kenyans, two Koreans and Yared Asmeron of Eritrea were still in the hunt, and by 30km (1:30:31), only five were left. 5km later it was down to three Kenyans — Teimet, Kirwa and Paul Kirui were left with compatriot David Kiyeng lagging by four seconds. Another fast 5km from 35-40km (14:48) saw Kirui fall back, leaving on Teimet and Kirwa. 26-year-old Teimet, who finished third in this race last year, dropped Kirwa over the final 2km to lower his personal best by over three minutes and finish 10 seconds ahead of Kirwa. Together they became the first sub-2:07 runners in Korea.
The women's contest was run with a very even pace which didn't promise anything like the sub-2:20 Zhou Chunxiu had clocked here before. By 25km (1:25:03) only the two main favourites were left: Zhou Chunxiu and Ethiopian Amane Gobena, who had already won the Osaka Marathon in January. Caroline Kilel was 14 seconds behind the leading pair and lost more than a minute from 25-30km. Gobena and Zhou were still together at 30km, but then the 27-year-old Ethiopian built a lead of 45 seconds before 35km to take her second major Marathon win this year and lower her personal best to 2:24:13. Zhou, in second, ran her fastest time since 2007.
MEN:
1  Sylvester TEIMET                 KEN  2:06:49
2  Gilbert KIRWA                    KEN  2:06:59
3  Paul KIRUI                       KEN  2:07:35
4  David KIYENG                     KEN  2:09:00
5  Yared ASMERON                    ERI  2:11:46
6  Young-Min PARK                   KOR  2:12:43
7  Min KIM                          KOR  2:13:11
8  Young-Jin YU                     KOR  2:13:13
9  Myong Seun LEE                   KOR  2:13:25
10 Jin-Heong JEONG                  KOR  2:15:01
 
WOMEN:
1  Amane GOBENA                     ETH  2:24:13
2  Chunxiu ZHOU                     CHN  2:25:01
3  Caroline KILEL                   KEN  2:26:58
4  Xueqin WANG                      CHN  2:28:17
5  Seung-Eun KIM                    KOR  2:29:27
6  Martha KOMU                      KEN  2:30:36
7  Asmae LEGHZAOUI                  MAR  2:31:03
8  Helalia JOHANNES                 NAM  2:34:34
9  Tabitha TSATSA                   ZIM  2:35:02
10 Eun-Jung KIM                     KOR  2:37:12
21 MARCH 2010: ROME MARATHON, ITALY
In a fitting conclusion to a race commemorating the 50th anniversary of Abebe Bikila's legendary Marathon triumph in the Eternal City at the 1960 Olympic Games, both men's and women's winners were Ethiopian writes Diego Sampaolo.
A large pack stuck to a 3:01 pace through 15km (45:20), indicating a possible attack on the 2:07:17 course record. A dozen runners passed halfway in 1:03:49 closely followed by seven others but after 30km (1:31:08) only eight men remained in contention and soon after that, just five: Siraj Gena, Benson Barus, Nixon Machichim, Kedir Fikadu and Nicholas Manza. Gena and Barus then broke away at 35km (1:46:06). Gena dropped Barus in the 38th kilometre and built up a 17-second lead in the next 2km. Prior to the race, organisers offered a 5000 euro bonus if the winner crossed the line barefoot. With the victory sealed, Gena did so, and ran the last 300m shoeless, a gesture that was not lost on the 25-year-old. "It was a very special feeling" he said. "Abebe Bikila inspired me today."
Defending champion Firewok Dado led through halfway in 1:12:10, with Tetyana Filonyuk from Ukraine and Haile Kebebush closely followed by Mare Dibaba and Almaz Balcha. Dado, Kebebush and Dibaba broke away at 30km (1:42:52), leading Filonyuk by 11 seconds at 35km (2:00:05). The Ethiopian trio were 30 seconds up at 40km (2:17:50) and then fought out a fierce battle. Dado edged Kebebush by three seconds: "Abebe Bikila was a big inspiration for me, but I did not think about taking off my shoes because my priority was to win the race." Dibaba, who clocked 1:07:13 at the Ras Al Kaimah Half Marathon in February, showed great potential with her debut performance.
MEN: 
1  Siraj GENA                     ETH  2:08:39
2  Benson BARUS                   KEN  2:09:00
3  Nixon MACHICHIM                KEN  2:09:08
4  Kedir FIKADU                   ETH  2:09:15
5  Shume HAILU                    ETH  2:11:48
6  Nicholas Manza KAMAKYA         KEN  2:12:19
7  Migidio BOURIFA                ITA  2:12:34
8  Abdullah Dawit SHAMI           ETH  2:12:36
9  Gosa Tafa MEGERSA              ETH  2:13:02
10 Alemay Ameta BELACHEW          ETH  2:13:25

WOMEN:
1  Firehiwot DADO                 ETH  2:25:28
2  Haile KEBEBUSH                 ETH  2:25:31
3  Mare DIBABA                    ETH  2:25:38
4  Tetyana FILONYUK               UKR  2:28:34
5  Fate Tola GELETO               ETH  2:28:54
6  Tiruwork MEKONNEN              ETH  2:31:17
7  Almaz BALCHA                   ETH  2:33:20
8  Zivile BALCIUNAITE             LIT  2:35:31
27 MARCH 2010: HERVIS PRAGUE HALF MARATHON, CZECH REPUBLIC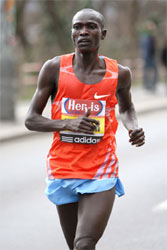 Only a chill wind along the Vltava River prevented Joel Kemboi clocking a sub-hour time writes Pat Butcher. He won with a time just two seconds outside the course record set last year, but he beat pre-race favourite Wilson Chebet by over a minute — and Chebet has broken the hour four times in the last two years. "When I went ahead before 10km, he did not come with me" said a surprised Kemboi after the race. No one expected a break so early in the race, but the 22 year old Kemboi kept forging ahead, and stayed on schedule to 18km before the final stretch into a headwind downriver.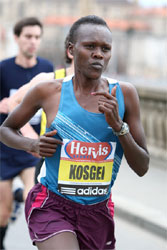 Chebet ran with compatriot Joseph Maregu and Ethiopian marathoner, Yemane Tsegay until well past 15km, when he took off to leavethe other two to decide third place in a sprint finish. Tsegay took it, and comes back to Prague on 9 May to run the full marathon. On paper Kemboi was the slowest of the contenders but a win in the Discovery Kenya cross country in Eldoret last month indicated his good form. Kemboi says he will not move up to the marathon for at least two years.
Rose Kosgei successfully defended her title but her time indicated the strength of the wind, as she won last year in 1:09.03. Kosgei also took the lead around 10km.
The mayor of Prague, Pavel Bem got the better of retired soccer superstar Pavel Nedved. The mayor, who is a renowned mountaineer ran 1:36:52 to Nedved's 1:49:44.
MEN:
1  Joel KEMBOI                    KEN  1:00:09
2  Wilson CHEBET                  KEN  1:01:26
3  Yemane TSEGAY                  ETH  1:01:37
4  Joseph MAREGU                  KEN  1:01:38
5  Dennis MUSEMBI                 KEN  1:01:41
6  Dejere DEBELE                  ETH  1:01:43
7  Henry CHIRCHIR                 KEN  1:03:12
8  Ernest KIPRUTO                 KEN  1:04:08
9  Tadesse ABRAHAM                ERI  1:05:55
10 Robert STEFKO                  CZE  1:06:07

WOMEN:
1  Rose KOSGEI                    KEN  1:09:57
2  Florence JEPKOSGEI             KEN  1:10:28
3  Monica WANGARI                 KEN  1:10:33
4  Irene KIPCHUMBA                KEN  1:11:52
5  Halima HASSEN                  ETH  1:11:59
6  Alena SAMOKHVALOVA             RUS  1:12:10
7  Petra KAMINKOVA                CZE  1:15:52
8  Alevtina BIKTIMIROVA           RUS  1:17:06
9  Ivana SEKYROVA                 CZE  1:19:57
10 Fiona THOMPSON                 GBR  1:22:41
28 MARCH 2010: VATTENFALL BERLIN HALF MARATHON, GERMANY
Photo: Victah Sailer/photorun.net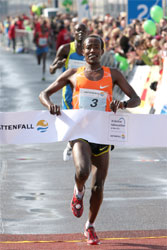 In cold (10°C) and rainy conditions 23,799 runners competed in the Half Marathon, from 94 countries. Eshetu Wondimu became the first non-Kenyan to win the men's race for nine years, beating Peter Kirui by just one second. A group of 13 went through 10km in 28:39, slower than planned due to the blustery conditions. Wondimu seized the initiative and raised the pace. Second in the race in 2008 by just one second he went clear along with Kirui and Maregu Zewdie, but the outcome was uncertain until the final straight. In total five runners went under 61 minutes.
In the women's race Pasalia Kipkoech and Eunice Kales went clear of their rivals, reaching 10km in 32:55, 11 seconds ahead of defending champion Sabrina Mockenhaupt. The gap narrowed to three seconds, but the two Kenyans responded. Referring partly to the adverse conditions 21-year old Kipkoech said that she had expected to have to run 67 minutes to win.
MEN:
1  Eshetu WONDIMU                 ETH  1:00:16
2  Peter KIRUI                    KEN  1:00:17
3  Maregu ZEWDIE                  ETH  1:00:24
4  Josphat KAMZEE                 KEN  1:00:55
5  Fred KOSGEI                    KEN  1:00:59
6  Laban KORIR                    KEN  1:01:03
7  Alexander TIDONY               KEN  1:01:13
8  William CHEBOR                 KEN  1:01:22
9  Eliud KIPLAGAT                 KEN  1:01:29
10 John KIPROTICH                 KEN  1:01:30
 
WOMEN:
1  Pasalia KIPKOECH               KEN  1:09:43
2  Eunice KALES                   KEN  1:09:50
3  Sabrina MOCKENHAUPT            GER  1:09:57
4  Leah MALOT                     KEN  1:10:11
5  Jemima JELEGAT                 KEN  1:11:25
6  Irene MOGAKA                   KEN  1:11:38
7  Sharon TAVENGWA                ZIM  1:13:05
8  Joan AYABEI                    KEN  1:13:31
9  Melanie SCHULTZ                GER  1:14:15
10 Maja NEUENSCHWANDER            SUI  1:15:28
28 MARCH 2010: POZNAN HALF MARATHON, POLAND
MEN:
1  Cosmas KYEVA                   KEN  1:02:32
2  Julius ARILE                   KEN  1:03:03
3  Vestus CHEMJOR                 KEN  1:03:04
4  Karol RZESZEWICZ               POL  1:05:16
5  Richard LAGAT                  KEN  1:05:22
6  Stephen KIRWA METTO            KEN  1:06:54
7  Jan BIALK                      POL  1:07:42
8  Kamil SIERACKI                 POL  1:07:42
9  Marcin SAJEK                   POL  1:07:52
10 Hesbon KIBIOTOK RONOH          KEN  1:10:13

WOMEN:
1  Helah KIPROP                   KEN  1:13:03
2  Dorota USTIANOWSKA             POL  1:13:31
3  Marzena KLUCZYNSKA             POL  1:15:03
4  Pamela BUNDOTICH               KEN  1:17:46
5  Anna KORDUS                    POL  1:18:13
6  Antonina RYCHTER               POL  1:26:01
7  Joanna SCHAB                   POL  1:26:22
8  Magdalena STANNY               POL  1:27:22
9  Monika STRANC                  POL  1:27:55
10 Iwona ZUKOWSKA                 POL  1:31:44
28 MARCH 2010: NOVI SAD HALF MARATHON, SERBIA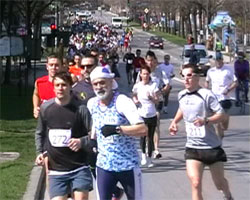 The 17th edition of the race in Serbia's second largest city started from in front of the City Hall. In rain and a temperature of 18C 400 runners from 10 countries went mostly along the Danube embankment and past new or reconstructed bridges, the University precinct, the old palace housing the Assembly and Government of Vojvodina, and along the left bank of the river, past the famous Petrovaradin Fortress.
A thousand pupils from primary and secondary schools, and more than 150 pre-school age children took part in the Joy Race, together with their teachers and parents.
MEN:
1  Miroslav KOMARCEVIC            SER  1:10:08
2  Sasa STAIC                     SER  1:10:34
3  Goran MILICIC                  SER  1:11:00
4  Milos MILOVANOVIC              SER  1:13:52
5  Aleksandar NASEVSKI            SER  1:14:22
6  Tomaz FERJANCIC                SLO  1:14:43
7  Marko MILOVANOVIC              SER  1:16:55
8  Daniele PANASCI                ITA  1:17:10
9  Nebojsa MILENKOVIC             SER  1:17:12
10 Stanko MACEK                   SLO  1:18:08

WOMEN:
1  Tanja RADUMILO                 SER  1:39:19
2  Polona GRICAR                  SLO  1:42:25
3  Dragana SPEHAR                 SER  1:44:04
4  Biljana GRUBOR-VOZAREVIC       SER  1:46:07
5  Biljana PEKOVIC                SER  1:47:16
6  Bogdanovska MARIJA             MAK  1:48:51
7  Karolina P MADARAS             SER  1:49:36
8  Durdina MIHAJLOVIC             BIH  1:51:02
9  Vesna PETRUSEVSKI              SER  1:51:07
10 Kristina TOZON                 SLO  1:51:15
28 MARCH 2010: BRATISLAVA CITY MARATHON, SLOVAKIA
MEN:
1  Edwin KIBOWEN                  KEN  2:27:39
2  Viktor STARODUPTSEV            UKR  2:27:47
3  Martin HOLECKO                 SVK  2:29:45
4  Gergely REZESSY                HUN  2:30:27
5  Imrich PASTOR                  SVK  2:33:32
6  Yevgeniy GLYVA                 UKR  2:33:59

WOMEN:
1  Lilian KOECH                   KEN  2:51:16 
2  Judit FOLDINGNE-NAGY           HUN  2:52:23
3  Ivana MARTINCOVA               CZE  2:59:36
4  Lyudmila SHELEST               UKR  3:04:50
5  Anna BALOSAKOVA                SVK  3:20:01
6  Alena KRCHAKOVA                CZE  3:27:57
 
HALF MARATHON
MEN:
1  Hosea TUEI                     KEN  1:05:08
2  Vitalie GHEORGHITA             MDV  1:05:15
3  Zsolt KOSZAR                   HUN  1:06:26
 
WOMEN:
1  Aniko KALOVICS                 HUN  1:14:32
2  Emily BIWOTT                   KEN  1:16:50
3  Janka ZATLUKALOVA              SVK  1:17:06
28 MARCH 2010: 38th IAAF WORLD CROSS COUNTRY CHAMPIONSHIPS, BYFGOSZCZ (POL)
On the undulating Myslecinek Park course there were twists and obstacles on the second half of the lap which seemed to offer chances for traditional Kenyan steeplechasing talents to shine. Kenya took all gold medals going in individual and team categories. The weather was sunny but cool and senior men's winner Joseph Ebuya credited their training camp at Mount Kenya as having prepared the Kenyan teams to best effect, also helped by their early arrival in Poland three days before the championships.
Junior Women
Photo: Mercy Cherono (second from right) sets off the Kenyan wave (Getty Images)
Mercy Cherono took a resounding win in the first event of the day writes Len Johnson. Winner of the 3000m in the same city at the World Junior Championships in 2008, the 18-year old now led the Kenyan team to a "perfect 10" score, trouncing their Ethiopian rivals.
Collectively and individually Ethiopia was confounded. Genzebe Dibaba, bidding for a third consecutive victory, finished a distant 11th. As Cherono led her team-mates clear at the start of the final 2km lap the Ethiopian challenge had been blown away. She went clear halfway into that lap, entering the finishing straight gloriously alone to win by 50m — and win as she liked. "In the second lap, I had a lot left," she said.
Last year in Amman, Cherono had also pulled clear in the final lap but Dibaba had caught and passed her on the steep hill to the finish, to win by three seconds. Behind Cherono, Purity Rionoripo, who was wearing spikes, won a desperate sprint with the barefoot Esther Chemtai to take the silver medal. Faith Chepngetich Kipyegon prevailed over Genet Yalew of Ethiopia by one second to secure the first four places required for the team's "perfect 10". Dibaba closed out the scoring Ethiopian team in 11th place, 34 seconds behind Cherono. It was a day for thwarting hat-tricks. Not only was Dibaba denied, but Kenya's easy victory in the teams race deprived Ethiopia of a third straight title. Uganda completed an East African sweep to outperform perennial contenders, Japan. The first non-East African born finisher was Gulshat Fazlitdinova of Russia in 16th place.

1  Mercy CHERONO                  KEN  18:47
2  Purity Cherotich RIONORIPO     KEN  18:54
3  Esther CHEMTAI                 KEN  18:55
4  Faith Chepngetich KIPYEGON     KEN  19:02
5  Genet YALEW                    ETH  19:03
6  Emeber ANTENEH                 ETH  19:06
7  Nelly Chebet NGEIYWO           KEN  19:06
8  Afera GODFAY                   ETH  19:07
9  Alice Aprot NAWAWUNA           KEN  19:14
10 Tejitu DABA                    BRN  19:14
 
Teams
1  Kenya             10 pts
2  Ethiopia          30 pts
3  Uganda            81 pts
4  Japan             98 pts
5  Great Britain     105 pts
Junior Men
Photo: Caleb Ndiku wins from the front (Getty Images)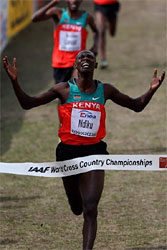 Caleb Ndiku won from the front, breaking clear with a scorching third lap of 5:22 writes Mark Butler. The tall and powerful Ndiku has 3:38.2 speed at 1500m, so you might have expected him to sit in for a finishing kick.
In the first half of the race Kenya were typically dominant, as Ndiku, Clement Langat and Japhet Korir took turns in front with all their team mates close by. By contrast some of the Ethiopians were struggling to stay in the lead pack of 20 or so at the end of the first lap. When Ndiku made his move during the third lap, the only non-Kenyan to try to keep up was Uganda's Moses Kibet. But Kibet paid for that effort, because Ndiku pulled further clear and then Langat and Korir went into second and third.
With a lap to go, Ndiku was 40m in front and lapping some of the back markers. The fight between Langat and Korir brought them closer to within 10m of the leader as Langat sprinted furiously around the last corner, but it was too late. Meanwhile Isaiah Koech had moved into fourth to secure Kenya a perfect team score of 10 for the fifth time in the history of the championships.
Langat admitted that he realised too late that he might have won the race, but was not disappointed: "I was only seventh in the Kenyan trials and now I have a silver medal." The team order was the same as in the junior women, Kenya from Ethiopia and Uganda and the first non-African was Japan's Akinobu Murasawa in 28th place.

1  Caleb Mwangangi NDIKU          KEN  22:07
2  Clement Kiprono LANGAT         KEN  22:09
3  Japhet Kipyegon KORIR          KEN  22:12
4  Isiah Kiplanfat KOECH          KEN  22:24
5  Moses KIBET                    UGA  22:27
6  Debebe WOLDSENBET              ETH  22:28
7  Gashaw BIFTU                   ETH  22:31
8  Gideon Kipkemoi KIPKETER       KEN  22:33
9  Gebretsadik ABRAHA             ETH  22:37
10 Belete ASSEFA                  ETH  22:41
 
Teams
1  Kenya       10 pts
2  Ethiopia    32 pts
3  Uganda      56 pts
4  Eritrea     66 pts
5  Morocco     121 pts
Senior Women
Photo: Emily Chebet outkicks Linet Masai (Getty Images)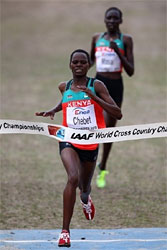 As in Amman last year, so too in Bydgoszcz writes Len Johnson. It was a case of déjà vu for Linet Masai as, after dominating the race from the front and dropping her rivals off one by one, she was outkicked in the closing stages. Masai did all the hard work as three-time champion Tirunesh Dibaba was left 10 seconds adrift at the start of the last lap of the 8km race. She was again the aggressor as the last remaining Ethiopian threat, Meselech Melkamu, was put away over the two jumps in the middle of the final lap. Yet for the second year in a row Masai was beaten to the gold medal by a Kenyan team-mate.
In Amman Florence Kiplagat to became the first Kenyan senior women's gold medallist (long-course) since Hellen Chepngeno in 1994. Here, it was Emily Chebet who deprived Masai of the glory. In similar fashion, too: Masai still led as the pair turned off the loop into the short finishing straight. But Chebet came past her in a driving sprint to the line. Meselech Melkamu picked up her fifth bronze medal, having placed third in both short and long races in 2006, and in the long race in 2007, 2009 and now again in 2010.
Masai and her team-mates controlled the pace from the start and as Masai continued to push, the group gradually thinned out. On the third lap, Dibaba began to struggle and by the start of the final lap she was 10 seconds off the lead. Masai went clear of Chebet and Melkamu as they went over the jumps, but Chebet went around Melkamu and eventually chased down her team-mate.
After two perfect scores in the junior races, Kenya slipped to placings of 1, 2, 5 and 6, for a total of 14 to win the team race for the second year in a row after seven of Ethiopian domination. The 2003 champion, Werknesh Kidane, finished ninth for Ethiopia, while Willis, the last non-East African winner in 2004, finished 17th.

1  Emily CHEBET                   KEN  24:19
2  Linet MASAI                    KEN  24:20
3  Meselech MELKAMU               ETH  24:26
4  Tirunesh DIBABA                ETH  24:38
5  Lineth CHEPKIRUI               KEN  24:40
6  Margaret MURIUKI               KEN  24:42
7  Feyse TADESE                   ETH  25:03
8  Mamitu DASKA                   ETH  25:03
9  Werknesh KIDANE                ETH  25:07 
10 Hilda KIBET                    NED  25:17
 
Teams
1  Kenya             14 pts
2  Ethiopia          22 pts
3  United States     76 pts
4  Morocco           127 pts
5  Portugal          127 pts
Senior Men
Photo: Joseph Ebuya concludes Kenya's sweep (Getty Images)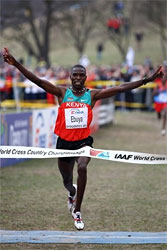 As the 136 starters from 39 countries set out for the race we already knew it was Kenya's day writes Mark Butler. Joseph Ebuya crowned it by bringing the individual title back to his country for the first time since Paul Tergat won in Belfast in 1999, and led Kenya to yet another team win.
Ebuya and Richard Mateelong headed a leading group of 20 or so which did not include defending champion Gebre-egziabher Gebremariam. After three laps the race got going in the fourth circuit of 1926m as the Eritreans Samuel Tsegay and particularly 20-year old Teklemariam Medhin pushed the pace. At the end of the fourth lap Medhin led from Ebuya with a 10m gap to Uganda's Moses Kipsiro, as the pack slipped away. There was no Ethiopian in the top ten.
On the fifth lap the leading pair moved away and at the bell Ebuya led from Medhin with only Leonard Komon and Amman runner up Kipsiro within range. Then Ebuya gradually pulled clear to leave the final result in no doubt. Medhin was untroubled in second, but the bronze was won with Kipsiro's final stride as he just caught Komon on the line. With four in the top eight, Kenya again won comfortably.
Eritrea outpointed Ethiopia for the silver medals, but deposed champion Gebremariam ran with honour to climb into the top 10. That team bronze was his 16th World cross country medal but that was little consolation. Further down the field Saudi Arabia-born Simon Bairu provided Canada with an excellent 13th place.
Ebuya, whose family was originally from the Turkana District of Kenya, which is not known for its athletes, said "I was not certain I would win because I had not raced before with the one who was following [Mehdin]." Mehdin trains with Zersenay Tadese, who had broken the World Half Marathon record a week earlier, but Medhin admitted: "I was thinking 'a silver medal is enough for now'."

1  Joseph EBUYA                   KEN  33:00
2  Teklemariam MEDHIN             ERI  33:06
3  Moses Ndiema KIPSIRO           UGA  33:10
4  Leonard Patrick KOMON          KEN  33:10
5  Samuel TSEGAY                  ERI  33:27
6  Hasan MAHBOOB                  BRN  33:28
7  Richard Kipkemboi MATEELONG    KEN  33:29
8  Paul Kipngetich TANUI          KEN  33:30
9  Hosea Mwok MACHARINYANG        KEN  33:31
10 Gebregziabher GEBREMARIAM      ETH  33:35
 
Teams
1  Kenya       20 pts
2  Eritrea     46 pts
3  Ethiopia    69 pts
4  Morocco     89 pts
5  Uganda      90 pts
28 MARCH 2010: PANAMA INTERNATIONAL HALF MARATHON
MEN:
1  William NARANJO                COL  1:06:34
2  Juan Carlos CARDONA            COL  1:06:48
3  Jason GUTIERREZ                COL  1:07:36
4  Jose Francisco CHAVES          CRC  1:10:35
5  Cesar LIZANO                   CRC  1:11:51
6  Stalin Rafael Barros REINOSO   ECU  1:11:59
7  Rolando VALLADARES             ECU  1:13:25
8  Jose Luis ROMERO               VEN  1:15:46
9  Cesar MUNOZ                    PAN  1:16:35
10 Jorge CASTELBLANCO             PAN  1:17:03
 
WOMEN:
1  Yolanda CABALLERO              COL  1:14:28 
2  Mary AKOR                      USA  1:18:48
3  Erika ABRIL                    COL  1:19:35
4  Sandra RUALES                  ECU  1:25:13
5  Marta JIMENEZ                  ESA  1:27:36
6  Inglandini GONZALEZ            COL  1:29:26
7  Iris CAMARENA                  PAN  1:37:02
8  Ana SANCHEZ                    PAN  1:37:30
9  Yennis SANHOUSE                VEN  1:39:18
10 Alicia ZORRILLA                PAN  1:40:42
28 MARCH 2010: INCHEON HALF MARATHON, KOREA
MEN:
1  Sandeep KUMAR                  IND  1:04:43
2  Young sol KWON                 KOR  1:04:49
3  Young jin KIM                  KOR  1:05;01
4  Du haeng LEE                   KOR  1:05:07
5  Ji san RYU                     KOR  1:05:12
6  Sang hun KIM                   KOR  1:05:35
7  Myeong Hyun PAK                KOR  1:05:51
8  Rene HERRERA                   PHI  1:05:59
9  Jang gun LEE                   KOR  1:06:07
10 Su jae LEE                     KOR  1:06:22

WOMEN:
1  Eun young JANG                 KOR  1:16:05
2  Hueong seon JEONG              KOR  1:16:43
3  Eun ji YU                      KOR  1:17:59
4  Yu yeon NO                     KOR  1:19:55
5  Jeong hyun OH                  KOR  1:20:09
6  Hyun Jin SEO                   KOR  1:20:21
7  Ha neul KIM                    KOR  1:20:42
8  Im suk PARK                    KOR  1:22:32
9  Sung hwa LEE                   KOR  1:27:41
10 Jin sol JANG                   KOR  1:28:43
March 2010