February 2010
7 FEB | 12 FEB | 14 FEB | 19 FEB | 21 FEB | 22 FEB | 28 FEB
7 FEBRUARY 2010: KAGAWA MARUGAME INT'L HALF MARATHON, JAPAN
Daniel Gitau ran away from his arch rival Mekubo Mogusu at 14km to win in 1:01:08 while Nikki Chapple of Australia broke away from her competition even earlier, at 7km, writes Ken Nakamura. Windless and cool but bright conditions were close to ideal at the 10.35 start.
In the men's race a trio of Gitau Mogusu and Tomoaki Bungo took off from the start, but Bungo dropped off at 3km to eventully finish 9th. Mogusu and Gitau passed 5km in 14:11 and 10km in 28:40 — 15 seconds up on the chase pack. At 13km, Mogusu made a move and stole 5m, but Gitau worked his way back and started to build his own lead, breaking away cleanly from Mogusu. Gitau passed 15km in 43:14, 30m up on Mogusu and ran the rest of the race alone. He led by 30 seconds at 20km and won by 35 seconds, improving his personal best (run the year before in Marugame) by 26 seconds. "Since I was able to set a personal best today, I want to aim higher," said Japanese-speaking Gitau after the race, adding "I really hoped to win this year. I wanted to make my move at the point I was left behind last year." He will join Fujitsu in April and continue to run in Japan.
Immediately after the start of the women's race, Nikki Chapple, Mara Yamauchi and Hiromi Ominami formed the lead pack, passing 5km in 16:05. Chapple continued to push the pace, and by 7km, she was away, passing 10km in 32:25, ten seconds ahead of Ominami and Yamauchi, and 15km in 48:54) 36 seconds up. The Miyauchi twins then led the chase group which also included Megumi Seike, Yamauchi and Ominami. By 20km (which Chapple passed in 1:05:08) Yoko Miyauchi was 12 seconds ahead of her twin sister Hiroko. Chapple's winnning time was a 90 second improvement of her personal best of last year. At 28 years old, Chapple has recently made huge progress. Her coach, Nic Bideau says this is because she only started to train properly over the last year. Yoko Miyauchi's second place gave her a personal best. "I did not want to lose against my younger sister," said Yoko, who finished 10 seconds ahead of Hiroko. Yoko is planning her marathon debut in Nagoya in March. She hoped to run faster than her sister's debut time, 2:32:20.
MEN:
1  Daniel GITAU                   KEN  1:01:08 
2  Mekubo MOGUSU                  KEN  1:01:43 
3  Joseph MWANIKI                 KEN  1:01:49 
4  Yuichiro OGAWA                 JPN  1:01:53 
5  Kosuke TAKABAYASHI             JPN  1:01:54 
6  Muryo TAKASE                   JPN  1:01:57
7  Tomoyuki MORITA                JPN  1:02:02
8  Shota HIRAGA                   JPN  1:02:08
9  Tomoaki BUNGU                  JPN  1:02:15
10 Satoshi IRIFUNE                JPN  1:02:18

WOMEN:
1  Nikki CHAPPLE                  AUS  1:08:37 
2  Yoko MIYAUCHI                  JPN  1:09:51 
3  Hiroko MIYAUCHI                JPN  1:10:01 
4  Megumi SEIKE                   JPN  1:10:17 
5  Hiromi OMINAMI                 JPN  1:10:37 
6  Mara YAMAUCHI                  GBR  1:10:46 
7  Noriko HIGUCHI                 JPN  1:10:51
8  Miko NOTAGASHIRA               JPN  1:11:16
9  Seung-Eun KIM                  KOR  1:11:34
10 Asame YAMANE                   JPN  1:11:46
7 FEBRUARY 2010: BEPPU OITA MAINICHI INT'L MARATHON, JAPAN
Making his move with 600m to run, Jonathan Kipkorir scored his latest, third, career victory in this 59th edition writes Ken Nakamura. He surged just before entering the stadium. "I picked up the speed to see what happen, and I did not see any response," recalled Kipkorir. Daniel Njenga had made a strong bid for victory at 40km but could not match Kipkorir's surge, finishing 30m behind.
Jeffery Hunt of Australia, a marathon debutant, ran a very smart race. Running with the third group initially and keeping an even pace, Hunt ran strongly after 35km. His 5km splits varied only from 15:36-15:44 up to 30km, when he increased the pace to 15:03 and caught the leader at 39km. Although he could not stay with Kipkorir and Njenga when they kicked at 40km, Hunt finished a very respectable third. Keisuke Sawaki, managing director of the Japan AAF, said that Japanese runners could learn from Hunt's race. One other marathon debutant, Atsushi Ikawa, finished a with the 17th fastest marathon debut time by Japanese. The big Japanese marathon hope, Yu Mitsuya lost contact with the leader after 32km and finished ninth, almost five minutes slower than expected. "I want to run the marathon again" he confirmed after the race. Masashi Hayashi, in sixth and Kentaro Nakamoto in eighth improved their best times by one and two minutes respectively.
After the pace makers dropped out at 30km eight runners were left: Kipkorir, Njenga, Hayashi, Ikawa, Mitsuya, Nakamoto, Kenneth Mungara, Chala Lemi. Hayashi and Ikawa then pushed the pace and by 34km Mitsuya was 10 seconds behind the lead pack of seven. Mungara took the lead at 36km and Hunt caught the group at 39km. Njenga's kick at 40km stretched the lead pack out, Kipkorir and Hunt staying close before Kipkorir caught Njenga just past 41km with Hunt in close pursuit. Kipkorir's winning move came just before he entered the Oita stadium.
MEN (ONLY)
1  Jonathan KIPKORIR              KEN  2:10:50 
2  Daniel NJENGA                  KEN  2:10:55 
3  Jefferey HUNT                  AUS  2:11:00 
4  Atsushi IKAWA                  JPN  2:11:05
5  Kenneth MUNGARA                KEN  2:11:06 
6  Masashi HAYASHI                JPN  2:11:17 
7  Chala LEMI                     ETH  2:11:37 
8  Kentaro NAKAMOTO               JPN  2:11:42 
9  Yu MITSUYA                     JPN  2:12:59 
10 Toshinari SUWA                 JPN  2:13:16
12 FEBRUARY 2010: EGYPTIAN MARATHON
MEN:
1  Hassan MARZOUK                 EGY  2:27:13
2  Mahmoud A AWAD                 EGY  2:36:28
3  Yoshiki SAKAI                  JPN  2:46:22
4  Carlos ARREAZA                 VEN  2:57:03
5  Ahmed AL-MAGRABY               EGY  3:01:55
6  Luigi SATIREYO                 ITA  3:05:05
7  Claudio ANGELOZZI              ITA  3:13:34
8  Ken Ichi HINO                  USA  3:20:22
9  Tristan MILLER                 AUS  3:23:25
10 Steve BOUGARD                  GBR  3:34:00
 
WOMEN:
1  Bernette COETZEE               RSA  3:28:35
2  Hiromi MASUTANI                JPN  3:35:59
3  Zohra MERABET                  ALG  4:02:30
4  Carmen CARNAHAN                USA  4:22:15
5  Melissa CARTAYA                VEN  4:24:12
 
LUXOR RUN, 22.3km
MEN:
1  Ahmed S EL-NADY                EGY  1:22:03
2  Ryan HAMMERBERG                USA  1:22:43
3  David GENTET                   FRA  1:24:49
 
WOMEN:
1  Katherine HUN                  USA  1:38:52
2  Ibis QUINTERO                  VEN  1:44:22
3  Joan MOH                       CHN  1:52:55
 
RAMSES RUN, 10.3km
MEN:
1  Ahmed Ali ORABEI               EGY    40:28
2  Husein Mustafa HASAN           EGY    43:39
3  Mustafa H SADEQ                EGY    43:40
 
WOMEN:
1  Nada Ahmed MOHAMMED            EGY    51:54
2  Noha Ahmed MOHAMMED            EGY    57:02
3  Zainab Yusuf HELMEI            EGY  1:01:40
14 FEBRUARY 2010: MARATON CIUDAD DE SEVILLA, SPAIN
MEN:
1  Philip BIWOTT                  KEN  2:10:39
2  Pablo Villalobos BAZAGA        ESP  2:13:33
3  Jose MOREIRA                   POR  2:13:37
4  William BIAMA                  KEN  2:13:45
5  Javier Diaz CARRETERO          ESP  2:13:47
6  Jose Carlos HERNANDEZ          ESP  2:14:19
7  Jemal Hussem ADEM              ETH  2:14:31
8  David WEBB                     GBR  2:15:42
9  Alexsey REUNKOV                RUS  2:15:48
10 Bedama Girma ELALA             ETH  2:16:25
 
WOMEN:
1  Desta Girma TADESSE            ETH  2:34:53 
2  Tigist Kilde GEBREMESKEL       ETH  2:35:46
3  Tamara Rodriguez SAN FABIO          2:36:37
4  Doreen Kitaka NDUGU            KEN  2:37:11
5  Radiya Mohamed ROBA            ETH  2:39:01
6  Ester ERB                           2:39:49
7  Abnet Yeshanbel SIMEGN         ETH  2:40:57
8  Ma Josde Del Toro SAIZ         ESP  2:41:50
9  Zvile BALCIUNAITE              BLR  2:45:09
10 Jennifer Titika LOTOYWO        ESP  2:46:11
19 FEBRUARY 2010: RAS AL KHAIMAH INT'L HALF MARATHON, UNITED ARAB EMIRATES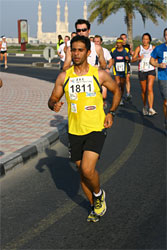 A windless and sun-bathed spring morning greeted the record field of over 2000 entrants for the 4th edition. In a stunning half marathon debut, Turkey's double Olympic silver medalist Elvan Abeylegesse tore through the last 6km, after a stuttering first 15km, to set a new course record. The first eight women were under 69 minutes. Men's favourite Deriba Merga inexplicably stepped off the road at 18km when the pack had reduced to four, opening the way for Geoffrey Mutai to extend the Kenyan win streak. The first four men broke the hour.
"I felt easy at 15km (48:03) and it was only then I decided to start pushing the pace." said Abeylegesse. After working under Croatian coach Nicola Boric for just ten weeks, she admitted to being excited by what more she can do over this new distance. After passing 5km in 16:02, picking up through 10km in 31:54 but then dropping back to 48:03 at 15km, a group of six women remained at the front, including the winner, and five Ethiopians, Teyba Erkesso, Aselefech Mergia, Koren Yal, Mare Dibaba and defending RAK champion Dire Tune. Just as Tune had turned the screw in the late winds that spoiled last year's record attempts, firstly Erkesso then Abeylegesse, the only track specialist in the group, picked up the pace. Abeylegesse's 15:44 split to 20km saw Tune dropped back quickly, as Dibaba and Mergia hung on until the withering home straight surge came from the Abeylegesse. Her winning time is the quickest debut ever.
The early pace in the men's race did the main protagonists no favours, leaving Mutai with a 59:43 clocking, which was not even a personal best. The pack chose to ignore the pacemaking and started cautiously, a pack of thirteen passing through 5km in 14:04, 14 seconds outside of schedule. Thirteen became seven at 10km (28:11) by which time all thoughts of a world record had gone. At this stage, an unusually restrained race from Deriba Merga meant no-one was prepared to push on and the subsequent splits times of 42:33 at 15km (a 14:22 5km, six in contention) and 56:52 at 20km (14:19, four left in it) made even the one hour mark look precarious. Mutai had won the Valencia Half in 59:30 last November, and here had the confidence to be the first to push, from 18km. He took charge, and burned up the last 1097m in 2:51 for a six second win from Tadese Tola in his long-overdue debut at the distance.
MEN:
1  Geoffrey MUTAI                 KEN    59:43
2  Tadese TOLA                    ETH    59:49
3  Titus MASAI                    KEN    59:51
4  Getu FELEKE                    ETH    59:56
5  Jairus CHANCHIMA               KEN  1:00:31
6  Stephen KIBIWOTT               KEN  1:00:38
7  Josphat NDAMBIRI               KEN  1:01:07
8  Willy MWANGI                   KEN  1:01:21
9  John KIPROTICH                 KEN  1:01:41
10 Fabiano JOSEPH                 TAN  1:01:43

WOMEN:
1  Elvan ABEYLEGESSE              TUR  1:07:07
2  Mare DIBABA                    ETH  1:07:13
3  Aselefech MERGIA               ETH  1:07:22
4  Teybe ERKESSO                  ETH  1:07:41
5  Dire TUNE                      ETH  1:07:58
6  Atsede HABTAMU                 ETH  1:08:30
7  Hilda KIBET                    NED  1:08:39
8  Agnes KIPROP                   KEN  1:08:48
9  Koren YAL                      ETH  1:10:52
10 Magdalena MUKUNZI              KEN  1:11:11
21 FEBRUARY 2010: MARATON POPULAR DE VALENCIA, SPAIN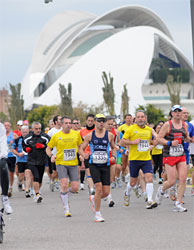 Last October's Eindhoven Marathon prepared the ground for barriers to be broken in Valencia. Winner Geoffrey Mutai went on to break the hour in the Valencia Half Marathon last November, and 29-year old David Njagi now pulverised the Marathon's course record.
On a cool (8°C), windless morning punctuated with light showers of rain 3610 runners lined up at the Paseo de la Alameda, revisiting the earliest editions of the race. Conditions favoured fast running and Njagi took full advantage, setting a course record and missing the Spanish all-comers record (2:09:33, set in San Sebastian in 2002) by only 12 seconds. Behind him the next three finishers all broke the previous course record in this 30th edition of the race. They were helped by the efficiency of a trio of Moroccan pacemakers who drove the lead group through 10km in 30:59 and halfway on 2:10:30 pace. By 31km the entire group of invited elite athletes had been set up for a drive to the finish in which all seven of them managed to better their previous best times. Pre-race favourite Ben Kimwole improved by only 30 seconds, losing out to Njagi and Langat who both sliced two minutes off their personal best times. Behind them, there were even greater leaps forward, with Abraham Potongole and Tesfaye Sandiku in fourth and fifth places improving by four and five minutes respectively.
At 10km the first Spaniard, last year's winner Andrés Micó, was already three minutes in arrears, and the gap grew ever wider. From 30km the race sped up, with a 5km split of 15:21 bringing the record within sight. But by 35km Njagi and Abraham Potongole headed the lead group after completing the fastest ever 5km split in the Valencia Marathon of 15:04. Then Njagi kicked, to quickly gain a winning advantage of 70m over compatriots Joseph Langat and Ben Kimutai Kimwole as Potongole lost distance. The last 3km were a lonely struggle against the clock for Njagi, now aiming to beat the 2:10 barrier.
Gladys Chebet, in her debut Marathon, had no-one close to her for most of the race. She passed through halfway in 1:17:31 (2:35 pace) but had already started to slow slightly (from 2:32 at 14km). By 30km she was on 2:38 pace, with the veteran Moldovan Valentina Delion just less than five minutes behind. Although she would have been unaware of the closing gap Chebet's winning margin had been cut in half at the finish line.
Over 3000 runners finished, more than ever before. Valencia's Mayoress, Rita Barberá, presented the trophies.
MEN:
1  David NJAGI                    KEN  2:09:45
2  Joseph LANGAT                  KEN  2:10:24
3  Ben Kimutai KIMWOLE            KEN  2:10:30
4  Abraham POTONGOLE              KEN  2:11:12
5  Tesfaye SANDIKU                ETH  2:11:50
6  Berhanu GIRMA                  ETH  2:12:51
7  Fekadu LEMMA                   ETH  2:14:39
8  Miguel Plaza BENITA            ESP  2:26:54
9  Andres Navio MARTINEZ          ESP  2:27:15
10 Jose Sanchez DIUFAIN           ESP  2:28:09


WOMEN:
1  Gladys CHEBET                  KEN  2:42:06
2  Valentina DELION               KEN  2:44:40
3  Maxine MCKINNON                GBR  2:50:14
4  Maria Lopez MATA               ESP  3:00:03
5  Carmen Maria PEREZ             ESP  3:08:21
6  Alicia Leal SANTOS             ESP  3:10:06
7  Laura Alabau MARTI             ESP  3:13:28
8  Karen WALKER                   GBR  3:15:27
9  Merche Abalos ALVAREZ          ESP  3:17:31
10 Patricia Lopez VICEDO          ESP  3:19:12
21 FEBRUARY 2010: OHME-HOCHI 30km ROAD RACE, JAPAN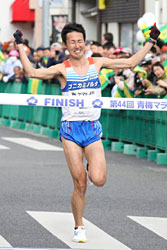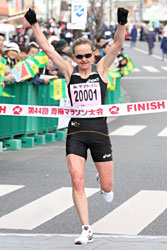 MEN:
1  Takashi OTA                    JPN  1:31:54
2  Yusuke KATAOKA                 JPN  1:34:36  
3  Patrick RIZZO                       1:34:45  
4  Koji SATO                      JPN  1:35:07
5  Kenji OHNAKA                   JPN  1:35:38
6  Tsukasa MORITA                 JPN  1:35:50
7  Yu TAKEDA                      JPN  1:36:17
8  Ryotaro NITTA                  JPN  1:36:31
9  Takeshi MAEGAWA                JPN  1:37:34
10 Junichi AKAGI                  JPN  1:37:42 

WOMEN:
1  Mara YAMAUCHI                  GBR  1:43:24 
2  Hiromi OMINAMI                 JPN  1:43:49  
3  Kiyoko SHIMIHARA               JPN  1:49:14
4  Mizuho KISHI                   JPN  1:52:15
5  Yoshimi  HOSHINO               JPN  1:52:48
6  Chie  ASAMI                    JPN  2:01:34
7  Mayumi  NAGAI                  JPN  2:02:30
8  Junko  NAKAZATO                JPN  2:03:15
9  Takako  ASANO                  JPN  2:03:33
10 Natsumi  MINESHIMA             JPN  2:05:13

WOMEN'S 10km:
1  Yuko MACHIDA                   JPN    33:40 
2  Megumi KANETOMO                JPN    33:52 
3  Misato YAMAGUCHI               JPN    33:55
22 FEBRUARY 2010: SAHARA MARATHON, ALGERIA
Top photo: Riad Abada, Agence New Press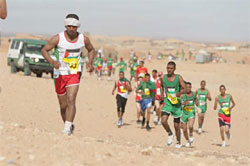 There was a record entry of over 800 runners from 28 countries, for the 10th anniversary of this extraordinary event writes Pat Butcher. The race is run through the deserts of western Algeria, between three refugee camps, housing up to 200,000 Saharawi people, exiled from their Western Sahara home since 1975. Formerly Spanish Sahara, the territory was occupied by Morocco and Mauretania, when the Spanish withdrew on the death of General Franco. A freedom movement by the Frente Polisario drove out the Mauretanians, who eventually recognised the state of Western Sahara. But despite a UN resolution in favour of the Sahrawi, the Moroccans remain in control of much of the Western Sahara, while an attempt to mount a referendum on the future is in abeyance.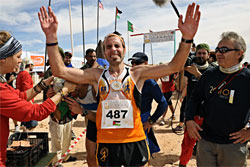 Winner Jon Salvador from the Basque city of Bilbao set a new course record of 2:42:40. Three times previously he had run the half marathon, winning twice, and finishing third. "It was very hot at the start, and there were some good Algerians in there, and they went off really fast. But I knew the second half of the marathon course was more difficult, so I saved myself, and it paid off."
"There are many Basques here," said Salvador, "around 85 of us. We really understand the suffering that the Saharawi people are going through. Yes, the competition is important, but it's also important to tell the problems that the people here are having. The two things go together."
MEN:
1  Juan SALVADOR                  ESP  2:42:42
2  Habal ZUBEIR                   ALG  2:48:30
3  Motjari BUHAFES                ALG  2:50:28
4  Manuel Morente PAEZ            ESP  3:01:21
5  Ricardo QUATTRINI              ITA  3:11:49
6  Fernando Gonzalez RODRIGUEZ    ESP  3:13:34
7  Davou Danjuma GYANG            NGR  3:19:10
8  Belhuchat CHEFIC               ALG  3:23:28
9  Eduardo Cuevas MORENO          ESP  3:23:32
10 Marcello ROSSI                 ITA  3:30:09
 
WOMEN:
1  Maria Dolores JIMENEZ          ESP  3:31:57
2  Silvia ARTEAGA                 ESP  3:55:23
3  Julia LUTTE                    GBR  4:29:39
4  Esther CONTE                   ESP  4:38:05
5  Montse DIAZ                    ESP  4:38:05
6  Kajsa BARSK                    SWE  4:39:11
7  Olivia MANN                    GBR  4:49:32
8  Peggy OWEN                     USA  4:55:56
9  Amanda SEYMOUR                 GBR  5:02:27
10 Manuela VOS                    NED  5:10:00
 
HALF MARATHON
MEN:
1  Auchin WALID                   ALG  1:16:16
2  Lemita RIDA                    ALG  1:16:18
3  Gar KERIM                      ALG  1:16:30
 
WOMEN:
1  Janet Dung DABATU              NGR  1:39:52 
2  Tiziana TORI                   ITA  1:53:10
3  Nuria RUBIO                    ESP  1:59:58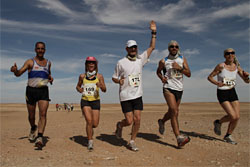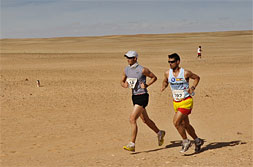 28 FEBRUARY 2010: TOKYO MARATHON, JAPAN
Photos: Kazuo TANAKA / Agence SHOT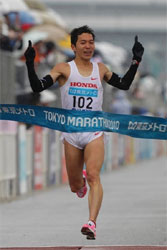 The fourth edition was run in dismal conditions with winners Masakazu Fujiwara and Alevtina Biktimirova giving up on the hope of fast times writes Ken Nakamura. Fujiwara in particlar, was happy to become the first Japanese male runner to win here. Biktimirova had harboured hopes of a personal best: "that's why I went out fast, but because of the weather I had to give up that goal." Cold rain and wind worsened as the race progressed, and the temperature, 7°C at the start, dropped. Arata Fujiwara, who was second in the men's race in 2008 finished second again, outkicking one of the pre-race favoutites Atsushi Sato.
The first 5km, mostly downhill, was covered in a modest 15:11. From 15-30km the 5km splits barely dipped below 16 minutes. Passing halfway in 1:05:13, the race turned into a one of attrition. By 27km, the lead pack still had 24 runners. Not until Salim Kipsang made a move at 31.5km did it start to break up. Fujiwara brought the chasers back to the Kipsang's shoulder, but now they were down to eight. Fujiwara surged at 33km to open a gap on Kipsang and Sato. With the runners approaching Tokyo Bay, the wind began to pick up. Joseph Mwaniki did much of the leading before Fujiwara threw off his baseball cap and surged hard at 40km. Although he didn't look comfortable, Fujiwara continued to pull ahead of Sato and Arata Fujiwara.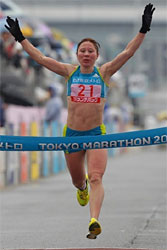 A nine-stong group of women passed 5km in 17:34 and 10km in 34:56. By 15km (52:04), Bikitimirova had broken away and continued to extend her lead through the 35km. She then slowed, but was so far ahead that her victory was sealed. After losing contact with Bikitimirova, Mizuho Nasukawa, Robe Guta and Julia Mumbi formed the chasing group. Akemi Ozaki passed all three at 25km to move into second position but was later reduced to a walk. Guta moved ahead of Olaru at 35km and finished 13 seconds ahead of her. Unheralded Maki Kono covered the 35-40km faster than anyone to take fourth.
MEN:
1  Masakazu FUJIWARA              JPN  2:12:19
2  Arata FUJIWARA                 JPN  2:12:34
3  Atsushi SATO                   JPN  2:12:35 
4  Yuki KAWAUCHI                  JPN  2:12:36 
5  Tomoya ADACHI                  JPN  2:12:46 
6  Joseph MWANIKI                 KEN  2:12:53
7  Rachid KISRI                   MAR  2:12:59 
8  Takaaki KODA                   JPN  2:13:04
9  Salim KIPSANG                  KEN  2:13:16
10 Kiyokatsu HADEGAWA             JPN  2:15:15

WOMEN:
1  Alevtina BIKTIMIROVA           RUS  2:34:39 
2  Robe GUTA                      ETH  2:36:29 
3  Nuta OLARU                     ROM  2:36:42
4  Maki KONO                      JPN  2:39:01 
5  Yang JING                      CHN  2:41:04 
6  Yumi SATO                      JPN  2:43:01
7  Wakana HANADO                  JPN  2:44:03
8  Julia MOMBI                    KEN  2:45:11
9  Yoshimi KASEZAWA               JPN  2:47:03
10 Noriko HITAO                   JPN  2:47:32
28 FEBRUARY 2010: WORLD BEST 10km, PUERTO RICO
MEN:
1  Moses Ndiema MASAI             KEN  27:19
2  Sammy Kiprop KITWARA           KEN  27:42
3  Geoffrey Kiprono MUTAI         KEN  27:44
4  Wilson Kipsang KIPROTICH       KEN  27:45
5  Peter KAMAIS                   KEN  27:54
6  Moses KIPSIRO                  KEN  27:55
7  Peter KIRUI                    KEN  28:12
8  Edward Kiprotich MUGE          KEN  28:45
9  Wilfred Kipkosgei MURGOR       KEN  29:00
10 Silas KIPLAGAT                 KEN  29:13
 
WOMEN:
1  Vivian CHERUIYOT               KEN  31:07
2  Mary Jepkosgei KEITANY         KEN  31:09
3  Dire TUNE                      ETH  31:40
4  Elvan Abeylegesse              TUR  31:58
5  Jane Jepkosgei KIPTOO          KEN  32:06
6  Caroline Cheptanui KILEL       KEN  32:20
7  Belaynesh FIKADU               ETH  32:50
8  Belaynesh ZEMEDKUN             ETH  33:16
9  Ymer Wude AYELEW               ETH  33:18
10 Jennifer RHINES                USA  33:26
28 FEBRUARY 2010: STANDARD CHARTERED HONG KONG MARATHON
MEN:
1  Cyprian Kiogora MWOBI          KEN  2:20:12
2  John Chirchir TUBEI            KEN  2:23:30
3  Ser-od BAT-OCHIR               MGL  2:25:02
4  Eduardo BUENAVISTA             PHI  2:30:09
5  Chieh Wen CHANG                TPE  2:31:10
6  Priyantha B D MUDIYANSELAGE    SRL  2:34:23
7  Sutat KALLAYANAKITTI           THA  2:36:26
8  Hiroshi HIRAIKE                JPN  2:36:51
9  Gusti Gedi KARANGASEM          INA  2:37:24
10 Johnny Hok Yan LAI             CHN  2:37:43
 
WOMEN:
1  TRIYANINGSIH                   INA  2:47:35
2  Ling Ling JIN                  CHN  2:48:40
3  Jho-An BANAYAG                 PHI  2:52:33
4  Yuri YOSHIZUMI                 JPN  2:58:37
5  Sui Ping FAN                   HKG  2:59:09
6  Sui Ping WONG                  HKG  2:59:29
7  Ruwina D M ARACHCHIGE          SRI  3:05:08
8  Angleina KONG                  HKG  3:08:39
9  Kit-Yee CHAN                   HKG  3:10:39
10 Mikami CHIHARU                 JPN  3:11:40
 
HALF MARATHON:
MEN:
1  Junji KONOMI                   JPN  1:11:27
2  Stefano PASSARELLO             ITA  1:13:08
3  Mendel LOPEZ                   PHI  1:13:13
 
WOMEN:
1  Kuniko NAKAMURA                JPN  1:23:40
2  Kit Ching YIU                  HKG  1:25:11
3  Jane HODGSKIN                  AUS  1:30:38
28 FEBRUARY 2010: GSO LIMASSOL INT'L MARATHON, CYPRUS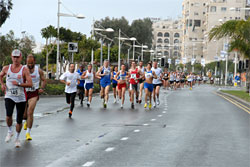 In the 4th edition, already the biggest annual athletic event in Cyprus, winners Moses Kibet and Natalia Sergeeva both set a new race records. In both races the top three all broke the old records. Participation records also tumbled, with a combined total of 1500 in the Marathon and Half, 10 km Health Run, Kids Run and Charity Walks — more than Cyprus could ever have expected. Beyond the Cypriots who honoured the race, there were also a lot of Greek runners who travelled to the big island — and runners from more than 20 countries: UK, Russia, Poland, Romania, Germany, Austria, Italy, Finland, Lebanon, Czech Republic, Hungary, Kenya, Ethiopia to name only some.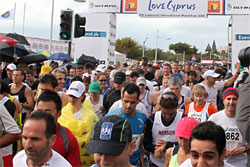 The charity walks generated funds for causes such as: Make A Wish — for children with cancer; Volunteer Doctors — healing people in need after international conflicts or disasters; Europa Donna Cyprus — aid to prevent breast cancer; Alzheimers Support Association; Nicosia Children's Home.
In the Half Marathon, Balkan Marathon Champion and record holder Iaroslav Mushinski took top spot. Former Marathon world record holder Paul Tergat presented the awards. Torrential rain fell before and during the race, but the weather improved and could not detract from the grand spectacle that this race is becoming as a flagship for Cypriot hospitality.
MEN:
1  Moses KIBET                    KEN  2:13:29
2  Karinga Julius KARINGA         KEN  2:14:45
3  Momanyi BASWETI                KEN  2:17:20
4  Oleg GUR                       RUS  2:18:08
5  Roman PRODIUS                       2:19:14

WOMEN
1  Natalia SERGEEVA               RUS  2:38:56
2  Andrea TAKACS                  HUN  2:44:20
3  Nadezda SEMILETOVA             RUS  2:45:49 
4  Kamila HANIPOVA                     2:49:42
5  Marina MYSHLYANOVA             RUS  2:57:26

HALF MARATHON
MEN:
1  Iaroslav MUSHCHINSKI           MLD  1:04:19
2  Radoslaw KLECZEK               POL  1:04:32
3  Artem EKIMOV                   RUS  1:05:24

WOMEN
1  Natalia VOLGINA                RUS  1:12:35
2  Katia-USTIANOWSKA DOROTA       POL  1:13:16
3  Svetlana SEMOVA                RUS  1:14:44
28 FEBRUARY 2010: VERDI MARATHON, ITALY
MEN:
1  Karim ABDERRAHIM               ITA  2:30:14
2  Antonio ARMUZZI                ITA  2:34:18
3  Giovambattista AUDIA           ITA  2;40:41
4  Joan VAIDA                     ITA  2:45:59
5  Roberto ZUNINO                 ITA  2:46:27
6  Renzo BARBUGIAN                ITA  2:46:44
7  Pio MALFATTI                   ITA  2:47:04
8  Maurizio SECCHI                ITA  2:47:31
9  Naurino PAULETTI               ITA  2:47:35
10 Ian BERRY                      GBR  2:47:55
 
WOMEN:
1  Lara MUSTAT                    ITA  2:54:40
2  Marija VRAJIC                  CRO  2:57:54
3  Beverly GIBSON                 ITA  3:11:43
4  Maria Illaria FOSSATI          ITA  3:21:35
5  Vasilia ANDTIANATOU            ITA  3:26:18
6  Laura DURPETTI                 ITA  3:28:27
7  Patrizia ROSSI                 ITA  3:34:53
8  Helga BLASIUS                  GER  3:42:57
9  Rafaella BONZANO               ITA  3:44:46
10 Federica LEONCINI              ITA  3:45:43
28 FEBRUARY 2010: NEDBANK MARTIZBURG MARATHON, SOUTH AFRICA
MEN:
1  Samuel PAZANGA                RSA  2:22:35
2  Professor MOLLEN              RSA  2:22:45
3  Bongani MSIMANGO              RSA  2:30:19
4  Albert PHUNGULA               RSA  2:33:04
5  Hlomayi MACHCZA               RSA  2:36:38
6  Philani MZOLO                 RSA  2:37:24
7  Khayelihle NGCOBO             RSA  2:37:45
8  Sphiwe ZWANE                  RSA  2:38:48
9  Bongani MTHEMBU               RSA  2:39:14
10 Silwayiphe Milt MATHONSI      RSA  2:39:43
 
WOMEN:
1  Melanie VAN ROOYEN            RSA  3:01:42
2  Carol MERCER                  RSA  3:02:42
3  Lauren DOUGALL                RSA  3:08:40
4  Maya LAWRIE                   RSA  3:10:53 
5  Suzette BOTHA                 RSA  3:11:53
6  Tracy ZUNCKEL                 RSA  3;15:56
7  Caryn DIXON                   RSA  3:18:33
8  Sonja BOYD                    RSA  3:19:59
9  Thobile NGWANE                RSA  3:20:51
10 Spongile ZIQUBU               RSA  3:21:00
28 FEBRUARY 2010: KILIMANJARO MARATHON, TANZANIA
In the 8th edition almost 3500 runners took part. The town of Moshi came to life for the weekend, as hundreds of foreign athletes from all over the world flooded in to enjoy the event. Tanzanian Prime Minister Peter Pinda presided over the morning and presented prizes to the winners.
Local 'sprinter' Fabian Joseph won the half marathon in a record breaking time. The Kenyans did well in the full Marathon, only being prevented from taking clean sweeps of the podium places in both events by third-placed woman Leah Kujar.
Many social runners, from 26 countries as far apart as Australia, Mexico and Ireland enjoyed the day. Organisers would thank Hon Mizengo Peter Pinda, race sponsors, and the runners for making this event such a success.
MEN:
1  Stephen CHEBOGUS               KEN  2:15:28
2  David KIPRONO                  KEN  2:16:45
3  Julius TUMAKUIL                KEN  2:16:55
4  Ally JUMA                      TAN  2:18:21
5  Joseph LWABE                   TAN  2:19:14
6  Naibei RUTTO                   KEN  2:19:30
7  Johnstone MAIYO                KEN  2:19:39
8  Lewis DADTI                    KEN  2:19:56
9  James MACHARIA                 KEN  2:20:05
10 Kenneth MBURU                  KEN  2:20:14
 
WOMEN:
1  Fredah LODEPA                  KEN  2:40:21
2  Everline ATANCHA               KEN  2:40:26
3  Leah KUJAR                     TAN  2:48:22
4  Truphema KURUI                 KEN  2:53:02
5  Hellen MUCRO                   TAN  2:53:17
6  Eunice LELEI                   KEN  2:53:19
7  Dorice TODOPUS                 TAN  2:58:22
8  Olpher ORUKE                   KEN  3:02:10
9  Anne KAMAU                     KEN  3:03:39
10 Silvia TANAI                   KEN  3:04:53
 
HALF MARATHON
MEN:
1  Fabiano JOSEPH                 TAN  1:04:00
2  Dickson MARWA                  TAN  1:04:19
3  Damian CHOPA                   TAN  1:04:27
 
WOMEN:
1  Naomi MAIYO                    KEN  1:16:26
2  Beatrice RUTTO                 KEN  1:16:35
3  Restituta KEMI                 TAN  1:16:49
28 FEBRUARY 2010: KAOHSIUNG MARATHON, CHINESE TAIPEI
MEN:
1  Richard Mutua MUTISYA          KEN  2:28:49
2  Wen-Chien WU                   TPE  2:30:53
3  Hilary KIPKEMBOI               KEN  2:31:13
4  David KIPSANG                  KEN  2:31:25
 
WOMEN:
1  Hsiao-Yu LI                    TPE  3:07:40
2  (no transcription of name)     TPE  3:09:42
3  Shu-Hua CHEN                   TPE  3:13:47
 
HALF MARATHON
MEN:
1  Chin-Wen HO                    TPE  1:24:39
February 2010