April 2010
3 APR | 7 APR | 9 APR | 11 APR | 17 APR | 18 APR | 19 APR | 25 APR
3 APRIL 2010: OLD MUTUAL TWO OCEANS MARATHON 56km, SOUTH AFRICA
MEN:
1  Mabhutile LEBOPO              LES  3:06:18
2  Moeketsi MOSUHLI              LES  3:07:29
3  Teboho SELLO                  LES  3:07:44
4  Stephen MUZHINGI              ZIM  3:10:35
5  Warinyane LEBOPO              LES  3:10:51
6  Mike FOKORONI                 ZIM  3:11:38
7  Moses NJODZI                  ZIM  3:12:14
8  Mpesela NTLOSEU               LES  3:13:37
9  Nkosiyosi SIBANDA             ZIM  3:15:01
10 Sandile NGUNUZE               RSA  3:15:42
 
WOMEN:
1  Olesya NURGALIEVA             RUS  3:41:53
2  Elena NURGALIEVA              RUS  3:42:19
3  Adinda KRUGER                 RSA  3:49:23
4  Tshifhiwa MUNDALAMO           RSA  3:52:21
5  Samukeliso MOYO               ZIM  3:55:32
6  Riana VAN NIEKERK             RSA  3:57:57
7  Joanna THOMAS                 RSA  4:02:08
8  Davera MAGSON                 RSA  4:02:43
9  Kerry KOEN                    RSA  4:02:57
10 Mary COORDT                   USA  4:04:10
 
HALF MARATHON
MEN:
1  Lusapho APRIL                 RSA  1:03:54
2  Kalvin PANGISO                ZIM  1:03:59
3  Tshamano SETONE               RSA  1:04:13
 
WOMEN:
1  Rene KALMER                   RSA  1:12:39
2  Irvette VAN BLERK             RSA  1:12:55
3  Mamorallo TJOKA               LES  1:15:50
7 APRIL 2010: NORTH POLE MARATHON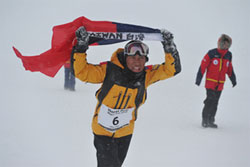 The marathon took place in near blizzard conditions, with 25 runners from 10 countries braving 45kph winds, sub-zero temperatures and snowdrifts to complete the 42.2km race at the top of the world.
Marathoners first flew by jet from Spitsbergen (NOR) to a drifting Russian camp at the Geograhic North Pole on 6 April. On the following day, the race commenced at 15:00 GMT. Although the core temperature did not plummet to the -37°C experienced in the 2009 event, strong winds led to snowdrifts developing on the course and wind chill temperatures that occasionally reached -20°C. Despite the strong winds and unfavourable terrain on the frozen Arctic sea ice, every competitor finished.
In the men's event, Joep Rozendal, a former Dutch marine, took control at halfway. Rozendal went on to record a victory over his competitors and the elements to win in a time of 5:00:58. Yen-Po Chen from Chinese Taipei, a 2:30 marathoner in normal conditions, came third in 5:29:47.
Four women took part in the women's competition with Emer Dooley of Ireland proving a decisive winner.
Jamie Cuthbertson, a 49-year-old former British Royal Engineers captain, also succeeded in a challenge of a lifetime. Cuthbertson lost his sight in an explosion in 1986, but accompanied by his guide, Alex Pavanello, he completed the race in 7:37:02. After a celebration at the Pole, all competitors returned to Norway on 9 April.
The next North Pole Marathon is provisionally scheduled for 7 April 2011. For more details, see www.npmarathon.com.
MEN:
1  Joep ROZENDAL                NED  5:00:58
2  Rik VERCOE                   GBR  5:07:30
3  Yen-Po CHEN                  TPE  5:29:47 
4  Michael STASHIN              CAN  6:07:27
5  Luis PALLARES                ESP  6:21:15
6  Andrew CARNIE                GBR  6:39:01
7  Paddy CLARK                  GBR  6:48:25
8  Matt NICHOLLS                GBR  7:11:04
 
WOMEN:
1  Emer DOOLEY                  IRL  5:56:54
2  Julia TIZARD                 GBR  7:31:05
3  Sarah OLIPHANT               USA  7:58:14
4  Ivana PILAROVA               CZE  7:59:56
9 APRIL 2010: DEAD SEA 50KM ULTRAMARATHON, JORDAN
MEN:
1  Sulaiman AL ZBOUN              JOR  2:57:52
2  Fathi SULEIMAN                 JOR  3:10:24
3  Nouri JABER                    IRQ  3:14:24
4  Ahmad AL HADEEB                JOR  3:16:48
5  Khalid AL SHEIKH               JOR  3:29:02
6  Aster BASTERRETXIA             ESP  3:36:50
7  Firas AL NEMAAT                JOR  3:40:17
8  Giovanni Battista TORELLI      ITA  3:41:01
9  Matthew NOVAK                  USA  3:47:19
10 Paul BEATON                    GBR  3:48:50
 
WOMEN:
1  Suzette VERMAAK                RSA  3:57:45
2  Victoria HUGHES                GBR  4:13:46
3  Ana PIBERNAT                   ESP  4:24:28
4  Tine KNOTT                     USA  4:41:16
5  Antje MATTHIESEN               GER  4:42:40
6  Andrea BERNATOVA               CZE  4:53:41
7  Luisa EVANGELISTI              ITA  5:12:05
8  Monica TAGARELLI               ITA  5:25:46
9  Maria Paola DE SANTIS          ITA  5:39:52
10 Nola REYNOLDS                  CAN  6:39:18
 
MARATHON
MEN:
1  Mohammed ABU REZK              JOR  2:33:45
2  Mutasim ATAWI                  JOR  2:34:58
3  Anas ZGHOUL                    JOR  2:42:34
 
WOMEN:
1  Chris PEETERS                  BEL  3:17:05
2  Jill VINCENT                   USA  3:30:23
3  Elsbeth ROELI                  SUI  3:41:47
11 APRIL 2010: PARIS INT'L MARATHON, FRANCE
Photo: Getty Images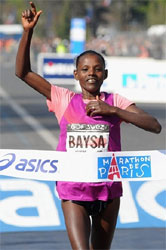 Atsede Baysa and Tadesse Tola produced an impressive Ethiopian double at the 34th Marathon de Paris writes Pierre-Jean Vazel.
Baysa broke the women's race record with the fastest time this year while Tola smashed his personal best by more than nine minutes to take the men's title. Behind Baysa Chantalle Daunay ran the closing kilometres strongly to come in second with a new French national record.
A group of 28 Kenyans and Ethiopians reached the 5km in 15:07 and 10km in 30:11, slowed by a headwind on Faubourg Saint Antoine. Cruising through Bois de Vincennes from 11-18km the pace increased, and the group stretched out. One of favourites, Stephen Kibiwot fell and had to make a tremendous effort to renew contact with the leaders. A few minutes later, two other falls occurred, at the halfway refreshment station. Kenyan Alfred Kering led through halfway in 1:03:00.
Passing back through the Place de la Bastille the pace temporarily slowed, but picked up along the banks of the Seine, with only a dozen men still together. The remaining pacemaker, Kenyan Philip Manyim stopped at 30km (1:22:50).
Wilson Kipsang (a Marathon debutante but the eighth all-time performer at the Half-Marathon with 58:52) and 2009 Rome winner Benjamin Kiptoo were leading the compact front pack at 35km (1:45:21) with eight men observing each other and perceptibly slowing down in what looked like becoming a tactical finish. But with 5km to go Alfred Kering and Tadesse Tola produced a decisive acceleration while Kiptoo almost fell on the corner and went out of contention.
Kipsang couldn't follow the two men in front and was running third with Daniel Kiprugut (10th last year in Paris with 2:08:38) a distant 4th. Tola progressively opened a gap over Kipsang, while the wind was blowing against them (2:00:05 at 40km). The Ethiopian secured his victory thanks to a storming finish, smashing his personal best.
Ethiopian Atsede Baysa, winner of this race last year with a personal best of 2:24:42 and the winner of the Paris Half-Marathon last month, intended to defend her crown and break the old course record of 2:23:05 set by Marleen Renders seven years ago. She immediately took the lead as her plan was to pass the half way point in 1:11. By the 5km French star Christelle Daunay, who had finished third in Paris in 2007 and 2009 as well as in New York in last November, was 14 seconds behind, escorted by a group of men including her husband. Baysa was accompanied by her teammates Tirfe Tsegaye, Marathon debutante Gurmu Workitu Ayanu Azalech Woldeselassie. Baysa pulled away, passing halfway in 1:10:04 and 30km in 1:40:19, on pace for a new record.
At 35Km (1:57:16) Daunay was two minutes behind, but she caught and passed Woldeselassie, and, with 2km to go, the second Ethiopian Tsegaye. Baysa finished a minute inside Renders' famous race record. While Daunay, 35, fulfilled her promise to break the national record, running 81 seconds faster than she did last year.
Some 40,000 runners lined-up on a cool (9°C) and sunny Sunday morning.
MEN:
1  Tadesse TOLA                 ETH  2:06:41 
2  Alfred KERING                KEN  2:07:09 
3  William KIPSANG              KEN  2:07:10 
4  Benjamin KIPTOO              KEN  2:07:13
5  Daniel KIPRUGUT              KEN  2:08:01 
6  Muluguta WAMI                ETH  2:08:32 
7  Zambala YEGEZE               ETH  2:08:48
8  Hailu MEKONNEN               ETH  2:09:01 
9  Francis KIBIWOTT             KEN  2:09:26
10 Vincent KIPLAGAT             KEN  2:09:38
 
WOMEN:
1  Atsede BAYSA                 ETH 2:22:03
2  Christelle DAUNAY            FRA 2:24:22
3  Tirfe Beyene TSEGAYE         ETH 2:24:51 
4  Azalech WOLDESELASSE         ETH 2:25:35
5  Gurmu Workitu AYANU          ETH 2:29:25
11 APRIL 2010: FORTIS MARATHON ROTTERDAM, NETHERLANDS
Photo: Jiro Mochizuki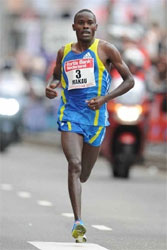 Patrick Makau became the fourth fastest marathoner writes Wim Van Hemert. It was windy and rather cold (8-10°C) but Makau weathered the conditions to post a world leading time and pull compatriot Geoffrey Mutai to a sub-2:05 performance. The women's edtion was a relatively lonely affair for Ethiopian Aberu Kebede who clocked 2:25:29. American Magdalena Lewy-Boulet was second in 2:26:22, a personal best.
Makau had run his ninth Half Marathon a month earlier in The Hague winning in 59:51. "Victory in The Hague gave me the feeling that everything was okay" And Makau showed that he was O.K., kicking away from Mutai over the final kilometre. In the Kralingse Bos after 32km the 20-year old Ethiopian Feyisa Lelisa broke away from a group of ten. The group then broke up, with Makau, Mutai and a third Kenyan, Vincent Kipruto, chasing. The quartet passed 35km in 1:43:52, after which Lelisa and then Kipruto fell back. The final 7km it became a duel between Makau and Mutai with Makau mostly leading before making his final break.
Makau covered the last 2195m in 6:10 adds Ken Nakamura, which is same as Ronald da Costa when he set his world record in 1998, but still slower than 6:05 Mutai took in the 2009 Eindhoven marathon. He ran his last 7195m in 20:56, two seconds slower than Haile Gebrselassie's time when he set his world record. Da Costa ran this section in 20:50, and Mutai in 20:29. With these results Rotterdam becomes the fastest marathon in the world on two counts: the top-10 performances ever, and the top-10 performances since 2007. Behind Makau there was a best-ever time recorded for fourth place by Lelisa. The average of top-10 performances in Rotterdam is now 2:05:15, 15 seconds faster than the average for Berlin. The average of top-10 performances since 2007 in Rotterdam is 2:05:20, 29 seconds faster than the average in London.
MEN:
1  Patrick MAKAU                KEN  2:04:48 
2  Geoffrey MUTAI               KEN  2:04:55   
3  Vincent KIPRUTO              KEN  2:05:13 
4  Feyisa LELISA                ETH  2:05:23 
5  Bernard KIPYEGO              KEN  2:07:01  
6  Francis KIPROP               KEN  2:08:53 
7  Daniel RONO                  KEN  2:09:49
8  Elias Chelimo KEMBOI         KEN  2:10:29
9  Koen RAYMAEKERS              NED  2:11:09 
10 Yared Dagnaw SHAREW          ERI  2:11:28

WOMEN:
1  Aberu KEBEDE                 ETH  2:25:25 
2  Magdalena LEWY-BOULET        USA  2:26:22 
3  Xialin ZHU                   CHN  2:29:42
4  Yevgenia DANILOVA            RUS  2:31:44 
5  Beatriz ROS BLANCO           ESP  2:32:28
6  Alina ISTADURA               ROM  2:33:36 
7  Zoila GOMEZ                  USA  2:33:54
8  Meseret MENGISTU             ETH  2:34:07 
9  Olga GLOK                    RUS  2:38:10 
10 Merel DE KNEGT               NED  2:38:41 
11 APRIL 2010: MILANO CITY MARATHON, ITALY
MEN: 
1  Jafred Chirchir KIPCHUMBA    KEN  2:09:15
2  Charles Kamathi WAWERU       KEN  2:11:24
3  Teferi Kebede BALCHA         ETH  2:11:35
4  Abebe Negewo DEGEFA          ETH  2:13:04
5  Robert CHEBOROR              KEN  2:13:46
6  Sentayehu Ejigu MERGA        ETH  2:15:38
7  Elijah Sang KIPRUTO          KEN  2:16:03
8  William Todoo ROTICH         KEN  2:17:28
9  Abdelkebir LAMACHI           MAR  2:19:53
10 Ahmed EZZOBAYRY              FRA  2:19:53

WOMEN:
1  Asnakech Egigayeuh MENGISTU  ETH  2:25:50
2  Anne Berewe CHEPTANUI        KEN  2:28:22
3  Yeshimebet Tadesse BIFA      ETH  2:36:04
4  Marcella MANCINI             ITA  2:37:43
5  Jinxue CHANG                 CHN  2:42:47
6  Daneja GRANDOVEC             SLO  2:46:28
7  Sanna KULLBERG               FIN  2:48:09
8  Giuseppina CHIOLO            ITA  2:49:59
9  Beatriz MOLINA               SPA  2:50:50
10 Ilaria ZACCAGNI              ITA  2:53:04
11 APRIL 2010: 11TH SAO PAULO INT'L HALF MARATHON CORPORE, BRAZIL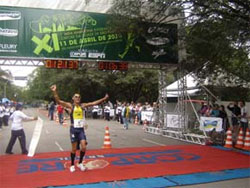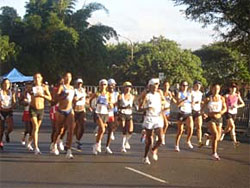 At 12km Mathew Cheboi Kiptoo took the lead and went on to win. "The atmosphere was great and I was ready. I had trained well and the flat course helped" he said. There was also a Kenyan winner in the women's race, and Elizabeth Chepkanan Romokol also noted that "it was an easy race. I liked the course very much."
Asics had offered a special award whereby the first runner to cross the finish line wearing Asics shoes was given a trip to the New York City Marathon. Marcos Alexandre Elias took the award, in fourth place overall.
MEN:
1  Mathew Kiptoo CHEBOI           KEN  1:03:49 
2  Kiprop MUTAI                   KEN  1:04:19 
3  Solonei Rocha DA SILVA         BRA  1:05:17 
4  Marcos Alex ELIAS              BRA  1:05:53 
5  Edson Tiburcio ALVES           BRA  1:05:53 
6  Francisco Barbosa DOS SANTOS   BRA  1:06:25 
7  Adriano BASTOS                 BRA  1:06:35 
8  Fabiano Gomes DOS SANTOS       BRA  1:07:08 
9  Marildo José BARDUCCO          BRA  1:07:12 
10 Renilson Vitorino DA SILVA     BRA  1:07:33 
 
WOMEN:
1  Elizabeth Chepkanan ROMOKOL    KEN  1:14:40 
2  Leah JEROTICH                  KEN  1:15:15 
3  Michele Cristina DAS CHAGAS    BRA  1:15:32 
4  Maria Zeferina BALDAIA         BRA  1:15:57 
5  Rosangela Raimunda FARIA       BRA  1:16:17 
6  Fabiana Cristine DA SILVA      BRA  1:16:43 
7  Ednah MUKHWANA                 KEN  1:17:19 
8  Noeme Maria PEREIRA            BRA  1:18:25 
9  Adriana Aparecida DA SILVA     BRA  1:18:48 
10 Sirlene Sousa DE PINHO         BRA  1:20:17
11 APRIL 2010: ZURICH MARATHON, SWITZERLAND
Photos: Erwin Züger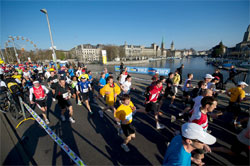 Despite a slight drop in the number of participants spectators were out in force on a bright and sunny day, and a festive atmosphere filled the city. Of the 5,243 registered runners, 4,567 started and 4,451 finished coming from 43 countries and all continents.
The 8th edition, which for the firast time included a relay race, started at 08.30 under clear blue skies in front of the Hafendamm Enge on the Zurich lakeshore. A lead group of African runners quickly emerged but it was only at 35km that the group had thinned out to just four Kenyans. From 40km the contest became David Kiprono Langat against Stanley Leleito as Daniel Kiptum and Kiprop Korir Tuwei fell back. It was 36-year old Langat who prevailed, but in third place Kiptum ran the fastest ever time for a deaf runner by 44 seconds.
Olga Rosseeva won the women's division, after a smooth race in which she was untroubled.
The 1st Annual Zurich Relay Marathon enjoyed an entry of 320 teams. Next year's Zurich Marathon will take place on 17 April, 2011.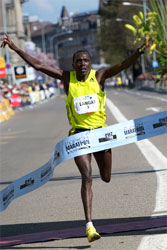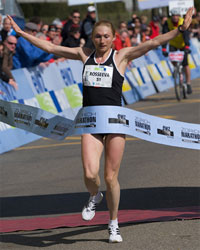 MEN:
1  David Kiprono LANGAT           KEN  2:11:04
2  Stanley LELEITO                KEN  2:11:37
3  Daniel KIPTUM                  KEN  2:14:01
4  Kiprop Koriri TUWEI            KEN  2:14:33
5  Hailu BEGASHAW                 ETH  2:16:15
6  Tewodros ZEWDU                 ETH  2:17:52
7  Dereje TEFERA                  ETH  2:20:02
8  Tarcis ANCAY                   SUI  2:20:54
9  Hussein AWADAH                 LIB  2:21:17
10 Patrick WIESER                 SUI  2:21:26
 
WOMEN:
1  Olga ROSSEEVA                  RUS  2:23:08
2  Lena GAVELIN                   SWE  2:25:14
3  Emebet ABOSSA                  ETH  2:29:52
4  Rachel BERCHTOLD               SUI  2:47:11
5  Luzia  SCHMID                  SUI  2:48:07
6  Addis GEZAHEGNE                ETH  2:49:04
7  Karin JAUN                     SUI  2:50:08
8  Sandra WYSS                    SUI  2:53:57
9  Denise ZIMMERMANN              SUI  2:56:42
10 Maja MENEGHIN-PLISKA           SUI  2:58:20
11 APRIL 2010: SANTIAGO MARATHON, CHILE
MEN:
1  Alene RETA                     ETH  2:12:33
2  Jacob CHAMER                   KEN  2:12:52
3  Isaac MACHARIA                 KEN  2:13:50
4  Christopher KIPYEGO            KEN  2:19:56
5  Francisco Medes MORALES        CHI  2:21:00
6  Eugenio Galaz SANUEZA          CHI  2:22:46
7  Raul Mora RIVERA               CHI  2:24:50
8  Sergio Lopez DURAN             CHI  2:25:16
9  Framcisco Gomez MUNOZ          CHI  2:29:03
10 Mauricio FLANDEZ               CHI  2:29:44
 
WOMEN:
1  Erika De La Fuente OLIVERA     CHI  2:36:19
2  Clara Urzua MORALES            CHI  2:39:19
3  Natalia Jaramllo ROMERO        CHI  2:44:24
4  Paulina Castillo MAMANI        PER  2:49:31
5  Paulina Gonzalez COVARRUBIAS   CHI  3:11:38
11 APRIL 2010: 2ND DAEGU INTERNATIONAL MARATHON, KOREA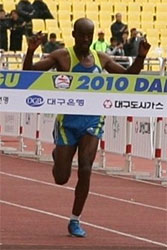 Deressa Chimsa fell 14 seconds short of last year's course record, but Yeshi Esayias defended her title and broke her own course record writes Bob Ramsak.
Chimsa broke away from 2009 winner Ji Young-Jun after 35km to take a convincing victory in his first race since dropping out of last year's World championships Marathon in Berlin.
In the women's race, 24-year-old Esayias recorded the fastest time of her career, well ahead of a close-run finish for second and third.
MEN:
1  Deressa CHIMSA                 ETH  2:08:45
2  Young-Jun JI                   KOR  2:09:31
3  Wegayehu Girma TEFERA          ETH  2:10:09 
4  Sammy KURGAT                   KEN  2:11:29  
5  Philip KIMUTAI                 KEN  2:12:52  
6  Dmitriy SAFRONOV               RUS  2:12:55 
7  Samson BARMAO                  KEN  2:12:59  
8  Wolaye AMARE                   ETH  2:13:12 
9  Joseph NGENY                   KEN  2:13:52  
10 Raymond KIPKOECH               KEN  2:14:21  

WOMEN:
1  Yeshi ESAYIAS                  ETH  2:29:17
2  Harun MAKDA                    ETH  2:30:44  
3  Mulu SEBOKA                    ETH  2:30:47  
4  Martha MARKOS                  ETH  2:32:11 
5  Eun-Jung LEE                   KOR  2:32:22  
6  Risper KIMAYO                  KEN  2:32:28  
7  Leah MALOT                     KEN  2:34:57  
8  Yanan WEI                      CHN  2:35:46  
9  Sun-Sook YUN                   KOR  2:35:59
10 Sun-Young LEE                  KOR  2:37:58
17 APRIL 2010: PARDUBICE WINE HALF MARATHON, CZECH REPUBLIC
MEN:
1  Cosmas KYENA                   KEN  1:03:10
2  Ben CHEBOI                     KEN  1:03:41
3  Michael Rutto CHETOO           KEN  1:03:44
4  Boniface WAMBUA-NDUVA          KEN  1:03:51
5  Samuel Kamiti MUNGARA          KEN  1:06:12
6  Tomas MATIJOSIUS               LTU  1:06:35
7  Aurimas SKINULIS               LTU  1:08:09
8  Daniel ORALEK                  CZE  1:08:22
9  Jan MRAZEK                     CZE  1:10:36
10 Jiri CIVRNY                    CZE  1:11:06
 
WOMEN:
1  Jane Wanjiku GAKUNYI           KEN  1:13:21
2  Purity Wangui MACHARIA         KEN  1:13:21
3  Lucia Mwihaki KIMANI           BSH  1:13:33
4  Anna PICHRTOVA                 CZE  1:18:30
5  Tana Metelkova                 CZE  1:19:14
6  Anna JAKUBCZAK                 POL  1:20:23
7  Radka CHURANOVA                CZE  1:22:56
8  Ivana MARTINCOVA               CZE  1:23:23
9  Myroslava PETRONYUK            UKR  1:25:03
10 Michaela DIMITRIADU            CZE  1:28:32
18 APRIL 22010: NAGANO OLYMPIC COMMEMORATIVE MARATHON, JAPAN
MEN:
1  Nicholas CHELIMO               KEN  2:10:24
2  Peter KARIUKI                  KEN  2:11:30
3  Shadrack KIPLAGAT              KEN  2:12:49 
4  Masaru TAKAMIZAWA              JPN  2:13:04 
5  Etsu Miyata                    JPN  2:13:19
6  Anthony WANGECI                KEN  2:14:49 
7  Tomohiro SETO                  JPN  2:15:26 
8  Abiyote GUTA                   ETH  2:18:06
9  Tomonori ONITSUKA              JPN  2:18:22 
10 Eric WAINANA                   KEN  2:19:14 
 
WOMEN:
1  Lisa WEIGHTMAN                 AUS  2:28:48
2  Olena BURKOVSKA                UKR  2:31:53 
3  Eri HAYAKAWA                   JPN  2:33:05 
4  Kiyoko SHIMAHARA               JPN  2:34:46
5  Irene LIMIKA                   KEN  2:36:26 
6  Chinatsu MARUOKA               JPN  2:38:45 
7  Kate SMYTH                     AUS  2:39:27 
8  Naoko TSUCHIYA                 JPN  2:39:35 
9  Chihiro TANAKA                 JPN  2:42:39 
10 Miya NISHIO                    JPN  2:43:15 
18 APRIL 2010: BELGRADE TIME FORCE MARATHON, SERBIA
Photos: Belgrade Marathon Ltd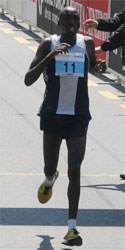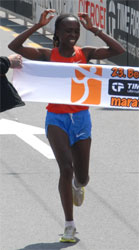 Running into a headwind for much of the race 22-year Johnstone Maiyo won decisively against a group of his compatriots in only his second marathon writes Pat Butcher. He had confidently predicted victory two days earlier and remained so even when among a group of six with 10km to run. "It was very windy" he said. "That's why I didn't take the lead too soon, but when we got to 35km I knew I had to go."
Maiyo built up almost a minute's margin of victory in the final 6km back into the city centre, by which time the temperature had risen towards 20°C. Another Kenyan Hellen Mugo had an even easier victory in the women's race well ahead of Volha Rezkaya of Belarus.
MEN:
1  Johnstone MAIYO                KEN  2:16:23
2  Sammy KIBET                    KEN  2:18:15
3  Paul LOPIO                     KEN  2:18:19
4  Sammy ROTICH                   KEN  2:19:29
5  Victor KIMELI                  KEN  2:20:25
6  Paul KIPTANUI                  KEN  2:23:20
 
WOMEN:
1  Hellen MUGO                    KEN  2:41:19
2  Volha REZKAYA                  BLR  2:53:57
3  Neza MRAVJE                    SLO  2:59:30
18 APRIL 2010: VIENNA CITY MARATHON, AUSTRIA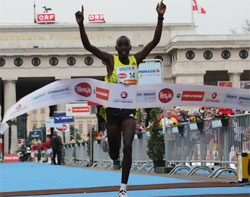 Kenyans took both wins in the 27th Vienna City Marathon for the first time in the history of the event which registered a record number of 32,940 runners from 108 nations. A strong headwind in parts of the race had slowed the elite runners considerably.
The men started fast passing 10km in 30:07, but the wind picked up strongly, pacemakers tired early and split times slowed. After reaching halfway in 64:30 the last pacemaker dropped out and the 11 runners sharing the lead at 25km (1:16:15) all slowed.
After 30km (1:32:19) four runners broke away: Henry Sugut and his fellow Kenyans Paul Kimugul and Joseph Lomala Kimosop as well as Ethiopia's Mesfin Ademasu. Then with around 5km to go Sugut surged away from this group. The 24 year-old Kenyan had only run one marathon before and now improved his best by two minutes. Austrian hope Günther Weidlinger suffered of a calf muscle problem and came in 12th with 2:14:05. Pre-race favourite Felix Limo was seventh while his fellow-countryman Luke Kibet, Kenya's World Marathon Champion from 2007, dropped out soon after the start with a calf muscle or Achilles tendon injury.
In the women's race a group of four runners reached the half way mark in 1:14:40. Among them were defending champion Andrea Mayr, the two-time Vienna winner Luminita Talpos (Romania/2007 and 2008) plus Irene Mogaka and Hellen Kimutai. The two Kenyans then took the lead and opened a substantial gap. Mogaka went six seconds clear with 7km to go but could not keep the pace and Hellen Kimutai overtook her 2km later. 32 year-old Kimutai had been second in Vienna 10 years ago.
MEN:
1  Henry SUGUT                  KEN  2:08:40 
2  Joseph LOMALA-KIMOSPO        KEN  2:09:32 
3  Mesfin ADEMASU               ETH  2:09:41 
4  Henryk SZOST                 POL  2:10:27 
5  Adam DRACZYNSKI              POL  2:10:49 
6  Paul KIMUGUL                 KEN  2:10:56 
7  Felix LIMO                   KEN  2:11:34 

WOMEN: 
1  Hellen KIMUTAI               KEN  2:31:08 
2  Irene-Kemunto MOGAKA         KEN  2:31:28 
3  Olha KELENAROVA-OCHAL        UKR  2:33:05 
4  Luminita TALPOS              ROM  2:33:37 
5  Andrea MAYR                  AUT  2:34:09 
6  Sharon TAVENGWA              ZIM  2:36:22
18 ARIL 2010: NICE INT'L HALF MARATHON, FRANCE
MEN:
1  Peter KIMELI                   KEN  1:01:34
2  Isaiah ONDIEKI                 KEN  1:01:42
3  Belete ASEFA                   ETH  1:02:45
4  Barnabas KOSGEI                KEN  1:03:13
5  Gishu DIDA                     ETH  1:03:14
6  Jairus CHANCHIMA               KEN  1:04:04
7  James THEURI                   FRA  1:05:14
8  Hsain MOUNIR                        1:06:13
9  Paolo SANDALI                       1:07:28
10 William STRUYVENS                   1:08:34
 
WOMEN:
1  Magdalene MUKUNZI              KEN  1:14:08
18 APRIL 2010: ALEXANDER THE GREAT MARATHON, GREECE
MEN:
1  Mehari Gebre BARAKI            ETH  2:15:11
2  Noah Kipsang TALAM             KEN  2:15:44 
3  James CHERUIYOT                KEN  2:16:15
4  Edwin Kimutai KIPCHOM          KEN  2:20:20
5  Irko Yada LEMECHA              KEN  2:21:08
6  Lucho Seme ABDI                ETH  2:24:29 
7  Aregawi Alemayehu ABRHA        ETH  2:26:14
8  Teyounis DIMITRIOS             GRE  2:28:37
9  William  KIPTOO                KEN  2:29:26
10 Peter Njuguna KARIUKI          KEN  2:35:12
 
WOMEN:
1  Svitlana STANKO                UKR  2:41:18
2  Tigist Abdi SHENE              ETH  2:41:29
3  Nadezhda TRILINSKAYA           RUS  2:41:44
4  Gemilu Adamech BYENE           ETH  2:42:49
5  Rosaline DAVID                 KEN  2:42:50
6  Sisay Measso ARSEDE            ETH  2:50:43
7  Maria POULOUPATI               GRE  3:20:04
8  Sara SKOULARIKI                GRE  3:24:34
9  Patoura PHROSO                 GRE  3:24:44
10 Deli EVAGGELIA                 GRE  3:27:55
18 APRIL 2010: RABAT INT'L HALF MARATHON, MOROCCO
MEN:
1  John Nzau MWANGANGI            KEN  1:01:04
2  Falilk ADBELLAH                MAR  1:01:20
3  Tolcha Berhan SHIFERAW         ETH  1:01:41
4  Abdellah TAGHRAFET             MAR  1:01:53
5  Eticha Shumi GERBABA           ETH  1:02:03
6  Mustapha EL AZZIZ              MAR  1:02:21
7  Wolde Botoru TSEGAYE           ETH  1:03:03
8  Bernard Kipmoi ROTICH          KEN  1:03:06
9  Biratu Gudeta  GYDETAGMECHU    ETH  1:03:11
10 Riyad EL MUSTAPHA              BRN  1:03:17
 
WOMEN:
1  Mare Dibaba HURSSA             ETH  1:11:10
2  Goitetom TESEMA                ETH  1:11:33
3  Dergo Fatuma SADO              ETH  1:12:02
4  Samir RAYEF                    MAR  1:12:07
5  Jara Dehininent DEMSW          ETH  1:12:19
6  Malika BEL FAKIR               MAR  1:14:14
7  Amira BEN AMOR                 MAR  1:19:19
8  Hafida NARMOUCH                MAR  1:20:59
9  Yuliya SYOSEEVA                RUS  1:22:01
10 El Bouazaaoui SANAE            MAR  1:22:41
18 APRIL 2010: DALIAN MARATHON, CHINA
MEN:
1  Stephen CHEMLANY               KEN  2:13:10
2  William MUSYOKI                KEN  2:13:11
3  Christopher KIPKEMBOI          KEN  2:13:19
4  Guojian DONG                   CHN  2:13:23
5  Zhenlong ZHANG                 CHN  2:13:28
6  Gert THYS                      RSA  2:13:47
7  Patrick ROTICH                 KEN  2:14:23
8  Justus MEBUR                   KEN  2:14:40
9  Youcai LI                      KEN  2:16:56
10 Henry KAPKIAI                  KEN  2:17:01

WOMEN:
1  Rong CHEN                      CHN  2:30:09
19 APRIL 2010: BAA BOSTON MARATHON, USA
Photos: Getty Images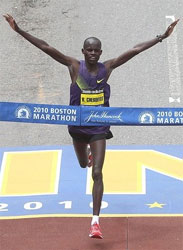 Robert Kiprono Cheruiyot demolished the course record in the 114th edition writes Parker Morse. Cheruiyot took a staggering minute and twenty-two seconds off the previous record of 2:07:14 set by Robert Kipkoech Cheruiyot (no relation) in 2006. Teyba Erkesso held off the late-charging Russian Tatyana Pushkareva in the closing steps.
With halfway splits of 1:03:24 and 1:02:28 Cheruiyot underlined long-standing wisdom that the best way to run the Boston course is to run the second, hillier half faster than the first, largely downhill half.
Ryan Hall led the pack down from Hopkinton pushing on the downhill sections and relaxing on the uphills. The pack reached halfway mark on sub-2:07 pace, then began racing in earnest as they entered the series of four hills, culminating in the infamous Heartbreak Hill. Defending champion Deriba Merga broke the pack apart with an injection of pace just before 30km. Cheruiyot followed cautiously. Cresting the hills Cheruiyot then dropped Merga.
Cheruiyot, only 21, became the first man under 2:07, not to mention 2:06, on the Boston course. Tekeste Kebede passed a fast-fading Merga to take second in 2:07:23, now the 5th fastest ever on the Boston course; Merga ran 2:08:39, and Hall finished fourth in 2:08:41.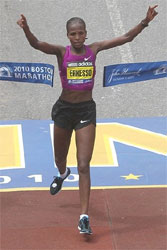 In the women's race Teyba Erkesso broke away from a pack of eight before reaching halfway. Like Cheruiyot, she also ran a faster second half and built a lead which at one point was more than two minutes. She ran most of the second half alone, and struggled to hold on as Tatyana Pushkareva chipped away at her lead in the closing miles. In the end Erkesso won by just three seconds, the third-smallest winning margin in Boston history (2009 and 2008 margins were 1 and 2 seconds). Defending champion Salina Kosgei came in third just a second ahead of Waynishet Girma. 2008 champion Dire Tune dropped out before the 30km mark.
MEN:
1  Robert CHERUIYOT               KEN  2:05:52
2  Tekeste KEBEDE                 ETH  2:07:23
3  Deribe MERGA                   ETH  2:08:39
4  Ryan HALL                      USA  2:08:41
5  Meb KEFLEZIGHI                 USA  2:09:26
6  Gashaw ASFAW                   ETH  2:10:53
7  John KOMEN                     KEN  2:11:48
8  Moses Kigen KIPKOSGEI          KEN  2:12:04
9  Jason LEHMKHULE                USA  2:12:24
10 Alejandro SUAREZ               MEX  2:12:33

WOMEN:
1  Teyba ERKESSO                  ETH  2:26:11
2  Tatyana PUSHKAREVA             RUS  2:26:14
3  Salina KOSGEI                  KEN  2:28:35
4  Waynishet GIRMA                ETH  2:28:36
5  Bruna GENOVESE                 ITA  2:29:12
6  Lidiya GRIGORYEVA              RUS  2:30:31
7  Yurika NAKAMURA                JPN  2:30:40
8  Weiwei SUN                     CHN  2:31:14
9  Nailya YULAMANOVA              RUS  2:31:48
10 Albina Mayorova-IVANOVA        RUS  2:31:55 
25 APRIL 2010: MOBEL KRAFT MARATHON HAMBURG, GERMANY
MEN:
1  Wilfred KIGEN                KEN  2:09:22
2  Arado U BUTA                 NOR  2:09:27
3  Zerea B BERAKI               ERI  2:10:06
4  Kipchirchir J KIPRONO        KEN  2:10:16
5  Matthew K KIBOWEN            KEN  2:10:57
6  Ignacio CACERAS              ESP  2:12:49
7  Regis BORDIER                FRA  2:22:31
8  Alvaro JIMENEZ               ESP  2:23:48
9  Vincent NOTHUM               LUX  2:27:35
10 Magnus KRETH                 GER  2:28:27

WOMEN:
1  Sharon CHEROP                KEN  2:28:38
2  Eshetu B DEGEFA              ETH  2:29:48
3  Beata NAIGAMBO               NAM  2:33:00
4  Elizabeth CHEMWENO           KEN  2:33:24
5  Tetyana MEZENTSEVA           UKR  2:34:24
6  Chemunge S CHELIMO           KEN  2:37:20
7  Alemitu BEKELE               BEL  2:37:35
8  Lilian CHELIMO               KEN  2:40:41
9  Kajsa BERG                   SWE  2:45:25
10 Johanna KYKYRI               FIN  2:46:10
25 APRIL 2010: MARATON POPULAR DE MADRID, SPAIN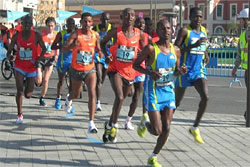 The 33rd 'Maratón Popular de Madrid' attracted more than 10,000 runners from no fewer than 49 countries. Thomson Cherogony set a new course record by three seconds writes Emeterio Valiente. A large group of Africans passed 10km in 31:07, and halfway in 1:05:21. At 25km Eritrea's Adhanom Abraha was followed by the Kenyan trio of Cherogony, Dickson Chumba and Jonathan Kipkosgei, the latter already a Madrid winner back in 2007. At 35km (1:48:11) Cherogony and Kipkosgei (1:48:11 the 35km split) left Chumba behind but the closing 3km uphill section proved too tough for Kipkosgei and he was taken by Chumba while Cherogony ran on to victory.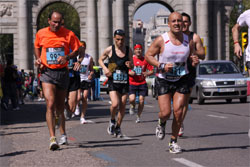 Pre-race favourite Magadaline Chemjor faded badly in the last 10km to finish well behind Ethiopia's Girma Tadesse. The halfway split was 1:15:30 as the Kenyan pair of Lydia Njeri and Chemjor led Tadesse and Dais Letay of Ethiopia, along with Poland's Justyna Bak. As Chemjor faded Tadesse proved strongest over the last 2km, romping home 100m ahead of her compatriot.
A 10km race opened the day in which Ethiopia's Haile Gebrselassie just jogged to a 28:56 win ahead of Francisco España, who was timed at 30:28. Gebrselassie turned 37 last Sunday (18 April).
MEN:
1  Thomson CHEROGONY            KEN  2:11:27 
2  Dickson CHUMBA               KEN  2:11:54
3  Jonathan KIPKOSGEI           KEN  2:13:06
4  David TONIOK                 KEN  2:14:45
5  Miguel Ángel GAMONAL         ESP  2:17:27
6  Rachid NADIJ                 ESP  2:18:01
7  Pablo LOPEZ                  ESP  2:18:43
8  Yousef AAKOU                 ESP  2:19:44
9  Asier CUEVAS                 ESP  2:20:30
10 Kahsay KIDANE                ERI  2:21:23

WOMEN:
1  Desta Girma TADESSE          ETH  2:34:39
2  Dais LETAY                   ETH  2:34:58
3  Justyna BAK                  POL  2:37:52
4  Lydia Njeri MATHATI          KEN  2:38:55
5  Tigist KILTE                 ETH  2:43:31
6  Ana CASARES                  ESP  2:47:50
7  Magdaline CHEMJOR            KEN  2:50:38
8  Esther HIDALGO               ESP  2:51:52
9  Leonor PEREZ                 ESP  2:57:31
10 Marta FIGUEREDO              CUB  3:04:40
25 APRIL 2010: ENSCHEDE MARATHON, NETHERLANDS
MEN:
1  John KELAI                   KEN  2:12:17
2  Julius K KORIR               KEN  2:12:34
3  Jacob YATOR                  KEN  2:12:43
4  Gilbert K ROTICH             KEN  2:13:12
5  Gemechu WORKU                ETH  2:13:51
6  Pius M MUTUKU                KEN  2:14:18
7  Michael N KIMANI             KEN  2:14:23
8  Amos MAIYO                   KEN  2:16:14
9  Edwin KIMAIYO                KEN  2:18:41
10 Eric KIGEN                   KEN  2:21:47

WOMEN:
1  Ingrid PRIGGE                NED  2:46:25
2  Stephanie WARNER             NED  3:15:40
3  Mieke HEKKERS                NED  3:32:58
4  Josien AVESKAMP              NED  3:34:27
5  Martine WITHAG               NED  3:34:33
6  Gerry VISSER                 NED  3:36:43
7  Alien KRUIZE                 NED  3:37:24
8  Sophie DE KEERSMAEKER        NED  3:39:09
9  Marianne VAN DER VEEN        NED  3:39:48
10 Michaela HOFFNER             NED  3:40:01 

HALF MARATHON
MEN:
1  Leon SANDERMAN               NED  1:12:34
2  Jan PAALMAN                  NED  1:13:15
3  Rooney AGTEN                 NED  1:14:16

WOMEN:
1  Naomy JEPKOSGEI              KEN  1:18:21
2  Emily CHEMUTAI               KEN  1:18:24
3  Sharon TAVENGA               ZIM  1:21:52
25 APRIL 2010: BIG SUR INT'L MARATHON, USA
The 25th anniversary event sold out 4600 registered marathoners. A total of 8,254 from a variety of distance events crossed the finish line, coming from all 50 states and 29 countries. First time marathoner Daniel Tapia took off from the start and never looked back. Coming in behind him was 36-year old Michael Wardian who was crowned the 'Boston 2 Big Sur Challenge' victor from among 300 who had completed the Boston Marathon six days earlier. He had also completed the six-day Marathon des Sables across the Saraha Desert only 10 days earlier.
MEN:
1  Daniel TAPIA                   USA  2:26:09
2  Michael WARDIAN                USA  2:27:39
3  Christopher MOCKO                   2:33:05
4  Rich HANNA                          2:33:49
5  Justin CHASTON                      2:35:53
6  Jesus CAMPOS                        2:36:37
7  Joseph PHELAN                       2:39:00
8  Louis-Philippe GARNIER         CAN  2:39:49
9  Daniel SNYDER                       2:40:48
10 Chris CALZETTA                      2:45:18
 
WOMEN:
1  Veronica CLEMENS               USA  2:55:18
2  Melinda SCHWARZ                USA  3:08:11
3  Erin CRUM                           3:09:22
4  Tamar GAMLIEL                       3:10:43
5  Sarah PLAXTON                       3:11:14
6  Stacey CHASTON                      3:11:22
7  Nikia BRAUTOVICH                    3:16:08
8  Suzy WEST                           3:17:52
9  Hannah KUNKLE                       3:20:11
10 Alexandra HASERT                    3:22:49
25 APRIL 2010: MARATONA SANT ANTONIO, ITALY
MEN:
1  Gilbert CHEPKWONY              KEN  2:10:45
2  Giovanni GUALDI                ITA  2:13:39
3  Abraham CHELANGA               KEN  2:15:38
4  Benjamin CHEBOI                KEN  2:16:52
5  Gabor SZABO                    HUN  2:27:11
6  Franko PLESNIKAR               ITA  2:29:36
7  Antonio SANTI                  ITA  2:29:50
8  Claudio CAVALLI                ITA  2:30:44
9  Eliije KIBET                   KEN  2:30:53
10 Juan SALVADOR                  ESP  2:33:55
 
WOMEN:
1  Rael KIYARA                    KEN  2:30:18
2  Priscah LEPTOO                 KEN  2:30:53
3  Lisa BORZANI                   ITA  2:57:40
4  Simona PILI                    ITA  2:59:32
25 APRIL 2010: GOLDEN HORN HALF MARATHON, TURKEY
MEN:
1  Abdulkader TURK                TUR  1:06:52
2  Ramazan ISMEL                  TUR  1:14:39
3  Murat KAYA                     TUR  1:15:20
4  Mansuri YUKSEL                 TUR  1:15:57
5  Sinan KOSAY                    TUR  1:16:59
6  Zulkuf ISMEL                   TUR  1:17:18
7  Mustafa BULDUM                 TUR  1:17:24
8  Orhun Ugur TASTEKIN            TUR  1:17:49
9  Omer YUMAK                     TUR  1:18:18
10 Tahir SULUK                    TUR  1:18:25
 
WOMEN:
1  Tugba Merve CAVDAR             TUR  1:33:03
2  Susanna NIEL                   SWE  1:36:41
3  Bakiye DURAN                   TUR  1:37:25
4  Haki BINGOL                    TUR  1:37:48
5  Blanca Rincon AZNAR            ESP  1:38:32
6  Ozlem AYDIN                    TUR  1:39:18
7  Nurgun SAYAR                   TUR  1:43:24
8  Ulku Coskunoglu ABADAN         TUR  1:43:36
9  Sukran CAVLAK                  TUR  1:44:13
10 Handan ESER                    TUR  1:45:55
25 APRIL 2010: ANTWERP MARATHON, BELGIUM
MEN:
1  Nahashon KIMAITO               KEN  2:12:00
2  Luke KIPKOSGEI                 KEN  2:14:37
3  Dismas LOTIRA                       2:17:09
4  Fino Van GEYTE                 BEL  2:17:43
5  Koen NEVEN                     BEL  2:22:37
 
WOMEN:
1  Anne-Marie DUPONT              BEL  3:03:34
2  Liesbeth Van LEEUWEN           NED  3:04:41
3  Marijke GUILLEMYN              BEL  3:05:30
4  Christine WENZL                AUT  3:11:06
5  Linda BOURQUIN                 BEL  3:13:13
6  Vincianne LERATE               BEL  3:14:48
7  Katja MALFIET                  BEL  3:17:13
8  Petra SLIEPERS                 BEL  3:20:24
9  Veronique FARRUGIA             BEL  3:23:18
10 Valerie BROEKMANS              BEL  3:23:20
25 APRIL 2010: CRACOVIA MARATHON, POLAND
MEN:
1  Abebe DAGANE                   ETH  2:16:12
2  Dmitriy BARANOWSKI             BLR  2:22:16
3  Przemyslaw ROJEWSKI            POL  2:22:31
4  Anton POTOCKI                  POL  2:25:18
5  Damian ZAWERIUCHA              POL  2:27:22
6  Fredi MARTI                    SUI  2:30:36
7  Krzysztof SZCZEPANSKI          POL  2:30:58
8  Grzegorz CZYS                  POL  2:36:01
9  Marek DZIEGIELEWSKI            POL  2:36:49
10 Tadeuush ZHAUTOK               BLR  2:37:37
 
WOMEN:
1  Gete Etaferahu TAREKEGN        ETH  2:37:22
2  Agnieszka GORTEL               POL  2:39:15
3  Yulia VINOKUROVA               RUS  2:40:22
4  Tadelech BIRRA                 ETH  2:43:27
5  Elena TIKHONOVA                RUS  2:44:41
6  Olga GORBUNOVA                 RUS  2:49:30
7  Morgilene GYTE                 LIT  2:56:11
8  Colleen SUNDERLAND                  3:09:26
9  Agnieszka CADER                POL  3:15:53
10 Barbara GRUCA                  POL  3:16:11
April 2010