January 2010
1 JAN | 2 JAN | 7 JAN | 10 JAN | 16 JAN | 17 JAN | 20 JAN | 22 JAN | 24 JAN | 31 JAN
01 JANUARY 2010: NEUJAHRSMARATHON ZURICH, SWITZERLAND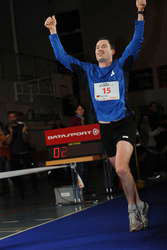 Since 1 January 2005 the Neujahrsmarathon in Zurich has started with the very first second of the New Year. This time a record of more than 600 runners participated during the night, an increase of more than 50% compared to previously. Runners came from 33 different nations from all over the world to take part in the marathon, half marathon and quarter marathon. Dirk Joos, a 29-year old German, won his first ever marathon victory, while in the women's marathon the first three runners all beat the course record, led home by 37-year old Swiss Astrid Mueller.
MEN:
1  Dirk JOOS                      GER  2:47:09
2  Dietmar VEITH                  GER  2:53:41
3  Richard WIDMER                 GER  3:02:28
4  Markus VON GUNTEN              SUI  3:03:38
5  Matthias KANNING               GER  3:03:53
6  Patrick WILLCOCK               RSA  3:07:44
7  Sven BLANCK                    SUI  3:09:24
8  Fredy KOSTER                   SUI  3:09:31
9  Pascal HAGENBACH               FRA  3:11:36
10 Flavio REIDER                  SUI  3:12:12

WOMEN:
1  Astrid MUELLER                 SUI  3:15:21
2  Rosa MOREIRA                   POR  3:16:58
3  Andrea HUSER                   SUI  3:23:53
4  Denise LINGUA                  SUI  3:30:08
5  Elisabeth RONDEAU              FRA  3:30:47
6  Katja GEHRUNG                  GER  3:31:12
7  Christina D'IGNAZIO            SUI  3:34:41
8  Hargrit KALTENREIDER           SUI  3:44:55
9  Isabelle BLASER                SUI  3:46:08
10 Yvonne HUGELSHOFER             SUI  3:46:35

HALF MARATHON
MEN:
1  Franck MORIAUX                 SUI  1:19:25
2  Richard STOFFEL                SUI  1:19:43
3  Daniel BOUZON                  SUI  1:20:03
 
WOMEN:
1  Christiane BOUQUET             SUI  1:30:19
2  Nicole FROHLICH                SUI  1:30:56
3  Esther ROETER                  SUI  1:33:34
2 JANUARY 2009: XIAMEN INT'L MARATHON, CHINA
Photos: Sasa Kralj/Jiwafoto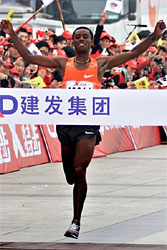 Rising star Feyisa Lilesa won in a new course record ahead of compatriot Negari Getachew Terfa and beating defending champion Samuel Muturi Mugo into third writes Cyrille Cartier. Atsede Bayisa became the first foreign athlete to win the women's race.
Lilesa, running only his second international marathon and his first in China, broke free of a tight-knit group at 38km. He beat Mugo's previous course record by four seconds, and his personal best by 25 seconds.
About 50,000 runners from 32 countries participated in the 5km, 10km, half-marathon, and marathon in dry conditions at about 11°C.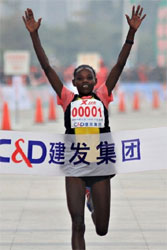 Ethiopian Berga Bekele and Kenyan David Kemboi Kiyeng paced together for most of the race. By 25km(1:16:30), the group was down to eight but it thinned further at 30km with Mugo, Terfa and Alemyehu Shumye one second ahead of Berga Bekele and Lilesa. By 35km Mugo, Terfa and Lilesa were away together, but at 38km Lilesa surged, leaving Mugo and in the 41st kilometre going ahead of Terfa.
In the women's race Atsede Bayisa, Paris Marathon winner last year, foreged ahead for a 5-minute winning margin over Sun Juan. Bayisa, 22, was running unchallenged by 27km. Sun was a second behind Bayisa for the first half but fell six seconds behind by 25km and 50 seconds by 30km. Five kilometres later Bayisa had built a two-minute lead.
MEN:
1  Feyisa LILESA                  ETH  2:08:47
2  Negari Getachew TERFA          ETH  2:09:40
3  Samuel Muturi MUGO             KEN  2:10:11
4  Kiprotich KENEI                ETH  2:10:46
5  Alemyehu SHUMYE                ETH  2:11:20
6  Berga BEKELE                   ETH  2:13:45
7  Abebe NGEWO                    ETH  2:14:11
8  Shunjin YIN                    CHN  2:14:16

WOMEN:
1  Atsede BAYISA                  ETH  2:28:53
2  Juan SUN                       CHN  2:34:12
3  Lingling JIN                   CHN  2:36:00
4  Junli ZHANG                    CHN  2:37:04
5  Chao YUE                       CHN  2:42:23
6  Junliang XU                    CHN  2:43:32
7  Yuan Yuan YIN                  CHN  2:48:37
8  Meng YANG                      CHN  2:51:17
7 JANUARY 2010: ZAYED INT'L HALF MARATHON, UNITED ARAB EMIRATES
Photo: Abdul Rahman/Gulf News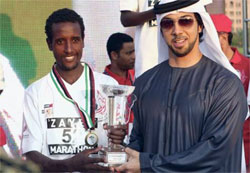 MEN:
1  Tilahun REGASSA                ETH  59:15
2  Sammy KITWARA                  KEN  59:34
3  Lelisa DESILD                  ETH  59:59
 
WOMEN:
1  Mary KEITANY                   KEN  1:07:14
2  Philes ONGORI                  KEN  1:09:16
3  Dire TUNE                      ETH  1:09:19
7 JANUARY 2010: TIBERIAS MARATHON, ISRAEL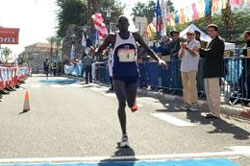 In very hot weather 1300 people finished the 33rd edition of the Marathon, and 2000 the associated 10km event writes Chelsea McCullough. The champion from 2007 and runner-up last year, Leonard Muchera, bolted through halfway in a world record-pace 1:01:49 but could not maintain such a ferocious pace. He led to 34km but then faded to finish in 11th place, in 2:18:55. His halfway split is an Israeli all-comers record for the half marathon, but he started to slow after 30km.
MEN:
1  Simon NJOROGE                    KEN  2:11:10
 
WOMEN:
1  Emily SAMOEI                     KEN  2:36:41
10 JANUARY 2010: MIZUNO HONG KONG HALF MARATHON CHAMPIONSHIPS
MEN:
1  Stefano PASSAROLLO             ITA  1:13:02
2  Gi Ka MAN                           1:13:54
3  Ka Ho CHAN                          1:14:41
4  Jonny Hok Lau YAI                   1:14:59
5  Yin Tik QUE                         1:15:07
6  Wun Yiu CHEONG                      1:15:12
7  Tat Ming CHOI                       1:16:20
8  Anson Kwok Cheung CHAN              1:16:31
9  Kit Chan CHAN                       1:16:45
10 Jacky Chap Man WANG                 1:17:19

WOMEN:
1  Rebecca YAU                         1:23:30
2  Kit Ching YIU                       1:24:40
3  Ying Suet LEUNG                     1:27:21
4  Sui Ping FAN                        1:28:01
5  Angelina Fun Sing KONG              1:28:54
6  Mandy Mun Tse CHOI                  1:29:36
7  Kit Yee CHAN                        1:30:26
8  Noriko ENDO                    JPN  1:31:05
9  Pui Shan CHAN                       1:31:19
10 Jane HODGSKIN                       1:31:47
16 JANUARY 2010: KINMEN INT'L MARATHON, CHINESE TAIPEI
MEN:
1  Chih-Ping HO                   TPE  2:23:08
2  Shih-Cheng HUANG               TPE  2:36:27
3  Chun-Wei TSAO                  TPE  2:38:36
 
WOMEN:
1  Viola Chepketing BOR           KEN  2:44:34
2  Hsiao-Yu LI                    TPE  2:54:04
3  Rose Jepkemboi CHESIRE         KEN  3:00:04
17 JANUARY 2009: STANDARD CHARTERED MUMBAI MARATHON, INDIA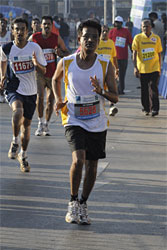 Running on a new course and on a relatively hot day, the defending champions were swept aside as new faces took over writes Ram Murali Krishnan. Last year's runner-up David Tarus led briefly but had problem in keeping contact as the group passed 11km. Pacemaker Simon Munyutu gave way at 15km leaving Simon Kasimli to lead compatriot Denis Ndiso and Ethiopians Gebo Burka and Haile Demissie at halfway, before dropping back. A second group included Kenyans Samson Limareng, Matthew Kibowen and Jonathan Kibet along with Ethiopians Siraj Amda Bene and Fekadu Kedir. As the runners approached the 4km-long newly opened Rajiv Gandhi Sea Link at 25km, only Ndiso and Burka were together and on the Sea Link, Ndiso kicked for home. He went on to record his first marathon win and a personal best as Amda Bene came from behind to take the second place. "I could have achieved better timing had there been cool weather," Ndiso said immediately after the race, adding that the last 5km was very hot.
Ethiopian women ruled the roads of Mumbai for the third year in succession, filling the top-10 places. Three-time winner Mulu Seboka and defending champion Haile Kebebush led a group of dozen Ethiopian from the start. The women offered better hopes than men of a course record but the heat and humidity slowed them. The leading group included Bizunesh Mohammed Urgesa, the world junior silver medalist in 3000m in 2008,who held off the challenge from her senior compatriots and remained in the bunch throughout. Firehiwot Dado Tufa, last year's Rome Marathon champion along with Azalech Masresha made up a group of five as they approached half-way, but Seboka and Tufa tired as the heat took its toll. Bizunesh and Kebebush were running shoulder to shoulder in the final stages and Bizunesh left it to the last 200m before kicking ahead to reach the tape just two seconds ahead. Bizunesh won the Eurasia Istanbul marathon last year, but set a personal best in Mumbai.
A Veterans' race, a 6km Dream Run a Wheelchair event and a half marathon were all held simultaneously with the Marathon. The Dream Run had 20,541 participants and included many Bollywood celebrities.
MEN:
1  Denis NDISO                    KEN  2:12:34
2  Siraj GENA                     ETH  2:13:58
3  Samson LIMARENG                KEN  2:14:24
4  Jonathan KIBET                 KEN  2:14:29
5  Matthew BOWEN                  KEN  2:14:55
6  Fekadu KEDIR                   ETH  2:15:27
7  John MUTAI                     KEN  2:16:38
8  Gezahagne GIRMA                ETH  2:17:32
9  Simon TONUI                    KEN  2:17:41
10 Haile DEMISSIE                 ETH  2:19:29
 
WOMEN:
1  Bizunesh MOHAMED               ETH  2:31:09
2  Haile KEBEBUSH                 ETH  2:31:11
3  Azalech MASRESHMA              ETH  2:32:12
4  Mulu SEBOKA                    ETH  2:32:46
5  Firewot DADO                   ETH  2:33:38
6  Tirework LEMMA                 ETH  2:36:52
7  Marta MARCOS                   ETH  2:38:18
8  Merima HASAN                   ETH  2:42:40
9  Seada Kedir ADILO              ETH  2:43:20
10 Ayelew LEMMA                   ETH  2:50:32
 
HALF MARATHON
MEN:
1  Sandeep KUMAR                  IND  1:06:18
2  Athew SOJI                     IND  1:06:22
3  Irappa AKKI                    IND  1:06:59
 
WOMEN:
1  Jayshree BOARGE                IND  1:26:06
2  Nilam KADAM                    IND  1:26:24
17 JANUARY 2010: CHINA COAST MARATHON, HONG KONG
MEN:
1  Darren BENSON                  AUS  2:44:26
2  Martin KENNARD                      2:46:13
3  William DAVIES                      2:52:28
4  Wai Kei CHUNG                       2:52:45
5  Tung Hoi YIP                        2:55:14
6  Adrian HORVATH                      2:56:59
7  Eric LAHAIE                         2:58:12
8  Cheung Leung LEE                    2:59:41
9  Man Fai CHUNG                       3:02:20
10 Wai Kin CHEUNG                      3:02:59
 
WOMEN:
1  Angelina KONG                  HKG  3:13:54
2  Pui Shan CHAN                  HKG  3:15:06
3  Chun Hing CHAN                 HKG  3:22:29
4  Mui Ying May CHONG             HKG  3:26:35
5  Catherine LEONARD              HKG  3:43:35
6  Wai Chan NG                         3:44:44
7  Anna PILLINGER                      3:45:53
8  Pauline TSE                         3:52:15
9  Yuko IZUTA                     JPN  3:53:25
10 Malia HIRSCHMANN                    3:54:29

HALF MARATHON
MEN:
1  Eric FELBABEL                  FRA  1:19:32
2  Kam Tai NG                     HKG  1:20:17
 
WOMEN:
1  Kit Yee CHAN                   HKG  1:30:46
2  Brigitte NIEDERBERGER          SUI  1:32:19
17 JANUARY 2010: MARATON INT'L DE CULIACAN, MEXICO
MEN:
1  Hilary KIMAIYO                     KEN  2:14:17
2  Mark Kipkosgei CHEPSES             KEN  2:16:41
3  Jose Ascencion ARREDONDO           MEX  2:17:51
4  George OKWORO                      KEN  2:25:52
5  Israel Avila ACOSTA                MEX  2:28:22
6  Faniel Camacho MEDINA              MEX  2:29:56
7  Bob ONYANCHA                       KEN  2:32:57
8  Luis Daniel Cardenas MIRANDA       MEX  2:35:36
9  David LIMO                         KEN  2:37:52
10 Arturo Martinez RAMIREZ            MEX  2:38:32
 
WOMEN:
1  Monica MUTHONI                     KEN  2:38:42
2  Janet Jelegat RONO                 KEN  2:38:52 
3  Judith Ramirez HERNANDEZ           MEX  2:43:24
4  Rose JEBET                         KEN  2:47:36
5  Sara Cedilo SANCHEZ                MEX  2:54:54
6  Rosalva Gudino GONZALEZ            MEX  3:03:01
7  Guadalupe Garcia GONZALEZ          MEX  3:05:04
8  Margarita Huerta RAMIREZ           MEX  3:05:27
9  Maria Rodriguez FONSECA            MEX  3:07:30
10 Margarita Reynoso VAZQUEZ          MEX  3:08:19
  
HALF MARATHON
MEN:
1  Jacob Ptuyot CHARMER               KEN  1:02:27
2  Shadrack KIYAI                     KEN  1:02:46
3  Isaac Kemboi KIMAYO                KEN  1:02:57
 
WOMEN:
1  Adriana Fernandez MIRANDA          MEX  1:14:27 
2  Philles MORITI                     KEN  1:17:25
3  Corina Aldaba GUZMAN               MEX  1:20:35
20 JANUARY 2010: CORRIDA INT'L DE SAO SEBASTIANO, BRAZIL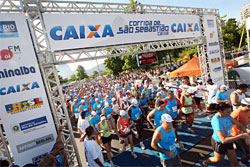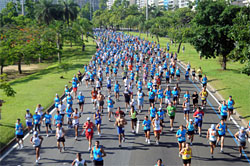 MEN:
1  Giovani DOS SANTOS                  BRA  30:17
2  Kipkemei MUTAI                      KEN  30:23
3  Gilberto Silvestre LOPES            BRA  30:33
4  Jose Gutembergue FERREIRA           BRA  30:43
5  Cosme Ancelmo DE SOUZA              BRA  31:07
6  Watila Fernandez SALES              BRA  31:18
7  William Salgado GOMES               BRA  31:22
8  Jose Sarvaia FRAZAO                 BRA  31:38
9  Adair Jose Enrique DOS SANTOS       BRA  31:41
10 Eder Gomes DE MATOS                 BRA  21:48
 
WOMEN:
1  Rosangela Raimunda P FARIA          BRA  36:07
2  Vianca Pereira NATLALY              BRA  37:47
3  Camila Aparecida FOS SANTOS         BRA  38:12
4  Gisele LISBOA                       BRA  38:40
5  Raimunda Maria Brito DA FONSECA     BRA  40:45
6  Viviane Amorim FIGUEIREDO           BRA  40:46
7  Lorilda do N F LORETI               BRA  41:33
8  Lorena ROSA                         BRA  44:44
9  Paula Cristina S DA SILVA           BRA  46:57
10 Ivani Gomes DOS SANTOS              BRA  48:07
 
5km
MEN:
1  Luis Henrique Dos Santos ALVES      BRA  16:02
2  Luis Henrique Da Silva FONSECA      BRA  16:06
3  Jayme Almeida CORDEIRO              BRA  17:16
 
WOMEN:
1  Arlete Soares ADAO                  BRA  20:03
2  Ana Paula DE SOUZA                  BRA  21:23
3  Maria Jose DO NASCIMENTO            BRA  23:36
22 JANUARY 2010: STANDARD CHARTERED DUBAI MARATHON, UNITED ARAB EMIRATES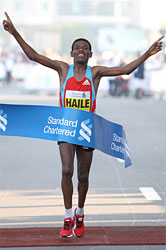 Haile Gebrselassie won for the third time in a row again pocketing $250,000, the richest prize in road running writes Pat Butcher. A back problem had ruled out a world record attempt from the start, but when Chala Dechase and Eshetu Wendimu caught him in the final stages he had a real race on his hands. He drew on 20 years of experience to pull through to his eighth victory in 10 completed marathons, with an average time of 2:05:40, easily the most consistently marathoner ever. Dechase improved his personal best by two minutes, and Wendimu, repeating his third placing of last year, also ran two minutes faster. "When the pacemakers dropped at 30km I tried to go but I couldn't change gear" said Gebreselassie. "I waited for the second group, and just tried to win."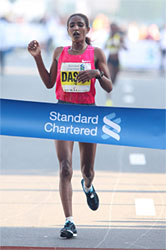 The upset was reserved for the women's race, where Mametu Daska upset the favourites, Bezunesh Bekele and Askale Magarsa. A group of eight reached halfway together but then began to break up with only Daska, debutante Aberu Shewaye and last year's third placer, Helena Kirop, still left in contention at 35km. Kirop dropped back a kilometre later, and Daska and Shewaye continued their struggle until after 40km. Despite being violently sick in the finishing straight, Daska held onto the 50m lead she had forged in the last kilometre, to collapse across the finish line, in another personal best. Kirop was again third, also in a personal best.
Conditions were better than expected, with the humidity dropping as the race progressed and the temperature only rising from 17-18°C between start and finish.
MEN:
1  Haile GEBRSELASSIE             ETH  2:06:09 
2  Chala DECHASE                  ETH  2:06:33
3  Eshetu WENDIMU                 ETH  2:06:46 
4  Abiyote GUTA                   ETH  2:09:03 
5  Debele TULU                    ETH  2:09:43 
6  Abraham CHELANGA               KEN  2:10:28 
7  Dejene YIRDAW                  ETH  2:10:50 
8  Leonard MUCHERU                KEN  2:11:08 
9  Japhet KOSGEI                  KEN  2:11:20 
10 Yimane MEKONNEN                ETH  2:12:39 
 
WOMEN: 
1  Mametu DASKA                   ETH  2:24:18
2  Aberu SHEWAYE                  ETH  2:24:26 
3  Helena KIROP                   KEN  2:24:54
4  Bezunesh BEKELE                ETH  2:26:05
5  Isobella ANDERSSON             SWE  2:26:52 
6  Askale MAGARSA                 ETH  2:27:29
7  Tedesse YESHIMEBET             ETH  2:27:45 
8  Genet GETANEH                  ETH  2:30:23
9  Woyshinet TAFA                 ETH  2:32:06
10 Shuru DIRIBA                   ETH  2:32:36
24 JANUARY 2010: MEDIO MARATON INT'L DE SANTA POLA, SPAIN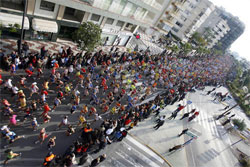 With record participation of 6947 starters and 5941 finishers this year's race saw a course record in both the men's event and the women's, with husband-and-wife winners Erick Kibet and Joyce Chepkirui. The organizers of this race, in a small tourist town of no more than 30,000 inhabitants close to Alicante, were more than happy with the success of the event, which returns better performances year by year.
MEN:
1  Erick KIBET                    KEN  1:01:10
2  Stephen TUM                    KEN  1:01:28
3  Bernard ROTICH                 KEN  1:01:58
4  Hassan BELKHANOUCH             MAR  1:03:52
5  Mohammed BLAL                       1:03:54
6  Javier Diaz CARRETERO          ESP  1:05:04
7  Abdelaziz DAHHAOUI                  1:05:26
8  Mico MARTINEZ                  ESP  1:07:18
9  Luis del Aguila PEREZ          ESP  1:08:09
10 Tiahui EL HASSAN                    1:08:54
 
WOMEN:
1  Joyce CHEPKIRUI                KEN  1:10:27
2  Helah KIPROP                   KEN  1:15:24
3  Gladys JEBET                   KEN  1:15:52
4  Wafiya BENALI                       1:16:06
5  Ricarda LISK                   ESP  1:21:33
6  Ma.Raquel Miras COSTA          ESP  1:23:15
7  Ma.Angeles Tetuan ALBELDA           1:24:47
8  Marta JIMENEZ                  ESP  1:26:26
9  Sabrina Rico CAMPILLO          ESP  1:26:55
10 Marta Cambra PORCEL            ESP  1:26:57
24 JANUARY 2010: KHON KAEN INT'L MARATHON, THAILAND
MEN:
1  Kennedy Kiptoo LILAN           KEN  2:17:21
2  Julius Kiplomo MAISEI          KEN  2:17:46
3  Joel Kiplimo KEMBOI            KEN  2:19:52
4  Edward Kiplagat KIPROP         KEN  2:21:12
5  Tewodros Zewde ASFAW           ETH  2:22:23
6  Elly Kipyego BETT              KEN  2:26:33
7  Hillary LAGAT                  KEN  2:26:45
8  Amoz Kipchirchir BORE          KEN  2:28:31
9  Paul Kiptum KIGEN              KEN  2:28:33
10 Mesele MASEBO                  ETH  2:33:00
 
WOMEN:
1  Fridah Jepkite LODEPA TOO      KEN  2:54:59
2  Pamela Jemeli KIPCHOGE         KEN  2:55:50
3  Leah KUSAR                     KEN  2:57:15
4  Bornes Jepkirui KITUR          KEN  2:57:16
5  Sunisa SAILOMYEN               THA  3:02:16
6  Lucy Karimi MUGAMBI            KEN  3:06:25
7  Nazzha EZZANI                  MAR  3:14:23
8  Amnuay KIAM-NGULEUAM           THA  3:17:09
9  Ketmanee SENAPHAN              THA  3:18:11
10 Thanyathorn SAMUTNOI           THA  3:20:43
 
HALF MARATHON
MEN:
1  Willy TANUI                    KEN  1:07:48
2  Anthony Kosgei CHEPTOO         KEN  1:07:50
3  Sila Kipruto SEMATEI           KEN  1:08:23
 
WOMEN:
1  Saifon BOONJANG                THA  1:23:08
2  Suwaree DEENAK                 THA  1:28:06
3  Thanaporn ASSWAWONGCHAROEN     THA  1:28:56
24 JANUARY 2010: MAUI OCEANFRONT MARATHON, USA
MEN:
1  Jon MCGONAGLE                  USA  2:55:43
2  Dylan RIST                     USA  2:58:44
3  Matt WEST                      USA  3:04:40 
4  Ronald LITTLE                  USA  3:08:21
5  Aaron BRYANT                   CAN  3:12:41
6  Peter MURCHIE                  USA  3:21:52  
7  James DEAN                     CAN  3:27:09  
8  Doug ANDREWS                   USA  3:28:40
9  Stanley HUP                    USA  3:29:30
10 Vincent HO                     USA  3:31:12
 
WOMEN:
1  Jamie SNOWHILL                 USA  3:40:06
2  Miriam SCHUMAN                 USA  3:44:36
3  Brigette SCHEISS               USA  3:44:59
4  Angela SY                      USA  3:47:31
5  Tomoko FUKUSHIMA               JPN  3:48:28
6  Erin HALL                      USA  3:50:50
7  Pamela GABORSKI                USA  3:51:24
8  Connie KILLAM                  CAN  3:55:28
9  Mandy BISCOE                   USA  3:55:55
10 Kristin DROST                  USA  3:56:42
31 JANUARY 2010: OSAKA INT'L LADIES MARATHON, JAPAN
Photo: Yohei Kamiyami/Agence SHOT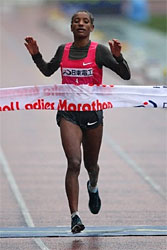 Surging away from Marisa Barros with less than 4km to go Amane Gobena scored Ethiopia's first ever victory in the race since it started in 1982 writes Ken Nakamura.
Gobena's previous best was 2:26:53 from the 2009 Los Angeles Marathon. Barros also recorded a personal best, while Mari Ozaki, running for the fourth time in this race, was third. "It was very fast from the start. I felt like running an ekiden," Ozaki said. "I was not watching the time though. Perhaps because of high pace at the beginning, I felt really cold in the later part of the race." Previous winner Lidia Simon fell back at 22km, but ran her own race to pick off runners and finish a very respectable fourth. In fifth Kayoko Obata, running the final marathon of her long career (26 starts with no DNFs), ran the fourth fastest time of her career. Debutantes Ryoko Kizaki and former cross country skier Azusa Noriji finished sixth and eighth.
In cold conditions with and an occasional drizzle, the race started at 12:10 from Nagai stadium, the venue of 2007 IAAF World Championships. The first kilometre passed in 3:22, immediately reducing the lead group to about 13 runners. With the relatively fast pace the lead pack was reduced to nine before 10km (33:46) and by 15km (50:22) the lead pack of six started to stretch out.
With pre-race favourite Yukiko Akaba still in front, the six reached halfway in 1:10:44, just 20 seconds behind record pace. Then Simon started to lose contact and soon after Kizaki also bagan to lag. Approaching 25km Barros began to drift behind but on the steep downhill near 26km, she went to the front followed by Gobena and Ozaki, while Akaba dropped to fourth. The gap gradually widened between Akaba and the three leaders.
With Barros leading, three runners passed 30km in 1:40:57 after which Ozaki fell back. At 31km Kizaki caught Akaba, who looked like she was in pain, to move into fourth. Just before 39km Akaba's coach and husband pulled her out of the race.
Under steady rain, the pace continued to slow. Barros and Gobena passed 35km in 1:58:08, followed by Ozaki 26 seconds later. Gobena took the lead at 38.5km, and the gap between her and Barros gradually widened. With an eight-second lead at 40km, the Ethiopian slowed considerably in the final stages but still took a convincing victory.
WOMEN (ONLY):
1  Amane GOBENA                   ETH  2:25:14 
2  Marisa BARROS                  POR  2:25:45 
3  Mari OZAKI                     JPN  2:26:27 
4  Lidia SIMON                    ROM  2:27:11 
5  Kyoko OBATA                    JPN  2:27:19 
6  Ryoko KIZAKI                   JPN  2:27:34 
7  Chika HORIE                    JPN  2:28:29 
8  Azusa NOJIRI                   JPN  2:29:12 
9  Ayumi NAKAYAMA                 JPN  2:32:43 
10 Seika IWAMURA                  JPN  2:33:15
31 JANUARY 2010: MARRAKECH INT'L MARATHON, MOROCCO
MEN:
1  Yared Daganwe SHAREW           ETH  2:10:20
2  Gebrselassie Tsegaye REDA      ETH  2:10:32
3  Ahmed BADAY                    MAR  2:10:58
4  David TONIOK                   KEN  2:11:26
5  Khalid BOUMILI                 MAR  2:11:56
6  Chelimo Luka KIPKEMBOI         KEN  2:12:29
7  Mourad MAAROUFIT               MAR  2:12:35
8  Siyoum Debele LEMMA            ETH  2:13:10
9  Elias Kiptum MAINDI            KEN  2:14:31
10 Hillary KIPCHUMBA              KEN  2:14:42
 
WOMEN:
1  Gelaw TSEGA                    ETH  2:32:09
2  Georgina RONO                  KEN  2:34:53
3  Zebenay Moges GEBRE            ETH  2:39:16
4  Asrat Ekebede ADDIS            ETH  2:39:38
5  Malika ASSHSSAH                MAR  2:46:48
6  Mariam KHALI                   MAR  2:49:17
7  Fatima BIDAYA                  MAR  2:54:08
8  Eunice KORIR                   KEN  2:54:09
9  Oksana KUZMICHEVA              RUS  2:55:39
10 Khadija LARIBI                 MAR  3:00:50
31 JANUARY 2010: TAINAN ANCIENT CAPITAL MARATHON, CHINESE TAIPEI
MEN:
1  Elijah Muturi KARANJA          KEN  2:16:39
2  Bernard MUTAI                  KEN  2:18:21
3  Chieh-Wen CHIANG               TPE  2:24:26
4  James Cheruiyot MELI           KEN  2:36:22
5  Tzu-Chien CHENG                TPE  2:36:58
 
WOMEN:
1  Caroline Chemutai KOMEN        KEN  2:49:06
2  Hsiao-Yau LI                   TPE  3:04:04
3  Yu-Fang HSU (II)               TPE  3:14:23
4  Hsiu-Yu TAI                    TPE  3:20:51
5  Ka Wei LAI                     HKG  3:22:41
 
HALF MARATHON
MEN:
1  Wen-Chien WU                   TPE  1:07:26
2  Chin-Pin HO                    TPE  1:09:58
3  Ying-Chan LIN                  TPE  1:14:40
 
WOMEN:
1  Yu-Fang HSU (I)                TPE  1:21:51
2  Shu-Hua CHEN                   TPE  1:23:55
3  Chi-Huei CHEN                  TPE  1:29:14
January 2010