August 2009
1 AUG | 2 AUG | 9 AUG | 15 AUG | 16 AUG | 22 AUG | 23 AUG | 29 AUG | 30 AUG
1 AUGUST 2009: SIBERIAN INTERNATIONAL MARATHON, RUSSIA
MEN:
1  Sergey LUKIN                   RUS  2:15:06
2  Oleg MARUSIN                   RUS  2:16:08
3  Andrei BRYZGALOV               RUS  2:18:09
4  Oleg KNYAGIN                   RUS  2:22:32
5  Roman DEDOV                    RUS  2:22:52
6  Marat ABUBAKIROV               RUS  2:23:15
7  Sergei KOSTYLEV                RUS  2:29:09
8  Evgeni LYKOV                   RUS  2:29:13
9  Ivan KRASNOPEROV               RUS  2:29:45
10 Dmitri TSYGANOV                RUS  2:29:54

WOMEN:
1  Evgenia DANILOVA               RUS  2:34:52
2  Gulnara VYGOVSKAYA             BLR  2:35:05
3  Lydia YADZHAK                  RUS  2:35:38
4  Oksana KUZMINCHEVA             RUS  2:39:52
5  Svetlana SYOMOVA               RUS  2:41:16
6  Ilyusa KHARETDINOVA            RUS  2:45:14
7  Nina MAKSIMOVA                 RUS  3:03:40
8  Olga SHIBALINA                 RUS  3:04:19
9  Anzhelinka VAGIRA              RUS  3:09:17
10 Marina KOVALEVA                RUS  3:13:54

10km
MEN:
1  Boris ZAKHAROV                 RUS  30:11 
2  Mikhail KULKOV                 RUS  30:37
3  Maksim KARAMASHEV              RUS  31:11

WOMEN:
1  Maria STARODUBSEVA             RUS  41:10
2  Alena YANKOVSKAYA              RUS  41:18
3  Elena SUSHKO                   RUS  43:23
2 AUGUST 2009: BOGOTA INT'L HALF MARATHON, COLOMBIA
Photo: Victah Sailer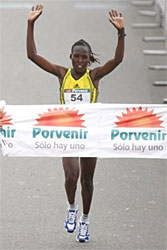 Isaac Macharia completed a hat-trick of victories while Lydia Cheromei took the women's race from illustrious competition in the 10th anniversary edition writes Dave Kuehls.
Macharia's main opponent Patrick Makau, this year's world leader at the distance, showed up with an injured left knee and from the gun he was never a factor. Instead, Macharia contested with, sub-hour performer Wilson Chebet and late entry Patrick Nthlwa, but by 7km it was only Macharia vs Chebet. Macharia bided his time until the 14km, on the only hill on the course, he made his move. "It is my place to go," he said after the race. Chebet could not respond: "This was my first time running this race and when Isaac went I was feeling the (2600m) altitude," he said.
The women's elite race was highlighted by a special start, ahead of the rest of the field (by 5 minutes) on the Brazilian model. Lydia Cheromei wasted no time, surging at 3km to break up a small pack. Behind her was defending champion Pamela Chepchumba, Mexico's Maria Dulce Rodriguez, Ethiopia's Genet Getaneh and Catherine Ndereba.
Ndereba was first to drop off the pace. "I just wanted to pace myself", she said later. Up front Cheromei reached 5km in 16:05, 10m ahead of Rodriguez. The Mexican stayed in contact as Cheromei went through 10km in 33:10, before drifting back. Cheromei stayed the course: "The race was very tough," she said. Rodriguez closed a bit but was still 50m back, while Pamela Chepchumba never looked on form, and had to be carried from the finish in a stretcher. "I didn't train well," she said. "I didnít train at altitude."
In the headline half marathon and associated 10km, 45,000 runners toured Bogota to finish in Simon Bolivar Park.
MEN:
1  Isaac MACHARIA                   KEN  1:02:49
2  Wilson CHEBET                    KEN  1:03:14
3  Patrick NTIWA                    KEN  1:04:52
4  Abraham TADESSE                  ERI  1:05:35
5  William NAREANJO                 COL  1:05:43
6  Worku BEYI                       ETH  1:05:55
7  Giovanni AMADOR                  COL  1:06:05
8  Teodoro VEGA                     MEX  1:06:28
9  Edwin ROMERO                     COL  1:06:42
10 Paulino CANCHANYA                PER  1:07:18
 
WOMEN:
1  Lydia CHEROMEI                   KEN  1:12:29
2  Dulce RODRIGUEZ                  MEX  1:12:38
3  Pamela CHEPCHUMBA                KEN  1:14:18
4  Ogla JERANO                      KEN  1:14:31
5  Catherine NDEREBA                KEN  1:16:01
6  Martha RONCERIA                  COL  1:17:51
7  Erika ABRIL                      COL  1:20:20
8  Sonia CALIZAYA                   BOL  1:21:11
9  Lina ARIAS                       COL  1:23:01
10 Patricia GONZALEZ                COL  1:24:10
9 AUGUST 2009: PANAMA CITY INT'L MARATHON, PANAMA
MEN:
1  Jose David CARDONA            2:29:18
2  Florencio MACHACUAY           2:30:07
3  Cristian VILLAVICENCIO        2:43:31
4  Fernanado BLANCO              2:46:44
5  Cesar MUNOZ                   2:53:11
6  Guillermo RAMIREZ             2:57:01
7  Milton ARGUELLO               2:57:58
8  Leonidas GONZALEZ             2:59:03
9  Simon ALVARADO                2:59:47
10 Nicolas GARCIA                3:02:33
 
WOMEN:
1  Mary AKOR                USA  2:50:56
2  Inglandini GONZALEZ      COL  3:13:57
3  Gloria LONDONO           COL  3:20:25
4  Margarita CONDE          GUA  3:29:43
5  Belkys MUNOZ             CRC  3:37:02
6  Eyra LOPEZ               PAN  3:49:52
7  Cordero MARTALEGIO       CRC  3:50:20
8  Cirza RODRIGUEZ          PAN  3:56:49
15 AUGUST 2009: HELSINKI CITY MARATHON, FINLAND
MEN:
1  Pavel ANDREEV            RUS  2:22:34
2  Anssi RAITTILA                2:25:24
3  Eliud ESINYEN            KEN  2:31:42
4  Mika PENTTINEN                2:32:57
5  Marten BOSTROM                2:35:21
6  Michail BUKOV            RUS  2:40:01
7  Arto PERTTILA                 2:41:56
8  Petteri KUORIKOSKI            2:43:22
9  Matti TEITTINEN               2:45:17
10 Jukka HYTTINEN                2:47:02
 
WOMEN:
1  Margarita PLAKSINA       RUS  2:45:28
2  Irina PANCOVSKAY         RUS  2:52:09
3  Anne-mari HYRYLAINEN          2:53:19
4  Leena PUOTINIEMI              2:58:42
5  Anastasya ZAKHAROVA      RUS  3:03:58
6  Pauliina TOMMOLA              3:04:30
7  Meena NIKANDER                3:08:20
8  Jeeny VUONORANTA              3:08:23
9  Kukka-maaria MUSTONEN         3:12:20
10 Ida-maria LEIVO               3:13:33
16 AUGUST 2009: INTACT EDMONTON MARATHON, CANADA
MEN:
1  Hilary CHERUIYOT               KEN  2:23:37
2  Philip K SAMOEI                KEN  2:25:35
3  Mike BOOTH                     CAN  2:29:56
4  David JOHN CORBETT             CAN  2:33:27
5  Matthew NORMONTON              CAN  2:35:07
6  Hans AABYE                     CAN  2:37:32
7  Bryan PORTMAN                  CAN  2:38:08
8  Taylor MURPHY                  CAN  2:38:43
9  Francois LEBOEUF               CAN  2:42:18
10 Martin POULIN                  CAN  2:42:46
 
WOMEN:
1  Karine BETTS                   CAN  3:09:05
2  Tara RISLING                   CAN  3:13:17
3  Wendi CAMPBELL                 CAN  3:13:24
4  Nadine MUELLER                 CAN  3:15:37
5  Joylin NODWELL                 CAN  3:16:46
6  Laurie OLSON                   CAN  3:17:36
7  Tammy MOLLENKOPH               CAN  3:26:48
8  Carla RODRIGUEZ                CAN  3:27:49
9  Vanessa JONES                  CAN  3:28:22
10 Frances CONNOLLY               CAN  3:28:59
 
HALF MARATHON
MEN:
1  Mohamed TRAFEH                      1:02:51
2  Kibet RUTTO                    KEN  1:02:56
3  Kip KANGOGO                    KEN  1:04:52
 
WOMEN:
1  Alemtsehay MISGANAW            ETH  1:17:19
2  Lisa HARVEY                    CAN  1:21:26
3  Brandi POZNIAK                 CAN  1:23:47
22 AUGUST 2009: REYKJAVIK MARATHON, ICELAND
MEN:
1  David KIRKLAND                 GBR  2:28:48
2  Ian SHARMAN                    GBR  2:37:04
3  Pablo RIVERO                   ESP  2:41:08
4  Valur PORSSON                  ISL  2:43:39
5  Arnt LUTHARDT                  GER  2:44:17
6  Luc CAFFIER                    FRA  2:50:47
7  Andrew DAVIES                  GBR  2:51:27
8  Robert NILSSON                 SWE  2:52:05
9  Borgar BISKOPSTO               FRO  2:52:38
10 Arnar PETURSSON                ISL  2:55:52
 
WOMEN:
1  Veronika BJARNASDOTTIR         ISL  3:08:18
2  Inger MADSEN                   DEN  3:18:54
3  Sigridur EINARSDOTTIR          ISL  3:19:43
4  Barbara DIETERLE               GER  3:23:16
5  Sif JONSDOTTIR                 ISL  3:23:38
6  Saebjorg S LOGADOTTIR          ISL  3:23:41
7  Denise RAMIREZ                 USA  3:25:49
8  Hannah CUNNINGHAM              GBR  3:28:09
9  Holmfriour V A SVAVARSDOTTIR   ISL  3:28:40
10 Grazvna B KAZMIERSKA           POL  3:30:38
 
HALF MARATHON
MEN:
1  Karoly VARGA                   HUN  1:13:30
2  Sigurbjorn ANGRIMSSON          ISL  1:13:55
3  Jose Luis LOZARO               ESP  1:16:33
 
WOMEN:
1  Martha ERNSTDOTTIR             ISL  1:23:09
2  Mari BROX                      NOR  1:25:34
3  Iris Anna SKULARSDOTTIR        ISL  1:25:38
22 AUGUST 2009: 12TH IAAF WORLD CHAMPIONSHIPS IN ATHLETICS, BERLIN
MEN'S MARATHON
Despite Kenyan men dominating the world marathon circuit for at least a decade and a half, only one had won a world title before 2007 (Douglas Wakihuri, 1987). Then Luke Kibet won the Osaka World Championships. Sammy Wanjiru followed up with Olympic Gold in Beijing, and now Abel Kirui won top spot, with compatriot Emmanuel Mutai taking silver.
The race soon became an East African duel, with the Kenyan trio, including four-time Boston winner Robert Cheruiyot, facing up to the Ethiopians Tsegaye Kebede and Deribe Merga, third and fourth in Beijing last year, and Dieudonne Disi of Rwanda.
The pace was relentless, and like Wanjiru in Beijing last year, Kirui simply wore everyone down with his elevated pace. Merga and Disi suffered so much they dropped out, and Mutai and Kebede were left as the last men running in Kirui's wake for the minor medals. Kirui's winning time was a championship best by over a minute and a half (although 22 seconds slower than Wanjiru ran in Beijing).
Kenya won the World Marathon Cup team competition, with Ethiopi a in second and Japan third.
1  Abel KIRUI                     KEN  2:06:54
2  Emmanuel MUTAI                 KEN  2:07:48
3  Tsegay KEBEDE                  ETH  2:08:35
4  Yemane TSEGAY                  ETH  2:08:42
5  Robert Kipkoech CHERUIYOT      KEN  2:10:46
6  Atsushi SATO                   JPN  2:12:05
7  Adil ENNANI                    MAR  2:12:12
8  Jose Manuel MARTINEZ           ESP  2:14:04
9  Jose MOREIRA                   POR  2:14:05
10 Luis FEITEIRA                  POR  2:14:06
23 AUGUST 2009: 12TH IAAF WORLD CHAMPIONSHIPS IN ATHLETICS, BERLIN
WOMEN'S MARATHON
In the women's Marathon, held earlier in the day through the city centre, the favourites gradually fell away (literally in the case of Dire Tune) from a large group at 25 kilometres, when Nailiya Yulamanova of Russia put in a lengthy surge. Within 5km, she only had Bai Xue of China, Yoshimi Ozaki of Japan, and Aselefech Mergia of Ethiopia for company. But at a drinks station, the Russian slowed drastically, and started jogging, clutching her stomach. She eventually finished eighth.
Olympic bronze medallist Zhou Chunxiu of China began a late surge, and came within 100 metres of the leading trio before they broke up with two kilometres to run, with coincidentally a run for home by her colleague, Bai. It was good enough to get rid of first Mergia then Ozaki. China won the World Marathon Cup team competition, with Japan in second and Russia, third.
1  Xue BAI                        CHN  2:25:15
2  Yoshimi OZAKI                  JPN  2:25:25
3  Aselefech MERGIA               ETH  2:25:32
4  Chunxiou ZHOU                  CHN  2:25:39
5  Xiaolin ZHU                    CHN  2:26:08
6  Marisa BARROS                  POR  2:26:50
7  Yuri KANO                      JPN  2:26:57
8  Natalia YULAMANOVA             RUS  2:27:08
9  Alevtina BIKTIMIROVA           RUS  2:27:39
10 Kara GOUCHER                   USA  2:27:48
29 AUGUST 2009: RUTA DE LAS IGLESIAS, ECUADOR
MEN:
1  Angel M C ALMACHI                    31:10
2  Vladimir E B GUERRA                  31:21
3  Oswaldo S J JAMI                     31:30
4  Jose C A NARVAEZ                     31:45
5  Geovanni G S VILLACRES               32:16
6  Manuel P I RAMOS                     32:17
7  Guillermo S U CHALCO                 32:18
8  Roberto P BUENANO                    32:26
9  Mauricio X C SIMBANA                 32:32
10 Diego J C ORTEGA                     32:48
 
WOMEN:
1  Judith D A LANDI                     36:31
2  Alba R C CHACHA                      36:35
3  Raquel V A ACOSTA                    37:40
4  Margoth J G PAGUAY                   38:25
5  Balbina M A PASTUNA                  38:34
6  Geanine E S SUNTAXI                  38:39
7  Alexandra E G ANANGONO               39:02
8  Concepcion M Z ACUNA                 39:39
9  Mercedes N OSORIO                    39:57
10 Patricia S M ORTIZ                   40:18
30 AUGUST 2009: HOKKAIDO MARATHON, JAPAN
Photo: Kazutaka Eguchi, Agence SHOT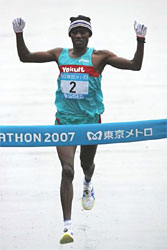 Running away from their competitors just 10km into the race, Daniel Njenga and Kiyoko Shimahara won their respective races writes Ken Nakamura.
Laban Kagika broke away from the lead pack after 7km, but just 1500m later was absorbed back into the chase pack. Nearing 10km defending champion Masaru Takamizawa led but Njenga then moved into front and began to push the pace. He covered the next 2km in 2:52 and 2:54, and continued to run under three minutes pace so that by 13.5km he was clear of the others.
By 20km Njenga led a chase pack of three (Tagami, Seiji Kobayashi, Kagika) by 31 seconds. By 25km his lead had decreased by four seconds but it held steady during the crucial stage of the race. At 30km Kagika was 28 seconds behind Njenga, who was now showing signs of discomfort although he kept his lead steady. Approaching 40km marathon debutante Ryo Yamamoto moved up alongside Kagika, 37 seconds behind Njenga. The gap then started to close rapidly but Njenga held on to win, followed by Yamamoto seven seconds behind him.
Shimahara led almost from the start, followed by Akemi Ozaki, a sister of the World Championships silver medallist, Yoshimi Ozaki, with Kaori Yoshida running third. Shimahara passed 5km in 16:54, and 10km in 33:28. Around 12km she broken away from Ozaki.
By 20km, Shimahara was 43 seconds ahead, and although she started to slow her position at the front was never threatened. She reached the line in a course record time of 2:25:10, bettering the Masako Chiba's 2005 mark of 2:25:46.
More than 8000 runners started the race at 12:10 pm in Sapporo, a city of 1.9 million on the northern island of Hokkaido. The Hokkaido Marathon is one of the few races in Japan in which both elites and non-elites, men and women, all run together in a single race.
MEN:
1  Daniel NJENGA                  KEN  2:12:03
2  Ryo YAMAMOTO                   JPN  2:12:10
3  Laban KAGIKA                   JPN  2:12:24
4  Masaru TAKAMIZAWA              JPN  2:13:05
5  Seiji KOBAYASHI                JPN  2:13:27 
6  Chiharu TAKADA                 JPN  2:14:34
7  Shingo SATO                    JPN  2:14:35  
8  Isamu SUEYOSHI                 JPN  2:14:37

WOMEN:
1  Kiyoko SHIMIHARA               JPN  2:25:10
2  Akemi OZAKI                    JPN  2:27:23
3  Satoko UETANI                  JPN  2:33:55
4  Nami TANI                      JPN  2:33:59
5  Misuzu OKAMOTO                 JPN  2:34:12
6  Chinami FUKAMINATO             JPN  2:34:16
7  Mizuho NASUKAWA                JPN  2:34:17
8  Chihiro TANAKA                 JPN  2:35:15
9  Nozomi IIJIMA                  JPN  2:36:46
10 Aki FUJIKAWA                   JPN  2:37:25
30 AUGUST 2009: QUEBEC CITY MARATHON, CANADA
MEN:
1  David SAVARD-GAGNON             CAN  2:27:09
2  Hugo SIMARD                     CAN  2:39:46
3  Ian M SHARMAN                   GBR  2:46:07
4  Jean-Nicolas DUVAL              CAN  2:49:17
5  Patrick PORTER                       2:49:45
6  Lee-Manuel GAGNON               CAN  2:51:13
7  Camilien BOUDREAU               CAN  2:51:18
8  Martin DUBOIS                   CAN  2:51:50
9  Mark SULLIVAN                        2:52:41
10 Philippe KEARNS                 CAN  2:52:57
 
WOMEN:
1  Andree PAQUET                   CAN  2:55:03
2  Nathalie GOYER                  CAN  2:56:14
3  Isabelle DUMAIS                 CAN  3:03:05
4  Suzanne MUNGER                  CAN  3:04:51
5  Maryse NAULT                         3:04:52
6  Lisa WALLACE                         3:11:18
7  Louise VOGHEL                   CAN  3:14:37
8  Valerie NOLET                   CAN  3:22:41
9  Marie-Pierre DALLAIRE           CAN  3:24:24
10 Annie LAPERLE                   CAN  3:26:46
 
HALF MARATHON 
MEN:
1  Kibet RUTTO                     KEN  1:04:41
2  Josephat ONGERI                 CAN  1:07:14
3  Francois M KILRANE              CAN  1:11:27
 
WOMEN:
1  Krista DUCHENE                  CAN  1:19:15
2  Ingrid CLUZEAU                  CAN  1:19:52
3  Ariel LLANCALEO                 CAN  1:28:31
August 2009