February 2007
4 FEB | 9 FEB | 11 FEB | 16 FEB | 17 FEB | 18 FEB | 25 FEB | 26 FEB
4 FEBRUARY 2007: BEPPU-OITA MAINICHI MARATHON, JAPAN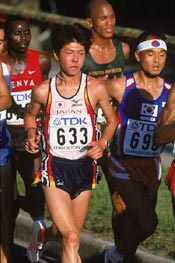 Photo: Atsushi Fujita (JPN) (Getty Images)
Former national marathon record holder, Atsushi Fujita bouncing back from his defeat at Fukuoka on 3 December to win the 56th edition of the race writes Ken Nakamura. In doing so he qualified for the Japanese team for the Osaka World Championships and left second-placed Atsushi Sato admitting "I was completely crushed. Fujita was really strong today."
The pacemakers were supposed to run at 3:02/km pace up to 32km. A pack of 15 led by three Kenyans — Edwin Kipkoech, Peter Kiprotich and Jason Mbote — passed through 15km on schedule in 45:28, but drifted off the pace over the next 10km, passing halfway in 1:04:09 and 25km in 1:16:08. By then it was down to 12 runners, but the pace slackened after the 25km turnaround point in the city of Beppu (the 30km split was 1:31:44).
Eight runners were left after the three pacemakers dropped out at 32km. David Kemboi then surged, and Fujita, Sato and Kazushi Hara responded, although Hara dropped back after a further 2km before they passed 35km in 1:47:32. At 38km it was Fujita's turn to surge. Kemboi trailed but at first Sato stuck with him, but Fujita surged again after anopther 500m and then went ever further ahead to win by a 52-second margin.
MEN (only):
1  Atsushi FUJITA            JPN  2:10:23 
2  Atsushi SATO              JPN  2:11:15 
3  David KEMBOI              KEN  2:11:26 
4  Kazushi HARA              JPN  2:12:44 
5  Rashid KISRI              MAR  2:12:45 
6  Tomonori WATANABE         JPN  2:13:11 
7  Joseph RIRI               KEN  2:13:37
8  Pavel LOSKUTOV            EST  2:14:49 
9  Brett CARTWRIGHT          AUS  2:15:17 
10 Masaki IWAHARA            JPN  2:15:22
4 FEBRUARY 2007: KAGAWA-MARUGAME HALF MARATHON, JAPAN
Kayoko Fukushi and Mekubo Mogusu scored runaway wins in the 61st running in Marugame, a city on the island of Shikoku writes Ken Nakamura. It was Fukushi's third half marathon, having debuted in the 60th edition last year when she beat Olympic Marathon champion Mizuko Noguchi and set an Asian record of 1:07:26.
The men started as if in a 10km. The three leaders passed 1km in 2:44, but soon Mogusu was alone in front. He passed 3km in 8:15, 5km in 13:58 and 10km in 28:01 to lead by nearly a minute lead at 5km and nearly two minutes at 10km. Slowing slightly, he still passed 15km in 42:15 (14:14) and 20km in 56:42 (14:27). His 59:48 broke Zakayo Ngatho's 2003 course record of 1:00:21. The time was five seconds short of the Japan all-comers record at the half marathon, 59:43, recorded by Samuel Wanjiru of Kenya in the 2005 Sendai Half Marathon.
Mogusu is a Kenyan student attending Yamanashi Gakuen University in Japan. He has a 5000m personal best of 13:27.14 and the 10000m best of 27:44.94. He won the national collegiate championships at 5000m. He also excelled at the half marathon distance, having finished fourth at the 2006 Sapporo Half Marathon with 1:02:05, and won the 2005 Sapporo Half Marathon with 1:01:28. Although defending champion Takayuki Matsumiya ran faster than his winning time of last year, he was a distant second to Mogusu.
Fukushi also led from the start. She passed 1km in 3:08, 2km in 6:14, 3km in 9:20 and 4km in 12:30. "I was not thinking about the pace at all," said Fukushi after the race. She went through 5km in 15:39 and 10km in 31:34, slower than the pace recorded last year (15:26 for 5km and 30:52 for 10km), but much faster than anyone else. She started to slow after 10Km, passing 15km in 47:52 (16:18) and 20km in 1:04:19 (16:27) to finish in 1:08:00, 34 seconds short of the course record she set last year.
Harumi Hiroyama, who is shooting for the World Championships marathon team berth at the upcoming Nagoya Women's Marathon and who is 38 years old, finished second in 1:10:23.
MEN:
1  Mekubo MOGUSU             KEN  0:59:48
2  Takayuki MATSUMIYA        JPN  1:02:11
3  Terukazu OMORI            JPN  1:02:26
4  Kenji NOGUCHI             JPN  1:02:27
5  Ken-ichi SHIRAISHI        JPN  1:02:29
6  Arata FUJIWARA            JPN  1:02:29
7  Takeshi MAEGAWA           JPN  1:02:30
8  Takuya FUKATSU            JPN  1:02:31
9  Steven NJENGA             KEN  1:02:32
10 Hyo-Sok OM                KOR  1:02:36

WOMEN:
1  Kayoko FUKUSHI            JPN  1:08:00 
2  Harumi HIROYAMA           JPN  1:10:23 
3  Yasuko HASHIMOTO          JPN  1:11:08
4  Asuka KATO                JPN  1:11:15
5  Ikumi WAKAMATSU           JPN  1:11:55
6  Sakura SATO               JPN  1:12:02
7  Haruko OKAMOTO            JPN  1:12:16
8  Mikie TAKANAKA            JPN  1:12:18
9  Kaori TAKAI               JPN  1:12:25
10 Yuko SATO                 JPN  1:12:38
4 FEBRUARY 2007: PACIFIC SHORELINE MARATHON, USA
MEN:
1  Jason WEBER               USA  2:35:21
2  Benjamin MULVANEY         USA  2:39:18 
3  Stephen NERI              FRA  2:42:53
4  Christophe LEPAGE         FRA  2:43:33 
5  Tim DONAHUGH              USA  2:46:31
6  Brett LAWRIE              USA  2:47:50 
7  Miguel DUARTE             USA  2:48:30
8  Gary ANDERSON             USA  2:51:25
9  David SCHILLER            USA  2:52:52
10 Larry WITTE               USA  2:53:36 

WOMEN:
1  Nadia NOORZAI             USA  2:59:28
2  Nicole SERENO             USA  3:16:12
3  Amy HORST                 USA  3:18:09
4  Beth TOUSSAINT            USA  3:23:36
5  Karen KOCHEL              USA  3:24:12
6  Lauren KEARNEY            USA  3:25:14
7  Dana CRAWLEY              USA  3:26:22
8  Maureen PENIUK            CAN  3:27:41
9  Terrie WEST               USA  3:31:36
10 Carolyn SION              USA  3:31:50

HALF MARATHON
MEN:
1  Nick ARCINIAGA            USA  1:05:46
2  Christian HESCH           USA  1:06:01
3  Sergio REYES              USA  1:06:08 

WOMEN:
1  Sylvia MOSQUEDA           USA  1:14:26
2  Kristen VAN ROOYEN        USA  1:24:19
3  Merce SASTRE              USA  1:26:23
4 FEBRUARY 2007: OHME-HOCHI 30km ROAD RACE, JAPAN
MEN:
1  Hiroki TANAKA               JPN  1:32:12
2  Takashi OTA                 JPN  1:32:51
3  Masaki SHIMOJU              JPN  1:33:36
4  Akinori SHIBUTANI           JPN  1:33:51
5  Kazuyuki MAEDA              JPN  1:34:39
6  Clint VERRAN                USA  1:34:50
7  Hirotaka HONDA              JPN  1:35:47
8  Chad JOHNSON                USA  1:35:53
9  Junji IIZUKA                JPN  1:36:11
10 Yuki KAWAUCHI               JPN  1:36:27

WOMEN:
1  Aki FUJIKAWA                JPN  1:47:40
2  Yoshimi HOSHINO             JPN  1:49:39
3  Ho-Sun PAK                  KOR  1:50:46
4  Izumi OKA                   JPN  1:59:54
5  Satomi MATSUO               JPN  2:02:12
6  Mayumi NAGAI                JPN  2:02:31
9 FEBRUARY 2007: RAS AL KHAIMAH HALF MARATHON, UNITED ARAB EMIRATES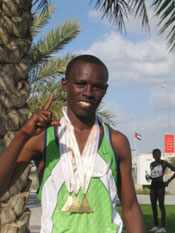 Sammy Wanjiru set a new world half-marathon record with a scintillating display of front-running writes Pat Butcher.
Wanjiru, just 20 years old, recaptured the world record taken from him by Haile Gebrselassie a year ago when he ran 58:55 in Phoenix, Arizona to surpass Wanjiru's 59:16 set in Rotterdam when he was still a junior.
Gebrselassie's record was achieved in a paced, solo run, whereas Wanjiru dismantled one of the best fields ever assembled, thanks to the record overall prize money of $155,000 on offer in Ras Al Khaimah.
Youngest in the field, Wanjiru was up against world champion Fabiano Joseph and winner of the Boston and Chicago Marathons, Robert Cheruyiot. Udeterred, he shot to the front to lead a group of 15 through 5km in 13:27. The second 5km was covered in 14:20, for an outrageous 10km split of 27:47.
By this time Wanjiru headed Patrick Makau, Francis Kibiwott, and Deriba Merga. Cheruyiot, Joseph and John Yuda were 20 seconds back, and the pack another 20 seconds behind them.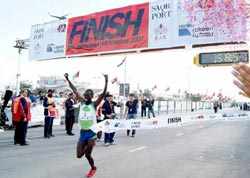 Wanjiru was briefly headed at several stages, but surged back into the lead. The third and fourth 5km sections were run in 13:42 and 14:21. Kibiwott had dropped away by then, and the most serious threat to Wanjiru came when Merga took the lead with just 2km to run. But it was an attempt to slow the pace, which brought a rapid response from Makau and Wanjiru, who stretched away by himself, running the last 1097.5m in just over three minutes. Makau's 59:13 was the third fastest time ever.
The women's race was a more sedate affair, with a group of a dozen running together until around 16km, and six still together with a kilometre to run. Pre-race favourite Berhane Adere sprinted away to win in the last 600m.
One of the objects of the race to put Ras Al Khaimah (one of the smallerr emirates) on the map. Crown Prince Sheikh Saud Bin Saqr Al Qasimi showed his appreciation of Wanjiru's geography lesson by giving the young Kenyan an impromptu $5000 bonus.
MEN:
1  Sammy WANJIRU               KEN    58:53
2  Patrick MAKAU               KEN    59:13
3  Deriba MERGA                ETH    59:43
4  Francis KIBIWOTT            KEN  1:00:07
5  Robert CHERUYIOT            KEN  1:00:37
6  John YUDA                   TAN  1:00:38
7  Fabiano JOSEPH              TAN  1:00:53
8  Matthew KOECH               KEN  1:01:02
9  Mubarak SHAMI               QAT  1:01:15
10 Solomon BUSENDICH           KEN  1:01:36

WOMEN:
1  Berhane ADERE               ETH  1:10:58
2  Teybia ERKESSO              ETH  1:11:02
3  Bizunesh BEKELE             ETH  1:11:06
4  Dire Tune                   ETH  1:11:10
5  Rita JEPTOO                 KEN  1:11:18
6  Caroline CHEPTANUI          KEN  1:11:32
7  Salina KOSGEI               KEN  1:11:38
8  Everline KIMWEI             KEN  1:11:44
9  Hellen CHERONO              KEN  1:11:48
10 Cathy MUTWA                 KEN  1:11:50
11 FEBRUARY 2007: MARATON CIUDAD DE SEVILLA, SPAIN
Silvester Chebii was the sixth successive Kenyan winner of the men's race. Tina Maria Ramos managed to retain her title from the previous year and take her wins to a total of four - only half as many as the Catalan Roger Puigbo in the wheelchair event.
There were more entries than ever this year, cheered on by good street support, and more than 2000 runners finished the race.
MEN:
1  Silvester CHEBII            KEN  2:15:16
2  Michael CHEMCHIR            KEN  2:15:31
3  Geoffrey TERER              KEN  2:19:42
4  John EWOI                   KEN  2:19:58
5  Lars JOHANSSON              SWE  2:20:08
6  James KARIUKI               KEN  2:21:17
7  Peter KWALIA                KEN  2:22:36
8  Tomasz WILCZYNSKI           POL  2:28:00
9  Javier CASTANO HISPAN       ESP  2:28:47
10 Luisvindo ROMERO CONCE      ESP  2:30:08

WOMEN:
1  Tina Maria RAMOS            ESP  2:45:34
2  Nadezda TUPTOVA             RUS  2:47:21
3  Katalin FARKAS              HUN  2:49:38
4  Sonia MARTIN GARCIA         ESP  2:54:18
5  Christina KARLSSON          SWE  2:59:07
6  Carmen AUNON SANZ           ESP  3:00:39
7  Rosa Ma. MACARRO ESCOBAR    ESP  3:03:36
8  Rosa Carmen BALLESTEROS     ESP  3:05:29
9  Anne FALLOWS                GBR  3:06:33
10 Rosa ESPACHS OLIVERA        ESP  3:08:09
16 FEBRUARY 2007: EGYPTIAN MARATHON, LUXOR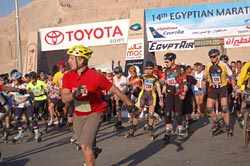 Supported by the Minstry of Tourism, the 14th edition of the race started from the Hatshepsut Temple on the west bank of the Nile, just outside Luxor writes Hisham Ibrahim. The race helps mark the glory of the Pharaonic era 2500 years ago, in which running played its part. The race attracted runners from 36 countries.
MEN:
1  Mohamed R. ELHOSEANEE       EGY  2:29:39
2  Mark WERNER                 USA  2:32:10
3  Abdelrasol ELBADREE         EGY  2:34:13

WOMEN:
1  Suzette WERMAAK             RSA  3:04:35
2  Edit KISS                   HUN  3:51:25
3  Zohra MERABET               ALG  3:57:41
17 FEBRUARY 2007: DEAD SEA HALF MARATHON, ISRAEL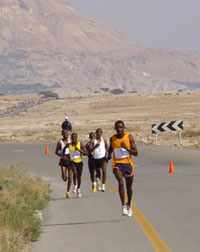 Almost 2000 runners from 12 countries (including UN Forces) ran in the 25th edition, which also featured hand bikers, a 10km race and kid's run writes Sergey Porada Yelena Kurdyumova.
The course runs through a desert landscape, at 398m below sea level, next to the biggest and saltiest lake in the world. Warm conditions (23°C) and headwinds slowed the pace as a pack of several Israeli runners of Ethiopian origin (Asaf Bimro, Zavadia Wudege, Pastau Sonah) and 21 year old Ethiopian Yonas Nagatu let race leader Stanley Kibet Kessio go away. At 5km the eventual winner, Nile Admasu Gebre, was 60m behind Kessio, while the rest of the pack lagged by a further 150m.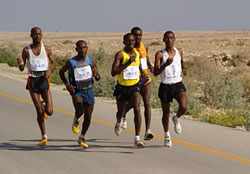 After the turn around point, and a 3km climb, Gebre closed on Kessio and took the lead. By 17km he was 300m ahead as behind him Asaf Bimro surged out of the pack to pass Kessio and go into second place.
Beza Nebaba, another native Ethiopian Israeli citizen, recorded a personal best and the fifth fastest time in the world for a blind runner (1:32:48). He only started training two years ago, and hopes to run the marathon at the Beijing Paralympics.
Youth overcame experience in the women's race as Dagne Balcha Kalkidan outran Nili Avramsky, the defending champion who was running her 16th Dead Sea Half Marathon. Kalkidan passed 5km in 17:38, 150m ahead of Avramski. From 13km Avramski narrowed the gap but Kalkidan won by a margin of 43 seconds.
The 10km race was dominated by Israeli athletes. Nina Pekerman, national triathlon champion won in 38:57, while Goseph Gizacho, another former Ethiopian, took the men's title in 32:47.
MEN: 
1.  Nile Admasu GEBRE           ETH  1:06:52 
2.  Asaf BIMRO                  ISR  1:08:08 
3.  Zavadia WUDEGE              ISR  1:08:52 
4.  Dastau SONAH                ISR  1:09:00 
5.  Stanley Kibet KESSIO        KEN  1:09:08 
6.  Yonas NEGATU                ETH  1:11:29 
7.  Hai NOAM                    ISR  1:18:42 
8.  Omry HOLTSMAN               ISR  1:18:44 
9.  Dan STEFTER                 ISR  1:19:59 
10. Sharon LURYE                ISR  1:20:26 

WOMEN:
1.  Dagne Balcha KALKIDAN       ETH  1:18:07
2.  Nili AVRAMSKI               ISR  1:18:50
3.  Svetlana BAHMAND            ISR  1:19:39
4.  Orna BLAU                   ISR  1:26:47
5.  Loris MENDELOVICH           ISR  1:28:37
6.  Sasi BENTAL                 ISR  1:33:26
7.  Lila FRANKEL                ISR  1:33:32
8.  Christoph TOGGENBURGH       ISR  1:34:41
9.  Jessica MISIONISHNIK        ISR  1:38:09
10. Maria DIAS                  ISR  1:38:39
18 FEBRUARY 2007: MARATHON POPULAR DE VALENCIA, SPAIN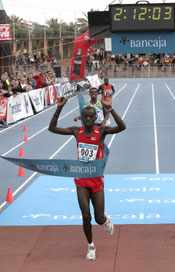 Good conditions — 15°C and relatively little wind, along with a group which stayed together long into the race — allowed the course record to be broken by one minute. For the first time in Spain, four men ran under 2:13 in the same race.
The men's race quickly became a contest of East Africa vs the rest of the world, as there was only one non Kenyan or Ethiopian in the group of about a dozen after the first four kilometres. By this time in the women's race, Alemu Zinash had already taken a clear lead over Peris Poywo and Valentina Polavska. By halfway the men's group was reduced to eight, while in the women's race Ana Casares Polo had worked her way up towards third place. The women's top placings then remained unchanged throughout the second half of the race.
Despite the more open nature of the second half of the course, usually run into the wind, runners slowed relatively little. There were still four men together with 800m to go, and in the stadium finish straight an epic struggle for the podium placings was fought out until the final few metres.
MEN:
1  Samson LOYWAPET                KEN  2:12:04
2  Teklu TEFERA                   ETH  2:12:05
3  David KIRUI                    KEN  2:12:09
4  Ben Kipruo CHEBET              KEN  2:12:19
5  Abraham CHELANGA               KEN  2:13:52
6  Samuel MOLDEA                  KEN  2:17:57
7  Marek DRYJA                    POL  2:23:47
8  Ernest KIPYEGO                 KEN  2:26:15
9  Jorge Aubeso MARTINEZ          ESP  2:27:01
10 Francisco Lazaro SESA          ESP  2:27:27
 
WOMEN:
1  Alemu XINASH                   ETH  2:39:07
2  Valentina POLAVSKA             UKR  2:40:40
3  Ana CASARES POLO               ESP  2:41:55
4  Peris POYWO                    KEN  2:44:28
5  Joanna CHMIEL                  POL  2:45:10
6  Olha KOTOVSKA                  UKR  2:45:41
7  Cristina Gomes ALMARAZ         ESP  2:54:11
8  Teresa Gracia GOMES            ESP  2:55:58
9  Beatrice Pellicer AMAT         ESP  3:02:41
10 Elsilia Torrez VENTURA         ESP  3:04:53
18 FEBRUARY 2007: TOKYO CITY INT'L MARATHON, JAPAN
Photo: Kazutaka Eguchi/Agence SHOT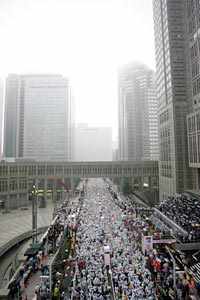 Surging away from the lead pack at 25km, Daniel Njenga won the 2007 Tokyo Marathon to establish an inaugural course record of 2:09:45 writes Ken Nakamura. Njenga won the old Tokyo marathon in 2004, which was an elite only marathon over a different course. Although Tomoyuki Sato finished second and first Japanese his 2:11:22 was not good enough for automatic selection for the Osaka World Championships.
Pacemakers Lee Troop, Ben Kimondiu and Luis Jesus were asked to pace at 3:02 until 30km. The race started relatively fast although it took about 20 minutes for the last of the 30000 runners to cross the start line. 10km was passed in 30:16 while the next 5km took 15:30, followed by 15:34 for the fourth 5km. Even so, Sammy Korir dropped back at 16km. The pack passed halfway in 1:04:49.
Pacing finished at 25km and Njenga then surged away from the lead pack of ten runners Shigeru Aburaya immediately fell behind as the chase pack disintegrated. It was soon down to four runners - Tomoyuki Sato, Satoshi Irifune, Masashi Hayashi and debutant Kazuyoshi Tokumoto. Njenga ran from 25-30km in 14:51 - the only sub 15 minutes 5km split of the race. By then he was 45 seconds ahead of the threesome - Tokumoto, Irifune and Sato.
Marathon debutant Tokumoto fell behind at 33.5km as Njenga pulled further and further ahead. At 35mm Sato and Irifune were 81 seconds behind Njenga. Sato then surged on the uphill part of the course and successfully broke away from Irifune.
Although no elite woman was invited by the race organizers, Hitomi Niiya, who was 13th in the junior division of the 2006 World Cross Country Championships, ran the race alongside thousands of women. Niiya, a marathon debutante (and who has never run the half marathon or track 10000m), won the women's race in 2:31:02. After graduating from high school last year, Niiya is now coached by Yoshio Koide, who coached Naoko Takahashi to the Olympic gold in 2000.
Conditions were 5.1°C, humidity 94%, and a North wind of 1.0m/s.
MEN:
1  Daniel NJENGA               KEN  2:09:45
2  Tomoyuki SATO               JPN  2:11:22
3  Satoshi IRIFUNE             JPN  2:12:44
4  Masashi HAYASHI             JPN  2:15:28
5  Kazuyoshi TOKUMOTO          JPN  2:15:55
6  Vaderlei DE LIMA            BRA  2:16:08
7  Seiji KOBAYASHI             JPN  2:17:13
8  Monabu ITAYAMA              JPN  2:17:29
9  Koji KANNAN                 JPN  2:18:03
10 Moges TAYE                  ETH  2:18:20
 
WOMEN:
1  Hitomi NIIYA                JPN  2:31:02
2  Mari TANIGAWA               JPN  2:49:54
5  Yuko ARIMORI                JPN  2:52:45
25 FEBUARY 2007: GIUSEPPE VERDI COUNTRY MARATHON, ITALY
MEN:
1  Joshua ROP                   KEN  2:16:29 
2  Jacob KIPLETING              KEN  2:18:58
3  Roman WEGER                  ???  2:23:18 
4  Giuseppe VELETTI             ITA  2:28:03 
5  Marco BOFFO                  ITA  2:30:45
6  Lorenzo TRINCHERI            ITA  2:32:31 
7  Graziano GIORDANENGO         ITA  2:32:31 
8  Luca CRULLI                  ITA  2:34:01
9  Mario FATTORE                ITA  2:36:10 
10 Nerino PAOLETTI              ITA  2:37:40 

WOMEN:
1  Ilaria BIANCHI               ITA  2:37:06 
2  Simonetta MAGNANI            ITA  2:50:12
3  Lidija RAJCIC                ???  2:53:17 
4  Giovanna CAVALLI             ITA  2:57:05
5  Sonia CIONNA                 ITA  2:57:47 
6  Beverley GIBSON              ???  3:04:34 
7  Claudia SOLARO               ITA  3:05:54 
8  Laura DURPETTI               ITA  3:06:16 
9  Roberta MONARI               ITA  3:09:25 
10 Monica BARCHETTI             ITA  3:10:48
25 FEBUARY 2007: WORLD'S BEST 10K, PUERTO RICO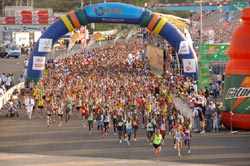 Lornah Kiplagat, who has won this event five times, brushed aside her main challenger, Olympic 5000m gold medallist Meseret Defar, for her latest victory. Although Defar has 21 wins over 5000m, has beaten Dutch citizen Kiplagat in their only two encounters, and has a ferocious kick, she had previously run only one 10,000m — 33:54.41 at age 15. What Gete Wami and Birhane Adere had not been able to do previously, so too Defar was unable to accomplish.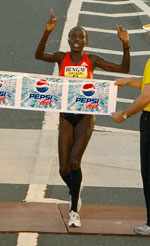 The World Best 10K, is conducted as a double crossing of Moscoso Bridge, and among the 14,000 who compete, Kiplagat is the most consistent toll collector. The westerly winds blowing off the lagoon meant the lead pair went through 3km slower than normal, but by then it was already over, as Defar began to lose contact. Kiplagat steadily expanded her advantage to 1:03 for a a convincing victory.
Defar completed her first 10km road race: "it was very hot and I got stomach cramps in the winds," she said. Kiplagat had spent two weeks in San Juan leading up to the race making appearances and giving talks at local schools, training and giving interviews. She ran her own race but just missed out on a $15,000 time bonus for breaking 31:00.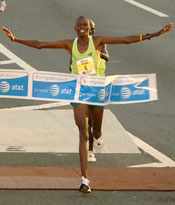 The men's race was a far more open affair, with at least half a dozen in with a chance. After a spirited first kilometre of 2:45 things slowed as a group of 12 struggled with grades and gusts from 2–4km (splits of: 5:38; 8:32; 11:22). In the fifth kilometre Gibert Okari pressed on as the avenue of flags flapped to the west and he recorded another 2:45 split for a halfway time of 14:08. Okari continued to apply pressure to avoid being outkicked at the end. It worked. Soon after streaking through the southern toll booths it was down to three: Martin Lel, Okari, and the unheralded Cosmos Kimutai. It was Kimutai, coming back on the final straight to the bridge, who seemed to have victory in hand. But Okari rallied and overtook to win in 28:08.
Perhaps the most finish line excitement was generated by the two leading Puerto Rican finishers. Not far from the banner and with an enormous flag billowing overhead Luiz Collazo and César Lam ended their pitched battle by demolishing the previous best Puerto Rican time for the course. Collazo fought across ahead of Lam as they finished in 29:51 and 29:54.
MEN:
1  Gilbert OKARI               KEN  28:08
2  Kimutai K COSMOS            KEN  28:09
3  Martin LEL                  KEN  28:13
4  Peter KAMAIS                KEN  28:37
5  John YUDA                   TAN  28:38
6  Samuel KOSGEI               KEN  28:57
7  Wilson K KEBENEI            KEN  29:01
8  Boniface KIPROP             UGA  29:02
9  Duncan KIBET                KEN  29:15
10 Boaz CHEBOIYWO              KEN  29:20
 
WOMEN:
1  Lornah KIPLAGAT             NED  31:05
2  Meseret DEFAR               ETH  32:08
3  Zhor EL KAMACH              MAR  32:20
4  Hilda KIBET                 KEN  32:39
5  Dire TUNE                   ETH  32:42
6  Helena KIROP                KEN  32:43
7  Susan CHEPKEMEI             KEN  32:47
8  Tatyana PETROVA             RUS  32:50
9  Amane GOBENA                ETH  33:17
10 Edna KIPLAGAT               KEN  33:20
25 FEBRUARY 2007: PHILIPPINES MARATHON FOR THE PASIG RIVER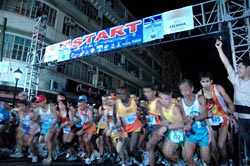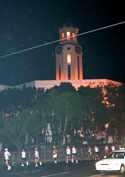 MEN:
1  Eduardo BUENAVISTA          PHI  2:23:08
2  Cresciano SABAL             PHI  2:27.54
3  Rolando PIAMONTE            PHI  2:34:58
4  Robert WANGBUGU                  2:36.27
5  Reynaldo DE LOS REYES       PHI  2:37:43
6  Rogelio SARMIENTO           PHI  2:37:55
7  Mamerto CORPUZ              PHI  2:40:16
8  Rodolfo TACADINO            PHI  2:41:11 
9  Modesto MADALANG            PHI  2:41:18
10 Tacelo MARSON               PHI  2:41:56

WOMEN:
1  Joan BANAYAG               PHI  3:05:42
2  Flordeliza CARREON         PHI  3:12:12
3  Ailene TOLENTINO           PHI  3:17:57 
4  Mila PAJE                  PHI  3:37:56 
5  Cinderella AGANA           PHI  3:39:26
6  Geraldin SEALZA            PHI  3:42:43
7  Genevieve DE LA PENA       PHI  3:50:00
8  Jenny KINSELLA                  3:50:29 
9  Daisy CASTILLON            PHI  3:58:51
10 Fiona OTTIGER                   3:59.08 

10km
MEN:
1  Rene HERRERA                PHI  31:53
2  Julius SERMONA              PHI  32:14
3  Reynaldo PASCUA             PHI  32:51

WOMEN:
1  Mercedita MANIPOL           PHI  37:27
2  Marecil MAQUILAN            PHI  39:18
3  Liza YAMBAO                 PHI  40:12
26 FEBRUARY 2007: ANTARCTICA MARATHON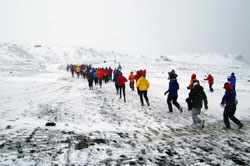 Photos: Michael Walsh
The White Continent lived up to its shivery reputation when an overnight snowstorm blanketed King George Island for the 8th running of the Antarctica Marathon and Half Marathon writes Patrice Malloy. The races were sponsored by the online University, Capella.
A hardy contingent of 188 runners from 19 countries traveled to the bottom of the Earth to run the two courses, which both included an arduous 1200m ascent of a crusty glacier.
Swathed from head to toe, runners and race crew were shuttled to shore from two Russian research ships for the 09:00 start at Bellingshausen, the Russian scientific research base.
Participants navigated their way over ice and snow-covered mud, rocks and trails in sub-zero wind chills and occasional white-out conditions. "These were perfect Antarctic conditions," said race director Thom Gilligan.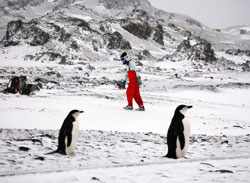 But it was an onslaught of nature. "There was a stretch on the course when I could not see anything in front of me because of the swirling snow," said Michelle Johnston, during an interview by satellite telephone. "That was when I got too close to a huge barking seal." The 33-year-old mother of four finished in 5:33:59.
Matt Tyler took the lead at about half-way and maintained a strong, steady pace to take overall victory. In the women's race Christina Harding came from behind in the last 3km to win the women's division.
Jeanne Stawiecki, 56, finished the marathon in 5:22:08 to successfully complete marathons on all seven continents within 141 days (this is a record pending verification). Ginny Turner was the last finisher, in 8:30:35, but became the first woman to complete a marathon on all seven continents—twice.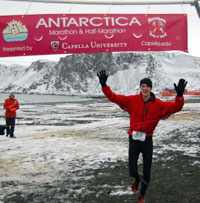 The brutal conditions prevented Dr. William Tan, the event's lone wheelchair competitor, from completing his second attempt at the marathon. Tan, who has completed marathons on every continent except Antarctica, could not overcome the course's snow drifts—not even while utilizing a customized racing chair. Tan did, however, complete the half-marathon in 5:59:29. His previous attempt at the marathon in 2005 also resulted in a half marathon finish.
Chinstrap penguins, fur seals and scientists were among the few spectators on the pristine course. The double out-and-back course also wound through Uruguayan, Chilean and Chinese research bases.
MEN:
1  Matthew TYLER               GBR  3:51:33
2  Johan PETERSEN              NZL  3:59:02
3  GW JONES                    USA  3:59:28
4  John BLANCHAR               USA  4:03:27
5  Anthony RUSSO               USA  4:05:03
6  Thomas GILLMAN              USA  4:13:34
7  Juergen HEILBOCK            GER  4:17:22
8  Nathan TYLER                GBR  4:23:28
9  Simon BOWDEN                GBR  4:23:35
10 Gordon BENNET               USA  4:25:53

WOMEN:
1  Christina HARDING           USA  4:54:50
2  Barbara Schultz ALLEN       USA  4:59:39
3  Carol OHEAR                 USA  5:00:14 
4  Lynne HEWETT                USA  5:13:55
5  Melissa CHASE               USA  5:16:57
6  Jeanne STAWIECKI            USA  5:22:08
7  Gillian BREWER              USA  5:23:37
8  Katasha CORNWELL            USA  5:24:08
9  Julie LARSON                USA  5:24:14
10 Patricia GRIFFIN            AUS  5:28:33

HALF MARATHON:
MEN:
1  John OMALLEY                USA  2:13:10
2  Chuang XING                 CHN  2:29:01
3  Xinzan ZHOU                 CHN  2:39:44

WOMEN:
1  Cala CESARONI               CAN  2:20:20
2  Laura BLUE                  USA  2:29:00
3  Denise CALFO                USA  3:26:07
26 FEBRUARY 2007: SAHARA MARATHON, ALGERIA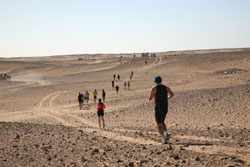 In all 340 runners participated in the series of events writes Mattia Durli. There were 113 who ran the marathon, between the El Ayoun and Smara Sahrawi refugee camps that lie close to the Algerian town of Tindouf. These numbers were significantly up on last year's races, which took place in the wake of severe flooding in the area.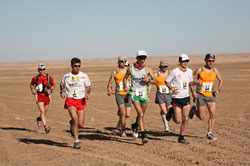 This year there was no wind at all, and it was very hot. Participants suffered in what was probably the edition with the highest temperature so far. But water was available throughout and runners had eight hours to finish, so almost everyone completed the course.
Local participants enjoyed great success, with young Sahrawi boys and girls filling most of the podium places in the 10km and 5km races.
MEN:
1  Manuel Morente PAEZ         ESP  2:54:48 
2  Francisco San Marco SANTOS  ESP  3:03:04
3  Ricardo García CUERVO       ESP  3:09:22
4  Alberto Alvarez BENDANA     ESP  3:11:41 
5  Joan Marmol PEREZ           ESP  3:13:08
6  Mohamed MUSTAFA             SAH  3:14:36
7  Ahmed MOSTEFAQUI            ALG  3:16:12
8  Roberto Carlos Agrelo GOMEZ ESP  3:19:05
9  Bendaoud BRAHIM             ALG  3:19:30
10 Rafael García MARTINEZ      ESP  3:20:46

WOMEN:
1  Rocío Fernández FREILE      ESP  3:59:43
2  Mariangela BACCHINI         ITA  4:00:00
3  Jennifer MURPHY             USA  4:15:20
4  Marta Vaquerizo SAINZ       ESP  4:32:44
5  Rita VALLI                  ITA  4:43:15
6  Tessa WARDLEY               GBR  5:02:57
7  Samia MALAOUI               ALG  5:40:43
8  Carmela FIANO               ITA  6:03:43
9  Sabrina CAMPALDINI          ITA  6:03:43
10 Marie Elisabeth ZOLLMAN     GER  6:16:46

HALF MARATHON
MEN:
1  Abdelaziz HADJYOUCEF        ALG  1:18:11
2  Salah Hmatou AMAIDAN        SAH  1:22:47
3  Juan Carlos Salvador VILLA  ESP  1:22:53

WOMEN:
1  Sabina Moreno GARRIDO       ESP  1:49:05
2  Uxune Tena UGARTE           ESP  1:52:26
3  Sylvia Hunger               GER  2:03:20
AIMS CHILDREN'S SERIES:
The AIMS children's race, held in conjunction with the Sahara Marathon for the second year, was again a great success, even though controlling 1000 highly enthusiastic boys and girls is very difficult. There were three races, of 300m, 500m and 800m, depending on the age of the children. T-shirts were distributed before and medals after the races, along with a small present for each runner.
February 2007