January 2007
1 JAN | 4 JAN | 7 JAN | 12 JAN | 14 JAN | 20 JAN | 21 JAN | 28 JAN
1 JANUARY 2007: ST CROIX INT'L MARATHON, US VIRGIN ISLANDS
As every year, this was the world's first marathon of the year, but in this 5th edition of the race local runners made some history of their own writes Wallace Williams.
Pamenos Ballantyne of St. Vincent and The Grenadines, best local Billy Bohlke, and Jose Rodriquez (winner of the Virgin Islands Half-Marathon-Race Against Drugs six weeks earlier) ran stride-for-stride for the first 25km of Monday's race.
The bright moon, overcast skies and flat course made the conditions ideal within this tropical environment. Ballantyne, defeated by St Lucian Victor Ledger in Barbados a month earlier, was tuning up to defend his Trinidad Marathon title four weeks later.
Around 29km, as the race turned around at Fort Frederik for a second trip to Hamms Bluff and back, Ballantyne broke away from Bohlke to win — and record the fastest marathon time ever run in the Virgin Islands. Bohlke, a pilot in the USAF who had served the last five months in Afghanistan and has not had many opportunities to train, still recorded the fastest marathon ever run by a V.I. runner on a V.I. course.
Theresa Harper eased into the running early in the race on one of the most beautiful courses in the world as she chased Ruth Ann David, a novice marathoner who led through the first mile in 5:33. That torrid pace eventually forced David to retire to the emergency room but Harper went on to win for the third successive year in the fastest marathon ever run by a female on a V.I. course.
This 5th edition of the race was dedicated to Larry Williams, a longtime supporter.
MEN:
1  Pamenos BALLANTYNE           STV  2:40:28
2  Billy BOHLKE                 VGI  2:50:25
3  Jose RODRIGUEZ               PUR  2:55:20

WOMEN:
1  Theresa HARPER               VGI  3:40:21
4 JANUARY 2007: 30th INT'L TIBERIAS MARATHON, ISRAEL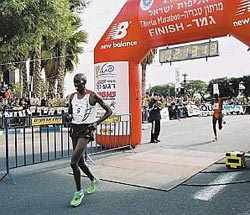 A record 850 runners from 22 countries took part in the traditional out-and-back race around the Sea of Galilee, held in a comfortable weather but affected by side winds.
Musir Salem Jawher, a 28-year old Kenyan originally called Leonard Mucheru who had taken Bahrain citizenship in 2003, won his debut marathon. Lead runners went through halfway in 1:07:06 and Jawher needed a sprint finish against pacemaker Joseph Kirwa Birgen. They both surprisingly beat race favourite, Patrick Ivuti (who didn't finish) and the defending champion John Rotich.
Jawher entered Israel on his Kenyan passport and participated without informing the Bahraini Athletic Union. Following the race the Union issued a statement in which they revoked his Bahraini citizenship for "violating the laws of Bahrain" by competing in Israel.
MEN:
1  Leonard MUCHERA             KEN  2:13:12
2  Joseph Kirwa BIRGEN         KEN  2:13:14
3  Simon BOR                   KEN  2:13:34
4  Benjamin Kipketer BOR       KEN  2:13:48
5  Bellor Miningwo YATOR       KEN  2:14:06
6  John ROTICH                 KEN  2:16:13
7  Benjamin KIPTARUS           KEN  2:16:34
8  Josphat Kipchoge ROP        KEN  2:17:03
9  Asaf BIMRO                  ISR  2:17:34
10 Vodage ZVADYA               ISR  2:17:44

WOMEN:
1  Nili ABRAMSKI               ISR  2:39:24
2  Orna BLAU                   ISR  2:58:29
3  Yael LEFLER                 ISR  3:12:37
4  Lyla FRENKEL                ISR  3:15:30
5  Galya AMDOR                 ISR  3:21:50
6  Shiri HAFER                 ISR  3:26:13
7  Michal RAJOAN               ISR  3:39:17
8  Rona ZAMIR                  ISR  3:35:38
9  Yarli HARELI                ISR  3:35:48
10 Rina BASLO                  ISR  3:35:55
7 JANUARY 2007: MIZUNO HONG KONG HALF MARATHON CHAMPIONSHIPS
MEN:
1  Ho Chan KA                     HKG  1:12:30
2  Ka Man GI                      HKG  1:13:26
3  Hok Lan YAI                    HKG  1:14:25
4  Man Lau KWONG                  HKG  1:15:45
5  Wai Kwok CHAN                  HKG  1:15:55
6  Hoi To HO                      HKG  1:15:57
7  Kouichi IMACHI                 JPN  1:16:09
8  Hok Man TSE                    HKG  1:16:20
9  Tung Hoi YIP                   HKG  1:16:27
10 Kau Tai NG                     HKG  1:16:29
 
WOMEN:
1  Terumi NIWA                    JPN  1:23:49
2  Suet Leung YING                HKG  1:24:28
3  Sui Ping WONG                  HKG  1:26:37
4  So Liang TOH                   HKG  1:26:43
5  Kit Yee CHAN                   HKG  1:27:05
6  Sui Ping FAN                   HKG  1:27:32
7  Fan Leung YUEN                 HKG  1:29:15
8  Rachael SPROTSON               HKG  1:30:59
9  Gillian CASTKA                 HKG  1:31:07
10 Larissa KA                     HKG  1:31:37
12 JANUARY 2007: STANDARD CHARTERED DUBAI MARATHON, UNITED ARAB EMIRATES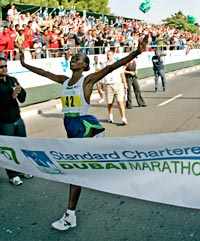 Askale Magarsa of Ethiopia shattered the event record when she ran away to victory in a personal best time of 2:27:19 writes Pat Butcher. Kenyan William Rotich ran the second fastest time in the eight-year history of the event, 20 seconds shy of Joseph Kahuga's 2003 performance.
Conditions were unusually cool for the Emirate— 12°C at the 07.00 start, rising to 16°C at the finish. With the new flat course along the sea, turning at the famous 7-star Burj Al Arab hotel, fast times were almost assured.
Even so, 23-year old Askale's time was extraordinary. She ran alone from 11km and at halfway was on 2:25:30 pace. She dropped only a little time in the second half, to beat her three-month old personal best from Milan by 38 seconds. She finished over six minutes faster than the previous best for the event, 2:33:31 by Alina Ivanova in 2002. Her husband, Debele Tola, finished five minutes ahead of her.
Benoit Zwierzchlewski of France ensured the pack got off to a flying start in the men's race. The European record holder (2:06:36), coming back after a lengthy injury set a perfect pace, to pass through halfway in 64:35 with a pack of 20 in tow.
When he dropped out the pace momentarily faltered but defending champion Joseph Ngeny and Rotich soon took up the challenge. Ngeny dropped off the pace at 38km, and finished fifth. A kilometre later Rotich surged ahead and built up a winning margin of over 40 seconds.
"This is a good fast course. I think with the right people and pacing, someone could do 2:05 here" he said. Two days before the race Dubai Holdings had announced a one million dirham (US$275,000) bonus for a world record in Dubai.
MEN:
1  William ROTICH              KEN  2:09:53
2  Joseph WAMBUA               KEN  2:10:34
3  Musa KANDA                  KEN  2:10:40
4  Alfonce YATICH              KEN  2:10:58
5  Joseph NGENY                KEN  2:11:03
6  Khalid EL BOUMLILI          MAR  2:11:40
7  William BIAMA               KEN  2:12:24
8  Halefom TESEGAYE            ETH  2:13:38
9  James KOSKEI                KEN  2:14:02
10 Augustus KAVUTU             KEN  2:14:25

WOMEN:
1  Askale MAGARSA              ETH  2:27:19
2  Abebe EDA                   ETH  2:35:39
3  Adenech JEMILU              ETH  2:39:28
4  Mulie GURMU                 ETH  2:39:35
5  Alem GEBREEZGI              ETH  2:40:11
6  Hirut LEGESSE               ETH  2:45:33
14 JANUARY 2007: 3rd LAHORE INT'L MARATHON, PAKISTAN
Course records were set for both men and women in the marathon, and in the men's 10km.
MEN:
1  Ketma AMERSSISSA               ETH  2:15:26
2  David KIPLAGAT KUINO           KEN  2:15:39
3  Mark YATICH                    KEN  2:16:10
4  Desse DEMELESH                 ETH  2:16:31
5  Yacob YATOR                    KEN  2:16:51
6  Abel CHIMUKOKO                 ZIM  2:17:49
7  Peter MUTISYA                  KEN  2:18:18
8  Julius MUTAI                   KEN  2:18:24
9  Oswald REVERIAN                TAN  2:18:56
10 Alemu GEBREMICHEAL             ETH  2:20:20
 
WOMEN:
1  Merima DENBOBA                 ETH  2:32:54
2  Tigist TITO                    ETH  2:39:51
3  Valentina POLTVASKA            UKR  2:40:05
4  Tringo GETACHEW                ETH  2:40:05
5  Jane ROTICH                    KEN  2:41:07
6  Mihret ANAMO                   ETH  2:45:11
7  Tatyana MAKAROVA               RUS  2:52:01
8  Lisa WIKLUND                   SWE  2:54:15
9  Loice KANGOGO                  KEN  2:57:39
 
10KM:
MEN:
1  Patrick MAKAU                  KEN  28:02
2  Nicholas MAKAU                 KEN  28:09
3  Abera ERTIBAN                  ETH  28:35

WOMEN:
1  Belaynesh FEKADU               ETH  32:05
2  Cathy MUTWA                    KEN  32:34
3  Genet MEASSO                   ETH  33:58
20 JANUARY 2007: MEDIO MARATON LOS CABOS, MEXICO
MEN:
1  Alejandro S CRUZ            1:07:16
2  Cesar L MIRAVETE            1:07:38
3  Isreal A ACOSTA             1:08:17
4  Jerome ROSS                 1:08:54
5  Bernal K SONGOKA            1:10:26
6  Francisco F MIRANDA         1:11:23
7  Jaime R MARTINEZ            1:15:24
8  Samir SEPULVEDA             1:15:39
9  John CLARK                  1:15:44
10 Jorge L J GASTLUM           1:16:46
 
WOMEN:
1  Emma M CARMONA              1:23:21
2  Martha P A MALDONADO        1:26:50
3  Esmeraldo GUILLEN           1:28:31
4  Alenjandra ALANIS           1:40:11
5  Carmen PEREZ                1:41:57
6  Julia L FLORES              1:45:34
7  Jody DIRKS                  1:45:47
8  Corrine GABLE               1:50:08
9  Blanca I G HERNANDEZ        1:51:06
10 Yarai P QUIJANO             1:54:07
 
5K
MEN:
1  Mario C RIOS                21:06
2  Ruben C PEREZ               21:38
3  Jose R M TOLEDO             21:40
 
WOMEN:
1  Daniela A I COLLINS         21:07
2  Diane TRIBBETT              21:07
3  Hana JOHNSON                21:07
21 JANUARY 2007: STANDARD CHARTERED MUMBAI MARATHON, INDIA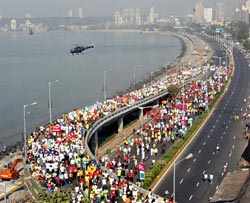 The men's race held to a steady pace, passing through halfway in just over 66 minutes with a large group still together. On the return journey the pace reamined steady but the rising heat of the morning and the increasing fatigue of the runners meant that the group thinned out to five before 30km. Pacemaker Simon Kasimili dropped out at 32km but he had launched the leading four firmly towards the finish line. They strung out further up the main hill on the course at 35km, but the leading pair fought a close duel all the way along the 4km-long "Queen's Necklace" and even to within the final kilometre of the course. John Kelai had done most of the leading over the final stretch and his strength was such that he got away for a small but confident win.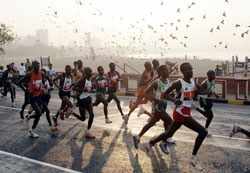 In the women's race Leila Aman led through 15km ahead of Marashet Jimma. Aman had finished second and third in this race in previous years, but Jimma overtook her and by halfway was leading by about 40m, while Aman was among a chasing group of seven. All fell away in the second half, as the more cautious staters came through. Xia Yang Feng, running only her second marathon, judged the pace well and overhauled all the many runners who led her through the early stages. Letay Negash and Jennifer Chesinon had also started more slowly, and came through to fiinish second and third. Marashet Jimma held together best of those ambitious early leaders to take fourth.
MEN:
1  John KELAI                     KEN  2:12:27
2  Gashaw MALESE                  ETH  2:12:32
3  Tariku JUFAR                   ETH  2:12:49
4  Stanley LELEITO                KEN  2:14:21
5  Robert CHERUIYOT               KEN  2:14:49
6  Robert KIPYEGO                 KEN  2:14:59
7  Vincent KIPTOO                 KEN  2:15:08
8  Jacob MENGICH                  KEN  2:15:22
9  Michael NGASEKE                ZIM  2:16:07
10 Julius SEUREI                  KEN  2:17:05
 
WOMEN: 
1  Xia Yang FENG                  CHN  2:36:16
2  Letay NEGASH                   ETH  2:37:04
3  Jennifer CHESINON              KEN  2:38:13
4  Marashet JIMMA                 ETH  2:38:49
5  Irene MOGAKA                   KEN  2:41:12
6  Tegla LORUPE                   KEN  2:42:52
7  Wudnesh NEGA                   ETH  2:44:17
8  F FILONYUK                     UKR  2:44:27
9  Etenesh TADESSA                ETH  2:44:41
10 Banuela KATESIGWA              TAN  2:48:33
 
HALF MARATHON:
MEN:
1  Deep CHAND                     IND  1:08:03
2  Lone Bhairav SINGH             IND  1:08:25
3  Sachin SONOWANE                IND  1:08:27

WOMEN:
1  Madhuri GUMELE                 IND  1:19:54
2  Fabiola OPPLIGER               SUI  1:26:44
3  Bhagwati                       IND  1:27:49
21 JANUARY 2007: CHINA COAST MARATHON AND HALF, HONGKONG
MEN:
1  Tsang Siu KEUNG             2:52:36
2  Wong Ka WAI                 2:53:34
3  Lai Ming FAI                2:55:01
4  Alvin CHAN                  2:56:18
5  Peter HOPPER                2:59:41
6  Wong Luen PAI               3:03:34
7  Chung Yu HO                 3:03:40
8  Chung Man FAI               3:06:46
9  Li Yiu CHEUNG               3:07:42
10 Ng Wai MING                 3:08:02
 
WOMEN:
1  Fan Sui PING                3:18:36
2  Chan Chun HING              3:25:11
3  Caroline KNG                3:35:44
4  Chan Pui SHAN               3:40:38
5  Angelina F Sin KONG         3:43:58
6  Catherine LEONARD           3:48:12
7  Monica NG                   3:48:54
8  Yeung Mei LUN               3:51:24
9  Lam Siu YUNG                3:54:40
10 Wu Kwok Chun ELLIE          3:59:59
 
HALF MARATHON
MEN:
1  Martin KENNARD              1:18:42
2  Cheng Wai LEE               1:20:24
3  Chiang Wai MING             1:20:38
 
WOMEN:
1  Grace BALINTONG             1:35:47
2  Cheung Sze LAM              1:35:52
3  Pauline P Ling CHEUNG       1:37:30
28 JANUARY 2007: OSAKA INT'L LADIES MARATHON, JAPAN
Kazutaka Eguchi/Agence SHOT photos

Breaking away from Yoko Shibui at 29Km, Yumiko Hara went on to win the race and a place in the Japanese women's team for the World Championships marathon to be held in Osaka on 2 September, writes Ken Nakamura.
Second-placed Mari Ozaki and third-placed Yuri Kano (in her marathon debut) also ran fast and are likely to be included in the five-strong team for the World Championships, but all depends on the results of Nagoya Women's Marathon in March.
Yoko Shibui took off from the start with pace setter Adriana Pirtea, but Hara stayed close to them, while rest of the contenders formed a second group. After passing 5km in 16:52, Pirtea fell behind and soon dropped out. The second group – Lucy Wangui, Mari Ozaki, Yuri Kano, Kazue Ogoshi, Tomo Morimoto, Inga Abitova and Miho Notagashira, were 10 seconds behind.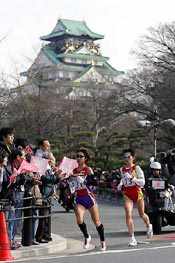 Shibui towed Hara through 10km in 33:21, 15Km in 50:04, 20Km in 1:06:45 and a half way in 1:10:24. At halfway, they were three seconds outside course record (2:21:18) pace. The following pack was losing ground, and trailed by 1:35 at 20km. At halfway it had dwindled to just Wangui, Ozaki, Kano, Ogoshi and Abitova, and Ogushi fell back at 23km. Up front, Shibui slowed leading up to 29km, and Hara went ahead to lead Shibui by 10 seconds at 30km. She continued to pull away but the second pack had been broken apart by Ozaki and Kano who started to gain on Hara after 25km. At 31km Ozaki left Kano and really started to chase Hara, closing the gap by 34 seconds between 30-35km.
Still in second, Shibui was suffering. She stopped at 34km and soon after was passed by Ozaki. Kano also went ahead of Shibui as she took 18:41 from 30-35km and 23:17 for 35-40km, finishing a distant tenth.
Meanwhile Hara was fighting with the wind. "The wind was strongest after 35km. Even downhill was hard," she said. Both Ozaki and Kano continued to gain on Hara, but Hara was never really threatened, winning by more than 50 seconds - just 20 seconds short of her personal best. She had finished sixth in the Helsinki World Championships in 2005, but has suffered with injury problems since.
1  Yumiko HARA                 JPN  2:23:48
2  Mari OZAKI                  JPN  2:24:39
3  Yuri KANO                   JPN  2:24:43
4  Kazue OGOSHI                JPN  2:31:04
5  Yuka EZAKI                  JPN  2:31:35
6  Lidia SIMON                 ROM  2:32:09
7  Nuta OLARU                  ROM  2:33:47
8  Yukako GOTO                 JPN  2:33:51
9  Miyuki ANDO                 JPN  2:34:03
10 Yoko SHIBUI                 JPN  2:34:15
28 JANUARY 2007: KHON KAEN INT'L MARATHON, THAILAND
MEN:
1  Joel Kiplimo KEMBOI         KEN  2:21:36
2  Boonchu CHANDEJA            THA  2:24:21
3  Sutat KALLAYANAKITTI        THA  2:24:36
4  John KIPLIMO                KEN  2:26:50
5  Korde SENMOOD               THA  2:32:44
6  Panom MAPENG                THA  2:33:38
7  Norkaew NOIMOH              THA  2:33:53
8  Meechai CHUCHEEP            THA  2:33:58
9  Brent ROEGER                USA  2:35:23
10 Petchsuporn KHANTHAPHOL     THA  2:35:57
 
WOMEN:
1  Wioletta URYGA              POL  2:52:28
2  Sunisa SAILOMYEN            THA  2:52:29
3  Ketmanee SENAPHAN           THA  2:53:40
4  Patcharee CHAITHONGSRI      THA  2:55:00
5  Arpassara PRASARTHINPIMAI   THA  2:59:17
6  Amnuay KIAM-NGU-LEARM       THA  3:07:47
7  Sayamon PHUKMIT             THA  3:15:58
8  Montian KAENKAEW            THA  3:16:19
9  Caroline Jeruto KIGEN       KEN  3:16:28
10 Dusanee SAE-HENG            THA  3:26:39
28 JANUARY 2007; COSTA RICA INT'L MARATHON, COSTA RICA
MEN:
1  Pedro J ARRIETA             2:40:27            
2  Miguel V GUERRERO           2:43:17  
3  Eliecer C OBANDO            2:45:18
4  Martin C GUTIERREZ          2:49:22
5  Jorge O CASCANTE            2:52:01
6  Harold C CORRALES           2:52:49
7  Luis M BAQUEDANO            2:52:57
8  Kenneth R GUTIERREZ         2:58:00
9  Grego C MEJIAS              2:59:41
10 Ronny V JIMENEZ             3:00:26
 
WOMEN:
1  Cristina M GONZALEZ         3:19:10
2  Zulay C VARGAS              3:23:17
3  Josefina D MURILLO          3:23:36
4  Rosibel A CORRALES          3:23:46
5  Maria C VILLEGAS            3:54:12
6  Ana C VILLALTA              3:56:57
7  Percy O GRANADOS            4:08:17
8  Zaida O HERRERA             4:13:36
9  Dilcia A BARQUERO           4:21:20
10 Veracita G ROMERO           4:22:40
January 2007