March 2007
4 MAR | 5 MAR | 11 MAR | 18 MAR | 19 MAR | 24 MAR | 25 MAR | 31 MAR
4 MARCH 2007: MARATON LALA, MEXICO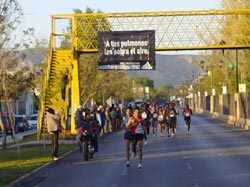 This was the 19th edition of the race to be held in the industrial city of Torreon, at 1000m elevation in the northern Mexican desert writes Alan Brookes. The event is a gift to the city and the country, from the Lala milk company that dominates the local economy and provides many of the 3,000 volunteers and most of the organizing committee for Technical Race Director Ruben Romero. The resulting marathon is first-rate, perennially incorporating the Mexican Championships and this year serving as the qualifier for the Pan Am Games and World Championships.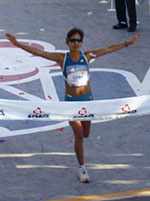 At the elite women's 06.40 start it was 6°C and 26% humidity. The men and 3500 mass runners followed at 07.00. Defending champion Maria Elena Valencia won again in convincing style, running alone for most of the way. Second-placed Jessica Rodruigez improved her best to 2:35:13. Mexican women then took the next four places.
The men's race was Mexico vs Kenya, but also Mexico's "favourite marathon son", Procopio Franco, against the experienced Pablo Olmedo (both from the Mexico City). Early on it seemed Procopio had heeded advice to run more cautiously in the early stages as he sat back in a pack of a dozen runners. But after passing 10km in 30:55 he charged to the front with a 3:01 kilometre, and covered the next 5km in 15:01. By 20km (61:32) the lead pack was down to nine; by 25k (1:17:00) there were seven, still with Procopio doing most of the work.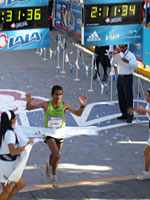 At 30km (1:32:51) Hillary Kimayo quickened the pace and between 32k and 33k the courageous Franco slipped away. Then there were three Mexicans and three Kenyans. Pablo Olmedo was at the back of the group, biding his time. "I knew if I could be in contention at 35km I could win. I was more worried about Procopio than the Kenyans," he said afterwards. At 38km Olmedo moved to the front for the first time, and struck for a convincing home victory. Procopio hung on for 5th, reflecting: "next year I will run for the win and not the course record [of 2:10:56]".
Olmedo had cruised into town proclaiming himself Mexico's top marathoner, and complaining that the Mexican Federation did not treat him with sufficient attention or respect. His family carried "Pablo Olmedo, numero 1!" signs. With a swagger, he carried it off in impressive style, with a very smart race.
MEN:
1  Pablo OLMEDO                MEX  2:11:34
2  Hillary KIMAYO              KEN  2:11:46
3  Francisco BAUTISTA          MEX  2:11:55
4  Christopher TOROITICH       KEN  2:12:51
5  Procopio FRANCO             MEX  2:13:00
6  Juan Vargas SANCHEZ         MEX  2:13:17
7  George OKWORO               KEN  2:14:14
8  Jardon Rito REGULES         MEX  2:14:23
9  Arturo Malaquias DELGADO    MEX  2:14:50
10 Jesus Primo Capula TORRES   MEX  2:16:43

WOMEN:
1  Maria Elena VALENCIA        MEX  2:31:16
2  Jessica RODRIGUEZ           MEX  2:35:13
3. Angelica SANCHEZ            MEX  2:35:48
4  Patricia RETIZ              MEX  2:36:14
5  Paula APOLONIA              MEX  2:36:34
6  Judith RAMIREZ              MEX  2:36:35
7  Mary AKOR                   USA  2:37:14
8  Ariana Quino SALAZAR        MEX  2:39:17
9  Lucy NJERI                  KEN  2:39:38
10 Sara Cedillo SANCHEZ        MEX  2:41:43
4 MARCH 2007: LAKE BIWA MAINICHI MARATHON, JAPAN
Samson Ramadhani of Tanzania sprinted away from William Kiplagat of Kenya in the last 200m to win the 62nd Lake Biwa Marathon writes Ken Nakamura. For both Tokyo and Lake Biwa qualifiers for the World Championships no Japanese gained automatic selection.
Four pace makers were asked to pace at 3:03/3:04 per kilometre but with the temperature rising above 20°C, they fell behind schedule. It was sunny, unseasonably warm (17.9°C at race start) and humidity was 49%. At 10km 35 runners passed in 30:42 and 5km later (46:16) two more had joined them.
The first major casualty was Dmitriy Semenov of Russia, who fell off the pace at 19km. After 20km Luis Jesus, one of the pacers, dropped out and marathon debutant Tomoo Tsubota picked up the pace and a battle of attrition started. After halfway (1:03:50) the pack was down to 22 runners. Defending champion Jose Rios dropped out just before 25km (1:17:32). After 26km Isaac Macharia was the only remaining pacemaker, and by 27km, the lead pack was reduced to 17.
From 29km there were five domestic runners and six foreign runners left. The four Kenyans and Ethiopia's Ambesse Tolossa were driving the pack, while Tsubota started to drift back. Macharia dropped out at 30km (1:33:04) and Kiplagat took over. The remaining three Japanese and Dutchman Maase were now hanging on to the African quartet. At 32km Laban Kagika, who runs for JFE team in Japan, surged strongly and a gap opened up between the Africans and non-Africans, although Abe briefly managed to close it down before being passed by Maase as he dropped back again after 34km.
Kiplagat, Ramadhani and Tolossa dropped Kagika at 36km and the trio exchanged the lead. Tolossa surged hard at 39km and Kiplagat momentarily fell back but with 1500m left he made his own bid for victory. The 41st kilometre was run in 2:58. Tolossa was left behind and Ramadhani lost 10m, but caught Kiplagat again to enter the Ojiyama stadium side by side. In the last 600m on the track, the lead changed several times. The last lap was as if in a 10000m race. Ramadhani only finally took the lead for good in the last 200m and won by four seconds. "It was a very hard race. I had to survive (many surges) to be competitive at the end," said Ramadhani.
Mitsuru Kubota, who had fell off the pace earlier, moved passed Abe and finished in sixth, and the first Japanese.
MEN:
1  Samson RAMADHANI            TAN  2:10:43
2  William KIPLAGAT            KEN  2:10:47
3  Ambesse TOLOSSAT            ETH  2:11:15
4  Laban KAGIKA                KEN  2:12:36 
5  Kamiel MAASE                NED  2:12:40
6  Mitsuru KUBOTA              JPN  2:12:50 
7  Yuki ABE                    JPN  2:13:47 
8  Kenjiro JITSUI              JPN  2:14:08
9  Tetsuo NISHIMURA            JPN  2:14:22
10 Toshihiro IWASA             JPN  2:14:41
4 MARCH 2007: LOS ANGELES MARATHON, USA
MEN:
1  Fred MOGAKA                 KEN  2:17:14
2  Moses KORORIA               KEN  2:17:18
3  Christopher KIPJEGO         KEN  2:18:21
4  Christopher Kipkoech RUTTO  KEN  2:18:45
5  Wilson KOMEN                KEN  2:20:39
6  J T SERVICE                 USA  2:24:57
7  Cristian VILLAVICENCIO      USA  2:28:16
8  Sergio REYES                USA  2:29:29
9  Ricky MOORE                 USA  2:31:52
10 Tim FAHEY                   USA  2:32:13

WOMEN:
1  Ramilia BURANGOLOVA         RUS  2:37:54
2  Alena VINITSKAYA            BLR  2:42:54
3  Abebe TOLA                  ETH  2:45:16
4  Jennifer DEREGO                  2:48:40
5  Nathalie HIGLEY             USA  2:51:39
6  Maria Teresa RAMOS               3:03:26
7  Katie SOBCZAK               USA  3:06:10
8  Petra GRAEN                 CAN  3:08:51
9  Erin KASPAR                 USA  3:11:01
10 Annie SEAWRIGHT             USA  3:14:23
4 MARCH 2007: STANDARD CHARTERED HONG KONG MARATHON
This was the final race in the four-race Standard Chartered Series "The Greatest Race on Earth" which also includes Nairobi, Singapore and Mumbai Marathons. Kamar's win also secured overall victory for his Kericho team and a US$400,000 team prize.
Rose Kerubo maintained her team Grazy Girls' third place in the Women's Challenge, while runner-up Jane Ekimat helped her team Cyclone win the Women's Challenge (US$100,000 first prize and a further bonus of US$20,000 for achieving a women's series record of 10:22:27). Mary Ptikany third place secured the 'Run for Peace' team second place in the Challenge overall.
MEN:
1  Steven KAMAR                KEN  2:17:03
2  Francis BOWEN               KEN  2:17:19
3  Paul KIPRONO                KEN  2:18:36
4  Jonah KEMBOI                KEN  2:19:01
5  Silas SANG                  KEN  2:19:50
6  Patrick CHUMBA              KEN  2:20:19
7  Edward MUGE                 KEN  2:20:41
8  Kiprop KORIR                KEN  2:21:24
9  Kasirai SITA                ZIM  2:21:30
10 Richard BWALYA              ZAM  2:21:37

WOMEN:
1  Rose KERUBO                 KEN  2:38:19
2  Jane EKIMAT                 KEN  2:39:33
3  Mary PTIKANY                KEN  2:40:13
4  Min LIU                     CHN  2:40:57
5  Xiao Shui WANG              CHN  2:41:09
6  Eri OHKUBO                  JPN  2:46:19
7  Nancy KIPROP                KEN  2:46:24
8  Gloria BAEBA                RSA  2:50:14
9  Junko SUZUKI                JPN  2:50:56
10 Makiko KAWAGOE              JPN  2:53:53

HALF MARATHON
MEN:
1  Shinsaku SAKANAKA           JPN  1:11:46
2  Gi KA MAN                   HKG  1:13:40
3  Kirk SABEAN                 HKG  1:14:06 

WOMEN:
1  Kuniko NAKAMURA             JPN  1:24:04
2  Toh SO LIANG                HKG  1:29:27
3  Gillian CASTKA              HKG  1:30:36
4 MARCH 2007: MARATO DE BARCELONA, SPAIN
Over 6300 runners particpated in the second edition of the Barcelona Marathon since it has moved to a course entirely within the city. There were 5546 men and 765 women. A 10km event was also held with 1175 men and 655 women, the top few of each category being national team runners from Britain.
MEN:
1  Johnstone CHEBI             KEN  2:12:04
2  James MIBEI                 KEN  2:14:47
3  Toni BERNADO                ESP  2:14:52
4  Hosea KOSGEI                KEN  2:15:53
5  Roger ROCA                  ESP  2:16:32
6  Mustaja YOUNES                   2:17:15
7  Victor Gonzalo GUIRAO       ESP  2:27:24
8  Juanjo Verdugo NOTARIO      ESP  2:29:44
9  Joan Prats ESPAR            ESP  2:31:08
10 Marcel Zamora PEREZ         ESP  2:32:00

WOMEN:
1  Kristijna LOONEN            NED  2:42:03
2  Maxine MCKINNON                  2:49:52
3  Mari Carmen Paredes RODRI   ESP  2:51:06
4  Veerle D'HAESE                   2:51:48
5  Kelemua YADETE                   2:54:27
6  Silvie DUBRAS               FRA  2:55:12
7  Luna GARCIA                 ESP  2:58:28
8  Imke SCHIERSCH                   3:05:25
9  Meritxell Portillo ARAUJO   ESP  3:09:52
10 Eva KARLSSON                SWE  3:10:33

10KM:
MEN:
1  Tom PAYNE                   GBR  29:59
2  Glen CORNISH                GBR  30:00
3  Stephen SHARP               GBR  30:02

WOMEN:
1  Tracey MORRIS               GBR  33:45
2  Vicky GILL                  GBR  33:45
3  Non STANFORD                GBR  34:46
4 MARCH 2007: KILIMANJARO MARATHON, TANZANIA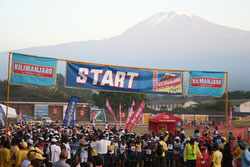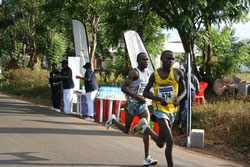 MEN:
1  Andreas SYLVIN              TAN  2:18:47
2  John TUBEI                  KEN  2:18:56
3  Kipckoech RUTO              KEN  2:19:43
4  Petro Malo QADWE            TAN  2:21:43
5  Peter EKAI                  KEN  2:22:22
6  Eston NYAGA                 KEN  2:22:42
7  Mugo PETER                  KEN  2:22:48
8  Laurence MBITHI             KEN  2:22:48
9  Julius KIPROA               KEN  2:23:24
10 Peter KIPIANGAT             KEN  2:23:59

WOMEN:
1 Banuelia BRIYTON             TAN  2:42:10
2 Emily SAMIKWA                KEN  2:42:41
3 Prisca KIPRONO               KEN  2:46:53
4 Tabitha KIBET                KEN  2:48:33
5 Rael TEPYATOR                KEN  2:50:02
6 Magareth KIPLAGAT            KEN  2:53:22
7 Jepchrchir KIPSANG           KEN  2:53:40
8 Sally LAGAT                  KEN  2:53:58
9 Nelly JEPTOO                 KEN  2:58:07
10 Frola Charles KAGALI        TAN  2:58:15

HALF MARATHON
MEN:
1 Bora ABHIOLELA               TAN  1:04:43
2 Hareohay SAMWEL              TAN  1:04:45
3 Peter SULLE                  TAN  1:04:56

WOMEN:
1 Josephene DEEMAY             TAN  1:17:20
2 Emily LAGAT                  KEN  1:20:44
3 Eunice JEPTO0                KEN  1:21:08
5 MARCH 2007: 100km DEL SAHARA, TUNISIA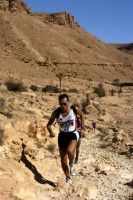 Runners awoke to a beautiful sun in Chenini and after breakfast began to warm up. The walkers departed at 09.30, an hour before the runners.
Jorg Balle, a veteran of the 100km, won the 22km-long first stage in conditions that were very much hotter than usual for this time of year, rising to 40°C along the trails. The runners were also tested by the terrain of this first stage, which is undulating with some steep, rocky climbs and descents.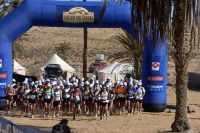 6 MARCH 2007: The second stage started at 09.00, with a slightly lower temperature, but rose to 33-34°C during the morning. Fortunately most of the runners finished the race before the heat reached its peak. The leading men finished in the same order, but among the women Sharon Kovar came through to win ahead of the two who finished ahead of her on the first stage.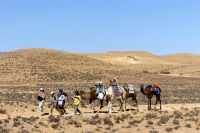 The walkers, led by Claduio Ansaloni, keep on marching without a glance at their watches, savouring all the desert's features: perfumes, light and colours.
The third stage was run during the night, as an 8km circular route out from Camp Laaraj and back again. There were no big changes in the standings. The short length of the stage and anticipation of the fourth stage, a full marathon, meant that nobody pushed the pace. The beautiful night sky, with the stars as bright as can only be seen in the desert, was exhilarating for all the runners. The stage was run in a magical atmosphere, as the moon rose to light the trail.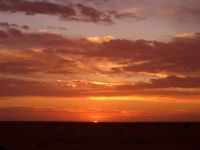 7 MARCH 2007: The first group of runners (the marathon stage runners are split into three groups) started from Camp Laaraj at 09.30 under a cloudy sky and a very favourable temperature of around 20°C. This is the most demanding stage of the race, finishing in Aouinet Essbat. The walkers had begun their march into the desert several hours earlier.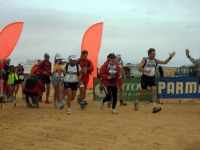 The first runners finished around 13.00. They all showed signs of exhaustion after a run over such difficult terrain, with long sections of sand dunes. But the satisfaction of running in such a wonderful landscape, with the sharp contrast of flowers and sand, had the capacity to inspire even after 42 km.
Jorge Balle ran under the big inflatable arch of the finish line first while in the women's section Chiara Calciolari came in ahead of overall leader Sharon Kovar.
8 MARCH: Aouinet Essbat - Ksar Ghilane, 24km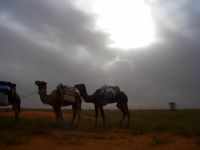 Incredible Africa! The last stage was run under extreme conditions. From sunrise the weather abruptly changed from hot and sunny to windy and cold. Just before the start a sudden wind gust hit the camp, knocking down some tents. After the start, the wind increased to generate a sandstorm and the temperature dropped to 12°C, while the windchill factor made the runners suffer.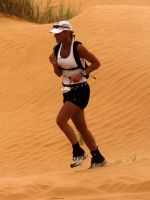 Worse was to come. To the astonishment of the runners a mid-morning shower turned into a hail storm. Once again the 100km del Sahara proved to be an unpredictable race, where runners can experience the most extreme conditions.
The last stage was the women's story. While there were no surprises in the men's results - and the first three of them crossed the finish line hand in hand - the fight among women remained uncertain to the end. Sharon Kovar, Claudia Gerling, Miriana Kmacic and Chiara Calciolari provided an amazing competition, finally won by the American.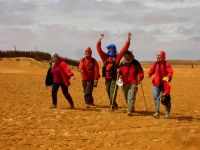 The last stage was won by Chiara Calciolari, repeating her achievement of the previous day, but she couldn't climb above fourth in the final standings. Jorg Balle won every stage of the 9th edition of the 100km del Sahara.
Honourable mention goes to the walkers who, under the leadership of Claudio Ansaloni, faced the same tough conditions as the runners, for significantly longer periods: Bravo!
MEN:                                         TOTAL TIME
1  Jorge BALLE        GER
   1:31:01  1:12:17  26:15  2:54:59  1:37:18  7:41:50

2  Lorenzo TRINCHERI  ITA
   1:38:16  1:16:02  26:15  3:00:40  1:37:18  7:58:31

3  Abdelwahed ROUISSI TUN
   1:44:03  1:18:46  26:16  3:25:10  1:37:18  8:31:33

4  Guiseppe CONSERVA   ITA
   1:52:44  1:22:27  29:37  3:23:05  1:59:22  9:07:15

5  Ltaief BOUZIDI     TUN
   1:51:29  1:28:49  26:31  3:43:00  1:37:18  9:07:43

6  Luciano ROSSI      ITA
   1:51:47  1:24:32  35:12  3:36:14  2:02:10  9:29:55

7  Riel CAROL         GBR
   2:02:17  1:29:26  30:12  3:36:02  1:56:02  9:33:59

8  Ramsi RAYSI        TUN
   1:48:07  1:21:23  28:58  4:04:30  1:55:57  9:38:55

9  Marco FILA         ITA
   1:58:07  1:30:48  33:22  3:37:37  2:00:26  9:40:20

10 Angelo BARTOLETTI  ITA
   2:04:30  1:30:47  32:20  3:37:37  1:57:20  9:42:34

WOMEN:
1  Sharon KOVAR       USA
   2:20:03  1:40:03  34:34  4:09:54  2:14:23  10:58:57

2  Miriana KMACIC     CRO
   2:17:31  1:43:52  35:26  4:11:38  2:15:07  11:03:34

3  Claudia GERLING    GER
   2:21:41  1:43:25  35:35  4:18:01  2:09:13  11:07:55

4  Chiara CALCIOLARI  ITA
   2:35:52  1:45:52  36:04  4:05:44  2:08:00  11:11:32

5  Elizabeth WIGGINS  GBR
   2:18:18  1:42:43  37:12  4:24:44  2:16:24  11:19:21
11 MARCH 2007: NAGOYA INT'L WOMEN'S MARATHON, JAPAN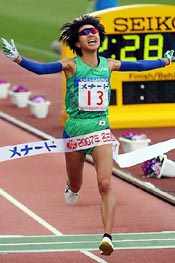 Yasuko Hashimoto narrowly defeated defending champion Harumi Hiroyama, but had to wait and see if it got her selected for Japan's World Championships team writes Ken Nakamura.
Pacemakers Alevtina Ivanova (RUS) and Volha Krautsova (BLR) took the lead group through 10km in 34:32, by which time it was down to 10 runners. Then Mikie Takanaka broke away with the pacemakers from the other seven, passing 15km in 51:42, with their nearest opponents 11 seconds behind, a gap which by 20km (1:09:07 for the three leaders) had increased to 35 seconds. Soon after the half marathon (1:13:02 for the leaders) Krautsova dropped out leaving Ivanova and Takanaka 39 seconds in front.
The pace slowed after before 25km, where Ivanova dropped out (1:26:59) to leave Takanaka alone, 42 seconds ahead of the chasing pack of seven. It took them only 3km to pass her, and they went through 30km in 1:45:49. Yuko Manabe dropped off the pace at 33km, and the remaining six passed 35km in 2:03:39, at which point the real racing began, and Hiruko Okamoto was dropped.
With 4km to go Hiroyama surged, taking Hashimoto with her but leaving Miki Ohira, Takami Ominami and Kenya's Julia Mombi behind. Hiroyama and Hashimoto ran together until 600m from the finish when it was Hashimoto's turn to make a move, covering the final kilometre in 3:15 to clinch victory.
The Japanese women's team for the World Championships marathon in Osaka is likely to be the top three finishers from the Osaka Ladies' Marathon plus Tokyo Women's winner Reiko Tosa, and Hashimoto.
1  Yasuko HASHIMOTO          JPN  2:28:49 
2  Harumi HIROYAMA           JPN  2:28:55 
3  Takami OMINAMI            JPN  2:29:24
4  Miki OHIRA                JPN  2:29:34 
5  Julia MOMBI               KEN  2:29:38  
6  Haruko OKAMOTO            JPN  2:30:09 
7  Yuko MANABE               JPN  2:30:34
8  Mika OKUNAGA              JPN  2:31:08 
9  Tomoho SHIMOKAWA          JPN  2:31:37 
10 Aliana GHERASIM           ROM  2:32:33
11 MARCH 2007: KYOTO CITY HALF MARATHON, JAPAN
Stanley Nganga broke away 1km from the finish, while Ryoko Kizaki broke away from a group of four runners at 9km and ran the second half of the race alone.
MEN:
1  Samuel NGANGA             KEN  1:03:18
2  Yuichi TOKUCHI            JPN  1:03:18
3  Tomoaki KUNICHIKA         JPN  1:03:20
4  Naoto MORIMOTO            JPN  1:03:21
5  Satoru KITAMURA           JPN  1:03:23
6  Joseph M KAMAU            KEN  1:03:27
7  Nao KAZAMI                JPN  1:03:33
8  Yuki MATSUOKA             JPN  1:03:37
9  Soji IKEDA                JPN  1:03:44
10 Hiroyuki SATO             JPN  1:03:46
 
WOMEN:
1  Ryoko KIZAKI              JPN  1:11:09
2  Tomomi HAMASAKI           JPN  1:12:35
3  Eriko OGINO               JPN  1:13:50
4  Noriko HIGUCHI            JPN  1:14:13
5  Akemi OZAKI               JPN  1:14:32
6  Miho IHARA                JPN  1:14:46
7  Machiko SAWADA            JPN  1:15:30
8  Chiduru IDETA             JPN  1:15:35
9  Mayu HITOMI               JPN  1:15:47
10 Hiroko YAMAMOTO           JPN  1:16:17
11 MARCH 2007: VIGARANO MARATHON, ITALY
MEN:
1  Festus KIKUMU               KEN  2:19:51
2  Tone KOSMAC                 SLO  2:24:00
3  Eliud KIRUI                 KEN  2:29:18
4  Ridha CHIHAOUI              ITA  2:31:37
5  Guiseppe MUCERINO           ITA  2:37:39
6  Alfredo NORVELLO            ITA  2:38:42
7  Corrado REGGIANI            ITA  2:40:44
8  Guiseppe PINCA              ITA  2:41:49
9  Miljenko FILIPCIC           CRO  2:45:30
10 Fausto PARIGI               ITA  2:45:33

WOMEN:
1  Marina ZANARDI              ITA  2:56:14
2  Loretta GIARDA              ITA  2:57:33
3  Antonija ORLIC              CRO  2:58:36
4  Deborah BRUNI               ITA  3:00:15
5  Lorena DIVITO               ITA  3:05:16
6  Daniela DA FORNO            ITA  3:14:59
7  Daniela MENEGATTI           ITA  3:21:22
8  Ildiko GAZDA                HUN  3:21:55
9  Samantha GRAFFIEDI          ITA  3:23:47
10 Valentina MAISTO            ITA  3:26:20
18 MARCH 2007: MARATONA DELLA CITTA DI ROMA, ITALY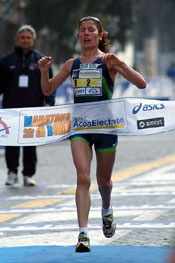 Photo: Lorenzo Sampaolo
Souad Ait Salem from Algeria won the women's race at the 13th edition of the Rome Marathon to improve the women's course record by 36 seconds writes Diego Sampaolo. On a warm day, Elias Kemboi improved his personal best by more than five minutes to take the men's title.
Ait Salem's earlier form in the Roma-Ostia Half Marathon (1:10:29) was confirmed as she bettered her marathon best by more than three minutes. Pre-race favourite and mother-of-four Hellen Kimutai finished 500m behind her, ahead of Slovenian veteran Helena Javornik and Kenyan Lenah Cheruiyot. All four broke 2:30.
Cheruiyot's four-minute improvement in her personal best could have been even greater if she had not contested the race so strongly in the first half. The lead four passed 10km in 34:04 and halfway in 1:12:42. Javornik dropped back after 25km and just before 30km Ait-Salem changed gear, pulling away from Cheruiyot and Kimutai.
Ait Salem, just one week before her wedding, recorded the second fastest ever women's time run in Italy. Ivana Iozzia, who was the first Italian in eighth place, clinched her second national title and also improved her personal best by 14 seconds.
The men's race started according to plan at a pace of 3:03/km, with pacemakers Richard Limo and Henry Kapkiai passing the halfway mark in 1:04:11. At 26km they led a big group which included Tesfaye Tola, South African Norman Dlomo, Samson Kosgei, Albert Matebor, Kemboi, Jose Manuel Martinez and Italian Migidio Bourifa. Course record holder and 2005 champion Alberico Di Cecco was forced to drop out with an injury at 28km.
After pacing finished at 30km Martinez took the lead briefly, closely followed by Kemboi, Bourifa, Tola, Kosgei and Matebor. Kemboi launched his attack at 36km, pulling clear of Martinez and leading by 15 seconds as they passed the 40km point. A delighted Migidio Bourifa finished fourth to take the Italian National title. Martinez was also delighted with his second place, an important test in his build-up to this summer's World Championships marathon in Osaka.
MEN:
1  Elias KEMBOI                 KEN  2:09:36
2  Jose Manuel MARTINEZ         ESP  2:10:12
3  Jonathan KOSGEI              KEN  2:10:25
4  Migidio BOURIFA              ITA  2:10:30
5  Albert MATEBO                KEN  2:10:42
6  Tesfaye TOLA                 ETH  2:10:45
7  Norman DLOMO                 RSA  2:11:47
8  Samson KOSGEI                KEN  2:12:39
9  Elijah SANG                  KEN  2:12:48
10 Dennis CURZI                 ITA  2:13:40
 
WOMEN:
1  Saoud AIT-SALEM              ALG  2:25:08
2  Hellen KIMUTAI               KEN  2:26:46
3  Helena JAVORNIK              SLO  2:28:53
4  Lenah CHERUIYOT              KEN  2:29:43
5  Natalia VOLGINA              RUS  2:30:31
6  Xia Yang FENG                CHN  2:34:45
7  Tigist ABIDI                 ETH  2:35:01
8  Ivana IOZZIA                 ITA  2:35:26
9  Marizete MOREIRA             BRA  2:39:08
10 Woynishet TAFA               ETH  2:43:11
18 MARCH 2006: KUALA LUMPUR INT'L MARATHON, MALAYSIA
MEN:
1  Cyprian KIOGARA              KEN  2:17:38
2  Lewis A ONDATI               KEN  2:17:57
3  William K KOECH              KEN  2:19:21
4  Kipsgei J MARITIM            KEN  2:20:53
5  Joel K KEMBOI                KEN  2:22:19
6  Daniel K KORINGO             KEN  2:22:59
7  Davidson K SEWER             KEN  2:27:10
8  Christopher C RONO           KEN  2:29:05
9  Elkana K RUTO                KEN  2:29:08
10 Takhir MAMASHAEV             KAZ  2:29:54
 
WOMEN:
1  Winfridah K NYASIKERA        KEN  2:48:09
2  Wang SHIDAN                  CHN  2:52:59
3  Sunisa SAILOMYEN             THA  2:55:14
4  Millicent DOADI              GHA  2:57:23
5  Apassara P PHIMAI            THA  3:12:21
6  Song FEI                     CHN  3:26:02
7  Emilia B JAMIL               MAS  3:28:42
8  Roslizawati B RASIDI         MAS  3:43:01
9  Uraiwan DONCHADA             THA  3:45:19
10 Tan LI LIAN                  MAS  3:45:41
 
HALF MARATHON
MEN:
1  Geoffrey K BIRGEN            KEN  1:10:02
2  Daniel K CHEBII              KEN  1:10:57
3  Charles O OMAYIO             KEN  1:11:35
 
WOMEN:
1  Trudy FAWCETT                GBR  1:27:40
2  Yuan Y FANG                  MAS  1:28:55
3  Radka VODICKOVA              CZE  1:29:26
18 MARCH 2007: EDP HALF MARATHON OF LISBON, PORTUGAL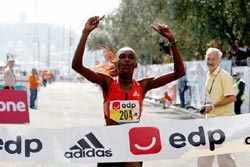 Photo: Marcelino Almeida
Lisbon hosted 36,000 participants at events in and surrounding the EDP Lisbon Half Marathon writes Antonio Manuel Fernandes. Rita Jeptoo set a world leading time in the women's race, while Robert Kipchumba's 60:31 was the first winning time in four years to be more than the hour.
Kipchumba, who ran the entire race at the front of the leading pack, passed 5km in 14:02 leading a group of 12. At 10km he led seven others through in 28:54, and at 15km he passed by in 43:19 with six others behind him. He only took the definitive lead in the last 400m, to drop Robert Cheruiyot—who finished in the top three for the fifth successive year, but has yet to win. Double World Marathon champion, Jaouad Gharib of Morocco just pipped 2006 New York winner Marilson dos Santos for third. First Portuguese home was Luis Jesus (12th in 1:03:36).

"I didn't expect to win but the heat was my severest opponent." said Kipchumba.
The day's highlight was Rita Jeptoo's world-leading 67:05, which is the fourth fastest time recorded in Lisbon, and a personal best by almost two minutes. The 26-year-old set a strong pace, and raced alone after the first 10km. Former winners, Susan Chepkemei (best time ever of 65:44 in Lisbon) and Salina Kosgei, just couldn't keep up. The Portuguese runner Ana Dias, came in fourth, very close to her personal best.
"This was great preparation for me to defend my Boston Marathon title", said Jeptoo.
MEN:
1  Robert KIPCHUMBA            KEN  1:00:31
2  Robert K CHERUIYOT          KEN  1:00:36
3  Jaouad GHARIB               MOR  1:00:41
4  Marilson DOS SANTOS         BRA  1:00:42
5  Emmanuel MUTAL              KEN  1:00:49
6  Festus LANGAT               KEN  1:01:01
7  Paul KOSGEI                 KEN  1:01:24
8  Philip MANYIM               KEN  1:01:28
9  Charles NGOLEPUS            KEN  1:02:34
10 Sammy TUM                   KEN  1:02:40
 
WOMEN:
1  Rita JEPTOO                 KEN  1:07:05
2  Susan CHEPKEMEI             KEN  1:08:33
3  Salina KOSGEI               KEN  1:09:47
4  Ana DIAS                    POR  1:10:40
5  Merima DENBOBA              ETH  1:11:11
6  Sharon CHEROP               KEN  1:11:24
7  Claudia PEREIRA             POR  1:13:52
8  Marisa BARROS               POR  1:13:59
9  Florence CHEPKURUI          KEN  1:14:29
10 Emily KIMURIA               KEN  1:14:36
18 MARCH 2007: SEOUL INT'L MARATHON, KOREA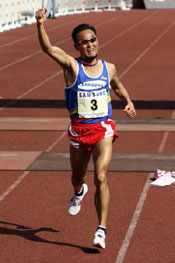 Photo: AFP / Getty Images
China's Wei Yanan and a most unexpected comeback from Bong-Ju Lee took the Dong-A Marathon Seoul International Marathon titles in world leading times write Ram Murali Krishnan and Mirko Jalava.
Over 23,000 runners took part on a course which runs along Sungryemun onto Cheonggyecheon, then through the Seoul Forest and into Jamsil Olympic Stadium.
Lee, former double Asian Games champion (1998 and 2002) who took the 1996 Olympic silver medal, won the Dong-A Marathon before in 1995 and was second in 1996. The national record holder (2:07:21 in Tokyo Marathon 2000), Lee also won the 2001 Boston marathon but his second Asian Games victory in 2002 was his last marathon win of any sort, and he had not been below 2:10 since running 2:08:15 in Seoul in 2004.
Wei Yanan of China won the women's race in a solo effort ahead of the distant pursuit of Kenya's Rose Cheruiyot and Hellen Cherono. Second in this race in 2005 (2:25:55) Yanan also won in 2002 (2:25:06) but later that year was suspended for two years after returning a positive doping test after winning the Beijing marathon.
MEN 
1 Lee BONG-JU                  KOR  2:08:04 
2 Paul KIPTANUI                KEN  2:08:29 
3 Laban KIPKEMBOI              KEN  2:08:38 
4 Edwin KOMEN                  KEN  2:08:45 
5 Jason MBOTE                  KEN  2:10:32 
6 Dmytro BARANOVSKI            UKR  2:10:51
 
WOMEN
1 Wei YANAN                    CHN  2:23:12 
2 Rose CHERUIYOT               KEN  2:27:25 
3 Hellen CHERONO               KEN  2:29:33 
4 Thabita TSATSA               ZIM  2:30:12 
5 Worknesh TOLA                ETH  2:30:56 
6 Chae EUN-HEE                 KOR  2:32:01
18 MARCH 2007: STANDARD CHARTERED STANLEY MARATHON, FALKLAND ISLANDS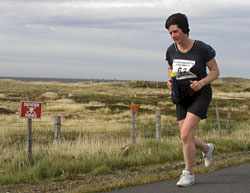 With winds averaging 37kph, gusting to 55kph — and a peak gust recorded at 90kph — this was not a race for the faint hearted writes Nick Hutton.
The third edition of the world's most southerly certified marathon saw 28 competitors line up alongside a further 12 teams of four taking part in the relay.
Hugh Marsden won again, only a minute down on his time of last year, to maintain his stranglehold on the title. Nepal's Bikash Gurung and Ciaran O'Sullivan, both serving at the nearby air force base, came in behind him.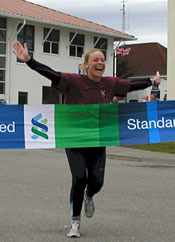 Lisa Turner, the women's winner, was another member of the armed forces. Runner-up Dawn Teed had travelled especially from England and came in ahead of local lady Kate Burston, who works for the race organisers Standard Chartered Bank, Stanley Branch.
Stanley Football Club fielded three of the same four runners who had made up the winning team in the previous two years, and came home to win once again. The "Hi Spec" Team from the Forces' base was second and a local "Stanley 4" team took the last podium place. The race was graced by an additional team, which was allowed special dispensation to have eight runners. How could such a request, from the territory's legislative council, be denied? The councillors finished a little off the money in 4:39.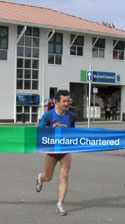 Andy Brownlee completed the distance despite recovering from throat cancer diagnosed just twelve months previously. His time of 4:42:21 would have been respectable even in good weather and his efforts raised over $6000 for the local Cancer Awareness Trust.
"Exposed" is the best description of this race — at least in physical terms — and the gradients and strong winds make it a tough event. The 2008 race is scheduled for Sunday 16 March.
MEN:
1  Hugh MARSDEN                GBR  3:05:22
2  Bikash GURUNG               NEP  3:14:01
3  Ciaran O'SULLIVAN           GBR  3:16:10
4  Mick OWEN                   GBR  3:23:47
5  Stuart MACLEAN              GBR  3:27:52
6  Steven TOOBY                FKL  3:55:37

WOMEN: 
1  Lisa TURNER                 GBR  3:50:25
2  Dawn TEED                   GBR  4:16:11
3  Kate BERSTON                FKL  4:28:23

TEAMS:
1  Stanley F.C.                FKL  3:08:31
2  Hi Spec                     GBR  3:20:39
3  Stanley 4                   FKL  3:27:29
18 MARCH 2007: INT'L OGER ANTALYA MARATHON, TURKEY
MEN:
1  Kurgat W KIMUTAI          KEN  2:19:24 
2  Nijorge Z KIHARA          KEN  2:21:01
3  Mutungi MISCHAK           KEN  2:22:22 
4  Mukhuti M WAMBUA          KEN  2:24:33 
5  Khaitonov OLEG            RUS  2:24:48 
6  Vural SINAN               TUR  2:27:53 
7  Kurtak MURAT              TUR  2:34:22 
8  Steinke PETER             GER  2:35:59
9  Wild KARLHEINZ            GER  2:39:56 
10 Boyan FURKAN              TUR  2:40:26 

WOMEN: 
1  Monica SAMILA             TAN  2:49:48
2  Joanna CHMIEL             POL  2:49:49
3  Marina MYSHIYANOVA        RUS  2:49:53 
4  Birgit BARTELS            GER  2:57:13 
5  Claudia HILLE             GER  3:00:47
6  Elizabeth SCHRODER        GER  3:01:36
7  Lütfiye KAYA              TUR  3:16:17
8  Elena POLYAKOVA           TUR  3:23:24 
9  Megüç GOZUYASARAN         TUR  3:23:55
10 Bakiye DURAN              TUR  3:24:01

HALF MARATHON:
MEN:
1  James KIRWA               KEN  1:03:59
2  Satilmis ATAMACA          TUR  1:04:08
3  Abdülkadir TURK           TUR  1:04:10

WOMEN:
1  Lilya YAZDHAK             RUS  1:15:03
2  Türkhan ERISMIS           TUR  1:15:23
3  Rima DUBOVIK              UKR  1:15:35
19 MARCH 2007: JERUSALEM HALF MARATHON, ISRAEL
MEN: 
1  Naile ADMASU                   ETH  1:09:24
2  Asaf BIMRO                     ISR  1:10:18
3  Vodege ZEVEDIA                 ISR  1:12:24
4  Yuness NAGAHTOO                ETH  1:15:42
5  Yochai BAR-SHAVIT              ISR  1:18:48
6  Amnon YOSSEPH                  ISR  1:20:33
7  Denis DEPARDON                 ISR  1:20:53
8  Alexe MARCHENKO                ISR  1:22:01
9  Sharon ZECHARIA                ISR  1:22:42
10 Avi SHEPERMAN                  ISR  1:22:58
 
WOMEN:
1  Dange KALKIDAN                 ISR  1:19:12
2  Nilly AVRAMSKY                 ISR  1:20:27
3  Sevetlana BEHMAND              ISR  1:21:37
4  Galia AMDOR                    ISR  1:37:05
5  Efrat KELER                    ISR  1:42:18
6  Tanya PASTERNACK               ISR  1:45:22
7  Dalit SHIF                     ISR  1:46:32
8  Michaella POLENSKY             ISR  1:47:33
9  Ornit MORGENSTEIN              ISR  1:48:52
10 Mor HAZHAK                     ISR  1:50:26
24 MARCH 2007: HERVIS PRAGUE HALF MARATHON, CZECH REPUBLIC
Despite strong wind and damp conditions Patrick Ivuti broke Silas Kirui's 2005 race record by 7 seconds writes Rich Herstek. Defending champion Stephen Kibiwott finished a distant third, 300m behind.
Liliya Shobukhova won the women's race, in her half marathon debut, narrowly edging out defending champion Caroline Chepkorir Kwambai as they finished with identical times.
MEN:
1  Patrick M IVUTI              KEN  1:01:00
2  Jacob YATOR                  KEN  1:01:20
3  Stephen K KIBIWOTT           KEN  1:01:54
4  Tadesse FEYISSA              ETH  1:02:22
5  John C KORIR                 KEN  1:02:22
6  Martin H SULLE               TAN  1:03:11
7  William T ROTICH             KEN  1:03:13
8  Mesfin HAILU                 ETH  1:04:26
9  Andriy NAUMOV                     1:05:22
10 Said AZOUZI                       1:06:16
 
WOMEN:
1  Liliya SHOBUKHOVA            RUS  1:11:14
2  Caroline KWAMBAI             KEN  1:11:14
3  Leila A TOLA                 ETH  1:11:24
4  Azalech MARESHA              ETH  1:11:59
5  Joan AIYABEI                 KEN  1:12:36
6  Beata RAKONCZAI              ITA  1:14:50
7  Petra TEVELI                 ITA  1:14:51
8  Petra KAMINKOVA              CZE  1:16:43
9  Veronika BRYCHCINOVA         CZE  1:16:48
10 Etaferahu T GETAHUN          ETH  1:16:55
24 MARCH 2007: 35th IAAF WORLD CROSS-COUNTRY CHAMPIONSHIPS, MOMBASA, KENYA
'Cross Country Comes Home' was the theme of these 35th championships, and the Kenyan men certainly made a strong case with their dominating team performance. Among the women Lorna Kiplagat scored a commanding win in Dutch colours, but was herself coming home. It may be their home country that hosted these championships but the conditions they faced in the sweltering heat of the Kenyan coastal lowlands was far different to the high-altitude homelands of the runners themselves. The contrast proved the undoing of Ethiopia's five-time champion, Kenenisa Bekele.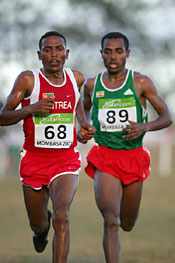 Senior men's race
Tadesse takes over
As he built a sizeable lead some 20 minutes into the men's race on the picturesque seaside golf course, Kenenisa Bekele appeared to be en route to his sixth straight World Cross Country title. But then the stifling heat and humidity got to him, writes Bob Ramsak. Soon after he was apparently dropped by the mighty Ethiopian, Eritrea's World Road Running champion Zersenay Tadesse not only made up the gap, but went on past Bekele to produce a huge upset.
Tadesse has made a career of chasing Bekele since his emergence among the world's elite three years ago, but this time he confidently strode by him. Bekele was broken for the first time ever, with nothing in reserve to fight back. He merely watched Tadesse pull away before finally succumbing to the conditions (33°C, 73% humidity), walking off the course some 800m before the finish to end his cross country race win streak at 27. It was later confirmed that he struggled with stomach pains in the middle part of the race.
While Bekele's dramatic departure from the race was a shock, Tadesse was clearly prepared for everything these championships would throw at him, be it the heat or the opposition.
"I feel happy and proud for all Eritreans," said the 25-year-old, who has single-handedly led an athletics renaissance in his country. "I'm very happy and have no words to express my feelings."
The early stages of the 12km contest began cautiously, with several runners taking turns to lead. The Kenyan squad, much to the delight of the estimated crowd of more than 30,000 who crammed into the venue, performed admirably, although it soon became clear that none would contest for the individual win. National champion Moses Mosop was last to drop off the pace and held on for second, reaching the finish 23 seconds behind Tadesse. Another 24 seconds back was Bernard Kipyego.
Surpassing his own expectations, European Champion Mo Farah finished tenth.
Behind Tadesse, the hosts took the next five places to easily defend their team title, and record a staggering 20th team victory.
Uganda, led by Martin Toroitich's ninth place, claimed their first senior medal at a World Cross Country Championship. The heat took a particularly hard toll on Ethiopia, as besides Bekele four others did not finish, resulting in no score in the team battle, and no team medal for only the second time since 1992.
Underlining the difficult conditions, 29 of the 134 starters did not finish the race.
Women's race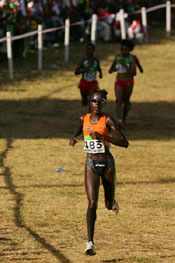 Kiplagat's killer pace
Lornah Kiplagat led virtually from gun to tape to win the Netherlands' first ever World Cross gold medal writes Dave Martin. The 32-year old Kenyan-born star, who became a Dutch national four years ago after she married coach Pieter Langerhorst, achieved a victory she had been planning for almost six months.
Kiplagat won the IAAF World Road Running Championship title last October in Debrecen, Hungary with a World record time for the 20km race, and then began preparations for Mombasa. She thwarted Ethiopia's Tirunesh Dibaba - who beat her in last year's race – from clinching a third successive title.
Kiplagat stormed to the front to hold a four-second lead after the first of four 2km laps, as Dibaba and Kenya's Florence Jebet Kiplagat gamely tracked her. Last year's bronze medallist, Meselech Melkamu, led for a few metres, but the Dutch woman always looked stronger than the pack behind her. She lengthened her lead to seven seconds after 4km, then put in a massive spurt which ultimately blew away any hopes her opponents had of making up ground. Kiplagat had a margin of 26 seconds entering the last lap, ahead of Dibaba, Melkamu and Gelete Burka - who were then only running for the minor medals.
Kiplagat threw up her arms in a victory salute, thrilling the Kenyan crowd who have always considered her to be one of their own and understand her reasons for representing the Netherlands.
"The only game plan I had today was to believe I could handle the heat, I've trained so hard I didn't want to let it go. I was so inspired by how all of this was arranged," she said of Kenya hosting the championships for the first time ever.
Predominantly a road runner Kiplagat admitted that she has learned a lot about cross country in the last year: "I think it's also about experience. Last year I surprised myself being second, so this time I knew what I could do and I became a winner. Anything less than second today, would have meant I was loser."
Dibaba admitted she was disappointed and said: "I knew this was all I could do. The heat really hurt us."
Despite her loss to Kiplagat the Ethiopians won their sixth successive team victory.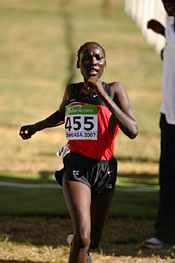 Junior women:
Confused counting costs Korikwiang
Linet Chepkwemoi Barasa was the clear winner in her first international competition writes Bob Ramsak. She led in teammates Mercy Kosgei and Veronica Wanjiru to complete Kenya's second consecutive podium sweep and their fifth overall since junior competition began in 1989. Kosgei moved up a place from her bronze medal performance of a year ago, while Wanjiru, a two-time defending silver medallist, couldn't quite live up to her own pedigree.
"I'm just very happy," Chepkwemoi Barasa said. "All I was thinking about was the gold medal."
But that type of concentration may have cost Pauline Korikwiang a successful title defence. Miscounting laps, last year's champion, along with a pair of Ethiopians in hot pursuit, kicked to their perceived finish less than 15 minutes into the race, effectively knocking the trio out of the competition. Korikwiang forged on but with simply no energy left, she eventually took a dramatic dizzying fall on the back stretch of the final lap.
Meraf Bahta led Eritrea to the runner-up spot in the team competition, the first medal ever for the small nation at a World Country Championship. Sule Utura and Genzebe Dibaba, the 16-year-old younger sister of Tirunesh and Eyagayou, finished fifth and sixth respectively, to lead Ethiopia to the bronze.
Underscoring the difficult conditions, 20 of the 87 starters didn't finish.
Junior Men:
Cross Country grows up
Cross-Country as an organised event may have come home for these Championships, but most of the most talented runners on show in Mombasa had never left in the first place, and continue to pour forth from a seemingly inexhaustible source. Linet Barasa's individual win led a podium sweep in the Junior women's race that opened the championships. The Junior men topped that with a sweep of the first four places. The host nation clearly illustrated that nowhere on earth can match the depth of cross country talent in Kenya. While the women proved a mighty force, the men were unstoppable en route to their ninth straight junior title, and their 19th in the last 20 years.
This year it was 17-year-old Asbel Kiprop, who took top honours, continuing the frenzied celebration by the throng of more than 30,000 than lined every conceivable part of the course. Kiprop finished the 8km course five seconds ahead of Vincent Chepkok, this year's Kenyan junior champion and another 17-year old. Matthew Kisorio took the bronze ahead of last year's silver medallist Leonard Komon.
Following the perfect 10-point tally by the Kenyans, Eritrea was a distant second, but moved up a place from last year to overtake Ethiopia, silver medallists for the past eight straight years.
Men:
1 Zerseany TADESSE              ERI  35:50
2 Moses MOSOP                   KEN  36:13
3 Bernard KIPYEGO               KEN  36:37
4 Gideon NGATUNY                KEN  36:43
5 Hosea MACHARINYANG            KEN  36:46
6 Michael KIPYEGO               KEN  37:04

TEAMS
1 Kenya 28 pts
2 Morocco 146pts
3 Uganda 185pts
4 Eritrea 204pts
5 Qatar 238 pts

Women:
1 Lornah KIPLAGAT               NED  26:23
2 Tirunesh DIBABA               ETH  26:47
3 Meselech MELKAMU              ETH  26:48
4 Gelete BURIKA                 ETH  26:56
5 Florence KIPLAGAT             KEN  27:26
6 Pamela CHEPCHUMBA             KEN  27:31

TEAMS:
1 Ethiopia 19pts
2 Kenya 26pts
3 Morocco 99pts
4 Spain 135pts
5 Great Britain 140pts

Junior Men:
1 Asbel KIPROP                  KEN  24:04
2 Vincent CHEPKOK               KEN  24:12
3 Mathew KISORIO                KEN  24:23
4 Leonard KOMON                 KEN  24:25
5 Benjamin KIPLAGAT             UGA  24:31
6 Issak SIBHATU                 ERI  24:38

TEAMS:
1 Kenya 10pts
2 Eritrea 44pts
3 Ethiopia 54pts
4 Uganda 55pts
5 Burundi 102pts

Junior Women:
1 Linet BARASA                  KEN  20:52
2 Mercy KOSGEI                  KEN  20:59
3 Veronica WANJIRU              KEN  21:10
4 Sule UTURA                    ETH  21:13
5 Genzebe DIBABA                ETH  21:23
6 Meraf BAHTA                   ERI  21:24

TEAMS:
1 Kenya 13pts
2 Eritrea 33pts
3 Ethiopia 36pts
4 Japan 61pts
5 Great Britain 96pts
25 MARCH 2007: NOVI SAD HALF MARATHON, SERBIA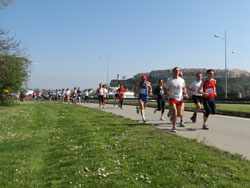 Taking place in the second largest city in Serbia the race starts and finishes in the city square in front of the town hall. The course runs along the Danube, beside bridges, passes the University district and the famous Petrovaradin Fortress. Weather conditions were almost ideal with clear blue sky, sun and 14°C, but windy.
The Half marathon included a relay race and for the second time anywhere in the world, a diplomatic race. In all three were 450 participants and there were also 2000 pupils from primary and secondary schools and 350 pre-school children who took part in the "Race of Joy", together with their teachers and parents.
The organisers expect even larger numbers of participants in October for 15th International Novi Sad NIS Marathon.
MEN:
1  Goran STOJILJKOVIC          SRB  1:08:20
2  Velimir BOJOVIC             SRB  1:08:29
3  Sasa STOLIC                 SRB  1:10:19
4  Miroslav KOMARCEVIC         SRB  1:10:54
5  Zdravko MISOVIC             SRB  1:11:25
6  Zoran MARKOVIC              SRB  1:13:03
7  Goran MILICIC               SRB  1:13:14
8  Branko STEVIC               SRB  1:13:22
9  Nebojsa MILENKOVIC          SRB  1:13:27
10 Dejan POPOVIC               SRB  1:15:21
 
WOMEN:
1  Snezana KOSTIC              SRB  1:20:25
2  Milana GAVRILOV             SRB  1:32:40
3  Stojanka SOKOL              SRB  1:33:28
4  Sandra STOLIC               SRB  1:34:32
5  Jelena MARKOVIC             SRB  1:35:32
6  Bojana TRALJIC              SRB  1:39:37
7  Biljana GRUBOR-VOZAREVIC    SRB  1:49:11
8  Milana DURIC                SRB  1:53:02
9  Milica MITROVIC             SRB  1:54:40
10 Ana KUZMANOVIC              SRB  1:55:25
31 MARCH 2007: C&D XIAMEN INTERNATIONAL MARATHON, CHINA
Nicola Bradley photo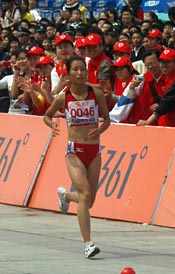 Xiao Lin Zhu ran solo from gun to tape to win the women's race in a very impressive time under very oppressive conditions. At the 08.00 start of the race it was already 20°C, and the temperature rose steadily while humidity was over 80%. By contrast, the men's pace wilted under the conditions but nonetheless allowed a fascinating duel to develop between Zhu Hong Li and Kenya's Haron Toroitich, in which Li powered away over the final 800m.
From outside the Xiamen Convention Centre a combined field of 25,000 took 20 minutes to clear the start as elite runners of the marathon and joggers in the half marathon finally gave way to large fancy-dressed groups who walked for much of the 10km and 5km events. The lead group set out along the corniche road which rings Xiamen Island towards the centre of town. They began ambitiously, at 2:09 pace, but soon moderated their ambitions. After 16km the course turns away from the coast for a loop around the centre of the city, where dense crowds of spectators lined the streets. Perhaps lifted by the cheers Li went ahead of the group, along with a pacemaker, and led by some 20m at halfway.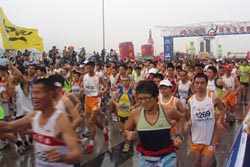 Meshak Kirwa and Toroitich caught him at 23.8km and by 25km it was Li's turn to drop back. Conditions were by now making themselves felt, and as the lead pair dropped their pace to a 3'25" kilometre Li found himself back alongside them at 28.3km. As they returned along the coastal ring road Li and Toroitich pulled clear of Kirwa, who lagged them by 30m at 30km. Li repeatedly tried to surge from 34km onward but nothing he could do would shake Toroitich off. It looked like Toroitich was waiting his moment to strike, but as they turned off the coast road towards the finish line with 800m to run the vociferous home crowd roused Li's competitive spirit and he charged past Toroitich to win by some 50m.
MEN:
1  Zhu Hong LI                    CHN  2:13:17
2  Haron TOROITICH                KEN  2:13:25
3  Meshak KIRWA                   KEN  2:15:47
4  Julius SUGUT                   KEN  2:16:37
5  Yun Shan ZHEN                  CHN  2:18:15
6  Robert MANGIUSHO               KEN  2:19:08
7  Long Yun REN                   CHN  2:19:14
8  Philip BIRECH                  KEN  2:19:45
 
WOMEN:
1  Xiao Lin ZHU                   CHN  2:26:07
2  Wei Wei SUN                    CHN  2:29:27
3  Shu Jin ZHENG                  CHN  2:31:14
4  Yin Yin ZHENG                  CHN  2:36:52
5  Shawuti NUERGULI               CHN  2:37:53
6  Yin Yin ZHU                    CHN  2:38:16
7  Wen Qin SUN                    CHN  2:39:50
8  Emily SAMOIE                   KEN  2:40:18

HALF MARATHON
MEN:
1  Fu Liang WANG                  CHN  1:10:18
2  Lei FEN                        CHN  1:11:26
3  Zhen LIN                       CHN  1:14:51

WOMEN:
1  Xue Xia HUNG                   CHN  1:17:27
2  Gi LI                          CHN  1:22:18
3  Xiao Qin WU                    CHN  1:25:33
March 2007