December 2006
2 DEC | 3 DEC | 10 DEC | 12 DEC | 17 DEC | 31 DEC
2 DECEMBER 2006: REGGAE MARATHON, JAMAICA
Prize money was up for grabs in the absence of four-time winner Pamenos Ballantyne and with no active recruitment of elite athletes writes Diane Ellis. Andrew Gutzmore, who has competed in every Reggae Marathon since 2001, finally had his day to shine and won in 2:45.
In the women's race, Euleen Josiah-Tanner, 32, of Atlanta, Georgia ran to win and captured the Rita Marley trophy in 3:14:03. Guyanese-born Euleen set a pace that kept her nearest competitors in her wake from start to finish.
In the half-Marathon, Jamaica's Wainard Talbert again proved that he is tough to beat on his home soil. Talbert surged over the last mile to close the gap on South African Tobias Philander to make for another exciting finish. The experienced Philander observed "the course was nice. It is good for people who want to run a fast time." Third-placer Gregory McKenzie helped to pace Talbert through the first 10 miles of the race.
Returning female champion Tamica Thomas successfully defended her crown. A 20 year-old student of GC Foster College, Thomas was followed by Rosemarie Alridge of Bellefield High School and Keniesha Jones also of GC Foster College to complete a Jamaican school-girl sweep.
MEN:
1  Andrew GUTZMORE            JAM  2:45:00
2  Colin GRAHAM               JAM  3:05:07
3  Ralf KLEIN                 USA  3:06:06
4  Maxwell SMITH                   3:11:05
5  Andrew ROUTH                    3:24:56
6  Colin MACKENZIE                 3:25:35
7  Richard MUELLER                 3:26:00
8  Owen GREAVES                    3:31:00
9  Robert ACOSTA                   3:31:28
10 David ROWE                      3:22:57
 
WOMEN:
1  Euleen JOSIAH-TANNER       USA  3:14:03
2  Terri REJIMBAL             USA  3:27:59
3  Carla ARNOLD               CAN  3:30:27
4  Alexa GEMMA                     3:33:18
5  Shanna TRENDLEY                 3:39:19
6  Carlene BLAGROVE                3:46:02
7  Rachel PETRUSKA OLSON           3:58:40
8  Nadine HENRY                    3:58:50
9  Georganna QUARLES               4:02:32
10 Patti PIOTROWSKI                4:02:47
 
HALF MARATHON: 
MEN:
1  Wainard TALBERT                 1:10:31
2  Tobias PHILANDER                1:10:50
3  Gregory MCKENZIE                1:11:19
 
WOMEN:
1  Tamica THOMAS                   1:28:20
2  Rosemarie ALRIDGE               1:30:06
3  Keniesha JONES                  1:32:27
2 DECEMBER 2006: MTN LAGOS INT'L HALF MARATHON, NIGERIA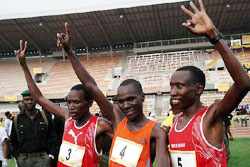 Louisette Thobi photos
Kenyan Solomon Busendich won the 5th edition despite coming across heavy traffic on the supposedly closed race route writes Louisette Thobi. The race attracted 48,489 registered starters, and this year was dedicated to raising awareness of HIV/AIDS.
Busendich was a long way off Joseph Fabiano Naasi's course record of 62:21, but given the conditions which the runners faced on the course the times were little more than a guide to their efforts.
"After 14km, we met a big traffic jammed route that made us lose hope," said the winner. "At that moment I asked myself if we had missed the way. We were losing concentration but the most important thing was to finish the race."
Six runners quickly formed the front group, led by John Cheruyot Korir who won this race in 2004, and was second last year. Francis Kibiwott, recent winner of the Obudu Ranch International Mountain race, upped the pace a third of the way through. Rwandan Dieudonné Disi, Korir and Busendich were the only ones to respond. This quartet ran up to the Ahmadu Bello Way where Korir virtually gave up.

At 13km the two remaining Kenyans accelerated to leave Disi behind. When it came down to the final sprint, Kibiwott was found wanting, "...I was tired, he is stronger than me", while Busendich "decided to run behind him so that I could win the sprinting stage."
The women's race was at the last minute honoured by the return of the race winner Millicent Doadi of Ghana, who retained her title by beating the much more internationally experienced Jennifer Chesinon, who had won in 2004.
MEN:
1  Solomon BUSENDICH           KEN  1:03:18
2  Francis KIBIWOTT            KEN  1:03:19
3  Dieudonne DISI              RWA  1:06:17
4  John Cheruyiot KORIR        KEN  1:06:51
5  Martin SULLE                TAN  1:08:14
6  Wilson EKU                  NGR  1:08:45
 
WOMEN:
1  Millicent DOADI             GHA  1:16:50
2  Jennifer CHESINON           KEN  1:17:42
3  Maria KABANG                NGR  1:28:52
3 DECEMBER 2006: RUN BARBADOS MARATHON
Neighbouring St Lucia took most of the plaudits in the 24th Run Barbados series, with evergreen Victor Ledger besting his Caribbean competition and a Kenyan challenger to slip under 2.5 hours. Pamenos Ballantyne, from St Vincent, had opted for Barbados over Jamaica's Reggae Marathon this year but could not quite live with Ledger's pace, as the St Lucian went ahead over the last third of the race up the scenic west coast of Barbados.
Some way in front of him his compatriot Zepherinus Joseph had scored a commanding win in the Half Marathon as he led a group of five away early in the race. At 11km he was feeling so much on top of things that he took the trouble to right an upturned kilometre marking sign before piling on the pressure that dropped all challengers. He had finished third in the previous day's 10km race around the streets of the island capital, Bridgetown, while the winner of that race, Henry Gituka managed a distant sixth in the half marathon.
Britain's Liz Yelling performed a similar double by finishing as runner up in the 10km to Tatyana Chakluh and then winning the Half marathon with relative ease. The women's marathon turned into a solo run for Gabonese-born Josiane Aboungono, now a Canadian citizen, as she left regular contestants Sarah Williams and Kim Goff trailing.
MEN:
1  Victor LEDGER               STL  2:29:49
2  Pamenos BALLANTYNE          STV  2:33:32
3  Charles NYAKUNDI            KEN  2:43:10
4  Stephen MARINUS             STL  2:43:57
5  Ken MACALPINE               CAN  2:54:07
6  Keith CUMBERBATCH           BAR  2:56:30
7  Joseph CLARKE               BAR  3:16:01
8  Andrew BRAITHWAITE          BAR  3:17:12
9  Martin BACON                GBR  3:17:31
10 Jean-Benoit JAOUEN          FRA  3:18:46
 
WOMEN:
1  Josiane ABOUNGONO           CAN  3:05:36
2  Sarah WILLIAMS              GBR  3:19:33
3  Kim GOFF                    USA  3:44:37
4  Marylin RENWICK             GRE  4:11:43
5  Janet WATSON                GBR  4:14:37
6  Kim MOXLEY                  CAN  4:15:57
 
HALF MARATHON
MEN:
1  Zepherinus JOSEPH           STL  1:08:15
2  Richard KIMELI              KEN  1:09:21
3  Sean WADE                   USA  1:09:36

WOMEN:
1  Liz YELLING                 GBR  1:17:36
2  Joyce CHEMATUI              KEN  1:19:54
3  Amanda MAXILLIEN            BAR  1:48:44
 
10km (2 DECEMBER)
MEN:
1  Henry GITHUKA               KEN  30:28
2  Richard KEMELI              KEN  30:59
3  Zepherinus JOSEPH           STL  31:03

WOMEN:
1  Tatyana CHAKLUH             RUS  34:10
2  Liz YELLING                 GBR  34:18
3  Emily CHEBET                KEN  34:18
3 DECEMBER 2006: STANDARD CHARTERED SINGAPORE INT'L MARATHON, SINGAPORE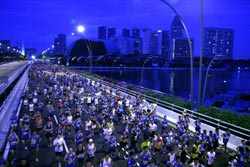 Salina Kosgei of Kenya was the star of the show, elegantly delivering the expected win and breaking the course record by almost three minutes writes Pat Butcher. Her time was exceptional in the conditions, 25°C heat and close to 100% humidity right from the 06.00 start.
There was another course record in the men's race—for the third year in succession—and the first repeat winner in the history of the event, when Amos Matui of Kenya again beat Ashebir Demissu of Ethiopia in the final stages.
Whereas Matui and Demissu made it a race right to the final kilometre, Kosgei's was virtually a solo run to victory. She stayed with the lead group, including last year's winner, Irina Timofeyeva of Russia, over the first 7km, before making a break.
"I was feeling quite easy, and I realised the weather conditions were good for here, so I decided to take the lead. But I still made sure I drank lots of water," said Kosgei at the finish, while all around her athletes were prostrate from heat exhaustion. Yet it was relatively cool and overcast by Singaporean standards, compared to last year, for example, when temperatures reached close to 30°C in bright sunshine. That will make her performance a difficult one to match. She finished second in Berlin three months ago, in a personal best of 2:23:22. Timofeyeva suffered from foot problems in the final stage, and limped across the line. Nevertheless, she was faster than her winning time last year.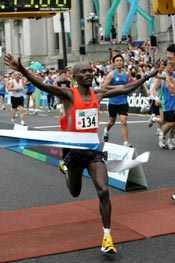 The men's race was virtually a carbon copy of last year, except that Demissu never went clear, as he did with 10km to run in 2005. Matui caught him in the last 200 metres then. But the Kenyan decided to make absolutely sure this year, and took off at 41km. Demissu was philosophical about his successive second place here. "He beat me last year, he beat me this year," he said shrugging, as if to say, 'what can I say?'. "It was still a fantastic race, easier than last year, but still hot". The first three all three beat Matui's course record of 2:15:57 from last year.
The second wave of popular marathoning has certainly made its mark in south-east Asia. Overall entries for the full and half marathon, and 10km were 30% up this year, with over 30,000 runners.
MEN:
1  Amos MUTAI                  KEN  2:15:01
2  Ashebier DEMISSU            ETH  2:15:08
3  Abel KIRUI                  KEN  2:15:22
4  Eric YETOR                  ETH  2:16:33
5  Francis KIPROP              KEN  2:18:22
6  David KIPTANUI              KEN  2:19:02
7  Charles YABEI               KEN  2:19:34
8  Paul KIPTANUI               KEN  2:20:58
 
WOMEN:
1  Salina KOSGEI               KEN  2:31:55
2  Irina TIMOFEYEVA            RUS  2:34:35
3  Emily KIMURIA               KEN  2:38:37
4  Rose NYANGACHA              KEN  2:39:42
5  Kotu GEMEDA                 ETH  2:43:40
6  Pa PA                       MYA  2:47:59
7  Banuelia KATESWIGA          TAN  2:48:26
8  Doruta GRUCA                POL  2:50:06
 
HALF MARATHON:
MEN:
1  Henry WANYOIKE              KEN  1:20:08
2  Joseph KIBUNJA              KEN  1:20:08
3  Mok YING REN                SIN  1:21:13
 
WOMEN:
1  Trudy FAWCETT               GBR  1:29:19
2  Chan KIT YEE                HKG  1:32:35
3  Victoria HILL               GBR  1:35:07
3 DECEMBER 2006: LISBON INT'L MARATHON, PORTUGAL
With some rain and a lot of wind the 21st edition of the Lisbon Marathon brought wins for the two Portuguese favourites writes Antonio Manuel Fernandes. Luis Jesus took the lead with the pacemakers and went through the half marathon in 1:05:04. But the strong wind, and a lack of preparedness took their toll. "I was not prepared to run so fast for the first half. My legs were not as good as I thought," said the winner who took eleven minutes longer to cover the second half. "This was the hardest marathon of my career."
Fatima Silva achieved her fifth win in this marathon, ten minutes ahead of Dorota Ustianowska. "After dropping out in the last European Championship, I was not able to know my shape, so I came here without expectations. I'm glad to win here, after I got the lead at 15km."
685 runners finished in the marathon and 1252 runners in the half-marathon.
MEN:
1  Luis JESUS                  POR  2:21:08
2  Sebastian PANGA             TAN  2:22:02
3  Manuel FERRAZ               POR  2:22:21
4  Andrey BRIZGALOV            RUS  2:24:40
5  Rui BELO                    POR  2:28:17
6  Eugenio NETO                POR  2:32:41
7  Jose JARMELA                POR  2:33:22
8  Custodio ANTONIO            POR  2:34:18
9  Conor MCGEE                 IRL  2:35:02
10 Jorge REIS                  POR  2:37:42
 
WOMEN:
1  Fatima SILVA                POR  2:40:00
2  Dorota USTIANOWSKA          POL  2:50:54
3  M Natalia PINHO             POR  3:08:33
4  M Aureliana EDMUNDO         POR  3:09:43
5  Fatima KOVACS               HUN  3:09:50
6  Angelique PEPER             NED  3:10:54
7  Rasa PTASHEKAITE            POR  3:21:22
8  Sandra ISABELINHA           POR  3:27:38
9  Michelle MCCANN             USA  3:29:12
10 Anna ZAUNER                 AUT  3:30:30
3 DECEMBER 2006: 60TH FUKUOKA INT'L OPEN MARATHON CHAMPIONSHIP, JAPAN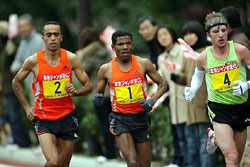 Takefumi Tsutsui photos
Haile Gebrselassie surged away from double World Champion Jaouad Gharib and defending champion Dmytro Baranovsky at 39km writes Ken Nakamura.
Gebrselassie's winning time was one second short of the course record, 2:06:51, set by Atsushi Fujita in 2000.
Defending champion Baranovsky, who passed Gharib on the final approach to the finish on the track of the Heiwadai stadium, hugely improved his personal best and national record of 2:08:29.
Toshihiko Seko, a four-time winner (in 1978, 1979, 1980 and 1983) acted as starter. Samson Ramadahni, Isaac Macharia and Fabiano Joseph were asked to pace to the turnaround at 31.6km at 3 minutes/km but in unseasonably cold weather and strong winds, the race started slowly. A huge pack passed 5km in 15:44 but the pace quickened immediately after that point, and from then on was steady around 3 minutes/km.
A pack of nearly 20 runners passed 10km in 30:56, 15km in 45:57, and 20km in 1:00:59. Haile Gebrselassie, Paul Biwott, Dmytro Baranovsky and Atsushi Fujita were running just behind the pace setters.
After halfway was passed in 1:04:18 the pace picked up some more with the following 5km split dipping under 15 minutes. Nine leaders passed 30km in 1:30:47 but the real racing started soon after the turn-around point. The pace setters dropped out and Toshinari Suwa and Paul Biwott fell behind, so that by 34km it was down to a trio.

Gebrselassie ran the 39th kilometre in 2:56 and Gharib and Baranovsky were left behind, as he continued to push the pace with 2:54 and 2:51 kilometres. He covered the second half in 1:02:34, 1:44 faster than his first half.
Wataru Okutani finished fourth in under 2:09:30 which gave him automatic selection for the World Championships Marathon in Osaka.
1  Haile GEBRESELASSIE         ETH  2:06:52
2  Dmytro BARANOVSKY           UKR  2:07:15
3  Jaouad GHARIB               MAR  2:07:19
4  Wataru OKUTANI              JPN  2:08:49
5  Toshinari SUWA              JPN  2:08:52
6  Tsuyoshi OGATA              JPN  2:10:48
7  Jon BROWN                   GBR  2:11:46
8  Atsushi FUJITA              JPN  2:11:50
9  Fernando CABADA             USA  2:12:27
10 Tomoyuki SATO               JPN  2:12:29
3 DECEMBER 2006: CAYMAN ISLANDS MARATHON, CAYMAN ISLANDS
MEN:
1  Mark HYDES                  CAY  3:09:26
2  Michael RIDSDALE            CAY  3:18:01
3  Dane RAUSCHENBERG           USA  3:24:35
4  Paul MCGEOUGH               CAY  3:24:36
5  Rupert NELL                 CAY  3:28:23
6  Eduardo TORRES              CAN  3:29:02
7  Hannes EFFERL               CAY  3:37:20
8  Kevin DELANEY               USA  3:37:27
9  Curtis KEITH                CAY  3:39:44
10 Dylan KING                  CAY  3:41:58
 
WOMEN:
1  Julie STACKHOUSE            USA  3:06:17
2  Julia ARMSTRONG             GBR  3:19:53
3  Beth SCHREADER              CAY  3:31:23
4  Andrea KOVACH               USA  3:48:38
5  Joclyn LOYD                 CAY  3:50:11
6  Anja HANSEN                 DEN  3:57:18
7  Gabriella MAGLIONE          USA  4:00:55
8  Meng HOEPFNER               USA  4:01:18
9  Laura KNOX                  CAY  4:19:48
10 Lyn EVINS                   CAY  4:21:21
3 DECEMBER 2006: BLOM BANK BEIRUT MARATHON, LEBANON
Kenyans Moses Kemboi and Eunice Korir took the titles in the race which had been postponed from the previous week due to the assasination of Government minister Pierre Gemayel writes Dave Martin.
The course, starting in the port area of the city, had been slightly altered although competitors did run within 600m of trouble hotspots, Partizan and Riad Al-Solh squares. "It was very peaceful," said Sara Nasser, the event's international delegate. The presence of armed troops and police on the streets reduced the watching crowds to a few hundred in the finish area. Kemboi, the pre-race favourite, was an emphatic winner in extremely hot conditions. The women's contest was much closer, with Korir pulling away from Alemtsehay Kakissa in the final stages to win by just eight seconds.
MEN:
1  Moses KEMBOI                   KEN  2:17:28
2  Eric KIPTOON                   KEN  2:19:55
3  Abraham YEMIL                  ETH  2:20:49
 
WOMEN:
1  Eunmice KORIR                  KEN  2:49:25
2  Alemtsehay KAKISSA             ETH  2:49:33
3  Haimanot WONDIMU               ETH  2:54:18
3 DECEMBER 2006: MACAU INT'L MARATHON AND HALF, MACAU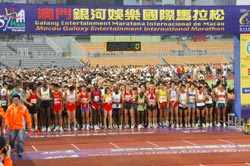 A total of 3077 runners registered and 2549 of them completed the three events within the established time limits: 449 runners completed the marathon within 5 hours; 1253 runners the half marathon within two and half hours; and 847 the mini marathon of around 5km within 1:15.
At 06.00 all participants were geared up in the Macau Stadium, expectantly awaiting the start at 07.00. After a long and exciting competition, Peter Kemboi from Kenya was first across the finish line followed by the defending champion—Philip Bandawe from Zimbabwe.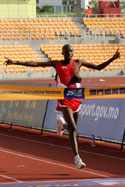 MEN:
1  Peter KEMBOI                KEN  2:18:56
2  Philip BANDAWE              ZIM  2:19:17
3  Mbogo J MIANO               KEN  2:19:51
4  Mykhail IVERUK              UKR  2:19:59
5  Adam DOBRZYNSKI             POL  2:20:20
6  Chol SONG PAK               PRK  2:21:06
7  Yi CHU WENG                 CHN  2:22:18
8  Kasirai SITA                ZIM  2:25:22
9  Carlos VALENTE              POR  2:25:30
10 Jingbo ZHANG                CHN  2:25:48
 
WOMEN:
1  Suk UN YYO                  PRK  2:38:27
2  Edyta LEWANDOWSKA           POL  2:39:09
3  Svetlana NEKHOROSH          UKR  2:41:46
4  Sun CHOL KIM                PRK  2:43:32
5  Shawuti NUERGULI            CHN  2:45:36
6  Rael JEPTOO MUREY           KEN  3:06:15
7  Hing CHUN CHAN              HKG  3:24:54
8  Catherine LEONARD           HKG  3:26:28
9  Cora JONGENOTTER            NED  3:27:08
10 Heong LAI LEONG             MAC  3:27:34
 
HALF MARATHON
MEN:
1  Kwok WAI CHAN               HKG  1:16:02
2  Yau TIN WONG                HKG  1:16:43
3  Lee WWAI CHENG              HKG  1:17:28

WOMEN:
1  Xia FENG YANG               CHN  1:17:57
2  Giovanna MANDY              USA  1:20:25
3  Suet YING LEUNG             HKG  1:26:13
3 DECEMBER 2006: 21K NUEVO LEON, MEXICO
Genoveva Jelagat, from Kenya, won the women's race in a new course record writes Ruben Romero. Jelagat won the 5km National Championship of Mexico held in Mazatlán the previous day with a new record of 15:41, after which she flew to Monterrey to win the 21K.
The half marathon started and finished at the Parque Fundidora in Monterrey. Rain, and a temperature of 11°C, did not impede Jelegat as she finished more than two minutes ahead. "I am very happy, thanks to God that I won with a new record, and also I could win yesterday, I had a good weekend".
David Galván led during the first 20km but eventually yielded to Isaac Kimayo, who won by three seconds, in a race that had a total of 1,518 runners including 28 runners from five foreign countries.
MEN:
1  Isaac KIMAYO                   KEN  1:03:00
2  David GALVAN                   MEX  1:03:03
3  Joseph KOECH                   KEN  1:03:59
4  Kibet CHEROP                   KEN  1:06:01
5  Charles KANDIE                 KEN  1:06:02
6  Evans MAIKO                    KEN  1:06:09
7  Evans ROTICH                   KEN  1:07:34
8  Asencion ARREDONDO             MEX  1:07:35
9  Miguel LEON                    MEX  1:09:15
10 Rogelio SALINAS                MEX  1:09:20
 
WOMEN:
1  Genoveva JELEGAT               KEN  1:11:30
2  Judith RAMIREZ                 MEX  1:13:54
3  Lucy MUHAMI                    KEN  1:15:03
4  Margaret TOROITICH             KEN  1:15:19
5  Nora Leticia ROCHA             MEX  1:20:29
6  Maria Guadalupe ALTUNEZ        MEX  1:20:41
7  Wanda PANFIL                   POL  1:22:21
8  Elida JASSO                    MEX  1:24:58
9  Dolores Eva DAVILA             MEX  1:27:51
10 Ana Teresa JUAREGUI            MEX  1:27:58
3 DECEMBER 2006: GRAN MARATON PACIFICO, MEXICO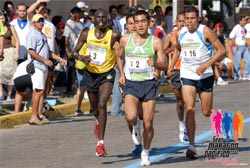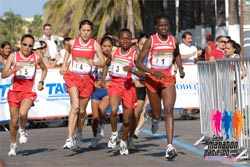 MEN:
1  George OKWORO                  KEN  2:17:27
2  Peter OMAE                     KEN  2:18:17
3  Jorge Rivera HERNANDEZ         MEX  2:19:20
4  Ruben Garcia GOMEZ             MEX  2:19:51
5  Ignacio Carretero MENDIOLA     MEX  2:21:07
6  Bob ONYANCHA                   KEN  2:22:07
7  Mario Martinez CRUZ            MEX  2:23:37
8  Roman ESPINOZA                 MEX  2:26:03
9  Fidel Garcia QUINTANA          MEX  2:27:11
10 Hector Perez Gonzalez          MEX  2:27:29
 
WOMEN:
1  Ma.Guadalupe Santana MARIN     MEX  2:43:52
2  Ariana Quino SALAZAR           MEX  2:56:25
3  Penninah NYABOKE               KEN  2:57:24
4  Lorena Ciro CORTES             MEX  2:57:34
5  Beatriz Rangel TELLEZ          MEX  2:58:22
6  Gloria Escareno LOPEZ          MEX  3:06:43
7  Esther Bustamante MORENO       MEX  3:16:20
8  Eugenia Hernandez GALLEGOS     MEX  3:17:03
9  Gariella Suarez ALVORADO       MEX  3:17:34
10 Aida Martha Butron AVILES      MEX  3:22:37
 
HALF MARATHON:
MEN:
1  Mateo CERON                    MEX  1:03:15
2  Luis BARRIOS                   MEX  1:03:15
3  Sergio PEDRAZA                 MEX  1:06:50

WOMEN:
1  Susana Diaz ESCOBAR            MEX  1:16:18
2  Marisol Romero ROSALES         MEX  1:16:50
3  Paula Apolonia JUAREZ          MEX  1:17:21
3 DECEMBER 2006: PAMPULHA LAGOON ROAD RACE, BRAZIL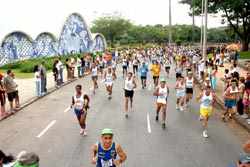 Franck Caldeira, winner of the Sao Paulo Marathon and Rio Half Marathon earlier in the year and winner of this race in 2003, beat a pair of young Kenyans to win again writes Rodolfo Eichler. The race is run through scenic parkland surrounding the Pampulha Lagoon and is 17.8km in length. It has become more and more attractive because in its eight editions it has influenced the urban recovery of the lake area and its paths and trails, which are broadcast each year to more than 30 countries.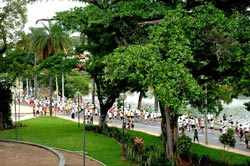 The artificial lagoon was formed in the 1940's when buildings were erected in the surrounding area, designed by the renowned Brazilian architect Oscar Niemeyer—still alive today at the age of 99. The little church of Sao Francisco is the most famous of these.
The race was fast with favourable weather (56% humidity and 18°C at the start) attracting more than 11,000 runners. The elite field included Brazilian runners, invited by the GloboTV Organizers, some Kenyans and a few of South America's top runners. Lucelia Peres won the women's race for the third consecutive time. Both winners are from the state of Minas Gerais, in the centre of Brazil, where the race takes place.
MEN:
1  Franck Caldeira DE ALAMEIDA    BRA  53:52
2  Kenneth Kiplimo KOSGEI         KEN  54:02
3  Cosmas Kibet KEMBOI            KEN  54:31
4  Jose do Nascimento SOUZA       BRA  54:34
5  Ubiratan Jose DOS SANTOS       BRA  54:48
6  Joao Ferreira DE LIMA          BRA  54:59
7  Luis Paulo de Silva ANTUNES    BRA  55:09
8  Giomar Perreira DA SILVA       BRA  55:25
9  Paulo Luis Dos Santos FILHO    BRA  55:39
10 Rogerio FERREIRA               BRA  55:52
 
WOMEN:
1  Lucelia de Oliveira PERES      BRA  1:02:14
2  Marcia NARLOCH                 BRA  1:04:00
3  Marily DOS SANTOS              BRA  1:04:40
4  Marizete Moreira DOS SANTOS    BRA  1:05:00
5  Edielza Alves DOS SANTOS       BRA  1:05:43
6  Janete Gomes BARBOSA           BRA  1:06:23
7  Luiza de Souza PINTO           BRA  1:07:07
8  Maria Sandra Pereira SILVA     BRA  1:07:22
9  Conceicao de Maria CARVALHO    BRA  1:07:33
10  Rosilene Alves De OLIVEIRA    BRA  1:07:44
10 DECEMBER 2006: LAS VEGAS MARATHON AND HALF, USA
Any event that features lasers, Santa Claus, a bunch of jogging Elvises, and milk and cookies gets a big fat seal of approval from us says the staff reporter of the Las Vegas Review. And so we wholeheartedly endorse the New Las Vegas Marathon, which not only boasts a field of 12,000 competitors tearing it up through the city, but also features other family-friendly attractions such as the Gospel Choir Alley and the Xbox Lounge. For those not yet family: you can get married during the race at the Run Through Chapel.
MEN:
1  Joseph KAHUGU               KEN  2:16:23
2  Noah TALAM                  USA  2:17:57
3  Mark ROBERTS                GBR  2:37:42
4  Abebe YIMER                 ETH  2:41:25
5  Jonathan ROSSING            USA  2:42:06
6  Hampus HOLMS TER            SWE  2:42:47
7  Darrell GENERAL             USA  2:44:12
8  Jonathan BALABUCK           CAN  2:44:28
9  Matt ZUCHETTO               USA  2:46:21
10 David BICE                  USA  2:49:23
 
WOMEN:
1  Jemma JELAGAT               KEN  2:35:12
2  Angela BESTWICK             USA  2:56:16
3  Pauline MCLEAN              CAN  2:59:20
4  Christa ORLOWSKI            GER  3:01:05
5  Stephanie TIERNEY           USA  3:03:53
6  Sarah POPEK                 USA  3:06:08
7  Keri NELSON                 USA  3:09:37
8  Heather GOODFELLOW          CAN  3:07:17
9  Sarah GRAVES                USA  3:08:52
10 Mary MOSIER                 USA  3:09:38
 
HALF MARATHON
MEN:
1  Josh SPIKER                 USA  1:10:11
2  Nicholas GRAMSKY            USA  1:10:17
3  Matt BARRESI                USA  1:13:13
 
WOMEN:
1  Maria Magdalena SANDOVAL    USA  1:23:20
2  Carla OPHORST               NDL  1:26:07
3  Judy DORPINGHAUS            USA  1:37:42
10 DECEMBER 2006: HONOLULU MARATHON, USA
Errol Anderson photo
Lyubov Denisova overwhelmed a strong women's field to run the fastest-ever marathon by a woman in this event's 34-year history writes David Monti. Denisova, 35, beat compatriot Lyubov Morgunova's 2004 record by 14 seconds. Ambesse Tolossa's win in the men's race brought Jimmy Muindi's win streak to an end.
Denisova prepared carefully for the heat, humidity and hills which make the Honolulu Marathon so challenging. Conditions were favourable for a fast time; it was relatively cool and the winds had died down. Denisova ran on her own through 5km (17:29) and 10km (34:21), but was eventually joined by her strongest challenger, Alevtina Biktimirova, also of Russia. They ran together through halfway in 1:13:32, modestly under the course record pace, but soon Biktimirova could no longer keep pace. Running the second half of the out-and-back course only slightly slower than the first, Denisova came home more than two minutes clear of Biktimirova. Eri Hayakawa, the 2003 Honolulu champion, came from behind to finish third and defending champion Olesya Nurgalieva was fourth.
In addition to the $40,000 first prize Denisova won a $10,000 record bonus and $17,000 for running sub-2:28:00. Her $67,000 payday was the largest ever won by a woman at the Honolulu Marathon.
Denisova had applied too late for the elite field in Honolulu but entered Honolulu on her own. Race director Jon Cross gladly accommodated her in the elite field when he found out she was planning to run, and made sure she had an elite number and a good starting position.
No athlete is more experienced at the Honolulu Marathon than five-time winner, Jimmy Muindi. He had won the last three editions of the race and has the fastest personal best time (2:07:49), but all was not well. A sore throat and cough were the warning signs but Muindi conserved his energy by drafting the leaders through the first 10km in 30:17. Ambesse Tolossa, Muindi's biggest challenger, was among them. "Up and down like Ethiopia," Tolossa later said of the Honolulu course which was definitely to his liking.
After the aggressive start, the pace slackened. Five contenders, including Muindi, Tolossa, Ethiopians Araya Haregot and Tekeste Kebede, and two-time Olympic medallist Eric Wainaina of Kenya, reached the half-way point in 1:06:19, but they were still slowing; from 20-25km took 16:42. The race finally got going at 30km and Kebede and Haregot fell back. Wainaina was the next to falter and at 35km (1:51:04) it was just Muindi and Tolossa. According to Muindi, the Ethiopian was running aggressively, bumping the taller Kenyan and sometimes clipping his heels. Words were exchanged.
Beginning the climb up Diamond Head Avenue after 35km, Tolossa managed to get a step ahead. After 2km and a 34m climb he had a lead. Tolossa went on to finish nearly a minute up on Muindi.
The race had 28,635 entrants of which 17,905 came from Japan. Runners continued to finish into the evening despite the 05.00 start because the race has an open finish line, part of the "Aloha Spirit" which makes this marathon unique.
MEN:
1  Ambesse TOLOSSA             ETH  2:13:42
2  Jimmy MUINDI                KEN  2:14:39
3  Eric WAIAINA                KEN  2:16:08
4  Araya HAREGOT               ETH  2:16:59
5  Eric NZOIKI                 KEN  2:17:10
6  Fujii YAKANORI              JPN  2:25:13
7  Nicholas MUINDI             KEN  2:25:26
8  Tekeste KEBEDE              ETH  2:26:16
9  Makoto YUKIMOTO             JPN  2:29:30
10 Shawn BRADY                 USA  2:31:07
 
WOMEN:
1  Lyubov DENISOVA             RUS  2:27:19
2  Alevtina BIKTIMIROVA        RUS  2:29:42
3  Eri HAYAKAWA                JPN  2:32:31
4  Olesya NURGALIEVA           RUS  2:36:02
5  Albina IVANOVA              RUS  2:39:44
6  Elena NURGALIEVA            RUS  2:41:15
7  Namie YAMAMOTO              JPN  2:49:44
8  Rika UMEYAMA                JPN  2:50:23
9  Kaoru AKAKA                 JPN  2:54:02
10 Yukiko MAKIHARI             JPN  2:56:48
10 DECEMBER 2006: POWERADE MONTERREY MARATHON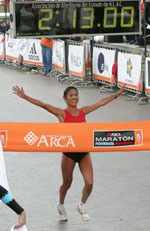 Maria Elena Valencia won the Marathon Powerade Monterrey with a personal best of 2:30:53, the third best time for a Mexican in 2006 writes Ruben Romero. Valencia suffered dehydration and vomiting during the race but managed to cross he finish line four minutes before the second place. She bettered the 2:33:14 with which she won the Lala Marathon last March.
The female elite runners started 17:52 before the elite men. This is the difference between the best times registered in Mexico—male and female—and there was a special bonus of 100,000 pesos for the first person to cross the finish line.
During the first half of the race the men reduced the handicap quite rapidly, but Valencia sped up at the half marathon mark and arrived at the finish line 1:42 before the male winner Christopher Kipyego.
Both winners ran negative splits. Valencia recorded 1:17:15 and 1:13:38, and Kipyego 1:08:40 and 1:06:03. The first five women and the first seven men broke the Monterrey marathon records.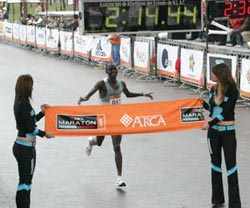 MEN:
1  Christopher KIPYEGO         KEN  2:14:43 
2  Christopher TOROITICH       KEN  2:14:50 
3  Jesus PRIMO CAPULA          MEX  2:16:13 
4  Edilberto MENDEZ            MEX  2:16:17 
5  George OKWORO               KEN  2:16:47 
6  Lazarus NYAKERAKA           KEN  2:20:31 
7  Philip METTO                KEN  2:20:54 
8  Miguel ANGEL IBARRA         MEX  2:21:02 
9  Gerardo MORALES             MEX  2:21:57 
10 Ricardo LARA ZAVALA         MEX  2:22:

WOMEN:
1  Maria Elena VALENCIA        MEX  2:30:53 
2  Lucy MUHAMI                 KEN  2:35:03 
3  Angelica SANCHEZ            MEX  2:35:25 
4  Karina PEREZ DELGADO        MEX  2:36:11 
5  Liliana MERLO FERNANDEZ     MEX  2:37:58 
6  Judith RAMIREZ HERNANDEZ    MEX  2:39:30 
7  Susan KIHARA MUTHONI        KEN  2:41:56 
8  Sara CEDILLO SANCHEZ        MEX  2:42:39 
9  Adriana SANCHEZ RUIZ        MEX  2:46:27 
10 Amelia TORRES ROMERO        MEX  2:54:21
12 DECMBER 2006: ANTARCTICA ICE MARATHON, ANTARCTICA
Competitiors from Armenia, Australia, France, Great Britain, Ireland, Russia, South Africa, Ukraine, and the USA took part in the second Antarctic Ice Marathon & 100km races. These are the only footraces held within the Antarctic Circle and take place in 24-hour daylight at 80 degrees South.
Clear skies, temperatures of -10°C and light winds met the participants on 13 December for the marathon. Low cloud cover in the later stages of the race led to poor contrast and visibility. A group of six top mountaineers, including four Everest summiteers from the seven summits club, were late registrants for the event. Their inclusion in the field added further excitement to the race particularly when the best marathoner among them, Karo Ovasapyan of Armenia, was still in contention for third place after 25km. But by this point Henri Alain d'Andria (FRA) had carved out a sizeable lead over Tim Harris (GBR). The Frenchman continued to push ahead to win in a new Antarctic Ice Marathon record of 5:08:17 hrs, beating Eveginy Gorkov's (Russia) existing record by over a minute. In finishing second, Tim Harris successfully completed seven marathons in seven weeks on seven continents and will undoubtedly enter Guinness World Records for the shortest cumulative marathon time for the task. Noelle Sheridan (USA) was the sole female participant and finished in a time of 7:15:46 to set a new Guinness World Record for women by running seven marathons in seven months on seven continents.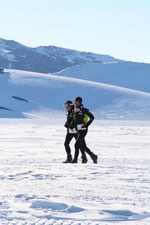 Two of the mountaineers finished the marathon event while the others decided at different points to withdraw rather than putting an imminent Mount Vinson summit attempt in jeopardy due to blistering or other running-related injuries. Nevertheless, a record of other sorts was probably set for the greatest concentration of Everest summiteers in one marathon.
In the 100km race, held on 15 December, Richard Donovan (IRL) took the lead from the outset and pressed hard over the first 25km. D'Andria (France) followed close behind. However, the gap widened to 40 minutes at the halfway point as the relentless pace continued. Easing up over the final quarter, the Irishman set a new Antarctic 100km record of 12:55:06—a race distance that is equivalent of 10% of the distance from the race venue to the South Pole. Both overall winners received $5,000 Kobold Expedition watches.
MEN:
1  Henri Alain D'ANDRIA        FRA  5:08:17 
2  Tim HARRIS                  GBR  5:15:28 
3  Philippe MOREAU             FRA  5:30:11 
4  Herve TAQUET                FRA  5:30:11 
5  Gavin MELGAARD              AUS  7:05:18 
6  John KRAUS                  USA  7:17:48 
7  Mike NIXON                  RSA  7:32:20 
8  Jim WOOD                    USA  7:32:20
 
WOMEN: 
1  Noelle SHERIDAN             USA  7:15:46 
 
100K: (15 DEC)
1  Richard DONOVAN             IRL  12:55:06 
2  Henri Alain D'ANDRAI        FRA  13:25:10 
3  Philippe MOREAU             FRA  14:35:54 
4  Herve TAQUET                FRA  14:35:54 
5  Tim HARRIS                  GBR  17:16:53 
6  Mike PIERCE                 USA  17:16:53 
7  John KRAUS                  USA  22:31:10
17 DECEMBER 2006: ANGKOR WAT INT'L HALF MARATHON, CAMBODIA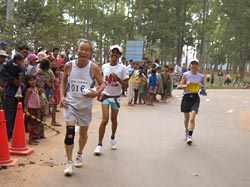 The race takes place amongst the spectacular ruins of Angkor Wat, designated as a world heritage site by UNESCO. The scenic course starts and finishes in front of the Central Sanctuary of the Angkor Wat.
The race was conceived with a charitable purpose: to provide landmine victims with prosthetic limbs, and youth with education for HIV/AIDS prevention. There are categories for artificial leg, and wheelchairs. The field has grown steadily since foundation and this 11th edition drew 2,154 participants from 35 countries, including a record 481 half marathoners from 29 countries. Entry fees are donated to the same charitable organizations every year.
On race day, sunny skies and a start temperature of 21.5°C offered good running conditions. The course is flat and runner friendly. Many runners were repeating the experience, both from Cambodia and abroad. Hem Bunting from Cambodia won the half marathon for third straight year. Every year there are more and more local residents offering support along the course and at the finish line. Runners enjoyed the hi-fives offered by little children, demonstrating how this event brings a zest for living to people in Cambodia as well as developing Cambodian athletes.
MEN:
1  Hem BUNTING                 CAM  1:12:26
2  Masashi SHIMPO              JPN  1:16:50
3  Tony SEAKINS                GBR  1:19:04
4  Sien SOPHAK                 CAM  1:20:40
5  Patrick Michel LORENTZ      FRA  1:21:57
6  Allesina FLAVIO             SUI  1:23:31
7  Kiency SAMORN               CAM  1:23:52
8  Jay JOHANNESEN              USA  1:24:07
9  Trevor James SEAMAN         AUS  1:24:36
10 Tapio TIKKANEN              FIN  1:25:05
 
WOMEN:
1  Wakana AKIMOTO              JPN  1:26:52
2  Brigitte NIEDERBERGER       SUI  1:29:42
3  Sam SAUNDERS                CAN  1:31:27
4  Pauline Elizabeth MULROY    GBR  1:33:22
5  Nicola GREEN                GBR  1:33:30
6  Mika KUINE                  JPN  1:34:33
7  Larissa Nicole MACLACHIAN   CAN  1:36:16
8  Mary WHITTFIELD             USA  1:36:18
9  Anna ODMAN                  SWE  1:39:00
10 Lesley PERLMAN              USA  1:41:11
17 DECEMBER 2006: ING TAIPEI INT'L MARATHON, TAIWAN
MEN:
1  Luke KIBET                  KEN  2:11:05 
2  Stephen KAMAR               KEN  2:11:50
3  Julius SUGUT                KEN  2:12:32
4  Andrey CHERNISHOV           RUS  2:22:01
5  Samson KANDIE               KEN  2:24:34
6  Ji Jian CHENG                    2:25:25
7  Jhih Fong HE                     2:32:00
8  Jhih Hong HE                     2:35:19
9  Jian Shing CHIOU                 2:35:23
10 Shih Jie KE                      2:42:34
 
WOMEN:
1  Jane AURO                   KEN  2:30:56
2  Tabitha TSATSA                   2:32:09
3  Irina SAFAROVA              RUS  2:37:38
4  Wan Ling WU                      2:47:27
5  Ka-wai LAI                       2:58:35
6  Xiao Yu LEE                      2:58:38
7  Su Ling CHANG                    3:12:51
8  Eriko KATO                       3:16:47
9  Pui Ling CHEUNG                  3:20:19
10 Su Wei CHEN                      3:29:03
31 DECEMBER 2006: ST CATHERINE'S MARATHON, EGYPT
A total of 110 runners completed the four events, ranging from 5km through 10km and half marathon up to the full marathon, which were held on the last day of the year in the shadow of Mount Sinai, with the start and finish in St Catherine's village just a few hundred metres from the ancient monastery. Water and bananas were offered every 2.5km. The whole course was under close control of the competition organisers and two ambulances were permanently patrolling the course. All participants received medals, T-shirts and papyrus diplomas to commemorate their efforts.
MEN:
1  Mark WERNER                 USA  2:54:31
2  Mohamed MORSY               EGY  3:11:09
3  Salid JBEDA                 EGY  3:20:32
4  Nail ZABAROV                RUS  3:26:24
5  Heinrich VAN NAHMEN         GER  3:40:22
6  Ossama MOHAMED              EGY  3:43:29
 
WOMEN:
1  Elke MELFER                 GER  3:59:05
2  Jlona SCHLEGEL              GER  3:59:06
3  Laura KOSTABORDER           USA  4:28:58
4  Una RATH                    GER  4:35:23
5  Brigitta BIERMANSKI         GER  4:43:44
 
HALF MARATHON
MEN:
1  Mahmoud                     EGY  1:18:13
2  Forid SAMIR                 EGY  1:19:23
3  Gaber BAHNASY               EGY  1:22:40
4  Mohamed ADEL                EGY  1:36:17
5  Detlef MEHLAU               GER  1:36:17
 
WOMEN:
1  Lydia LYSENKO               RUS  1:57:29
2  Alicia GALE                 USA  2:24:15
December 2006