November 2006
5 NOV | 10 NOV | 12 NOV | 19 NOV | 23 NOV | 24 NOV | 25 NOV | 26 NOV
5 NOVEMBER 2006: ISTANBUL EURASIA MARATHON, TURKEY
Clear sky and light wind offered good racing conditions, after snow and heavy winds had buffeted the city the previous day writes Ian Ladborroke.
Faustin Baha led from the start, taking one pacer and Moroccan El Chardri with him. At 10km they were 45 seconds ahead of a huge group of African and East European runners. They went through halfway in 66 minutes with the leading trio nearly two minutes ahead. On the out-and-back section along the Bosphoros, after the pacer had finished his job, Baha went ahead and battled into the wind alone. At 30km he was still 1:40 ahead, but showing signs of tiredness. A chasing trio, led by Mindi Pukstas began to close, and at 37.5km the gap was only 40 seconds. Baha was finally caught at 39km and slipped back to 4th. Pukstas kept ahead of the others and broke the longstanding race record.
The women were paced through halfway in 1:14:10, a little fast for most on this tough course. Last year's winner Madina Biktagirova again prevailed in a new race record by over six minutes. The next four also broke the old record in a highly entertaining and impressive battle, with Mehtap Dogun setting a new Turkish record in fourth place.
MEN:
1  Mindaugas PUKSTAS           LIT  2:12:52
2  Andrei NAUMOV               UKR  2:12:59
3  Sergei LUKIN                RUS  2:13:08
4  Faustin Baha SULLE          TAN  2:13:25
5  John KIOKO                  KEN  2:14:09
6  Hillary KIPKERING           KEN  2:14:17
7  Iaroslav MUSINSCHI          MDA  2:15:06
8  Elias CHEBET                KEN  2:15:47
9  Joseph YEGO                 KEN  2:16:30
10 John MALUNI                 KEN  2:16:35

WOMEN:
1  Madina BIKTAGIROVA          RUS  2:28:21
2  Liliya YADZHAK              RUS  2:29:22
3  Natalya VOLGINA             RUS  2:30:07
4  Mehtap DOGAN                TUR  2:31:13
5  Alina GHERASIM              ROM  2:32:13
6  Malgorzata SOBANSKA         POL  2:32:40
7  Mihaela BOTEZAN             ROM  2:37:01
8  Tatyana ZHIRKOVA            RUS  2:39:25
9  Nancy KIPRON                KEN  2:40:13
10 Valentina POLTAVSKA         UKR  2:40:42
5 NOVEMBER 2006: JOONGANG SEOUL MARATHON, KOREA
29-year-old Kenyan Jason Mbote scored his first big marathon win writes Mirko Jalava. Mbote bettered his personal best from Frankfurt last year by 27 seconds, and beat William Kiplagat's course record set last year by 24 seconds. It was only the second time that Mbote had dipped under 2:10.
He beat several more established runners: Paul Kirui, who had set a personal best of 2:06:44 in Rotterdam earlier this year, finished second. The next two finishers were also better-known Kenyans, and both set seasonal bests. Former Boston winner and Korean national record holder Lee Bong-Ju took fifth, while two-time London winner Abdelkader El Mouaziz was a long way adrift in sixth place.
The women's race was a domestic affair, won by Kim Hye-Kyong in a personal best of 2:40:36.
MEN:
1  Jason MBOTE                 KEN  2:08:13
2  Paul KIRUI                  KEN  2:09:05
3  Philip MANYIM               KEN  2:09:35
4  Wilson ONSARE               KEN  2:09:47
5  Lee BONG-JU                 KOR  2:10:49
6  Abdelkader EL MOUAZIZ       MAR  2:13:28
7  James ROTICH                KEN  2:13:35
8  Norman DLOMO                RSA  2:14:17
 
WOMEN:
1  Kim HYE-KYONG               KOR  2:40:36
2  Park MI-OK                  KOR  2:45:15
3  Kim MI-EUN                  KOR  2:52:44
5 NOVEMBER 2006: ATHENS CLASSIC MARATHON, GREECE
The 24th edition was run under a sunny sky but in cool temperatures writes Michalis Nikitaridis. Even so, the extremely tough course suppressed the winning times.
The victors received not only the traditional crowns of wild olive but also a prize of 6000 euros each, awarded by the President of the Hellenic Republic, Karolos Papoulias.
Henry Tarus showed patience as well as strength to win the men's race. Paul Lomol Lopio and Ben Chebet, who led the race to 39km, were eventually out manoeuvred by Tarus. Tarus made the decisive surge on the final downhill section of the course as the longtime leaders tired. He made up a deficit of about 300m and crossed the line at the Panathanaikos Stadium with 100m to spare. Ethiopia's Habtamu Bekele came through late to take third place while Chebet, who had led for so long, faded to a tired 9th.
Ioannis Kanellopoulos finished seventh overall to secure the Greek national title in his marathon debut. The 25-year-old first became known in 2003 when he won the European U23 10,000m title in Bydgoszcz, Poland. Another debutant, the former oarsman Dimitrios Theorikakos, was eighth overall and second finisher in the national championships.
The women's race was decided with less than 100m to go as three runners entered the stadium together. Japan's Chikako Ogushi found the strength to fend off her two Ethiopian challengers, Hatish Letay and Zinash Alemu. It was Ogushi's fourth marathon race, and her second this year, as she had finished sixth in Nagano last April in 2:40:00.
The Greek runner Eleni Donta took the national title, finishing fifth overall, and put an end to Georgia Ambatzidou's dominance. Ambatzidou had monopolised the national title from 2001 to 2005, with each of her five victories accomplished in the Athens Classic Marathon.
MEN:
1  Henry TARUS                 KEN  2:17:45
2  Paul Lomol LOPIO            KEN  2:18:07
3  Habtamu BEKELE              ETH  2:20:04
4  Marc SAINA                  KEN  2:20:18
5  Fujimoto DAIKUSE            JPN  2:20:41
6  James SAINA                 KEN  2:21:18
7  Ioannis KANELLOPOULOS       GRE  2:24:21
8  Dimitrios THEODORAKAKOS     GRE  2:24:39
9  Ben CHEBET                  KEN  2:25:08
 
WOMEN:
1  Chikako OGUSHI              JPN  2:40:45
2  Letay HADISH                ETH  2:40:53
3  Zinash ALEMU                ETH  2:42:02
4  Salomie Jetnet KASSA        ETH  2:42:59
5  Eleni DONTA                 GRE  2:44:43
6  Tatyana MIRONOVA            RUS  2:44:49
5 NOVEMBER 2006: UWI-SPEC HALF MARATHON, TRINIDAD
MEN:
1  Ernest KIMELI               KEN  1:05:07
2  Zepherinus JOSEPH           STL  1:07:45
3  Pamenos BALLANTYNE          STV  1:07:47
4  Richard JONES               TRI  1:09:44
5  Ronnie HOLASSIE             TRI  1:10:07
6  Curtis COX                  TRI  1:11:45
7  Errol WILLIAMS              TRI  1:12:29
8  Elvis TURNER                TRI  1:16:01
9  Brian MAYNARD               TRI  1:16:45
10 Clarence TOBIAS             TRI  1:16:54
 
WOMEN:
1  Jemima SUMGONG              KEN  1:12:08
2  Firaya SULTANOVA            UKR  1:20:21
3  Shermin LASALDO             TRI  1:30:35
4  Tonya NERO                  TRI  1:32:56
5  Ruth METIVIER               TRI  1:33:35
6  Solange GRIFFITH            TRI  1:35:49
7  Alika MORGAN                TRI  1:36:34
8  Kerticha JOHN               TRI  1:38:26
9  Leisl PUCKERIN              TRI  1:40:38
10 Paulette LUCESS             TRI  1:40:55
10TH NOVEMBER 2006: PHARAONIC 100KM, EGYPT
INDIVIDUAL:
1  Mahmoud DEHAISE            EGY  8:19:46

TEAMS:
1  H.O CLUB ALEXANDRIA        EGY  6:45:16
   (Ahmed EL-MAGRABI, Ragab NADAR HASSAN,
    Ahmed MOSTAFA, Mohamed OSMAN)

2  ALEXANDRIA RUNNERS         EGY  6:45:18
   (Mohamed EL-MORSI,  Mahmoud HASSAN,
    Farag AMER, Farid ABDALLA, Ahmed HUSSEIN)

3  COMBINED TEAM 1                 7:37:45
   (Darren HEDLEY GBR, Grubbs ALER USA,
    Ash GARRET USA, Leanne MORROW CAN,
    Hisham EL-TAIBE EGY)

4  COMBINED TEAM 2                 7:37:45
   (Mohamed EL-HAMAMY EGY, Mohamed ELSAWEY EGY,
    Franz WETZEL AUS, Mohamed ASHA JOR,
    Youssef NEAMEI JOR)

5  ANGLO-FRENCH TEAM               7:59:25
   (Edward PRICE GBR, Daniel FAHY GBR,
    Jamal BAZZOUZ FRA, Gareth HIRD GBR,
    Scott JOHNSTON GBR)

6  ANGLO-AMERICAN TEAM             8:02:55
   (Brian WILLIAMS USA, Brian SMITH USA,
    Berman AARON USA, Michael SWANSON USA,
    Hugh NICHOLSON GBR)
12 NOVEMBER 2006: MARATHON DE MONACO
MEN:
1  Wilfred CHESEREK            KEN  2:17:21
2  Andrei BRYZGALOV            RUS  2:17:50
3  Jacob KITUR                 KEN  2:18:55
4  Simon RIPIS                 KEN  2:20:18
5  Wepoghe Pius MNANGAT        KEN  2:20:19
6  Sergei KALEDINE             RUS  2:25:34
7  Xavier SABOURNIN            FRA  2:26:56
8  Alexandre OLKHOV            RUS  2:27:03
9  Alexandre KRISTIANIKOV      RUS  2:27:31
10 Josephat ROTICH             KEN  2:35:58

WOMEN:
1  Lena GAVELIN                SWE  2:39:29
2  Olena SAMKO                 UKR  2:41:27
3  Krystina KUTA               POL  2:45:39
4  Elena KOJEVNIKOVA           RUS  2:47:13
5  Maria FEDOSSEEVA            RUS  2:49:28
6  Ludmilla AFONIOUCHKINA      RUS  2:51:14
7  Michelle LESERVOISIER       FRA  3:08:30

10km race:
MEN:
1  Zouhair OUERDI              MAR  30:54
2  Diego FILLIPI               ITA  31:31
3  Mustapha TANTAN             FRA  31:49

WOMEN:
1  Alison BARNES               GBR  37:03
2  Yolanda CEPLAK              SLO  37:36
3  Magali NERENHAUSEN          FRA  39:53
12 NOVEMBER 2006: GARDA TRENTINO HALF MARATHON, ITALY
MEN:
1  Kudama SHENTAMA             ETH  1:04:08
2  Peter KIPLAGAT              KEN  1:04:58
3  Sergei ZACHEPA              RUS  1:05:08
4  Guilian BATTOCLETTI         ITA  1:05:16
5  Rachid JARMOUNI             ITA  1:06:04
6  Gianluca PASETTO            ITA  1:06:21
7  John ROTICH                 KEN  1:07:03
8  Massimiliano INGRAMI        ITA  1:07:27
9  Simone FAVARO               ITA  1:08:00
10 Luca MOLINERI               ITA  1:08:12

WOMEN:
1  Elisa DESCO                 ITA  1:14:58
2  Edi TURCO                   ITA  1:15:40
3  Vittoria SALVINI            ITA  1:16:27
4  Paola FEDEZI                ITA  1:17:24
5  Laura RICCI                 ITA  1:20:02
6  Daniela VASSALLI            ITA  1:21:06
7  Cristina SCOMPARIN          ITA  1:21:18
8  Sonia LOPES                 ITA  1:21:33
9  Hanna JONSON                SWE  1:22:39
10 Sally GOLDSMITH             GBR  1:23:17
19 NOVEMBER 2006: MARABANA MARATHON AND HALF, CUBA
In total 3180 runners participated, with 745 foreign runners coming from 76 countries. A relay event was incorporated within the half marathon race, in which 45 teams took part.
At 10.00 the previous day the nationwide "Maracuba" series of 4820 races over the distance of 4219.5m took place in which 2,356,021 people participated, including 19,550 handicapped participants.
MEN:
1  Henry Jaen ORTIZ                2.29.23  CUB
2  Isbel Milian ACOSTA             2.36.35  CUB
3  Yunier Fouman SANTIESTEBAN      2.40.36  CUB

WOMEN:
1  Aracelis Lamout LUIS            3.15.12  CUB
2  Zenaida Alonso DIAMET           3.23.53  CUB
3  Daniela NUSSECK                 3.24.56  SUI

HALF MARATHON
MEN:
1  Norber GUTIERREZ                1.06.41  CUB
2  Livan LUQUE REYES               1.06.57  CUB
3  Richar PEREZ COBAS              1.07.25  CUB

WOMEN:
1  Mariela GONZALEZ TORRES         1.18.08  CUB
2  Yudileivis Castillo TUMBAREL    1.18.42  CUB
3  Dalin Belmonte TORRES           1.20.17  CUB
19 NOVEMBER 2006: TOKYO WOMEN'S INTERNATIONAL MARATHON, JAPAN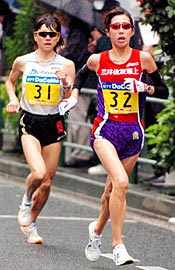 Reiko Tosa ran away from 2000 Olympic champion Naoko Takahashi just after 31km writes Ken Nakamura. It was Tosa's third marathon victory. She had also won the 2004 Nagoya Women's marathon, which qualified her for the 2004 Olympic marathon in which she finished fifth. She had also been a close runner-up to Lidia Simon in the 2001 World Championships in Edmonton.
Conditions were less than favourable. Drizzle became steady rain by mid-race and the last half was also marred by a head-wind. Because Tosa did not break 2:26 she has no automatic qualification for the 2007 World Championships team, and has to await results from the Osaka Ladies and Nagoya Women's Marathons.
Takahashi finished a disappointing third. It was her first loss against another Japanese, her slowest time, and her lowest finishing place in a marathon since her 2:31:32 debut at the 1997 Osaka Ladies Marathon.
The race started fast, with Tosa sometimes leading the pack ahead of the pace makers Alevtina Ivanova and Olga Romanova. The first 5km, mostly downhill, was covered in a fast 16:29, only five seconds behind the record pace of 1999. The lead pack quickly dwindled to eight runners — Tosa, Takahashi, Zivile Balciunate (runner up last year), Olivera Jevtic (European silver medallist), Jen Rhines and Asha Gigi, plus the two pacemakers.
Akemi Ozaki, running her second marathon, caught up with the lead pack but Rhines, Jevtic and Balciunaite started to fall off the pace soon afterwards. Ozaki also started to fall behind, and ran most of the race between the lead and the chase packs.
After 20km, Gigi, who ran the Berlin marathon in September, was off the pace. At halfway Tosa and Takahashi were led through by Ivanova in 1:10:53. The rain was now steady and hopes of fast times further diminished as runners faced a headwind. Ivanova dropped out at 27km and the pace slowed further. At 30km Tosa and Takahashi were a minute ahead of Ozaki. "I did not surge at 31km," Tosa said after the race. Takahashi just fell away, as the splits confirm (3:29, 3:32 between 30-32km).
After 32km the gap quickly grew. Tosa covered the 30-35km section 42 seconds faster than Takahashi, and the race was over. From 35km, the runners must contend with the hill, and Takahashi was losing 20 seconds with each kilometre as Ozaki closed down, passing her with 3km to go.
In an interesting aside, Tosa commented: "Tomorrow is my husband's birthday. I think I gave him a good birthday present." She is the first married female runner in Japan to win a major marathon.
WOMEN:
1  Reiko TOSA                  JPN  2:26:15
2  Akemi OZAKI                 JPN  2:28:51
3  Naoko TAKAHASHI             JPN  2:31:22
4  Olivera JEVTIC              SER  2:33:11
5  Zivile BALCIUNAITE          LTU  2:33:18
6  Mary PTIKANY                KEN  2:34:31
7  Jennifer RHINES             USA  2:35:37
8  Atsede BAYSA                ETH  2:37:48
9  Maki KONO                   JPN  2:39:48
10 Yumiko MINATO               JPN  2:40:36
19 NOVEMBER 2006: PALERMO INT'L MARATHON, ITALY
MEN:
1  Leonard K KIPYEGO           KEN  2:13:34
2  Reuben C MUTUMWO            KEN  2:15:35
3  Geoffry C RONO              KEN  2:16:02
4  Jhon ROTICH                 KEN  2:19:13
5  Ben C CHESEREK              KEN  2:19:32
6  James K CHEIBO              KEN  2:25:40
7  Raphael K KIPLIMO           KEN  2:31:06
8  Giuseppe FATONE             ITA  2:43:48
9  Antonio GUZZO               ITA  2:44:29
10 Angelo RUOCCO               ITA  2:48:27
 
WOMEN:
1  Rosa ALFIERI                ITA  3:10:35
2  Diana DRAGHICI              ITA  3:26:46
3  Maurizia GIACOMOZZI         ITA  3:36:31
4  Irene SOLMI                 ITA  3:40:00
5  Morena SCARAMELLI           ITA  3:40:00
6  Sylvia TRAVAGLIONE          USA  3:43:29
7  Giuliana AMATU              ITA  3:50:16
8  Debora MERIGO               ITA  3:50:22
9  Monica BIGLIOLI             ITA  3:54:01
10 Cintia CATTELINI            ITA  3:55:24
19 NOVEMBER 2006: MEDIA MARATHON QUITO - MITAD DEL MUNDO, ECUADOR
MEN:
1  Efrem AVILES                ECU  1:04:57
2  Franklin TENORIO            ECU  1:05:01
3  Herbieto LINARES            ECU  1:06:48

WOMEN:
1  Judith LANDI                ECU  1:16:39
2  Martha TENORIO              ECU  1:17:39
3  Lorena ROSERO               ECU  1:18:44
23 NOVEMBER 2006: ATLANTA MARATHON AND HALF, USA
MEN:
1  Maurits VAN DER VEEN        NED  2:33:58
2  Scott P LOWE                     2:38:10
3  Benjamin T CORONA                2:40:14
4  Mark COUGHLIN                    2:44:35
5  Ken CSIPO                        2:46:07
6  Timothy NIJAKOWSKI               2:53:30
7  Modesto ZEFERINO                 2:55:38
8  Andy MEYER                       2:56:18
9  Chuck JONES                      2:57:23
10 Jonathan OBST                    2:57:25
 
WOMEN:
1  Bethany HALL                USA  3:20:09
2  Jessica MORRIS              USA  3:22:04
3  Abby MATSON                 USA  3:22:18
4  Lauren GILES                USA  3:26:46
5  Connie NELSON                    3:27:08
6  Nancy ROLLINS               USA  3:28:41
7  Brittney JETT               USA  3:30:00
8  Wendy DONNAN                     3:31:21
9  Sally J BROOKING                 3:31:48
10 Susan MOSS                       3:35:37
 
HALF MARATHON:
MEN:
1  Michael GREEN               USA  1:06:29
2  Belay TEKA-KOSSA                 1:06:49
3  Jared NYAMBOKI                   1:08:22
 
WOMEN:
1  Brandi POZNIAK              CAN  1:19:54
2  Donna GARCIA                     1:21:56
3  Kate E BRUN                      1:25:25
24-26 NOVEMBER 2006: MALTA INT'L CHALLENGE MARATHON, MALTA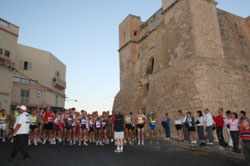 The Christmas lights might have been switched on earlier during the week, but it was a 27-year old Russian Konstantin Kochkin who really lit up Valletta's Republic Street writes Paul Grech.
He covered the total 'Challenge' distance of 42.2km, run in three consecutive daily stages of 11.2km, 6km and 25km in a cumulative time of 2:24, almost 10 minutes ahead of his opposition. "It isn't good enough to beat Dale Rixon's record of 2:15:49 way back in 1992," said race director Barry Whitmore, "but it is the fastest run we've seen in a long time."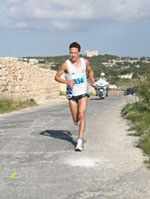 "It is an excellent race and the scenery is very beautiful" said Kochkin. "The hills make it quite tough, particularly the final one that leads to the finish. So it is truly a challenge—but a nice challenge."
Four-time winner David Mansbridge, who finished third on the day (1:34:58) and second overall was visibly disappointed. "Perhaps age is catching up with me," he said.
An athlete with whom age doesn't seem to be catching up is Carol Walsh who, as expected, was the first woman in at the City Gate gantry at the end of the 25km and confirmed her overall victory. Walsh's inclusion was a surprise—she last took part in this race 13 years ago but she didn't regret her choice.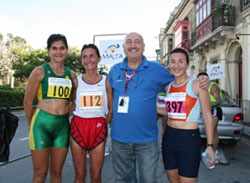 "I really enjoyed myself. At first I was a little bit apprehensive because you have to watch yourself when you're running three races in consecutive days. I used my experience and held back a little in the first two races," she said. Doreen Vella's second place—both in the final race and overall—was a surprise as she started the day in third. "It gave me something to aim for", she said. Carmen Hili, winner of the past four editions, finished third with a slow third stage. "I didn't feel good today although I don't really know why", she said.
MEN:
1  Konstantin KOCHKIN          RUS  2:24:41           
2  David MANSBRIDGE            GBR  2:34:29
3  Terentiev STANISLAV         RUS  2:35:09
4  Drew LANG                   MLT  2:36:23
5  Johann GALEA                MLT  2:37:00
6  Stephen BORG                MLT  2:37:20
7  Peter AZZOPARDI             MLT  2:40:18
8  Jimmy SACCO                 MLT  2:40:41
9  Andrew GRECH                MLT  2:41:38
10 Manuel SPITERI              MLT  2:47:05
 
WOMEN:
1  Carol WALSH                 MLT  2:50:27
2  Doreen VELLA                MLT  3:01:10
3  Carmen HILI                      3:04:06
4  Paola VIGNANI               ITA  3:20:24
5  Marica MICALLEF             MLT  3:21:25
6  Caroline SCIBERRAS          MLT  3:23:56
7  Hannah MCDONALD             GER  3:32:22
8  Lyndsey GRIFFITHS           GER  3:48:54
9  Marie HUNSTON               GER  3:50:21
10 Coby GIJSBERS               NED  3:52:58
25 NOVEMBER 2006: AIMS CHILDREN'S SERIES, ADDIS ABABA, ETHIOPIA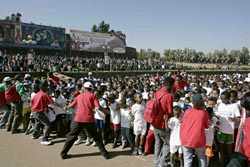 The last of the three events in the AIMS Children's Series 2006 provided a curtain-raiser for the 6th Toyota Great Ethiopian Run 10km scheduled for the following day. The two events have things in common: a dramatic start and finish in the huge amphitheatre surrounding Meskal Square, Haile Gebrselassie as a committed race patron and a cast of thousands of enthusiastic participants.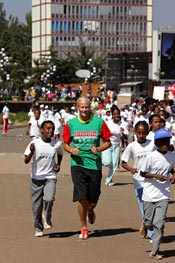 The main differences to the parent event were of length and size. The children's course was 1200m in length, comprising a lap of Meskal Square and an out and back section up a testing slope. The size of the fields were limited in this inaugural event to a total of 3000 runners split into boys and gilrs and two age categories. The size of the competitors varied from tiny through small to medium. In the under 8's events some serious racing went on up front, but the tiny kids trailing in their wake ran the whole way.
As parents dashed from one side of the square to the other to catch the action the kids concentrated their efforts admirably; coming back into the Square for the long curving run-in to the finish they showed easy form and complete awareness of what was required. In the under 11's girls' race the first three finishers all ran barefooot. Further back the main bulk of finishers had to fight for position, as the numbers attracted did not allow for an unimpeded run for all.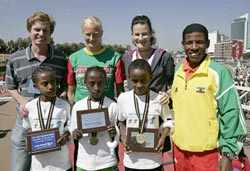 After the finish line each participant was awarded a drink and a bottle, biscuits and a medal, as race officials ticked their T-shirts as a receipt. Gradually the Square filled up with kids basking in the sunshine, laughing and chatting with friends and sporting the spoils of their participation.
An awards ceremony was held at which the top three in each category received plaques from a trio of distinguished personages: Carolina Kluft, Sonia O'Sullivan, and race patron Haile Gebrselassie.
25 NOVEMBER 2006: SHANGHAI MARATHON FOR THE TORAY CUP, CHINA
MEN:
1  Paul KORIR                  KEN  2:15:25

WOMEN:
1  Xin ZHANG                   CHN  2:32:07
26 NOVEMBER 2006: 10KM CORPORE SAO PAULO CLASSIC, BRAZIL
MEN:
1  Mathew CHEBOI                  KEN  29:38
2  Kosgei K KIPLINO               KEN  29:44
3  Franck CALDEIRA DE ALMEIDA     BRA  29:50
4  Paulo R ALMEIDA PAULO          BRA  29:55
5  Cosmers K KEMBOI               KEN  30:03
6  Luis PAULO DA SILVA ANTUNES    BRA  30:09
7  Luiz FERNANDO DE ALMEIDA PAULO BRA  30:15
8  Domingos NONATO DA SILVA       BRA  30:28
9  Jose TELLES DE SOUZA           BRA  31:14
10 Antonio PEDRO SILVA SALES      BRA  31:24
 
WOMEN:
1  Ednalva LAURIANO DA SILVA      BRA  34:41
2  Fabiana CRISTINE DA SILVA      BRA  35:16
3  Maria ZEFERINA R BALDAIA       BRA  36:26
4  Rosangela FIGUEREDO            BRA  36:54
5  Maria L DOS SANTOS NASCIMENTO  BRA  36:54
6  Maria L ALVES VIEIRA           BRA  37:22
7  Simone ALVES DA SILVA          BRA  38:10
8  Shirleide OLIVEIRA DE SOUZA    BRA  38:20
9  Flaviana FERREIRA CHUNG        BRA  39:07
10 Ana L DOS ANJOS CARCEZ-ANIMAL  BRA  39:54
26 NOVEMBER 2006: TOYOTA GREAT ETHIOPIAN RUN 10KM, ETHIOPIA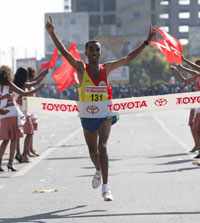 Jiro Mochizuki photos
With race favourite Ibrahim Jeylan not starting it was Ethiopian 20km champion Deriba Merga who preserved the home nation's 100% record in the sixth running of Africa's largest 10km writes Elshadai Negash. In the women's race little-known runner Belaynesh Fekadu took a surprise victory over defending champion Genet Getaneh as both winners smashed the course record. Young Lyneth Chepkurui equalled Kenya's best-ever placing in this race as the 18-year old led for the final 2km but was unable to match Fekadu's finish.

A leading group of eight distanced themselves from the rest of the field with four Kenyans also vying for a chance to upset the form book. At 5km Tola took the initiative and his pace dropped two runners from the pack. Three more were left behind soon afterwards so that Tola led Merga and Eshetu Wondimu. Tola and Merga dropped Wondimu with 2km to go and Merga pulled clear with 500m to go. Henry Sugut, in ninth, was the fastest non-Ethiopian.

Belaynesh Fekadu shocked defending champion Genet Getaneh and race favourite Bezunesh Bekele to take an upset victory in the women's contest. Fekadu had finished 14th last year and started off by running behind a large leading group of nine runners. Only over the last 2km, when the pack dwindled to five runners, did she take command over the proceedings, moving behind leader Chepkurui with a kilometre to go and sprinting past the Kenyan with 500m to go.
MEN:                                
1  Deriba MERGA                ETH  28:19
2  Tadesse TOLA                ETH  28:22
3  Eshetu WONDIMU              ETH  28:35
4  Tilahun REGASSA             ETH  28:35
5  Kidane GEMECHU              ETH  28:40
6  Wegayehu GIRMA              ETH  28:45
7  Gadissa GURMU               ETH  28:47
8  Tola BANE                   ETH  28:48
9  Henry SUGUT                 KEN  28:48
10 Demesew TSEGA               ETH  28:50
 
WOMEN:
1  Belaynesh FEKADU            ETH  33:03
2  Lineth CHEPKURUI            KEN  33:08
3  Genet GETANEH               ETH  33:14
4  Aheza KIROS                 ETH  33:25
5  Bezunesh BEKELE             ETH  33:27
6  Emebet ETA'A                ETH  33:33
7  Dire TUNE                   ETH  33:42
8  Ayelech WORKU               ETH  33:47
9  Teyiba ERKESSO              ETH  33:49
10 Makeda HAROUN               ETH  34:05
26 NOVEMBER 2006: XXIII FIRENZE MARATHON, ITALY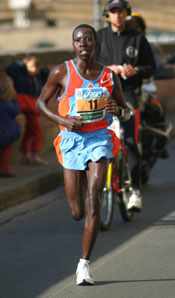 Lorenzo Sampaolo photos
Pacemaker James Kutto seized his chance to win the 23th edition and smashed the course record in the process writes Diego Sampaolo. Vincenza Sicari scored a home victory in her first serious attempt over the distance.
The men's race started fast, with the first 10km passed in 30:07. Pre-race favourite Hicham Chatt, who ran an outstanding 2:07:59 last April in London, lost ground on the leading group and was forced to drop out after 15km. Six men formed the lead group which included Kenyan pacemaker Benjamin Kiptoo, Caliandro (who had the task to pace his teammate Ingargiola until halfway), Kutto, Ingargiola and Joel Saitoti. Kiptoo went through halfway in 63:53, 40 seconds faster than the time previously agreed.
Ingargiola and Kutto pulled away from the rest of the field after 25km (75:48). Running a 27th kilometre of 2:58, Kutto dropped Ingargiola by 10 seconds. At 30km the Kenyan upped the pace to increase his lead over the Italian to 24 seconds. He had started the race as a pacemaker, but now decided to continue to the finish. He kept a sub-3 minutes/km pace, clocking 1:45:54 at 35km (inside 2:08 pace).
Ingargiola and little-known Kenyan Joel Saitoti, who were dropped by 1:40 at 35km, engaged in a neck and neck battle for second place. Over the challenging final kilometres of the course inside the centre of the Tuscan city Saitoti faded and Kimeli Kenei came through to take third place—but Kutto's victory was never in doubt.

Vincenza Sicari was left out on her own at 30km when local favourite Gloria Marconi dropped out. Sicari and Marconi had battled together in the first half, passing 10km in 34:56. At halfway Sicari surged to drop Marconi by six seconds. Marconi dropped out after 30km when Sicari, who ran her first serious marathon after completing a test in Carpi last October in 2:37:00, was running at a 2:29 pace. Three kilometres later she slowed dramatically with liver problems but defended her lead to the end after building up a solid gap over Monica Carlin and Sigrid Valdre in the first part of the race.
A record 6,971 runners representing 54 countries started from the piazzale Michelangelo.
MEN:
1  James KUTTO                 KEN  2:08:41
2  Francesco INGARGIOLA        ITA  2:12:18
3  Kenedy K KEMEI              KEN  2:13:36
4  Joel SAITOTI                KEN  2:14:00
5  Philip BIWOTT               KEN  2:14:29
6  James T KIBOCHO             FRA  2:14:38
7  Benjamin K KIPTOO           KEN  2:16:08
8  Rachid KISRI                MOR  2:18:18
9  Rachid AMUR                 KEN  2:18:40
10 Marcello CAPOTOSTI          ITA  2:18:41
 
WOMEN:
1  Vincenza SICARI             ITA  2:34:52
2  Monica CARLIN               ITA  2:46:31
3  Sigrid VALDRE               EST  2:49:19
4  Valentina DELION            MDA  2:50:25
5  Giulia BELLINI              ITA  2:51:13
6  Paola SANNA                 ITA  2:56:38
7  Margherita GROSSO           ITA  2:57:35
8  Manuela BOSCHI              ITA  2:58:13
9  Roberta MONARI              ITA  2:59:10
10 Debora TORTORA              ITA  3:00:35
26 NOVEMBER 2006: SEATTLE MARATHON AND HALF, USA
MEN:
1  Uli STEIDL                  USA  2:27:51
2  Andy MARTIN                      2:29:08
3  Nick MERRILL                     2:37:49
4  John BURKE                       2:43:50
5  Craig MCMILLAN                   2:45:08
6  Christopher DROZDA               2:48:30
7  Kelly FULTON                     2:48:42
8  Seth BERNTSEN                    2:49:28
9  Jeremy WATERS                    2:50:44
10 Elliots BASSETT                  2:50:59
 
WOMEN:
1  Trisha STEDL                USA  3:01:36
2  Christine REHWALD                3:05:15
3  Ann ARMSTRONG                    3:05:39
4  Annie THIESSEN                   3:12:03
5  Marisa RUHTER                    3:12:06
6  Kristin BAKER                    3:12:54
7  Erin MOORE                       3:13:42
8  Tauna JECMEN                     3:17:40
9  Monica OCHS                      3:22:54
10 Rebecca MARSHALL                 3:24:32
 
HALF MARATHON:
MEN:
1  Andy RAKESTRAW                   1:12:57
2  John RIAK                        1:13:26
3  James OCONNOR                    1:13:40
 
WOMEN:
1  Rhea RICHTER                     1:24:50
2  Jamie GIBBS                      1:26:01
3  Marti REIMER-REISS               1:26:15
26 NOVEMBER 2006: CYPRUS APHRODITE HALF MARATHON, CYPRUS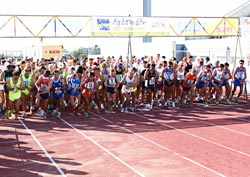 The Half Marathon is run in Paphos, the legendary birthplace of Goddess Aphrodite. Runners came from all over the world and enjoyed the fine weather of 23°C and a cloudless sky. Many jumped into the Paphos Sea after the race. Zsolt Benedek's time was good considering the warm weather conditions. He had a close tussle with a number of Greek runners but managed to keep them at bay and eventually won with something to spare.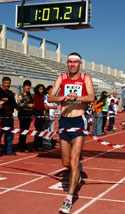 MEN:
1  Zsolt BENEDEK               HUN  1:07:22
2  Theodoros ZACHOS            GRE  1:07:36
3  Lambros ZARAGKAS            GRE  1:07:58
4  Ioannis KANELLOPOULOS       GRE  1:08:09
5  Marios TATSIS               GRE  1:08:35
6  Michalis GELASAKIS          GRE  1:09:16
7  Theofanis SKOUFIAS          GRE  1:10:05
8  Dimitris THEODORAKAKOS      GRE  1:14:19
9  George LOUKAIDES            CYP  1:15:39
10 Michael KEENAN              CYP  1:15:47
 
WOMEN:
1  Fabiola O RUEDA             SUI  1:21:35
2  Paraskevi GRATSANI          GRE  1:24:22
3  Deborah WEBB                GBR  1:29:13
4  Emilia HRISTOVA             BUL  1:34:50
5  Sue CARMICHAEL              GBR  1:38:10
6  Sue ASHTON                  GBR  1:38:56 
7  Susan MARTIN-CLARKE         GBR  1:41:40
8  Anita EHRHARDT              GER  1:46:58
9  Colleen ARNDT               CAN  1:48:57
10 Andrea KIRCHMANN            GER  1:48:59
26 NOVEMBER 2006: MARATHON OF LA ROCHELLE, FRANCE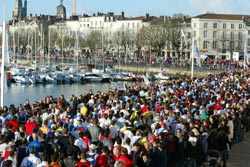 Almost 8000 runners enjoyed almost perfect conditions for the 16th edition and were helped on their way by 1100 volunteers. Race favourites Hailu Abebe, Peter Biwott and Elijah Nyabuti passed through halfway in 1:05:35. At 35km Biwott escaped from Abebe and stayed ahead to the finish line. In the women's race Elizabeth Chemweno won the race for the second successive year.
MEN:
1  Peter BIWOTT                KEN  2:14:01
2  Hailu ABEBE                 ETH  2:15:40
3  Elijah NYABUTI              KEN  2:16:31
4  Alfred MASRI                KEN  2:19:21
5  John NGENY                  KEN  2:19:48
6  David LAGAT                 KEN  2:20:10
7  Jackson RONO                KEN  2:21:20
8  Samwel LIMO                 KEN  2:21:33
9  Mikola RUDIK                     2:22:08
10 Przemyslaw ROJEWSKI         POL  2:22:10

WOMEN:
1  Elizabeth CHEMWENO          KEN  2:37:58
2  Leopoldina SILVEIRA         FRA  2:42:39
3  Maria FEDOSEEVA             RUS  2:46:52
4  Lidia VASILIEVSKAIA         RUS  2:47:12
5  Murielle BRIONNE            FRA  2:49:59
6  Florence SCARINGELLA        FRA  2:54:19
7  Agnes CHELEGAT              KEN  2:59:25
8  Karine SOMMIER              FRA  2:59:36
9  Agnes DELEUME               FRA  3:02:19
10 Julie CALICHARANE           FRA  3:02:56
26 NOVEMBER 2006: MARATON DE SAN SEBASTIAN, SPAIN
MEN:
1  William SEREM               KEN  2:16:20
2  Abraham CHELANGA            KEN  2:18:32
3  Abraham AIYABEI             KEN  2:21:42
4  Vitor Gonzalo GUIRAO        ESP  2:26:17
5  Fernando Ramirez PEREZ      ESP  2:27:56

WOMEN:
1  Angela DAWSON HOWE          GBR  2:49:36
2  Amaia Arana ALDANONDO       ESP  2:52:32
3  Josune Tercero MATEOS       ESP  2:54:20
4  Leire Elosegi INSAUSTI      ESP  2:54:37
26 NOVEMBER 2006: STANDARD CHARTERED BANGKOK MARATHON
At 02.00 on Sanamchai Road in front of the Royal Grand Palace the first group of marathon runners set off into the darkness and 23°C temperatures. These were runners who would spend more than five hours running (the limited time is seven hours). Everyone looked happy and enjoyed the race. A further 2,000 runners, aiming to go faster than five hours, started at 03.30. The elite competitors from Kenya, Ethiopia, Europe, and America ran together at the front. From 30km John Cheboi, the 2004 and 2005 champion and 23-year old Berhanu Tesfaye were out by themselves. It was Tesfaye who finally won the prize and the women's winner was Violetta Uryga.
The entire event attracted around 42,000 participants. Of these, there are about 3,500 marathon runners, 14,000 runners in 10.550km "quarter marathon" and 25,000 participants from more than 30 countries in the 5km Walk & Fun Run. Uniquely, almost all runners wore yellow T-shirts to celebrate the 60th anniversary of His Majesty the King's accession to the throne, and this edition was known as the "Yellow Marathon".
MEN:
1  Tesfaye BERHANU                ETH  2:28:02
2  John S CHEBOI                  KEN  2:28:11
3  Peter Kiprono RABURA           KEN  2:28:22
4  Stephen LANGAT                 KEN  2:30:25
5  Gilbert KIPTOO                 KEN  2:30:59
6  Rik CEULEMANS                  BEL  2:31:08     
7  Testaye Wordora JIRU           ETH  2:33:35
8  Neals STRIK                    NED  2:33:39
9  John ROTICH                    KEN  2:37:23
10 Supit JANTHARAT                THA  2:40:21
 
WOMEN:
1  Violetta URYGA                 POL  2:56:50
2  Sunisa SAILOMYEN               THA  2:58:51
3  Pachree  CHAITHONGSRI          THA  3:01:21
4  Ketmanee SENAPHAN              THA  3:03:43
5  Apasara PRASARTHINPIMAI        THA  3:14:56
6  Lilian CHELIMO                 KEN  3:15:07
26 NOVEMBER 2006: LAKE KAWAGUCHI MARATHON, JAPAN
MEN: 
1  Takaaki MUKAI               JPN  2:22:33
2  Sohei UEKIBARA              JPN  2:25:56  
3  Kazunari SUZUKI             JPN  2:26:36
4  Masayuki OTOKUNI            JPN  2:28:24
5  Katsumi ASADA               JPN  2:30:33
6  Yasuhiro KAWASAKI           JPN  2:30:36
7  Teruyoshi IWASAKI           JPN  2:33:12
8  Tetsuya WATANABE            JPN  2:34:41
9  Yasunori YAMAMOTO           JPN  2:35:03
10 Keigo NAKANE                JPN  2:36:30

WOMEN:
1  Chihiro FUKUNAKA            JPN  2:49:35
2  Chiemi OANA                 JPN  2:54:54
3  Yuen LEONG                       3:05:03
4  Mariko OZAWA                JPN  3:13:47
5  Itsumi INABA                JPN  3:14:27
6  Miyoko MURAKAMI             JPN  3:15:04
7  Yukari YASUDO               JPN  3:19:00
8  Aki KOBAYASHI               JPN  3:19:09
November 2006