October 2006
1 OCT | 8 OCT | 14 OCT | 15 OCT | 22 OCT | 29 OCT | 30 OCT
1 OCTOBER 2006: KOSICE PEACE MARATHON, SLOVAKIA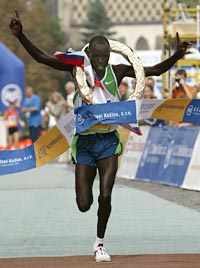 An unheralded 22-year-old Kenyan, Edwin Kipchom, was the surprise winner of the 83rd edition of Europe's oldest marathon writes Alfons Juck. Kipchom achieved a new personal best, the fourth fastest time recorded at the event. It was his first win in three marathons, after finishing 12th in Beijing and 3rd in Thessaloniki.
From 19km he ran sub-three minute kilometres and nobody stayed with him. From then on it was a race against the clock. He was over a minute up on course record pace at 25km 1:17:17 and at 30km, which he reached in 1:32:55, he remained 36 seconds up. Being alone took its toll and at 40km (2:05:34) he had just two seconds in hand. He still finished a clear winner and promised: "I will come back next year to defend my title. But give me some rabbits for the second half and I think I can break 2:10." It was the fifth Kenyan win in the event's history and with nine runners below 2:20, it was most since 1997 when the current flat city course was adopted.
Belorussian Natalya Kulesh (formerly Kravets) was already well ahead at halfway and finished with new personal best, a significant improvement from her previous best of 2:39:20. It was also the fifth best female time ever at the event. "The course is great and maybe with some pacemakers we would be able to run even faster," she explained.
Despite forecasts of hot weather cloud cover helped runners in the second half and it never went above 19°C. In all, 2935 runners in different races and categories from 36 countries participated: the Marathon had 674 runners with 662 in the Half Marathon.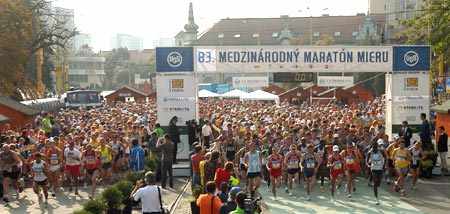 MEN:
1  Edwin KIPCHOM               KEN  2:12:53
2  Vladzimir TSIAMCHYK         BLR  2:14:45
3  David MAIYO                 KEN  2:15:15
4  Richard ROTICH              KEN  2:16:28
5  David CHERUI                KEN  2:17:40
6  Mikhail IVERUK              UKR  2:17:43
7  John NGENO                  KEN  2:17:45
8  Paul NJOROGE                KEN  2:18:37
9  Pavel OCHAL                 POL  2:19:28
10 Ferenc BIRI                 HUN  2:25:10
 
WOMEN:
1  Natalia KULESH              BLR  2:36:47
2  Holly MAY                   GBR  2:41:48
3  Edyta LEWANDOWSKA           POL  2:44:08
4  Elena SHUBAREVA             RUS  2:54:01
5  Ana BALOSAKOVA              CZE  3:13:46
6  Erika BILLA                 SVK  3:16:37
7  Andrea BALOGH               HUN  3:17:05
8  Alzbeta TISLOVA             SVK  3:27:48
9  Ildiko GAZDA                HUN  3:36:44
10 Szilvia FROLICH             SVK  3:36:46

HALF MARATHON:
MEN:
1  Miroslav VANKO              SVK  1:08:30

WOMEN:
1  Katarina BERESOVA           SVK  1:19:24
1 OCTOBER 2006: TWIN CITIES MARATHON, USA
A group of five held together past 20 miles but Jason Lehmkule and Fasil Bizuneh then dropped back. A strong finish from Chris Lundstrom brought him past them and into fourth, while a close stuggle was going on for the podium places. In the women's race Mary Akor let Marla Runyan away early. She gradually built up a lead of just less than two minutes, but after 20 miles this was gradually reducing — but not nearly fast enough for Runyan's victory to be challenged.
MEN:
1  Mbarek HUSSEIN              KEN  2:13:52
2  Simon SAWE                  KEN  2:14:09
3  Ryan SHAY                   USA  2:14:58
4  Chris LUNDSTROM             USA  2:17:34
5  Fasil BIZUNEH               ETH  2:18:14
6  Chris GRAFF                 USA  2:18:18
7  Jason LEHMKUHLE             RSA  2:19:03
8  Jacob FREY                  USA  2:20:09
9  Kyle BAKER                  USA  2:21:02
10 Danny MACKEY                USA  2:21:40
 
WOMEN:
1  Marla RUNYAN                USA  2:32:17
2  Mary AKOR                   USA  2:33:50
3  Zoila GOMEZ                 USA  2:35:26
4  Michelle LILIENTHAL         USA  2:35:51
5  Tulena JOHNSON LANE         USA  2:36:15
6  Jenny CRAIN                 USA  2:39:07
7  Emily LEVAN                 USA  2:39:20
8  Emily MORTENSEN             USA  2:39:59
9  Rachel KINSMAN              USA  2:40:56
10 Maggie CHAN-ROPER           USA  2:42:19
1 OCTOBER 2006: PORTLAND MARATHON, USA
Medeksa Derba led with eventual winner Mike Heidt in the early stages, but Heidt soon went off on his own for an isolated win.
MEN:
1  Mike HEIDT                 USA  2:21:54
2  Brett WINEGAR              USA  2:28:02
3  Jim RUCKER                 USA  2:28:55
4  Medeksa DERBA              ETH  2:29:46
5  James GERRITSEN            USA  2:30:30
6  Damian BALDOVINO           USA  2:30:35
7  Jason GRIFFITHS            USA  2:30:57
8  Andy MARTIN                USA  2:33:54
9  Joseph CECH                USA  2:36:02
10 Mike BAILEY                USA  2:36:07
 
WOMEN:
1  Danuta ERICKSON            USA  2:53:18
2  Laurie PORTER              USA  2:58:18
3  Emilie MILLER              USA  3:00:31
4  Maren ELLIOTT              USA  3:01:54
5  Nickie RAFIE               USA  3:02:05
6  Wendy TERRIS               USA  3:02:12
7  Juli MORSE-STUMP           USA  3:02:34
8  Jil MESTLER                USA  3:04:09
9  Jeanette SECKINGER         USA  3:05:23
10 Lachelle CROTTEAU          USA  3:06:26
1 OCTOBER 2006: BAXTER'S LOCH NESS MARATHON, GREAT BRITAIN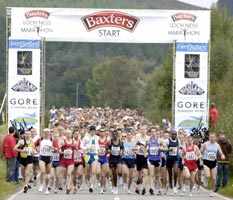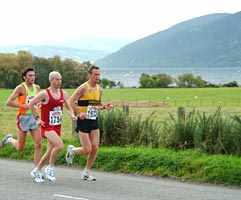 It was the closest race in the event's five-year history as Zachary Kihara led local hero Simon Pride home by a mere eight seconds. Hellen Cherono scored a controlled win in the women's race, but the River Ness 10km was a tale of two extremes. Patrick Makau out-leaned countryman Simon Kasimili to win in a new course record, the first (and second) time the half-hour had been broken while Cathy Mutwa blasted away the British opposition to win the women's race by four and a half minutes.
The main race included the Scottish Marathon Championships and attracted over 2000 runners. Nearly 2500 ran the 10km while another 1000 people participated in the 5km fun run.
MEN:
1  Zachary KIHARA            KEN  2:22:17
2  Simon PRIDE               GBR  2:22:25
3  Jamie REID                GBR  2:24:04
4  Stephen WYLIE             GBR  2:30:09
5  Christopher WILSON        GBR  2:33:36
6  Robert GILROY             GBR  2:33:38
7  David GARDINER            GBR  2:34:53
8  Kerry WILSON              GBR  2:37:27
9  Ruaraidh CAMBELL          GBR  2:38:56
10 Marten LANG               GBR  2:39:01
 
WOMEN:
1  Hellen CHERONO            KEN  2:46:54
2  Krystina KUTA             POL  2:47:30
3  Jennifer MACLEAN          GBR  2:58:59
4  Julia BARLTROP            GBR  3:02:32
5  Rowena FOK                GBR  3:07:14
6  Ludmilla RODINA           RUS  3:11:26
7  Iona ROBERTSON            GBR  3:13:47
8  Louise TAPLING            GBR  3:21:11
9  Niamh MOONEY              GBR  3:26:12
10 Sally SCOTT               GBR  3:26:51
 
River Ness 10km Run:
MEN:
1  Patrick MAKAU             KEN  29:45
2  Simon KASIMILI            KEN  29:45
3  Martin WILLIAMS           GBR  30:48

WOMEN:
1  Cathy MUTWA               KEN  33:45
2  Christine MILNE           GBR  38:17
3  Dhavala SCOTT             GBR  38:50
1 OCTOBER 2006: GUAYAQUIL MARATHON, ECUADOR
MEN:
1  Juan Carlos CARDONA              2:23:18
2  Byron SAQUIPAY                   2:27:22
3  Dimaj QINGALUISA                 2:29:46
4  Andres JUCA                      2:30:35
5  Cesar DEJA                       2:31:42
6  Bayardo BURBANO                  2:34:06
7  Claudio RAMOS                    2:34:48
8  Manuel PENAHERRERA               2:35:05
9  Eduardo QUIZHP                   2:38:11
10 Diego VAREGAS                    2:??:??
 
WOMEN:
1  Sandra RUALES                    2:45:58
2  Inglandini GONZALES              2:55:56
3  Maria CHASIPANTA                 3:07:45
4  Miriam BARBARON                  3:15:59
5  Narciza NARVAEZ                  3:19:22
6  Marya ORDONEZ                    3:20:46
7  Guadelupe RIVERA                 3:28:13
8  Maria PAREDES                    3:32:02
9  Maritza RODRIGUEZ                3:41:45
10 Nelly ENCALADA                   3:43:52
 
HALF MARATHON:
MEN:
1  Saul PELAEZ                      1:23:25
2  Walter PINEDA                    1:24:08
3  Luis PENAFIEL                    1:24:09

WOMEN:
1  Rita MEONO                       1:29:27
2  Isabel VELEZ                     1:48:03
3  Liliana RESTREPO                 1:51:41
8 OCTOBER 2006: EINDHOVEN MARATHON, NETHERLANDS
Phillip Singoei won the race in a new course record, surpassing the previous mark by 28 seconds. He passed through halfway in 1:03:40 and 25km in 1:15:10. At 30km he was still accompanied by Samson Barmao and Luke Kibet, and they were on 2:07 schedule. Singoei proved strongest, but his pace faltered towards the end as he cramped and slowed, but still won by more than 400m. Conditions were ideal (16°C) and enjoyed by many. Over the three events—there was also a half marathon and a City Run—13,500 people took part.
MEN:
1  Phillip SINGOEI                 KEN  2:08:18
2  Samson BARMAO                   KEN  2:09:28
3  Luke KIBET                      KEN  2:10:06
4  Yousuf SONGOKA                  KEN  2:11:37
5  John KIRUI                      KEN  2:11:49
6  Sammy CHUMBA                    KEN  2:12:58
7  Tesfaye TOLA                    ETH  2:13:12
8  Joel RONO                       KEN  2:15:07
9  Thomas MIGWI                    KEN  2:15:33
10 Sammy RONGO                     KEN  2:15:37
 
WOMEN:
1  Agnes HIJMAN                    NED  2:54:36
2  Armande PETIT                   BEL  3:00:05
3  Helmie RAMAKERS                 NED  3:02:06
OCTOBER 2006: NOVI SAD NIS MARATHON, SERBIA
After Belgrade, Novi Sad is the second largest city in Serbia and it is the capital of Vojvodina Autnomous Province. The 14th edition of the race started and finished in the famous city square in front of the town hall. The course runs mostly along the Danube, beside newly constructed or reconstructed bridges. It passes the University district and past the beautiful old palace of the Assembly and Government of Vojvodina. Along the left bank of the river it passes the famous Petrovaradin Fortress.
The Marathon included a relay race and in all there were 390 participants. There were also 2500 pupils from primary and secondary schools, and more than 150 pre-school children who took part in the "Race of Joy", together with their teachers and parents.
Moldovan Jaroslav Musindki won in new course record of 2:13:39, which was also an Olympic qualifying time. Sight-impaired runner Cumak Nikolai, also from Moldova, qualified for the Beijing Paralympic Games with his time of 2:57:09.
Novi Sad and its Marathon have been confirmed as a place where world results can be achieved and as a result the organisers expect even larger numbers of participants next year. Perhaps some more of them will go on to enjoy the great happiness of participation in the Olympic Games.
MEN:
1  Jarolsov MUSHINSKI          MDA  2:13:39
2  Roman PRODIUS               MDA  2:20:57
3  Zsolt BENEDEK               HUN  2:23:39
4  Kasprik JALEK               POL  2:38:01
5  Zoran MARKOVIC              SRB  2:38:25
6  Nebojsa MILENKOVIC          SRB  2:39:19
7  Ramiz TAIPI                 SRB  2:44:43
8  Radisa SIMIC                SRB  2:47:15
9  Oleg IVANCENKO              MDA  2:47:48
10 Veljko POPOVIC              SRB  2:54:12

WOMEN:
1  Svetlana SEPELJEVA          RUS  2:58:14
2  Ksenija BODLOVIC            SRB  3:11:52
3  Lidija MIKLOS               SRB  3:12:00
4  Bojana TRALJIC              SRB  3:27:47
5  Stojanka SOKOL              SRB  3:36:00
8 OCTOBER 2006: MILANO CITY MARATHON, ITALY
MEN:
1  Benson CHERONO                  KEN  2:07:57
2  Benson BARUS                    KEN  2:08:33
3  Joseph NGENY                    KEN  2:09:26
4  Frank CALDEIRA                  BRA  2:14:05
5  Mezgebu ASSEFA                  ETH  2:15:16
6  Kebebew MELAKEW                 ETH  2:16:01
7  Ahmed NASEF                     MAR  2.16:53
8  Paolo BATTELLI                  ITA  2:20:57
9  Benjamin SEREM                  KEN  2:22:36
10 Constantino SIMONETTA           ITA  2:29:35
 
WOMEN:
1  Askale MAGARSA                  ETH  2:27:56
2  Hellen KIMUTAI                  KEN  2:28:51
3  Anne KOSGEI                     KEN  2:32:54
4  Fridah LODPA                    KEN  2:42:45
5  Leila BOUGIBA                   ITA  2:54:31
6  Elisabetta ZANETTI              ITA  3:01:10
7  Nicola ROBERTS                  ITA  3:07:20
8  Daniela FIUMARA                 ITA  3:14:53
9  Flora BARLASSINI                ITA  3:15:34
10 Lucia VELLATA                   ITA  3:16:41
8 OCTOBER 2006: 1st IAAF WORLD ROAD RUNNING CHAMPIONSHIPS, DEBRECEN (HUN)
The inaugural event—which continues from where the World Half Marathon Championships left off a year ago in Edmonton (CAN)—showcased three brilliant performances which resulted in a new world record over 20km. Constantina Dita led the women through 15km in what may yet appear as a new world record for the distance, before Lornah Kiplagat bested her over the final lap to surpass Paula Radcliffe's mark set en route to victory in the 2001 IAAF World Half Marathon Championships. The third outstanding performance of the day came from Zersenay Tadesse, who was on schedule to beat Haile Gebrselassie's time until the last few kilometres. Tadesse kicked in from 12km and gradually dropped all opposition, running the last 4km solo and quickly building up a huge lead.
WOMEN:
1  Lornah KIPLAGAT                 NED  1:03:21
2  Constantina DITA                ROM  1:03:23
3  Rita JEPTOO                     KEN  1:03:47
4  Dire Tuna ARISSI                ETH  1:05:16
5  Edith MASAI                     KEN  1:05:21
6  Kayoko FUKUSHI                  JPN  1:05:32
7  Yurika NAKAMURA                 JPN  1:05:36
8  Natalija BERKUT                 BLR  1:05:42
9  Souad AIT SALEM                 ALG  1:06:11
10 Teyba ERKESSO                   ETH  1:06:15

TEAMS:
1  KEN  3:15:55
2  ETH  3:18:50
3  JPN  3:19:00
 
MEN:
1  Zersenay TADESSE                ERI  56:01
2  Robert KIPCHUMBA                KEN  56:41
3  Wilson KEBENEI                  KEN  57:15
4  Wilson BUSIENI                  UGA  57:21
5  Wilfred TARAGON                 KEN  57:22
6  Deriba EJIGU                    ETH  57:27
7  Tadesse TOLA                    ETH  57:27
8  Mubarek Hussein SHAMI           QAT  57:33
9  Dieudonne DISI                  RWA  57:42
10 Yonas KIFLE                     ERI  57:49

TEAMS:
1  KEN  2:51:18
2  ERI  2:53:19
3  ETH  2:54:17
8 OCTOBER 2006: ROYAL VICTORIA MARATHON, CANADA
photos by Tony Austin
Steve Osaduik broke the 25-year old course record in rainy conditions and under considerable pressure. In this 27th version of the race Osaduik slashed seven minutes off his own personal best and took two minutes off Tom Howard's old mark of 2:18:49. Women's winner Suzanne Evans defended the title she won for the first time in 2005 with a three-minute personal best and a comfortable 19 minute margin.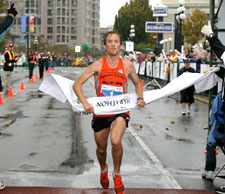 Even Olympic marathoners Jon Brown and Bruce Deacon had been unable to break the 1981 record. Osaduik's run took him 12 minutes clear of second-placed Shawn Miller and met the qualifying time for the Osaka World Championships. "I've been gearing up for this all year. I wanted the record. I felt great and received a lot of support out there," said the 27-year-old who pocketed $5,000 for his victory.
Over 9,000 runners—the largest field ever in the 27 year history of the race—filled the streets of Victoria to participate in the city's largest destination sporting event. Almost 75% of the field are from out of town, with many drawn to the event because of spectacular scenery on the course. The race starts beside the BC Legislative Buildings and winds through Beacon Hill Park, through the Municipality of Oak Bay, out along Beach Drive and then back to finish harbour side downtown. A choice of five races including a Marathon, Half Marathon, 8km and a Kid's run offers something for everyone.
MEN:
1  Steve OSADUIK                   CAN  2:16:49 
2  Shawn MILLER                    USA  2:28:51 
3  Adam CAMPBELL                   CAN  2:29:11 
4  Jason LOUTITT                   CAN  2:30:20 
5  Graeme WILSON                   CAN  2:33:09 
6  Mark CRYDERMAN                  CAN  2:37:11 
7  Sean CHESTER                    CAN  2:42:25 
8  Matt ZUCHETTO                   USA  2:42:50 
9  Eddie SMITH                     CAN  2:44:48 
10 Murray McCUTCHEON               CAN  2:44:51 

WOMEN:
1  Suzanne EVANS                   CAN  2:47:05 
2  Erin PERKIN                     USA  3:06:48 
3  Catherine IRONS                 CAN  3:07:33 
4  Katherine MOORE                 CAN  3:07:51 
5  Kate BRADSHAW                   USA  3:11:24 
6  Sheila DORMAN                   CAN  3:12:35 
7  Lisa KALIO                      CAN  3:13:31 
8  Kathy RUNG                      CAN  3:14:31 
9  Tania CRANE HANNA               CAN  3:14:51 
10 Karen WARRENDORF                CAN  3:14:51

HALF MARATHON:
MEN:
1  Nik SOUTHWELL                   CAN  1:07:25 
2  Jim FINLAYSON                   CAN  1:08:38 
3  Ian FRASER                      USA  1:09:03

WOMEN:
1  Cheryl MURPHY                   CAN  1:17:02 
2  Judith LEROY                    CAN  1:17:52 
3  Lindsay McLAREN                 CAN  1:18:19
8 OCTOBER 2006: MEIA MARATONA DA BAHIA, BRAZIL
MEN:
1  Ubiraton DOS SANTOS             BRA  1:07:13
2  Matthew CHEBOI                  KEN  1:08:18
3  Manoel TEXEIRA                  BRA  1:08:41
4  Willian GOMES                   BRA  1:09:11
5  Elijah YATOR                    KEN  1:09:29
6  Giomar DA SILVA                 BRA  1:09:40
7  Otavio PINHEIRO                 BRA  1:10:01
8  Jair DA SILVA                   BRA  1:10:34
9  Claudio BESSA                   BRA  1:11:02
10 Edesio SANTOS                   BRA  1:11:11
 
WOMEN:
1  Marily DOS SANTOS               BRA  1:19:13
2  Marizete DOS SANTOS             BRA  1:20:19
3  Marcia NARLOCH                  BRA  1:21:04
4  Edielza DOS SANTOS              BRA  1:22:21
5  Reneide DOS SANTOS              BRA  1:22:33
6  Luiza PINTO                     BRA  1:23:30
7  Mariluce BORGE                  BRA  1:25:30
8  Sueli VIERA                     BRA  1:25:58
9  Cleuza IRINEU                   BRA  1:27:37
10 Rosangela SILVA                 BRA  1:28:33
8 OCTOBER 2006: II MEDITERRANEAN MARATHON, SPAIN
A cool cloudy and windless morning greeted 430 entrants in the 2nd edition of the "Marató del Mediterrani" on a flat course linking Gavà and Castelldefels, two cities located 15km from Barcelona. The start and finish were located at the Olympic Canal, the same venue used for the canoeing events in the 1992 Olympic Games.
Benito Ojeda and Victor Gonzalo, two of the best marathoners in Catalonia, led the race from the start and they passed the halfway point in 1:11, well ahead of the rest of the field. Ojeda, Spanish marathon champion in 2000 and 2001, broke away in the last 5km to win.
In the women's race Marina Cadeval from Mexico (visiting her relatives in Barcelona) won by one minute and half despite still being well behind Emi Vaquero at 39km.
MEN:
1  Benito OJEDA                    ESP  2:25:40
2  Victor GONZALO                  ESP  2:28:03
3  Viçens SELLARÉS                 ESP  2:35:00
4  Emilio FERRER                   ESP  2:36:10
5  Albert MOLINER                  ESP  2:38:33
6  Ricard VERGE                    ESP  2:38:53
7  Alberto DI PETRILLO             ITA  2:42:16
8  Mikel MUJIKA                    ESP  2:42:45
9  Manuel GARCIA                   ESP  2:44:07
10 Santos LLAMOSAS                 ESP  2:47:24

WOMEN:
1  Marina CADAVAL                  MEX  3:24:46
2  Emi VAQUERO                     ESP  3:26:21
3  Björnsdóttir GUDBJÓRG           ISL  3:30;56
4  Audur ADALSTEINSDÓTTIR          ISL  3:36:10
5  Maria-Rosa MORENO               ESP  3:38:56
6  Gudrún SAEMUNDSDÓTTIR           ISL  3:40:43
7  Marta OLIVERÓ                   ESP  3:49:11
8  Francesca OPPIDO                ITA  3:52:21
9  Carme CÓZAR                     ESP  3:54:29
10 Sigridur SVAVARSDÓTTIR          ISL  3:56:57
8 OCTOBER 2006: ZAGREB MARATHON, CROATIA
MEN:
1  Sergei ALEKSANDROV             RUS  2:20:18
2  Duro KODZO                     BSH  2:20:40
3  Roman KEZJAR                   SLO  2:20:57
4  Emanuele ZENUCCI               ITA  2:23:10
5  Gergely REZESSY                HUN  2:25:49
6  Artur Ianos MIKLOS             ROM  2:26:44
7  Maricel GAMIANI                ROM  2:28:40
8  Ference BIRI                   HUN  2:29:18
9  Petrea HRISTEA                 ROM  2:29:35
10 Bela HORVATH                   HUN  2:32:46
 
WOMEN:
1  Marijana LUKIC                 SCG  2:59:29
2  Antonia ORLIC                  CRO  2:59:32
3  Marija TROSIC VRAJIC           CRO  3:06:52
4  Katalin FARKAS                 HUN  3:15:57
5  Ana DOMAZET-LOSO               CRO  3:25:00
6  Veronika JURISIC               CRO  3:37:31
7  Ivanka KROFL                   CRO  3:44:36
8  Jagoda MALBASA                 CRO  3:54:48
9  Nicoleta VUCETIC               CRO  4:29:07
10 Ute KUTZBORSKI                 GER  4:29:14
14 OCTOBER 2006: UNDER ARMOUR BALTIMORE MARATHON, USA
MEN:
1  Yirefu BIRHANU                 ETH  2:16:26
2  Mykola ANTONENKO               UKR  2:16:55
3  Wilson KOMEN                   KEN  2:17:05
4  Jynocel BASWETI                     2:17:26
5  Joseph MUTINDA                 KEN  2:17:59
6  David CHERUIYOT                KEN  2:18:26
7  Joseph KHUGU                   KEN  2:19:07
8  John CHEPOCHOK                 KEN  2:20:03
9  Demese TEFERA                  ETH  2:20:06
10 Christopher RAABE                   2:20:26
 
WOMEN:
1  Rima DUBOVIK                   UKR  2:35:44
2  Maria PORTILLA                 USA  2:36:23
3  Ilona BARVANOVA                RUS  2:36:25
4  Jennifer CHESINON              ETH  2:38:53
5  Margaret KARIE                 KEN  2:41:10
6  Tatiana TITOVA                 RUS  2:42:22
7  Maria BYCHKOVA                 RUS  2:44:42
8  Phebe KO                            2:49:22
9  Kim RICHEY                     USA  2:59:40
10 Christine RAMSEY               USA  3:00:26
 
HALF MARATHON
MEN:
1  Valentine ORARE                KEN  1:03:44
2  Worku BEYI                     ETH  1:03:49
3  Nelson KIPLAGAT                KEN  1:04:07

WOMEN:
1  Lyubov DENISOVA                RUS  1:15:13
2  Kathleen JOBES                 USA  1:17:35
3  Shannon SAUNDERS               USA  1:19:46
15 OCTOBER 2006: TIMISOARA MARATHON, ROMANIA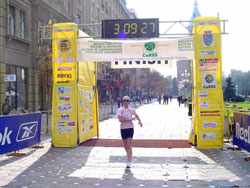 MEN:
1  Cristian PRASENEAC             ROM  2:41:19
2  Francisc SAROSI                ROM  2:44:00
3  Cristian TURCU                 ROM  2:45:12
4  Ioan-Pavel MOISA               ROM  2:57:22
5  Falco LEHMANN                  GER  3:10:37
6  Iulian ZAHARIA                 ROM  3:24:32
7  Augusto BRAMBILLA              ITA  3:27:21
8  Rainer HOSTER                  GER  3:31:55
9  Ludwig MODRA                   GER  3:46:35
10 Ionut OPREA                    ROM  4:03:16

WOMEN:
1  Ana HECICO                     ROM  3:09:28
2  Hiroko OGAWA                   JPN  3:29:36
3  Silvia BANDA                   ROM  4:03:41

HALF MARATHON:
MEN:
1  Latis IONUT                    ROM  1:09:49
2  Raymond GULYAS                 ROM  1:10:56
3  Constantin MINERAN             ROM  1:12:02

WOMEN:
1  Alina CLODEANU                 ROM  1:20:52
2  Alina OLARU                    ROM  1:29:25
3  Anneke GESELSCHAP              NED  1:36:48
15 OCTOBER 2006: HUTCH DELHI HALF MARATHON, INDIA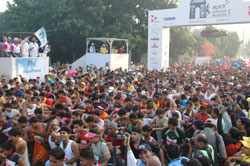 Francis Kibiwott and Lineth Chepkirui ran strong races from the front to leave their opposition behind over the second half of the race. While Kibiwott went on to break the course record by 18 seconds, Chepkorir fell agonisingly short of the mark set by Irina Timofeyeva in last year's race. Timofeyeva herself came in fourth.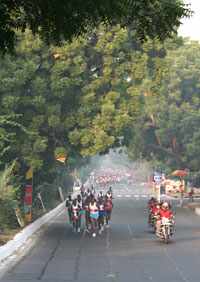 The race set off at 07.30 before temperatures started to climb much above the 23°C daily minimum, but by the time of the finish it was considerably hotter. In the men's race there was a group of 12 together in the first few kilometres but along the ring road between 5-8km they gradually stretched out. Kibiwott had taken a small but clear lead over Cuthbert Nyasngo at 9km but for the next two kilometres could not extend it. His relentless pace began to tell in the 12th kilometre and by 15km, as he turned onto the city's grand thoroughfare of Rajpath, he was in splendid isolation against the backdrop of the Government Secretariat buildings, Nyasngo now in a distant second place. Kibiwott maintained his drive around India Gate and through to the finish line to capture a new course record.
Chepkorir held back behind the lead pack for the early stages of the race, but when she took the pace on after 10km no one could stay with her. The next four runners who came in behind her had competed in the IAAF World Road Running Championship in Hungary the previous weekend,and had not the energy to match the 18-year old's pace.
MEN:
1  Francis KIBIWOTT                KEN  1.01.36
2  Cuthbert NYASANGO               ZIM  1.02.30
3  John KORIR                      KEN  1.03.16
4  Philip RUGUT                    KEN  1.03.33
5  Tariku JIFAR                    ETH  1.03.38
6  Evans CHERUIYOT                 KEN  1.03.40
7  Martin SULLE                    TAN  1.03.43
8  Nicholas MONZA                  KEN  1.03.49
9  Boniface MBUVI                  KEN  1.03.52
10 Sammy KIPLIMO                   KEN  1.03.53
 
WOMEN:
1  Lineth CHEPKIRUI                KEN  1.10.40
2  Teyba ERKESSO                   ETH  1.11.22
3  Dire TUNE                       ETH  1.11.35
4  Irina TIMOFEYEVA                RUS  1.12.11
5  Nataliya BERKUT                 UKR  1.12.25
6  Caroline CHEPTANUI              KEN  1.13.39
7  Aselefech MERGIA                ETH  1.14.13
8  Helen CHERONO                   KEN  1.14.42
9  Merima DENBOBA                  ETH  1.15.39
10 Emily SAMOEI                    KEN  1.15.53
15 OCTOBER 2006: 31st ING AMSTERDAM MARATHON, NETHERLANDS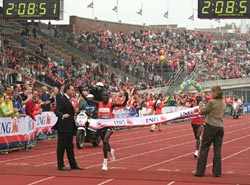 Solomon Bushendich won in his marathon debut, beating his fellow countryman Bernard Barmasai in a thrilling duel with just 2 seconds separating them. Third placed Getuli Bayo from Tanzania was a long way back. Pre-race favourites Fabiano Joseph (10th in 2:13:24) and Patrick Ivuti (11th in 2:14:23) did not perform up to expectations. Koen Raymaekers finished 16th as first Dutchman in a new personal record (2:15:50), an improvement of almost 8 minutes.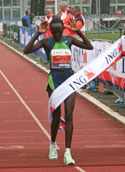 Kenyan athlete Rose Cheruiyot confirmed her favourite's status by winning convincingly while Helena Loshanyang surprised with her second place improving her personal best time by nearly six minutes.
In total 22,500 runners participated in the ING Amsterdam Marathon, an increase of 2,500 on the record set in 2005.
MEN:
1  Solomon BUSHENDICH               KEN  2:08:52
2  Bernard BARMASAI                 KEN  2:08:54
3  Getuli BAYO                      TAN  2:10:47
4  Stanley LELEITO                  KEN  2:11:17
5  Vanderlei LIMA                   BRA  2:11:36
6  Albert MATEBOR                   KEN  2:11:52
7  Francis KIPROP                   KEN  2:12:24
8  Fred KIPROP                      KEN  2:12:34
9  Samuel WOLDEMANUEL               ETH  2:13:19
10 Fabiano JOSEPH                   TAN  2:13:24

WOMEN:
1  Rose CHERUIYOT                   KEN  2:28:26
2  Helena LOSHANYANG                KEN  2:28:51
3  Leila AMAN                       ETH  2:29:32
4  Emily KIMURIA                    KEN  2:29:56
5  Ayelech WORKU                    ETH  2:31:11
6  Liz YELLING                      GBR  2:31:39
7  Gishu MINDAYE                    ETH  2:33:07
8  Sirlene SOUZA DE PINHO           BRA  2:35:45
9  Martha MARKOS                    ETH  2:40:33
10 Ingrid PRIGGE                    NED  2:41:06
15 OCTOBER 2006: POZNAN MARATHON, POLAND
Poznan Sports and Recreation Department again put on the biggest marathon in Poland, with 2586 participants from 21 countries.
The surprise early leader of the race was a man who entered it just one day earlier. An Italian businessman was visiting Poznan Fairs and heard that marathon would be held. He immediately entered, but only managed to maintain his early pace to 10km before slowing down, beginning to walk and finally dropping out.
From this point seven Kenyans ran together and dropped the top Polish runners. At 35km the Kenyan group began to split up. At the same time the trailing Poles decided to attack. Jan Bialk shot ahead. He won the race but didn't beat the time required for the special bonus prize of a Fiat Panda (2:15).
MEN:
1  Jan BIALK                       POL  2:16:21
2  Mark YARTICH                    KEN  2:17:17
3  Radoslaw DUDYCZ                 POL  2:17:25
4  Marcin FEHLAU                   POL  2:18:04
5  Mathew KOSGEI                   KEN  2:18:16
6  Piotr DRWAL                     POL  2:18:26
7  Adam DOBRZYNSKI                 POL  2:19:06
8  Oleksandr BAGINSKIY             UKR  2:21:18
9  Samson NAPEYOR                  KEN  2:21:22
10 Victor STARODUBCEV              UKR  2:24:24
 
WOMEN:
1  Angelika AWERKOVA               UKR  2:37:07
2  Dorota USTIANOWSKA              POL  2:39:22
3  Arleta MELOCH                   POL  2:39:34
4  Ewa BRYCH-PAJAK                 POL  2:39:39
5  Wioletta URYGA                  POL  2:42:20
6  Irina KUNACHOWIEC               BLR  2:44:33
7  Volha YUDZIANKOVA               BLR  2:44:54
8  Agnieszka JANASIAK              POL  2:50:08
9  Agnieszka SYPEK                 POL  3:07:22
10 Ewa CHALUPNICZAK                POL  3:09:17
15 OCTOBER 2006: PALERMO SUPERMARATHON, MARATHON & HALF, ITALY
Lorena Di Vito and Carlo Filiberto were clear winners in Sunday's (15) Palermo Supermarathon run over 50km through the city centre and parks of the Sicilian capital writes Sean Wallace-Jones. Very few elite runners participated, as race director Nando Sorbello had concentrated his efforts on doing the maximum possible for the general field rather than consecrating a large budget to bring in a field of top runners.
Italian 24-hour champion Di Vito was in a class apart, being herself second overall finisher. She had finished third in the IAU 50km Tropy held in association with this race last year.
MEN:
1  Carlo FILIBERTO                 ITA  3:25:37
2  Vincenzo TAORMINA               ITA  3:48:19
3  Salvatore GIORDANO              ITA  3:53:15
 
WOMEN:
1  Lorena DI VITO                  ITA  3:45:29
 
MARATHON:
MEN:
1  Benedetto PATTI                 ITA  2:57:31
2  Alfonso SILVA                   POR  3:00:25
3  Bernardo DE GREGORIO            ITA  3:06:03

WOMEN:
1  Nicola CARTER                   GBR  3:42:58
2  Giovanna OCCHIPINTI             ITA  3:45:57
3  Renée BROUWERS                  NED  3:47:58
 
HALF MARATHON:
MEN:
1  Giovanni SOFFRIETO              ITA  1:11:54
2  Fabio RUGGERI                   ITA  1:13:41
3  Angelo FALLETTA                 ITA  1:13:45

WOMEN:
1  Patrizia GIOVALE                ITA  1:28:15
2  Carla GRIMAUDO                  ITA  1:32:09
3  Monica BALDI                    ITA  1:33:44
15 OCTOBER 2006: MARATONA D'ITALIA, ITALY
Aniko Kalovics won the first marathon of her career and smashed the national record one week after finishing eleventh in the IAAF World Road Running Championships in Debrecen, also in a national record (20km: 66:20) writes Diego Sampoalo. Kenyan David Kemboi Kiyeng dramatically beat his compatriot David Omiti Makori, prevailing by just one second after a very close battle to the finish-line in Piazza Martiri in Carpi.
Kalovics set a fierce pace from the beginning of the race aided by her fiancé and coach Zsolt Zsoder, a former triathlete, for the first half of the race. Kalovics had previously won the Stramilano and the Udine Half Marathons this year and won a "gun-to-tape race" in which she ran at a sub-2:27 pace for most of the competition. She was only 3 seconds ahead of Rosaria Console at 10km (34:48 to 34:51), but upped this to 20 seconds at 15km (52:07) and to 39 seconds at halfway (1:13:15). She then maintained a steady pace which put her 1:29 ahead of Console at 40km (2:19:16 to 2:20:45). It was the second best time ever recorded in Carpi after Maria Guida's course record (2:25:57) set in 1999. "I did not feel tired after Debrecen" said Kaolovics. "My future is the marathon. I will run a second marathon next spring in Italy."
Console ran the third best time of her career: She set her PB in Paris in 2003 where she ran 2:27:48. "I am fully satisfied because I prepared for this marathon in a short period of time after falling in Gothenburg," said Console.
The men's race started fast with a big group of 11 Kenyans and one Ethiopian, passing 10km in 30:13 on the a slightly downhill section of the course out from Maranello. Former European 10,000m and junior Cross Country champion Vasyl Matvichuk of Ukraine was dropped by 42 seconds as pacemaker Jackson Kirwa went through 15km in 45:20. Favourites David Kiyeng and David Makori ran in the front reaching halfway in 1:04:13, while Matvichuk was 32 seconds behind the Kenyans. Kirwa finished pacing at 25km, reached in 1:31:50. At this point eight men remained in contention for the victory.
Kiyeng pushed ahead at 35km and built a gap of 21 seconds by 40km. Victory seemed to be his but with 2km to go Makori dramatically closed the gap on the fading Kiyeng who continued to turn around to see Makori catching him. Kyieng somehow found the strength to save the win in the final metres, and improved his previous best time of 2:11:42. "I was worried when I saw him getting closer," admitted Kiyeng.
There were 2900 participants, including 915 foreign runners, who enjoyed sunny but cool conditions (10°C).
MEN: 
1  David Kemboi KIYENG             KEN  2:10:07
2  David Omiti MAKORI              KEN  2:10:08
3  Hillary KORIR                   KEN  2:10:16
4  Henry SEREM                     KEN  2:10:59
5  Vasyl MATVICHUK                 UKR  2:13:07
6  Solomon ROTICH                  KEN  2:14:01
7  Stanley BIWOTT                  KEN  2:14:24
8  Julius CHOGE                    KEN  2:14:55
9  Vito SARDELLO                   ITA  2:18:09
10 Pasquele RUTIGLIANO             ITA  2:20:25
 
WOMEN: 
1  Aniko KALOVICS                  HUN  2:26:43
2  Rosalba CONSOLE                 ITA  2:28:50
3  Vicenza SICARI                  ITA  2:37:00
4  Paola VENTRELLA                 ITA  2:41:02
5  Susan KIPROTICH                 KEN  2:41:27
6  Tiziana DI SESSA                ITA  2:45:43
7  Stefania DISCONZI               ITA  2:47:06
8  Wondimu BEKELE                  ETH  2:53:45
9  Donatella VINCI                 ITA  2:56:40
10 Ma. Grazia PIRAS                ITA  2:57:11
15 OCTOBER 2006: ANA BEIJING MARATHON, CHINA
With celebratory lion dancers setting the tone for the day, the race set off from Tiananmen Square under cool, cloudy skies writes Mary-Nicole Nazzaro. The temperature was 16°C with 77% humidity — slightly muggier than ideal but very comfortable for the many spectators who crowded the road around the Square. James Kwambai won the men's race by 10 seconds from countryman David Kipkorir.
The women's race was as usual dominated by Chinese runners, with seven of the top ten from the People's Republic. Winner Sun Weiwei hopped with joy after crossing the finish line — again just 10 seconds ahead of second-placed Pamela Chepchumba. It was a closely fought and evenly matched competition, as all of the women in the top ten finished within two and a half minutes.
The course goes through the western section of the city after departing from Tiananmen, then heads north and finally ends up at the National Olympic Sports Center in north-central Beijing, the future home of National Stadium (the "bird's nest"), which will be the venue for the opening and closing ceremonies and the track and field competition for the 2008 Olympic Games.
This was the twenty-sixth annual running of the Beijing Marathon. In addition to its status as one of Asia's premier marathons, this year's race incorporated the 10th Asian Championships (held once every two years). Kim Kum-Ok, Zhang Shujing, and O Kyong-Sun placed 1-2-3 in the Asian Championships competition on the women's side, and Kenichi Kita of Japan won the men's competition.
MEN:
1  James KWAMBAI                  KEN  2:10:36
2  David KIPKORUIR                KEN  2:10:46
3  Takehisa OKINO                 JPN  2:12:24
4  Kenei KIPROTICH                KEN  2:12:44
5  Teruto OZAKI                   JPN  2:13:28
6  James MOIBEN                   KEN  2:14:07
7  Masakazu MATSURA               JPN  2:14:08
8  Longyun REN                    CHN  2:15:13
9  Youcai LI                      CHN  2:15:29
10 Kenichi KITA                   JPN  2:15:37
 
WOMEN:
1  Weiwei SUN                     CHN  2:34:41
2  Pamela CHEPCHUMBA              KEN  2:34:51
3  Rong CHEN                      CHN  2:34:57
4  Yanyan GAI                     CHN  2:35:03
5  Kum-Ok KIM                     KOR  2:35:16
6  Shujing ZHANG                  CHN  2:35:24
7  Wenrong ZHENG                  CHN  2:35:29
8  Wang Xiaoshu WONG              CHN  2:36:06
9  Kyong-Sun O                    KOR  2:36:48
10 Si SU                          CHN  2:37:12
15 OCTOBER 2006: PLUS BUDAPEST MARATHON, HUNGARY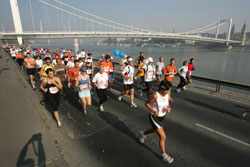 The race was held two weeks later than originally scheduled, after the city and police authorities requested a postponement because of attention focussed upon demonstrations at the national Parliament, which lies on the course. The late change of date meant that the many foreign runners who usually participate were unable to make a return trip two weeks later than that they originally booked, and the race was more of a domestic affair than in recent years.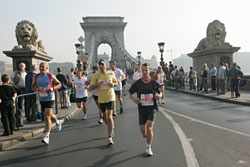 Nevertheless Tamas Toth faced a tough challenge from Tanzanian Oswald Revelian, who passed through halfway 77 seconds clear (almost 400m). Running alongside Jackton Odhiambo in the early stages Toth eventually went ahead and overtook Revelian for victory. Judit Foldingne Nagy won comfortably — some recompense for having her longstanding national record taken from her on the same day, as Aniko Kalovics won the Italian Marathon.
MEN:
1  Tamas TOTH                     HUN  2:25:03
2  Oswald REVELIAN                TAN  2:25:24
3  Jacton ODHIAMBO                KEN  2:26:36
4  Roland ADOK                    HUN  2:29:46
5  Zoltan PULSKY                  HUN  2:35:41
6  Mate GOROZDI                   HUN  2:42:40
7  Istvan SZTAKO                  HUN  2:43:59
8  Robert SZALOKI                 HUN  2:44:06
9  Marko HEISKANEN                FIN  2:46:02
10 Jozsef VARGA                   HUN  2:46:56
 
WOMEN:
1  Judit FOLDINGNE NAGY           HUN  2:59:49
2  Eva VARGA                      HUN  3:06:04
3  Reka KOVACS                    HUN  3:19:35
4  Fatima KOVACS                  HUN  3:22:00
5  Tunde CSABANE TOTH             HUN  3:22:26
6  Zsuzsana BELLER                HUN  3:27:51
7  Sara-Rebekka FAERO             NOR  3:31:35
8  Orsyla JOBA                    HUN  3:31:50
9  Eniko FEHER                    HUN  3:37:08
10 Csilla GOMBASI                 HUN  3:40:31

30KM:
MEN:
1  Andras SZEKERES                HUN  1:51:59
2  Ferenc ANTALOCZI               HUN  1:59:46
3  Gusztav LELKES                 HUN  2:09:26

WOMEN:
1  Erika Szilagyi KOCHNE          HUN  2:25:45
2  Dr. Zsuzsanna PIROS            HUN  2:28:19
3  Eniko NAGY                     HUN  2:32:28
15 OCTOBER 2006: TORONTO MARATHON AND HALF, CANADA
MEN:
1  Anthony SKUCE                  CAN  2:34:11
2  Joseph NDERITU                 KEN  2:34:33
3  Matthew LEDUC                  CAN  2:35:54
4  Paul LEDUC                     CAN  2:37:26
5  Per EKEGERD                    DEN  2:39:14
6  Dean AYLWARD                   CAN  2:39:56
7  David BROOKS                   CAN  2:40:39
8  Alexander MAKOVEC              AUT  2:41:57
9  John LOFRANCO                  CAN  2:44:01
10 Roman CHLUPATY                 CAN  2:46:06
 
WOMEN:
1  Nicole STEPHENSON              CAN  2:47:10
2  Angie FERRARO                  CAN  2:58:16
3  Angela BATSFORD                CAN  2:58:38
4  Catherhine WASSENAAR           USA  3:01:43
5  Jill GAMBLE                    CAN  3:10:00
6  Krista BOLYEA                  CAN  3:14:47
7  Linda DESMEULES                CAN  3:14:53
8  Anne MURPHY                    GBR  3:15:56
9  Melinda UDELL                  CAN  3:16:57
10 Sally GILBERT                  GBR  3:17:58

HALF MARATHON:
MEN:
1  Predrag MLADENOVIC             CAN  1:09:28
2  Travis TIMPSON                 CAN  1:10:13
3  Jason MATTHEWS                 CAN  1:11:33

WOMEN:
1  Rebecca STALLWOOD              CAN  1:19:55
2  Sharlene COBAIN                CAN  1:23:12
3  Seanna RISHOR                  CAN  1:25:53
15 OCTOBER 2006: MOUNT DESERT ISLAND MARATHON, USA
Race week began with an announcement from ESPN naming the event as "Most Scenic in North America" and continued with a record number of registrations. Race day dawned with still winds, crisp clear air, magnificent scenery and the fall foliage at its best. Over 400 volunteers and hundreds of spectators created a fun and festive atmosphere. The race was started on Main Street in Bar Harbor by our honorary race starter, Kim Lopdrup — the president of race sponsors Red Lobster.
The lead group featured two-time champion David Herr, Andy Beardsley, a top finisher of every edition of the race and a tight pack of others who patiently watched the race unfold from just behind. Herr was alone at the finish with church bells pealing his arrival and crowds cheering him home on Main Street in Southwest Harbor, thereby notching a very convincing third victory in his five attempts.
In the women's race Debra Moreau looked completely relaxed as she broke the finishing tape after successfully out-running a record women's field including two-time champion Lara Judson from Mt. Desert itself.
There will be an even better event on Sunday 14 October 2007. Our goal remains to produce the premiere destination marathon in North America.
MEN:
1  David HERR                     USA  2:35:16
2  Andrew BEARDSLEY               USA  2:40:41
3  Eric RUDOLF                    USA  2:47:25
4  Erik MCCARTHY                  USA  2:49:38
5  Brian WATERS                   USA  2:51:27
6  Tom ST GERMAIN                 USA  2:54:51
7  Oliver CUNNINGHAM              USA  2:56:15
8  Jeffrey MEYER                  USA  2:58:09
9  Joe ADAMS                      USA  2:58:26
10 Ryan KING                      USA  3:02:23
 
WOMEN:
1  Debra MOREAU                   USA  3:16:24
2  Lara JUDSON                    USA  3:23:21
3  Sharon MITCHELL                USA  3:23:51
4  Amanda DREYER                  USA  3:26:39
5  Stacy STROUSE                  USA  3:30:44
6  Deb THOMFORD                   USA  3:33:36
7  Sally BROOKING                 USA  3:35:15
8  Amy BEARD                      USA  3:36:19
9  Kate GOUPEE                    USA  3:36:30
10 Marie-Pier ROYER               CAN  3:43:40
15 OCTOBER 2006: EDP PORTO MARATHON, PORTUGAL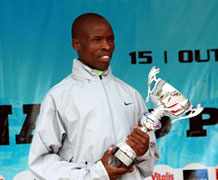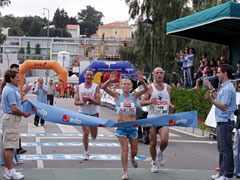 Lawrence Saina ran away for a solo win in the third edition of the race, breaking the course record by three minutes and setting a new Portuguese all-comers record. He was the first runner to test the new Porto Marathon circuit. It will be the definitive one: flat, extremely fast, and combining seaside and riverside to show runners the best of this beautiful city.
From the start a group of five Kenyans led 6000 runners through the streets, keeping pace with the half marathon runners. In the women's race Aureliana Edmundo, from the offshore Portuguese territory of the Azores, had an easy win. She led from start to finish, breaking her personal best and ducking under the three-hour barrier.
MEN:
1  Lawrence SAINA                 KEN  2:09:52 
2  Joseph NGURAN                  KEN  2:11:58
3  Kipkorir CHAMGWONY             KEN  2:15:05
4  Edep COLLINS                   KEN  2:15:35
5  Julius SEUREI                  KEN  2:16:11
6  Thomas KIPROTICH               KEN  2:21:55
7  Baltazar SOUSA                 POR  2:29:35
8  Carlos BRITO                   POR  2:37:03
9  Jose FERREIRA                  POR  2:37:50
10 Jose SANTOS                    POR  2:37:53
 
WOMEN:
1  Aureliana EDMUNDO              POR  2:57:35
2  Natalia PINTO                  POR  3:00:54
3  Ana GOMES                      POR  3:02:17
4  Susana SIMOES                  POR  3:13:48
5  Conceicao GRARE                POR  3:24:55
6  Chantal MASSIPA                FRA  3:27:42
7  Simone LOPESA                  POR  3:33:01
8  Margarida PINTO                POR  3:42:40
9  Kathleen NOMURA                POR  3:42:57
10 Evelyne LAVELLEA               POR  3:57:40

HALF MARATHON:
MEN:
1  Paulo GOMES                    POR  1:04:39
2  Delfim CONCEICAO               POR  1:07:20
3  Joaquim ROCHA                  POR  1:13:37
 
WOMEN:
1  Helena SAMPIAO                 POR  1:16:51
2  Fatima SILVA                   POR  1:20:35
3  Helena FERREIRA                POR  1:38:24
22 OCTOBER 2006: SAMSUNG KATHMANDU PEACE RUN 5km & AIMS CHILDREN'S RUN 5km, NEPAL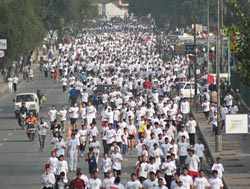 The second stage of the AIMS children's Series took place in Kathmandu, in association with the Samsung Kathmandu 5km Peace Run. The Peace runners set off first from in front of the City Hall building at Basantapur, with the World Heritage Site of Durbar Square, packed with temples and stupas, in the background.
This first wave of 1200 runners were adults, fun-running the same course through the centre of Kathmandu as the children. Tight scheduling of the road closure meant that the adults had barely cleared the start line before the kids were chasing after them.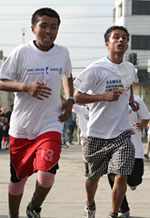 There were three age groups, each divided into boys' and girls' categories. They were each identified by a letter code to pick them out at the finish line. These letters were placed on the front of the T-shirt but most participants, unfamiliar with organised races, fixed their race numbers on their backs.
As young legs overtook many of the old lags the two events intermingled, creating one long snaking trail along New Road, around Ratna Park and then eastward out to Baneshwor, to finish at the gates of the gigantic Birendra International Convention Centre.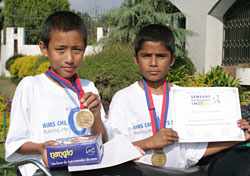 After unseasonal showers in the preceding days and in the afternoon after the race, the sun smiled on the runners. So much so that despite starting at 08.00 it was alreay warm by the time the front runners finished. The first few of them had serious expressions, but soon the grounds of the convention centre filled up with smiling runners, proudly sporting their medals and clutching their certificates as they tucked into their breakfast packs.
22 OCTOBER 2006: 21st VENICE MARATHON, ITALY
Jonathan Kipkorir Kosgei set a new personal best after a dramatic battle in the heart of Venice against Italian Alberico Di Cecco, writes Diego Sampoalo. Di Cecco came back after a difficult season with a confidence-boosting performance over a new but challenging course from Villa Pisani in Stra to Riva dei Sette Martiri in Venice. Lenah Cheruyiot won the women's race by defeating former World record holder Tegla Loroupe.
Paul Kimugul and Wilfred Taragon set the early pace for the lead group of nine - six Kenyans and three Italians - reaching 15km in 45:55. Running 64:49 through the halfway mark, Taragon was the first pacemaker to drop out at 25km (1:16:50).
After running for 4km in the centre of Mestre (25Km) runners crossed San Giuliano's Park, a challenging section of the course inside a vast green area between Mestre and Venice. Kimugul set the pace until 30km (1:32:20), when it came down to two Italians and three Kenyans. The race reached its climax over the 5km Ponte della Libertà (Bridge of Freedom).
Di Cecco went to the front pushing the pace in the 37th kilometre. Kosgei launched his first attack 2km later, but Di Cecco responded. The Italian ran on Kosgei's heels in the most difficult section of the race marked by the famous 14 bridges. Kosgei pulled away from Di Cecco by a few metres but the race was far from over. In a dramatic finish over the final kilometre, Kosgei held off Di Cecco by three seconds.
Tegla Loroupe, twice World Marathon record holder and three-time World champion in the Half-Marathon and Lenah Cheruyiot along with 2005 Italian Marathon champion Ivana Iozzia battled for victory in the women's race. They passed halfway in 1:16:16. The turning point of the race was just before 30km in San Giuliano Park when Cheruyiot and Loroupe upped the pace, pulling clear of Iozzia by six seconds at 30km (1:48:54).
Cheruyiot attacked at 35km, building up a solid margin over Loroupe which proved to be decisive. She lowered her PB by nearly two minutes. Loroupe, who was sidelined by frequent injury problems, took a clear second place in an encouraging 2:35:50.
MEN:  
1  Jonathan Kipkorir KOSGEI       KEN  2:10:18
2  Alberico DI CECCO              ITA  2:10:21
3  Paul LOKIRA                    KEN  2:11:00
4  Migidio BOURIFA                ITA  2:11:09
5  William Todoo ROTICH           KEN  2:11:31
6  Daniele CAIMMI                 ITA  2:16:28
7  Dominic KIPKEMBOI              KEN  2:20:09
8  Gianluca BORGHESE              ITA  2:22:57
9  Reinhard HARRASSER             ITA  2:23:59
10 Alessandro MANENTE             ITA  2:26:12

WOMEN:
1  Lenah CHERUIYOT                KEN  2:33:44
2  Tegla LORUPE                   KEN  2:35:50
3  Ivana IOZZIA                   ITA  2:36:13
4  Renata PARADOWSKA              POL  2:38:24
5  Justina BAK                    POL  2:41:50
6  Marina ZANARDI                 ITA  2:47:35
7  Chiara PACCHIEGA               ITA  2:57:52
8  Cecilia MORA                   ITA  3:00:47
9  Guiseppina MATTONE             ITA  3:04:15
10 Cristina PERRONE               ITA  3:04:38
22 OCTOBER 2006: LAUSANNE MARATHON, SWITZERLAND
Last year's winner and regular participant Tesfay Eiticha ran several minutes slower this year, and conceded victory to Sammy Rotich. Last year's third placer, Weyessa Urguessa, was also pushed down one place to fourth, despite running within one second of the time he recorded last year.
MEN:
1  Sammy ROTICH                   KEN  2:14:39
2  Tesfaye ETICHA                 ETH  2:15:28
3  Joseph NGENY                   KEN  2:16:34
4  Weyessa URGUESSA               ETH  2:17:32
5  Fikade AMMA                    ETH  2:19:25
6  Christopher CHEPKIYENG         KEN  2:20:18
7  Jonathan KIPSAINA              KEN  2:28:11
8  Urs DELLSPERGER                SUI  2:36:10
9  Tim SHORT                      GBR  2:39:28
10 Niklaus LEUENBERGER            SUI  2:43:35

WOMEN:
1  Meseret KOTU                   ETH  2:39:43
2  Muliye LEMA                    ETH  2:44:23
3  Lydia KURGAT                   KEN  2:48:04
4  Joanna GRONT                   POL  2:48:58
5  Fabiola OPPLIGER               SUI  2:51:11
6  Sally CHANEL                   SUI  2:55:03
7  Sabine GENTIEU                 SUI  3:03:31
8  Regula BAUMBERGER              SUI  3:12:42
9  Peggy MERLE                    SUI  3:13:09
10 Petra BOLFING                  SUI  3:13:44  
 
HALF MARATHON:
MEN:
1  Alexis GAX-FABRY               SUI  1:11:27
2  Pierre PERRITAZ                SUI  1:11:37
3  Benoit BERGAENZELE             FRA  1:11:43

WOMEN:
1  Adeline ROCHE                  FRA  1:20:24
2  Juliette BALAGE                FRA  1:21:25
3  Estelle OBERSON                SUI  1:22:11
22 OCTOBER 2006: NIAGARA FALLSVIEW INTERNATIONAL MARATHON, CANADA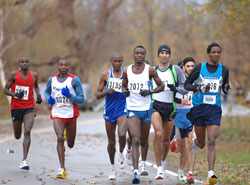 A strong tailwind and a pleasant race temperature of 10°C helped runners to some fast times. The race starts at the Albright-Knox Art Gallery in Buffalo, New York, and this year finished in a new location overlooking Niagara Falls at Table Rock Restaurant. The race had nearly 1,000 competitors in the full marathon, 1,800 in the half marathon and 250 in the 5km, with runners coming from 34 countries.
Kenyans dominated in both men's races this year, with less than a minute separating the top three runners in the half marathon.
MEN:
1  Simon NJOROGE-KARIUKI          KEN  2:18:13
2  Joseph NDERITU                 KEN  2:27:04
3  Steven BOHAN                   CAN  2:29:51
4  Bob WEINER                     USA  2:30:52
5  Janusz SARNICKI                POL  2:30:59
6  Michel LAVOIE                  CAN  2:31:48
7  John PIGGOT                    USA  2:32:31
8  Scott MCDONELL                 CAN  2:44:18
9  Harry NEYNENS                  CAN  2:44:56
10 Albert EZAKI                   CAN  2:48:15
 
WOMEN:
1  Elena ROZHKO                   UKR  2:43:36
2  Kate MCNAMARA                  CAN  2:48:02
3  Lori KINGSLEY                  USA  2:55:07
4  Nathalie GOYER                 CAN  2:57:52
5  Louise VOGHEL                  CAN  3:00:14
6  Michelle SCHULER               CAN  3:02:44
7  Chantal GOSSELIN               CAN  3:04:11
8  Sheila SWEENEY                 CAN  3:06:33
9  Kelly RUPOLI                   CAN  3:10:47
10 Grace BAKKER                   CAN  3:11:22
 
HALF MARATHON:
MEN:
1  Joseph GNEERI                  KEN  1:04:06
2  Danny KASSAP                   CAN  1:04:36
3  Henry GITHUKA                  KEN  1:05:33
 
WOMEN:
1  Paula WILTSE                   CAN  1:17:44
2  Beth WIGHTMAN                  CAN  1:18:00
3  Isabelle LEDROIT               CAN  1:19:14
29 OCTOBER 2006: CHOSUNILBO CHUNCHON MARATHON, KOREA

Elijah Mutai won for the fourth consecutive year, beating Gabriel Jose Garcia by seven seconds after a thrilling duel. Sun-suk Yun won the women's race in a new course record. In total more than 20,000 runners participated.
MEN:
1  Elijah MUTAI                   KEN  2:13:46
2  Gabriel Jose GARCIA            GUA  2:13:53
3  Yun-shan ZHENG                 CHN  2:16:47
4  Myong-Kee LEE                  KOR  2:17:34
5  Alfredo AREVALO                GUA  2:18:23
6  Jae-Sung KIM                   KOR  2:22:13

WOMEN:
1  Sun-Suk YUN                    KOR  2:36:04
2  Sun-Young LEE                  KOR  2:36:27
3  Eun-Hee CHAE                   KOR  2:41:32
4  Kyong-Mi CHUNG                 KOR  3:01:26
5  Kyong-Suk YOO                  KOR  3:02:23
29 OCTOBER 2006: MESSE FRANKFURT MARATHON, GERMANY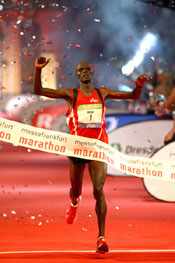 Wilfred Kigen of Kenya successfully defended his Messe Frankfurt Marathon title in the German banking capital writes Pat Butcher. A warm day (20°C) with strong winds left him 37 seconds adrift of his course record from last year. He won by just one second in 2005 but this year was almost a minute and half ahead of his rivals.
Nine of the top 10 finishers come from Eldoret, the town first made famous as Kip Keino's home when he broke through to win the 1968 Olympic 1500m title in Mexico City. He is now revered as the godfather of Kenyan distance running.
Kigen did the old man proud. He was always in the leading group, right behind the pacemakers, signalling his intent to repeat last year's win. He covered all the potential breaks, including one at 34km by first-timer Francis Bowen. That was the signal for Kigen who took off little more than a kilometre later.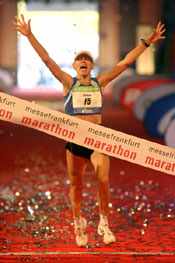 Svetlana Ponomarenko was a surprise winner of the women's race, becoming the third Russian in succession, after Olesya Nurgalieva and Alektina Biktimorova, to win the title. Ponomarenko was a minute behind the leaders, Ethiopians Robe Tola and Kutre Dulecha, at halfway, but explained: "I started to catch them from 26km, and at 34km, I still felt very good, so I went ahead." Despite a pit-stop at 38km, which cost her around 40 seconds, the 36-year old from the south Urals was so far ahead that she still scored an easy win.
MEN:
1  Wilfred KIGEN               KEN  2:09:06
2  Moses ARUSI                 KEN  2:10:30
3  Francis BOWEN               KEN  2:10:49
4  Peter KIPROTICH             KEN  2:10:57
5  Peter CHEBET                KEN  2:11:45
6  Peter KORIR                 KEN  2:12:08
7  Kasime ADILO                ETH  2:12:26
8  Thomas CHEMITEI             KEN  2:13:13
9  Andrew LIMO                 KEN  2:13:25
10 Boaz KIMAIYO                KEN  2:13:31

WOMEN:
1  Svetlana PONOMARENKO        RUS  2:30:05
2  Kirsten MELKEVIK OTTERBU    NOR  2:31:30
3  Hafida IZEM                 MAR  2:31:30
4  Claudia DREHER              GER  2:32:22
5  Gulnara VIGOVSKAYA          RUS  2:32:51
6  Kutre DULECHA               ETH  2:33:54
7  Robe TOLA                   ETH  2:39:18
8  Viola BOR                   KEN  2:42:25
9  Almaz MEGERSSA              ETH  2:43:21
10 Prisca KIPRONO              KEN  2:43:22
29 OCTOBER 2006: STANDARD CHARTERED NAIROBI MARATHON, KENYA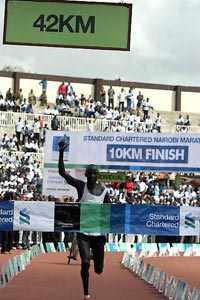 photo by Omulo Okoth
Hosea Kiprop Rotich won his first ever marathon, beating his closest rival by three minutes writes Omulo Omoth. Irene Jerotich ran the fastest time ever on Kenyan soil to win the women's race, beating the existing record by over three minutes. 19-year old Chinese Xin Zhang ran strongly for second place.
Rotich, 25 years old, started training as a marathon runner three years ago. He had no problems with the 1600m altitude that makes running in Nairobi tough for even the world's strongest runners. "I can go another kilometre. This has opened the world for me and there is no stopping me," he said.
On a warm morning under a clear sky, the marathon runners sped away from the start-line at 07.45 along the Mombasa Road towards the airport. The race was run on a new route following complaints by church goers after last year's race. More than 15,000 runners and joggers, up from 12,000 last year, combined to form a carnival mood in the roads west of Nairobiâ's Central Business District. The consistent growth in the popularity of the Nairobi Marathon since its inception in 2003 was mirrored by the thousands of spectators that lined the new route, and is strong testament to the passion and popularity of long distance running in Kenya.
The Nairobi Marathon is the first leg of the annual "Greatest Race on Earth" series of marathons (Nairobi, Singapore, Mumbai and Hong Kong). Teams from 33 countries are competing for a share of a prize pool of US $1.5 million.
MEN:
1  Hosea Kiprop ROTICH         KEN  2:10:21
2  Kipchoge KIPLAGAT           KEN  2:13:06
3  Alex MARINGA                UGA  2:13:09
4  Paul LIMO                   KEN  2:13:47
5  Christopher CHEBOIBOCH      KEN  2:14:58
6  Josephat KINYOR             KEN  2:15:05
7  Stephen KIBIWOTT            KEN  2:15:09
8  Elijah MOTURI               KEN  2:15:20
9  Sammy NJOROGE               KEN  2:15:22
10 Philemon GASIA              KEN  2:15:23

WOMEN:
1  Irene JEROTICH              KEN  2:32:39
2  Xiu ZHANG                   CHN  2:37:26
3  Beatrice OMWANZA            KEN  2:39:07
4  Lornah MUTHONI              KEN  2:39:24
5  Juliana WAMBUA              KEN  2:42:00
6  Emily SAMOEI                KEN  2:42:10
7  Monica MUTHONI              KEN  2:42:28
8  Philomena CHEYECH           KEN  2:45:09
9  Wilfrida KWAMBOKA           KEN  2:45:51
10 Irene MOGAKA                KEN  2:48:27

Half Marathon:
MEN:
1  Philemon GETEA              KEN  1:00:25
2  Moses KORORIA               KEN  1:01:52
3  David RUTO                  KEN  1:01:54

WOMEN:
1  Beatrice RUTO               KEN  1:10:52
2  Anne CHEPTANUI              KEN  1:12:36
3  Agnes CHEROP                KEN  1:12:54
29 OCTOBER 2006: LJUBLJANSKI MARATHON, SLOVENIA
MEN:
1  Joachim NSHIMIRIMANA        BDI  2:14:14
2  Benjamin KIPTAURUS          KEN  2:14:29
3  Awad Aman AMAJID            QAT  2:15:08
4  Olesander SITKOVSKIY        UKR  2:15:45
5  Nickson KIPTOLO             KEN  2:17:06
6  Portipher DOMBOJENA         ZIM  2:18:17
7  Gino Van GEYTE              BEL  2:18:17
8  Jaber Ahmed JUMAH           QAT  2:19:02
9  Nabil BENKRAMA              ALG  2:22:37
10 Jesus De LIEIZIO            BRA  2:23:27
 
WOMEN:
1  Inga JUODESHKIENE           LIT  3:01:52
2  Danielle KRIJGSMAN          NED  3:06:02
3  Daniela DA FORNO            ITA  3:07:23
4  Egle KRISTAPONYTE           LIT  3:13:17
5  Tammy HISCOCK               CAN  3:15:29
6  Jadranka LESKOVSEK          SLO  3:19:51
7  Marie DUPUIS                CAN  3:21:27
8  Tatjana JAUK                SLO  3:26:07
9  Mojca FLERIN                SLO  3:32:32
10 Marjeta FURMAN              SLO  3:34:33
29 OCTOBER 2006: MARINE CORPS MARATHON, USA
photos by Alan Brookes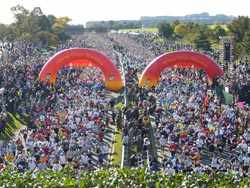 Mexico's Ruben Garcia became only the second man to have back-to-back victories at the Marine Corps Marathon, ahead of a record field of 30,370 entries. The women's section of the "People's Marathon" was won by American recreational runner, Laura Thompson of Boise, Idaho.
Conditions were almost ideal for running, with clear blue skies, sunshine, light breezes, and a chilly 4°C at the start by Arlington National Cemetery. The largest-ever MCM field was drawn from all 50 states, and 54 different countries. In all, some 20,858 ended up crossing the finish line, moving Marine Corps from 5th into 4th place amongst America's largest marathons, just ahead of Los Angeles. It was a significant increase from the 18,843 finishers in Washington last October.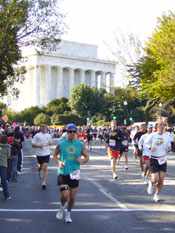 The race got off to a strong start with a couple of Mexicans, and a trio of Africans running for one of the event sponsors hitting 5 miles in 24:04 and gunning for the 20-year old course record of 2:14:01. Kenyan Jared Nyamboki stayed ahead of the record pace through 15km, almost a minute clear. Belay Kassa, an Ethiopian based in Fayetteville, Georgia, was a distant second, with fellow-countryman Tamrat Ayalew in third, and Garcia, running a sensible, even pace in fourth, three minutes back.
The order and spacing remained the same through half-way. [Nyamboki 67:39, Garcia 70:10]. Gradually the Africans began to fade, and at 32km Nyamboki's lead was down to 77 seconds, with Garcia now in second and closing. Around 35km the Mexican struck decisively, passing the sagging Kenyan who stepped off the course near the entertainment in Crystal City, around 36km. Garcia maintained good form and unfaltering pace to claim his repeat victory. Last year's second-place finisher, Carl Rundell of Birmingham, Michigan, crossed the line a very distant second again this year after the two Ethiopians faded badly [to 2:27:32 and 2:30:11].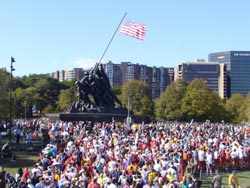 As the temperature rose to a pleasant 15°C and the winds picked up, the masses poured in, exemplifying the Marine Corps experience. Crowds of runners were thickest around the five-hour mark - the average finishing time in Washington. The People's Marathon provided the perfect day for sight-seeing at a leisurely pace, and the numerous and friendly spectators stayed until well after seven hours to cheer home the 11,044 first-time marathoners and the large number of female runners [11,901] amongst the record field. The bands played in the post-run party area on Meade Street, and there was much celebration after the final objective was reached, the steep rise to the famous Iwo Jima Monument at the finish line.
MEN:
1  Ruben GARCIA                USA  2:21:17  
2  Carl RUNDELL                USA  2:24:22  
3  Jose MIRANDA                USA  2:26:21  
4  Andreas CARLBORG            SWE  2:26:37  
5  Belay KASSA                 ETH  2:27:28  
 
WOMEN:
1  Laura THOMPSON              USA  3:00:10
2  Brenda SCHRANK              USA  3:02:28
3  Suzanne HIMES               USA  3:02:52
4  Samantha KIRBY              USA  3:04:46
5  Becky BACKSTROM             USA  3:06:15
29 OCTOBER 2006: GUADALAJARA MARATHON, MEXICO
photo by Bernie Conway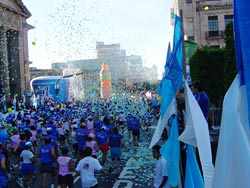 The race was held in the downtown area of this very picturesque city writes Bernie Conway. The magnificent city Cathedral was right alongside the start and finish areas. The Cathedral clock was used to keep track of the race countdown, as it was started by the ringing of the Church bells. Runners were led to the starting line by a human chain of army volunteers. A dozen people released pigeons by hand while fireworks were set off overhead and fans blew confetti over the heads of the runners. As the runners took off they released the helium balloons they were holding. It was a truly inspiring view.
The women's race set off first, then the wheelchair division and finally the men's race. Runners ran through the city on wide traffic-free streets. Many of the streets were lined with orange trees and filled with colourful flowers. The race finished less than 100m down the street and a nearby park, Rotonda de los Hombres Ilustres (so named because of its many statues of local heroes in politics, art, and commerce), provided a welcome area of shade for those waiting for their friends or loved ones to return at the finish of their race.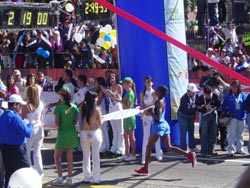 At the finish line volunteers made sure everyone was taken care of and sufficiently hydrated. Medical staff were on hand and they very quickly and expertly covered any problems arising.
There is a very good relationship between the running community and the Church as the Church believes that running and sports are positive influences on the population instead of choosing drinking and drugs. The local organisers were surprised to hear that elsewhere the Church often tries to prevent races being held on a Sunday.
MEN:
1  Philip KIBITOK             KEN  2:15:18
2  Christopher TOROITICH      KEN  2:15:34
3  Samuel CHEPNO              KEN  2:16:18
4  Jesus TORRES               MEX  2:17:15
5  Peter AYENI                KEN  2:17:27
6  Mark KIPKOSGEI             KEN  2:17:44
7  Carlos GOMEZ               MEX  2:17:47
8  Margarito RAMIREZ          MEX  2:19:30
9  Charles NYAMOKI            KEN  2:19:33
10 Armando TORRES             MEX  2:20:13

WOMEN:
1  Susanm MUTHONI             KEN  2:40:02
2  Judith HERNANDEZ           MEX  2:40:04
3  Paula JUAREZ               MEX  2:41:36
4  Lucilia DAMASO             MEX  2:42:12
5  Liliana FERNANDEZ          MEX  2:42:36
6  Patricia GUTIERREZ         MEX  2:42:48
7  Adriana RUIZ               MEX  2:45:36
8  Alicia SALDIVAR            MEX  2:46:13
29 OCTOBER 2006: BIG SUR HALF MARATHON ON MONTEREY BAY, USA
MEN:
1  Ian DOBSON                1:02:32
2  Fernando CABADA           1:02:45
3  Macdonald ONDARA          1:03:12
4  Richard KIMELI            1:04:22
5  Sergio REYES              1:04:23
6  Ibrahim LIMO              1:05:50
7  Lance PARKER              1:05:50
8  Josh SPIKER               1:06:28
9  Miguel NUCI               1:07:03
10 Charle NJERE              1:07:42

WOMEN:
1  Jennifer RHINES           1:12:17
2  Kate O'NEILL              1:16:32
3  Heather GIBSON            1:16:56
4  Brooke WELLS              1:17:55
5  Elissa RIEDY              1:18:32
6  Camille HERRON            1:19:21
7  Hannah MITEI              1:20:45
8  Alexis WADDEL             1:22:05
9  Caroline RADTKE           1:23:51
10 Shannon CODY              1:24:51
29 OCTOBER 2006: ALAND MARATHON, FINLAND
MEN:
1  Janne HOLMEN                FIN  2:28:58
2  Lennart SODERLUND           FIN  2:38:11
3  Veli- Matti KARHULAHTI      FIN  2:47:00
4  Emil SODERLUND              FIN  2:53:54
5  Garry MACLNNES              FIN  2:54:30
6  Tommi NIETOSJARVI           FIN  2:55:35
7  Ari JARVINEN                FIN  2:55:44
8  Stefan SUNDSTROM            FIN  2:57:16
9  Janne PULKKINEN             FIN  2:58:21
10 Dag NILSSON                 FIN  3:00:08
 
WOMEN:
1  Lotta FRENANDER             FIN  3:26:28
2  Sara CARLSSON               FIN  3:36:32
3  Anne MARTTILA               FIN  3:50:01
4  Irina KUHA                  FIN  3:50:24
5  Tuija KATAJA                FIN  3:50:48
6  Monica GULLSTROM            FIN  3:56:23
7  Janina BERGMAN              FIN  3:56:46
8  Ritva VALLIVAARA-PASTO      FIN  3:58:10
9  Annie HEDLUND               FIN  3:58:20
10 Hanna ROSVALL               FIN  4:00:19

HALF MARATHON:
MEN:
1  Peter KUJANPAA              SWE  1:17:32
2  Toomas UNT                       1:20:48
3  Robert SODERMAN                  1:21:59
 
WOMEN:
1  Sanna KULLBERG                   1:23:18
2  Carita SODERGARD            FIN  1:30:34
3  Mia LUNDH                        1:33:06
29 OCTOBER 2006: BUENOS AIRES MARATHON, ARGENTINA
MEN:
1  Jesus Santos GEOVANE        BRA  2:18:27
2  Oscar CORTINEZ              ARG  2:20:21
3  Hugo Paucar RAMOS           PER  2:23:14
4  Paulino CANCHANYA                2:25:23
5  Daniel SIMBRON                   2:26:12
6  Fabio HEREDIA                    2:37:19
7  Edward PUDLLA                    2:39:24
8  Ives SAUCEDO                     2:39:31
9  Antonio KIFEL                    2:40:19
10 Miguel GAUNA                     2:40:23
 
WOMEN:
1  Sandra TORRES                    2:49:04
2  Valerie RODRIGUEZ                2:49:29
3  Estelia MARTINEZ                 2:51:40
4  Carina Allay CHIAFFITELLI        2:55:24
5  Rosana LUISETTI                  2:57:48
6  Flavia DE LOS SANTOS             3:02:58
7  Mabel LASTIRI                    3:06:21
8  Silvana CALCAGNO                 3:09:18
9  Aida AGUILAR                     3:11:49
10 Virginia PENA                    3:15:31
30 OCTOBER 2006: ADIDAS DUBLIN MARATHON, IRELAND
Aleksey Sokolov won the 27th edition of the race in a new course record of 2:11:30 - a minute and a half faster than that posted by Lezan Kimutai in 2004 writes Maire Scully.
Sokolov led from the off, setting a very fast pace, running on a 2:10 schedule for a large part of the course. He was already a minute up at 10km, and two-and-half minutes up at halfway. A group of six runners held together behind him, and the gap closed up a little in the final stages, although Sokolov remained more than 400m clear at the finish. Alina Ivanova took a similarly early lead. She was 100m up on Larisa Zyusko at 10km and a minute ahead of Hailey Haining. These two were together at halfway, more than two minutes behind Ivanova. Haining held the gap for the second half of the race and went ahead of Zyusko to take second place.
Two new Irish National Champions were crowned, with Cian McLoughlin the first Irishman home, in 10th place overall. Defending Women's Champion Pauline Curley was just pipped over the final few steps by Jill Shannon from Belfast, who was running her debut marathon.
The organisers regret to confirm that there was a fatality during the course of the race.
MEN:
1  Aleksey SOKOLOV             RUS  2:11:39
2  Oleksandr KUZIN             UKR  2:13:11
3  Edwin KOMEN                 KEN  2:13:26
4  Dmytro OSADCHY              UKR  2:14:22
5  Matt SMITH                  GBR  2:14:41
6  Sylvester TEIMET            KEN  2:17:39
7  David KIPLAGAT              KEN  2:19:44
8  Wesly NGETICH               KEN  2:20:10
9  Oleg BOLOHOVETS             RUS  2:20:30
10 Cian MC LOUGHLIN            IRL  2:22:37
 
WOMEN:
1  Alina IVANOVA               RUS  2:29:49
2  Hayley HAINING              GBR  2:31:51
3  Larisa ZYUSKO               RUS  2:33:09
4  Caroline CHEPTANUI          KEN  2:33:36
5  Julia VINOKOUROVA           RUS  2:33:43
6  Lyudmyla PUSHKINA           UKR  2:37:24
7  Marashet JIMMA              ETH  2:39:10
8  Caroline KWAMBAI            KEN  2:40:45
9  Jill SHANNON                IRL  2:42:46
10 Pauline CURLEY              IRL  2:42:48
October 2006