June 2006
3 JUN | 4 JUN | 11 JUN | 17 JUN | 18 JUN | 23 JUN | 25 JUN | 28 JUN
3 JUNE 2006: STOCKHOLM MARATHON, SWEDEN
MEN:
1  Phillip BANDAWE             ZIM  2:17:01
2  Michael NGASEKE             ZIM  2:20:05 
3  Kent CLAESSON               SWE  2:22:23
4  Lenar KHUSNUTDINOV          RUS  2:22:36
5  Said REGRAGUI               SWE  2:25:01
6  Patrik GUSTAFSON            SWE  2:25:26
7  Mike MARIATHASAN            GER  2:25:33
8  Erik OHLUND                 SWE  2:26:14
9  Alfred SHEMWETA             SWE  2:27:48
10 Aigars FADEEVS              LAT  2:28:30

WOMEN:
1  Anna RAHM                   SWE  2:36:37
2  Eva Maria GRADWOHL          AUT  2:42:48
3  Tina Maria RAMOS            ESP  2:44:03
4  Lisa BLOMME                 SWE  2:44:56
5  Tafa Woynishet GRIM         ETH  2:46:50
6  Brit-Helen SIMMENE          NOR  2:47:03
7  Nina PODNEBESNOVA           RUS  2:47:20
8  Helena OLOFSSON             SWE  2:48:40
9  Marlene PERSSON             SWE  2:53:43
10 Karin SCHON                 SWE  2:54:37
3 JUNE 2006: FRIEHOFER'S 5km, UNITED STATES OF AMERICA
Photos: Jeff Foley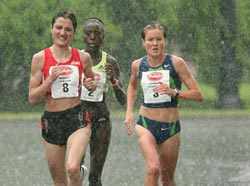 Before the gun fired for the start of this morning's 28th running of the Freihofer's Run for Women 5K in downtown Albany, NY, the consensus was that this was Lornah Kiplagat's race to lose. The 32-year-old Kenyan-born Dutchwoman had proved dominant in almost every race she had run this year. At the tape, however, it was Australia's Benita Johnson who prevailed, her win coming as the culmination of one of the most thrilling competitions in the history of the race.
This was the finest Freihofer's field ever assembled. Hopes of an improvement of Asmae Leghzaoui's 2005 course record (15:18) were dashed, however, by torrential rains that battered New York's Capital District throughout the night and that continued unabated until after the race had been completed.
It may have dampened conditions on the starting line, but the rain could do nothing to quench the competitive fire that was evident from the moment the field of 3144 women got underway. Characteristically, Kiplagat charged immediately to the forefront, opening a stride lead within the first 400m and 10m within the first 800m.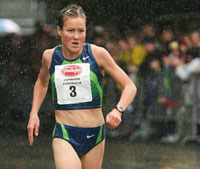 Benita Johnson tracked her. At one mile (1600m), passed in 4:58 it was purely a two-woman race. The chasing pack — including Amy Rudolph (Providence, RI), Dorota Guca (POL), Lineth Chepkirui (KEN), Sally Barsosio (KEN) and course record holder Legzhaoui (MAR) — were 20m back and fading.
But then Natalya Berkut from Ukraine charged through the second mile, closing the gap entirely on the leaders (10:06), so that the two-woman race was suddenly three.
With 1200m remaining, approaching the exit from Washington Park, Kiplagat, surprisingly, began to fall adrift. At once she lost 10m on Johnson and Berkut and, as the leaders turned on to Madison Avenue and the long stretch towards the finish line, once again this was a two-woman race.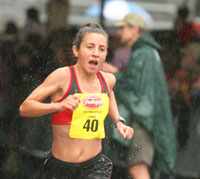 It was only with 200m remaining that the ultimate outcome was decided. "I knew she was faster than me," Berkut conceded. Johnson decided the result with a panache that enlivened the rain-soaked crowd assembled near the finish. Johnson's winning time of 15:27 gave her a two second margin over Berkut. Kiplagat placed an isolated third in 15:47.
In the masters race, for women aged 40 and over, Freihofer's legend, Carmen Troncoso (USA) prevailed yet again, defending the title she won in 2005. Troncoso's time of 17:11 placed her 19th overall in this, her 15th Albany appearance. In total, it was her fifth victory in the masters competition.
WOMEN:
1  Benita JOHNSON              AUS  15:27
2  Natalya BERKUT              UKR  15:29
3  Lornah KIPLAGAT             NED  15:47
4  Lineth CHEPKURUI            KEN  15:50
5  Amy RUDOLPH                 USA  15:50
6  Dorota GRUCA                POL  15:52
7  Jemima JELAGAT              KEN  16:03
8  Maria Christina MAZILU      ROM  16:06
9  Eunice CHEPKIRUI            KEN  16:09
10 Nicole AISH                 USA  16:12

MASTERS 40+:
1  Carmen Troncoso             USA  17:11
2  Marisa Hanson               USA  17:38
3  Ramila Burangulova          RUS  17:47
4  Joan Samuelson              USA  18:16
5  Charlotte Rizzo             USA  18:37
3 JUNE 2006: SALT LAKE CITY MARATHON, UNITED STATES OF AMERICA
MEN:
1  Joseph NGURAN               KEN  2:16:42
2  Phillip TAURUS              KEN  2:17:59
3  Demissu ASHEBIR             ETH  2:18:25
4  Hobie CALL                  USA  2:24:07
5  Jonathan NDAMBUKI           KEN  2:25:08
6  Daniel CHERUIYOT            USA  2:25:50
7  Teren JAMESON               USA  2:29:02
8  Nicholas McCOMBS            USA  2:30:33
9  Abebe YIMER                 USA  2:35:23
10 Eric ALBRECHT               USA  2:43:31

WOMEN:
1  Ilona BARANOVA              UKR  2:38:06
2  Werknesh TOLA               ETH  2:42:01
3  Delillah ASIAGO             KEN  2:45:52
4  Carol CABANILLAS            USA  2:57:27
5  Jordan VAUGHN               USA  3:08:47
6  Tara LEWIS                  USA  3:19:58
7  Mandy HOSFORD               USA  3:19:59
8  Michelle CHILLE             USA  3:20:59
9  Danielle WINEGAR            USA  3:25:11
10 Jevonne McDONALD            USA  3:28:01

HALF MARATHON:
MEN:
1  Dennis SIMONAITIS           USA  1:10:41  
2  Neal GASSMANN               USA  1:11:04
3  Mike KIRK                   USA  1:13:39

WOMEN:
1  Emily JAMESON               USA  1:19:24 
2  Michelle SIMONAITIS         USA  1:24:00 
3  Kate CRAPO                  USA  1:25:12
4 JUNE 2006: MEDIO MARATON DE VALENCIA, SPAIN
The first edition of the race at the half marathon distance (for the previous 15 years it had been run over 20km) took place in brilliant sunshine on a course through the centre of Valencia. Starting at 09.00 the air was fresh (20°C) but although it only rose to 23°C by the finish the direct sun was strong. A group of three men went off fast, but by 10km Johnstone Chebei had dropped back by 150m to leave Edwin Kibet and Yerefu Birhanu to fight it out at the front. They passed through in 29:17, and it was Kibet who proved stronger, pressing on to command a big winning margin by the time he had returned to the stadium finish line.
Joan Ayabei won even more convincingly, quickly building up a lead over Kebebush Haile and passing through 10km in 33:25, already 66 seconds ahead. Haile faded slightly but managed to hold off the sustained challenge of Georgina Rono, who persistently tried to close the early gap but was half the length of the finishing straight behind at the end.
MEN:
1  Edwin KIBET                  KEN  1:02:48
2  Yerefu BIRHANU               ETH  1:03:39
3  Johnstone CHEBEI             KEN  1:03:58
4  Abraham CHELANGA             KEN  1:05:01
5  Laalami CHERKAOUI            MAR  1:06:04
6  Abdelilah ELMANAIA           MAR  1:06:45
7  Henrik SANDSTAD              DEN  1:06:47
8  Charles KOMEN                KEN  1:07:26
9  Jalali ABDERRAHIM            MAR  1:08:27
10 Hassane AHOUCHAR             MAR  1:08:28
 
WOMEN:
1  Joan AIYABEI                 KEN  1:12:48
2  Kebebush HAILE               ETH  1:15:04
3  Georgina RONO                KEN  1:15:13
4  Marta Fernandez DE CASTRO    ESP  1:17:31
5  Ma Antonia JARENO            ESP  1:32:25
6  Vincenta FERRER TORRENT      ESP  1:34:50
7  Sonia BARTH                  CHI  1:37:54
8  Eva Ma. MASCARELL            ESP  1:38:26
9  Cristina BLAY MORETO         ESP  1:39:34
10 Mercedes ALBELDA LOPEZ       ESP  1:39:58
4 JUNE 2006: SAO PAULO MARATHON
The XII International Sao Paulo Marathon took place this Sunday with almost 11,000 runners competing. The winners of both the male and female races were, as in pervious years, Kenyans. Solomon Rotich took first place in the men's race and Margareth Karie, the 2004 winner, was first home for the women. Élson Gracioli was the first Brazilian home, in 3rd place. In the women's race, Marizete Rezende took 2nd place for Brazil.
The course, considered tough by many of the runners, was eased by pleasant temperatures of 18°C at the start of the race and 22°C at the finish.
MEN:
1  Solomon ROTICH               KEN  2:15:15
2  Charles KORIR                KEN  2:17:22
3  Élson GRACIOLI               BRA  2:18:28 
4  Adriano BASTOS               BRA  2:19:44  
5  Benjamin KIPTARUS            KEN  2:20:06
6  Pablo DA SILVA               BRA  2:20:49  
7  Elenilson DA SILVA           BRA  2:21:49  
8  Salty Willian GOMES          BRA  2:22:53  
9  Adriano Strong LEMOS         BRA  2:24:19  
10 Orlando RASP                 BRA  2:25:24  

WOMEN:
1  Margaret KARIE               KEN  2:39:24
2  Marizete REZENDE             BRA  2:41:28  
3  Marizete DOS SANTOS          BRA  2:42:50 
4  Elizabeth DE SOUZA           BRA  2:46:55  
5  Maria Sandra SILVA           BRA  2:50:07  
6  Ilaine WANDSCHEER            BRA  2:50:46  
7  Sueli VIEIRA                 BRA  2:55:19  
8  Helena Maria DE JESUS        BRA  2:57:05  
9  Conceição OAK                BRA  2:58:59  
10 Maria Lúcia VIEIRA           BRA  3:01:10
4 JUNE 2006: QUITO ULTIMAS 15km, ECUADOR
High up in the Andes and only a few kilometres south of the equator, 5600 runners took part in the 46th edition of this point-to-point race. Departing from the headquarters of newspaper sponsor El Commercio runners finished in the Atahualpa Stadium where a big festival took place.
MEN:
1  Franklin TENORIO            ECU  46:40
2  Silvio GUERRA               ECU  46:56
3  Alirio CARRASCO LEMOS       ECU  47:08
4  Lazarus NYAKERAKA           KEN  47:13
5  Vladimir GUERRA             ECU  47:20
6  Richard ARIAS               ECU  48:39
7  Edgar SANCHEZ ROCHE         ECU  48:45  
8  Cesar WILSON GUALOTUÑA      ECU  48:50
9  Julian BERRIO               COL  48:52
10 Hugo JIMENEZ TACHIN         ECU  48:58

WOMEN:
1  Martha TENORIO              ECU  55:01
2  Julia RIVERA LOPEZ          ECU  55:48
3  Alicia CEVALLOS CAMACHO     ECU  56:07
4  Diana LANDI ANDRADE         ECU  56:54
5  Yolanda CABALLERO PEREZ     ECU  57:49
6  Sandra RUALES MOSQUERA      ECU  58:01
7  Yolanda QUIMBITA MARTINEZ   ECU  58:32
8  Wilma GUERRA                ECU  59:00
9  Fanny VILCANCUNDO ZUÑIGA    ECU  59:02
10 Angelica SANCHEZ IBARRA     ECU  59:15
11 JUNE 2006: EDINBURGH MARATHON, GREAT BRITAIN
The fourth Edinburgh Marathon was sent underway from the Sir Walter Scott Memorial on the city's famous Princes Street. Ron Hill, "Mr Marathon" himself, was the honorary starter. As former European and Comonwealth Champion (1969/70) he still retains the Scottish all-comers record with his time of 2:09:28, set in the 1970 Commonwealth Games hosted by Edinburgh.
The race wound its way through the streets of Edinburgh's city centre before heading west to a turnaround point at Cramond, just short of the famous Forth Bridge over the Firth of Forth. From there it was a straight run westward to Portobello, after which runners were faced with a tough climb over the final 4km of the course. They ascended, through suburban estates, towards the scenic finish in Holyrood Park.
Kenya got a clean sweep in the men's event, but the leading women's invitee, Monica Kibet, failed to finish. She left the road open for local runners to ascend the podium.
Joseph Mbithi made his British debut a winning occasion, despite the unusually high temperatures. Mbithi pulled clear of his Kenyan team mates after 27km. He had previously won the Eurasia Istanbul Marathon in October last year, and commented: "I really enjoyed the cheering along the sea front (in the final 10km). The course was very good, although there is a climb in the final few kilometres and I was a little afraid of it, so I pulled away on my own before then. Now I know the course I hope I can come back next year and do better."
In the women's race, after Kibet's retirement, Scot Angela Howe took the top spot in a new personal best, in her seventh marathon. The 35 year-old is the curator at the British Golf Museum in St Andrews. Third-placed Michelle Tham comes from Portobello - the very same place that had earlier cheered Mbithi over his final kilometres.
A total of 8500 runners participated, including 850 teams of five runners in the relay event. In the individual race 4200 runners started. In total over 50 countries were represented.
Despite the heat, casualties were low. Medical assistance was delivered to 72 runners and five runners were taken to hospital.
The first ever wheelchair race was won by British Champion Kenny Herriot in 1:48:36. Herriot lives in Aberdeen but is originally from Edinburgh.
In the team relay Aberdeen University ran a close second. The 'Sikhs in the City' team, with a combined age of 400 and led by the world's oldest marathon runner, adidas poster-boy Fauja Singh (95), completed the course in 4:43:33. The youngest of their five runners was 75 years old.
MEN:
1  Joseph MBITHI               KEN  2:15:46
2  John KIOKA                  KEN  2:16:28
3  Jonathon KIPSAINA           KEN  2:17:01
4  Nicholas CHELIMO            KEN  2:17:40
5  Augustus KAVUTU             KEN  2:20:01
6  Joseph MUTISO               KEN  2:23:22
7  Gary CROSSAN                IRL  2:29:39
8  William WALKIEWICZ               2:34:45
9  Fergus MCLEAN                    2:34:49
10 Chris WILSON                     2:36:54

1  Angela HOWE                 GBR  2:51:41
2  Sharon DAWE                 GBR  3:08:36
3  Michelle THAM               GBR  3:11:27
4  Esme MCLELLAND              GBR  3:12:33
5  Fionnuala DOHERTY                3:12:39
6  Anna PHILLIPS                    3:14:52
7  Tracey GREAVES                   3:15:06
8  Shona MCINTOSH                   3:16:31
9  Helen FINCH                      3:17:09
10 Carole FORTUNE                   3:18:41
11 JUNE 2006: 6th HAWAIIAN HALF MARATHON, USA
The race was one of the events of the 27th Pan Pacific Festival held in Honolulu, Hawaii. Runners set off at 05.00 from Kapiolani Park and swept through Wakiki in the pre-dawn dark. They went further, around the Diamond Head promontory, before doubling back towards town to finish on the east side of Wakiki Beach. A total of 780 runners finished.
MEN:
1  Tetsuo SHIBAYAMA            JPN  1:14:08
2  Jonathan LYAU               USA  1:19:58
3  Dario HERRERA               USA  1:20:23
4  Ash DUSTOW                  USA  1:20:45
5  David CARLSSON              USA  1:21:03
6  Brian SCHUMEYER             USA  1:21:38
7  Ryan HATFIELD               USA  1:24:36
8  Andrew TAYLOR               USA  1:25:22
9  Justin GLASS                USA  1:25:58
10 David ROTHENBURGER          USA  1:26:00

WOMEN:
1  Rachel ROSS                 USA  1:25:27
2  Jerilyn FLORIMONTE          USA  1:36:17
3  Heather KNOX                USA  1:38:18
4  Melanie STAPFER             USA  1:38:46
5  Kylee OBATA                 USA  1:39:49
6  Cory WALKER                 USA  1:40:14
7  Carole Ann HIGA             USA  1:41:12
8  Sandra DAVIS                USA  1:41:34
9  Kahealani ZIETZ             USA  1:43:22
10 Nicole KREUZMAN             USA  1:43:26
17 JUNE 2006: MIDNIGHT SUN MARATHON, NORWAY
Starting at 20.30, 260 marathon runners completed half of the course on the mainland before coming back over the bridge to Tromso island, through town, and out for the second half—also completed by 270 half marathon runners. Later-finishing runners came over the line after midnight, but the sun was still out.
MEN:
1  Jens-Kristian BERG          NOR  2:43:12
2  Almgren TOR                 SWE  2:43:36
3  Charles CHRISTIANSEN        NOR  2:48:12
4  Joern BORGES                GER  2:50:21
5  Jens GORAN                  NOR  2:57:43
6  Erik BJORNSTAD              NOR  2:58:03
7= John PEDERSEN               NOR  2:58:16
7= Sverre AKSLAND              NOR  2:58:16
9  Luciano CANAPINI            ITA  3:00:46
10 Pal SIMONSEN                NOR  3:01:20

WOMEN:
1  Cinta GREES                 NED  3:18:20
2  Nil BOZKURT-THIELSCHER      GER  3:19:49
3  Wendy FJELLSTAD             NOR  3:22:04
4  Sirosavi OUTI               FIN  3:25:22
5  Murray MIEMA                RSA  3:32:17
6  Brigitte GERBER             SUI  3:33:18
7  Hidemi KAWAKAMI             JPN  3:34:24
8  Kara MITTENZWEY             USA  3:43:23
9  Janet TUCKER                GBR  3:48:08
10 Setala SANNA                FIN  3:49:45

HALF MARATHON
MEN:
1  Kristian JARNUNG            NOR  1:10:47
2  Lasse ESTMO                 FIN  1:13:50
3  Falco GUALTIERO             ITA  1:15:57

WOMEN:
1  Sanna-Maija POHJANVESI      FIN  1:26:16
2  Trude WIK                        1:27:12
3  Laren GARDINER              AUS  1:28:31

10km:
MEN:
1  Tom-Andre KALLAGER          NOR  32:32
2  Daniel STRAND               NOR  33:29
3  Johnny Ivar RYVOLL          NOR  34:33

WOMEN:
1  Hilde PEDERSEN              NOR  39:26
2  Manuela KRAMER              GER  39:29
3  Monika LARSEN               NOR  39:42
17 JUNE 2006: MARATHON DE MONT SAINT MICHEL, FRANCE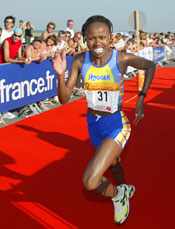 James Theuri, newly naturalised as a French citizen, beat his former compatriot James Kemboi while Marta Komu improved the women's course record by a bare 9 seconds, in her first attempt at the distance.
The change in the start time was a great success. After the runners departed from Cancale at 17.00, the temperature fell from 29°C to a bearable 23°C at the finish.
It was Theury's first marathon win. After a fast start, the pace faltered after 10km so that the Foreign Legion runner could not meet his sub-2:10 target time. Patrick Twambé, two-time winner and course record holder at 2:08:55, paced well to 30km but Theuri complained that, once left on his own, the wind was too strong.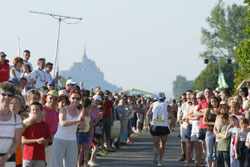 Marta Komu is a determined young woman. Sister of three-times Paris-Versailles winner Francis Komu, the 23-year old only decided to move up to the marathon distance after her win at the Nice Half Marathon on 23 April. Married to third-placed Simon Munuytu, Komu herself was 11th overall.
MEN:
1  James THEURY                FRA  2:14:51
2  David KEMBOI                KEN  2:16:36
3  Simon MUNUYTU               FRA  2:25:35
4  Bedad Medeksa DERBA         ETH  2:27:03
5  Stéphane CHOPIN             FRA  2:27:45
6  Hamid BELHAJ                FRA  2:30:16
7  Willaim CHERESET            KEN  2:31:18
8  Regassa Dejene NIGUSSE      ETH  2:32:26
9  Mustapha BERRI              FRA  2:33:07
10 Laurent BOULET              FRA  2:36:11

WOMEN:
1  Marta KOMU                  KEN  2:37:37
2  Elisabeth CHEMWENO          KEN  2:46:10
3  Svetlana PRETOT             FRA  2:50:27
4  Béatrice CEVENO             FRA  2:53:09
5  Caroline DESPRES            FRA  2:57:57
6  Nathalie MARIN              FRA  3:01:40
7  Solange ROUE                FRA  3:06:52
8  Nathalie STILHART           FRA  3:03:35
9  Patricia LEROY              FRA  3:12:29
10 Martine ROBINE              FRA  3:14:33
18 JUNE 2006: PHUKET INTERNATIONAL MARATHON, THAILAND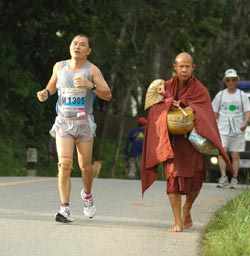 The first edition of the Phuket International Marathon Festival exceeded all expectations, and attracted thousands of participants to the marathon and supporting races.
Promoted under the slogan: "Run Paradise!" the Marathon, Half Marathon, 10km Fun Run and 1km Kids Run allowed 500 foreign participants from more than 30 countries join local runners and discover the beautiful landscapes and famous beaches of the island. The event also boasted several celebrities: Japanese TV personality and former Olympic runner Akemi Masuda, Korean pop star Lee Hee Jin from the girl band Baby Vox and world-famous scientist Alan Coleman, who was instrumental in the cloning of Dolly the Sheep.
It was more than just a marathon. It was about experiencing Phuket and its magnificent surroundings, showing the world that Phuket is back. Race director Raimund Wellenhofer said: "We are particularly pleased with the turnout of international runners and media. They came from the US, Europe, Australia, Japan and elsewhere. The strong interest of the international community in this event shows great potential for the next edition on 17 July 2007."
MEN:
1  Shih-Chieh KO               TPE  3:00:36
2  Chi Ming CHAN               CHN  3:12:09
3  Lok-Wai TSE                 HKG  3:14:20
4  Kampan SAMBOONYUANG         THA  3:18:07
5  Priwan IMKHAW               THA  3:20:33
6  Tanimoto MATSUZO            JPN  3:26:25
7  Jarae JEARANAI              THA  3:31:54
8  Sudjai INTANAI              THA  3:33:27
9  Sammy Kam-Yiu TO            CHN  3:33:58
10 Raymond GREENLAW            USA  3:35:39

WOMEN:
1  Heather GREGG               USA  3:58:24
2  Nampet PORNTARAGCHAROEN     THA  4:09:56
3  Yi-Mei TSAI                 TPE  4:11:14
4  Cheryl NISHIMURA            USA  4:12:54
5  Elizabeth HAMPTON           USA  4:18:08
6  Rachel TOOR                 USA  4:21:07
7  Clare WATSON                AUS  4:23:35
8  Pui Fun YIM                 SIN  4:26:06
9  Chan Chun FUNG              HKG  4:26:53
10 Stephanie WHITE             NZL  4:35:27

HALF MARATHON
MEN:
1  Boonchu JANDACHA            THA  1:18:04
2  Niwat OI-TIP                THA  1:21:30
3  Sitthipong CHERGLAI         THA  1:22:00

WOMEN:
1  Gillian CASTKA              GBR  1:34:40
2  Georgia BAMBA               AUS  1:41:59
3  Lynne SPIERS                GBR  1:47:22
18 JUNE 2006: 20TH "ANA CUP" DALIAN INT'L MARATHON, CHINA
The race took place in warm temperatures (20–28°C) and very little wind. Over 2300 runners took part, including 130 foreign competitors from 30 countries.
MEN:
1  Lijun MA                    CHN  2:21:07
2  Hanxuong LU                 CHN  2:24:17
3  Longyun REN                 CHN  2:26:18
4  Yi JU                       CHN  2:26:35
5  Yanmin HOU                  CHN  2:28:02
6  JIEBUJINGER                 JPN  2:29:23
7  Keyong SUN                  CHN  2:31:21
8  Jie LI                      CHN  2:32:23
9  XINYEHEYOU                  JPN  2:35:50
10 Wei WEI                     CHN  2:39:38

WOMEN:
1  Xiaolin ZHU                 CHN  2:45:57
2  Qian SU                     CHN  2:46:18
3  qianyezhenzi                JPN  2:46:55
4  Yuanyuan JIANG              CHN  2:51:31
5  Si PU                       CHN  2:54:13
6  Hong LIU                    CHN  2:56:24
7  Wentao LIU                  CHN  2:57:06
8  Quong WU                    CHN  3:00:47
9  Jiaqi WANG                  CHN  3:12:28
10 Xi HE                       CHN  3:27:43
23 JUNE 2006: LAKE MYVATN MARATHON, ICELAND
MEN:
1  Stefán Viðar SIGTRYGGSSON     ISL  3:02:32
2  Roman MIRONCZUK               POL  3:22:29
3  Willibrord SCHUURMAN          NED  3:24:43
4  Sigurður INGVARSSON           ISL  3:24:55
5  Daníel GUDMUNDSSON            ISL  3:26:18
6  Magnús GUDMUNDSSON            ISL  3:26:43
7  Magnús JOHANNSSON             ISL  3:35:21
8  Gísli ÁSGEIRSSON              ISL  3:36:10
9  Ómar TORFASON                 ISL  3:36:43
10 Starri HEIDMARSSON            ISL  3:38:34

WOMEN:
1  Sally SHREEVES                USA  3:42:26
2  Guðbjörg Margrét BJORNSDOTTIR ISL  3:43:44
3  Herdís KLAUSEN                ISL  4:07:03
4  María Dögg TRYGGVADOTTIR      ISL  4:09:34
5  Ragnheiður VALDIMARSDOTTIR    ISL  4:13:00
6  Margrét JOHANNESDOTTIR        ISL  4:14:09

HALF MARATHON (24 JUNE 2006)
MEN:
1  Jósep MAGNUSSON               ISL  1:25:53
2  Jóhann GYLFASON               ISL  1:12:50
3  Haraldur HARALDSSON           ISL  1:27:47

WOMEN:
1  Guðrún Kristín SAEMUNDSDOTTIR ISL  1:42:11
2  Edda GUDSTEINSSDOTTIR         ISL  1:44:47
3  Ingibjörg M VALGEIRSDOTTIR    ISL  1:51:49
25 June 2006: SCOTIABANK VANCOUVER HALF-MARATHON, CANADA
Bright sunny skies, no wind and pleasant 14°C temperatures greeted the record field of 4000 runners in the 2006 Scotiabank Vancouver Half Marathon. Another 500 runners participated in the accompanying 5km in Stanley Park. Participants were drawn from nine different countries and 18 American states.
The Half Marathon took off at 07.00 from the University of British Columbia. At the gun, the lead pack of six took off including Giitah Macharia of St. Catharines, Danny Kassap of Toronto, Joseph Nsengyiumva of Ottawa, Nourrdinne Betchim of Montreal and local favourites Jim Finlayson of Victoria and Steve Osaduik.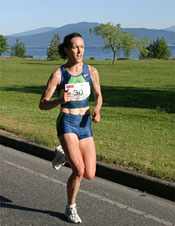 After a kilometre, the four easteners split away to form a lead pack that would run comfortably together to 7km, at which point Betchim was dropped. The three ran strongly through the rolling mid-section of the course, but no one made a move until, heading down a short steep hill onto Beach Road at 18.5km, Macharia and Kassap surged and dropped Nsengyiumva. Macharia made his decisive move at 20km, careening downhill to the seawall he continued his kick along the final stretch to win comfortably by almost 50m.
In the women's race, the West swept the podium. Calgary's Lisa Harvey dominated from the start to finish, with local favourite Leah Pells of Coquitlam finishing a strong second.
The Scotiabank Vancouver Half Marathon was the fourth race in the 2006 Canada Running Series and raised more than $100,000 for the VGH/UBC Hospital Foundation.
MEN:
1  Giitah MACHARIA             CAN  1:04:29
2  Danny KASSAP                CAN  1:04:37
3  Joseph NSENGYUMVA           CAN  1:04:51
4  Jim FINLAYSON               CAN  1:06:55
5  Steve OSADUIK               CAN  1:07:24
6  Nourddine BETCHIM           CAN  1:07:46
7  David JACKSON               CAN  1:07:47
8  Jason WARICK                CAN  1:09:31
9  David MARTIN                USA  1:09:44
10 Norman TINKHAM              CAN  1:09:56

WOMEN:
1  Lisa HARVEY                 CAN  1:17:58
2  Leah PELLS                  CAN  1:18:48
3  Nancy TINARI                CAN  1:22:09
4  Joan MCGRATH                CAN  1:23:18
5  Stephanie MILLS             CAN  1:26:35
6  Jen MCLEAN                  CAN  1:27:40
7  Amy DRURY ESARY             USA  1:27:58
8  Jillian FONG                CAN  1:29:39
9  Natalie BALL                CAN  1:29:49
10 Natalie CLOSS               CAN  1:30:49
25 JUNE 2006: CITY OF RIO DE JANEIRO MARATHON, BRAZIL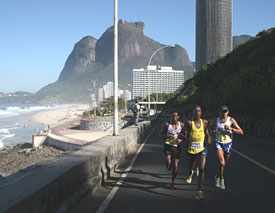 The point to point course is one of the most scenic, along the shoreline of Rio de Janeiro. The start and finish are 34.5km apart, more than the 50% of the race distance allowed by IAAF for championship qualification - so top Brazilian runners looking for qualifying times stay away. This makes it a real opportunity for beginners and veterans who can compete for outright victory. Mass runners can choose between marathon, half marathon and a 6km Run for Peace. Altogether there were 1203 women and 3588 men.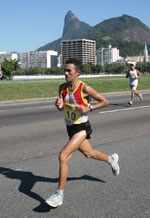 In the women's race, the beginner Odineide Felix led to the 36th kilometre when 2003 winner Leone Justino caught her, passing through Copacabana. The elite women's field of only seven runners set off 25 minutes before the men and the mass race started. The lead men passed through half way in 1:09:57.
MEN:
1  Jose Pereira FERREIRA       BRA  2:21:16
2  Jose Gutemberg FERREIRA     BRA  2:21:59
3  Weber Dias FERREIRA         BRA  2:22:57
4  Lielzio Santana DE JESUS    BRA  2:23:10
5  Linderberg Gomes NUNES      BRA  2:23:13
6  Marcos DO SANTOS            BRA  2:25:54
7  Jose Ricardo DA SILVA       BRA  2:28:06
8  Ismael PEREIRA              BRA  2:28:44
9  Jose Pedro MENDES           BRA  2:29:53
10 Flavio Alves DA SILVA       BRA  2:31:07

WOMEN:
1  Leone JUSTINO               BRA  2:49:58
2  Odineide FELIX              BRA  2:56:08
3  Andrezza de OLIVEIRA        BRA  2:57:28
4  Andrea Soneggati MELO       BRA  3:10:21
5  Ivani Gomes DOS SANTOS      BRA  3:17:21
6  Vanessa PROTASIO            BRA  3:27:52
7  Teresinha DE FATIMA         BRA  3:41:01
25 JUNE 2006: TANGAMANGA MARATHON, MEXICO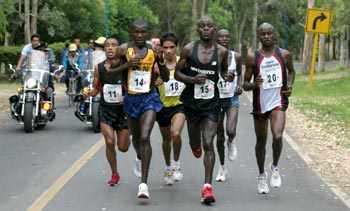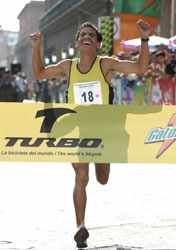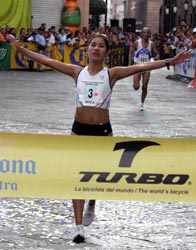 MEN:
1  Carlos Cordero GOMEZ        MEX  2:19:51
2  Leonard NGIGI               KEN  2:20:02
3  Peter AYIENI                KEN  2:20:28
4  Moses SAINA                 KEN  2:20:47
5  Francisco Bautista CUAMATZI MEX  2:21:41
6  Bob OHYAWCHA                KEN  2:22:05
7  Ignacio MENDIOLA            MEX  2:23:05
8  Armando TORRES              MEX  2:26:20
9  Hugo MENDEZ                 MEX  2:27:38
10 Jose ESPIRIO                MEX  2:28:01

WOMEN:
1 Ma. Elena JIMENEZ            MEX  2:38:12
2 Lucy NJERI                   KEN  2:40:38
3 Judith HERNANDEZ             MEX  2:41:23
4 Liliana FERNANDEZ            MEX  2:47:15
5 Karina MOCTEZUMA             MEX  2:58:37
25 JUNE 2006: LAKE SAROMA 100km, JAPAN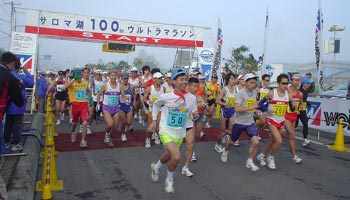 MEN:
1  Yoshiaki KOBAYASHI          JPN  6:49:15
2  Yasunori YAMAMOTO           JPN  6:57:40
3  Hideo NOJYO                 JPN  6:59:15
4  Jyunichi NOMURA             JPN  7:07:15
5  Toshiyuki MIYAJI            JPN  7:07:36
6  Mitsuru SHINOHARA           JPN  7:13:08
7  Hajime MATSUBARA            JPN  7:22:10
8  Masahiro YOSHIDA            JPN  7:24:14
9  Toru SHIMA                  JPN  7:35:05
10 Tetsuro TAMATANI            JPN  7:37:56 

WOMEN:
1  Hiroko SYOU                 JPN  7:40:30 
2  Emi IWASAKI                 JPN  7:54:33
3  Akiko SEKIYA                JPN  8:06:57
4  Yoko YAMAZAWA               JPN  8:08:39
5  Masako KUSAKAYA             JPN  8:17:57
6  Tazu ISHIKAWA               JPN  8:29:52
7  Kazuko KOUNO                JPN  8:34:03
8  Kazuko KONDO                JPN  8:42:05
9  Hiroko KITAMURA             JPN  8:53:32
10 Ayumi KITAGAWA              JPN  8:56:40

50km
MEN:
1  Fumio YAMANIE               JPN  3:18:38
2  Toshikazu ASAMI             JPN  3:20:55
3  Masahisa KUWABARA           JPN  3:48:03

WOMEN:
1  Miho MIYAMOTO               JPN  4:17:40
2  Sachiko KANAYA              JPN  4:24:06
3  Hideko ONA                  JPN  4:31:10
28 JUNE 2006: VIDOVDAN 10km, BOSNIA & HERCEGOVINA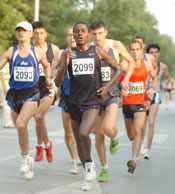 In sweltering heat the east Bosnian city of Brcko celebrated the 10th edition of the race with a series of children's runs (attracting several thousand participants from all over the region) and an international field in the 10km. Ron Hill came to Brcko as international running ambassador and to compete in the 92nd country of his long running career. Another legend, Franjo Mihalic, the 1956 Olympic silver medallist and 1958 Boston Marathon Champion, also attended.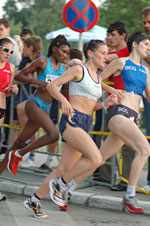 MEN:
1  Patrick MAKAU               KEN  30:33
2  Mirko PETROVIC              SCG  30:44
3  Dariusz KRUCZKOVSKI         POL  30:47
4  Tamas TOTH                  HUN  30:58
5  Goran STOJILJKOVIC          SCG  31:26
6  Pavel OCHAL                 POL  31:35
7  Djuro KODO                  BSH  31:44
8  Milovan TROMBULOVIC         SCG  31:56
9  Sasha STOLIC                SCG  32:17
10 Sreten Ninkovic             SCG  32:27

WOMEN:
1  Olivera JEVTIC              SCG  32:34
2  Marijana LUKIC              SCG  35:32 
3  Simona STAICU               HUN  35:34
4  Lucia KIMANI                KEN  35:38
5  Dorota USTIANOWSKA          POL  35:44
6  Ana SUBOTIC                 SCG  36:02
7  Violetta URYGA              POL  37:35
8  Snezana KOSTIC              SCG  40:20
(DQ Sandra STOLIC  SCG 39:35)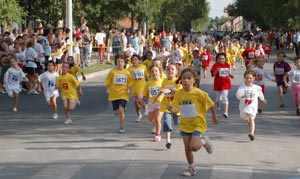 June 2006