May 2006
6 MAY | 7 MAY | 13 MAY | 14 MAY | 20 MAY | 21 MAY | 28 MAY
6 MAY 2006: CRACOVIA MARATHON, POLAND
1024 runners finished within the 5:40 time limit.
MEN:
1  Mathew KOSGEI               KEN  2:17:16
2  Adam DOBRZYNSKI             POL  2:17:33
3  Andrey GORDEYEV             BLR  2:18:16
4  Radoslaw DUDYCZ             POL  2:18:51
5  Vitaly MYELISAYEV           UKR  2:20:59
6  Samaon NAPEYOK              KEN  2:21:22
7  Przemyslaw ROJEWSKI         POL  2:24:57
8  Viktors SLESARENOKS         LAT  2:26:17
9  Konstantin ZHELEZOV         UKR  2:28:39
10 Damian ZAWIERUCHA           POL  2:29:33

WOMEN:
1  Elena MAZOVKA               BLR  2:43:53
2  Volha YUDENKOVA             BLR  2:44:02
3  Wioletta URYGA              POL  2:49:24
4  Ewa BRYCH-PAJAK             POL  2:50:24
5  Janina MALSKA               POL  2:57:49
6  Katarzyna DZIWOSZ           POL  3:03:21
7  Justyna WILSON              POL  3:06:11
8  Mirela ZIECINA              POL  3:12:46
9  Marta MIKOLAJCZYK           POL  3:17:57
10 Elzbieta CHLAP              POL  3:20:35
7 MAY 2006: VIENNA CITY MARATHON, AUSTRIA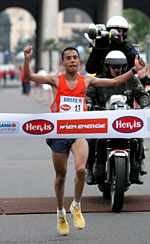 Photos: Victah Sailer
Good running conditions (fine, no wind, 12°C) led to some fast times in this 23rd edition of the race. Lahoucine Mrikik set a new men's course record and Japan's Tomo Morimoto ran the second fastest women's time ever recorded in Vienna (behind Maura Viceconte's 2:23:47 mark from 2000).
This year's motto "Run Vienna, enjoy Mozart" drew in 23,961 participants in all the various events. Classical music was played along the marathon course through the city.
The men's race was fast from the beginning: 5km passed in 15:05 and 10km in 30:16. In the middle of the race it slowed slightly, and eight runners passed the half way mark in 64:22. Samson Kandie's 2004 course record (2:08:35) then seemed to be slipping away when 30km was reached in 1:31:48. Just before then Mrikik and Peter Chebet went ahead and at around 38km the Moroccan again stepped up the pace. He clocked 2:55 minutes for the next kilometre and took a decisive lead. "Today everything was perfect: my form and the weather conditions", said the 34-year old winner - who had entered the race with a personal best of 2:13:31.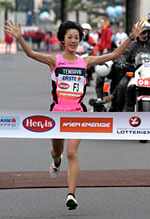 Tomo Morimoto ran the 12th fastest time of the year with in her first race outside of Japan. Chieko Yamasaki and Mary Ptikany had passed 10km together with Morimoto in 34:24 but before reaching 20km Morimoto, who had run a 2:27:16 marathon debut this year in Osaka, broke away from the others. At half way (1:12:31) she was already 25 seconds clear of Yamasaki. Fourth placed Susanne Pumper broke the Austrian record.
MEN:
1  Lahoucine MRIKIK           MAR  2:08:20
2  Peter CHEBET               KEN  2:08:56
3  Dmytrov BARANOVSKY         UKR  2:10:56
4  Stanley LELEITO            KEN  2:12:49
5  Oleg BOLOKHOVETS           RUS  2:12:53
6  Elijah YATOR               KEN  2:14:01
7  Richard MUTAI              KEN  2:14:17
8  Joseph TALAM               KEN  2:14:30
9  William TODOO              KEN  2:14:44
10 Roman WEGER                AUT  2:16:23

WOMEN:
1  Tomo MORIMOTO              JPN  2:24:33
2  Chieko YAMASAKI            JPN  2:29:09
3  Mary PTIKANY               KEN  2:31:29
4  Susanne PUMPER             AUT  2:32:21
5  Rosita GELPI-ROTA          ITA  2:37:48
6  Titziana ALAGIA            ITA  2:41:19
7  Magdalini GAZEA            GRE  2:42:14
8  Olga GLOK                  RUS  2:44:52
9  Eva TROST                  GER  2:44:58
10 Ingrid EICHBERGER          AUT  2:47:26
7 MAY 2006: RUNBERLIN 25km, GERMANY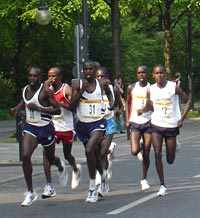 The Kenyan win streak remained unbroken in the 26th edition of Run Berlin through the efforts of 21-year old Patrick Musyoki, who finished in the second fastest time of the year. He almost missed out on victory, because he took the wrong turn just inside the Olympic Stadium. But he corrected himself immediately and ran the last 400m very strongly. In the women's race Peninah Arusei improved her personal best by more than three minutes. A total of 10,495 participated, with 6,186 of them in the 25km race, 2,966 in the 10km Nike Challenge fun run. There were also 724 inline skaters and 30 teams in the 5x5km relay. In the kids race 366 ran and 103 children participated in the junior skating race.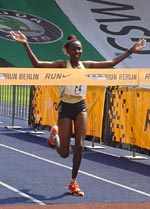 Right from the start a leading group of nine men ran their own race. "After 10km the pacemakers were too slow. So I pushed the pace a bit. At 23km I knew I had a chance to win, so I increased the pace," said Musyoki. He ran the last kilometre in 2:43. The pre-race favourite Elijah Sang let the lead pair get away 3km from the end. It is the fifth time in a row that Kenyans have swept the top three men's places.
Peninah Arusei's win made it six in a row for Kenyan women. The first 10km were fast (34:22), and slightly downhill. Arusei led the field from the beginning and after 9km she ran the rest of the race alone.
MEN:
1  Patrick MUSYOKI            KEN  1:14:08
2  Francis BOWEN              KEN  1:14:12
3  Elijah SANG                KEN  1:14:33
4  Ben KIMWOLE                KEN  1:15:51
5  Emmanuel BIWOTT            KEN  1:19:02
6  Edwin YANO                 KEN  1:19:03
7  Hugo Van Den BROEK         NED  1:21:28
8  Lennart SPONER             GER  1:25:41
9  Ulrich FLUHME              SUI  1:30:38
10 Karlheinz WILD             GER  1:31:23
 
WOMEN:
1  Peninah ARUSEI             KEN  1:26:25
2  Asale TAFA                 ETH  1:28:13
3  Kristina LOONEN            NED  1:30:42
4  Magdaline CHEMJOR          KEN  1:36:18
5  Olga GONCHARENKO           UKR  1:38:53
6  Ingalill KAMMERLING        GER  1:43:04
7  Iris TIEDEKEN              GER  1:44:27
8  Karsta PARSIEGLA           GER  1:44:45
9  Melissa LYNE                    1:45:29
10 Mieke WOELKY               GER  1:46:38
7 MAY 2006: 7th MARATONA D'EUROPA, ITALY
MEN:
1  Ben CHEBET                 KEN  2:16:22
2  Maurizio LEONE             ITA  2:17:51
3  Migidio BOURIFA            ITA  2:18:56
4  William SEREM              KEN  2:25:55
5  Shadrack MENGICH           KEN  2:27:10
6  Franco PLESNIKAR           ITA  2:31:35
7  Stephen RERIMOI            KEN  2:37:22
8  Giorgio BUTINAR            ITA  2:42:48
9  Stefano DAMETTO            ITA  2:44:03
10 Antonio DI LUCA            ITA  2:45:12

WOMEN:
1  Maria COCCHETTI            ITA  2:42:17
2  Natalia BRUNIKO            ITA  2:59:15
3  Annalise MIACCI            ITA  3:06:52
4  Daniela DA FORNO           ITA  3:08:18
5  Monica ZENAROLLA           ITA  3:22:12

11th MARATONINA DEI DUE CASTELLI
MEN:
1  Lorenzo DELLA PIETRO       ITA  1:10:53
2  David DARIS                ITA  1:11:21
3  Marco MORETTON             ITA  1:12:04

WOMEN:
1  Cristina SCOMPARIN         ITA  1:23:57
2  Laura CASTELLANI           ITA  1:26:46
3  Anna BIANCUZZI             ITA  1:27:33
7 MAY 2006: BMO VANCOUVER MARATHON, CANADA
MEN:
1  Kassahun KABISO             ETH  2:18:29
2  Joseph KAHUGU               KEN  2:18:33
3  Greg CROWTHER               USA  2:23:25
4  Konrad KNUTSEN              USA  2:23:37
5  Graeme WILSON               CAN  2:28:45
6  Doug THUNEN                 USA  2:37:32
7  Ryan CAIN                   CAN  2:38:07
8  Craig MCMILLAN              CAN  2:42:07
9  David MATTE                 CAN  2:44:17
10 Brendan LUNTY               CAN  2:46:06

WOMEN:
1  Malgorzata SOBANSKA         POL  2:37:06
2  Mary AKOR                   USA  2:45:33
3  Rima DUBOVIK                SLO  2:46:31
4  Suzanne EVANS               CAN  2:50:30
5  Judith LEROY                CAN  2:51:55
6  Trisha STEIDL               USA  2:58:07
7  Lisa POLIZZI                CAN  2:58:38
8  Sheila MULLINS              CAN  3:00:18
9  Karen WARRENDORF            CAN  3:02:36
10 Sandra FOWERAKER            CAN  3:04:17

HALF MARATHON:
MEN:
1  Jim FINLAYSON               CAN  1:08:37
2  Miguel Angel MENDOZA        MEX  1:11:32
3  Jonas HOLMBERG                   1:12:23

WOMEN:
1  Sally BERGESEN              USA  1:22:41
2  Barbara BRYCH               CAN  1:23:29
3  Gill WALKER                 CAN  1:25:35
13 MAY 2006: GOTEBORG HALF MARATHON, SWEDEN
Seven of the top eight finishers (all except Pavel Loskutov) were misled by officials at 9.4km and ran about 100m short of the full distance. Despite a complaint by Loskutov, the results were allowed to stand, but the times recorded should not be included in any official statistics for the half marathon.
It was fast from the very beginning. A group of Kenyans were closely trailed by three Moroccans. Loskutov followed at a distance of about 50m after the first 5km. After the incident at 9.4km Salil and Kipchirchir increased the pace broke away from the Mouazziz brothers.
Over the second large bridge (15km) the experienced Abdelkadir El Mouazziz took over the lead and went steadily ahead for a 36-second winning margin. His younger brother Abdelhadid passed the Kenyan pair as they faded badly after 15km.
The women's race was completely controlled by Helena Javornik, the experienced Slovenian runner. She broke away from last year's winner, Susan Kirui, at the halfway mark and won by more than a minute. Behind her Anna Rahm finished strongly to pass Kirui on her way to a new personal best. The Swedish marathon record holder, Lena Gavelin, made an encouraging comeback in this race.
Of 35,780 entered, 26,600 finished the race.
MEN:
1  Abdelkadir EL MOUAZZIZ      MAR  1:02:34
2  Abdelhadid EL MOUAZZIZ      MAR  1:02:50
3  Abdelkebir LAMACHI          MAR  1:03:44
4  Stanley SALIL               KEN  1:03:47
5  Pavel LOSKUTOV              EST  1:03:54
6  Augustus MBUSYA             KEN  1:04:27
7  Patrick KIPLIMO             KEN  1:04:57
8  Japhet KIPKORIR             KEN  1:05:24
9  Lars JOHANNESSON            SWE  1:06:09
10 Ali OUADHI                  FRA  1:06:22

WOMEN:
1  Helena JAVORNIK             SLO  1:12:34
2  Anna RAHM                   SWE  1:13:42
3  Susan KIRUI                 KEN  1:13:56
4  Lena GAVELIN                SWE  1:14:26
5  Lisa BLOME                  SWE  1:16:03
6  Anna VON SCHENCK            SWE  1:16:08
7  Jane ROTICH                 KEN  1:16:59
8  Anja LINDBERG               SWE  1:17:57
9  Jenny JOHANNESSON           SWE  1:19:06
10 Jennie AKERBERG             SWE  1:20:33
14 MAY 2006: PRAGUE INTERNATIONAL MARATHON, CZECH REPUBLIC
Marathon Weekend began on the Saturday with the 8km City Run attracting 3,800 runners and the 4km Family Run 5,300 participants. Two in-line events (15km and 5km) were also run on Saturday, with 1,022 skaters taking part.
The runners and skaters took off to the beat of the monstrous Marathon Music Festival, featuring several very enthusiastic Brazilian style drum bands, dancers, jugglers and acrobats and an epic 11-hour main stage performance, featuring top Czech bands.
Next day the Marathon began in near-perfect conditions with cool temperatures, as 4082 runners from more than 70 nations were set on their way by Czech President Vaclav Klaus.
Hassan Mbarak Shami went through halfway in a group of six (1:04:28), but by 33km he was almost 500m ahead of David Kiyeng and Joseph Ngeny. Kiyeng stuck to the pursuit and by the finish line he had significantly reduced Shami's lead, but it was too late. Stephen Matebo kept away from the early pace and came through, while John Rotich was in an isolated fourth place at 33km but faded in the later stages.
The first three in the women's race passed through halfway in 1:13:44, and only began to break up at around 32km as Alina Ivanova pushed ahead to a clear win.
MEN:
1  Hassan Mbarak SHAMI         QAT  2:11:11
2  David KIYENG                KEN  2:11:42
3  Joseph NGENY                KEN  2:13:57
4  Stephen MATEBO              KEN  2:16:37
5  Pavel FASCHINGBAUER         CZE  2:17:13
6  Joachim NSHIRIMANA          POR  2:18:04
7  Abraham YILMA               ETH  2:18:11
8  Pavel NOVAK                 CZE  2:18:21
9  John ROTICH                 KEN  2:21:47
10 Silvio TRIVELLONI           ITA  2:22:30

WOMEN:
1  Alina IVANOVA               RUS  2:29:20
2  Caroline KWAMBAI            KEN  2:31:08
3  Caroline CHEPTONUI          KEN  2:31:10
4  Liliya YADZHAK              RUS  2:33:16
5  Fatima CABRAL               POR  2:37:38
6  Hadish LETAY                ETH  2:38:11
7  Leila AMAN                  ETH  2:45:29
8  Ivana MARTINCOVA            CZE  2:51:50
9  Radka CHURACOVA             CZE  3:01:03
10 Vanessa MULHOLLAND          GBR  3:01:13
14 MAY 2006: iWELT WUERZBURG MARATHON, GERMANY
The race incorporated the Bavarian Championships.
It was the closest race ever. Two Kenyans chased the pace car to the finish line, both of them sprinting but neither faster than the other. They crossed the line together, only 20 seconds outside the course record.
In the women's race the record holder Olga Nevkapsa at first ran with the pacemaker Kim Bauermeiser, aiming for 2:33. After halfway she found the heat troubling and slowed, to eventually fall a minute short of her own record. The best performance of the day came from Alem Ashebir. The young Ethiopian, with a personal best of 1:12:50, easily beat the old record and was ten minutes ahead of her competition.
It was a great sight to see as 5,350 participants came through the start. A fantastic atmosphere was generated by around 30,000 spectators.
MEN:
1  Samson LOYWAPET             KEN  2:16:01
2  Eliud KURGAT                KEN  2:16:01
3  Sascha BURKHARDT            GER  2:26:24
4  Christian STICKER           GER  2:28:24
5  Frank HONOLD                GER  2:32:36
6  Marco DIEHL                 GER  2:33:01
7  Anton GROSCHL               GER  2:34:38
8  Ulf SENGENBERGER            GER  2:36:44
9  Markus KOHLER               GER  2:37:00
10 Bernhard SCHLESAG           GER  2:37:08

WOMEN:
1  Olga NEVKAPSA               UKR  2:39:57
2  Monika HIRT                 GER  2:52:12
3  Esther HEINOLD              GER  2:54:21
4  Frederike BACK              GER  2:58:32
5  Julika FIDJELAND            GER  3:04:16
6  Sabine DOLLINGER            GER  3:10:25
7  Anna ZANZIGER               GER  3:13:02
8  Andrea EDELMAN              GER  3:13:35
9  Barbara KELLER              GER  3:14:06
10 Silke BITTEL                GER  3:14:31

HALF MARATHON
MEN:
1  Josphat CHEMJOR             KEN  1:07:07
2  Rainer MERTHAN              GER  1:13:43
3  Ulli PFULMANN               GER  1:13:57

WOMEN:
1  Alem ASHEBIR                ETH  1:15:21
2  Claudia HILLE               GER  1:26:01
3  Sarka ANGENEND              GER  1:26:36
14 MAY 2006: KIGALI PEACE MARATHON, RWANDA
Kenyan athletes dominated the men's marathon filling nine out of the top ten places and with Benjamin Bitok beating last year's inaugural course record by 6:20. On this hilly course, at 1650m altitude and at 20-23°C, it was an impressive performance.
In the Half Marathon Disi Dieudonne made up for missing last year's race by outsprinting Tanzania's John Rogart in the finishing straight. A lead group of 11 runners stayed together on the two-lap course until the last 5km, when Dieudonne and Rogart got away. Entering the national stadium Amohoro, thousands of spectators were stood up to fanatically cheer their local hero on. He sprinted strongly in the last 250m to secure victory and beat the old course record by 1:41.
MEN:
1  Benjamin BITOK              KEN  2:22:03
2  Daniel ROTICH               KEN  2:22:57
3  Jonah KIPSANG CHEPKOI       KEN  2:23:06
4  Dan TUKWASIBWE              UGA  2:23:18
5  Musa KANDA                  KEN  2:24:08
6  Edward KIPKORIR             KEN  2:24:20
7  Joseph Ruto KOMEN           KEN  2:25:43
8  David KUINO                 KEN  2:27:04
9  Jonathan KIPRONO            KEN  2:27:55
10 Joseph NYOKWOYO             KEN  2:28:39

WOMEN:
1  Kibet TABITA                KEN  2:57:27
2  Emily CHEPTUIYA             KEN  3:02:21
3  Ceophresine SUMAWE          TAN  3:13:05
4  Sarah MAYO                  UGA  3:15:34
5  Grace Jeptoo MALOT          KEN  3:19:21
6  Jane JESANG                 KEN  3:19:55
7  Ge NYIRAHABIMANA            RWA  3:22:06
8  Josephine KIPROB JERUTO     KEN  3:23:15
9  Mediatric NYIRARANGWA       RWA  3:23:42
10 Simone KAYSER               LUX  3:42:25

HALF MARATHON
MEN:
1  Dieudonne DISI              RWA  1:05:51
2  John ROGART                 TAN  1:05:52
3  Anderson CHIRCHIR           KEN  1:05:54

WOMEN:
1  Farida MAKULA               TAN  1:19:52
2  Philis NYASABOKA            KEN  1:20:08
3  Hillary DUSABIMANA          RWA  1:20:37
20 MAY 2006: GREAT WALL MARATHON, CHINA
MEN:
1  David ARDERN                GBR  3:38:07 
2  Brendan BANOVIC             USA  3:55:50
3  Michael LONGE               USA  3:56:47
4  Andrew BASS                      3:57:24 
5  Michael KUMMER              USA  4:08:03 
6  Murray GRAHAM               NZL  4:08:07 
7  Nicholas MILES              RSA  4:10:24 
8  Nicholas KENSINGTON         NZL  4:10:53 
9  Mark TAYLOR                 GBR  4:11:35 
10 Mikkel LARSEN               SIN  4:15:48 

WOMEN:
1  Margaret STEWART            NZL  4:16:58
2  Sarah COOK                       4:27:53
3  Shelly MEULLER              USA  4:30:39
4  Lisa Iorio BRIGNALL         ITA  4:36:22
5  Alyn PARK                   USA  4:37:11
6  Linda WHITFIELD             CAN  4:39:37
7  Rolinde HOORNTJE            NED  4:42:46
8  Helen MURPHY                NZL  4:46:27
9  Anne Margo REINTSEMA        NED  4:46:47
10 Gillian BREWER              USA  4:53:57

HALF MARATHON:
MEN:
1  Chris OWENS                 GBR  1:40:35
2  Thomas FLANAGAN                  1:43:35
3  Dean LANE                   AUS  1:46:29

WOMEN:
1  Alexis LAMB                 USA  2:09:53
2  Christiane SCHON            NZL  2:10:13 
3  Eva Maria THOMEE            SWE  2:15:25
20 MAY 2006: THREE HEARTS MARATHON, SLOVENIA
The Kenyan pair of David Biwott and Evans Nyangwara led out, but before halfway was reached Biwott went ahead. Slower-starting Eduard Tukhbatullin came through to take the runner-up spot as Nyangwara tired over the final 10km.
Women's winner Ida Kovacs also held back in the early stages as Tatyana Perelpekina led. Kovacs took over from half way and built up a four-minute winning margin. In the half marathon Helena Javornik raced away to win by over 15 minutes.
MEN:
1  David BIWOTT         KEN  2:15:26 
2  Eduard TAKHBATULLIN  RUS  2:19:34
3  Evans NYANGWARA      KEN  2:21:20
4  Roman KEJZAR         SLO  2:21:36
5  Toni VENCELJ         SLO  2:35:02
6  Sreco GJEREK         SLO  2:40:55
7  Stanislaw ILAR       SLO  2:41:45
8  Andrej MESNER        SLO  2:43:53
9  Milan ZUPANC         SLO  2:43:59
10 Matej KREBS          SLO  2:46:25

WOMEN:
1  Ida KOVACS           HUN  2:45:50
2  Tatyana PEREPELKINA  RUS  2:49:40
3  Daneja GRANDOVEC     SLO  2:51:47
4  Marijana LUKIC       SCG  2:52:42
5  Jadranka LESKOVSEK   SLO  3:22:47
6  Darja KRANJC         SLO  3:24:31
7  Aleksandra FORTIN    SLO  3:25:43
8  Marja LOC            SLO  3:43:42
9  Maja LJA             SLO  3:52:53
10 Sara SOUIDI          SLO  3:54:35

HALF MARATHON:
MEN:
1  Zsolt BENEDEK         HUN  1:07:46
2  Tone KOSMAC           SLO  1:07:49
3  Damjan SLANIK         SLO  1:32:09

WOMEN:
1  Helena JAVORNIK       SLO  1:14:56
2  Spela NOVAK           SLO  1:30:38
3  Bernarda IVANCIC      SLO  1:32:09
21 MAY 2004: COPENHAGEN MARATHON, DENMARK
It was a close race for the first two places, although both Torben Nielsen and Thomas Sondergaard had lagged early leader Josphat Mutai by 91 seconds at halfway. In the women's race there was a similarly ambitious start from Martina Schwanke who led Nina Madsen and eventual winner Kathrine Tilma by 100m as she passed through halfway in 1:23:26, only to fade to sixth.
MEN:
1  Torben Juul NIELSEN          DEN  2:24:08
2  Thomas SONDERGAARD           DEN  2:24:22
3  Josphat Kiprotich MUTAI      KEN  2:27:47
4  Yannick DJOUADI              FRA  2:31:36
5  Philip LARSEN                DEN  2:33:16
6  Lukasz TYMKOW                     2:34:17
7  Kan Knobelauch HANSEN             2:34:42
8  Claus BENTSEN                DEN  2:35:00
9  Bruno HANSEN                 DEN  2:35:45
10 Ian DRUCE                    GBR  2:36:08
 
WOMEN:
1  Kathrine TILMA               DEN  2:49:23
2  Karina Berrar-Magnusson      DEN  2:50:55
3  Anne-Sofie Pade HANSEN       DEN  2:51:53
4  Marianne CHRISTENSEN         DEN  2:53:29
5  Anne-Mari KOSKINEN                2:55:01
6  Martina SCHWANKE                  3:00:28
7  Nina MADSEN                  DEN  3:03:06
8  Marianne RHODE                    3:04:30
9  Merete BLICKFELDT                 3:04:59
10 Sara BISHOPP                      3:06:43
28 MAY 2006: ING OTTAWA MARATHON, CANADA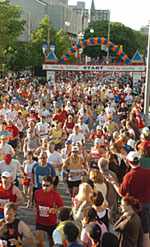 Photo: Action Sport International
A 22-year old record was shattered in the women's marathon by Canadian Lioudmila Kortchaguina who finished with a new course record and personal best, a long way ahead of her opposition. In the men's category, Morrocan Abderrahime Bouramdane was declared the winner, ahead of his fellow countryman Zaid Laaroussi.
The yawning gap between second and third places - almost 12 minutes - hints that something untoward took place. Between 8km and 9km 14 runners inadvertently cut the course, and the first six finishers were disqualified, plus several other stragglers who had also gone off course.
The main pacemaker, Nicodemus Malakwen took the race out fast: 1km in 2:50; 3km in 8:58. Only the other two pacemakers, and the Moroccan pair of Abderrahime Bouramdane and Zaid Laaroussi went with Malakwen. By 5km [15:04], this group had a big lead. The flat, scenic course then entered the New Edinburgh neighbourhood of tree-lined streets, and lots of turns. The lead vehicles and the first group followed the correct course, but the trailing pack, out of sight, somehow got turned the wrong way and emerged from a side street around 9km, some 200m ahead of the lead vehicles and runners, having cut off between 400m and 500m.
The lead vehicles went on ahead of the "short-course" group, leaving the "full course group" of Moroccans and pacemakers behind the new lead pack. By 22km, the Moroccans caught the pack, and were then content to run with their new group of 12 extra pacemakers. When assigned pacemakers pulled out at 30km, Kasime Roba of Ethiopia and the Kenyans started to race. Bouramdane initially made a move to go with them, but compatriot Laaroussi told him to hold back, saying: "no problem, they will all be disqualified." So it proved, as the Moroccans cruised in for first and second in 2:12:18 and 2:12:59. Third place was awarded to Brad Poore who finished behind a dozen of the short-course runners.
There was also a new record in participation as 29,364 runners took part in the nine races on the schedule, with 4216 in the marathon and 8274 in the half marathon. There were also 10km and 5km events in each of which around 7000 participated.
MEN:
1  Abderrahime BOURAMDANE     MAR  2:12:18 
2  Zaid LAAROUSSI             MAR  2:12:59 
3  Brad POORE                 USA  2:24:28 
4  Elly RONO                  KEN  2:26:20 
5  Charles BEDLEY             CAN  2:27:58 
6  Jason LOUTITT              CAN  2:29:37 
7  Richard CARTIER            CAN  2:31:48 
8  Mark CUCUZZELLA            USA  2:32:05 
9  Michel LAVOIE              CAN  2:32:06 
10 Louis-Phillipe GARNIER     CAN  2:32:48 

WOMEN:
1  Lioudmila KORTCHAGUINA     CAN  2:29:43 
2  Moges ZEBENAYE             ETH  2:36:15 
3  Helena Loshanyang KIPROP   KEN  2:37:42 
4  Tania JONES                CAN  2:42:57 
5  Magdalene Syombua MAKUNZI  KEN  2:49:54 
6  Paola VENTRELLA            ITA  2:50:55
7  Paula WELTSE               KEN  2:51:06 
8  Nancy BAXENDALE            CAN  2:56:51 
9  Myriam GRENON              CAN  2:58:22 
10 Susan PIERSON              USA  2:58:41

Half Marathon:
MEN:
1  Mouhssin MOUBSIT           MAR  1:05:49
2  Nabil BENKRAMA             ALG  1:06:40
3  Khaireddine HAMSI          ALG  1:09:01

WOMEN:
1  Meryem KHALI               MAR  1:17:24 
2  Bouchra SHALI              MAR  1:17:43 
3  Marie DANAIS               CAN  1:25:29
May 2006