April 2006
1 APR | 2 APR | 3 APR | 8 APR | 9 APR | 15 APR
16 APR | 17 APR | 22 APR | 23 APR | 30 APR
1 APRIL 2006: HERVIS PRAGUE HALF MARATHON, CZECH REPUBLIC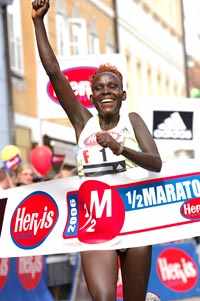 Caroline Kwambai beat Catherine Kirui's old course record by 30 seconds, with Hellen Kimutai pushing her all the way to the finish. Simone Staicu, in third, confirmed her racing comeback after having given birth six months previously.
Wet weather had been predicted and a rising river could have altered the course, but the race began under a cloudless blue sky at a near perfect 12°C. At one point it seemed that the men were also on record pace, but in the end the wind thwarted them.
For the first time the race included a 4-person corporate relay. Roughly 100 teams, representing about 50 companies and institutions, took part. The Ceská pošta team won with a time of 1:16:58.
Many runners commented on the challenging course but they also noted the enthusiastic support of the crowds all along the route.
MEN:
1  Stephen KIBIWOTT            KEN  1:01:15
2  Stanley SALIL               KEN  1:01:38
3  Justus KIPRONO              KEN  1:05:08
4  Helder ORNELAS              POR  1:06:21
5  Pavel FASCHINGBAUER         CZE  1:06:35
6  Jan KREISINGER              CZE  1:06:48
7  Robert STEFKO               CZE  1:06:59
8  Pavel NOVAK                 CZE  1:07:38
9  David GERYCH                CZE  1:08:22
10 Carlos DE BRITO             NOR  1:09:43

WOMEN:
1  Caroline KWAMBAI            KEN  1:10:08
2  Hellen KIMUTAI              KEN  1:10:11
3  Simona STAICU               HUN  1:13:24
4  Susan KIRUI                 KEN  1:16:16
5  Jana KLIMESOVA              CZE  1:17:00
6  Iva MILESOVA                CZE  1:21:11
7  Karin SCON                  SWE  1:21:24
8  Ivana SEKYROVA              CZE  1:22:15
9  Zsofia KOVACS               HUN  1:23:31
10 Veronika BRYCHCINOVA        CZE  1:24:23
2 APRIL 2006: VATTENFALL BERLIN HALF MARATHON, GERMANY
Paul Kosgei broke the course record by 44 seconds and fell only 12 seconds short of Haile Gebrselassie's performance in Tempe (USA) on 15 January, which is awaiting ratification as a world record for the distance.
In the women's race the first two broke the course record, with three-time World short-course cross country champion Edith Masai finishing 100m ahead of Deena Kastor. The old course record stood to Joyce Chepchumba, at 1:08:22. Masai's time is the fastest of the year, and both women set personal bests.
Conditions were good - 15°C and no hint of the forecasted showers - for the record entry of 20,419 runners that gathered at the start on the Unter den Linden.
Albert Kirui paced the field through 5km in 14:17 and 9km in 25:29, but hung on to eventually place a creditable sixth. Evans Cheruiyot led through 10km in 28:19 and 15km in 42:12 - a schedule well inside Fabian Roncero's 2001 course record of 59:52. Kosgei was mainly content to shadow Cheruiyot. He made two brief efforts but waited until 18km to launch his definitive attack. He went away to win by 130m, while Cheruiyot chased him home to improve his personal best by 45 seconds.
Masai and Kastor started with identical personal bests, of 1:07:53, although Kastor's marathon time is six minutes faster than Masai's. After 45 minutes on the clock and several changes in the lead Masai determined to move. "I pushed ahead and kept pushing, and found I was going away," she said.
MEN:
1  Paul KOSGEI                 KEN    59:07
2  Evans CHERUIYOT             KEN    59:29
3  Wilfred TARAGON             KEN  1:00:46
4  Benson BARUS                KEN  1:00:59
5  Joseph NGOLEPUS             KEN  1:01:14
6  Abel KIRUI                  KEN  1:01:15
7  Ernest KIMELI               KEN  1:01:57
8  Edwin YANO                  KEN  1:01:59
9  Lawrence KIPROTICH          KEN  1:02:37
10 Ernest KIPYEGO              KEN  1:02:38

WOMEN:
1  Edith MASAI                 KEN  1:07:16
2  Deena KASTOR                USA  1:07:29
3  Mary PTIKANY                KEN  1:09:43
4  Beatrice OMWANZA            KEN  1:11:35
5  Melanie KRAUS               GER  1:13:58
6  Nirmala BHARTI              NEP  1:18:46
7  Jenny JOHANNESSON           SWE  1:19:15
8  Paula UTRAINEN              FIN  1:23:15
9  Mareika WOELKY              GER  1:25:37
10 Karsta PARSIEGLA            GER  1:26:57
2 APRIL 2006: 3rd TARSUS INT'L HALF MARATHON, TURKEY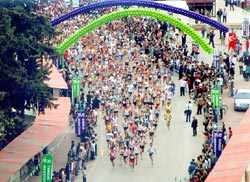 The half marathon is staged in a city that is 7000 years old. The organisers are the Berdan Textile Co. which employs 1100 people in Tarsus, in co-operation with the municipal authorities.
The weather was good for running, and new records were set in both men's and women's races. In all, 608 men and 65 women ran, including 46 foreign runners from 11 countries.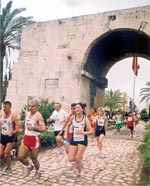 MEN:
1  Patrick MUSYOKI             KEN  1:02:42
2  Simon KASIMILI              KEN  1:03:36
3  Gadissa BEYENE              ETH  1:03:39
4  Iaroslav MUCHINSKI          MDA  1:04:01
5  Tabor Mengistu NEBSI        ETH  1:04:34
6  Abdil CEYLAN                TUR  1:04:52
7  Selahattin SELCUK           TUR  1:04:59
8  Wellay Amare WELDEGIYORGIS  ETH  1:05:25
9  Ahmet YAVUZ                 TUR  1:05:27
10 Tewodoros CHERU             ETH  1:05:33

WOMEN:
1  Letay HADISH                ETH  1:12:03
2  Cathy MUTWA                 KEN  1:12:21
3  Juliya GROMOVA              RUS  1:14:51
4  Rima DUBOVIK                UKR  1:16:42
5  Lale OZTURK                 TUR  1:17:22
6  Svetlana TKACH              MDA  1:19:46
7  Damla YENIGELEN             TUR  1:19:58
8  Bahar DOGAN                 TUR  1:20:16
9  Yesim Yeter GULAL           TUR  1:20:20
10 Birgul OZCAN                TUR  1:20:25
2 APRIL 2006: MARATON MARTIN FIZ, SPAIN
MEN:
1  James MIBEI                 KEN  2:16:33
2  Toni BERNARDO               ESP  2:16:34
3  Javier CARRETERA            ESP  2:19:39
4  IOscar GARCIA               ESP  2:22:02
5  Rachid NAJID                ESP  2:24:41
6  Jose CABRERAS               ESP  2:25:51
7  Joseba MORGIALDAI           ESP  2:25:53
8  Juan SANCHEZ                ESP  2:26:21
9  Jordi AUBESO                ESP  2:27:16
10 Jose BERGUA                 ESP  2:28:18

WOMEN:
1  Rosa MORALES                ESP  2:49:30
2  Nuria MARTINEZ              ESP  2:52:05
3  Luna MUNOZ                  ESP  2:53:09
4  Josane MATEOS               ESP  2:53:40
5  Amaia ALDANONIO             ESP  3:00:40
6  Ana HERNANDO                ESP  3:02:49
7  Loli CABALLERO              ESP  3:08:56
8  Ana DIEZ                    ESP  3:12:52
9  Sonia DELGADO               ESP  3:17:57
10 Ana VELEZ                   ESP  3:32:53
2 APRIL 2006: CHUNJU MARATHON, KOREA
MEN:
1  Yi-Yong KIM                 KOR  2:15:01
2  Myoung-Kee LEE              KOR  2:17:30
3  Jin-Soo LIM                 KOR  2:18:08
4  Kun-Hyun KIM                KOR  2:18:21
5  Jong-Su CHANG               KOR  2:19:53

WOMEN:
1  Eun-Jung KIM                KOR  2:35:28
2  Jung-Yeon HAN               KOR  2:42:50
3  Mi-Ok PARK                  KOR  2:46:06
4  Mi-Eun KIM                  KOR  2:48:11
5  Hyung-Sun JUNG              KOR  2:49:07
3 APRIL 2006: JERUSALEM HALF MARATHON, ISRAEL
MEN:
1  Teddessa DARAGAN          1:09:30
2  Svanach DESSTAO           1:09:43
3  Ran ALTERMAN              1:11:32
4  Eli BAYKADI               1:13:12
5  Hervee ATLY               1:14:20
6  Elmiiyahoo PALORO         1:15:14
7  Marc MEYER                1:19:57
8  Itsik LEVY                1:20:34
9  Menahem MONTILYO          1:21:35
10 Chaim ZARGARI             1:22:13

WOMEN:
1  Nilly AVRAMSKY            1:22:02
2  Svetlana BEHMEND          1:22:37
3  Orna BLAU                 1:26:54
4  Rona ZAMIR                1:41:52
5  Miriam GOLDSHTIEN         1:42:18
6  Ornit MORGENSTERN         1:42:18
7  Katherine  FAIR           1:48:07
8  Tzofnat NEEMAN            1:51:31
9  Maya YIRMIYAHOO           1:55:31
10 Neomi BEN-YITSHAK         1:59:38
8 APRIL 2006: NORTH POLE MARATHON, NEUTRAL POLAR OCEAN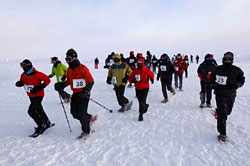 The world's coolest marathon took place at a temporary Russian polar camp in the high Arctic Ocean, hard by the Geographic North Pole. Despite challenging underfoot conditions of soft snow and hillocks of ice, as well as temperatures that dipped to -23°C, every one of the 54 competitors (43 men and 11 women) completed the course.
The record field resulted from the cancellation of last year's event because of an international dispute over ice safety rescue teams. This was a factor beyond the competence of the race organisers, who simply had to bow to the inevitable. This year's race included most of the disappointed entrants from 2005.
This amazing race is run on the ice floes that overlie the 3650m-deep Arctic Ocean. The ice is continually shifting, but using a lap measured by GPS methods allows a high level of confidence in the accuracy of the distance covered, even though it cannot be certified by conventional methods that apply to sealed road surfaces (several worlds away from the scene competitors confront at the top of the globe).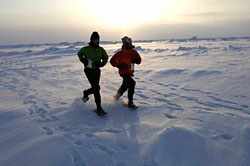 Runners were a varied lot. Some were seeking to join a notional "Grand Slam" club of those individuals who have completed marathons on the seven continents and at the North Pole. Others were making their marathon debut—in the most arduous of conditions imaginable. For some, the motivating factor was to raise funds for charity against the background of the unique challenge posed by a run at the North Pole. Hundreds of thousands of euros, pounds and dollars (both US and CDN) were raised on the backs of the participants.
In the men's race Michael Collins and Carsten Kolle forced the pace—as far as anyone can force anything in this humbling environment. They crunched their way through eerily hushed surroundings; each must have been unduly conscious of the others' breathing, because there was nothing much else to which they could listen. They matched each other stride for stride over the first 10km.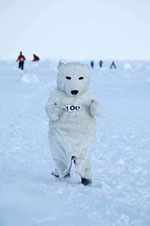 Then an alarm sounded: a polar bear was spotted. It proved to be one of the other competitors donning a costume, but armed guards who protect the competitors (always within range of a rifle shot) take these things seriously.
Meanwhile, Collins pressed on. He dropped Kolle and went on to win by more than 30 minutes. Kolle paid for his early efforts as Marcel Kasumovich overhauled him to take second place.
Alison Hamlett, despite this race being held over the toughest ever polar terrain, beat all previous women's polar times and overcame the challenge of the Antarctic Ice Marathon winner, Wendy McKinnon. She finished in sixth place overall.
MEN:
1  Michael COLLINS             IRL  4:28:35
2  Marcel KASUMOVICH           CAN  5:00:26
3  Carsten KOLLE               GER  5:06:54
4  Philippe MOREAU             FRA  5:51:50
4= Herve TAQUET                FRA  5:51:50
6  Brent WEIGNER               USA  6:13:15
7  Henri-Alain D'ANDRIA        FRA  6:18:26
8  Mark TOINTON                GBR  6:18:47
9  Johnny DONELLY              IRL  6:40:30
10 Hal SALVESON                GBR  6:41:35

WOMEN:
1  Alison HAMLETT              GBR  5:52:56
2  Wendy MCKINNON              GBR  6:36:28
3  Caitriona STRAIN            IRL  7:41:47
4  Kate CHARLES                GBR  7:45:06
5  Colleen ANTROBUS            NZL  9:03:02
5= Jane GOWING                 GBR  9:03:02  
7  Kenwynne BARBER             GBR 10:31:50
8  Kimi PUNTILLO               USA 10:41:35
9  Evelyn HARRAN               GBR 11:12:58
10 Terri STRAITON              CAN 11:39:40
9 APRIL 2006: PARIS MARATHON, FRANCE
On a bright cool morning ideal for running no less than nine of the first eleven men set personal bests (three of these were debut marks) along with two of the top three women. Behind them, a record 36,500 runners enjoyed the celebratory atmosphere of this 30th anniversary race, and 1500 of them finished in under three hours.
From the downhill start from the Arc de Triomphe a large group sped through the centre of Paris, passing 5km in 14:53. After a tour of the Bois de Vincennes at the eastern end of the course the pace had dropped at halfway (1:04:07). All the way along the Seine Embankment, from 25-33km the group dwindled in number. After passing through 35km at the Parc des Princes rugby ground in 1:46:27, Gashaw Malese made his move on a slight uphill. Through the final kilometres in the Bois de Boulogne he built up a convincing lead, and entered the Avenue Foch 250m finishing straight with only the clock as an adversary. He strove to duck under 2:08, to no avail.
In the women's race Mihaela Botezan made the early running, passing 10km in 34:26 and halfway in 1:13:00 - to lead by a minute. She got to 30km in 1:44:25, but was now being chased hard by the Russian pair of Irina Timofeyeva and Natalya Volgina. They passed her at 35km and Pamela Chepchumba also overtook her before the finish line. Although Volgina improved her personal best by almost 10 minutes, it was Timofeyeva who finished stronger, pulling away to a 10-second winning margin.
MEN:
1  Gashaw MALESE               ETH  2:08:03
2  Kiprotich KENEI             KEN  2:08:51
3  Bernard BARMASAI            KEN  2:08:52
4  Luis JESUS                  POR  2:08:55
5  David LANGAT                KEN  2:08:58
6  Youssef GALMIN              MAR  2:09:11
7  Philip SINGOEI              KEN  2:10:11
8  Francis KIPROP              KEN  2:10:40
9  Philip KIRUI                KEN  2:10:45
10 Ottavio ANDRIANI            ITA  2:10:51

WOMEN:
1  Irina TIMOFEYEVA            RUS  2:27:22
2  Natalya VOLGINA             RUS  2:27:32
3  Pamela CHEPCHUMBA           KEN  2:29:48
4  Mihaela BOTEZAN             ROM  2:30:27
5  Alina GHERASIM              ROM  2:31:16
6  Zaia DAHMANI                FRA  2:31:34
7  Asha GIGI                   ETH  2:32:35
8  Fatima YVELAIN              FRA  2:35:45
9  Carmen OLIVERAS             FRA  2:37:01
10 Elena FETIZON               FRA  2:41:16
9 APRIL 2006: FORTIS MARATHON ROTTERDAM, NETHERLANDS
Sammy Korir, second fastest ever marathon runner, at last approached the form he showed in 2003 by surging to a convincing win in a world-leading time for 2006. Behind him two others went sub-2:07 and a 10 ran sub-2:11, doing much to re-establish Rotterdam's credentials as one of the world's fastest courses.
Careful pacing took a group of 21 runners through 15km in 45:01. By halfway the same pace (1:03:22) had thinned the group down to nine. Pacemaking finished at 25km but 30km was reached in 1:30:00 at which point Korir started to push. He reduced the group to four as Charles Kibiwott, Paul Kirui and Dejene Birhanu tailed him. Birhanu dropped off as Korir edged the pace up, passing 40km in 1:59:55. At that point he started to get away: Kibiwott chased him, but tired and was overtaken by Kirui for second place.
Four women went through halfway in 1:13:25, but then Viktoria Klimina fell back to leave Mindaye Gishu, Helena Javornik and the former world record holder Tegla Loroupe. Loroupe dropped back at 30km, and Gishu went ahead of Javornik after they had passed through 35km together in 2:02:48.
MEN:
1  Sammy KORIR                 KEN  2:06:38
2  Paul KIRUI                  KEN  2:06:44
3  Charles KIBIWOTT            KEN  2:06:52
4  Dejene BIRHANU              KEN  2:08:46
5  Jackson KOECH               KEN  2:09:15
6  Salim KIPSANG               KEN  2:09:26
7  Christopher CHEBOIBOCH      KEN  2:09:41
8  Thomas KIPLITAN             KEN  2:10:05
9  Mesefin ADIMASU             ETH  2:10:45
10 Kamiel MAASE                NED  2:10:45

WOMEN:
1  Mindaye GISHU               ETH  2:28:30
2  Helena JAVORNIK             SLO  2:29:37
3  Isabel EIZMENDI             ESP  2:31:53
4  Susanne RITTER              GER  2:32:34
5  Tegla LOROUPE               KEN  2:33:24
6  Viktoria KLIMINA            RUS  2:34:23
7  Grazyna SYREK               POL  2:34:38
8  Maria ABEL                  ESP  2:35:30
9  Anne-Mette AGAARD           DEN  2:37:03
10 Kristyna LOONEN             NED  2:43:14
9 APRIL 2006: ZURICH MARATHON, SWITZERLAND
The heavy rain and cold could not stop Tesfaye Eticha, based in Switzerland, winning for the second time. He won the inaugural edition in 2003.
Eticha led through halfway, accompanied by two pacemakers, in 1:05:50. But Alphonse Yatich, a young Kenyan making his marathon debut, caught him at 28km and went ahead at 32km, while Eticha was having stomach problems. By 35km Yatich had built a lead of almost 200m, but Eticha recovered and managed to catch the tiring 23-year old in the final kilometre.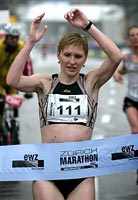 In the women's race Danish favourite Annemette Jensen took an early lead and passed halfway in 1:17, but then began to slow. She later complained of cramp. Helena Tikhonova caught sight of Jensen at 35km and by 37km had drawn level. She pushed on ahead to win by nearly 400m. In the absence of the top two Swiss women, Claudia Oberlin and Vera Notz-Umberg, 26-year old Maja Neuenschwander, from Berne and running only her second marathon, was the first Swiss to finish.
There were 7000 starters in this fourth edition.
MEN:
1  Tesfaye ETICHA              ETH  2:12:39
2  Alphonse YATOCH             KEN  2:12:54
3  Lucian HOMBO                TAN  2:18:13
4  John ROTICH                 KEN  2:18:44
5  Alexei KHOKLOV              RUS  2:18:54

WOMEN:
1  Helena TIKHONOVA            RUS  2:39:52
2  Annemette JENSEN            DEN  2:41:17
3  Maja NEUENSCHWANDER         SUI  2:44:23
9 APRIL 2006: CANBERRA MARATHON, AUSTRALIA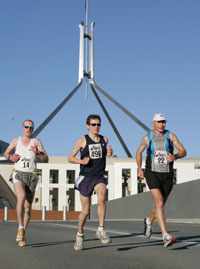 Australia's oldest city marathon, held in the national capital, had perfect conditions for the 30th running. It was cool (rising from 0-16°C) calm and sunny, with 59% humidity and no wind.
Almost 1000 marathon runners from 13 countries participated in the marathon, with another 850 in the Asics Marathon Eve 5/10km and Kids Marathon. Over 80% of the marathon field were visitors to the national capital with the majority coming from other Australian States.
Barry Keem ran his first marathon on Australian soil. After a debut of 2.25.11 in Los Angeles last year, followed by a 2.24.25 in New York City, Barry showed remarkable consistency to win in Canberra with a further 15-second improvement. His even pace allowed him to overtake defending champion and early leader Magnus Michelsson just before 41km, and he made the last kilometre look easy. At the 30km mark he had been three minutes behind.
Shireen Crumpton had been overlooked for New Zealand's Commonwealth Games team after running a personal best 2.37.03 in the Helsinki World Championships. In Canberra she cruised to an easy victory, her second win here in three years.
Local Emma Murray, the reigning World Long Course Mountain Running champion, made a solid debut and as first Australian female, she joined Barry Keem in winning a trip to a Japanese marathon, courtesy of race sponsor Asics.
The Canberra Marathon allows an option for all finishers to continue for another 7.805km and run a 50km ultra marathon. This 'extra' has been a feature of Canberra for the past 13 years and this year the race was rewarded with the inaugural Australian 50km Road Championships being held in conjunction with the event.
A record 78 runners went 'beyond the marathon' with New Zealander Mark Hutchinson, now living in Queensland, and Siri Terjesen (USA), also a Queensland resident, being the inaugural Australian 50km Road Champions, running 3:09:05 and 3:35:19 respectively.
MEN:
1  Barry KEEM                  AUS  2:24:10
2  Magnus MICHELSSON           AUS  2:25:02
3  James BARKER                AUS  2:27:07
4  Jeremey HORNE               AUS  2:29:29
5  Matthew THOMAS              AUS  2:32:53
6  Ben STUTTERD                AUS  2:33:23
7  Jonathan BLAKE              AUS  2:38:17
8  Rod DRAPER                  AUS  2:39:02
9  Damien JACKEL               AUS  2:39:59
10 Ian JONES                   AUS  2:40:12

WOMEN:
1  Shireen CRUMPTON            NZL  2:42:55
2  Emma MURRAY                 AUS  2:45:42
3  Verity TOLHURST             AUS  2:58:20
4  Siri TERJESEN               USA  2:58:35
5  Kirra RANKIN                AUS  2:58:48
6  Suzanne KELLY               AUS  3:02:28
7  Julie MCNAMARA              AUS  3:05:20
8  Erin HARGRAVE               AUS  3:05:43
9  Fleur FLANERY               AUS  3:07:15
10 Jacqui PARRISH              AUS  3:08:36
9 APRIL 2006: SAO PAULO HALF MARATHON CORPORE, BRAZIL
MEN:
1  Geovane DOS SANTOS          BRA  1:04:42
2  Francisco DOS SANTOS        BRA  1:05:52
3  Antonio DA SILVA            BRA  1:06:03
4  Alan Wendel SILVA           BRA  1:06:15
5  Adriano BASTOS              BRA  1:06:26
6  Alex de MENDONCA            BRA  1:07:20
7  Paulo DOS SANTOS            BRA  1:07:42
8  Claudio DA CRUZ             BRA  1:08:41
9  Elson GRACILOI              BRA  1:08:39
10 Andre FERREIRA              BRA  1:09:00

WOMEN:
1  Sirlene DE PINHO            BRA  1:15:19
2  Viviany DE OLIVEIRA         BRA  1:17:59
3  Marily dos Santos BASTOS    BRA  1:18:21
4  Rosa Jussara BARBOSA        BRA  1:18:40
5  Conceição DE CARVALHO       BRA  1:21:16
6  Rosangela FIGUEREDO         BRA  1:22:47
7  Reginaldo FAGUNDES          BRA  1:25:34
8  Elizabete CRUZ              BRA  1:25:36
9  Ilaine WANDSCHEER           BRA  1:26:40
10 Lindinalva DA SILVA         BRA  1:27:24
9 APRIL 2006: TURIN HALF MARATHON, ITALY
EVENT CANCELLED
15 APRIL 2006: TWO OCEANS MARATHON 56KM, SOUTH AFRICA
MEN:
1  Moses NJODZI                ZIM  3:06:50
2  Honest MUTSAKANI            ZIM  3:08:14
3  Sipho NGOMANE               RSA  3:10:07
4  Themba LAMANE               RSA  3:10:48
5  Mzwanele MAPHEKULA          RSA  3:11:09
6  Henry MOYO                  MAW  3:12:09
7  Zamile GEBASHE              RSA  3:12:48
8  Brian ZONDI                 RSA  3:13:40
9  Kasirai SITA                ZIM  3:14:19
10 Isaac MALATJIE              RSA  3:14:30

WOMEN:
1  Tatyana ZHIKOVA             RUS  3:36:19
2  Yelena NURGALIEVA           RUS  3:36:29
3  Simone STAICU               HUN  3:37:15
4  Marina BYCHKOVA             RUS  3:44:53
5  Farwa MENTOOR               RSA  3:47:17
6  Louisa LEBALLO              RSA  3:47:26
7  Mamokete LECHELA            LES  3:50:07
8  Yolanda MACLEAN             RSA  3:50:10
9  Rakela AKUKOTHELA           NAM  3:57:18
10 Ursula FRANS                RSA  3:58:25

HALF MARATHON:
MEN:
1  Cutbert NYASANGA            ZIM  1:02:54
2  Zolani NTONGANA             RSA  1:03:03
3  Wirimayi JUWAWO             ZIM  1:03:36

WOMEN:
1  Helaria JOHANNES            NAM  1:13:35
2  Poppy MLAMBO                RSA  1:15:20
3  Ronel THOMAS                RSA  1:15:26
16 APRIL 2006: NAGANO OLYMPIC COMMEMORATIVE MARATHON, JAPAN
One champion won again, the other was vanquished writes Ken Nakamura. Albina Ivanova defended her title while James Macharia conceded to his compatriot Nephat Kinyanjui.
In the men's race Gidey Amaha broke away after only 2km. He passed 3km in 9:40 and 5km in 15:35—not unduly fast, but he headed the 17-strong chasing pack by 200m and continued to go away. At 10km (30:41) he was nearly 400m clear as the pack consolidated behind him.
He was still 150m clear at 20km (1:02:03) but after 25km he slowed - taking 16:10 to go from there to 30km. As his effort faded, three runners started their chase. Kinyanjui, Russia's Georgiy Andreyev and defending champion Isaac Macharia caught Amaha at 31km and left him trailing by 34km. At 35km Macharia was slowed by a stitch, and dropped back. Kinyanjui and Andreyev entered the stadium together, but the Kenyan had the strength to claim victory over the final lap.
Masako Chiba led the women's race in the early stages (10km: 36:01) at a modest pace and was then found wanting (she dropped out at 22km) as Silvia Skvortsova took up the running. Skvortsova led a group of six through 20km on an even schedule (1:12:08) but then broke clear with the defending champion Albina Ivanova. Ivanova went ahead at 30km for an untroubled win, although behind her marathon debutante Nina Rillstone (NZL) came through to finish under 2:30, and hard on Skvortsova's heels.
MEN:
1  Nephat KINYANJUI            KEN  2:11:18
2  Georgiy ANDREYEV            RUS  2:11:19
3  Isaac MACHARIA              KEN  2:12:44
4  Mykola ANTONENKO            UKR  2:13:28
5  Gidey AMAHA                 ETH  2:15:19
6  Juremieh MIANO              KEN  2:15:34
7  Gemechu WOYECHU             ETH  2:15:44
8  Daisuke FUJIMOTO            JPN  2:16:30
9  Hideki MIYAMA               JPN  2:17:27
10 Toshiaki TEZUKA             JPN  2:18:26

WOMEN:
1  Albina IVANOVA              RUS  2:28:52
2  Silvia SKVORTSOVA           RUS  2:29:28
3  Nina RILLSTONE              NZL  2:29:46
4  Yoshimi HOSHINO             JPN  2:36:56
5  Atseda BAYSA                ETH  2:39:31
6  Chikako OGUSHI              JPN  2:40:00
7  Risa MIZUTANI               JPN  2:43:24
8  Kaori TAKAI                 JPN  2:44:40
9  Magda KARIMALI              GRE  2:49:03
10 Chiemi OANA                 JPN  2:49:39
16 APRIL 2006: CARLOS LOPES GOLD MARATHON MEMORIAL, PORTUGAL
Basweti Momanyi patiently held back from a leading foursome in the early stages and trailed by over 100m at 10km. He was 30 seconds behind three leaders at halfway (1:04:45 to 1:05:15) and remained 12 seconds behind at 30km. He was still in fourth place at 35km but then moved through to lead by 12 seconds at 40km and inexorably extended his advantage through to the finish line. The women's race had only nine finishers.
MEN:
1  Basweti MOMANYI             KEN  2:12:00
2  Paul KORIR                  KEN  2:12:58
3  Jacob MENGICH               KEN  2:13:16
4  Samson KOSGEI               KEN  2:13:57
5  John BIRGEN                 KEN  2:14:47
6  Nelson CRUZ                 POR  2:17:39
7  Stephen RUGUT               KEN  2:26:35
8  Joao TALHAS                 POR  2:31:55
9  Amilcar DUARTE              POR  2:33:35
10 Paulo RAMOS                 POR  2:39:00

WOMEN:
1  Rosa SILVA                  POR  3:32:36
2  Ana Coito ANDRE             POR  3:52:47
3  Analice SILVA               POR  3:57:44
4  Monika EDSTRAND             SWE  4:00:43
5  Celia AZENHA                POR  4:04:59
17 APRIL 2006: 110th BAA BOSTON MARATHON, USA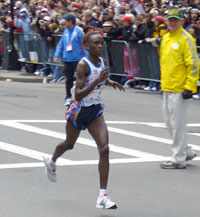 Robert Cheruiyot broke the course record by a single second (beating Cosmas Ndeti's wind-assisted 1994 mark). In the women's race Rita Jeptoo made something of a competitive breakthrough. The weather was "ideal for running", and the NW wind probably did more to assist than obstruct.
There were 22517 entrants from 94 countries and all 50 states (8849 women), making it the second largest ever field assembled in Boston (after the 1996 centenary race).
The elite women departed 29 minutes before the men, and Reiko Tosa made the early running, passing 5km in 17:05, 10km in 34:07 and halfway in 1:12:18. With four-time winner Catherine Ndereba not defending her title, the race was open. Tosa gradually shook off others until by 30km she had only three others for company: pre-race favourite Jelena Prokopcuka, Bruna Genovese and Rita Jeptoo.
Genovese tried her luck next but to no effect. Prokopcuka took up the pace but Jeptoo tracked her closely, and Tosa fell in tow as they passed 35km in 2:00:13. Jeptoo had finished as fast as anyone in the World Championships in Helsinki last summer, and here she did the same. She stretched out with 5km to go and quickly gained nine seconds. Prokopcuka fought back, but never got closer than a six-second deficit, with 1500m to run. Jeptoo sprinted to victory in the eighth fastest time ever run by a woman in Boston.
In the men's race inveterate front runner John Yuda led out (5km: 15:22; 10km: 30:04; 15km: 44:51) and thinned the group to 10 members. Then Ben Maiyo stretched them out. He eventually went clear with Merga and US hope Meb Keflezighi, passing 20km in 59:33 and halfway in 1:02:43. There they were 12 seconds up on a chasing trio of Timothy Cherigut, Robert Cheruiyot and Korir. Alan Culpepper, Wilson Onsare and William Kiplagat followed 30 seconds further behind.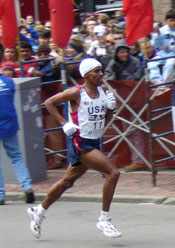 Maiyo went through 25km in 1:14:21, straining to go clear as he approached the Newton Hills, but obviously concerned with those behind him. Advisedly. By 30km (1:30:30) Robert Cheruiyot, the 2003 winner, was hard upon his heels. Keflezhigi was 11 seconds adrift.
Cresting Heartbreak Hill at 33km, Cheruiyot started to move away to a comfortable win, while Maiyo took an isolated second and Keflezighi an assured third. Brian Sell's even pace took him past Alan Culpepper in the late stages and two more Americans made it into the top-10, for the best overall home showing in Boston since the infamous Beardsley-Salazar duel of 1982.
This was unquestionably a fruit of the Hanson's Brooks project in Rochester Hills, Michigan. Kevin and Keith Hanson own a couple of running stores there, and have poured their savings and profits, as well as their passion, into an elite training camp which has helped to change the face of American men's marathoning.
MEN:
1  Robert CHERUIYOT            KEN  2:07:14
2  Ben MAIYO                   KEN  2:08:21
3  Mebrahtom KEFLEZHIGI        USA  2:09:56
4  Brian SELL                  USA  2:10:55
5  Alan CULPEPPER              USA  2:11:02
6  Kenjiro JITSUI              JPN  2:11:32
7  Peter GILMORE               USA  2:11:45
8  William KIPLAGAT            KEN  2:13:26
9  Wilson ONSARE               KEN  2:13:47
10 Clint VERRAN                USA  2:14:12

WOMEN:
1  Rita JEPTOO                 KEN  2:23:38
2  Jelena PROKOPCUKA           LAT  2:23:48
3  Rieka TOSA                  JPN  2:24:11
4  Bruna GENOVESE              ITA  2:25:28
5  KIiyoko SHIMIHARA           JPN  2:26:52
6  Alvetina BIKTIMIROVA        RUS  2:26:58
7  Olivera JEVTIC              SCG  2:29:38
8  Madina BIKTAGIROVA          BLR  2:30:06
9  Olesya NURGALIEVA           RUS  2:30:16
10 Zvile BALCIUNAITE           LIT  2:32:16
22 APRIL 2006: 19th BANCA INTESA BELGRADE MARATHON, SERBIA & MONTENEGRO
Japhet Kosgei put three years of indifferent performances behind him, and did exactly as he promised the day before, winning in a new course record writes Pat Butcher. The 38-year old predicted both victory and the record, taking over a minute off the previous best mark, 2:12:10.
Kosgei had played the previous day's press conference like a stand-up comedian, telling the audience that his loss of form after three sub-2:08 performances and victories in Rotterdam '99, Toko '00 and Lake Biwa '03 was due to getting married, then adding after laughter, "and starting a business". "People said I was too old, but I was concentrating too much on my printing business. Now I'm concentrating on running again, business can wait 'til I retire. My body feels the same as six, seven years ago, when I was running 2.07. Now I want to keep on running, and break the world record for a 40 year old".
That is 2:08:46, by Andres Espinosa of Mexico, set in Berlin '03. And the way Kosgei frisked away from his rivals in Belgrade suggests that he may well achieve it. In cloudy weather, and temperatures rising from 10-15°C throughout the race, Kosgei stayed with a group of eight until 35km, before easing away to victory.
"We always say that the start of the race is 35km. I wanted to know who would follow me, and no one did. Everything worked perfectly". In fact, Festus Kikumu tried to follow, but as he said afterwards, "I was not surprised that it was Kosgei who went away. After I talked to him yesterday, I knew he would win, and I knew I would be second".
It was the experience of almost 20 marathons which won the women's race for Halina Karnatsevitch. At halfway, the Belorussian was 80 seconds down on relative newcomer, Chemokil Chilapong of Kenya. But Chilapong, having her first race outside Kenya, was too optimistic and was caught at 30km.
Former track and field superstar Carl Lewis fired the starting signal, and presented the awards afterwards, including the Fred Lebow Trophy for both winners.
MEN:
1  Japhet KOSGEI               KEN  2:10:54
2  Festus KIKUMU               KEN  2:11:30
3  Reuben MUTUMWO              KEN  2:12:31
4  John MALUNI                 KEN  2:13:17
5  Samuel NGANGA               KEN  2:13:27
6  Eric YATOR                  KEN  2:13:33
 
WOMEN:
1  Halina KARNATSEVITCH        BLS  2:34:35
2  Chemokil CHILAPONG          KEN  2:36:10
3  Adenech BEYENE              ETH  2:41:12
4  Dee NAZZARO                 USA  2:41:35
5  Marjana LUKIC               SCG  2:42:46
6  Lisa VIKLUND                SWE  2:48:44
23 APRIL 2006: CONERGY MARATHON HAMBURG, GERMANY
Julio Rey racked up his fourth victory in this race by beating his own course record and personal best by 35 seconds writes Jorg Wenig. The women's race was the best yet, with 20-year old Robe Tola equalling Katrin Dorre-Henig's course record.
Rey finally broke away from Robert Cheborbor only 2km from the finish, quickly establishing a commanding lead despite finishing with stomach problems.
Tola won by a much bigger margin. Edith Masai had led out in the first half, but despite her fast half marathon run in Berlin three weeks before, she was unable to stretch this over the full distance.
There were over 16,400 runners: 13,250 men and 3,175 women.
MEN:
1  Julio REY                   ESP  2:06:52
2  Robert CHEBORBOR            KEN  2:07:37
3  James ROTICH                KEN  2:09:25
4  Wilfred KIGEN               KEN  2:10:00
5  Fred KIPROP                 KEN  2:11:04
6  Jose MARTINEZ               ESP  2:11:06
7  Danilo GOFFI                ITA  2:11:09
8  Dereje TESFAYE              ETH  2:11:10
9  Sammy KIPRUTO               KEN  2:12:22
10 Mikhail IVERUK              UKR  2:12:32

WOMEN:
1  Roba TOLA                   ETH  2:24:35
2  Rose CHERUIYOT              KEN  2:27:09
3  Irina PERMITINA             RUS  2:27:35
4  Emily KIMURIA               KEN  2:28:42
5  Elizabeth CHEMWENO          KEN  2:28:55
6  Fernanda RIBEIRO            POR  2:29:48
7  Edith MASAI                 KEN  2:30:01
8  Zinaida SEMENOVA            RUS  2:31:27
9  Ulrike MAISCH               GER  2:31:56
10 Maria PUYEO                 ESP  2:33:30
23 APRIL 2006: ING BANK ENSCHEDE MARATHON
MEN:
1  Sammy ROTICH                KEN  2:12:05
2  John KELAI                  KEN  2:12:05
3  Albert MATEBOR              KEN  2:12:21
4  Tekesete NEKATIBEBE         ETH  2:13:05
5  Noah KIPLAGAT               KEN  2:13:16
6  Debele TEKELEMEDIHEN        ETH  2:13:59
7  Belissa KELIL               ETH  2:17:06
8  Lambros ZANAGAS             GRE  2:20:03
9  Moses KIPTUM                KEN  2:22:03
10 Peter LOMURA                KEN  2:24:00

WOMEN:
1  Petra VAN TONGEN            NED  3:19:13
2  Ellen WOPEREIS              NED  3:28:15
3  Lieskiner BROUWER           NED  3:28:40
4  Aly HENDRIKSON              NED  3:30:20
5  Alnuth MAASS                GER  3:34:26
6  Gerry VISSER                NED  3:35:23
23 APRIL 2006: SANT ANTONIO MARATHON, ITALY
There were 3325 finishers.
MEN:
1  Pertile RUGGERO             ITA  2:11:18
2  Henry SEREM                 KEN  2:12:37
3  Giacomo LEONE               ITA  2:13:00
4  Ahmed NASEF                      2:14:51
5  Francesco BENNICI           ITA  2:16:19
6  Abdelhadi EL HACHIMI        MAR  2:17:32
7  Pavel NOVAK                      2:17:49
8  Reinhard HARRASSER               2:18:02
9  Paolo BATTELLI              ITA  2:19:38
10 Claudio CAVALLI             ITA  2:27:45

WOMEN:
1  Marcella MANCINI            ITA  2:36:16
2  Romina SEDONI               ITA  2:40:19
3  Guiseppina MENNA            ITA  2:43:45
4  Renata ANTROPIK                  2:46:18
5  Ma Grazia PIRAS             ITA  2:58:12
6  Daniela SCUTTI              ITA  3:03:47
7  Anna Ma VENTURELLI          ITA  3:04:28
8  Monica TAMBURINI            ITA  3:11:42
9  Roberta UGOLINI             ITA  3:12:07
10 Alessandra PREZZI           ITA  3:16:21
23 APRIL 2006: SEMI-MARATHON INT'L DE NICE, FRANCE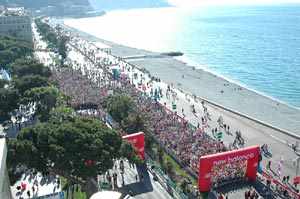 Runners basked in the sun during the 15th edition of the International Nice Half Marathon, as it took off from the famous Promenade des Anglais. Some of them had victory in mind, others only the desire to be part of this great sporting event.
Everything fell into place: on-course entertainment, crowds flocking to see the spectacle, and a lot of emotion and fun. Along the route on race day and and during the three days over which this event spreads itself 35,000 active participants benefitted from all the various entertainments on offer: pasta party, treasure hunt, and a great raffle. These, and the race itself, were all spiced up by enthusiastic music groups to make this event one big party.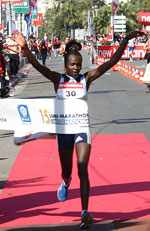 Enthusiastic onlookers urged on the leading men, where an exciting contest developed for the top-three podium places. The leading Frenchman, James Theury gave a creditable performance in 4th place.
In the women's race there was a fierce struggle: at first the Kenyan women led the race far ahead of the home favourite Christelle Daunay, who nevertheless took a creditable third place.
In all, a good day was had by all. There were many fast performances and massive participation of both spectators and runners in the three races. Other than the Half Marathon there were also 10km and 3km events.
MEN:
1  Emmanuel MUTAI              KEN  1:01:24
2  Tariku JUFAR                KEN  1:02:36
3  Benson BARUS                KEN  1:02:38
4  James THEURY                FRA  1:02:40
5  Stanley LELEITO             KEN  1:03:07
6  Abdellah FAFIL              MAR  1:03:20
7  David KINROSS               KEN  1:03:36
8  Joseph MAREGU               KEN  1:03:40
9  Wilfred TARRAGON            KEN  1:04:11
10 Simon MUNYUTU               KEN  1:04:16

WOMEN:
1  Sylvia KIBET                KEN  1:11:51
2  Joan AYABEI                 KEN  1:12:19
3  Christelle DAUNAY           FRA  1:12:48
4  Martha KOMU                 KEN  1:15:09
5  Nathalie GUICHOUX           FRA  1:22:30
6  Ingrid LOPERGELO            FRA  1:22:47
7  Mariana WEBER               FRA  1:24:25
8  Beatrice FANGET             FRA  1:25:40
9  Sandrine SAHUC              FRA  1:26:44
10 Marilena BORBA              ESP  1:27:15
23 APRIL 2006: VANCOUVER SUN RUN 10K, CANADA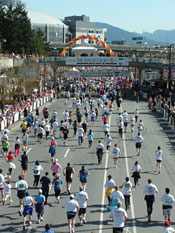 For the first time in its 22-year history, the Vancouver Sun Run had over fifty thousand entrants, writes Teresa Nightingale. A system of wave starts kept the crowding to a reasonable level, with the last group setting off long after the leaders had finished. The weather was picture-perfect with clear blue skies and no wind, a cool spring morning that warmed as the race progressed.
There was a moment of confusion followed by laughter at the start line as Gilbert Okari started to run upon hearing the words "on your marks", about 1 second before the gun went off. Immediately realizing what happened, Okari put on the brakes and the rest quickly caught up to him — but not for long. Meschack Sang managed to stay with him for only 3km, after which Okari gradually built up a 1 minute lead. Kang finished second, followed by top Canadian Joel Bourgeois.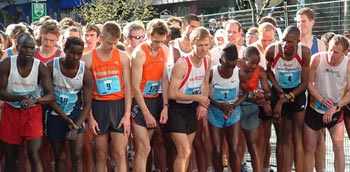 Isabella Ochichi, 2004 Olympic silver medallist at 5000m, broke the women's course record by 10 seconds, held since 1996 by Canada's Angela Chalmers. Ochichi tried to go out with the men but ended up running on her own for most of the course. Her 30:55 put her 12th overall. Tatyana Hladyr, coming off a win at the Rome Marathon last month, was over a minute back in second place.
In total, 50,746 participants were registered, including more than two thousand parents and children in the 2.5km 'Mini Sun Run'.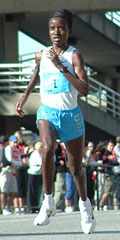 MEN:
1  Gilbert OKARI               KEN    28:25
2  Meshack SANG                KEN    29:23
3  Joel BOURGEOIS              CAN    29:46
4  Jeremiah ZIAK               CAN    29:55
5  Antony GITAU                KEN    30:04
6  Scott SIMPSON               CAN    30:07
7  Jeremy DEERE                CAN    30:26
8  Jim FINLAYSON               CAN    30:28
9  Dave JACKSON                CAN    30:31
10 David NJUGUNA WAMBUI        KEN    30:41

WOMEN:
1  Isabella OCHICHI            KEN    30:55
2  Tatyana HLADYR              UKR    32:11
3  Aster DEMISSIE              ETH    33:02
4  Lisa HARVEY                 CAN    34:10
5  Carolyn MURRAY              CAN    34:19
6  Cari KUZYK                  CAN    35:18
7  Lucy SMITH                  CAN    35:26
8  Cheryl MURPHY               CAN    35:27
9  Kristina RODY               CAN    35:46
10 Nancy TINARI                CAN    35:53
23 APRIL 2006: MARATON WROCLAW, POLAND
There were over 1427 runners: 1294 men and 133 women.
MEN:
1  Richard ROTICH              KEN  2:18:17
2  Marek POSZEPCZYNSKI         SWE  2:19:37
3  Aleksandr NIKOLAYUK         BLR  2:21:17
4  Dzimitry BARANOWSKI         BLR  2:22:37
5  Jerzy CHMARZYNSKI           POL  2:28:14
6  Taras SALO                  UKR  2:32:00
7  Slawomir PIECZUROWSKI       POL  2:36:01
8  Tomasz SOBCZYK              POL  2:38:44
9  Tomasz SOMMER               POL  2:40:49
10 Marian CZERSKI              POL  2:41:02

WOMEN:
1  Ivana MARTINCOVA            CZE  2:53:54
2  Ewa CHALUPNICZAK            POL  3:10:36
3  Marta MIKOLAJCZYK           POL  3:14:11
4  Mariola MLYNARSKA           POL  3:32:52
5  Deborah THORNTON            RSA  3:34:02
6  Agnieszka SPYCHALA          POL  3:37:31
7  Joanna POBIEDZINSKA         POL  3:38:40
8  Ewa RYBKA                   POL  3:58:20
9  Karolina WILCZYNSKA         POL  3:59:17
10 Brigitte HELTERHOFF         GER  4:00:32

HALF MARATHON:
MEN:
1  Victor STARODUBTSEV         UKR  1:08:41 
2  Tomasz BRACHMAN             POL  1:09:58 
3  Sebastian DYMEK             POL  1:11:24 
4  Jerzy SIEMASZKO             POL  1:11:25 
5  Yaroslav KONDYUKH           UKR  1:12:32 
6  Jaroslaw KOSTRZEWSKI        POL  1:12:39 
7  Lukasz TYMKÓW               POL  1:13:55 
8  Ryszard JANUSZ              POL  1:16:24 
9  Mariusz BILL                POL  1:17:13 
10 Grzegorz POCHOPIEN          POL  1:17:29
30 APRIL 2006: MARATON POPULAR DE MADRID, SPAIN
A bright but cool morning greeted 13,000 entrants in the 29th edition of this race in the Spanish capital. Major reconstruction in the city has enforced significant course changes but the start took off as usual from the Biblioteca Nacional. From here runners faced a slow climb throughout the first 5km north towards the twin leaning towers in the distance at the Plaza de la Castellana. The modest but noticeable altitude also tests the pace of both leaders and fun runners. A group of 15 men got away early, with Alberto Juzdado pacing. They kept together also on the downhill section from 6km to 15km and even the long switchback climb from there to halfway failed to thin the group out very much. In the women's race the early pace was shared by the top six runners, but it took only until 15km for them to separate themselves.
Banuelia Katesigwa (formerly Mrashani) of Tanzania forced the pace slightly on the testing section of the course before halfway, and passed through there in 1:16:20, 20 seconds up on previous winner Florence Barsosio, who in turn led Beatrice Omwanza by another 48 seconds. Although Katesigwa looked tired towards the end of the long loop through the western side of the city, she did not slow her pace much, reaching the finish in the Parque de Retiro 80 seconds ahead of Barsosio.
The men's lead group was still holding together through 26km (1:21:20) but by 30km Silas Sang had started to pull ahead, taking both James Moiben and former Berlin winner Joseph Ngolepus with him. These three then had a race all to themselves, as the minor placings changed dramatically behind them over the final kilometres. It was Ngolepus, tracking the other two, who launched his attack towards 40km. For a while he led Sang by an indecisive few seconds, but entering Retiro Park he strode out to a convincing victory and a new event record. Both Sang and Moiben also broke the old mark of 2:12:24.
MEN:
1  Joseph NGOLEPUS                  KEN  2:11:30
2  Silas SANG                       KEN  2:11:44
3  James MOIBEN                     KEN  2:12:19
4  Shadrack KIPLAGAT                KEN  2:13:35
5  Matthew SIGUEI                   KEN  2:13:44
6  Ethanat GELANA                   ETH  2:13:48
7  Lawrence SAINA                   KEN  2:13:55
8  David MAKORI                     KEN  2:15:01
9  Michael NGASEKE                  ZIM  2:16:11
10 Moses NABEI                      KEN  2:20:25
 
WOMEN:
1  Banuelia KATESIGWA               TAN  2:34:54
2  Florence BARSOSIO                KEN  2:36:13
3  Beatrice OMWANZA                 KEN  2:37:26
4  Larisa MALIKOVA                  RUS  2:39:08
5  Valentina POLTAVSKA              UKR  2:51:15
30 APRIL 2006: OKLAHOMA CITY MEMORIAL MARATHON, USA
To mark the 11th anniversary of the Oklahoma City bombing over 1700 people ran in the marathon and nearly 2600 in the half; twice as many men as women over the full distance, but women were in the majority in the half.
Jerry Faulkner strode away to win by a big margin. Only Russell Sears kept him company to the 10km point. He later paid for his early efforts, slipping back to fifth place.
MEN:
1  Jerry FAULKNER              USA  2:36:03
2  Billy GRONA                 USA  2:46:55
3  Peter RAUCH                 USA  2:48:43
4  Michael KULLING             USA  2:49:39
5  Russell SEARS               USA  2:51:06
6  Adam COHEN                  USA  2:52:24
7  Kacey MILLER                USA  2:55:00
8  Carlos SAULE                USA  2:55:34
9  Walter DICKSON              USA  2:56:21
10 Michael MARTIN              USA  2:56:26

WOMEN:
1  Sara PIZZOCHERO             USA  3:02:07
2  Machelle COCHRAN            USA  3:04:14
3  Amy REGNIER                 USA  3:04:33
4  Teresa FROESE               USA  3:04:33
5  Tracey EVANS                USA  3:06:50
6  Lachelle CROTTEAU           USA  3:09:18
7  Kristie BRAUNSTON           USA  3:19:03
8  Debbie POLSON               USA  3:21:22
9  Aileen MURPHY-SWIFT         USA  3:22:06
10 Deana KNIGHT                USA  3:23:17

HALF MARATHON:
MEN:
1  Bernard MANRAKIZA                1:11:19
2  Gilbert TUHABONYE                1:11:19
3  Nathan CHAMER               USA  1:16:06

WOMEN:
1  Jennifer JOHNSON            USA  1:27:12
2  Maureen SWEENEY             USA  1:27:59
3  Rachel INGRAM               USA  1:28:40
30 APRIL 2006: BIG SUR INTERNATIONAL MARATHON, USA
Just short of three thousand runners participated in the 21st presentation of this scenic classic "on the edge of the western world": 1824 men and 1123 women.
MEN:
1  Charles NYAKUNDI            KEN  2:21:43
2  Benson OSORO                KEN  2:23:13
3  Christopher ZIEMAN          USA  2:26:30
4  Ibrahim LIMO                KEN  2:35:16
5  Jesus CAMPOS                USA  2:39:28
6  Thomas SHEPHERD             USA  2:42:05
7  Efrem HAILE                 ETH  2:43:46
8  Eric ALBRECHT               USA  2:44:43
9  Vitas EZERSKIS              USA  2:46:08
10 Andrew MCCLELLAND           USA  2:46:34

WOMEN:
1  Mary COORDT                 USA  2:59:20
2  Tammy SLUSSER               USA  3:01:12
3  Christine KENNEDY           IRL  3:05:13
4  Rosalva BONILLA             USA  3:10:36
5  Judy HAVLICEK               USA  3:14:37
6  Sara KASTNER                USA  3:15:57
7  Amanda VIELBAUM             USA  3:16:13
8  Jennifer HOWELLL            USA  3:18:21
9  Kathy KOBRINE               USA  3:19:00
10 Tracey JAQUIER              USA  3:19:19
April 2006