March 2006
5 MAR | 10 MAR | 12 MAR | 19 MAR | 25 MAR | 26 MAR
5 MARCH 2006: LALA MARATHON, MEXICO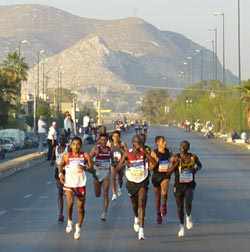 It was dark and 15°C at the 07.00 start in the northern Mexican desert city of Torreon. Procopia Franco, with a courageous run in warm conditions, made all the running from 2km onwards. By the finish it was 22°C and climbing under a hot sun. Torreon is also 1000m above sea level.
By halfway (65:35) the lead pack was down to nine. As relentlessly as the sun, Franco bore down, and by 34km he had shaken everyone except eventual winner, Jackson Kipngok. Kipngok tucked in behind all the way until the last 200m, when he took the race in a decisive move in the finishing stretch. Spectators of this "Fiesta de la Laguna" urged Franco on throughout the race, with frequent chants of "Me-hi-co, Me-hi-co!" as he battled the Kenyans.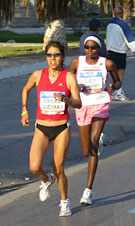 A relatively unknown new Mexican talent, 22-year old Maria Elena Valencia, took the women's title more easily, with 2:33:14 in only her second attempt at the marathon distance.
MEN:
1  Jackson KIPNGOK             KEN  2:14:16
2  Procopia FRANCO             MEX  2:14:24
3  Lenard NGIGI                KEN  2:15:33
4  Christopher TOROTICH        KEN  2:15:52
5  Rito REGULES                MEX  2:16:28
6  Alejandro CUAHTEPITZI       MEX  2:17:01
7  Primo CAPULA                MEX  2:17:10
8  J Jesus HERNANDEZ           MEX  2:17:16
9  Julio PEREZ                 MEX  2:17:27
10 Gualberto VARGAS            MEX  2:17:35

WOMEN:
1  Ma Elena VALENCIA           MEX  2:33:14
2  Neria ASIBA                 KEN  2:36:28
3  Ericka GUEVARA              MEX  2:38:27
4  Lucy MUHAMY                 KEN  2:39:24
5  Judith RAMIREZ              MEX  2:40:08
6  Liliana MERLO               MEX  2:41:57
7  Irene VAZQUEZ               MEX  2:43:28
8  Adriana SANCHEZ             MEX  2:43:52
9  Ma Guadalupe SANTANA        MEX  2:47:27
10 Emma MALDONALDO             MEX  2:51:23
5 MARCH 2006: LAKE BIWA MAINICHI MARATHON, JAPAN
Conditions were good: sunny, 12°C with humidity of 52% and wind speed 1.3m/s.
MEN (ONLY):
1  Jose RIOS                   ESP  2:09:15
2  Takayuki MATSUMIYA          JPN  2:10:20
3  Osaki SATOSHI               JPN  2:10:49
4  Leonid SHVETSOV             RUS  2:10:59
5  Pablo OLMEDO                MEX  2:11:59
6  Muneyuki OJIMA              JPN  2:12:28
7  Masaya SHIMIZU              JPN  2:12:31
8  Koichiro FUKUOKA            JPN  2:14:00
9  Masakazu MATSUURA           JPN  2:14:47
10 Hayato KONO                 JPN  2:15:11
5 MARCH 2006: AMBANK KUALA LUMPUR INT'L MARATHON, MALAYSIA
The race started at 05.00 to make use of slightly cooler pre-dawn conditions.
MEN:
1  Samuel TARUS                KEN  2:21:01
2  John CHEBOI                 KEN  2:22:20
3  Joseph NSUBUGA              UGA  2:23:17
4  Adam DOBRZYNSKI             POL  2:23:39
5  Sammy KOSGEI                KEN  2:26:29
6  R BANDARA                   SRI  2:27:43
7  Vladimir KOTOV              BLR  2:31:50
8  Alex ONCHARI                KEN  2:32:14
9  Daniel SHUNGEA              KEN  2:32:25
10 Zai Xiang LI                CHN  2:36:08

WOMEN:
1  Xian MUSHUI                 CHN  2:53:32
2  Cheng Cheng CUI             CHN  2:53:58
3  Xing Xue WANG               CHN  2:57:14
4  W A D M CHANDRAKANTHI       SRI  3:00:18
5  Shui Dan WANG               CHN  3:06:25
6  Hayley HOLLEY               BVI  3:12:09
7  M A CHANDRAWATHIE           SRI  3:12:40
8  S DEVAMANI                  MAS  3:15:15
9  Rebecca MCCLINTOCK          USA  3:16:53
10 Saipin PAIJUN               THA  3:18:20

HALF MARATHON
MEN:
1  S VIKRAM                    MAS  1:10:43
2  R MUNIANDY                  MAS  1:11:23
3  Venugopal RAJENDRAN         MAS  1:15:21

WOMEN:
1  So Liang TOH                SNG  1:28:22
2  Vally MICHAEL                    1:33:10
3  Norilda ISMAEL              MAS  1:34:09
10-13 MARCH 2006: 100km DEL SAHARA, TUNISIA
More than 100 runners from 12 countries registered for the 8th edition despite the difficult international situation. The group encamped at Chenini, within a world hertiage site, for the start of this 5-stage, 120km race along desert tracks which get ever more sandy as they approach the dunes of the Great Eastern Erg.
On the first stage a group of 10 runners climbed up the steep track past the mosque and stayed together almost to the end. Only 11 minutes separated the first 10 finishers.
A sandstorm blew in overnight but subsided in time for the second stage of 25km. A group of eight stayed together until the final 2km, when three of them pulled away. Alessandro Lambruschini finished first in 1:23:26. Late in the same day a short night stage was held after a trying afternoon spent fighting a sandstorm in which some of the tents blew away.
The fourth stage, on 12 March, was over the marathon distance and started into a strong headwind which whipped up the sand into runners' faces. Lambruschini again went away in the final few kilometres to win this stage.
The final stage, across the dunes of the Great Eastern Erg to the oasis of Ksar Ghilane, was very hard. The first finishers were less badly hit by the rising storm but those finishing later suffered in practically zero visibility.
Lambruschini maintained his lead to win the overall race for the second year. Last year's female winner, Patrizia Guarnieri, was beaten by a series of strong performances from the Croat Mirjana Kmacic. It was the hardest race of all those yet held.
MEN:
1  Alessandro LAMBRUSCHINI     ITA  9:00:46
2  Adel CHAYEB                 TUN  9:05:51
3  Fabrizio FERRARESE          ITA  9:26:32
4  Tommaso VIOLANO             ITA  9:32:53
5  Alessandro FIORINI          ITA  9:42:54
6  Alessandro PLAINO           ITA  9:49:59
7  Andrea BERNABUCCI           ITA  9:55:30
8  Gianni MOGGIA               ITA 10:03:43
9  Toufik KAHLOUI              TUN 10:23:51
10 Mario CIMATTI               ITA 10:39:10

WOMEN:
1  Mirjana KMACIC              CRO 11:24:30
2  Patrizia GUARNIERI          ITA 11:43:05
3  Alessandra BERNARDINI       ITA 12:09:29
4  Chiara TIEGHI               ITA 12:39:09
5  Laura CORTI                 ITA 13:00:02
6  Sharon KOVAR                USA 13:18:38
7  Claudia GERLING             GER 13:52:56
8  Silvana LATTANZIO           ITA 15:09:00
9  Ma Luisa MALVESTITI         ITA 16:12:57
10 Ida LENART                  CAN 17:12:59
12 MARCH 2006: SEOUL MARATHON, KOREA
Zhou Chunxiou, who turned 28 only four days earlier, celebrated by becoming the seventh woman to break the sub-2.20 barrier, first broached by her countrywoman Naoko Takahshi in 2001. She had finished only fifth in last summer's world championships marathon in Helsinki, but in this race she set the time to beat for 2006.
Zhou's previous best was 2:21:11, set in the 2005 Beijing Marathon. The following day she won silver in the National Games 10,000m in a time of 31:08.03.
Gert Thys won the men's race for the third time in four years. Last year he had slipped to second place.
MEN:
1  Gert THYS                   RSA  2:10:40
2  Jason MBOTE                 KEN  2:11:40
3  Araya HAREGOT               KEN  2:11:56
4  Young-Joon JI               KOR  2:12:08
5  Jimmy MUINDI                KEN  2:12:20
6  Wilson KIGEN                KEN  2:12:28
7  Mbarak HUSSEIN              KEN  2:12:53
8  William KIPSANG             KEN  2:13:30

WOMEN:
1  Chunxiou ZHOU               CHN  2:19:51
2  Kyung-Hee LIM               KOR  2:34:08
3  Kyung-Hee CHOI              KOR  2:36:10
4  Eun-Hee CHAE                KOR  2:40:47
5  Chieko YAMASAKI             JPN  2:41:40
6  Emily KIMURIA               KEN  2:42:05
7  Sakato UETANI               JPN  2:44:24
8  Ok-Yuon SUH                 KOR  2:46:41
12 MARCH 2006: NAGOYA INT'L WOMEN'S MARATHON, JAPAN
Harumi Hiroyama overtook Yoko Shibui with only a kilometre to go, after lagging nearly a minute behind her at 30km.
Shibui had gone into the lead from the start and in the early stages she led a nine-strong chasing group by up to 10 seconds. By 10km she had been caught but very soon afterwards she struck out on her own again, passing halfway in 1:10:24, nearly two minutes up on Naoko Takahashi's course record pace. It was too much, too soon, as Shibui started to slow after 25km. By 30km she was losing ground to her pursuers.
"At 35km I could see her," said Hiroyama, who by 40km had closed to within 100m of the tiring race leader. Hiroyama's wining time fell short of her personal best time by 30 seconds.
WOMEN (ONLY):
1  HARUMI HIROYAMA             JPN  2:23:26
2  YOKO SHIBUI                 JPN  2:23:58
3  CHIKA HORIE                 JPN  2:28:01
4  ALINA TECUTA                ROM  2:29:30
5  YUKO MACHIDA                JPN  2:29:48
6  YASUKO HASHIMOTO            JPN  2:29:53
7  AYUMI HAYASHI               JPN  2:29:59
8  HIROMI OMINAMI              JPN  2:30:23
9  MULU SEBOKA                 ETH  2:30:41
10 MIKA HIKICHI                JPN  2:31:03
12 MARCH 2006: 13th KYOTO CITY HALF MARATHON
Around 7000 runners started in drizzling rain on a cold morning.
MEN:
1  Takayuki OTA                    JPN  1:02:50
2  Takuya YAMAWAKI                 JPN  1:02:52
3  Akihiko THUMIRAI                JPN  1:02:53
4  Rioji MATUSITA                  JPN  1:02:58
5  Hirotaka TANAKA                 JPN  1:02:59
6  Samuel NGANGA                   KEN  1:03:03
7  Athushi IKAWA                   JPN  1:03:03
8  Tomoya SHIMIZU                  JPN  1:03:16
9  Satoru SASAKI                   JPN  1:03:21
10 Ryo OHASHI                      JPN  1:03:22
 
WOMEN:
1  Mai ITO                         JPN  1:11:11
2  Ryoko KIZAKI                    JPN  1:12:46
3  Noriko HIGUCHI                  JPN  1:13:14
4  Kasumi OYAGI                    JPN  1:13:25
5  Chizuru IDETA                   JPN  1:13:33
6  Ayumi SAKAIDA                   JPN  1:13:50
7  Sizuka MARUMO                   JPN  1:13:53
8  Akane YATAKI                    JPN  1:14:14
9  Yukina SAIJYO                   JPN  1:14:29
10 Seika IWAMURA                   JPN  1:15:05
19 MARCH 2006: LOS ANGELES MARATHON, USA
Lidiya Grigoryeva smashed her personal best time by nearly two minutes in the 19th edition of the Los Angeles Marathon — and broke the course record. It was just enough to see off the challenge of Gete Wami, who she beat by 80m and defending champion Lyubov Denisova.
Kenyans took seven of the top-10 places in the men's race and foremost among them Benson Cherono also set a new personal best (previously 2:11:23) and a new course record.
MEN:
1  Benson CHERONO              KEN  2:08:40
2  Laban KIPKEMBOI             KEN  2:10:08
3  Simon WANGAI                KEN  2:10:35
4  Thomas OMWENGA              KEN  2:11:47
5  Haste JIFAR                 ETH  2:12:39
6  Robert CHERUIYOT            KEN  2:14:26
7  Mikhail KHOBOTOV            RUS  2:15:05
8  Nicholas MUREI              KEN  2:15:23
9  John KAGWE                  KEN  2:15:32
10 Odilon ROJAS                MEX  2:16:44

WOMEN:
1  Lidia GRIGORYEVA            RUS  2:25:10
2  Gete WAMI                   ETH  2:25:26
3  Lyubov DENISOVA             RUS  2:26:18
4  Nuta OLARU                  ROM  2:30:30
5  Irina SAFAROVA              RUS  2:34:45
6  Tatyana POZDNYAKOVA         UKR  2:35:46
7  Lyudmila PUSHKINA           UKR  2:41:15
8  Christine LUNDY             USA  2:43:14
9  Supin MAPON                 USA  2:57:57
10 Sarah HALLAS                USA  2:58:40
19 MARCH 2006: THAILAND TEMPLE RUN
More than 3000 runners participated, including 645 foreign runners from 45 countries.
Reigning Southeast Asian Marathon Champion Boonchoo Chandecha had to fight tough resistance from Jirasak Sutthichat and Umnuai Thongmit. All three of them crossed the finish line neck and neck. The finish line judge declared Boonchoo the winner after the official timing recorded all three runners with the same time.
The women's race was less hard fought with Thai star Sunisa Sailomyen winning her first race back after childbirth. She finished just a minute ahead of Khetmanee Senaphan.
In the half marathon Boontueng Srisan again proved to hard to beat, winning his fifth consecutive ING Thailand Temple Run. In the women's race Diane Fusealdo from Australia became the first ever foreign runner to win at the event.
Next year's race is set for 18 March 2007.
MEN:
1  Boonchoo CHUNDECHA          THA  2:40:08
2  Jirisak SUTTHICHAT          THA  2:40:08
3  Umnuai THONGMIT             THA  2:40:08
4  Solchai CHOOSAKHUL          THA  2:40:13
5  Khordae SENMOOD             THA  2:42:23
6  Anusak PHITSAWONG           THA  2:42:47
7  Meechai CHOOCHEEP           THA  2:43:03
8  Suphit CHANTHARAT           THA  2:44:05
9  Chadaruk CHAIYAKHAMCHORN    THA  2:44:33
10 Jiratthikarn BOONMA         THA  2:47:45

WOMEN:
1  Sunisa SAILOMYEN            THA  3:15:20
2  Khetmanee SENAPHAN          THA  3:16:32
3  Saiphin PATJUN              THA  3:23:31
4  Khan KHOOSUWAN              THA  3:24:20
5  Praphan KHAMBURI            THA  3:27:14
6  Thanaporn PIEMSAKHUL        THA  3:36:18
7  Ashley CLARK                USA  3:39:16
8  Pratheep THONGCHAI          THA  3:39:44
9  Dhutsanee SAEHENG           THA  3:48:59
10 Unchalee WONGPANIJ          THA  3:53:13

HALF MARATHON:
MEN:
1  Boontheung SRISONG          THA  1:13:14
2  Umnai SRICHARD              THA  1:13:35
3  Somyhod KIJUDOM             THA  1:14:19

WOMEN:
1  Diane FUSEALDO              AUS  1:27:07
2  Phatcharee CHAITHONGSRI     THA  1:28:42
3  Sonthiya CHAIWAWE           THA  1:29:52
19 MARCH 2006: STANDARD CHARTERED STANLEY MARATHON, FALKLAND ISLANDS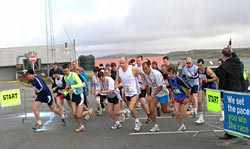 The world's most southerly certified marathon enjoyed benign conditions for its second edition: dry, 11°C and a wind speed of only 4.8m/s.
Hugh Marsden led from the start to win for the second year running. He built a lead of three minutes at the halfway point and eventually improved his previous winning time by three minutes. Third-placed Elfo Lazo came from Uruguay to compete, and improved by 24 minutes on his 10th place of the inaugural year.
The women's race was dominated by Katherine Badham-Thornhill who placed fifth overall and improved the course record by six minutes. Carol Peck, one of only two locally-born runners, came in second and in the overall ranking only one place behind the first Falkland Islands-born runner, Richard Short.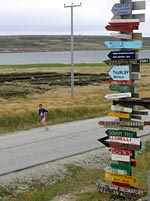 Last year's team relay winners, the Falkland Islands Football Team returned to defend their crown. Although their time was slower than the previous year it was just enough to beat off the Cragiehall Old Boys, a British army team that had travelled down from Scotland especially for the race.
The race sponsors and organisers, Standard Chartered Bank, entered the only all-women's team (KASH) which finished 10th in 4:12.29.
The Governor, His Excellency Mr. Howard Pearce officiated the start and also presented the trophies and prize money at the end. His Excellency took special note of the race now being the world's most southerly certified marathon.
British Forces Television filmed parts of the race and the presentations.
Next year's race is scheduled for Sunday 18 March.
MEN:
1  Hugh MARSDEN                GBR  3:04:16
2  David ADAM                  GBR  3:10:35
3  Elfo LAZO                   URU  3:20:55
4  Michael OWEN                GBR  3:27:38
5  Andrew TIMEWELL             GBR  3:32:48
6  Douglas LOGAN               GBR  3:44:34
7  Martin ARUNDEL              GBR  3:52:24
8  Paul NASH                   GBR  3:52:57
9  Alex HOMES                  GBR  3:55:32
10 Chris POTTS                 GBR  3:58:41

WOMEN:
1  Katherine BADHAM-THORNHILL  GBR  3:28:32
2  Carol PECH                  FKL  4:19:42
3  Alison LIDDLE               GBR  4:49:30

TEAM RELAY (4 RUNNERS):
1  Falklands Football Team     FKL  3:14:35
2  Craigiehall Old Boys        GBR  3:15:16
3  Tiggers                     GBR  3:18:27
19 MARCH 2006: VIGARANO MARATHON, ITALY
The 28th edition passed off with great success. Good organisation and dedicated volunteers were helped in their tasks by the beautiful sunny weather which lasted from beginning to end of marathon day.
The spring sun provided the backround to almost 1000 runners in the Marathon, the competitive 11,400km race, and the Bambini Race, all held along a flat and fast route beside the walls of Ferrara's historic medieval centre and its surrounding countryside.
MEN:
1  Benson MUTISYA              KEN  2:12:58
2  Philemon KIPKERING          KEN  2:15:02
3  Joshua ROP                  KEN  2:23:49
4  Ivan TASSONI                ITA  2:26:57
5  Mario ARDEMAGNE             ITA  2:32:20
6  Corado REGGIANI             ITA  2:38:01
7  Bernhard SANTNER            AUT  2:38:10
8  Housni KEBAILI                   2:38:37
9  Claudio BALBONI             ITA  2:39:16
10 Graziano GIORDANENGO        ITA  2:39:24

WOMEN:
1  Paola VENTRELLA             ITA  2:43:52
2  Antonella BENATTI           ITA  2:56:14
3  Giovanna CAVALLI            ITA  3:01:38
4  Stefania CHERASCO           ITA  3:10:00
5  Elena SIMSIG                ITA  3:11:59
6  Tiziana SCORZATO            ITA  3:13:50
7  Maria Luisa COSTETTI        ITA  3:15:29
8  Nathalie CHARLES            FRA  3:16:32
9  Audrey AMARA                USA  3:16:45
10 Antonija ORLIC              CRO  3:19:32

11.4km race
MEN:
1  Zoltan KADLOT               HUN    36:56

WOMEN:
1  Margherita GARGIONI         ITA    42:48
25 MARCH 2006: CITY-PIER-CITY HALF MARATHON, NETHERLANDS
MEN:
1  Moses KIGEN                   KEN  1:01:18
2  Solomon BUSHENDICH            KEN  1:01:21
3  Kimwole KIMATTAI              KEN  1:01:34
4  Patrick IVUTI                 KEN  1:01:50
5  William CHEBOR                KEN  1:01:53
6  Stephan JUTTE                      1:01:55
7  James MWANGI                  KEN  1:02:16
8  Sammy CHUMBA                  KEN  1:02:45
9  Peter KIPROTICH               KEN  1:02:47
10 David MUTAI                   KEN  1:03:36
 
WOMEN:
1  Simone STAICU                 HUN  1:12:49
2  Selina BORST                  NED  1:13:31
3  Lisa WIKLUND                  SWE  1:16:52
25 MARCH 2006: XIAMEN INTERNATIONAL MARATHON, CHINA
World leading perfomer Zhou Chunxiou, who had run 2:19:51 in the Seoul Marathon only two weeks earlier, dropped out of the women's competition. In the men's race there was an impressive run from the 21-year old Deng Hai-Yang.
MEN:
1  Steven Kamar                KEN  2:10:46 
2  Jonathan Kosgei             KEN  2:10:49   
3  Hai-yang DENG               CHN  2:10:50
4  Yusef SONGOKA               KEN  2:11:14
5  Henry KAPKIAI               KEN  2:11:33
6  Titus MUNJI                 KEN  2:12:18
7  Zhu-hong LI                 CHN  2:14:41 
8  Wei SU                      CHN  2:14:48
9  Yun-shan ZHENG              CHN  2:15:03 
10 Raymond KIPKOECH            KEN  2:15:08

WOMEN:
1  Wei-wei SUN                 CHN  2:26:32
2  Xiao-lin ZHU                CHN  2:28:27
3  Man JIN                     CHN  2:29:51
4  Yuan-yuan JIANG             CHN  2:30:13
5  Shu-jing ZHANG              CHN  2:30:35 
6  Ya-nan WEI                  CHN  2:31:43 
7  Si XU                       CHN  2:35:35
8  Li-nan WANG                 CHN  2:35:45
9  Shawutu NUERGULI            CHN  2:36:04 
10 Shui-xian MU                CHN  2:37:56
26 MARCH 2006: EDP MEIA MARATONA DE LISBOA, PORTUGAL
"She is running very strong," said Susan Chepkemei of Salina Kosgei just two days before. So it proved, as after Chepkemei, a three-time winner of this race had led for most of the race, Kosgei had the edge over the final kilometre. It was a specific weakness on Chepkemei's part that proved decisive, as with 800m to run she pulled over to the side with stomach pains. She quickly recovered and strove hard to close down on Kosgei. Coming towards the final 100m straight she seemed to be in with a fighting chance, but she had to slow again, and was vomiting as Kosgei crossed the finish line eight seconds ahead of her.
Another pre-race favourite, Paul Tergat, also found the finishing strength of his rivals too much to handle. Robert Cheruiyot had led for most of the race, occassionally accompanied by Samuel Wanjiru, as Tergat and Martin Lel kept tucked in behind. The Wanjiru made moves at 19km and at 20km, but his sprint came too early. Lel had conserved his energy for the decisive moment, as he took a small but clear lead before the final turning point of the course, only 300m from the finish line.
Both leading groups had established themselves early. Rose Cheruyot had made the early runing and kept Chepkemei and Kosgei company until after 10km, when Chepkemei took over. Behind them, Fernanda Ribeiro put in a very steady and powerful performance to nearly catch Cheruyot on the line.
The men's lead group reduced to four when Felix Limo dropped off the back at the same time as the pacemaker dropped out, at seven kilometres. From then on the pattern was set, and only minor exchanges took place within the quartetbefore the final showdown.
In the accompanying 7km fun run both the President and the Prime Minister of Portugal took part, along with 22,000 others. The Half Marathon attracted 5,500 entries. Only three days before the race the 25 de Abril Bridge, on which the first 4km of the course is run, was closed to traffic as high winds posed a security risk. A Plan B was contemplated, but race day dawned sunny and clear with almost no wind. In the closing stages of the race the wind did pick up slightly, against the runners.
MEN:
1  Martin LEL                    KEN    59:30
2  Robert CHERUIYOT              KEN    59:35
3  Samuel WANJIRU                KEN    59:37
4  Paul TERGAT                   KEN    59:42
5  Felix LIMO                    KEN  1:01:12
6  Luis JESUS                    POR  1:01:29
7  Lawrence KIPROTICH            KEN  1:01:30
8  Rodgers ROP                   KEN  1:02:24
9  Jaouad GHARIB                 MAR  1:02:42
10 Paulo GOMES                   POR  1:03:13

WOMEN:
1  Salina KOSGEI                 KEN  1:07:52
2  Susan CHEPKEMEI               KEN  1:08:00
3  Rose CHERUYOT                 KEN  1:09:34
4  Fernanda RIBEIRO              POR  1:09:37
5  Alina IVANOVA                 RUS  1:11:07
6  Vanessa FERNANDES             POR  1:12:28
7  Zivile BALCIUNAITE            LIT  1:13:18
8  Emily KIMURIA                 KEN  1:15:04
9  Fatima SILVA                  POR  1:16:32
10 Malgorzata SOBANSKA           POL  1:17:08
26 MARCH 2006: MARATONA DELLA CITTA DI ROMA, ITALY
The Rome City Marathon confirmed its place as Italy's fastest after both winners smashed their lifetime bests on a warm and sunny day writes Diego Sampoalo.
Kipkorir kicked ahead to win from 35km and set a world-leading time. His previous best, from January's Mumbai Marathon, was nearly four minutes slower. Behind him Daniele Caimmi returned to form while third-placed Laban Kipngetich set another personal best by a huge margin.
So it went in the women's race, as well, as Tatyana Hladyr improved by four minutes and the top three all finished inside the previous course record.
The early men's pace was fast (10km: 30:05) and at halfway was still just on record schedule (1:03:58) with a group of nine still together. As the temperature rose runners dropped off, to leave only three at 35km and Kipkorir sensed his chance: "I did not expect to win but I reaslised no one could keep my pace," he said.
Hladyr was the pacesetter in the women's race, front running through halfway in 1:13:26. Larissa Zousko, Zekiros Adanesh, Yanayan Dai and Jennifer Rhines were still in contention, but by 25km (1:26:54) only three remained. From 35km it became a duel between Zousko and Hladyr, but Hladyr moved away from 40km to win comfortably.
MEN:
1  David KIPKORIR              KEN  2:08:38
2  Daniele CAIMMI              ITA  2:09:30
3  Laban KIPNGETICH            KEN  2:10:00
4  Thomas CHEMITEI             KEN  2:10:05
5  Oleksandr KUZIN             UKR  2:10:09
6  Solomon ROTICH              KEN  2:11:42
7  Andrew LIMO                 KEN  2:11:48
8  Abdelhak EL GORCH           BRN  2:11:49
9  Abebe HAILEMARIAM           ETH  2:14:28
10 Wesley NGETICH              KEN  2:14:36

WOMEN:
1  Tatyana HLADYR              UKR  2:25:44
2  Larissa ZOUSKO              RUS  2:26:26
3  Zekiros ADENECH             ETH  2:27:38
4  Jennifer RHINES             USA  2:29:32
5  Svetlana NEKHIOROSH         UKR  2:35:49
6  Yanyan DAI                  CHN  2:36:52
7  Jimma MARASHET              ETH  2:37:08
26 MARCH 2006: EDINBURGH FORTHSIDE HALF MARATHON, GREAT BRITAIN
There were over 3500 finishers in this first edition of the race coming from 15 countries, out of an entry of 4100.
Starting and finishing at the Ocean Terminal in Leith, where the Royal Yacht Britannia is moored, the course lies mainly along the banks of the Firth of Forth. It was a windy day, and runners' performances suffered accordingly, perhaps by as much as 90 seconds.
MEN:
1  Tewodrs ShifeRAW            ETH  1:03:39
2  Simon TONUI                 KEN  1:04:16
3  John MURITHI                KEN  1:06:26
4  Iaroslav MUSCHINSKI         MDA  1:07:43
5  Jethro LENNOX               GBR  1:11:01

WOMEN:
1  Olivera JEVTIC              SCG  1:12:52
2  Ogla KIMAIYO                KEN  1:15:03
3  Alem BEZABIH                ETH  1:16:12
4  Sue HARRISON                GBR  1:17:57
5  Emma ROBERT                 GBR  1:18:51
26 MARCH 2005: FIVE TOWERS MARATHON, DENMARK
MEN:
1  Ole KARLSEN                      2:54:52
2  Kjell TITELSTAD                  3:07:46
3  Kjetil HAVSTEIN                  3:08:25
4  Stefan SEEMAN                    3:11:12
5  Kim RASMUSSEN                    3:11:57
6  Hendrik JORGENSEN                3:17:59
7  Claus AOLEV                      3:19:05
8  Michael HEIN                     3:19:10
9  Rene HANSEN                      3:22:13
10 Anders POULSEN                   3:23:46

WOMEN:
1  Helene ANDERSEN                  3:29:01
2  Birgitte NIELSEN                 3:34:37
3  Karen BROGGER                    3:38:55
4  Britta KARLSON                   3:40:58
5  Christina EGDO                   3:53:35

HALF MARATHON
MEN:
1  Jan HANSEN                       1:18:32
2  Martin AUGUSTINUSSEN             1:20:18
3  Tomas HVIID                      1:23:45

WOMEN:
1  Maja VEJ                         1:36:56
2  Anne-Marie PEDERSEN              1:38:27
3  Ninna HENNEBERG                  1:45:02
26 MARCH 2006: NOVI SAD NIS HALF MARATHON, SERBIA & MONTENEGRO
Runners came from nine countries to participate in this 13th edition of the race. A total of 300 runners entered this year and around 250 crossed the finish line.
Although four previous winners were running, tradition has it that past winners and pre-race favourites do not win here. Last year's winner was third while a young Moldavian, Roman Prodius, won this time. An 11-strong group led until 8km but by 15km only four of them were left, and Prodius then went clear.
The temperature at the start was 20°C, but because only two days before it had been 0°C, it wasn't the best conditions for racing. Even so, an exciting race brought thousands out onto the streets to watch.
MEN:
1  Roman PRODIUS               MDA  1:07:42
2  Boris SUHODOLJSKI           MDA  1:08:19
3  Mirko PETROVIC              SCG  1:08:37
4  Serglu LUNGU                MDA  1:10:06
5  Dejan BOGICEVIC             SCG  1:10:15
6  Danijel VUKAJLOVIC          SCG  1:10:25
7  Igor CLMBALAR               MDA  1:10:53
8  Zdravko MISOVIC             SCG  1:11:01
9  Nicola STAMENIC             SCG  1:11:02
10 Valerij VAS                 MDA  1:11:15

WOMEN:
1  Ana SUBOTIC                 SCG  1:17:03
2  Maijana LUKIC               SCG  1:17:48
3  Lilija TOZLOVANI            MDA  1:29:32
4  Sladana PEJOVIC             SCG  1:29:36
5  Ksenija BODLOVIC            SCG  1:33:26
6  Matali PALIC                MDA  1:38:05
7  Tana MALARO                 MDA  1:39:41
8  Bojana TRALJIC              SCG  1:41:03
9  Vanja NASTRAN               SLO  1:42:27
10 Vilma BRESAN                SLO  1:43:29
26 MARCH 2006: MARATO DE BARCELONA, SPAIN
This year's new edition of the race crossed the entire city, passing all its most important monuments: the Sagrada Familia, Cathedral, Barça's Stadium, the Ramblas and more recent modernistic buildings. Spain's former World Marathon Champion Martin Fiz felt that the course was very fast. Kenyan men and Ethiopian women dominated.
On a sunny day with some wind coming off the sea, over 4200 finished the marathon and 1800 a parallel 10km race. A hundred thousand spectators lined the route through all the different districts of the city and there was live TV coverage.
MEN:
1  Joseph NGURAM                     KEN  2:12:36
2  Benjamin PSERET                   KEN  2:13:46
3  Kipkorir J. CHAMGWONY             KEN  2:13:58
4  Kiptanui H. KIMUTAI               KEN  2:14:18
5  Benjamin YARANGURA                KEN  2:17:15
6  William KIPCHUMBA                 KEN  2:18:32
7  Kiprop KORIR                      KEN  2:21:26
8  Victor GONZALO                    ESP  2:25:31
9  Marco CEPEDA                      ESP  2:27:29
10 Stephane RUIZ                     FRA  2:28:36

WOMEN: 
1  Kabelush HAILE                    ETH  2:41:23
2  Gurmu LEMMA                       ETH  2:42:30
3  Nigatu CHERKOS                    ETH  2:52:34
4  Anna MORENO                       ESP  2:59:51
5  Christine LAVIGNE                 FRA  3:00:30
6  Eva KARLSSON                      SWE  3:01:36
7  Elisabet BOSCH                    ESP  3:03:38
8  Emi VAQUERO                       ESP  3:06:24
9  Sarah MALIR                       GBR  3:11:09
10 Carmen BALLESTEROS                ESP  3:11:10
March 2006