February 2006
5 FEB | 12 FEB | 17 FEB | 18 FEB | 19 FEB | 25 FEB | 26 FEB | 28 FEB
5 FEBRUARY 2006: BEPPU-OITA MAINICHI MARATHON, JAPAN
Ten years after setting a course record of 2:08:30, Gert Thys scored his second victory in this 55th edition of the race writes Ken Nakamura. A lead group of 15 formed at 5km and held together past halfway. At 25km the group began to thin out, and when Benson Cherono upped the pace at 29km only five runners were left - and Cherono himself dropped out just after 30km. Thys broke away on his own in the 33rd kilometre with a 2:59 split, and ran from 30-35km in 15:07 to lead by over a minute.
MEN (ONLY):
1  Gert THYS             RSA  2:09:45
2  Tomoyuki SATO         JPN  2:11:46
3  Benjamin KIPCHUMBA    KEN  2:13:11
4  Yohei SATO            JPN  2:13:18
5  Mohammed OUAADI       FRA  2:13:23
6  Takehisa OKINO        JPN  2:14:52
7  Kentaro ITO           JPN  2:15:42
8  Noriyuki MIZUGUCHI    JPN  2:16:05
9  Kodai FUKUNADA        JPN  2:16:48
10 Ombeche MOKAMBA       KEN  2:17:37
5 FEBRUARY 2006: KAGAWA-MARAGUME HALF MARATHON, JAPAN
In her half marathon debut Kayoko Fukushi set a new Asian record of 1:07:26, finishing 90m ahead of Olympic Marathon Champion Mizuko Noguchi writes Ken Nakamura. Fukushi led all the way in this 60th edition of the race, passing 15km faster than Elana Meyer's world best time. Her marks at both 20km (1:03:41) and Half Marathon were the fastest ever recorded by an Asian runner on an unassisted course [Masako Chiba's times of 1:03:14 and 1:06:43, set in Tokyo in 1997, were run on a course with an overall elevation loss of 33m].
MEN
1  Takayuki MATSUMIYA          JPN  1:02:13 
2  Samuel MUTURI               KEN  1:02:14
3  Kensuke TAKEZAWA            JPN  1:02:26
4  Kazuo IETANI                JPN  1:02:26
5  Kosuke NAKAHIGASHI          JPN  1:02:27 
6  Tomoya SHIMIZU              JPN  1:02:28
7  Hiromichi UEKI              JPN  1:02:41
8  Kenji NOGUCHI               JPN  1:02:49 
9  Masayoshi YAMAOKA           JPN  1:03:06
10 Du-Hang LEE                 KOR  1:03:19

WOMEN
1  Kayoko FUKUSHI              JPN  1:07:26 
2  Mizuki NOGUCHI              JPN  1:07:43         
3  Mara YAMAUCHI               GBR  1:09:24
4  Harumi HIROYAMA             JPN  1:10:59 
5  Mika HIKICHI                JPN  1:11:03 
6  Ikuko NAGAO                 JPN  1:11:59 
7  Mary WANGARI                KEN  1:11:59
8  Akemi OZAKI                 JPN  1:12:05
9  Yuko SATO                   JPN  1:12:08
10 Masayo KOBAYASHI            JPN  1:12:19
5 FEBRUARY 2006: PACIFIC SHORELINE MARATHON, USA
In all, over 750 finished the Marathon and nearly 5,500 the Half Marathon.
MEN:
1  Hector LOPEZ        USA  2:32:29
2  Jose ORTIZ          USA  2:33:01
3  Robert LEONARDO     USA  2:47:23
4  Brett LAWRIE        USA  2:47:23
5  Gary LEON           USA  2:50:40
6  Joseph PENDLETON    USA  2:50:55
7  Josh BAKER          USA  2:52:35
8  Jack PREUS          USA  2:54:32
9  Brian BERGT         USA  2:54:57
10 Toru SAWAI          USA  2:55:00

WOMEN:
1  Nadia NOORZAI       USA  2:57:22
2  Julie DUKES         USA  3:24:04
3  Maureen PENIUK      CAN  3:28:26
4  Reyana EWING        USA  3:29:45
5  Lauren KEARNY       USA  3:32:46
6  Jennifer STOCK      USA  3:32:58
7  Juliet MORGAN       USA  3:34:30
8  Monica FOX          USA  3:36:17
9  Andreas GUSTAFSSON  USA  3:36:38
10 Nicole LEGACKI      USA  3:36:49

HALF MARATHON:
MEN:
1  Sergio REYES        USA  1:06:37
2  Justin PATANANAN    USA  1:06:51
3  Fidele BAREGENESABE USA  1:06:53

WOMEN:
1  Sylvia MOSQUEDA     USA  1:15:08
2  Magdalena BOULET    USA  1:16:47
3  Heather GIBSON      USA  1:18:59
12 FEBRUARY 2006: STANDARD CHARTERED HONG KONG MARATHON
The Honourable Donald Tsang, Chief Executive of Hong Kong, flagged the runners off on the famed Nathan Road in Kowloon. The steep inclines in the marathon's course make it a world class challenge for running enthusiasts from all over the world. In total, 40,000 people took part in the three events that make up the Hong Kong Marathon. It is the biggest sporting event in the city, up from 30,000 last year.
MEN:
1  Simon BOR              KEN  2:14:18
2  Stephen NDUNGU         KEN  2:15:23
3  Taye MOGES             ETH  2:17:48
4  Eric CHEPKWONY         KEN  2:17:55
5  Noah BOR               KEN  2:18:17
6  Meshack KOSGEI         KEN  2:18:41
7  Emmanuel KOSGEI        KEN  2:18:53
8  Daniel KIPRUGUT        KEN  2:19:58
9  Noah TALAM             KEN  2:20:16
10 Wilson CHEPKWONY       KEN  2:20:23

WOMEN:
1  Dire TUNE              ETH  2:35:15
2  Measo ARSEDE           ETH  2:41:04
3  Nina KOLYASEVA         RUS  2:42:17
4  Yanyan DAI             CHN  2:43:42
5  Tadelech BIRRA         ETH  2:46:31
6  Malin EWERLOF          SWE  2:47:16
7  Lucia SUBANO           KEN  2:53:57
8  Karen HASLETT          GBR  2:54:05
9  K G S CHANDRANI        SRI  2:58:16
10 Olena FADEYEVA         UKR  3:11:00

HALF MARATHON
MEN:
1  Ka Ho CHAN             HKG  1:13:45
2  Ka Man GI              HKG  1:14:11
3  Ryuichi KAMOTA         JPN  1:14:23

WOMEN:
1  Tegla LOROUPE          KEN  1:22:31
2  So Liang TOH           HKG  1:25:04
3  Brigitte NIEDERBERGER  SUI  1:27:20
12 FEBRUARY 2006: TOKYO INTERNATIONAL MARATHON, JAPAN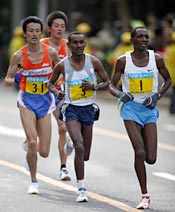 In windy conditions Ambesse Tolossa made a decisive surge at 36km to win the race, just two seconds short of his personal best writes Ken Nakayama.
Before the race home favourite Toshinari Takaoka doubted that 2:09 would be fast enough to win, and so it proved. The first half of the race, with the prevailing wind, was run at 3 minutes/km pace. A pack of 20 at 5km reduced only slightly to 16 at 15km (45:04). After the turnaround point the pace slackened into the headwind, but two pacemakers continued to lead until 30km (1:31:00). After that there remained a group of only four runners.
Takaoka moved first, just before 36km, but not decisively. Irifune was dropped, but Tolossa counter attacked just 600m later and by 40km led by over 100m. Sammy Korir, second fastest marathoner ever, had moved into third place a further 26 seconds behind. It stayed in that order to the finish line, but the gaps between the leaders grew larger.
MEN (ONLY):
1  Ambesse TOLOSSA           ETH  2:08:58
2  Toshinari TAKAOKA         JPN  2:09:31
3  Sammy KORIR               KEN  2:10:07
4  Satoshi IRIFUNE           JPN  2:10:47
5  Yi-Yong KIM               KOR  2:11:28
6  Toshiya KATAYAMA          JPN  2:14:36
7  Seiji KOBAYASHI           JPN  2:16:52
8  Manabu ITAYAMA            JPN  2:17:01
9  Akinori SHIBUTANI         JPN  2:17:36
17 FEBRUARY 2006: EGYPTIAN MARATHON
MEN:
1  Hassan MARZOK              EGY  2:35:47
2  Mohamed EL-HOSEANEE        EGY  2:39:53
3  Mohamed  EL-SEWAITEE       JOR  2:40:27

WOMEN:
1  Suzette VERMAAK            RSA  3:10:06
2  Zohra MERABET              ALG  4:03:50
3  Lubna MAHMOUD              EGY  4:03:50

LUXOR RUN 22.3km
MEN:
1  Fuaad ABO-BAKR             QAT  1:10:55
2  Yousuf KADER               QAT  1:10:58
3  Ahmed MAWAD                EGY  1:14:41

WOMEN:
1  Margit HADZIHASKIC         GER  1:43:27
2  Gillian COWELL             GBR  1:43:50
3  Jutta LUX                  GER  1:46:16

RAMSES RUN 11.3km
MEN:
1  Mokhlad EL-ETABEE          KSA    36:30
2  Aman AWAD                  QAT    36:45
3  Gomah OMAR                 QAT    36:48

WOMEN:
1  Abeer EL-GHOOL             JOR  1:00:55
2  Bettina KEUHNAPFEL         GER  1:13:17
3  Claire WILLIAMS            GBR  1:14:30
17 FEBRUARY 2006: STANDARD CHARTERED DUBAI MARATHON, UAE
What was once a phenomenon—a pacemaker winning a marathon—is turning into a habit writes Pat Butcher. Since the first major upset, in Los Angeles over a decade ago, it has happened regularly. Joseph Ngeny did the trick in Dubai.
Ngeny was only in the race because it had been postponed from 6 January, following the death of the ruler, Sheikh Makhtoum. He was due to pace to 30km, but approaching 27km, he called to organisers "I can finish?". So reassured he shot away from the pack and was heading for a course record time, although the rising heat and humidity prevented that possibility.
The six weeks postponement meant that the weather was much hotter than usual, with temperatures rising towards 30°C. Ngeny's effort tailed off considerably in the final kilometres.
He still had over a minute to spare on Ethiopian Giday Amha, who improved one place from last year. Elias Kemboi finished fastest of all, taking out five rivals in the last 5km.
Last year Delilah Asiago had been on her way to victory when she succombed to stomach pains and vomiting in the final 800m and was passed by Ethiopian Diribe Hunde. She made no mistake this time. After a slowish first half, with six women still in contention, Asiago forced the pace throughout the second half, leaving one of the favourites, Shitaye Gemechu behind at 29km, and won easily. A course misdirection in the final stages allowed Kenza Wahbi to overtake co-favourite, Luminita Talpos of Romania.
MEN:
1  Joseph NGENY           KEN  2:13:02
2  Giday AMHA             ETH  2:14:25
3  Elias KEMBOI           KEN  2:15:01
4  Darwit TRFE            ETH  2.15:07
5  Julius KIPKEMBOI       KEN  2:15:34
6  Ahmed JABER            QAT  2:16:36
7  Henry CHERONO          KEN  2:16:50
8  Wilson KIPRONO         KEN  2:16:54
9  Fased AWERSON          ERI  2:17:34
10 David KIRUI            KEN  2.19.55

WOMEN:
1  Delilah ASIAGO         KEN  2.43.09
2  Shitaye GEMECHU        ETH  2.45.34
3  Kenza WAHBI            MAR  2.48.47
18 FEBRUARY 2006: MYRTLE BEACH MARATHON, USA
MEN:
1  David KAWA                USA  2:32:48 
2  Howard NIPPERT            USA  2:36:12
3  Joerg SCHMIDT             USA  2:36:43
4  Jeff JACOBS               USA  2:37:04
5  Paul DEATON               USA  2:38:49
6  Christian PRIMAS          GBR  2:41:21
7  Brian KISTNER             USA  2:44:14
8  Stephen SYKES             USA  2:46:18
9  Ronnie DELZER             USA  2:48:10
10 Roger SCOTT               USA  2:48:14 

WOMEN:
1  Luanne COULTER            USA  2:55:51
2  Hope HALL                 USA  3:07:10
3  Megan WEIS                USA  3:08:02
4  Amanda CHARLTON           USA  3:08:32
5  Anne-Wyman CIPOLLA        USA  3:09:51
6  Mary TOOHILL              USA  3:10:49
7  Jennifer CURTIN           USA  3:16:26
8  Sharon MARKS              USA  3:18:32
9  Julie BLEDSOE             USA  3:18:41
10 SuAnne HALL               USA  3:20:11
19 FEBRUARY 2006: XXVI MARATHON POPULAR DE VALENCIA, SPAIN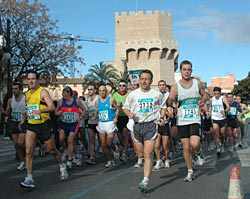 The main player in the race was the wind. All the conditions were set for a new course record, with a large contingent of elite runners from Kenya, Ethiopia and Morocco, but the wind intervened from the very start. The record of 2:13:02 proved unassailable under these conditions. Even so, this made for an interesting contestas a dozen runners stuck together up to 30km, after which Tesfaye Dirba struck out alone for victory. Behind him the group broke up and each trailed in individually as best they could.
The women's race was not strong, but it turned into a surprisingly close contest as Teresa Gacia finished 100m ahead of Briton Lucy Townsend.
The race attracted over 3000 entries of whom nearly 2500 finished, cheered on their way by what seemed like the entire population of the city.
MEN:
1  Tesfaye DIRBA             ETH  2:14:23
2  Mouhcine AKHOUDAOUI       MAR  2:15:27
3  Elias CHEBET              KEN  2:15:42
4  Paul GAITHO               KEN  2:16:19
5  Jonathan KIBET            KEN  2:16:31
6  Zerihum AMBAYE            ETH  2:18:17
7  Elias Kimeh CHELANGA      KEN  2:18:26
8  Lenar KHUSNUTDINOV        RUS  2:19:16
9  David CHEPKWONI           KEN  2:20:25
10 Jackson KIPCHUMBA         KEN  2:21:22

WOMEN:
1  Teresa GRACIA             ESP  2:57:02
2  Lucy TOWNSEND             GBR  2:57:25
3  Julia WYDRA               GER  3:06:44
4  Ma. Esther BALAGUER       ESP  3:07:06
5  Rosa GUILLAMON            ESP  3:10:17
6  Vicenta FERRER            ESP  3:16:37
7  Eva AGEA                  ESP  3:17:23
8  Ma. Jose MIGUEL           ESP  3:17:37
9  Ma. Carmen VALLEZ         ESP  3:17:48
10 Ma. Antonia SERRANO       ESP  3:21:52
19 FEBRUARY 2006: OHME-HOCHI 30km ROAD RACE, JAPAN
MEN:
1  Takashi OTA                 JPN  1:30:48
2  Kenjiro JITSUI              JPN  1:31:44 
3  Takayuki OTA                JPN  1:32:09 
4  Peter GILMORE               USA  1:32:56
5  Jin-peng BAI                CHN  1:33:34
6  Hiroshi YAMADA              JPN  1:33:59 
7  Nobuhiro GOTO               JPN  1:34:29
8  Takuma SASAYA               JPN  1:34:53
9  Shingo IGARASHI             JPN  1:35:00
10 Satoshi HARADA              JPN  1:35:06

WOMEN:
1  Miao-Miao YI                CHN  1:45:22
2  Chika HORIE                 JPN  1:46:06
3  Eri OKUBO                   JPN  1:46:33
4  Yoshimi HOSHINO             JPN  1:47:15
5  Shin-ei KAN                 CHN  1:51:23
6  Risa MIZUTANI               JPN  1:55:14
7  Chizuru KAKEZUKA            JPN  1:56:15
8  Izumi OKA                   JPN  1:57:56
9  Makiko IWAMURA              JPN  1:58:02
10 Aimi ISHIDA                 JPN  1:58:10
25-26 FEBRUARY 2006: IAU 24hrs WORLD CHALLENGE, TAIWAN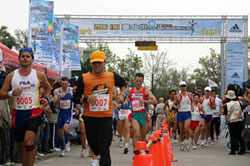 Previous winners from the last few years lined up alongside promising newcomers in Taipei among teams from 20 countries. The course was a 1km loop, slightly undulating, around a park by the riverside on the north edge of Taipei. ChampionChip timing kept both athletes and spectators up to date with distances covered but from mid-race rain set in for the duration. It only eased off for the last few hours.
The race started steadily, but some of the leading runners weren't there to stay. Rudy Afanador (USA), Janos Bogar (HUN) and Mario Pirotta (ITA) lasted at the front for the first three hours, covering 38km, before Afanador faded (he dropped out after 7 hours). Pirotta took over the lead for next 3 hours (73km) but there were changes behind him. Hoblea (FRA) led briefly at 7 hours, but then a previous winner, Ryoichi Sekiya (JPN), ominously eased into the lead at 8 hours (95km) and never relinquished it. After 12 hours he was 6km ahead (145km), and at 18 hrs (188km) second-placed Hoblea was 14 km behind. At 20hrs Sekiya (JPN) was 17km ahead but the minor medal places were changing all the time. Bychov (RUS) was lying second (211km) but in third Mohamed Magroun (FRA) had come through strongly in the second half and he eventually overhauled the Russian.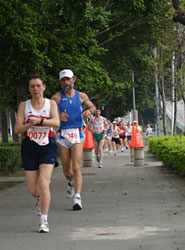 The women's winner took longer to emerge. Defending champion Lyudmila Kalinina (RUS) took the lead at 3 hours, and at 6 hours (70km) she led Brigitte Bec (FRA) by 3km and Sumie Inagaki (JPN) by 4km. Galina Erimina and Irina Reutovitch were close behind.
Kalinina was still running very strongly after 12 hours (131km), and was 8th overall. Inagaki was second, still only 4km behind. Third was Kimi Noto (JPN), with Galina Eremina (RUS) on the same lap at 125km.
By 18 hours Inagaki, the winner in 2004, had overtaken Kalinina and led her by a kilometre. Noto was third, 7km behind. With the next runners being Galina Eremina and Irina Reutovich, Russia was in the lead in the team race. The medal positions remained unchanged over the final 6 hours. Inagaki's time would have put her in eighth position overall. Russia, placing four in the top ten, easily won the team race.
MEN:
1  Ryoichi SEKIYA             JPN  272.936km
2  Mohamed MAGROUN            FRA  248.563km
3  Vladimir BYCHKOV           RUS  246.098km
4  Osvaldo BELTRAMINO         ITA  245.698km
5  Masayuki OTAKI             JPN  244.572km
6  Fabien HOBLEA              FRA  243.709km
7  Kenji OKIYAMA              JPN  238.061km
8  Enrico BARTOLINI           ITA  235.100km
9  Kwangbok KIM               KOR  233.522km
10 Andrei KAZANTSEV           RUS  233.415km

TEAMS:
JPN  708.359
FRA  654.100
ITA  651.468

WOMEN:
1  Sumie INAGAKI              JPN  237.144km
2  Lyudmila KALININA          RUS  231.356km
3  Kimie NOTO                 JPN  229.146km
4  Galina EREMINA             RUS  223.208km
5  Irina REUTOVICH            RUS  216.913km
6  Karen Marie BROEGGER       DEN  213.427km
7  Carolynne TASSIE           NZL  212.348km
8  Shu Jung CHIOU             TPE  206.287km
9  Janneke CAZEMIER           NED  203.625km
10 Rimma PALTEVA              RUS  202.705km

TEAMS:
1  RUS  671.477km
2  JPN  654.555km
3  FRA  596.172km

TAIPEI OPEN 24hr RACE
MEN:
1  Motohisa TADOKORO          JPN  235.054km
2  Hiroyuki NISHIMURA         JPN  228.071km
3  Ryoichi SATO               JPN  205.770km

WOMEN:
1  Sharon GAYTER              GBR  214.568km
2  Yasuko KANEHIRA            JPN  208.810km
3  Emi KATO                   JPN  193.324km
26 FEBRUARY 2006: PHILIPPINE MARATHON FOR THE PASIG RIVER
Gripping drama characterized this second marathon edition in Metro Manila. In the midst of the country's political turmoil, the marathon nevertheless started and ended without a hitch.
The top two men are in-house athletes of the Philippine Army, who, at that time, were under red alert following a Presidential Proclamation placing the entire country under a "State of National Emergency."
On the women's side, youth triumphed over experience when Jhoan Banayag, of the University of the East Athletics Team, won over a veteran field which included last year's winner Maria Estela Mamac-Diaz.
This was the first time, including the first four years when the road race was known as the Pasig River Heritage Marathon, that an international-calibre runner was among the 903 starters. Robert Njoroge Wambugu flew in barely four hours before the gun with little more than a pair of training shoes. Fellow competitor Cesar Bollecer of Direct Link Running Club, showing the visitor the unique Filipino brand of hospitality, exchanged running shoes with him on the start line, but the drama did not end there.
Njoroge, benefitting from his extensive international exposure, immediately took the lead. But after two of the course's nine bridges, jet lag, lack of sleep and the warm weather began to tell on his legs, allowing the locals to catch up and pull away. Dropping to a 10th-place finish, Wambugu vowed to be back to redeem himself in next year's edition.
The marathon is an advocacy project of the Clean & Green Foundation Incorporated on behalf of the Philippine Government's Pasig River Rehabilitation Commission. It seeks to harness the people's participation in the long-running Pasig River rehabilitation program.
The Pasig River is the Philippines' most historical and important inland waterway, which runs from east to west dividing Metropolitical Manila into north and south areas. The country's history in the last 400 years is closely intertwined with the river, spanning Spanish, British, American and Japanese colonial occupations, revolutions, world wars, and local uprisings. Located along its banks are the Filipino's most historical districts, buildings and sites.
MEN:
1  Cresciano SABAL             PHI  2:26:13
2  Bernardo DESAMITO           PHI  2:30:29
3  Memerto CORPUZ              PHI  2:32:24
4  Regelio de Leon SARMIENTO   PHI  2:35:28
5  Rodolfo TACADINO            PHI  2:36:02
6  Allan BALLESTER                  2:37:00
7  Jujet DE ASIS               PHI  2:37:24
8  Michael CANILLO             PHI  2:38:11
9  Wilson MANINGKIL            PHI  2:39:26
10 Robert WAMBUGU              KEN  2:40:00

WOMEN:
1  Jhoan BANAYANG              PHI  3:02:37
2  Flordeliza CARREON-CACHERO  PHI  3:09:13
3  Ailene TOLENTINO            PHI  3:09:28
4  Ma. Estela MAMAC DIAZ       PHI  3:09:42
5  Liza DELFIN                 PHI  3:24:22
6  Merlita ARIAS               PHI  3:34:17
7  Mila PAJE                   PHI  3:37:04
8  Marychiel MINAS             PHI  3:41:18
9  Joanne MANANGAT             PHI  3:43:58
10 Genevieve DELA PENA         PHI  3:44:39
26 FEBRUARY 2006: 4TH KILIMANJARO MARATHON, TANZANIA
This fourth edition of the race attracted large numbers of entrants from around the world and the region. The marathon had 297 runners, the half 475, and the fun run 715 - a total of 1487. Conditions were near-perfect, although it got hot later in the day. Kilimanjaro was in view for most of the morning, covered with fresh snow. Local children and adults alike got into the swing of things - clapping both the fast and slower runners, often jogging along beside runners, chatting and offering encouragement.
There were 99 women in the half marathon and fuly 119 runners were over 40. Joram Mollel, a 70-year old Tanzanian came in at 2:13.
Many top Tanzanians used the race as a training run for the Commonweath Games Marathon in March. But on the social running side, a lot of people came in in the last hour, who had been having fun on the route, running with the kids, stopping to chat and take pictures of Kilimanjaro, and even having a beer. Many of these social runners remained in Tanzania, on safari, climbing Kilimanjaro or relaxing on Zanzibar - good for tourism.
At the finish acrobats, traditional dancers and a band entertained the crowd.
MEN:
1  Daniel ROTICH              KEN  2:18:32
2  Musa KANDA                 KEN  2:19:18
3  John TUBEI                 KEN  2:19:20
4  Oswald KAHURUZI            TAN  2:20:31
5  Jonathan CHERONO           TAN  2:21:02
6  Samuel LIMO                KEN  2:21:26
7  Alex SANKA                 TAN  2:22:22
8  Robert KOMEN               KEN  2:22:25
9  Joseph RUTTO               KEN  2:22:44
10 Paulo SUMAYE               TAN  2:23:27

WOMEN
1  Margreth KIPLAGAT          KEN  2:58:37
2  Farida GUSS                TAN  2:59:26
3  Emily CHEPTUIYA            KEN  3:00:37
4  Seoflesina SUMAWE          TAN  3:06:44
5  Naomi MWIHAKI              KEN  3:19:10
6  Thea MUSHY                 TAN  3:35:39
7  Magdalena DIBWA            TAN  3:41:18
8  Aisha CHULLO               TAN  3:47:32
9  Vanda AMOS                 RSA  3:54:53
10 Chris WALTER               TAN  4:01:30

HALF MARATHON
MEN:
1  Martin SULLE               TAN  1:04:03
2  Jackson MARWA              TAN  1:04:44
3  Peter SULLE                TAN  1:05:42

WOMEN:
1  Neema AKDNAY               TAN  1:16:45
2  Shaury RUHAMA              TAN  1:17:47
3  Sara RAMADHANI             TAN  1:19:10
26 FEBRUARY 2006: VERDI MARATHON, ITALY
MEN:
1  Francesco BENNICI           ITA  2:14:54 
2  Giorgio CALCATERRA          ITA  2:22:02
3  Marco ORSI                  ITA  2:22:04
4  Marco D'INNOCENTI           ITA  2:23:46
5  Mario ARDEMAGNI             ITA  2:27:48
6  Glauco NEDROTTI             ITA  2:30:27
7  Pasquale CASTALDO           ITA  2:31:29
8  Andrea MARESCA              ITA  2:34:00
9  Valerio BONINCI             ITA  2:39:21
10 Alessandro RETTINI          ITA  2:40:03

WOMEN:
1  Natalia BRUNIKO             ITA  2:49:57
2  Antonella BENATTI           ITA  2:56:03
3  Annamaria CASO              ITA  3:01:22
4  Alessandra PREZZI           ITA  3:02:08
5  Giovanna CAVALLI            ITA  3:02:17
6  Aurora PASQUINO             ITA  3:08:33
7  Elena SIMSIG                ITA  3:09:21
8  Lara MUSTAT                 ITA  3:11:06
9  Ma Luisa COSTETTI           ITA  3:16:36
10 Paola RAMPONI               ITA  3:17:28
26 FEBRUARY 2006: MARATON DE LA CUIDAD DE SEVILLA, SPAIN
There were a record 2934 entries in this XXII edition, of which 2444 started and 2416 finished. The streets were full of people wanting to encourage them. Foreign participation was strong: 287 runners from 34 different countries, including 44 from Britain, 39 from Portugal, 29 from Italy and France, 21 from Sweden and 18 from Germany. In the men's race a group of four stayed together until past halfway before breaking up. Among the women it was a very much more clear-cut race after Maria Abel dropped out just past the halfway point, leaving Tina Maria Ramos to take a comfortable win.
MEN:
1  Christoph KIPKOECH          KEN  2:19:12
2  Leonard KIPYEGO             KEN  2:20:47
3  Fikadu BEKELE               ETH  2:21:42
4  Alexander BOLKHOVITIN       RUS  2:23:32
5  Juan GARCIA                 ESP  2:26:49
6  Francisco RAMIREZ           ESP  2:28:38
7  Moumou EL HADI              MAR  2:31:09
8  Ricard BERRAR               ESP  2:31:14
9  Javier CASTANO              ESP  2:32:46
10 Jaume GARCIA                ESP  2:35:23

WOMEN:
1  Tina Maria RAMOS            ESP  2:40:20
2  Michaela MCCULLUM           GBR  2:42:44
3  Katalin FARKAS              HUN  2:44:51
4  Oxana KHOKHOLOVA            RUS  2:48:18
5  Rosa Ma ESCOBAR             ESP  3:15:52
6  Blanca HINOJOSA             ESP  3:18:43
7  Dolores JIMENEZ             ESP  3:18:58
8  Araceli FERNANDEZ           ESP  3:19:31
9  Stefanie WALTER-SPIRGI      GER  3:21:41
10 Natividad ZAPLANA           ESP  3:26:35
26 FEBRUARY 2006: WORLD'S BEST 10km, PUERTO RICO
A record number of 13618 runners participated, coming from 10 countries and 30 provinces and states.
MEN:
1  Wilson KIPROTICH            KEN  27:44
2  Gilbert OKARI               KEN  28:04
3  Samuel WANJIRU              KEN  28:09
4  William CHEBON              KEN  28:15
5  Patrick IVUTI               KEN  28:38
6  Linus MAITO                 KEN  28:39
7  Reuben CHEBILL              KEN  28:40
8  John KORIR                  KEN  28:44
9  Samuel RONGO                KEN  28:49
10 Robert CHERUIYOT            KEN  28:56

WOMEN:
1  Lornah KIPLAGAT             NED  30:50
2  Susan CHEPKEMEI             KEN  32:08
3  Zhor EL KAMCH               MAR  32:19
4  Birhan ADERE                ETH  32:55
5  Tatyana PETROVA             RUS  33:01
6  Jelena PROKOPCUKA           LAT  33:03
7  Hilda KIBET                 KEN  33:07
8  Natalya BERKUT              UKR  33:33
9  Adriana PIRTEA              ROM  33:49
10 Lioudmila KORTCHAGUINA      CAN  34:31
28 FEBRUARY 2006: SAHARA MARATHON, ALGERIA

This race was probably the best one yet, thanks to the weather, to the large participation and to the very good cooperation of the Saharawi writes Mattia Durli. The race was held on the usual course, from L'Ayounne to Smara refugee camps, although it had been planned to run it within the borders of Western Sahara, at Tifariti. This idea was abandoned less than a month before the race, and although it was difficult to communicate the change of plan, no one complained.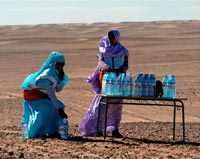 It is still hoped that a future marathon will be held in Tifariti, but only when the Saharawi themselves move there for the UN referendum. This would give the Sahara Marathon in Tifariti a real meaning.
Race day gave perfect weather — sunny with a little bit of wind. There were no problems with water and no medical problems. All together 250 took part and came from many countries. Apart from local Sahrawis, most were from Spain and Italy. There were 80 in the marathon, and many girls took part in the 5km.
Two-time world marathon champion Abel Anton ran in the half marathon and spoke about the Saharawi camps at the press conference.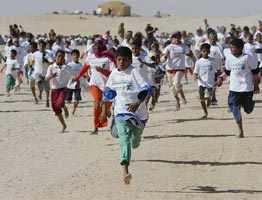 The Children's race was something awesome. Almost 1000 kids took part in the 800m race, running along Baker Road to finish at the Smara Club. They were divided by age groups and according to schools. Each kid ran with the AIMS T-shirt and received the medal at the end, plus some small prizes like candies, drawing tools, colours, small toys etc. They then entered the Smara Club where they received water and oranges. At the end we made a small show with clowns and music for all of them.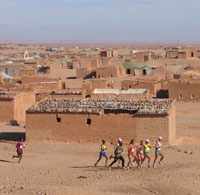 All this took place against the background of severe flooding only two weeks before the race. The situation is bad but morale is high; there were no deaths and only two injured. As yet there are no epidemics. Most of the houses have been destroyed by the rains but for the Saharawi the most important things are the tents, and they are still in good condition.
The race raised 12000 Euros for the projected sports centre. Construction was stopped because of the flood but it should be finished soon (pictures will be posted on the website). More than 1000 Euros of medicines were brought to the Dhakla hospital by the Sahara Marathon. A lot of sporting materials (balls, shoes, etc.) came from donations, and more of this material will be sent in the next truck caravan to go to the camps.
MEN:
1  Ramon SAINZ                ESP  3:06:08
2  Inaki ARANA                ESP  3:01:17
3  Claudio BOTTONI            ITA  3:13:43
4  Joan PEREZ                 ESP  3:18:42
5  Mostafa MOHAMMED           SAH  3:21:03
6  Ivars EGLITIS              LAT  3:24:58
7  Villiam LANDI              ITA  3:33:09
8  Rafael MARTINEZ            ESP  3:33:50
9  Abdulah BUTALHA            SAH  3:34:50
10 Dadah LKINTI               SAH  3:39:43

WOMEN:
1  Emanuela BERARDI           ITA  4:17:40
2  Linda HEWING               GBR  4:35:36
3  Lucia CALERO               ESP  4:47:16
4  Sabrina CAMPALDINI         ITA  4:54:01  
5  Lia TOSCAN                 ITA  5:54:22

HALF MARATHON
MEN:
1  Michael COLLINS            IRL  1:25:33
2  Juan IBANEZ                ESP  1:27:33
3  Raul FUENTES               ESP  1:27:40
4  Abel ANTON                 ESP  1:33:11

WOMEN:
1  Rosario MONTERO            ESP  2:02:17
2  Mireia SIMON               ESP  2:22:06
3  Araceli JUANOLO            ESP  2:31:34
4  Isabel SANCHEZ             ESP  2:31:34
February 2006