January 2006
1 JAN | 5 JAN | 8 JAN | 15 JAN | 22 JAN | 29 JAN
1 JANUARY 2006: ST CROIX INT'L MARATHON, US VIRGIN ISLANDS
Soon after the pre-dawn start at Plaza Extra on the Queen Mary Highway Calvin Dallas burst away from the group. After 8km last year's winner, Steve Burkholder, and Lloyd Henry started to close down on Dallas. Burkholder eventually caught him at 11km as the pair ran back through town and towards the turnaround point at Hamm's Bluff. They ran together for the next 20km but Dallas pulled away as they approached Hamm's Bluff for the second time, around 32km. In the women's race defending champion Teresa Harper led all the way. As the race finished bemused tourists disembarking a cruise ship enquired if the race was an annual event.
MEN:
1  Calvin DALLAS              ISV  3:05:09
2  Steve BURKHOLDER           ISV  3:10:29
3  Mike KLEIN                 ISV  3:17:50
4  Jean PIERRE                ISV  3:31:04
5  Lloyd HENRY                ISV  3:40:47
6  Ernest MITCHELL            ISV  3:44:34

WOMEN:
1  Teresa HARPER              ISV  3:57:44
5 JANUARY 2006: TIBERIAS MARATHON, ISRAEL
Winner from the last two years, Habtemu Bekele of Ethiopia, found stiffer opposition in this 19th running of the race. At half-way, where runners were hampered by a strong easterly wind, Bekele shared the lead with six Kenyan runners and two Israelis, Ayale Sateng and Asaf Bimro, all of whom were timed at 1:08:22. A 31-year old Kenyan, John Rotich was the only one to beat Bekele while Sateng captured the national title.
In the absence of significant international participation of female runners, old-timer, multiple national champion Nili Abramski, 36, clocked a modest 2:54:49 for an easy victory. The number of participants was an all-time record as 730 runners were registered; some 700 started the race and 665 times below 6 hours (race closing time) were recorded.
Preparations have already begun to make the next edition of the race even bigger, with international participation on a larger scale.
MEN:
1  John ROTICH                KEN  2:15:43
2  Habtamu BEKELE             ETH  2:16:23
3  Reuben TOROITICH           KEN  2:16:37
4  Ayale SATENG               ISR  2:16:59
5  Opnesmus MUTISYA           KEN  2:18:34
6  Philemon BOIT              KEN  2:18:57
7  Asaf BIMRO                 ISR  2:19:18
8  Geoffrey TERER             KEN  2:22:10
9  Isiah KOSGEI               KEN  2:23:38
10  Destao SEWONACH           ISR  2:23:40

WOMEN:
1  Nili ABRAMSKI              ISR  2:54:49
2  Orna BELOW                 ISR  2:56:47
3  Seraw MENICHEL             ETH  3:02:43
4  Loris MENDELOVICH          ISR  3:07:52
5  Maya KARMI                 ISR  3:11:28
6  Ronit YUDASHKIN            ISR  3:20:19
7  Mirit MISRACHI             ISR  3:24:23
8  Sintya ITZCHAKI            ISR  3:24:28
9  Galya AMDOR                ISR  3:26:53
10 Lila FRENKEL               ISR  3:32:31
8 JANUARY 2006: MIZUNO HONG KONG HALF MARATHON CHAMPIONSHIPS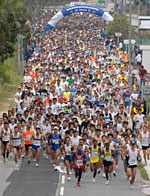 A new national record was set by 21-year-old Chan Ka Ho with the time of 1:12:02. The championship has been held annually for 13 years, and now attracts more than 2,000 runners. There were four guest runners from Japan and Malaysia in this year's event. "Gold Jerseys", awarded to men who finished the race under 1:25:00 and women who bettered 1:40:00 for 3 consecutive years, went to 38 people. In addition, 100 medallions were awarded to the top 100 finishers of the race in order to celebrate the 100-year anniversary of Mizuno.
MEN:
1  Ka Ho CHAN                HKG  1:12:02
2  Mark WILLIAMS             GBR  1:12:51
3  Wang Kuen WONG            HKG  1:13:01
4  Neil TAIT                 GBR  1:13:40
5  Ka Man GI                 HKG  1:13:55
6  Kirk SABEAN               CAN  1:14:07
7  Wai Kwok CHAN             HKG  1:14:34
8  Natsuki OKADA             JPN  1:15:01
9  Hok Yan LAI               HKG  1:15:07
10 Chiu Lin LEUNG            HKG  1:15:38

WOMEN:
1  So Liang TO               HKG  1:23:28
2  Yuen Fan LEUNG            HKG  1:24:46
3  Gillian CASTKA            GBR  1:27:03
4  Terumi NIWA               JPN  1:28:06
5  Christine BAILEY               1:28:21
6  Kit Yee CHAN              HKG  1:28:26
7  Sui Ping FAN              HKG  1:31:02
8  Ka Man WONG               HKG  1:33:00  
9  Shuk Han CHEUNG           HKG  1:34:45
10 Wai Ling CHU              HKG  1:35:08
8 JANUARY 2006: DISNEY MARATHON, USA
MEN:
1  Adriano BASTOS             BRA  2:19:43
2  Tim KELLER                 USA  2:31:34
3  Nick RICCO                 USA  2:32:34
4  Matthew DOBSON             USA  2:33:38
5  Genildo FERNANDS           BRA  2:34:53
6  Michael HEITZENRATER       USA  2:41:16
7  Jim CLEMENS                USA  2:41:26
8  Eric VANDERVORT            USA  2:41:35
9  John REBACK                USA  2:42:42
10 Michael MOLLOD             USA  2:42:52

WOMEN:
1  Paige HIGGINS              USA  2:51:38
2  Amy SHERTZER               USA  2:59:14
3  Maryanne PROTZ             USA  3:00:40
4  Deborah TILLMAN            USA  3:04:06
5  Lynn LEONARD               USA  3:04:23
6  Laura DRAKE                USA  3:07:03
7  Lou Hohnka OSWALD          USA  3:12:55
8  Eileen TURENNE             USA  3:14:03
9  Amy GRAB                   USA  3:14:13
10 Heather RYNDAK             USA  3:14:25

HALF MARATHON (7 JAN 2006):
MEN:
1  Josh EBERLEY               USA  1:08:12
2  Josh MOEN                  USA  1:08:12
3  Jeff GAUDETTE              USA  1:08:21

WOMEN:
1  Melissa WHITE              USA  1:18:33
2  Dorothy MCMAHAN            USA  1:19:01
3  Cassie HINTZ               USA  1:19:20
15 JANUARY 2006: 2nd MAUI SURF 'N' SAND HALF MARATHON, USA
Starting in Kapalua under light rain and 21°C, the race went through Old Lahaina Town to a beach finish in clear and warm conditions. Chris Charles, from Seattle, ran alone to post a new course record of 1:09:06. The inaugural record, set by Maui local Matthew Holton at 1:15:38, was run into a strong Kona head wind.
Coming all the way from the Eastern seaboard of the US, Heidi Westerling nailed the second course record of the day, improving over 10 minutes from the 1:28.29 set last year by Canada's Gillian Kornell.
MEN:
1  Chris CHARLES              USA  1:09:06
2  Ryan HUGHES                USA  1:14:41
3  Kevin SHILLING             USA  1:17:57
4  John BOGEN                 USA  1:21:18
5  John NIETFELD              USA  1:21:33
6  David CARLSSON             USA  1:22:23
7  Patrick WALSH              USA  1:24:05
8  Paul HOPWOOD               USA  1:24:36
9  Stephen TOAL               CAN  1:25:12
10 John DUDEK                 USA  1:25:23

WOMEN:
1  Heidi WESTERLING           USA  1:18:15
2  Donna ANDERSON             USA  1:24:57
3  Carla HOLMES               USA  1:29:06
4  Mia DOUGLAS                CAN  1:33:55
5  Sara CLARK                 USA  1:34:45
6  Kristy RICE                USA  1:36:29
7  Shelly SNYDER              USA  1:37:19
8  Beverly LEMASTER           USA  1:37:48
9  Joan ANTAL                 USA  1:38:38
10 Rose VANDUZER              USA  1:39:18
15 JANUARY 2006: STANDARD CHARTERED MUMBAI MARATHON, INDIA
Simon Kasimili paced a large group to 24km, ensuring that many were still in contention in the later stages. Gradually it thinned out to a group of four before a pre-race favourite, Christopher Cheboiboch, dropped back as they ascended the main hill on the course at 35km. It was only in the final few kilometres that Rono managed to cut loose from his pursuers to beat the old course record by over a minute.
Mulu Seboka shunned the pacemaking and took off alone so that she had a big lead from early in the race. Her lead amounted to 2.5 minutes at 30km, but she slowed considerably in the later stages of the race. Leila Aman, last year's runner-up to Seboka, again chased hardest but she also began to suffer the consequences. Inge Arbitova came through to take second but was never in a position to challenge Seboka.
MEN:
1  Daniel RONO                KEN  2:12:03
2  David KIPKORIR             KEN  2:12:18
3  Stanley LELEITO            KEN  2:12:47
4  Christopher CHEBOIBOCH     KEN  2:13:58
5  Gashaw MALESE              ETH  2:14:19
6  Meshack KOSGEI             KEN  2:14:44
7  M NGASENKE                 ZIM  2:16:10
8  Alex MALINGA               UGA  2:16:22
9  Willy CHERUIYOT            KEN  2:16:24
10  Cleophas ROP              KEN  2:17:32

WOMEN:
1  Mulu SEBOKA                ETH  2:33:15
2  Inga ARBITOVA              RUS  2:33:55
3  Leila AMAN                 ETH  2:36:17
4  Zebenay MOGES              ETH  2:39:39
5  Elizabeth CHEMWENO         KEN  2:41:23
6  Hanna MITEI                KEN  2:43:05
7  Irene MOGAKA               KEN  2:43:05
8  Marashet JIMMA             ETH  2:44:23
9  Adnech BEYENE              ETH  2:45:06
10  Xin ZHANG                 CHN  2:45:26
15 JANUARY 2006: CHINA COAST MARATHON, HONG KONG
The race is organized by Athletic Veterans of Hong Kong and takes place far away from the urban jungle that is to most people Hong Kong. It is the territory's oldest marathon. The course is tough: a scenic, hilly out and back affair alongside High Island Reservoir in Sai Kung Country Park. Conditions this year were unseasonably warm for the marathon runners. As sun came out finishing temperatures rose over 20°C. The race is very runner-friendly with plenty of aid stations along the route. The local veterans club organizers award age group prizes up to 65+ for men and 50+ for women. The winners in both the men's and women's races were last year's champions Gunnar Rethfeldt and Jo Jo Fan.
MEN:
1  Gunnar RETHFELDT           HKG  2:38:22
2  Alvin Kwong Yiu CHAN       HKG  2:57:37
3  Wai Lee WONG               HKG  2:59:13
4  Ping Chuen WONG            HKG  2:59:42
5  Luen Pai WONG              HKG  3:01:26
6  Ming Fai LAI               HKG  3:02:50
7  Chun Fai YIP               HKG  3:07:29
8  Chung Fat SIU              HKG  3:11:58
9  Hing Wah HO                HKG  3:12:18
10 Raymond Yiu Chung LI       HKG  3:13:01

WOMEN:
1  Sui Ping FAN               HKG  3:24:41
2  Chun Hing CHAN             HKG  3:34:04
3  Peggy Pui-Shan CHAN        HKG  3:37:17
4  Lucina Shuk-Lin LO         HKG  3:45:39
5  Vera Hei-Ping CHAN         HKG  3:47:07
6  May Suk-Man SZETO          HKG  3:47:55
7  Kathy Li LO                HKG  3:50:02
8  Mei-Lun YEUNG              HKG  3:55:57
9  Chloe Lo VINE              HKG  3:56:40
10 Lyn Carolyn POEY           HKG  3:59:01

HALF MARATHON:
MEN:
1 Adrian KING                 HKG  1:17:22
2 Hoi To HO                   HKG  1:17:45
3 Wai Shing MO                HKG  1:18:13

WOMEN:
1  Claire MURRAY              HKG  1:34:28
2  Angelina Fung-Sin KONG     HKG  1:39:01
3  Sze-Lam CHEUNG             HKG  1:42:36
22 JANUARY 2006: KHON KAEN INT'L MARATHON, THAILAND
MEN:
1  Boonchu CHANDECHA             THA  2:23:21
2  Jirasak SUTTICHART            THA  2:23:23
3  Anusak PIDVONA                THA  2:26:11
4  Michael MUKOMA                KEN  2:29:49
5  Gordae SENMOOD                THA  2:30:58  
6  Panom MAPENG                  THA  2:31:58
7  Supid JANTARAT                THA  2:33:23
8  Sonchai CHUSAKUL              THA  2:33:37
9  Wuttipat BOONJANG             THA  2:34:20
10 Meechai CHUCHEEP              THA  2:35:45

WOMEN:
1  Violetta URYGA                POL  2:51:57
2  Saifon PIAWONG                THA  2:57:32
3  Kedmanee SENAPAN              THA  2:57:55
4  Devamanie SOTHIE              MAS  3:02:56
5  Rpasara PRASATHINPIMAI        THA  3:03:35
6  Saipin PATJUN                 THA  3:06:29
7  Kan KUSAWAN                   THA  3:06:29
8  Papan KAMBURI                 THA  3:12:07
9  Tanapon PIAMSAKUL             THA  3:16:58
10 Dudsadee SAEHENG              THA  3:27:08

HALF MARATHON:
MEN:
1  Boontueng SRISANG             THA  1:09:54
2  Amnat SICHAD                  THA  1:10:45
3  Amnuay TONGMIT                THA  1:10:45

WOMEN:
1  TRIYANINGSI                   INA  1:16:46
2  Patcharee CHAITONGSI          THA  1:23:34       
3  Sontiya SAIVAEW               THA  1:23:34
29 JANUARY 2006: STANDARD CHARTERED LAHORE MARATHON, PAKISTAN
Halefom Tsegaye and Jane Nyambura won the second Lahore Marathon in record times writes Ian Ladbrooke. Nyambura, as Jane Kariuki, had won the first edition but improved to a personal best time in this race, breaking away after only 5km. She was caught by Meseret Kotu and Teringo Getachewat at 15km and all three ran together as for the next 19km. At 34km Nyambura put in her decisive move.
Tsegaye broke away with 6km to go for an impressive win. After passing halfway in 1:06:02 the weather took its toll, as the temperature roses from 20°C at the start to 27°C at finish.
In the supporting 10km event there was a spectacular all-Ethiopian sprint finish with the top 3 men separated by just one second. Asmae Leghazoui won the women's race in a sharp 31:49, while last year's winner Cathy Mutwa improved by 70 seconds over last year and set a new personal best.
There were approximately 20,000 participants in all three races (including a 5km fun run), numbers which were handled extremely well by police and race marshals.
MEN: 
1  Halefom TSEGAYE            ETH  2:16:01 
2  Gashaw SIBHAT              ETH  2:19:55 
3  Semeretu ALEMYEHU          ETH  2:21:02 

WOMEN: 
1  Jane NYAMBURA (nee KARIUKI)KEN  2:34:57 
2  Meseret KOTU               ETH  2:37:31 
3  Teringo GETECHEWAT         ETH  2:40:59 

10km 
MEN:
1  Kadir BURKA                ETH  28:53 
2  Birhanu ADANE              ETH  28:54 
3  Tewodros SHIFERAW          ETH  28:54 

WOMEN 
1. Asmae LEGZAHOUI            MAR  31:49 
2. Cathy MUTWA                KEN  32:50 
3. Ashu KASIM                 ETH  33:24
29 JANUARY 2006: OSAKA LADIES' INT'L MARATHON, JAPAN
Catherine Ndereba stuck to her usual cautious pacing to good effect as she picked off the early leaders and came home to a comfortable victory.
Lidia Grigoryeva and Natalia Berkut paced the lead group of four Japanese out of the stadium, while Ndereba held back. She passed 5km 100m down on this group and 50m ahead of another group of seven. Both the pacemakers and Ndereba continued as they had started, and the gap between them grew to 47 seconds at 10km and 67 seconds at 15km. By 20km the leaders were down to Kayoko Obata and Kiyomi Ogawa, plus the two pacemeakers.
Ndereba lost little ground after 15km and from 25km, as the pacemakers dropped out, she rapidly clawed it back. Running a very consistent pace she halved the gap to Obata between 25-30km. It took her only another 3km to pass the tiring leader, and at 35km she was 100m clear. Her lead extended to over a minute at 40km, when Obata rallied. Kiyoko Shimahara came through the field: from 8th at 25km she was in 4th at 35km and finished in third place. Catherine Ndereba's younger sister finished eighth, while three-time winner Lidia Simon was ninth. Masami Sakata and Tomo Morimoto, neither of whom were invited runners, posted outstanding debut times in fourth and fifth positions.
WOMEN:
1  Catherine NDEREBA          KEN  2:25:05
2  Kayoko OBATA               JPN  2:25:52
3  Kiyoko SHIMAHARA           JPN  2:26:47
4  Masami SAKATA              JPN  2:27:13
5  Tomo MORIMOTO              JPN  2:27:46
6  Dorota GRUCA               POL  2:29:17
7  Mika OKUNAGA               JPN  2:29:56
8  Anastasia NDEREBA          KEN  2:32:47
9  Lidia SIMON                ROM  2:33:53
10 Asami OBI                  JPN  2:34:22
January 2006