December 2005
3 DECEMBER 2005: REGGAE MARATHON, JAMAICA
MEN:
1  Pamenos BALLANTYNE         STV  2:28:45
2  Michael WARDIAN            JAM  2:35:26
3  Andrew GUTZMORE            JAM  2:43:04
4  Bogdan BAREWSKI            POL  2:50:05
5  Gregory MCKENZIE                2:57:50
6  Colin GRAHAM                    3:04:40
7  Christian HUBER                 3:11:15
8  Jermaine EDWARDS                3:16:52
9  Terence WHITE                   3:17:11
10 Owen GREAVES                    3:17:21
 
WOMEN:
1  Arieta MARTIN              JAM  3:33:24
2  Delwyn WILLIAMSON          JAM  3:34:33
3  Karlene BLAGROVE                3:38:57
4  Fiona SYME                      3:39:18
5  Debra THOMAS                    4:00:32
6  Edit KISS                       4:02:37
7  Sonia GAYLE                     4:09:28
8  Georganna QUARLES               4:13:26
9  Sheryl LEONARD-SCHNECK          4:17:46
10 Diane MEUSER                    4:22:00
 
HALF MARATHON
MEN:
1  Wainard TALBOT                  1:09:10
2  Shawn PITTER                    1:09:37
3  Michael TOMLIN                  1:09:56

WOMEN:
1  Tamica THOMAS                   1:29:25
2  Mericia JAMES                   1:29:37
3  Rosemarie ALRIDGE               1:29:44
4 DECEMBER 2005: GRAN MARATON PACIFICO, MEXICO
MEN:
1  Francisco CUAMATZI         MEX  2:15:58
2  Nicholas KORIR             KEN  2:16:07
3  Edilberto HERNANDEZ        MEX  2:16:32
4  Charles NYAKUNDI           KEN  2:17:17
5  Ruben GOMEZ                MEX  2:17:52
6  Jose PALALIA               MEX  2:18:20
7  Peter OMAE                 KEN  2:20:11
8  Philip METTO               KEN  2:20:23
9  Samwel KIPROTICH           KEN  2:21:32
10 Cesar Luis MIRAVETE        MEX  2:23:25
 
WOMEN:
1  Lucie MUHAMI               KEN  2:34:51
2  Neria ASIBA                KEN  2:35:05
3  Irma SANCHEZ               MEX  2:43:56
4  Irene Vasquez LOPEZ        MEX  2:45:18
5  Lilian CHELIMO             KEN  2:48:36
6  Isabel CARMONA             MEX  2:51:26
7  Carolina FERNANDEZ         MEX  2:54:43
8  Marina HERNANDEZ           MEX  2:55:56
9  Denise CRUZ                MEX  2:56:52
10 Veronica PALACIOS          MEX  3:07:51
 
HALF MARATHON:
MEN:
1  Isaac KIMAIYO              KEN  1:03:16
2  Roberto MELCHOR            MEX  1:04:15
3  Juan Carlos BERNAL              1:04:22

WOMEN:
1  Jennifer JELEGAT           KEN  1:10:27
2  Dulce Ma. RODRIGUEZ        MEX  1:10:31
3  Ma. Elena VALENCIA         MEX  1:14:09
4 DECEMBER 2005: MACAU GALAXY RESORT INTERNATIONAL MARATHON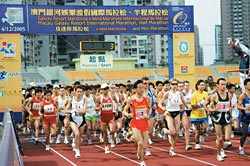 A total of 2880 runners registered and 2159 athletes completed the three races within the established time limits: in the marathon 444 runners completed within the 4:30; in the half marathon 1139 runners beat 2:15; and in the mini marathon 576 runners got under the hour.
At 06.30 participants were all geared up Macau Stadium, expectantly awaiting the start of the race at 07.00. After long and exciting contention, Zimbabwe's Philip Bandawe was first to cross the finish line, winning the men's open championship and prize money of US$10,000. Last year's winner, Adam Dobrzynski of Poland came in second and winning US$6,000.
Russia's Natalya Volgina from Russia won the women's race and $10,000 prize money. Both male and female categories in the Half Marathon were won by Hong Kong runners.
MEN:
1  Phillip BANDAWE            ZIM  2:19:49
2  Adam DOBRZYNSKI            POL  2:20:25
3  Mislay Michael TLUWAY      TAN  2:21:37
4  Azat RAKIPOV               BLR  2:23:09
5  Jeremiah MIANO             KEN  2:23:53
6  Elkan Kiptum RUTO          KEN  2:24:00
7  Ki Hwan HAN                PRK  2:24:03
8  Eusabio ROSA               POR  2:27:00
9  Min WANG                   HKG  2:29:09
10 Mark WILLIAMS              GBR  2:38:57

WOMEN:
1  Natalya VOLGINA            RUS  2:40:59
2  Edyta LEWANDOWSKA          POL  2:41:40
3  Alena MAZOVKA              BLR  2:42:14
4  Yan Yan DAI                CHN  2:49:47
5  Kum-Ok KIM                 PRK  2:50:05
6  Sun-Yong KIM               PRK  2:56:11
7  Yuen Fan LEUNG             HKG  3:09:24
8  Sui Ping FAN               HKG  3:10:39
9  Chui Chuen WOO             HKG  3:19:07
10 Sze Lam CHEUNG             HKG  3:22:02

HALF MARATHON:
MEN:
1  Neil TAIT                  HKG  1:16:07
2  Wai Kwok CHAN              HKG  1:16:12
3  Chi Wai KUOK               MAC  1:17:30

WOMEN:
1  Ying Suet LEUNG            HKG  1:29:46
2  Mun Tse CHOI               HKG  1:36:46
3  Ting CHIN                  USA  1:36:59
4 DECEMBER 2005: LISBON INTERNATIONAL MARATHON, PORTUGAL
The 20th edition took place in the very centre of Lisbon, from the city's baroque waterfront square, the Praca do Commercio. It started there and passed through once in the half marathon and three times in the marathon before finishing in the same place. The final two out-back sections in the marathon were run along the Tagus waterfront, first upstream to Santa Apolonia railway station and then downstream to the Monasterio dos Jeronimos, the monument to the Discoverers, the presidential palace and the Tower of Belem. Several innovations in presentation were made, using the Praca do Commercio as the focus of a general festa, in anticipation of a re-launch for the event in 2006. Over 1000 participated in the Half Marathon and 643 in the Marathon. foreign participation continues to grow and the race now attracts over 500 runners from France and Spain alone.
MEN:
1  Phillip BIWOTT             KEN  2:18:28
2  Youssef EL KALAY           MAR  2:19:09
3  Krzysztof PRZYBYLA         POL  2:19:46
4  Alexei TIKHONOV            RUS  2:21:52
5  Alexei RUBALCHENKO         UKR  2:23:21
6  Joao MARQUES               POR  2:24:54
7  Manuel FERREIRA            POR  2:27:09
8  Rui BELO                   POR  2:29:18
9  Luuis ALMEIDA              POR  2:29:19
10 Martim MENEZES             POR  2:34:48
 
WOMEN:
1  Elena KOZHEVNIKOVA         RUS  2:42:03
2  Fatima SILVA               POR  2:45:50
3  Janina MALSKA              POL  2:52:04
4  Christina PONTE            POR  3:03:54
5  Noemi ALGUACIL             ESP  3:07:30
6  Anja AUVINEN               SWE  3:14:17
7  Ana VIERA                  POR  3:21:49
8  Rule SOUSA                 POR  3:22:04
9  Aida MARTINS               POR  3:26:27
 
HALF MARATHON:
MEN:
1  Nelson CRUZ                POR  1:11:02
2  Antonio SANTOS             POR  1:12:17
3  Jose HEITOR                POR  1:12:26

WOMEN:
1  Rita SIMOES                POR  1:25:08
2  Luiza DIAS                 POR  1:26:11
3  Margarida DIONISIO         POR  1:29:40
4 DECEMBER 2005: SAMSUNG MILANO CITY MARATHON, ITALY
Helder Ornelas took an impressive but surprise win in the sixth edition of this race, beating former World Half Marathon champion Paul Kirui writes Diego Sampaolo. In the women's race Hellen Kimutai took an unchallenged win in her fourth marathon of the year.
Snow fell in Milan on the Friday night and the exceptional cold dashed the organisers' hopes of a 63:45 pace for the first half. At 8km two Kenyan pacemakers led two reluctant chasing packs by 20m. Ornelas was further behind. By 10km the pace was detached by over 100m but by 15km the group closed them down, passing through in 46:05. At halfway the pace was a minute slower than planned, at 1:04:58, but Ornelas was still on a more conservative schedule. Pacing finished at 30km and a lead group of five remained together. Gradually increasing his pace, Ornelas caught them at 33km. Michael Rotich was suffering from the cold conditions and dropped back. Ornelas then pulled away from Kirui after 35km (1:48:16). He was 100m clear with 3km to go and, as the finish line in the famous Piazza del Duomo loomed closer, he increased his pace again. He just dipped under 2:10, having run the second half in a remarkable 63:55.
"It was my first marathon" he said. "I ran with my coach Luis Sousa, who finished fifth. Running with him helped me a lot. He advised me to come from behind. I have switched to the marathon from cross country."
Hellen Kimutai ran the first half in company with Banuelia Mrashani and Angelica Sanchez. After halfway (1:15:52) they stuck to her pace to 35km but mother-of-four Kimutai realised the others were struggling. "After 30km I got used to the weather and things went better" said Kimutai.
MEN:
1  Helder ORNELAS             POR  2:09:59
2  Paul KIRUI                 KEN  2:11:28
3  Giuliano BATTOCLETTI       ITA  2:11:58
4  Michael ROTICH             KEN  2:14:31
5  Antonio SOUSA              POR  2:14:42
6  Paulo GOMES                POR  2:16:03
7  Ribag SAAID                MAR  2:16:26
8  Medaska BEDADE             ETH  2:16:39
9  Frederick CHERONO          KEN  2:17:42
10 Albert MATEBOR             KEN  2:18:04
 
WOMEN:
1  Hellen KIMUTAI             KEN  2:28:42
2  Angelica SANCHEZ           MEX  2:33:52
3  Rebecca MOORE              NZL  2:36:31
4  Banuelia MRASHANI          TAN  2:38:50
5  Merima DENBOBA             ETH  2:43:43
4 DECEMBER 2005: NEW LAS VEGAS MARATHON, USA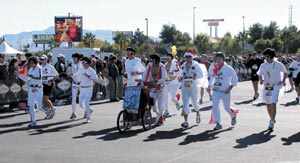 Veteran competitor Adrianna Fernandez beat three other women in a thrilling sprint finish writes Ryan Lamppa. The elite women set off 14 minutes and 40 seconds ahead of the men, and the first person to cross the line received a $50,000 bonus. Despite this incentive, both races started tactically and conservatively against gusty winds. The time difference is close to that between the men's and women's world records, but the gap in most events is usually larger (a 20-minute differential would have provided another level of drama) and the men caught the women before 29km. Then it became a duel between the two lead men, Titus Munji and Stephen Kiogora as they went clear with a series of five-minute miles. At 24 miles (39km) Kiogora went clear.
The four leading women were clear from 34km and the next move happened only 150m from the finish. "I didn't know I would win until I broke the tape" said Fernandez, who was given the same time as marathon debutante Galina Bogomolova.
MEN:
1  Stephen KIOGORA            KEN  2:11:58
2  Titus MUNJI                KEN  2:13:21
3  Tekeste KEBEDE             ETH  2:14:38
4  Girma TOLA                 ETH  2:14:50
5  Araya HAREGOT              ETH  2:15:30
6  Yusuf SONGOKA              KEN  2:17:01
7  James KOSKEI               KEN  2:18:15
8  Gilbert KOECH              KEN  2:20:18
9  Mohammed AWOL              ETH  2:21:37
10 Assefa MEZGEBU             ETH  2:25:24
 
WOMEN:
1  Adrianna FERNANDEZ         MEX  2:31:54
2  Galina BOGOMOLOVA          RUS  2:31:54
3  Dorota GRUCA               POL  3:31:55
4  Nuta OLARU                 ROM  2:31:57
5  Irina SAFAROVA             RUS  2:33:15
6  Merima HASHIM              ETH  2:33:52
7  Albina IVANOVA             RUS  2:34:37
8  Halina KARNATSEVICH        BLR  2:36:36
9  Josephine DEEMAY           TAN  2:41:40
10 Edna KIPLAGAT              KEN  2:50:20
4 DECEMBER 2005: RUN BARBADOS MARATHON & HALF
Kenya's Jared Nyamboki ran away from the rest of the field from the sound of the gun. He disappeared into the pre-dawn dark soon after the 05.00 start with only the lead vehicle betraying his position to the rest of the runners. After the introductory 2km lap around from the airport startline there was a highway section for the next 9km. After turning off this, at 11.7km, Nyamboki had a three-minute lead. He was now out of sight along the twisting coastal road, and continued to move away. The sun started to rise as the leaders approached the island capital, Bridgetown, before moving further north up the coast to the finish at Speightstown. Nyamboki was 9 minutes clear at 28km but he began to slow on his journey up the west coast, and finished looking as tired as those who came in after him.
Some of them had good reason to feel drained, having competed the previous day. The 10km event, which is also part of this running festival, was held only 12 hours before. Most opted for the half marathon as their Sunday event, but Amy Chalk capped her second place in the 10km with a marathon victory just outside three hours. The women's 10km winner, 17-year old Linet Chemutai who had finished 9th overall, breezed to an easy victory in the Half Marathon. Of particular note was Guyana's Alika Morgan who placed third in the 10km and second in the half marathon, and is younger than Chemutai.
Caribbean pride was further upheld by St Lucia's Zepherinius Joseph who also finished third in the 10km and second in the half, while his team-mates Marinius Stephen and former winner Victor Ledger took the podium positions in the marathon.
MEN:
1  Jared NYAMBOKI             KEN  2:29:15
2  Marinius STEPHEN           STL  2:42:49
3  Victor LEDGER              STL  2:55:55
4  Andrew BRAITHWAITE         BAR  2:56:48
5  Keith CUMBERBATCH          BAR  2:58:26

WOMEN:
1  Amy CHALK                  GBR  3:05:00
2  Sarah WILLIAMS             GBR  3:15:28
3  Sarah MCLOUGHLIN           GBR  3:29:55
4  Sandra HOLMES              GBR  3:40:25
5  Kim GOFF                   USA  4:16:36
 
HALF MARATHON:
MEN
1  Joseph KAMAU               KEN  1:09:23
2  Zepherinius JOSEPH         STL  1:10:09
3  Stephen KIRUI              KEN  1:11:23

WOMEN:
1  Linet CHEMUTAI             KEN  1:21:09
2  Alika MORGAN               GUY  1:38:30
3  Laura KONANTZ              CAN  1:39:20
 
10km (3 December 2005):
MEN:
1  Joseph KAMAU               KEN  31:00
2  Sean WADE                  USA  31:04
3  Zepherinius JOSEPH         STL  31:08

WOMEN:
1  Linet CHEMUTAI             KEN  35:22
2  Amy CHALK                  GBR  36:21
3  Alika MORGAN               GUY  40:39
4 DECEMBER 2005: FUKUOKA INT'L OPEN MARATHON, JAPAN
Ukraine's Dmitri Baranovski was the surprise winner of the 59th edition, writes Ken Nakamura. His winning time was a national record and very impressive considering the cold rain and strong winds. He became the 13th fastest runner in the history of the race and improved his previous best time by nearly 3.5 minutes.
After pacemakers had finished Baranovski made a strong surge at 32km and escaped from Julio Rey, Atsushi Fujita and Dejene Berhanu. Rey opened up a small gap on course record holder Fujita (2:06:51) before entering the Heiwadai Stadium and held on to finish second. Fujita's performance was a welcome comeback from persistent injury problems.
There was a slow start as Samson Ramadhani led the pack through 5km in 15:46. The pace picked up relentlessly to 31:01 at 10km, 45:50 at 15km and 1:00:28 at 20km. The pace then slid back through to the finish as all slowed. Eight runners remained at halfway and with the pacemakers finishing their work at 30km there only then remained the first four finishers. Eric Wainana and Abdelkader El Mouazziz, who had dropped off the pace early on, came back to pick up lower placings. Baranovski became the first European winner of this race since Portugal's Manuel Mathias in 1989.
MEN (only):
1  Dmitri BARANOVSKI          UKR  2:08:29
2  Julio REY                  ESP  2:09:41
3  Atsushi FUJITA             JPN  2:09:48
4  Dejene BERHANU             ETH  2:11:48
5  Abdelkader EL-MOUAZZIZ     MAR  2:12:12
6  Tomoaki KUNICHIKA          JPN  2:13:49
7  Eric WAINAINA              KEN  2:15:18
8  Hugh LOBB                  GBR  2:15:27
9  James WAINAINA             KEN  2:17:08
10 Kentaro ITO                JPN  2:18:43
4 DECEMBER 2005: STANDARD CHARTERED SINGAPORE MARATHON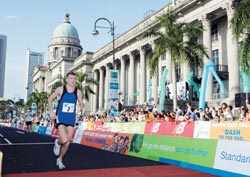 Amos Matui took the lead only 200m from the finish line to leave the longtime leader, Ashebir Demissu trailing by 25m writes Pat Butcher. The $25,000 prize was a welcome wedding present for his soon to be wife, Benedicta, whom he will marry in early February.
Despite temperatures rising to 30°C (86°F), with over 80% humidity at the 6am start, the first five men and the first two women all broke course records. But it was a close run thing in the men's race. Demissu had been forcing the pace for the final 10km, but he couldn't shake off Matui, and when Matui saw the finish line he launched a sprint that Demissu couldn't match.
"It was good that we worked together at first," said the 31 year old Matui after the race, "There were about 12 of us at halfway, and still eight at 38km, then the Ethiopian made a break. I stayed close behind him, but I wasn't sure of winning until I crossed the line."
Demissu was philosophical about his defeat. "I thought I'd won with a kilometre to go, but he was too strong. My problem is my finishing." For the rest, it was Kenyans all the way from third to tenth. Former winner (2003) and one-time Singapore resident, John Kelai, who has run this race four times said, "I think these were the hottest conditions I've run in here. It was actually more humid at the start than later." Kelai was that rarest of Kenyans, a triathlete, when he lived in Singapore, but he said, "I decided to concentrate on running, so I went back to live in Kenya." Kelai in fifth was also inside the record of 2.17.02, set last year by another compatriot, Philip Tanui, who was down the field this year.
It looked like a Kenyan double for a long time, and a successful defence of her title for Helen Cherono, but she wilted in the last 10km, and conceded victory to the veteran Russian, Irina Timofeyeva. These two both broke Contantina Dita's 2002 course record of 2:36:06.
MEN:
1  Amos MATUI                 KEN  2:15:55
2  Ashebir DEMISSU            ETH  2:15:58
3  Joseph NGOLEPUS            KEN  2:16:34
4  Emmanuel KOSGEI            KEN  2:16:49
5  John KELAI                 KEN  2:16:58
6  Victor MANGUSHO            KEN  2:17:29
7  Oliver KANDIERO            KEN  2:19:57
8  Elly RONO                  KEN  2:19:57
9  Meshak KOSGEI              KEN  2:20:15
10 Francis KIMUGE             KEN  2:21:01
 
WOMEN:
1  Irina TIMOFEYEVA           RUS  2:34:37
2  Helen CHERONO              KEN  2:35:12
3  Sylvia SKVORSOVA           RUS  2:36:46
4  Rose KERUBO                KEN  2:38:00
5  Malorzata SOBANSKA         POL  2:40:01
4 DECEMBER 2004: PAMPULHA LAGOON ROAD RACE, BRAZIL
Nearly 6000 runners completed the 17.8km lap around the Pampulha Lagoon in Belo Horizonte. Over the seven editions of the race held to date Brazil and Kenya have divided the honours, and that pattern continued with victory to Lawrence Kiprotich and Lucelia Peres, both setting new course records. Kiprotich broke Vanderlei de Lima's 2000 record by seven seconds, while Lucelia Peres improved Cleusa Irineu's inaugural 1999 mark by 51 seconds.
"I enjoyed the conditions because I was prepared properly this year," said Peres. "In 2004 I came in exhausted. At the start Sirlene and Anesie (a runner from Burundi) together pushed the pace. After 10km Anesie folded but I began to find my rhythm and opened up a gap. I wasn't thinking of the record."
From 5km Lawrence Kiprotich was in command and maintained a pace no one could match. "I felt strong and went for a good result," he said. "The weather was also much better than last year."
MEN:
1  Lawrence KIPROTICH         KEN  52:23
2  Mathew CHEBOI              KEN  52:40
3  John KIPROTICH             KEN  52:56
4  Paulo DOS SANTOS           BRA  53:24
5  Peter SIRIENI              KEN  53:58
6  Charles KORIR              KEN  54:01
7  Francisco DOS SANTOS       BRA  54:15
8  Jose DE LIMA               BRA  54:27
9  Jose FERREIRA              BRA  54:28
10 Joao DE LIMA               BRA  54:34
 
WOMEN:
1  Lucelia PERES              BRA  1:00:57
2  Sirlene DE PINHO           BRA  1:02:01
3  Marizete REZENDE           BRA  1:02:25
4  Anne BERERWE               KEN  1:03:15
5  Marizete DOS SANTOS        BRA  1:03:42
6  Margaret TOROITICH         KEN  1:03:58
7  Jeniffer DOS SANTOS        BRA  1:04:03
8  Marily DOS SANTOS          BRA  1:04:18
9  Rosa BARBOSA               BRA  1:04:25
10  Luzia PINTO               BRA  1:05:18
3/4 DECEMBER 2005: GATORADE MALTA CHALLENGE MARATHON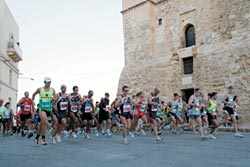 MEN:                    stage 1/stage 2/stage 3/total time
1 Jonathan BALZAN     MLT   38:25  20:10  1:29:07  2:27:42
2 Barry STODDART      GBR   39:23  20:09  1:33:08  2:32:40
3 DAvid GALEA         MLT   40:41  21:31  1:33:46  2:35:58
4 Peter AZZOPARDI     MLT   40:23  21:18  1:34:50  2:36:31
5 Christopher WALSH   GBR   40:18  21:07  1:37:0   2:39:05
6 Johann GALEA        MLT   41:26  21:45  1:36:15  2:39:26
7 Mario VELLA         MLT   41:07  21:38  1:36:52  2:39:37
8 Andrew GRECH        MLT   41:45  21:54  1:37:57  2:41:36
9 Stephen BORG        MLT   42:41  21:54  1:39:14  2:43:49
10 Antoine ABELA      MLT   42:22  22:07  1:41:15  2:45:54
 
WOMEN:
1 Carmen HILI         MLT   46:10  24:18  1:47:43  2:58:11
2 Charmaine SCRIBBINS GBR   39:23  20:09  1:33:08  3:13:11
3 Marica MICALLEF     MLT   50:35  26:24  1:59:01  3:16:00
4 Lesley RAINGER      GBR   51:38  26:09  2:01:17  3:19:04
5 Loretta DALEY       GBR   55:15  27:23  2:07:22  3:30:00
6 Laura POWELL        GBR   53:34  26:44  2:12:16  3:32:34
7 Ashton MULLIGAN     GBR   54:32  28:11  2:16:09  3:38:52
8 Louise MANDUCA      MLT 1:02:16  31:16  2:25:53  3:59:25
9 Carol FRANCICA      MLT 1:01:06  30:52  2:28:12  4:00:10
10 Claire PACE        MLT 1:01:47  31:14  2:29:29  4:02:30
11 DECEMBER 2005: HONOLULU MARATHON, USA
MEN:
1  Jimmy MUINDI               KEN  2:12:00
2  Mbarak HUSSEIN             KEN  2:15:06
3  Eric NZIOKI                KEN  2:16:24
4  Solomon WACHIRA            KEN  2:23:23
5  Nobuhiko CHIBA             JPN  2:27:32

WOMEN:
1  Olesya NURGALIEVA          RUS  2:30:24
2  Eri HAYAKAWA               JPN  2:32:59
3  Alevtina IVANOVA           RUS  2:38:17
4  Elena NURGALIEVA           RUS  2:38:50
5  Lyubov MORGUNOVA           RUS  2:40:47
11 DECEMBER 2005: DALLAS WHITE ROCK MARATHON, USA
MEN:
1  Pavel ANDREYEV             RUS  2:15:24
2  Moses KEMBOI               KEN  2:17:01
3  Jonathan KIPTOO            KEN  2:19:58
4  Hilary LELEI               KEN  2:20:12
5  Stephen ARIGA              KEN  2:20:47

WOMEN:
1  Lioudmila KORTCHAGUINA     CAN  2:30:03
2  Ludmila PUSHKINA           RUS  2:32:11
3  Lisa GALVAN                SWE  2:33:51
4  Albina GALYAMOVA           RUS  2:34:06
5  Maria PORTILA              USA  2:35:35
18 DECEMBER 2005: ING TAIPEI INT'L MARATHON, TAIWAN
MEN:
1  Luke KIBET            KEN  2:11:54
2  David CHERUIYOT       KEN  2:13:39
3  Barnabas KOECH        KEN  2:16:15
4  Onesmus MUTUSYA       KEN  2:17:00
5  Tsutomu SAEKI         JPN  2:22:29
6  Kasirai SITA          ZIM  2:25:13
7  Zi-Jian ZHENG         TPE  2:29:17
8  Yi-Cai ZENG           TPE  2:32:13
9  Jia-Xiang WU          TPE  2:35:27
10 Jian-Xing CHIU        TPE  2:35:36

WOMEN:
1  Jane EKIMAT           KEN  2:33:39
2  Florence BARSOSIO     KEN  2:35:08
3  Xiu-Ying HU           CHN  2:38:28
4  Fabiola JOHN          TAN  2:40:27
5  Madina BIKTAGIROVA    RUS  2:42:43
6  Wan-Ling WU           TPE  2:46:53
7  Shu-Hua CHEN          TPE  2:58:51
8  Xiao-Yu LEE           TPE  2:59:34
9  Yu-Fang XU            TPE  3:01:25
10 Shu-Rong CHIU         TPE  3:11:32
31 DECEMBER 2005: ST CATHERINE'S MARATHON & HALF, EGYPT
The race takes place right by the St Catherine Monastery at the foot of Mount Sinai over a two-lap course which takes runners through the village and past outlying Bedouin houses. Of the 16 marathon participants 15 finished. Another 100 people also ran in the Half Marathon, 10km and 5 km races.
Water and banana supply stations were in place every 2.5 km, with the whole course carefully controlled by 15 competition marshals with full police co-operation. Two ambulances were permanently moving along the course.
All participants received T-shirts, medals, a papyrus and the race certificate.
MEN:
1  Mohamed EL-MORSY           EGY  3:16:44
2  Ahmed MOSTAFA              EGY  3:16:51
3  Hussein AHMED              EGY  3:37:30
4  Osama AHMED                EGY  3:56:38
5  Samy KHATER                EGY  3:57:18
6  Hassan IBRAHIM             EGY  4:12:44
7  Dieter STEMME              GER  4:16:52 
8  Dieter SKINBRECHER         GER  4:19:43
9  Klaus BERMAN               GER  4:48:18
10 Leo SENTIS                 GER  4:57:35

WOMEN:
1 Renate WARNSTEDT            GER  3:49:30
2 Helga STEMME                GER  4:53:21
December 2005