August 2005
5 AUGUST 2005: HELSINKI CITY MARATHON, FINLAND
Just one day before the World Championships in Athletics opened in Helsinki, the City Marathon celebrated its 25th anniversary writes Tero Toyryla. More than 6000 runners had an exceptional possibility to run partly on the same course as the top marathon runners would do in the Championship races. The weather was fine for running, partly cloudy and the temperature was 20°C. HCM had more spectators than ever because of the World Championships and that gave an extra feeling and atmosphere to the entire race.
Many foreign runners admired the course, which goes along the seashore for more than 15km and through Helsinki's beautiful parks.
MEN:
1  Vener KASHAJEV             RUS  2:20:07
2  Moses KEMEI                KEN  2:22:11
3  Johnstone KEMBOI           KEN  2:25:17
4  Jonas BUUD                 SWE  2:31:36
5  Marko PARTANEN             FIN  2:33:24
6  Michael MISLAY             TAN  2:35:08
7  Manu MUTKA                 FIN  2:39:12
8  Wille KEIHANEN             FIN  2:43:02
9  Matti JAAKKOLA             FIN  2:43:04
10 Robert BERGKULLA           FIN  2:43:47

WOMEN:
1  Ritva MELENDER             FIN  3:00:24
2  Minna KAINLAURI            FIN  3:00:29
3  Olga LOGINOVA              RUS  3:02:02
4  Pauliina UTRIAINEN         FIN  3:02:43
5  Katja SILLANPAA            FIN  3:05:09
6  Marita YLI-ILKKA           FIN  3:11:16
7  Ruut HEIKKINEN             FIN  3:14:14
8  Leena PUOTINIEMI           FIN  3:14:35
9  Kirsti POKKA               FIN  3:14:51
10 Tuuli MERIKOSKI            FIN  3:16:14
6 AUGUST 2005: 16th SIBERIAN INTERNATIONAL MARATHON, RUSSIA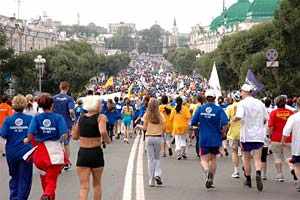 Approximately 8900 runners took part in all events, with 811 of them in the marathon. 117 foreign runners came from 12 countries. There was also an Ekiden (marathon relay-race), speedskating, a 5km fun-run, a 3km family run, a mini-marathon for children, and for roller-skaters. Speedskating was added to the always innovative festival programme. Nineteen rollers took part in the first race. Alexander Olshevsky won with 1:29:00.
Mikhail Khobotov won the marathon for the fifth time, beating all others by a big margin.
Russian supporters of the Sri Chinmoy Movement World Harmony Run appeared at the marathon start with their torches and again confirmed the unity of sport, friendship and free will. Every marathon runner had a chance to win a special prize Russian car "OKA" in the lottery that was held during the Marathon show entertainment program.
MEN:
1  Mikhail KHOBOTOV           RUS  2:20.23
2  Lenar KHUSNUTDINOV         RUS  2:23.18
3  Valeriy PISAREV            KGZ  2:23.53
4  Andrey CHIGIDINOV          KAZ  2:24.20
5  Sergey FOKIN               RUS  2:25.15
6  Vadim CHEREPANOV           RUS  2:26.44
7  Maksim ZOBOV               RUS  2:27.21
8  Dmitriy KORENEV            RUS  2:28.51
9  Mikhail KULKOV             RUS  2:29.12	
10 Dmitriy CHATKIN            RUS  2:30.33

WOMEN:
1  Lilia YADZHAK              RUS  2:39.15
2  Tatiana MIRONOVA           RUS  2:39.34
3  Nina KOLYASEVA             RUS  2:40.17
4  Elena KOZHEVNIKOVA         RUS  2:45.40
5  Elena SARMOSOVA            RUS  2:49.06
6  Marina MYSHLYANOVA         RUS  2:49.21
7  Elena BIKULOVA             RUS  2:49.40
8  Ekaterina NECHUNAEVA       RUS  2:49.53
9  Svetlana VINOGRADOVA       RUS  2:50.41
10 Nadezhda SEMILETOVA        RUS  2:54.08
6 AUGUST 2005: NUUK MARATHON, GREENLAND
The settlements of Greenland - the largest island in the world - are surrounded by awesome natural beauty writes Noah Molgard. The Nuuk Marathon offers a challenging route exposed to raw nature.
Former Danish national duathlon runner, 36 year old Stig Brahe Sørensen, won the race but said "You have to count on running slower compared to other routes on flat terrain. The run in Nuuk [a town of 15,000 inhabitants] demands special perseverance because of the many steep slopes along the route and exposure to the wind. It's like running through a moonscape." He compared it with runs in the Alps where there are many hills. The fresh air in Greenland provides advantages. "There is no smog in Greenland and that's great for runners with asthma" said Sorensen.
The Nuuk Marathon is made possible by volunteers. Despite the testing weather they remain stationed along the route to help the participants throughout. Nuuk Marathon has seen all kinds of weather its previous ten years years. Rainstorms can make the run exceptionally difficult but sunshine provides a great experience for both runners and spectators.
The run starts and finishes just outside Greenland's Culture Center, Katuaq, and the route leads to a new suburb where the runners pass peat huts which recall the life of the Greenlanders only one generation past. The course passes the airport and offers a beautiful view towards the sea – the resource for Greenland's most important industry, fishing.
During the run views of the spectacular natural surroundings are limited but there are plenty of opportunities to enjoy them both the day before and after the exertions.
MEN:
1  Stih Brahe SORENSEN        2:40:50
2  Kim GODTFREDSEN            2:43:28
3  Peter BALLE                3:04:59
4  Pîtanguak TITTUSSEN        3:13:33
5  Hans Lars JORGENSEN        3:15:01
6  Abia ABELSEN               3:29:18
7  Aqqa Mikael JERIMIASSEN    3:46:16
8  Niels PEDERSEN             3:52:07
9  Rune GLAD                  4:11:03
10 Teddy CHRISTIANSEN         4:16:21

WOMEN:
1  Elisa Laura AGTAGKAT       3:42:22
2  Mette Kathrine LARSEN      3:46:27
3  Lone PLESS                 4:20:39
4  Lene PAULSEN               4:27:23
5  Randi HANSEN               5:15:25
6  Ida PARVING                5:51:55
7 AUGUST 2005: PANAMA CITY INT'L MARATHON, PANAMA
Colombia's Juan Carlos Cardona came back to Panama after a two-year absence to win the Panama City International Marathon for the fourth time writes Allen Jones. His time of 2:28:40 was eight minutes off the record he set here in 2000.
Cuba's Aguelmis Rojas set the early pace and led by 300m at 30km. Then leg cramps slowed him to a walk at times, and Cardona passed him at 36km. Jorge Real also passed Rojas to make it a Colombian 1-2 finish, with Rojas limping in third.
The women's race also went 1-2 to Colombia, with Iglandini Gonzalez defending her title with a 2:49:50 clocking, followed 20 minutes later by Rosa Rivera.
The race started in darkness, at 05.30, as race organizers tried to give runners a little more pre-dawn cool. Nonetheless, the runners agreed that this year's version was hotter and more humid than the previous year.
MEN:
1  Juan Carlos CARDONA        COL  2:28:40
2  Jorge Eliecer REAL         COL  2:32:11
3  Aguelmis ROJAS DE ARMAS    CUB  2:33:10
4  Jose SANTOS CHUC           GUA  2:33:33
5  Carlos VILLAFRADES         COL  2:36:43
6  Manuel PENA HERRERA        ECU  2:37:05
7  Claudio RAMOS              ECU  2:40:25
8  Chester MORONTA            VEN  2:41:39
9  Miguel VARGAS              CRC  2:45:03
10 John TORRES                COL  2:47:15

WOMEN:
1  Iglandini GONZALEZ         COL  2:59:51
2  Rosa RIVERA                COL  3:09:49
3  Margarita CONDE            GUA  3:14:51
4  Ana Isabel SANCHEZ         PAN  3:17:25
5  Itzen AVELLANEDA           COL  3:18:09
6  Sonia ROJAS                CRC  3:25:21
7  Margaret FLORES            CRC  3:25:22
8  Josefina DELGADO           CRC  3:29:02
9  Eyra HURTADA               PAN  3:50:51
10 Ricio MENECES              COL  3:57:59

HALF MARATHON:
MEN:
1  Julian BERRIO              COL  1:40:18
2  Johnny LORIA                    1:42:02
3  Paulo MARENCO                   1:42:24

WOMEN:
1  Rita MEONO ANDRADE              2:03:45
2  Karina CABRERA                  2:06:02
3  Carlos Badilla AZOFEIFA         2:15:22
14 AUGUST 2005: MEIA MARATONA DO RIO DE JANEIRO, BRAZIL
A record number of over 14,000 runners assembled on a sunny and pleasant day, to storm through such famous beaches resorts as Leblon, Ipanema and Copacabana. They were taking part in the eighth test event for the 2007 Pan American Games Marathon. The race was also used to select two Brazilians who will contest the World Half Marathon Championships in Edmonton, on 2 October.
Sirlene Souza de Pinho broke her own record in the women's race, despite the hot weather. Anne Bererwe, 22, did well to finish second in her first race outside her native Kenya.
The men's race had a competitive field, but Stephen Biwott ambushed the others from start, giving three-time winner and course record holder John Gwako no chance to apply a tactical race.
MEN:
1  Stephen Kipkoskei BIWOTT   KEN  1:02:46
2  John GWAKO                 KEN  1:04:18
3  Phillip Kiplagat BIWOTT    KEN  1:04:33
4  Romulo Wagner DA SILVA     BRA  1:04:44
5  Elson Alex GRACIOLE        BRA  1:05:24
6  Diego ALBERTO              ARG  1:05:37
7  Christopher KIPYEGO        KEN  1:05:41
8  Jose Cicero ELOY           BRA  1:05:50
9  Jose Nasciemento SOUZA     BRA  1:06:00
10 James KIPKEMBOI ROTICH     KEN  1:06:10

WOMEN:
1  Sirlene Souza de PINHO     BRA  1:14:21
2  Anne BERERWE               KEN  1:15:27
3  Marcia NARLOCH             BRA  1:15:50
4  Luiza de Souza PINTO       BRA  1:16:02
5  Rosangela Raimunda FARIA   BRA  1:16:27
6  Marizete Moreiro DOS SANTOSBRA  1:17:17
7  Maria do Carmo GUIMARAES   BRA  1:17:43
8  Rosa Jussara BARBOSA       BRA  1:18:00
9  Marily DOS SANTOS          BRA  1:18:52
10  Selma Candia DOS REIS     BRA  1:20:18
14 AUGUST 2005: THE SUN-HERALD CITY TO SURF 14km, AUSTRALIA
MEN:
1  Patrick NYANGELO           TAN  41:12
2  Dickson MARWA              TAN  41:15
3  Martin DENT                AUS  41:19
4  Stephen MONGHETTI          AUS  41:34
5  Simon FIELD                AUS  42:20

WOMEN:
1  Kerryn MCCANN              AUS  46:27
2  Lisa Jane WEIGHTMAN        AUS  48:40
3  Lauren SHELLEY             AUS  49:02
4  Melissa MOON               AUS  50:13
5  Liz MILLER                 AUS  50:32
20 AUGUST 2005: REYKJAVIK MARATHON, ICELAND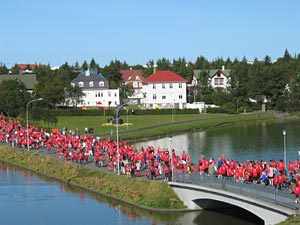 By a remarkable chance, brothers won the men's Marathon and Half Marathon, and sisters won the women's categories: The Swedish Hoiom bothers and the Ernstdottir sisters from Iceland.
MEN:
1  Mans HOIOM                 SWE  2:29:10
2  Colin DEASY                GBR  2:38:35
3  Jeremy ROGERS              GBR  2:40:18
4  Paul DANGER                USA  2:47:02
5  Hlaupari CB28988           ISL  2:51:12
6  Mike GILLAM                USA  2:53:36
7  Harry FLINT                CAN  2:54:33
8  John KRIEGSMAN             USA  2:54:36
9  Steve MATTINA              CAN  2:56:12

WOMEN:
1  Bryndis ERNSTSDOTTIR       ISL  2:55:39
21 AUGUST 2005: ING EDMONTON MARATHON, CANADA
MEN:
1  Dallas RAUDEBAUGH               2:36:27
2  David CORBETT                   2:38:20
3  Phil MEAGHER                    2:49:59
4  Brendan LUNTY                   2:51:22
5  David PERCY                     2:54:33
6  A.J.RANKEL                      2:55:22
7  J.Mark ARMSRONG                 2:57:11
8  Paul SOPCAK                     2:57:35
9  Jack COOK                       3:00:01
10 Tim WIWCHAR                     3:03:14

WOMEN:
1  Sandy JACOBSON                  3:04:49
2  Carley GERING                   3:23:56
3  Dennene HUNTLEY                 3:31:07
4  Cindy LUNIW-ADSIT               3:31:55
5  Karen KAIZER                    3:32:18
6  Kathleen SHULHAN                3:35:31
7  Paola D'ALESSANDRO              3:36:44
8  Toby SCOTT                      3:43:26
9  Krista PREDY                    3:50:48
10 Jillian FOOTZ                   3:53:59
28 AUGUST 2005: ING BRUSSELS MARATHON AND HALF, BELGIUM
MEN:
1  Samson KOSGEI                 KEN  2:12:03
2  David RUTO                    KEN  2:15:24
3  Tadesse HAILEMARIAM           ETH  2:16:51
4  Rik CEULEMANS                 BEL  2:17:14
5  Gino VAN GEYTE                BEL  2:17:35
6  Koen NEVEN                    BEL  2:24:38
7  David KOECH                   KEN  2:24:50
8  Gabriel MUCHIRI               KEN  2:25:26
9  Oleg OTMAKHOV                 BEL  2:25:31
10 Christopher KOSGEI CHEPKIYENG KEN  2:26:01

WOMEN:
1  Rose NYANGANCHA               KEN  2:37:48
2  Ludmilla AFONJUSCHKINA        BEL  2:47:20
3  Helena EGOROVA                RUS  2:48:51
4  Virginie VANDROOGENBROECK     BEL  2:55:24
5  Els RENS                      BEL  3:06:43
6  Karen WALKER                  FRA  3:12:26
7  Linda NEL                     FRA  3:18:17
8  Inez JACQUEMART               BEL  3:23:33
9  Marie-Anne CHAIHAN-BOULOC     FRA  3:24:26
10 Heidi CURINCKX                BEL  3:36:07

HALF MARATHON
MEN:
1  Guy FAYS                      BEL  1:06:45
2  Lambert NDAYKESA              BFA  1:06:45
3  Frederic COLLIGNON            BEL  1:06:45
4  Pedro RENS                    BEL  1:07:12

WOMEN:
1  Claudia STALDER               BEL  1:23:42
2  Sharon MILLER                 USA  1:31:39
3  Alicia JAEN PARRAS            ESP  1:33:29
28 AUGUST 2005: HOKKAIDO MARATHON, JAPAN
MEN:
1  Tomonori WATANABE          JPN  2:14:50
2  Julius MAINA               KEN  2:15:53
3  David KARIUKI              KEN  2:16:09
4  Tomoyuki SATO              JPN  2:16:25

WOMEN:
1  Masako CHIBA               JPN  2:25:46
2  Kiyoko SHIMAHARA           JPN  2:26:14
3  Chika HORIE                JPN  2:29:15
4  Rie MATSUOKA               JPN  2:34:36
5  Aki FUJIKAWA               JPN  2:35:05
6  Mika HIKITA                JPN  2:35:25
28 AUGUST 2005: QUEBEC CITY MARATHON, CANADA
Intermittent heavy downfalls failed to dampen the spirits of the 3,300 runners at Canada's best-organized marathon, Marathon des Deux Rives writes Alan Brookes. The rains cooled temperatures to a pleasant 17°C, after the bright sunshine and 27°C of the previous day. Runners came from 21 countries and more than 30 US states.
The marathon, with 1,000 runners, remains the centrepiece of the weekend, and takes in a wonderful, scenic panorama along the two banks of the St. Lawrence, the great river of Canada. It starts on the south side in Levis, before sweeping over the bridge, and down into la ville de Quebec, Canada's oldest city, founded as a fur-trading outpost in 1608 by Samuel de Champlain. In the last kilometre, the runners pass "vieux Quebec", under historic Cape Diamond and the Plains of Abraham. It was here in 1759 that the British General Wolfe defeated his French counterpart Montcalm which ended "New France", and began permanent British rule, creating the special Anglo-French duality that is the Canadian identity.
Runners in the half marathon and 10km both share this historic and scenic second half of the course. In the marathon this year, local hero Richard Tessier had things all his own way, leading from the start to finish more than 4 minutes ahead of Montreal's Louis-Philippe Garnier. In the women's race Natalie Goyer only overhauled former winner Louise Voghel in the final kilometres.
Despite the absence of international athletes up front about 20% of the race fields were drawn from outside Canada, underscoring the continued popularity of "vieux Quebec" as a marathon destination.
MEN:
1  Richard TESSIER            CAN  2:29:41
2  Louis-Philippe GARNIER     CAN  2:33:58
3  Maurice BELANGER           CAN  2:37:51
4  Patrice PORTER             CAN  2:39:39
5  Guillaume ROY              CAN  2:47:02
6  Camilien BOUDREAU          CAN  2:48:32
7  Guy CARDINAL               CAN  2:49:08
8  Thomas CLARK               CAN  2:50:48
9  Laurent JUGANT             CAN  2:51:46
10 Normand PLOUFFE            CAN  2:53:32

WOMEN:
1  Nathalie GOYER             CAN  2:59:08
2  Louise VOGHEL              CAN  3:04:51
3  Lisa CECCHI                CAN  3:11:17
4  Mylene SANSOUCY            CAN  3:15:42
5  Jenn DICK                  CAN  3:15:57
6  Suzanne MUNGER             CAN  3:19:59
7  Roya MACDONALD             CAN  3:20:25
8  Isabelle BROSSEAU          CAN  3:25:45
9  Genevieve BLOUIN           CAN  3:26:32
10 Marianne PELCHAT           CAN  3:27:23
August 2005