July 2005
2 JULY 2005: PAAVO NURMI MARATHON, FINLAND
Reima Hartikainen took the lead from the start and went on to win by more than ten minutes. It was the eighth marathon this year for the Swede, who was born in Finland 42 years ago. Just two weeks after the Paavo Nurmi Marathon he covered 224.132km in the IAU 24 hour European Cup in Wörschah, Austria. The women's winner was 20-year old Laura Nieminen. She ran the second half two minutes faster than the first, and moved up from third place to first.
Marko Vaittinen, 34, who was forced to give up trying to qualify for the Helsinki World Championships marathon because of injuries, was a clear winner in the half-marathon, over three minutes ahead. Hometown favourite Kirsi Mattila, 43, won the women's half-marathon. She competed in the European and World Championship marathons in 1994 and 1995, finishing 7th and 13th.
There were 1900 participants altogether in marathon, half-marathon and 10 km races. The temperature was 23°C and the weather sunny. The organisers offer a high-quality event for the recreational runners rather than try to attract very fast competitors. The two-loop marathon course is beautiful but not fast, running along the Aura river and visiting Ruissalo Island.
MEN:
1  Reima HARTIKAINEN        SWE  2:41:13
2  Kari LOMPERI             FIN  2:51:25
3  Arto KOSKINEN            FIN  2:52:24
4  Esko IMPOLA              FIN  2:58:18
5  Jori BRANDER             FIN  2:58:57
6  Jorma HANNIKAINEN        FIN  3:00:49
7  Erling SOMMERFELDT       FIN  3:01:45
8  Heikki KOSO              FIN  3:02:27
9  Taisto LEHTINEN          FIN  3:06:48
10 Kimmo KERMAN             FIN  3:07:02

WOMEN:
1  Laura NIEMINEN           FIN  3:18:05
2  Kaarina LILJA            FIN  3:18:55
3  Satu IMMONEN-KAHARI      FIN  3:23:56
4  Eila FORSBERG            FIN  3:25:46
5  Outi SIVOSAVI            FIN  3:29:08
6  Heli LAURIKKALA          FIN  3:29:35
7  Anja AHLBERG             FIN  3:32:36
8  Helena JARVIO            FIN  3:39:37
9  Mervi LEHTISALO          FIN  3:39:38
10 Päivi NYSTROM-VUORINEN   FIN  3:41:32

HALF MARATHON: MEN 
1  Marko VAITTINEN          FIN  1:09:46
2  Marko HEISKANEN          FIN  1:12:49
3  Pekka RANTAKARI          FIN  1:14:05
WOMEN 
1  Kirsi MATTILA            FIN  1:29:12
2  Teija TOIVONEN           FIN  1:30:34
3  Kirsti LAURILA           FIN  1:32:56
3 JULY 2005: 48th SAPPORO INT'L HALF MARATHON, JAPAN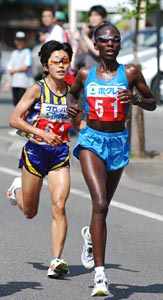 Many Olympic runners competed among the fieldsof 299 men and 65 women. Three foreign countries were represented among the 26 foreign entries, including Olympic Marathon silver medallist Catherine Ndereba – who was up against Olympic Champion Mizuko Noguchi. The weather was clear and sunny, 26.5°C, humidity 62% and wind speed 1.4m/s.
Ndereba won again after an interval of 2 years. She got away from the other runners before 15km. Noguchi finished third just ahead of World Championship qualifier Mugumi Ohshima.
Among the men, Mekubo Job Mogsu was first of 10 nine Kenyans and one Ethiopian who swept the top ten. Foremost Japanese Athushi Fujita finished 11th. World Championship qualifier Tsuyoshi Ogata was 13th.
MEN:
1  Mekubo JOB MOGSU         KEN  1:01:28
2  Girma ASEFA RETA         ETH  1:01:40
3  Simon MAINA              KEN  1:01:49
4  Josphat MUCHRI NDAMBIRI  KEN  1:02:10
5  Cyrus GICHOBI NJUI       KEN  1:02:40
6  Julius GITAHI            KEN  1:02:44
7  Ombeche MESHACK MOKAMBA  KEN  1:02:47
8  John KANYI               KEN  1:02:53
9  Samuel MUTURI            KEN  1:02:56
10 Eric WAINAINA            KEN  1:03:00

WOMEN:
1  Catherine NDEREBA        KEN   1:09:24
2  Yasuyo IWAMOTO           JPN   1:09:45
3  Mizuki NOGUCHI           JPN   1:09:46
4  Megumi OHSHIMA           JPN   1:09:59
5  Eri HAYAKAWA             JPN   1:10:14
6  Hiromi OHMINAMI          JPN   1:10:28
7  Yoko YAGI                JPN   1:11:02
8  Masako CHIBA             JPN   1:11:10
9  Miki OHYAMA              JPN   1:11:59
10 Harumi HIROYAMA          JPN   1:12:17
3 JULY 2005: GOLD COAST AIRPORT MARATHON, AUSTRALIA
A record number of 12,700 participants came from 34 countries to participate in the Marathon and associated events. Over 2100 were in the marathon, including 622 foreign runners from 29 countries.
Australian Brett Cartwright, in his debut marathon, set the pace right from the gun. Running alone in fine and sunny weather, he had a Commonwealth Games qualifying time of 2:14 in his sights. He was on 2:12 pace at half way and led a chasing pack of eight runners by 90 seconds. At the final turnaround point, just after 34km, he had extended that lead to 1:40.
In the final few kilometres he slowed dramatically. Tanzanian Dickson Marwa and Japanese Tsutomu Saeki passed him at 40km and New Zealand debutant John Henwood followed shortly after, relegating Cartwright to fourth. As first Australian, Cartwright still claimed the Australian Marathon Championship.
Former world triathlon champion and Commonwealth Games marathon bronze medallist, Jackie Fairweather (formerly Gallagher) led all of the way in the women's category to post her second qualifying time for next year's Commonwealth Games. In her first marathon in Australia, Jackie also won the Australian Championship.
Jackie's protégé Lauren Shelley was a strong second. Shelley went to the London Marathon in April as a 2:57 marathon runner and ran 2:41. Here she pulled another four minutes off her best in just three months.
With the exception of race winner Tanzanian Patrick Nyangelo, Japanese runners dominated the associated half marathon, filling the first six places in the women's category and five of the top 10 places in the men's category.
MEN:
1  Dickson MARWA            TAN  2:16:10
2  Tsutomu SAEKI            JPN  2:16:14
3  John HENWOOD             NZL  2:17:16
4  Brett CARTWRIGHT         AUS  2:18:13
5  Toyokazu YOSHIMURA       JPN  2:18:50
6  Oswald REVELIAN          TAN  2:19:21
7  Sandile LEMBETHA         RSA  2:20:14
8  Jeremey HORNE            AUS  2:24:46
9  Joseph Maina NDIRANGU    KEN  2:25:25
10 Brian LIVINGSTON         AUS  2:26:43

WOMEN:
1  Jackie FAIRWEATHER       AUS  2:34:42
2  Lauren SHELLEY           AUS  2:37:17
3  Sarah MARJA              TAN  2:40:36
4  Harumi MATSUMOTO         JPN  2:43:30
5  Helen STANTON            AUS  2:45:16
6  Loretta MCGRATH          AUS  2:46:12
7  Lee-Ann TURNER           AUS  2:48:34
8  Angela BATEUP            AUS  2:48:42
9  Lisa DICK                AUS  2:49:41
10 May TAI                  AUS  2:50:04

Asics Half Marathon
MEN: 
1  Patrick NYANGELO         TAN  1:03:32
2  Akinori SHIBUTANI        JPN  1:03:37
3  Kazukata ENOKI           JPN  1:03:45
4  Kentaro HAYASHI          JPN  1:03:49
5  Michael CHETTLE          AUS  1:03:58

WOMEN
1  Yuko SATO                JPN  1:12:46
2  Sachiyo YAMADA           JPN  1:12:48
3  Yuki SATO                JPN  1:12:53
4  Yuka IZUMI               JPN  1:12:54
5  Tomomi OGASAWARA         JPN  1:13:07
3 JULY 2005: BRITISH 10km ROAD RACE, LONDON
Haile Gebrselassie was a runaway winner, finishing nearly a minute clear of his nearest rival, Robert Cheboror. And along with the old came the new – rising talent Genet Getaneh, who won the Great Ethiopian Run in Addis Ababa last November ahead of many well-known names, strode away from Marleen Renders to take the women's race.
Despite these superlative human performances, the scenery stole the show. The race took place three days before London was awarded the 2012 Olympics, four days before the terrorist tube bombings that are likely to eventually claim as many as 100 lives, and six days before the 60th anniversary celebrations of the end of World War II. It was this last historic commemoration that imprinted itself most forcibly on the race route.
A week before the commemoration, some of the props were already in place. An anti-aircaft gun was wheeled into place in front of Big Ben, a Spitfire aircraft was parked up in Whitehall only 100m before the finish line, and the finish line itself was right beside the new monument marking women's contribution to the war effort. All this besides the usual gigantic Union flags which line the route in many locations and every lamp-post draped in the London 2012 bid colours. A 3km section of the course is likely to form part of the 10km lap to be used for the 2012 Olympic Marathon course.
Gebrselassie wasted no time in drawing clear of the crowd behind and cruised around the course, much of it lying beside the River Thames, in a demonstration run. Getaneh was tracked more closely by Renders, but still finished 120m ahead.
MEN:
1  Haile GEBRSELASSIE       ETH  28:12
2  Robert CHEBOROR          KEN  29:06
3  Thembolina ZOLA          RSA  29:36
4  Jonathan RAMAGE          GBR  30:44
5  Toby LAMBERT             GBR  30:53
6  Pumlani BAGANI           GBR  31:02
7  Erwin MCRAE              GBR  31:13
8  Dereje KEBEDE            ETH  31:26
9  Kassa TADESSE            GBR  31:32
10                               31:33

WOMEN:
1  Genet GETANEH            ETH  33:34
2  Marleen RENDERS          BEL  33:58
3  Pauline POWELL           GBR  34:53
4  Ruth BRANSON             SUI  35:37
5  Joanna SHEPHERD          GBR  37:06
6  Emily FERRENCZI          GBR  38:11
7  Tara PARK                GBR  38:18
8  Melinda BOYD             GBR  38:22
9  Becky MCNICHOLAS         GBR  39:11
10 Ann EVANS                GBR  39:19
4/7 JULY 2005: 100 MILES OF THE NAMIB DESERT, NAMIBIA
This run across the Namib Desert in south-west Africa takes place in five stages. The second edition incorporated small but significant changes and enhanced several aspects of the race: the beauty of the course, and the physical and psychological demands placed upon competitors. All runners expressed appreciation for the organisation and for the marvellous landscape which provided the backdrop forall stages of the race. This 100 miles of the Namib Desert is perhaps provides the most spectacular scenery of any race in the world.
Namibia is a wonderful, peaceful country. The Namib Desert is the oldest and most spectacular desert in the world. This 100 miles is run in the least polluted and most unspoilt areas: runners pass the highest dune in the world (300m), then run through shining white pans hidden amongst the dunes. One stage was run during an astonishing African sunset. The marathon stage came in the middle of nowhere, but touched a 30-million year old petrified dune. All under the watchful gaze of springboks, kudus, oryx and ostriches.
The sandy and irregular terrain made the race exhausting, besides the high temperatures (up to 40°C). The race was dominated by the German runner Jorg Balle, who lowered the last year's inaugural record with a race rhythm no other runner could sustain, even on the first leg. Balle won all stages, while former Olympic bronze medalist and European Champion over 3000m hurdles, Alessandro Lambruschini, finished second. Fortunately there was little wind and no sandstorms, unlike last year.
Reports were issued every day in the Namibian newspapers. Next year major coverage from TV and media is expected. Look forward to the 3rd edition, from 1-8 July 2006.
MEN:
1  Jorg BALLE               GER    7:59:47
2  Alessandro LAMBRUSCHINI  ITA    9:07:39
3  Giordano CASTELLI        ITA    9:13:19
4  Davide DEGLI ESPOSTI     ITA    9:31:07
5  Andrea BERNABUCCI        ITA    9:33:41
6  Achim HEUKEMES                 10:49:06
7  Davide GILLI             ITA   12:18:59
8  Simone FASOLO            ITA   12:25:28
9  Giuseppe RUFFINO         ITA   12:27:19
10 Garcia CARLOS            ITA   12:27:31

WOMEN:
1  Laura CORTI              ITA   13:21:56
2  Paola BORTESI            ITA   13:58:14
10 JULY 2005: BURNCO CALGARY MARATHON, CANADA
MEN:
1  Jason LOUTITT              CAN  2:27:49
2  David CORBETT              CAN  2:31:19
3  Nik SOUTHWELL              CAN  2:34:22
4  Dennis COLBURN             CAN  2:37:14
5  Raymond ROSS               CAN  2:51:10
6  Mark FEWSTER               CAN  2:53:00
7  Brendan LUNTY              CAN  2:53:17
8  Mark ARMSTRONG             CAN  2:54:11
9  Curtis SAMPSON             CAN  2:55:40
10 Noel PRASAD                CAN  2:58:01

WOMEN:
1  Shauna SKINNER             CAN  3:02:18
2  Sharon STUBLER             CAN  3:04:08
3  Syl CORBETT                CAN  3:17:44
4  Kari ELLIOT                CAN  3:17:45
5  Terra GIGGEY               CAN  3:18:43
6  Diane WALTERS              CAN  3:21:05
7  Sheila MCPHERSON           CAN  3:22:44
8  Amelia HRADSKY             CAN  3:23:31
9  Maria MADUENO              CAN  3:28:03
10 Dennene HUNTLEY            CAN  3:29:19
30 JULY 2005: SWISS ALPINE MARATHON DAVOS 78km, SWITZERLAND
In this 20th edition the organisers welcomed a new record 5700 participants (runners and walkers) taking part in the different races. The main event had a local winner, Jasmine Nunige, in the women's race. The men's winner, for the fourth time, was Grigory Murzin from Russia. No other man has come near his success rate.
MEN:
1  Grigory MURZIN             RUS  6:00:09 
2  Moritz BOSCHUNG            SUI  6:20:15 
3  Christopher JACQUEROD      SUI  6:21:03 
4  Thomas MIKSCH              GER  6:29:31 
5  Markus KELLENBERGER        LCT  6:32:00 

WOMEN:
1  Jasmine NUNIGE             SUI  6:59:42 
2  Faffaela FREY              SUI  7:32:04 
3  Gaby STEIGMEIER            SUI  7:49:34 
4  Karine HERRY               FRA  7:57:14 
5  Susanne BITZER             GER  7:58:23

MARATHON
MEN:
1  Mohamad AHANSAL                 3:12:53
2  Max FREI                        3:20:04
3  Ueli HORISBERGER                3:28:23
4  Martin WIDLER                   3:28:39
5  Christoph PLATTNER              3:34:22

WOMEN:
1  Carolina REIBER                 3:47:03
2  Eroica SPIESS                   3:57:46
3  Diana LEHMANN                   4:09:12
4  Beatrice WERTLI                 4:18:44
5  Daniela LAURENT                 4:18:44

HALF MARATHON
MEN:	
1  Wim PADMAS                      1:30:06
2  Hanspeter MARTI                 1:30:57
3  Jorn STROTHMANN                 1:32:41

WOMEN:
1  Yvonne VAN VLERKEN              1:42:24
2  Katharine STEGER                1:49:27
3  Martintje NEUFELDER             1:52:22
31 JULY 2005: MEDIA MARATON DE BOGOTA, COLOMBIA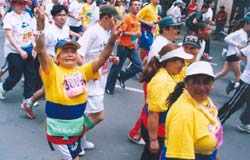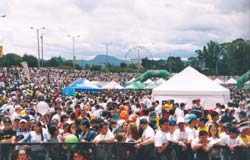 MEN:
1  James KWAMBAI              KEN  1:03:10
2  Paul KIRUI                 KEN  1:03:56
3  Isaac MACHARIA             KEN  1:04:13
4  Aliro CARRASCO             COL  1:04:39
5  Gabin CONDOR               PER  1:04:50
6  Jacinto LOPEZ              COL  1:05:29
7  Herder VASQUEZ             COL  1:06:04
8  Franklin TENORIO           ECU  1:06:24
9  Jorge REAL                 COL  1:06:24
10 Edgar SANCHEZ              COL  1:06:54

WOMEN:
1  Adrianna FERNANDEZ         MEX  1:15:02
2  Lioudmila KORTCHAGUINA     CAN  1:16:12
3  Julia PIEVERA              PER  1:17:59
4  Sonia CALIZAYA             BOL  1:20:36
5  Ruby RIATIVA               COL  1:21:34
6  Martha RONCERIA            COL  1:21:56
7  Lina ARIAS                 COL  1:24:55
8  Rosalba FORERO             COL  1:26:12
9  Claudia TANGARIFE          COL  1:27:28
10 Sandra LEON                COL  1:27:55
31 JULY 2005: SAN FRANCISCO MARATHON, USA
MEN:
1  Tony TORRES                USA  2:31:57
2  Simon ISAACS               USA  2:34:52
3  Niklas KROEHN              AUT  2:34:58
4  Duncan LARKIN              USA  2:37:26
5  Chikara OMINE              USA  2:38:01
6  Fritz VAN DE KAMP          USA  2:38:38
7  Vytautas EZERSKIS          USA  2:42:56
8  David SIEGEL               USA  2:44:43
9  Rodrigo RUELAS             USA  2:44:59
10 Steve RADTKE               USA  2:47:28

WOMEN:
1  Sarah HALLAS               USA  2:56:55
2  Tyler STEWART              USA  3:04:27
3  Shana BROWN                USA  3:05:12
4  Caroline RADTKE            USA  3:09:26
5  Paulo DA COSTA             USA  3:10:04
6  Jane BLOOM                 USA  3:14:01
7  Ashley CLARK               USA  3:14:44
8  Stephanie KSENZULAK        USA  3:14:51
9  Kelly CRONIN               USA  3:14:55
10 Patty CHEN                 USA  3:15:52
July 2005