June 2005
4 JUNE 2005: STOCKHOLM MARATHON, SWEDEN
MEN:
1  Kasirai SITA               ZIM  2:13:30
2  Daniel KIPRUGUT TOO        KEN  2:15:13
3  Phillip BANDAWE            ZIM  2:15:51
4  Said REGRAGUL              SWE  2:18:38
5  Kent CLAESSON              SWE  2:19:16
6  Paul KANDA                 KEN  2:20:50
7  Runar HOIOM                SWE  2:23:31
8  Marko VAITTINEN            FIN  2:24:08
9  Alois NIZIGAMA             BUR  2:24:35
10 Eshetu BEKELE              ETH  2:25:12

WOMEN:
1  Tina Maria RAMOS           ESP  2:41:28
2  Susan MICHELSSON           AUS  2:42:51
3  Malin EWERLOF-KREPP        SWE  2:44:38
4  Michelle LEE               GBR  2:44:49
5  Alevtina NAUMOVA           RUS  2:48:49
6  Mia LARSSON                SWE  2:48:55
7  Sarah MAHLANGU             RSA  2:49:27
8  Lisa WIKLUND               SWE  2:50:23
9  Inga KAZLAUSKAITE          SWE  2:53:10
10 Pernilla KARLSSON          SWE  2:56:10
12 JUNE 2005: EDINBURGH MARATHON, GREAT BRITAIN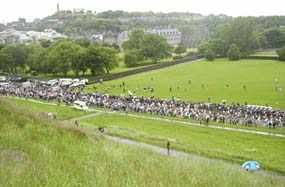 In its third edition the Edinburgh Marathon reached new heights: the number of runners leapt and course records were dramatically improved. The one height that wasn't scaled was Arthur's Seat. Last year the race started with a lap of this famous rocky outcrop that overlooks the city. This year course improvements ruled out such a narrow and steep ascent so close to the start. This approach paid off, as both Zachary Kihara leading the first five finishers under 2:20, and Zinaida Semenova and Fabiola William running sub 2:35.
The race started from Holyrood Park with a 5.5km loop around the heart of Edinburgh. Runners encircled the Castle and returned on Princes Street and the Royal Mile to re-enter the Park by passing between the brand-new Scottish Parliament building and the ancient Holyrood Palace.
After a cautious first uphill mile the pace picked up and a group of eight went through four miles in 19:52, as they passed out of the Park for the second time. After 10km the course leaves the roads for flat, leafy and sheltered cycle paths. The leaders broke up and then re-grouped along this 5km section and seven of them remained on the two out-and-back forays along the upper and lower banks of the Firth of Forth to pass halfway in 66:14, 500m clear of a chasing threesome.
As pacing duties ended the contest clarified. Race favourite Francis Naali, last year's winner John Mutai and Zachary Kihara spearheaded the racewith the wind at their backs as they raced along the shore for the next 15km. Other pretenders dropped off quickly and Naali himself had to yield to the other two as they passed 30km. Kihara and Mutai pounded along the promenade at Portobello as they approached the eastern turnaround of the course. Mutai made his move just before 34km and by the turn at 36km he led by 15 seconds.
With the long, gradual ascent to the finish Mutai slowed by 10 seconds every mile. Kihara, his hamstring cramping, made little impression until the final 2km. The scent of victory gradually enlivened him, and he charged into the Park for the final 600m to overhaul Mutai in the finishing straight.
In the women's race a group of five reached halfway on 2:30 schedule but thereafter Zinaida Semenova relentlessly pulled away. Fabiola William paced herself well to finish a minute behind and improve her personal best by six minutes.
Behind these leaders 6415 runners finished from 6500 starters, and another 926 five-person relay teams finished out of the 995 who registered. In all, on a day of fulfilled promise, 11,000 runners participated ľ every one of them a winner.
MEN:
1  Zachary KIHARA             KEN  2:15:26
2  John MUTAI                 KEN  2:15:35
3  Mindi PUKSTAS              LIT  2:18:53
4  Krzysztof PRZYBYLA         POL  2:19:21
5  Francis NAALI              TAN  2:19:25
6  Joseph KIBOR               KEN  2:23:21
7  Semeretu ALEMAYEHU         ETH  2:24:01
8  Jackson KIPNGETUNY         KEN  2:25:55
9  Robert GILROY              GBR  2:26:42
10 David TAYLOR               GBR  2:28:46

WOMEN:
1  Zinaida SEMENOVA           RUS  2:33:36
2  Fabiola WILLIAM            TAN  2:34:41
3  Liliya YADZHAK             RUS  2:38:24
4  Shona CROMBIE-HICKS        GBR  2:44:58
5  Roz ALEXANDER              GBR  2:48:25
6  Gill BACON                 GBR  2:53:46
7  Elke SCHMIDT               GER  2:54:16
8  Janet ROXBURGH             GBR  2:57:16
9  Georgia BENSON             GBR  3:00:09
10 Getenesh LEMMA             ETH  3:00:17
18 JUNE 2005: MIDNIGHT SUN MARATHON, NORWAY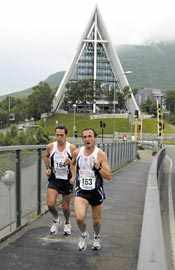 Runners from 35 countries took part in the 16th Midnight Sun Marathon. Held in Tromso at 70°N, it is the world's northernmost AIMS-certified marathon. The race starts in the evening and many finishers complete the race after midnight, but in daylight. The city of Troms° has the northernmost university in the world, where scientists can investigate the Aurora in a relatively mild climate due to the Gulf Stream. During the dark period when the Aurora Borealis is active another race, the Polar Night Half-Marathon, takes place in Troms° (7 January 2006).
The marathon had 251 runners participating, and the half marathon 279. The midnight sun hid stubbornly behind clouds on race night. The temperature dropped to 10°C but there was no rain and conditions for running were very good. Wind was light, at about 3 m/s. Those runners who arrived early in Troms° experienced an extraordinary night, between 17-18 June, when the midnight sun maintained a temperature of more than 20°C long into the night.
Of the 196 male marathon runners Runar H÷iom won, following up on his 7th place in the Stockholm Marathon two weeks earlier. Among the 55 females Sharon Broadwell won easily. Runar H÷iom got a 7th place in this year's Stockholm Marathon on the 4 June, thus June have been a good month for him this year. Juan Miguel Valdes Rodriguez came all the way from Cuba to win the Half Marathon.
The countries with most runners on the Marathon were Norway (57), Great Britain (47), Germany (21), Switzerland (15) and Denmark (15). Many of the foreign runners enjoyed their stay in Troms° very much and have already decided to bring more of their friends and family to take part in this special marathon race above the Arctic Circle in the land of the midnight sun. The 17th Midnight Sun Marathon takes place on 17 June 2006.
MEN:
1  Runar HOIM                 SWE  2:36:11
2  Egil SKARPSNO              NOR  2:40:10
3  Jens-Kristian BERG         NOR  2:49:39
4  Michel CORREVON            SUI  2:52:59
5  Robert ZUCH                GER  2:56:04
6  John PEDERSEN              NOR  2:59:08
7  Dan ANTALICS               USA  2:59:24
8  Charles CHRISTIANSEN       NOR  3:00:25
9  Adam LIEVE                 USA  3:04:04
10 Aitor BOLINAGA             ESP  3:05:49

WOMEN:
1  Sharon BROADWELL           NOR  2:54:45
2  Anita WETTER               SUI  3:24:26
3  Frauke FICHTNER            SWE  3:29:28
4  Vera NYSTAD                NOR  3:33:00
5  Louise CRAIG               GBR  3:48:31
6  Anne Mette LARSEN          DEN  3:52:50
7  Jan EDDY                   GBR  3:54:19
8  Ulla Brith RANES           NOR  3:55:21
9  Lisa LITHUN                NOR  3:55:21
10 Vibeke ANDERSEN            DEN  3:56:08

HALF MARATHON:
MEN:
1  Juan Miguel RODRIGUEZ      CUB  1:08:51
2  Knut AALIEN                NOR  1:09:58
3  Tor GISMARVIK              NOR  1:11:03

WOMEN:
1  Annette WOLFROM            GER  1:26:04
2  Sari HILLI                 FIN  1:28:54
3  Manuela KRAMER             GER  1:29:18
26 JUNE 2005: SCOTIABANK VANCOUVER HALF MARATHON, CANADA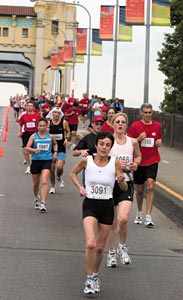 Defending champion of the Canada Running Series, Giitah Macharia, got the better of Oregon's Nick Rogers in a tense battle ahead of almost 3,500 starters. From the University of British Columbia the field dashed down to Stanley Park in one of the world's most scenic half marathons, run mainly alongside the Pacific shoreline. Another 600 participants ran the accompanying 5km, entirely within the Park. The event grew 20% this year, and attracted runners from 20 countries and almost 30 US states. Conditions were good for running in late June: overcast skies and temperatures between 13-17°C, although the morning was quite humid.
Rogers took things out hard from the start, "to hurt a little", as he said, with Macharia on his shoulder. This immediately spread the field, with Toronto's Danny Kassap on his own in third place, and half a dozen others strung out behind. Rogers pushed through 10km in just under 30 minutes, having done all the work over the first half of the race. From 10-15km the two adversaries worked together uneasily, see-sawing back and forth, until Macharia made the decisive break at 15km. Rogers hung on well to finish only 13 seconds adrift.
Kassap, winner of last autumn's Scotiabank Toronto Waterfront Marathon, was adrift for most of the morning. Running alone for so long took its toll and he was almost caught by the pair behind, Montreal's Bagdad Rachem and Vancouver Island's Steve Osaduik, who pushed each other forward in a royal battle for 4th. Rachem took it by a step, but Osaduik was all smiles.
Osaduik won the BC Half Marathon Championship crown, and two notable scalps - those of Bruce Deacon, (Canada's top marathoner for more than a decade), and Jim Finlayson (Canadian Marathon Champion for 2005). Finlayson dropped out, perhaps suffering from his 2:18 in Ottawa four weeks before. All three of them being "Islanders", it would have been a lively ride home on the ferry.
In the women's race Canadian marathon champion and last year's winner, Lioudmila Kortchaguina, had things all her own way after late withdrawals from those who might have contested best. Kortchaguina cruised around to win by nearly five minutes. Third-placed Nancy Tinari became BC Half marathon champion.
MEN:
1  Giitah MACHARIA          KEN  1:04:55
2  Nick ROGERS              USA  1:05:08
3  Danny KASSAP             COD  1:05:38
4  Bagdad RACHEM            CAN  1:05:48
5  Steve OSADUIK            CAN  1:05:49	
6  Bruce DEACON             CAN  1:06:58
7  Jussi UTRIAINEN          FIN  1:07:10
8  Huw LOBB                 GBR  1:07:14
9  Hans OTTEN               USA  1:08:58
10 Warren BARKER            CAN  1:11:07

WOMEN:
1  Lioudmila KORTCHAGUINA   CAN  1:14:32
2  Gwen GREINER             USA  1:19:10
3  Nancy TINARI             CAN  1:19:24
4  Lauren MATTHEWS          USA  1:21:19
5  Darcie MONTGOMERY        CAN  1:21:45
6  Nancy BAXENDALE          CAN  1:21:56
7  Carla DUNN               CAN  1:22:28
8  Jane CULLIS              CAN  1:25:24
9  Paulina UTRIAINEN        FIN  1:26:12
10 Lindsay DYCK             CAN  1:26:45
26 JUNE 2005: CITY OF RIO DE JANEIRO MARATHON, BRAZIL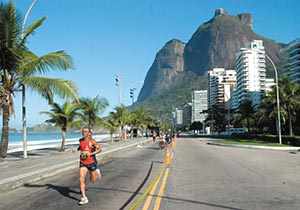 There were two first-time winners for this marathon, but they fell short of qualifying standards for the World Championships in Helsinki. Hundreds of thousands of spectators lined the route from Bandeirantes Park to Flamengo Beach.
Claudio Da Cruz was running in this event for the third time. Two years ago he had finished 8th and last year he suffered from injuries. He was happy with the win, but not so much with his time. Running in Rio is a pleasure on such a beautiful course, he said and he dreamed of contesting the 2007 Pan-American Games Marathon in the city.
The women's race was a much closer battle with an emotional finish. Denise de Lucas and Leone da Silva fought it out as if it was a short-distance race. "I started well, but lost strength." Said Da Silva. "With a kilometre to go I lost the lead." De Lucas said it was the crowds who had motivated her right through to the end. She had previously won the Santiago Marathon in April.
At the finish the President of the Provincial Federation, Carlos Alberto Lancetta, commended the race for its good organisation, allowing it to establish its place in the international calendar. The race was also important for the city in its preparation for the Pan-American Games of 2007.
MEN:
1  Claudio DA CRUZ          BRA  2:21:18
2  Eliesio SILVA            BRA  2:23:51
3  Lindenber NUNES          BRA  2:23:57
4  Flavio SILVA             BRA  2:24:35
5  Marcos LOPES             BRA  2:26:37
6  Deuzimar TOMAZ           BRA  2:27:58
7  Lielzio DE JESUS         BRA  2:28:20
8  Geralso DA SILVA         BRA  2:29:49
9  Gilberto SANTOS          BRA  2:30:27
10 SALES                    BRA  2:30:49

WOMEN:
1  Denise DE LUCAS          BRA  2:49:59
2  Lerone DA SILVA          BRA  2:51:25
3  Marluce FERREIRA BORGES  BRA  2:51:47
4  Raimunda FONSECA         BRA  2:58:34
5  Angelita DA CRUZ         BRA  3:01:54
6  Grazielle PEDROSO        BRA  3:05:52
7  Valdenize RODRIGUES      BRA  3:08:27
8  Ma. Jose QUEIROZ         BRA  3:10:38 
9  Nercy COSTA              BRA  3:21:25
10 Francilene SOUZA         BRA  3:22:17
26 JUNE 2005: LAKE SAROMA 100km, JAPAN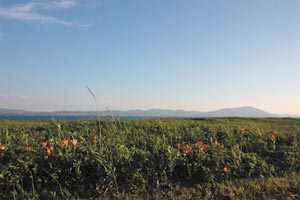 The IAU 100km World Cup was last held at Lake Saroma in 1994. The for this 20th anniversary race was was unchanged since then, with its rolling hills and scenic lake views. The race itself has grown from a few hundred runners in the early years to over 3,000.
Three municipalities work closely together to organise the race and the course runs through each of them. Starting at Yubetsu Town at 05.00 runners pass around the edges of Lake Saroma, through the marathon point, before reaching the town of Saroma. They continue on an undulating course around the lake. A 20km out and back section follows, through a wild flower garden where Japanese lilies are just coming into flower. The finish is at Tokoro town which has a reputation for producing international curling champions ľ a very popular sport in Japan.
Teams from 22 countries came to contest the World Cup, joining the 3000 local runners. Rain and cloud were forecast but passed overhead the night before the race. It was fine and bright at the start and temperatures later climbed above 25°C.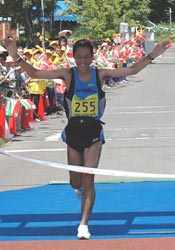 Mario Ardemagni (ITA), a previous champion, and Tsutomu Sassa (JPN), who won the Saroma race in 2004, took the early lead. A group containing Sandor Barcza (Fra), Yoshiaki Kobayashi (JPN), Oleksander Holovnitsky (UKR) and Yaroslaw Janicki (POL)) joined the leaders before the marathon point. Gregory Murzin (RUS) and Jorge Aubeso (ESP) followed a little bit further behind. When Barcza accelerated only Sassa could follow. Just behind them Murzin started to gear his race up. He took the lead at about 60km and continued to increase it, to win by 9 minutes. Aubeso also finished strongly to take second place with Sassa taking the bronze medal. Japan won the team race from France in a close contest.
In the women's race Jungkok Kim (KOR) led early on, until Hiroko Syou (JAP) overtook her at 35km and stayed ahead to the finish. Anne Lundblad (USA) had a storming second half to finish only 40 seconds behind her.
The women's team race was a nail-biting event. Japan, France and USA had two members home but it was the third USA runner who clinched it for them.
MEN:
1  Gregory MURZIN           RUS  6:24:25
2  Jorge AUBESO             ESP  6:33:03
3  Tsutomu SASSA            JPN  6:40:20
4  Sandor BARCZA            FRA  6:44:45
5  Yoshiaki KOBAYASHI       JPN  6:49:43
6  Michael SOMMER           GER  6:37:35
7  Pascal FETIZON           FRA  6:50:59
8  Howard NIPPERT           USA  6:59:20
9  Yasunori YAMAMOTO        JPN  7:04:04
10 Jyouji NISHIMURA         JPN  7:07:38
TEAMS
1  Japan      20:34:07
2  France     20:43:27
3  Germany    21:25:19

WOMEN:
1  Hiroko SYOU              JPN  7:52:41
2  Anne LUNDBLAD            USA  7:54:22
3  Yoko YAMAZAWA            JPN  8:10:27
4  Laurence FRICOTTOA       FRA  8:12:02
5  Mageli REYMONENG         FRA  8:18:52
6  Jungok KIM               KOR  8:19:49
7  Nikki KIMBOLI            USA  8:22:58
8  Tanya HOOSS              GER  8:23:25
9  Tanya PACEY              USA  8:29:19
10 Christine DENIS          GER  8:30:13
TEAMS
1  USA        24:46:49
2  France     25:01:07
3  Japan      25:17:40
28 JUNE 2005: VIDOVDAN 10km ROAD RACE, BOSNIA HERCEGOVINA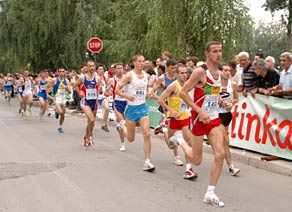 The 9th annual running of this elite race in the town of Brcko was watched by an audience of 20,000 in very hot weather and high humidity (31°C, 70%). Despite the oppressive conditions the runners put on great performances for a share of the $10,500 prize money on offer. There was big battle for victory between three of them. The field was drawn from eight countries, and no less than 54 of the 67 runners came from outside Bosnia. Two national records were set: by the winner Goran Stoiljkovic for Serbia and Montenegro and by the local athlete Djuro Kodzo, who set the best time recorded by a Bosnian in this race.
The traditional race for for kids, which takes place just before the main race, attracted more than 500 of them from Brcko and 50 other towns of Bosnia, Serbia and Croatia.
MEN:
1  Goran STOILJKOVIC        SCG  30:29		
2  Sreten NONKOVIC          SCG  30:35		
3  Tamasz TOTH              HUN  30:43
4  Djuro KODZO              BSH  30:48
5  Slavisa BUNC             BSH  31:08		  
6  Miklos ZLATKO            HUN  31:21		  
7  Senaid HASIC             BSH  31:25
8  Velimir BOJOVIC          SCG  31:27
9  Dejan BOGICEVIC          SCG  31:42
10 Edin ZUKOVIC             BSH  32:25

WOMEN:
1  Marijana LUKIC           CRO  36:01
2  Ana SUBOTIC              SCG  36:30
3  Ivana CEBIC              SCG  38:46
4  Vesna STEVANOVIC         SCG  38:54
5  Dijana KOVACEVIC         BSH  39:16
6  Tamara MARKOVIC          SCG  39:33
7  Milanka DJUKIC           BSH  40:04
8  Ivana PANTELIC           SCG  40:14
9  Dragana RANKOVIC         SCG  40:20
10 Bojana BERAK             BSH  41:20
June 2005