May 2005
1 MAY 2005: ADIDAS VANCOUVER INT'L MARATHON, CANADA
MEN:
1	Kassahun KABISO           	2:15:40
2	Stephen KIPROTICH         KEN	2:18:09
3	Juan Carlos CARDOVA       	2:18:33
4	Moses CHESERELK           KEN	2:21:45
5	Ulrich STEIDL             GER	2:34:41
6	Nik SOUTHWELL             CAN	2:35:51
7	Paul ABDALLA              	2:39:34
8	Graeme WILSON             CAN	2:41:45
9	Mark WICKSTEAD            CAN	2:41:53
10	Valnet GEDEON             	2:44:04

WOMEN:
1	Rima DUBOVIK              	2:44:05
2	Mary AKOR                 NGR	2:45:24
3	Trisha ROSENBERG          	2:53:47
4	Stephanie HODGE           	2:54:10
5	Suzanne EVANS             	2:57:33
6	Sarah GRAY                	2:57:45
7	Ulrike BROMME             	3:03:13
8	Shinobu KUROSAKI          JPN	3:03:52
9	Lara SCOTT                	3:04:25
10	Valor HOPES               	3:05:23
7 MAY 2005: CRACOVIA MARATHON, POLAND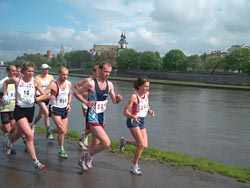 MEN:
1	Piotr GLADKI              POL	2:19:30
2	Leszek BEBLO              POL	2:20:52
3	Waldemar GLINKA           POL	2:22:30
4	Krzystof PRZYBLA          POL	2:24:49
5	Mathew KOSGEI             KEN	2:25:59
6	Slawomir KAPINSKI         POL	2:33:01
7	Mikolai ZAWILINSKI        POL	2:34:47
8	Tomasz WROBEL             POL	2:39:22
9	Gregorz CZY               POL	2:39:39
10	Michal ZAKARKO            POL	2:41:42

WOMEN:
1	Janina MALSKA             POL	2:43:20
2	Marie MAJ                 POL	2:46:16
3	Yuliya BUBENKA            BLR	2:48:27
4	Volna YUDZIANKOVA         BLR	2:49:51
5	Miraia ZIECINA            POL	2:58:13
6	Slawomina NEDZA           POL	2:59:53
7	Marta MIKDEAJCZYK         POL	3:13:16
8	Monika UKLEJA             POL	3:21:28
9	Bozerich ISKRYCKA         POL	3:26:24
10	Elzbieta CHLAP            POL	3:26:35
8 MAY 2005: ING ENSCHEDE MARATHON, NETHERLANDS
John Kelai overcame cold and windy weather, and a fall at 40km to win the 37th edition of the Enschede Marathon writes Wim van Hemert. Also defying the rain and wind, Tigist Abidi won the women's race in a new personal best time. She had been second the previous year.
Rain had poured down the previous day but on race morning 500 runners set off in sunshine towards the town of Gronau in nearby Germany. On the way back towards Enschede the rain started again and a headwind slowed the pace from 30:15 at 10km to 1:02:05 at 20km. Hot favourite Tesfaye Jifar lost contact with the group over the next 5km, although he came back into contention at 30km (1:33:44), pushing ahead with Kelai. By 35km he was again dropped, but Kelai was joined by Shadrack Hoff and Dereje Tesfaye although Tesfaye dropped back at around 40km. Kelai's tumble then handed Hoff an advantage which he did not press. Kelai recovered quickly and went on to win, while Hoff was happy enough with his performance, a personal best time by over two minutes.
MEN:
1	John KELAI                KEN	2:11:44
2	Shadrack HOFF             RSA	2:11:51
3	Dereje TESFAYE            ETH	2:12:03
4	Teferi BACHA              ETH	2:12:43
5	Tesfaye JIFAR             ETH	2:12:44
6	Nelson LEBO               KEN	2:13:36
7	John RONO                 KEN	2:13:38
8	Francis KIPKETER          KEN	2:15:00
9	El Mostapha RYAD          BHR	2:15:13
10	Andrew LIMO               KEN	2:17:37

WOMEN:
1	Tigist ABIDI              ETH	2:33:01
2	Robe TOLA                 ETH	2:37:21
3	Ingrid PROGGE             NED	2:45:28
4	Jacqueline RUSTIDGE       NED	2:49:26
5	Gea STEKMANS              NED	3:09:37
6	Brigit LANDEWE            NED	3:12:56
7	Elly BUIVOETS             NED	3:27:24
8	Rea NIJLAND               NED	3:29:31
9	Ellen WOPEREIS            NED	3:37:25
10	Edith MARGADANT           NED	3:38:27
8 MAY 2005: BERLIN 25km, GERMANY
Neither wind nor rain could stop the Kenyans in the 25th anniversary race writes Jorg Wenig. The men took the first 12 places and Rose Cheruiyot, returning to form after having a baby girl, held off Ethiopia's Dire Tune Arissi for a fifth Kenyan victory in the women's race.
Spectators in Berlin's newly rebuilt Olympic Stadium saw Cheruiyot outsprint Arissi by a single second. It was the fastest winning time for six years, just 17 seconds outside Susan Chepkemei's course record. "The strong opposition was why we could run fast today despite the cold weather" said Cheruiyot, who hopes to return to Berlin for the marathon in September.
In the men's race a group of 10 Kenyans passed 10km in 28:50. They turned into the wind and the pace slowed, but on an uphill stretch back towards the stadium the group was reduced to five runners. It stayed like that until the last 2km, when Luke Kibet, who had lost out by a second to Paul Kosgei's record-setting run last year, made a determined bid for victory, finally outsprinting Simon Kiprop on the stadium track.
A total of 9672 people entered the event, 20% up on last year. 6100 ran the 25km and 2300 the 10km fun run. There were also inline skating and children's events.
MEN:
1	Luke KIBET                KEN	1:13:51
2	Simon KIPROP              KEN	1:13:52
3	Enock MITEI               KEN	1:13:56
4	Stanley SALIL             KEN	1:14:03
5	Francis KIPROP            KEN	1:14:20
6	Julius SUGUT              KEN	1:14:34
7	Richard MUTEI             KEN	1:14:54
8	Joseph NGOLEPUS           KEN	1:14:56
9	Jason MBOTE               KEN	1:16:29
10	Eliud TANUI               KEN	1:16:43

WOMEN:
1	Rose CHERUIYOT            KEN	1:24:46
2	Dire Tuna ARISSI          ETH	1:24:47
3	Peninah ARUSEI            KEN	1:29:28
4	Rebby KOECH               KEN	1:30:44
5	Ludmila AFONIOUCHKINA     RUS	1:35:03
6	Ingalill ANDERSSON        SWE	1:44:29
7	Karsta PARSIEGLA          GER	1:45:14
8	Alexandra GABRYS          GER	1:46:35
9	Ursula FRIEDMANN          GER	1:46:44
10	Lina BOCKER               GER	1:48:11
8 MAY 2005: 6th MARATONA D'EUROPA, ITALY
Migidio Bourifa crowned his win in Trieste with a new course record, surpassing the 2:11:19 set by Roberto Barbi in 2001. In the women's race the favourite Rosita Rota Guelpi had a comfortable win. A famous name from the past took the men's half marathon title. In all over 8000 people entered, another event record.
MEN:
1	Migidio BOURIFA           ITA	2:10:48
2	Sergio CHIESA             ITA	2:14:00
3	Eliap Kurgat KIPLAGAT     KEN	2:16:05
4	David KIPRUTO             KEN	2:17:25
5	David Slya CHERUI         KEN	2:17:36
6	Elias Chebet KIPKOSGEI    KEN	2:20:52
7	Franco PLESNIKAR          ITA	2:25:31
8	Walter ENDRIZZI           ITA	2:25:54
9	Bruno TITTOLO             ITA	2:26:13
10	Danilo PANICCIA           ITA	2:38:25

WOMEN:
1	Rosita Rota GUELPI        ITA	2:39:28
2	Lidija RAJCIC             ITA	2:54:38
3	Monica CANDIANI           ITA	3:13:16
4	Anna Maria ROSETTI        ITA	3:26:14
5	Antonieta DANESE          ITA	3:28:44
6	Annalisa TIRONI           ITA	3:35:26
7	Valentina GEMIGNANI       ITA	3:35:28
8	Angela EMANUELLI          ITA	3:39:36
9	Amie STRYKER              USA	3:40:10
10	Margit TONEATTI           ITA	3:43:43

10th MARATONINA EUROPEA DEI DUE CASTELLI

MEN:
1	Salvatore BETTIOL         ITA	1:08:33
2	Cosimo CAPUTA             ITA	1:11:35
3	Renzo ROIATTI             ITA	1:12:28

WOMEN:
1	Anna QUAGLIARO            ITA	1:23:37
2	Erika GRANATO             ITA	1:27:09
3	Marta FELTRE              ITA	1:30:03
15 MAY 2005: RWANDA PEACE MARATHON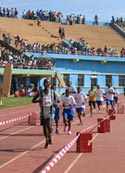 The inaugural Peace Marathon in the Rwandan capital of Kigali signalled a revival by this small nation who played host to both neighbouring East African front runners and small runners visiting from further afield. To reduce the difficulty of the terrain and give spectators more to look at the race was run on a four-lap course, runners passing through the national stadium at the completion of each lap.
MEN:
1  Joseph NSUBUGA             UGA  2:28:23
2  Joseph RUTTO               KEN  2:28:40
3  Alex SANKA                 TAN  2:33:26
4  Francis YIGA               UGA  2:33:41
5  Yiga NEKEMEYA              UGA  2:33:51
6  Ronald LANGAT              KEN  2:39:21
7  Zubel NSENGIYUMVA          RWA  2:42:59
8  Freddy TWAHIRWA            RWA  2:43:35
9  Kenneth KOSGAI             KEN  2:44:17
10 Pacifique AYUBUSA          RWA  2:45:16

WOMEN:
1  Margret NAKINDU            UGA  3:18:06
2  Rannveig ODDSDOTTIR        ISL  3:20:41
3  Epiphanie NYIRABARAME      RWA  3:21:40
4  Mediatrice NYIRARANGWA     RWA  3:23:18
5  Bryndis ERNSTDOTTIR        ISL  3:25:10
6  Marie-Jeanne NYIRAHABIMANA RWA  3:25:47
7  Fatuma IDDI                TAN  3:35:10
8  Bjorg Helga OLAFSDOTTIR    ISL  4:17:05
9  Monique MUHLEN             LUX  4:32:17
10 Christina VAN HOORDE       BEL  4:33:32

HALF MARATHON:
MEN:
1  Sammy KOSGEI               UGA  1:07:42
2  Safari RACHIDI             RWA  1:08:03
3  Simukeka JEAN BAPTISTE     RWA  1:08:15

WOMEN:
1  Pelagie MUSENGIMANA        RWA  1:20:50
2  Angelique NYIRANSABIMANA   RWA  1:22:32
3  Susan J TEIMET             KEN  1:24:46
15 MAY 2005: LIPTON BANGALORE INTERNATIONAL MARATHON, INDIA
India's latest contribution to the marathon circuit happened almost as fast as the race itself. With the title sponsor stepping in only a month before the race, Crossover Consulting finally had the green light to stage the inaugural Lipton Bangalore International Marathon, writes Nathan Clayton.
Given such short notice it was inspirational to witness the dawn arrival of 16,000 people at the Sree Kanteerava Stadium in the heart of the 'Garden City'. All of them had turned their backs on their beds to fight for a rickshaw and make it to the start of one of the three races. While the full marathon attracted some 200 committed runners, the half marathon attracted 1,100 and the 7km Celebration Run 15,000 participants to take to the traffic-free streets of India's IT city.
Despite Ethiopian favourites Tesfaye Orgawa, Abebe Seume and Tegayae Desalgne running in the marathon, a local man won. Kennedy Chinna Ramu, a 28-year old from the Army Sports Institute, stuck close to the invited elites from the start. He moved ahead at halfway and crossed the finish line five minutes clear, improving upon his 2:26 as first Indian national in Mumbai last year.
Picking up his $3,367 winnings, the Bangalore-born veteran of five international marathons was elated. "I wanted to finish in 2:18 but the weather was quite hot and I found the route challenging." The Ethiopians took the next three places and, like Ramu, cited the unusually warm weather and humidity for their slow times.
Marshet Jimma, Adenech Beyene and Korre Alemu made up the Ethiopian contingent in the women's race and led comfortably from the start to claim the top three positions respectively.
The media and organisers hailed the event as a huge success, but it was the home winner of the first Bangalore International Marathon that prompted emotions to hit fever pitch. This is an event set to draw many thousands next year.
MEN:
1  Kennedy Chinna RAMU        IND  2:23:46
2  Abebe SEUME                ETH  2:28:27
3  Tegayae DESALGNE           ETH  2:33:10
4  Tesfaye ORGAWA             ETH  2:35:34
5  SANTOSH                    IND  2:36:58
6  Channan SINGH              IND  2:37:18
7  Harun ALI                  IND  2:40:32
8  Raju KUMAR                 IND  2:41:44
9  Man SINGH                  IND  2:43:39
10 Gurmeet SINGH              IND  2:44:14

WOMEN:
1  Marshet JIMMA              ETH  2:45:34
2  Adenech BEYENE             ETH  2:47:04
3  Korre ALEMU                ETH  3:03:47
4  Leelamma ALPHONSO          IND  3:16:47
5  Indresh DHIRRAJ            IND  3:27:12
6  Waheeda BANU               IND  3:53:32
7  Kiran DHIRRAJ              IND  3:54:26

HALF MARATHON: 
MEN:
1  SHAHNAWAZ                  IND  1:07:45
2  Ramsingh YADAV             IND  1:08:59
3  S B SINGH                  IND  1:10:05
4  Ranjit KUMAR               IND  1:10:20
5  Girish TIWARI              IND  1:10:50

WOMEN:
1  BHAGAVATHI                 IND  1:26:24
2  Chandraprabha VARMA        IND  1:31:17
3  Neha AGAEWAL               IND  1:32:57
4  C S.SUNITHA                IND  1:35:44
5  Farah MEHMOOD              IND  1:40:35
21 MAY 2005: GOTEBORG HALF MARATHON, SWEDEN
MEN:
1  Silas SANG                 KEN  1:03:19
2  Augustus MBUSYA            KEN  1:04:13
3  Pavel LOSKUTOV             EST  1:04:26
4  Ali OUADIH                 FRA  1:05:09
5  Daniel KIPRUGUT 	      KEN  1:05:47
6  Martin Matindi MURITHI     KEN  1:05:59
7  Rachid AIT-BENSALEM        SWE  1:06:40
8  Ivan BABARIKA              UKR  1:07:20
9  Rubin MCRAE                NZL  1:07:29
10 Joakim JOHANSSON           DEN  1:07:41

WOMEN:
1  Susan KIRUI                KEN  1:12:34
2  Nancy KIPROP               KEN  1:13:56
3  Julia VINOKUROVA           RUS  1:14:20
4  Anna RAHM                  DEN  1:15:27
5  Mia LARSSON                DEN  1:16:45
6  Christin JOHANSSON         DEN  1:17:55
7  Elisabeth ENGSTROM         DEN  1:18:11
8  Asa HOOG                   DEN  1:20:46
9  Karin ELF                  DEN  1:21:01
10 Anja LINDBERG              DEN  1:21:19
21 MAY 2005: THREE HEARTS MARATHON,SLOVENIA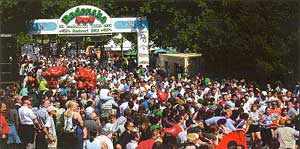 MEN:
1  Jonathan KIPSAINA          KEN  2:20:47
2  Joshua KIPCHUMBA           KEN  2:23:00
3  Abraham MAIYO              KEN  2:33:37
4  Toni VENCELJ               CRO  2:37:29
5  Zdravko VOKLAR             SLO  2:43:20
6  Alois NIZIGAMA             BUR  2:49:50
7  Valter HVALA               SLO  2:55:14
8  Damijan STRAMSAK           SLO  3:04:20
9  Milan ZUPANC               SLO  3:06:23
10 Harald HERBST              AUT  3:06:51

WOMEN:
1  Jozica SIFTAR              SLO  3:38:56
2  Visnja SKEVIN              CRO  3:42:27
3  Darja KRANJC               SLO  3:45:16
4  Ann LANARI                 ITA  3:47:30
5  Nina BOMBEK                SLO  3:51:22
6  Lojzka FELIJAN             SLO  3:55:33
7  Natasa OKOREN              SLO  4:20:54
8  Tjasa KERMAVNAR            SLO  4:27:53
9  Irene NEBEC                SLO  4:30:32
10 Danica FILAE               SLO  4:49:56
21 MAY 2005: THE GREAT WALL MARATHON, CHINA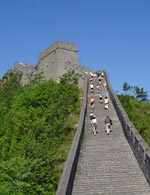 MEN:
1  Gregory FEUCHT             USA  3:25:13
2  Patrik LI                  SUI  3:38:02
3  Fredrik CRONEBORG          DEN  3:50:28
4  Ivars EGLITIS              LAT  3:50:47
5  Erich FELBABEL             FRA  3:53:36
6  Martinus Ten KATE          NED  3:54:40
7  Thomas GMELCH              GER  3:57:49
8  Thomas SCHMADALLA          GER  3:57:51
9  Jan PETERSEN               DEN  3:58:45
10 Henrik JAENSSON            SWE  4:04:37

WOMEN:
1  Jennifer BURTNER           USA  4:30:57
2  Helen MOSELEY              GBR  4:52:36
3  Holly CRANE                GBR  4:54:35
4  Chuan GAO                  CHN  4:59:22
5  Deborah GRAY               RSA  5:00:46
6  Kim Lucy WILMSHURST        GBR  5:01:59
7  Silke FIEDLER              GER  5:04:18
8  Oddny Hoensi RINGHEIM      NOR  5:09:22
9  Janice BRYANT              NZL  5:16:41
10 Siobhan O'REILLY           GBR  5:19:49
22 MAY 2005: COURSE FEMININE DE CASABLANCA 10km, MOROCCO
1  Zakia MRISHO               TAN  32:49
2  Adaneche Adane ZEKIROS     ETH  32:52
3  Letay Hadish NEGASHE       ETH  33:00
4  Fatema AYACHI              MAR  33:56
5  Khadija TOUATI             ALG  34:15
6  Nkoki Jumanni ZAITUNI      TAN  34:45
7  Malika BELFAKIR            MAR  35:17
8  Malika MAJDOUB             MAR  35:31
9  Kenza DAHMANI              ALG  36:04
10 Salima Ovali AL            MAR  36:22
22 MAY 2005: COPENHAGEN MARATHON, DENMARK
Reaching the halfway point one minute ahead of a small chasing group, William Kiprotich then sped up to run the second half nearly two minutes quicker. The chasing group all slowed at different rates to fill the next four positions.
MEN:
1  William KIPROTICH          KEN  2:21:14
2  Steen PETERSEN             DEN  2:26:15
3  Peder TROLDBORG            DEN  2:26:51
4  Lukasz GURFINKIEL          DEN  2:29:45
5  Kristian KARSTOFT          DEN  2:30:29
6  Kenneth MUNK               DEN  2:32:46
7  Per BEENFELDT              DEN  2:35:34
8  Casper Hunnerup DAHL       DEN  2:36:08
9  Claus BENTSEN              DEN  2:38:23
10 Stirling SLINGERLAND       DEN  2:38:59

WOMEN:
1  Jo KELSEY                  GBR  2:48:21
2  Tiina TROSS                DEN  2:48:46
3  Anette B JORGENSEN         DEN  2:51:57
4  Nina W MADSEN              DEN  2:55:11
5  Gitte ABRAHAMSEN           DEN  2:57:21
6  Jean MOLLER                DEN  3:06:16
7  Caroline AISTRUP           DEN  3:06:25
8  Helene Runitz ANDERSEN     DEN  3:10:36
9  Kristin Mauland LARSEN     DEN  3:10:54
10 Kirsten SOBORG             DEN  3:11:53
22 MAY 2005: PRAGUE VOLKSWAGEN MARATHON, CZECH REPUBLIC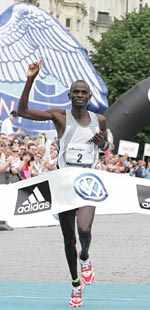 Steven Matebo Cheptot kept his head cool under warm and humid weather to win Prague's Volkswagen Marathon, in yet another Kenyan clean sweep writes Diana Rybachenko. In what proved to be a race with an exciting and unexpected finish the 30-year-old fared well in less than ideal running conditions (19°C, 70% humidity) to win in 2:10:42. The pre-race favorite, Wilson Kiprotich Kebenei, held a clear lead until 35km but suddenly pulled out with a hamstring injury.
Cheptot's time was two minutes over the course record. "It was too humid" he said, "I let the others dictate the pace and just followed them but at my own pace to save energy. In the end it paid off."
A six-strong group of Kenyans led at halfway, when Wilson Kiprotich went clear. Cheptot, Robert Kiprotich and Laban Kipngetich formed a trio behind the leader, who seemed certain to win. But when Kiprotich unexpectedly stepped aside Cheptot saw his opportunity.
In the women's event the first three all suggested afterwards that they could have done better had it not been for the uncomfortably warm conditions.
A total of 4646 runners entered this year's full Volkswagen Marathon. Another 12,000 opted for the various fun-runs.
MEN:
1  Stephen CHEPTOT            KEN  2:10:42
2  Laban KIPNGETICH           KEN  2:11:48
3  Robert CHERUIYOT           KEN  2:12:14
4  Noah BOR                   KEN  2:13:58
5  Adugna TOLA                ETH  2:15:45
6  Jan BLAHA                  CZE  2:17:59
7  Dawit TEFERA               ETH  2:19:02
8  Rik CEULEMANS              BEL  2:20:40
9  Joel RONO                  KEN  2:21:09
10 Nick WETHERIDGE            GBR  2:25:02

WOMEN:
1  Salina KOSGEI              KEN  2.28.42
2  Larissa ZOUSKO             RUS  2:30:14
3  Hellen CHERONO             KEN  2:31:28
4  Svetlana PONOMARENKO       RUS  2:36:57
5  Michaela MCCALLUM          GBR  2:43:25
6  Dimakatso MOROBI           RSA  2:53:56
7  Ivana MARTINCOVA           CZE  2:58:00
8  Radka CHURACOVA            CZE  3:04:00
9  Monika DOLEZELOVA          CZE  3:05:12
10 Veronika BRYCHCINOVA       CZE  3:08:26
22 MAY 2005: VIENNA CITY MARATHON, AUSTRIA
In warm conditions of over 25°C Mubbarak Shami (Qatar) and Florence Barsosio (Kenya) won the 22nd edition of the Vienna City Marathon writes Jorg Wenig. For Shami, who switched nationality from Kenya to Qatar a year ago, it was his debut marathon. He was formerly known as Richard Yatich.
Florence Barsosio won by a big margin of more than eight minutes. "I think the heat cost me five minutes", said Barsosio, who had been aiming for 2.27 although she had finished second in the Paris Marathon seven weeks earlier. "At the end of the race I felt very tired." The 28 year-old was running alone for most of the race since she had no pacemakers. Both winners earned 10,000 Euros of prize money. About 21,500 runners took part in various races of the Vienna City Marathon, which was once more the biggest sporting event in the summer season in Austria, bringing thousands of spectators to the streets of the city centre.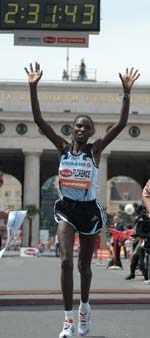 At the start temperatures had already reached 20°C. It continued to warm up, which slowed the race. "In cooler conditions I could have run 2.09 today", Mubbarak Shami said. "I felt strong and ran alone for a large part of the race." Shami went away after passing half way in 65:21. Japhet Kosgei and Degene Regassa Nigusse triedto hold on but when Shami ran sub three-minute splits between 25-30km he was soon alone at the front. Beyond 35km Shami slowed but was in no danger of being caught.
Last year's winner and course record holder Samson Kandie (Kenya/2.08.35), Vincent Kipsos (Kenya), the fastest man in the field with a PB of 2.06.52, Boniface Usisivu and former Olympic Champion Josia Thugwane all dropped out.
Shami had shown his potential at shorter distances but said: "I always knew that marathon would be my future. Now I believe I can run faster, about 2.07 to 2.08." Shami lives and trains in Kenya but runs for Qatar. He has a five-year contract with the Qatari federation. "Actually the officials of my new federation chose my new name. Family members still call me Richard – and if I would have children they would be Kenyans."
But he admits that some things have changed. "The approach from the Kenyan runners is different." It was obvious in Vienna that the Kenyan runners avoided contact with Mubbarak Shami. "But for my family nothing has changed."
MEN:
1  Mubbarak SHAMI             QAT  2:12:20
2  Japhet  KOSGEI             KEN  2:15:15
3  Henry SEREM                KEN  2:15:26
4  Lahoucine MRIKIK           MAR  2:15:45
5  Richard MUTAI              KEN  2:15:57
6  Maru-Shadrad KIPCHIRCHIR   KEN  2:16:18
7  Degene-Rega NIGUSSE        ETH  2:16:37
8  Michael BUCHLEITNER        AUT  2:16:41
9  Tereje WODAJO              ETH  2:17:19
10 Norman DLOMO               RSA  2:18:06

WOMEN:
1  Florence BARSOSIO          KEN  2:31:40
2  Eva-Maria GRADWOHL         AUT  2:39:44
3  Ilona BARVANOVA            UKR  2:47:04
4  Daniela BIDMON             AUT  2:48:14
5  Nicole GULDEMEISTER        GER  2:49:13
6  Tanith MAXWELL             RSA  2:49:29
7  Sabine BAUMANN             GER  3:05:03
8  Renate EINFALT             AUT  3:05:47
9  Astrid KALTENBOCK          AUT  3:08:11
10 Henriette HOLZKNECHT       AUT  3:13:11
22 MAY 2005: MEDIO MARATON DE COBAN, GUATEMALA
In over 30 degrees of heat Grace Momanyi broke the eight-year old course record, set by Colombia's Stella Castro, by over a minute. In the men's race John Korir fell 90 seconds short of Enos Ketter's record.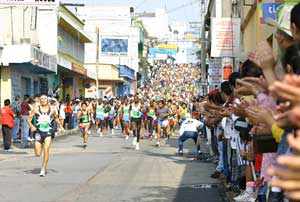 MEN:
1  John KORIR                 KEN  1:03:45
2  Reuben CHERUIYOT           KEN  1:03:45
3  Benson BARUS               KEN  1:04:36
4  Isaack KIMAIYO             KEN  1:05:03
5  Peter KOMEN                KEN  1:05:52
6  Josephat NGETICH           KEN  1:05:57
7  Christopher TOROITICH      KEN  1:05:58
8  David KIBET                KEN  1:06:13
9  Simon SAWE                 KEN  1:06:50
10 Joseph KOECH               KEN  1:07:11

WOMEN:
1  Grace MOMANYI              KEN  1:13:10 
2  Adriana PIRTEA             ROM  1:15:06
3  Lyubov MORGUNOVA           RUS  1:17:02 
4  Teresa WANJIKU             KEN  1:17:13
5  Sharon CHEROP JEMUTAI      KEN  1:19:07
29 MAY 2005: ING OTTAWA MARATHON, CANADA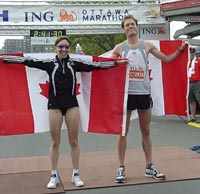 With high humidity keeping the Marathon times slower than expected, Grace Momanyi proved the star of the National Capital Race Weekend in Canada writes Pat Butcher. Momanyi pulverised the 16-year old course record in the women's 10km. Asmae Leghzaoui of Morocco was the big favourite, and she, Momanyi and defending champion Aster Demissie of Ethiopia tracked the men surprisingly closely in the early stages. Leghzaoui led at 5km by 12 seconds. Momanyi fought back but the gap stayed the same until the last kilometre. Then a sustained final effort by Momanyi took her into the lead with just 200m to go.
The men's 10km was a straight win for George Kirwa Misoi, who gradually pulled away from the field to win by 100m. The battle was for second place, with pre-race favourite Reuben Chebii just edging Burundian, Jean-Claude Nduwingona by a stride.
The men's Marathon was highly competitive, although not fast, until 35km. Then David Cheruyiot put in a burst that no one else could match. There had been eleven men together at halfway, reached in 66:30, with the contenders later blaming the high humidity for their cautious running, rather than going for the intended 64:40 'half'.
Lioudmila Kortchaguina, having acquired her Canadian citizenship just two days before, was happy to win her first 'new' national title, in second place. Lidia Vassilevskaya was the only one to follow the pacemaker, who took her through 25km at 2:28 pace. At that pace she would have broken the course record but running alone for 30km told, and she was eventually over a minute down on the record with 2.31.53. Kortchaguina closed in the latter stages of the race but not by enough to count.
MEN
1  David CHERUIYOT            KEN  2:14:20
2  John ITATI                 KEN  2:14:47
3  Danny KASSAP               COD  2:15:13 
4  Joseph NDERITU             KEN  2:16:21
5  Elly RONO                  KEN  2:16:47
6  Noah KIPSANG               KEN  2:17:51
7  Jim FINLAYSON              CAN  2:18:21 
8  Ryan DAY                   CAN  2:19:55 
9  Matthew MCINNES            CAN  2:21:45 
10 Joseph NSENGIYUMVA         RWA  2:22:38 

WOMEN 
1  Lidia VASSILEVSKAYA        RUS  2:31:53 
2  Lioudmila KORTCHAGUINA     CAN  2:32:19 
3  Nicole STEVENSON           CAN  2:38:50 
4  Natalia VOLGINA            RUS  2:43:25
5  Tina KADER                 CAN  2:55:07 
6  Michelle SCHULER           CAN  2:56:14 
7  Emily BRYANS               USA  2:57:19 
8  Heather GOODFELLOW         CAN  2:57:41 
9  Kim HOUSE                  CAN  2:57:44 
10 Stephanie HODGE            CAN  2:58:04

10K:
MEN 
1  George KIRWA               KEN  28:56
2  Reuben CHEBII              KEN  29:08
3  Jean-Claude NDUWINGONA     BUR  29:09

WOMEN
1  Grace MOMANYI              KEN  31:24
2  Asmae LEGHZAOUI            MAR  31:28
3  Teresa WANJIKU             KEN  32:33
May 2005