August 2008
2 AUG | 3 AUG | 10 AUG | 16 AUG | 17 AUG | 23 AUG | 24 AUG | 30 AUG | 31 AUG
2 AUGUST 2008: SIBERIAN INTERNATIONAL MARATHON, RUSSIA
The 19th running, at 23°C, was as warm as in recent years. The race started at 09:00 from Church Square in central Omsk, and made a circuit of the city and passing the oldest historical part of town by the renewed Irtysh River embankment to the south of the centre.
A full range of events from a 5km fun run to the Marathon, each offered trophies and prize money for many different categories of finishers. Altogether there were about 12,000 participants from across the world and from 28 regions of Russia. Strong community involvement is evident along the course and the prize money has reached the unprecedented sum of $110 000, attracting the marathon elite from all over the Russia, as well Belgian and Kenyan runners. The main prizes were cars for the overall winners, courtesy of the marathons main partners, Toyota.
The men made an exceptionally strong showing in marathon. At halfway Rik Ceulemans from Belgium was leading the group but, facing a steady wind, he dropped back to eventually finish third. Andrey Brizgalov crossed the line first, with five-time winner Mikhail Khobotov in fifth place. Liliya Yadzhak won the women's race for the fourth time. The awards were made by representatives of the Omsk Government and the Russian Olympic Committee in a festival atmosphere.
MEN:
1  Andrey BRIZGALOV               RUS  2:17:08
2  Eugeniy BOZHKO                 UKR  2:17:28
3  Rik CEULEMANS                  BEL  2:19:52
4  Oleg MARUSIN                   RUS  2:20:11
5  Mikhail KHOBOTOV               RUS  2:20:57
6  Sergey KALEDIN                 RUS  2:22:38
7  Andrey VARAKIN                 RUS  2:28:18
8  Artem KOSINOV                  KAZ  2:31:00
9  Yuriy YEGER                    KAZ  2:32:54
10 Dmitriy TSIGANOV               RUS  2:32:56
 
WOMEN:
1  Liliya YADZHAK                 RUS  2:33:41
2  Tatyana PUSHKAREVA             RUS  2:34:55
3  Iraida PUDOVKINA               RUS  2:37:19 
4  Eugenia DANILOVA               RUS  2:41:02
5  Irena MOSHKANTZEVA             RUS  2:42:54
6  Elena KALEDINA                 RUS  2:44:10 
7  Veronika LOPATINA              RUS  2:44:33
8  Tatiana BELKINA                RUS  2:46:10
9  Ilyusa KHAYREDINOVA            RUS  2:47:54
10 Valentina LEVUSHKINA           RUS  2:49:53
3 AUGUST 2008: SAN FRANCISCO MARATHON, USA
In ideal running weather 19,000 runners from all 50 states and 56 countries participated in the marathon, two half marathons, and 5K run/walk.
Both winners were clearly the class of their fields, running away from the competition relatively early in the race. Chad Worthen had a clear lead by the time the front runners hit the scenic out-and-back leg over the Golden Gate Bridge. "I was surprised that there was nobody with me." Worthen said. "I glanced back going around a few turns and I couldn't see anybody." Mustapha Berri (44) was the only runner within shouting distance of him, and finished a couple of minutes behind. Berri broke away from a chasing pack of five men mid race, and was clearly in second by 20 miles. Although Worthen slowed in the later stages Berri said "I tried to catch him, but it was too late".
Gustafson dedicated her race to her mother, who had a heart attack a few days previously. "I was thinking of her every step of the way." While doing so she improved her personal record by three minutes and finished 14 minutes ahead of the rest.
Leif Kohler won the accompanying "elite" half marathon, over the second half of the full marathon course just 8 seconds ahead of Robert Coslick, but women's winner Anna Morales recorded perhaps the most impressive performance of the day with her solo win.
MEN:
1  Chad WORTHEN                   USA  2:31:52
2  Mustapha BERRI                 FRA  2:33:57
3  Mark PILJA                     USA  2:38:20
4  Jonah BACKSTROM                USA  2:39:57
5  Eric BOWLES                    USA  2:40:24
6  Antonio LOPEZ                  USA  2:41:24
7  Chikara OMINE                  USA  2:41:38
8  Jason MCCULLOUGH               USA  2:41:49
9  Max BAYER                      USA  2:42:25
10 Josh WRIGHT                    USA  2:42:33

WOMEN:
1  Lauren GUSTAFSON               USA  2:52:33
2  Jenny GRAEF                    USA  3:06:56
3  Ashley HANSEN                  USA  3:09:16
4  Isabella VIDILI                     3:09:27
5  Natalie PORTER                 CAN  3:12:09
6  Angela SHARTEL                 USA  3:12:19
7  Brittany JOHNSON               USA  3:14:09
8  Dee GILES                      USA  3:15:34
9  Heidi ZIMMERMAN                USA  3:19:41
10 Erin WAGNER                    USA  3:19:48

HALF MARATHON - 1st Half
MEN:
1  Michael BRANDELL               USA  1:17:26

WOMEN:
1  Rebecca ECKLAND                USA  1:26:41

HALF MARATHON - 2nd Half
MEN:
1  Leif KOHLER                    USA  1:10:02

WOMEN:
1  Anna MORALES                   USA  1:14:38
10 AUGUST 2008: PANAMA CITY INTERNATIONAL MARATHON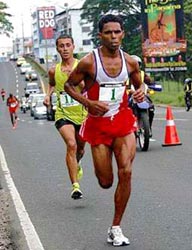 Henry Jaen won the Panama City International Marathon for the fourth time. The Cuban repeated the strategy of his previous three victories (2003, 2004, 2007) and it once again paid off. The race began at 05:00 under cloudy skies and occasional showers, with temperatures reaching 28°C.
Early in the race the leading pack consisted of Jaen, Colombia's Victor Hugo Ocampo, Kenyan Joshua Busienei and Peruvian Florencio Mahacuay (winner of the 2006 race). These three couldn't maintain Jaen's pace and gradually fell behind.
At 31km on the Amador Causeway, Jaen stepped up the pace and only Ocampo and Machacuay could stay with him. At 38km on Avenida 4 Julio Jaen repeated the surge of his previous victories, and his exhausted rivals could only watch him disappear into the distance.
"The winner of this marathon is the person who is best prepared, and who knows how to run intelligently," commented Jaen at the finish.
The Colombian Ocampo said he started out too fast and later ran out of gas. "My feet were like lead," he commented.
Cuban Yailen Garcia took the female division to complete the Cuban sweep of the event.
MEN:
1  Henry JAEN                     CUB  2:29:11
2  Victor Hugo OCAMPO             COL  2:30:53
3  Fritz Eulogio BONIFACIO        PER  2:31:31
4  Florencio MACHACUAY            PER  2:31:53
5  Joshua BUSIENEI                KEN  2:32:59
6  Caludio RAMOS                  ECU  2:36:22
7  Bernardo JIMENEZ               DMR  3:38:28
8  Rosvelino CHOCCA               PER  2:39:11
9  Edgar Milton ARGUELLO          ECU  2:42:26
10 Jose David CARDONA             COL  2:43:55

WOMEN:
1  Yailen GARCIA                  CUB  2:51:17
2  Isabel ORELLANA                MEX  2:58:08
3  Julia Rivera LOPEZ             PER  3:00:16
4  Rosa RIVERA                    COL  3:06:48
5  Ana Isabel SANCHEZ             PAN  3:16:04
6  Dina CRUZ                      GUA  3:17:50
7  Margarita CONDE                GUA  3:29:45
8  Margareth VON SAENGER          PAN  3:34:54
9  Belkys MINOZ-HERNANDEZ         CRC  3:43:53
10 Unilma RUIZ                         3:47:14
16 AUGUST 2008: HELSINKI CITY MARATHON, FINLAND
MEN:
1  Jonstone CHEBII                 KEN  2:24:31
2  Peter BIWOTT                    KEN  2:26:19
3  Marko VAITTINEN                 FIN  2:26:34
4  Anssi RAITTILA                  FIN  2:31:52
5  Michail BUKOV                   RUS  2:35:07
6  Sakari HUKKA                    FIN  2:35:27
7  Veli-Matti KARHULAHTI           FIN  2:38:06
8  Manuel GRINAN                   ESP  2:39:25
9  Githinji DAVID                       2:39:48
10 Asmo AHOLA                      FIN  2:40:29
 
WOMEN:
1  Margarita PLAKSINA              RUS  2:40:47
2  Annemari SANDELL-HYVARINEN      FIN  2:43:53
3  Irina PANCOVSKAY                RUS  2:50:01
4  Anastasia ZAKHAROVA             RUS  2:57:04
5  Hedda LUND                      SWE  2:58:21
6  Anna KANTOLA                    FIN  3:03:09
7  Nuria AUBESO MARTINEZ           ESP  3:04:48
8  Leena PUOTINIEMI                FIN  3:04:52
9  Pauliina TOMMOLA                FIN  3:05:13
10 Ana Belen PEREZ FERNANDEZ       ESP  3:06:39
17 AUGUST 2008: WOMEN'S MARATHON OF THE XXIX OLYMPIAD, CHINA
Photos: Getty Images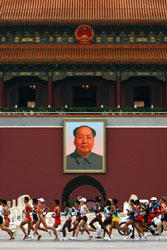 In a race run under more favourable conditions than anticipated only one runner was prepared to lift her pace. Constantina Tomescu took that risk, and it worked. She relentlessly built up a lead between 21-38km that was too much for the tactically hidebound following pack.
Even with the extremely conservative early pace, there had been casualties. Starting off at 07:30 from Tiananmen Square alongside the mausoleum of Mao Zedong the first kilometre took 3:53 (2:44 pace). The group remained huge, spread right across the road, as they toured the grounds of the Temple of Heaven, but before passing 5km Deena Kastor, the bronze medallist from Athens, had to pull out after suffering a "pop" in her foot which left her unable to walk properly, let alone run. The group completed 10km in 36:10, just before re-entering Tiananmen Square. A kilometre later they passed in front of Mao's portrait which still hangs over the gateway to the Forbidden City, and began their long loop around western Beijing. Lesotho's Mamorallo Tjoko was leading the race at this point, but abruptly pulled over to one side with cramp. She promptly regained the lead but pulled out after 15km. Behind her, more known runners were having similar problems. Japan had already been hit by the withdrawal of defending champion Mizuki Noguchi. Now Reiko Tosa fell behind, limping and in obvious pain, until she finally pulled out at 25km. Briton Liz Yelling had led through 10km but fell heavily during momentary bunching. Mishaps within the still large group perhaps encouraged Tomescu to make her break, which she started to do from just before halfway, passing through four seconds clear.
Tomescu eased away from them without resistance. Her reputation for making dramatic early moves like this started back in the 2001 World Championships in Edmonton, where she was reeled back in by 32km. She has repeated the tactic since with little success, which could explain why no one reacted to her move. By 25km she had gained 44 seconds, and there was no pursuit. Britain's Paula Radcliffe was the only one to show interest, but her inadequate preparation after suffering a stress fracture only a few weeks before restricted her capacity to respond. From 28km, as the race entered the precinct of Beijing University, the Ethiopian pair of Berhane Adere and Gete Wami slipped behind, soon to drop out.
Catherine Ndereba, the silver medalist from Athens and twice World Champion, had spent the race so far viewing the folowing group from behind. At 30km Tomescu was 57 seconds ahead of a group of 11, but Ndereba now moved forward as if to take a more active part in giving chase to the increasingly distant leader. She passed Radcliffe and Boston Marathon champion Dire Tune in the process, and the group was soon down to eight, as Salina Kosgei also dropped back. For a while it looked as if the chase was on. Kenya's Martha Komu kept company with Zhao and Zhu as Russia's Irina Timofeyeva and Britain's Mara Yamauchi followed just behind them, but although Ndereba was also there, along with Algerian Souad Ait-Salem and Romanian Lidia Simon, she was not giving shape to the chase. Even at 35km, with the gap now increased to 70 seconds, it looked like it was possible to catch the now tiring Tomescu. If the following group had been closer, they might have seen her beginning to look back, and betraying some signs of anxiety.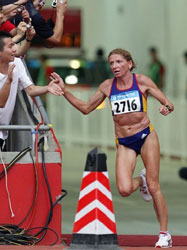 The few kilometres following were crucial if the gold medal was to be contested, but it looked as if the group, now six-strong after Ait-Salem and Simon fell back, were becoming more watchful of each other. Tomescu's lead grew further up to about 38km, before it started to erode. Even at this point, with the experienced pair of Ndereba and Zhao prepared to let Komu do most of the work, they all seemed to have settled for silver at best.
Komu's very visible effort at least drew her clear of Timofeyeva and Marauchi, but Ndereba and the two Chinese seemed fixed to her in harness. Approaching 41km, after which the course U-turned towards the entrance to the Stadium tunnel, Ndereba momentarily led, but as Zhou immediately covered she again tucked in behind. As the belatedly chasing group entered the tunnel the now inevitable winner was emerging from it into the arena of the "Bird's Nest" National Stadium. With 500m to run Tomescu's lead was being eroded by the now intense contest for silver between Ndereba and Zhao, but her victory was beyond doubt, and well deserved. While a jubilant Tomescu - at 38, the oldest ever women's Olympic Marathon champion - crossed the line the crowd was on its feet willing Zhao towards silver. She overtook on the back straight but Ndereba came back in the final 100m to claim her second successive Olympic silver medal.
WOMEN (ONLY):
1  Constantina TOMESCU            ROM  2:26:44
2  Catherine NDEREBA              KEN  2:27:06
3  Chunxiu ZHOU                   CHN  2:27:07
4  Xiaolin ZHU                    CHN  2:27:16
5  Martha KOMU                    KEN  2:27:23
6  Mara YAMAUCHI                  GBR  2:27:29
7  Irina TIMOFEYEVA               RUS  2:27:31
8  Lidia SIMON                    ROM  2:27:51
9  Souad AIT-SALEM                ALG  2:28:29
10 Salina KOSGEI                  KEN  2:29:28
17 AUGUST 2008: ING EDMONTON MARATHON, CANADA
MEN:
1  David CORBETT                   CAN  2:35:28
2  Tom MCGRATH                     CAN  2:52:18
3  Ian BLOKLAND                    CAN  2:52:24
4  Nick SUNDERLAND                 CAN  2:53:15
5  Marcus IVEY                     CAN  3:00:26
6  Alex HALIUK                     CAN  3:01:56
7  Phil RAY                        CAN  3:02:10
8  Ryan YEO                        CAN  3:05:25
9  Gerard PINKOSKI                 CAN  3:07:27
10 Donald COOK                     CAN  3:13:22
 
WOMEN:
1  Joylin NODWELL                  CAN  3:11:06
2  Carmen THIESSEN                 CAN  3:27:16
3  Jill STEIN                      CAN  3:31:21
4  Barb EDGAR                      CAN  3:31:22
5  Paola D'ALESSANDRO              CAN  3:34:18
6  Jennifer ST PIERRE              CAN  3:34:32
7  Dana CHRISTIANSON               CAN  3:35:24
8  Alyssa NOEL                     CAN  3:35:59
9  Cindy LUNIW-ADSIT               CAN  3:36:41
10 Amanda OLANSKI                  CAN  3:40:29
 
HALF MARATHON
MEN:
1  Kip KANGOGO                     CAN  1:05:41
2  Willy KIMOSOP                   CAN  1:06:21
3  Benard ONSARE                   CAN  1:07:06

WOMEN:
1  Lisa HARVEY                     CAN  1:19:42
2  Gladys KAHORO                   CAN  1:27:24
3  Sarah HUTCHINGS                 CAN  1:29:18
17 AUGUST 2008: MARATON INT'L DE LA CIUDAD DE MEXICO, MEXICO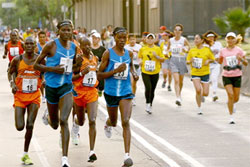 MEN:
1  Hilary KIMAIYO                  KEN  2:13:03
2  Julius K KIPYEGO                KEN  2:14:03
3  Philip M KIBITOK                KEN  2:14:37
4  Christopher T KIPROTICH         KEN  2:17:39
5  Isaack K KIPKEMBOI              KEN  2:19:39
6  Samuel ROTICH                   KEN  2:20:28
7  Bob ONYANCHA                    KEN  2:20:47
8  Jacob P CHAMER                  KEN  2:21:02
9  Armando C TORRES                MEX  2:21:17
10 George OTWORO                   KEN  2:22:07
 
WOMEN:
1  Paula A JUAREZ                  MEX  2:40:26
2  Adrina F MIRANDA                MEX  2:41:41
3  Jessica RODRIGUEZ               MEX  2:42:01
4  Judith R HERNANDEZ              MEX  2:42:35
5  Marisol ROMERO                  MEX  2:45:18
6  Margaret K TOROITICH            KEN  2:45:25
7  Liliana M FERNANDEZ             MEX  2:45:59
8  Sara SANCHEZ                    MEX  2:46:45
9  Gloria M ORTIZ                  MEX  2:47:41
10 Alice NDIRANGURU                KEN  2:48:12
23 AUGUST 2008: GLITNIR REYKJAVIK MARATHON, ICELAND
Photos: Patrice Malloy/Active Mug
The 25th anniversary attracted record participation and offered a prize purse totaling $22,000 USD.
Over 10,700 runners representing 38 countries competed in the marathon, half marathon, 3km Fun Run and 1km Lazy Town Children's Run events. The weather was ideal for running and typical of an August Icelandic day – cloudy skies, cool temperatures (12°C) with occasional rain.
There were British winners of both races, but where David Kirkland prevailed by a mere six seconds Rozalyn Alexander scored a convincing victory 15 minutes ahead of her opposition. They each won $2500 and $1500 went to the runners-up. A free airline ticket on Icelandair was offered for the top three in both the Marathon and Half. Martha Ersntdottir, the event record holder in the half (which record dates from the early 1990s) won again after a lengthy absence. Courtesy of sponsor Glitnir Bank, the cash prizes were awarded to the top five finishers in the marathon, half marathon and 10km events.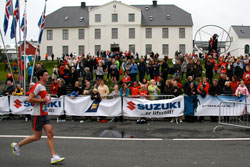 With the exception of the children's run, which was held on the University of Iceland campus, all races started and finished in the Reykjavik City Centre in front of the Culture House, the national house for Icelandic heritage. The courses took runners through some of Reykjavik's finest neighborhoods, along the waterfront and past many historic buildings.
MEN:
1  David KIRKLAND                  GBR  2:32:52
2  Gjermund SORSTAD                NOR  2:32:58
3  Krzysztof BARTKIEWICZ           POL  2:35:38
4  Detlef ELLEBRECHT               GER  2:39:22
5  Stoecken RONALD                 GER  2:39:47
6  Gary CHANDLER                   GBR  2:40:46
7  Ian SHARMAN                     GBR  2:42:32
8  Stefan V SIGTRYGGSSON           ISL  2:46:41
9  Joel LALANNE                    FRA  2:47:18
10 Bergbor OLAFSSON                ISL  2:53:02
 
WOMEN:
1  Rozalyn ALEXANDER               GBR  3:01:01
2  Audrey K WAGENAAR               CAN  3:16:50
3  Heather WILSON                  CAN  3:19:44
4  Bjorg ARNADOTTIR                ISL  3:20:11
5  Riikka KEMPPAINEN               FIN  3:24:12
6  Lilly JEPPESEN                  DEN  3:24:51
7  Sigriour B EINARSDOTTIR         ISL  3:28:14
8  Sigrun K BARKARDOTTIR           ISL  3:32:09
9  Tamara                          CAN  3:32:45
10 Christine WIDMANN               AUT  3:35:30
 
HALF MARATHON
MEN:
1  John M MWANIKI                  KEN  1:07:28
2  Porbergur I JONSSON             ISL  1:13:21
3  Paulo JENSEN                    DEN  1:13:28

WOMEN:
1  Martha ERNSTSDOTTIR             ISL  1:23:19
2  Johanna S OLAFS                 ISL  1:24:55
3  Karina BERNER                   DEN  1:25:50
24 AUGUST 2008: MEN'S MARATHON OF THE XXIX OLYMPIAD, CHINA
Photos: Getty Images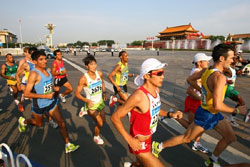 In complete contrast to the women's race, the men set off at a frenetic pace, many of them careless as to the consequences. Even Samuel Wanjiru, world record holder at the half marathon, might not have intended to pass through the half distance in 1:02:34. However, he went the full distance in Beijing to win Kenya's first ever Olympic gold medal in the Marathon in an impressive display of dominance made all the more appealing by his demeanour afterwards. He had just broken Carlos Lopes's 24-year old Olympic record by nearly three minutes but, crouched on the track, he gave private thanks before congratulating Morocco's Jaouad Gharib, coming home 44 seconds after him. Ethiopia's Deribe Merga was next into the stadium but agonisingly lost what would have been a deserved medal in the back straight of the stadium, as his compatriot Tsegay Kebede came past him. Merga had contributed to the fast pace by taking up the running on the few occasions that Wanjiru was content to take a back seat but after Wanjiru's decisive break in the 37th kilometre he fell back as Gharib made an attempt to chase.
Wanjiru made his intentions clear from the start, by taking the lead in the first kilometre and being instrumental in setting the fast pace (14:42 at 5km). It was the second 5km in which the challenge was really thrown down, and that was only partly Wanjiru's doing. A phenomenal 14:33 reduced the group from a couple of dozen to 10. Wanjiru continued to only play a bit part for the next 5km but then 15km launched his first definite move. He immediately reduced the group to seven and by 18km to five: Wanjiru, Merga, Gharib, Eritrea's Yonas Kifle and Wanjiru's team mate Martin Lel. Even then Merga and Yonas Kifle took over at the front, and on occasions Wanjiru was at the back of the compact group.
At halfway (1:02:34) World Champion Luke Kibet (later to drop out at about 29km) was chasing but 10 seconds in arrears. Kebede, running his own, somewhat steadier race than the leaders, was a further 13 seconds behind, keeping company with Eritrea's Yared Asmerom. Others adopting this tactic were Switzerland's Victor Rothlin, the Americans Daniel Ritzenheim and Ryan Hall, and defending champion Stefano Baldini, who eventually finished 12th. They all came through the field, and Rothlin got up as far as sixth place in the Stadium, but the medals were being contested very much further in front of them.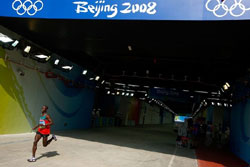 Merga was doing much of the leading in the middle of the race, and at 28km his injection of pace dropped Kifle and Lel. Gharib also lost distance, but gradually worked his way back past the other two to rejoin the leading pair. The pace continued fast, but without change until Wanjiru kicked hard a little past 36km. Gharib responded but several times chose to turn around to observe the gap back to Merga, rather than that appearing in front as Wanjiru raced away. Gharib did hang on though, as the gap grew slowly from four seconds, to six at 38km and then 10 at 39km. From there, runners turned north towards the stadium up Beijing's axis and Wanjiru seemed to be drawn ever more strongly to the finish line. His lead was 18 seconds at 40km and now visibly growing. Taking the U-turn at 41.5km he then entered the stadium tunnel and bursting onto the track in fine style. His last 400m doubled as a lap of honour.
MEN:
1  Samuel WANJIRU                 KEN  2:06:32
2  Jaouad GHARB                   MAR  2:07:16
3  Tsegaye KEBEDE                 ETH  2:10:00
4  Deribe MERGA                   ETH  2:10:21
5  Martin LEL                     KEN  2:10:24
6  Victor ROTHLIN                 SUI  2:10:35
7  Gashaw ASEFA                   ETH  2:10:52
8  Yared ASMEROM                  ERI  2:11:11
9  Daniel RITZENHEIM              USA  2:11:59
10 Ryan HALL                      USA  2:12:33
24 AUGUST 2008: SSQ QUEBEC CITY MARATHON, CANADA
MEN:
1  Michael NJORDGE                 CAN  2:23:47
2  Amor DEHBI                      CAN  2:31:43
3  Fethi OUKID                     CAN  2:32:57
4  Louis-Philippe GARNIER          CAN  2:37:32
5  Richard TESSIER                 CAN  2:43:55
6  Francois MARCHAND               CAN  2:49:32
7  Mark SULLIVAN                   CAN  2:51:52
8  Terry GEHL                      CAN  2:54:34
9  Stanislas PAPADIMITRIOU         CAN  2:54:51
10 Jean-Nicolas DUVAL              CAN  2:55:52
 
WOMEN:
1  Suzanne MUNGER                  CAN  3:10:07
2  Valerie ST MARTIN               CAN  3:12:05
3  Rachel PAQUETTE                 CAN  3:20:08
4  Marie-Pierre RAYMOND            CAN  3:21:27
5  Elvy LAPOINTE                   CAN  3:24:26
6  Sylvie BOISVERT                 CAN  3:24:37
7  Isabelle RODRIGUE               CAN  3:26:58
8  Annie BRONGEL                   CAN  3:29:07
9  Odette FORTIN                   CAN  3:33:54
10 Louise CHERCUITTE               CAN  3:35:51
 
HALF MARATHON
MEN:
1  Josephat ONGERI                 CAN  1:07:54
2  Christian MERCIER               CAN  1:12:46
3  Eric AGRINIER                   CAN  1:13:57
 
WOMEN:
1  Josiane ABOUNGONO               CAN  1:21:58
2  Ingrid CLUZEAU                  CAN  1:23:57
3  Amelie FOURNIER                 CAN  1:31:46
30 AUGUST 2008: RUTA DE LAS IGLESIAS 10km, ECUADOR
MEN:
1  Miguel Angel CONDOR            ECU  31:27
2  Edison Vladimir BURBANO        ECU  31:47
3  Oswaldo JAMI                   ECU  32:20
4  Gerardo Giovanni SANTILLAN     ECU  32:26
5  Guillermo Chalco ULCUANGO      ECU  32:49
6  Edgar Heriberto LINARES        ECU  32:52
7  Jhon Diego Ortega CASTILLO     ECU  33:12
8  Guido Heriberto ROMAN          ECU  33:14
9  Cesar Wilson Galotuna CAMACHO  ECU  33:15
10 Marco Antonio CONDOR           ECU  33:39

WOMEN:
1  Diana Judith Landi ANDRADE     ECU  36:31
2  Rosa Alba CHACHA               ECU  36:56
3  Jeanneth Narciza TOAPANTA      ECU  37:25  
4  Viviana Raquel Acosta ANDALUZ  ECU  38:36
5  Marlene Concepcion ZAPATA      ECU  38:40
6  Edith Geanine SUNTAXI          ECU  39:01
7  Nancy Lorena REVELO            ECU  39:45
8  Liliana Paola FIALLOS          ECU  39:46
9  Grecia Pilar LLANO             ECU  39:50
10 Jimena Amparo CHECA            ECU  40:01
31 AUGUST 2008: HOKKAIDO MARATHON, JAPAN
Masaru Takamizawa, who was second last year in this race, won the men's division while a marathon debutante Yukari Sahaku won the women's race. The men's race passed 5km in 15:37 and the pace picked up to 15:15 for the next 5km. After passing 15km in 46:04, Richard Maiyo of Kenya ran the next kilometre in 2:53 and broke away from the pack of approximately 15 runners. Maiyo ran alone until just before 20Km, but as the chase pack caught him Takamizawa surged away from the rest. At half way (1:04:59) he was 11 seconds ahead of Maiyo, who in turn was three seconds ahead of pack that included Eric Wainaina (two-time Olympic marathon medalist) and Julius Gitahi, the defending Hokkaido marathon champion. By 25km Takamizawa was 37 seconds ahead of a chase pack of 10 runners. He continued to pull away and by 30km was over a minute clear, while the chase pack was down to three runners — Kentaro Nakamoto, Masaya Shimizu and Julius Gitahi.
Takamizawa eventually won by more than three minutes in the third fastest time ever recorded in this race. It was a personal best by nearly three minutes. "I concentrated on running my own race from the start," said Takamizawa after the race. "I know I am a good heat runner."
The women's race also started quite ambitiously as Alice Chelangat led a group of five runners through 5km in 17:37, and picked up the pace from there. Soon after 10km Chelangat had only Hitomi Niiya and Yukari Sahaku for company. They ran together until 20km when Chelangat fell behind, leaving Niiya and Sahaku to duel it out. The race was decided when Niiya fell behind after the turn around at 28.7km. Although Sahaku slowed in the last kilometre and Niiya closed the gap, Sahaku won by nearly 30 seconds. After the race Sahaku said "Because it was my first marathon, I was not sure what to expect, but I ran recalling my 40km long run." Nineteen years old, Sahaku said her most memorable race was the World Cross Country Championships in Mombasa.
MEN:
1  Masaru TAKAMIZAWA              JPN  2:12:10
2  Kentaro NAKAMOTO               JPN  2:15:21
3  Masaya SHIMIZU                 JPN  2:15:29
4  Yuzo ONISHI                    JPN  2:15:49
5  Yuki ABE                       JPN  2:16:21
6  Hisahiko SAHAKU                JPN  2:16:36
7  Julius GITAHI                  KEN  2:17:53
8  Laban KAGIKA                   KEN  2:17:54
9  Yusuke KATAOKA                 JPN  2:18:01
10 Masato IMAI                    JPN  2:18:34

WOMEN:
1  Yukari SAHAKU                  JPN  2:31:50
2  Hitomi NIIYA                   JPN  2:32:19
3  Kaori YOSHIDA                  JPN  2:33:37
4  Mai TAGAMI                     JPN  2:35:44
5  Yukiko MATSUBARA               JPN  2:36:55
6  Miak HIKITA                    JPN  2:37:06
7  Alice CHELANGAT                KEN  2:39:11
8  Shigeko YANAGIDA               JPN  2:40:33
9  Mika HIOKICHI                  JPN  2:41:21
10 Chihiro TANAKA                 JPN  2:42:21
August 2008