August 2014
3 AUG | 10 AUG | 16 AUG | 17 AUG | 23 AUG | 24 AUG | 30 AUG | 31 AUG
3 AUGUST 2014: BRISBANE RUNNING FESTIVAL MARATHON, AUSTRALIA
MEN:
1  Clay DAWSON                    AUS  2:30:43
2  Moritz Auf Der HEIDE           AUS  2:37:30
3  Scott BRITTAIN                 AUS  2:43:48
4  Wayne SPIES                    AUS  2:49:48
5  Warwick BIBLE                  AUS  2:49:57
6  Kieran CHUTE                   AUS  2:52:17
7  George SCHINARD                AUS  2:52:50
8  Peter BRACKEN                  AUS  2:54:15
9  Henry COOMBS                   AUS  2:54:35 
10 Alan MULLEN                    AUS  2:55:12

WOMEN:
1  Roxie FRASER                   AUS  2:54:35
2  Hannah FOTHERGILL              AUS  3:05:26
3  Trish RUSSELL                  AUS  3:11:56
4  Jody OBORNE                    AUS  3:17:08
5  Deanna FULLER                  AUS  3:22:11
6  Jacqui LEES                    AUS  3:22:57
7  Lisa LUKASSEN                  AUS  3:24:52
8  Anna OTTAWAY                   AUS  3:25:48
9  Maxine FAIRHOLM                AUS  3:25:27
10 Alex RALPH                     AUS  3:26:42

HALF MARATHON 
MEN:
1  Hintsa MEBRAHTU                AUS  1:13:06
2  Joseph LAMPE                   AUS  1:14:55
3  Tim TONER                      AUS  1:16:18

WOMEN:
1  Lou ABRAM                      AUS  1:24:22
2  Riine RINGI                    AUS  1:24:56
3  Madi ROBERTS                   AUS  1:24:57
3 AUGUST 2014: MCDONALDS TOWNSVILLE MARATHON, AUSTRALIA
MEN:
1  Benjamin ASHKETTLE             AUS  2:22:49
2  David CRINITI                  AUS  2:27:07
3  Russell DESSAIX-CHIN           AUS  2:30:24
4  Sam STEDMAN                    AUS  2:43:28
5  Neil PEARSON                   AUS  2:48:06
6  Dane WEST                      AUS  2:49:14
7  Richard BANKS                  AUS  2:50:30
8  Jaemin FRAZER                  AUS  2:53:08
9  Tony GORDON                    AUS  2:53:43
10 Oliver CAREY                   AUS  2:59:21

WOMEN:
1  Victoria BECK                  AUS  2:55:23
2  Melissa CRINITI                AUS  3:09:17
3  Colette READ                   AUS  3:14:23
4  Erin STAFFORD                  AUS  3:23:24
5  Julie LIGHTFOOT                AUS  3:28:53
6  Vicky VICKERS                  AUS  3:38:28
7  Vicky SKINNER                  AUS  3:43:13
8  Donna BYRNE                    AUS  3:45:56
9  Shanay CASTELLO                AUS  3:47:39
10 Tamara RYAN                    AUS  3:49:07

HALF MARATHON
MEN:
1  Glen YARHAM                    AUS  1:09:05
2  Samuel MURPHY                  AUS  1:12:36
3  Phil BRADSHAW                  AUS  1:13:42

WOMEN:
1  Liz MAGUIRE                    AUS  1:26:09
2  Nikki HILL                     AUS  1:28:11
3  Saskia JURIAANS                AUS  1:33:36
10 AUGUST 2014: MARATON INTERNACIONAL ASUNCION, PARAGUAY
MEN:
1  Stephen NJOROGE                KEN  2:21:59
2  Marcos Alexandre ELIAS         BRA  2:23:30
3  Elijah KEMBOI                  KEN  2:25:09
4  Joel FEREIRA JNR               BRA  2:28:22
5  Sammy Kibet ROTICH             KEN  2:30:24
6  Pedro DUARTE                   PAR  2:38:53
7  Anibal CORREA                  PAR  2:55:50
8  Rolando PEREIRA                BRA  2:57:47
9  Fernando BLANCO                BRA  3:01:57
10 Romario DE CARVALHO            BRA  3:05:22

WOMEN:
1  Carmen MARTINEZ                PAR  2:49:26
2  Nelly JEPKIRUI                 KEN  2:51:41
3  Ilva ALVES                     BRA  3:03:44
4  Franciele DE OLIVEIRA          BRA  3:05:10
5  Rosa RAMOS                     PAR  3:10:54
6  Hosana DO NASCIMENTO           BRA  3:25:50
7  Maria VILASANTI                BRA  3:34:54
8  Lina CACERES                   PAR  4:00:07
9  Edmara DE OLIVEIRA             BRA  4:00:44
10 Marilis DONATO                 BRA  4:01:44

10km
MEN:
1  Eduardo DA SILVA               BRA  32:35
2  Cristiano RIBEIRO              BRA  33:09
3  Edson Pereira SOUSA            BRA  33:28

WOMEN:
1  Marcela CORDEIRO               BRA  36:05
2  Gabriela ROCHA                      37:31
3  Maria A                             39:43
16 AUGUST 2014: HELSINKI CITY MARATHON, FINLAND
MEN:
1  Justus KIPRONO                 KEN  2:20:42
2  John MUTAI                     KEN  2:21:25
3  Elicky Kipchoge MASE           KEN  2:21:38
4  Ezekiel CHEROP                 KEN  2:24:00
5  Mika PENTTINEN                 FIN  2:35:40
6  Vitaly ADRIANOV                RUS  2:37:46
7  Lauri LAPPALAINEN              FIN  2:40:33
8  Ole HALONEN                    FIN  2:40:36
9  Pirkka KIRJAVAINEN             FIN  2:40:43
10 Marko VAITTINEN                FIN  2:45:37

WOMEN:
1  Natalia STARKOVA               RUS  2:37:56
2  Hellen MUGO                    KEN  2:41:48
3  Emily ROTICH                   KEN  2:43:29
4  Leena PUOTINIEMI               FIN  2:46:41
5  Elina JUNNILA                  FIN  2:54:41
6  Anne MAKELA                    FIN  3:05:02
7  Jaana LEIVO                    FIN  3:07:31
8  Katherine AHOKAS               USA  3:08:50
9  Anastasia ZAKHAROVA            RUS  3:09:10
10 Anna-Elina HEIKKINEN           FIN  3:10:43
17 AUGUST 2014: ANGKOR EMPIRE INT'L MARATHON, CAMBODIA
MEN:
1  Hiroshi NEKO                   JPN  2:45:28
2  Gan BA                         CAM  3:01:58
3  Yan DEFOND                     FRA  3:20:07
4  Takumi KATSUMOTO               JPN  3:24:54
5  Paul SHIU                      CHN  3:25:35
6  Ka Chun KWOK                   CHN  3:29:54
7  Wai Sing HO                    CHN  3:31:54
8  Alastair SLADE                 GBR  3:39:08
9  Matthew ELLIOTT                USA  3:40:13     
10 Siu Kin LI                     CHN  3:41:38

WOMEN:
1  Veronique MESSINA              FRA  3:36:04
2  Wai Fong CHAN                  CHN  3:43:27
3  Mari KAURI                     FIN  3:45:41
4  Gemma TOPP                     NZL  3:57:02
5  Mun Yee CHEUNG                 CHN  4:07:48
6  Jinxia LIU                     CHN  4:11:14
7  Xia CAO                        CHN  4:11:17
8  Chui Fung Jackie AU            CHN  4:11:50
9  Kitatsuji CHIZURU              JPN  4:12:02
10 Yvonne Elizabeth CHEE          SIN  4:13:19

HALF MARATHON
MEN:
1  Martin Van Der WARDT           NED  1:37:37
2  Simon LORELLI                  FRA  1:41:37
3  Joss VAZQUEZ                   FRA  1:42:53

WOMEN:
1  Camilla Munch NIELSEN          DEN  1:50:58
2  Shumei JIA                     CHN  1:51:14
3  Petra DIENER                   GER  1:52:34
23 AUGUST 2014: HVAR HALF MARATHON, CROATIA
MEN:
1  Goran GRDENIC                  CRO  1:14:12
2  Dejan PATRCEVIC                CRO  1:16:10
3  Antun PAVELIC                  CRO  1:18:23
4  Zoran ZILIC                    CRO  1:23:15
5  Prago PARIPOVIC                CRO  1:23:46
6  Juraj KRALJ                    CRO  1:30:00
7  Michal RZDANEK                 POL  1:31:10
8  Sven ABRAHAM                   GER  1:31:11
9  Zeljko BRADARIC                CRO  1:32:35
10 David PEARCE                   GBR  1:33:25

WOMEN:
1  Marija VRAJIC                  CRO  1:27:34
2  Nikolina SUSTIC                CRO  1:27:43
3  Natasa SUSTIC                  CRO  1:38:47
4  Eve PHILLIPS                   USA  1:31:46
5  Radmila MAKSOMOVIC             CRO  1:44:20
6  Kasia MAJCHRZAK                POL  1:50:54
7  Losa Ana DOMOZET               CRO  1:51:06
8  Maja ULCNIK                    SLO  1:51:07
9  Tina PAHOR                     SLO  1:53:17
10 Joanna KUBIAK                  POL  1:53:36
23 AUGUST 2014: REYKJAVIK MARATHON, ICELAND
MEN:
1  Matthew PELLETIER              USA  2:18:00
2  Wojciech KOPEC                 POL  2:29:05
3  Andy NORMAN                    GBR  2:30:01
4  Arnar PETURSSON                ISL  2:31:23
5  Petur Sturla BJARNASON         ISL  2:40:53
6  Robert BOND                    USA  2:43:18
7  Kristoffer SIDEBY              SWE  2:44:33
8  Raimunds BULS                  LAT  2:46:11
9  Cecil WEIHE                    FAR  2:46:59
10 Tom HALE                       GBR  2:47:57

WOMEN:
1  Sarah BROWN                    GBR  3:01:47
2  Melissah Kate GIBSON           AUS  3:04:52
3  Erica VERDUGO                  MEX  3:10:34
4  Bonni KIRKWOOD                 USA  3:11:57
5  Henrietta LAU                  DEN  3:12:48
6  Alicia CRAVEN                  USA  3:17:16
7  Kaire MATSON                   EST  3:17:37
8  Mikelle ADAMCZYK               USA  3:21:14
9  Annie Xiao Jun LEVINE          USA  3:21:14
10 Holly Ann GREENLIMB            USA  3:23:17

HALF MARATHON
MEN:
1  Will CHRISTIAN                 USA  1:08:41
2  Thorbergur Ingi JONSSON        ISL  1:09:35
3  Dave NORMAN                    GBR  1:11:13

WOMEN:
1  Helen OLAFSDOTTIR              ISL  1:23:36
2  Anna Berglind PALMADOTTIR      ISL  1:29:24
3  Amanda ROBOTTI                 USA  1:29:36
24 AUGUST 2014: ADELAIDE RUNNING FESTIVAL, AUSTRALIA
MEN:
1  Raymond WAREHAM                AUS  2:39:59
2  John CSONGEI                   AUS  2:42:53
3  David STAEHR                   AUS  2:44:03
4  Michael WILSON                 AUS  2:45:27
5  Paul GREENWOOD                 AUS  2:47:12
6  Sean DUNLEAVY                  AUS  2:48:55
7  Harley Go VEGAN                AUS  2:50:47
8  Justin Peter ROBINSON          AUS  2:51:21
9  Peter HALLAHAN                 AUS  2:51:56
10 Ben WALTERS                    AUS  2:51:59

WOMEN:
1  Tracey TAYLOR                  AUS  3:01:40
2  Charmaine SYMONS               AUS  3:04:54
3  Sheena JACKSON                 AUS  3:09:43
4  Megan INGE                     AUS  3:12:04
5  Sally Anne WILLIAMS            AUS  3:13:53
6  Kazu KUWATA                    JPN  3:14:40
7  Diana Kaye JOHNS               AUS  3:15:37
8  Bernice MUTISO                 AUS  3:18:22
9  Bronwyn YOUNG                  AUS  3:20:09
10 Chris Ann GRENVOLD             AUS  3:24:57

HALF MARATHON
MEN:
1  Jason MATULIK                  AUS  1:14:14
2  Steve MONEGHETTI               AUS  1:15:31
3  Jonny MATTHEWS                 AUS  1:17:48

WOMEN:
1  Lisa DAVIES                    AUS  1:24:13
2  Tracy KOTZEE                   AUS  1:28:24
3  Juliane SCHLIEBS               AUS  1:28:24
24 AUGUST 2014: CANADIAN DERBY EDMONTON MARATHON
MEN:
1  Arturs BAREIKIS                USA  2:27:46
2  Tom MCGRATH                    CAN  2:28:51
3  Brendan KELLY                  CAN  2:31:29
4  Brendan LUNTY                  CAN  2:31:38
5  David CORBETT                  CAN  2:39:54
6  Dave COALES                    GBR  2:43:28
7  Ian BLOKLAND                   CAN  2:46:28
8  Alex PETROSKY                  CAN  2:48:14
9  Neil SADOWNIK                  CAN  2:52:46
10 Gerard PINKOSKI                CAN  2:53:09

WOMEN:
1  Danielle BOURGEOIS             CAN  3:03:24
2  Alana CADIEUX                  CAN  3:08:51
3  Katherine SCHMALTZ             CAN  3:11:37
4  Steph NEUFELD                  CAN  3:13:35
5  Abigail HUYSER-WIERENGA        CAN  3:15:14
6  Emily SABO                     CAN  3:16:44
7  Angela BATES                   CAN  3:17:42
8  Adrianna WILD                  CAN  3:19:06
9  Bettina WARDECK                CAN  3:19:21
10 Kelsi RUBY                     CAN  3:21:09

HALF MARATHON
MEN:
1  Jordan CHIPANGAMA                   1:03:38
2  Ian BURRELL                    USA  1:03:58
3  Daniel KIPKOECH                KEN  1:04:16

WOMEN:
1  Lioudmila KORTCHAGUINA         CAN  1:16:44
2  Megan HODGES                   CAN  1:27:47
3  Petra GRAEN                    CAN  1:27:57
24 AUGUST 2014: LONGFORD MARATHON, IRELAND
MEN:
1  Freddy Keron SITTUK            KEN  2:27:46
2  Gary OHANLON                   IRL  2:29:08
3  Liam FEELY                     IRL  2:32:37
4  Niall LYNCH                    IRL  2:49:24
5  Paul MORAN                     IRL  2:50:38
6  Dermot POWER                   IRL  2:51:02
7  Niall MURPHY                   IRL  2:52:03
8  George BRADY                   IRL  2:54:06
9  Mark POWER                     IRL  2:54:58
10 Michael RICE                   IRL  2:55:04

WOMEN:
1  Pauline CURLEY                 IRL  2:47:37
2  Angela MCCANN                  IRL  3:06:48
3  Joan KENNEDY                   IRL  3:21:02
4  Siobhan MCHUGH                 IRL  3:29:41
5  Mary JENNINGS                  IRL  3:30:50
6  Karen GILLEN                   IRL  3:31:36
7  Sallie HOLT                    IRL  3:34:42
8  Ann COSGROVE                   IRL  3:36:06
9  Janine KAMPMANN                     3:36:31
10 Sarah HAYES                         3:44:52

HALF MARATHON
MEN:
1  Philip HARTY                   IRL  1:13:05
2  Gary CONDON                    IRL  1:15:56
3  Brian MCCARRY                  IRL  1:16:55

WOMEN:
1  Michelle MCGEE                 IRL  1:18:11
2  Adele WALSH                    IRL  1:26:08
3  Orna DILWORTH                  IRL  1:27:23
24 AUGUST 2014: SSQ QUEBEC MARATHON, CANADA
MEN:
1  Evans MAIKO                    KEN  2:36:46
2  Ararsa DIBADA                  ETH  2:45:26
3  Pierre SLUSAREK                CAN  2:46:12
4  Louis-Philippe GARNIER         CAN  2:48:54
5  Scott CAMPBELL                 CAN  2:49:07
6  Kyle WYATT                     CAN  2:50:48
7  Mark NOLL                      CAN  2:51:41
8  Kevin PARENT                   CAN  2:52:15 
9  Jacques CHRISTIAN              CAN  2:53:23
10 Nicholas POLES                 CAN  2:54:23

WOMEN:
1  Joanne NORMAND                 CAN  3:06:34
2  Melanie ROBERGE                CAN  3:12:19
3  Fantaye BATISO                      3:17:57
4  Genevieve GOBEIL               CAN  3:20:21
5  Suzanne MUNGER                 CAN  3:21:18
6  Marie-Helene TREMBLAY          CAN  3:25:33
7  Victoria MANFREDI              CAN  3:26:55
8  Isabelle BROSSEAU              CAN  3:30:27
9  Anne-Marie GAUTHIER            CAN  3:31:03
10 Maude ST-ONGE                  CAN  3:31:16

HALF MARATHON
MEN:
1  Berhanu DEGEFA                 ETH  1:05:10
2  Rachem BAGHDAD                      1:10:40
3  David Savard GAGNON            CAN  1:10:57

WOMEN:
1  Marilou FERLAND-DAIGLE         CAN  1:24:26
2  Melanie LETOURNEAU             CAN  1:25:26
3  Winny TONUI                         1:25:33
30 AUGUST 2014: LA RUTA DE LAS IGLESIAS 10km, ECUADOR
MEN:
1  Oswalso Segundo JAMI           ECU  31:44
2  Cesar PILALUISA                ECU  31:51
3  Xavier SIMBANA                 ECU  32:00
4  Pedro RAMOS                    ECU  32:04
5  Manuel CANA                    ECU  32:06
6  Cristobal NARVAEZ              ECU  32:08
7  Miguel ALMACHI                 ECU  32:31
8  Gerson TULCANAZO               ECU  32:57
9  Dimas QINGALUISA               ECU  33:15
10 Edison CONLAGO                 ECU  33:42

WOMEN:
1  Maria PASTUNA                  ECU  35:27
2  Diana LANDI                    ECU  36:16
3  Jessica PAGUAY                 ECU  36:45
4  Katherine VEL ASQUEZ           ECU  37:53
5  Edith SUNTAXI                  ECU  38:06
6  Rosa Alba CHACA                ECU  38:12
7  Monica CAJAMARCA               ECU  39:01
8  Jeanneth COLLAGUAZO            ECU  39:02
9  Ana Lucia YANEZ                ECU  39:41
10 Grecia Pilar TOAPANTA          ECU  40:57
31 AUGUST 2014: DA NANG INT'L MARATHON, VIETNAM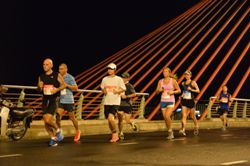 MEN:
1  Loi Van TRAN                   VIE  2:36:18
2  Thanh Nguyen HOANG             VIE  2:38:11
3  Long Van NGUYEN                VIE  2:39:13
4  Hau Van NGUYEN                 VIE  2:56:05
5  Chien Van LI                   VIE  3:05:43
6  Hidefumi KIMURA                JPN  3:13:54
7  Miroslaw CYDZIK                POL  3:21:17
8  Atsushi UEHARA                 JPN  3:26:16
9  Masayuki MATSUMURA             JPN  3:44:40
10 Jia Kong KAO                   VIE  3:46:32
 
WOMEN:
1  Thanh Thi HUANG                VIE  3:07:22
2  Thuy Thi LAM                   VIE  3:08:07
3  Anette Haudrum AXELSEN         DEN  3:16:50
4  Jacinta WORLAND                AUS  3:16:55
5  Karen Ann SOBRINO              RSA  3:36:16
6  Kelsey FREEMAN                 USA  3:50:19
7  Audrey MCILVRIDE               GBR  4:01:34
8  Sarah Martin                   AUS  4:31:03
9  Kerri SINGER                   USA  4:36:10
10 Mithra Melanie BAKHTIARI       AUS  4:55:31
 
HALF MARATHON
MEN:
1  Luat Quoc DO                   VIE  1:14:39
2  Tuan Van LE                    VIE  1:14:44
3  The Anh BUI                    VIE  1:15:13
 
WOMEN:
1  Hang Thi PHUNG                 VIE  1:31:05
2  Hiromi UEKUMA                  JPN  1:42:26
3  Aneta RADACZEWSKA              POL  1:49:50
31 AUGUST 2014: HOKKAIDO MARATHON, JAPAN
12922 runners started, of which 10199 finished.
MEN:
1  Shigeki TSUJI                  JPN  2:15:24 
2  Ryoichi MATSUI                 JPN  2:16:32 
3  Masamichi SHINIZAKI            JPN  2:17:22
4  Masanori SAKAI                 JPN  2:17:24 
5  Yuji IWATA                     JPN  2:17:26
6  Yuki OSHIKAWA                  JPN  2:17:32 
7  Takuya SUZUKI                  JPN  2:17:35 
8  Etsu MIYATA                    JPN  2:17:46 
9  Yukihiro KITAOKA               JPN  2:19:06 
10 Shingo IGARASHI                JPN  2:19:10 
 
WOMEN:
1  Azusa NOJIRI                   JPN  2:30:26
2  Shoko MORI                     JPN  2:35:10 
3  Yuka YANO                      JPN  2:35:22 
4  Megumi AMAKO                   JPN  2:37:42
5  Manami KAMITANIDA              JPN  2:41:00
6  Chihiro TANAKA                 JPN  2:41:48 
7  Yoshiko SAKAMOTO               JPN  2:44:23
31 AUGUST 2014: MANDELA DAY MARATHON, SOUTH AFRICA
From 1500 entries in the first year for a wide range of activities, numbers jumped to 4500 in 2013 and this year surpassed 10,000, with 6500 in the flagship 10km, 21km, and full marathon writes Norrie Williamson. Emotionally charged runners stood in silence at all three race starts to hear the recording of Nelson Mandela's 'Live or Die for Freedom' speech (made at his 1964 Rivonia trial prior to his 27-year incarceration) followed by his 'Free at Last' speech (made on 27 April 1994 when the country held its first democratic election).
Runners start outside the Edendale Hall (where 'Madhiba' made his last public speech before his arrest) and immediately toil up the gruelling 8km-long "Struggle Hill" before tackling the shorter but steeper 3km "Challenge Climb" to the highest point of of the course. They then still have to cope with a further 23km of rolling countryside to finish right alongside the Nelson Mandela 'Face Sculpture' which marks the site at which he was captured on 5 August 1962. The event has now partnered with the Nelson Mandela Foundation as one of 67 projects that have been selected to continue the legacy of the father of the nation and world icon, Nelson Mandela.
Thobani Chagwe ran a well-paced race to break the course record and take the prestigious race title in his debut marathon. "I took advice from (1992 New York winner) Willie Mtolo" he said, in explanation of why he held back in the early stages: to save his energy and run the easier and more undulating second half much more strongly. "I hope this is a stepping stone towards Olympic selection. I think I can expect to run a 2:12 marathon in the future because this is a very tough course."
Irvette van Zyl's hectic race schedule took her to record-breaking victories over both 10km and Marathon, on consecutive days. She won the Spar ladies 10km in Pretoria in a new course record time of 33:32, then flew to Pietermaritzburg for this Marathon and tore almost 19 minutes from the course record. She too was well off the early pace, saving her effort for the second half. Here she seemed to get carried away by the occasion, and finished in 2:47:15 to become the first women to break three hours on this gruelling course. Ethiopia's Chelita Bogale Asefa in second, and Sisay Arsedi in third, were also both under the old course record.
Gladwin Mzazi and Uganda's Karen Chekwemoi won the half marathon, which was a new addition for the third running of the Mandela Day event. The impressive times they recorded unfortunately do not meet statistical requirements for 'standard' courses (the course drops more than is allowable and the start and finish are too far apart to discount the possibility of wind-assisted performances).
Stephen Mokoka ran 30:38 to win the 10km race, while the in-form Lebogang Phalula, who finished second to Irvette Van Zyl in Pretoria the previous afternoon, took the women's race in 33:47, only 15 seconds slower than the time Van Zyl posted in Pretoria.
MEN:
1  Thobani CHAGWE                 RSA  2:27:12
2  Sefako Othaniel PHAHLANE       RSA  2:28:39
3  Emmanuel Birgen KIPLIMO        KEN  2:29:21`
4  Stephen KATAM                  KEN  2:29:43
5  Kgose TSOSANE                  RSA  2:30:53
6  Lyni MICHENA                   ZIM  2:31:18
7  Peter MTHUBI                   RSA  2:31:27
8  Eliya Tshepiso MOGOBOYA        RSA  2:31:38
9  Jonas MAKHELE                  RSA  2:32:42
10 Henry Kipkirui KIPSANG         KEN  2:34:34

WOMEN:
1  Irvette VAN ZYL                RSA  2:47:15
2  Chelite Bogale ASEFA           ETH  2:57:00
3  Chiyedza CHOKORE               BOT  3:03:24
4  Sisay ARSEDI                   ETH  3:03:51
5 Tabitha TSATSA                  ZIM  3:04:30
6  Makhosazana Ladyfair MHLONGO   RSA  3:05:46
7  Ntebaleng LETSELA              LES  3:06:15
8  Ntombesintu MFUNZI             RSA  3:09:01
9  Mpho MBAZU                     RSA  3:09:46
10 Monica KATIVUH                 ZIM  3:12:21

HALF MARATHON
MEN:
1  Sibabalwe Gladwin MZAZI        RSA  1:04:32
2  Joel MOHAU                     RSA  1:04:45
3  David MANJA                    RSA  1:04:56

WOMEN:
1  Karen CHEPKWEMOI               UGA  1:16:33
2  Jenna CHALLENOR                RSA  1:17:25
3  Constance NYASANGO             ZIM  1:18:30
31 AUGUST 2014: XXXII MARATON DE LA CIUDAD DE MEXICO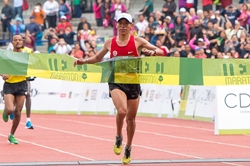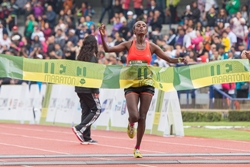 More than 20,000 runners started from the "Hemiciclo a Juárez" very early in the morning. Despite rain in the early stages of the race, it didn't dampen the spirit of the runners on their journey to the finish line in the Olympic Stadium located in the "Ciudad Universitaria", receiving more than 17,000 finishers.
MEN:
1  Raúl PACHECO                   PER  2:18:28
2  Abrha Milaw ASEFA              ETH  2:18:30
3  Kenneth MUNGARA                KEN  2:18:31
4 Julius KIPYEGO                  KEN  2:18:32
5 Simon NJOROGE                   KEN  2:19:23
6 Gezahegn ALEMMAYEHU             ETH  2:20:34
7 Abraraw Misganaw TEGEGNE        ETH  2:21:39
8 Sergio REYES                    MEX  2:22:17
9 Christopher KIPIYEGO            KEN  2:22:50
10 Hillary Kipchirchir KIMAYO     KEN  2:22:57

WOMEN:
1  Shewarge Amare ALENE           ETH  2:41:21
2  Diane Nukuri JOHNSON           BUR  2:41:32
3  Gladys TEJEDA                  MEX  2:41:40
4  Waganesh MEKASHA               ETH  2:42:40
5  Abrah SERKALEM                 ETH  2:44:23
6  Sakiko MATSUMI                 JPN  2:46:06
7  Dorcas Jeruto KANGOGO          KEN  2:46:31
8  Leah Jebiwot KIGEN             KEN  2:46:41
9  Adriana MEDEL                  MEX  2:48:15
10 Rose JEBET .                   KEN  2:48:23
31 AUGUST 2014: SUNSHINE COAST MARATHON, AUSTRALIA
MEN:
1  Andrew KINMANTHI               KEN  2:20:32
2  Stephen DINNEEN                AUS  2:28:26
3  Clay DAWSON                    AUS  2:39:16
4  Tim TONER                      AUS  2:46:39
5  Satoshi ASHIDA                 JPN  2:48:55
6  Jamie SPRAGG                   AUS  2:49:30
7  Mark AINSWORTH                 AUS  2:49:31
8  Warwick BIBLE                  AUS  2:50:44
9  George SCHINARD                AUS  2:53:04
10 Hayden SMITH                   AUS  2:55:39 

WOMEN:
1  Roxie FRASER                   AUS  2:52:46
2  Marita EISLER                  AUS  2:59:21
3  Fiona KUPRESANIN               AUS  2:59:53
4  Kerri HODGE                    AUS  3:08:36
5  Rebecca PHILIPP                AUS  3:09:04
6  Deanna FULLER                  AUS  3:15:30
7  Suzannne CHATTERTON            AUS  3:21:26
8  Jodie MARSH                    AUS  3:21:51
9  Jodie OBORNE                   AUS  3:24:18
10 Alex RALPH                     AUS  3:25:37

HALF MARATHON
MEN:
1  Hintsa MEBRAHTU                AUS  1:10:49
2  David KALINOWSKI               AUS  1:14:18
3  Andrew FULLER                  AUS  1:14:57

WOMEN:
1  Melanie PANAYIOTOU             AUS  1:17:57
2  Clare GERAGHTY                 AUS  1:19:56
3  Kym COOGAN                     AUS  1:23:13
August 2014