March 2011
6 MAR | 20 MAR | 25 MAR | 27 MAR
6 MARCH 2011: LAKE BIWA MAINICHI INT'L MARATHON, JAPAN
Wilson Kipsang broke away from Deriba Merga after 38km, with a devastating 2:48 kilometre, to win in a new course record 2:06:13 writes Ken Nakamura. It is the third fastest time on Japanese soil. His best is the 2:04:57 he recorded when he won in Frankfurt in October.
About 40 runners passed 10km in 30:00 and 22 of them went through halfway in 63:30. Kipsang moved up to behind the pacemakers, but after 24km it was Merga who pushed the pace and reduced the lead pack to five, although the chasing group, 9-strong, caught them at 25km (1:15:06). Soon Merga tried again and only Kipsang stayed with him. Kipsang took the lead after 30km (1:29:51) but Merga surged again at 31km. The duel continued through 35km in 1:44:50 with the pair now a minute ahead, but when Kipsang kicked at 38km Merga had no power to resist. Behind them Hiroyuki Horibata won the battle to be first Japanese and in doing so climbed past Moses Kangogo into third place.
Kipsang's winning time moved the Lake Biwa Marathon course record up from 23rd best to 12th best in the world.
MEN (ONLY):
1  Wilson KIPSANG                 KEN  2:06:13
2  Deriba MERGA                   ETH  2:09:13
3  Hiroyuki HORIBATA              JPN  2:09:25
4  Kentaro NAKAMOTO               JPN  2:09:31
5  Moses KANGOGO                  KEN  2:09:48
6  Masato IMAI                    JPN  2:10:41
7  Satoshi YOSHII                 JPN  2:10:45
8  Satoru KASUYA                  JPN  2:11:17
9  Masashi HAYASHI                JPN  2:11:19
10 Koji GOKAYA                    JPN  2:12:07 
6 MARCH 2011: SEMI-MARATHON DE PARIS, FRANCE
MEN:
1  Stephen KIBET                  KEN  1:01:36
2  Moses MOSOP                    KEN  1:01:47
3  Eric NDIEMA                    KEN  1:01:49
4  Megersa BACHA                  ETH  1:01:54
5  Habtamu FIKADU                 ETH  1:01:54
6  Stephen KIBIWOTT               KEN  1:01:58
7  Abel KIRUI                     KEN  1:02:08
8  Lukas KANDA                    KEN  1:03:26
9  Denis MAYAUD                   FRA  1:03:36
10 Daniel KOSGEI                  KEN  1:04:24
 
WOMEN:
1  Peninah ARUSEI                 KEN  1:08:28
2  Philes ONGORI                  KEN  1:08:32
3  Aheza KIROS                    ETH  1:09:10
4  Chaofeng JIA                   CHN  1:10:28
5  Xiaolin ZHU                    CHN  1:10:45
6  Elodie NAVARRO                 FRA  1:17:09
5  Flore MARTINUZZI               FRA  1:20:06
6  Jana LELUT                     CZE  1:22:06
7  Diana RENAUD                   FRA  1:22:42
10 Kate GOOD                      GBR  1:23:46
6 MARCH 2011: LAGO MAGGIORE HALF MARATHON, ITALY
MEN:
1  Dereje DEME                    ETH  1:00:00
2  Shumi ETHLECHE                 ETH  1:00:03
3  Pius KIROP                     KEN  1:00:04
4  Boniface KIRUI                 KEN  1:01:07
5  Robert MBITHI                  KEN  1:01:08
6  Charles MAINA                  KEN  1:02:17
7  Maurice M Musyoki              KEN  1:02:16
8  Elijah TARUS                   KEN  1:02:19
9  Vasil MATVIYCHIK               UKR  1:05:10
10 Joachim NISHIRIMANA            ITA  1:06:45
 
WOMEN:
1  Joyce CHEPKIRUI                KEN  1:11:17
2  Aynalem WOLDEMICHAEL           ETH  1:11:21
3  Mgerta GELETU                  ETH  1:11:24
4  Valeria STRANEO                ITA  1:13:00
5  Patricia MORCELI               SUI  1:13:00
6  Bernadette MEIER               SUI  1:17:50
7  Francesca BRAVI                ITA  1:20:50
8  Silvia MURGIA                  ITA  1:23:36
9  Sara FERROGLIA                 ITA  1:25:23
10 Susanna SERAFINI               ITA  1:26:44
6 MARCH 2011: MARATO DE BARCELONA, SPAIN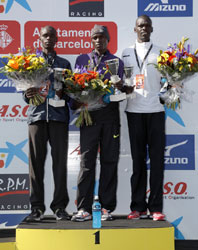 Levy Matebo Omari, only 21, won with the 4th best time of the year so far, and only one second outside the course record established last year. Behind him 12564 runners finished the race (of 13062 starters and 15075 entrants). Foreign participation was 45%, with runners from 40 different countries. Tens of thousands of people watched the passage of runners through the streets and 40 points of animation were dotted around an attractive course that started and finished in the avenue María Cristina, in front of the Montjuïc fountains, after passing by the main tourist sites of Barcelona.
Omari improved his personal record by more than four minutes. The Catalan Marc Roig was first Spanish national, in ninth. Visa problems prevented the participation of a group of Ethiopian runners, but the race was fast from the beginning thanks to pacemakers, Nicholas Korir, Edwin Kipyego, Mark Tanui and Gamal Belal Salem. They took a group of 11 runners through 10km in 29:59 and halfway in 1:03:59, with Kipyego leading the way. At 30km there were still 8 runners together but after the pacing stopped at 31km Omari was left leading, passing through 35km in 1:45:59 and 40km in 2:00:55. Towards the end he paid for his solo efforts and lost the 5000 euro course record bonus by a couple of seconds. Roig, who had been training in Kenya was pleased with his new personal best and his final ninth position as the first Spaniard. Toni Bernadó from the tiny state of Andorra was seventh and met the London 2012 qualifying standard to set himself up for his fifth Olympics.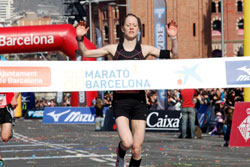 In the women's race the surprise winner was Josephine Ambjörnsson, a popular Swedish athlete who won her first marathon ahead of debutante Nuria Prieto from Madrid. The race suffered from the last minute absence of three Ethiopians who were expected to challenge the course record of 2:30:05. Ambjornsson said: "I ran the Marató de Barcelona for the first time last year and this year I came back and won. I can't still believe it, this is fantastic, I love this city".
MEN:
1  Levi Omari MATEBO              KEN  2:07:31
2  Joseph Kimeli LANGAT           KEN  2:10:04
3  Josphat YEGO                   KEN  2:10:41
4  Joash MUTAI                    KEN  2:13:44
5  Isaac KOSGEI                   KEN  2:14:42
6  Nathan Kimeli NAIBEL           KEN  2:14:57
7  Toni BERNARDO                  AND  2:17:16
8  Elias Rodrigues BASTOS         ESP  2:17:24
9  Marc ROIG                      ESP  2:18:05
10 Kennedy KIMUTAI                KEN  2:19:30
 
WOMEN:
1  Josephine AMBJORNSSON          SWE  2:45:31
2  Nuria Prieto PINEDO            ESP  2:56:59
3  Marth HALL                     GBR  2:57:51
4  Karsta PARSIEGLA               GER  2:59:14
5  Rosa Espachs OLIVERA           ESP  3:00:24
6  Florence AUDAIR                FRA  3:00:25
7  Anne ZIDERVELD                 NED  3:03:42
8  Silvia Tremoleda SERRANO       ESP  3:04:06
9  Theoni LOUVI                   GRE  3:04:31
10 Isabel Olivian MORENO          ESP  3:04:43
6 MARCH 2011: LALA MARATHON, MEXICO
Photos: Inge Johnson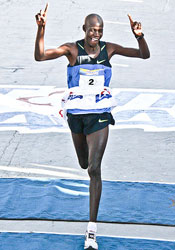 Kenya's Hillary Kimaiyo gave the this region of North-Central Mexico cause for major celebrations at "La Fiesta Lagunera", writes Alan Brookes. He smashed the course record by almost a kilometre and beat his own Mexican all-comers mark of 2:09:54 run in Monterrey in 2008. And Torreon, where the Lala race is held, is at 1000m altitude.
It's cowboy country, where John Wayne filmed many movies and owned a desert ranch. Torreon and surrounding municipalities is the base for the race sponsor, the Lala dairy conglomerate. Staring at daybreak from the dairy factory gates the race passes through the desert landscape but returns to finish in Terreon in the lush Bosque Venustiano Carranza, an oasis of greenery that exists only through irrigation.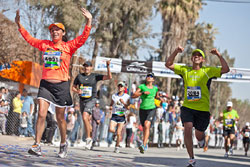 The Lala company gifts the Marathon to the town and its employees — 2000 of them together stage the race, assisted only by a single outside technical advisor, Ruben Romero. The 23rd edition took the event to a truly international level, especially as the entire area boasts a population of only 1.3 million. The race is chilly to start, but in the second hour the sun blazes down from cloudless skies. Runners from every state in Mexico and a number of foreign countries took off from the start.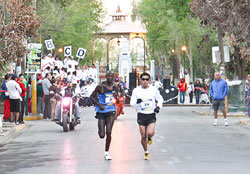 Kimaiyo was immediately in front along with five hostages, Mexico's Juan Luis Barrios, making his marathon debut, and four fellow Kenyans. At under three minutes per kilometre pace Kimaiyo had only two others with him at 3km, and only Barrios after 6km. They hit 10km in 29:51, with great crowds out in the cool morning air, and even the church bells ringing for the marathoners. At 15km [44:52] Barrios surged, and worked hard to open up a meagre 10m gap by halfway (63:09). At 25km (1:14:54) Barrios was 40m up but his pace slipped to 3:10 for the 28th kilometre and by 29km Kimaiyo was back in the lead. He hit 30km in 1:30:13 and the duel in the desert was all but over. Kimaiyo was left to battle the clock as Barrios hung on bravely for third, within the Mexican qualifying standard for London 2012.
The women's race was not quite as dramatic, but gave the enthusiastic, record crowds something more to cheer about as Guanajuato's Paula Apolonio prevailed over Kenyan Neriah Asiba. But Maraton Lala is more about community and Lagunera pride than elite performance. This year's 4,000 participants equalled the race's previous best, 18.5% of them women. Crowds were strong everywhere, but particularly in Lerdo and at the record 41 community-charity "animation" sites that featured bands, dancers, costumes, and great energy. Packed grandstands at the finish are entertained with Latin music, stilt-walkers, noise-makers, confetti, and an outstanding mime artist. "Ven y vive, La Fiesta Lagunera".
MEN:
1  Hillary KIMAIYO                KEN  2:08:17
2  Erick MONYENYE                 KEN  2:12:10
3  Juan Luis BARRIOS              MEX  2:14:20
4  Simon NJOROGE                  KEN  2:14:39
5  Roman ARROYO                   MEX  2:16:16

WOMEN:
1  Paulo APOLONIA                 MEX  2:34:27
2  Neriah ASIBA                   KEN  2:37:43
3  Angelica SANCHEZ               MEX  2:38:24
4  Liliana CRUZ                   MEX  2:42:43
5  Judith RAMIREZ                 MEX  2:44:28
20 MARCH 2011: EDP LISBON HALF MARATHON, PORTUGAL
On a morning that was sunny and probably too warm for optimum performance Zersenay Tadese forged ahead of the field after one-third of the race to record the second fastest time ever run, second only to his own world record performance in this race last year. Tadese paid little heed to his competition, setting his own pace and sticking to it. There was slight wind that was favourable for the later stages of the race but against for the final 2km. From being one second inside record pace at 15km he slipped to three seconds outside it by 20km and seven seconds outside at the finish line. By that time he had forged a winning margin of two minutes, and in such solitude and heat for so long this performance could well be ranked above his world record setting run last year. John Mwangangi chased Tadese as he broke, and ran in clear second for most of the race, although he was being closed down by pursuers towards the end.
The women's race was much closer, although Aberu Kebede dictated the pace from the start, and held a marginal lead from the start until reaching the turn point in the centre of Lisbon. Shortly after that Paulin Ndjeri took over with several others now alongside Kebede. Grace Momanyi had started far less quickly, and worked her way through the field into third, passing a fading Ndjeri in the final stages. The revelation of the race though, was Dulce Felix, of the local organising club, who pushed through strongly at the end and was closing on Kebede in the finishing straight in an unexpected late challenge.
The elite race merged with the mass event, in which 8000 participated, after 5km. The mass race, and the 8km fun run in which there were 28000 entered, both start by crossing the Tagus River from the south side on the towering 25 de Abril Bridge. To ensure record eligibility the elite course lies entirely on the north side of the river.
MEN:
1  Zersenay TADESE                ERI    58:30
2  John MWANGANGI                 KEN  1:00:30
3  Silas SANG                     KEN  1:00:38
4  Robert KIPCHUMBA               KEN  1:00:43
5  Mike KIGEN                     KEN  1:00:49
6  Evans CHERUIYOT                KEN  1:01:50
7  Leonard LANGAT                 KEN  1:01:51
8  Yacob JARSO                    ETH  1:02:41
9  Abderrahim BOURAMDANE          MAR  1:03:47
10 Solonei SILVA                  POR  1:04:10

WOMEN:
1  Aberu KEBEDE                   ETH  1:08:28
2  Dulce FELIX                    POR  1:08:33
3  Grace MOMANYI                  KEN  1:08:41
4  Pauline NDJERI                 KEN  1:08:55
5  Iness CHENONGE                 KEN  1:09:08
6  Helena KIROP                   KEN  1:09:50
7  Diana CHEPKEMOI                KEN  1:10:40
8  Rita JEPTOO                    KEN  1:10:54
9  Salina KOSGEI                  KEN  1:13:49
10 Maria KOVALEVA                 RUS  1:13:51
20 MARCH 2011: ROME MARATHON, ITALY
Dickson Chumba and Firehiwot Dado won the 17th edition of the Acea Rome Marathon, Dado for a third consecutive time. She followed the example of last year's men's winner Siraj Gena by running the final 200 metres barefooted to commemorate Abebe Bikila's Olympic victory in Rome 1960. She still crossed the finish-line in an impressive personal best time of 2:24:13, more than two minutes ahead of her compatriot Goitetom Haftu Tesema.
The men set off from the famous Fori Imperiali and were led through halfway by pacemakers in 1:04:10 but a strong headwind slowed the pace in the second half. Pacing finished at 30km (1:31:58) and three men remained in contention, but Chumba broke away at 32km to run an impressive 30:11 for the final 10km. Gena overtook Abdullah Shami in the 40th kilometre to take second place.
The women's race was an all-Ethiopian affair. Eight runners led by Dado dominated for most of the race although Rosaria Console ran a good rearguard action despite injury problems. The lead group passed halfway in 1:13:24, with Console running her own race two minutes behind. After 30km Dado had only Haftu Tesema for company after and at 33km she went ahead alone, running a significantly faster second half (1:10:49). Ethiopians took five of the first six places. 14,000 runners started the race, while about 85,000 runners took the streets in the 4km Fun Run.
MEN:
1  Dickson CHUMBA                 KEN  2:08:45
2  Siraj Gena AMDA                ETH  2:09:21 
3  Abdullah Shami DAWIT           ETH  2:09:42
4  Nekabibeb TEKESTE              ETH  2:10:17
5  Simon Kamama MUKUN             KEN  2:10:34
6  Yared Dagnaw SHAREW            ETH  2:10:41
7  Dereje WOLDEGIYORGIS           ETH  2:10:46
8  Solomon Tsige ASFAW            ETH  2:11:23
9  David Mandago KIPKORIR         KEN  2:12:53
10 Shume Haile LEGESSE            ETH  2:13:43
 
WOMEN:
1  Firehiwot Dado TUFA            ETH  2:24:13
2  Goitetom Haftu TESEMA          ETH  2:26:21
3  Kebebush Haile LEMA            ETH  2:27:39
4  Netsanet Achamo ABEYO          ETH  2:28:28
5  Rosaria CONSOLE                ITA  2:29:15
6  Workitu Avanu GURMU            ETH  2:29:37
7  Anna PODNEBESNOVA              RUS  2:32:12
8  Meseret Mengistu BIRU          ETH  2:33:40
9  Dinkinesh Makash TEFERA        ETH  2:34:44
10 Maya NEUENSCHWANDER            SUI  2:35:09
20 MARCH 2011: SEOUL INT'L MARATHON, KOREA
Last year's winners came nowhere near defending their titles as Abderrahim Goumri and Robe Guta took the honours writes Mirko Javala.
After 10km was reached in 30:04 last year's winner Sylvester Teimet dropped off the pace. Although the pace then slowed a lot more athletes fell back and by 25km (1:15:56) there were only seven together, including home runner Jeong Jin Hyeong. Just 20 years old, Jyeong took the lead at 35km, ahead of Goumri, while all the others fell back.
The experienced Goumri led by 13 seconds at 40km with Jeong in clear second. Behind them the Russian Oleg Kulkov moved through into third, equalling his personal best. Goumri easily held his ground to win his first Marathon in Korea. Jeong recorded his first sub-2:10 in only his fifth career Marathon.
The women's pace was not as steady as the men's. A second 5km split a minute faster than the first one disposed of all but five runners: four Ethiopians and Chinese favourite Wei Yanan. Last year's winner Amane Gobena dropped back in the next 5km, along with Zehara Kedir, leaving the lead trio to go through 20km in 1:08:34. Mengistu fell back after 30km but Guta only finally decided the race in the last 2km, sprinting away to her second win in the race. Two time winner Wei Yanan now took her second runner-up finish, while Gladys Tejeda set a 2:32:32 national record for Peru in fourth.
MEN:
1  Abderrahim GOUMRI              MAR  2:09:11
2  Yoeng-Jin HYEONG               KOR  2:09:28
3  Oleg KULKOV                    RUS  2:10:13
4  Wegayehu Girma TEREFA          ETH  2:13:19
5  Dereja ABERA                   ETH  2:14:18
6  Maregu ZEWDIE                  ETH  2:15:15
7  Park Ju-YOUNG                  KOR  2:16:02
8  Oh Seo-JIN                     KOR  2:16:06
9  John CASALLO                   PER  2:16:10
10 Hwang Jun-SUK                  KOR  2:16:22
 
WOMEN:
1  Robe GUTA                      ETH  2:26:51
2  Wei YANAN                      CHN  2:27:13
3  Chung Yun-HEE                  KOR  2:32:26
4  Gladys TEJEDA                  PER  2:32:32
5  Lee Sun-YOUNG                  KOR  2:32:57
6  Asnakech Mengistu EGIGAYEHU    ETH  2:33:58
7  Lee Sook-YOUNG                 KOR  2:34:01
8  Choi BO-RA                     KOR  2:34:13
9  Amane GOBENA                   ETH  2:37:31
10 Zahera KEDIR                   ETH  2:39:47
20 MARCH 2011: IAAF WORD CROSS COUNTRY CHAMPIONSHIPS, PUNTA UMBRIA, SPAIN
Senior Men
Imana Merga was a journeyman track runner, with two wins out of 10 races last year, but he had little trouble disposing of his three Kenyan rivals in the last 200m writes Phil Minshull.
After two relaxed laps — the first was 14 seconds slower than the junior men — the race started in earnest on the third of the six laps, with 14 men still together. Matthew Kisorio and Paul Tanui increased the tempo but at halfway the group still contained 11 men, including the entire Kenyan squad, two Ethiopians, two Ugandans and Bahrain's Ali Hasan Mahboob.
So it remained for another lap but then Mesfin Hunegnaw and Merga exchanged words at the start of the fifth lap and turned up the pace. "That's where we decided to push hard. We both felt strong," confirmed Merga after the race. It had an immediate effect, stringing the leaders out, but Hunegnaw soon paid the price for his effort at the front and started to struggle. "[That] was the moment when I chose to push the pace again. I was confident at that point that I could win the gold medal," said Merga.
Kisorio, Tanui, Kenyan trials winner Geoffrey Mutai and their compatriot Vincent Chepkok all went past the flagging Hunegnaw, who drifted back to eighth place, and chased after Merga before running alongside him for most of the final lap.
Mutai, one of the world's top marathon men who has been a revelation in cross country races on home soil this winter lost contact 500m from the line but his three compatriots only conceded defeat in the final few metres as they found they had no answer to Merga's finish.
With a 5000m best of 12:53.58 Merga became the third Ethiopian winner in four years after the last of Kenenisa Bekele's six triumphs in 2008 and Gebre Gebremariam's win in 2009. "I used to think of myself as a track runner but this winter I have got to like cross country races more," said Merga. In his only previous World Cross appearance, he finished seventh in the Junior race in Mombasa.
With the next four men in Kenya easily took the team gold medal, and have now won for the last six years and 24 out of the last 26 years. Ethiopia's scoring quartet all finished in the top 17 for them to regain the silver medal slot after being usurped by Eritrea last year.
MEN:
1  Imana MARGA                    ETH  33:50
2  Paul TANUI                     KEN  33:52
3  Vincent KIPROP                 KEN  33:53
4  Matthew KISORIO                KEN  33:55
5  Geoffrey MUTAI                 KEN  34:03
6  Stephen KIPROTICH              KEN  34:07
7  Philemon LIMO                  KEN  34:21
8  Mesfin HUNEGNAW                ETH  34:25
9  Ali Hassan MAHBOOB             BRN  34:30
10 Hosea MACHARINYANG             KEN  34:30
 
   TEAMS:
   1  Kenya          14 pts
   2  Ethiopia       38 pts
   3  Uganda         49 pts
   4  Eritrea        95 pts
   5  South Africa  113 pts
Senior Women
It was a battle between two World champions for a World Championship neither had won, writes Len Johnson. Vivian Cheruiyot, 5000m world champion, had won the Junior World Cross title in 2000, but had never placed higher than eighth in the senior race. Linet Masai, 10000m world champion, won the Junior title in 2007, but in the senior event she had been pipped by team-mates in the final sprint for the last two years.
Cheruiyot won, breaking away from Masai mid-way through the final lap after her team-mate had split the field up on the penultimate circuit. Masai was second for the third year in a row. Kenya again beat arch-rivals Ethiopia to the team title.
One of those dropped when first Masai and then Cheruiyot broke up the leading pack was Shalane Flanagan. But the American came charging back, moving past Meselech Melkamu of Ethiopia into third in the last kilometre.
Flanagan, the 29-year-old Beijing Olympic 10,000m bronze medalist, is the first non-African born medallist since Benita Johnson won the long race in 2004 and the first American medallist since Deena Drossin took the second of her two successive silver medals in 2003. Flanagan explained that her improvement from 12th to third was due to marathon training which had "elevated my game". Flanagan's team-mates packed well in 17th, 18th and 19th places to ensure America's second successive team bronze medal.
Masai and Cheruiyot have battled back and forth all year, with their personal score now at 2-2. "I feel very happy" said Cheruiyot, "I had been eighth three times." "My goal was to win, because I came here very strong," said Masai. "But I got second once again." Again she made the race; again she did not win it.
WOMEN:
1  Vivian CHERUIYOT               KEN  24:58
2  Linet MASAI                    KEN  25:07
3  Shalene FLANGAN                USA  25:10
4  Meselech MELKAMU               ETH  25:18
5  Priscah JEPLETENG              KEN  25:20
6  Wude AYELEW                    ETH  25:21
7  Pauline KORIKWIANG             KEN  25:26
8  Lineth CHEPKIRUI               KEN  25:28
9  Genzebe DIBABA                 ETH  25:36
10 Belaynesh OLFIRA               ETH  25:40
 
   TEAMS:
   1  Kenya          15 pts
   2  Ethiopia       19 pts
   3  USA            57 pts
   4  Bahrain        87 pts
   5  Great Britain 118 pts
Junior Men
Geoffrey Kipsang Kamworor finished only fourth at his own national trials last month, but won with a stunning display of gun-to-tape front running writes Phil Minshull. Kipsang's victory was rated by the cognoscenti as the most impressive since Kenenisa Bekele won a decade ago in 2001.
He sped away from the gun with his arms pumping like a 400m runner and went through the first 2km at the head of a 14-man group in 5:22. The expectation was that he was making the pace, possibly for trials winner Isiah Kiplangat Koech, but it was soon clear that Kipsang had other ideas.
"I knew I was in great shape and decided to just run as hard as I could from the front. I knew there was a danger I might run out of energy but I felt I had a good chance." Unlike at many previous Championships Kenyan coaches issued no team tactics.
After the brutally fast start, the pace eased slightly but it was enough to run the legs off some of the men chasing him and the pack was reduced to nine at the halfway point. Kipsang then put in another burst which spread out his rivals. Ethiopia's Bonsa Dida tried to hang on but later paid for his efforts while Uganda's Thomas Ayeko slipped back a few paces. Kipsang found yet another gear about 1000m from home to shake off all challengers and continued to wind up the pace to make sure there were no surprises in the finishing straight.
Behind Kipsang, both Ayeko and Patrick Mutunga went past the flagging Dida in the final kilometre to take the silver and bronze medals respectively. The Kenyan team were far from their perfect 10 score from last year but still managed to take their 13th successive title in the category ahead of Ethiopia, as they have been for 11 of the 12 previous years. Ayeko's second place helped Uganda to the team bronze medals for the second successive year.
JUNIOR MEN:
1  Geoffrey KIPSANG               KEN  22:21
2  Thomas AKEYO                   UGA  22:27
3  Patrick MUTUGA                 KEN  22:32
4  Bonsa DIDA                     ETH  22:39
5  Fikadu HAFTU                   ETH  22;43
6  James GITAHI RUNGARU           KEN  22:43
7  Muktar EDRIS                   ETH  22:44
8  Yitayal ATNAFU                 ETH  22:53
9  Jacob ARAPTANY                 UGA  23:03
10 Isiah Kiplangat KOECH          KEN  23:10

   TEAMS:
   1  Kenya      20 pts
   2  Ethiopia   24 pts
   3  Uganda     50 pts
   4  Eritrea    65 pts
   5  Morocco   106 pts
Junior Women
A year ago, the barefoot Faith Kipyegon lost the individual bronze medal to team-mate Purity Rionoripo in the final sprint to the line writes Len Johnson. This time, she again went barefoot on the fast, well-grassed Punta Umbria circuit, but she made sure there was a long, sustained final sprint, not a short, explosive one.
At the line, Kipyegon was a full second clear of Ethiopian pair Genet Yalew and Azemra Gebru. With Wagnesh Mekasha taking fourth and Emebet Anteneh eighth, Ethiopia regained the team title from Kenya, 17 points to 19.
Kipyegon had been aware of the team situation as she made her winning surge. "With half a lap to go, I realised my team-mates had drifted back," she said. "I realised I was Kenya's only hope for a gold medal and I concentrated on my sprint." Kenyan trials winner Janeth Kisa was the final runner to drop off the lead group, finishing in an isolated fifth. Nancy Chepkwemoi and Rionoripo followed her home, but the team result was already sewn up.
From the first lap there were signs of an Ethiopian resurgence, with five Ethiopians and four Kenyans in the lead pack. Ethiopia maintained the numerical advantage right through to the end. "It was a very tough race," said Kipyegon. "I was surprised at how strong the Ethiopians were. They made the race very hard."
"Last year we prepared as individuals, not as a team" said Yalew, clearly proud at the Ethiopian resurgence. "This year we trained as a national team."
Japan took a highly emotional team bronze medal. A minute's silence was observed before the race to honour the victims of the devastating earthquake and consequent tsunami which struck the northern part of Japan recently.
Led by Katuski Suga in 12th place — the first non-east African to finish — and Tomoka Kimura in 13th, Japan overtook Eritrea in the team standings during the second half of the race.
JUNIOR WOMEN:
1  Faith CHEPNGETICH              KEN  18:53
2  Genet YALEW                    ETH  18:54
3  Azmra GEBRU                    ETH  18:54
4  Waganesh MEKASHA               ETH  18:59
5  Janeth KISA                    KEN  19:08
6  Nancy CHEPKWEMOI               KEN  19:20
7  Purity Cherotich RIYONORING    KEN  19:24
8  Emebet ANTENEH                 ETH  19:29
9  Brillan JEPKORIR               KEN  19;33
10 Buze DIRIBA                    ETH  19:34

   TEAMS:
   1  Ethiopia        17 pts
   2  Kenya           19 pts
   3  Japan           75 pts
   4  Eritrea         89 pts
   5  Great Britain  106 pts
20 MARCH 2011: STANLEY MARATHON, FALKLAND ISLANDS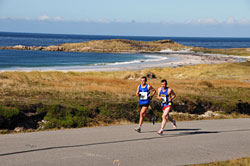 MEN:
1  Manuel MENDEZ                  ARG  3:03:13
2  Hugh MARSDEN                   GBR  3:15:27
3  Nirmal RANA                    GBR  3:16:17
4  Martin COLLINS                 GBR  3:21:26
5  Robert SLATER                  GBR  3:25:35
6  Frederico GARGUINDO            ARG  3:35:00
7  Neal HARDING                   GBR  3:38:36
8  Andrew OCONNOR                 GBR  3:43:07
9  Michael COLVIN                 GBR  3:45:15
10 David CLARKE                   GBR  3:46:46

WOMEN:
1  Kate BURSTON                   GBR  4:09:59
2  Katrin LUDYNIA                 GER  5:08:27
3  Rosalind CHEEK                 GBR  5:13:12
4  Nicola HORTON                  GBR  5:17:58
5  Emily TRIMLETT-GLOVER          GBR  5:26:08

RELAY TEAMS:
1  The Internationals                  3:00:40
2  Stealth Harriers                    3:07:54
3  Whoosh 1312 flt                     3:08:00
25 MARCH 2011: JERUSALEM MARATHON, ISRAEL
MEN:
1  Raymond KIPKOECH               KEN  2:26:43
2  John MUTAI                     KEN  2:26:54
3  Michael KIMANI                 KEN  2:27:18
4  Robert CHERUIYOT               KEN  2:27:48
5  Philip KENDA                   KEB  2:32:14
6  ??                             ISR  2:32:30
7  Sammy ROTICH                   KEN  2:32:31
8  Benson MBITHI                  KEN  2:32:42
9  Mekonnen EMIRU                 ETH  2:35:34
10 Paolo CAMPALLEGIO              ITA  2:42:17

WOMEN:
1  Worknesh ODA                   ETH  2:50:04
2  Rosaline DAVID                      2:50:05
3  Wioletta KRYZA                 POL  2:51:20
27 MARCH 2011: TREVISO MARATHON, ITALY
MEN:
1  Naseef AHMED                   MAR  2:13:57
2  Jayeb FILALI                   ALG  2:13:59
3  Francesco BONA                 ITA  2:14:59
4  Stefano SCANI                  ITA  2:16:48
5  Gianluca PASETTO               ITA  2:21:43
6  Hannes RUNGGER                 ITA  2:21:50
7  Michele BEDIN                  ITA  2:27:18
8  Goirgio ZANTA                  ITA  2:27:48
9  Guenther MAIR                  ITA  2:31:14
10 Stefano BENNICA                ITA  2:32:01

WOMEN:
1  Martina CELI                   ITA  2:36:14
2  Laura GIORDANO                 ITA  2:38:35
3  Daniela GILARDI                ITA  2:47:55
4  Rosanna SARAN                  ITA  2:59:28
5  Federica POESINI               ITA  2:59:36
6  Tiziana SCORZATO               ITA  3:10:03
7  Sara TOME                      ITA  3:10:08
8  Eva VIGNANDEL                  ITA  3:10:33
9  Cecilia DI BENEETTO            ITA  3:10:45
10 Alessandra TESTA               ITA  3:12:23
27 MARCH 2011: FERRARA MARATHON, ITALY
MEN:
1  Zakayo BIWOTT                  KEN  2:25:06
2  Antonio SANTI                  ITA  2:34:43
3  Francesco CARONI               ITA  2:35:08
4  Alberto FELLONI                ITA  2:37:24
5  Joan VAIDA                     ITA  2:37:32
6  Filippo DUSI                   ITA  2:39:26
7  Fillipo Antonio SALARIS        ITA  2:39:36
8  Paolo VITALI                   ITA  2:40:26
9  Manfred PANDUR                 AUT  2:42:34
10 Marcello COLOMBARI             ITA  2:44:32

WOMEN:
1  Salina JEBET                   KEN  2:50:56
2  Marina ZANARDI                 ITA  2:59:47
3  Maurizia PATRACCHINI           ITA  3:13:19
4  Francesca CSARSELLI            ITA  3:15:57
5  Bruna ROSSO                    ITA  3:18:18
6  Daniela MONTANARI              ITA  3:18:54
7  Sabrina CUOGHI                 ITA  3:19:45
8  Milena GRION                   ITA  3:21:50
9  Clara GAIANI                   ITA  3:24:05
10 Ilaria POZZI                   ITA  3:25:49

HALF MARATHON
MEN:
1  Taoufique EL BARHUMI           MAR  1:04:37
2  Eric SEBAHIRE                  RWA  1:04:44
3  Mathew RUGUT                   KEN  1:05:40

WOMEN:
1  Laura RICCI                    ITA  1:19:32
2  Paola MARIOTTI                 ITA  1:23:37
3  Lisa BORZANI                   ITA  1:26:04
27 MARCH 2011: NOVI SAD HALF MARATHON, SERBIA
MEN:
1  Goran MILICIC                 SRB  1:11:58
2  Milos MILOVANOVIC             SRB  1:11:59
3  Zdravko MISOVIC               SRB  1:14:11
4  Marko MILIVANOVIC             SRB  1:14:49
5  Niksa PAPIC                   SRB  1:16:31
6  Stanoje JEREMIC               SRB  1:17:54
7  Milos KESIC                   SRB  1:19:33
8  Strahinja TRAKIC              SRB  1:20:04
9  Attila FILEP                  SRB  1:20:10
10 Sasa Antic                    SRB  1:20:26
 
WOMEN:
1  Ekaterina KOKLEVA             RUS  1:26:47
2  Ksenija BODLOVIC              SRB  1:27:15
3  Georgeanne FAYWEATHER         USA  1:30:41
4  Aleksandra MARINKOV           SRB  1:31:45
5  Nevena JOVANIC                SRB  1:39:11
6  Biljana CONKIC                SRB  1:39:32
7  Tanja RADUMILO                SRB  1:39:39
8  Marta JOVANOVIC               SRB  1:42:31
9  Zelimira KOPECKI              CRO  1:43:03
10 Marija MARKOVIC               SRB  1:49:27
27 MARCH 2011: 6th CSOB BRATISLAVA MARATHON, SLOVAKIA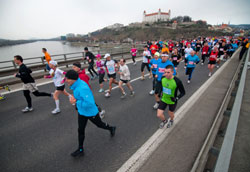 Lilian Koech defended her title and improved the course record by almost five minutes. Former course record holder Judit Folding-Nagy came in fourth. The best Slovak Ingrid Petnuchova was in sixth.
There were also new course records in the half marathon. Last year's winner Hosea Tuei defended his title just a few seconds ahead of Joel Maina Mwangi, both of them under Elisha Sawe's 2007 mark.
Former tennis world number 12 Dominik Hrbaty, who was one of the event ambassadors, completed his first half-marathon in 1:27:54 (114th overall). Lucy Wambui Murigi was also the fastest ever in Bratislava with a personal best.
It was only the men's marathon where the record remained intact. Erkolo Ashkenafi, a 26 year old Ethiopian living in Hungary, won ahead of last year winner Kenyan Edwin Kibowen.
Total participation was up to 6513 runners from more than 30 countries, of whom 5723 finished their race.
MEN:
1  Ashenafi ERKOLO                ETH  2:22:09
2  Edwin KIBOWEN                  KEN  2:22:17
3  Kamil POCZWARDOWSKI            POL  2:22:38
4  Bogdan DZIUBA                  POL  2:22:47
5  Viktor STARODUBTSEV            UKR  2:24:35
6  Mikolay ANOSHKO                BLR  2:27:30
7  Zakis RAIVIS                   LAT  2:29:18
8  Jaroslaw JANICKI               POL  2:29:28
9  Attila HEGYALJAI               HUN  2:29:57
10 Tomasz JASINSKI                POL  2:30:58

WOMEN:
1  Lilian KOECH                   KEN  2:45:30
2  Ida KOVACS                     HUN  2:46:18
3  Renata KALINSKA                POL  2:46:41
4  Judit Földing NAGY             HUN  2:51:40
5  Katalin FARKAS                 HUN  2:51:44
6  Ingrid PETNUCHOVA              SVK  2:56:56.

HALF-MARATHON 
MEN:
1  Hosea TUEI                     KEN  1:03:45
2  Joel Maina MWANGI              KEN  1:03:50
3  Richard Kiprono BETT           KEN  1:04:09

WOMEN:
1  Lucy WAMBUI-MURIGI             KEN  1:11:51
2  Nancy KOECH                    KEN  1:12:42
3  Anikó KALOVICS                 HUN  1:16:59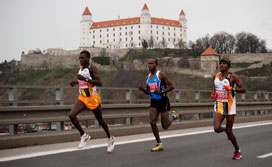 27 MARCH 2011: COSTA RICA INT'L MARATHON
MEN:
1  Adrian Carossa FONSECA         CRC  2:43:02
2  Ramon Fallas NAVARRO           CRC  2:52:19
3  Elicier Collardo OBANDO        CRC  2:55:37
4  Kenneth Rocha GUTIERREZ        CRC  2:58:02
5  Jose Rojas CASTRO              CRC  3:03:31

WOMEN:
1  Sandra RUALES                  ECU  3:13:31
2  Jenny Mendez SUANCA            COL  3:21:29
3  Irene Sanchez MADRIZ           CRC  3:37:02
4  Belkys Munoz HERNANDEZ         CRC  3:40:43
5  Belkis Ugalde ARROYO           CRC  3:59:47
27 MARCH 2011: PUNTA CANA HALF MARATHON, DOMINICAN REPUBLIC
MEN:
1  Jean Odalis ALMONTE            DOM  1:11:07
2  Jesus SANCHEZ                  DOM  1:12:41
3  Jose Domingo ESPINAL           DOM  1:15:54

WOMEN
1  Jhoanna JOSEPH                 DOM  1:34:41
2  Elizabeth NYITRAY              DOM  1:36:00
3  Yarisei ROMERO                 DOM  1:37:17

10km
MEN:
1  Jose SANTOS                    DOM 39:22
2  Victor Manuel LAGARES          DOM 39:43
3  Ramon CORNIELLE                DOM 39:52

WOMEN:
1  Jordania Diaz HOTTESE          DOM 40:46
2  Dejanira DIAZ                  DOM 41:14
3  Jeifi VARGAS                   DOM 41:16
March 2011