February 2011
6 FEB | 13 FEB | 18 FEB | 20 FEB | 27 FEB | 28 FEB
6 FEBRUARY 2011: KAGAWA MARUGAME INT'L HALF MARATHON, JAPAN
Women's winner Kayoko Fukushi, the course record holder, ran alone for the most of the race, while Samuel Ndungu had a hard fought victory writes Ken Nakamura. Pre-race favourite Mekubo Mogusu, a Kenyan based in Japan, started fast, passing 5km in 14:00 and 10km in 28:12, 21 seconds clear of Ndungu, Tsuyoshi Ugachi and Rachid Kisri. The gap increased to 34 seconds by 15km but he then slowed, taking 15:08 for the next 5km and being overtaken by Ndungu and Ugachi. Ndungu won with a new personal best by 22 seconds. Ugachi made a similar improvement, finishing just three seconds behind with the third fastest time ever run by a Japanese.
The clash between Abeylegesse and Fukushi never materialised, as the Olympic silver medalist pulled out of the race a day before the start. Fukushi won by more than a minute and half, but it was her slowest time over this course after her victories in 2006 and 2007. Rei Ohara, 20 years old and less than two years out of high school, finished third in her half marathon debut with 1:10:50. Mika Yoshikawa, five-time 1500m national champion, improved by nearly two minutes in fourth.
The 65th edition was held in fine winter weather enjoyed by 6843 male and 1739 female finishers out of 10,000 who entered. Six foreign countries were represented by 12 runners.
MEN:
1  Samuel NDUNGU                  KEN  1:00:55
2  Tsuyoshi UGACHI                JPN  1:00:58
3  Mekubo MOGUSU                  KEN  1:01:29
4  Rachid KISRI                   MAR  1:01:52
5  Hiromitsu KAKUAGE              JPN  1:02:34
6  Ryotaro NITTA                  JPN  1:02:35
7  Hiroki KADOTA                  JPN  1:02:35
8  Satoru KASUYA                  JPN  1:02:40
9  Yuki KAWAUCHI                  JPN  1:02:40
10 Ryohei NAKANO                  JPN  1:02:49
 
WOMEN:
1  Kayoko FUKUSHI                 JPN  1:09:00
2  Karolina JARZYNSKA             POL  1:10:36
3  Rei OHARA                      JPN  1:10:50
4  Mika YOSHIKAWA                 JPN  1:11:13
5  Aki OTAGIRI                    JPN  1:11:49
6  Yoshiko FUJINAGA               JPN  1:12:03
7  Megumi SEIKE                   JPN  1:12:04
8  Misato HORIE                   JPN  1:12:16
9  Kumi OGURA                     JPN  1:12:21
10 Silvia SVORTSOVA               RUS  1:12:39
6 FEBRUARY 2011: 60th BEPPU-OITA MAINICHI MARATHON, JAPAN
Ahmed Baday broke away from 2:06 marathon runner Daniel Njenga at 41km writes Ken Nakamura. Baday's previous best was 2:10:58 in the Marrakech marathon last January. Njenga finished second in Beppu for the third time, having also placed second in 2002 and 2010.
The battle to be first Japanese, and a possible place in the World Championships marathon team, was won by Kazuhiro Maeda, who finished third in 2:10:29, a personal best by more than 30 seconds. He broke away from Fujita at 33km and closed dramatically in the final stages but fell short of catching Njenga by five seconds. He had seemed reluctant to go with Njenga and Baday when they broke away after 25km. Harun Njoroge ran the early part of the race conservatively before picking up in the second half and was rewarded with fourth place and a personal best by more than a minute.
After pacing through halfway in 1:04:23 Gert Thys, dropped out at 25km. Jason Mbote continued to pace up to 30km but after that Njenga and Baday were left in front with the chase pack of Maeda, Fujita and Moriwaki 100m behind. After 33Km, Maeda pulled ahead of Fujita, passing through 35km 25 seconds behind the lead pair.
Women ran this race for the first time since 1981. Chiyuki Mochizuki broke the course record of 2:48:52 set back in 1978 by Kiyoko Obata.
MEN:
1  Ahmed BADAY                   MAR  2:10:14 
2  Daniel NJENGA                 KEN  2:10:24
3  Kazuhiro MAEDA                JPN  2:10:29
4  Harun NJOROGE                 KEN  2:11:43 
5  Atsushi FUJITA                JPN  2:12:26 
6  Yuki MORIWAKI                 JPN  2:12:34 
7  Masaki SHIMOJU                JPN  2:13:07 
8  Jeffrey HUNT                  AUS  2:13:14 
9  Ken-ichiro SETOGUCHI          JPN  2:15:01
10 Tomonori ONITSUKA             JPN  2:16:52

WOMEN:
1  Chiyuki MOCHIZUKI             JPN  2:39:57
13 FEBRUARY 2011: XXVII MARATON DE SEVILLA, SPAIN
With a record breaking entry of 4853 runners, the winner Daniel Abera Wedajo also broke the course record, ahead of Gosa Tafa Meguersa who was also 26 seconds faster than the old record. In fourth place Pablo Villalobos took the national championship and improved his own best time. A close finish in the women's race rounded off an exciting morning for the 3000+ spectators in the Olympic Stadium. Tamara Sanfabio took the national title in fourth place overall.
MEN:
1  Daniel Abera WEDAJO            ETH  2:09:53
2  Gosa Tafa MEGUERSA             ETH  2:10:05
3  Mitka Seboka TULU              ETH  2:11:44 
4  Pablo VILLALOBOS               ESP  2:12:21
5  Hussen Adem JEMAL                   2:12:40
6  Gebregziabher ABRHA            ETH  2:12:58
7  Gebrekidian ABADI              ETH  2:13:28
8  John Kipkemoi KIRUI            KEN  2:13:39
9  Ben Kimutai KIMWOLE            KEN  2:14:11
10 Gosha Girma TEFERA             ETH  2:14:54

WOMEN:
1  Alemnesh Ashetu HABTEMIKAEL    ETH  2:33:26
2  Derbe Godana GEBISSA           ETH  2:33:30
3  Beatrice Toroitich JEPKEMBOI   KEN  2:35:11
4  Tamara Sanfabio RODRIGUEZ      ESP  2:37:24
5  Maria Jose de Toro SAIZ        ESP  2:42:22
6  Maria Yolanda Gutierrez ROBLES ESP  2:44:12
7  Beatrice Molina BAILEN         ESP  2:45:45
8  Pilar Alonso CASTRO            ESP  2:50:02
9  Susana Segovia MUDIE           ESP  2:51:24
10 Faustina Maria RAMOS           ESP  2:52:12
18 FEBRUARY 2011: RAS AL KHAIMAH HALF MARATHON, UNITED ARAB EMIRATES
Mary Keitany tore around this clockwise loop course to record 1:05:50 and rip no less than 35 seconds off Lornah Kiplagat's 2007 world record for the half marathon. The previous record was set when Kiplagat won the IAAF World Half Marathon Championships at Udine, Italy — and Keitany finished second in 1:06:48, a breakthrough race for her. Since then, after giving birth, she returned to win the IAAF World Championships in Birmingham in 2009, over a tough undulating course, in 1:06:36. She went on to break the 25km world best and become the first woman to run under 1:20 for the distance in Berlin last May.
Despite the first three men breaking 60 minutes, they had to accept it was ladies day in RAK this year. But for Deriba Merga's erratic pace judgement it might have been different. He pushed hard from the gun, passing 5km alone in 13:37 and going on through 10km in 27:31. He paid the penalty for such over-exuberance as his pace waned after 15km, but had insisted when advised to hold back on the day before the race that "I just like to lead!". He passed 20km in 56:16 and had enough margin on the duelling duo of Bernard Kipyego (5km splits of 13:56, 28:04, 42:34, and 56:47) and Leonard Langat (13:47, 28:05, 42:35 and 56:49) to stay well clear. His victorious mark of 59:25, comes after third places in RAK in 2007 and 2009, and was his seventh sub-60 half marathon clocking. After a difficult 2010 with DNFs in Chicago and Chunchon Marathons ("I had constantly sore thighs and hips for much of the year."), it is clear that Merga is back in fine form.
Keitany ran an even more commanding race. With a slight breeze coming from the east, but in conditions that were otherwise perfect (17°C) she passed through 5km in 15:18, already five seconds up on Dire Tune, the winner here two years ago. She remained cool through 10km (30:45), and was way ahead of the stated schedule (3:08/km) but in the second half she held the pace well. The 15km split of 46:40 showed her resilience, and she was able to follow pacemaker Simon Tonui through to 20km (1:02:36) with only a slight slowing to record the first "unassisted" sub-66 minute time for the Half Marathon.
MEN:
1  Deriba MERGA                   ETH    59:25
2  Bernard KIPYEGO                KEN    59:45
3  Leonard LANGAT                 KEN    59:52 
4  John KIPROTICH                 KEN  1:00:10
5  Titus MASAI                    KEN  1:00:40
6  Getu FELEKE                    ETH  1:01:28
7  Maregu TEREFE                  ETH  1:02:03
8  Dickson MARWA                  TAN  1:02:04
9  Hafid CHANI                    MAR  1:02:23
10 Alemayehu SHUMYE               ETH  1:02:58

WOMEN:
1  Mary KEITANY                   KEN  1:05:50
2  Dire TUNE                      ETH  1:08:52
3  Mare DIBABA                    ETH  1:08:57
4  Rose KOSGEI                    KEN  1:09:04
5  Agnes KIPROP                   KEN  1:09:11
6  Hilda KIBET                    NED  1:09:35
7  Sultan HAYDAR                  TUR  1:10:02
8  Eunice KALES                   KEN  1:10:41
9  Christelle DAUNAY              FRA  1:11:14
10 Aniko KALOVICS                 HUN  1:13:35
20 FEBRUARY 2011: OHME-HOCHI 30km ROAD RACE, JAPAN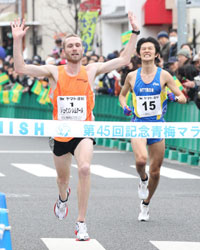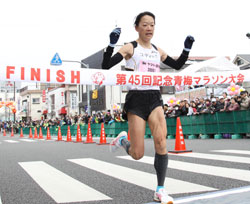 MEN:
1  Jason LEMKUHLE                 USA  1:32:08  
2  Toyoyuki ABE                   JPN  1:32:09 
3  Daisuke SHIMIZU                JPN  1:33:15 
4  Atsushi IKAWA                  JPN  1:33:30 
5  Ryotaro NITTA                  JPN  1:34:05  
6  Noriaki TAKAHASHI              JPN  1:34:08  
7  Tomohiro SATO                  JPN  1:35:05
8  Souichiro ICHIKAWA             JPN  1:35:32
9  Teruto OZAKI                   JPN  1:36:07
10 Kazuya ISHIDA                  JPN  1:36:37

WOMEN:
1  Hiromi OMINAMI                 JPN  1:46:27  
2  Saori MAKISHIMA                JPN  1:48:20 
3  Yoshimi HOSHINO                JPN  1:53:29  
4  Izumi OKA                      JPN  2:02:28 
5  Ai KOIZUMI                     JPN  2:02:28 
6  Masami NAKAMURA                JPN  2:08:17
7  Emi MATSUTANI                  JPN  2:08:40
8  Hiromi TOMIZAWA                JPN  2:09:11
9  Mikiko YOKOYAMA                JPN  2:09:56
10 Ysuko SEKIGUCHI                JPN  2:10:04  

10km 
MEN:
1  Akira KASAHARI                 JPN  30:29
2  Kaduma NAKAMURA                JPN  30:31
3  Yuichi MIHIRO                  JPN  30:42

WOMEN: 
1  Hiroko SHOI                    JPN  33:02 
2  Kazumi HASHIMOTO               JPN  33:28 
3  Tomoyo IZUMI                   JPN  33:38 
20 FEBRUARY 2011: LIMASSOL MARATHON GSO, CYPRUS
MEN:
1  Momanyi BASWETI                KEN  2:27:08
2  Raymond KIPKOECH               KEN  2:27:43
3  Eliud Kiprono CHEMWOLO         KEN  2:37:33
4  Andrew Kamanthi KILONGO        KEN  2:38:00
5  Costas CONSTANTINOU            CYP  2:43:00
6  Michael KEENAN                 GBR  2:46:35
7  Victor VLAD                    ROM  2:46:50
8  Panayotis STYLIANOU            CYP  2:49:39
9  Ivan MOTORIN                   RUS  2:51:42
10 Stuart CARROLL                 GBR  2:52:51

WOMEN:
1  Lydia Jerotich RUTTO           KEN  2:47:53
2  Nadezda SEMILETOVA             RUS  2:48:31
3  Irina PANKOVSKAYA              RUS  2:49:08
4  Yulia KHAZOVA                  RUS  2:53:18
5  Barbara MOLNAR                 HUN  2:55:56
6  Pangista ANDREOU               CYP  3:01:34
7  Maria Fernanda MIRONE          ITA  3:25:51
8  Melanie DONALDSON              GBR  3:31:33
9  Miika JAMSA                    FIN  3:34:50
10 Jillian CEDERWALL              CAN  3:35:12

HALF MARATHON
MEN:
1  Blazej BRZEZINSKI              POL  1:05:12
2  Mikhail KULKOV                 RUS  1:06:36
3  Paulos TSANAVARAS              GRE  1:15:33

WOMEN:
1  Deniz DIMAKI                   GRE  1:21:40
2  Nicole BOEHM                   GER  1:26:43
3  Vasiliki SIKOPETI              GRE  1:34:42 
20 FEBRUARY 2011: YOKOHAMA WOMENS' MARATHON, JAPAN
Making decisive surge at 39.3Km which left Marisa Barros and Remi Nakazato in her wake, Yoshimi Ozaki, won the second edition writes Ken Nakamura. By recording sub-2:26 clocking, Ozaki qualified for the World Championships team automatically Remi Nakazato recorded exactly 10 minutes' improvement on her personal best to 2:24:29. "I was comfortable in the early going because of good pace making. I was determined to improve my personal best, but I did not expect to improve by 10 minutes." She should also have a very good chance of making the team as she ran faster than the winner of Osaka Women's Marathon, Yukiko Akaba. In third place Marisa Barros improved her personal best by 40 seconds. Ozaki's time, 2:23:56, is the fastest time recorded in a February marathon, replacing 2:26:03 by Marisa Barros in Sevilla two years ago. It was also the course record. Deratu Tulu fell off from the lead pack early in the race and finished 11th with 2:35:58.
A lead group of 10 runners emerged right away, and gradually thinned out as 5km splits were covered in an even pace, just under 17 minutes each up to 15km. Six runners(including two pace makers) led through halfway in 1:11:37. After pacemaking finished at 25km the lead runners slowed, but after 30km Barros led Ozaki Nakazato and Nagao. Nakazato took the lead at 35km but she did not increase the pace. Nagao started to drift behind at 35Km, leaving Ozaki, Nakazato and Barros in front. Ozaki made her decisive surge after 39km, covering the 40th kilometre in 3:18, and neither Nakazato or Barros could respond. Ozaki covered 39 to 40km in 3:18.
1  Yoshimi OZAKI                  JPN  2:23:56
2  Remi NAKAZATO                  JPN  2:24:29
3  Marisa BARROS                  POR  2:25:04
4  Kaoru NAGAO                    JPN  2:26:58
5  Karolina JARZYNSKA             POL  2:27:16
6  Alevtina IVANOVA               RUS  2:29:00
7  Mayumi FUJITA                  JPN  2:30:42
8  Yuka IZUMI                     JPN  2:33:05
9  Kaori YOSHIDA                  JPN  2:33:57
10 Naoko SAKAMOTO                 JPN  2:35:17
20 FEBRUARY 2011: STANDARD CHARTERED HONG KONG MARATHON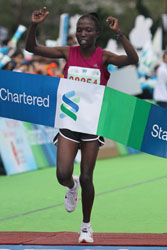 Janet Rono paid her own $1000 air ticket, entered the race as a member of the public, slept on a colleague's floor, and then proceeded to break the course record and win US$34,000 as first prize writes Pat Butcher. On an unusually cool day, even for February in Hong Kong, Rono clocked 2:33:42 to beat Irina Bogacheva's mark of 2001 by one second.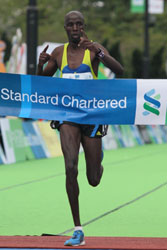 Even with so many marathons worldwide a 2:15 East African man or a 2:35 woman (Rono's previous best was 2:37:08) finds it hard to get race invites. So more and more of them are assessing their chances in some of the lesser known races and paying their own way. Julius Maisei took a similar chance, but though he was catching race leader Nelson Rotich in the final 2km he had to give way to his compatriot's 2:16:00 victory. Nevertheless Maisei also made his trip well worthwhile, netting $15.000. 'This course is very hard, it's the hardest marathon course I've run (out of 14 races)' said Rotich.
MEN:
1  Nelson Kirwa ROTICH            KEN  2:16:00
2  Julius Kiplimo MAISEI          KEN  2:16:06
3  Tesfaye Girma BEKELE           ETH  2:16:31
4  Robert Kiplagat KOSEKEI        KEN  2:16:53
5  Hammou MOUDOUJI                MAR  2:16:55
6  Julius Kiprono MUTAI           KEN  2:17:04
 
WOMEN:
1  Janet Jelegat RONO             KEN  2:33:42
2  Samira RAIF                    MAR  2:33:51
3  Bifa Yeshimabet TADESSE        ETH  2:34:14
4  Negash Hadush LETAY            ETH  2:35:35
5  Wenrong CHENG                  CHN  2:35:49
6  Rose CHESHIRE                  KEN  2:38:06
27 FEBRUARY 2011: WORLD'S BEST 10km, PUERTO RICO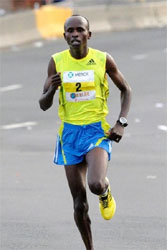 Sammy Kitwara ran solo after the 8km to regain his title won in 2009 writes Javier Clavelo Robinson. Sentayehu Ejigu made a successful debut over 10km to score a narrow win over Dire Tune in the women's race, leading an Ethiopian clean sweep.
With a temperature at 25°C and 62% humidity, the race started at 17:25 pm and the Kenyan runners immediately took control of the men's race. Joseph Ebuya led a pack of 12 Africans through 1km in 2:43, passing 2km in 5:27 and 3km in 8:12. At halfway (13:43) the leading pack had shrunk to four Kenyans. Shortly after 6km Ebuya, Kitwara and Dejen Gebremakel edged ahead, but Ebuya soon dropped back, leaving Kitwara and Gebremakel to run side by side until 8km, when the 2009 champion changed gear. Behind him a fast-finishing Lelisa Desisa came through to take third.
In the women's race Dire Tune was determined to win after finishing third in the past two editions. She led through 2km in 6:00 and halfway in 15:46. With compatriots Ejigu and Atsede Habtamu and Kenyan Grace Momanyi right on her heels, the race was only decided in the last kilometre. Using her 14:28 5000m track speed Ejigu, 26, prevailed in the home stretch and became the first female Ethiopian winner. Two-time CAC Games champion Beverly Ann Ramos became the first Puerto Rican athlete to finish in the top ten, ahead of veteran Ethiopian Berhene Adere (34:56).
Of 11,357 runners registered 9288 finished (5479 men, 3809 women) the 14th edition of the race on the Teodoro Moscoso bridge.
MEN:
1  Sammy KITWARA                   KEN  27:35
2  Dejen GEBREMESKEL               ETH  27:45
3  Lelisa DESISA                   ETH  28:02
4  Leonard KOMON                   KEN  28:05
5  Joseph EBUYA                    KEN  28:07
6  Moses MASAI                     KEN  28:28
7  Wilson CHIBET                   KEN  28:36
8  Kintra Jakob YARSO              ETH  29:00
9  Shadrack KOSGEI                 KEN  29:02
10 Hicham BELLANI                  MAR  29:25

WOMEN:
1  Ejigu SENTAYEHU                 ETH  31:50
2  Dire TUNE                       ETH  31:51
3  Atsede HABTAMU                  ETH  31:54
4  Grace MOMANYI                   KEN  32:06
5  Gesabwe RISPER                  KEN  32:35
6  Zhor EL KAMCH                   MAR  33:02
7  Amane GOBENA                    ETH  33:17
8  Tigist TUFA                     ETH  34:04
9  Haile KEBEBUSH                  ETH  34:20
10 Berverly RAMOS                  PUR  34:40
27 FEBRUARY 2011: VERDIMARATHON, ITALY
MEN:
1  Antonio ARMUZZO                ITA  2:28:33
2  Mostaa EL RACHHNI              ITA  2:32:13
3  Lorenzo TRINCHERI              ITA  2:39:10
4  Fabiano SCARATTI               ITA  2:43:46
5  Luca LAURINI                   ITA  2:43:54
6  Andrea NELLI                   ITA  2:45:36
7  Davide BRUNO                   ITA  2:47:15
8  Renzo BARBUGIAN                ITA  2:47:31
9  Enrico BOASSO                  ITA  2:48:04
10 Andrea SALERNO                 ITA  2:48:09

WOMEN:
1  Ilaria BIANCHI                 ITA  2:45:39
2  Ilaria AICARDI                 ITA  2:57:42
3  Monica CASIRAGHI               ITA  2:59:24
4  Francesca MARIN                ITA  2:59:28
5  Joyce Muthoni KAGUME           KEN  3:14:32
6  Maria Ilaria FOSSATI           ITA  3:15:03
7  Laura DURPETTI                 ITA  3:16:08
8  Maria Viola FINATI             ITA  3:24:46
9  Patrizia ROSSI                 ITA  3:25:54
10 Ilaria MARCHESE                ITA  3:26:54
27 FEBRUARY 2011: MARITZBURG MARATHON, SOUTH AFRICA
MEN:
1  Khayelihle NGCOBO              RSA  2:29:55
2  Sandile MAKHAYE                RSA  2:32:00
3  Delani MKHIZE                  RSA  2:32:27
4  Siyabonga NDLOVU               RSA  2:33:23
5  Raymo Khulekani NGUBANE        RSA  2:34:06
6  Innocent Kwata NYAWOSE         RSA  2:35:53
7  Vusi CELE                      RSA  2:36:23
8  Mabutho Richard DLAMINI        RSA  2:36:26
9  Muzi MADIKWA                   RSA  2:37:41
10 Hlomayi MACHEZA                RSA  2:38:41

WOMEN:
1  Melanie VAN ROOYEN             RSA  2:57:37
2  Thobile NGWANE                 RSA  3:12:49
3  Nicola MCMURRAY                RSA  3:18:11
4  Fikile MBUTHUMA                RSA  3:20:35
5  Sandra AIKEN                   RSA  3:23:10
6  Vicky CROOKES                  RSA  3:23:57
7  Elizabeth COX                  RSA  3:24:24
8  Sarah GRAY                     RSA  3:26:07
9  Lizanne SCHOLTZ                RSA  3:26:08
10 Wendy MORGAN                   RSA  3:27:10

HALF MARATHON
MEN:
1  Siborelu DUMA                  RSA  1:10:09
2  Tsepo SHEZEMBE                 RSA  1:11:19
3  Philani NGCOBO                 RSA  1:12:30

WOMEN:
1  Danielle ADLAM                 RSA  1:23:27
2  Xoli MADIDA                    RSA  1:24:23
3  Cary-Ann SMITH                 RSA  1:24:31
27 FEBRUARY 2011: SAO PAULO INT'L HALF MARATHON, BRAZIL
Marilson Dos Santos broke the course record by a massive 50 seconds, and topped an all-Brazilian podium, but the women's race went to Kenya.
It was 22°C at the start, rising quickly to 27°C by the time runners were finishing. Dos Santos wasted little time in imposing himself on his adversaries, and dedicated his win to his wife and week-old son. He will go on to compete in the New York Half Marathon on 20 March, and the London Marathon four weeks later. Adriana Aparecida Da Silva finished in second after duelling with Agnes Jepkosgei from 18km. The Kenyan entered Charles Miller Square 20m ahead, and maintained her advantage to the finish.
MEN:
1  Marílson Gomes DOS SANTOS      BRA  1:03:12
2  Paulo Roberto Almeida PAULA    BRA  1:04:58
3  Damião Ancelmo DE SOUZA        BRA  1:05:27
4  Valdir Sérgio DE OLIVEIRA      BRA  1:05:37
5  João Ferreira DE LIMA          BRA  1:05:42
6  Franck CALDEIRA                BRA  1:05:45
7  Sérgio Celestino DA SILVA      BRA  1:05:47
8  Titus Kosgei KIBII             KEN  1:05:58
9  José Márcio Leão DA SILVA      BRA  1:06:06
10 Jean Carlos DA SILVA           BRA  1:06:19

WOMEN:
1  Agnes Jepkosgei CHESEREK       KEN  1:16:21
2  Adriana Aparecida DA SILVA     BRA  1:16:30
3  Zerfe Worku BOKU               ETH  1:17:15
4  Jackline Juma SAKILU           TAN  1:17:50
5  Marily DOS SANTOS              BRA  1:18:16
6  Rosangela Raimunda PEREIRA     BRA  1:19:50
7  Sueli Pereira DA SILVA         BRA  1:20:39
8  Edielza Alves DOS SANTOS       BRA  1:21:57
9  Maria Bernadete CABRAL         BRA  1:22:36
10 Conceição de Maria CARVALHO    BRA  1:23:54
27 FEBRUARY 2011: TOKYO INTERNATIONAL MARATHON, JAPAN
Photos: Agence SHOT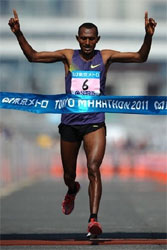 Breaking away from Paul Biwott after 33km Hailu Mekonnen slid outside course record schedule after passing 40km writes Ken Nakamaura. It was the third fastest time of the year so far, 12 seconds short of the record but a personal best by two minutes. In third, Yuki Kawauchi qualified for the Japanese World Championships team. "I was shooting for sub-2:10. I never imagined running 2:08," said Kawauchi, who was fourth last year with 2:12:36. Kawauchi does not belong to a corporate track team like most top runners in Japan. With a full-time job away from running, he trains in the morning and then works from the afternoon to around 21:00.
The lead men went out fast but 27 runners passed 5km in 14:56, and 19 of them remained at 10km (29:56) and 15km (44:50). The group passed halfway in 1:03:13 but it was not until 27km that Mekonnen, Paul Biwott and pace maker Henry Sugut broke away from the lead pack. Sugut dropped out at 30km (1:29:56) while Mekonnen made his move at 33km. Behind Biwott, Kawauchi moved into third at 39km.
Tatyana Arysova came from behind to win the women's race, passing race leader Yoko Shibui at 39.5km. led out through 5km (17:20) but reliquished the lead to Misaki Katsumata, a marathon debutante, until 27km. Shibui then took up the running once again, but just before 40km Aryasova, Noriko Higuchi and Tatyana Petrova all went past with Shibui unable to respond.
MEN:
1  Hailu MEKONNEN                 ETH  2:07:35
2  Paul BIWOTT                    KEN  2:08:17 
3  Yuki KAWAUCHI                  JPN  2:08:37 
4  Yoshinori ODA                  JPN  2:09:03
5  Cyrus NJUI                     KEN  2:09:10 
6  Felix LIMO                     KEN  2:10:50 
7  Takaaki KODA                   JPN  2:11:08 
8  Salim KIPSANG                  KEN  2:11:25 
9  Yemane TSEGAY                  ETH  2:11:49 
10 Takashi HORIGUCHI              JPN  2:12:05 

WOMEN:
1  Tatyana ARYASOVA               RUS  2:27:29
2  Noriko HIGUCHI                 JPN  2:28:49 
3  Tatyana PETROVA                RUS  2:28:56 
4  Yoko SHIBUI                    JPN  2:29:03 
5  Misaki KATSUMATA               JPN  2:31:10 
6  Sumiko SUZUKI                  JPN  2:32:02 
7  Rina YAMAZAKI                  JPN  2:32:51 
8  Shoko MIYAZAKI                 JPN  2:33:10 
9  Yumi HIRATA                    JPN  2:33:14 
10 Olena BURKOVSKA                UKR  2:33:30
27 FEBRUARY 2011: SUNYANG ECO-HEALING SEYCHELLES MARATHON
MEN:
1  Simon Antoine LABICHE          SEY  2:46:26
2  Hakim AHMADA                   COM  2:49:43
3  James BARRA                    SEY  3:10:10
4  Michael Simon DIXIE            SEY  3:33:51
5  Volker ISIGKEIT                GER  3:34:26
6  Franky BACCUS                  SEY  3:42:01
7  Joseph Andre MOREL             SEY  3:54:46
8  Russell CLARKE                 SEY  4:02:07
9  Prashant PISE                  MRI  4:10:10
10 John Colin CRICK               GBR  4:13:31

WOMEN:
1  Simone Adeline JAPHA           SEY  3:39:07
2  Juliette HORAREAU              GBR  4:34:33

HALF MARATHON
MEN:
1  Michel SOURIS                  SEY  1:24:27
2  Keddy MOUSTACHE                SEY  1:29:17
3  Thomas KILINDO                 SEY  1:29:41

WOMEN:
1  Amandine SALMON                SEY  1:54:41
2  Madeleine MUNIER               SEY  2:22:01
3  Maud FAVIER                    SEY  2:27:16
27 FEBRUARY 2011: KILIMANJARO MARATHON, TANZANIA
MEN:
1  Kipkemoi KIPSANG               KEN   2:17:09
2  Julius KILIMO                  KEN   2:17:17
3  Julius SEUREI                  KEN   2:18:30
4  Stephano HUCHE                 TZA   2:19:23
5  James YATICH                   KEN   2:20:27
6  David JOSEPH                   TAN   2:21:25
7  Andrew SILUNE                  TAN   2:22:02
8  Kenneth MBURU                  KEN   2:22:36
9  Andrew KIPSANG                 KEN   2:23:15
10 Ezekiel KIMUTAI                KEN   2:23:34
 
WOMEN:
1  Ann KAMAU                      KEN   3:00:12
2  Banuelia KATESIGWA             TAN   3:02:53
3  Olpher ORUKE                   KEN   3:03:22
4  Dorice TODOPUS                 KEN   3:06:39
5  Everlyn RUTTO                  KEN   3:08:39
6  Gladys CHERUIYOT               KEN   3:10:09
7  Doris BECHI                    KEN   3:10:49
8  Consolata LORENGE              KEN   3:19:19
9  Priscilla JEBET                KEN   3:20:26
10 Phylis CHEPKONGA               KEN   3:20:26
 
HALF MARATHON
MEN:
1  Michael KAMAU                  KEN   1:03:50
2  Leonard MALINA                 KEN   1:03:54
3  Geoffrey NDUNGU                KEN   1:04:15
 
WOMEN:
1  Valentina KIPKETER             KEN   1:14:58
2  Doreen Nduku KITAKA            KEN   1:15:38
3  Mary NAALI                     TAN   1:15:40
28 FEBRUARY 2011: SAHARA MARATHON, ALGERIA
MEN:
1  Bouchouit ALHASSAN             ALG  2:40:02
2  Jon SALVADOR                   ESP  2:45:22
3  Sebbagh SAADEDDINE             ALG  2:59:03
4  Manuel MORENTE                 ESP  3:07:54
5  Tabech AHMED                   ALG  3:15:16
6  Salhi HAROUN                   ALG  3:16:33
7  Hammouda Ahmed CHOUK           ALG  3:20:42
8  Raouak MED                     ALG  3:22:05
9  Fethi BENSAHED                 ALG  3:25:02
10 Mokhtari MOHAMMED              ALG  3:31:27

WOMEN: 
1  Ma. Dolores Jiménez GUARDENO   ESP  3:36:02
2  Mónica Batán ZAMORA            ESP  3:52:25
3  Olatz MITXELENA                ESP  4:10:20
4  Nadia TOSI                     ITA  4:20:32
5  Olga Garcia SANTAMAR           ESP  4:23:25
6  Laura Routabout de B           ALG  4:29:24
7  Gema Martinez MARTIN           ESP  4:38:08
8  Edit KISS                      HUN  5:00:51
9  Diana IONESCU                  ROM  5:35:40
10 Sabine CHRISTIAN               GER  6:03:55

HALF MARATHON
MEN:
1  Kara KARIM                     ALG  1:14:12
2  Hammadi DJILLALI               ALG  1:15:01
3  Rhamnia Abed ELLATIF           ALG  1:15:50
 
WOMEN:
1  Alicia Pérez BLANCO            ESP  1:49:20
2  Olatz Arbelaitz GALLEGO        ESP  1:51:12
3  Mari Carmen Espejo GARCIA      ESP  1:58:02
28 FEBRUARY 2011: ANTARCTICA MARATHON
MEN:
1  Michael HEWITT                 USA  3:25:49
2  Christopher SOLARZ             USA  3:32:12
3  David WEAVER                   USA  3:23:43
4  Martin KON                     CAN  3:54:11
5  Lawrence IKARD                 USA  4:04:24
6  Bjarne JENSEN                  DEN  4:06:04
7  William KEANE                  IRL  4:14:26
8  Francis NZEUTEM                USA  4:16:25
9  Laird MALAMED                  USA  4:25:32
10 Markus PINSKER                 GER  4:28:24

WOMEN:
1  Diane KENNA                    USA  4:26:29
2  Katherine COWARD               USA  4:41:11
3  Alexandra STONE                USA  5:08:46
4  Michele SMITH-HARDEN           USA  5:09:44
5  Shelley FRIEDRICH              NZL  5:10:51
6  Kiersten PFEIFER               USA  5:14:24
7  Dalila FREI                    USA  5:23:25
8  Loree BOLIN                    USA  5:33:17
9  Marie-Josee BOLDUC             CAN  5:34:52
10 Iwona UMECKA                   POL  5:39:28

HALF MARATHON
MEN:
1  Ryan SHELLBORN                 CAN  2:05:22
2  Timothy SHIELDS                USA  2:18:07
3  Thompson SHELLBORN             CAN  2:44:10

WOMEN:
1  Sandy BURGAR                   USA  2:18:57
2  Cherida FRASER                 NZL  2:32:56
3  Lynne CONNELLY                 USA  3:01:45
February 2011