April 2009
5 APR | 7 APR | 11 APR | 12 APR | 18 APR | 19 APR | 20 APR | 26 APR
5 APRIL 2009: PARIS MARATHON, FRANCE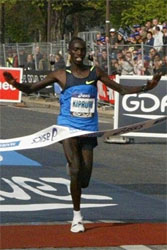 Vincent Kipruto broke the Marathon de Paris record with 2:05.47, winning one of the fastest races of all-time writes Pierre-Jean Vazel. Ethiopians dominated the women's race, led by Atsede Bayisa in 2:24:42.
Conditions were perfect (10°C and no wind, and 87% dropping to 70% by the end of the race). Some 35,000 runners participated, and the depth of the elite race was exceptional, with six men under 2:07 and 11 under 2:09 (a new record).
A dozen Kenyans, including all favourites, followed pacemaker Erik Kibet. Some dropped back as the pace increased from 15-20km and the halfway split of 1:02:46 was much faster than any of the remaining group had ever run before. How long could each of them maintain that pace?
Kipruto made the decisive move in the last 3km, in the Bois de Boulogne, finally dropping Bado Worku, who resigned himself to save his second position. Kipruto had distinguished himself in his debut Marathon in Reims last October, taking third place in 2:08:16, but was still a surprise winner, breaking the 2:06:33 race record held by Michael Rotich since 2003. "I didn't think I was going to run that fast," Kipruto commented simply. Worku, 20, impressed in his first Marathon with 2:06:15, to fall firmly within the 20 fastest ever. A track specialist as a junior, Worku has focused on road races since last year. Kemboi Kiyeng also moved up the all-time list with his 2:06:26, but massiv e four-minute improvements came from Yemane Adhane and Rachid Kisri (34-years old with 17 marathons under his belt).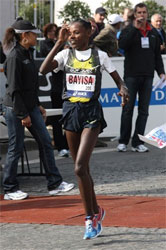 While Kenyans dominated the men's contest, Ethiopians women took control of the female race from the start. Ashu Kasim, Worknesh Tola, and Azalech Masresha covered the first 5km in 16:07, protecting debutante and favourite Aselefech Mergia (1:07:48 at Half-Marathon in February), and eventual winner Atsede Bayisa. At halfway four women remained, with Kasim still leading in 1:11:18 from Masresha, Mergia and Bayisa. Tola, second in Paris last year (2:25:37) lost ground and was definitively out of contention. French record holder Christelle Dauney started more cautiously, but passed Tola before 30km and soon joined Masresha. The three remaining Ethiopians (Bayisa, Mergia and Kasim) remained shoulder-to-shoulder until the final kilometres. Kasim was the first to drop, and Dauney caught her in the finish straight. In front, Bayisa found the resources to leave Mergia and win in 2:24:42, smashing her previous best of 2:29:08. Mergia finished her first Marathon in 2:25:02. Dauney, vastly improved her French record with an even-paced run (1:12:48 and 1:12:55) "I prepared hard to break my record in Paris" said Dauney, who had stated that Paris was her main objective of the year and that she would not participate at the IAAF World Championships in August.
MEN:
1  Vincent KIPRUTO                 KEN  2:05:47
2  Bazu WORKA                      ETH  2:06:15
3  David KIYENG                    KEN  2:06:26
4  Yemane ADHANE                   ETH  2:06:30
5  Rachid KISRI                    MOR  2:06:48
6  David MANDAGO                   KEN  2:06:53
7  Jonathan KIPKORIR               KEN  2:07:31
8  Shadrack KIPLAGAT               KEN  2:08:11
9  John KOMEN                      KEN  2:08:12
10 Daniel Too KIPRUGUT             KEN  2:08:38
 
WOMEN:
1  Atsede BAYISA                   ETH  2:24:42
2  Aselefech MERGIA                ETH  2:25:02
3  Christelle DAUNAY               FRA  2:25:43
4  Ashu KASIM                      ETH  2:25:49
5  Julia MURAGA                    KEN  2:29:10
6  Worknesh TOLA                   ETH  2:29:19
7  Leah MALOT                      KEN  2:30:29
8  Maria MCCAMBRIDGE               IRL  2:35:29
9  Azalech MARESHA                 ETH  2:35:56
10 Maja NEUENSCHWANDER             SUI  2:36:48
5 APRIL 2009: FORTIS ROTTERDAM MARATHON, NETHERLANDS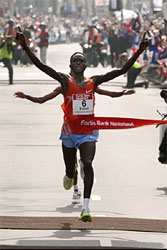 Duncan Kibet edged compatriot James Kwambai in one of the fastest marathons ever, as both recorded 2:04:27 writes Wim Van Hemert.
During its 29-year history the Rotterdam Marathon has produced three World records: Carlos Lopes (2:07:12, 1985) and Belayneh Densamo (2:06:50, 1988) on the men's side and Tegla Loroupe (2:20:47, 1998) on the women's. On a near perfect day (10C, no wind and light sunshine) the thrilling finish between the two men only failed to beat the two best times of world record holder Haile Gebrselassie (2:03:59 and 2:04:26).
Tens of thousands of spectators packed into the city's Coolsingel district to witness the final 500m. Kwambai turned into the broad central thoroughfare first, several metres ahead of Kibet, who closed the gap in the last few hundred metres. Then he again fell back slightly, but came back again to edge Kwambai at the finish and become Kenya's new national record holder, surpassing former World record holder Paul Tergat. Behind them Abel Kirui ran a personal best 2:05:04 and and Patrick Makau debuted with 2:06:14.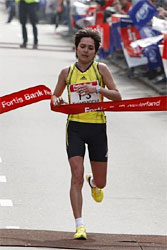 After several years the weather finally favoured Rotterdam and the race got off to a very fast start (14:41, 29:18, 44:16). At half way (1:02:35) the desired 2:05 clocking looked possible. By 30km, pacemaker Wilson Chebet led a group of four - Kibet, Kwambai, Kirui and Makau. The latter, with eight sub-60 minute Half Marathons under his belt was always running at the back of the group. After Chebet finished pacing at 32km Kwambai started to push the pace, and it was too fast for Makau, and later for Kirui. Kwamabi and Kibet passed 40km in 1:57:53, with Kwambai looking the stronger - but in the final stretch Kibet was quicker. "I do not know what happened in the final stage. I only know I won." said Kibet.
Nailya Yulamanova was a convincing winner of the women's race. Running well behind pre-race favourite Lydia Cheromei for much of the race, at one point more she was than a minute-and-a-half adrift. But when the Kenyan weakened in the waning stages, the Russian took advantage to claim the win.
MEN:
1  Duncan KIBET                    KEN  2:04:27
2  James KWAMBAI                   KEN  2:04:27
3  Abel KIRUI                      KEN  2:05:04
4  Patrick MAKAU                   KEN  2:06:14
5  Jackson KIPKOECH                KEN  2:08:58
6  Alfred KERING                   KEN  2:09:19 
7  Mesfin ADEMASU                  ETH  2:09:32
8  Robert KIPCHUMBA                KEN  2:09:56
9  Richard LIMO                    KEN  2:10:09
10 Mariko KIPCHUMBA                KEN  2:12:17
 
WOMEN:
1  Nailya YULAMANOVA               RUS  2:26:30
2  Lydia CHEROMEI                  KEN  2:28:09
3  Adriana PIRTEA                  ROM  2:36:36
4  Sue HARRISON                    GBR  2:37:27
5  Viktoriya RYAZANTSEVA           RUS  2:40:30
6  Luzia SCHMID                    SUI  2:52:14
7  Marta E POVEDA                  ESP  2:53:48
8  Minna KAINLAURI                 FIN  2:56:01
9  Katja MERLIN                    BEL  2:58:10
10 Birgit KRAEMER                  NED  2:59:42
5 APRIL 2009: 29TH VATTENFALL HALF MARATHON BERLIN, GERMANY
Photos: Wolfgang Weising / Vattenfall Berlin Half Marathon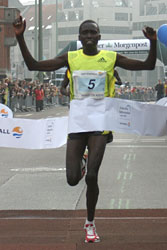 Bernard Kipyego and Sabrina Mockenhaupt won the men's and women's titles with Kipyego making one of the fastest debuts ever at the half-marathon (59:34). Mockenhaupt improved her personal best to 68:45. A total of 25,193 runners from 85 countries attended, including 21,725 for the half marathon distance.
Conditions were ideal (13°C, no rain and a light breeze) and 170,000 spectators witnessed a thrilling home-straight finish to the men's race. Kipyego just bested his fellow Kenyans Sammy Kosgei and Wilson Kipsang Kiprotich. Four men went under the hour, making Berlin the second fastest race overall in the world this year.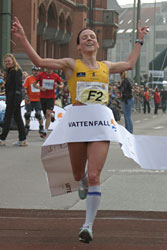 In 2007 Kipyego was third at the World Cross-Country and ran 26:59.61 for 10,000m. Mockenhaupt broke away from the Kenyan duo of Hellen Kimutai and Lydia Njeri just before 15km and went on to post the sixth fastest time on the course and 10th fastest of the year. "I was worried when the two Kenyans stayed with me for such a long time. I'm not used to that," said Mockenhaupt.
MEN:
1  Bernard KIPYEGO                KEN  59:34
2  Sammy KOSGEI                   KEN  59:36
3  Wilson Kipsang KIPROTICH       KEN  59:38
4  Samuel Gichochi MWANGIO        KEN  59:55
5  Joseph KIPTOO                  KEN  1:00:13
6  Wilson KIPROP                  KEN  1:00:34
7  Peter KAMAIS                   KEN  1:00:35
8  Josphat KAMZEE                 KEN  1:00:43
9  Evans BARKOKWET                KEN  1:00:51
10 Edwin KIMAIYO                  KEN  1:01:04

WOMEN:
1  Sabrina MOCKENHAUPT            GER  1:08:45
2  Hellen KIMUTAI                 KEN  1:09:27
3  Lydia NJERI                    KEN  1:10:08
4  Alice MOGIRE                   KEN  1:12:17
5  Selina CHELIMO                 KEN  1:13:21
6  Tsege WORKU                    ETH  1:15:32
7  Elana ZADOVOZHNAY              RUS  1:15:46
8  Elimy KIMURIA                  KEN  1:16:09
9  Valeria STRANEO                ITA  1:16:24
10 Daniela CIRLAN                 ROM  1:18:02
5 APRIL 2009: X SAO PAULO INT'L MARATHON CORPORE ACUCAR UNIAO, BRAZIL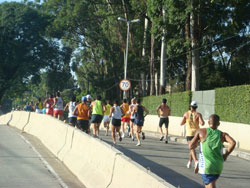 The 10th edition of the race was run from the University area and attracted 12,000 entries. The increasing number and increasing "reach" of the event led City Sports Secretary Walter Feldman to declare it one of the city's "strategic events". Following on from the 17th World Congress of AIMS, hosted for the first time in South America by Corpore, AIMS vice-president Paco Borao complimented Corpore on the organisation of both the Congress and the race, which offers runners comprehensive facilities and service. The festive and joyful atmosphere of the race was remarked upon by many of the race organiser delegates.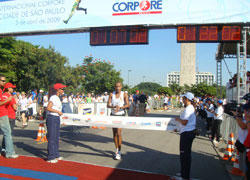 With a flat course and trees offering shade the warm weather did not prevent the runners getting into their stride. The elite women set off 15 minutes before the men and the mass field and Anne Cheptanui Bererwe wasted no time in taking her second win, breaking the event record by two minutes. Edielza Alves dos Santos crossed the line as first Brazilian in third place.
There was a keen contest between Damião Ancelmo de Souza and Paulo Roberto Almeida Paula, with de Souza finishing nine seconds ahead.
A 5.5km fun run was held alongside the title race, with Rafael dos Santos and Jucimara Felix scoring victories.
Corpore's Voluntary Guides project, implemented to encourage inclusion of runners with disabilities in distance races, this time enjoyed the participation of actor Paulo Nigro and the musician Japinha. They arrived early for a briefing on how to guide blind athletes in the short course race. "It was surely an inspiring experience" said Jaipinha. "The runners were very patient with us, as this was our debut as guides. It was hard at first; you have to be a play-by-play announcer of sorts, providing verbal cues. But it was exhilarating, and we completed the course in less than 30 minutes. We laughed and celebrated! It was great."
MEN:
1  Damiao Ancelmo DE SOUZA              BRA  1:05:06
2  Paulo Roberto Almeida PAULA          BRA  1:05:15 
3  Luis Paulo da Silva ANTUNES          BRA  1:05:54
4  Marcos Alexandre ELIAS               BRA  1:06:45
5  Luis Fernando DE ALMEIDA             BRA  1:07:04
6  Celio FALCAO                         BRA  1:07:05
7  Jailson Araujo DOS ANJOS             BRA  1:07:58
8  Bernardo Alves DA SILVA              BRA  1:08:11
9  Silvana Limo PINTO                   BRA  1:08:32
10 Gilson Rodrigues DE MIRANDA          BRA  1:08:40

WOMEN:
1  Anne Cheptanui BERERWE               KEN  1:11:42
2  Eunice Jepkirui KIRWE                KEN  1:13:34
3  Edielza Alves DOS SANTOS             BRA  1:16:46
4  Rosangela Pereira FARIA              BRA  1:18:10
5  Licia Alves Vieira MORAES            BRA  1:18:40
6  Beatrice G dos S NASCIMENTO          BRA  1:19:51
7  Sirlene Sousa DE PINHO               BRA  1:22:39
8  Maria Helena DE Jesus LIMA           BRA  1:25:05
9  Leone Justino DA SILVA               BRA  1:26:24
10 Angelina Das Gracas RAFAEL           BRA  1:26:45
5 APRIL 2009: SANTIAGO MARATHON, CHILE
MEN:
1  George O OKWORO                      KEN  2:18:19
2  Peter N MWANGI                       KEN  2:18:23
3  Juan Carlos R CARDONA                COL  2:20:16
4  Roberto Carlos B ECHEVERRIA          CHI  2:22:13
5  Hernan S Duran LOPEZ                 CHI  2:23:05
6  Francisco J M MENDEZ                 CHI  2:24:08
7  Arnaldo Raul R MORA                  CHI  2:24:23
8  Eugenio S GALAZ                      CHI  2:29:41
9  Omar C AGUILAR                       CHI  2:33:13
10 Miguel P SEPULVEDA                   CHI  2:34:15
 
WOMEN:
1  Alejandra E DE LA F OLIVERA          CHI  2:36:19
2  Clara DE LAS N U MORALES             CHI  2:39:01
3  Natalia J ROMERO                     CHI  2:44:24
4  Paulina Norma C MAMANI               PER  2:49:31
5  Natalia Castillo SALAZAR             CHI  2:59:05
6  Estela Labra CORROTEA                CHI  3:09:04
7  M.Isabel Briseno CORREA              CHI  3:10:40
8  M.Paulina Covarrubias GONZALEZ       CHI  3:11:38
9  Marie-Pierre Dallaire HARVEY         CAN  3:16:16
10 Diana-K Figueroa GOYCOECHEA          CHI  3:20:22
7 APRIL 2009: NORTH POLE MARATHON, NEUTRAL POLAR OCEAN
Photos: Mike King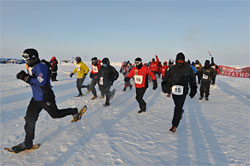 The world's coolest marathon lived up to its billing when competitors endured temperatures of -37°C.
Thirty-eight participants from 14 countries and six continents started the 42.2km race at 15:30 GMT. Operated at a drifting Russian ice base at the Geographic North Pole, the event is run on the frozen Arctic sea ice. Contestants must negotiate energy sapping soft snow and small ice pressure ridges to complete the race. The race took place without a hitch, in brilliant sunshine and spectacular scenery.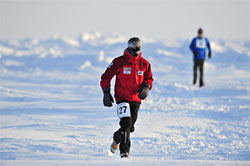 Evgeniy Gorkov, a vastly experienced Russian extreme athlete, led from the start. Renaud Michel won a close battle for second over New Zealander Willy Roberts. Michel was one of four brothers who all finished in the top eight places. In the women's section Pushpa Chandra of Canada edged out Great Britain's Daniela Spiridigliozzi in the closing stages.
Seven of the competitors completed the "Grand Slam" of marathons, having run one on all seven continents and at the North Pole. The race also featured its youngest ever finisher in Stefanie Pettersson of Brazil. The 16-year old was accompanied by her father on the course. Dan Hamner (USA), 68 years old, became the oldest finisher in the seven-year history of the race.
MEN:
1  Evgeniy GORKOV                 RUS  4:27:05
2  Renaud MICHEL                  FRA  4:44:13
3  Willy ROBERTS                  NZL  4:44:59
4  Tim DAVIE                      GBR  5:09:18
5  Angelo HENRY                   RSA  5:35:36
6  Herve MICHEL                   FRA  5:35:36
7  Yvan MICHEL                    FRA  5:45:53
8  Jean-Christophe MICHEL         FRA  6:08:12
9  Jacques FOX                    LUX  6:23:54
10  Mike DAVIES                   NZL  6:35:12
 
WOMEN:
1  Pushpa CHANDRA                 CAN  7:27:31
2  Daniela SPIRIDIGLIOZZI         GBR  7:30:54
3  Sarah AMES                     GER  8:24:13
4  Mariko TAKANO                  JPN  9:49:31
5  Stefanie PETTERSSON            BRA 16:07:20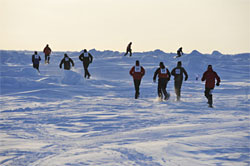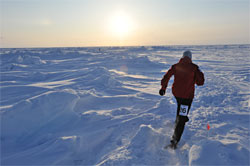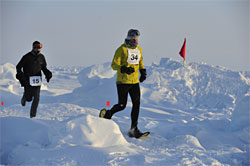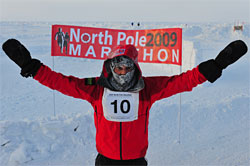 11 APRIL 2009: OLD MUTUAL TWO OCEANS MARATHON, SOUTH AFRICA
MEN:
1  John WACHIRA                   RSA  3:10:06
2  Marko MAMBO                    ZIM  3:10:52
3  Mpesela MTLOTSEOU              RSA  3:11:56
4  Stephen MUZHINGI               RSA  3:12:05
5  Henry MOYO                     MAW  3:12:23
6  Butiki JANTJIES                RSA  3:12:53
7  Modibe MAMABOLO                RSA  3:14:43
8  Lephetesang ADORA              RSA  3:15:48
9  Melikhaya SITHUBE              RSA  3:16:40
10 Sipho NCUBE                    RSA  3:17:11

WOMEN:
1  Elena NURGALIEVA               RUS  3:40:43
2  Olesya NURGALIEVA              RUS  3:40:43
3  Sumukeliso MOYO                ZIM  3:58:47
4  Farwa MENTOOR                  RSA  3:59:45
5  Adina KRUGER                   RSA  4:03:36
6  Suzette BOTHA                  RSA  4:05:28
7  Joanna THOMAS                  RSA  4:08:41
8  Jane MUDAU                     RSA  4:10:06
9  Ursula FRANS                   RSA  4:10:35
10 Maya LAWRIE                    RSA  4:13:12

HALF MARATHON
MEN:
1  Stephen MOKOKO                 RSA  1:03:42
2  Wirimayi JUWAWO                ZIM  1:03:50
3  Lusapho STEPHEN                RSA  1:03:55

WOMEN:
1  Helalia JOHANNES               NAM  1:13:34
2  Mamorallo TJOKO                LES  1:15:43
3  Thabita TSATSA                 ZIM  1:17:10
12 APRIL 2009: INT'L MARATHON ALEXANDER THE GREAT, GREECE
MEN:
1  Dejeni R GUSSIE                 ETH  2:12:28 
2  Gilbert R KIBIWOT               KEN  2:13:14
3  Joseph L KIMELI                 KEN  2:15:14
4  Nikodemus BIWOTT                KEN  2:17:44
5  Jacob MENGICH                   KEN  2:18:31
6  Vincent KIPCHIRCHIR             KEN  2:18:54
7  Francis KIPROP                  KEN  2:19:21
8  Lemma D ALEMU                   ETH  2:19:28
9  Julius SUGUT                    KEN  2:19:45
10 Pyego F SEREI                   KEN  2:20:08
 
WOMEN:
1  Tola G FATE                     ETH  2:36:54
2  Georgina RONO                   KEN  2:37:39
3  Melaku Y ELFNESHE               ETH  2:39:05
4  Almaz B ALEMU                   ETH  2:39:13
5  Natalia SERGEEVA                RUS  2:41:10
6  Teka G KAHSAY                   ETH  2:42:44
7  Eunice K JEPKOECH               KEN  2:43:05
8  Yelena SOKOLOVA                 RUS  2:44:45
9  Emily CHEPKORIR                 KEN  2:51:41
10 Sisay A MEASSO                  ETH  2:55:13
12 APRIL 2009: DAEGU INTERNATIONAL MARATHON, KOREA
Photo: Daegu 2011 LOC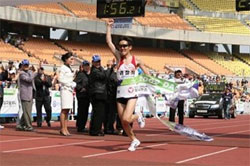 Young-Jun Ji ignited hopes that Korea has found a possible hero to challenge for a medal at the 13th IAAF World Championships in Athletics in Daegu in two years' time.
He broke away from the lead group midway through the race and dominated from there, beating his personal best by 13 seconds. Ji now has the 13-year old Korean national record of 2:07:20 in his sights. National record holder for 5000m on the track (13:49.99 in 2006) and running 28:57.16 for 10000m the same year he set his previous career best for the marathon when finishing second in the 2003 Dong-A Marathon in Seoul in 2:08:43. But later that year he finished a disappointing 53 at the World championships in Paris (2:20:21). He finished 16th in the 2004 Athens Olympic marathon (2:16:14). Since then he had not beaten 2:10 so yesterday's race in Daegu marked an impressive return to form.
Ethiopia's Yeshi Esayias, who won this year's Marrakech Marathon in 2:29:52 ran a minute slower than that to take the title ahead of the surprising 38-year-old Korean Seon-Sook Yoon.
More than 12,000 enthusiastic participants created a boisterous atmosphere at the Daegu Stadium (the venue of the 2011 IAAF World Championships in Athletics). IAAF President Lamine Diack attended and said: "Using the same course that will be used for the World Championships is a great way to help promote both the Marathon and the Championships to the people of Daegu. It also means that athletes have a realistic test leading up to the World Championships."
The race was broadcast live on the Korean Broadcasting System (KBS), which is the largest public broadcaster in Korea and will be the Host Broadcaster of the 2011 IAAF World Championships in Athletics.
Daegu Mayor Bum-Il Kim flagged off the race, and afterwards expressed his optimism that the Korean national flag will fly high at the award ceremony for the World Championships marathon.
A post-event questionnaire was distributed to the invited professional athletes. The Daegu 2011 LOC is hopeful that the feedback provided will be useful in providing the best possible conditions for future editions of the Daegu International Marathon and the World Championships.
MEN:
1  Young-Jun JI                   KOR  2:08:30 
2  Kiprotich KENEI                KEN  2:10:00 
3  Samson Kiprono BARMAO          KEN  2:10:01 
4  Chala LEMI                     ETH  2:10:01 
5  Joseph KIPTUM                  KEN  2:10:07 
6  Nicholas Kipkorir CHELIMO      KEN  2:10:13 
7  Kimani Michael NJUROGE         KEN  2:10:30 
8  Geoffrey Kiprono MUTAI         KEN  2:10:45 

WOMEN:
1  Yeshi ESAYIAS                  ETH  2:30:44 
2  Seon-Sook YOON                 KOR  2:32:04 
3  Joyce Jepchumba KOECH          KEN  2:35:09 
4  Xuequin WANG                   CHN  2:36:00 
5  Elizabeth Jeruiyot CHEMWENO    KEN  2:36:24 
6  Luciah Miwihaki KIMANI         BSH  2:38:50 
7  Samira RAIF                    MAR  2:39:01 
8  Hae-Jung JUNG                  KOR  2:41:18
18 APRIL 2009: BANCA INTESA BELGRADE MARATHON, SERBIA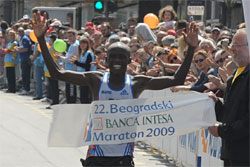 Victor Kigen won his debut marathon just as his mentor Paul Tergat suggested he would, writes Pat Butcher. Bright sunshine and temperatures up to 20°C induced a conservative pace. Only in the last 10km did Kigen surge to break up the pack of a dozen men, which included several contestants from the concurrent World Military Marathon Championships. But Kigen had looked in control all the way, and the military men made no impression on him as he took almost a minute out of them in the last 5km. In fourth Qatar's Ahmed Moustafa (originally Patrick Cheboto of Uganda) won the military title, and led his team to victory.
Nowadays Paul Tergat's influence on the marathon is felt through his nurturing of new Kenyan talent. One of his charges, Paul Lekuraa broke the Athens Marathon course record last November and now Kigen, who comes from the same Baringo District as his mentor, has blossomed after five months under Tergat's wing in the camp at Ngong outside Nairobi.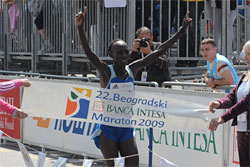 Anne Kosgei won the women's race in the second victory in five attempts. Rasa Drazdauskaite of Lithuania was hot on her heels, finishing only eight seconds behind to win the military title. The US military successfully defended the women's team title. Local hero, Olivera Jevtic won the half-marathon for the sixth time, in 72:20. Despite two months of injury she felt reassured enough to say she will run in both the Mediterannean Games in Belgrade in June, and then the IAAF World Championships in Berlin in August.
MEN:
1  Victor KIGEN                   KEN  2:13:28
2  Sylvester CHEBII               KEN  2:14:25
3  Julius KORIR                   KEN  2:14:28
4  Mousafa AHMED                  QAT  2:16:22
5  Zaid LAROUSSI                  MAR  2:16:29
6  Victor MANGUSHO                KEN  2:16:49
7  Edwin KIPCHOM                  KEN  2:17:36
8  Peter KWALIA                   KEN  2:18:26
9  Kaz KACZMAREK                  POL  2:19:11
10 Aman MAJID                     QAT  2:20:13
 
WOMEN:
1  Anne KOSGEI                    KEN  2:34:51
2  Rasa DRAZDAUSKAITE             LIT  2:34:59
3  Maria RUIZ                     ESP  2:49:32
4  Jaymee MARTY                   USA  2:51:12
5  Maria Rosa TERESI              ESP  2:51:32
18 APRIL 2009: PARDUBICE WINE HALF MARATHON, CZECH REPUBLIC
MEN:
1  Wilson Kwambai CHEBET          KEN  1:00:49
2  Willy Kariuki MWANGI           KEN  1:02:32
3  Damian CHOPA                   TAN  1:02:47
4  Robert WAMBUA                  KEN  1:02:48
5  Samuel Mwangi GICHOCHI         KEN  1:03:23
6  Pascal Mambo SARWAT            TAN  1:03:51
7  Boniface Mbuvi MUENA           KEN  1:05:18
8  Denis Mwanzia MUSAU            KEN  1:05:46
9  Charles Nderitu WANJONI        KEN  1:06:15
10 Robert STEFKO                  CZE  1:07:21

WOMEN:
1  Lydia Njeri MATHATI            KEN  1:14:44
2  Petra KAMINCOVA                CZE  1:15:17
3  Olga FIRSOVA                   RUS  1:19:41
4  Irena PETRIKOVA                CZE  1:20:23
5  Lenka SIBRABOVA                CZE  1:21:07
6  Simona KOSCOVA                 CZE  1:22:55
7  Tana METELKOVA                 CZE  1:23:17
8  Charlene VANNESTE              BEL  1:24:30
9  Ivana SEKYROVA                 CZE  1:25:06
10 Anna KRATKA                    CZE  1:27:38
19 APRIL 2009: CANBERRA MARATHON, AUSTRALIA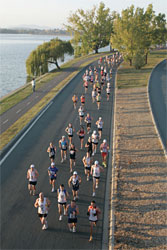 Sydney runner David Criniti completed his ascent of the podium. Third in 2007, second in 2008, he overtook fellow Sydney runner Tim Rowe at 40km to win in a personal best time. As he had done in the previous two years, Criniti then raced on to complete the Canberra 50km Ultra Marathon, winning in another personal best. He also won the 50km in 2007 and was second in 2008. Magda Karimali-Poulos, another Sydney runner, won the women's race for the second time in three years, also in a personal best. Verity Tolhurst made it a clean sweep for Sydney runners when she continued after coming sixth in the marathon to take the 50km title. Both Crinti and Tolhurst win prizes from the IAU to participate in the IAU World 50km Trophy in Gibraltar in October.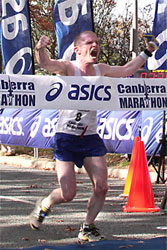 Debut runner Rowe broke away from Ethiopian Yared Temesgen before 10km and at halfway, passed in just over 68 minutes, he led by almost a kilometre. At 30km his lead was four minutes over Criniti, who was in third but closing on a tiring Temegsen. Rowe then discovered just how tough the marathon can be and a 78-minute second half allowed a very surprised but elated Criniti to snatch the winner's prize.
The marathon attracted 1304 participants, the biggest field in 24 years. 84% of runners were visitors to the Australian national capital with participants from 14 countries and every Australian State. Complementing the marathon were the Asics Marathon Eve 5km and 10km fun runs and the sixth annual Kids Marathon, taking the total participation to 2500.
MEN:
1  David CRINITI                   AUS  2:26:09
2  Tim ROWE                        AUS  2:27:01
3  Anthony FARRUGIA                AUS  2:27:35
4  Yared TEMESGEN                  ETH  2:28:01
5  Jay PHILLPOTTS                  AUS  2:32:45
6  Chris TRUSCOTT                  AUS  2:36:31
7  Nick WALSHE                     AUS  2:37:41
8  Tim MCKENZIE                    AUS  2:39:59
9  Chadi ELASHKAR                  AUS  2:40:42
10 Tom GLEESON                     AUS  2:43:06
 
WOMEN:
1  Magda KARIMLALI-POULOS          AUS  2:43:19
2  Helen STANTON                   AUS  2:45:12
3  Mai TAGAMI                      JPN  2:47:04
4  Anita KEEM                      AUS  2:47:30
5  Johanna PARSONS                 AUS  2:58:57
6  Verity TOLHURST                 AUS  3:03:17
7  Sarah BISS                      NZL  3:03:41
8  Sam BOAG                        AUS  3:05:03
9  Lucy BLABER                     AUS  3:08:42
10 June PETRIE                     AUS  3:09:46

50km
MEN:
1  David CRINITI                   AUS  2:57:42
2  Anthony FARRUGIA                AUS  3:05:07
3  Tim MCKENZIE                    AUS  3:12:14
 
WOMEN:
1  Verity TOLHURST                 AUS  3:39:00
2  June PETRIE                     AUS  3:46:41
3  Julie QUINN                     AUS  4:04:29
19 APRIL 2009: 11TH NAGANO OLYMPIC COMMEMORATIVE MARATHON, JAPAN
Pre-race favorites Isaac Macharia of Kenya and Irina Timofeyeva duly took the titles on the one-way course from Nagano Sports Park to Nagano Olympic stadium writes Ken Nakamura. Over 7000 runners started the race. Macharia became the third runner to win more than once, having won the 2005 edition in 2:10:59. Eric Wainaina won in 2000 and 2003, and Nephat Kinyanjui won three times from 2006. Timofeyeva came from behind to win her first victory at Nagano.
Masaru Takamizawa, who won the last year's Hokkaido Marathon, pushed the pace in the early stages of the race, leading a huge pack through 5km in 15:44 and 10km in 31:20. By 15km (46:57) the lead pack was down to 14 runners. Although the pace stayed moderate by halfway (1:06:04) four more had dropped back. Takamizawa then fell behind as Girma Tolla, Yuriy Hychun, Isaac Macharia, Norman Dlomo and Simon Wangai shared the pace. Isaac Macharia started to push from around 28km and the lead pack started to break apart. By 30km (1:34:00) only five runners remained and 2km later Macharia was running alone in front. By 35km (1:49:24 (15:24)), he was six seconds ahead of Wangai and Tola and he continued to extend his lead to win by 50 seconds.
Akemi Ozaki took an early lead in the women's race, leading by 16 seconds at 5km (17:31). She was caught at 13km, and by 15km (53:00) four runners – Irene Limika, Irina Timofeyeva, Derartu Tulu and Ozaki – were together. they were joined by Tatiana Aryasova and passed halfway in 1:14:40. By 25km (1:28:08) Derartu Tulu and Akemi Ozaki had fallen behind. Then Limika broke away from the two Russians to lead by 48 seconds at 30km (1:45:11). Although she slowed she extended her lead to 1:31 at 35km (2:03:05). But Limika slowed further and Timofeyeva cut into her lead so that at 40km, Timofeyeva was only 19 seconds behind and she covered the remaining distance a minute faster than Limika to win by 42 seconds.
MEN:
1  Isaac MACHARIA                  KEN  2:11:21
2  Girma TOLLA                     ETH  2:12:11
3  Simon WANGAI                    KEN  2:12:34
4  Gidey AMAHA                     ETH  2:15:01
5  Norman DLOMO                    RSA  2:15:45
6  Yuriy HYCHUN                    UKR  2:15:55
7  Masaki SHIMOJYU                 JPN  2:15:57
8  Masayuki SATOUCHI               JPN  2:16:22
9  Masaru TAKAMIZAWA               JPN  2:17:25
10 Michitane NODA                  JPN  2:17:50

WOMEN:
1  Irina TIMOFEYEVA                RUS  2:30:08
2  Irene LIMIKA                    KEN  2:30:50
3  Akemi OZAKI                     JPN  2:31:18
4  Derartu TULU                    ETH  2:34:17
5  Tatiana ARYASOVA                RUS  2:34:32
6  Yoko YAGI                       JPN  2:36:26
7  Yukako GOTO                     JPN  2:40:50
8  Chihiro TANAKA                  JPN  2:41:21
9  Kaori AKAGAWA                   JPN  2:44:59
10 Yoshimi HOSHINO                 JPN  2:45:24
19 APRIL 2009: VIENNA CITY MARATHON, AUSTRIA
Photos: Victah Sailer / photorun.net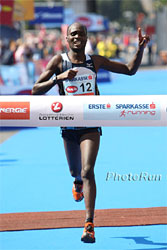 Including shorter races 29,054 runners from 100 nations entered the 26th edition, a "debutants only" race won by Gilbert Kirwa and Andrea Mayr. Kirwa's performance was impressive as temperatures rose to 20°C. For the first time Vienna's first four finishers were all under 2:10. Andrea Mayr became only the second national women's winner. The 29-year old also broke the national record (set last year by Eva-Maria Gradwohl) in her first race - by just 8 seconds.
Kirwa had been in the big leading group right from the start, passing halfway in 64:17, slightly slower than expected. The pace picked up from 25km and by 30km (1:30:40) when the final two pacemakers dropped out the race had developed into a duel between Gilbert Kirwa and Degefa Abebe Negewo with Joseph Maregu just a couple of strides behind. From 36km Kirwa started opening up a decisive gap and he forged ahead to record the third fastest performance ever in the Vienna City Marathon.
Reuben Kosgei, the Olympic steeplechase champion from 2000, dropped out of the race. Another former steeplechaser, Günther Weidlinger, ran an encouraging debut in Vienna but just missed the Austrian record by 17 seconds. "The final two kilometres really killed me. I could not run any more. To finish ninth is okay for me, but I am disappointed to have missed the record," he said.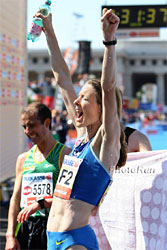 The women's race was dominated by Andrea Mayr throughout. Tiruwork Mekonnen had asked for a 2:25 pace, but she opted to follow the Austrian. The two time winner of the World Mountain Running Trophy soon started building a big lead. When Mayr reached halfway in 1:14:47 she was already more than a minute ahead of the Ethiopian trio Gebissa, Hasso and Mekonnen. At 30km the crowd favourite Mayr was more than 90 seconds ahead. Having started the race despite a foot injury the Austrian had a difficult section between 36-40km. "I thought I would not be able to break the national record but at 42km I saw that I had 50 seconds left – so I gave everything I had left." Mayr became the first Austrian woman to win the Vienna City Marathon since Carina Lilge-Leutner back in 1987.
MEN:
1  Gilbert KIRWA                KEN  2:08:21
2  Dereje Debele TULU           ETH  2:09:08
3  Joseph MAREGU                KEN  2:09:25
4  Degefa Abebe NEGEWO          ETH  2:09:52
5  Mohammed EL-HACHIMI          MAR  2:10:24
6  Jafred CHIRCHIR              KEN  2:10:42
7  Getu FEKELE                  ETH  2:11:42
8  Pedro Nimo DEL-ORO           ESP  2:12:10
9  Gunther WEIDLINGER           AUT  2:12:39
10 Maswai KIPTANUI              KEN  2:13:25

WOMEN:
1  Andrea MAYR                  AUT  2:30:43
2  Derbe-Godana GEBISSA         ETH  2:31:11
3  Hayato-Zeneiba HASSO         ETH  2:34:01
4  Tiruwork MEKONNEN            ETH  2:34:07
5  Olga KALENAROVA-OCHAL        UKR  2:35:25
6  Esther MUTHUKU               KEN  2:39:22
7  Lyudmila STEPANOVA           RUS  2:40:43
8  Mary DAVIEW                  NZL  2:42:39
9  Carina LILGE-LEUTNER         AUT  2:51:11
10 Barbara MOLNAR               HUN  2:51:22
19 APRIL 2009: VANCOUVER SUN RUN 10km, CANADA
Photos: Teresa Nightingale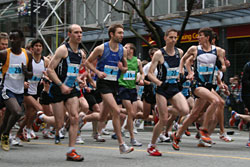 Willy Kimosop, a 22-year Kenyan currently studying at Lethbridge College in Alberta, won the men's race. Kimosop broke away from Dylan Wykes and Yegon Kiprotich in the final three kilometres, to finish 60m ahead of Wykes. Abebu Gelan, a 19-year-old from Ethiopia who set a world junior record in the Ras Al Khaimah Half Marathon two months ago took the women's title.
Running cross-country for the Lethbridge College Kodiaks, last year Willy Kimosop won every race he entered. He extended his success on the streets of Vancouver by winning the Sun Run, edging Dylan Wykes by 8 seconds. "Now, I'm comfortable. I do good in Canadian conditions" he said. He was the 13th Kenyan to win the men's race in the past 16 years.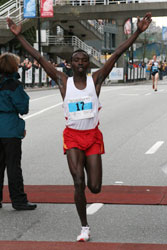 Kimosop, fellow Kenyan Yegon Kiprotich, Wykes and Richard Mosley formed an early lead pack as they ran through the edge of Stanley Park and then along Beach Avenue. By 8km Kimosop began to create a gap and then sprinted home for the win. Bertil Johannson, a Swede who has coached cross-country at Lethbridge College since 1987, has established a solid pipeline of running talent from Kenya's Rift Valley. Over the past six years, the Kodiaks have claimed five Canadian Colleges team gold medals and six individual titles. Wykes, who finished just one second behind Soloman Tsige in his only other Sun Run appearance in 2007, hopes to represent Canada at the world championships this summer in the marathon. His personal best of 2:15 was just a minute shy of last year's Olympic qualifying standard.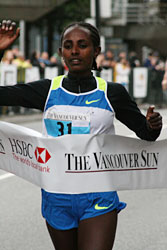 Paced by an Ethiopian teenager, it was first-timers day for the top three in the women's race. Abebu Gelan, 19, became the third straight Ethiopian winner, although she did no more than necessary to win, recording the slowest winning time in the race's 25-year history. The next two in were running the Sun Run for the first time and raved about the course and the huge 55000-entry field. Gelan, who finished third and fourth in 10km races earlier this month in New Orleans and Washington, D.C. set a junior world record (67:57) in the half marathon two months ago. Second placed Widney, a 29-year-old mother of a 10-month old child was a member of Canada's team at the world cross-country championships in Amman (JOR) last month. She moved from 5th to second in the final 2km of the race, finally passing New Zealander Fiona Docherty, a 2003 world long-distance duathlon champion.
© Copyright (c) The Vancouver Sun
MEN:
1  Willy KIMOSOP                  KEN  29:04 
2  Dylan WYKES                    CAN  29:12 
3  Yegon KIPROTICH                KEN  29:33 
4  Richard MOSLEY                 CAN  29:41 
5  Scott SIMPSON                  CAN  30:08 
6  Eric GARNER                    USA  30:37 
7  Mark BOMBA                     CAN  30:39 
8  Rejean CHIASSON                CAN  30:41 
9  John TIMEUS                    USA  30:42 
10 Jamie EPP                      CAN  30:49 

WOMEN:
1  Abebu GELAN                    ETH  34:05 
2  Chantell WIDNEY                CAN  34:24 
3  Fiona DOCHERTY                 USA  34:26 
4  Kristina RODY                  CAN  34:28 
5  Cheryl MURPHY                  CAN  34:29 
6  Lucy SMITH                     CAN  34:34 
7  Lisa HARVEY                    CAN  34:36 
8  Lisa MENSINK                   CAN  34:46 
9  Rachel RUUS                    CAN  35:48 
10 Cari KUZYK                     CAN  36:04
19 APRIL 2009: NICE INT'L HALF MARATHON, FRANCE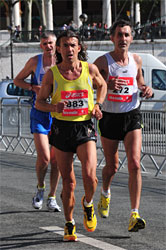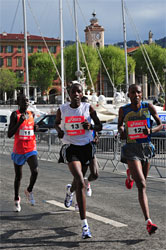 MEN:
1  Titus MASAI                     KEN  1:00:00
2  Nicolas KIPRONO                 KEN  1:00:25
3  Stephen KIBET                   KEN  1:00:34
4  Peter KERUI                     KEN  1:01:07
5  Stanley SALIL                   KEN  1:01:45
6  Justus MORANGA                  KEN  1:02:03
7  Edwin KIMAIYO                   KEN  1:02:05
8  Mubarak SHAMI                   QAT  1:02:06
9  Chebet NATHAN                   KEN  1:02:28
10 Gilbert YEGON                   KEN  1:03:22
 
WOMEN:
1  Helah KIPROP                    KEN  1:09:29
2  Sylvia KIBET                    KEN  1:09:51
3  Tenke ZOLTANI                   HUN  1:20:44
4  Jana LELUT                      FRA  1:23:19
5  Abla AMAMRI                          1:26:00
6  Magalie CHIAPPETTA              FRA  1:26:11
7  Magali REYMONENQ                FRA  1:26:35
8  Patricia B SIGNORIO             FRA  1:27:42
9  Samantha WOODWARD                    1:28:19
10 Loriane PITZINI                 FRA  1:28:31
19 APRIL 2009: TURIN MARATHON, ITALY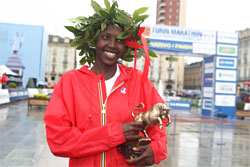 Rain and cold temperature did not dampen the spirits at the 23rd edition of the Turin Marathon. Agnes Kiprop set a new course record of 2:26:22. It was her second time in Turin, as 12 years ago she had finished ninth in the Junior World Cross Country Championships. Now, after the birth of two sons, she returned to claim the Marathon title after having made the running from the start. Ethiopian Tirfi Beyene overcame Bruna Genovese in the last 10km. The Italian said she had "cracked" at 30km, but was still determined to finish the race.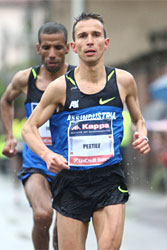 In the men's race Benson Barus had planned a 2:08:10 finish, but was slowed by cold and rain. Ruggiero Pertile did well to set a personal best of 2:09:53 in second place after having trained in Kenya during January and February. He is likely to run in the World Championships Marathon in Berlin on 22 August.
Among the 2200 finishers was Marinella Satta who finished while dribbling her basketball and gained a new Guinness Record.
Families, along with their dogs and other friends, made up the 8,000+ entry for the 8km "Stratorino" run. Everybody had committed with the goal of raising funds for the earthquake victims of the south of Italy thanks to the La Stampa Specchio dei Tempi Foundation.
More than 14,000 children, along with their family, ran the Junior Marathon. All in all it was a day dedicated to sport and joy along course redolent with history.
MEN:
1  Benson BARUS                    KEN  2:09:07
2  Ruggero PERTILE                 ITA  2:09:53
3  Paul SAMOEI                     KEN  2:11:37
4  Abdellah FALIH                  MOR  2:12:37
5  Rege NEGUSE                     ETH  2:14:05
6  Thomas CHEMITEI                 KEN  2:16:31
7  Urige BUTA                      ETH  2:18:08
8  Amare MULU                      ETH  2:19:45
9  Philemon TARBEI                 KEN  2:20:44
10 Elisha MELI                     KEN  2:20:58
 
WOMEN:
1  Agnes KIPROP                    KEN  2:26:22
2  Tirfi BEYENE                    ETH  2:29:04
3  Bruna GENOVESE                  ITA  2:30:51
4  Natalia SOKOLOVA                RUS  2:31:52
5  Oksana SKLYARENKO               UKR  2:39:52
6  Adeline ROCHE                        2:42:41
7  Loretta GIARDA                  ITA  2:54:47
8  Federica VIANO                  ITA  3:01:15
9  Daniela DE JOANNES              ITA  3:05:47
10 Grazia CAMMALLERI               ITA  3:08:50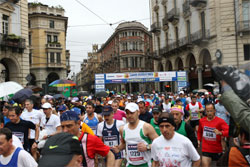 20 APRIL 2009: BAA BOSTON MARATHON, USA
Top photo: Fay Foto
Winner photos: Victah Sailer/Photorun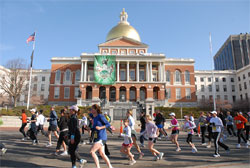 Robert Kipkoech Cheruiyot had won on four previous occasions, and in each of the past three years writes Jim O'Brien. Evans Cheruiyot, no relation, boasted a best time of 2:06:25, set in winning the Chicago Marathon last fall. Ryan Hall was the first American contender in many years. But neither Cheruiyot nor Hall prevailed: the crown went to Deriba Merga from Ethiopia — the man who had slumped from the bronze medal position to fourth inside the Beijing Olympic stadium at the Games last year.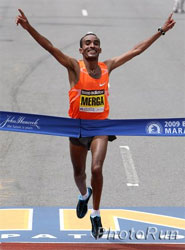 Hall had bolted for the lead, a marked departure from customary Boston tactics. The first American in a generation with a legitimate shot at taking this crown, he hammered away at the front as if he intended to simply run away from a field of the world's finest. A first mile of 4:38 saw Hall in the lead, but a 5km split of 14:33 saw 13 or so all holding tight, still at high speed. Hall seemed unhappy unless close to the front of the field, and Robert Kipkoech Cheruiyot was similarly content to lead. Jockeying for position here was just the preamble. A group of 11 charged through halfway in 1:03:39 but the Newton Hills, the habitual determinant in Boston, were yet to come. Each incline on its own might be no big deal, but together, and coming at a point in the race where endurance and determination are severely tested, makes them crucial. Merga injected the first real surge of the race just after 16 miles, a softener before the hills. Solomon Molla and Daniel Rono went with him, but Hall, all the Cheruiyots, the whole group, fell out the back door. Although Molla and Rono fought hard to stay with him Merga never faltered. He cruised on to the finish line with never an indication of distress. His time of 2:08:42, good for $150,000 in prize money, was the 17th fastest in the history of the race.
Behind him, defending champion Cheruiyot fell apart in the Hills, dropping from the fray and winding up in hospital. Molla struggled through the closing miles to place seventh. Hall inspired by clawing his way back into contention, using the hills and ultimately drawing alongside Kebede in third. Though Hall prevailed over the Ethiopian, Rono, in second, held the edge on the American favourite.
Defending champion Dire Tune was a clear favorite in the women's race writes Marc Chalufour, so too was 2007 champ Lidiya Grigoryeva, and Kara Goucher arrived in Boston with the support of a hopeful nation - but no one would have predicted the thrilling finish of this year's race.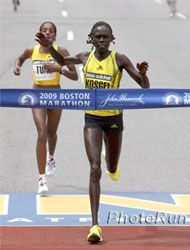 Colleen De Reuck, a 45-year old masters contender, led everyone through the early miles as the pace picked up: 6:28, 6:01, 5:53, and 5:45. But a brisk headwind kept everyone in hiding. Ten miles in, four Americans headed the group: De Reuck, Goucher, Elva Dryer, and Mary Akor. "I had never run a slower race," said Salina Kosgei of the early stages. Bezunesh Bekele injected a little pace for the middle miles but the field slowed again in miles 17 and 18. De Reuck, who had been dropped from the lead pack, suddenly found herself in front again. Then Goucher decided it was too risky to wait any longer, "I thought I had another gear," she said later, with a clear tone of regret. With miles of 5:21, 5:20, and 5:09 Goucher dropped all except Dire Tune alongside her and Salina Kosgei lurking behind them. With half a mile to go, Tune and Kosgei were in front, and Goucher lost touch. In 2008 Tune had won an epic duel to the finish with Alevtina Biktimirova and she found herself fighting it out all over again, this time with Kosgei. Spectators assumed that Tune had the race won by virtue of her 2008 performance but Kosgei used to be an 800m runner. In the final strides of the race she inched ahead, breaking the tape just in front of Tune. Kosgei is the fifth new champion in the women's division in Boston in as many years. The last woman to successfully defend her title was Catherine Ndereba in 2004-2005.
MEN:
1  Deriba MERGA                   ETH  2:08:42
2  Daniel RONO                    KEN  2:09:32
3  Ryan HALL                      USA  2:09:40
4  Tekeste KEBEDE                 ETH  2:09:49
5  Robert Kiprono CHERUIYOT       KEN  2:10:06
6  Gashaw ASFAW                   ETH  2:10:44
7  Solomon MOLLA                  ETH  2:12:02
8  Evans CHERUIYOT                KEN  2:12:45
9  Stephen KIAGORA                KEN  2:13:00
10 Timothy CHERIGAT               KEN  2:13:04

WOMEN:
1  Salina KOSGEI                  KEN  2:32:16
2  Dire TUNE                      ETH  2:32:17
3  Kara GOUCHER                   USA  2:32:25
4  Bezunesh BEKELE                ETH  2:33:08
5  Helena KIROP                   KEN  2:33:24
6  Lidiya GRIGORYEVA              RUS  2:34:20
7  Atsede HABTAMU                 ETH  2:35:34
8  Colleen DE REUCK               USA  2:35:37
9  Alice TIMBILILI                KEN  2:36:25
10 Alina IVANOVA                  RUS  2:36:50
26 APRIL 2009: MARATONA SANT ANTONIO, ITALY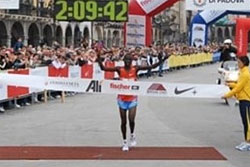 Ben Chebet set a new personal best and broke the course record with his sub-2:10 winning time writes Diego Sampaolo. It was a perfect present for the 10th edition of the Marathon on a cloudy morning but in ideal running conditions. Pacemakers set a fast pace (5km in 15:07) closely followed by Yusuf Songoka and Douglas Rono (winner in Padua in 2002 and younger brother of former marathon World record holder Paul Tergat). At 12km the pace slowed after the fierce rhythm of the first 10km but it was still inside the course record of 2:10:38 set by Ethiopian Dawit Trfe in 2003. After passing halfway in 1:04:38 Rono lost contact, and by the time the final pacemaker droped out at 27km Chebet and Tesfaye Bekele took the lead followed 10m behind by Noah Serem and the Ethiopian Lilesa Gemechu. Chebet pushed the pace, passing 30km in 1:31:49 (thanks to three consecutive splits in 2:58), but Bekele followed him closely until 35km, when Chebet broke away with a decisive kick. Serem led the chasing group 1:02 behind Chebet and eventually caught a fading Bekele at 39km. Chebet entered the final straight in Prato della Valle with strong support from the local crowd to improve the previous record by 56 seconds.
The five favourites took the lead from the beginning of the women's race. The leading group was formed by Italians Deborah Toniolo and Ivana Iozzia and three Ethiopians Meseret Legesse, Woynishet Girma and Moges Gebre Zebenaye.
Deborah Toniolo, a 2:28 marathon runner who has returned to competitions after being sidelined by injury problems in 2008, led a group through halfway in 1:15:29 closely followed by the three Ethiopian runners Moges Gebre Zebenaye, Woynishet Girma and Meseret Legesse. At 37km Zebenaye pushed the pace at the front ahead of Girma and Legesse and the race became a battle between Zebenaye and Girma as they had dropped Toniolo and Legesse by 15 seconds at 40km. Girma launched her attack at 41km, which took her to a 12-second winning margin and an improvement of nearly five minutes in her personal best time.
MEN: 
1  Ben CHEBET                       KEN  2:09:42
2  Noah Kiplagat SEREM              KEN  2:11:44
3  Tesfaye BEKELE                   ETH  2:13:34
4  Yusuf SONGOKA                    KEN  2:14:29
5  Benazzouz SLIMANI                MOR  2:14:55
6  Julius CHOGE                     KEN  2:17:49
7  Dennis PYKA                           2:19:17
8  Antonio SANTI                    ITA  2:23:10
9  Ferruccio ZORZETTO               ITA  2:29:25
10 Claudio CAVALLI                  ITA  2:31:06
 
WOMEN:
1  Woyshinet GIRMA                  ETH  2:31:03
2  Moges G ZEBANAY                  ETH  2:31:15
3  Deborah TONIOLO                  ITA  2:31:20
4  Meseret LEGESSE                  ETH  2:31:37
5  Ivana IOZZIA                     ITA  2:34:32
6  Ingrid EICHBERGER                     2:49:56
7  Eliana PATELLI                   ITA  2:50:51
8  Alessandra DE ZOPPI              ITA  2:57:46
9  Tiziana SCORZATO                 ITA  2:59:26
10 Lisa BORZANI                     ITA  3:02:16
26 APRIL 2009: MARATON POPULAR DE MADRID, SPAIN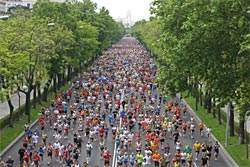 Turkey's Mehtap Sizmaz took victory on the women's side in a new course record, while Bahrain's Khalid Kamal Yaseen captured a convincing win writes Emeterio Valiente. Formerly known as Peter Ndegwa, the 26-year-old Kenyan switched his nationality in 2005 when he received Bahraini allegiance. With 650m of altitude Madrid is not the place to run fast times at distance events and rain in the opening stages of the race also dampened athletes' efforts. Four men were already detached at 10km (31:03): Yaseen and Kenya's Samwel Kalya plus the two pacesetters, Kenya's Erick Kibet and Spain's Manuel Penas.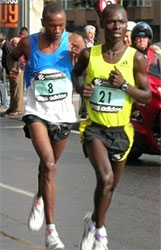 Kibet kept to 2:10 pace as he led Yaseen through the half marathon point in 64:35 but a lonesome Yaseen, with a career best of 2:11:47 slowed a lot in the second half. He had built a two-minute lead over his closest pursuer, Meshack Kosgei Kirwa, but in the last 10km he stopped twice to throw up before finally romping home. Spain's Julio Rey carried the burden of the Spanish hopes but the former (2003) World bronze medallist – was never a factor and dropped out before halfway, already well behind the leading pack.
Turkey's Mehtap Sizmaz and Ethiopia's Amane Seid Chewo ran along with a large group of local male marathoners for much of the race, passing 10km in 35:54 and reaching halfway in 1:14:34, two minutes ahead of Russia's Galina Alexandrova. It was not until 36km when Sizmaz made her move and opened up a huge advantage. The 30-year-old ran a much more balanced race than the men's victor to set a new course record and finish 12th overall, while Seid Chewo posted a personal best for second place.
The ecstatic winner – who came a brilliant 12th overall for the Ethiopian's 13th place – declared: "I had planned to break 2:30 here but the last 5km was really tough."
MEN: 
1  Khalid YASEEN                    BAH  2:14:31 
2  Kirwa KOSGEI                     KEN  2:16:17 
3  Daniel NDERITU                   KEN  2:16:42 
4  Geof TERER                       KEN  2:18:32 
5  James MOIBEN                     KEN  2:20:48 
6  William BIAMA                    KEN  2:21:25
7  Fred K KIPTUM                    KEN  2:21:35
8  Gebru SEREKE                     ERI  2:22:19
9  Samuel KALYA                     KEN  2:22:58
10 David K KIMUTAI                  KEN  2:23:22
 
WOMEN:
1  Mehtap SIZMAZ                    TUR  2:32:04 
2  Amane Seid CHEWO                 ETH  2:33:00 
3  Galina ALEXANDROVA               RUS  2:36:02 
4  Dolores PULIDO                   ESP  2:40:48
5  Yelena TIKHONOVA                 RUS  2:43:59
6  Selina C CHEMONGE                KEN  2:46:26
7  Margaret ATONDONYANG             KEN  2:50:01
8  Cristina R PEDRAZA               ESP  3:01:07
9  Ana Rosa MORENO                  ESP  3:04:20
10 Elsi TORRE VENTURA               ESP  3:07:41
26 APRIL 2009: MARATHON HAMBURG, GERMANY
Photo: Getty Images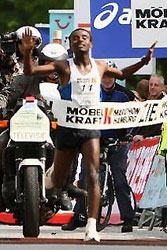 Solomon Tsige and Alessandra Aguilar ran personal bests to win, but the race was weaker than in recent years because of budget problems writes Jorg Wenig. Around 15,000 runners participated in the event, which Germany's second biggest marathon. With pre-race favourite Joseph Riri failing to appear any hopes of a sub-2:10 performance faded.
On a fine morning with 15° Celsius at the start it took until 26km for Charles Ngolepus to open up a gap. Signed as a pacemaker the Kenyan decided to complete, with only Tsige for company. Before 40km Tsige took the lead while Ngolepus had a slight stomach problem. Alessandra Aguilar took an early lead, and with the help of pacemakers she ran a very even pace and Germany's crowd favourite Ulrike Maisch soon had to let her drift away. Clocking 2:29:01 the Spanish winner has qualified for the World Championships Marathon in Berlin, which was her goal in Hamburg. Maisch, the surprise European Marathon Champion from 2006 missed the national qualifying standard of 2:32, but may still be nominated with the B standard to help the German team in Berlin.
MEN:
1  Solomon TSIDE                    ETH  2:11:47
2  Charles NGOLEPUS                 KEN  2:13:25
3  Jose TELLES DES SOUZA            BRA  2:14:46
4  Jose MOREIRA                     POR  2:14:57
5  Adelo H ROBA                     ETH  2:16:35
6  Tesfaye SENDEKU                  ETH  2:16:58
7  Roman WEGER                      AUT  2:17:53
8  Antonio SOUSA                    POR  2:18:03
9  Erick KIGEN                      KEN  2:18:43
10 Cris CARISS                      IRL  2:19:46

WOMEN:
1  Alessandra AGUILAR               ESP  2:29:01
2  Abdi T SHENI                     ETH  2:34:01
3  Ulrike MAISCH                    GER  2:34:28
4  Emily KIMURYA                    KEN  2:37:44
5  Holy RUSH                        GBR  2:38:36
6  Christina BUS HOLT               NOR  2:40:53
7  Karen PAYSEN                     GER  2:48:19
8  Adilo S ROBA                     ETH  2:49:32
9  Felicitas VIELHABER              GER  2:55:43
10 Helga RAUCH                      ITA  2:57:07
26 APRIL 2009: ZURICH MARATHON, SWITZERLAND
MEN:
1  Tadese ABRAHAM                   ERI  2:10:09
2  Oleg KULKOV                      RUS  2:10:13
3  Tesfaye ETICHA                   ETH  2:10:22
4  Wodajo TEFERI                    ETH  2:10:48
5  Yeshitela G DAGIM                ETH  2:11:37
6  Richard CHEPKWONY                KEN  2:14:12
7  Isaac CHERUIYOT                  KEN  2:14:34
8  Pius ROTICH                      KEN  2:14:35
9  Vladimir PONOMAREV               RUS  2:14:45
10 Alemayehu T SHUMYE               ETH  2:14:50
 
WOMEN:
1  Olga ROSSEEVA                    RUS  2:32:18
2  Elza KIREEVA                     RUS  2:33:14
3  Etaferahu G TAREKEGN             ETH  2:34:06
4  Alemitu BEKELE                   BEL  2:34:58
5  Patricia MORCELI                      2:38:45
6  Addis GEZAHEGNE                  ETH  2:42:54
7  Bernadette MEIER                 SUI  2:43:35
8  Emebet ABOSSA                    ETH  2:43:51
9  Jenny BREITSCHMID                SUI  2:44:09
10 Michaela MERTOVA                 CZE  2:47:15
26 APRIL 2009: BIG SUR INT'L MARATHON, USA
Both races in the 24th edition of the race were dominated by individuals rising to the challenge writes Julie Armstrong. The challenge of a hilly course was made even more difficult by 30-50/kph headwinds confronting runners throughout the morning. Ryan Hafer and Mary Coordt met the challenge to take uncontested wins. Hafer, a 22-year old resident of Colorado Springs, took an early lead in his Big Sur debut and was never challenged, finishing over seven minutes clear.
Overall 10,000 participants completed the weekends events that included the marathon, marathon relay, 21, 10.6 and 9 Milers and a PA/USATF 5km competition. Local standout Jesus Campos finished fourth in 2:45, only six days after a very strong showing in the 113th Boston Marathon. Campos scored his fifth consecutive top five at Big Sur.
Californian Mary Coordt, who won the event in 2006, dominated the women's race and cruised to an easy second victory. Julia Mallon, a 30 year old from Miami took an impressive second after having giving birth in January and only recently resumed serious training.
Runners had only two observations: the course was beautiful, and the race was windy (it is always beautiful, and it is only sometimes windy).
MEN:
1  Ryan HAFER                       USA  2:32:17
2  Eric BOWLES                      USA  2:39:34
3  Edwards CROWLEY                  USA  2:40:14
4  Jesus CAMPOS                     USA  2:45:00
5  Alan ROZENDAAL                   USA  2:45:17
6  Ben SAUVAGE                      USA  2:46:23
7  Oswaldo LOPEZ                    USA  2:49:48
8  Michael COLLINS                  USA  2:52:36
9  Ed CONRAD                        USA  2:53:49
10 Scott SNEDDON                    USA  2:53:53
 
WOMEN:
1  Mary COORDT                      USA  2:56:06
2  Julia MALLON                     USA  3:04:18
3  Nancy BUSELMEIER                 USA  3:07:00
4  Laura TURNER                     USA  3:08:50
5  Mary JONES                       USA  3:09:35
6  Heidi TUCKER                     USA  3:16:22
7  Aracelly CLOUSE                  USA  3:16:54
8  Susan NUZUM                      USA  3:17:14
9  Molly BROWN-BOULAY               USA  3:18:38
10 Sara DILLMAN                     USA  3:19:25
26 APRIL 2009: ING BANK ENSCHEDE MARATHON, NETHERANDS
MEN:
1  Jacob YATOR                      KEN  2:09:02
2  Sammy KIBET                      KEN  2:11:47
3  Tsegaye GEBRSELASSIE             ETH  2:11:48
4  Thomas OMWENGA                   KEN  2:13:18
5  Raymond KANDIE                   KEN  2:13:46
6  Daniel KOMEN                     KEN  2:15:54
7  Christopher CHEBOIBOCH           KEN  2:16:34
8  Bensin KIPRORNO                  KEN  2:18:12
9  Pedro MORA                       NED  2:18:25
10 Emmanuel BIWOTT                  KEN  2:18:35
 
WOMEN:
1  Ilona PFEIFFER                        2:44:58
2  Ingrid PRIGGE                         2:58:02
3  Polly NKAMBI                          3:09:30
4  Liesbeth VAN LEEUWEN                  3:09:57
5  Mieke KUILDER                         3:23:29
6  Mariette Ten BOKKEL                   3:28:47
7  Feikje BREIMER                        3:31:40
8  Ans LAMMERTINK                        3:32:28
9  Rian SCHALKWIJK                       3:33:19
10 Gerry VISSER                          3:33:34
26 APRIL 2009: RIJEKA HALF MARATHON, CROATIA
MEN:
1  Erkola ASHENAFI                  ETH  1:05:58
2  Duro KODZO                            1:07:56
3  Sergei SEVCHENKO                 RUS  1:08:18
4  Drago PARIPOVIC                       1:10:30
5  Olah TAMAS                            1:12:18
6  Bela HORVATH                          1:12:23
7  Dean PATRCEVIC                        1:12:31
8  Ravic NEDELJKO                        1:12:57
9  Janez MAROEVIC                        1:14:34
10 Hrvoje KOVAC                          1:15:12
 
WOMEN:
1  Ana SUBOTIC                           1:16:39
2  Ida SURBEK                       SLO  1:19:23
3  Danijela CERNIC                       1:21:45
4  Barbara BELUSIC                       1:22:25
5  Simona MAXIM                          1:23:52
6  Sanja B GECEG                         1:28:34
7  Nikolina SUSTIC                       1:29:36
8  Ana ZUPIC                             1:33:58
9  Manica RADIVO                    SLO  1:34:25
10 Jasna JURICIC                         1:34:50
26 APRIL 2009: CRACOVIA MARATHON, POLAND
MEN:
1  Julius K KIPKORIR                KEN  2:11:26
2  Salo TARAS                       UKR  2:15:58
3  Abraham B YLIMA                  ETH  2:20:52
4  Viktor STARODUBCEV               POL  2:21:49
5  Marius DINILUS                   LTU  2:23:19
6  Micach K KIPYEGO                 KEN  2:23:35
7  Lenah KHUSNUTDINOV               RUS  2:26:40
8  Robert CELINSKI                  POL  2:27:54
9  Krzysztof SZCZEPANSKI            POL  2:32:33
10 Kamil POCZWARDOWSKI              POL  2:34:17
 
WOMEN:
1  Anstazja PADALINSKAJA            BIL  2:36:29
2  Arleta MELOCH                    POL  2:39:54
3  Valentyna POLTAVSKA              UKR  2:41:05
4  Svitlana STANKO                  UKR  2:42:26
5  Mesart G KOTU                    ETH  2:47:22
6  Grazyna POPIEL                   POL  3:07:58
26 APRIL 2009: HSBC EARTH RUN HALF MARATHON, LEBANON
MEN:
1  Moustafa DAOUD                 LIB  1:12:30
2  Negatu Tegegne JENBERE         NGR  1:13:05
3  Chekhyor NOURI                 ETH  1:13:50

WOMEN:
1  Elga TRAD                      LIB  1:36:53
2  Melissa RIZK                   LIB  1:37:19
3  Frances GUY                    GBR  1:37:50
April 2009