March 2009
1 MAR | 8 MAR | 9 MAR | 10 MAR | 15 MAR | 22 MAR | 26 MAR | 28 MAR | 29 MAR
1 MARCH 2009: LAKE BIWA MAINICHI MARATHON, JAPAN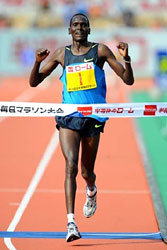 Paul Tergat won the 64th edition of the rsce in a relatively slow time writes Ken Nakamura. He surged away from his final challenger, two-time race winner Jose Rios, at 41km.
It was only Tergat's third career win following his world-record breaking victory in Berlin in 2003 and his win in the 2005 New York City Marathon.
A total of 162 runners started under a sunny sky, and 39 of them passed 5km in 15:10. By 15km (45:22) the lead pack was down to 25 runners. With an adverse wind the pace slowed, but picked up again after halfway (1:04:18). By 25km (1:16:02) there were still 11 runners left but by 30km, when three pacemakers pulled out, the leaders were down to Tergat, Rios, Yared Asmeron, Abiyote Guta and Masaya Shimizu. Shimizu led most of the time as the sky turned cloudy, the temperature dropped and they ran into a headwind. From 30-35km took 16:10, and prospects of a fast time were lost. At 39km Rios picked it up. Asmeron covered the move immediately with Tergat moving comfortably into third, while Shimizu and Guta fell behind. Tergat took the lead just before 40km and Asmeron fell back. Then with about 1300m left Tergat surged ahead to win.
Asmeron and Shimizu fought a hard battle for third place, won by Asmerom on the track of the stadium. As first Japanese, Shimizu is selected to the World Championships marathon team, joining Fukuoka Marathon winner Satoshi Irifune. Three places remain, with one to be decided after the Tokyo Marathon on 22 March with the other two to be named by JAAF selectors.
Tergat explained the slow winning time as due to jet-lag and the headwind, and complimented Shimizu on his bold front running.
MEN:
1  Paul TERGAT                     KEN  2:10:22
2  Jose RIOS                       ESP  2:10:36
3  Yared ASMERON                   ERI  2:10:49
4  Masaya SHIMIZU                  JPN  2:10:50
5  Abiyote GUTA                    ETH  2:11:18
6  Tomoya SHIMIZU                  JPN  2:12:30
7  Satoru SASAKI                   JPN  2:14:00
8  Takeshi MAKABE                  JPN  2:14:34
1 MARCH 2009: MARATO DE BARCELONA, SPAIN
MEN:
1  Johnstone CHEBII                KEN  2:14:01
2  Hosea KOSGEI                    KEN  2:14:06
3  Teshome Gelana ETABA            ETH  2:14:32
4  Demelash Denkis HABTE           ETH  2:16:35
5  Roger Roca DALMAU               ESP  2:17:41
6  Luka KIPTOO                     KEN  2:18:35
7  Joseph MARENG                   KEN  2:21:20
8  Rachid NADIJ                    ESP  2:22:44
9  Belayne BEMIR                   ETH  2:24:30
10 Victor del Corall MORALES       ESP  2:25:31

WOMEN:
1  Tadelech D ZEIT                 ETH  2:39:43
2  Helen LAWRENCE                  GBR  2:54:02
3  Paola SANNA                     ITA  2:55:52
4  Claire MCCARTHY                 IRL  2:56:02
5  Anna Rosa MORENO                ESP  2:57:56
6  Pascale ROTSAERT                FRA  2:59:50
7  Laura L CASCAN                  ESP  3:05:17
8  Sarah KIRILUK                   BEL  3:05:42
9  Anna Maria CASO                 ITA  3:05:47
10 Ana C ELIZONDO                  ESP  3:07:01
1 MARCH 2009: WORLD BEST 10km, PUERTO RICO
MEN:
1  Sammy KITAWRA                   KEN  27:26
2  Silas KIPRUTO                   KEN  27:45
3  Wilson KIPSANG                  KEN  27:45
4  Sammy KOSGEI                    KEN  27:48
5  Moses KIPSIRO                   UGA  28:01
6  Kiplomo KIMUTAI                 KEN  28:04
7  William CHEBOR                  KEN  28:06
8  Tilahun RAGASSE                 ETH  28:25
9  Peter KAMAIS                    KEN  28:28
10 John KORIR                      KEN  28:35

WOMEN:
1  Vivian CHERUIYOT                KEN  31:12
2  Lornah KIPLAGAT                 NED  31:45
3  Dire TUNE                       ETH  31:55
4  Shalane FLANAGAN                USA  32:25
5  Jane KIPTOO                     KEN  32:30
6  Ashu KASIM                      ETH  32:41
7  Beylanesh FEKADU                ETH  33:05
8  Irene LIMIIKA                   KEN  33:20
9  Rehima KEDIR                    ETH  33:52
10 Teiyba ERKESSO                  ETH  34:28
1 MARCH 2009: LALA MARATHON, MEXICO
Photos: Alan Brookes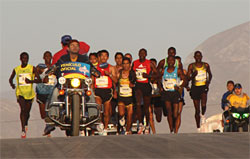 Carlos Cordero's win in the 21st edition of this race stakes his claim to the no.1 ranking among Mexican men writes Alan Brookes. He defeated local rival Gualberto Vargas by a scant 11 seconds. Joseph Mutinda, foremost of a dozen Mexican-based Kenyans who toed the start line, came in third. Alejandro Suarez ran a patient and intelligent debut marathon for fourth place, with the promise of more to come.
Margarita Tapia won another good match up by finishing just 35 seconds clear of the vastly experienced Dulce Maria Rodruigez and only 35 seconds slower than Rodriguez's 2005 course record.
Temperatures in the northern desert city of Torreon cooled from 37°C on Friday to 11°C at dawn on race day. More than 4,100 runners from every Mexican state lined up at 07:00 in front of the Lala milk factory. Widely considered Mexico's top marathon, Lala is the dairy conglomerate's gift to the city where it does so much business. Grupo Lala dominates Torreon, with 4,000 employees, of whom a remarkable 3,500 organize the Marathon as volunteers; another 100+ run the 42km; leaving only about 400 who perhaps sleep through it all. In total, Lala has about 30,000 employees in 24 cities throughout Mexico.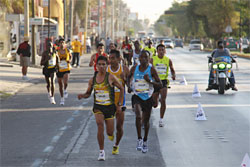 Lala Marathon takes runners on a perfectly flat tour of the desert landscape of this century-old industrial city of 1 million. Around the 10km mark it crosses into the twin city of Lerdo in the state of Dorango, made famous by John Wayne and John Ford who shot many of their popular Western movies there. Torreon is like one of those dry "Western" towns with tumbleweed blowing across parched, dusty landscape, but the course ends at the magnificent Bosque Venustiano Caranza park. Built in the 1940s it is an irrigated green oasis; a haven of peace and tranquility for runners and walkers, family picnics, football, or romantic liasons. On the first Sunday in March it belongs to Lala Marathon.
The pace slowed after 5km (15:22) and a large group reached halfway in 66:24. Cordero began to assert himself from 20km as he and Vargas went on the attack. By 30km [1:34:28] six remained tightly bunched in the lead pack, with three others a few metres back. By 36km it was down to Cordero, Vargas and Mutinda. Cordero made his decisive move at 40km to take the US$15,000 first prize.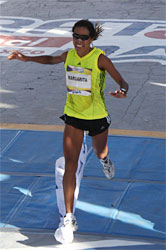 Tapia and Dulce Maria Rodruigez battled until 30km, where Tapia moved away to run the last 12km on her own for an impressive victory. Dulce Maria Rodruigez was a happy second with redemption after a miserable 2:56:21 in Osaka five weeks ago.
One of 12 children, Cordero had never raced internationally before coming home first Mexican in the marathon at the Beijing Olympics last summer. After working illegally in a chicken processing plant in the US (so he's unlikely ever to get a visa to run there) he returned home to marry, and set up a grocery store in his hometown. After the race he was surrounded by extended family sporting "Equipo Carlos Cordero" shirts.
Herman Gonsalez Navarro, 82 years old, finished in 6:28 surrounded by a posse of relatives and friends. The park office at the Bosque still has an old photo on the wall showing Don Herman as a boy, standing next to his father, amongst more than 100 workers who had just completed construction of the Bosque. Don Herman runs from the Lala factory to the Bosque every year to remember his father.
MEN:
1  Carlos CORDERO                 MEX  2:12:48
2  Juan VARGAS                    MEX  2:12:59
3  Joseph MUTINDA                 KEN  2:13:19
4  Alejandro SUAREZ               MEX  2:13:33
5  Christopher TOROITICH          MEX  2:13:51
6  Francisco Bautista CUAMATZI    MEX  2:14:02
7  George OKWORO                  KEN  2:15:29
8  Odilon Cuahutle ROJAS          MEX  2:15:34
9  Arturo Malaquias DELGADO       MEX  2:15:38
10 Isaac WAWERU                   KEN  2:16:52

WOMEN:
1  Margarita Tapia GARCIA         MEX  2:29:35
2  Dulce Maria RODRIGUEZ          MEX  2:30:48
3  Jessica Rodriguez GALVAN       MEX  2:34:13
4  Paula Apolonio JUAREZ          MEX  2:35:21
5  Judith Ramirez HERNANDEZ       MEX  2:35:49 
6  Sara Cedillo SANCHEZ           MEX  2:39:21
7  Gisela Olalde GRANADOS         MEX  2:42:39
8  Albina GALYAMOVA               RUS  2:44:47
9  Maria Elena Reyna DIAZ         MEX  2:52:58
10 Guad alupe ALTUNEZ             MEX  2:57:06
1 MARCH 2009: KILIMANJARO MARATHON, TANZANIA
MEN:
1  Emily CHEPUIYA                 KEN  2:15:25
2  Patrick NYANGELO               TAN  2:15:35
3  John SENYA                     TAN  2:15:35
4  Julius KILIMO                  KEN  2:16:46
5  Phillip TARUS                  KEN  2:17:44
6  Julius SEURI                   KEN  2:18:55
7  Emmanuel NAIBEI                KEN  2:19:03
8  Mashaka PAULO                  TAN  2:19:59  
9  Melkiadi BAYO                  TAN  2:20:52
10 Peter CHEMAOY                  KEN  2:21:06

WOMEN:
1  Jane NYAMBURA                  KEN  2:41:30
2  Sally LAGAT                    KEN  2:50:00
3  Leah KUSAR                     KEN  2:54:18
4  Irene CHEMUSTO                 UGA  2:57:11
5  Lydia KURGAT                   KEN  2:57:22
6  Margaret KIPLAGAT              KEN  2:58:31
7  Fabiola WILLIAM                TAN  2:59:51
8  Sara KAIUNA                    TAN  3:00:07
9  Grace MUZAKI                   UGA  3:01:11
10 Jackline KYTHIA                KEN  3:07:28

HALF MARATHON
MEN:
1  Shamwell SHAURI                TAN  1:03:47
2  Shamba GITIME                  TAN  1:04:17
3  Peter MATELONG                 KEN  1:04:19

WOMEN:
1  Hellen MVGO                    KEN  1:07:16
2  Mary NAALI                     TAN  1:07:24
3  Kellen WAITHIRA                KEN  1:07:49
8 MARCH 2009: 4TH OEGER ANTALYA MARATHON, TURKEY
In sunny conditions, perhaps slightly too warm to expect record breaking performances, a group was paced through halfway in 66:30 - well within record breaking schedule. The races followed out-and-back courses along Antalya's scenic Mediterranean coastline with the turning points just a little beyond the half distance. Although there was almost no wind the pace slowed late on and dropouts left the way clear for John Kioko to ease ahead of the two remaining contenders, Roman Elfimov and Tesfaye Reta, before entering the Antalya Football Stadium for an assured win. The women's race followed a similar pattern, although the run-in was a little tighter as Nadezda Semiletova squeezed out a crucial few seconds to finish 50m ahead of Rose Chesire.
MEN:
1  John Musila KIOKO              KEN  2:18:00
2  Roman ELFIMOV                  RUS  2:18:25
3  Tesfaye Bogale RETA            ETH  2:18:41
4  Muammer ALTAYNOK               TUR  2:32:33
5  Kyyasettin YALCYN              TUR  2:36:00
6  Muharrem YILMAZ                TUR  2:41:02
7  Murat KAYER                    TUR  2:44:09
8  Mansuri YUKSEL                 TUR  2:45:12
9  Olo KARLSEN                    DEN  2:45:29
10 Nurettin DADIYODLU             TUR  2:49:16

WOMEN:
1  Nadezda SEMILETOVA             RUS  2:44:19
2  Rose CHESIRE                   KEN  2:44:28
3  Salome Jerono BIWOT            KEN  2:49:29
4  Irina SONGERLAYNEN             RUS  2:55:34
5  Lutfiye KAYA                   TUR  3:10:48

HALF MARATHON
MEN:
1  Moses TOO                      KEN  1:04:08 
2  Hosea Kiplagat TUEI            KEN  1:04:14
3  Roman PRODIUS                  MDA  1:04:30

WOMEN:
1  Bahar DOGAN                    TUR  1:12:43
2  Mehtap SIZMAZ                  TUR  1:14:34
3  Emily BIWOTT                   KEN  1:17:11

10km
MEN:
1  Bekir KARAYEL                  TUR  29:33
2  Vitalie GEORGHITA              MDA  29:46  
3  Abdulkadir TURK                TUR  29:55

WOMEN:
1  Mariam Tanga DINGO             ETH  33:12
2  Sultan HAYDAR                  TUR  33:32
3  Olesya NURGALIEVA              TUR  35:29
8 MARCH 2009: NAGOYA INTERNATIONAL WOMEN'S MARATHON, JAPAN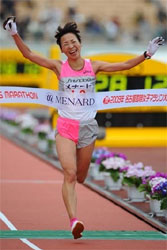 Yoshiko Fujinaga won the place on offer for the Berlin World Championships by taking the 30th edition of the race by a minute writes Ken Nakamura. 2000 Olympic champion Naoko Takahashi, ran her farewell marathon, finishing 29th in 2:52:23, smiling the whole way, and waving from time to time.
With no official pace maker, Caroline Cheptonui Kilel did most of the early leading, passing 5km in 17:40. Race favourite Bai Xue then took off but Kilel chipped away at Bai's lead and had caught Xue a kilometre later. Yoshiko Fujinaga joined them upfront, later followed by Hitomi Niiya. This pack of four passed 10km in 34:34, 35 seconds ahead. Fujinaga then started to drift backwards but never completely lost contact with the leaders. At 15km (51:47) she trailed by 7 seconds and by 19km she had rejoined them. They passed halfway in 1:13:16 nearly 400m ahead of the chasing group. Fujinaga drifted off the pace again at around 25km, as did Niiya and both had rejoined Xue and Kilel before 29km. After some jockeying for the lead Niiya took over, passing 30km in 1:44:38, four seconds ahead of Kilel, who in turn was eight seconds ahead of Fujinaga. From 30-31km was the fastest of the race (3:18) but Fujinaga was resurgent. At 32.6m she caught the fading Kilel, and Niiya's pace dropped below 3:30 after 32km. Niyya led through 35km in 2:02:17 with Fujinaga 28 seconds behind. A kilometre later the gap was down to 15 seconds, and at 37km Fujinaga passed Niiya. Niiya faded to the extent that first Chika Horie passed her, and at 40km Yuko Machida also went by.
Although the early pace was not very fast, only Fujinaga did not fade. Niiya finished a disappointed eighth and Caroline Cheptonui Kilel ninth, while Bai Xue finished back in 13th place with 2:35:17. "Every time I was left behind, I kept on telling myself it will be OK" said Fujinaga.
WOMEN (ONLY): 
1  Yoshiko FUJINAGA               JPN  2:28:13 
2  Chika HORIE                    JPN  2:29:09 
3  Yuko MACHIDA                   JPN  2:29:35 
4  Mayumi FUJITA                  JPN  2:29:56 
5  Kiyomi OGAWA                   JPN  2:29:58 
6  Yumi HIRATA                    JPN  2:30:16 
7  Ayumi NAKAYAMA                 JPN  2:30:53 
8  Hitomi NIIYA                   JPN  2:30:58 
9  Caroline Cheptonui KILEL       KEN  2:31:42 
10 Yoshie KITOMI                  JPN  2:32:08
8 MARCH 2009: SEMI MARATHON DE PARIS, FRANCE
MEN:
1  Bado WORKU                      ETH  1:01:56 
2  Fikadu LEMMA                    ETH  1:02:00 
3  Barnabas KOSGEI                 KEN  1:02:25 
4  Luka KANDA                      KEN  1:02:28 
5  Vincent KROP                    KEN  1:02:54
6  John KORIR                      KEN  1:03:10
7  Isaac BIRIR                     KEN  1:03:19
8  Patrick NYAMBANE                FRA  1:04:06
9  Philemon KISANG                 KEN  1:04:32
10 Moses KIBOR                     KEN  1:05:57

WOMEN:
1  Jelena PROKOPCUKA               LET  1:10:43 
2  Harun MAKDA                     ETH  1:10:57 
3  Perninah ARUSEI                 KEN  1:11:38 
4  Yamna OUBOUHOU                  FRA  1:12:23 
5  Hafida GADI                     FRA  1:15:48
6  Margaret MAURY                  FRA  1:15:48
7  Maja NEUENSCHWANDER             SUI  1:16:22
8  Nathalie VASSEUR                FRA  1:20:27
9  Marielle THEVENET               FRA  1:22:29
10 Riikka HALME                    FIN  1:23:25
8 MARCH 2009: FERRARA MARATHON, ITALY
MEN:
1  Alberto FELLONI                 ITA  2:38:30
2  Goran MURIC                     CRO  2:39:07
3  Martino MASSIGNANI              ITA  2:39:22
4  Hrvoje KOVAC                    CRO  2:39:29
5  Abderrafi BALOUL                ITA  2:42:06
6  Reinhold POTOTSCHNIK                 2:48:23
7  Marcello COLOMBARI              ITA  2:48:47
8  Roberto GAMBA                   ITA  2:50:35
9  Franco MANZARDO                 ITA  2:51:05
10 Gianni CARTER                   ITA  2:51:35
 
WOMEN:
1  Antonija ORLIC                  CRO  3:05:12
2  Cristina M ORLANDI              ITA  3:07:22
3  Sara FERRARI                    ITA  3:13:25
4  Simona ROSSI                    ITA  3:15:45
5  Daniela MOTANARI                ITA  3:17:52
6  Ilaria M FOSSATI                ITA  3:18:40
7  Chiara PACCHIEGA                ITA  3:22:45
8  Stefania CAGNOLI                ITA  3:23:57
9  Grazia RANFAGNI                 ITA  3:25:05
10 Veronica JURISIC                CRO  3:25:28
8 MARCH 2009: LAGO MAGGIORE HALF MARATHON, ITALY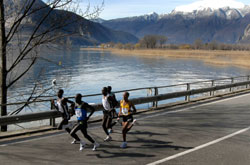 With clear skies, 12°C and no wind at all the second edition of the race experienced ideal running conditions in which 1928 runners finished, up 36% from 2008. There were 16 finishers in the Wheelchair/Hand Bike category and 16 teams competing in the 4-person relay. In all 31 nationalities were represented.
A lead group of seven ran together before Denis Ndiso dropped back just before 5km and Rachid Kisri a little later. Nicholas Kamakya led the remaining four runners (there was no official pacemaker) until he apparantly suffered breathing problems at 18km and dropped back. The others kept together until about 300m from the finish. Ezekiel Jafari prevailed in the sprint finish ahead of Jacob Yator and David Kiyeng by 2 and 3 seconds respectively.
In the women's race Aniko Kalovics overcame last year's winner Melissa Peretti although suffering a slight pull in her left leg.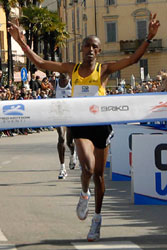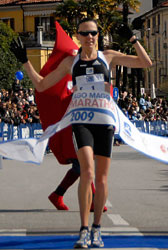 MEN:
1  Ezekiel J NGIMBA                TAN  1:00:41
2  Jacob K YATOR                   KEN  1:00:43
3  David K KIYENG                  KEN  1:00:44
4  Joel K KIMURER                  KEN  1:01:00
5  Nicholas M KAMAKYA              KEN  1:01:00
6  Rachid KISRI                    MAR  1:02:15
7  Dennis M NDISO                  KEN  1:05:31
8  Joachim NISHIRIMANA             BDI  1:07:01
9  Mirko CANAGLIA                  ITA  1:07:25
10 Diego ABBATESCIANNI             ITA  1:07:27
 
WOMEN:
1  Aniko KALOVICS                  HUN  1:15:21
2  Melissa PERETTI                 ITA  1:16:08
3  Paola VENTRELLA                 ITA  1:16:26
4  Gegia GUALTIERI                 ITA  1:20:16
5  Emanuela BRIZIO                 ITA  1:21:19
6  Paola FELLETTI                  ITA  1:22:32
7  Lara MUSTAT                     ITA  1:22:56
8  Isadora CASTELLANI              ITA  1:23:04
9  Joanna DRELICHARZ               ITA  1:24:09
10 Daniela MAESTRONI               ITA  1:25:21
8 MARCH 2009: KYOTO CITY HALF MARATHON, JAPAN
In his debut half marathon Ryuji Kashiwabara broke away at 4km and ran the rest of the race alone writes Ken Nakamura. Kashiwabara is the hottest young runner in Japan, having recorded a huge stage best at the Hakone Ekiden, and he took this final edition of the Kyoto City Half Marathon in impressive style.
MEN:
1  Ryuji KASHIWABARA              JPN  1:03:16 
2  Atsushi YAMAZAKI               JPN  1:03:34 
3  Kazuo IETANI                   JPN  1:03:35  

WOMEN:
1  Kasumi NISHIHARA               JPN  1:11:58  
2  Yumi SATO                      JPN  1:12:30
8 MARCH 2009: MEIA MARATONA DE SAO PAULO, BRAZIL
Damião Ancelmo de Souza was a surprise winner of the 3rd edition of the race while the women's event was won by the Kenyan favourite Angelina Mutuka. De Souza began in the second group but from 15km he forced the pace and by 17km he was pushing ahead of the others. There was agrement from those finishing behind him that the new course, taking in the historical centre of the city, was tough. The women's winner found the course more to her liking although she had only arrived in Brazil on the Friday and after the race departed for Italy, where she will run a marathon. African women also filled the next two places ahead of the first Brazilian, Luzia de Souza Pinto.
Marildo José Barduco (32:03) and Josefa Maria da Silva (45:24) won the accompanying "Quarter Marathon" race of 10,550m. In all there were 8,000 starters.
MEN:
1  Damião ANCELMO DE SOUZA        BRA  1:05:18 
2  Paulo Roberto ALMEIDA PAULA    BRA  1:05:20
3  Franck CALDEIRA DE ALMEIDA     BRA  1:05:22
4  Giomar PEREIRA DA SILVA        BRA  1:05:34
5  Luis PAULO DA SILVA ANTUNES    BRA  1:05:49
6  Clodoaldo GOMES DA SILVA       BRA  1:06:19
7  Marcos Alexandre ELIAS         BRA  1:06:32
8  João FERRERA DE LIMA           BRA  1:06:46
9  Gilmar SILVESTRE LOPES         BRA  1:07:05
10 Marcos Antonio PEREIRA         BRA  1:07:11

WOMEN:
1  Angelina Matheu MUTUKA         KEN  1:14:14
2  Milka Jerotich KIPKEROR        KEN  1:14:22
3  Sara Ramadhani MAKERA          TAN  1:14:46
4  Luzia de Souza PINTO           BRA  1:15:37
5  Marizete de Paula REZENDE      BRA  1:16:18
6  Sueli PEREIRA SILVA            BRA  1:16:45
7  Maria Zeferina BALDAIA         BRA  1:17:19
8  Simone ALVES DA SILVA          BRA  1:17:47
9  Marizete MOREIRA DOS SANTOS    BRA  1:17:52
10 Edielza ALVES DOS SANTOS       BRA  1:18:35
9-12 MARCH 2009: 11th 100km del SAHARA, TUNISIA
9 MARCH 2009: STAGE 1 - DOUZ – BIR LECTAYA, 23km
A new route, but the same face headed the race. Jorge Balle, multiple winner from previous editions, took the stage a short distance ahead of Loris Fanton. A sand storm had buffeted the organisers with fine dust on the day before the race, and the after effects were felt by the runners. However, on race day the wind had dropped and the 28°C temperature was not too debilitating. The women's race was won by last year's event winner Luisa Zecchino.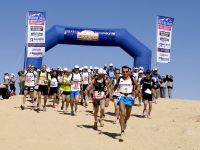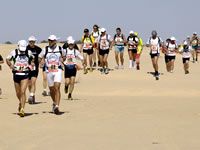 10 MARCH 2009: Stage 2 - BIR LACTAYA – BIR EL GIF, 42km
A very hard day. Despite an 08.00 start temperatures rose above 30°C and there was sand, sand, and more sand. The two first stage winners repeated, while Jan Petersen and Thomas Barth rose up the overall standings with strong efforts.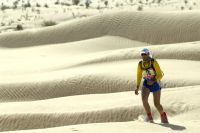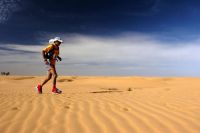 11 MARCH 2009: Stage 3 - BIR EL GIF – CAMP BIBANE
The stage traversed some beautiful country on firm tracks with little loose sand until approaching ther high dunes of the Grand Erg Occidental. The final stretch involved climbing a 50m dune followed by a rapid descent to the camp. Balle continued to dominate the men's race, despite a bold comeback by Loris Fanton, only a few seconds behind him.
Among the women Luisa Zecchino was equally dominant but the surprise of the day was Alice Modignani's second place (on the left in the photo).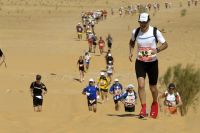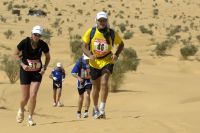 12 MARCH 2009: Stage 4 - CAMP BIBANE – KSAR GILHANE
Jorg Balle took his third consecutive series victory, and fourth in all, showing his great strength in this type of competition. Luisa Zecchino repeated her win of the previous year, without anyone to rival her, by a 20-minute margin.
A strong headwind made the final stage very tough, but the course was not difficult. Loris Fanton continued his revival with a strong push to finish alongside Balle in the oasis of Ksar Gilhane.
MEN:
1  Jorg BALLE                  GER  7:45:06
   1:23:10  3:18:13  1:12:16  1:51:27

2  Loris FANTON                ITA  8:31:55
   1:29:12  3:58:36  1:12:40  1:51:27

3  Jan PETERSEN                DEN  8:34:00
   1:34:32  3:46:47  1:15:40  1:57:01

4  Thomas BARTH                GER  8:35:29
   1:31:40  3:51:38  1:14:30  1:57:41

5  Angelo CAVALLARO            ITA  8:55:54
   1:30:12  3:53:16  1:23:54  2:08:32

6  Alexander LENNEMANN         GER  9:11:49
   1:38:39  4:05:28  1:19:33  2:08:09

7  Marco BONFIGLIO             ITA  9:14:32
   1:34:25  3:56:06  1:23:12  2:20:49

8  Enos SALVADORI              ITA  9:17:22
   1:37:09  4:12:28  1:19:19  2:08:26

9  Hansjoerg DOERIG            SUI  9:34:12
   1:38:56  4:26:04  1:22:09  2:07:03

10 Massimo RUSSO               ITA  9:46:07
   1:34:35  4:44:09  1:20:00  2:07:23

WOMEN:                        
1  Luisa ZECCHINO              ITA  9:40:13
   1:43:00  4:16:27  1:26:22  2:14:24

2  Adele DE LA REY             NAM 10:52:40
   1:51:57  4:51:54  1:36:15  2:32:34

3  Rita SERRA                  ITA 10:57:40
   1:55:07  4:49:26  1:39:01  2:34:06

4  Ma Teresa CANNUCCIA         ITA 11:02:19
   1:53:17  4:55:21  1:35:37  2:38:04

5  Caludia GERLING             GER 11:10:37
   2:02:10  5:02:27  1:36:57  2:29:03

6  Alice MODIGNANI             ITA 11:37:38
   1:53:59  5:39:13  1:34:32  2:29:54
10 MARCH 2009: ANTARCTICA MARATHON
MEN:
1  Kornelis BIENNE                NED  3:04:50
2  Juan ALEGRE                    ESP  3:06:35
3  Matthew GUZIK                  USA  3:19:32
4  Michael CREASON                USA  3:38:30
5  Gregg WALCHI                   USA  3:42:40
6  Terry TURNER                   USA  3:45:50
7  Nicholas TWOMEY                GBR  3:50:48
8  David BRYAN                    USA  3:57:54
9  Patrick CANDE                  FRA  3:59:48
10 Gary MORGAN                    USA  4:03:00

WOMEN:
1  Lisa DEYOUNG                   USA  4:07:57
2  Connie LUTKEVICH               USA  4:14:28
3  Emily CROSS                    GER  4:24:29
4  Sara AMOROSINO                 USA  4:27:15
5  Cecile FOUCHARD BERTIN         FRA  4:42:25
6  Christina GARLAND              USA  4:42:53
7  Susan MCLOUGHLIN               CAN  4:48:22
8  Terese GRONDIN                 USA  4:51:41
9  Karen HOLMBERG                 USA  4:53:10
10 Cathy POWELL                   USA  4:55:50

HALF MARATHON
MEN:
1  Javier LEIVA                   CHI  2:02:31
2  Zoltan TERDIK                  HUN  2:02:54
3  Roberto PEREZ                  CHI  2:11:16

WOMEN:
1  Leontina MANNING               NZL  2:28:41
2  Laurie MORSE                   USA  2:32:27
3  Elizabeth CARR                 NZL  2:36:08
15 MARCH 2009: SEOUL INTERNATIONAL MARATHON, KOREA
Moses Arusei and Roba Tola took advantage of cool (3°C) conditions to win in 2:07:54 and 2:25:37 respectively writes Mirko Jalava.
A group of 15 men passed through 10km in 30:04, but then slowed so that 11 remained in contention at 20km, passed in 1:00:46. There were still seven runners together at 30km when Arusei made his move. Only Ethiopia's Yirdaw Dejene tried to follow his pace, but at 35km he was 15 seconds down with third-placed Sylvester Teimet 49 seconds back. With the race decided Arusei continued to forge ahead, posting the second fastest time of his career to the 2:06:50 he ran in Paris in 2008. It was only his second sub-2:10 time. Dejene, in second, slashed 3:21 from his personal best. Former winner Jason Mbote came in fourth, behind Teimet. Four-time Olympic marathon runner Bong-Ju Lee finished 14th in 2:16:46.
In the women's race the Chinese favourites were well beaten, ending their four-year winning streak. The 22-year-old Ethiopian Robe Tola came close to her 2:24:35 personal best set when winning the 2006 Hamburg marathon and far outclassed her opponents. Yanan Wei and Yingying Zhang passed through 15km alongside her in 50:52, but the 19-year-old star Zhang was then dropped. Robe and Wei passed 20km in 68:14 with Zhang in a chasing group with two Koreans, Sun-Young Lee and Ho-Sun Park, 80 seconds behind.
The leading duo reached 25km in 1:25:46, two minutes ahead, and Tola then quickly dropped Wei to lead through 35km (2:00:45) by more than a minute. Lee moved past Wei into second place, and finished with a 2:27:48 personal best, more than two minutes faster than the 2:29:58 which she ran in November. Ho-Sun Park, in fourth, cut almost nine minutes off her best time.
MEN:
1  Moses ARUSEI                   KEN  2:07:54
2  Yirdaw DEJENE                  ETH  2:08:30
3  Sylvester TEIMET               KEN  2:10:11
4  Jason MBOTE                    KEN  2:10:38
5  Young-Jun JI                   KOR  2:10:41
6  Paul BIWOTT                    KEN  2:11:03
7  Charles KIBIWOTT               KEN  2:11:18
8  Jun-Hyuen HWANG                KOR  2:11:39
9  Myoung-Kee LEE                 KOR  2:13:55
10 Gun-Tae YUK                    KOR  2:14:58

WOMEN:
1  Roba TOLA                      ETH  2:25:37
2  Sun-Young LEE                  KOR  2:27:48
3  Yanan WEI                      CHN  2:29:00
4  Ho-Sun PARK                    KOR  2:32:21
5  Yingying ZHANG                 CHN  2:33:38
6  Yun-Hee CHUNG                  KOR  2:34:14
7  Shujing ZHANG                  CHN  2:38:48
8  Jung-Hee HA                    KOR  2:48:53
9  Son-Jung KIM                   KOR  2:53:41
15 MARCH 2009: STANDARD CHARTERED STANLEY MARATHON, FALKLAND ISLANDS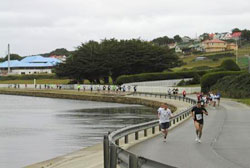 After the balmy conditions of last year the event returned to more typically "Antarctic" weather with strong cold wind, light showers and the temperature moving from 4°C in the early morning to 8°C during the race. Wind speed was around 20km/hour. There was a new record turnout of 58 individual runners, and 64 relay runners.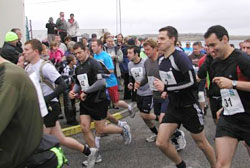 The crowd and atmosphere during the race and trophy presentation were great for a remote place like Stanley (population 2000). In the absence of the Governor, the Acting Governor started the race and presented the trophies. A number of Councillors volunteered as marshals, a few senior government officials ran the marathon and the Chief of Staff of British Forces South Atlantic presented the Inter-Service trophy to the "Crazy Cats" team.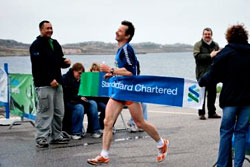 In its fifth year the Marathon has become the most prominent sporting event in the Falklands, and the only one with a genuinely international aspect, as evidenced by the podium places going to Falklands-based, UK and Argentinian runners - all inside 2:58. Lee Pattison finished just five seconds shy of the course record, while the trophy for the first Falklands-born runner went to John Barton (3:29:55). The event was enthusiastically covered the local media including BFBS TV and almost $5000 was raised for the Standard Chartered nominated charity "Seeing is Believing".
MEN:
1  Lee PATTISON                    GBR  2:55:51
2  Hugh MARSDEN                    GBR  2:57:08
3  Marcelo E DE BERNARDIS          ARG  2:57:22
 
WOMEN:
1  Andrea MASTROVINCENZO           ARG  3:12:29
2  Ashton MULLIGAN                 GBR  3:49:08
3  Carol PECK                      GBR  4:18:49
 
TEAM RELAY:
FIFL A                          STANLEY 3:03:10
CRAZYCATS                 MPA-FALKLANDS 3:07:47
GLADIATORS                MPA-FALKLANDS 3:16:14
22 MARCH 2009: EDP HALF MARATHON OF LISBON
Photos: Marcelino Almeida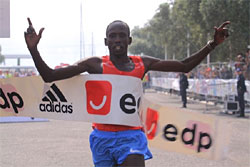 Despite high hopes of a new world record in the men's race and conditions good enough for it to have happened, the pace was not quite quick enough. A group of seven stuck together for the first 11km before Robert Cheruiyot, who had done most of the leading, drew clear with three others: Martin Lel, Jaouad Gharib and surprise package Gedion Ngatuny. The other surprise was that world record holder Samuel Wanjiru was one of the three dropped at this point. He maintained contact from a distance, leading the chasing group, but late on in the race seemed to relinquish all ambition for the race. He, like Lel and others, has a big effort at the marathon coming up.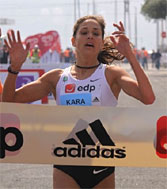 Cheruiyot continued to lead right up until approaching 20km when Jaouad Gharib made a determined effort to blunt the fearsome finish that Lel usually unleashes in the finish straight. In fact Lel entered the straight first, was overtaken by Gharib, and only regained the lead about 50m from the line.
The women's race was much more clear-cut, with Kara Goucher leading after the first 5km and building a good lead in the followiung 5km. Thereafter she maintained her lead while leaving the others to fight for the minor placings.
MEN:
1  Martin LEL                     KEN    59:56
2  Jaouad GHARIB                  MAR    59:59
3  Robert CHERUIYOT               KEN  1:00:05
4  Gedion NGATUNY                 KEN  1:00:06
5  Samuel SHAURI                  TAN  1:00:33
6  Emmanuel MUTAI                 KEN  1:00:45
7  Samuel WANJIRU                 KEN  1:01:25
8  David KEMBOI                   KEN  1:02:53
9  Jose RAMOS                     POR  1:03:23
10 Joshua CHELANGA                KEN  1:03:25
 
WOMEN:
1  Kara GOUCHER                   USA  1:08:30
2  Alice TIMBILILI                KEN  1:09:00
3  Jane KIPTOO                    KEN  1:09:07
4  Jelena PROKOPCUKA              LAT  1:09:58
5  Leah MALOT                     KEN  1:11:37
6  Monica ROSA                    POR  1:14:14
7  Ayanu WORKITU                  ETH  1:15:03
8  Filomena COSTA                 POR  1:15:33
9  Galina IVANOVA                 RUS  1:15:50
10 Natalya VOLGINA                RUS  1:16:43
22 MARCH 2009: TOKYO MARATHON, JAPAN
Photos: Yohei Kamiyama/Agence SHOT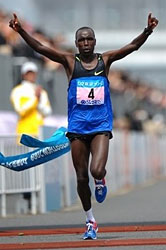 Salim Kipsang's winning time was disappointingly slow because of strong wind, especially in the closing stages writes Ken Nakamura. Passing through halfway in 1:04:15, the pacemakers dropped out at 25km (1:16:13) leaving Dmitry Baranovsky leading a group of 10 runners. At 30km (1:31:46) Kensuke Takahashi pushed on without taking a drink, and the race was on. Sammy Korir and Kipsang closed up on Takahashi and Kipsang led the other two at 32km with Marathon debutant Kazuhiro Maeda trying to maintain contact. At the 35km aid station Kipsang stumbled and dropped his bottle. Stopping to retrieve it, he lost several metres at a crucial moment, but came back strongly, catching Korir and Takahashi and surging ahead to win. The 11 million yen he won was the first official prize money ever awarded for the marathon in Japan (other than at World Championships).
Maeda came through for second place, gaining automatic selection for the marathon team for Berlin. From 30km he was biding his time in fourth place, only starting to close the gap after Kipsang's break. By 38km he had passed Korir and Takahashi. "I thought the pace was too fast so I ran alone for a while. I kept plugging away thinking I may be able to catch them," said Maeda after the race. Legendary marathon runner Toshihiko Seko, who was one of the TV commentators, had predicted that Maeda would be the first Japanese. None of the first three Japanese were invited runners. The invited Japanese did not fare well.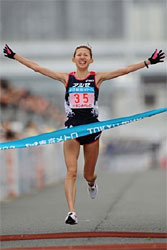 Mizuho Nasukawa left Shitaye Gemechu and Yukari Saharu just before 30km to win the women's race, setting a new personal best by more than four minutes. Tokyo is not a World Championships qualifier for the women so she will not run in Berlin. "I was able to run the time I have been told that I am capable of," said Nasukawa after the race. Another runner trained by coach Koide, Yukari Sahaku, finished second and improved her personal best by nearly 3 minutes. The experienced Reiko Tosa fell at 5km but recovered well and finished third in the final marathon of her career.
MEN:
1  Salim KIPSANG                   KEN  2:10:27 
2  Kazuhiro MAEDA                  JPN  2:11:01
3  Kensuke TAKAHASHI               JPN  2:11:25 
4  Sammy KORIR                     KEN  2:11:57  
5  Kenta OSHIMA                    JPN  2:12:54 
6  Tomoyuki SATO                   JPN  2:13:12 
7  Dmytro BARANOVSKY               UKR  2:13:27 
8  Asnake Roro FEKADU              ETH  2:13:40 
9  Kentaro NAKOMOTO                JPN  2:13:53
10 Atsushi FUJITA                  JPN  2:14:00 
 
WOMEN:
1  Mizuho NASUKAWA                 JPN  2:25:38
2  Yukari SAHAKU                   JPN  2:28:55 
3  Reiko TOSA                      JPN  2:29:19 
4  Alvevtina  BIKTIMIROVA          RUS  2:29:33
5  Shiytaye GEMECHU                ETH  2:29:59 
6  Kiyoko SHIMAHARA                JPN  2:31:57 
7  Hiromi OMINAMI                  JPN  2:32:11 
8  Luminita TALPOS                 ROU  2:32:22 
9  Pamela CHEPCHUMBA               KEN  2:32:40 
10 Harumi HIROYAMA                 JPN  2:35:39
22 MARCH 2009: CITY OF ROME MARATHON, ITALY
Photo: Giancarlo Colombo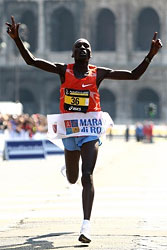 Benjamin Kiptoo from Kenya and Ethiopian Firehiwot Dado were the surprise winners writes Diego Sampaolo. Starting as a pacemaker, Kiptoo smashed the Italian all-comers' record to finish as the first of 12 Kenyans who swept the men's race. Dado, who entered the women's race only a few days previously with a best time of 2:37:34 set in Kosice last year, sliced over 10 minutes off this time to snatch a surprise win. Behind her Tetyana Filonyuk from Ukraine and Haile Kebebush from Ethiopia also both ran new personal best times.
Pacemaker Festus Langat bolted through the first 10km in 29:48, but by halfway (1:03:55) the leaders were on to a more modest schedule. At 22km Joseph Ngeny, who had started as pacemaker to the second group, caught up with the leading pack and decided to finish. At 32km Kiptoo, Ngeny, Phillip Manyim (winner at the Berlin Marathon and second in Rome in 2005) and former World Half Marathon Champion Paul Kirui broke away from the rest of the field. At 35km Kiptoo and Ngeny pulled away from Manyim by three seconds and from Kirui by five. At 39km Manyim fell apart, fading fom fourth to ninth place. Kirui managed to overhaul Ngeny in the final 2km to finish second. In third, Ngeny was rewarded with a new personal best. Kiptoo finished very strongly to post the second best time in the world this year behind Haile Gebrselassie's 2:05:29 in Dubai.
A leading group of nine women went through the 10km mark in 34:33 and halfway in 1:13:06. At 30km (1:44:03) Ukraine's Tetyana Felonyuk, Dado and Kebebush led Lena Cheruiyot, with Anna Incerti two seconds back in fifth — but she began fading at 32km when Dado upped the pace to break away. Like Kiptoo, she finished very strongly in the final kilometres, dropping Filonyuk by 45 seconds at 40km. Haile Kebubush's third place improved her past record in the Rome Marathon where she finished seventh in 2007 and sixth in 2008.
Just after the start of the marathon the 4219.5m Roma fun run (formerly "Stracittadina") started from the same point in front of the Colisseum. Participation in this race has grown steadily and this year reached 80,400. The route winds through ancient neighbourhoods to finish in a park up on the "Colle Oppio" hill amidst a city festival with Concerts, exhibitions and dances. Ten separate projects have built participation among schools, the elderly, church groups, scout groups, the restaurant trade and other sectors, with 34 charities involved. By these means the Roma Fun Run seems to have become the largest non-competitive run in the world.
MEN:
1  Benjamin Kiptoo KOULUM          KEN  2:07:17
2  Paul Kiprop KIRUI               KEN  2:08:23
3  Joseph NGENY                    KEN  2:08:41
4  Hosea Kiprop ROTICH             KEN  2:09:47
5  Philip Kiprop SANGA             KEN  2:10:09
6  Philemon Kipkirui ROTICH        KEN  2:10:26
7  Vincent Kiptoo KIPLAGAT         KEN  2:10:33
8  Francis KIPROP                  KEN  2:11:13
9  Philip Manyim KIPKURGAT         KEN  2:11:21
10 Albert Matebor KIPLAGAT         KEN  2:11:33
 
WOMEN:
1  Firehiwot DADO                  ETH  2:27:08
2  Tetyana FILONYUK                UKR  2:27:43
3  Haile Lema KEBEBUSH             ETH  2:28:08
4  Jemeli Kimaiyo RISPER           KEN  2:29:16
5  Anna INCERTI                    ITA  2:29:33
6  Lena Jemutai CHERUIYOT          KEN  2:30:18
7  Ibina IVANOVA                   RUS  2:30:21
8  Larissa ZOUSKO                  RUS  2:31:28
9  Sun WEIWEI                      CHN  2:32:03
10 Marcella MANCINI                ITA  2:33:54
22 MARCH 2009: MONACO INT'L MARATHON, MONACO
MEN:
1  Mutai Ben KIMWOLE               KEN  2:11:01
2  Jackson RONO                    KEN  2:17:50
3  Andrei BRYZGALOV                RUS  2:18:04
4  Christopher RUTTO               KEN  2:22:45
5  Folisho T TUM                   ETH  2:25:36
6  Mickael LINDBERG                SWE  2:26:27
7  Ramzi MAHOUACHI                 TUN  2:36:38
8  Laurent LEGLISE                 FRA  2:37:36
9  Dominic RUTO                    KEN  2:43:00
10 Andrea ANSELMI                  ITA  2:45:34
 
WOMEN:
1  Belaynesh BEKELE                ETH  2:48:49
2  Ekaterina FATEEVA               RUS  2:51:30
3  Elena KOZHEVNIKOVA              RUS  2:52:12
4  Jeanna MALKOVA                  RUS  2:56:19
5  Julia FERNAS                         3:03:15
6  Laura MAZZUCCO                  ITA  3:03:56
7  Bev GIBSON                      ITA  3:12:33
8  Karin MEUSER                    GER  3:22:40
9  Vanessa MEYERS                  USA  3:23:50
10 Federica BUDONI                 ITA  3:25:26
26 MARCH 2009: JERUSALEM HALF MARATHON, ISRAEL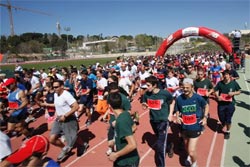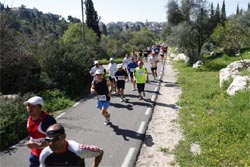 Three thousand runners participated in the 17th edition, among them 250 runners from the US, Holland, Germany, Austria, France, Hungary, Ethiopia and UK. The first three home were Ethiopian-born Israelis.
MEN:
1  Asaf MEMO                       ISR  1:08:34
2  Swanach DEATAU                  ISR  1:08:47
3  Asaf BIMRO                      ISR  1:09:58
4  Hervee ATLY                          1:13:22
5  Alxsee MARCHENKO                     1:18:43
6  Yonathan SHERMAN                     1:22:57
7  Amnon YOSSEF                         1:22:57
8  Roee LULAV                           1:23:01
9  Ben FELDLIGHT                        1:23:19
10 Matan CASSIF                         1:24:48
 
WOMEN:
1  Kalkidan BALCHA                 ETH  1:20:38
2  Orna BLAU                       ISR  1:29:05
3  Dorit SHOVALY                        1:31:08
4  Vered OFIR                           1:34:28
5  Miryam BAR-ON                        1:36:02
6  Keren MERETZ                         1:41:10
7  Svetlana BEHMEND                     1:41:14
8  Meirav PERRY                         1:44:04
9  Stephanie SAFDI                      1:45:02
10 Tamar Amiri ASHLAGI                  1:45:10
28 MARCH 2009: HERVIS PRAGUE HALF MARATHON, CZECH REPUBLIC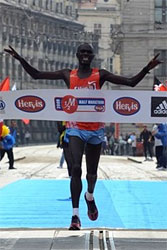 On a cool windless morning in the center of Old Prague 6,500 runners lined up for the start. Conditions were favourable the men's elite field included two Kenyans, Stephen Kipkoech Kibiwott and Matthew Koech Kipchirchir, with personal bests under one hour. Women's course record holder Caroline Kwambai led a group of five women who had bettered 1:10:00.
Pacemaker Willy Karikumangi pulled a group of eight men through 5km in 14:15. By 10km (28:17) the lead pack had dwindled to Kipchirchir, Nicholas Manza Kamakya, and Nicholas Kipruto Koech, all looking comfortable behind the pacemaker. They continued to watch one another as the pace remained brisk (15km in 42:29). Just past 20km the surprising Koech pulled ahead of Manza and Kirpchirchir, finishing in a course record 1:00:07. The top four men all broke the old course record as Manza finished just two seconds back in 1:00:09 while Kipchirchir eased in to the finish in 1:00:15, and Stephen Kibiwott closed well in 1:00:19.
The women's race was as fast and competitive as the men's, as four women also broke the old course record. Rose Kosgei led from the gun, passing 5km 16:15 with Pasalia Chepkorir, and Lydia Njeri Mathati of Kenya in tow. By 10km Kosgei was leading Irene Kwambai by a second, 32:12 to 32:13 but by 15km she had opened up a nine-second lead which she extended to 24 seconds by the finish.
MEN:
1  Nicholas Koech KIPRUTO         KEN  1:00:07
2  Nicholas Manza KAMAKYA         KEN  1:00:09
3  Matthew KIPCHIRCHIR            KEN  1:00:15
4  Stephen K KIBIWOTT             KEN  1:00:19
5  Isaac Macharia WANJONI         KEN  1:01:32
6  Damian Paul CHOPA              TAN  1:01:33
7  Denis Musembi NDISO            KEN  1:02:10
8  Charles Nderitu WANJONI        KEN  1:02:34
9  Henry KOSGEI                   KEN  1:02:48
10 Pascal Mombo SARWAT            KEN  1:03:13

WOMEN:
1  Rose KOSGEI                    KEN  1:09:03
2  Irene K KWAMBAI                KEN  1:09:27
3  Kipkoech Pasalia CHEPKORIR     KEN  1:09:56
4  Worknesh KIDANE                ETH  1:09:59
5  Caroline Chepkorir KWAMBAI     KEN  1:10:47
6  Lydia Njeri MATATHI            KEN  1:11:19
7  Krisztina PAPP                 HUN  1:13:13
8  Sara Kiptoo JERIWOT            KEN  1:14:36
9  Fridah JEPKITE                 KEN  1:15:52
10 Petra KAMINKOVA                CZE  1:15:57
28 MARCH 2009: 37th IAAF WORLD CROSS COUNTRY CHAMPIONSHIPS, AMMAN, JORDAN
Bisharat Golf Course, 20km outside the Jordanian capital Amman, provided a tough test, surprisingly not that different from the previous year's Championship in windblown Edinburgh. Overcast with heavy cloud, the temperature was 8°C but the strong westerly wind was chilling.
The sandy course was set amid rolling hills, woods and a little grassland. Recent rain had left mud in some parts of the course while elsewhere it was hard and stony. The testing ascent at the finish affected the outcome of most of the races.
SENIOR MEN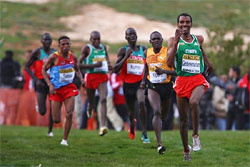 Gebre-egziabher Gebremariam resurrected his career after four fallow years with a thrilling finish in which he bested nine other contenders over the final climb writes David Powell. The 24-year-old father-of-two, with a string of individual medals from 2002-2004, is married to 2003 senior women's champion Worknesh Kidane, who was herself on the comeback trail today in the Hervis Prague Half Marathon where she finished fourth in 1:09:59.
Gebremariam ran a cautious race, keeping towards the back of the lead group for most of the way. But when the critical moment arrived he kicked away to leave Uganda's Moses Kipsiro to take the silver and Eritrea's Zersenay Tadese, the 2007 champion, in bronze medal position. Kenya's Leonard Komon and Mathew Kisorio paid the price for their eager front-running, finishing fourth and sixth.
Kenya took their 22nd team title in 24 years but only just – and their failure to win an individual podium place (Komon led their winning team in) will hurt. Kenya and Ethiopia both scored 28 points, but the outcome was decided on the fourth and last scorer, in which particular contest Kenya's Moses Mosop edged out Feyisa Lilesa, 11th to 12th.
After winning the junior title in 2002, Gebremariam added a senior bronze in 2003 and silver in 2004. But in 2005 he failed to finish and in 2006 he was 13th. He missed 2007 and returned to place 17th in 2008. So it was a triumph of perseverance for Gebremariam who also becomes only the second athlete after Kenenisa Bekele to have won World Cross individual titles at Junior and Senior level.
For Kenya, the wait goes on for the first men's senior champion since Paul Tergat in 1999, while Kipsiro came tantalisingly close to giving Uganda its first World Cross champion. He instead had to settle for becoming the country's first medallist at senior level.
1  Gebre-egziabher GEBREMARIAM    ETH  35:02
2  Moses Ndiema KIPSIRO           UGA  35:04
3  Zersenay TADESSE               ERI  35:04
4  Leonard Patrick KOMON          KEN  35:05
5  Habtamu FIKADU                 ETH  35:06
6  Mathew Kipkoech KISORIO        KEN  35:08
7  Mark Kosgey KIPTOO             KEN  35:11
8  Chakir BOUJATTAOUI             MAR  35:12
9  Teklemariam MEDHIN             ERI  35:14
10 Hunegnaw MESFIN                ETH  35:16
 
TEAMS:
1  Kenya          28 points         
2  Ethiopia       28 points
3  Eritrea        50 points
4  Uganda         65 points
5  Qatar          79 points
SENIOR WOMEN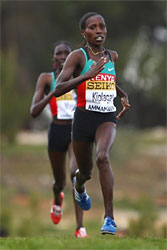 Right after winning the race Florence Kiplagat promptly fainted writes Len Johnson. It may have been the gruelling run up the punishing hill to the finish which did her in. The change of elevation left many competitors finishing rubber-legged and light-headed. But at the same time Kiplagat elevated herself from second to first as she passed teammate Linet Masai up the climb.
For much of the race Masai, fourth in last year's Olympic 10,000m final, had looked the likely winner. At times she led by 50m but the battle for what seemed likely to be second place between Kiplagat, Ethiopia's Meselech Melkamu and Gelete Burka and Kenya's Linet Chepkurui edged them closer. Like Tirunesh Dibaba in Edinburgh last year Kiplagat keyed off those immediately in front of her to catapult herself past the leader in the closing stages.
Masai took her defeat with surprising equanimity, the blow softened by the team connection. "I thought I was winning," she said of her effort, "then Florence won. As long as it was another Kenyan it's okay."
Once Kiplagat had recovered she said she was proud to be the first Kenyan winner since Helen Chepngeno in 1994. "Kenya has not won since 1994; we are determined to perform at the same level as Kenyan men" said Kiplagat, who turned out to be Kenya's only individual winner on the day.
What seemed to be a close battle for the team trophy went Kenya's way with the one-two finish, and with Lineth Chepkurui tenaciously defending the fourth place she had held for most of the race. Meselech Melkamu led Ethiopia home with her third bronze medal ahead of Ethiopian trial winner Wude Ayalew in fifth and Gelete Burka, who faded slightly in the final stages to finish eighth. Pre-race contender Hilda Kibet was well placed at the back of the leading pack for most of the race, but never quite got into the action, and finished sixth.
Kenya's team gold broke a string of seven straight wins by Ethiopia. Melkamu said the absence of three-time champion Tirunesh Dibaba went a long way to explaining the team result.
The first half of the race was dominated by New Zealand's Kim Smith who forced the pace through the first two laps but fell away when Masai took off. She eventually finished a still-creditable 13th, as the first non-African. Portugal packed their four scorers in between 15th and 22nd to take team bronze.
1  Florence Jebet KIPLAGAT        KEN  26:13
2  Linet Chepkwemoi MASAI         KEN  26:16
3  Meselech MELKAMU               ETH  26:19
4  Lineth CHEPKURUI               KEN  26:23
5  Wude AYALEW                    ETH  26:23
6  Hilda KIBET                    NED  26:43
7  Ann Karindi MWANGI             KEN  26:49
8  Gelete BURKA                   ETH  26:58
9  Maryam Jusuf JAMAL             BRN  27:00
10 Iness Chepkesis CHENINGE       KEN  27:00
 
TEAMS:
1  Kenya          14 points
2  Ethiopia       28 points
3  Portugal       72 points
4  Spain         117 points
5  USA           130 points
JUNIOR MEN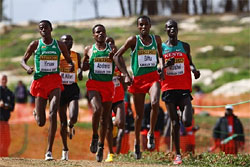 Digging deep into his reserves up the final climb towards the finish, Ethiopia's Ayele Abshero. went one better than he had in Edinburgh last year to take the gold medal writes David Powell.
Titus Mbishei had perhaps deserved more for it was he who had pushed the pace along for much of the 8km race. But Abshero lived up to his billing as the pre-race favourite, taking control with a surge up a short hill with 600m to go. Mbishei finished 25m down, but had the satisfaction of leading Kenya to team gold. Ethiopia came mightily close to ending Kenya's run of 10 successive titles.
While Abshero was runner-up last year behind his compatriot, Ibrahim Jeylan, Mbishei was fifth. After the Eritrean squad had made the early running Mbeishi tried to draw the finish from Abshero, leading through the second and third laps as Abshero hid himself among the lead group.
Once Abshero had made his surge on the final lap, taking Mbishei with him, only the bronze was left to fight for. Moses Kibet edged out Paul Tanui to become the first non-Kenya or Ethiopian runner to take an individual medal in this event since a fellow Ugandan, Boniface Kiprop, took bronze in 2004.
Abshero was a comfortable winner but history is not on his side when it comes to a prospective senior title. In the 36-year history of the World Cross Country Championships only two junior winners have gone on to take the senior title: Ethiopia's Kenenisa Bekele and Gebre-egziabher Gebremariam (who did so in this year's Championships).
Team bronze medals went to Eritrea, their squad packing well in the teens and led home by Goitom Kifle in 14th. German Fernandez, the world's fastest ever junior indoor miler, was the first non-African across the line in 11th.
1  Ayele ABSHIRO                  ETH  23:26
2  Titus Kipjumba MBISHEI         KEN  23:30
3  Moses KIBET                    UGA  23:35
4  Paul Kipngetich TANUI          KEN  23:35
5  Japheth Kipyegon KORIR         KEN  23:36
6  Atalay YIRSAW                  ETH  23:38
7  Gashaw BIFTU                   KEN  23:44
8  Debebe WOLDSENBET              ETH  23:52
9  John KIPKOECH                  KEN  24:00
10 John Kemboi CHERUIYOT          KEN  24:08   
 
TEAMS:
1  Kenya          20 points
2  Ethiopia       22 points
3  Eritrea        72 points
4  Uganda         82 points
5  USA           104 points
JUNIOR WOMEN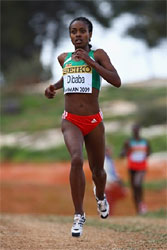 Genzebe Dibaba imposed herself on a tough course and tough opposition to take her second junior women's title writes Len Johnson. With older sisters Tirunesh and Ejegayehu absent Genzebe Dibaba made sure the family name stayed on the victory dais by coming out on top after a race-long battle with Kenya's Mercy Cherono. "I'm even happier than last year" said Dibaba, "because this year's race was extremely difficult." She meant both the terrain and the tenacious battle that Cherono put up.
Jackline Chebii injected the first surge early in the second lap, but Cherono took over and from there to the finish she went head to head with Dibaba. Dibaba barged her way out of the pack, clashing arms with both friend and foe, to track Cherono's initial move. Then she took over up the steep hill midway through the second lap and broke away for a significant lead. Down the long hill starting each lap and along the one flat section of the loop Cherono fought back, narrowing the gap and then taking the lead on the uphill section.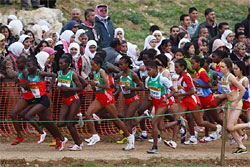 It was decided on the final climb, a brutal 300m in which the course rises almost from its lowest point some 40m to its highest. Dibaba edged back up, then away from the Kenyan runner. At the line, she was 20m to the good.
Ethiopia and Kenya tied on 18 points but what tipped the team title Ethiopia's way was final scorer Emebet Anteneh, in seventh, finishing one place ahead of Kenya's Hilda Chepkemboi Tanui. In the senior men's race the two countries' fortunes were reversed in the same scenario.
The first non-African finisher was Australia's Emily Bricachekin in 11th, with Britons Lauren Howarth and Charlotte Purdue 13th and 14th respectively, but the Japanese packed well to take the third team place.
1  Genzebe DIBABA                 ETH  20:14
2  Mercy CHERONO                  KEN  20:17
3  Jackline CHEPNGO               KEN  20:27
4  Frehiwat GOSHU                 ETH  20:34
5  Nelly Chebet NGEIYWO           KEN  20:26
6  Sule UTURA                     ETH  20:38
7  Emebet ANTENEH                 ETH  20:42
8  Hilda Chepkemoi TANUI          KEN  20:49
9  Meseret MENGISTU               ETH  20:52
10 Jackline CHEBII                KEN  21:01
 
TEAMS:
1  Ethiopia       18 points
2  Kenya          18 points
3  Japan          76 points
4  Great Britain  82 points
5  USA           122 points
29 MARCH 2009: PANAMA INT'L HALF MARATHON
MEN:
1  William NARANJO                COL  1:04:07
2  Diego COLORADO                 COL  1:04:19
3  Simon SAWE                     KEN  1:08.06
5  Roy VARGAS                     CRC  1:09:01
6  Jose Francisco CHAVES          CRC  1:09:09
7  Teresin AVILA                  PAN  1:13:11
8  Agustin ALCAZAR                PAN  1:15:20
9  Guillermo RAMIREZ              PAN  1:16:21
10 Simon ALVORADO                 PAN  1:16:50
 
WOMEN:
1  Sandra RUALES                  ECU  1:17:47
2  Inglandini GONZALES            COL  1:21:06
3  Maria FERRIS                   PAN  1:21:19
4  Marta Jimenez PORTILLO         CRC  1:23:48
5  Esther Julca LOZANO            CRC  1:24:53
6  Marisol PALACIOS               VEN  1:26:03
7  Iris CAMARENA                  PAN  1:27:57
8  Francisca FERRIS               PAN  1:34:34
9  Iraida MILAN                   CUB  1:38:01
10 Eira LOPEZ                     PAN  1:38:44
29 MARCH 2009: TREVISO MARATHON, ITALY
MEN:
1  Migidio BOURIFA                 ITA  2:14:14
2  Mostafa ERREBAH                 ITA  2:15:31
3  Giorgio CALCATERRA              ITA  2:20:56
4  Hermann ACHMUELLER              ITA  2:21:24
5  Said BOUDALIA                   ITA  2:21:34
6  Filippo LO PICCOLO              ITA  2:21:34
7  Linus NILSSON                        2:26:21
8  Franco PLESNIKAR                ITA  2:26:37
9  Salvatore NICOSIA               ITA  2:27:22
10 Enrico VIVIAN                   ITA  2:27:33
 
WOMEN:
1  Laura GIORDANO                  ITA  2:35:36
2  Josephine Njoki WANGOI          KEN  2:37:21
3  Ornella FERRARA                 ITA  2:42:38
4  Veronica VANNUCCI               ITA  2:43:22
5  Manuela MANCA                   ITA  2:48:46
29 MARCH 2009: NOVI SAD HALF MARATHON, SERBIA
Over 400 runners took part in the 16th edition of the race, including the relay runners and came from 13 countries. Additionally, 1000 pupils from primary and secondary schools, and more than 150 children pre-school age took part in the Joy Race, together with their teachers and parents.
The race started and finished at the very core of Serbia's second city, in the famous city square in front of the City Hall. The course runs mostly along the Danube, beside newly constructed or reconstructed bridges, through newly constructed city districts, the University campus, along Tanurdziceva palata, the beautiful old palace that houses the Assembly and Government of Vojvodina, and along the left bank of the river, across the famous Petrovaradin Fortress. Flowers bloomed all along the course.
MEN:
1  Goran CEGAR                     SER  1:12:40
2  Aleksander NESEVSKI             SER  1:13:15
3  Milos MILOVANOVIC               SER  1:13:27
4  Marko MILOVANOVIC               SER  1:14:28
5  Zdravko MISOVIC                 SER  1:14:47
6  Bosko BJELAJAC                  SER  1:15:39
7  Milos KESIC                     SER  1:17:45
8  Atila FILEP                     SER  1:17:48
9  Duka CELJUSKA                   SER  1:18:24
10 Miroslav MARKOVIC               SER  1:18:57
 
WOMEN:
1  Marijana LUKIC                  SER  1:21:57
2  Milena SELAKOVIC                SER  1:22:14
3  Simona MAXIM                    ROM  1:30:21
4  Ksenija BODLOVIC                SER  1:31:27
5  Ana VUCKOVIC                    CRO  1:35:21
6  Gordana ODRLJIN                 CRO  1:39:40
7  Andrea RADISA                        1:40:20
8  Dragana SPEHER                  SER  1:42:16
9  Gordana NOVACKI                 CRO  1:43:28
10 Ivana PETKOVIC                  SER  1:43:43
29 MARCH 2009: POZNAN HALF MARATHON, POLAND
MEN:
1  Boniface Wambua NDUVA          KEN  1:04:30
2  Elijah MBOGO                   KEN  1:05:05
3  Witaly SHAFAR                  POL  1:05:39
4  Piotr DRWAL                    POL  1:05:56
5  Abraham YATOR                  KEN  1:06:07
6  Rodoslaw KOLCZYGLOWY           POL  1:06:13
7  Mikolay RYABININ               POL  1:06:39
8  Rodoslaw DUDYCZ                POL  1:07:22
9  Julius Kiprono LAGAT           KEN  1:08:18
10 David KIPKOECH KETER           KEN  1:08:21

WOMEN:
1  Gladys OTERO                   KEN  1:14:28
2  Edita LEWANDOWSKA              POL  1:14:43
3  Marzena KLUCZYNSKA             POL  1:15:15
4  Agnieszka JANASIAK             POL  1:18:05
5  Wioletta URYGA                 POL  1:20:13
6  Antonina RYCHTER               POL  1:24:49
7  Monica STRANC                  POL  1:28:06
8  Grazyna CHUDY                  POL  1:34:06
9  Aleksandra DZIERZKOWSKA        POL  1:34:23
10 Justyna WOLANIK                POL  1:35:23
29 MARCH 2009: BRATISLAVA CITY MARATHON, SLOVAKIA
Over 2260 participants, in different categories, turned out at the fourth edition of Bratislava City Marathon. Hungarian Judit Folding-Nagy (43) set a new course record 2:50:21 to win the women's title, surpassing Dana Janeckova's 2007 mark by five minutes. Local favourite and national marathon champion Ingrid Petnuchova braved rough weather to finish second behind the veteran Hungarian. Aleksey Haurychenko of Belarus won the men's title in his 20th career marathon, but missed the course record (set by Ukrainian Vasyl Remshchuk in 2008) by 1:57.
The Half-marathon race was organised also as Slovak Championships and the national titles went to Miroslav Vanko (1:06:28) and Janka Zatlukalova (1:17:40). Ashenafi Erkolo, an Ethiopian living in Hungary was the overall men's winner.
MEN:
1  Aliaksej HAURYCHENKO           BLR  2:21:40
2  Krzystof BARTKIEWICZ           POL  2:31:38
3  Martin HOLECKO                 SVK  2:31:47
4  Vladislav LIPOVSKY             SVK  2:32:08
5  Peter STEIB                    SVK  2:32:31
6  Peter TICHY                    HUN  2:33:14
7  Ratislav GALOVIC               SVK  2:37:46
8  Peter PORTASIK                 SVK  2:40:42
9  Norbert SOMOGYI                HUN  2:46:35
10 Jozef SIEGEL                   SVK  2:46:38

WOMEN:
1  Judit FOLDINGNE NAGY           HUN  2:50:21
2  Ingrid PETNUCHOVA              SVK  2:51:05
3  Ivana MARTINCOVA               CZE  2:54:17
4  Ana HECICO                     ROM  2:55:18
5  Elena BOLKHOVITINA             RUS  2:59:17
6  Natalya LEHONKOVA              UKR  3:01:10
7  Erika SZUNYOG                  HUN  3:20:10
8  Petra GIDAK                    CRO  3:21:20
9  Anna BALOSAKOVA                SVK  3:25:32
10 Lucie PASEVOVA                 SVK  2:27:34
29 MARCH 209: INCHEON HALF MARATHON, KOREA
MEN:
1  unknown                        KEN  1:06:04
2  unknown                        KEN  1:06:07

WOMEN:
1  Sung-Eun KIM                   KOR  1:14:46
2  Hae-Jin BAE                    KOR  1:16:12
3  Hye-Jung JUNG                  KOR  1:17:44
4  Bo-Woo CHOI                    KOR  1:17:48
5  Jung-Mi SONG                   KOR  1:18:36
6  Bong-Ha LEE                    KOR  1:18:45
7  Yoo-Yeon NO                    KOR  1:19:23
8  Young-Jin KIM                  KOR  1:19:27
9  So-Jung YANG                   KOR  1:19:39
29 MARCH 2009: 3rd LIMASSOL INT'L MARATHON, CYPRUS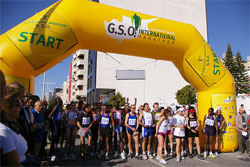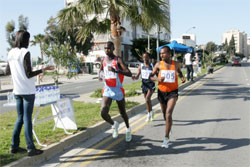 MEN:
1  Jebel AHMED KASSAHUN           ETH  2:30:45
2  Michael KEENAN                 GBR  2:38:58
3  Elind CHEMWOLO                 KEN  2:42:06
4  Zerihun LAKEN                  ETH  2:42:09
5  Dervis ERDEN                   IRQ  2:44:34
6  Giorgios LOUKAIDES             CYP  2:46:51
7  Paniko NEOFITOU                CYP  2:55:31
8  Muolo WONBIMAGEIN              ETH  2:57:40
9  Kostas PATINIOS                CYP  3:08:50
10 Stelios IOANNOU                CYP  3:15:10

WOMEN:
1  Alina ISTUDORA                 ROM  2:46:53
2  Tatiana PEREPEKINA             RUS  2:57:57
3  Larissa USACHERA               RUS  3:01:46
4  Ioula KANNAVA                  CYP  3:29:04
5  Emilia CHVETANOVA              BUL  3:30:25
6  Cabriela MICHALACHE            ROM  4:05:21
7  Maria AVRAMIDOU                CYP  4:17:43
8  Irene CHRISTOFI                CYP  4:20:19
9  Anni KARAPATAKI                CYP  4:44:48
10 Irene KAKOGIANNI               CYP  5:00:00
March 2009