June 2007
2 JUN | 3 JUN | 9 JUN | 16 JUN | 17 JUN | 24 JUN | 28 JUN | 30 JUN
2 JUNE 2007: FREIHOFER'S 5K RUN FOR WOMEN, USA
This year's 29th edition featured a nail-biting match-up between the defending champion Benita Johnson from Australia and 2005 winner and course record-holder (15:18) Asmae Leghzaoui from Morocco. Neither woman had shown much in the way of world-class form so far this year, and the Ethiopians were more highly tipped, but no one could trade strides with Johnson and Leghzaoui once the real racing got under way.
The gun sent 3,123 women on their way, with a knot of world-class runners at the forefront, led by 25-year-old Rose Kosgei from Kenya. Others included Mara Yamauchi (GBR), Emily Chebet (KEN), Teyba Erkesso, plus Leghzaoui and Johnson. Kosgei did not hold the lead for long. Leghzaoui surged to the forefront before 2km and began to open daylight. While others immediately lost ground Johnson closed down the gap just as relentlessly as the Moroccan had opened it. At 3km they were side by side.
The course record holder fought hard, but Johnson's strength was undeniable. The Australian increased the tempo with brutal efficiency. In the closing 400m, Johnson took 10 seconds out of Leghzaoui to clip five seconds from her winning time of last year and record the third fastest winning time. "I only felt that I was going to win with about 800m to go. When I saw the gap opening, I went harder" said Johnson. Leghzaoui was satisfied with her second place: "Here it is hot and very humid," she said. "I am happy. This is my first big race of the year."
1  Benita JOHNSON              AUS  15:22
2  Asmae LEGHAZAOUI            MOR  15:31
3  Teyba ERKESSO               ETH  15:45
4  Dire TUNE                   ETH  15:51
5  Mara YAMAUCHI               GBR  15:51
6  Emily CHEBET                KEN  15:58
7  Amane GOBENA                ETH  16:03
8  Silvia SKVORTSOVA           RUS  16:09
9  Emily MCCABE                USA  16:11
10 Nataliya BERKUT             UKR  16:27
11 Lucy SMITH                  CAN  16:32
12 Renee GUNNING               USA  16:37
13 Firaye SULTANOVA-ZHDAN      RUS  16:42
14 Ludmila PETROVA             RUS  16:51
15 Patty MURRAY                USA  17:02
3 JUNE 2007: ZELENOGRAD HALF MARATHON SPRANDI, RUSSIA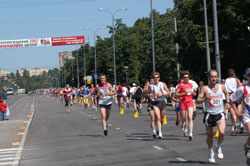 AIMS' newest member, announced just a week before the race was held, welcomed its runners with sunny, warm weather and a fresh wind. Only two days before the event most runners would have been extremely nervous, if not in shock, because for the previous 10 days the Moscow region had broken all records for seasonal temperature highs.
But they were not put off: the event attracted 1400 runners from 37 regions of Russia and from 12 countries of the world. Half of them chose the half marathon distance, others preferred the shorter distances offered.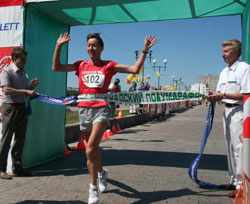 The half marathon course was of three equal laps through the streets of Zelenograd. The town is part of the Russian capital, but it was established as a separate city only 50 years ago, in a wooded area 20km from Greater Moscow. One-third of it is still covered by forest parks.
Both the men's and women's winners emerged early in their respective races, after the first lap: Alina Ivanova (personal best in marathon 2:25.32) and Sergey Lukin (personal best in marathon 2:10.57). They held their positions right through to the finish, and were not seriously contested.
MEN:
1  Sergey LUKIN                   RUS  1:04:32
2  Sergey YEMELIANOV              RUS  1:04:56
3  Aleksandr VASILIEV             RUS  1:06:09
4  Nikolay KIRIMOV                RUS  1:06:34
5  Aleksey PALAGUSHIN             RUS  1:07:10
6  Aleksandr BOLKHOVITIN          RUS  1:07:25
7  Aleksey PEREGUDOV              RUS  1:07:51
8  Aleksey KOROBOV                RUS  1:08:03
9  Sergey SHEVCHENKO              RUS  1:09:49
10 Ravil ZARIPOV                  RUS  1:10:42
 
WOMEN:
1  Alina IVANOVA                  RUS  1:14:46
2  Lidia VASILEVSKAYA             RUS  1:17:22
3  Nadezjda TRILINSKAYA           RUS  1:18:46
4  Tatiana MIRONOVA               RUS  1:20:38
5  Oksana BELYAKOVA               RUS  1:21:09
6  Ekaterina KOKLEVA              RUS  1:21:50
7  Natalia KAPUSTYAN              RUS  1:22:20
8  Irina VISHNEVSKAYA             RUS  1:23:59
9  Irina KOZUBOVSKAYA             RUS  1:24:02
10 Zjanna MALKOVA                 RUS  1:26:34
3 JUNE 2007: SAO PAULO MARATHON, BRAZIL
MEN:
1  Reuben CHEPKWEK                KEN  2:16:05
2  Michael T MISLAY               KEN  2:16:27
3  Luis P DA SILVA ANTUNES        BRA  2:17:15
4  Jose G FERREIRA                BRA  2:18:50
5  Adriano BASTOS                 BRA  2:19:16
6  Giomar P DA SILVA              BRA  2:21:04
7  Urias Y DE LIMA                BRA  2:21:55
8  Linderbergue G NUNES           BRA  2:22:09
9  Eliesio M DA SILVA             BRA  2:22:24
10 Celio FALCAO                   BRA  2:23:05
 
WOMEN:
1  Jacquiline J CHEBOR            KEN  2:40:12
2  Marizete M DOS SANTOS          BRA  2:40:52
3  Marlene T S FORTUNATO          BRA  2:46:48
4  Ilaine WANDSCHEER              BRA  2:49:21
5  Sueli A VIEIRA                 BRA  2:52:45
6  Maria S P SILVA                BRA  2:55:02
7  Joyce RONO                     BRA  3:03:50
8  Maria DO C A GUIMARAES         BRA  3:03:57
9  Conceicao DE M C OLIVEIR       BRA  3:04:16
10 Andrileia DO CARMO DE SOUZA    BRA  3:05:38
3 JUNE 2007: QUITO ULTIMAS NOTICIAS 15km, ECUADOR
The race is sponsored by the Ecuadorian capital's evening newspaper, founded 70 years ago, and the latest news was that the Peruvian runner Paulino Canchaya surprised everyone in the last kilometre of the race. He pounced upon the longtime leader, Kenya's Lazarus Nyakeranka, to secure a clear win. Defending champion Franklin Tenorio could manage only third place this year. Colombia also scored victory in the women's race, as Martha Roncerla succeeded Martha Tenorio as champion.
Altogether 8000 people completed this race, locals and foreigners, run at 2800m above sea level up in the high Andes and just a few kilometres south of the equator. The race began on Avenida Maldonado, where the main office of Ultimas Noticia is located, on the south side of the city. The course traversed the old centre of the city and finished on the north side, in the Atahualpa Stadium.
MEN:
1  Paulino CANCHANYA              COL  46:55
2  Lazarus NYAKERAKA              KEN  47:11
3  Franklin TENORIO               ECU  47:30
4  Cristobal ANRANGO                   48:08
5  Vladimir BURBANO                    48:18
6  Segundo Oswaldo JAMI                48:27
7  Johnny Alexander VELASCO            48:31
8  Paulo ARMENDARIZ                    48:32
9  Constantino Leon LOPEZ              48:39
10 Edgar LINARES                       48:50

WOMEN:
1  Martha RONCERIA                COL  54:11
2  Julia LOPEZ                         54:24
3  Genoveva JELEGAT               KEN  54:49
4  Alicia CAMACHO                      55:49
5  Viviana ANDALUZ                     55:54
6  Ma. Eugenia RODRIGUEZ               56:06
7  Diana ANDRADE                       57:08
8  Wilma GUERRA                   ECU  58:23
9  Jimena CHECA                        59:51
10 Ingelena HEUCK                      1:00:11
9 JUNE 2007: STOCKHOLM MARATHON, SWEDEN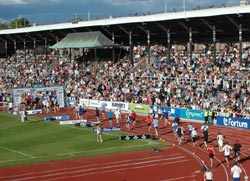 The 29th edition was marked by extremely hot weather, blue skies and 29°C at the 14.00 race start. Zimbabwe's Philip Bandawe defended his title, but he was so exhausted that he could hardly speak after his victory. He surged away from Jonah Kemboi during the last 10km and won by 400m. The top women handled the conditions better than the men. The tough Norwegian Kirsten Melkevik Oppenbu, who trains more than 300km/week, outpaced last year's winner, local girl Anna Rahm, by almost two minutes.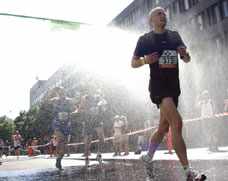 It was the second hottest ever Stockholm Marathon, and not a day for personal bests. Although the organisers offered everyone a free start in next year's Stockholm Marathon if they didn't feel prepared to struggle in the appalling conditions, 14,139 runners started the race. Nearly all of the 12,435 finishers looked good when they reached the finish line at the 1912 Olympic Stadium. Nearly all the 1,884 dropouts conceded at the end of the first lap, after 20km. The medical staff had a surprisingly easy day. Only eight runners had to be taken into hospital: one with a fractured foot, and seven with dehydration.
MEN:
1  Phillip BANDAWE                ZIM  2:20:56 
2  Jonah Kibiwiott KEMBOI         KEN  2:22:16 
3  Sergey LUKIN                   RUS  2:22:57 
4  Simon Gitebi KASIMILI          KEN  2:24:20 
5  John SUPSIC                    USA  2:25:49 
6  Koen NEVEN                     BEL  2:25:59 
7  John MCFARLANE                 GBR  2:26:46 
8  Moses CHEROP                   UGA  2:28:09 
9  Kent CLAESSON                  SWE  2:28:20 
10 Kristoffer OSTERLUND           SWE  2:29:38 

WOMEN:
1  Kirsten Melkevik OTTERBU       NOR  2:37:03 
2  Anna RAHM                      SWE  2:39:02 
3  Winfrida KWAMBOKA              KEN  2:45:48 
4  Valentyna POLTAVSKAYA          UKR  2:46:56 
5  Lilian MAGNUSSON               SWE  2:48:26 
6  Malin EWERLOF-KREPP            SWE  2:49:30 
7  Tatyana BELOVOL                UKR  2:54:44 
8  Tatyana PEREPELKINA            RUS  2:56:07 
9  Tina Maria RAMOS               ESP  2:59:10 
10 Ingmarie NILSSON               SWE  2:59:14
16 JUNE 2007: MIDNIGHT SUN MARATHON, NORWAY
MEN:
1  David KANYARI                  KEN  2:36:19
2  Gonzalo DEL MORAL ARROYO       ESP  2:37:14
3  Jens-Christian BERG            NOR  2:41:49
4  Charles CHRISTIANSEN           NOR  2:51:22
5  Martin STEVENS                 GBR  2:52:45
6  Goran JENSEN                   NOR  2:53:39
7  Ketil-Magne ELIASSEN           NOR  2:53:31
8  John PEDERSEN                  NOR  2:55:01
9  Mark BRALEY                    GBR  2:56:06
10 Alfonso GEROSA                 ITA  2:58:41

WOMEN:
1  Olena BABENKO                  POL  3:15:30
2  Hjordis OIESTAD                NOR  3:17:59
3  Nina Annette HONGSETH          NOR  3:27:09
4  Amy STILSON                    ITA  3:27:47
5  Gretchen CERVENY               GBR  3:34:39
6  Diane HAYWOOD                  GBR  3:37:51
7  Mary OCONNELL                  IRL  3:38:41
8  Lise LITHUN                    NOR  3:38:57
9  Elvira EPPING                  GER  3:44:57
10 Monica BIGLIOLI                ITA  3:50:31

HALF MARATHON:
MEN:
1  Magnus PERSSON                 NOR  1:15:38
2  Eivind SVENNAR                 NOR  1:17:10
3  Ole LEIRVIK                    NOR  1:17:27

WOMEN:
1  Manuela KRAMER                 NOR  1:28:23
2  Marit WEIDERBERG               NOR  1:31:34
3  Arnlaug WANGENSTEEN            NOR  1:31:58
17 JUNE 2007: LAGUNA PHUKET INTERNATIONAL MARATHON, THAILAND
Photos: Nick Cox/Asia Runner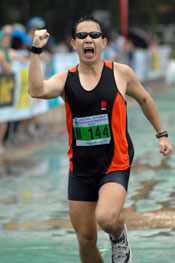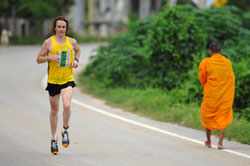 The event was established following the Tsunami disaster in 2004. Organisers set out to create a celebration of how the people, businesses, and landscape of Thailand had recovered and were moving forward. In only in its second year, the race saw nearly a doubling of participation, with 3,868 runners taking part in all races, including the Half Marathon, 10km Fun Run and 5km Walk. The event has developed its own fun and friendly personality that the entire island can enjoy.
"Ecomarathon" advocate Hajime Nishi took part in the marathon while Andy Penders and Charlie Webster from ESPN STAR Sports participated in the 5km walk and the Half Marathon, respectively.
Runners were encouraged to raise money for the race's official charity HOPE worldwide (Thailand), which is dedicated to helping needy children and underprivileged girls in Thailand.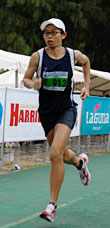 MEN:
1  Brent Christian ROEGER        USA  2:45:44
2  Eddy OU                       USA  3:11:10
3  Seppo ROSNELL                 FIN  3:15:37
4  Nigel Francis SPURGEON        AUS  3:16:46
5  Ryoji TAKAHASHI               JPN  3:25:56
6  Fathi JUNAIDI                 BRU  3:26:44
7  Larry BRIGHT                  USA  3:30:02
8  Jaray JIARANAI                THA  3:31:59
9  Makoto WATANABE               JPN  3:35:35
10 Charoen SRITHA                THA  3:37:59

WOMEN:
1  Nicola GREEN                  GBR  3:16:46
2  Lai Chee YONG                 SIN  3:50:46
3  Diana FINKEL                  USA  3:51:03
4  Premjit NARUELAH              THA  3:54:26
5  Steph COX                     GBR  4:01:21

HALF MARATHON:
MEN:
1  Niwat OITIP                   THA  1:21:14
2  Anthony SEAKINS               GBR  1:22:25
3  Dominic Yu Ho CHUNG           CHN  1:22:36

WOMEN:
1  Vivian TANG                   SIN  1:29:05
2  Gillian CASTKA                GBR  1:33:29
3  Pauline MULROY                GBR  1:36:51
17 JUNE 2007: COMRADES MARATHON, SOUTH AFRICA
MEN:
1  Leonid SHVETSOV                RUS  5:20:49
2  Grigory MURZIN                 RUS  5:30:20
3  Mncedisi MKHIZE                RSA  5:32:58
4  Fusi NHLAPO                    RSA  5:33:56
5  Leboko NOTO                    LES  5:35:35
6  Oleg KHARITONOV                RUS  5:40:02
7  Stephen MUZHINGI               ZIM  5:40:19
8  Sipho NGOMANE                  RSA  5:45:29
9  Lucas NONYANA                  RSA  5:47:40
10 Godfrey SESENYAMOTSE           RSA  5:48:26

WOMEN:
1  Olesya NURGALIEVA              RUS  6:10:11
2  Elena NURGALIEVA               RUS  6:10:40
3  Madina BIKTIGIROVA             RUS  6:22:03
4  Farwa MENTOOR                  RSA  6:24:38
5  Marina MYSHLYANOVA             RUS  6:25:26
6  Alena VINITSKAYA               RUS  6:28:51
7  Yolanda MCLEAN                 RSA  6:29:55  
8  Maria BAK                      GER  6:33:56
9  Adinda KRUGER                  RSA  6:38:39
10 Grace DE OLIVEIRA              RSA  6:57:37
17 JUNE 2007: DALIAN INTERNATIONAL MARATHON, CHINA
MEN:
1  Wen-liang ZHANG                CHN  2:19:01
2  Edwin KOMEN                    KEN  2:20:04
3  Li-jun MA                      CHN  2:20:51
 
WOMEN:
1  Yuan-yuan JIANG                CHN  2:41:01
2  Xiao LIU                       CHN  2:42:38
3  Xuw-qin WANG                   CHN  2:45:45
24 JUNE 2007: SCOTIABANK VANCOUVER HALF MARATHON, CANADA
Photos: Denise Relke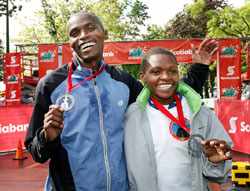 Patrick Nthiwa missed the start but stormed his way past a record field of over 4,000 to set a new course record of 63:10 writes Alan Brookes. He beat Moroccan Mustapha Bennacer's 2003 mark by a mere four seconds. Fellow Kenyan Magdalene Mukunzi had a less-dramatic come-from-behind win as she blew past Canada's top-ranked marathoner and Calgary's Lisa Harvey around 12km, before cruising to a comfortable victory. Harvey was delighted with her second place, almost a minute and a half ahead of Lioudmila Kortchguina, who had a miserable day in the rain after Harvey had been an ignominious 17 minutes behind her at the Ottawa Marathon a month before.
The men started out with a fast, downhill kilometre before a group of five — Kenyan Joshua Kemei, Toronto's Danny Kassap and Giitah Macharia, Ottawa's Joseph Nsengiyumva and Nanaimo's Steve Osaduik — settled down to a steady pace. They passed 5km in 14:50, by which time Osaduik had slipped off the back. Nsengiyumva was next to drop, at 6km, and Macharia fell back after the ninth kilometre was clicked off in 2:55. Kassap continued to push, passing 10km in 29:24 after a 2:38 on the big downhill to Spanish Banks, with Kemei tucked in behind.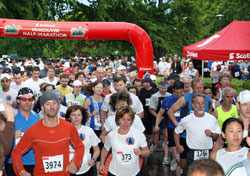 Nthiwa then emerged, running hard from 10-13km along the flat stretch of Spanish Banks right next to the Pacific Ocean with the snow-capped North Shore Mountains in the background. He dramatically caught the two leaders at the end of this stretch on the stiff uphill slope to West 4th Avenue, just before 14km. Continuing his relentless pursuit-pace, he ran 2:59 and 2:58 for the next 2km. Kemei dropped fast; Kassap held on only until 16km. By this time, the drizzle had turned to light rain, and then to a deluge. Alone, in pouring rain, Nthiwa battled the elements and the clock, chasing the extra $1,000 course record bonus. Coming down off the majestic Burrard Bridge, he hammered out 2:56 and 2:54 for the 20th and 21st kilometres, to cross the finish line in Stanley park with just four seconds to spare.
Despite the rain, there were smiles: a record sized field, the new course record, and a new fundraising record in excess of a quarter of a million dollars for six local charities. The sun even appeared as astonishingly as the downpour, to brighten up the awards proceedings and the bedraggled volunteer crews.
MEN:
1  Patrick NTHIWA              KEN  1:03:10
2  Danny KASSAP                CAN  1:04:03
3  Joshua KEMEI                KEN  1:05:47
4  Joseph NSENGIYUMVA          CAN  1:06:20
5  Steve OSADUIK               CAN  1:06:27
6  Mike HEIDT                       1:08:12
7  Michael KASAHUR             USA  1:08:21
8  Steve MURENBEELD            CAN  1:09:52
9  Graeme WILSON               CAN  1:10:00
10 Norman TINKHAM              CAN  1:12:22
 
WOMEN:
1  Magdalene MUKUNZI           KEN  1:14:02
2  Lisa HARVEY                 CAN  1:15:45
3  Lioudmila KORTCHAGUINA      CAN  1:17:11
4  Jennifer FARAONE            CAN  1:19:11
5  Gwen GRENIER                USA  1:20:35
6  Lauren MATTHEWS             USA  1:20:54
7  Jane CULLIS                 CAN  1:21:49
8  Carla DUNN                  CAN  1:22:20
9  Trisha STEIDL               USA  1:23:51
10 Celia AMBERY                CAN  1:24:02
24 JUNE 2007: CITY OF RIO DE JANIERO MARATHON, BRAZIL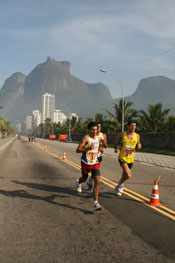 More than 10,000 runners participated in the Rio de Janeiro City Marathon and its associated Half Marathon and 6km Family Run.
It was a beautiful sunny day, and more than 500 foreign runners were able to appreciate the occasion. Former Olympic Champion Rosa Mota also attended, and saw an exciting contest between two Brazilian runners already qualified for the 2007 Pan-American Games at the end of July. Both male and female winners received the biggest prize ever paid in this sort of competition in Brazil.
The Marathon started at Recreio Beach and ran through all of Rio's famous beaches. The Half Marathon started at Barra Beach, on the marathon course, and both finished at Flamengo Beach, in a beautiful park, where the Family 6km Run also took place. All races started at the same time so that the Family Run competitors waited for the Half Marathon runners, and both together they awaited the marathon runners on the common finish line.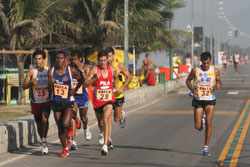 The women's Half Marathon contest was intense, between Sirlene Pinho and Marcia Narloch, who were both qualified for 2007 Pan-American Games, and were using the half marathon as part of their Games build-up. From the start they alternated the lead but in the end, Pinho won by just less than 100m.
Rosa Mota was the 6km Family run race patron, and she also participated.
MEN:
1  Elson GRACIOLI                 BRA  2:18:31
2  Mauro T PINTO                  BRA  2:19:01
3  Genilson J DA SILVA            BRA  2:19:31
4  Jose G FERREIRA                BRA  2:19:40
5  Giomar P DA SILVA              BRA  2:21:23
 
WOMEN:
1  Marily DOS SANTOS              BRA  2:42:16
2  Ilaine WANDSCHEER              BRA  2:46:15
3  Marizete DE P RESENDE          BRA  2:47:07
4  Elizabeth E DE SOUZA           BRA  2:48:49
5  Marluce QUEIROZ                BRA  2:49:16

HALF MARATHON:
MEN:
1  Luiz Paulo ANTUNES             BRA  1:05:34
2  Marcos Alexandre ELIAS         BRA  1:06:29
3  Francisco Batista CUAMATAZI    BRA  1:06:30
4  Francisco Barbosa DOS SANTOS   BRA  1:07:28
5  Otávio dos Santos PINHEIRO     BRA  1:08:09

WOMEN:
1  Sirlene PINHO                  BRA  1:14:09
2  Marcia NARLOCH                 BRA  1:14:29
3  Gisele Lisboa Oliveira RIBEIRO BRA  1:24:58
4  Damiana das Virgens SENA       BRA  1:25:50
5  Andréa Folegatti MELLO         BRA  1:26:08
24 JUNE 2007: XXIII TANGAMANGA MARATHON, MEXICO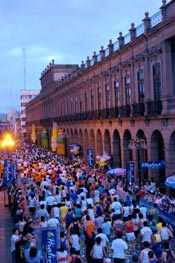 In the Plaza de los Fundadores, 24 hours before the main event, 5000 children aged between 5-11 waited for their own race start, just as the marathon runners were to do the following day. Each of them gave their all in striving towards the finish line, while their parents proudly looked on.
The gunshot rent the air at 06.50 as wheelchair and paralympic categories started their race. Ten minutes later the 2500-strong main field set off, guided by the lead vehicle with race organisers, international observers and Mexican Federation officials in attendance. Conditions were good with the start temperature at around 10°C. Spectators screamed encouragement at runners, who are treated as heroes on this day as they run through the picturesque 400-year old city of San Luis Potosi.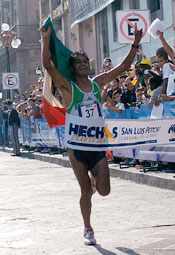 A group of Kenyans led the race, but at 30km Edilberto Mendez started to forge ahead, and went on to record his first ever marathon win. The Tangamanga Marathon has historically generated winners who then progress to become national champions. New records were set in both categories over the AIMS-certified course as Adriana Sanchez recorded a time of 2:37:37.
All runners received a craft-designed medal in the shape of a shoe with the Tangamanaga Marathon logo and the City shield. Through AIMS membership, the race has heavily promoted itself in foreign markets, and as a result was pleased to welcome tourist runners from the USA, Canada, Argentina, Korea and Japan. Tanagamanga is benefiting by sharing the culture and friendship of the world running community. We invite you all to come and run in Mexico.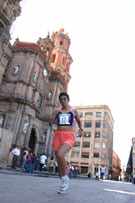 MEN:
1  Edilberto MENDEZ            MEX  2:18:14
2  George ONWONGA              KEN  2:20:44
3  Hillary KIMAYO              KEN  2:20:56
4  Armando CAPULA              MEX  2:21:26
5  Jesus CAPULA TORRES         MEX  2:22:31
6  Joseah KIPRONO MATUI        KEN  2:23:59
7  Stephen ARIGA               KEN  2:24:28
8  Bob ONYANCHA                USA  2:25:06
9  Jose ASENCION ARREDONDO     MEX  2:25:27
10 Marck CHEPSES               KEN  2:25:54

WOMEN:
1  Adriana SANCHEZ             MEX  2:37:37
2  Anna KIBOR JELAGAT          KEN  2:40:45
3  Viola BOR CHEPLETING        KEN  2:41:05
4  Patrricia RETIZ GUTIERREZ   MEX  2:46:01
5  Teresia MBUGUA              MEX  2:50:43
6  Ma Guadalupe ALTUNEZ        MEX  2:51:56
24 JUNE 2007: LAKE SAROMA 100km, JAPAN
MEN:
1  Shinichi WATANABE              JPN  6:29:57 
2  Kenji NAKANISHI                JPN  6:38:02 
3  Toshikazu GOHDA                JPN  6:40:24
4  Takehito KAGA                  JPN  6:48:21
5  Toru SAKUTA                    JPN  6:58:11
6  Mitsuru SHINOHARA              JPN  6:58:16
7  Yoshiaki KOBAYASHI             JPN  7:06:04
8  Masakazu TAKAHASHI             JPN  7:14:35
9  Toru SHIMA                     JPN  7:21:47
10 Takehiro MATSUSHITA            JPN  7:27:55
 
WOMEN: 
1  Norimi SAKURAI                 JPN  7:16:23
2  Hiroko SHO                     JPN  7:23:50
3  Yoko YAMAZAWA                  JPN  8:01:59
4  Kazuko KONO                    JPN  8:11:33
5  Kazuho IZUTSU                  JPN  8:15:31
6  Tazu ISHIKAWA                  JPN  8:20:28
7  Yuki NOSE                      JPN  8:34:15
8  Kazuko KONDO                   JPN  8:41:58
9  Takako ASANO                   JPN  8:42:17
10 Akiko KOMATSU                  JPN  8:50:54
28 JUNE 2007: VIDOVDAN 10km, BRCKO, BOSNIA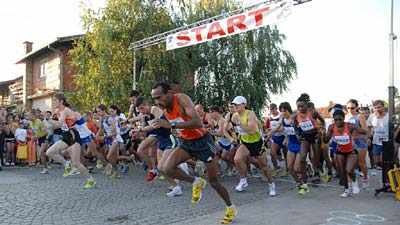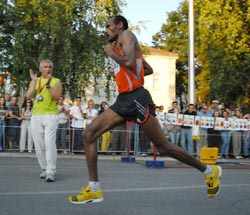 On a warm sunny evening thousands of people crammed into the triangular park in the centre of the small town of Brcko which is surrounded by the race lap. After a series of 10 children's races about 250 runners in the title 10km event started off on their journey of 11 laps. At the front of the field a group of eight pulled away on the first lap. Two laps later it was down to five, and Tewodros Shiferaw, already dictating the pace, soon drew away to run the rest of the race in splendid isolation, coming home 22 seconds under the previous course record.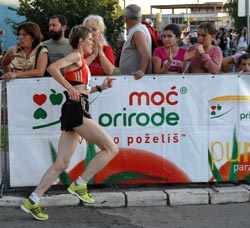 It took Olivera Jevtic even less time to stamp her considerable authority on the women's race, even though she missed her own course record by a single second. She ran a remarkably even paced race, completing each 920m lap consistently in 2:59. Cathy Mutwa gave early chase to her but had to back off after two laps, and was caught by Lucija Kimani - a fellow Kenyan by birth, but a Bosnian by marriage. She was in turn caught late on in the race by Serbia's Ana Subotic.
MEN:
1   Tewodros SHIFERAW      ETH   29:30
2   Dariusz KRUCZKOWSKI    POL   30:02
3   Rafat WOJCIK           POL   30:03
4   Panez OCHAL            POL   30:23
5   Tamas TOTH             HUN   30:28
6   Tamas KOVACS           HUN   30:35
7   Senaid HASIC           BIH   31:06
8   Velimir BOJOVIC        SRB   31:08
9   Djuro KODZO            BIH   31:21
10  Sasa STOLIC            SRB   31:24
 
WOMEN:
1   Olivera JEVTIC         SRB   32:08
2   Ana SUBOTIC            SRB   33:34
3   Lucija KIMANI          BIH   33:41
4   Cathy MUTWA            KEN   34:44
5   Ida KOVACS             HUN   35:47
6   Meneleva CHEPELEVA     MDA   35:55
7   Dorota USTIANOWSKA     POL   36:36
8   Snezana KOSTIC         SRB   36:48
9   Katalin FARKAS         HUN   36:56
10  Marija VRAJIC          CRO   37:03
30 JUNE 2007: SANTA CLAUS MARATHON, FINLAND
MEN:
1  Robertas ZAICEVAS           LIT  2:47:03
2  Harri ANTTILA               FIN  2:56:21
3  Oleg AVERICHEV              RUS  2:57:03
4  Alexandr LAVRENTYEV         RUS  3:04:52
5  Jani HAAPALA                FIN  3:05:01
6  Garth PETERSON              USA  3:06:16
7  Fabian PIAGGIO              ITA  3:09:06
8  Gaudenzio VOCI              ITA  3:09:52
9  Olli KYYHKYNEN              FIN  3:10:19
10 James TREADGOLD             GBR  3:11:29
 
WOMEN:
1  Dee Ann W AYDELOTT          USA  3:02:08
2  Marion POPPE                GER  3:36:50
3  Segolene NEUVILLE           FRA  3:47:03 
4  Olga TRUNOVA                RUS  3:47:59
5  Erja KIVINIEMI              FIN  3:52:49
6  Cordula WEISSMANN           GER  3:53:58
7  Elena GALTSOVA              RUS  3:56:43
8  Titania LI                  HKG  3:58:59
9  Marina TURKOVSKAYA          RUS  4:00:30
10 Milla KOUKKUNEN             FIN  4:16:58
30 JUNE 2007: PAAVO NURMI MARATHON, FINLAND
MEN:
1  David KANTARI                    2:44:57
2  Maris PAKARKLIS                  2:45:39
3  Janne KLASILA                    2:51:42
4  Emil SODERLUND                   2:52:32
5  Juha ORTE                        2:54:36
6  Kimmo KERMAN                     2:55:43
7  Mika VERTANEN                    2:55:46
8  Alar ABRAM                       2:57:31
9  Tapani KOSKINEN                  3:01:55
10 Jussi VIRTANEN                   3:06:09
 
WOMEN:
1  Paulina TOMMOLA                  3:01:10
2  Susanna RAITAMAKI                3:24:26 
3  Sanni HELANDER                   3:41:47
4  Miriam TEPORA                    3:42:21
5  Olga BERNITZ                     3:46:46
6  Satu SUNDELL                     3:48:02
7  Minna SYVALA                     3:49:48
8  Eija AHONEN                      3:53:51
9  Eeva KOISTINEN                   3:56:47
10 Anna BENGTS                      3:59:29
June 2007