March 2005
6 MARCH 2005: LAKE BIWA MARATHON, JAPAN
Joseph Riri overcame defending Champion Jose Rios despite taking a wrong turn in the last 800m writes Ken Nakamura. He lost his six-second lead in the process, but surged ahead again in the stadium, with just over 200m to go.
Three pacemakers took the field through the first half of the race in just over three minutes/km pace, with 38 runners passing halfway together (1:03:51). From here Riri and the last pacemaker, Pablo Olmedo, started to push the pace and the north wind was now behind them. Two Brazilians, Marilson dos Santos and Wanderlei de Lima, lost contact. At 25km Olmedo stopped, and Riri and Rios started to stretch the remaining pack. Seven got detached after 26km, leading another group of four by several seconds. Takashi Tokunaga fell back from the first group as Yuko Matsumiya moved up to it. Rios and Riri then split the lead group again, with only Michitaka Hosokawa able to keep pace with them as they went past 30km (1:30:17) and back into a headwind. The pace slipped, as Riri did most of the leading. The chasing group, led mainly by Wataru Okutani, was 60m behind at 36km but closed to about 30m by 39km. They got no closer, and with a kilometre to go Riri made his first move.
MEN ONLY:
1	Joseph RIRI               JPN	2:09:00
2	Jose RIOS                 ESP	2:09:03
3	Mitchitaka HOSOKAWA       JPN	2:09:10
4	Wataru OKUTANI            JPN	2:09:13
5	Yuko MATSUMIYA            JPN	2:09:18
6	Takashi TOKUNAGA          JPN	2:10:10
7	Toshiya KATAYAMA          JPN	2:10:12
8	Ruggero PERTILE           ITA	2:11:13
9	Shin-ichi WATANABE        JPN	2:12:16
10	Atsushi FUJITA            JPN	2:12:30
6 MARCH 2005: LOS ANGELES MARATHON, USA
In the first edition of the Los Angeles Marathon under its new management, Devine Racing, consistently fast performances were posted, a great battle in the men's race yielded two sub-2:10 times, and in the women's race Lyubov Denisova's fast winning time was more than equalled by a new 50+ world age best from Tatyana Poznakova.
MEN:
1	Mark SAINA                KEN	2:09:35
2	Ben MAIYO                 KEN	2:09:45
3	Laban KIPKEMBOI           KEN	2:10:51
4	Simon BOR                 KEN	2:12:13
5	Wesley KIMUTAI            KEN	2:15:22
6	Benson MBITHI             KEN	2:17:48
7	Matthew BIRIR             KEN	2:19:07
8	Bruce RAYMER              CAN	2:22:04
9	Motofumi AMANO            JPN	2:24:07
10	David BUSIENEI            KEN	2:24:44

WOMEN:
1	Lyubov DENISOVA           RUS	2:26:11
2	Zivile BALCIUNAITE        LIT	2:28:10
3	Hellen KIMUTAI            KEN	2:28:36
4	Dire TUNE                 ETH	2:30:48
5	Tatyana POZDNAKOVA        UKR	2:31:05
6	Anna PICHRTOVA            CZE	2:33:02
7	Yelena BURYKINA           RUS	2:36:14
8	Tatiana TITOVA            RUS	2:37:51
9	Aurica BUIA               ROM	2:40:49
10	Malgorzata JAMROZ         POL	2:42:57
13 MARCH 2005: EDP MEIA MARATONA DE LISBOA, PORTUGAL
The Lisbon Half Marathon celebrated its 15th anniversary with a record field of 30,000 participants in the fun run, among whom were the President of Portugal, the Prime Minister and the Mayor of Lisbon. With the first anniversary of the Madrid bombing only two days before the race, this was a political statement of solidarity.
Paul Tergat, was the first of 5000 runners in the title event, and narrowly missed breaking his own course record. He benefited from the fast pace set by Robert Kipchumba and then by Robert Cheruiyot. The lead group reduced to eight people by 6km, after a relatively slow 5km split (which drops 69m from the roadway of the high-level bridge across the Tagus River) of 14:37. It took as long as that for the masses of fun runners to cross the start line. Olympic marathon Champion Stefano Baldini let the group go early, and chased at his own pace. After taking in a diversion from the waterfront through the city centre, the leaders passed 10km in 28:00.
The eastern turning point came at 12km, and pacemaker Robert Kipchumba dropped out soon afterwards. In the 14th kilometre World Marathon champion Jaoud Gharib dropped back with Rodgers Rop; World Half Marathon champion Paul Kirui had gone a little earlier. There were now four runners in the lead group: Cheruiyot, who continued to lead, Martin Lel, Wilson Kiprotich and Tergat himself. Lel was the next to go, just after passing back under the pylons of the 25 de Abril Bridge, at 18km. Tergat now took control and soon Kiprotich's challenge was fading. In his sustained drive for the finishing line it never looked like Tergat would be bested. Cheruiyot yielded to his power in the 20th kilometre, leaving Tergat to stride out to victory.
In the women's race Susan Chepkemei won a similarly confident victory. She pulled away from Margaret Okayo and Asha Gigi in the 15th kilometre and went on to win by 150m.
MEN:
1	Paul TERGAT               KEN	59:10
2	Robert CHERUIYOT          KEN	59:21
3	Wilson KIPROTICH          KEN	59:27
4	Martin LEL                KEN	59:42
5	Rogers ROP                KEN	1:00:46
6	Jaoud GHARIB              MAR	1:00:51
7	Paul KIRUI                KEN	1:01:15
8	Stefano BALDINI           ITA	1:01:17
9	Tolossa AMBESSE           ETH	1:01:18
10	Benson CHERONO            KEN	1:02:07

WOMEN:
1	Susan CHEPKEMEI           KEN	1:08:49
2	Margaret OKAYO            KEN	1:09:19 
3	Asha GIGI                 ETH	1:09:55
4	Rosalba CONSOLE           ITA	1:09:57
5	Merima DENBOBA            ETH	1:10:38
6	Joyce CHEPCHUMBA          KEN	1:10:40
7	Leah MALOT                KEN	1:12:02
8	Claudia OBERLIN           GER	1:13:32
9	Fatima SILVA              POR	1:13:54
10	Monica SILVA              POR	1:15:41
13 MARCH 2005: NAGOYA INT'L WOMEN'S MARATHON, JAPAN
Yumiko Hara won her first marathon in the third fastest time ever recorded in the race writes Ken Nakamura. Finishing second, as she did last year, Megumi Oshima was only 25m behind Hara and improved her personal best by 22 seconds. In third place Ryoko Eda improved by over four minutes. Three of the top six finishers were debutantes while pre-race favourite Yoko Shibui suffered from sinus problems and could finish only seventh, nearly eight minutes slower than her national record.
The pace was fast from the start, with a group of 14 passing through 5km in 16:49. After pacemaker Restituta Joseph dropped out the pace slackened, although the second pacemaker Lidia Grigoryeva continued to lead through to 25km, passed in 1:25:26. Shibui took over from Grigoryeva but did not press the pace. Seven runners passed 30km together in 1:43:12. On an uphill at 31.5km Hara and Eda moved ahead. By 35km (2:00:40) Eda and Hara led Oshima and Yasuko Hashimoto by three seconds, with Shibui another nine seconds back. Oshima worked her way back to Hara's shoulder by 36km, and at 37km Eda dropped back. Hara later admitted to a side-stitch which prevented her from making her planned break at 35km. "I stayed behind for longer, and tried not to show the effect of the stitch to the others," she said.
Both Oshima and Eda have a good chance of World Championship selection as only Hara and Osaka Marathon winner Mari Ozaka qualified as of right for the five places available.
WOMEN ONLY:
1	Yumiko HARA               JPN	2:24:19
2	Megumi OSHIMA             JPN	2:24:25
3	Ryoko EDA                 JPN	2:24:54
4	Yasuko HASHIMOTO          JPN	2:25:21
5	Kiyomi OGAWA              JPN	2:26:02
6	Chieko YAMASAKI           JPN	2:27:22
7	Yoko SHIBUI               JPN	2:27:40
8	Takami OMINAMI            JPN	2:31:16
9	Kaoru NISHI               JPN	2:32:39
10	Monica DRYBULSKA          POL	2:33:14
13 MARCH 2005: SEOUL INTERNATIONAL MARATHON, KOREA
MEN:
1	William KIPSANG           KEN	2:08:53
2	Gert THUYS                RSA	2:11:19
3	Tomoaki KUNICHIKA         JPN	2:11:32
4	Andrew SAMBU              TAN	2:12:15
5	Tereje WODAJO             ETH	2:14:16
6	Mitsuhiro ANJO            JPN	2:16:38
7	Michael MISLAY            TAN	2:16:58
8	Joshua CHELANGA           KEN	2:17:03
9	Mbarak HUSSEIN            KEN	2:18:33
10	Faustin BAHA              TAN	2:19:09

WOMEN:
1	Chunxiu ZHOU              CHN	2:23:24
2	Yanan WEI                 CHN	2:25:55
3	Helena JAVORNIK           SLO	2:29:18
4	Worknesh TOLA             ETH	2:29:54
5	Shujing ZHANG             CHN	2:29:58
6	Jung-Hee OH               KOR	2:31:41
7	Kyung-Hee CHOI            KOR	2:33:29
8	Eun-Jung KIM              KOR	2:37:55
9	Ji-Youn HWANG             KOR	3:04:55
10	Fabiola WILLIAM           TAN	3:06:48
13 MARCH 2005: MARATONA DI ROMA, ITALY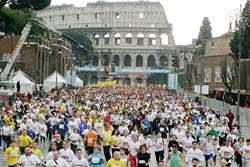 The first two kilometres were covered at world record pace writes Diego Sampaolo, but pacemaking then settled down to a regular 3:03 per kilometre. The lead group passed through halfway in 1:04:30. The top Italian in the race Alberico Di Cecco, who had finished a creditable ninth in the Athens Olympic Marathon, took the initiative. The Kenyan pair Philip Manyim and Daniel Yego launched an attack at 32km. By 35km Yego was eight seconds ahead of Manyim and 17 seconds ahead of Di Cecco. Manyim fought back to draw level at 37km,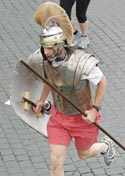 and Di Cecco reduced his disadvantage to seven seconds. Di Cecco kept working hard and as the Colosseum came into view he finally got to the front to set a new course record and become third fastest on the Italian all-time list. He had twice before come third in the race and later said: "I did not want to come third in Rome again. I aimed for a new personal best. I thought that the win was within my reach with 5km to go."
In the women's race there was not such excitement. Titzia Alagia kept pace with Silviya Skortsova for only 5km before the Russian went ahead at a steady 3:30 pace to win by a large margin.
MEN:
1	Alberico DI CECCO         ITA	2:08:02
2	Philip MANYIM             KEN	2:08:07
3	Daniel YEGO               KEN	2:08:16
4	Ottaviano ANDRIANI        ITA	2:10:12
5	Dawi TEFERA               ETH	2:11:02
6	Nigusse DEGENE            ETH	2:11:29
7	Francesco INGARGIOLA      ITA	2:12:24
8	William KIPCHUMBA         KEN	2:12:36
9	Samuel KEMBOI             KEN	2:12:52
10	David MAIYO               KEN	2:13:00

WOMEN:
1	Silviya SKORTSOVA         RUS	2:28:01
2	Titziana ALAGIA           ITA	2:31:46
3	Assale MAGARSA            ETH	2:32:34
4	Abeba TOLA                ETH	2:34:11
5	Edyta LEWANSOWSKA         POL	2:35:43
6	Svetlana NECHAEVA         RUS	2:43:35
7	Elena FADEEVA             UKR	2:44:48
8	Epiphanie NYRABARAME      RWA	2:50:57
9	Dagmar RABENSTEINER       AUT	2:57:54
10	Michelle EGGENHUIZEN      NED	2:58:41
9-16 MARCH 2005: 100km DEL SAHARA, TUNISIA
During a week-long excursion the race itself took place in five stages held over four days: one of them is a night stage. The group set off for the Tunisian corner of the Sahara from the holiday island of Djerba, bound for the great fort of Ksar Soltane in the town of Chenini. The first 24km stage of the 7th edition of this race took place next day, 11 March, heading for Gharat Edduiri. Alessandro Lambruschini and Jorge Balle ran the route together in 1:22:54, eight minutes ahead of their nearest challenger, the Tunisian Adel Chaieb. The leading woman was Patrizzia Guarnieri in 1:55:55.
The following day was an 18km stage to Campo Pozzo, during which the previous good conditions gave way to a sandstorm which required runners to battle into headwinds. There was no change in overall positions and runners retired to the camp to rest before the night stage. This was held over a 10km loop course, and the storm had calmed so that runners could experience the magical feeling of running through the starlit desert.
The third day, and fourth stage, was 42km to Aouinet Essbat—the greatest test of the tour. Running a marathon after the night stage isn't easy, and temperatures rising to 30°C further tested the runners. The dual leaders were finally prised apart by the conditions, Lambruschini making a great effort to finish in 2:43:19 to Balle's 2:47:55, while Chaieb recorded 3:09:22.
The final stage, 26km to Ksar Gilane, provided the toughest conditions of all. Temperatures reached 33°C in the shade but on the dunes it was recorded at 42°C. Lambruschini stretched his lead with 1:44:22 over Balle's 1:47:49, but Chaieb pushed him all the way, finishing only 150m down in 1:44:57.
MEN:
1	Alessandro LAMBRUSCHINI	  ITA	7:25:29
2	Jorg BALLE                ITA	7:33:32
3	Adel CHAIEB               TUN	8:02:34
4	Roberto GIORDANO          ITA	9:07:36
5	Martijn VAN RIJN          NED	9:10:46
6	Juan Molina DEL CASTILLO  ITA	9:15:32
7	Alessandro GHISALBERTI    ITA	9:30:16
8	Aldo GARZELLI             ITA	10:08:35
9	Alessandro CASIRAGHI      ITA	10:21:59
10	Nicola BAGNOLI            ITA	10:25:23

WOMEN:
1	Patrizia GUARNIERI        ITA	10:57:07
2	Anna Maria VAGHI          ITA	11:15:23
3	Sonia LORENZI             ITA	11:58:04
4	Chiara TIEGHI             ITA	12:52:24
5	Lara LORENZI              ITA	13:06:01
6	Ivana PILAROVA            CZE	13:10:19
7	Laura CORTI               ITA	14:18:30
8	Anna Francesca CASCIONE   ITA	14:32:04
9	Lucia FIRINU              ITA	14:38:15
10	Gabriella SARDO           ITA	14:46:42
19 MARCH 2005: CITY-PIER-CITY HALF MARATHON, NETHERLANDS
Between the title race and the supporting 1km, 2.5km, 5km & 10km events, 19,000 runners participated—more than ever before. The weather was great for running: 10°C and no wind (especially in comparison with last year's storm and rain). There was a large crowd—upwards of 100,000—who offered encouragement, and many smiling faces among the runners.
Many top athletes competed in the Half Marathon in both men's and women's races, including nearly all the top Dutch runners, who were contesting the National Championships within the open race.
MEN:
1	Moses KIGEN               KEN	1:01:45
2	Sammy CHUMBA              KEN	1:01:46
3	Jason MBOTE               KEN	1:01:49
4	Christopher CHEBOIBACH    KEN	1:01:51
5	Mark TANUI                KEN	1:01:52
6	Mohammed MOURHIT          BEL	1:01:54
7	Robert CHERORBOR          KEN	1:01:55
8	Getuli BAYO               TAN	1:01:57
9	Larbi ZEROUAL             MOR	1:02:02
10	Luc KROTWEER              NED	1:02:20

WOMEN:
1	Mary PTIKANY              KEN	1:10:18
2	Kutre DULECHA             ETH	1:10:54
3	Aniko KALOVICS            HUN	1:11:08
4	Denninha ARUSIU           KEN	1:11:20
5	Selma BORST               NED	1:11:23
6	Susan KIRUI               KEN	1:11:49
7	Nadja WIJENBERG           NED	1:11:56
8	Rebbie KOECH              KEN	1:13:02
9	Emily KIMURIA             KEN	1:13:47
10	Kristijna LOONON          NED	1:14:08
19 MARCH 2005: THAILAND TEMPLE RUN
More than 2100 runners, including over 400 foreign runners from 29 countries, participated in the race writes Roman Floesser. Participation was up almost 100% from the previous year underlining the growing popularity of the event locally and internationally.
In hot and humid conditions Thai runner Boonchu Chandecha was first to cross the finish line in a new course record time, while defending champion Jirisak Suttichart finished third. Sunisa Sailomyen defended her title in the women's race.
Race director Raimund Wellenhofer commented: "This is a big step forward and there is still a lot of potential for growth. ING support has given the race a high profile."
After a traditional Thai opening ceremony runners were sent on one of the most picturesque marathon courses in the world, leading past Buddhist Temples, through banana and coconut plantations, past rice paddies and through typical Thai villages. They were cheered on along the course by Thai cultural bands and curious villagers. After nightfall torches and globe lights along the course combined with the sound of crickets and traditional Thai music created a mystical atmosphere.
Singaporean wheelchair racer William Tan, currently bidding to become the first wheelchair athlete to complete seven marathons on seven continents in 70 days, could tick another continent off his list. He completed in 2:18 and commented: "It was a beautiful race. I really enjoyed it."
The "ING Run for my School" took place before the main races. More than 150 kids lined up for the 1km race. After the run five local schools were presented with cheques to help buy learning materials and sports equipment.
MEN:
1	Boonchu CHANDECH          THA	2:38:51
2	Kordey SENMUD             THA	2:39:02
3	Jirasak SUTTICHART        THA	2:40:47
4	Solchai CHUSAKUL          THA	2:43:07
5	Supit CHANTARAT           THA	2:43:07
6	Meechai CHUCHEEP          THA	2:47:13
7	Boy THONGCHAN             THA	2:48:59
8	Sarawut NGAMSRI           THA	2:51:46
9	Jirattikarn BOONMA        THA	2:52:52
10	Kamthorn SUKSAWAD         THA	3:04:22

WOMEN:
1	Sunisa SAILYOMEN          THA	3:25:02
2	Ketmanee SENAPHAN         THA	3:26:45
3	Saipin PADCHUN            THA	3:28:12
4	Dussanee SAE HENG         THA	3:29:41
5	Ashley CLARK              USA	3:44:10
6	Anchalee WONGPANICH       THA	3:45:02

HALF MARATHON:
MEN:	
1	Boonthung SRISANG         THA	1:14:28
2	Amnuay TONGMITR           THA	1:14:35
3	Sutat KALLAYANAKITTI      THA	1:15:04

WOMEN:
1	Saifon PIAWONG            THA	1:31:33
2	Saifon LALEE              THA	1:31:36
3	Vilaiwan KAMPITAK         THA	1:33:56

10km: 
MEN:
1	WARDLEY                   GBR	38:05
2	Phu-negern SAENGKAEW      THA	39:05
3	Danny Chan-Fuk HING       HKG	39:22

WOMEN:
1	Rattanapan RITLERT        THA	45:31
2	Cutumas VARIVAN           THA	46:49
3	Junaree TANHAKIJ          THA	47:09
20 MARCH 2005: GRAZER-MURPROMENADEN HALF MTHN, AUSTRIA
The 17th edition of the race, held in the capital of Styria province, attracted 1,000 runners from 11 countries. A half-marathon relay race, a 5km race and a children's race were held in conjunction with the main event. Runners, and thousands of spectators along the course, bravely withstood the icy cold. Not least because of the cold (3°C at the start) the course record set up by Stephen Tapala (Ken) in 2003 was never endangered.
Wolfgang Cramaro from the neighbouring province of Carinthia won comfortably from Günter Pumhösl, while local favourite and last year's winner Jürgen Plechinger was beaten into 12th place (1:17:12). The winning relay team was "Team Kolland Top Sport", consisting of Klaus Menczinger and Peter Pfripfl, in 1:12:40.
MEN:
1	Wolfgang CRAMARO          AUT	1:11:43
2	Gunter PUMHOSL            AUT	1:12:00
3	Gunther HARTENBERGER      AUT	1:12:34
4	Gernot SEIDL              AUT	1:13:35
5	Alexander BOGENSPERGER    AUT	1:13:51
6	Ronald FIEDLER            AUT	1:14:01
7	Michael GRALL             AUT	1:14:41
8	Bernhard SANTNER          AUT	1:14:48
9	Hermann PEINDL            AUT	1:15:54
10	Helmut DORN               AUT	1:16:21

WOMEN:
1	Jessica JARZ              AUT	1:27:58
2	Karin GETHER              AUT	1:30:17
3	Christine WENZL           AUT	1:33:53
4	Barbara PLIESSNIG         AUT	1:34:34
5	Manuela SCHREFLER         AUT	1:35:04
6	Sylvie TRAMOY             AUT	1:36:15
7	Simone HELFENSCHNEIDER    AUT	1:37:17
8	Maria FREI                AUT	1:38:24
9	Elfriede FIEDLER          AUT	1:38:35
10	Sabina KREITER            AUT	1:39:00
20 MARCH 2005: VIGARANO MARATHON, ITALY
The 27th edition was a real success, despite coinciding with other famous marathons in Italy, and it again attracted a conspicuous number of foreign tourist runners.
A shy spring sun provided the background to almost 1000 runners between the Marathon and the competitive 11.4km race, both held along a flat and fast route through the walls of Ferrara's historic medieval centre and its nearby countryside.
The lack of foreign elite athletes made the race more exhilarating, with local winners Graziano Giordanengo from Cuneo and Katia Bianchini from Bologna.
MEN:
1	Graziano GIORDANENGO      ITA	2:31:17
2	Emiliano MARCHETTI        ITA	2:36:29
3	Daniel MOLNAQ             	2:36:41
4	Faiz HASSAN               	2:37:18
5	Claudio PASTORE           ITA	2:37:43
6	Corrado REGGIANI          ITA	2:38:40
7	Joan Nicole STIR          	2:38:49
8	Claudio BALBONI           ITA	2:39:26
9	Fabrizio COCCHI           ITA	2:39:36
10	Marcello COLOMBARI        ITA	2:40:16

WOMEN:
1	Katia BIANCHINI           ITA	3:05:42
2	Mercedes GIL              	3:06:56
3	Roberta MONARI            ITA	3:11:52
4	Grazia RANFAGNI           ITA	3:17:53
5	Marilena DALL'ANESE       ITA	3:18:20
6	Mariya OSTROVSKA          	3:18:57
7	Rosa MASTROMAURO          ITA	3:19:50
8	Ceterina BENEDETTA        ITA	3:21:24
9	Luisa Maria COSTETTI      ITA	3:21:43
10	Lisa DESIDERA             ITA	3:22:44
26 MARCH 2005: TWO OCEANS MARATHON 56km, SOUTH AFRICA
Riel Hauman writes: Marco Mambo (ZIM) ran the third fastest time ever and became the first repeat winner since 1997 - only the 7th runner ever to do so.
In the women's race Yelena Nurgalieva and sister Olesya again took the first two places, and were followed by compatriot Marina Bychkova in her debut Two Oceans.
Mambo was content to run in the huge pack that formed at the front of the field in cool, overcast conditions. The first climb is a long 150m ascent of Chapman's Peak, followed by a drop down to the little village of Hout Bay. Mambo surged away from everyone on the second big incline, which rises 215m to Constantia Nek.
His rivals could only watch from behind as he passed the marathon mark in 2:19:36. His lead was only seven seconds, but Mambo flew over the top of "the Nek" at 45 km and won in a time two minutes quicker than last year.
There was no stopping the Russians in the women's race as they continued their domination of South African ultras. Yelena Nurgalieva has now won Comrades in 2003 and 2004 and Two Oceans in 2004 and 2005. Her sister was second three times. Bychkova, who has won six gold medals in the Comrades, ran her first Two Oceans and finished 90 seconds ahead of Gladys Lukhwareni.
Over 7800 runners ran the 36th edition of this ultra event and another 7300 in the half marathon. In the half Hendrick Ramaala broke the course record with his 63:29, but second placed Zimbabwean Wirimayi Juwawo was given the same time. Another Zimbabwean, Mamorallo Tjoka, won the women's race while defending champion Ronel Thomas came in third.
MEN:
1	Marco MAMBO               ZIM	3:05:39
2	Sipho NGOMANE             RSA	3:08:05
3	Graham MALINGA            RSA	3:10:11
4	Luketz SWARTBOOI          NAM	3:11:34
5	Brian ZONDI               RSA	3:11:37
6	Kaserai SITA              ZIM	3:11:50
7	Hlonepha MPHULANYANE      RSA	3:12:21
8	Honest MUTSAKANE          ZIM	3:12:34
9	Harmans MIOKGADI          RSA	3:13:30
10	Moses NJODZI              RSA	3:16:41

WOMEN:
1	Elena NURGALIEVA          RUS	3:38:14
2	Olesya NURGALIEVA         RUS	3:38:25
3	Marina BYCHKOVA           RUS	3:41:59
4	Gladys LUKHWARENI         RSA	3:43:28
5	Tatyana ZHIRKOVA          RUS	3:47:13
6	Farwa MENTOOR             RSA	3:50:20
7	Yolanda MCLEAN            RSA	3:50:50
8	Paulina PHAHO             RSA	3:58:10
9	Grace DE OLIVEIRA         RSA	4:00:38
10	Eunice NLHAPO             RSA	4:04:09

HALF MARATHON
MEN:
1	Hendrick RAMAALA          RSA	1:03:29
2	Wirimayi JUWAYO           ZIM	1:03:29
3	George NTSHILZA           RSA	1:03:40

WOMEN:
1	Mamarallo TJOKO           ZIM	1:15:59
2	Samukeliso MOYO           ZIM	1:16:14
3	Ronel THOMAS              RSA	1:17:14
26 MARCH 2005: XIAMEN INTERNATIONAL MARATHON, CHINA
Zhou Chunxia won the third Xiamen Marathon only 13 days after winning the Seoul Marathon writes Mirko Jalava. She had won both previous editions of the Xiamen Marathon, which has doubled as the Chinese National Championships. Raymond Kipkoech won the men's race in a new course record.
Zhou's old course record did not fall, but she had improved her best to 2:23:24 in Seoul. A relatively slow lead group held together until 37km, when Zhou unleashed a blistering finish to pull ahead of Sun Weiwei by more than a minute. This was Sun's return to competitive form after her amazing debut as a 17-year old when she ran 2:25:15 in Beijing. Third-placed Zhang Shujing had finished fifth in Seoul.
The men's race was faster, with four men left together at 23km. Last year's winner, James Moiben, suffered muscular problems and was unable to challenge. By 30km Kipkoech was away with Tekeste Kebede, and by 37km he had left him behind as well. Kebede then faded, and was overtaken by his compatriot Shimelis Mola. A former Berlin winner, Kipkoech recorded his fourth sub-2:10 time.
MEN:
1	Raymond KIPKOECH          KEN	2:09:49
2	Shimelis MOLA             ETH	2:10:51
3	Tekeste TEBEDE            ETH	2:12:03

WOMEN:
1	Chunxiou ZHOU             CHN	2:29:58
2	Weiwei SUN                CHN	2:31:11
3	Shujing ZHANG             CHN	2:31:57
27 MARCH 2005: NOVI SAD HALF MARATHON, YUGOSLAVIA
A crowd of 450 runners from 12 countries, gathered in the central square in front of the City Hall building writes Lazar Isakov. The route follows the Danube River for much of its length, and passes along the city's most picturesque streets. Olivera Jevtic, top European in the Olympic Marathon, won the women's race. Several hundred students and boys and girls of preschool age ran in the associated races.
MEN:
1	Mirko PETROVIC            SCG	1:07:16
2	Goran STOJILJKOVIC        SCG	1:08:03
3	Duro KODZO                BSH	1:08:04
4	Dejan BOGICEVIC           SCG	1:08:45
5	Sreten NINCOVIC           SCG	1:11:41
6	Branko STEVIC             SCG	1:12:21
7	Srdan STOJANOVIC          SCG	1:12:31
8	Zdravko MISOVIC           SCG	1:12:54
9	Goran JESIC               BSH	1:13:27
10	Nebojsa MILENKOVIC        SCG	1:14:53

WOMEN:
1	Olivera JEVTIC            SCG	1:13:14
2	Natalia CEREHES           MDA	1:17:47
3	Ana SUBOTIC               SCG	1:18:33
4	Mariana LUKIC             SCG	1:19:10
5 	Ida KOVACS                HUN	1:20:09
6	Svetlana SEPELJEVA        SCG	1:21:38
7	Andrea SZABO              HUN	1:25:39
8	Szilvia AUERBACH          HUN	1:27:32
9	Danijela BARAC            SCG	1:33:48
10	Tatjana TRIFUNOV          SCG	1:35:38
March 2005