February 2005
6 FEBUARY 2005: PACIFIC SHORELINE MARATHON, USA
MEN:
1	Richie BOULET             USA	2:39:29
2	John MOSS                 USA	2:40:41
3	Joseph PENDLETON          USA	2:47:46
4	Brett LAWRIE              USA	2:49:03
5	Adam NEVENS               USA	2:50:32
6	Gilbert SALAZAR           USA	2:53:44	
7	David SCHILLER            USA	2:57:22
8	Mark MANTEL               USA	2:59:17
9	Greg WALCHLI              USA	2:59:24
10	Arthur COOKSON            USA	3:01:44

WOMEN:
1	Liz DOWNING               USA	3:07:43
2	Jessica CHIAVERINI        USA	3:08:33
3	Polly CRAWFORD            USA	3:18:31
4	Laura GOULD               USA	3:19:57
5	Lauren KEARNEY            USA	3:24:04
6	Carrie GROTE              USA	3:25:17
7	Tracy THOMAS              USA	3:28:43
8	Lucrecia JACOBSON         USA	3:29:23
9	Christy CURTIS            USA	3:31:44
10	Carolyn SION              USA	3:31:51

HALF MARATHON:
MEN:
1	Chris RONAN               USA	1:11:24
2	Jose CHOLULA              USA	1:12:09
3	Humberto ROJAS            USA	1:13:38
WOMEN:
1	Laura KNIGHT              USA	1:25:25
2	Lauren JENSEN             USA	1:27:05
3	Mara CAPLES               USA	1:27:29
6 FEBRUARY 2005: BEPPU-OITA MAINICHI MARATHON, JAPAN
The 54th edition of the Beppu-Oita Marathon gave Satoshi Ifune his first win in five attempts, after 'gutting it out' over the final few kilometres writes Ken Nakamura.
The weather was cloudy, with a strong wind as eight runners emerged in a lead group. One of the favourites, Yoshiteru Morishita, stayed with the second group while Kenyans Fred Kiprop and Boaz Kimaiyo dropped out at 5km and 10km respectively.
The race only started to take shape after half way (1:03:51), as the first pacemaker dropped out at 23km and the lead group splintered. By 30km Gert Thys finished his pacing duties to leave marathon debutant Kenta Oshima and Ifune in the lead (1:30:49). Ifune then went ahead and dropped Oshima within a kilometre.
Three runners then moved out of the chasing pack to close down on Oshima, who hit the wall at about 37km and dropped out. Scott Westcott and Morishita passed Tadayuki Ojima at 38km and were closing slightly on the leader.
"I knew I was slowing down at the end" said Ifune, who ran 3:22 for the 41st kilometre. He nonetheless ran out a convincing winner, beating his personal best by a minute.
MEN ONLY:
1	Satoshi IRIFUNE           JPN	2:09:58
2	Scott WESTCOTT            AUS	2:11:36
3	Yoshiteru MORISHITA       JPN	2:11:48
4	Tomonori ONITSUKA         JPN	2:12:48
5	Sisay BEZABEH             AUS	2:13:14
6	Masaki IWAHARA            JPN	2:13:16
7	Tadayuki OJIMA            JPN	2:13:26
8	Kazutaka ENOKI            JPN	2:13:34
9	Lahoussine MRIKIK         MAR	2:14:18
10	Adam DOBRZYNSKI           POL	2:14:45
13 FEBRUARY 2005: TOKYO MARATHON, JAPAN
Toshinari Takaoka broke away from the pack at 24km and never wavered, writes Ken Nakamura. He went on to win his first marathon in five attempts by a three-minute margin over Zebedayo Bayo. His previous two marathons were also sub-2:08, and with this win he gained selection for the World Championships team.
He was the favourite from the start, and pacing was made to measure: 14:40 for the first, 30m downhill 5km, then 15:05. Six runners were in the lead group at 5km, while Bayo languished 200m behind in the third group. They passed 10km in 29:32, a shade faster than planned, but then the pace slackened. Takaoka hung in, awaiting the right moment to make the break, and encouraging pacemaker Abner Chibu to speed up. He tried, passing 15km in 44:54, but it was into a headwind and he slipped back to 3:05 for the 16th kilometre. At halfway 1999 World bronze medallist Nobuyuko Sato fell back, leaving only Akinori Shibutani to contest with Takaoka.
As the pace slowed again after 24km Takaoka ran away from both Shibutani and the pacemaker: "It may have been a little early, but it was a move to win the race" he later said. Meanwhile Takashi Horiguchi was moving through from the second pack, and passed Shibutani at 26km. Takaoka continued to stride away but Horiguchi started losing ground to Sato and Bayo. Sato ran out of steam, much as Horiguchi did, but Bayo came through to take a distant second.
The distance was created by Takaoka's charge up the 30km rise between 35-40km. His 15:19 for this section is second only to Gert Thys' 15:09 during his course record run of 2:06:33. Takaoka's final kilometre was run in 2:59. "It was hard, but I am happy because I did not slow at the end" he said.
MEN ONLY:
1	Toshinari TAKAOKA         JPN	2:07:41
2	Zebedayo BAYO             TAN	2:10:51
3	Vladimir TSIAMCHYK        BLR	2:14:24
4	Tadayuki TSUTSUMI         JPN	2:14:37
5	Andre RAMOS               BRA	2:15:37
6	Sergey LUKIN              RUS	2:15:53
7	Takashi HORIGUCHI         JPN	2:16:06
8	Nobuyuki SATO             JPN	2:16:18
18 FEBUARY 2005: 12TH EGYPTIAN MARATHON, EGYPT
MEN:
1	Ahmed ELFEQEE             EGY	2:36:30
2	Salame ALAQRAE            JOR	2:39:08
3	Hussein S. AHMED          EGY	2:39:53
4	Mohamed M. EL-MORSI       EGY	2:39:59
5	Mark WERNER               USA	2:49:07
6	Mark-Henri JAUNIN         SWL	2:50:10

WOMEN:
1	Suzette VERMAAK           RSA	3:24:45
2	Skrivanek CARISSA         USA	3:57:45
3	Rebe UTE                  GER	4:01:50
4	Dahl MARTINA              GER	4:11:29
5	Rebecca BYERLY            USA	4:18:50
6	Zohra MERABET             ALG	4:20:28

LUXOR-RUN 22.3km
MEN:
1	Mohamed H. ABDELHAMID     QAT	1:12:21
2	Gomah OMAR                QUT	1:13:08
3	Abdo ABD..ELRAZEK         EGY	1:16:12

WOMEN:
1	Jutta LUX                 GER	1:50:20
2	Christa BACHMANN          GER	1:52:28
3	Lioba EB-LEIM             GER	2:02:28

RAMSES RUN 12.3km
MEN:
1	Mokhlad ELETABEE          KSA	38:22
2	Bakr ELMOLED              KSA	38:23
3	Fuaad ABO-BAKR            QAT	38:26

WOMEN:
1	Karin EULER               GER	1:13:42
2	Roswitha JURRACK          GER	1:19:16
3	Karola RASTETTER          GER	1:22:07
18 FEBRUARY 2005: TOYOTA KATHMANDU MARATHON, NEPAL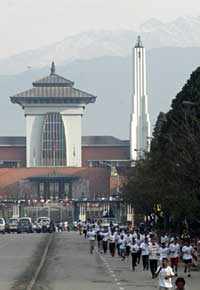 Two weeks before the race date King Gyhendra seized power by suspending the National Parliament and the country was isolated from the world communications network. The effects of the political situation were evident in the absence of general tourists in the Kathmandu Valley, but that didn't stop a small but adventurous contingent of runners from 20 countries, ranging from Germany to Mexico, venturing to the Nepalese capital to run. From the lavish pasta party at the Crown Plaza Hotel right through to the post-race closing ceremony they experienced the warmth of Nepalese hospitality.
In the marathon city policeman Arjun Dhakal ran away from all others by 10km to finish well ahead. There were also 5km, 10km and Half-Marathon events in which a total of 830 participated. The field was mainly Nepalese but also included a group from US-based Marathon Tours & Travel as well as individual travellers and resident aid workers.
The marathon course provided a tour in itself, taking in the three historic settlements of Kathamandu, Bhaktapur and Pathan, to then return to finish in the National Stadium.
Road running has had a patchy history in Nepal. A Kathmandu Marathon was run in the early 1990s, but competitive running had not been seen on the streets of Kathmandu for 12 years. The reception of runners in the stadium was fulsome, and showed that the marathon is back.
The 5km race saw 450 runners, mainly schoolchildren, run through the capital in what for many was their first race. With the arrival of the 10km field the celebrations began in earnest. Two Nepalese folk bands played and a troupe of traditional dancers performed to a packed crowd. As each subsequent finisher came in they were greeted by riotous applause from the main stand.
MEN:
1	Arun DHAKAL               NEP	2:36:49
2	Andy COOPER               GBR	2:45:25
3	Sam WUERM                 GBR	2:45:51
4	Moses CHRISTEN            USA	3:04:06
5	Dangima SHERPA            NEP	3:04:23
6=	Ramesh DHOJU              NEP	3:09:17
6=	Jyam TAMANG               NEP	3:09:17
8	Kevin THORPE              GBR	3:37:18
9=	Falit Man SHRESTHA        NEP	3:41:08
9=	Michael STAIN             GER	3:41:08

WOMEN:
1	Ragina SEHEUER            RSA	3:43:48
2	Sarah PARFIT              GBR	3:58:22
3	Cindy MCALPINE            CAN	4:32:22

HALF MARATHON:
MEN:
1	Jaganath BISTA            NEP	1:13:15
2	Yubaraj ADHIKARI          NEP	1:18:42
3	Bimsin AWALE              NEP	1:22:34

WOMEN:
1	Nirmala BHARATI           NEP	1:27:03
2	Hari Devi RAJLAWOT        NEP	1:38:07
3	Claudia LOEBEL            GER	1:40:01
19 FEBUARY 2005: MYRTLE BEACH MARATHON, USA
MEN:
1	Robert MARCHINKO          USA	2:31:20
2	Del PIETRO                USA	2:44:11
3	Ryan SKOTNICKI            USA	2:44:40
4	Brian KISTNER             USA	2:44:44
5	Andrew KESSINGER          USA	2:45:42
6	Trent KIRK                USA	2:49:25
7	Leroy THOMAS THOMAS       USA	2:50:23
8	Gene FALLER               USA	2:51:54
9	Norris BEALE              USA	2:52:42
10	Jonathan SAVAGE           USA	2:53:55

WOMEN:
1	Luanne COULTER            USA	2:52:03
2	Sarah LLAGUNO             USA	2:58:56
3	Anne-Wyman CIPOLLA        USA	3:03:42
4	Joy MARSCHALL             USA	3:05:07
5	Christine ROCKEY          USA	3:05:12
6	Amy MERCER                USA	3:05:50
7	Karen BLACK               USA	3:09:46
8	Brenda SPILLMAN           USA	3:13:30
9	Emily ANNE VALL           USA	3:13:42
10	Kelcey CARLSON-LAWSON     USA	3:16:55
20 FEBRUARY 2005: MARATHON POPULAR DE VALENCIA, SPAIN
The Marathon Popular de Valencia suddenly became a lot more popular in its 25th anniversary race, as 3480 runners signed up. Previously there had never been more than 2200 runners.
Right from the start Rachid Chamoudi and William Cheserey took a big lead, as the chasing pack were content to play a waiting game. It was mistaken confidence, as although Cheserey slowed after the halfway point Chamoudi, running his first ever marathon, did not. He was away on his own through the beachside section of the course right through to the final kilometres along the former bed of the River Turia to finish with the last 300m on the city athletic track.
In the women's race Isabella Kerubo tried the same tactic as Chamoudi, running strongly on her own. By halfway she was visibly fading, as she defended a two-minute lead. At 37km the inevitable happened, as Nadejda Zolotareva went past to win the race by around 400m. The weather was sunny but cool as the temperature rose from 10-14C. There was a slight headwind over the final part of the course.
MEN:
1	Rachid CHAMOUDI           MAR	2:14:03
2	Joseph MUTISO             KEN	2:14:50
3	Erik KIPTOO               KEN	2:15:10
4	Michael CHERCHIR          KEN	2:15:12
5	Wilson KIPNGETICH         KEN	2:16:03
6	William CHESEREY          KEN	2:16:10
7	Peter NJOROGE             KEN	2:18:30
8	Abraham AIABE             KEN	2:19:32
9	Alexei VESELOV            UKR	2:19:54
10	Jorge AUBESO              ESP	2:22:52

WOMEN:
1	Nadejda ZOLTAREVA         RUS	2:43:24
2	Isabella KERUBO           KEN	2:45:04
3	Teresa Gracia GOMEZ       ESP	3:00:48
4	Esther Planeles BALAGUER  ESP	3:04:33
5	Ana Maria FERRADAS        ESP	3:12:20
6	Vicenta FERRER            ESP	3:16:08
7	Maria LOPEZ MATA          ESP	3:18:30
8	Maria Jose MIGUEL         ESP	3:19:32
9	Charo RODRIGUEZ           ESP	3:19:54
10	Isabel SIXTO              ESP	3:22:52
26 FEBRUARY 2005: ANTARCTICA MARATHON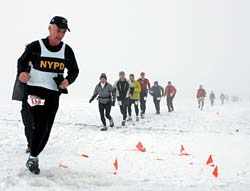 A record field of 179 marathoners from 15 countries completed the 7th Antarctica Marathon on King George Island writes Patrice Malloy. The race started in rare above-freezing temperatures estimated at 5°C, but dipped to –2°C at times. The course thawed in parts and became transformed into thick mud, which sucked the shoes off more than one participant.
Darryn Zawith of the USA led all home while another American, Alyn Park, became at the age of 54, the oldest winner in the event's history.
The two-loop course started at the Russian research base, Bellingshausen, and included a half-mile ascent of Collins Glacier. Most runners were slowed to a walk up the 1 in 6 slope. The course also wove through Russian, Chilean, Uruguayan and Chinese research bases.
Dr. William Tan of Singapore, the first wheelchair competitor to attempt the gruelling course, did complete the half-marathon held in conjunction with the marathon in 5:40:41. Despite customised mountain bike tires adapted to his racing chair, the unusually wet and muddy conditions prevented him from completing the full 26.2 miles.
The next Antarctica Marathon is scheduled for 24 February 2007.
MEN:
1	Darryn ZAWITZ             USA	3:49:19
2	Michael DUKART            USA	3:59.38
3	William FARRELL           USA	4:01:04
4	John BRUST                USA	4:08:21
5	Brian GAINES              USA	4:11:49
6	James LAWRENCE            USA	4:12:25
7	Janos KIS                 HUN	4:18:25
8	Michael BROWN             USA	4:20:24
9	Peter REED                GBR	4:21:26
10	Timothy RUMFORD           USA	4:24:45

WOMEN:
1	Alyn PARK                 USA	4:33:28
2	Karen ZACHARIAS           USA	4:45:39
3	Annie HOTWAGNER           USA	4:45:57
4	Ingrid HALL               GBR	4:57:56
5	Wendy LAGEMAN             USA	4:58:36
6	Lisa RAMSHAW              USA	5:01:55
7	Diane HARTY               USA	5:16:03
8	Michelle HUDLLESTON       USA	5:20:50
9	Ellyn BROWN               USA	5:21:27
10	Linda VAROLI              USA	5:26:46

HALF MARATHON:
MEN:
1	Sergio CUADRA ESPINOZA    CHI	2:20:58
2	Patricio GAJARDO AGUIRRE  CHI	2:34:57
3	Cesar CARTES ARANCIBIA    CHI	2:54:19

WOMEN:
1	Jane SERUES               USA	2:13:08
2	Jenny HADFIELD            USA	2:23:39
3	Susan KIRCH               USA	2:52:39
27 FEBRUARY 2005: MARATON DE LA CIUDAD DE SEVILLA, SPAIN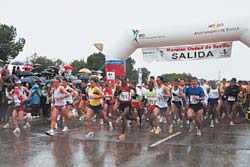 The marathon usually takes place under those typically blue Andalusian skies, but for once the city shivered under unseasonably low temperatures. It never rose above 5°C during the race. That did not deter more than 2,500 runners who took part. They proved their capacity for resisting discomfort, but suffered for the surprise conditions: the medical services were called upon for assistance in as many as 300 cases.
Noah Kiplagat was a cut above the rest of the field and disappeared off the front early. In the last two kilometres Belayneh Bimer and Mikhail Romanov tracked down two runners who were ahead of them. They ran onto the track, scene of the 1999 World Championships, at the same time. In a sprint to the line the Ethiopian just prevailed.
Up front the women's race was won by the Russia's Liliya Yadzhak, who dominated in just as convincing a manner as Kiplagat had in the men's race. The previous year's winner, the British runner Julie Myatt, was never able to challenge Yadzhak and finished three minutes behind her.
Spanish athletes filled four of the top-10 positions in both the men's and women's races. The first local runners were Manuel Suárez Peña and Pilar Rubio de Lemus in tenth and ninth places respectively.
MEN:
1	Noah Kiplagat SEREM         KEN	2:22:15
2	Belayneh Bimer WORKNEH      ETH	2:26:38
3	Mikhail ROMANOV             RUS	2:26:39
4	Wolye Jarra ALIM            ETH	2:30:05
5	Mohamed Mustafa HASSAM      SWE	2:32:00
6	Francisco Mancebon CISNEROS ESP	2:32:00
7	Lino BARRUNCHO              POR	2:32:41
8	Jose Calderon GONZALEZ      ESP	2:33:35
9	Andres Hernando ALZAGA      ESP	2:34:56
10	Manuel Suarez PENA          ESP	2:34:22

WOMEN:
1	Liliya YADZHAK              RUS	2:45:18
2	Julia Ann MYATT             GBR	2:48:53
3	Christina KARLSSON          SWE	2:51:28
4	Helena OLOFSSON ELIN        SWE	2:55:27
5	Maxine MCKINNON             GBR	3:00:07
6	Noelia Mansilla ARRIBA      ESP	3:04:32
7	Susana Ruiz PEREZ           ESP	3:09:00
8	Dominique Lozaro GUESDE     ESP	3:10:01
9	Pilar Rubio De LEMUS        ESP	3:17:14
10	Juana Maria RINCON DIAZ     ESP	3:18:05
27 FEBUARY 2005: WORLD'S BEST 10KM ROAD RACE, PUERTO RICO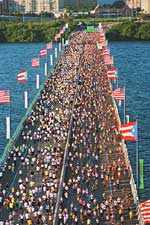 John Korir and Lornah Kiplagat repeated as champions, writes Raul Sanchez-Breton, but while Korir had to sweat it out, Kiplagat sped away for a comfortable win. With 600m to go Korir was overtaken by Wilson Kebenei but he fought back to snatch a thrilling victory, nine seconds slower than his winning time of last year. "The humidity and strong winds affected us all," he said. Korir had led through 3km in 8:01 then tucked into a group of five, before making his move just past 8km.
Lornah Kiplagat's winning time was 90 seconds slower than when she won last year but she explained, "I felt great in the first 2km with the tailwind, but the headwind back across the bridge was hard. I knew I wasn't going to break any records so I just did enough to win the race."
MEN:
1	John KORIR                KEN	27:56
2	Wilson KEBENEI            KEN	27:57
3	Robert CHERUIYOT          KEN	28:05
4	Martin LEL                KEN	28:08
5	John YUDA                 TAN	28:17
6	Linus MAIYO               KEN	28:23
7	Gilbert OKARI             KEN	28:33
8	William CHEBOR            KEN	28:44
9	Douglas MOMANYI           KEN	28:48
10	Julius KIBET              KEN	29:23

WOMEN:
1	Lornah KIPLAGAT           NED	32:11
2	Silvia SKVORTSOVA         RUS	32:43
3	Susan CHEPKEMEI           KEN	32:58
4	Constantina TOMESCU-DITA  ROM	33:28
5	Galina ALEXANDROVA        RUS	33:39
6	Leah MALOT                KEN	33:43
7	Amy Yoder BEGLEY          USA	33:57
8	Berhane ADERE             ETH	34:07
9	Laura O'NEILL             USA	35:31
10	Jolene BYRNE              USA	35:38
27 FEBRUARY 2005: KILIMANJARO MARATHON, TANZANIA
This must rate as one of the toughest marathons in Africa writes Larry Lombard. A measure of the testing course was John Chichir's winning time of over 2:20. Chirchir saved his best for last in an extremely fast finish on the rollercoaster downhill over the final 10km that ripped the pack apart and broke compatriot Robert Komeni's challenge as he followed in 100m behind.
The "Kili" Marathon is run mostly on the dusty plain that spreads out beneath the treeline of Africa's greatest mountain. The route returns after 8km on the busy Dar es Salaam road into the little town Moshi, which nestles in a bowl-like valley. Then comes a gruelling 18km climb straight into the dramatic upward thrust of the snow-capped mountain against the blue of the African sky. The route is lined with quick laughter and friendly local encouragement as temperatures soared into the high 30's. Here the marathon leaders mingled with the half marathon stragglers on the downward journey to the finish.
Tanzania's Thomas Ngulu put in a courageous attempt to win his country's major marathon, but a group of four Kenyans dominated in the early stages and Ngulu excelled to come through for third place. Fellow countryman Francis Naali followed him in. "It was a hard race," said Chirchir afterwards. "The same effort on a flat sea-level course would be six or seven minutes faster, but that's what is great about this race. It's beneath Mount Kilimanjaro, so it must have its own character. It mustn't be easy."
MEN:
1	Tubia John CHIRCHIR       KEN	2:20:23
2	Robert KOMENI             KEN	2:20:48
3	Thomas NGULU              TAN	2:21:57
4	Francis NAALI             TAN	2:23:29
5	John CHERUTICH            KEN	2:23:54
6	Alex BAHA                 TAN	2:24:24
7	Wilson PKORKOR            KEN	2:25:45
8	Peter BURA                TAN	2:26:38
9	Luka KIPTOO               KEN	2:26:57
10	Onesma ORANDI             TAN	2:27:33

WOMEN:
1	Emily CHEPTUYA            KEN	2:52:11
2	Sara MARJA                TAN	2:54:52
3	Monika SAWILA             TAN	2:59:05
4	Fatuma NINGA              TAN	3:18:17
5	Flora KAGAZI              TAN	3:20:16
27 FEBUARY 2005: GIUSEPPE VERDI COUNTRY MARATHON, ITALY
MEN:
1	Giorgio CALCATERRA        ITA	2:18:52	
2	Mans HOLOM                   	2:23:26
3	Raffaello VILLA           ITA	2:29:42	
4	Marco ORSI                ITA	2:34:22
5	Massimo COLOMBO           ITA	2:35:13
6	Runar HOIOM               SWE	2:36:10
7	Marco BETASSA             ITA	2:37:04
8	Fabrizio AMBROSINI        ITA	2:37:48
9	Antonio MARGIOTTA         ITA	2:39:21
10	Nerino PAOLETTI           ITA	2:42:29

WOMEN:
1	Monica CASIRAGHI          ITA	2:57:58
2	Giovanna CAVALLI          ITA	3:00:57
3	Natalia BRUNKO            ITA	3:05:20
4	Carmen PIGONI             ITA	3:06:25
5	Audrey AMARA              ITA	3:06:58
6	Giuseppina FADIGATI       ITA	3:10:47
7	Caterina FUSCO            ITA	3:11:47
8	Aurora PASQUINO           ITA	3:11:56
9	Lucia POLIMENO            ITA	3:18:51
10	Luisa Maria COSTETTI      ITA	3:20:50
27 FEBUARY 2005: STANDARD CHARTERED HONG KONG MARATHON
MEN:
1	Samson LOYWAPET            KEN	2:15:21	
2	Kasirai SITA               ZIM	2:16:10
3	Stephen NDUNGU             KEN	2:17:33
4	Glenn GUEEO                AUS	2:17:35
5	John RONO                  KEN	2:17:39
6	Paul BOR                   KEN	2:17:45
7	Kirwa Meshack KOSGEI       KEN	2:18:01
8	Nakamur YOSUKE             JPN	2:18:05
9	Wilson CHEPKWONY           KEN	2:19:15
10	Thomas MIGWI               KEN	2:19:28

WOMEN:
1	Dai YAN YAN                CHN	2:34:41
2	Feri SUBNAFEU              INA	2:44:19
3	Jiang CHENG CHENG          CHN	2:44:26
4	Liu YANG                   CHN	2:51:08
5	Yi MIAO MIAO               CHN	2:53:03
6	Wang MEI LI                CHN	2:54:19
7	Sato MITSUKO               JPN	2:55:20
8	Dona Mallike Chan DRAKAATH SRI	2:55:51
9	Daigo MIDORI               JPN	3:01:48
10	Kuroda HARUMI              JPN	3:08:13
28 FEBRUARY 2005: SAHARA MARATHON, ALGERIA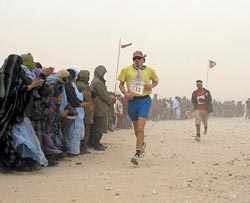 The 5th annual Sahara Marathon is run in the south west corner of Algeria near the borders with Morocco and Western Sahara writes Paul Bender. Starting in the Sahrawi refugee camps of L'Ayoun, the race runs through the Aoserd camp, and ends in the Smara camp. The day began with gorgeous Sahara weather and vibrant pre-race ceremonies. The Sahrawi music program director presented an original composition of 'Marathon Sahara', composed especially for this year's event. It seemed the entire village of L'Ayoun danced on stage in colourful native dress.
After 30 minutes of running, a sirocco hit the course from the northwest. Winds picked up to over 100 km/hour, completely blocking the sun and piercing sand into eyes, noses, ears and other body parts. Most runners emptied their shoes of the powdery ochre Saharan sand every 5 km or so. The course was mostly to the south so the tailwind helped times for the first 37 km. At that point, runners headed due west, directly into the 100km/hour winds. While the course was well marked for normal conditions, markers were difficult to find in the sandstorm. Land Cruisers assisted runners, sometimes providing wind breaks for several kilometres at a time. The winning time was not far off the record pace of 2:46, set by Hugh Jones of Great Britain in 2004. Over 80 runners finished the marathon. Over 300 runners completed the half-marathon, 10km and 5km events run simultaneously with the marathon. A record 200 Sahrawi runners competed.
The marathon brings attention to the plight of the 150,000 Western Saharan refugees who have been living in the Algerian desert for the last 30 years since Spain relinquished control of the former Spanish Sahara. Morocco and Mauritania immediately took over. The Sahrawi regained the Mauritanian-held portion of the territory, but the Moroccans then pushed them back into the desert in a war that lasted until 1991. Since then a UN supervised truce has held, as the Sahrawi await a final resolution of the conflict that will allow them to regain control of their homeland.
The highlight of each year's trip for most participants being hosted by Sahrawi families in their tents or mud-brick houses. The hospitality of the Sahrawi people always overwhelms the participants and draws many of them back.
For more information contact Mattia Durli at mdurli@saharawi.org.
MEN:
1	Vincenzo CASTELLANO       ITA	3:03:10
2	Cristiano CAMPESTRIN      ITA	3:11:11
3	Fabio MESTIERI            ITA	3:17:00
4	Franco PASSARELLA         ITA	3:29:35
5	Raul ALDAZ VERGARA        ESP	3:30:54
6	Rafael GARCIA MARTINEZ    ESP	3:36:55
7	Francisco J BANOZ SANCHEZ ESP	3:50:19
8	Robert MCNAUGHT           AUS	3:52:11
9	Juan SOROETA              ESP	3:52:25
10	Davide DEGLI E SPOSTI     ITA	3:57:42

WOMEN:
1	Leire ELOSEGUI            ESP	3:37:54
2	Vanni CECCARDI            ITA	4:34:17
3	Belen ESQUISABEL POLANCO  ESP	4:42:07
4	Claudia TOGNOLI           ITA	4:53:49
5	Silvana LATTANZIO         ITA	5:13:39
6	Sabrina CAMPALDINI        ITA	5:18:31

HALF MARATHON:
MEN:
1	Juan JOSE GARCIA IBANEZ   ESP	1:50:01
2	Francisco MENGUAL PINO    ESP	1:59:48
3	Alberto UGOLINI           ITA	2:06:01

WOMEN:
1	Silse BERGUM KINSTEM      NOR	1:59:56
2	Alicia ROBLES PEREZ       ESP	2:24:10
3	Annamaria PREVIDI         ITA	2:29:20
February 2005