December 2008
5 DEC | 6 DEC | 7 DEC | 13 DEC | 14 DEC | 21 DEC | 31 DEC
5 DECEMBER 2008: MARATHON D'AFRIQUE, SENEGAL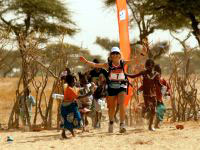 The third edition of the race started an hour earlier than anticipated to avoid the hottest part of the day—32°C in the shade. Gennaro Piscopo kept company with Nicola Dal Grande up until 35km but could not respond to his decisive attack.
Runners passed through several villages during the run through the "Sahel" savannah. On arrival in each they received a great welcome and were accompanied along the way by vilage children.
MEN:
1  Nicola DAL GRANDE            ITA  3:18:43
2  Gennaro PISCOPO              ITA  3:22:58
3  Gianfranco BAUDUINO          ITA  4:19:30
4  Marco BRAGONZI               ITA  4:28:33
5  Fabio MILANI                 ITA  4:44:33

WOMEN:
1  Antonella FELTRIN            ITA  4:36:19
2  Marta FURLANETTO             ITA  5:58:30
3  Cinzia CAMPORESI             ITA  6:04:29

HALF MARATHON
MEN:
1  Angelo RINNA                 ITA  1:44:14
2  Mario DAL COROBBO            ITA  1:53:23
3  Roberto PREGNOLATO           ITA  2:22:27

WOMEN:
1  Giulia AGRESTA               ITA  2:10:43
2  Bruna MARASSO                ITA  2:13:58
3  Silvia PARISI                ITA  2:14:24
6 DECEMBER 2008: REGGAE MARATHON, JAMAICA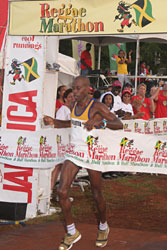 Veteran locals Linton McKenzie and Arieta Martin ran away with the top spots in a field of 754 entrants representing 18 countries. The top two in both races are regular participants in the Jamdammers Grand Prix series of races which builds up to the Marathon. Kirk Brown took the Half Marathon in 1:10:42 and Terri Rejimbal of Florida led the females home in 1:23:18.
The 10km was introduced for the first time and fielded the targeted 250 participants. Kemoy Campbell (30:35) and Natoya Goule (36:41) came out ahead in a highly competitive race.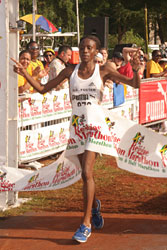 Reggae Marathon Lifetime Awards were presented to octogenarians and longtime rivals Burt Carlson (83) of the USA and Jamaica's Roy Thomas (82) who finished with times of 7:33:34 and 6:02:31 respectively. Carlson, a five time Reggae Marathon participant who was also competing in his 301st marathon said "I always enjoy this race. Roy gives me enough competition and has beaten me a few times. I look forward to our usual challenge next year."
Japanese eco marathoner Hajime Nisihi was among the thousands of tourists stranded at Bangkok airport but travelled for 36 hours though the jungle to Singapore, in order to make his originally scheduled flights from Tokyo to Montego Bay to complete the race.
MEN:
1  Linton MCKENZIE                      2:40:08
2  Andrew GUTZMORE                      2:45:23
3  Lamk HULZEBO                         2:47:20
4  Lamar EDWARDS                        2:53:27
5  Colin GRAHAM                         2:58:04
6  Jacek CIELUSZECKI                    3:01:06
7  Mitchell SHEAFFER                    3:13:49
8  Owen GREAVES                         3:15:20
9  Jerry BRYAN                          3:28:54
10 Jim CHELY                            3:32:41
 
WOMEN:
1  Arieta MARTIN                        3:28:16
2  Karlene BLAGROVE                     3:30:28
3  Mirjana PELLIZZER                    3:33:25
4  Kathy WALDRON                        3:44:30
5  Jacqueline Len BRUMMELHUIS           3:47:46
6  Chrystal PETER                       4:02:22
7  Angela GONZALEZ                      4:06:36
8  Debra THOMAS                         4:09:19
9  Charlene LIVINGSTONE                 4:11:47
10 Carol BORGO-PARIZET                  4:13:39
 
HALF MARATHON
MEN:
1  Kirk BROWN                           1:10:42
2  Gregory MCKENZIE                     1:11:14
3  Damion BENT                          1:12:20
 
WOMEN:
1  Terri REJIMBAL                       1:23:18
2  Stacey BELL                          1:36:01
3  Barb LEININGER                       1:40:26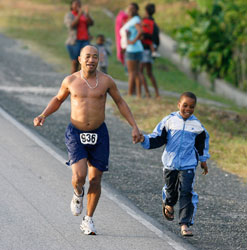 7 DECEMBER 2008: MACAU GALAXY ENTERTAINMENT INT'L MARATHON
3000 local and international athletes started from the Macau Stadium at 06:00. Yemane Tsegay Adhane from Ethiopia broke the record of Jung Won Kim, set in 1999, with his 2:15:06 performance, and swept a total of USD 23,000 in prize money. Yuan Lili's win in the female category brought prize money and a special bonus totalling USD18,000.
MEN:
 1 Tesgay Adhane YEMANE            ETH  2:15:06  
 2 Cyprian Kiogora MWOBI           KEN  2:15:12  
 3 Mykhail IVERUK                  UKR  2:16:49  
 4 Justus Kibet MEBUR              KEN  2:17:36  
 5 Elkanah MACHUKA                 KEN  2:19:01  
 6 Philip BANDAWE                  ZIM  2:19:11  
 7 Hyok Ryo PONG                   PRK  2:19:17  
 8 Vasco Fernando Xavier AZEVEDO   POR  2:19:21  
 9 Joseph Kadon EPETET             KEN  2:19:39  
10 Song Ri KUM                     PRK  2:20:09  
 
WOMEN:
 1 Lili YUAN                       CHN  2:36:40
 2 Yong Ok JONG                    PRK  2:36:52
 3 Kum Ok KIM                      PRK  2:36:55
 4 Abeba TOLA EDA                  ETH  2:40:03
 5 Fridah Jepkite LODEPA TOO       KEN  2:45:53
 6 Kristijna LOONEN                NED  2:53:49
 7 Xu YUZONG                       CHN  2:54:52
 8 Hoi LONG                        MAC  3:12:54
 9 Hing Chan CHUN                  HKG  3:15:10
10 Angelina Kong FUNG SIN          HKG  3:16:46
7 DECEMBER 2008: STANDARD CHARTERED SINGAPORE MARATHON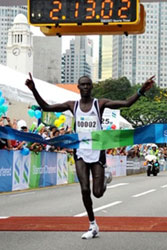 World champion Luke Kibet put a bad year behind HIM, taking close to a minute and a half off the course record writes Pat Butcher. After problems in the Kenyan riots at the start of the year, Kibet had perfromed poorly in the London Marathon in April and he dropped out of the Olympic race in August. But his decisive victory reestablishes him as a marathon force.
It was 21°C with high humidity at the 05:30 start, but though the temperature rose steadily, a fresh breeze under overcast skies provided mid-race relief. A group of a dozen, mostly Kenyans, began to break up at that point, and Kibet took the opportunity to push on alongside pacemaker, Johnstone Chepkwony. Although Chepkwony had already decided to finish the race, he said later that he knew he couldn't challenge Kibet. Kibet moved ahead at 31km and the race was effectively over. He ran the second half one minute faster and proved yet again his ability in hot and humid conditions. Chepkwony was delighted with his debut in second. In third place this time, Amos Matui had won the race in 2005/6 and was a close second last year.
Edith Masai continues to defy the advancing years, as she won in similar fashion, at the age of 41. One of four who had already broken away by 10km, the three-time world cross country champion only had Silvia Skvortsova for company at halfway. Masai ran the second half close to two minutes faster than the first to finish three minutes clear.
Conditions will always militate against fast times in Singapore, but good organisation and the serious prize money drew 15000 to run in the marathon, with another 35,000 in the 10km and half-marathon.
MEN:
 1 Luke KIBET                     KEN  2:13:01
 2 Johnstone CHEPKWONY            KEN  2:15:12
 3 Amos MATUI                     KEN  2:15:15
 4 John STEVEN                    TAN  2:17:39
 5 Victor MANGUSHO                KEN  2:17:57
 6 Sammy TUM                      KEN  2:18:06
 7 Francis KIPROP                 KEN  2:18:26
 8 Joel Kimaru KEIYO              KEN  2:18:31
 9 Evans KIPKOSGEI                KEN  2:19:17
10 Tariku JAFUR                   ETH  2:19:28
 
WOMEN:
 1 Edith MASAI                    KEN  2:34:15
 2 Silvia SKVORTSOVA              RUS  2:37:10
 3 Rose CHESIRE                   KEN  2:42:39
 4 Irene CHEROP                   KEN  2:45:32
 5 Gebre ROMAN                    ETH  2:46:11
 6 Madina BIKTAGIROVA             RUS  2:46:55
 7 Junli ZHANG                    CHN  2:49:26
 8 Lena GEVELIN                   SWE  2:50:48
 9 Helen STANTON                  AUS  2:50:50
10 Seki KIMURA                    JPN  2:52:25
7 DECEMBER 2008: POWERADE RUN BARBADOS MARATHON
Defending champions Victor Ledger and Amy Chalk had varying fortunes as former champion Pamenos Ballantyne reclaimed the men's title after an interval of several years, but Chalk defended her crown from a determined challenge by Birgit Bartels. Starting from the Esplanade in the island's capital Bridgetown, Marathon and Half Marathon runners set off before dawn at 05:00, with the temperature already at 26°C, and made their way through the still shuttered city centre northward up the west coast. Never more than two hundred metres from the coast, the road even so has several undulations, notably past the famous Sandy Lane Hotel, which are negotiated both on the outward and return journey (although the Half Marathon runners turned just before reaching this point).
At the Marathon turnaround in Speightstown Ledger led Kenyan Samuel Nuriithi by 10-15m, and Ballantyne was about another 50m back. It continued that way on the return journey past 25km, but Ballantyne had strength in reserve and gradually hauled the leading pair back. The trio ran together for a while but when Ballantyne made his move at around 35km the other two were unable to respond. He pulled clear, running the second half nearly two minutes faster than the first, to win emphatically. Trinidadian Richard Jones, in fourth, was the only other person to record negative splits - but they differed only by 20 seconds. Amy Chalk had a runaway win last year but this time faced a much closer race from Birgit Bartels. Even so, the Englishwoman steadily pulled ahead and although she slowed over the final 5km she was never in danger of being caught.
The Half Marathon results showed a repeat of the previous day's form in the 10km event around the City. Robert Kiprotich Letting was again in control of the men's event, with Dylan Wykes valiantly chasing, ahead of former winner Zepherinus Joseph. In the women's race Wendy Nichols did the double, ahead of fellow Briton Birhan Dagne, who struggled slightly with hamstring problems.
MEN:
1  Pamenos BALLANTYNE             VIN  2:25:15
2  Samuel NURIITHI                KEN  2:27:40
3  Victor LEDGER                  STL  2:29:58
4  Richard JONES                  TRI  2:32:06
5  Marinus STEPHEN                STL  2:42:25
6  Alex COFFIN                    CAN  2:49:23
7  Andrew GREENIDGE               BAR  2:52:02
8  Andy SLY                       GBR  3:00:13
9  Adalbert BROWNE                BAR  3:08:27
10 Richard LEWIS                  BAR  3:10:52

WOMEN:
1  Amy CHALK                      GBR  3:02:11
2  Birgit BARTELS                 GER  3:07:52
3  Christine REGIS                TRI  3:26:51
4  Sarah WILLIAMS                 GBR  3:34:57
5  Kim GOUGH                      USA  3:38:20
6  Wendy SHALOW                   TRI  3:47:56
7  Connie COFFIN                  CAN  4:00:26

HALF MARATHON
MEN:
1  Robert Kiprotich LETTING       KEN  1:08:07
2  Dylan WYKES                    CAN  1:08:49
3  Daniel CHERUIYOT               KEN  1:09:20

WOMEN:
1  Wendy NICHOLLS                 GBR  1:20:57
2  Birhan DAGNE                   GBR  1:29:35
3  Dominique MARSHALL             BAR  1:41:31

10km (6 DECEMBER)
MEN:
1  Robert Kiprotich LETTING       KEN  29:57
2  Dylan WYKES                    CAN  30:41
3  Daniel CHERUIYOT               KEN  31:08

WOMEN:
1  Wendy NICHOLLS                 GBR  35:57
2  Birhan DAGNE                   GBR  37:38
3  Alika MORGAN                   GUY  39:33
7 DECEMBER 2008: LISBON INT'L MARATHON, PORTUGAL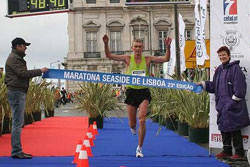 Johnstone Chebii, Philemon Kemei (winner in 2004) and Sergey Lukin ran together until the 30th kilometre writes Antonio Manuel Fernandez. Then everything changed. Lukin passed the Kenyans and began to build a strong advantage. Kemei, forcing the pace, ran more than 37 km but dropped out leaving Chebii to forge on for the runner-up spot. Finishing third was unknown Briton James Lawler.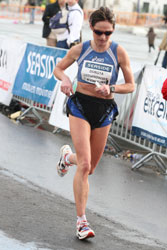 In the women's race Dorota Ustianowska, Oksana Kuzmichova and the seven-time Portuguese champion Fátima Silva ran together past halfway, after which Kuzmichova pushed the pace. But Ustianowska, second in 2006, ran strongly in the final stages to cross the line one minute and 17 seconds ahead.
More than one thousand runners finished, a national record. There were 1257 entered but the weather didn't help, with rain in the first hour of the race, and a strong wind in the second. Organisers waited 5.5 hours to see the the 1001st runner reach the finish. More than 2500 runners finished the half-marathon and fun run and 75 teams (four stages) finished the marathon relay.
MEN:
1  Sergey LUKIN                    RUS  2:17:40
2  Johnstone CHEBII                KEN  2:21:42
3  James LAWLER                    GBR  2:24:54
4  José JARMELA                    POR  2:32:08
5  Aires SOUSA                     POR  2:32:25
6  Yves MICHELET                   FRA  2:35:34
7  El Mahdi YACOUBI                POR  2:35:47
8  Abraham KIMETO                  TAN  2:36:12
9  Alberto DI PETRILLO             ITA  2:37:11
10 David FERNANDES                 POR  2:37:28
 
WOMEN: 
1  Dorota USTIANOWSKA              POL  2:47:07
2  Oksana KUZMICHOVA               RUS  2:48:24
3  Fátima SILVA                    POR  2:53:55
4  Vibeke HANSEN                   DEN  3:06:07
5  Ana HANSEN                      POR  3:08:27
6  Veronica CORREIA                POR  3:17:12
7  Kathy THOMAS                    USA  3:17:39
8  Christine WENZI                 AUT  3:18:06
9  Monica FELIZETER-KESSLER        AUT  3:21:46
10 Stephanie PONTHUS               FRA  3:22:28
7 DECEMBER 2008: 62nd FUKUOKA INTERNATIONAL MARATHON, JAPAN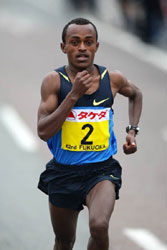 Breaking away from his competitors after 30km and covering the next 5km in incredible 14:17, Tsegaye Kebede won in a new course record, also a Japanese all-comers record, writes Ken Nakamura. Kebede broke the course record of 2:06:39 set by Olympic champion Samuel Wanjiru on his marathon debut last year. It was also a personal best by 30 seconds. Kebede is now the 12th fastest marathon runner in history, relegating Felix Limo to 13th fastest. Limo was disappointing fifth place. Satoshi Irifune finished a distant second but improved his personal best by 17 seconds and gained selection for the 2009 World Championships in Berlin. Kebede's winning margin was the largest since the second Fukuoka Marathon in 1948.
Kebede's 14:17 split was the fastest ever recorded in the Fukuoka marathon, and perhaps anywhere on a non-assisted course. The previous fastest for 30-35km was 14:43 by Haile Gebrselassie in 2006. The fastest ever 5km split time in Fukuoka was 14:30 (for 5-10km).
A huge pack of more than 20 runners followed the 3:01/km pace requested and passed halfway in 1:04:02. By 25km, when the real racing began, the lead pack was down to 14 runners. Kebede stretched out the lead pack and at 29km only pacemaker John Kales, Irifune, Tomoyuki Sato and Yuko Matsumiya remained in contact. Kales left the course at 30km and Kebede began his lightning charge to put his competitors out of sight. Matsumiya slipped back through the field but Kebede pushed on, passing 40km in 1:59:45, the first ever sub 2-hour 40km split ever in Fukuoka. Kebede covered the second half in 1:02:08, two minutes faster than the first half.
1  Tsegaye KEBEDE                   ETH  2:06:10 
2  Satoshi IRIFUNE                  JPN  2:09:23 
3  Arata FUGIWARA                   JPN  2:09:47 
4  Tomoyuki SATO                    JPN  2:09:59 
5  Felix LIMO                       KEN  2:10:59 
6  Jose Manuel MARTINEZ             ESP  2:11:11
7  David MAKORI                     KEN  2:11:54 
8  Yuko MATSUMIYA                   JPN  2:12:18 
9  Jon BROWN                        CAN  2:12:27 
10 Shigeru ABURAYA                  JPN  2:13:48
7 DECEMBER 2008: CAYMAN ISLANDS MARATHON, CAYMAN ISLANDS
MEN:
1  Scott BRITTAIN                   CAY  2:42:33
2  Russel COLEMAN                   CAY  2:52:27
3  Daryl HULTGUIST                  USA  3:12:12
4  Eduardo TORRES                   CAY  3:27:45
5  Anthony PHILP                    CAY  3:31:57
6  Nigel SMITH                           3:36:23
7  Jasper MIKKELSEN                 CAY  3:46:52
8  David SHIBLI                     CAY  3:50:54
9  Paul SCHREINER                   CAY  3:50:54
10 Gary FRIDAY                      GBR  3:59:35
 
WOMEN:
1  Beth SCHREADER                   CAY  3:12:54
2  Anneli SODERGARDS                     3:32:49
3  Caroline CAHILL                  CAY  3:33:40
4  Jennifer GELLEL                  CAN  4:05:55
5  Nicole COLOVOS                   USA  4:06:47
6  Debbie SAINT                     GBR  4:07:43
7  Erin MACDONALD                   USA  4:19:14
8  Charlotte MYNAR                  USA  4:21:30
9  Christa CHEVERIE                 CAY  4:21:38
10 Linda MAJOR                      GBR  4:31:36
7 DECEMBER 2008: LAS VEGAS MARATHON AND HALF, USA
MEN:
1  Abebe YIMER                     ETH  2:27:27
2  Geoffrey KIPROTICH              KEN  2:27:59
3  Brendon MOODY                   USA  2:36:31
4  Scott POTEET                    USA  2:37:54
5  Jeff CUNNINGHAM                 GBR  2:38:01
6  Mark EVANS                      USA  2:38:28
7  Zach THOMAS                     USA  2:38:48
8  Juarez A ALEJANDRO              MEX  2:42:44
9  Kris JAMES                      USA  2:47:53
10 Dan KUCH                        USA  2:48:12
 
WOMEN:
1  Tuptova NADEZHDA                RUS  2:48:20
2  Ramona SANCHEZ                  USA  2:56:33
3  Beth GERDES                     USA  3:03:19
4  Laura KEEFE                     CAN  3:10:39
5  Pauline WOODMAN                 PER  3:11:48
6  Stephanie MILLER                USA  3:12:18
7  Sophia CHEN                     USA  3:14:51
8  Erica SCHRAMM                        3:15:10
9  Erin PINDER                     CAN  3:16:54
10 Mariacristi HOMOROZAN                3:17:18
 
HALF MARATHON
MEN:
1  Emisal FAVELA                   USA  1:09:48
2  Jake PUZEY                      USA  1:12:38
3  Tomoya HARAGUCHI                JPN  1:13:21
 
WOMEN:
1  Cheryl MURPHY                   CAN  1:18:51
2  Lisa VENEZIANO                  USA  1:25:02
3  Sarah HEALY                     USA  1:26:15
7 DECEMBER 2008: PAMPULHA LAGOON INT'L ROAD RACE (17.8km), BRAZIL
Nancy Kipron easily won her second victory, in contrast to the close struggle between Nicholas Koech and Kiprono Mutai for the men's title, decided only in an emotional denouement at the finish. Three-time champion Franck Caldeira was first Brazilian home and said he was happy with his post-Olympic recovery, building towards the Sao Silvestre 15km on 31 December. Gilmar Pereira da Silva was pleased with his 4th place after finishing 9th last year "I am in the form of my life and I hope to run well at Sao Silvestre" he said.
In the women's race Kiprono has developed a liking for this flat course and promised to return in 2009 to attempt a hat-trick of victories. She will also contest Sao Silvestre. Sueli Pereira da Silva, competing in the race for the first time, did well to take a surprise second place. "I didn't force my pace or attempt to keep up with Nancy" she said. "Second place is beyond my wildest dreams."
The record 11,000 race entry encountered ideal conditions: 25°C and cloudy.
MEN:
1  Nicholas Kipruto KOECH         KEN  53:05
2  Chemwolo Kiprono MUTAI         KEN  53:07
3  Franck Caldeira de ALMEIDA     BRA  53:37
4  Giomar Pereira Da SILVA        BRA  53:54
5  Joao Ferreira De LIMA          BRA  54:09
6  Jose do Nascimento SOUZA       BRA  54:34
7  Raimundo Nonato Sousa AGUILAR  BRA  54:40
8  Elias Rodrigues BASTOS         BRA  55:27
9  Ano Dos Santos DIAS            BRA  55:35
10 Daniel Kipchirchir TOO         KEN  55:48

WOMEN:
1  Nancy Jepkosgei KIPRON         KEN  1:02:23
2  Sueli Pereira SILVA            BRA  1:02:51
3  Priscah JEPTOO                 KEN  1:03:10
4  Edielza Alves DOS SANTOS       BRA  1:03:21
5  Maria Zeferina BALDAIA         BRA  1:03:25
6  Conceicao de Maria OLIVEIRA    BRA  1:03:59
7  Marizete Moreira DOS SANTOS    BRA  1:04:19
8  Adriana Aparecida DA SILVA     BRA  1:04:42
9  Jane KIARA                     KEN  1:04:58
10 Emily SAMOIE                   KEN  1:05:30
7 DECEMBER 2008: ANGKOR WAT INTERNATIONAL HALF MARATHON, CAMBODIA
MEN:
1  Hem BUNTING                    CAM  1:13:53
2  Brent ROEGER                   USA  1:14:47     
3  Tony SEAKINS                   GBR  1:18:11
4  Aaron PRIEUR                   CAN  1:19:24
5  Nicholas FRICHART              FRA  1:20:23
6  Takatoshi IWATA                JPN  1:20:35
7  Mok BUNTHOEUN                  CAM  1:20:47
8  Yosuke MIYAZAKI                JPN  1:22:16
9  So VANTHA                      CAM  1:24:18
10 Richard FRIEDRICHSEN           USA  1:24:25
 
WOMEN:
1  Melissa TODD                   USA  1:22:45
2  Catherine HOWELL               GBR  1:36:40
3  Emily WOODFIELD                GBR  1:37:00
4  Lisa JONES                     GBR  1:37:40
5  Kyna DE VRIES                  NED  1:38:15
6  Sok Hue Simiko TAN             SIN  1:38:26
7  Baoying LIM                    SIN  1:39:28
8  Kerri EDWARDS-WHITLEY          AUS  1:40:31
9  Fabiana MIONE                  ITA  1:41:20
10 Barkley LAING                  USA  1:41:37
7 DECEMBER 2008: COSTA RICA MARATHON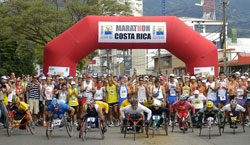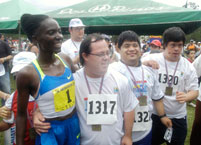 MEN:
1  Gerardo MORALES                MEX  2:33:21
2  Bernard SANGOKA                KEN  2:34:42
3  Andrew MUSUVA                  KEN  2:37:54
4  Christian VILLAVICENCIO        NIC  2:42:22
5  William SANCHEZ                SAL  2:46:31
 
WOMEN:
1  Isabel ORELLANA                MEX  2:58:30
2  Penelope LONA                  MEX  3:16:50
3  Margarita CONDE                GUA  3:25:47
4  Cristina MARIN                 CRC  3:32:31
5  Ana Luisa BARANTES             CRC  3:42:42
 
HALF MARATHON
MEN:
1  Jhonny LORIA                   CRC  1:13:26
2  Cesar LIZ ANO                  CRC  1:14:46
3  Jose CHAVES                    CRC  1:15:13
 
WOMEN:
1  Catherine NDEREBA              KEN  1:22:22
2  Gabriela TRANA                 CRC  1:26:33
3  Esther JULCA                   CRC  1:37:35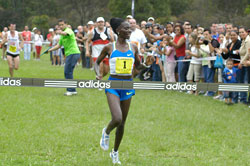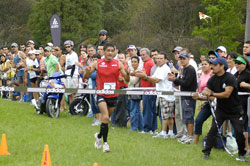 13 DECEMBER 2008: ANTARCTICA ICE MARATHON, ANTARCTICA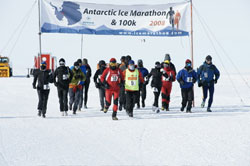 Perfect conditions for polar running led to records across the board. Subsequent deterioration in weather saw some of the marathon group spend an unexpected white Christmas in Antarctica.
On race day 19 runners from nine countries were greeted by absolutely stunning scenery, clear blue skies, light winds, a relatively compact surface and temperatures of approximately -12°C. Sean McAulay (GBR) led through the first quarter of the men's marathon before being overhauled by Andy Tyson (USA) and Miles Cudmore (GBR). Tyson, a noted mountaineer, had just finished a climb of Antarctica's highest peak, Vinson Massif. He led through the half-way point before being caught by Cudmore who went on to win in record time, also completing his 'Grand Slam' of marathons by running a marathon on all seven continents and at the North Pole. Tyson finished 10 minutes behind.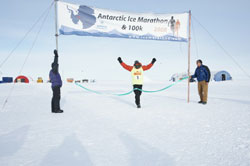 Finland's Kirsi Montonen dominated the women's race and also set a new record.
Marc de Keyser (BEL), Jukka Viljanen (FIN) and female runner Pushpa Chandra (CAN) faced the daunting Antarctic 100km. De Keyser, who won the Marathon last year, proved a convincing winner in a record time of 12:49:51. Chandra established a new women's record.
Immediately after the marathon event, some runners got out on an early flight but deteriorating weather detained others. They experienced an unforgettable Christmas Day at 80 Degrees South before returning home.
Entries for a limit of 20 places are now open for next year's event. It is possible to combine the experience with trips to the precise Geographic South Pole or a climb of the highest mountain in Antarctica. See www.icemarathon.com for further details.
MEN:
1  Miles CUDMORE                   GBR  4:36:53 
2  Andy TYSON                      USA  4:46:15 
3  Angelo HENRY                    RSA  4:50:15 
4  David NICHOLLS                  GBR  4:53:36 
5  Jeff RUTHERFORD                 USA  5:21:20 
6  Sean MCAULAY                    GBR  5:33:00 
7  Patrick WALLER                  GBR  5:33:50 
8  Rafael Munar PONS               ESP  5:41:58 
9  Michael OTIS                    USA  6:07:37 
10 Stuart DRIVER                   GBR  6:18:26 

WOMEN:
1  Kirsi MONTONEN                  FIN  5:03:48
2  Molly LOOMIS                    USA  6:14:00
3  Marisk ANDEREGG                 NED  7:01:13

100KM
MEN:
1  Marc DE KEYSER                  BEL  12:49:51
2  Jukka VILJANEN                  FIN  14:01:20

WOMEN:
1  Pushpa CHANDRA                  CAN  18:33:08
14 DECEMBER 2008: HONOLULU MARATHON, USA
MEN:
1  Patrick IVUTI                   KEN  2:14:35
2  Stephen NJOROGE K               KEN  2:17:41
3  Pius MUASA-MUTUKU               KEN  2:17:51
4  Joseph MUTISO-WAM               KEN  2:19:38
5  Jimmy MUINDI                    KEN  2:21:43
6  Andrew LETHERBY                 AUS  2:25:32
7  Koichi FUJINO                   JPN  2:27:56
8  Samuel MWANGI-GIC               KEN  2:28:09
9  Shuichi ITO                     JPN  2:29:55
10 Hailu NIGUSSIE                  ETH  2:30:32
 
WOMEN:
1  Kiyoko SHIMAHARA                JPN  2:32:36
2  Kaori YOSHIDA                   JPN  2:34:35
3  Alice TIMBILILI                 KEN  2:37:31
4  Olesya NURGALIEVA               RUS  2:39:13
5  Alevtina BIKTIMIROVA            RUS  2:45:06
6  Elena NURGALIEVA                RUS  2:48:15 
7  Sayaka MAEDA                    JPN  2:54:55 
8  Megumi OSHIMA                   JPN  2:57:44
9  Yumiko DAIGO                    JPN  3:01:03
10 Takaka OI                       JPN  3:04:00
14 DECEMBER 2008: POWERADE MONTERREY MARATHON, MEXICO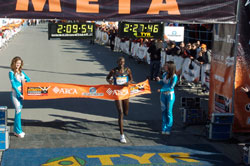 Hillary Kimaiyo won with the fastest time ever registered in a certified marathon in Mexico, 2:09:54. The previous best was the 2:10:57 run by Andres Espinosa in the 2001 Lala Marathon in Torreón. Dulce Maria Rodriguez dominated from start to finish. Runners' performances were affected by unusual heat with the temperature rising above 20°C. The elite women started the race 17:52 before the elite men, and the first across the finish line won a 100,000 pesos bonus. Kimaiyo earned a total of 700,000 pesos (some 50,000 USD). The prize structure offers progressive time bonuses and total prize money of 185,000 USD. Kimaiyo's winning time was the fourth fastest in the American Continent in 2008. Only Chicago, Boston and New York have registered faster times this year.
MEN:
1  Hillary KIMAIYO                 KEN  2:09:54
2  Christopher TOROITICH           KEN  2:11:58
3  Procopio FRANCO                 MEX  2:17:01
4  Andrea Juarez CAPILLA           MEX  2:19:19
5  Bethuel CHERUIYOT               KEN  2:21:07
6  Richard TIROP                   KEN  2:23:09
7  Jackson KIPNGOK                 KEN  2:26:12
8  Alfredo Moctezuma EVARISTO      MEX  2:28:09
9  Shadrack KIYAI                  KEN  2:28:44
10 Reuben ONDARI                   KEN  2:29:54

WOMEN:
1  Dulce Ma RODRIGUEZ              MEX  2:33:28
2  Patricia RETIZ                  MEX  2:38:09
3  Sarah CEDILLO                   MEX  2:40:38
4  Judith RAMIREZ                  MEX  2:43:06
5  Viola BOR                       KEN  2:43:32
6  Adriana FERNANDEZ               MEX  2:49:54
7  Maria Elena REYNA               MEX  2:52:01
8  Alicia RODRIGUEZ                MEX  2:55:55
9  Margarita HUERTA                MEX  3:07:01 
10 Lupita ANTUNEZ                  MEX  3:11:38
21 DECEMBER 2008: ING TAIPEI INTERNATIONAL MARATHON, CHINESE TAIPEI
MEN:
1  Sammy CHUMBA                   KEN  2:15:37
2  Chelimo Luka KIPKEMBOI         KEN  2:15:43
3  Lawrence Kiptoo SAINA          KEN  2:16:32
4  Benjamin Kiplimo METO          KEN  2:16:59
5  Wen Chien WU                   TPE  2:17:24
6  David Maina KARIUKI            KEN  2:18:24
7  Henry Kiprotich TARUS          KEN  2:21:03
8  Jin Ping HE                    TPE  2:22:45
9  Jie Wen JIANG                  TPE  2:23:52
10 Zhi Hong HE                    TPE  2:32:45

WOMEN:
1  Carolina KILEL                 KEN  2:30:44
2  Tabitha TSATSA                 ZIM  2:35:46
3  Junko SUZUKI                   JPN  2:45:25
4  Yu Fang XU                     TPE  2:47:00
5  Shu Hua CHEN                   TPE  2:54:10
6  Jie Yi CHEN                    TPE  3:03:52
7  Xiao Yu LI                     TPE  3:05:35
8  Ka-Wai LAI                     HKG  3:08:30
9  Pei Yu JIAN                    TPE  3:11:03
10 Li Ying CHEN                   TPE  3:11:37

HALF MARATHON
MEN:
1  Zi Jian ZHENG                  TPE  1:10:19
2  Yi Cai ZENG                    TPE  1:11:11
3  Shi Chang HUANG                TPE  1:11:38

WOMEN:
1  Qian HUANG                     TPE  1:24:43
2  Min WU                         TPE  1:25:01
3  Zhi Hui CHEN                   TPE  1:26:08
31 DECEMBER 2008: SAO SILVESTRE DE SAO PAULO 15km, BRAZIL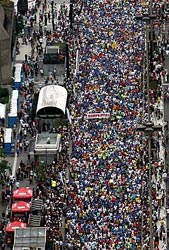 Winners James Kipsang and Wude Ayalew who set a punishing pace at the start and then cruised to victory ahead of the favourites for the titles. Home favourite Franck Caldeira abandoned the race with stomach cramps at 10km.
Ayalew, starting among the elite women and ahead of the men's field, was not passed by any of them, emulating the achievement of her countrywoman Derartu Tulu back in 1994.
A total of 20,000 people participated.
MEN:
1  James KIPSANG                  KEN  44:42
2  Evans CHERUIYOT                KEN  45:16
3  Kiprono MUTAI                  KEN  45:28
4  Marco JOSEPH                   TAN  45:37
5  William DE JESUS               COL  45:47

WOMEN:
1  Yimer Wude AYALEW              ETH  51:37
2  Fabiana Cristine DA SILVA      BRA  52:28
3  Marily DOS SANTOS              BRA  52:48
4  Edielza Alves DOS SANTOS       BRA  53:02
5  Luzia de Souza PINTO           BRA  53:52
December 2008