October 2008
5 OCT | 12 OCT | 19 OCT | 26 OCT | 27 OCT
5 OCTOBER 2008: FORD KOELN MARATHON, GERMANY
Sammy Kurgat set a new course record in defeating his fellow countryman and defending champion Daniel Too writes Jorg Wenig. The young Ethiopian Robe Guta clocked her first sub 2:30 time to win the women's race. There was also a fine performance by Sabrina Mockenhaupt in the Half Marathon, which was staged parallel to the longer race. The German achieved a personal best of 1:08:51.
The 33 year-old Kurgat was in a big leading group of about ten runners, who passed the half way mark in a promising 1:04:32. At 30km (1:31:55) there were still eight runners in the lead pack, but then one after another dropped back. Kurgat also slowed but he had a comfortable lead and finished more than half a minute in front of Too. Eight of the top 10 places were filled by Kenyan runners. Kurgat improved James Rotich's four-year-old course record by 19 seconds.
A duel between Robe Guta and Germany's Luminita Zaituc developed soon after the start. The two passed the Half Marathon point in 1:13:56 and 30km in 1:45:43. The Ethiopian, almost 20 years younger than Zaituc, eventually took the race with 2:29:39. Guta had a personal best of 2:33:44 from Dubai in January, but had run an impressive 1:07:46 in 2007 for the Half Marathon. Zaituc, who turns 40 in a few days, achieved the national qualifying time for the World Championships in Berlin next year.
Mockenhaupt ran with pacemakers to clocked her first sub-70 minute time in the Half Marathon. This tied the German season's best of Irina Mikitenko, who had run this time when winning in Paderborn early in the year. The result from Cologne was a great test for Mockenhaupt's second Marathon, which she will run in Frankfurt in three weeks. Last year she won her debut in Cologne with 2:29:33 but faded in the final stages.
Upwards of 10,000 Marathon runners had entered Germany's fourth biggest event at this distance behind Berlin, Hamburg and Frankfurt. For the first time the Half Marathon had more entries than the full distance race (11,000). Another 5,000 athletes competed in other events on Sunday in wet and cool conditions.
MEN:
1  Sammy KURGAT                    KEN  2:10:03
2  Daniel TOO                      KEN  2:10:37
3  Thomas CHEMITEI                 KEN  2:11:20
4  Joel KEMBOI                     KEN  2:11:57
5  Samson BUNGEI KIPTO             KEN  2:13:25
6  Daniel NDIRITU                  KEN  2:16:55
7  Beraki BEYENE                   ERI  2:17:37
8  Tesfahiwet GEBRETINSAE          ERI  2:17:39
9  Vincent KIPCHIRCHIR             KEN  2:18:44
10 Joel KIPTOO                     KEN  2:22:39
 
WOMEN:
1  Robe TOLA GUTA                  ETH  2:29:39
2  Luminita ZAITUC                 GER  2:30:00
3  Alem A GEBREEZGI                ETH  2:39:09
4  Ira KORSTEN                     GER  2:44:59
5  Prisca KIPRONO                  KEN  2:51:27
6  Elisabeth DR. HAWKER            GER  2:52:33
7  Friederike BACK                 GER  2:57:28
8  Martina GROB                    GER  3:00:42
9  Birgit LENNARTZ                 GER  3:06:37
10 Sandra BARBORSECK               GER  3:06:49
5 OCTOBER 2008: KOSICE PEACE MARATHON, SLOVAKIA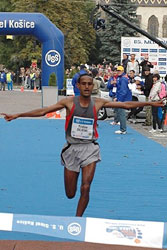 Dejene Yirdawe dominated the 85th edition of Europe's oldest Marathon held in cold conditions (8-10°C) and strong winds (up to 8m/s) writes Alfons Juck.
Yirdawe increased the pace after the 24km, and left pacemaker David Makori behind en route to a solo sub-2:11 time, the second fastest run on this course after last year's course record 2:09:53 by Kenyan William Biama. It was Yirdawe's third Marathon and he became the third Ethiopian male to win in Kosice after such legends as Abebe Bikila (1961) and Demissie Wolde (1969). In a close battle for second three Kenyans finished within eight seconds of each other.
"It was great race for me, without the wind I think I would have been able to run under 2:09," Yirdawe said. The first four recorded times among the six best ever in Kosice.
The top three women registered new personal bests. Winner Selina Chelimo, in her fifth Marathon, ran the third fastest ever in Kosice. It was also the first Kenyan female victory here. A pair of Ethiopians, finishing second and third, debuted well in difficult windy conditions.
Slovak national champion Imrich Pastor (also best European) defended his title in ninth, and surprisingly Ingrid Petnuchova in sixth became the sixth fastest Slovak woman of all-time. In total more than 4000 runners from 34 countries competed in all races and categories.
MEN:
1  Dejene YIRDAWE                  ETH  2:10:51
2  Jonathan KIBET                  KEN  2:12:23
3  Joseph MUTISO                   KEN  2:12:25
4  Sammy ROTICH                    KEN  2:12:31
5  Benson CHERUIYOT                KEN  2:15:56
6  Hussan ADELO                    ETH  2:16:21
7  Joseph LAGAT                    KEN  2:16:46
8  Philip BANDAWE                  ZIM  2:24:13
9  Imrich PASTOR                   SVK  2:26:05
10 William KIPTOO                  KEN  2:26:09 

WOMEN:
1  Selina CHELIMO                  KEN  2:34:23
2  Firehiwot DADO                  ETH  2:37:34
3  Radiya ADLO                     ETH  2:39:21 
4  Eunice KORIR                    KEN  2:42:34
5  Mariya BUTAKOVA                 BLR  2:46:15
6  Ingrid PETNUCHOVA               SVK  2:48:23
7  Ivana MARTINCOVA                CZE  2:49:24
8  Nataliya LEHONCOVA              UKR  2:53:06
9  Valentina DELION                MDA  2:53:46 
10 Silvia SEBESTIAN                SVK  3:07:50
 
HALF MARATHON
MEN:
1  Miroslave VANKO                 SVK  1:09:53
2  Michal LAMI                     SVK  1:14:02
3  Anatoliy MALYY                  UKR  1:14:04
 
WOMEN:
1  Katarina BERESOVA               SVK  1:18:05
2  Zuzana KOROTVICKOVA             SVK  1:29:02
3  Slavka PAVUKOVA                 SVK  1:29:19
5 OCTOBER 2008: ING BRUSSELS MARATHON AND HALF, BELGIUM
MEN:
1  Rik CEULEMANS                        2:19:29
2  Willy CHERUIYOT                 KEN  2:19:32
3  Gino VAN GEYTE                       2:22:57
4  David PKUTO PLIMO                    2:23:03
5  Jonathan KIP SAINA                   2:24:59
6  Kris MOERNAUT                        2:25:55
7  Koen NEVEN                           2:26:15
8  Sammy K CHEROP                  KEN  2:27:27
9  Vincent TERNET                       2:33:21
10 Oleg OTMAKHOV                        2:35:28

WOMEN:
1  Anne ZIJDERVELD                      3:15:51
2  Anne LOUETTE                         3:25:35
3  Gill DE SCHAUWER                     3:29:36
4  Sonia RENARD                         3:32:36
5  Mary NORMAN                          3:32:42
6  Christelle MINGNEAU                  3:35:02
7  Mirella GRAND JEAN                   3:36:39
8  Maria VAN DEN WOUWER                 3:38:36
9  Conchita WELKER                      3:40:08
10 Robin PODEVYN                        3:40:36

HALF MARATHON
MEN:
1  Guy FANS                             1:08:41
2  Paola NATALI                         1:08:46
3  Petr PECHEK                          1:09:43

WOMEN:
1  Blanka PAULU                         1:26:25
2  Angelina TAYAR                       1:28:57
3  Michele PASELLI                      1:29:13
5 OCTOBER 2008: BAXTER'S LOCH NESS MARATHON, GREAT BRITAIN
MEN:
1  Ezekiel CHERUP                  KEN  2:28:05
2  David KIRKLAND                  GBR  2:28:34
3  Marcus SCOTNEY                  GBR  2:34:46
4  Garrett ASH                     GBR  2:36:41
5  Niku MILLOTT                    GBR  2:39:21
6  Mark WALSH                      GBR  2:43:14
7  John J DUFFY                    GBR  2:49:59
8  Brian CRUICKSHANK               GBR  2:50:40
9  Charles BARWICK                 GBR  2:50:53
10 Neil WHITE                      GBR  2:51:03
 
WOMEN:
1  Banuelia KATESIGWA              TAN  2:51:24
2  Lucy COLQUHOUN                  GBR  2:52:43
3  Jennifer MACLEAN                GBR  2:54:56
4  Roz ALEXANDER                   GBR  3:01:40
5  Julia MYATT                     GBR  3:02:34
 
10KM
MEN:
1  Amauel HAGUS                    KEN    29:35
2  Tsegezeab WOLDMEDMICHAEL        ETH    29:35
3  Andrew DOUGLAS                  GBR    30:55
 
WOMEN:
1  Joyce KANDIA                    KEN    34:03
2  Amlest TEWELDE                  ETH    35:45
3  Alison DOCHERTY                 GBR    36:15
5 OCTOBER 2008: MEDTRONIC TWIN CITIES MARATHON, USA
USA 25km record holder, Fernando Cabada won his first marathon on American soil and in the process captured an exciting USA Men's Marathon Championship. After the race, an emotional Cabada said, "I worked hard and I told myself I'd take the lead around 28km. Cabada was able to extend his lead to a minute by 39km. While temperatures were ideal at the start, much of the race was run in a steady rain and headwind. Women's winner Olga Glok said, "It's the first time I've run when it rained the whole time." This was Glok's first attempt at the Medtronic Twin Cities Marathon.
USATF Masters Men's Champion Dennis Simonaitis, 46 of Draper, Utah, reclaimed the title he won in 2004. "I thought it was going to be a much faster day, but the rain really slowed us down," he said. Defending champion Tracy Lokken was third in 2:30:24. Susan Empey won the women's division in 2:50:05.
MEN:
1  Fernando CABADO                 USA  2:16:31
2  Matt GABRIELSON                 USA  2:17:38
3  Eduardo TORRES                  USA  2:17:54
4  Mike MORGAN                          2:17:58
5  Mike SAYENKO                         2:19:18
6  Trent BRINEY                         2:19:57
7  Chad JOHNSON                         2:20:47
8  Fazil BIZUNEH                        2:20:52
9  Joshua EBERLY                        2:21:41
10 Celedonio RODRIGUEZ                  2:21:55

WOMEN:
1  Olga GLOK                       RUS  2:32:27
2  Silvia SKVORTSOVA               RUS  2:32:38
3  Elza KIREEVA                    RUS  2:39:47
4  Mary AKOR                            2:40:00
5  Stephanie ROTHSTEIN                  2:40:07
6  Zinaida SEMENOVA                     2:40:19
7  Irina PERMITINA                      2:41:43
8  Camille HERRON                       2:42:40
9  Kim DUCLOS                           2:44:45
10 Zeddy CHEPKOECH                      2:47:08
5 OCTOBER 2008: PORTLAND MARATHON, USA
MEN:
1  John NGIGI                      USA  2:31:22
2  Yasuhiro KARASU                      2:31:58
3  Alan ROZENDAAL                  USA  2:34:22
4  Bret KIMPLE                     USA  2:35:49
5  Rian BEACH                      USA  2:37:01
6  Robert PETERS                   USA  2:37:06
7  Joshua RICARDI                  USA  2:37:24
8  Daniel JULIAN                   USA  2:37:30
9  Zack STRONG                     USA  2:37:34
10 Jeff CABA                       USA  2:38:04
 
WOMEN:
1  Kami SEMICK                     USA  2:45:24
2  Yumiko DAIGO                         2:50:30
3  Holly MCILVAINE                 USA  2:52:46
4  Mercedes GIL                    USA  2:57:59
5  Monica RUNNINGWOLF              USA  2:58:25
6  Danita ERICKSON                 USA  2:58:30
7  Katie CABA                      USA  2:58:35
8  Sally BERGESEN                  USA  2:59:44
9  Julie LEASURE                   USA  3:01:34
10 Andrea BOITANO                  USA  3:04:19
5 OCTOBER 2008: COLOMBO MARATHON, SRI LANKA
MEN:
1  H R Ajith BANDARA               2:25:25
2  R M I A RATNAYAKE               2:29:33
3  D M P BANDARA                   2:32:25
 
WOMEN:
1  Everline KIMWEI                 3:00:39
2  Oruke OLPHER                    3:15:16
3  M K K A KUMARASINGHE            3:15:51
5 OCTOBER 2008: MARATON DE GUAYAQUIL, ECUADOR
MEN:
1  Byron PIEDRA                    2:20:42
2  Jose CARDONA                    2:24:35
3  Marco ALMACHI                   2:26:54
4  Claudio RAMOS                   2:27:36
5  Jonathan RODRIGUEZ              2:27:58
6  Patricio RECALDE                2:32:51
7  Marco ERAZO                     2:33:36
8  Cesar DEFAZ                     2:34:02
9  Manuel JUCA                     2:34:16
10 Stelman MIRANDA                 2:34:46
 
WOMEN:
1  Sandra RUALES                   2:50:40
2  Carla VELASQUEZ                 2:59:56
3  Gabrela CEVALLOS                3:02:29
4  Maria PAREDES                   3:07:44
5  Mary VILCACUNA                  3:08:54
6  Mary Luz MAMANI                 3:10:21
7  Maria AGUAIZA                   3:14:03
8  Narcisa TRUJILLO                3:17:15
9  Patricia MONTENEGRO             3:23:09
10 Maria QUEZADA                   3:23:56
5 OCTOBER 2008: 23rd PLUS BUDAPEST INTERNATIONAL MARATHON, HUNGARY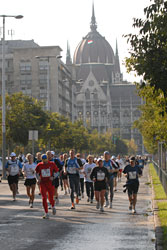 Ideal running weather greeted more than 3000 marathon runners at the 10:00 race start. Over 500 runners joined them at the 12km to finish the course with the marathoners and run a 30km distance. The 42.2km could be divided between 3 or 5 runners and thus about 500 teams of runners ran together with the marathoners. Overall 12,900 runners took part in 10 different distances on the day, including more than 2000 runners from abroad, from 50 different countries. Never before have so many foreigners come to Budapest. The majority came from France, Great Britain, Finland, Germany and Italy.
A new course was used this year, but it still included the most spectacular parts of Budapest and the atmosphere of the race made the day unforgettable for all runners. The Hungarian Marathon Championship was incorparated within the race.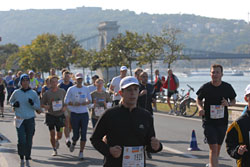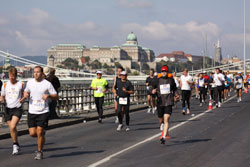 MEN: 
1  Gergely REZESSY                 HUN  2:24:18 
2  Erkolo ASHENAFI                 ETH  2:24:21 
3  Tamas BOGOS                     HUN  2:24:24 
4  Ferenc BIRI                     HUN  2:25:07 
5  Szabolcs KUSTOS                 HUN  2:26:41 
6  Istvan ORI                      HUN  2:26:47

WOMEN: 
1  Judit Nagy FOLDIGNE             HUN  2:45:30 
2  Reka BATAI                      HUN  2:56:07 
3  Jud it PETTKO-SZANDTNER         HUN  3:02:03 
4  Gyongyike NAGY                  ROM  3:03:14 
5  Zita KIS                        ROM  3:03:49 
6  Sally GILBERT                   GRB  3:05:03
5 OCTOBER 2008: 17th ZAGREB INTERNATIONAL MARATHON, CROATIA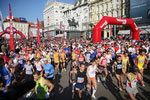 MEN:
1  Duro KODZO                     BIH  2:16:49
2  Roman KEZJAR                   SLO  2:25:49
3  Drazen DINJAR                  CRO  2:38:59
4  Hrvoje KOVAC                   CRO  2:39:39
5  Goran MURIC                    CRO  2:39:46
6  Robert VEGSE                   CRO  2:39:47
7  Tomislav BRECIC                CRO  2:47:30
8  Igor VALENTEKOVIC              CRO  2:56:17
9  Goran GRGAS                    CRO  2:56:58
10 Dejan SEVER                    CRO  2:57:48

WOMEN:
1  Tatiana PEREPELKINA            RUS  2:44:05
2  Svetlana SEPELEVA-TACAC        MDA  2:45:29
3  Ida SURBEK                     SLO  2:52:37
4  Antonija ORLIC                 CRO  3:04:11
5  Marija VRAJIC                  CRO  3:13:12
6  Veronika JURISIC               CRO  3:18:42
7  Nikolina SUSIC                 CRO  3:26:44
8  Mirjana KMACIC PELLIZZER       CRO  3:28:47
9  Katica RUMBOCIC                CRO  3:36:10
10 Martina BEZEK                  CRO  2:45:27

HALF MARATHON
MEN:
1  Robert KOTNIK                  SLO  1:09:24
2  David RIHTARIC                 SLO  1:09:36
3  Zoran ZILIC                    CRO  1:12:32

WOMEN:
1  Daniela GRADOVEC               SLO  1:16:58
2  Monika NAGY                    HUN  1:18:14
3  Marijana LUKIC                 SRB  1:19:41
12 OCTOBER 2008: 17th IAAF/CAIXA WORLD HALF MARATHON CHAMPIONSHIPS, RIO DE JANEIRO (BRA)
Photos: Getty Images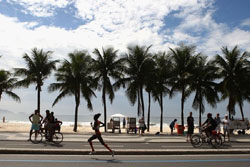 Lornah Kiplagat and Zersenay Tadese retained their titles with convincing runs from the front to win by huge margins. For both this was a third successive win, and for Kiplagat it made her the most medalled athlete since the World Half Marathon Championships began back in 1992. Run on a point-to-point course there was never any chance of world records, but the winning times were surprisingly fast for the warm conditions.
Starting from Sao Conrado, west of the centre of Rio, the course followed the coastline through the famous beachside suburbs of Leblon, Ipanema, Copacabana, Botafogo and Flamengo, with the last 5km run as an out/back section. Rising for the first kilometre the course passes along the rocky corniche road before dropping sharply down to the beachfront at 4km, from where it remains dead flat right through to the finish. The women started 30 minutes before the men, and a group of nine passed through 5km in 15:44 - already headed by Kiplagat. By 7km she began to forge a lead, and by 10km (31:31) she was 10 seconds clear with Aselech Mergia the only one trying to hang on. She soon fell back to run in the group while Kiplagat, although slowing slightly in her third 5km split, still surged away to lead by a minute at 15km (47:42). She had extended this to almost two minutes by 20km. While Kiplagat then took it quite easy over the final kilometre her rivals had it all to fight for. Asefelech Mergia was relatively comfortable in second, while Pamela Chepchumba repeated her placing from last year's race in Udine by taking third place with a spirited sprint to keep ahead of Genet Getanah. With Kiplagat representing Holland the Ethiopian placings were consistently ahead of Kenya's to give them victory by a margin of 25 seconds.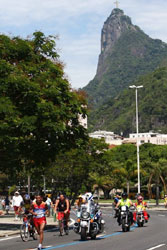 The men's race followed an uncannily similar plot, as Tadese led through the first 5km with a group of 10 in tow. He upped the pace as they raced through Ipanema and by 7km had won a slight but obvious lead from his closest pursuers. Piling on the pressure he pressed his advantage and passed through 10km (27:55) almost half a minute up. With such a pace to follow it was not surprising that the others settled for watching each other rather than giving chase, and Tadese rapidly disappeared from their sight. His second 5km split was 13:49 and, like Kiplagat before him, his pace slowed over the second half of the race even though he continued to move away from those behind him. Makau, like Mergia in the women's race, seemed to be confident that he could finish best of the rest, and so it proved. The most surprising of the top 10 finishers was perhaps Japan's Yusei Nakao in 5th place, whose steady early effort and consistent pace pulled him through a field of obviously tiring runners. From 20th at 5km he climed to 13th at 10km, and 8th at 15km, and his delight at his fifth place finish was obvious.
Kenya easily maintained their grip on the team title but the surprisingly lacklustre Ethiopian effort allowed Eritrea and Qatar to take the other team medals.
MEN:
1  Zersenay TADESE                ERI    59:56
2  Patrick Makau MUSYOKI          KEN  1:01:54
3  Ahmed Hassan ABDULLAH          QAT  1:01:57
4  Stephen Kipkoech KIBIWOTT      KEN  1:01:58
5  Yusei NAKAO                    JPN  1:02:05
6  Dieudonne DISI                 RWA  1:03:03
7  Abebe DINKESA                  ETH  1:03:04
8  Marilson DOS SANTOS            BRA  1:03:14
9  Joseph MAREGU                  KEN  1:03:32
10 Essa Ismail RASHID             QAT  1:03:57

TEAMS:
1  Kenya      3:07:24
2  Eritrea    3:09:40
3  Qatar      3:10:52

WOMEN:
1  Lornah KIPLAGAT                NED  1:08:37
2  Aselefech MERGIA               ETH  1:09:57
3  Pamela CHEPCHUMBA              KEN  1:10:01
4  Genet GETANEH                  ETH  1:10:03
5  Peninah ARUSEI                 KEN  1:10:12
6  Abebu GELAN                    ETH  1:10:59
7  Julia Mumbi MURAGA             KEN  1:11:11
8  Atsede HABTAMU                 ETH  1:11:13
9  Luminita TALPOS                ROM  1:11:16
10 Yukiko AKABA                   JPN  1:11:39

TEAMS:
1  Ethiopia   3:30:59
2  Kenya      3:31:24
3  Japan      3:40:58
12 OCTOBER 2008: RIO DE JANEIRO HALF MARATHON, BRAZIL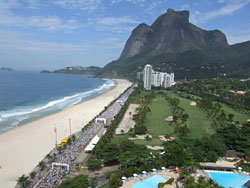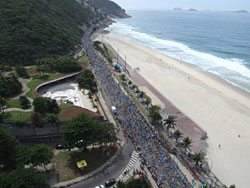 MEN:
1  Marilson Gomes DOS SANTOS      BRA  1:03:12
2  Chemwolo Mutai KIPRONO         KEN  1:03:58
3  Willy Kangogo KIMUTAI          KEN  1:03:58
4  Daniel KIPCHIRCHIR TOO         KEN  1:04:50
5  Raimundo Nonato Souza AGUILAR  BRA  1:04:54
6  Giomar Pereira DA SILVA        BRA  1:05:04
7  Joshua Kiprugut KEMEI          KEN  1:05:21
8  Joao Ferreira DE LIMA          BRA  1:05:43
9  Franck Caldeira DE ALMEIDA     BRA  1:05:49
10 Gladson Alberto Silva BARBOZA  BRA  1:06:06

WOMEN:
1  Maria Zeferina BALDAIA         BRA  1:13:40
2  Nancy Jepkosgei KIPRONO        KEN  1:14:34 
3  Eunice Jepkirui KIRWA          KEN  1:14:37
4  Ednah MUKHWANA                 KEN  1:14:51
5  Conceicao Carvalho OLIVEIRA    BRA  1:16:16
6  Luiza De Souza PINTO           BRA  1:16:21
7  Sueli Perreira SILVA           BRA  1:16:41
8  Lydia Jerotich RUTTO           KEN  1:16:48
9  Adriana Aparecida DA SILVA     BRA  1:16:56
10 Marizete Moerira DOS SANTOS    BRA  1:17:02
12 OCTOBER 2008: EINDHOVEN MARATHON, NETHERLANDS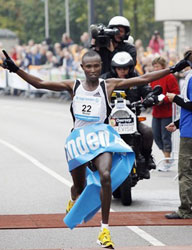 Geoffrey Mutai set a new course record in the 25th anniversary race writes Wim van Hemert. Five days after his 27th birthday, the Kenyan bettered his personal best (2:12:36) by nearly five minutes. His nearest opponents were more than one-and-a-half minutes behind. Lydia Kurgat also set a new personal best to win the women's race.
A large group set out fast, running 14:48 through 5km and 30:11 through 10km. By halfway Mutai was still 9 seconds behind, as the leading group passed through in 1:04:19. At 30km seven leaders passed through in 1:31:07, just before the group split up. Mutai and Philip Manyim were still together at 35km (1:46:18) as the others fell back, and Mutai surged again at 36km. Philip Singoei, who set the course record last year, had withdrawn at 24km and another pre-race favourite, Dmitri Baranovsky, did likewise only a kilometre later. Now on his own, Mutai seemed to get stronger and stronger. Knowing the course record to be within reach he upped the pace over the final kilometres to shave seven seconds from the mark.
"The moment I reached the leading group I knew I could increase my speed in the final phase of the race" said Mutai. Lydia JKurgat was also pleased with her win, although she had been aiming at 2:30. Christine Chepkonga was leading the race until the 35km, and was more two minutes ahead, but broke down dramatically over the final stages. She held on for second and still ran a personal best.
Held in nearly ideal (13-15 degrees C, overcast and nearly no wind) conditions, the race also counted as the Dutch championships. Greg van Hest took the men's title in 2:15:38 (15th) and 44-year-old Nadja Wijenberg was the fastest Dutchwoman, finishing fourth in 2:42:24. It was her fifth national Marathon title.
MEN:
1  Geoffrey MUTAI                  KEN  2:07:50
2  Philip MANYIM                   KEN  2:09:31
3  Joseph Ngeny KIPROTICH          KEN  2:09:33
4  Raymond KANDIE                  KEN  2:10:47
5  Simon Njoroge KARIUKI           KEN  2:11:15
6  Raymond Kimutai BETT            KEN  2:11:57
7  Francis BOWEN                   KEN  2:12:04
8  Sammy CHUMBA                    KEN  2:12:11
9  Sammy KIBET                     KEN  2:12:26
10 Marc TANUI                      KEN  2:13:02
 
WOMEN:
1  Lydia KURGAT                    KEN  2:33:39
2  Christine CHEPKONGA             KEN  2:37:04
3  Alemitu BEKELE                  BEL  2:40:58
4  Nadja WIJENBERG                 NED  2:42:24
5  Anja SMOLDERS                   BEL  2:43:06
6  Ingrid PRIGGE                   NED  2:44:25
7  Virginie VANDROOGENBROECK       BEL  2:45:05
8  Marlies JUNGERIUS               NED  2:47:51
12 OCTOBER 2008: SAMSUNG MELBOURNE MARATHON, AUSTRALIA
MEN:
1  Asnake BEFIKADU                 ETH  2:17:46
2  Josphat MWANGI                       2:21:20
3  Yared MEKOMMEN                       2:25:12
 
WOMEN:
1  Mai TAGAMI                      JPN  2:38:46
2  Michelle BLEAK                       2:49:02
3  Jenny WICKHAM                        2:50:17
12 OCTOBER 2008: FERRARI ITALIAN MARATHON, ITALY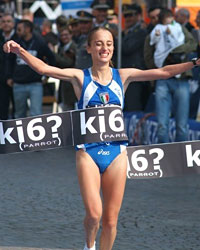 Rosaria Console won in her comeback from maternity writes Diego Sampaolo. Her daughter was born exactly one year earlier. The race hosted the World Military Championships and the Italian national Championships. Console, who runs for the military team Fiamme Gialle, took both titles beating 2:23:12 runner Wei Yanan from China who also competed for the world military title.
Ben Kipruno Chebet smashed his best by two minutes to hold off David Chepkwony Kiptanui by seven seconds for the men's title. The world military title went to Poland's Adam Draczynski, who beat Italian Alberico Di Cecco, the winner of the Italian Championships.
Alemtsehay Hailu Kakissa and Margaret Atodonyang led the women's race through halfway in 1:13:01. Console and Wei chased the African duo, 1:10 behind them. Console and Wei began closing the gap after 20km and reached the Africans before 30km. By 35km Console had increased her lead to 1:30 and secured her win. "I am very happy because it was not easy to return after the maternity leave," Console said. "The final time was not special but this win is a present for my daughter Francesca."
Ten men led the race in the first half reaching the midway mark in 1:04:38. The final showdown only took place around 40km when Kiptanui and Chebet broke away from Barnabas Koech increasing their lead to 16 seconds (2:03:55 to 2:04:11). Meanwhile Draczynski broke clear of Di Cecco to secure the world military gold medal for himself and for the Polish team. Chebet unleashed his decisive attack in the final kilometre to improve his personal best from 2:12:04 to 2:10:50.
This year's edition celebrated the centenary of Dorando Pietri's race in the 1908 Olympic Games in London, when he collapsed three times in the final stages and although first across the line was disqualified for receiving assistance. He received a consolation cup from Queen Alexandria, and this famous trophy was put on display in an exhibition held in the centre of Carpi. A statue of Pietri was unveiled on 24 July 2008 during a special ceremony to commemorate this legendary race. A book on Dorando Pietri's life has been written by Italian sports writer Augusto Frasca.
MEN:
1  Kipruno B CHEBET                KEN  2:10:50
2  Chepkwony D KIPTANUI            KEN  2:10:57
3  Kipkorir B KOECH                KEN  2:11:19
4  Adam DRACZYNSKI                 POL  2:12:21
5  Alberico CECCO DI               ITA  2:13:16
6  Ahmed M SHEBTO                  QAT  2:13:28
7  Jote A DEMISSU                  ETH  2:13:34
8  Keino J KIPKOECH                KEN  2:13:35
9  Denis CURZI                     ITA  2:14:18
10 Michal KACZMAREK                POL  2:16:43
 
WOMEN:
1  Rosalba CONSOLE                 ITA  2:30:44
2  Wei YANAN                       ROC  2:33:29
3  Ivana IOZZIA                    ITA  2:34:07
4  Josephine N WANGOI              KEN  2:38:33
5  Hailu A KAKISSA                 ETH  2:39:05
6  Renate RUNGGER                  ITA  2:39:58
7  Catherine BERTONE               ITA  2:40:19
8  Romy SPITZMULLER                GER  2:43:42
9  Maria C RUIZ                    ESP  2:49:42
10 Emily J POTTER                  USA  2:54:40
12 OCTOBER 2008: OKANAGAN INT'L MARATHON, CANADA
MEN:
1  Brian TORRANCE                  CAN  2:39:56
2  Niall MCGRATH                   CAN  2:43:25
3  Curtis SAMPSON                  CAN  2:48:28
4  Michael LABELLE                 CAN  2:54:07
5  Scott MERCER                    CAN  2:59:09
6  Matthew BRASSARD                CAN  3:02:35
7  Darryl SMITH                    CAN  3:03:29
8  Stephen MATYAS                  CAN  3:04:21
9  Kevin MAIR                      CAN  3:04:25
10 Derek HOFFART                   CAN  3:05:02
 
WOMEN:
1  Gillian MOODY                   CAN  2:55:50
2  Krissy DOOLING                  CAN  3:01:13
3  Paige HOWAT                     CAN  3:10:24
4  Jenee MEALEY                    CAN  3:20:26
5  Sheila MCPHERSON                CAN  3:20:26
6  Michelle HUMENIUK               CAN  3:26:02
7  Danielle WEILL                  CAN  3:27:31
8  Raena DUMAS                     CAN  3:28:13
9  Janelle WILLIAMSON              CAN  3:28:50
10 Danita SCHREIBER                CAN  3:29:42
 
HALF MARATHON
MEN:
1  Tom MICHIE                      CAN  1:15:31
2  Hans AABYE                      CAN  1:16:16
3  Kevin MASTERS                   CAN  1:16:22
 
WOMEN:
1  Amy BARNETT                     CAN  1:26:15
2  Kathleen WOOD                   CAN  1:26:47
3  Shannon THOMPSON                CAN  1:27:46
12 OCTOBER 2008: ROYAL VICTORIA MARATHON, CANADA
The 29th edition of the race, held under unseasonably warm, sunny skies saw a new World Record in the women's 80+ category and Steve Osaduik win his third successive men's title. In all events (including half marathon, 8km and Kids' run) there were 10,395 entries.
Osaduik battled with Jason Terauchi-Loutitt for most of the race, but pulled away as Terauchi-Loutitt faded to third and local runner Todd Howard came through strongly. Cheryl Murphy had been aiming to break the 20-year-old course record of 2:42:32, but missed doing so by 29 seconds. Further back in the women's race Betty-Jean McHugh, from North Vancouver, set a World Record in the over-80 category with her time of 4:36:52, an improvement of 13 minutes on the old record. This remarkable achievement follows her setting the W75-79 record of 4:08:54 in Victoria in 2003. "I was aiming for 4:30 but very happy with my result" she said.
In the Half Marathon, race favourite Ryan Day from Vancouver won from Victoria's Jim Finlayson – who had run the Scotiabank Toronto Waterfront Marathon two weeks previously in a time of 2:22:15.
The Half Marathon and the 8km race had the highest number of finishers yet – 4,267 and 1,894 respectively. The Marathon saw 2,035 finishers and with the Thrifty Foods Kids Run the total number of finishers was 9,176.
MEN:
1  Steve OSADUIK                   CAN  2:25:31
2  Todd HOWARD                     CAN  2:28:42
3  Jason TERAUCHI-LOUTITT          CAN  2:31:12
4  Clay WING                       USA  2:32:33
5  Jonathan WITHEY                 CAN  2:34:59
6  Mark CRYDERMAN                  CAN  2:36:25
7  Neil HOLM                       CAN  2:36:33
8  Trevor HAAHEIM                  CAN  2:39:53
9  Chris BARTH                     CAN  2:39:53
10 Brian MICHASIW                  CAN  2:39:55
 
WOMEN:
1  Cheryl MURPHY                   CAN  2:43:00
2  Wendy TERRIS                    USA  2:48:03
3  Katherine MOORE                 CAN  2:54:12
4  Joan MCGRATH                    CAN  2:56:32
5  Fawn WHITING                    CAN  2:57:06
6  Annie THIESSEN                  USA  3:00:56
7  Catrin JONES                    CAN  3:01:34
8  Nancy BAXENDALE                 CAN  3:01:58
9  Ellie GREENWOOD                 CAN  3:02:53
10 Joylin NODWELL                  CAN  3:03:20
 
HALF MARATHON
MEN:
1  Ryan DAY                        CAN  1:08:50
2  Jim FINLAYSON                   CAN  1:09:11
3  Jason WARICK                    CAN  1:09:22
 
WOMEN:
1  Lindsay MCLAREN                 CAN  1:21:38
2  Laura DE MUNAIN                 CAN  1:24:03
3  Natalie BALL                    CAN  1:24:20
12 OCTOBER 2008: NOVI SAD MARATHON, SERBIA
MEN:
1  Predrag MLADENOVIC              SER  2:26:47
2  Marko RANKOVIC                  SER  2:48:55
3  Veljko POPOVIC                  SER  2:52:36
4  Sasa ANTIC                      SER  2:53:19
5  Atila FILEP                     SER  2:53:50
6  Dusko KARDAS                    SER  2:55:24
7  Ivan OGNJENOVIC                 SER  2:58:42
8  Milos KESIC                     SER  3:03:32
9  Ugljesa NIKOLIC                 SER  3:05:15
10 Dragan CIRIC                    SER  3:17:04
 
WOMEN:
1  Veternik BODLOVIC               SER  3:03:30
2  Lidija MIKLOS                   SER  3:08:37
3  Nevena BOGICEVIC                SER  3:37:23
4  Sanja STOJKOV                   SER  3:58:07
5  Zelimira KOPECKI                CRO  4:01:24 
6  Tanja RADUMILO                  SER  4:02:08
7  Zorica ANTIC                    SER  4:15:02
12 OCTOBER 2008: POZNAN MARATHON, POLAND
MEN:
1  Mathew KOSGEI                   KEN  2:13:45
2  Julio KILIMO                    KEN  2:14:02
3  John MUTAI                      KEN  2:14:18
4  Marcin FEHLAU                   POL  2:17:13
5  Paul TANGUS                     KEN  2:17:46
6  Adam DOBRZYNSKI                 POL  2:18:24
7  Abraham YATOR                   KEN  2:19:47
8  Vitor STARODUBTSEV              UKR  2:21:29
9  Kipkemoi LANGAT                 KEN  2:22:00
10 Nicholas KIPKEMOI               KEN  2:23:07
 
WOMEN:
1  Arleta MELOCH                   POL  2:38:22
2  Ewa BRYCH-PAJAK                 POL  2:39:05
3  Agnieszka JANASIAK              POL  2:40:07
4  Wioletta URYGA                  POL  2:41:33
5  Maria MAJ-ROKSZ                 POL  2:46:08
6  Tatsiana ZAUYALAVA              BLR  2:48:51
7  Piotr BUDZYNSKI                 POL  2:57:20
8  Dorota PAWLOWSKA                POL  3:11:40
9  Caoimhe LEAHY                   GBR  3:22:01
10 Halina KAVALIOVA                BLR  3:22:22
12 OCTOBER 2008: TIMISOARA MARATHON, ROMANIA
MEN:
1  Tiziano DIADEI                 ITA  2:50:58
2  Catalin MICLAUS                ROM  3:07:38
3  Dirk WESKE                     GER  3:13:50
4  Ville WIIK                     ROM  3:19:32
5  Laurentiu BOGDANESCU           ROM  3:23:20
6  Zsolt KECSKEMETI               HUN  3:31:56
7  Mikolaj PAWLAK                 POL  3:36:29
8  Janos KIS                      HUN  3:45:00
9  Christan ALTENRIEDERER         AUT  3:48:30
10 Gregorio PERLOTTI              ITA  4:05:13

WOMEN:
1  Adriana MICA                   POL  3:38:29
2  Edit KISS                      HUN  3:45:00
3  Silvia BANDA                   ROM  3:53:02

HALF MARATHON
MEN:
1  Samuel BITA                    ROM  1:15:31
2  Eduard PICHLER                 ROM  1:15:32
3  Constantin MINERAN             ROM  1:16:39

WOMEN:
1  Liliana DANCI                  ROM  1:26:26
2  Cuta STEFAN TALPAU             ROM  1:30:44
3  Ioana Lucia MICA               ROM  1:34:42
19 OCTOBER 2008: HYX BEIJING INTERNATIONAL MARATHON, CHINA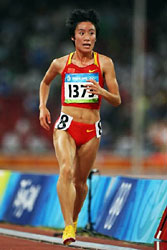 Bai Xue scored a popular home victory, with Benjamin Kiptoo taking the men's title writes Caitlin Rhodes.
Under relatively blue skies, the temperature at the start of the race was a comfortable 15°C for the 08:00 start. In the men's race it took until halfway for the large pack to thin out to a group of nine.
At 32km China's Ren Longyun pulled away with three Kenyans: Benjamin Kiptoo, Luka Chelimo, and Simon Wangai. Ren's effort told, and by 34km he ceded ground to set up a three-way Kenyan contest, with Kiptoo setting the pace.
Wangai dropped back at 39km, while Chelimo trailed Kiptoo by just a few strides, though that was the closest he would ever come to overtaking his countryman. No longer able to hear his pursuer's footsteps, Kiptoo glanced over his shoulder to check the margin of his lead as he surged towards the finish. Behind him Chelimo came home in a personal best.
The men's race was full of suspense until the final 2km but the overall star of the race was 19-year old Bai Xue of China, who destroyed the women's field with her 2:26:47 victory. Bai Xue, a 10,000m specialist who finished 21st at that distance in the Beijing Olympics in August, had run her marathon best of 2:23:27 earlier this year at the Xiamen International Marathon, finishing behind Zhang Yingying. In Beijing Bai Xue outpaced both Zhang Yingying and defending champion Chen Rong. Top seeded foreign runner Hellen Kimutai placed fourth.
By Bai Xue's own recollection, she left the rest of the field behind from 5km and ran with men for the rest of the way, drafting behind a male runner for much of the rest of the race before he finally pulled ahead.
"I didn't know him," she said after the race, when asked if he was her pacer. "But I thought he was running at a good pace, so I chose to stay with him." Of the supporting crowd she said "The fans are more passionate now," (after the olympic Games). No doubt her dominant performance contributed to their enthusiasm.
MEN:
1  Benjamin KIPTOO                KEN 2:10:14
2  Luka CHELIMO                   KEN 2:10:30
3  Simon WANGAI                   KEN 2:10:52
4  Rachid KISRI                   MAR 2:11:31
5  Lawrence K SAINA               KEN 2:13:25
6  Wei CHEN                       CHN 2:13:46
7  Longyun REN                    CHN 2:14:27
8  Zemin WANG                     CHN 2:15:03
9  Masahiko TAKEYASU              JPN 2:15:10
10 Guoqiang CHEN                  CHN 2:15:32

WOMEN:
1  Xue BAI                        CHN 2:26:27
2  Rong CHEN                      CHN 2:28:25
3  Yingying ZHANG                 CHN 2:28:52
4  Hellen KIMUTAI                 KEN 2:29:19
5  Alice CHELANGAT                KEN 2:31:40
6  Chol Sun KIM                   PRK 2:33:15
7  Jiali WANG                     CHN 2:36:07
8  Margaret K TOROITCH            KEN 2:36:26
9  Weiwei SUN                     CHN 2:39:26
10 Junli ZHANG                    CHN 2:39:33
19 OCTOBER 2008: ING AMSTERDAM MARATHON, NETHERLANDS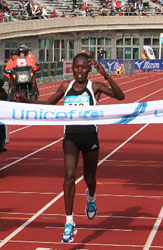 Kenyans scored a double victory in this 33rd edition with Paul Kirui, world Half Marathon champion from four years ago, winning the men's race and Lydia Cheromei taking the women's title in her debut race writes Wim van Hemert. While temperatures were good for marathon running, the wind was at times strong, especially along the river Amstel approaching the halfway mark. Around 8000 runners took part in the marathon and another 16,000 in races over other distances.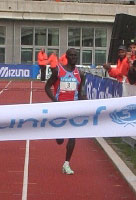 In the men's race a large leading group stayed together for a long time, but by halfway (1:03:25) were down to nine, plus two pacemakers. Chala Dechase passed through 1:17 behind this group as they gradually reduced to five by 35km: Kirui, Robert Cheborbor, Jonathan Kosegei, Jackson Koech and Albert Matebor. By 40km Kirui was out on his own but the race was not quite over as Chala Dechase was finishing very strongly. In his marathon debut the 24-year old Ethiopian went through 40km alone and tried hard to close the gap on the leader, although Kirui was just too far away. Kirui had been third last year: "It was a pity about the wind otherwise I could have been faster than this" he said.
Lydia Cheromei was too strong for her opponents. She ran with Zekiros through 25km but at 30km Cheromei, who had won the Rotterdam Half Marathon on 14 September in a personal best of 1:08:35, had forged ahead by 20 seconds.
Cheromei then coasted away to finish over four minutes ahead. "I knew I could win this," said Cheromei. "After the birth of my daughter I feel stronger. She gives me power."
MEN:
1  Paul KIRUI                     KEN  2:07:52
2  Chala DECHASE                  ETH  2:08:31
3  Robert CHEBORBOR               KEN  2:09:13
4  Jonathan KOSGEI                KEN  2:09:22
5  Jackson KOECH                  KEN  2:09:42
6  James ROTICH                   KEN  2:10:04
7  Deriba DEME                    ETH  2:10:13
8  John KIBOWEN                   KEN  2:11:28
9  Albert MATEBOR                 KEN  2:11:34
10 Dejene BERHANU                 KEN  2:12:23
 
0AWOMEN:
1  Lydia CHEROMEI                 KEN  2:25:57
2  Adenech ZEKIROS                ETH  2:30:17
3  Marta MARKOS                   ETH  2:32:32
4  Risper KIMAYO                  KEN  2:33:33
5  Asnakech MENGISTU              ETH  2:34:31
6  Mindaye GISHU                  ETH  2:35:51
7  Yeshimebet TADESSE             ETH  2:37:42
8  Lena GAVELIN                   SWE  2:38:44
9  Veena REDDY                    USA  2:39:33
10 Elaine COBURN                  FRA  2:54:58
19 OCTOBER 2008: MARATON INTERNACIONAL DE GUADALAJARA, MEXICO
MEN:
1  Christpher TOROITICH            KEN  2:14:00
2  Philip K METTO                  KEN  2:17:50
3  Anthony M MBITHI                KEN  2:19:08
4  George O OKWORO                 KEN  2:19:25
5  Festus K KIKUMU                 KEN  2:19:30
6  Mark K CHEPSES                  KEN  2:20:08
7  Bob ONYACHA                     KEN  2:20:39
8  Christopher KIPYEGO             KEN  2:20:59
9  Peter AYIENI                    KEN  2:21:08
10 Jacob P CHAMER                  KEN  2:21:23
 
WOMEN:
1  Margarita T GARCIA              MEX  2:38:13
2  Paula A JUARES                  MEX  2:40:58
3  Monica MUTHONI                  KEN  2:41:25
4  Alice WARUGURU                  KEN  2:43:26
5  Sara C SANCHEZ                  MEX  2:43:50
6  Annah J KIBOR                   KEN  2:46:13
7  Martina P SANCHEZ               MEX  2:46:27
8  Liliana M FERNANDEZ             MEX  2:48:43
9  Maria D V JIMENEZ               MEX  2:49:21
10 Jazmin A CORONA                 MEX  2:54:28
19 OCTOBER 2008: TORONTO MARATHON, CANADA
MEN:
1  Daniel M NJENGA                 KEN  2:29:00
2  James NIELSEN                   CAN  2:30:04
3  Gavin STEVEN                    NZL  2:34:54
4  Jason MATTHEWS                  CAN  2:42:25
5  Kyle AITKEN                     CAN  2:44:24
6  Dean ALYWARD                    CAN  2:45:25
7  Thierry GIGUERE                 CAN  2:45:29
8  Brian GROOT                     CAN  2:46:34
9  Todd WILLOUGHBY                 CAN  2:46:39
10 Christopher D'ESTERRE           CAN  2:47:00
 
WOMEN:
1  Dawn RICHARDSON                 BER  2:57:47
2  Liz MAGUIRE                     CAN  3:01:23
3  Angela BATSFORD                 CAN  3:03:45
4  Marie ELLIOT                    CAN  3:05:10
5  Stephanie MILLS                 CAN  3:07:28
6  Kimberly REDDEN                 CAN  3:14:38
7  Erin HARBINSON                  CAN  3:15:20
8  Sara TOWNS                      CAN  3:16:07
9  Kate NEWTON                     CAN  3:16:49
10 Amanda SIN                      CAN  3:17:02
 
HALF MARATHON
MEN:
1  Pius KORIR                      KEN  1:08:26
2  Hashim ROBA                     CAN  1:08:44
3  Daniel FELEKE                   CAN  1:12:20
 
WOMEN:
1  Magali TISSEYRE                      1:19:22
2  Leslie GOLD                     CAN  1:22:39
3  Victoria FIDDICK                     1:23:09
19 OCTOBER 2008: MEDITERRANEAN MARATHON, SPAIN
MEN:
1  Victor G GUIRAO                      2:34:06
2  Carmelo QUATTROCCHI                  2:35:26
3  Emilio F TORRA                       2:42:33
4  Jorge J M PONS                       2:46:18
5  Miguel A D MATEOS                    2:47:52
6  Santos L RUIZ                        2:48:29
7  J Carlos GONZALEZ                    2:49:04
8  Enrique Del R PEDREGOSA              2:49:35
9  Aleix A TORNAMORELL                  2:50:26
10 Antonio S LLERGO                     2:51:55
 
WOMEN:
1  Encarna N MESA                       3:02:56
2  Olga G MONDET                        3:23:36
3  Emi V SANCHEZ                        3:25:06
4  Raquel S CEPEDA                      4:07:29
5  Ascension V GIGANTE                  4:19:38
19 OCTOBER 2008: ST DENIS HALF MARATHON, FRANCE
MEN:
1  Demessew TSEGE                 ETH  1:03:22
2  J Calude NYONIGIYE                  1:03:26
3  Fekadu LEMMA                   ETH  1:03:29
4  Tesfaye SENDEKU                ETH  1:04:37
5  Reuben CHEROTICH               KEN  1:04:37
6  Alfred CHEROP                  KEN  1:05:18
7  Elias CHEBOI                   KEN  1:05:24
8  Daniel WAMBOGO                 KEN  1:05:30
9  Lahoucine MRIKIK                    1:05:34
10 Gideon MITEI                   KEN  1:06:53

WOMEN:
1  Ashu KASIM                     ETH  1:15:27
2  Anne BERERWE                   KEN  1:15:31
3  Merima HASHIM                  ETH  1:15:46
4  Alice SERSER                        1:15:54
5  Elena KOZHEVNIKOVA             RUS  1:17:24
6  Louise KANGOGO                 KEN  1:18:18
7  Everlyne KEMBOI                KEN  1:19:21
8  Charelene BELLEDENT            FRA  1:23:06
9  Marie Line HANON               FRA  1:27:02
10 Patricia BLIN                  FRA  1:30:35
 
10km
MEN:
1  Simon AYEKO                    KEN  31:12
2  Riad GUERFI                         31:29
3  Samuel MOUTACHI                     31:34

WOMEN:
1  Christine CHEPKONGA            KEN  34:33
2  Nathalie BOUILLY               FRA  38:18
3  Marion JOLY-TESTAULT           FRA  39:00
19 OCTOBER 2008: DONG-A ILBO GYEONGJU MARATHON, KOREA
MEN:
1  Sylvester TEIMET               KEN  2:09:53
2  Yerefu BIRHANU                 ETH  2:09:56
3  Charles KIBIWOTT               KEN  2:10:06
4  Samson BARMAO                  KEN  2:10:22
5  Edwin KOMEN                    KEN  2:11:12
6  Shadrack KIPLAGAT              KEN  2:11:13 
7  John YUDA                      TAN  2:11:52
8  Myong-Kee LEE                  KOR  2:16:22
9  Mikhail KHOBOTOV               RUS  2:17:39 
10 Ji-Hong MIN                    KOR  2:18:36 

WOMEN:
1  Sun-Suk YUN                    KOR  2:31:21 
2  Yun-Hee CHUNG                  KOR  2:37:15
26 OCTOBER 2008: DRESDNER KLEINWORT FRANKFURT MARATHON, GERMANY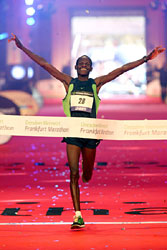 Robert Kiprono Cheruiyot smashed the course record by 37 seconds in his debut marathon writes Pat Butcher. Despite the famous name that he shares with the four-time winner of the Boston Marathon, whose middle name is Kipkoech, this Robert K. Cheruiyot, only 20 years old and in his first trip outside of Kenya, was completely unknown. He was such a late entry to this 27th edition of Germany's oldest city Marathon, that he had to buy his own air ticket on the promise of reimbursement if he broke 2:14. With his win he gets his airfare back and collects 50,000 euros.
His only known performance is 20th place in a half-marathon in Kenya earlier this year, when he ran just over 64 minutes, yet he was already prominent in the big group of Kenyans who went through the 'half' here in a chilly 6°C, in 63:45. The field gradually thinned down until there were only two others with him, Wilson Kigen and Stephen Kiagora. Cheruiyot eased away just after 35km, and had almost a minute lead when he crossed the line to the accompaniment of fireworks and music in the spectacular indoor setting of the Frankfurt Festhalle. Kiagora, chasing Kigen for second place, had a nasty fall on the final turn into the Festhalle, and had to settle for third.
Both Cheruiyots come from the town of Kaptagat, near Eldoret in the western highlands of Kenya. "But we are not related," said the winner immediately after a victory which surprised even himself. "When the field began to break up, I thought that I might be third, but I'm very happy to win."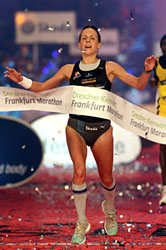 According to his manager, Jos Hermens, Cheruiyot was persuaded to make a late bid to enter the race on the advice of a training partner, William Kiplagat, who said he was more than ready to go the distance. Kiplagat himself finished tenth. The race underlined Kenyan domination of world marathons, filling 17 of the top 20 places.
The women's race was a triumph for Sabrina Mockenhaupt, who took more than three minutes off her debut best in Cologne last year. Mocki, as she is known nationally, went straight into the lead, and was never headed. Although she had 2004 Frankfurt winner, Olesya Nurgalieva of Russia just behind her for half the race, the expected German duel never materialised, since last year's winner, Melanie Kraus could not match the pace. Nurgalieva also ran a personal best by just under two minutes.
MEN:
1  Robert Kiprono CHERUIYOT       KEN  2:07:21
2  Wilson KIGEN                   KEN  2:08:16
3  Stephen KIOGORO                KEN  2:08:24
4  Philemon Kirwa TARBEI          KEN  2:08:47
5  Benson BARUS                   KEN  2:08:57
6  Japhet KOSGEI                  KEN  2:09:24
7  Benjamin MAIYO                 KEN  2:09:58
8  Julius Kibet KOSKEI            KEN  2:10:14
9  Vincent KIPSOS                 KEN  2:10:23
10 William KIPLAGAT               KEN  2:10:53

WOMEN:
1  Sabrina MOCKENHAUPT            GER  2:26:22
2  Olesya NURGALIEVA              RUS  2:27:37
3  Melanie KRAUS                  GER  2:28:20
4  Irene LIMIKA                   KEN  2:28:31
5  Kirsten Melkevik OTTERBU       NOR  2:29:40
6  Leah MALOT                     KEN  2:32:02
7  Ornella FERRARA                ITA  2:32:13
8  Flora KANDIE                   KEN  2:34:16
9  Yelena NURGALIEVA              RUS  2:36:01
10 Bernadette PICHLMAIER          GER  2:38:00
26 OCTOBER 2008: 23rd VENICE MARATHON, ITALY
Aniko Kalovics, running her fifth Marathon, finally overhauled Anne Kosgei at 39km writes Diego Sampaolo. Kosgei finished second in Venice for the third time. In the men's race Joseph Lomala won a very close battle against Jacob Chesire.
In the first part of the women's race Kalovics took the lead with Kosgei passing through halfway in 1:14:15. The Hungarian star lagged Kosgei by 17 seconds at 30km (1:46:10 to 1:46:27) but Kalovics closed the gap and managed to catch the fading Kosgei at 39 km. The Kenyan could not respond and Kalovics went on to take the fourth marathon victory of her career in five races. "I slowed in the second half because I was tired", said Kalovics. "When I saw I was not too far behind I found the strength to win."
12 men made up the leading group who maintained a sub 2:10 pace to halfway (1:04:59) but then slowed. It included Kenyan pacemaker Elisha Tarus Meli, Jacob Chesire, 2:08:11 runner Wodajo Kure Teferi, Gilbert Kibiwott Rotich, Abdi Kidane Gemechu, 2004 Venice Marathon winner Raymond Kipkoech, former Stramilano Half-Marathon winner Paul Kimaiyo Kimugul, Joseph Lomala, Daniel Limo and Nickodemus Biwott. Joseph Cheshire and Gilbert Rotich went to the front at 30km (1:32:35) in a five-man group which also included Paul Kimugul, Abdi Gemechu and Lomala. Chesire attacked at 35km on the challenging Ponte della Libertà (Freedom Bridge) which links Mestre to Venice and where the race is often decided. At 38km, with the fabled city as the backdrop, the race for victory was between Lomala and Chesire who ran neck-and-neck battle across the famous Venetian bridges. Lomala managed to catch Chesire and shrugged off Chesire's next two attacks. Lomala eventually held off Chesire to take a one-second win.
MEN: 
1  Joseph Kimosop LOMALA          KEN  2:11:06
2  Jacob CHESHIRE                 KEN  2:11:07
3  Kidane Gemechu ABDI            ETH  2:11:57
4  Wodajo Kure TEFERI             ETH  2:14:21
5  Paul Kimayo KIMUGUL            KEN  2:14:51
6  William BIAMA                  KEN  2:15:55
7  Nickodemus BIWOTT              KEN  2:16:27
8  Federico SIMIOMATO             ITA  2:18:05
9  Gilbert Kibiwott ROTICH        KEN  2:18:10
10 Said BOUDALIA                  ITA  2:18:29

WOMEN:
1  Aniko KALOVICS                 HUN  2:31:24
2  Anne KOSGEI                    KEN  2:32:21
3  Florence CHEPKIRUI             KEN  2:35:09
4  Caroline KWAMBAI               KEN  2:38:33
5  Amane CHEWO                    ETH  2:40:59
6  Tigist SEMAN                   ETH  2:43:40
7  Monica CARLIN                  ITA  2:50:42
8  Rosaline DAVID                 KEN  2:55:41
9  Kristijna LOONEN               NED  2:55:52
10 Analisa MIACCI                 ITA  2:56:45
26 OCTOBER 2008: STANDARD CHARTERED NAIROBI MARATHON, KENYA
Samson Kikwei Tuiyange and Emma Muthoni were the new winners of the 2008 Standard Chartered Nairobi Marathon, billed as the biggest single mass participation event in East Africa.
On a cool cloudy morning Samson Kikwei Tuiyange set a new course record of 2:10:30 after a determined effort to get away at the 40km mark writes Peter Njenga. Tuiyange, 34, becomes the oldest winner of the six-year-old event.
"I was not sure of winning but I felt good," said Tuiyange who shrugged off the challenge of Gitia Baaru, who had led him for most of the way. Cosmas Musyoka had been the early leader, heading Tuiyange and Baaru by 30 seconds at 20km. 10km later his lead was cut to three secondsm, and he eventually dropped to a distant third.
In the women's race Emma Muthoni lead from the start to win after three frustrating fourth places in her recent races. Muthoni fought through the leading pack and never looked back as she continued to post all the best split times through to the end of the race. Jepkosgei Sawe appeared to pull off an exhilarating finish when she charged past Irene Jerotich after 41km, but she was later disqualified for short-cutting.
MEN:
1  Kikwei TUIYANGE                KEN  2:10:30
2  Gitia BAARU                    KEN  2:11:01
3  Cosmas MUSYOKA                 KEN  2:13:10
4  (unknown)                           2:13:33
5  Ernest KIPTUM                  KEN  2:14:16
6  Elias KIMELI                   KEN  2:14:40
7  Jonathan KIMUTAI               KEN  2:14:42
8  Charles MAINA                  KEN  2:14:45
9  Kipkorir CHEPYEGONI            KEN  2:14:54
10 (unknown)                           2:14:56

WOMEN:
1  Emma MUTHONI                   KEN  2:33:42
2  Irene JEROTICH                 KEN  2:37:08
3  Jepkosgei CHESHIRE             KEN  2:40:07
4  Emily CHEPKORIR                KEN  2:40:14
5  Chepkemoi SAMOEI               KEN  2:42:16
6  Viola BOR                      KEN  2:43:01
7  Eunice KORIR                   KEN  2:43:16
8  TRIYANINGSIH                   IND  2:43:35
9  (unknown)                           2:43:36

HALF MARATHON
MEN:
1  Kurui CHESANG                  KEN  1:02:23
2  Sitienei KIPLAGAT              KEN  1:02:34
3  Gilbert YEGON                  KEN  1:02:43

WOMEN:
1  Catherine TUWEI                KEN  1:11:07
2  Elizabeth RUMAKO                    1:12:56
3  Florence JEPKOSGEI             KEN  1:13:29
26 OCTOBER 2008: PORTO MARATHON, PORTUGAL
Samuel Mugo produced another Kenyan win in the men's event with the second best ever men's time run in Portugal. He improved his personal best by seven seconds.
MEN:
1  Samuel Muturi MUGO             KEN  2:11:18
2  Tesfaye TOLA                   ETH  2:12:14
3  Negari Getachew TERFA          ETH  2:13:19
4  Robert Kiprotich CHERUIYOT     KEN  2:14:37
5  David LANGAT                   KEN  2:15:25
6  William KIPCHUMBA              KEN  2:15:39
7  Antonio SALVADOR               POR  2:17:48
8  Alfons YATICH                  KEN  2:19:09
9  Thomas KIPKOSGEI               KEN  2:19:42
10 Luis SILVA                     POR  2:19:58

WOMEN:
1  Tirfe Tsagaye BEYENE           ETH  2:35:31
2  Fatima SILVA                   POR  2:46:22
3  Aureliana POLONIA              POR  3:05:20
4  Lidia PEREIRA                  POR  3:08:48
5  Carla MENDES                   POR  3:12:42
6  Veronica CORREIA               POR  3:15:22
7  Susana SIMOES                  POR  3:17:08
8  Janine ROPER                   GBR  3:19:00
9  Yuko HAYASHIDA                 JPN  3:19:17
10 Janine COELHO                  POR  3:28:32
26 OCTOBER 2008: ALAND MARATHON AND HALF, FINLAND
MEN:
1  Leif HANSSON                         2:48:33
2  Mineev DMITRY                        2:50:25
3  Emil SODERLUND                       2:51:50
4  Tommi NIETOSJARVI                    2:56:56
5  Seppo LAMMINMAKI                     2:57:27
6  Peter BROBERG                        2:58:28
7  Marcus HULTGREN                      2:59:36
8  Christer LINDBERG                    3:01:37
9  Emil NORDH                           3:01:40
10 Petteri HELANNE                      3:01:56
 
WOMEN:
1  Ines Rinsum VAN                      3:19:38
2  Henrika MALMSTROM                    3:22:45
3  Asa KARLSSON                         3:31:26
4  Martina WINKLER                      3:33:11
5  Satu TAIPALE                         3:36:17
6  Sarah SIMMERS                        3:37:47
7  Mia ERIXON                           3:40:07
8  Elina JUNNILA                        3:43:29
9  Anu OSSBERG                          3:44:29
10 Kaisa ERJALA                         3:46:28
 
HALF MARATHON
MEN:
1  Lennart HOLMSTROM                    1:26:14
2  Anders BOGEVIG                       1:26:20
3  Robert SCHELIN                       1:26:29
 
WOMEN:
1  Tuula YRJOLA                         1:33:11
2  Carita SODERGARD                     1:33:26
3  Sari YRJOLA                          1:34:26
26 OCTOBER 2008: NIAGARA FALLS INT'L MARATHON, CANADA
MEN:
1  Matt LOISELLE                   CAN  2:27:34
2  Charles BEDLEY                  CAN  2:31:33
3  Sarnicki JANUSZ                 CAN  2:32:43
4  John PIGGOTT                    USA  2:35:11
5  Michel LAVOIE                   CAN  2:39:31
6  Ray MOOREHEAD                   CAN  2:39:44
7  Harry NEYNENS                   CAN  2:46:10
8  Nelson CHAVEZ                   USA  2:47:00
9  Bernardo YANEZ                  USA  2:49:16
10 Scott MCDONELL                  CAN  2:53:46
 
WOMEN:
1  Elizabeth PRIMROSE              CAN  2:55:27
2  Christina CLARK                 CAN  2:57:41
3  Krista SEIBERT                  USA  2:58:34
4  Colleen M BERRY                 CAN  3:05:47
5  Kim FLEET                       CAN  3:09:47
6  Julia REICHERT                  CAN  3:16:15
7  Kristin ALTHAUSEN               USA  3:19:28
8  Jennifer SYLVESTER              USA  3:20:17
9  Helene LAMOTHE                  CAN  3:23:47
10 Karen MCASKILL                  CAN  3:26:24
 
HALF MARATHON
MEN:
1  Pius KORIR                      CAN  1:05:23
2  Josephat ONGERI                 CAN  1:05:24
3  Baghdad RACHEM                  ALG  1:06:43
 
WOMEN:
1  Alemtsehay MISGANAW             USA  1:14:55
2  Lioudmila KORTCHAGUINA          CAN  1:15:09
3  Emily TALLEN                    CAN  1:17:21
26 OCTOBER 2008: MARINE CORPS MARATHON, USA
Photos: Alan Brookes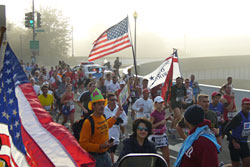 Running in his first marathon, 23-year old Andrew Dumm of Arlington, Virginia won this year's Marine Corps Marathon in convincing style writes Alan Brookes. In keeping with the friendly atmosphere of "The People's Marathon" that still offers no elite prize money, Andrew led a strong "family outing": older brother Brian came fifth while father Kenneth ran his 8th Marine Corps at age 57, finishing in 3:19:33. Another first-timer, 37-year old Cate Fenster from Ohio won the women's race.
The weather was perfect for the more than 18,000 starters at the 33rd annual event that included almost 10,000 other first-timers like Andrew Dumm and Cate Fenster. With virtually no wind, temperatures were a chilly 7°C for the 08:00 start. Heavy mists covered the Potomac River, before the sun rose high in clear blue skies to burn them off, and take the temperature closer to 20°C by the finish.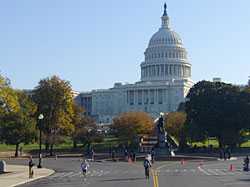 Dumm, a graduate student at American University, sat in behind the front pack and ran comfortably with brother Brian over the first 5km as the new course took participants up some steep inclines out of Arlington and Rosslyn. By 8km he was up among a front group of five that included Fred Joslyn from the Brooks-Hansen's Marathon Project in Michigan, and Mexican Marine Jose Miranda who placed 4th last year. As the course moved into the beautifully scenic but lonely Hains Point area, Dumm made a bold and decisive move just before reaching halfway. From 20km (60:20), he moved ahead to lead by 12 seconds at halfway [70:46], and by 49 seconds at 25km. From that point, it was a lonely but scenic run past Washington's monuments — the Lincoln Memorial, the National Mall, the US Capitol and the Washington Monument. He finished up the steep incline to the famous Imo Jima monument, more than a minute clear of Joslyn.
Fenster, in considerable discomfort from a knee injury, crossed the line with tears flowing, hanging on to an 11-second victory over a charging Lindsay Wilkins from nearby Arlington. "It really bothered me after 39km. I thought I was going to have to crawl on my hands to the Finish," said the 37-year old professor of physiology.
MEN:
1  Andrew DUMM                     USA  2:22:44
2  C Fred JOSLYN                   USA  2:23:54
3  Corey DUQUETTE                  USA  2:24:40
4  Jaron HAWKINS                   USA  2:25:19
5  Brian DUMM                      USA  2:26:00
6  Jose MIRANDA                    MEX  2:26:48
7  Alejandro VALDEZ                MEX  2:27:38
8  William CHRISTIAN               USA  2:27:56    
9  Michael WARDIAN                 USA  2:28:26
10 Kenneth FOSTER                  USA  2:30:01
 
WOMEN:
1  Cate FENSTER                    USA  2:48:55
2  Lindsay WILKINS                 USA  2:49:06
3  Melissa TANNER                  USA  2:51:45
4  Abigail STILES                  USA  2:54:47
5  Rebekah POTTS                   USA  2:55:42
6  Mary Beth MUETHING              USA  2:55:54
7  Jaymee MARTY                    USA  2:57:04
8  Meghan RIDGLEY                  USA  2:58:03
9  Shawna WILSKEY                  USA  2:58:05
10 Jilane RODGERS                  USA  2:58:22
26 OCTOBER 2008: LJUBLJANSKI MARATHON, SLOVENIA
MEN:
1  Amare MULU                      ETH  2:14:41 
2  Ibrahim LIMO                    KEN  2:14:55
3  Peter KWALIA                    KEN  2:15:42
4  Richard MUTAI                   KEN  2:16:27
5  David KOSGEI                    KEN  2:17:05
6  Dominic KEMBOI                  KEN  2:17:18
7  Serhiy ZACHEPA                  UKR  2:17:48
8  Eric CHIRCHIR                   KEN  2:18:04
9  Simon MAIYO                     KEN  2:19:42
10 Philemon KEMBOI                 KEN  2:20:38
 
WOMEN:
1  Tatyana MESENTSEVA              UKR  2:37:13
2  Nadezda TRILINSKAYA             RUS  2:37:26
3  Zebenay GEBRE                   ETH  2:39:21
4  Lidia VASILEVSKAYA              RUS  2:41:51
5  Georgina RONO                   KEN  2:43:10
6  Kajsa BERG                      SWE  2:44:18
7  Mateja SUSTARSIC                SLO  2:57:17
8  Neza MRAVLJE                    SLO  3:03:33
9  Aleksadra FORTIN                SLO  3:08:29
10 Damjana BLATNIK                 SLO  3:14:26
 
HALF MARATHON
MEN:
1  Roman KEJZAR                    SLO  1:05:47
2  Mitja KOSOVELJ                  SLO  1:06:06
3  David RIHTARIC                  SLO  1:08:29
 
WOMEN:
1  Daneja GRANDOVEC                SLO  1:16:19
2  Lucija KRKOC                    SLO  1:21:44
3  Daniela DA FORNO                ITA  1:25:08
26 OCTOBER 2008: LAUSANNE MARATHON, SWITZERLAND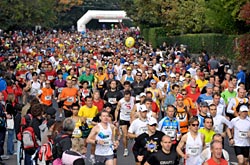 Over 9000 runners took part in ideal conditions and more than 40,000 spectators cheered them on their way through the wine country of the Vaud canton. Behind the African leaders two Swiss placed highly in the marathon. Just over 1300 ran the marathon, and it was the Half which was the most popular distance (3600 runners) followed by the "Quarter Marathon" with 2800.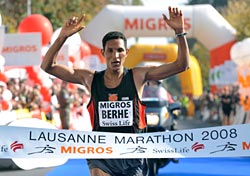 An Eritrean domiciled for the last year close to Zurich, Zeremariam Berhe, inexorably drew away from the pre-race favourites Urgessa Weyessa and Chichir Kiprono Anderson to win with a personal best time. Urgessa, a regular top-4 finisher since 2004, said he would return again next year. Pauline Atodonyang had things all her own way in the women's race but honourable finishes were made by Swiss Patrick Jeanneret (5th) and Laurence Yerly-Cattin (4th).
In the Half Marathon Magali Di Marco Messmer, an international triathlete, didn't quite displace the specialist runners, losing out to Melanie Prudent by just under two minutes. The men's event was swept by the French under-23 team.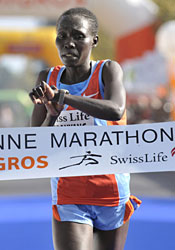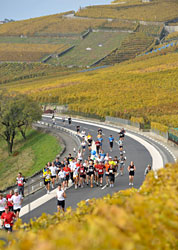 MEN:
1  Zeremariam BERHE                ERI  2:16:05
2  Urgessa WEYESSA                 ETH  2:18:03
3  Kipsrem Jonah TARUS             KEN  2:20:09
4  Anderson Chirchir KIPRONO       KEN  2:25:26
5  Patrick JEANNERET               SUI  2:34:09
6  Marc LENOBLE                    FRA  2:34:47
7  Andreas THODE                   SUI  2:37:53
8  Frédéric BOIVINEAU              FRA  2:39:12
9  Driss SLAOUI                    FRA  2:40:24
10 Nicolas VUILLET                 FRA  2:41:39
 
WOMEN:
1  Pauline Chepkorir ATODONYANG    KEN  2:46:23
2  Gida Bekele BELAYNESH           ETH  2:46:50
3  Melaku Jufar ZENAWORK           ETH  2:51:47
4  Laurence YERLY-CATTIN           SUI  2:52:09
5  Lucilia DELPEDRO                SUI  3:05:12
6  Tatiana BULTOT-SOKOLOVA         FRA  3:05:27
7  Regula WALCHLI                  SUI  3:07:25
8  Laurence WYLCANS                GER  3:09:09
9  Sandra ROULET                   SUI  3:21:29
10 Yoko SHIBATA                    JPN  3:23:11

HALF MARATHON
MEN:
1  Benjamin CHOQUERT               FRA  1:08:40
2  Charles-Henri BARREAU           FRA  1:08:46
3  Guillaume RIOBE                 FRA  1:09:07
 
WOMEN:
1  Melanie PRUDENT                 FRA  1:19:26
2  Magali Di Marco MESSMER         SUI  1:21:11
3  Maya CHOLLET                    SUI  1:21:21
26 OCTOBER 2008: ISTANBUL EURASIA MARATHON, TURKEY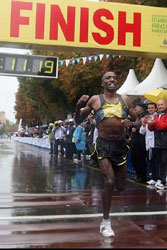 A cold (12°C) rainy morning greeted runners in the 30th anniversary race. The steady rain and gusty wind did not scare away crowds of recreational runners but it didn't make things easy for the elite runners. This year's race was on a new course showcasing more scenic historical sites. The marathon and the 15km race both connect Europe and Asia. Starting on the Asian side, runners cross the Bosporus and Golden Horn Bridges, pass under the Aqueduct of Valens on the way to Gülhane Park on the Marmara Sea coast, and finish on the European side, at the Hippodrome, one of the oldest race tracks in the world, situated in the historical district - Sultanahmet, famous for ancient monuments and temples, including the 3500-year-old Egyptian Obelisk of Theodosius.
From the starting gun Ethiopia's Kasime Adilo Roba took charge of the pack which thinned to 10 runners by 10km (29:53), It always looked like a Kenya vs Ethiopia duel as positions remained unchanged through halfway (1:04:09) despite a tentative surge temporarily breaking up the group. Roba still headed the field at 30km (1:33:02). Roba displayed remarkable confidence over the last 12km stretch by making a bold surge to the front and gradually built his lead, unchallenged to finish in 2:11:16. Runner up Lishan Yigezu Fanta was 100m behind while Iaroslav Misinchi set a new Moldovan national record in third.
Kenya's 21-year old Everline Kimwei, who was sixth at the World Road Running Championships in 2007 (1:08:39) and ran her first marathon this year in Colombo, charged to the front at the starting horn and came through 10km as a solo leader, leaving a large pack of 10 runners over 30 seconds behind. The rest steadily stuck to their own pace, which eventually paid off. By halfway Kimwei slowed down, losing almost three minutes to Ethiopia's Almaz Megerssa and Kenya's Lenah Jemutai Cheuriyot, who went through in 1:15:41. By 30km Nailya Yulamanova, winner of the Prague marathon, took a 15m lead over Cheuriyot and passed through in 1:46:43. Over the last 12km stretch Yulamanova continued building up the gap, while Cheuriyot slowed down and let Yuliya Gromova, Mehtap Sizmas and Lilya Yadzhak past. Poland's Malgorzata Sobanska emerged from behind and pushed through to fifth behind them, leaving Cherioyot in sixth. Everline Kimwei crossed way back to take 18th position.
MEN:
1  Kasime Adilo ROBA               ETH  2:11:16
2  Lishan Y FANTA                  ETH  2:11:37
3  Laroslav MUSINSCHI              MDA  2:11:43
4  Philip SEREM                    KEN  2:13:42
5  Siyoum DEBELE                   ETH  2:13:54
6  Josphat K YEGO                  KEN  2:17:13
7  Matthew K SIGEI                 KEN  2:18:19
8  Augustus K MBUSYA               KEN  2:18:48
9  Bekir KARAYEL                   TUR  2:20:38
10 John KATIO                      KEN  2:20:48
 
WOMEN:
1  Nailya YULAMANOVA               RUS  2:30:17
2  Yuliya GROMOVA                  RUS  2:31:36
3  Mehtap SIZMAZ                   TUR  2:33:17
4  Liliya YADZHAK                  RUS  2:35:11
5  Malgorzata SOBANSKA             POL  2:35:32
6  Lenah J CHEURIYOT               KEN  2:35:59
7  Shitaye GEMECHU                 ETH  2:36:54
8  Almaz MEGERSSA                  ETH  2:39:07
9  Evgeniya DANILOVA               RUS  2:39:51
10 Bahar DOGAN                     TUR  2:40:28
26 OCTOBER 2008: CHOSUN ILBO CHUNCHON MARATHON, KOREA
MEN:
1  Michael NJOROGE                 KEN  2:19:01
2  Elijah BITOK                    KEN  2:20:25
3  Jae-Young HYUNG                 KOR  2:23:57
4  Myung-Hwan LEE                  KOR  2:26:39
5  Simon KIRWA                     KEN  2:27:24 
6  Myong-Kuk AHN                   KOR  2:27:42
7  Tae-Jin KIM                     KOR  2:30:09
  
WOMEN:
1  Kyung-Hee CHOI                  KOR  2:44:35 
2  So-Jung YANG                    KOR  2:52:05
27 OCTOBER 2008: ADIDAS DUBLIN MARATHON, IRELAND
MEN:
1  Andriy NAUMOV                   UKR  2:11:06
2  Thomas OMWENGA                  KEN  2:12:31
3  Tomas ABYU                      GBR  2:13:06
4  Joseph NGURAN                   KEN  2:14:01
5  Nykola ANTONENKO                UKR  2:14:54
6  Elijah MUTAI                    KEN  2:15:54
7  Leonid SHVETSOV                 RUS  2:16:20
8  Lezan KIMUTAI                   KEN  2:17:49
9  Simpson LIMARENG                KEN  2:17:56
10 Festus LANGAT                   KEN  2:18:39
 
WOMEN:
1  Haile KEBEBUSH                  ETH  2:30:02
2  Larissa ZOUSKO                  RUS  2:30:03
3  Katerina STETSENKO              UKR  2:31:20
4  Hadish L NEGASH                 ETH  2:31:29
5  Helalia JOHANNES                NAM  2:32:29
6  Tabitha TSATSA                  ZIM  2:33:26
7  Alena SAMOKHVALOVA              RUS  2:35:56
8  Maria MC CAMBRIDGE              IRL  2:36:40
9  Susan TEIMET                    KEN  2:40:40
10 Annette KEALY                   IRL  2:49:49
October 2008