August 2013
4 AUG | 10 AUG | 17 AUG | 24 AUG | 25 AUG | 31 AUG
4 AUGUST 2013: MARATON INT'L DE ASUNCION, PARAGUAY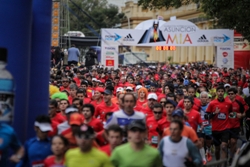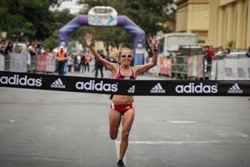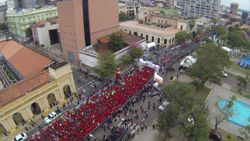 The 4th edition of this event was prefaced by 1500 children, from the age of six to 16, coming from all areas of the country to compete in different age group races.
The marathon and 10km event surprised runners this year with a new all-urban course which afforded runners warmer support from spectators. The most important performance came from Carmen Martinez who broke the Paraguayan women's marathon record with her 2:37:06.
MEN:
1  Kiprop MUTAI                   KEN  2:24:39
2  Elias Rodrigues BASTOS         BRA  2:28:30
3  Marcos Alexandre ELIAS         BRA  2:29:44
4  Jorge CABRERA                  PAR  2:34:20
5  Horacio Rodolfo LOPEZ          ARG  2:43:03
6  Romario Calixto DE CARVALHO    BRA  2:44:41
7  Talito Tavares BARBOSA         BRA  2:49:57
8  Luiz Paulo KUIAVSKI            BRA  2:52:13
9  Rolando Periera GONZALEZ       PAR  2:54:31
10 Melanio Ramon Guillen CHAPARRO PAR  3:00:12

WOMEN:
1  Carmen Martinez AGUILERA       PAR  2:37:07
2  Ednah MUKHWANA                 TAN  2:48:25
3  Ilda Alves DOS SANTOS          BRA  2:58:53
4  Gladys Arias DE AVALOS         PAR  3:20:09
5  Ivaneide Da Silva CARVALHO     BRA  3:27:07
6  Melissa Bertti DE OLIVEIRA     BRA  3:35:52
7  Elizabeth Laura NUNEZ          PAR  3:37:01
8  Natalia Stella Ayala BALBUENA  PAR  3:45:50
9  Eliana Maria DE LIMA           BRA  3:48:19
10 Siria Bitencourt DA COSTA      BRA  3:48:38

10km
MEN:
1  Pablo ARGUELLO                 ARG  31:49
2  Derlis Ramon Ayala SANCHEZ     PAR  33:18
3  William AVEIRO                 PAR  33:37

WOMEN:
1  Ma Lucia  Alves Vieira MORAES  BRA  36:37
2  Maria CABALLERO                PAR  37:05
3  Fatima Viviana Romero GIMENEZ  PAR  39:02
4 AUGUST 2013: BRISBANE MARATHON FESTIVAL, AUSTRALIA
MEN:
1  Sammy Kipkoech TUM             KEN  2:31:23
2  James MINTO                    AUS  2:38:07
3  Scott BRITTAIN                 AUS  2:38:38
4  Liam FUERY                     AUS  2:41:12
5  Warwick BIBLE                  AUS  2:45:52
6  Thomas DOVER                   AUS  2:46:19
7  Simon Peter BYRNE              AUS  2:50:49
8  Alan MULLEN                    AUS  2:51:04
9  Luke PEEL                      AUS  2:51:11
10 Andrew DEY                     AUS  2:52:22
 
WOMEN:
1  Renee WHITE                    AUS  3:04:50
2  Sarah SCHROEDER                AUS  3:06:36
3  Trish RUSSELL                  AUS  3:12:46
4  Shaye PETT                     RUS  3:17:27
5  Daniela MACKENZIE              AUS  3:19:59
6  Lara HERRERO                   AUS  3:24:50
7  Michelle BROADFOOT             AUS  3:26:36
8  Anna DAVIES                    AUS  3:28:07
9  Mandy-Lee NOBLE                AUS  3:30:01
10 Elizabeth QUADE                AUS  3:30:32
 
HALF MARATHON
MEN:
1  Ben TOOMEY                     AUS  1:09:33
2  Matthew FENECH                 AUS  1:09:45
3  Anthony CRAIG                  AUS  1:10:44
 
WOMEN:
1  Melanie PANAYIOTOU             AUS  1:19:47
2  Nerissa CAMPBELL               AUS  1:21:03
3  Rina HILL                      AUS  1:23:30
4 AUGUST 2013: TOWNSVILLE RUNNING FESTIVAL MARATHON, AUSTRALIA
MEN:
1  Neil PEARSON                   AUS  2:36:14
2  Raymond WAREHAM                AUS  2:41:27
3  Richard BANKS                  AUS  2:42:52
4  Yuko NEMOTO                    JPN  2:48:01
5  Ron PETERS                     AUS  2:48:35
6  Danny HAWKSWORTH               AUS  2:50:31
7  Sam STEDMAN                    AUS  2:53:55
8  Dane WEST                      AUS  2:56:27
9  Glen ROBINSON                  AUS  3:01:26
10 Matthew BOSCHEN                AUS  3:07:21

WOMEN:
1  Lucie HARDIMAN                 AUS  3:04:13
2  Rumi OTANI                     JPN  3:07:23
3  Susan CROWE                    AUS  3:19:16
4  Collette READ                  NZL  3:23:39
5  Christine CONYERS              AUS  3:27:57
6  Brigit HART                    AUS  3:28:15
7  Lisa LODWICK                   AUS  3:41:07
8  Madeline SHEERS                AUS  3:51:30
9  Vicki VICKERS                  AUS  3:52:58
10 Kimberley DE HAAN              AUS  3:57:29

HALF MARATHON
MEN:
1  Darren PEACOCK                 AUS  1:14:38
2  Nick CARLING                   AUS  1:15:12
3  Simon OREGAN                   AUS  1:15:30

WOMEN
1  Amy CURTIS                     AUS  1:26:24
2  Tara BURNS                     AUS  1:26:58
3  Liz MAGUIRE                    AUS  1:27:58
10 AUGUST 2013: WOMEN'S MARATHON OF THE 14th WORLD CHAMPIONSHIPS IN ATHLETICS, MOSCOW, RUSSIA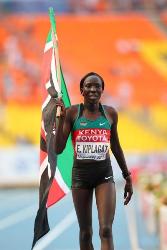 Ednah Kiplagat took the first gold medal of the IAAF World Championships by defending the title she won two years ago in Daegu writes David Culbert. After 5km she trailed the early leaders, including strong contenders like Aberu Kebede and team-mate Lucy Kabuu by 16 seconds. At 10km she was half-a-minute behind and lay in 15th position. But Kiplagat ran the next 5km faster than anyone could manage, a good 20 seconds faster than any other in the race, and charged through the field to put herself alongside race leaders Valeria Straneo and Kayoko Fukushi, and slightly ahead of Ryoko Kizaki, who now lagged the lead trio by 8 seconds.
Explaining the slow start, Kiplagat later said she was deliberately trying to stay out of early trouble, but also that "my body was tired from the start. I had to start slowly so it could pick up but it was hard for me."
From 15km the 33-year-old always looked on course to become the first female to defend a Marathon title. Kizaki trailed off very gradually as Kiplagat steadied her pace but she kept the pressure on sufficiently to have Fukushi dropping back during a 17:24 split from 25-30km even as the leaders slowed. The hot conditions made the gradual slowing of the field almost inevitable, and in some cases dramatic (Aberu Kebede recorded a 20 minute split, and Lucy Kabuu ran 24:38 between 35-40km).
Valeria Straneo stayed alongside Kiplagat past 40km and, although Kiplagat then built up a 90m advantage, her tenacity was rewarded with a surprise silver medal.
Kiplagat is the mother of two young children with husband and coach Gilbert Koech but the pair also have responsibility for two older children adopted from her sister, who died of breast cancer in 2003.
1  Ednah KIPLAGAT                 KEN  2:25:44
2  Valeria STRANEO                ITA  2:25:58  
3  Kayoko FUKUSHI                 JPN  2:27:45
4  Ryoko KIZAKI                   JPN  2:31:28
5  Alessandra AGUILAR             ESP  2:32:38
6  Emma QUAGLIA                   ITA  2:34:16
7  Madai PEREZ                    MEX  2:34:23
8  Hye-Gyong KIM                  PRK  2:35:49
9  Deena KASTOR                   USA  2:36:12
10 Susan PARTRIDGE                GBR  2:36:24
11 Jessica TRENGOVE               AUS  2:37:11
12 Diana LOBACEVSKE               LTU  2:37:48
13 Aberu KEBEDE                   ETH  2:38:04
14 Hye-Song KIM                   PRK  2:38:28
15 Lishan DULA                    ETH  2:38:47
16 Sonia SAMUELS                  GBR  2:39:03
17 Yong-Sun SIN                   PRK  2:39:22
18 Dorothy MCMAHAN                USA  2:39:52
19 Changqin DING                  CHN  2:40:31
20 Zvile BALCIUNAITE              LTU  2:41:09
17 AUGUST 2013: HELSINKI CITY MARATHON, FINLAND
MEN:
1  Hosea Kipkemoi KIPLAGAT        KEN  2:22:26
2  Eliah KEMBOI                   KEN  2:23:11
3  Marc ROIG                      ESP  2:34:57
4  Daniele CARUSO                 ITA  2:39:32
5  Janne SILVENNOINEN             FIN  2:41:08
6  Ole HANNONEN                   FIN  2:41:33
7  Tomi HALME                          2:42:57
8  Henri ANSIO                         2:47:19
9  Mika NURMO                     FIN  2:47:27
10 Michele BUCCI                  ITA  2:48:25

WOMEN:
1  Leena PUOTINIEMI               FIN  2:42:03
2  Elina JUNNILA                  FIN  2:56:07
3  Anastasja ZAKHAROVA            RUS  3:00:09
4  Asnakech Abeje REGASSA         ETH  3:00:32
5  Paulina JALONEN                FIN  3:08:36
6  Annete ROKALA                  FIN  3:09:37
7  Anne MAKELA                    FIN  3:13:45
8  Jaana LEIVO                    FIN  3:15:02
9  Veera LEHTO                    FIN  3:15:58
10 Tanja ILKOMALI                 FIN  3:16:48
17 AUGUST 2013: MEN'S MARATHON OF THE 14th WORLD CHAMPIONSHIPS IN ATHLETICS, MOSCOW, RUSSIA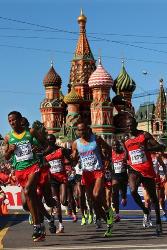 Uganda's Stephen Kiprotich became just the second man to win the Marathon at back-to-back Olympic Games and IAAF World Championships writes Diego Sampaolo. On a hot Saturday afternoon he shrugged off three top-quality Ethiopian runners before striding into the Luzhniki Stadium alone for the last 300m on the track.
"Last year people did not expect the Olympic title. Today, I proved that I am a champion. I realized that I could win at 40km, then I just kept pushing. I decided to break away but my competitors were strong and I had to apply some tactics", said Kiprotich.
The race had started cautiously in strong sunshine, with a big group passing 5km in 15:52 and 10km in 31:32. The pace then picked up, with Tesfaye Tola doing much of the leading a dozen metres or so ahead of a still large group. From 10-20km was the fastest section of the race, 74 seconds faster than the first 10km. Although the group continued to hold together, many had weakened to the extent that a moderated pace over the next 20km saw runners regularly dropping back, and a group of 13 at 30km dwindled to six at 35km as the endgame approached. Peter Some, the only Kenyan left, was the next to fall back, followed by Beijing bronze medallist Tsegaye Kebede and Japan's Kentaro Nakamoto. Tesfaye Tola remained but approaching 40km he drifted behind Lelisa Desisa and Kiprotich.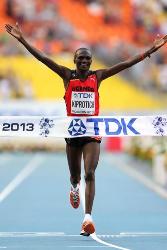 After turning off the lap to approach the stadium Kiprotich started to run aggressively, forcing Desisa onto the defensive. But the tactics later mentioned by Kiprotich must have been what disconcerted Desisa. Kiprotich suddenly started to intermittently dodge to one side and the other, departing from the "shortest running line" in a most dramatic fashion. Yet Desisa could only imitate these eccentric moves; he was so focused on Kiprotich that he could not forge an independent path. Desisa broke, and quickly acquired a 15-second advantage to enter the stadium for the final 300m with the result left in no doubt.
Kiprotich comes from the Cheptiyal Village in the Kapchwora District, close to the Kenyan border. He was initially inspired the by Ugandan international Francis Musani, who is just six years older than him, to take up running. He trains much of the time over the border in Kenya at Kaptagat where he is part of the training group directed by 1992 Olympic 3000m steeplechase silver medallist Patrick Sang. "Moving to Kenya has helped me a lot. It is fantastic that I actually train together with six of my compatriots. We work under the same coach. I went to train in Kenya because we don't have facilities in Uganda. I hope the Government will invest in our sport," reflected Kiprotich with a familiar lament.
Kiprotich made his breakthrough in April 2011 when he won the Enschede Marathon, setting the Ugandan record of 2:07:20 in his debut race. Later that same year, he finished ninth at the IAAF World Championships in Daegu before going on to take Uganda's first Olympic Gold for 40 years when he won at London 2012.
1  Stephen KIPROTICH              UGA  2:09:51
2  Lelisa DESISA                  ETH  2:10:12
3  Tadese TOLA                    ETH  2:10:23
4  Tsegaye KEBEDE                 ETH  2:10:47
5  Kentaro NAKAMOTO               JPN  2:10:50
6  Solonei DA SILVA               BRA  2:11:40
7  Paulo Roberto PAULA            BRA  2:11:40
8  Yemane TSEGAYE                 ETH  2:11:43
9  Peter Kimeli SOME              KEN  2:11:47
10 Jackson KIPROP                 KEN  2:12:12
11 Beraki BEYENE                  ERI  2:13:40
12 Bernard KIPYEGO                KEN  2:14:01
13 Jeff EGGLESTON                 USA  2:14:23
14 Masakazu FUJIWARA              JPN  2:14:29
15 Javier GUERRA                  ESP  2:14:33
16 Samuel TSEGAYE                 ERI  2:14:41
17 Kazuhiro MAEDA                 JPN  2:15:25
18 Yukio KAWAUCHI                 JPN  2:15:35
19 Abraham KIPLIMO                UGA  2:16:25
20 Rob WATSON                     CAN  2:16:28
24 AUGUST 2013: INTERNATIONAL HVAR HALF MARATHON, CROATIA
MEN:
1  Zoran ZILIC                    CRO  1:17:24
2  Janez MAROEVIC                 CRO  1:17:29
3  Marek OMSZANSKI                POL  1:20:26
4  Dejan PATRICEVIC               CRO  1:21:40
5  Marko VALICEVIC                CRO  1:22:12
6  Tomislav BRECIC                CRO  1:23:15
7  Denis GUZELJ                   SLO  1:26:37
8  Zeljko BRADARIC                CRO  1:28:07
9  Petar DELAS                    CRO  1:28:40
10 Duje CALUSIC                   CRO  1:31:11

WOMEN:
1  Marija VRACIC                  CRO  1:28:45
2  Veronika JURISIC               CRO  1:29:55
3  Ingrid NIKOLESIC               CRO  1:36:50
4  Martina ILIJANIC               CRO  1:41:33
5  Jenny Anne PRITCHARD           AUS  1:47:15
6  Ana Domazet LOSO               CRO  1:47:59
7  Nikolina ILIJANIC              CRO  1:50:06
8  Lidija SKEC                    CRO  1:51:03
9  Rosanna DELVECCHIO             ITA  1:54:20
10 Ana BEBLEK                     CRO  1:54:45
24 AUGUST 2013: ISLANDSBANKI REYKJAVIK MARATHON, ICELAND
MEN:
1  James BUIS                     GBR  2:33:49
2  Eddie VALENTINE                USA  2:36:44
3  Graham BREEN                   GBR  2:39:18
4 Johannes ERIXON                 SWE  2:43:00
5  Christian Aarstad ODGAARD      NOR  2:45:38 
6  Fiachra William GERAGHTY       IRL  2:46:18
7  Petur Sturla BJARNASSON        ISL  2:46:51
8  Mujika Koldo AGIRRE            ESP  2:47:41 
9  Andrea RIGO                    ITA  2:47:55
10 Robert WHITE                   GBR  2:48:24

WOMEN:
1  Melanie STALEY                 GBR  2:55:14
2  Elena Calvillo ARETEAGA        ESP  3:12:02
3  Sarah BROWN                    GBR  3:13:02  
4  Angeli DE KONIG                NED  3:16:47
5  Paul JOLIAT                    CAN  3:19:42
6  Hazel SMYTH                    GBR  3:27:58
7  Kalliope Rhodes WHITE          USA  3:29:05
8  Claudia SCHROEGEL              GER  3:29:18
9  Marianne FOLLING               NOR  3:29:23
10 Sara SAYRE                     USA  3:30:12

HALF MARATHON
MEN:
1  Kari Steinn KARLSSON           ISL  1:07:40
2  Denis KORAVBLEV                RUS  1:12:51
3  Javier RODRIGUEZ               USA  1:17:11

WOMEN:
1  Helen OLAFSDOTTIR              ISL  1:22:57
2  Martha ERNSTDOTTIR             ISL  1:24:04
3  Iris Anna SKULADOTTIR          ISL  1:25:18
25 AUGUST 2013: ATHLETES FOOT ADELAIDE MARATHON, AUSTRALIA
MEN:
1  Mike BOUNDY                    AUS  2:44:12
2  Luke Ethan MCLEAN              AUS  2:51:44
3  Dan SEARLE                     AUS  2:52:35
4  Christopher Harold HUNTER      AUS  2:56:06
5  Neil HOLLAND                   AUS  2:56:33
6  Chris TAYLOR                   AUS  2:57:18
7  Adam SPRATT                    AUS  2:57:38
8  Paul GREENWOOD                 AUS  2:58:08
9  Luke Aaron NITSCHKE            AUS  2:58:11
10  David Ross HANDSAKER          AUS  2:58:29

WOMEN:
1  Tracey TAYLOR                  AUS  3:04:13
2  Alison WILSON                  AUS  3:06:04
3  Fiona Louise OAKES             AUS  3:08:47
4  Charmaine SYMONS               AUS  3:13:11
5  Sally-Anne WILLIAMS            AUS  3:14:05
6  Megan INGE                     AUS  3:14:14
7  Tracey Rae KOL                 AUS  3:14:27
8  Mandy TOWLER                   AUS  3:20:03
9  Chloe Linda ROESLER            AUS  3:20:07
10 Rachel Lee MARTIN              AUS  3:20:10

HALF MARATHON 
MEN:
1  Adrian HORVATH                 AUS  1:13:23
2  Nick MUXLOW                    AUS  1:16:17
3  Jason MATULICK                 AUS  1:16:23

WOMEN:
1  Lisa DAVIS                     AUS  1:25:14
2  Juliane SCHLEIBS               AUS  1:30:14
3  Tanya LEWIS                    AUS  1:31:14
25 AUGUST 2013: EDMONTON MARATHON, CANADA
MEN:
1  Lucas MCANENY                  CAN  2:26:22
2  Jason LOUTITT                  CAN  2:34:35
3  Brendan LUNTY                  CAN  2:35:35
4  Brendan KENNY                  CAN  2:39:26
5  Ryan DAY                       CAN  2:42:35
6  David CORBETT                  CAN  2:49:35
7  Robert RENMAN                  CAN  2:50:36
8  Ian BLOKLAND                   CAN  2:51:08
9  Dustin TURNER                  CAN  2:56:46
10 Toru NAKAYAMA                  JPN  2:57:18

WOMEN:
1  Alisa MCDONALD                 CAN  2:51:32  
2  Adela SALT                     CAN  3:06:57
3  Laurie OLSON                   CAN  3:11:26
4  Adriana WILD                   CAN  3:12:46
5  Claudette AUGERT               CAN  3:12:51
6  Alana CADIEUX                  CAN  3:17:28
7  Starr MCLACHAN                 CAN  3:24:29
8  Thirza CARPENTER               CAN  3:24:31
9  Stephanie GERBRAND             CAN  3:24:33
10 Bridgit BERDARD                CAN  3:24:53

HALF MARATHON
MEN:
1  Alistair CRAGG                 USA  1:04:39
2  Kip KANGOGO                    KEN  1:07:31
3  Willy KIMOSOP                  KEN  1:10:16

WOMEN:
1  Belainesh GEBRE                ETH  1:12:28
2  Lioudmila KORTCHAGUINA         CAN  1:15:11
3  Pauline MCLEAN                 CAN  1:23:15
25 AUGUST 2013: HOKKAIDO MARATHON, JAPAN
MEN:
1  Koji GOKAYA                  JPN  2:14:26 
2  Shigeki TSUJI                JPN  2:14:45 
3  Masaki SHIMOJYU              JPN  2:15:15 
4  Dickson MARWA                TAN  2:15:17 
5  Akinori IIDA                 JPN  2:15:20 
6  Masanori SAKAI               JPN  2:15:22 
7  Satoshi YOSHII               JPN  2:15:50 
8  Yu CHIBA                     JPN  2:16:17 
9  Mekubo MOGUSU                KEN  2:16:31
10 Kiyokatsu HASEGAWA           JPN  2:16:42

WOMEN:
1  Yuko WATANABE                JPN  2:29:13 
2  Yukiko AKABA                 JPN  2:32:10 
3  Mai ITO                      JPN  2:32:54 
4  Hiroko MIYAUCHI              JPN  2:37:01 
5  Yuri YOSHIZUMI               JPN  2:37:56 
6  Yuka YANO                    JPN  2:41:40 
7  Aki OTAGIRI                  JPN  2:41:49 
8  Seika IWAMURA                JPN  2:45:52 
9  Saki TABATA                  JPN  2:46:20 
10 Haruna KIRA                  JPN  2:48:39
25 AUGUST 2013: LONGFORD MARATHON, IRELAND
MEN:
1  Freddy Keron SITTUK            KEN  2:23:36
2  Gary OHANLON                   IRL  2:31:51
3  Julio Cesar CASTRO             ESP  2:38:45
4  Wieslaw SOSNOWSKI              POL  2:40:20
5  Michhael OREGAN                IRL  2:45:21
6  Niall KELLY                    IRL  2:55:56
7  James HOBBS                         2:56:27
8  Damien MCSHARRY                IRL  2:58:05
9  John OHANLON                   IRL  2:58:08
10 Martin HALVEY                       3:00:03

WOMEN:
1  Pauline CURLEY                 IRL  2:44:25
2  Angela MCCANN                  IRL  3:03:36
3  Beth SWEENEY                        3:21:44
4  Ellis CURTIS                        3:21:50
5  Mary JENNINGS                       3:24:02
6  Eileen GRIFFIN                      3:27:57
7  Caroline KELLY                      3:30:45
8  Daria LUBINSKA                      3:52:19
9  Claire DIREEN                       3:53:53
10 Sarah OPPERMANN                     3:54:22

HALF MARATHON
MEN:
1  Phillip HARTY                  IRL  1:08:59
2  Richard GORMAN                      1:11:22
3  Tudor MOLDOVAN                      1:12:38

WOMEN:
1  Michelle MCGEE                 IRL  1:25:08
2  Mary GLEESON                        1:28:01
3  Siobhan CARROLL-FITZSIMONS     IRL  1:29:10
25 AUGUST 2013: MANDELA DAY MARATHON, SOUTH AFRICA
MEN:
1  Getachew Eshetu BEKELE         ETH  2:29:48
2  David RASEFAKO                 RSA  2:30:50
3  Sikhumbuzo SEME                RSA  2:31:25
4  Mosounyana MARAPALL            ZIM  2:32:13
5  Sityhilo DIKO                  RSA  2:32:30
6  Collin PARURA                  ZIM  2:32:41
7  Elijah Kiplagat BIWOTT         KEN  2:32:48
8  Lungile GONGGA                 RSA  2:32:54
9  Mangaile KATHAONE              LES  2:33:17
10 Henry KIPSANG                  KEN  2:34:07

WOMEN:
1  Chiyedza CHOKORE               ZIM  3:06:20
2  Lizih CHOKORE                  ZIM  3:08:29
3  Catharine SKOSANA              RSA  3:09:38                  
4  Winnie MNISI                   SWZ  3:11:53
5  Carey Anne SMITH               RSA  3:12:21
6  Fikile Fundisiwe MBUTHUMA      RSA  3:12:38
7  Patience KHUMALO               RSA  3:12:57
8  Regina KOECH                   KEN  3:13:53
9  Muchaneta GWATA                ZIM  3:22:12
10 Monica KATIVHU                 ZIM  3:23:30

HALF MARATHON
MEN:
1  Thobani CHAGWE                 RSA  31:02
2  Nyembe SPHAMANDLA              RSA  31:25
3  Samuel PAZANGA                 ZIM  31:41

WOMEN:
1  Peres KIPCHIRCHIR              KEN  35:06
2  Jenna CHALLENOR                RSA  36:01
3  Fortunate CHIDZIVO             ZIM  37:45
25 AUGUST 2013: MARATON INT'L DE LA CIUDAD DE MEXICO
MEN:
1  Raul Pacheco MENDOZA           MEX  2:16:53
2  Simon Kariuki NJOROGE          KEN  2:17:30
3  Rodgers Ondati GESEBWA         KEN  2:18:41

WOMEN:
1  Gladys Tejeda PUCHUARANGA      MEX  2:37:35
2  Demise Misiker MEKONEN         ETH  2:40:56
3  Ogla Jerono KIMAIYO            KEN  2:41:23

HALF MARATHON
MEN:
1  Erick Israel Perez HUERTA      MEX  1:08:01
2  Dionisio Castillo CALVARIN     MEX  1:08:07
3  Urbano Gonzalez LOZANO         MEX  1:09:56

WOMEN:
1  Fabiola Lara MONTES            MEX  1:17:14
2  Jessica Yasmin Cortes OLVERA   MEX  1:23:33
3  Faviola Sarai Perez IGARI      MEX  1:23:48
25 AUGUST 2013: SSQ MARATHON DE QUEBEC, CANADA
MEN:
1  Evans MAIKO                    KEN  2:26:29
2  Christopher ZABLOCKI           USA  2:27:14
3  Jose GASPAR                    PUR  2:27:14
4  Marco DOZZI                    CAN  2:28:25
5  Maxime LEBOEUF                 CAN  2:29:26
6  Chris MAHONEY                  USA  2:40:35
7  David RAUCCI                   USA  2:41:28
8  Alexandre BOULE                CAN  2:41:37
9  Johann-Alexander SALAZAR       CAN  2:41:51
10 Vincente Herrera SOLAZ         ESP  2:43:27

WOMEN:
1  Maryse NAULT                   CAN  2:54:49
2  Angela SWIFT                   CAN  3:02:44
3  Melanie ROBERGE                CAN  3:05:47
4  Joanne NORMAND                 CAN  3:07:16
5  Louise VOGHEL                  CAN  3:14:04
6  Karen ENCARNACION              USA  3:15:34
7  Catherine TETRAULT             CAN  3:17:52
8  Laura MCINTYRE                 CAN  3:20:19
9  Farrell MCLERNAN               USA  3:22:08
10 Jennifer MCCUTCHEON            USA  3:23:11

HALF MARATHON
MEN:
1  Baghdad RACHEM                 CAN  1:09:06
2  Raphael PLOUFFE                CAN  1:14:27
3  Jonathan BOURQUE               CAN  1:15:16

WOMEN:
1  Marie-Caroline COTE            CAN  1:24:44
2  Marilou FERNAND-DAIGLE         CAN  1:24:47
3  Heather MAHONEY                CAN  1:25:57
25 AUGUST 2013: SUNSHINE COAST FESTIVAL MARATHON, AUSTRALIA
MEN:
1  Brendon SEIPOLT                AUS  2:45:02
2  Ben HOLLAND                    AUS  2:50:27
3  Alan MULLEN                    AUS  2:51:56
4  Peter OLDS                     AUS  2:56:59
5  George SCHINARD                AUS  2:57:13
6  David SCROOPE                  AUS  2:58:43
7  Colin SOLOMON                  AUS  3:03:03
8  Neil WOOD                      AUS  3:03:39
9  Michael LENNON                 AUS  3:04:09
10 Hideo MAENO                    JPN  3:05:11

WOMEN:
1  Roxie FRASER                   AUS  2:55:08
2  Tara BURNS                     AUS  3:09:37
3  Ruth KIMPTON                   AUS  3:15:06
4  Tia JONES                      AUS  3:17:57
5  Solveig LITCHFIELD             AUS  3:21:02          
6  Suzanne CHATTERTON             AUS  3:26:43
7  Mandy LEE-NOBLE                AUS  3:29:47
8  Amie MUNSON                    AUS  3:30:57
9  Celeste HEILBRONN              AUS  3:32:55
10 Shannon CHAPMAN                AUS  3:34:17

HALF MARATHON
MEN:
1  Paterick NISPEL                AUS  1:09:58
2  Hintsa MEBRAHTU                AUS  1:12:08
3  Ben WILLIAMS                   AUS  1:12:28

WOMEN:
1  Melanie PANAYIOTOU             AUS  1:18:47
2  Alli COOKE                     AUS  1:24:39
3  Sharon RYDER                   AUS  1:25:08
31 AUGUST 2103: FJORD NORWAY HALF MARATHON
MEN:
1  Orjan GRONNEVIG                NOR  1:06:56
2  Znebe FREW                     NOR  1:07:22
3  Mulugeta Zewde HULENSAV        NOR  1:07:42
4  Trond Arne RUIGLAND            NOR  1:11:39
5  Arne Mjelder SAETHER           NOR  1:12:02
6  Afework GENIALE                NOR  1:12:37
7  Martin KJALL-OHLSSON           NOR  1:13:36
8  Alemayehu SITATAW              NOR  1:14:21 
9  Asle SLETTEMOEN                NOR  1:16:26
10 Havard AUSTEVOLL               NOR  1:17:35

WOMEN:
1  Annie Golden BERSAGEL          USA  1:17:16
2  Martha Katrine MYHRE           NOR  1:20:01
3  Kjersti LERKEROD               NOR  1:21:30
4  Janne Elin VATNALAND           NOR  1:25:32
5  Therese SJURSEN                NOR  1:26:11
6  Kiya GEMECHU                   ETH  1:28:34
7  Gro JORDALEN                   NOR  1:28:42
8  Mona RYDLAND                   NOR  1:30:10
9  Elise ORTEN                    NOR  1:31:10
10 Kari LANGERUD                  NOR  1:31:42

10km
MEN:
1  Frew ZENEBE                    NOR  32:22
2  Afework GENIALE                NOR  32:33
3  Oystein Heiberg SUNDBY         NOR  33:09

WOMEN:
1  Annie Golden BERSAGEL          USA  34:38
2  Kiya GEMECHU                   ETH  41:14
3  Sara-Rebekka Faero LINDE       NOR  41:41
31 AUGUST 2013: RUTA DE LAS IGLESIAS 10km, ECUADOR
MEN:
1  Miguel Angel ALMACHI           ECU  31:33
2  Paulo Roberto BUENANO          ECU  31:46
3  Segundo Oswaldo JAMI JAMI      ECU  31:59
4  Pedro Manuel RAMOS             ECU  32:17
5  Cesar Paul PILALUISA           ECU  32:18
6  Manuel Gustavo CANAR           ECU  32:39
7  Marco Vinicio CUTIOPALA        ECU  32:39
8  Juan Antonio ORTEGA            ECU  32:55
9  Cesar Wilson GUALOTUNA         ECU  33:04
10 Marvin Daniel SANCHEZ          ECU  33:06

WOMEN:
1  Diana LANDI                    ECU  36:15
2  Jessica PAGUAY                 ECU  37:22
3  Rosalba CHACHA                 ECU  37:26
4  Alicia CEVALLOS                ECU  37:42
5  Katherine VELASQUEZ            ECU  38:15
6  Evelyn ANANGONO                ECU  38:44
7  Monica CAJAMARCA               ECU  39:14
8  Grecia TOAPANTA                ECU  39:20
9  Jeanneth COLLAGUAZO            ECU  39:27
10 Nancy OSORIO                   ECU  40:27

August 2013