February 2013
2 FEB | 3 FEB | 15 FEB | 17 FEB | 24 FEB
2 FEBRUARY 2013: KAGAWA-MARUGAME INT'L HALF MARATHON, JAPAN
Ethiopia's London 2012 Olympic Games Marathon champion Tiki Gelana successfully defended her crown with a time five seconds slower than in 2012, but was made to work surprisingly hard writes Ken Nakamura. Gelana took off from the start and covered the first 5km in 15:52, a minute faster than last year. She led through 10km in 32:19, 30 seconds ahead of her 2012 pace. But New Zealand's Kim Smith slowly pegged her back, catching her at 12km. The pair then ran together until the last 600m, when the Ethiopian surged away to win by seven seconds. Her younger sister Aromas Gelana finished 24th in 1:13:39. Japanese filled 7 of the top-10 places. In third, Yuko Shimizu improved by nearly three minutes and fourth-placed Sakiko Matsumi by more than two minutes.
In the men's race, Australia's Collis Birmingham, the Kenyan trio of Enock Omwamba, Benjamin Gandu, and Micah Njeru, as well as local hopes Tsuyoshi Ugachi and Kenta Murayama — passed 10km together in 28:33. Birmingham surged away at 13km and was never really threatened. By 15km he led by 10 seconds, and by 20km he had extended this to 28 seconds. The chasers closed up at the finish but he still won by over 100m and set a personal best by 29 seconds. The race for second place came down to the last 50m, with Omwanba outkicking Ugachi. Kenya's Abel Kirui, the two-time IAAF World Championships Marathon gold medallist and London 2012 Olympic Games silver medalist, lost contact with the leading pack before 10km and finished eighth in 1:02:04
MEN:
1  Collis BIRMINGHAM              AUS  1:00:56
2  Enock OMWAMBA                  KEN  1:01:15
3  Tsuyoshi UGACHI                JPN  1:01:16 
4  Kenta MURAYAMA                 JPN  1:01:19 
5  Benjamin GANDU                 KEN  1:01:21 
6  Micah NJERU                    KEN  1:01:33 
7  Masaki ITO                     JPN  1:02:00
8  Abel KIRUI                     KEN  1:02:04 
9  Ryo YAMAMOTO                   JPN  1:02:05 
10 John MAINA                     KEN  1:02:14

WOMEN:
1  Tiki GELANA                    ETH  1:08:53 
2  Kim SMITH                      NZL  1:09:00 
3  Yuko SHIMIZU                   JPN  1:09:32 
4  Sakiko MATSUMI                 JPN  1:10:10 
5  Eri HAYAKAWA                   JPN  1:10:13 
6  Misato HORIE                   JPN  1:10:26 
7  Rui AOYAMA                     JPN  1:10:28 
8  Nikki CHAPPLE                  AUS  1:10:34 
9  Kumi OGURA                     JPN  1:10:51 
10 Misaki ONISHI                  JPN  1:11:16
3 FEBRUARY 2013: BEPPU-OITA MAINICHI INT'L MARATHON, JAPAN
Photo: Yuki Kawauchi (Yohei Kamiyama/Agence SHOT)
The 62nd edition was a thrilling battle between Yuki Kawauchi and Kentaro Nakamoto, with the pair engaged in a head-to-head over the second half of the race, writes Ken Nakamura. Kawauchi, the fastest non-professional Marathon runner in Japan, surged at 28km, 33.3km, 36.4m and at 36.9km only to have Nakamoto, sixth in the London 2012 Olympics Games, cover his every move. Finally, with 1600m to go, Kawauchi surged again and shook off his rival, going on to win in a course record and personal best of 2:08:15. He eclipsed South African Gert Thys's 17 year-old record of 2:08:30. Nakamoto finished 20 seconds behind, also with a personal best but he is still yet to win a Marathon in his 10 outings.
"I was hurting but I did not want to run a slow tactical race" said Kawauchi. "I fell short of my 2:07 target, but I am happy to run faster than Hiroyuki Horibata's time in Fukuoka" (2:08:24). The Beppu-Oita Marathon was one of the qualifying races for the Japanese team going to the 2013 IAAF World Championships. By contrast Nakamoto was visibly disappointed. "I knew it would come down to the final part of the race, so I tried to be ready for the one final surge. I am happy with my time but my goal was to win this race, so I am disappointed about that."
The lead pack was progressively reduced from around 40 runners at 5km to just 15 runners by 20km. The halfway point was reached in 1:04:07. Seven runners passed 25km together in 1:16:01. Then at 28km, the cat-and-mouse battle between the two main protagonists began. After Kawauchi's first surge Nakamoto was the only runner to follow him. With 1.6km to go, after taking water for a final time, Kawauchi quickly opened up a 10m gap which gradually grew to a 20-second winning margin. Kawauchi ran the second half of the race only one second slower than the first half.
MEN:
1  Yuki KAWAUCHI                  JPN  2:08:15
2  Kentaro NAKAMOTO               JPN  2:08:35
3  Kenji HIGASHINO                JPN  2:12:13
4  Yoshiki OTSUKA                 JPN  2:12:51
5  Masanori ISHIDA                JPN  2:13:07
6  Michael SHELLEY                AUS  2:13:12
7  Yu CHIBA                       JPN  2:13:19 
8  Naoya HASHIMOTO                JPN  2:14:36
9  Masanori SAKAI                 JPN  2:14:44
10 Tomoyuki SATO                  JPN  2:16:05

WOMEN: 
1  Chiyuki MOCHIZUKI              JPN  2:40:11
2  Megumi YAMASHITA               JPN  2:40:49
3  Chie YAMADA                    JPN  2:54:46
4  Miyuki KANEKO                  JPN  2:56:44
5  Hiromi YOSHIDA                 JPN  2:57:28
6  Wakako OYAGI                   JPN  2:59:13
7  Naoyo UTSUNOMIYA               JPN  2:59:22
8  Tomoko OBA                     JPN  3:01:25
9  Kimi USHIRODA                  JPN  3:01:36
10 Ryoko HAMASAKI                 JPN  3:03:03
15 FEBRUARY 2013: RAS AL KHAIMAH HALF MARATHON
Lucy Kabuu ran the second fastest time ever, while Geoffrey Kipsang narrowly won a very fast race. Three men went under 59 minutes in a race for the first time, and four women went under 67 minutes for the first time ever.
The women started on world record tempo (5km in 15:35; 10km in 31:18) then slowed slightly, while the men set off cautiously (5km in 14:04; 10km in 28:13) but picked up to run a faster second half (the second 10km was run in 27:50). Either way, the resulting times were equally impressive. Behind Kabuu, Priscah Jeptoo set a personal best by over four minutes and also became the third fastest in history, while Rita Jeptoo in third now takes fifth position on the all-time list. Kipsang's winning time was just two seconds shy of the 59:52 course record of Patrick Makau set in 2009.
MEN:
1  Geoffrey KIPSANG               KEN    58:54
2  Stanley BIWOTT                 KEN    58:56
3  Geoffrey MUTAI                 KEN    58:58
4  Feyisa LILESA                  ETH    59:25
5  Stephen KIBET                  KEN    59:59
6  Joel KIMURER                   KEN  1:00:02
7  Getu FELEKE                    ETH  1:00:26
8  Edwin KIPYEGO                  KEN  1:00:54
9  Daniel WANJIRU                 KEN  1:01:10
10 Pius Maiyo KIROP               KEN  1:01:25

WOMEN:
1  Lucy KABUU                     KEN  1:06:09
2  Priscah JEPTOO                 KEN  1:06:11
3  Rita JEPTOO                    KEN  1:06:27
4  Meseret HAILU                  ETH  1:06:56
5  Florence KIPLAGAT              KEN  1:07:13
6  Helah KIPROP                   KEN  1:07:39
7  Meselech MELKAMU               ETH  1:08:05
8  Paskalia KIPKOECH              KEN  1:08:08
9  Feyse TADESE                   ETH  1:08:35
10 Ashu KASIM                     ETH  1:08:56
17 FEBRUARY 2013: MEDIO MARATON GUADALAJARA, MEXICO
MEN:
1  Julius Kipyego KETER           KEN  1:03:44
2  Juan Luis Barrios NIEVES       MEX  1:03:48
3  Shadrack Kipkorir KIYAI        KEN  1:04:10
4  Isaack Kemboi KIMAIYO          KEN  1:05:25
5  Leonardo Trejo CAMARGO         MEX  1:05:28
6  Rogers GESEBWA                 KEN  1:05:41
7  Erick Israel Perez HUERTA      MEX  1:05:52
8  Jose Mireles FLORES            MEX  1:06:00
9  Patrick NTHIWA                 KEN  1:06:08
10 Alejandro Suarez VELAZQUEZ     MEX  1:06:20

WOMEN:
1  Marisol Romero ROSALES         MEX  1:12:18
2  Grace Wambui NGANGA            KEN  1:13:41
3  Madai PEREZ                    MEX  1:14:06
4  Risper GESEBWA                 KEN  1:14:14
5  Mayra Sanchez VIDAL            MEX  1:14:47
6  Sara Prieto CASTANEDA          MEX  1:14:59
7  Martha Vazquez BECERRA         MEX  1:15:58
8  Gladys Mokobi ONWINGA          KEN  1:16:13
9  Kathya Garcia BARRIOS          MEX  1:16:30
10 Vianey De La Rosa ROJAS        MEX  1:16:31
17 FEBRUARY 2013: OHME-HOCHI 30km ROAD RACE, JAPAN
MEN:
1  Masaki ITO                     JPN  1:30:21 
2  Tomohiro TANIGAWA              JPN  1:31:09 
3  Ryuji KASHIWABARA              JPN  1:31:49 
4  Hiroyuki YAMAMOTO              JPN  1:32:20 
5  Shingo SATO                    JPN  1:35:19  

WOMEN:
1  Asami KATO                     JPN  1:44:23 
2  Yuka YANO                      JPN  1:46:24 
3  Kazumi HASIMOTO                JPN  1:49:19 

10km
MEN: 
1  Hiroko SHOI                    JPN  33:34 
2  Yukari ABE                     JPN  33:41 
3  Yuri UMEMURA                   JPN  33:48
24 FEBRUARY 2013: CAF — CARACAS MARATHON, VENEZUELA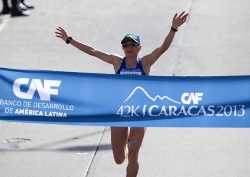 The third edition of the Marathon attracted 2300 entries, and another 5800 ran in the Half Marathon. 30 countries were represented. Overall participation has grown from 3500 in the inaugural edition to 5800 last year and 8100 this year — with a target of 12,000 next year.
MEN:
1  Juan Carlos CARDONA            COL  2:18:23
2  Oswaldo BELANDRIA              VEN  2:21:01
3  Jose David CARDONA             COL  2:22:08
 
WOMEN:
1  Ruby Milena RIATIVA            COL  2:48:34
2  Yuliana NAVARRO                MEX  2:51:12
3  Jeniffer RODRIGUEZ             VEN  2:55:12
24 FEBRUARY 2013: STANDARD CHARTERED HONG KONG MARATHON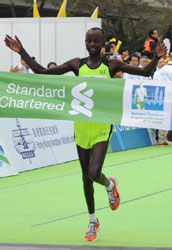 After finishing second two years ago, and just one second behind the winner — although in fourth place — last year, Julius Maisei got it right third time around, kicking clear with 3km to go writes Pat Butcher.
A strong wind inhibited the pace with no pacemakers to take on the task Deribe Robi led for much of the second half. There were still a dozen in contention at 32km. Only when Maisei and James Mbugua joined him at the front did others fall away. The headwind meant that Dereje Abera's course record of 2:11:27 from last year was never remotely threatened. Like Maisei, Mbugua previously came third, and now second, but has never got top spot.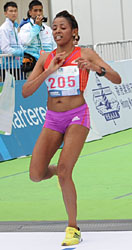 Misiker Mekonnin Demissie had little trouble retaining her title just over half a minute slower than the course record she set last year. She always looked in control, heading the pack, until she broke away at 35km. In third place Kum-ok Kim won the 14th Asian Championships title, emulating her victory the last time it was held in Hong Kong, in 2008. The favourite, Ser-Od Bat-Ochir, also won the men's Asian title. The Mongolian clocked 2:17:56.
MEN:
1  Julius MAISEI                  KEN  2:14:18
2  James MBUGUA                   KEN  2:14:28
3  Deribe ROBI                    ETH  2:14:37
4  Kennedy LILAN                  KEN  2:14:55
5  Joseph Mwangi NGARE            KEN  2:14:56
6  Eliud CHEPTEI                  KEN  2:15:13
7  Nelson Kirwa ROTICH            KEN  2:15:17
8  Bellor YATOR                   KEN  2:15:49
9  Rachid KISRI                   MAR  2:15:57
10 Julius KARINGA                 KEN  2:16:22

WOMEN:
1  Misiker Mekonin DEMISSIE       ETH  2:30:49
2  Makda HARUN                    ETH  2:31:20
3  Kum Ok KIM                     DRK  2:32:21
4  Rose KOSGEI                    KEN  2:32:44
5  Halima Hassen BERISO           ETH  2:33:20
6  Eunice Chebichi CHUMBA         KEN  2:33:25
24 FEBRUARY 2013: WEEKEND WITNESS MARITZBURG MARATHON, SOUTH AFRICA
In overcast and cool conditions Munya Jari ran the fastest-ever winning time in the 17-year history of the race, writes Norrie Williamson.
Jari fought off a strong challenge from Samuel Pazanga in the second half of the race, using the short steep final climb at 39km to break free and eventually finish over two minutes clear. Jari sliced 31 seconds off Pazanga's previous course best set in 2010. Melanie van Rooyen, third in the South African Marathon championships three weeks earlier, passed Candyce Hall shortly after halfway to dominate the women's race.
Samuel Kiptum outran Sibongile Duma in a hard fought half marathon race. The early leaders set off at a blistering three-minutes per kilometre, but as they inevitably slowed Duma opened up a 100m lead to pass 10km in 33:02. Kiptum and Micheal Mzobe, following at a more conservative pace, saw Duma's telltale looks behind as they closed him down. They passed him at 15km, (48:42). Kiptum appeared to have the upper hand, but Duma rallied again and it was only a final kick that gave the Kenyan the advantage on the run-in. Mzobe hung on bravely to complete the podium. Despite her veteran status Suzette Botha eclipsed younger contenders to win the women's race.
In the inaugural 10km event Syiabonga Nkonde took top honours in a useful 30:09. In all over 5000 runners took part in the three events.
MEN:
1  Munyaradzi JARI                RSA  2:22:04
2  Samuel PAZANGA                 RSA  2:24:08
3  Mosoumuniuh MORAPALLA          RSA  2:25:11

WOMEN:
1  Melanie VAN ROOYEN             RSA  2:56:24
2  Candyce HALL                   RSA  3:11:36
3  Lauren CALENBORNE              RSA  3:15:07

HALF MARATHON
MEN:
1  Samuel KIPTUM                  KEN  1:08:00
2  Sibonela DUMA                  RSA  1:08:12
3  Michael MZOBE                  RSA  1:08:37
 
WOMEN:
1  Suzette BOTHA                  RSA  1:20:40
2  Jenna CHALLENOR                RSA  1:21:31
3  Danielle ADLAM                 RSA  1:25:19
 
10km
MEN:
1  Siya NKONDE                    RSA  30:09
2  Thobani CHAGNE                 RSA  30:15
3  Mthembu SAKHILE                RSA  32:28  

WOMEN:
1  Tanith MAXWELL                 RSA  36:38
2  Puseleto DLADLA                RSA  38:03
3  Daisy KIPNGETICH               KEN  38:36
24 FEBRUARY 2013: TOKYO MARATHON, JAPAN
Photos: Yohei Kamiyama/Agence SHOT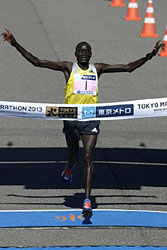 In cold and windy conditions Denis Kimetto ran a superb second half to set a new course record of 2:06:50 writes Ken Nakamura. The pack stayed together until 28km, after passing halfway in a modest 1:04:22. James Kwambai broke the race open with a 2:55 kilometre, followed by a 2:48 kilometre. His compatriots Kimetto, Michael and Bernard Kipyego, and Gilbert Kirwa followed. Kimetto then ran 30–35km in 14:20 to gain a lead of five seconds from Micheal Kipyego. He covered the next 5km in 14:35 and maintained his lead to the finish. Kazuhiro Maeda pushed hard in the last 10km of the race in pursuit of Japan's automatic World Championships qualifying time of 2:07:59. Although he passed Kirwa and then the flagging Kwambai in the final kilometre to finish fourth, he missed the target by one frustrating second.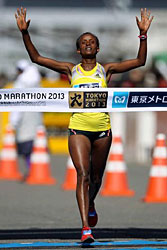 By contrast the women's race started briskly, with Kebede, Japan's Azusa Nojiri and Kenya's Caroline Kilel passing 10km in 33:31. After 17km first Nojiri fell off the pace and then Kilel, while Ethiopia's Yeshi Esayias, 16 seconds behind at halfway, joined Kebede just before 25km. They ran together for over 10km before Kebede pushed for home, finishing just outside the course record. Germany's 40-year-old Irina Mikitenko came in third.
A record 36,201 runners entered the race.
MEN:
1  Dennis KIMETTO                 KEN  2:06:50
2  Michael KIPYEGO                KEN  2:06:58
3  Bernard KIPYEGO                KEN  2:07:53
4  Kazuhiro MAEDA                 JPN  2:08:00
5  James KWAMBAI                  KEN  2:08:02
6  Gilbert KIRWA                  KEN  2:08:17
7  Feyisa BEKELE                  ETH  2:09:05
8  Dino SEFIR                     ETH  2:09:13
9 Takayuki MATSUMIYA              JPN  2:09:14
10 Jonahan MAIYO                  KEN  2:10:18

WOMEN:
1  Aberu KEBEDE                   ETH  2:25:34
2  Yeshi ESAYIAS                  ETH  2:26:01
3  Irina MIKITENKO                GER  2:26:41
4  Albina MAYOROVA                RUS  2:26:51
5  Yoshimi OZAKI                  JPN  2:28:30
6  Helalia JOHANNES               NAM  2:29:30
7  Mika YOSHIKAWA                 JPN  2:30:20
8  Nastassia STARAVOITOVA         BLR  2:30:35
24 FEBRUARY 2013: SEVILLE MARATHON, SPAIN
MEN:
1  Solomon BUSHENDICH             KEN  2:10:13
2  Yared Dagnaw SHAREW            ERI  2:12:35
3  Emmanuel SAMAL                 KEN  2:13:10
4  Enock MITEI                    KEN  2:13:32
5  Kipkemoi KATUI                 KEN  2:15:19
6  Degu Hagos PERHE               ETH  2:15:19
7  Javier Diaz CARRETERO          ESP  2:15:34
8  Andualem Belay SHIFERAW        ETH  2:17:55
9  Chema MARTINEZ                 ESP  2:17:55
10 Tsegabu GEBREMARIAM            ETH  2:21:11

WOMEN:
1  Ehite Bizuayehu GEBREYES       ETH  2:29:52
2  Megersa Megertu TAFA           ETH  2:31:49
3  Wudnesh Nega DEBELE            ETH  2:32:59
4  Estela Navascues PARRA         ESP  2:35:40
5  Barbara SANCHEZ                FRA  2:37:14
6  Esther Hidalgo GARCIA          ESP  2:43:39
7  Raquel Lopez CALCIS            ESP  2:51:14
8  Lidia PERREIRA                 POR  2:54:41
9  Maria RIBEIRO                  POR  2:57:12
10 Annelies DEMUYNCK              BEL  2:57:42
24 FEBRUARY 2013: SEYCHELLES ECO-FRIENDLY MARATHON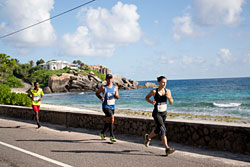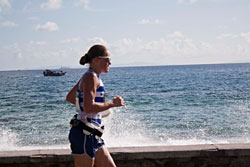 MEN:
1  Simon LABICHE                  SEY  3:01:36
2  James BARRA                    SEY  3:25:57
3  Geoffrey HOMMA                 NED  3:46:40
4  Christophe VICTOR              FRA  3:57:58
5  Stephane MAGANA                FRA  4:05:57
6  Arnold LAROYE                  FRA  4:25:55
7  Joerg BARTZ                    GER  4:31:39
8  Jong Sup KIM                   KOR  4:32:56
9  James OJWANGI                  KEN  4:37:30
10 Andrew FLORENTINE              SEY  4:39:45

WOMEN:
1  Monica VORSTER                 RSA  3:33:44
2  Emma GYENGE                         3:38:26
3  Andriel ROSSOUW                RSA  4:15:31
4  Cassie ESCOTT                  GBR  4:27:31
5  Seung Sook LEE                 KOR  5:03:44
6  Lara GEHRE                     GER  5:34:53
7  Brigitta BIERMANSKI            GER  5:38:59
8  Jana ZEHLE                     GER  5:54:26
9  Christine REY                  FRA  5:55:50
10 Sigrid EICHNER                 GER  6:22:28

HALF MARATHON
MEN:
1  Moses MBUGUA                   KEN  1:23:33
2  Keddy MOUSTACHE                SEY  1:32:14
3  Herberth ADRIENNE              SEY  1:35:55

WOMEN:
1  Simone Adeline JAPHA           SEY  1:51:45
2  Ana BARRA                      SEY  1:52:03
3  Margheita CANTU                ITA  2:03:52
24 FEBRUARY 2013: WORLD'S BEST 10km, PUERTO RICO
Photos: Alvin Rodriguez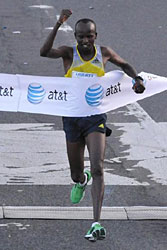 Sammy Kitwara took his fourth title while Joyce Chepkirui savoured her first as they completed a Kenyan double at the 16th World's Best 10km, writes Javier Clavelo Robinson.
Kitwara astutely followed all the moves in what was initially a tactical race before covering the second half over a minute faster than the first to win in 28:42, the slowest winning time since 2000.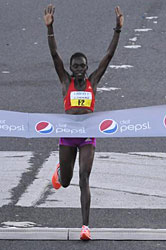 40-year old Luis Rivera took an early lead that grew to 40m before he was caught by a large African chasing group, who passed halfway in 14:55. Kitwara started to push ahead from 6km, recording a second half of 13:47.
In the women's race Joyce Chepkirui ran the first half within a nine-strong lead pack after which she moved away to win her first title, improving on her second place last year. Out of 10,078 registered runners, 7882 started the race and 7813 finished (4796 men and 3017 women).
MEN:
1  Sammy KITWARA                  KEN  28:42
2  Julius KOGO                    KEN  28:48
3  Kenneth KIPROP                 KEN  28:59
4  Wilson Kwambai CHEBET          KEN  29:01
5  Mark KIPTOO                    KEN  29:02
6  Daniel SALEL                   KEN  29:05
7  Zersenay TADESE                ERI  29:08
8  John KIPKOECH                  KEN  29:19
9  Emmanuel BETT                  KEN  29:38
10 Atsedy Tsegay TESFAY           ETH  29:50

WOMEN:
1  Joyce CHEPKIRUI                KEN  31:40
2  Lineth CHEPKIRUI               KEN  32:10
3  Esther CHEMTAI                 KEN  32:18
4  Abetu ALEMITU                  ETH  32:42
5  Kathryn MCGREGOR               USA  33:12
6  Diane Nkuri JOHNSON            USA  33:13
7  Joan CHELIMO                   KEN  33:35
8  Risper GESABWA                 KEN  33:48
9  Ejigu SENTAYEHU                ETH  33:59
10 Beverly RAMOS                  USA  34:12
February 2013