January 2009
1 JAN | 3 JAN | 4 JAN | 8 JAN | 16 JAN | 18 JAN | 20 JAN | 25 JAN
01 JANUARY 2009: ST CROIX INTERNATIONAL MARATHON, US VIRGIN ISLANDS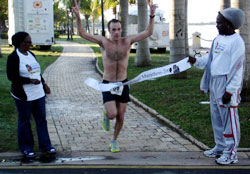 The 7th edition of the race offered mild conditions, with the 05:00 start temperature as low as 16°C. Billy Bohkle, pilot and former miler at LSU, dominated the race with steady pacing which took him to his first win. Californian Ted Archer appreciated the destination and combined the first race of the new year with his honeymoon.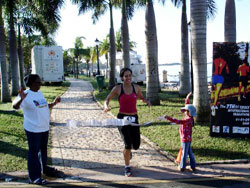 Ruth Ann David of St Thomas, V.I. had almost given up hope of defending her title as she had difficulty getting to St Croix on New Year's eve. At the last minute fellow National Team Member Billy Bohlke turned his car around, went back to the airport and flew over to St. Thomas to save the day. David, who succumbed to dehydration two years ago in her debut marathon in St Croix ran strongly to win the women's in a personal best time and finish third overall.
The race was run in memory of Ted Corbitt, an Olympic marathon runner, pioneer in marathon running, ultra running and founder of a number of organizations associated with the development of running as it is known today in the USA.
MEN:
1  Billy BOHLKE            ISV  2:44:53
2  Ted ARCHER              USA  3:07:53
3  Matt HALK                    3:50:07
4  Richard JEANPIERRE      ISV  3:54:06
5  Scott FRICKS            ISV  3:56:23

WOMEN:
1  Ruth Ann DAVID          ISV  3:25:44
2  Marie BELANGER          CAN  4:06:20
3  Amanda WAREHEIM         ISV  4:19:55
4  Susan DALEY             USA  7:12:14
3 JANUARY 2009: XIAMEN INTERNATIONAL MARATHON, CHINA
Photo: Sasa Kralj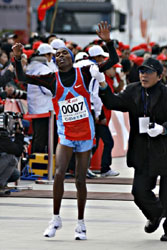 The 22-year old Kenyan Samuel Muturi sprung a surprise win in the 7th edition to set a new course record writes Cyrille Cartier. Second-placed Negari Terfa also broke the old record. Muturi broke free from Terfa in the final stages to win by 60m. Tefa cracked his previous best by almost four minutes. Third-placed Rachid Kisri also set a personal best.
A total of 33,000 runners from over 40 countries competed in the 5km, 10km, Half-Marathon, and Marathon — with 6800 in the full marathon. Muturi advanced stadily through the field from 10th place at 15km, 9th place at 25km and third at 30km (1:32:26) just behind Terfa. They were five seconds apart at 35km (1:47:22) and were even at 40km (2:02:07). Terfa had been in the top five since 20km while Kisri was second (1:00:30) and stayed at the heels of a group of fellow Africans until he fell 30 seconds behind the top three at 35km. Last year's winner Kiprotich Kenei led until 35km but then cramped. Kisri made his move into third at 40km (2:03:32) more than a minute behind Terfa. Yanmin Hou was the first Chinese national in seventh, bettering his PB of 2:16:38 from Hangzhou last year.
The women's race was a disappointment after last year's course record 2:22:38 was set by 18-year-old Zhang Yingying. Rong Chen's winning time this year was more than seven minutes slower. Yingying took second place with 2:32:57, nearly 10 minutes outside her record. In third, Wang Jiali took five minutes off her 2:39:04 PB set in Beijing in 2007.
The fast men's times came as a surprise following earlier fears of unfavorable weather, but the wind died down and it stayed cool throughout the race. In a ceremony earlier, the mayor of Marathon in Greece, Spyridon Zagaris, and Xiamen's mayor, Liu Cigui, signed an agreement to create a sister city relationship.
MEN:
1  Samuel Muturi MUGO             KEN  2:08:51
2  Negari Getachew TERFA          ETH  2:09:01
3  Rachid KISRI                   MAR  2:10:33
4  Sammy Kiptoo KURGAT            KEN  2:11:00
5  Frederick CHERONO              KEN  2:12:31
6  Elias Kiptum MAINDI            KEN  2:13:12
7  Yanmin HOU                     CHN  2:13:26
8  Longyun REN                    CHN  2:15:05
9  Haiyang DENG                   CHN  2:15:48
10 Zachary NJOROGE                KEN  2:16:07

WOMEN:
1  Rong CHEN                      CHN  2:29:52
2  Yingying ZHANG                 CHN  2:32:57
3  Jiali WANG                     CHN  2:33:58
4  Aiping FENG                    CHN  2:35:05
5  Wenrong ZHENG                  CHN  2:36:08
6  Lingling JIN                   CHN  2:39:15
7  Yingying ZHU                   CHN  2:39:40
8  Yanan WEI                      CHN  2:40:35
9  Junliang XU                    CHN  2:42:30
10 Xin ZHANG                      CHN  2:42:40
3 JANUARY 2009: KINMEN MARATHON, CHINESE TAIPEI
MEN:
1  Pawel OCHAL                    POL  2:22:30

WOMEN:
1  Irina SONGERLAYNEN             RUS  2:44:00
2  Emily SAMIKWA                  KEN  2:45:23
04 JANUARY 2009: MIZUNO HONG KONG HALF MARATHON CHAMPIONSHIPS, HONG KONG
MEN:
1  Thomas KIPROTICH               KEN  1:09:34
2  Ka Man GI                      HKG  1:12:38
3  Andrew NAYLOR                  GBR  1:13:32
4  Kwok Cheung CHAN               HKG  1:15:06
5  Tung Hoi YIP                   HKG  1:15:13
6  Yiu Chung WUN                  HKG  1:15:15
7  Hok Lan YAI                    HKG  1:15:22
8  Ho Ki LAI                      HKG  1:16:36
9  Kwong Man LAU                  HKG  1:17:34
10 Tin Yau WONG                   HKG  1:17:37

WOMEN:
1  Suet Fei LI                    HKG  1:24:51
2  Sui Ping FAN                   HKG  1:25:25
3  Yuen Fan LEONG                 HKG  1:26:53
4  Ayako FUJISEKI                 JPN  1:28:43
5  Kit Yee CHAN                   HKG  1:29:00
6  Rachel SPROSTON                     1:29:33
7  Hoi Wa CHUNG                   HKG  1:29:54
8  Kai Wa LAI                     HKG  1:30:14
9  Mun Tse CHOI                   HKG  1:31:17
10 Angelina KONG                  HKG  1:31:25
8 JANUARY 2009: TIBERIAS MARATHON, ISRAEL
Jackson Kipkoech's winning time of 2:08:07 was an Israeli all-comers record, winning Kipkoech a record bonus of $50,000. The course record he surpassed was that of second-placed Leonard Muchera set a year ago when Kipkoech had finished third.
Athletes from 22 different countries took part despite the ongoing fighting in Gaza, and to the north across the border into Lebanon.
MEN:
1  Jackson KIPKOECH               KEN  2:08:07
2  Leonard MUCHERA                KEN  2:09:37
3  Philemon BOIT                  KEN  2:10:55
4  Samson BUNGEI                  KEN  2:10:58
5  Pius ROTICH                    KEN  2:11:53
6  Simon NJOROGE                  KEN  2:11:58
7  Wilson ONSARI                  KEN  2:13:46
8  Stanley LELEITO                KEN  2:14:24
9  Phaustin BAHA                  TAN  2:14:41
10 Elijah MUTURI                  KEN  2:14:57
 
WOMEN:
1  Irene KOSGEI                   KEN  2:39:07
2  Asrat ADDIS                    ETH  2:42:23
3  Meseret GEMEDA                 ETH  2:47:05
4  Kalkidan BAKCHA                ETH  2:51:17
5  Jenesse FRALICK                USA  3:05:43
16 JANUARY 2009: STANDARD CHARTERED DUBAI MARATHON, UNITED ARAB EMIRATES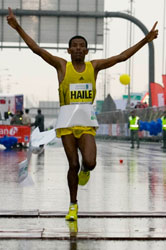 Torrential rain in the final stages ruined Haile Gebrselassie's world record attempt, but he still took the $250,000 first prize, with the eighth fastest time ever run. He already has the top three times.
On an uncharacteristically cool morning for the Gulf – the temperature stayed around 12°C for the duration - the first shower came after just 5km. Even so Gebrselassie was right on schedule went through halfway in 61:45 as he had intended, 20 sec faster than he had run in Berlin four months ago when he set the current world record of 2:03:59.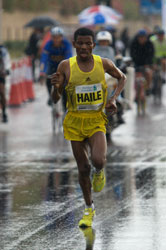 At 30km he was even faster, half a minute up on schedule, but the last pacemaker dropped out at 32km and the rain began in earnest. The pace dropped outside three minutes per kilometre and record possibilities evaporated. Gebrselassie refused to be downhearted: "I'm really pleased with this performance," he said "it is my best time in this sort of weather. I'm not perfect for it. It's not the rain from the sky, it's the water on the asphalt."
The women's race turned out to be as exciting as expected. The threat to last year's winner and race favourite, Berhane Adere also materialised, in the shape of 2008 runner-up Bezunesh Bekele, and the Kenyan, Helena Kiprop. Bezunesh, 25, and Kiprop, 33, swapped the lead heading a group of eight, while the 35-year old Adere surveyed her rivals. But Bezunesh and Kiprop sped away such that within a kilometre they had forged a gap of 100m. They traded the lead between them for another 2km before Bekele opened up a similar gap on the Kenyan.
The women were even longer in the rain, so Bekele's winning time was almost a minute outside her fourth fastest debut in history, 2:23:09 last year. But this was a mightily impressive performance from the youngster, and suggests that with Adere, Gete Wami and Derartu Tulu being on the last lap of their careers, Bekele is the standard bearer for the new generation. Another Ethiopian, Atsede Habtamu debuted impressively in second place, and relegated Kiprop to third.
With even the tenth placer winning $10,000 (often a first place prize elsewhere), the overall prize pot is $500,000 each for men and women, making Dubai the world's richest marathon in terms of prizes. Had Gebrselassie broken his world record, he would have earned a million dollar bonus. As he said, "Next time!"
MEN: 
1  Haile GEBRSELASSIE             ETH  2:05:29
2  Deressa EDAE CHIMSA            ETH  2:07:54
3  Eshetu WENDIMU                 ETH  2:08:41
4  Gashaw MELESE                  ETH  2:10:59 
5  Dereje TESFAYE                 ETH  2:11:42
6  David KEMBOI                   KEN  2:12:14 
7  Mesfin ADMASU                  ETH  2:12:23 
8  Tesfaye TOLA                   ETH  2:12:56
9  Asnake FIKADU                  ETH  2:15:01 
10 Nephat NGOTHO                  KEN  2:15:23  

WOMEN:
1  Bezunesh BEKELE                ETH  2:24:02
2  Atsede HABTAMU                 ETH  2:25:17 
3  Helena KIPROP                  KEN  2:25:35 
4  Tatyana PETROVA                RUS  2:25:53 
5  Genet GETANEH                  ETH  2:27:47
6  Eyerusalem KUMA                ETH  2:26:51 
7  Birhane ADERE                  ETH  2:27:47 
8  Shuru DIRIBE                   ETH  2:28:26 
9  Atsede BAYSA                   ETH  2:29:13 
10 Mulu SEBOKA                    ETH  2:30:10
18 JANUARY 2009: STANDARD CHARTERED MUMBAI MARATHON, INDIA
Photo: Getty Images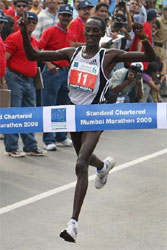 Kenneth Mburu Mungara shattered John Kelai's dream of winning a hat-trick of titles writes Ram Murali Krishnan. The men's race saw a Kenyan sweep of the podium places, while Haile Kebebush led an Ethiopian 1-2 finish in the women's race.
On a misty morning. Boniface Usisivu led a group of a dozen athletes through 10km in 30:36. Usisivu and Ethiopian Rege Neguse then led through 14km in 43:10 with top home contender Ram Singh Yadav only 35 seconds behind the group. As Usisivu's pace slowed seven athletes passed through halfway in 65:44, just 4 seconds inside the target time to improve the course record of 2:12:03. At around 24km, just after the turning point, Mungara broke away, chased by Kelai and the Ethiopians Neguse and Lemma Siyoum, reducing the gap between them as the temperature rose towards 30°C. Mungara, last year's winner in Toronto and Prague, had other ideas and responded as Kelai and David Tarus edged closer to him. His determined finish brought him a new course record that also bettered the 30-year old Indian all-comers record. It was the fifth consecutive victory for Kenyan men at Mumbai after Hendrick Ramaala (South Africa) won the inaugural title in 2004.
With three-time champion Mulu Seboka running in Dubai less than 48 hours earlier, she left the task in Mumbai to nine of her country-mates. Linah Cheruyiot did the early front-running but Kebebush and her Ethiopian compatriot Martha Markos closed in at the turn point at 23.2km. Cheruyiot dropped behind when the women started climbing the hill at 35km but last year's runner-up Irene Mogaka remained in the fray. Kebebush, fifth in last year's race, made a final 200m sprint to take the race seven seconds ahead of Markos, with Mogaka a distant third.
Indian athletes dominated the half-marathon with Surender Singh – the national record-holder in the 10,000m - taking the men's title and Kavita Raut the women's.
This year's race was significant as it was the first major public event held after the 26 November terror attacks on Mumbai. A portion of funds generated from the race will go to rehabilitation of the victim's families. Bollywood stars, models, social workers and businessmen took part either in the full or half-marathon and the 6km 'Dream Run' and wheelchair events conducted simultaneously. Industrialist and financier Anil Ambani is a regular participant and has been awarded the permanent bib number 9999. Triple Olympic champion and race ambassador Gail Devers presented awards alongside IAAF Council Member and Chairman of the 2010 Commonwealth Games, Suresh Kalmadi.
MEN:
1  Kenneth MUNGARA                 KEN  2:11:51
2  David TARUS                     KEN  2:12:02
3  John KELAI                      KEN  2:12:23
4  Regu NEGUSE                     ETH  2:14:04
5  Lemma SIYOUM                    ETH  2:14:29
6  Peter BIWOTT                    KEN  2:14:32
7  Ben SEREM                       KEN  2:14:32
8  Stanley RONO                    KEN  2:15:01
9  John MUTAI                      KEN  2:15:07
10 Simon TONUI                     KEN  2:16:22
 
WOMEN:
1  Haille KEBEBUSH                 ETH  2:34:08
2  Marta MARCOS                    ETH  2:34:15
3  Irene MOGAKA                    KEN  2:37:28
4  Zebenay MOGES                   ETH  2:38:47
5  Radiya ROBA                     ETH  2:39:25
6  Emma MUTHONI                    KEN  2:42:07
7  Auela LEMMA                     ETH  2:42:23
8  Olena BILOSHCHUK                UKR  2:44:15
9  Joyce KIRUI                     KEN  2:47:40
10 Joyce KANDIA                    KEN  2:47:57
18 JANUARY 2009: CHINA COAST MARATHON, HONG KONG
It was an unexpectedly warm day with temperatures reaching the mid-20's later in the morning. Visitor Andrew Henneessy had a runaway victory in the full marathon over a scenic, hilly course around the High Island Reservoir. Much of the course is covered twice, making the race extremely challenging. Last year's women's winner Chan Pui Shan retained her title by pulling away in the last 12km from second-placed Angelina Kong. A total of 348 runners finished the race, including 72-year old John Lane who has run in every single China Coast Marathon.
MEN:
1  Andrew HENNESSY                     2:45:16
2  Ka Wai KONG                         2:54:56
3  Tung Hoi YIP                        2:57:22
4  William DAVIES                      2:58:50
5  Chuck COSMAN                        2:59:43
6  Dave CANTWELL                       3:02:55
7  Fan Chun SING                       3:05:12
8  Peter BEER                          3:11:45
9  Edward SO                           3:13:58
10 Nicholas BALL                       3:14:22

WOMEN:
1  Shan Chu PUI                        3:18:36
2  Angeline KONG                       3:23:20
3  Chen Hing CHAN                      3:23:40
4  Pui Yi LI                           3:43:54
5  Yah Wa MA                           3:48:27
6  Poey Liu KUNG                       3:50:22
7  Wiwin LEUNG                         3:53:07
8  Yin Wa Sitty SIU                    3:59:08
9  Fung Oi CHUNG                       4;01:56
10 Suit Fong WONG                      4:02:53

HALF MARATHON
MEN:
1  Stefano PASSARELLO                  1:11:17
2  Adrian HORVATH                      1:17:17
3  Tat Ming CHOI                       1:18:34

WOMEN:
1  Sui Ping FAN                        1:30:20
2  Kit Yee CHAN                        1:33:08
3  Helen RAO                           1:36:16
18 JANUARY 2009: MARATON INTERNACIONAL DE CULIACAN, MEXICO
MEN:
1  Isaac Waweru MACHARIA          KEN  2:14:30
2  Alene RETA                          2:14:51
3  Richard TIROP                  KEN  2:15:11
4  Christopher KIPYEGO            KEN  2:15:50
5  Hillary Lelei KIPCHOGE         KEN  2:15:52
6  Reuben Chesang KAMBICH         KEN  2:16:48
7  Bethuel Kipyego CHERUIYOL      KEN  2:19:10
8  Edilberto Mendez HERNANDEZ     MEX  2:19:59
9  Wilson CHEPKWONY               KEN  2:20:25
10 Stephen CHELAL                 KEN  2:21:24
 
WOMEN:
1  Margarita Tapia GARCÍA         MEX  2:31:08
2  Jessica Rodriguez GALVAN       MEX  2:34:10
3  Sara Cedillo SANCHEZ           MEX  2:35:27
4  Viola BOR                      KEN  2:35:34
5  Annah Kibor JELAGAT            KEN  2:40:13
6  Emma Maldonado CARMONA         MEX  2:47:20
7  Angelica Sanchez IBARRA        MEX  2:50:09
8  Karina Estrada HERNÁNDEZ       MEX  2:56:11
9  Gusdalupe Garcia GONZÁLEZ      MEX  3:07:09
10 Maria Felix Polo HERNÁNDEZ     MEX  3:15:52
20 JANUARY 2009: CORRIDA SAO SEBASTIANO 10KM, BRAZIL

MEN:
1  Damiao A DE SOUZA                BRA  29:42
2  Marco J MARCO                    BRA  29:45
3  Luis P DA S ANTUNES              BRA  30:04
4  Jose DO N SOUZA                  BRA  30:24
5  Eliesio DA SILVA                 BRA  30:50
6  Paulo L DOS SANTOS FILHO         BRA  31:06
7  Edson A SANTOS                   BRA  31:37
8  Eliezer DE JESUS SANTOS          BRA  31:50
9  Cosme A DE SOUZA                 BRA  31:57
10 Antonio C DE PAULA               BRA  32:40
 
WOMEN:
1  Sara R MAKERA                    TAN  34:06
2  Marily DOS SANTOS                BRA  34:49
3  Marcia NARLOCH                   BRA  36:20
4  Selma C DOS REIS                 BRA  37:01
5  Marluce Q F BORGES               BRA  37:44
6  Gisele B DE JESUS                BRA  37:55
7  Maria B CABRAL                   BRA  39:07
8  Maria J ALVES                    BRA  39:25
9  Suxanne L FREITAS                BRA  42:32
10 Claudia K P DE OLIVEIRA          BRA  43:53
25 JANUARY 2009: OSAKA INTERNATIONAL LADIES' MARATHON, JAPAN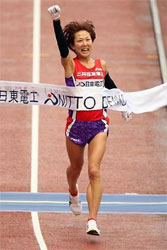 Breaking away from the lead pack at 28.5km and covering 30-35km in 16:11, Yoko Shibui won convincingly writes Ken Nakamura. There were no pacemakers, and the race got off to a slow start, led by former winner Lidia Simon. At 5km 17 runers passed through in 17:25. As the pace picked up slightly the group reduced, and at 11.5km Aki Fujikawa fell, although she eventually finished 16th in 2:41:02. Simon led through halfway in 1:13:00, but there were still a dozen runners together at 25km. When Yukiko Akaba then picked up the pace Peninah Arusei dropped, but it was not until 28.5km that Shibui made her move, covering the 30th kilometre in 3:21. Only Akaba tried to stay with Shibui, but when the next kilometre was run in 3:13 she too was left behind. Shibui ran the next two kilometres in 3:16 and 3:09, leading Akaba by nine seconds. Shibui's 30-35km split was 16:11, 10 seconds faster than that of Mizuko Noguchi when she set the course record. At 35km Shibui led Akaba by 25 seconds who in turn was 52 seconds ahead of Miki Ohira, Yumiko Hara and Madoka Ogi. In the next 5km Shibui added a minute to her advantage, and went on to win by nearly two minutes.
Despite the slow early pace Shibui's time was the twelfth fastest on the course. It was also the fourth fastest in Shibui's eleven marathon career. Akaba finished second with a 2:25:40 debut. Madoka Ogi eclipsed the best ever time for the eighth place in Osaka by 10 seconds.
Another debutante, Akane Wakita, a protégé of Yoshio Koide, was ninth in 2:31:16. Incidentally, her time is slightly faster than Naoko Takahashi's marathon debut time, which was 2:31:32, recorded in the 1997 Osaka Ladies marathon.
Shibui's victory broke a four-year drought since her last marathon win. "I was never able to pick up the pace at the end of the race" she said. "I think I have figured out how to win the marathon." It was the third marathon victory of her career, having won her debut in Osaka in 2001 and the 2004 Berlin Marathon with the national record (2:19:41). This win takes her back to Berlin, as part of the Japanese team for the 2009 World Championships.
WOMEN (ONLY):
1  Yoko SHIBUI                    JPN  2:23:42
2  Yukiko AKABA                   JPN  2:25:40
3  Yumiko HARA                    JPN  2:26:57
4  Miki OHIRA                     JPN  2:27:08
5  Lidia SIMON                    ROM  2:27:14
6  Mika OKUNAGA                   JPN  2:27:16
7  Ruth WANJIRU                   KEN  2:27:38
8  Madoka OGI                     JPN  2:27:56
9  Akane WAKITA                   JPN  2:31:16
10 Akemi OZAKI                    JPN  2:32:09
25 JANUARY 2009: MAUI OCEANFRONT MARATHON, USA
MEN:
1  Chuck ENGLE                    USA  2:45:23
2  Russ WALTERS                   USA  3:22:40
3  Trent JENSEN                   USA  3:25:23
4  Clark DAVIS                    USA  3:26:11
5  Andrew RIEMER                  USA  3:27:16
6  Nick KAISER                    USA  3:28:23
7  Jeff WHITE                     USA  3:43:14
8  David PETERS                   USA  3:44:47
9  Jeromy RISNER                  USA  3:51:57
10 Troy NEURAUTER                 USA  3:53:59

WOMEN:
1  Vivien LIM                     USA  3:37:04
2  Audrey BANFILL                 USA  3:49:37
3  Elise C DOW                    USA  3:50:27
4  Bekkie WRIGHT                  USA  3:56:27
5  Sonya KIZIAH                   USA  3:57:05
6  Lesley ROOYAKERS               CAN  3:58:44
7  Maria C VARGAS                 USA  4:01:52
8  Sandra J GUINEBRETIERE         USA  4:01:58
9  Cynthia L WEST                 USA  4:10:10
10 Aron L LANIE                   USA  4:17:24
25 JANUARY 2009: KHON KAEN INTERNATIONAL MARATHON, THAILAND
MEN:
1  Joel Kiplimo KEMBOI            KEN  2:13:32
2  Armon Kipchirchir KEMEI        KEN  2:14:03
3  Charles KANYAO                 KEN  2:14:14
4  Robert KOSGEI                  KEN  2:15:24
5  Julius KIPLIMO                 KEN  2:16:05
6  Samwel LIMO                    KEN  2:16:18
7  Neo MOLEMA                     RSA  2:17:02
8  Daniel Omori GEKARA            KEN  2:17:21
9  Phillip Kanau MUCHOKI          KEN  2:18:48
10 Damtew WARKNEH                 ETH  2:19:08

WOMEN:
1  Sunisa SAILYOMEN               THA  2:45:18
2  Margaret Njunga WANGUI         KEN  2:47:10
3  Patcharee CHAITONGSRI          THA  2:47:52
4  Everlyne Nyamu ATANCHA         KEN  2:52:22
5  Margaret Kiplagat JEPKOGE      KEN  2:54:33
6  Phylis Jelgat CHEPKONGA        KEN  2:54:34
7  Tanaporn ASSAWONGCHAROEN       THA  3:09:18
8  Kan KUSUWAN                    THA  3:12:41
9  Thanyatorn SAMUTNOI            THA  3:16:18
10 Chutimon RITTIDET              THA  3:18:27
25 JANUARY 2009: MARRAKECH MARATHON, MOROCCO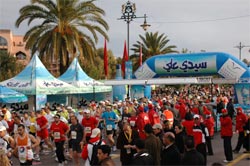 The 20th edition of the race on a fast, flat course also benefitted from ideal weather conditions (12°C, and little wind). In the men's race eight runners passed halfway in 1:05:45. Sammy Kibet started to push adter 25km and by 38km only three contenders remained. Of these David Ruto took over the leadership and Kibet began to drop back after 40km. Adhane Yamane followed a little later. Ruto, who had been recruited to the race as a pacemaker, improved his personal best by over five minutes.
In the women's race last year's winner Yeshi Esayias strode away from the rest of the field to win by 9 minutes. There was a combined field of over 6000 runners for the Marathon and half marathon events.
MEN:
1  David RUTO                     KEN  2:10:31
2  Adhane YAMANE                  ETH  2:10:48
3  Sammy KIBET                    KEN  2:11:08
4  Hassan BELKHANOUCH             FRA  2:12:21
5  Adelo ROBA                     ETH  2:12:57
6  Gebrselassie REDA              ETH  2:13:54
7  Zaid LAAROUSSI                 MAR  2:15:05
8  Said REGRAGUI                  SWE  2:19:23
9  Hassan OULHAMI                 MAR  2:21:19
10 Said THRAT                     MAR  2:22:02

WOMEN:
1  Yeshi ESAYIAS                  ETH  2:29:52
2  Genet KAHSAY                   ETH  2:38:22
3  Beta NAIGAMBU                  NAM  2:39:11
4  Nadha WIJENBERG                NED  2:46:17
5  Aziza EL OUAFI                 MAR  2:46:39
6  Fatima BIDAYA                  MAR  3:00:58
7  Taye FEKADU                    ETH  3:01:54
8  Mahbora BELKACEM               TUN  3:05:42
9  Edith DOYEN                    FRA  3:21:26
10 Samantha WOODWARD              GBR  3:23:43

HALF MARATHON
MEN:
1  Allan NDIWA                    KEN  1:02:12
2  Dennis NDISO                   KEN  1:02:31
3  Mark TANUI                     KEN  1:02:38

WOMEN:
1  Malika ASHSA                   MAR  1:09:54
2  Asmae LEGHZAOUI                MAR  1:11:11
3  Tigist TUFA                    ETH  1:11:46
25 JANUARY 2009: MEDIO MARATHON DE LOS CABOS, MEXICO
MEN:
1  Juan JIMENEZ                   MEX  1:12:58
2  Jaime ROQUE                    MEX  1:14:14
3  Jeff HUXHOLD                   USA  1:14:17
4  Hector Alejandro Juarez AMADOR MEX  1:15:07
5  Alfredo Camacho GONZALEZ       MEX  1:18:59
6  Sergio Menes BAUTISTA          MEX  1:23:16
7  Jose Alonso Rosales AGUIRRE    MEX  1:23:16
8  Hans Fitch URIAS               MEX  1:24:04
9  Miguel Angel Pilar HERRERA     MEX  1:24:58
10 Manuel Gerardo BURGOIN         MEX  1:27:58

WOMEN:
1  Sara Cedillo SANCHEZ           MEX  1:25:12
2  Juana Cervantes ORTA           MEX  1:26:49
3  Silvia Toro BADILLO            MEX  1:40:06
4  Josefina Diaz MARTINEZ         MEX  1:40:45
5  Alejandra LEDESMA              MEX  1:41:44
6  Martha Marinez REYES           MEX  1:44:00
7  Laura Lopez URQUIJO            MEX  1:45:34
8  Julia Linares FLORES           MEX  1:45:40
9  Ma del Carmen Perez TAPIA      MEX  1:45:58
10 Paola MASERA                   MEX  1:49:20
January 2009