November 2008
1 NOV | 2 NOV | 9 NOV | 14 NOV | 16 NOV | 23 NOV | 28 NOV | 30 NOV
1 NOVEMBER 2008: TAROKO GORGE INTERNATIONAL MARATHON, CHINESE TAIPEI
MEN:
1  Nicodemus MALAKWEN             KEN  2:32:55
2  Zi Jian ZHENG                  TPE  2:40:01
3  Ru Bing WANG                   TPE  2:47:10
4  Yong Fa WU                     TPE  2:47:48
5  Motoharu FUKUNAGA              JPN  2:48:21
6  Zhi Hong HE                    TPE  2:50:46
7  Guang Zhao PENG                TPE  2:51:25
8  Ming Zheng GU                  TPE  2:56:30
9  Yuan Hong WANG                 TPE  3:01:34
10 Michele SPECIALE               ITA  3:01:39
  
WOMEN:
1  Junko SUZUKI                   JPN  2:57:52
2  Sally J LAGAT                  KEN  3:04:14
3  Xiao Yu LI                     TPE  3:05:37
4  Shu Hua CHEN                   TPE  3:11:36
5  Yuan Xiang GONG                TPE  3:37:38
6  Yuer Ru LIU                    TPE  3:38:04
7  Shu Wei CHEN                   TPE  3:38:29
8  Lu Xin GU                      TPE  3:46:54
9  Xiu Yu DAI                     TPE  3:47:42
10 Allison KEEVER                 USA  3:47:58

HALF MARATHON
MEN:
1  Pei Lun ZHAO                   TPE  1:19:01
2  Hong Quan LI                   TPE  1:19:50
3  Xiao Ming WEI                  TPE  1:21:15
 
WOMEN:
1  Yu Fang XU                     TPE  1:24:43
2  Yi Ling                        TPE  1:32:09 
3  Thomas MELISSA                 USA  1:37:58
2 NOVEMBER 2008: JOONGANG SEOUL INTERNATIONAL MARATHON, SOUTH KOREA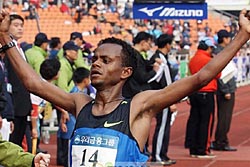 Nearly 15,000 runners took part in the 10th edition. Although the cool (12°C) and cloudy conditions were good and despite a strong elite field the course records remained intact.
Nine runners went through halfway 1:05:46 as Solomon Molla already started to push the pace. Only after 35km did the race begin in earnest, again with a surge from Molla. Nicholas Chelimo kept close but not quite close enough, as Molla improved his marathon best by over two minutes and ran the second half three minutes faster than the first. Chelimo was also drawn to a personal best. Course record holder Jason Mbote dropped out at around 30km.
The women's race was an exclusively Korean affair. Sung-Young Lee made her move from the beginning and soon dropped everyone else.
MEN:
1  Solomon MOLLA                  ETH  2:08:46
2  Nicholas CHELIMO               KEN  2:08:51
3  Paul BIWOTT                    KEN  2:09:29
4  Chala LEMI                     ETH  2:09:36
5  Ridouane HARROUFI              MAR  2:10:14
6  Khalid El BOUMLILI             MAR  2:10:59
7  Tessema ABSHERO                ETH  2:11:09
8  Kiprotich KENEI                KEN  2:11:21
9  Young-jun JI                   KOR  2:13:04
10 Haeng-jun SEO                  KOR  2:16:12

WOMEN:
1  Sung Young LEE                 KOR  2:29:58 
2  Hae Jin BAE                    KOR  2:42:44 
3  Kyung Hee LIM                  KOR  2:42:45 
4  Hyun Jin NOH                   KOR  2:45:08 
5  Bong Ha LEE                    KOR  2:47:29
6  Sung Jung KIM                  KOR  2:50:56
2 NOVEMBER 2008: UWI-SPEC HALF MARATHON, TRINIDAD & TOBAGO
MEN: 
1  Nicholas KIPRONO               UGA  1:05:36
2  Cleveland FORDE                GUY  1:08:23
3  Pamenos BALLANTYNE             VIN  1:08:54
4  Zepherinus JOSEPH              STL  1:09:17
5  Richard JONES                  TRI  1:09:27

WOMEN:
1  Alika MORGAN                   GUY  1:27:04
2  Shermin LASALDO                TRI  1:27:47
3  Tanice BARNETT                 JAM  1:28:52
4  Christine REGIS                TRI  1:31:18
5  Leisl PUCKERIN                 TRI  1:38:00
2 NOVEMBER 2008: BASS PRO SHOPS SRINGFIELD MARATHON, USA
MEN:
1  Jacob KENDAGOR                  USA  2:27:31
2  Zachary BREITENSTEIN            USA  2:40:00
3  Val SERAFIMOV                   USA  2:50:16
4  Dan HAY                         USA  2:52:52
5  Charley HOGUE                   USA  2:53:01
6  Brett RINEART                   USA  3:01:11
7  Roy NELSON                      USA  3:02:55
8  Charles THOMPSON                USA  3:08:46
9  David MURPHY                    USA  3:16:54
10 Ron MUCCI                       USA  3:18:26
 
WOMEN:
1  Amy PINEGAR                     USA  3:07:49
2  Connilee WALTER                 USA  3:14:35
3  Kelly MURPHY                    USA  3:21:15
4  Becky LOWRANCE                  USA  3:22:31
5  Dana NIPPES                     USA  3:23:49
6  Susan PARRY                     USA  3:26:48
7  Monica LAWRENCE                 USA  3:34:01
8  Julie BOYCE                     USA  3:36:41
9  Martha MEINERSHAGEN             USA  3:40:54
10 Casey LUICART                   USA  3:42:20
9 NOVEMBER 2008: AIRTEL DELHI HALF MARATHON, INDIA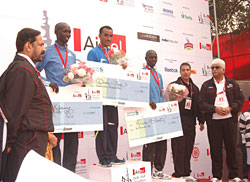 Two exciting, closely-fought races yielded new course records by large margins, under exceptionally favourable weather conditions. The men's winner, Deribe Merga, equalled Haile Gebrselassie's world leading time for 2008 and perhaps made up for some of the disappointment he must have felt on just missing an Olympic bronze medal in Beijing, when he was overtaken with only 250m to go. In Delhi the same fate looked possible for the final 2km or more, as Merga launched a sustained drive for the finish but remained only a few metres ahead of Wilson Kipsang. Kipsang fought hard, but could not quite close the gap and crossed the line a second after Merga.
In the women's race Asefelech Mergia had an equally slim winning margin over Genet Getanah. Peninah Arusei, who managed only fifth in the World Half Marathon Championships, significantly raised her game to run a close third in 1:08:20, improving her season's best by two seconds.
Both races started off at breakneck speed as Merga and Arusei pushed the pace. The first kilometre was covered in 2:39 and 2:57 respectively, and the times at 3km were 8:01 and 9:07. Conditions were exceptionally favourable for running with the sun struggling to break through the morning mist. A slight rise over a flyover in the 4th kilometre did little to kill the speed, as the 5km splits were 13:36 and 15:22. At 7.5km the course reaches Delhi's emblematic landmark of India Gate, and then turns down Rajpath towards the New Delhi Government buildings, offering one of the world's most famous vistas. While Arusei continued to lead, Merga was being kept close company by countryman Regassa Tilahun and the Kenyan pair, Wilsons Chebet and Kipsang. At 10km, approaching the turnaround point, the men passed through in 27:27 (sub-58-minute pace) and Arusei in 31:23 (1:06:15, so also world record pace) with Aselech Mergia and Genet Getanah a few metres behind.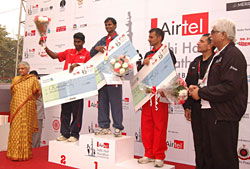 On the long run for home the pace not surprisingly relented, although Tilahun dropped back before 15km (passed in 41:45, just outside world record pace at 58:43). Although the lead changed several times it was again Merga who drove for home over the last three kilometres. He won a slight advantage which eventually proved enough to keep him ahead of the charging Kipsang, who improved his personal best from 61 minutes to 59:16.
Asefelech Mergia took the women's race in the same way she had taken silver in the World Half Marathon Championships three weeks previously - with a ferocious sprint finish. Genet Getanah was only a second behind, and the hardworking Arusei a further two seconds back, improving her previous season's best by the same margin.
Behind the top three in both races some quality times were registered, with Dieudonne Disi finishing only four seconds slower than his winning time of last year, but in sixth position. Similarly, the first eight women broke Deribe Alemu's old course record of 1:10:30.
MEN:
1  Deriba MERGA                   ETH    59:15
2  Wilson KIPSANG                 KEN    59:16
3  Wilson CHEBET                  KEN    59:34
4  Regassa TILAHUN                ETH  1:00:28
5  Tadesse TOLA                   ETH  1:00:45
6  Dieudonne DISI                 RWA  1:00:47
7  Kiplimo KIMUTAI                KEN  1:00:58
8  Joseph MAREGU                  KEN  1:01:03
9  Eshetu WONDIMU                 ETH  1:01:04
10 William CHEBON                 KEN  1:01:17

WOMEN:
1  Asefelech MERGIA               ETH  1:08:17
2  Genet GETANAH                  ETH  1:08:18
3  Peninah ARUSEI                 KEN  1:08:20
4  Atsede HABTAMU                 ETH  1:09:37
5  Ashim KASIM                    ETH  1:10:19
6  Tiki GELANA                    ETH  1:10:22
7  Pauline NJERI                  KEN  1:10:23
8  Mare DIBABA                    ETH  1:10:28
9  Pauline WANGUI                 KEN  1:10:36
10 Tigist TUFA                    ETH  1:10:41
9 NOVEMBER 2008: ALPHA BANK ATHENS CLASSIC MARATHON, GREECE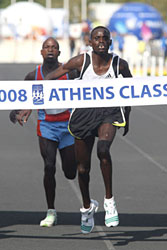 On one of the toughest courses in the world a Kenyan from the Masai Mara broke the race record by two minutes writes Pat Butcher. Paul Lekuraa shrugged off fatigue, a splitting headache, a late arrival, and the close attentions of colleague Julius Kiprotich. In a thrilling finish in the Panathenaiko, the marble stadium built for the 1896 Olympics, 35-year old Lekuraa, in only his second marathon, just outsprinted his rival.
"I wasn't feeling well, and had a bad headache for most of the race," said Lekuraa. "I thought of dropping out, but I waited. In the end I relaxed, and thought I could win with a sprint."
His discomfort wasn't evident, but given the history of this classic race runners just have to get on with it. Lekuraa did just that, loping easily along in the lee of the pacemaker, Megidio Bourifa, until he dropped out at 24km. There were still a half dozen men in the lead group, but by 35km, after cresting the long climb up from the coastal plain only the eventual three top finishers were left.
Lekuraa's participation in Athens was secured with a phone call from former world record holder Paul Tergat, who called agent, Zane Branson in Europe two weeks before. Branson got Lekuraa into the race 10 days ago, but the Greek consulate in Nairobi only dated the visa from the day before the race. "It was worth the trouble" said Lekuraa, with the gap-toothed smile characteristic of the Masai.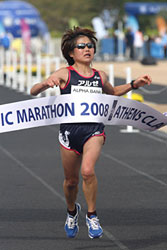 The women's race was won by favourite, Mai Tagami, whose parents travelled from Japan just the day before. Tagami, 28, ran with Russian Elena Tikhonova until halfway in just over 79 minutes, but like Lekuraa, she ran the second half faster. She is now targeting the Osaka Marathon in mid-January, one of the Japanese selection races for the IAAF World Championships in Berlin next summer. "The pace was slow on the hills," said Tagami, "but it got harder when I was by myself. I'd like to beat my personal best (2:29:43) in Osaka."
The Greek titles were won by Georgios Karavidas, in 2:22:18, and again by Georgia Ampatzidou in 2:40:53.
MEN:
1  Paul LEKURAA                    KEN  2:12:42
2  Julius KIPROTICH                KEN  2:12:42
3  Paul KOGO                       KEN  2:12:49
4  Samwel KALYA                    KEN  2:16:10
5  Gemechu LEMMA                   ETH  2:16.38
6  Michael CHEMCHIR                KEN  2:16:47
7  Yoshiyuki SUETSUGU              JPN  2:17:10
8  Elias KIPKOSGEI                 KEN  2:19:40
9  Jomo KORORIA                    KEN  2:20:44
10 Lemma FIKADU                    ETH  2:21:39
 
WOMEN:
1  Mai TAGAMI                      JPN  2:36:58
2  Elena TOKHONOVA                 RUS  2:40:45
3  Georgia AMPATZIDOU              GRE  2:40:53
4  Magdalini GAZEA                 GRE  2:41:05
5  Valentyna POLTAVSKA             UKR  2:41:07
9 NOVEMBER 2008: BIG SUR HALF MARATHON ON MONTEREY BAY, USA
MEN:
1  Wesley OCHORO                   KEN  1:04:20
2  Christian HESCH                 USA  1:05:26
3  Ben BRUCE                       USA  1:05:27
4  Brad LOWERY                          1:06:42
5  Paul NGUGI                      KEN  1:06:44
6  Jared SCOTT                     USA  1:08:16
7  John TIMEUS                     USA  1:11:12
8  Justin PATANANAN                USA  1:12:12
9  Jeff MAGALLANS                  USA  1:14:38
10 Rigo VASQUEZ                    USA  1:15:24

WOMEN:
1  Belainesh GEBRE                 ETH  1:13:11
2  Hyvon NGETICH                   KEN  1:13:47
3  Jacquline NYETIPEI              KEN  1:16:08
4  Lauren JOHNSON                  USA  1:16:47         
5  Kari BERTRAND                   USA  1:18:08
6  Heather GIBSON                  USA  1:18:17
7  Kristi ARTHUR                   USA  1:18:25
8  Jennifer DEREGO                 USA  1:20:34
9  Alexis SMITH                    USA  1:23:40
10 Elissa RIEDY                    USA  1:24:02
9 NOVEMBER 2008: MARATHON DES ALPES MARITIMES NICE-CANNES
MEN:
1  Jacob KITUR                    KEN  2:11:12
2  Abebe Haylu DOGAGA             ETH  2:11:23
3  Jackson RONO                   KEN  2:12:17
4  Francis KIPKETER               KEN  2:14:16
5  James CHERUIYOT                KEN  2:14:53
6  Bekele Degaga TESFAYE          ETH  2:16:49
7  Hillary BETT                   KEN  2:18:02
8  Moses KIPLIMO                  KEN  2:20:03
9  Julius CHOGE                   KEN  2:20:27
10 Henry TARUS                    KEN  2:21:00

WOMEN:
1  Oksana KUZMICHEVA              RUS  2:37:10
2  Ingrid LOPERGOLO               SWE  2:44:37
3  Judit FOLDINGNE NAGY           HUN  2:45:35
4  Valerie DUVIALARD              FRA  2:48:05
5  Elaine COBURN                  GBR  2:56:57
6  Sylvie DUBRAS                  FRA  2:58:36
7  Aba AMAMRI                          3:03:12
8  Albane MOSBACH                      3:05:05
9  Agnes DELEUME                  FRA  3:05:14
10 Marie Caroline SAVELIEFF       FRA  3:06:30
9 NOVEMBER 2008: HANGZHOU INTERNATIONAL MARATHON, CHINA
MEN:
1  Moses Kibet KANGOGO            KEN  2:15:04
2  Yangmin HOU                    CHN  2:16:38
3  Bernard MUTI                   KEN  2:16:38
4  Zhenlong ZHANG                 CHN  2:18:57
5  Albert Kangor KIPNGETICH       KEN  2:19:50
6  Abel CHIMOKOKO                 ZIM  2:20:32
7  Rik CEULEMANS                  BEL  2:20:46
8  Daniel KORINGO                 KEN  2:21:17
9  Bo SHI                         CHN  2:23:17
10 Haibin HUO                     CHN  2:26:25

WOMEN:
1  Ying Jie SUN                   CHN  2:53:08
2  Xin ZHANG                      CHN  2:53:19
3  Baatarkhuu BATTSETSEG          CHN  2:59:19
4  Minjun SHEN                    CHN  3:19:33
5  Jianping LU                    CHN  3:40:45
6  Xiaolou SHI                    CHN  3:45:36
7  Xingmei YANG                   CHN  3:48:37
8  Xifing KE                      CHN  3:53:46
9  Shiling GUO                    CHN  3:57:02
10 Yuemei CHEN                    CHN  3:58:22
14 NOVEMBER 2008: 8th PHARAONIC 100km, EGYPT
INDIVIDUAL:
1  Dehis MAHMOUD                 EGY  9:12:25
2  Jacob NORDHOLT                DEN  9:25:40
3  Tomas SUNDMAN                 DEN  9:41:05

TEAMS:
1  HO Club ALEXANDRIA            EGY  6:14:38
2  El Amria ALEXANDRIA           EGY  7:03:24
3  Anglo-American               US/UK 7:23:25
4  International Team                 7:45:32
5  German-Egyptian              D/EGY 7:52:15
16 NOVEMBER 2008: TOKYO WOMEN'S INTERNATIONAL MARATHON, JAPAN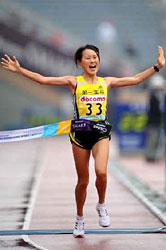 Overhauling the pre-race favourite Yoko Shibui at 38.4km, on the steepest part of the course, Yoshimi Ozaki won the 30th and final edition of this historic race - the first ever annual marathon held exclusively for women writes Ken Nakamura. Her winning time was the third fastest recorded (behind 2:21:37 by Mizuki Noguchi in 2007 and 2:22:12 by Eri Yamaguchi in 1999). It was Ozaki's second marathon and her first win. Ozaki's surprise at winning contrasted with second-placed Kano's expectations: "I was only thinking about winning. I held back, but when the time to overtake Shibui came, Ozaki was there," she said. The top three finishers all recorded personal bests. Briton Mara Yamauchi, in third said: "I thought I could run 2:23, so I went out at that pace. I expected the lead group to come back to me but I could not pick up at the end." The front-running Shibui finished a disappointing fourth: "my problem is the last 5km" she said. Being first Japanese, Ozaki gained automatic selection for the 2009 World Championships team in Berlin. Shibui may run the Nagoya Women's marathon in an attempt to make the team for Berlin.
Shibui shot through 400m in 81 seconds and 1km in 3:18. Along with Ozaki, Kano and Magdaline Chemjor she soon broke away, leaving Yamauchi and Salina Kosgei in the chasing pack. Shibui led through 5km in 16:22, 17 seconds ahead. Kano and Ozaki fell behind. while Shibui and Chemjor passed 10km in 32:55. Ozaki and Kano were 12 seconds behind, with Yamauchi and Kosgei another 28 seconds back. Chemjor started to drop back at 12km and was passed by Kano and Ozaki at 14km. Chemjor eventually finished 14th with 2:46:18. As Kano moved ahead of Ozaki, Shibui passed halfway in 1:10:07, 36 seconds ahead of Kano and a minute up on Ozaki. Yamauchi was a further 20 seconds behind. At 25km Yamauchi moved passed Ozaki into third spot but Ozaki stuck in. "I was in a bad patch" she said later. Shibui was meanwhile slowing, and took over 17 minutes from 25-30km, and 17:44 from 30-35km. Ozaki rallied: she made up 39 seconds on Kano from 30-38km and went on to take the lead from the faltering Shibui. At 39km Kano caught Shibui, and Marauchi passed her at 41km. Ozaki extended her lead to win by 56 seconds.
1  Yoshimi OZAKI                  JPN  2:23:30  
2  Yuri KANO                      JPN  2:24:27 
3  Mara YAMAUCHI                  GBR  2:25:03
4  Yoko SHIBUI                    JPN  2:25:51
5  Salina KOSGEI                  KEN  2:30:34 
6  Svetlana ZAKHAROVA             RUS  2:30:42 
7  Yukiko MATSUBARA               JPN  2:34:39 
8  Ayumi HAYASHI                  JPN  2:35:04  
9  Derartu TULU                   ETH  2:36:47 
10 Chihiro TANAKA                 JPN  2:37:03
11 Yuka AIKAWA                    JPN  2:40:43
16 NOVEMBER 2008: GARDA-TRENTINO HALF MARATHON, ITALY
MEN:
1  Peter Chesang KURUI            KEN  1:01:51
2  Isaac Kipkoech KIPLAGAT        KEN  1:04:08
3  Eligy Ngeny KIBET              KEN  1:04:12
4  Nicodemus BIWOTT               KEN  1:04:36
5  Mathew Kiprotich RUGUT         KEN  1:05:30
6  Cosmas Kiplimo LETTING         KEN  1:07:00
7  Khalid EN GUADY                ITA  1:07:14
8  Jakub BURGHARDT                     1:07:36
9  Valerio BRIGNONE               ITA  1:07:54
10 Davide MILESI                  ITA  1:08:02

WOMEN:
1  Gloria MARCONI                 ITA  1:16:05
2  Giovanna RICOTTA               ITA  1:17:06
3  Sonia Conceicao LOPES          ITA  1:20:07
4  Spyridoyla SOUMA               ITA  1:20:39
5  Tenke ZOLTANI                  HUN  1:22:20
6  Rosa ALFIERI                   ITA  1:23:44
7  Guiseppina MATTONE             ITA  1:23:49
8  Nella ZOFREA                   ITA  1:23:52
9  Michela IPINO                  ITA  1:24:11
10 Maria LORENZONI                ITA  1:24:16
16 NOVEMBER 2008: VALENCIA HALF MARATHON, SPAIN
MEN:
1  Jacob YATOR                    KEN  1:01:32
2  Abraham CHELANGA               KEN  1:01:34
3  Julius LIMO                    KEN  1:04:18
4  Hichan ETTAICHME               MAR  1:04:53
5  Hassane AHOUCHAR               MAR  1:05:33
6  Abderrahman CHMAITI CHMITI     MAR  1:06:26
7  Piotr PALKA                    POL  1:07:53
8  Mohamed Said DAYDAY            MAR  1:09:43
9  Jean Michel FAURIT             FRA  1:09:43
10 Samuel Rodgriguez MORALES      ESP  1:09:47

WOMEN:
1  Sarah KERUBO                   KEN  1:15:18
2  Mercy CHEBURET                 KEN  1:17:39
3  Marta Esteban POVEDA           ESP  1:24:20
4  Maria Mochili JIMENEZ          ESP  1:27:40
5  Doreen VELLA                   MLT  1:27:49
6  Esther Balaguer PLANELLES      ESP  1:27:53
7  Eva Iglesia GARCIA             ESP  1:29:30
8  Marisa Guillen DOMINGEZ        ESP  1:30:40
9  Maria Giner MARTINEZ           ESP  1:31:26
10 Amparo Abad MORALES            ESP  1:32:37
16 NOVEMBER 2008: MARABANA, CUBA
MEN:
1  Aguelmis Rojas de ARMAS        CUB  2:20:56
2  Henry Jaen ORTIZ               CUB  2:27:19
3  Yosbel Arbolaez NERNANDEZ      CUB  2:28:22
4  Elizado Leon ALVAREZ           CUB  2:29:01
5  Yourmier Fouman SANTIESTEBAN   CUB  2:33:38
6  Yoel Ricardo HILDAGO           CUB  2:36:13
7  Vismel RODRIGUEZ               CUB  2:36:36
8  Jorge Luis Mora ALBEAR         CUB  2:37:41
9  Arnoldo Campo RODRIGUEZ        CUB  2:42:26
10 Jose Luis Barzaga ALCOLEA      CUB  2:47:35

WOMEN:
1  Daylin Belmonte TORREZ         CUB  2:52:45
2  Raquel MARTINEZ                CUB  3:17:04
3  Yadira Gonzalez HAITI          CUB  3:21:21
4  Aracelis Lamouth LUIS          CUB  3:21:31
5  Isaily Casi ALIAGA             CUB  3:28:34
6  Margarita Piscil GARCIA        MEX  3:29:22
7  Maria Cordoni BRITO            CUB  3:30:23
8  Ana Maria Hernandez VAZQUEZ    CUB  3:37:53
9  Mirja KAIKKONEN                FIN  3:40:28
10 Chiara DANIELE                 ITA  3:52:33

HALF MARATHON
MEN:
1  Norbert Gutierrez CURBECO      CUB  1:10:34
2  Mauri Castillo YERA            CUB  1:10:35
3  Jose Sanchez CAIRO             CUB  1:10:49

WOMEN: 
1  Yarisleydis Fuentes CADET      CUB  1:19:30
2  Yudisleydis Catillo TUMBARELL  CUB  1:20:01
3  Yaritzo Perez CARBONEZ         CUB  1:25:09
23 NOVEMBER 2008: TOYOTA GREAT ETHIOPIAN RUN 10km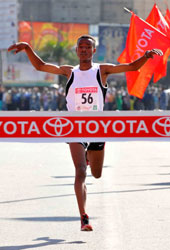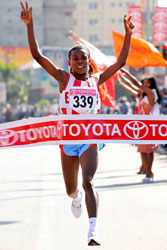 Chala Dechasa, who finished 2nd in last month's 2008 ING Amsterdam Marathon, stormed to an impressive victory in the men's race. In the women's race defending champion Wude Ayalew repeated her victory to become only the second athlete to record two consecutive wins in the race's eight-year history.
Chala's victory was a further triumph for his coach Getaneh Tessema who has coached each of the past three winners of the men's race. Deriba Merga who won this race in 2006 gave the toughest challenge to Dechasa, leading the race until the 6km point, at which point Dechasa took the lead up the hill past the National palace, eventually dropping Merga in the race's 9th kilometre.
In the women's race Ayalew broke clear just after the 5km point, coming home in a slightly faster time than her winning time of last year.
Britain's Mohammed Farah finished 15th in 29:48, one place behind Ayele Abshiro who last Sunday had beaten Kenenisa Bekele over 15km in Holland.
MEN:
1  Chala DECHASA                  ETH  28:55
2  Feysa LELISA                   ETH  29:07
3  Deriba MERGA                   ETH  29:11
4  Tadesse TOLA                   ETH  29:18
5  Dereje HAILEGIORGIOS           ETH  29:24
6  Girma TOLA                     ETH  29:28
7  Dereje DEBELE                  ETH  29:35
8  Abera KUMA                     ETH  29:37
9  Dereje TESFAYE                 ETH  29:39
10 Zenbaba YIGEZU                 ETH  29:40

WOMEN:
1  Wude AYALEW                    ETH  33:31
2  Werkitu AYANO                  ETH  33:43
3  Teyba ERKESO                   ETH  34:06
4  Fate TOLA                      ETH  34:18
5  Alemitu ABERA                  ETH  34:23
6  Mere DEBEBE                    ETH  34:33
7  Atsede BAYSA                   ETH  34:37
8  Tigist FELEKE                  ETH  34:38
9  Amelework FEKADU               ETH  34:43
10 Aberu KEBEDE                   ETH  34:45

23 NOVEMBER 2008: 9TH SAMSUNG MILAN CITY MARATHON, ITALY
Duncan Kibet broke the course record, finishing in 2:07:53 on the impressive Piazza Castello in the centre of the city. Despite the almost freezing weather conditions with temperatures of 3°C at the start the first three all clocked personal bests on the fast Milan course.
In contrast to Kibet's, Anna Incerti's win was quite a surprise. The 28 year-old Italian took the race with a great personal best, beating the big favourite Pamela Chepchumba.
The race confirmed its position as Italy's fastest men's race. A record number of 5,875 runners from 61 countries registered for the marathon.
MEN:
1  Duncan KIBET                   KEN  2:07:53
2  Elias CHELIMO                  KEN  2:08:39
3  Leonard MUCHERA                KEN  2:10:05
4  Rachid KISRI                   MAR  2:11:53
5  Benjamin KORIR                 KEN  2:13:17
6  Musundeki IKOKO                TAN  2:13:32
7  Ali Mabrouk EL ZAIDI           LBA  2:13:33
8  Oleksandr KUZIN                UKR  2:13:43
9  Christopher ISEGWE             TAN  2:16:52
10 Dadi Ourge BEDANE              ETH  2:18:16

WOMEN:
1  Anna INCERTI                   ITA  2:27:42
2  Pamela CHEPCHUMBA              KEN  2:28:34
3  Merima DENBOBA                 ETH  2:29:57
4  Ivana IOZZIA                   ITA  2:37:32
5  Bizuhan KIFLEGIORGIS           ETH  2:40:03
23 NOVEMBER 2008: SAMSUNG 10km CORPORE SAO PAULO CLASSIC, BRAZIL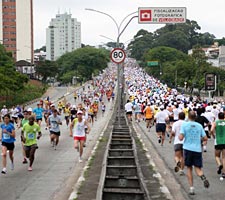 Good weather drew 12,000 runners to Sao Paulo's Legislative Assembly for the start of the 14th edition of the race. "Sport brings people closer together and helps to educate people, so the City has to be part of these events", said Sao Paulo's mayor, Gilberto Kassab, who attended the race.
The women's elite set off at 07:50, 10 minutes before the mass race, including the 4km walk, which allowed a large number of beginners and new runners to experience a mass event.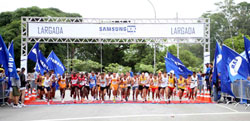 Fast and flat from the start, the course ran through tree-lined streets near the main city park, the Parque do Ibirapuera, allowing athletes to hit a fast pace. After 2km, Nicholas Kiprutto Koech, Daniel Kipchirchir Too and Franck Caldeira took the lead, although Caldeira abandoned after 4km. "I am coming from a period training at high altitude, and I could not keep up the pace, but I believe that I soon will be able to."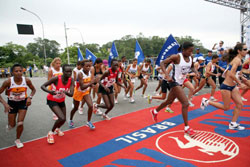 Kenyans dominated the women's race: Nancy Jepkosegi Kipron did not give her opponents the slightest chance and won the race for the second consecutive year. "This year it was easier than last year. I like this race very much, it is my kind of race", she said.
Several Olympic medallists participated, such as swimmer César Cielo, gymnast Daiane dos Santos, swimmer and Paralympic athlete Clodoaldo dos Santos and former volleyball player Mauricio.
MEN:
1  Nicholas K KOECH               KEN  29:15
2  Damilao A DE SOUZA                  29:38
3  Daniel Kipchirchir TOO         KEN  29:40
4  Reginaldo O CAMPOS JR               30:05
5  Luis P DA SILVA ANTUNES             30:13
6  Ederson V PEREIRA                   30:16
7  Edson A SANTOS                      30:25
8  Ivanildo DIAS DE SOUZA              30:28
9  Rafael DOS SANTOS                   30:28
10 David B DE MACEDO                   30:33
 
WOMEN:
1  Nancy Jepkosgei KIPRON         KEN  33:55
2  Ednah MUKHWANA                 KEN  34:53
3  Jane Katalai KIYARA            KEN  34:53
4  Sirlene Sousa DE PINHO         BRA  35:36
5  Rosangela Raimunda FARIA       BRA  35:42
6  Matily Dos Santos BASTOS       BRA  36:07
7  Simone Alves DA SILVA          BRA  36:18
8  Maria Lucia Alves VIEIRA       BRA  36:46
9  Elizabeth Esteves DE SOUZA     BRA  37:18
10 Flaviana Ferreira CHUNG        BRA  37:47
23 NOVEMBER 2008: 21K NUEVO LEON, MEXICO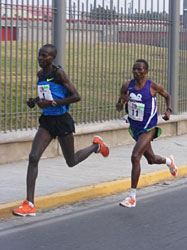 The 8th edition of the race enjoyed excellent weather conditions, allowing an exuberant determinated pace from Patrick Ntiwa that resulted in a stunning new course record.
Nearly 2000 runners started from the Touristic Fundidora Park (until 1986 a steel factory, but now used for business and sport events and as recreational space). Through the centre of Monterrey City the competition was very tight between Ntiwa and Hillary Kimayo who strongly pushed each other on and built up a great lead. The favourable conditions (13°C, but also 534m above sea level) and flat course helped them to set new records.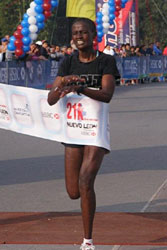 Ntiwa surged at 15km and Kimaiyo remained behind, but a kilometre later he reacted, pushing the pace alongside Ntiwa. Only at the very end as they approached the finish line did Ntiwa manage to get ahead, to cut 65 seconds off the Mexican all-comers record set by Simon Biwot (1:01:27) in 1999.
Genoveva Jelagat, a Kenyan living in the Toluca mountains, won the women's race after a great competition with her US-based compatriots Ivonne Ngetich and Evaline Jelagat.
MEN:
1  Patrick NTIWA                  KEN  1:00:23
2  Hilary KIMAIYO                 KEN  1:00:24
3  Charles KANDI                  KEN  1:04:23
4  George KIRWA                   KEN  1:04:38
5  Stephen CHELAL                 KEN  1:04:51

WOMEN:
1  Genoveva JELEGAT               KEN  1:11:27
2  Ivonne NGETICH                 KEN  1:12:24
3  Evaline CHELAGAT               KEN  1:12:27
4  Jacqueline NYATIPEI            KEN  1:17:03
5  Ana Teresa JAUREGUI            MEX  1:19:48
23 NOVEMBER 2008: STANDARD CHARTERED BANGKOK MARATHON, THAILAND
MEN:
1  Nelson Kirwa ROTICH            KEN  2:19:13
2  Armon Kipchirchir KEMEI        KEN  2:19:46
3  John Chirchir TUBEI            KEN  2:20:03
4  Sammy Kipror KIPTOO            KEN  2:21:56
5  Douglas Mwiti MBUI             KEN  2:22:10
6  Hilary LAGAT                   KEN  2:22:13
7  Workneh Fetene DAMTEW          ETH  2:22:25
8  Daniel GEKARA                  KEN  2:23:10
9  David Kipkoech KIPSANG         KEN  2:25:01
10 Daniel Kemboi CHIRCHIR         KEN  2:26:10

WOMEN:
1  Sunisa SAILOMYEN               THA  2:48:23
2  Wioletta URYGA                 POL  2:48:59
3  Fridah Jepkita LODEPA          KEN  2:49:34
4  Margaret NJUGUNA               KEN  2:50:50
5  Patcharee CHAITONGSRI          THA  2:52:11
6  Clarisse ROSOARIZAY            MAD  2:52:16
7  Aregash Abate GUBA             ETH  2:58:44
8  Margaret Kiplagat JRPKOGE      KEN  2:59:25
9  Risper Lagat CHELEGAT          KEN  2:59:26
10 Arpatsara PRASATHINPHIMAI      THA  3:07:28
23 NOVEMBER 2008: CYPRUS APHRODITE HALF MARATHON
MEN:
1  Zsolt BENEDEK                  HUN  1:08:40
2  Lambros ZARAGAS                GRE  1:09:26
3  Kassahun GEBEL                 ETH  1:09:59
4  Dimitris THEODORAKIS           GRE  1:14:28
5  Michalis GELASAKIS             GRE  1:14:28
6  Michael KEENAN                 GBR  1:15:44
7  Yiannis MOUCHOS                GRE  1:18:00
8  Apostolos TSANAKAS             GRE  1:18:51
9  George LOUKAIDES               CYP  1:19:01
10 Costas PATINIOS                CYP  1:22:35

WOMEN:
1  Georgia AMBATZIDOU             GRE  1:19:28
2  Susan CLARK MARTIN             GBR  1:44:59
3  Elke WEISENER                  GER  1:50:42
4  Maria AVRAMIDOU                CYP  1:54:04
5  Karin PHILIPPE                 GER  1:54:24
6  Marion ROTHER                  GER  1:55:49
7  Elke SCHMIDT                   GER  2:00:00
8  Alison STAINTHORPE             GBR  2:02:49
9  Anne STEIN                     GER  2:05:38
10 Martina GEIDER                 GER  2:10:00
23 NOVEMBER 2008: PHILADELPHIA MARATHON, USA
MEN:
1  Andrey TOPTUN                  RUS  2:19:57
2  Fred KIESER                    USA  2:22:44
3  Evan GRAVES                    USA  2:24:38
4  Craig SEGAL                    USA  2:25:09
5  Andy ALLSTADT                  USA  2:25:16
6  Francis KIBII                  KEN  2:27:18
7  Daniel NALLY                   USA  2:27:57
8  Steve SINKO                    USA  2:28:00
9  Adam CONDIT                    USA  2:28:39
10 Jonathan HEALEY                USA  2:29:11 

WOMEN:
1  Vera OVCHARUK                  RUS  2:44:02
2  Abby DEAN                      USA  2:48:52
3  Christina SHEEHAN              USA  2:50:21
4  Marisha KRAMER                 GER  2:51:33
5  Jennifer MARTIN                USA  2:53:28
6  Megan VALENTINE                USA  2:56:24
7  Patty RUSSO                    USA  2:56:47
8  Jill SKIVINGTON                USA  2:56:51
9  Heather PARKS                  USA  2:56:59
10 Deb HYDE                       USA  2:59:00

HALF MARATHON
MEN:
1  Michael DIDIO                  USA  1:07:02
2  Dan VASSALLO                   USA  1:07:52
3  Karl SAVAGE                    USA  1:07:59

WOMEN:
1  Kathleen JOBES                 USA  1:16:17
2  Jacqueline FILLINGER           USA  1:19:02
3  Kate KOSKI                     USA  1:19:17
23 NOVEMBER 2008: MEDIO MARATON MITAD DEL MUNDO, QUITO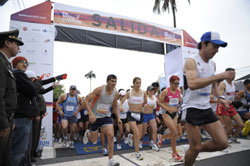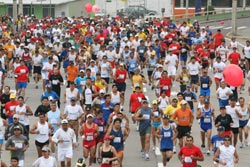 MEN:
1  Franklin TENORIO               ECU  1:04:57
2  Oswaldo JAMYJAMY               ECU  1:05:01
3  Vladimir BURBANO               ECU  1:06:45
4  Wilson CAMACHO                 ECU  1:07:54
5  Byron PIEDRA                   ECU  1:08:35
6  Roberto DELACASA               ECU  1:08:53
7  Rafael REINOSO                 ECU  1:09:13
8  Xavier CHANATASI               ECU  1:09:50
9  Carlos RODRIGUEZ               ECU  1:09:58
10 Manuel AYO                     ECU  1:10:24

WOMEN:
1  Diana LANDI                    ECU  1:16:56
2  Rosalba CHACHA                 ECU  1:17:16
3  Marisol ZUNIGA                 ECU  1:20:35
4  Alexandra GODOY                ECU  1:21:15
5  Mercedes NARANJO               ECU  1:22:49
6  Llumiquinga SUNTAXI            ECU  1:21:33
7  Mercedes NARANJO               ECU  1:22:49
8  Pilar LLANO                    ECU  1:23:39
9  Rosa COTTO                     ECU  1:24:53
10 Jeanneth TOAPANTA              ECU  1:26:14
28-30 NOVEMBER 2008: MALTA CHALLENGE MARATHON
Of 101 entered 90 started the first 11.1km stage, split 75% men and 25% women. A new "Pairs" event attracted 9 teams, where one man and one women living at the same address qualify as a team.
Strong winds and rain had abated by the time the runners started at 13:00. 2007 winner Brian Magri set off with intent, alongside the 2005 winner Jonathon Balzan. The two forged ahead of the rest of the field until at 5.5km on the Dingli Cliffs, Magri pulled out with calf problems. Balzan took the stage win almost two minutes clear of Johann Galea. Evergreen Carol Walsh, the 1992, 2006 and 2007 winner, finished ahead of the 2002, 2003, 2004 and 2005 Carmen Hili in seventh place overall. The four Maltese runners who have run all the "Challenges" - Charles Darmanin, Paul Fenech, Carmel Herd and George Spiteri - all finished.
Next day the show moved to the South of the Island, the small fishing village of Birzebbuga, for the shortest stage of 6km. This pretty village enjoyed far better weather than the day before with sunshine and little wind. The finishing order of the first three repeated itself from the previous day, and all runners finished.
The final 25km stage started with a beautiful sunrise at 07.00, adjacent to the historic setting of the "Knights of St. John" Tower of Wign acourt in St. Paul's Bay. Continuing good weather meant that the water and Powerade stations were well used.
In 2005, Jonathan Balzan, first ever home winner of the Challenge in 2005, became the first double winner in 2008. It was the third time in four years that a Maltese man had won this unique International event. Maltese dominated in both categories after Carol Walsh, sixth overall, retained the women's title.
"My time of 2:26:29 is better than when I won in 2005 so I'm very proud of that" said Balzan. "3 years older, but 73 seconds faster". Third-placed Simon Lia was the race revelation, improving his stage three time from 1:48:52 last year to 1:37:50, and his overall time by 15.5 minutes.
Carol Walsh took an unassailable three-minute lead into the final stage and duly won her third successive Challenge title, while second-placed Carmen Hili said she was overjoyed at beating the three-hour barrier.
MEN:
1  Jonathan BALZAN               MLT  2:26:29
2  Johann GALEA                  MLT  2:32:50
3  Simon LIA                     MLT  2:41:18
 
WOMEN:
1  Carol WALSH                   MLT  2:50:39
2  Carmen HILI                   MLT  2:58:16
3  Rachel GALEA                  MLT  3:19:24
30 NOVEMBER 2008: BLOM BEIRUT MARATHON, LEBANON
Alemayehu Shumye obliterated the course record by over four minutes to win by over three minutes writes Pat Butcher. The first three were inside the previous record of 2:17:04 set by Paul Rugut of Kenya in the inaugural race in 2003. The women's race was swept by the Ethiopians.
Rarely does an Ethiopian or Kenyan predict victory, but 20-year old Alemayehu did just that — and criticised the pacemaker. "After 28km, I had to go by myself," he said immediately after the race. "The pace was too slow, but it was also very windy, and a little hot. If not, I could have run 2:11 today". Around 12°C at the 07:00 race start, the sun in clear blue Mediterranean skies made the finish temperature of 18°C seem much hotter.
Alemayehu comes from Nazret, 100km east of Addis Ababa, but only took up running four years ago after moving to the Ethiopian capital. "I started because of Haile, I want to be like him," he says. Three marathon wins out of three this year, with a best of 2:11:50 is a good start.
Alemayehu's record time was also a successful step up for the marathon organisers, who have succeeded on mobilising a population traumatised by 30 years of conflict into getting out onto the scarred streets for something positive. Inside five years, they have built their ancillary fun-runs, 5km and 10km races, into events which attract almost 30,000 people.
MEN:
1  Alemayehu SHUMWE               ETH  2:12:47
2  Michael KIPKORIR               KEN  2:16:15
3  Hussen ADEM                    ETH  2:16:44
4  Ibrahim LIMO                   KEN  2:17:38
5  Peterson WACHIRA               KEN  2:18:00
6  Tilahun WOEKU                  ETH  2:21:43
7  Ayelew ENDALE                  ETH  2:23:19
8  Hussein AWADA                  LEB  2:23:58
9  Richard KARICHO                KEN  2:26:26
10 Daoud MOSTAFA                  LIB  2:27:30
 
WOMEN:
1  Alemtsehay HAILU               ETH  2:37:20
2  Tadelech BIRRA                 ETH  2:37:58
3  Wudnesh NEGA                   ETH  2:39:09
4  Suzette VERMAAK                RSA  3:13:59
5  Marie AL AAM                   LIB  3:16:57
6  Elga TRAD                      LIB  3:28:36
7  Mona Algis TAMM                LIB  3:29:56
8  May ZEIDAN                     LIB  3:33:28
9  Nona BAYDOUN                   LIB  3:52:43
10 Joelle MAYDANNA                LIB  3:56:15
30 NOVEMBER 2008: MARATON DE SAN SEBASTIAN, SPAIN
MEN:
1  Abdelkebir LAMACHI                   2:15:15
2  Hosea KOGEI                     KEN  2:16:13
3  Babeda Tesfay DIRBA             ETH  2:21:14
4  Benjamin ROTICH                 KEN  2:21:47
5  Jose MOREIRA                         2:22:12
6  Nikolay RYABININ                     2:22:17
7  Ibon Esparza OLANO                   2:24:05
8  Ion A ELIZEGI                        2:28:31
9  Ludisvindo R CONDE                   2:28:57
10 Mohamed AFAADAS                      2:30:19
 
WOMEN:
1  Ana Casares POLO                     2:37:22
2  Elena TIKHNONOVA                     2:45:51
3  Irina PANKOVSKAYA                    2:54:59
4  Agnes K E REYNDERS                   2:57:36
5  Alizia O DONATO DE LOPEZ             3:03:46
6  Yolanda Soler VINCENTE               3:05:59
7  Elena Calvillo ARTEAGA               3:07:30
8  Rosa E OLIVERA                       3:08:18
9  Belinda C RUESCAS                    3:08:42
10 Nuria S VIDAL                        3:08:51
30 NOVEMBER 2008: MARATHON OF LA ROCHELLE, FRANCE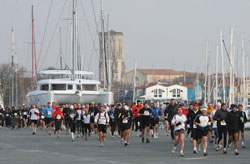 The Mayor of La Rochelle, Mr Maxime Bono set off a record field of 7229 starters in two waves for this 18th edition.
The men's lead group went through 10km in 30:23 and halfway in 1:04:23 - significantly faster than the planned 2:10:30 pace, and probably much faster than was wise. By that time five runners were still together. At 35km it was down to two Ethiopians and a Kenyan: Ketema Amenissa, Feyisa Tusse and David Toniok. Toniok led from 25km, but at 39km Amenissa pushed on ahead for the first ever Ethiopian victory in La Rochelle.
The women's race included two double winners, Beatrice Omwanza and Elizabeth Chemweno. They went through 10km in 36:52 along with Florence Jepkosgei and Catherine Kurui, but by halfway Chemweno was on her own, passing through in 1:16:46. She went on to record an untroubled win. Anzhelika Averkova benefitted from a steady early pace to come through into second place, three minutes behind. By contrast, Beatrice Omwanza fell off her initial pace, but still managed third.
MEN:
1  Keteme AMENSISA                 ETH  2:14:21
2  David TONIOK                         2:15:22
3  Vincent KIPLAGAT                KEN  2:15:59 
4  Moses KIBOR                     KEN  2:16:25
5  Julius MARITIM                  KEN  2:18:49
6  Feyisa TUSSE                    ETH  2:18:59
7  Paul LOPIO                           2:19:02
8  Adam DOBRZYNSKI                 POL  2:22:03
9  Mickael THOMAS                       2:22:25
10 Sebastein QUARRE                FRA  2:23:29
 
WOMEN:
1  Elizabeth HEMWENO               KEN  2:34:52
2  Anzhelika AVERKOVA                   2:37:27
3  Beatrice OMWANZA                KEN  2:41:37
4  Corinne HERBRETEAU              FRA  2:42:43
5  Fatima YVELAIN                  FRA  2:42:55
6  Maria FEDOSSEEVA                RUS  2:45:48
7  Florence JEPKOSGEI              KEN  2:46:12
8  Catherine KURUI                 KEN  2:46:26
9  Murielle BRIONNE                FRA  2:47:49
10 Silveira LEOPOLDINA                  2:48:09
30 NOVEMBER 2008: 25TH FIRENZE MARATHON, ITALY
Giovanna Volpato returned to form after her Achilles tendon injury from the Osaka World Championships in 2007, with a solo win. Kenyans swept the podium in the men's race and Italy's Migidio Bourifa taking fourth. Nearly 8000 started from the Piazzale Michelangelo despite a rainstorm during the night and the threatening clouds in the morning which soon broke. Heavy rain fell for half the race but 7,350 runners finished, 1000 more than the previous year.
The lead group passed through 10km in 31:14. In the women's race the Italians Marcella Mancini and Giovanna Volpato imposed the pace together with young Ethiopian Elfeneshe Melaku and the surprising British runner Alice Braham. All passed 10km in 36:28 At halfway Bourifa led the men in 1:05:37 followed by a group led by Kenyans John Birgen and Paul Ngeny Kipkemboi. The leading women passed by in 1:16:30.
The decisive point in the men's race came at 35km when Jackson Kirwa Kiprono took the lead alongside the more experienced John Birgen. Bourifa and Kipkemboi progressively lost ground. The finish was a breathless sprint between Birgen and Kiprono, with Kiprono breaking the tape hands raised in 2:12:37.
Volpato also started her attack between 32-35km, through the Cascine Park. Only Braham tried to hold on while Mancini slowed and Melaku suffers a crisis. At 35km Volpato was followed by Braham at 33 seconds, by Mancini at 55s and by Melaku at 1:13. The finish was a triumphal parade for Giovanna Volpato, crowning her return to the marathon with a convincing victory after an absence of more than a year.
MEN:
1  Jackson Kirwa KIPRONO          KEN  2:12:37
2  John BIRGEN                    KEN  2:12:38
3  Paul Kipkenboi NGENY           KEN  2:13:35
4  Migidio BOURIFA                ITA  2:13:43
5  Stephen Kipkoech KIBIWOT       KEN  2:15:23
6  Nicodemus BIWOTT               KEN  2:15:29
7  Andy JONES                     GBR  2:17:50
8  Thomas PAYN                    GBR  2:18:46
9  Fekene SEFU                    ETH  2:22:47
10 Peter STEIB                    ITA  2:27:46

WOMEN:
1  Giovanna VOLPATO               ITA  2:34:13
2  Alice BRAHAM                   GBR  2:35:23
3  Marcella MANCINI               ITA  2:36:39
4  Elfenesh MELAKU                ETH  2:44:52
5  Monika NAGY                    HUN  2:47:57
6  Daneja GRANDOVEC               SLO  2:51:48
7  Loretta GIARDA                 ITA  2:55:05
8  Elivabeth STAVRESKY            AUS  2:56:53
9  Elena CASARO                   ITA  2:57:48
10 Francesca PATUELLI             ITA  2:58:04
30 NOVEMBER 2008: UNICEF CHARITY RUN HALF MARATHON, HONG KONG
MEN:
1  Thomas KIPROTICH               KEN  1:07:42
2  Stefano PASARELO               ITA  1:08:52
3  Ka Ho CHAN                          1:09:01
4  Andrew NAYLOR                       1:12:14
5  Kwang Man LAU                       1:13:55
6  Adrian HORVATH                      1:14:20
7  Ping Chueng WONG                    1:16:50
8  Peter HOPPER                        1:17:19
9  Philippe COSENTINO                  1:17:58
10 Dennis NG                           1:18:27

WOMEN:
1  Sui Ping FAN                        1:24:34
2  Kit Yee CHAN                        1:27:24
3  Nicola GREEN                        1:27:55 
4  Rachel SPROSTON                     1:29:41
5  Angelina KONG                       1:30:30
6  Ka Man Lau                          1:31:11
7  Sian ABATE                          1:32:01
8  Pui Shan CHAN                       1:32:47
9  Ying Suet LEUNG                     1:34:13
10 Mandy Mun Tse CHOY                  1:34:56

10km
MEN:
1  Kan Man GI                          32:55
2  Hok Yan LAI                         34:32
3  Rafael Droste Zu VISCHERING         34:38

WOMEN:
1  Suet Fei LI                         37:53
2  Charlotte CUTLER                    38:02
3  Claire FORBES                       38:37
30 NOVEMBER 2008: GRAN MARATON PACIFICO, MEXICO
MEN:
1  George OKWORO                    KEN  2:15:49 
2  Tomas D LUNA                     MEX  2:16:29
3  Gualberto J S VARGAS             MEX  2:16:50
4  Jacob CHAMER                     KEN  2:17:46
5  Fidel Q GARCIA                   MEX  2:18:16
6  Peter OMAE                       KEN  2:18:55
7  Abraham E NOGUEZ                 MEX  2:19:57
8  Raymundo A TORRES                MEX  2:21:09
9  Francisco G MAURICIO             MEX  2:22:12
10 Giovani P GONZALEZ               MEX  2:22:40
 
WOMEN:
1  Monica MUTHONI                   KEN  2:42:28
2  Alice NDIRANGU                   KEN  2:42:39
3  Guadalupe M M SANTANA            MEX  2:47:54
4  Misha F RUIZ                     MEX  2:50:17
5  Lorena C CIRA                    MEX  2:51:00
6  Julieta E LORENZO                MEX  3:04:33
7  Gabriela V N PALACIOS            MEX  3:04:53
8  Gloria L ESCARENO                MEX  3:04:55
9  Candida P GACHUZ                 MEX  3:05:16
10 Teresa M G RETIZ                 MEX  3:06:55
 
HALF MARATHON
MEN:
1  Kipyego B CHERUIYOT              KEN  1:03:41  
2  Isaac M WAMERU                   KEN  1:03:47
3  Shadrack KIYAI                   KEN  1:03:54
 
WOMEN:
1  Lucy M NJERI                     KEN  1:16:00
2  Fabiola M FERNANDEZ              MEX  1:18:17
3  Monica OTWORI                    KEN  1:18:52
30 NOVEMBER 2008: TORAY CUP SHANGHAI MARATHON, CHINA
The 13th edition attracted a record 20,000 runners from 51 countries, writes Chris Turner. Zafaris Spyros, the Mayor of Marathon (the Greek town which gave the event its name) brought a flame, ignited in Marathon, to Shanghai. This flame was used to start a torch relay run along the marathon route before the race began.
The race started from Century Square at 07:30 on Nanjing Road East and ended at Minhang Stadium. New course records were set in both men's and women's races. Gashaw Asfaw, 30, who finished seventh in the Beijing Olympic Games, knocked 3.5 minutes off the previous best, in a completely dominant performance.
Irina Timofeyeva, 38, who won the 2008 Hamburg Marathon winner in a personal best of 2:24:14, was also a seventh place Beijing Olympic finisher. She improved the previous women's best in Shanghai (2:29:28) by over three minutes.
MEN:
1  Gashaw Melese ASFAW            ETH  2:09:28
2  Michael Njuroge KIMANI         KEN  2:13:48
3  Joshua Koech CHELANGA          KEN  2:17:46
4  Ran ZHAO                       CHN  2:17:53
5  John MAINA                     KEN  2:18:56
6  Ziwen JIU                      CHN  2:19:23
7  Xuyang YU                      CHN  2:19:55
8  Lee TROOP                      AUS  2:21:43

WOMEN:
1  Irina TIMOFEYEVA               RUS  2:26:19
2  Yanan WEI                      CHN  2:26:49
3  Jie WEI                        CHN  2:36:32
4  Xue BAI                        CHN  2:37:40
5  Yinlin HE                      CHN  2:46:13
6  Zivile BALCIUNAITE             LIT  2:47:21
7  Yin SHANG                      CHN  2:47:39
8  Yi WANG                        CHN  2:48:43
30 NOVEMBER 2008: AMICA INSURANCE SEATTLE MARATHON, USA
MEN:
1  Stuart BURTON                       2:33:57
2  Caleb KNOX                          2:34:13
3  Jesse STEVICK                       2:38:47
4  Al EZAKI                       CAN  2:44:22
5  Ian SHARMAN                         2:45:41
6  Robert PRITCHET                     2:45:45
7  Paul SKARSGARD                 CAN  2:46:37
8  Alberto MEZA                        2:48:18
9  Joel REESE                          2:49:19
10 Brian MORRISON                      2:49:53

WOMEN:
1  Annie THIESSEN                      3:02:06
2  Nell STEPHENSON                     3:03:29
3  Zosia BROWN                    CAN  3:06:08
4  Rachel BENNION                      3:07:49
5  Trisha STEIDL                  USA  3:10:13
6  Kate BRADSHAW                       3:12:23
7  Colleen LITTLE                      3:13:55
8  Joan MCGRATH                   CAN  3:14:23
9  Kathey WEBBER                       3:16:08
10 Dyan SIMON                          3:16:11

HALF MARATHON
MEN:
1  Steve DEKOKER                       1:11:50
2  James MOORE                         1:13:09
3  Spencer WALSH                       1:13:43

WOMEN:
1  Kristi HOUK                         1:23:03
2  Ellie GREENWOOD                CAN  1:25:19
3  Mary MORIARTY                       1:26:51
30 NOVEMBER 2008: LAKE KAWAGUCHI MARATHON, JAPAN
MEN:
1  Mamo MOGES                     ETH  2:23:20 
 
WOMEN:
1  Shuping WONG                   HKG  3:04:20
November 2008