December 2007
1 DEC | 2 DEC | 9 DEC | 16 DEC | 20 DEC | 31 DEC
1 DECEMBER 2007: REGGAE MARATHON, JAMAICA
International participants came out on top in this year's edition with Belgium's Rik Ceulemans and Jeanette Seckinger USA winning the marathon, while the Half Marathon event belonged to the Jamaicans. Defending champions Andrew Gutzmore and Euleen Josiah Tanner placed third and second respectively.
MEN:
1  Rik CEULEMANS                  BEL  2:31:43
2  Rupert GREEN                   JAM  2:37:22
3  Andew GUTZMORE                 JAM  2:41:32
4  Christopher STEWART            USA  2:47:04
5  Enos BENBOW JR                 USA  2:47:37
6  Lamar EDWARDS                  JAM  2:55:32
7  Colin GRAHAM                   JAM  2:57:07
8  Jermain MERCHANT               JAM  3:00:22
9  David JOHNSON                       3:02:00
10 Brian PHILLIPS                 JAM  3:07:02

WOMEN:  
1  Jeanette SECKINGER             USA  3:00:57 
2  Euleen JOSIAH-TANNE            USA  3:08:37 
3  Terri REJIMBAL                 USA  3:24:21
4  Cara MEARS                     USA  3:36:58
5  Karlene BLAGROVE               JAM  3:38:40
6  Alice FOLEY-KEATS              USA  3:40:33
7  Tamara ROGERS                  USA  3:42:15
8  Marian ZOBLER                  USA  3:43:41
9  Linda LEAO                     USA  4:00:20
10 Debra THOMAS                        4:01:20

HALF MARATHON
MEN:
1  Kemoy CAMPBELL                 JAM  1:10:26 
2  Kirk BROWN                     JAM  1:10:54
3  Gregory MCKENZIE               JAM  1:11:33

WOMEN:
1  Tanice BARNETT                 JAM  1:28:48
2  Natoya GOULE                   JAM  1:28:52
3  Amoya BAILEY                   JAM  1:31:13
2 DECEMBER 2007: 61ST FUKUOKA INT'L OPEN MARATHON CHAMPIONSHIP, JAPAN

Samuel Wanjiru, the World Half Marathon record holder, won in a new course record writes Ken Nakamura. Deriba Merga of Ethiopia also finished under the previous course record with a personal best time by nearly seven minutes. Atsushi Sato, the Japanese half marathon record holder improved his best by 1:23 and staked his claim for the Olympic team. Former national record holder Atsushi Fujita finished disappointing eighth, while the current national record holder Toshinari Takaoka was tenth.
Pacemakers Isaac Macharia and Fabiano Joseph kept a steady 3 minutes per kilometre pace as contenders gradually fell behind. After passing halfway in 1:03:30 national record holder Toshinari Takaoka started to fall behind. The pace increased and by 25km, 10 runners, including pacemakers, remained. Soon it was down to Wanjiru, Sato and Merga as Fujita, Shigeru Aburaya and Kensuke Takahashi were dropped soon after 30km. Wanjiru increased the pace after 34km and Sato fell back, soon enough to avoid a dramatic slowdown. Wanjiru led Merga through a 2:52 35th kilometre. The 39th kilometre was a slow 3:11 but Wanjiru kicked at around 40.5km and the race was over.
Wanjiru plans to improve to 2:05 in a spring marathon to make the Olympic marathon team for Kenya. His second marathon will be awaited with much anticipation.
Sato is likely to be selected for the Japanese Olympic team. He married 2004 Olympic 800m competitor Miho Sugimori recently and they have a chance to make it to Beijing together.
MEN:
1  Samuel WANJIRU              KEN  2:06:39
2  Deriba MERGA                ETH  2:06:50  
3  Atsushi SATO                JPN  2:07:13
4  Yukou MATSUMIYA             JPN  2:09:40 
5  Shigeru ABURAYA             JPN  2:10:30
6  Kensuke TAKAHASHI           JPN  2:11:52
7  Daniel YEGO                 KEN  2:11:57  
8  Atsushi FUJITA              JPN  2:12:29
9  Naoki MISHIRO               JPN  2:12:56 
10 Toshinari TAKAOKA           JPN  2:13:40
2 DECEMBER 2007: MILANO CITY MARATHON, ITALY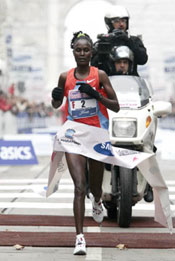 A record 5726 runners assembled in the Piazza Castello in cool conditions writes Diego Sampaolo. Recent bronze medal winners in the World Road Running Championships in Udine, Kenya's Evans Cheruiyot and Pamela Chepchumba confirmed their form in winning their races, with Chepchumba smashing her previous best of 2:29:48 set in the 2006 Paris Marathon.
A seven-man group including three pacemakers passed 15km in 45:46, 45 seconds ahead of the chasing group. Two pacers dropped out at halfway, reached in 1:04:24, after which the pace slowed slightly as runners watched each other. At 30km it was down to four men: John Birgen, Norman Dlomo, Charles Kamathi and Cheruiyot. Dlomo tried to break away at 34km. Kamathi was dropped but Cheruiyot and Birgen responded quickly and the three passed 35km in 1:47:30. Cheruiyot and Birgen then went clear. Cheruiyot's speed (he ran 59:05 in Udine) proved decisive at 39km when he pulled away from Birgen to finish in the Arco della Pace with a five-second advantage.
Margaret Okayo, the Milan record holder with 2:24:59 from 2002, hit the front early on and ran with Chepchumba, passing 10km in 33:45. Coming back from injury, she completed her test run at halfway, passed in 1:11:50. In the second half Chepchumba continued running strongly at course record pace but showed signs of fatigue at the end, and the record slipped from her grasp. This was the fourth Marathon of her career. Bahrain's Nadia Ejjaffini led Marcella Mancini by 50 seconds at 30km, but the Italian overhauled her at 40km to take second.
MEN: 
1  Evans K CHERUIYOT           KEN  2:09:15 
2  John BIRGEN                 KEN  2:09:20 
3  Norman MBLOMO               RSA  2:10:39
4  Charles KAMATHI             KEN  2:11:25 
5  Ottavio ANDRIANI            ITA  2:11:42
6  Josť TELEZ                  BRA  2:12:24
7  Vanderlei DE LIMA           BRA  2:12:54
8  Mostafa ERRABAH             ITA  2:14:16
9  Abdelhadi El HACHIMI        MOR  2:14:35
10 Anselmo DE SOUZE            BRA  2:14:44
 
WOMEN: 
1  Pamela CHEPCHUMBA           KEN  2:25:36
2  Marcella MANCINI            ITA  2:34:58
3  Petra TEVELI                HUN  2:35:21
2 DECEMBER 2007: STANDARD CHARTERED SINGAPORE INT'L MARATHON, SINGAPORE
Photo: Fulfords PR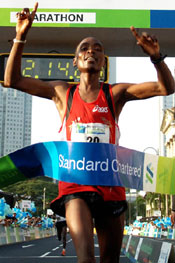 Pacemaker Elijah Mbogo of Kenya ended up going the full distance and winning his debut marathon writes Pat Butcher. Two-time winner Amos Matui failed by just two seconds to catch his 19-year old compatriot. Veteran David Cheruiyot, who won Istanbul just five weeks ago, made it a Kenyan clean sweep and also finished under the old record.
In contrast to his previous marathon start, when he duly dropped out as planned at 30km, Mbogo said he every intention of finishing in Singapore if he felt good at that point.
The earlier start, 5:30am in the city-state meant that the athletes got the most temperate conditions they are ever likely to encounter in Singapore — 25°C with 40% humidity at the start — and the men's group of a dozen duly attacked Matui's 2:15:01 record. They were still together at halfway in 66:55, but when the sun came up after an hour and half and temperatures climbed towards 30°C, the field began to break up. They were on their way back into town at that point, after the long garden stretches beside the beach in the East Coast Park.
When the lead car slowed to negotiate a bend Mbogo shot off into a 100m lead, which he built up to double that with 2km to go. Even then, as Matui said later, he still thought he could win. He set out with the same will as in the last two years, but he just ran out of road.
"I knew he had a good kick, so I tried to build up as big a lead as possible," said an exultant Mbogo. I was pacing until 30k, but I saw that the group was not so strong, so I decided to attempt it. Personal bests at 10km (28:24) and the half-marathon (61:40) in Europe two months ago and nine weeks' altitude training near Mount Kenya provided the background for his victory. "I don't want to rush into another marathon yet. I want to get better times for 10km and 59 minutes for the 'half'," he said.
The women were always going to be chasing a dream time, Salina Kosgei's 2:31:55 from last year. Veteran Edith Masai of Kenya could not stay with the young Ethiopian, Alem Ashebier, when she surged away at 35km. Ashebier won with a personal best by two minutes, despite the conditions.
MEN:
1  Elijah MBOGO                KEN  2:14:23 
2  Amos MATUI                  KEN  2:14:25 
3  David CHERUIYOT             KEN  2:14:43 
4  Francis KIPROP              KEN  2:16:43 
5  Michael KIMANI              KEN  2:17:00 
6  Henry CHERONO               KEN  2:17:17 
7  Patrick Tambwe NGOLE             2:17:47 
8  Ashebier DEMISSU            ETH  2:19:18 
9  Sammy KIPRUTO               KEN  2:19:36 
10 Said REGRAGOUI              SWE  2:20:38 
 
WOMEN:
1  Alem Ashebier               ETH  2:37:08
2  Edith MASAI                 KEN  2:38:07 
3  Caroline KWAMBAI            KEN  2:38:46 
4  Emma MUTONI                 KEN  2:39:42 
5  Madina BIKTAGIROVA          RUS  2:43:28 
6  Kotu MESERET                ETH  2:43:52 
7  Rose NYANGACHA              KEN  2:45:51 
8  Liliyan YAZDHAK             RUS  2:46:06 
9  Asami NICHIZAWA             JPN  2:46:09 
10 Tola EDA                    ETH  2:53:14
2 DECEMBER 2007: LAS VEGAS INT'L MARATHON, USA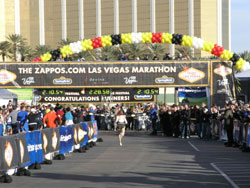 The 42nd running of the Zappos.com Las Vegas Marathon was held in near perfect weather conditions and featured, for the third year, the Megabucks challenge. In this challenge a time differential is mathematically between the elite women and elite men; this year it was 18 minutes and 3 seconds. The elite women then start ahead of the men by this amount. The first two years resulted in the men overtaking the leading woman; in 2006 this happened in only the final kilometre. This year Sylvia Skvortsova took off at a blistering pace and never looked back. She began expanding the differential in the first 3km and finished in 2:29:01 gaining not only the $25,000 "Challenge" bonus but a spot on the Russian Olympic team for Beijing. Several sub 2:10 runners, including the winner Christopher Cheboiboch, failed in their attempts to catch Skortsova.
Tegla Loroupe ran non-competitively in support of her Peace Foundation yet managed to finish third among the women. More than 16,000 runners were registered for the marathon and half marathon combined and came from all 50 of the United States and 42 foreign countries.
MEN:
1  Christoper CHEBOIBOCH          KEN  2:16:49
2  Jynocel BASWETI                     2:17:41
3  Philip TANUI                   KEN  2:20:26
4  Joseph KAHUGU                  KEN  2:21:13
5  Moses TAYE                     KEN  2:22:39
6  Sergey FEDOTOV                 UKR  2:22:53
7  Evgeni BOZHKO                  UKR  2:23:28
8  Abebe YIMER                    ETH  2:24:20
9  Joseph MUTINDA                      2:25:37
10 Michael BRESSON                USA  2:26:26  

WOMEN:
1  Sylvia SKVORTSOVA              RUS  2:29:01
2  Irene MOGAKA                   KEN  2:36:15
3  Tegla LORUPE                   KEN  2:41:37
4  Viktoria ZUEVA                 RUS  2:42:29
5  Margaret NAKINTU               KEN  2:48:11
6  Kathryne KASISCHKE             USA  2:54:09
7  Laura SEIMS                    USA  2:57:00
8  Sherry CHRISTOFF               USA  3:03:09
9  Tracey TRASS                   NZL  3:05:17
10 Eliza C LOPILAILE              USA  3:05:53
 
HALF MARATHON
MEN:
1  Peter HESSLER                  USA  1:18:31
2  Sam BRANCHEAU                  USA  1:18:57
3  Steve DESBOROUGH               USA  1:19:12
 
WOMEN:
1  Sarah RAITTER                  USA  1:23:51
2  Lisa V VENEZIANO               USA  1:25:52
3  Ramona SANCHEZ                 USA  1:26:04
2 DECEMBER 2007: 26th MACAU GALAXY ENTERTAINMENY INT'L MARATHON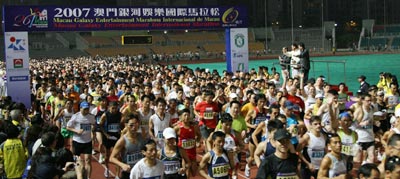 Almost 3000 participants registered for the marathon, half and mini marathon and 2356 of them completed the races. The warm and dry weather offered great conditions to the runners gathered cheerfully in Macau Stadium.
Defending female champion Phyo Un Suk, from the Democratic People's Republic of Korea, retained the title while the new men's winner also came from North Korea.
MEN:
1  Kum Song RI                    DPK  2:17:39
2  Joseph Kadon EPETET            KEN  2:17:56
3  Reuben CHERUIYOT               KEN  2:18:35
4  Mikhail IVERUK                 UKR  2:18:38
5  Hyon U RI                      DPK  2:18:55
6  Christopher TOROITICH          KEN  2:19:16
7  Phillip BANDAWE                ZIM  2:19:46
8  Joel Kiplimo KEMBOI            KEN  2:20:16
9  Feng XUE                       CHN  2:21:18
10 Christopher RONO               KEN  2:21:53
 
WOMEN:
1  Un Suk PHYO                    DPK  2:38:26
2  Chol Sun KIM                   DPK  2:40:00
3  Natalya VOLGINA                RUS  2:42:42
4  Edyta LEANDOWSKA               POL  2:43:27
5  Kristyna LOONEN                NED  2:49:01
6  Hong Lan YIU                   CHN  2:59:33
7  Wai Shan Dara MAN              HKG  3:17:08
8  Chun Hing CHAN                 HKG  3:21:16
9  Lai Heong LEONG                MAC  3:22:52
10 Angelina Fung Sin KONG         HKG  3:29:54
 
HALF MARATHON
MEN:
1  Kar Lun LEE                    HKG  1:18:32
2  Jonathan Liu Fun LAU           HKG  1:18:46
3  Antonio Pereira COSTA          POR  1:19:06
 
WOMEN:
1  Kit Ching YIU                  HKG  1:27:46
2  Gillian CASTKA                 GBR  1:28:22
3  Victoria HILL                  GBR  1:28:44
2 DECEMBER 2007: RUN BARBADOS MARATHON, HALF & 10km
Victor Ledger, from the neighbouring Caribbean island of St Lucia, retained his marathon title in the Run Barbados Festival by floating away from his rivals before even reaching the halfway point on the new out-and-back course along the picturesque west coast of Barbados.
Amy Chalk had even less difficulty in distancing the opposition to retain the women's title. The half and full marathon runners started off together at 05:15 from the bandstand on the Esplanade outside the Prime Minister's office, and most of the front runners in the half marathon had also run the 10km race around Bridgetown the previous afternoon. The convincing winners of the 10km, Kenyans Philip Lagat and Janet Cheberon, repeated their wins with Lagat setting a new event record despite it being generally acknowledged that the new course is slightly more difficult than that previously run.
MEN:
1  Victor LEDGER                  STL  2:26:27
2  Richard JONES                  TRI  2:33:16
3  Samuel NJUNGA                  KEN  2:35:03
4  Curtis COX                     TRI  2:38:24
5  Pamenos BALLANTYNE             VIN  2:38:50
6  Andrew GREENIDGE               BAR  2:47:42
7  Kenrick WILLIAMS               TRI  2:52:34
8  Keith CUMBERBATCH              BAR  2:58:20
9  Adalbert BROWNE                BAR  2:59:04
10 Mark GREENIDGE                 BAR  3:03:37
 
W0MEN:
1  Amy CHALK                      GBR  3:02:15
2  Kim GOFF                       USA  3:31:23
3  Elinor CROCK                   IRL  3:35:40
4  Helen ORIORDAN                 IRL  3:37:01
5  Irene GAYNOR                   IRL  3:44:29
6  Wendy SWALLOW                  TRI  4:08:01
7  Kirsten SCOTT                  CAN  4:11:23
8  Sandra LOWTHER                 GBR  4:17:13
9  Laura BRYAN                    BAR  4:17:52
10 Kim CORDYCE                    BAR  4:32:22
 
HALF MARATHON
MEN:
1  Philip LAGAT                   KEN  1:05:24
2  Agustus KAVUTU                 KEN  1:07:48
3  Zepherinus JOSEPH              STL  1:12:29
 
WOMEN:
1  Janet CHEBERON                 KEN  1:17:22
2  Tatyana CHALUK                 RUS  1:17:22
3  Wendy NICHOLLS                 GBR  1:17:44
 
1 DECEMBER 2007: 10km
MEN:
1  Philip LAGAT                   KEN  29:46
2  Agustus KAVUTU                 KEN  31:06
3  Zepherinus JOSEPH              STL  31:56
 
WOMEN:
1  Janet CHEBERON                 KEN  34:03
2  Tatyana CHALUK                 RUS  34:59
3  Birhan DAGNE                   GBR  36:44
2 DECEMBER 2007: LISBON INTERNATIONAL MARATHON, PORTUGAL
MEN:
1  Vasco AZVEDO                  POR  2:19:55
2  Joao SERRALHEIRO              POR  2:20:50
3  Thomas SCHUSTER               GER  2:23:54
4  Antonio SOUSA                 POR  2:25:06
5  Luis COELHO                   POR  2:28:12
6  Jose JARMELA                  POR  2:31:28
7  Alvaro RODRIUGUES             POR  2:32:46
8  Martim NUNES                  POR  2:35:48
9  Felix PAULOS                  POR  2:36:16
10 Gabriel MACCHI                ITA  2:37:11

WOMEN:
1  Fatima SILVA                  POR  2:47:49
2  Lucinda MOREIRAS              POR  2:55:33
3  Natalia PINHO                 POR  3:06:08
4  Anita LEIPINA                 POR  3:11:52
5  Arianna PASQUARIELLO          ITA  3:22:40
6  Lara BRUSCHI                  ITA  3:23:30
7  Carmen BARGUENO                    3:29:03
8  Gloria SERRAZINA                   3:29:31
9  Rute SOUSA                    POR  3:30:20
10 Birgit LINNARZ                GER  3:35:11
2 DECEMBER 2007: CAYMAN ISLANDS MARATHON
MEN:
1  Scott BRITTAIN                 CAY  2:45:23
2  Eduardo TORRES                 CAY  3:06:23
3  Chris SOLARZ                   USA  3:11:45
4  Jasper MIKKELSEN               CAY  3:22:01
5  Kevin BOE                      USA  3:29:49
6  Jim LAUBSTED                   USA  3:30:41
7  Konstantin DRABKIN             USA  3:31:43
8  Mark HYDES                     CAY  3:49:24
9  Gene BACHMAN                   USA  3:53:56
10 Lawton DELISSER                USA  3:58:45

WOMEN:
1  Andrea KOVACH                  USA  3:37:02
2  Katrina ROWE                   CAY  3:38:59
3  Debbie SAINT                   GBR  4:09:47
4  Shelley RYAN                   USA  4:19:56
5  Kate CUTA                      USA  4:26:20
6  Erin LYNCH                     CAY  4:34:21
7  Gigi GILBERT                   USA  4:38:41
8  Natisha HOFFMAN                CAY  4:47:08
9  Pat MCCALLUM                   CAY  4:47:51
10 Karen VAN RITE                 USA  4:58:11

HALF MARATHON
MEN:
1  Marius ACKER                   CAY  1:17:54
2  Russ COLEMAN                   CAY  1:20:52
3  Neal COLEMAN                   CAY  1:30:12

WOMEN:
1  Maria MAYS                     CAY  1:28:14
2  Julie STACKHOUSE               USA  1:28:29
3  Beth SCHREADER                 CAY  1:39:19
2 DECEMBER 2007: PAMPULHA LAGOON ROAD RACE, BRAZIL (17.8KM)
Franck Caldeira capped his victories in 2003 and 2006 by defending his title in this 17.8km race around the Pampulha Lagoon in Belo Horizonte. He was accompanied by a group of three Kenyans and two Brazilians, but by 10km it was between him, Paulo Roberto Paula and Mutai — but Caldeira cruised to victory brandishing a flag in the home straight to applause from all sides. "It was a hard race, despite the eventual margin of victory" said the Pan-Am Games Marathon Champion afterwards. His victory brought the Brasil vs. Kenya victory score to 5-4.
Winner of the women's race for the last three years, Lucilia Peres, had to yield to the Kenyan Nancy Kipron and Marizete Rezende. Mother-of-two Kipron won last year's Barcelona 10km in 31:52. "I saved my strength for the decisive attack," she commented. Marizete Rezende, in second, complained of breathing problems but the Queen of Pampulha Lucelia Peres simply said "I gave my best, but the competition was tough."
Ten thousand runners participated in temperatures of 28°C.
MEN:
1  Franck Caldeira DE ALMEIDA     BRA    53:11
2  Paulo De Almeida PAULA         BRA    54:03
3  Kiprono Chemwolo MUTAI         KEN    54:10
4  Raimundo Sousa AGUIAR          BRA    54:13
5  Paulo DOS SANTOS               BRA    54:21
6  Titus Kosgei KIBII             KEN    54:35
7  Amos MAINO                     KEN    54:43
8  Francisco DOS SANTOS           BRA    54:47
9  Giomar DA SILVA                BRA    54:50
10 Luis Da Silva ANTUNES          BRA    55:03

WOMEN:
1  Nancy Kipkosgei KIPRON         KEN  1:02:41
2  Marizete De Paula REZENDE      BRA  1:02:50
3  Lucelia De Oliveira PERES      BRA  1:03:08
4  Ma.Zeferina Baldaia RODRIGUES  BRA  1:03:19
5  Edielza Alves DOS SANTOS       BRA  1:04:08
6  Marily DOS SANTOS              BRA  1:04:20
7  Eunice JEPTOO                  KEN  1:04:34
8  Pauline CHEPCHUMBA             KEN  1:04:37
9  Jacqueline Jerotich CHEBOR     KEN  1:04:43
10 Eunice Jepkirui KIRWA          KEN  1:05:16
2 DECEMBER 2007: UNICEF CHARITY HALF MARATHON & 10km, HONG KONG
MEN:
1  Ka Ho CHAN                     1:12:43  
2  Andrew NAYLOR                  1:14:23
3  Hok Lan YAI                    1:14:51
4  Adrian KING                    1:15:41
5  Wai Shing MO                   1:19:02
 
WOMEN:
1  Rachel SPROSTON                1:29:53
2  Rosamund BARKER                1:30:39
3  Ada Yuen Fan LEONG             1:30:43
4  Yin Ping LEE                   1:34:13
5  Hei Chi HON                    1:34:47
 
10km
MEN:
1  Andrew STEVENSON                32:41
2  Ka Man GI                       34:19
3  Chris COOK                      35:58

WOMEN:
1  Ying Suet LEUNG                 38:25
2  Suet Fei LI                     38:49
3  Tania So Ning MAK               39:51
2 DECEMBER 2007: GRAN MARATHON PACIFICO, MEXICO
MEN:
1  Bob ONYANCHA                   KEN  2:19:50
2  Peter OMAE                     KEN  2:20:34
3  Lazarus NYAKERAKA              KEN  2:21:55
3  Stephen CHELAL                 KEN  2:23:38
4  Ruben CHESANG                  KEN  2:24:07
5  Leonardo Trejo CAMARGO         MEX  2:25:05
6  Samwel Kiprotich CHEPNO        KEN  2:26:46
8  Luis Cruz GUTIERREZ            MEX  2:27:17
9  Rafael Encarnacion SANCHEZ     MEX  2:28:03
10 Ruben Garcia GOMEZ             MEX  2:28:29
 
WOMEN:
1  Lucy NJERI                     KEN  2:37:05
2  Ma Elena Valencia JIMENEZ      MEX  2:41:27
3  Ma Guadalupe Santana MARIN     MEX  2:54:35
4  Penelope Lona GUERRERO         MEX  2:58:30
5  Misha Ruiz FERNANDEZ           MEX  2:58:42
6  Liliana Cruz VALDEZ            MEX  3:01:34
7  Damasco Lucilia CASTELAN       MEX  3:02:24
8  Patricia Martinez AGUILAR      MEX  3:06:55
9  Gisela Olalde GRANADOS         MEX  3:07:31
10 Veronica Palacios NODAL        MEX  3:11:10
 
HALF MARATHON
MEN:
1  Bernal Juan Carlos ROMERO      MEX  1:04:40
2  Carlos Cordero GOMES           MEX  1:05:06
3  Abraham Christian EGUIZABAL    MEX  1:05:42
 
WOMEN:
1  Marisol Romero ROSALES         MEX  1:20:09
2  Liliana Merlo FERNANDEZ        MEX  1:20:23
3  Karina Estrada HERNANDEZ       MEX  1:20:36
2 DECEMBER 2007: COSTA RICA INTERNATIONAL MARATHON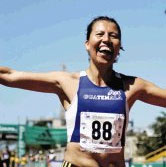 MEN:
1  Javier BARRANTES               CRC  2:43:44
2  Miguel GUERRERO                CRC  2:46:24
3  Kenneth GUTIERREZ              CRC  2:48:22
4  Charles ENGLE                  USA  2:54:20
5  Allan BADILLA                  CRC  2:59:05
6  Evan JIMENEZ                   CRC  3:00:25
7  Esteban JIMENEZ                CRC  3:04:31
8  Mauricio OCAMPO                CRC  3:07:29
9  Lesly MORALES                  CRC  3:08:50
10 Asdrubalk VILCHEZ              CRC  3:09:04

WOMEN:
1  Margertia MARIN                GUA  3:14:55
2  Christina GONZALES             CRC  3:17:03
3  Gerlin RODRIGUEZ               CRC  3:34:38
4  Kattia ROJAS                   CRC  3:44:14  
5  Maria De Carmen VILLEGAS       CRC  3:59:07

HALF MARATHON
MEN:
1  Johnny LORIA                        1:10:46
2  Eric QUIROS                         1:10:59

WOMEN:
1  Delbin CARTAGENA                    1:27:11
2  Zylay CARVAJAL                      1:30:36
2 DECEMBER 2007: ANGKOR WAT INT'L HALF MARATHON, CAMBODIA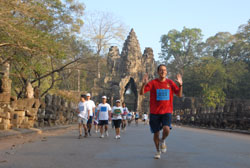 Altogether more than 2300 runners and walkers from 40 countries participated, including 950 foreigners. Apart from men, women and children there were also competition categories for amputees and wheelchair participants over four distances. Another 117 competed in two biking events.
MEN:
1  Tony SEAKINS                   GBR  1:18:58
2  Mok BUNTHOEUN                  CAM  1:22:07
3  Patrick Michel LORENTZ         FRA  1:23:33
4  Nicolas FRUCHART               FRA  1:23:54
5  Thomas SIEGMUND                GER  1:24:04
6  Karsten Uwe LABORN             GER  1:24:14
7  Yosuke MIYAZAKE                JPN  1:24:40
8  Sat SAMOEUN                    CAM  1:24:42
9  Lars Mark CHRISYENSEN          DEN  1:25:00
10 Andrew Jonathan DOUGLAS        AUS  1:25:09
 
WOMEN:
1  Mika KUME                      JPN  1:34:26
2  Leng Leng KOH                  SIN  1:35:20
3  Mami HIROTA                    JPN  1:35:39
4  Patricia Anne SLOAN            IRL  1:37:31
5  Jet Jon SHEPARD                SIN  1:38:26
6  Lesley PERLMAN                 USA  1:39:11
7  Hayley WARDLE                  GBR  1:39:15
8  Anna ODMAN                     SWE  1:39:35
9  Tanya Lee PARKER               NZL  1:41:59
10 Lise HARROW                    DEN  1:43:13
 
10km
MEN:
1  Keang SAMOM                    CAM  33:38
2  Anoy KERVELL                   GBR  34:00
3  Pav PANYELLA                   ESP  35:19
 
WOMEN:
1  Tipawan KAENPINIT              THA  47:05
2  Odile BEIGNOT                  FRA  47:06
3  Heather MCARRAGHER             GBR  48:22
9 DECEMBER 2007: HONOLULU MARATHON, USA
MEN:
1  Ambesse TOLOSA              ETH  2:17:26
2  Jimmy MUINDI                KEN  2:18:53
3  Eric MZIOKI                 KEN  2:21:32
4  Boniface MBUVI              KEN  2:22:59
5  Aleksei ALEKSANDROV         RUS  2:24:36
6  Katsutoshi SAIJO            JPN  2:29:59
7  Satoru HORI                 JPN  2:30:13
8  Atsushi ITO                 JPN  2:31:01
9  Masakazu TAKAHASHI          JPN  2:33:15
10 Tetsuro KATAOKA             JPN  2:33:17

WOMEN:
1  Alevtina BIKTIMIROVA        RUS  2:33:06
2  Akemi-Isige OZAKI           JPN  2:34:21
3  Tatiana PETROVA             RUS  2:35:55
4  Kaori YOSHIDA               JPN  2:43:20
5  Mina OGAWA                  JPN  2:47:31
6  Lisa MIZUTANI               JPN  2:50:53
7  Maiko KAWANO                JPN  2:54:30
8  Yukiko MAKIHARA             JPN  2:58:10
9  Keiko TANAKA                JPN  3:01:15
10 Bree WEE                    JPN  3:03:21
16 DECEMBER 2007: POWERADE MONTERREY MARATHON, MEXICO
Photos: Alan Brookes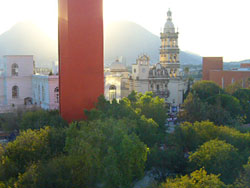 Monterrey is Mexico's third largest city with five million inhabitants writes Alan Brookes. Located in Northeastern Mexico it is surrounded by mountains — "saddle mountain" is the landmark of the city. Parque Chipinque, an area of trails, pine trees and vistas towers 800m over the city below. Macro Plaza, the marathon starting area, stretches the length of the old city centre. Conditions were perfect as a capacity field of 2000 runners took off at 07:30. In a "battle of the sexes" 20 elite women departed 17:52 ahead of the mass field, just as dawn was breaking onto a glorious morning — clear blue skies, a chilly 7°C and no wind.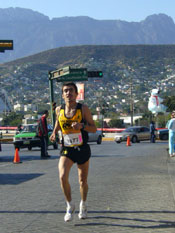 Christopher Torotich, one of a group of Kenyans living and training in Mexico, set a new course record and won one of three absorbing "battles". After a quick start, the men settled down to pass 10km in 31:23, and half-way in 1:07:16. At this point, there was still a large group of 16. Around 30km (1:35:30), former course record holder Christopher Kipyego began to push and the group soon dwindled to three Kenyans, Edilberto Mendez and Hugo Romero—both from Tlaxcala. By 34km Romero and Lazarus Nyakeraka had dropped off, shortly followed by Kipyego, as Mendez pushed the pace.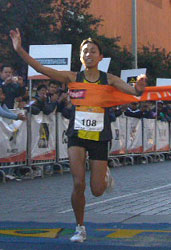 In the women's race, a group of eight reached halfway in 1:18:25, led by Mexican Karina Perez; by 30km (1:50:06) it was just Perez, Kenyan Lucy Muhani, and Angelica Sanchez. Both Perez and Sanchez are from Tlaxcala, setting the stage for the battle of Tlaxcala versus Kenya.
Everything came together dramatically between 38-39km, as first Perez broke clear of Sanchez and Muhani, then Torotich moved away from a valiant Mendez before passing the women to win the battle of the sexes as well.
Toroitich was cheered home by his Mexican wife and child. He is expected to become a Mexican citizen in the near future. Happiest of all, though, were Mendez and Perez, who are also a couple and plan to marry soon. With Mendez's 2nd and Perez's victory, in a new personal best time by almost 2.5 minutes, the happy couple took home a combined 265,000 pesos [approx USD27,500] to Tlaxcala.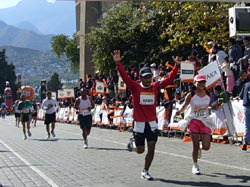 Maraton Powerade Monterrey is an exciting new marathon in its second edition this year under Technical Director Ruben Romero and enjoys excellent funding and organizational and marketing support from ARCA, the Coca Cola bottling conglomerate for Mexico who have taken on the event as a gift to the community where they have their headquarters. In two short years it has become one of Mexico's premier distance events, well organized, with the promise of considerable growth.
MEN:
1  Christopher TOROITICH          KEN  2:13:33
2  Edilberto Hernandez MENDEZ     MEX  2:14:05
3  Christopher CHIPYEGO           KEN  2:15:48
4  Hugo ROMERO MENDEZ             MEX  2:16:18
5  Cornelius LEL KIRWA            KEN  2:16:21
6  Samuel KIPROTICH               KEN  2:16:50
7  Joseph KOECH                   KEN  2:18:30
8  Lazarus NYAKERAKA              KEN  2:18:45
9  Gerardo Morales FERNANDEZ      MEX  2:21:06
10 Miguel Angel Ibarra LOPEZ      MEX  2:21:49

WOMEN:
1  Karina PEREZ                   MEX  2:33:48
2  Lucy MUHAMI                    KEN  2:34:00
3  Viola BOR CHEPLETENG           KEN  2:36:38
4  Patricia Retiz GUTIERREZ       MEX  2:36:40
5  Judith Ramirez HERNANDEZ       MEX  2:36:43
6  Angelica Sanchez IBARRA        MEX  2:37:01
7  Sara Cedillo SANCHEZ           MEX  2:38:23
8  Paula Apolonio JUAREZ          MEX  2:39:53
9  Liliana Merlo FERNANDEZ        MEX  2:49:31
10 Isabel Orellana SANCHEZ        MEX  2:50:03
16 DECEMBER 2007: BSNL BANGALORE INTERNATIONAL MARATHON, INDIA
MEN:
1  Eston NAGYA                    KEN  2:22:32
2  Philip Makau MUIA              KEN  2:25:26
3  Rachid MUTISYA                 KEN  2:31:25
4  Fantaw HUSSEIN                 ETH  2:32:04
5  Muna MAHLI                     IND  2:35:39
6  Kasa Hun GEBREEZHER            ETH  2:47:00
7  Narendra SINGH                 IND  2:47:16
8  RAJA                           IND  2:48:19
9  RAGAHVAN                       IND  3:22:57
10 SOMARAJU                       IND  3:33:05

HALF MARATHON
MEN: 
1  Surender SINGH                 IND  1:04:05
2  HABTESELASSIE                  ETH  1:04:06
3  Santhosh KUMAR                 IND  1:05:02
 
WOMEN:
1  Agnes Katune MUTUNE            KEN  1:11:03
2  Pauline MUTWA                  KEN  1:12:01
3  Kavitha RAUT                   IND  1:14:01
16 DECEMBER 2007: ING TAIPEI INTERNATIONAL MARATHON, CHINESE TAIPEI
MEN:
1  Hilary BETT                    KEN  2:17:09
2  Disdery HOMBO                  TAN  2:17:35
3  Elijah CHEMWOLO                KEN  2:18:03
4  Steven CHEPTOT                 KEN  2:18:38
5  Bethuel NETSHIFHEFHE           ETH  2:22:37
6  Eliap KURGAT                   KEN  2:26:32

WOMEN:
1  Tabitha TSATSA                 ZIM  2:33:01
2  Anne CHELAGAT                  KEN  2:38:19
3  Merima DENBOBA                 ETH  2:49:14
20 DECEMBER 2007: ANTARCTICA ICE MARATHON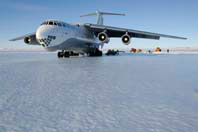 The event was delayed due to adverse weather conditions in Antarctica. Competitors waiting in Punta Arenas since 10 December finally boarded an Ilyushin-76 cargo plane on the morning of 18 December. After a 4.5-hour flight the plane landed safely on the ice at Patriot Hills (80degS).
In favourable weather conditions (-8°C, blue sky and no wind) William Tan set off early in his attempt to become the first person to finish seven marathons on seven continents in a wheelchair. He duly completed in a time of 9:48:52.
The other marathon participants got underway at 07.00 on 20 December, and conditions became extremely difficult only two hours into the race. Although the temperature remained at only -8°C to -10°C throughout, it began to snow and fog descended on the course. Eventually, freezing sleet also confronted the runners. Many found it very difficult just to see the course and 71-year old Henri Girault (FRA) unfortunately had to abandon his goal of running 100km on the seventh continent. The marathon and 100km were run concurrently because of the delayed arrival into the Antarctic, but only two of the ten originally entered for the 100km attempted to run beyond the marathon distance. Marc de Keyser (Belgium) won the marathon in a new record. Christian Schiester (AUT) took the 100km title with Susan Holiday (Great Britain) becoming the first woman ever to complete the distance in Antarctica.
1  Marc DE KEYSER                 BEL  4:42:32
2  Mark SCANLON                   IRL  4:49:13
3  Peter BELL                     IRL  4:52:15
4  Bernardo FONSECA               BRA  5:09:44
5  Raj PATEL                      IND  5:49:10
6  Brent WEIGNER                  USA  6:17:48
7  James HEDDLE                   GBR  7:02:22
7  Fredrik NERBRAND               SWE  7:02:22
7  Neil STANDRING                 GBR  7:02:22
10 Mark ANDRESEN                  USA  7:13:05
10 Adriano SEABRA                 BRA  7:13:05

100km
MEN:
1  Christian SCHIESTER            AUT  19:58:14

WOMEN:
1  Susan HOLLIDAY                 GBR  22:02:15
31 DECEMBER 2007: 83rd SAO SILVESTRE 15km ROAD RACE, BRAZIL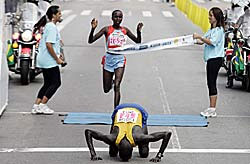 Photos: Djalma Vassao/Gazeta Press
After two years of Brazilian victories three-time champion Robert Cheruiyot won Kenya's 10th victory since the race became international in 1945, to equal the total of Brazilian wins when Franck Caldeira took the title last year. In the women's event Alice Timbilili took Kenya's sixth victory since the race was first run in 1975. That's one more than Brazil but one less than Portugal, for whom Rosa Mota monopolised the event from 1981-1986.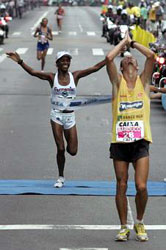 In top shape, Cheruiyot ignored the fierce heat (at race start over 30°C) and dominated from the fifth kilometre. He ran so strongly that he overtook the elite women's field that had started earlier. Alice Timbilili also went ahead of Maria Baldaia after 5km. Baldaia, who has not raced for the past few months, was later overtaken by Marizete Rezende.
MEN:
1  Robert CHERUIYOT               KEN  45:57
2  Patrick IVUTI                  KEN  46:52
3  Anoe dos Santos DIAS           BRA  47:06
4  Jacinto LOPEZ                  COL  47:23
5  Marildo Josť BARDUCO           BRA  47:36

WOMEN:
1  Alice TIMBILILI                KEN  53:07
2  Marizete REZENDE               BRA  53:36
3  Maria Zeferina BALDAIA         BRA  54:43
4  Edielza Alves DOS SANTOS       BRA  54:52
5  Marily DOS SANTOS              BRA  55:03
December 2007