March 2016
6 MAR | 12 MAR | 13 MAR | 18 MAR | 20 MAR | 26 MAR
6 MARCH 2016: ASTA 10km INT'L DE CASABLANCA, MOROCCO
MEN:
1  Hassan EL ABBASSI              BRN  27:26
2  Morris Munene GACHAGA          KEN  27:27
3  Mohamed ZIANI                  MAR  27:28
4  Amos Kiprono KAPTICH           KEN  27:28
5  Fathi ABDENASIR                MAR  27:35
6  Ahmed TAMRI                    MAR  27:54
7  Zakaria BOUDAD                 MAR  28:03
8  Hassan TORISS                  MAR  28:18
9  Abdelilah CHERKAOUI            MAR  28:22
10 Hailemariyam AMARE             ETH  28:26
 
WOMEN:
1  Paskalia KIPKOECH              KEN  31:14
2  Buzunesh GUDETA                ETH  31:21
3  Merah BAHTA                    SWE  31:26
4  Hajiba EL HASSNAOUI            MAR  31:27
5  Souad AIT SALEM                ALG  31:53
6  Keltoum BOUASRIYA              MAR  32:07
7  Soud KANBOUCHIA                MAR  32:14
8  Soltana AIT HAMOU              MAR  33:11
9  Laila FILA                     MAR  33:22
10 Salima CHARKI                  MAR  33:23
6 MARCH 2016: LAKE BIWA MAINICHI INT'L MARATHON, JAPAN
MEN (ONLY):
1  Lucas ROTICH                   KEN  2:09:11
2  Hisanori KITAJIMA              JPN  2:09:16
3  Alphonce Felix SIMBU           TAN  2:09:19
4  Suehiro ISHIKAWA               JPN  2:09:25  
5  Takuya FUKATSU                 JPN  2:09:31 
6  Fumihiro MARUYAMA              JPN  2:09:39 
7  Yuki KAWAUCHI                  JPN  2:11:53
8  Kentaro NAKAMOTO               JPN  2:12:06
9  Hiroto INOUE                   JPN  2:12:56
10 Soji IKEDA                     JPN  2:13:27
6 MARCH 2016: LAKE MAGGIORE MARATHON, ITALY
MEN:
1  Abeyneh Degu TSEHAY            ETH  1:01:43
2  Emmanuel Kibet KICHWEN         KEN  1:02:28 
3  Nicolas Mulinge MAKAU          KEN  1:02:29 
4  Evans Kiprotich KOSKEI         KEN  1:02:57 
5  Feyera Gemeda DADI             ETH  1:03:51 
6  Patrick KIPNGENO               KEN  1:04:05 
7  Tolossa CHENGERE               ETH  1:04:32 
8  Nigussie Abebe TESFAW          ETH  1:05:12 
9  Vasyl MATVIYCHUK               UKR  1:06:17 
10 Rolando PIANA                  ITA  1:09:30 
 
WOMEN:
1  Hellen Nzembi MUSYOKA          KEN  1:13:04 
2  Helen Bekele TOLA              ETH  1:15:37 
3  Alice GAGGI                    ITA  1:15:54 
4  Divina JEPKOSGEI               KEN  1:18:00 
5  Joanna BOURKE MARTIGNONI       ITA  1:22:53 
6  Francesca MARIN                ITA  1:24:00 
7  Melissa RAGONESI               ITA  1:25:21 
8  Lorenza DI GREGORIO            ITA  1:25:38 
9  Paola DORO                     ITA  1:30:42
10 Rosy RULLO                     ITA  1:31:37
6 MARCH 2016: LALA MARATHON, MEXICO
Photos: Inge Johnson / Canada Running Series
It was hot, dry, and dusty in the high desert of La Lagunera for the 28th edition writes Alan Brookes. It was already 18°C when the elite women started at 06:40. The men followed 10 minutes later, then another 5000 runners (a record 28% women) from every state in Mexico and across Latin America. This year's race sold out within a month — the cap being determined by the number of hotel rooms in Torreón, Gomez Palacio and Lerdo — the three small industrial cities at the hub of "La Lagunera".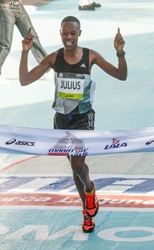 Hillary Kimaiyo, who in 2011 ran 2:08:17 on the course to establish Lala as the fastest marathon in all of Latin America, sped through the first kilometre in a hasty 2:51. After a toilet stop at 20k (64:11) the eight-strong chase group consumed him. They passed halfway in 67:40 and 30km in 1:36:41. Julius Keter then began to push the pace and Peru's Miguel Mallma was the only one brave enough to go with him. Behind them it looked like a battle for third until Mallma dropped out and Colombia's Andres Ruiz, who was racing for Colombia's Rio standard of 2:19:00, started to chase. Then a relatively unknown Mexican Javier Vega began to passed what remained of the pack, plus Ruiz, and just fell short of catching Keter before the finish line under "Grito de Triumfo" — a spectacular archway created by architect Mario Talamas Murra in 2013 for the 25th anniversary..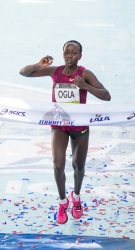 In the women's race 42 year-old Dulce Maria Rodriguez battled heavy pre-race favourite Ogla Kimaiyo (KEN) for 28km before settling for 2nd. Dulce Maria was Lala champion in 2005 when she set the course record of 2:29:00. Kimaiyo had a comfortable victory but there was still great celebration at the Mexican's performance and Master's victory.
Maraton Lala is renowned for its marvellous support and engagement of the local community, that is at the heart of "La Fiesta Lagunera". Last October the race received a "Social Award" from AIMS for its contributions to the community through its "Corre con Causa" programme.
MEN:
1  Julius KETER                   KEN  2:17:19
2  Javier VEGA                    MEX  2:17:23
3  Andres RUIZ                    COL  2:17:41
4  Sergio PEDRAZA                 MEX  2:18:05
5  Daniel VARGAS                  MEX  2:18:20
 
WOMEN:
1  Ogla KIMAIYO                   KEN  2:36:59
2  Dulce Maria RODRIGUEZ          MEX  2:42:05
3  Anabel MARTINEZ                MEX  2:44:42
4  Patricia Mojica GONZALEZ       COL  2:48:39
5  Angelica SANCHEZ               MEX  2:49:13
6 MARCH 2016: NAFPLIO MARATHON, GREECE
MEN:
1  Konstantinos PAPANASTASIOU     GRE  2:43:18
2  Georgios CHATZIGIANNIS         GRE  2:44:44
3  Dimitrios VOGIATZIS            GRE  2:47:35
4  Georgios VLACHOS               GRE  2:50:48
5  Dimitrios KOUTSOUMPIDIS        GRE  2:55:30
6  Konstantinos THEODORAKOPOULOS  GRE  2:57:22
7  Marios MICHOPOULOS             GRE  2:57:23
8  Panagiotis GIAMEOS             GRE  2:58:13
9  Nikolao MPOURAS                GRE  3:01:21
10 Georgios GKORNAROS             GRE  3:02:24
 
WOMEN:
1  Eugenia MPOULMETI              GRE  3:27:13
2  Maria KANAKI                   GRE  3:37:14
3  Stavroula MPAKA                GRE  3:41:35
4  Mata KLISARI                   GRE  3:50:34
5  Karen HILL-MERCURIADI          GBR  3:56:34
6  Anni KOURASI                   GRE  3:56:58
7  Eleni EXERTZOGLOU              GRE  3:57:24
8  Ioanna STAI                    GRE  4:01:09
9  Maria TSIROU                   GRE  4:04:29
10 Konstantina GRIGORIOU          GRE  4:04:49
 
HALF MARATHON
MEN:
1  Konstantinos GKELAOUZOS        GRE  1:08:01
2  Lampros MALTEZOS               GRE  1:10:33
3  Alexios PASPATIS               GRE  1:14:42
 
WOMEN:
1  Ntenez DIMAKI                  GRE  1:23:29
2  Ioulia-Eleni PANAGIOTOPOULOU   GRE  1:30:38
3  Eleni SARIDAKI                 GRE  1:31:07
6 MARCH 2016: RUNTOLYA MARATHON, TURKEY
MEN:
1  Ercan ARSLAN                   TUR  2:27:08
2  Mehmet AYDINGÖR                TUR  2:40:02
3  Ahmet BAYRAM                   TUR  2:40:15 
4  Getaye GELAW                   ETH  2:40:28
5  Murat KAYA                     TUR  2:44:59
6  Muharrem YILMAZ                GER  2:46:05
7  Mahmut YAVUZ                   TUR  2:49:34
8  Ibrahim KIRMAÇ                 TUR  2:53:10
9  Fatih BUZGAN                   TUR  2:53:18
10 Salih DURSUN                   TUR  2:56:56
 
WOMEN:
1  Svetlana SHEPELEVA             MLD  3:06:18
2  Natalia GYURTEN                RUS  3:16:31
3  Asli SERTÇELIK                 TUR  3:25:15
4  Ümran DEMIR                    GER  3:32:28
5  Sirin Mine KILIÇ               TUR  3:53:15
6  Aylin ÇELIK                    TUR  3:52:28
7  Eva Maria FIRAT                AUS  3:10:19
8  Seyhan CIVANLAR                TUR  4:15:00 
9  Sema BULDANLIOGLU              TUR  4:15:55
10 Meral YASA                     TUR  4:20:31
 
HALF MARATHON
MEN:
1  Fetene Alemu REGASA            ETH  1:06:38
2  Üzeyir SÖYLEMEZ                TUR  1:08:26
3  Kefyalew Deja BURISE           ETY  1:09:49
 
WOMEN:
1  Nursel YILDIZ                  TUR  1:23:23
2  Nevin SAHIN                    TUR  1:32:43
3  Özlem ALHAN                    TUR  1:39:07
6 MARCH 2016: SIHANOUKVILLE INT'L HAKLF MARATHON, CAMBODIA
MEN:
1  Viro MA                        CAM  1:17:45
2  Brendon THOMAS                 USA  1:24:26
3  Josiah KANGAS                  USA  1:35:38
4  Hiroshi AKE                    JPN  1:37:37
5  Yuki HAMADA                    JPN  1:41:08
6  Chiv Cheng SHEN                TPE  1:41:26
7  Juanjo MORENTE                 ESP  1:44:01
8  Kotaro KAZAMI                  JPN  1:44:16
9  Philip COURTNAGE               GBR  1:44:32
10 Jonathan VENET                 FRA  1:45:48
 
WOMEN:
1  Veronique MESSINA              FRA  1:38:50
2  Hillary SNYDER                 USA  1:47:35
3  Sara BAWDEN                    USA  1:47:38
4  Toshinori SATO                 JPN  1:54:59
5  Charline LAPOINTE              CAN  2:04:16
6  Vanessa BYWATER                NZL  2:04:38
7  Rebcca WATTS                   AUS  2:08:20
8  Emma ROBERTSON                 AUS  2:12:16
9  Saki SAITO                     JPN  2:12:18
10 Ayu SEKIOKA                    JPN  2:16:05
6 MARCH 2016: TREVISO MARATHON, ITALY
MEN:
1  Semereab GEBREKIDAN            ERI  2:17:32 
2  Samuel GOITOM HADGU            ERI  2:17:32
3  Mohamed HAJJY                  MAR  2:17:46
4  Giovanni GUALDI                ITA  2:20:39
5  Raoul JANKOWSKI                GER  2:38:52
6  Stefan MAIR                    ITA  2:38:54
7  Alberto FIERAMOSCA             ITA  2:39:00
8  Francesco PALATELLA            ITA  2:40:14
9  Davide SCARABELLI              ITA  2:40:47
10 Leonardo DE TONI               ITA  2:43:27 
 
WOMEN:
1  Marija VRAJIC                  CRO  2:40:41 
2  Simona STAICU                  HUN  2:43:06
3  Jasmina ILIJAS                 CRO  2:51:25
4  Anna ZILIO                     ITA  2:58:14 
5  Federica POESINI               ITA  3:02:33
6  Alessia BRAGATO                ITA  3:12:14
7  Wainer FERRARI                 ITA  3:16:10
8  Elisa MARTINATO                ITA  3:16:51
9  DALLA TORRE                    ITA  3:18:46
10 Manuela REBUZZI                ITA  3:20:29
12–13 MARCH 2016: 17th ANTARCTICA MARATHON
The sold-out field of 183 participants from 22 countries tackled the brutally hilly courses that transverse the rudimentary gravel roads and connect three research bases on King George Island in the South Shetland Islands. The races are held over two consecutive days to abide by an Antarctic environmental restriction of allowing a maximum 100 visitors on shore in any single landing area. Each day's results are combined to determine the overall and age group winners.
Volatile conditions prevailed on both days. Winds were mild to the start and the temperature around 0°C but conditions worsened with 50km/hour winds dropping the wind chill down below -15°C. On the second day there was intermittent snow at the start and winds climbed to 80km/hour. For the safety of runners and crew, the maximum finish time was limited to under 5½ hours. Running in the first wave, Maxime Bondue won by three minutes from marathon debutant Reid Noch. Despite the difficult conditions on the second day Sharon Ryder dominated the women's field to finish sixth overall and set an unofficial course record.
MEN:
1  Maxime BONDUE                  FRA  3:15:24
2  Reid NOCH                      USA  3:18:16
3  Barry MURPHY                   IRL  3:32:30
4  Cowan MOORE                    USA  3:35:32
5  Boris SERKIS                   ISR  3:36:58
6  Cedric CLEMERSON               GBR  3:38:26
7  Piotr SMOLENSKI                POL  3:46:06
8  Kevin HANNA                    USA  3:57:09
9  Rory MADDEN                    IRL  4:05:19
10 Jan CHMURA                     POL  4:06:42
 
WOMEN:
1  Sharon RYDER                   AUS  3:38:03
2  Lynda COYE                     USA  4:27:41
3  Julie REDDAN                   USA  4:31:11
4  Alyssa YELL                    USA  4:35:12
5  Martha DUNN-MCCUE              USA  4:39:49
6  Stephanie JURIVICH             GBR  4:43:22
7  Donna BOOTS                    USA  4:44:55
8  Lucy CROFT                     USA  4:51:35
9  Leonie STANDER                 RSA  4:58:07
10 Sonja VIJOEN                   RSA  4:58:07
 
HALF MARATHON
MEN:
1  Robert BOYD                    RSA  2:15:03
2  Pierre DE MEERLEER             BEL  2:28:26
3  Gren SLOANE                    CAN  2:34:18
 
WOMEN:
1  Suzanne MCKEEN                 AUS  1:53:57
2  Eleanor CUMISKEY               CAN  2:11:51
3  Judy MARCELLO                  USA  2:17:22
12 MARCH 2016: ROCK N ROLL DC MARATHON, UNITED STATES
MEN:
1  Alfredo AREVALO REYES               2:30:04
2  Steve CHU                           2:34:09
3  Dirian BONILLA                      2:37:25
4  Raul LOPEZ                          2:42:14
5  Travis HAWKINS                      2:43:23
6  Chris JETTON                        2:44:38
7  Amos DESJARDINS                     2:45:22
8  Aaron SCHWARTZBARD                  2:45:34
9  Daven OSKVIG                        2:46:35
10 Tyler BURKE                         2:51:56
 
WOMEN:
1  Martha NELSON                       2:58:02
2  Lori NEDESCU                        2:59:55
3  Katie MORAN                         3:04:33
4  Tami CHRISTENSEN                    3:04:59
5  Kara LIGHTOWLER                     3:08:54
6  Angela HARTMAN                      3:09:13
7  Darcy MCDONALD                      3:10:40
8  Lisa WONNEBERG                      3:14:25
9  Kathryn FANNING                     3:15:19
10 Julianna MILLER                     3:15:53
 
HALF MARATHON
MEN:
1  Mizael CARRERA                      1:06:16
2  Andrew BRODEUR                      1:07:52
3  Carlos JAMIESON                     1:07:53
 
WOMEN:
1  Bethany SACHTLEBEN                  1:19:43
2  Kerry ALLEN                         1:20:07
3  Hannah ECKSTEIN                     1:19:24
13 MARCH 2016: ZURICH MARATO DE BARCELONA, SPAIN
Valerie Aiyabei produced a solo run almost from the gun to set a Spanish women's all-comers' best writes Emeterio Valiente. She covered the first half in 1:13:01 and then steadily increased her pace over the next 13km, passing 35km in 2:00:05 before crossing the line almost five minutes faster than she had ever run and over five minutes ahead. Pre-race favourite and 2015 winner Aynalem Kassahun never challenged and had to settle for a distant second.
Hampered by strong headwind the men's race started more slowly than expected. There were no fewer than eight pacemakers with the group which reached halfway in 1:04:20. Shortly after 30km Dino Sefir and Albert Korir moved ahead and Sefir made his winning break with about 4km to go, easily pulling away from Korir. 16,899 runners completed the marathon.
MEN:
1  Dino SEFIR                     ETH  2:09:31
2  Albert KORIR                   KEN  2:10:08
3  Jafred Chirchir KIPCHUMBA      KEN  2:10:23
4  Eliud TARUS                    KEN  2:11:19
5  Abdi FUFA                      ETH  2:11:22
6  Dominic KANGOR                 KEN  2:11:43
7  Andrew KIMTAI                  KEN  2:12:21
8  Elicky Kipchoge MASE           KEN  2:12:25
9  Pius KIROP                     KEN  2:12:58
10 Moses TOO                      KEN  2:14:13
                                 
WOMEN:                           
1  Valary Jemeli AIYABEI          KEN  2:25:26
2  Aynalem KASSAHUN               ETH  2:30:51
3  Moyu MEGERSA                   ETH  2:32:07
4  Marisa Casanueva CABRERO       ESP  2:34:57
5  Esther Wanjiru MACHARIA        KEN  2:37:36
6  Nyakisi ADERO                  UGA  2:42:58
7  Lone BALLING                   DEN  2:45:22
8  Yolanda CASTILLEJO             ESP  2:51:14
9  Åsa LUNDIN                     SWE  2:51:29
10 Sofia MATTIASSON               SWE  2:51:59
18 MARCH 2016: JERUSALEM MARATHON, ISRAEL
MEN:
1  Shadrack KIPKOGEI              KEN  2:16:33
2  Ronald Kimeli KURGAT           KEN  2:16:35
3  Mourice Mutinda MUSYOKI        KEN  2:21:10
4  Gideon Kipkurui KIPSANG        KEN  2:21:38
5  William BIAMA                  KEN  2:23:50
6  Giorgio CALCATERRA             ITA  2:42:20
                              
WOMEN:                        
1  Joan Jepchirchir KIGEN         KEN  2:38:24
2  Alemtsehay Mesfin DEMSE        ETH  2:44:44
3  Sarah Kerubo KEBASO            KEN  2:50:30
                              
HALF MARATHON                 
MEN:                          
1  Paul KIRAGU                    KEN  1:07:39
2  Gaspar CSERE                   HUN  1:08:50
3  Solomon MENGISTU               ETH  1:11:53
                              
WOMEN:                        
1  Margaret NJUNGA                KEN  1:18:00
2  Wilkister OMBAGI               KEN  1:20:21
We've been informed that the marathon was approximately 450m short and the Half Marathon was 350m short
20 MARCH 2016: PZU GDINYA HALF MARATHON, POLAND
MEN:
1  Hillary KIMAIYO                KEN  1:02:41 
2  Gabriel Gerald GEAY            TAN  1:02:52
3  Abel KIRUI                     KEN  1:02:56
4  Wycliffe Kipkorir BIWOT        KEN  1:03:51
5  Taye Damte KUASHU              ETH  1:05:23
6  Blazej BRZEZINSKI              POL  1:05:30
7  Valdas DOPOLSKAS               LTU  1:07:26
8  Kamil JASTRZEBSKI              POL  1:07:49
9  Daniel FORMELA                 POL  1:08:35
10 Lukasz GURFINKIEL              POL  1:09:35
 
WOMEN:
1  Agnes CHEBET                   KEN  1:13:16
2  Christine Moran OIGO           KEN  1:13:38
3  Vaida ZUSINAITE                LTU  1:16:25
4  Svitlana STANKO                UKR  1:16:29
5  Aleksandra LISOWSKA            POL  1:17:03
6  Monika KACZMAREK               POL  1:18:58
7  Monika ROLBIECKA               POL  1:22:25
8  Andzelika DZIEGIEL             POL  1:24:36
9  Aleksandra JEDRZEJEWSKA        POL  1:25:14
10 Gosiumia PAZDA-POZORSKA        POL  1:25:47
20 MARCH 2016: EDP LISBON HALF MARATHON, PORTUGAL
Sammy Kitwara won in a world leading time after John Maina paced the group through 10km in 28:10. Leonard Komon was clear from the others but in the final kilometres he slowed dramatically to finish fifth.
The women's race was really challenging, with the first five women running together for the first half before Sara Moreira dropped back. Eunice Chumba also became outpaced but Ethiopia's Ruti Aga and Wude Ayalew along with Linet Masai all went through 20km in 1:05:50. Aga proved strongest but Ayalew's performance was something of a return to form.
In the wheelchair races David Weir (GBR) recorded a world record 42:23 minutes over a minute clear of the rest while Rochelle Woods did likewise (49:49) but was pushed to the line by Jade Jones.
MEN:
1  Sammy KITWARA                  KEN    59:47
2  Keneth Kiprop KIPKEMOI         KEN  1:00:05
3  Paul Lonyangata                KEN  1:00:11
4  Emmanuel KIPSANG               KEN  1:00:14
5  Leonard KOMON                  KEN  1:01:30
6  Moses KIBET                    UGA  1:01:37
7  Stephen ARITA                  KEN  1:01:48
8  Emmanuel BETT                  KEN  1:02:37
9  Goitomn KIFLE                  ERI  1:02:39
10 Ayele BETESFA                  ETH  1:02:48
 
WOMEN:
1  Ruti AGA                       ETH  1:09:16
2  Wude AYALEW                    ETH  1:09:23
3  Linet MASAI                    KEN  1:09:33
4  Eunice CHUMBA                  BRN  1:09:55
5  Sara MOREIRA                   POR  1:10:17
6  Clemence CALVIN                FRA  1:11:17
7  Jelena PROKOPCUKA              LTU  1:11:44
8  Dominika NAPIERAJ              POL  1:12:07
9  Beata NAIGAMBO                 NAM  1:12:44
10 Fatna MARAOUI                  ITA  1:13:52
20 MARCH 2016: SEOUL INT'L MARATHON, KOREA
Kenya's Wilson Loyanae delivered on his promise to improve his own course record at the 87th Seoul International Marathon and take his third victory in the race. He surged with 10km to go and was never headed. Former world record holder Patrick Makau dropped out of the race at around 10km.
MEN:
1  Wilson LOYANAE                 KEN  2:05:13
2  Evans CHEBET                   KEN  2:05:33
3  Mike Kigen                     KEN  2:06:10
4  Tadesse ABRAHAM                SUI  2:06:40
                                 
WOMEN:                           
1  Rose CHELIMO                   KEN  2:24:14
2  Melkaw GIZAW                   ETH  2:24:28
3  Agnes JERUTO                   KEN  2:24:59
20 MARCH 2016: NEW TAIPEI CITY WAN JIN SHI MARATHON, CHINESE TAIPEI
MEN:
1  William Chebon CHEBOR          KEN  2:13:05
2  Yuki KAWAUCHI                  JPN  2:14:12
3  Julius Ndiritu KARINGA         KEN  2:14:52
4  Belay Mamo ABADOYO             ETH  2:14:55
5  Getu Nigussie DEMIE            ETH  2:18:35
6  Olexandr BABARYKA              UKR  2:18:36
7  Ahmed NASEF                    ITA  2:22:14
8  Youssef SBAAI                  MAR  2:22:40
9  Samuel Kalya KIPNGETICH        KEN  2:23:37
10 James Maregu MUNYI             KEN  2:24:34
 
WOMEN:
1  Olha KOTOVSKA                  UKR  2:36:38
2  Bentu Shiferaw WODAJO          ETH  2:38:11
3  Meseret Godana AGAMA           ETH  2:38:14
4  Abiyot ESHETU DEME             ETH  2:39:26
5  Hellen Wanjiku MUGO            KEN  2:40:14
6  Olha KALENDAROVA-OCHAL         POL  2:45:36 
7  Monica Watetu NDIRITU          KEN  2:47:52
8  Dorcas Jebotip TARUS           KEN  2:58:02
9  Chihiro TANAKA                 JPN  2:58:53
10 Jane FARDELL                   AUS  2:59:23
26 MARCH 2016: OLD MUTUAL TWO OCEANS MARATHON 56km, SOUTH AFRICA
Mike Fokoroni raced to a comfortable finish, outpacing fellow countryman and club mate Collen Makaza with defending champion Motlokoa Nkhabutlane third. "I was just holding back" said Fokoroni "[but] at 45km I saw victory could be mine if I tried." Defending champion Carol Wostman maintained a comfortable distance from race leader Tanith Maxwell but took the lead in the final kilometres of the race.
Fokoroni's OMTOM finish was the slowest in 22 years. Wöstmann noted that the absence of the Russian athletes (still banned from international participation) contributed to a slower race overall.
SA-born Colleen de Reuck travelled from the USA to make her Ultra Marathon debut and finished 5th in 3:53:07 which smashed the 50-60 year age group record by over 20 minutes. She also recorded a new word record for her age group by reaching 50km in 3:27:28. The previous 50km record in the 50-54 age category was 3:41:57, set in 1994.
Mokaedi Dilotsotlhe, Chief Marketing Officer at Old Mutual paid tribute to Chet Sainsbury who passed away a few weeks ago: "If it was not for him, Old Mutual would not have been a part of this outstanding event. We salute you Chet."
MEN:
1  Mike FOKORONI                  ZIM  3:13:33
2  Collen MAKAZA                  ZIM  3:14:45
3  Motlokoa Nkhabutlane           LES  3:16:22
 
WOMEN:
1  Caroline WOSTMANN              RSA  3:44:44
2  Tanith MAXWELL                 RSA  3:45:55
3  Amelework FIKADU               ETH  3:47:40
 
HALF MARATHON
MEN:
1  Namakoe NKHASI                 RSA  1:03:38
2  Elroy GELANT                   RSA  1:03:40
3  David MANJA                    RSA  1:03:45
 
WOMEN:
1   Irvette VAN ZYL               RSA  1:13:14
2   Onneile DINTWE                BOT  1:17:15
3   Alina ARMAS                   NAM  1:18:05
26 MARCH 2016: CARDIFF UNIVERSITY WORLD HALF MARAHTON CHAMPIONSHIP, GREAT BRITAIN
Kenya repeated their 2014 medal sweep in the women's race and the same two Ethiopians who trailed the Kenyans then — Netsanet Gudeta and Genet Yalew — again finished behind them in Cardiff writes John Mulkeen.
All five Kenyans — Pascalia Kipkoech, Cynthia Limo, Mary Wacera, Peres Jepchirchir and Gladys Chesire — were part of a large lead group of 14 athletes to go through 5km in 16:31. By 10km, reached in 32:34, the lead group had been halved as Gudeta and Yalew were the only athletes keeping the Kenyan quintet company.
The third 5km section, covered in 15:40, was the quickest of the race but Kipkoech was the only athlete to drop away from the leading pack. The group began to disintegrate soon after as Chesir drifted back, followed by Yalew. Gudeta had the sole responsibility of disrupting a potential Kenyan sweep, but the Ethiopian had to surrender after an hour of running as she too lost contact with the leaders.
Wacera began to fade at about 20km, leaving Limo and Jepchirchir to battle it out. Limo opened up a few metres on her compatriot with just a couple of minutes left to run. But Jepchirchir closed the gap and then kicked for home as she negotiated the last turn with the finish gantry in sight.
Limo, the world leader, had to settle for second. Kenyan and Ethiopian women filled the top eight places while Peru's Gladys Tejeda set a South American record of 1:10:14 in ninth place.
For the sixth time in the past eight editions, Kenya took team gold. Ethiopia, team winners in the past two Olympic years, was second this time round. And for the ninth successive edition, Japan took team bronze.
Geoffrey Kamworor's title defence began before he had even crossed the start-line writes Stephen Mills. Starting in a fairly narrow funnel which had become slick in the rain Kamworor lost his footing and hit the floor but despite scraping his knees got up and gave chase.
Led by Bedan Karoki the group passed through 5km in 14:10. Karoki's pace dropped home favourite Mo Farah, who was making his debut at these championships, shortly before 10km (27:59).
Kamworor and Karoki ran the second half side-by-side. As Farah slipped 120m behind the two leaders. Ethiopia's Tamirat Tola — the last remaining challenger — was dropped as the Kenyan pair covered the next 5km in 13:41.
Already poor conditions — blustery wind and occasional rain — suddenly worsened in the final few kilometres with a strong wind and horizontal rain buffeting the runners.
Kamworor defied the elements and with 2km remaining made a long run for home to open up a gap of eight seconds on Karoki through 20km in 56:05. He came through to retain his title only two seconds slower than the time he had run in considerably more favourable circumstance in Copenhagen. "It was really tough after that fall to catch up but I fought hard," said Kamworor.
There was an almighty scrap for the bronze medal. Farah moved into contention but still had early leader Abayneh Ayele on his tail with the finish line in view.
Kenyan regained the team title ahead of Ethiopia. A weakened Eritrean team took third place with Great Britain less than a minute behind them.
MEN:
1  Geoffrey Kipsang KAMWOROR      KEN    59:10
2  Bedan Karoki MUCHIRI           KEN    59:36
3  Mohamed FARAH                  GBR    59:59
4  Abayneh AYELE                  ETH    59:59
5  Tamirat TOLA                   ETH  1:00:06
6  Simon CHEPROT                  KEN  1:00:12
7  Abrar OSMAN                    ERI  1:00:58
8  Mule WASIHUN                   ETH  1:01:11
9  Edwin Kiprop KIPTOO            KEN  1:01:21  
10 Stephen MOKOKA                 RSA  1:01:27
 
TEAMS:
1  Kenya                               2:58:58
2  Ethiopia                            3:01:16
3  Eritrea                             3:06:18
4  Great Britain & N.I.                3:07:00
5  Japan                               3:12:11
 
WOMEN:
1  Peres JECHIRCHIR               KEN  1:07:31    
2  Cynthia Jerotich LIMO          KEN  1:07:34    
3  Mary Wacera NGUGI              KEN  1:07:54    
4  Netsanet GUDETA                ETH  1:08:01
5  Genet YALEW                    ETH  1:08:15    
6  Gladys Chesir KIPTAGELAI       KEN  1:08:46    
7  Pascalia Chepkorir KIPKOECH    KEN  1:09:44
8  Dehininet DEMSEW               ETH  1:10:13
9  Gladys TEJEDA                  PER  1:10:14
10 Yuka ANDO                      JPN  1:10:34
 
TEAMS:
1  Kenya                               3:22:59
2  Ethiopia                            3:26:29
3  Japan                               3:32:25
4  Australia                           3:32:48
5  United States                       3:34:26
March 2016