March 2015
1 MAR | 8 MAR | 9 MAR | 14 MAR | 15 MAR | 20 MAR | 22 MAR | 28 MAR | 29 MAR
1 MARCH 2015: LAKE BIWA MARATHON, JAPAN
MEN (ONLY):
1  Samuel NDUNGA                  KEN  2:09:08
2  Daniele MEUCCI                 ITA  2:11:10
3  Ser-od BAT-OCHIR               MGL  2:11:18
4  Kazuhiro MAEDA                 JPN  2:11:46
5  Takuya NOGUCHI                 JPN  2:12:29
6  Eric NDIEMA                    KEN  2:13:28
7  Bazu WORKU                     ETH  2:13:32
8  Rui YONEZAWA                   JPN  2:14:13
9  Satoru SASAKI                  JPN  2:14:27
10 Kenji HIGASINO                 JPN  2:14:48
1 MARCH 2015: KILIMANJARO MARATHON, TANZANIA
MEN:
1  David RUTO                     KEN  2:15:35
2  Bernard KIMAIYO                KEN  2:15:46
3  Alex BARTILOL                  KEN  2:16:03
4  George NGURE                   KEN  2:16:14
5  Douglas CHEBII                 KEN  2:16:18
6  Pascal MOMBO                   TAN  2:16:23
7  David KILIMO                   KEN  2:16:54
8  Lawrence ROTICH                KEN  2:18:04
9  Mathew KOSGEI                  KEN  2:18:32
10 Sigifrid NGOLLY                TAN  2:18:40

WOMEN:
1  Fabiola WILLIAM                TAN  2:50:53
2  Rosaline DAVID                 KEN  2:51:41
3  Joan CHEROP                    KEN  2:51:46
4  Dorice TODOPUS                 KEN  2:54:19
5  Naomi JEPNGETICH               KEN  2:57:02
6  Sarah MAIYO                    KEN  2:57:58
7  Gladys CHERUIYOT               KEN  3:01:11
8  Susan KOSGEI                   KEN  3:04:35
9  Evlitter TANUI                 KEN  3:04:27
10 Esther MUTUKU                  KEN  3:07:46

HALF MARATHON
MEN:
1  Ismael JUMA                    TAN  1:03:06
2  Emanuel CHUMBA                 TAN  1:03:16
3  Joseph THEOFIL                 TAN  1:03:25

WOMEN:
1  Grace KIMANZI                  TAN  1:12:36
2  Eunice CHUMBA                  KEN  1:12:52
3  Vicoty CHEPKEMOI               KEN  1:14:36
1 MARCH 2015: LALA MARATHON, MEXICO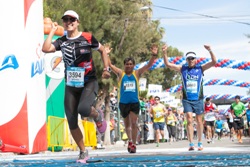 Kenya's Erik Mose, the 2013 Los Angeles Marathon champion, won a thrilling sprint to the line over Ecuador's Byron Piedra to win by just one second in 2:14:38 writes Alan Brookes. Ethiopian Misiker Dimissie had a five-minute margin of victory in the women's race.
Times were not the swiftest at "Latin America's Fastest Marathon" [2:08:17 in 2011] but the 27th edition had a new participation record of 5000 (sold out in January), and 26% (over 1300) were women, a new record. In 1989 only four women ran. Famous for its festivities, "La Fiesta Lagunera" also had a record of 52 cheering stations along the course, to "animate" the great crowds of spectators. Runners were drawn from a record 11 countries, and filled every hotel room in Torreon, this high-desert, industrial city in Northern Mexico, where the dairy conglomerate Grupo Lala has its home.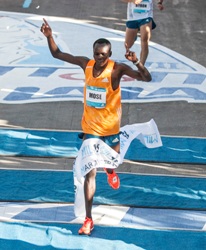 The women started at 6:45 and the men at 7:00 from in front of the Grupo Lala complex as dawn broke (12°C, no wind). A large pack of 20 runners started steadily and passed 10km in 32:02. From there five started to separate themselves: Mose, fellow Kenyan Nixon Kiplagat, Piedra, and Mexicans Alejandro Suarez and Pedro Espinoza. They passed halfway in 67:32. The Kenyans then began to test the group; they ran 3:00 for the 28th kilometre and only Piedra could stay with them. Kiplagat dropped off after 31km, setting the stage for the "duel in the sun" between Mose and Piedra as the desert sun climbed high and the thermometer to 17°C. The two entered the final straight alongside the Bosque Venustiano Carranza side by side and the outcome was only decided in the last few strides.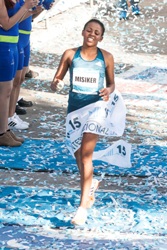 The drama in the women's race was early on: strong race favourite Shewarge Amare took off, chasing the course record of 2:29:00. But the winner of last year's Mexico City Marathon began to fade after 15km and was caught by Dimissie at 17km. She dropped out soon after complaining of respiratory difficulties. Dimissie cruised home fully five minutes ahead of local favourite, Dulce Maria Rodruigez. Now 42 years old, Dulce Maria is the Lala course record holder, a mark she set in 2005 in an illustrious career that has seen her represent Mexico in 3 Olympic Games and 3 World Championships. On Saturday she was presented with the award of "Grand Marshall of Maraton Lala 2015" in an emotional return to competition after struggles with depression.
MEN:
1  Erik MOSE                      KEN  2:14:38
2  Byron PIEDRA                   ECU  2:14:39
3  Nixon KIPLAGAT                 KEN  2:16:48
4  Alejandro SUAREZ               MEX  2:17:21
5  Pedro ESPINOZA                 MEX  2:19:34

WOMEN
1  Misiker DEMISSIE               ETH  2:37:28
2  Dulce Maria RODRIGUEZ          MEX  2:42:37
3  Caroline KIPTOO                KEN  2:42:45
4  Yuliana NAVARRO                MEX  2:44:36
5  Truphena JEMELI                KEN  2:49:47
1 MARCH 2015: RUNATOLIA MARATHON, TURKEY
MEN:
1  Shaban MUSTAFA                 BUL  2:32:28
2  Ramazan ISMEL                  TUR  2:36:47
3  Murat KAYA                     TUR  2:37:55
4  Muharrem YILMAZ                TUR  2:45:57
5  Yucel AYDIN                    TUR  2:49:17
6  Mehmet AYDINGOR                TUR  2:53:02
7  Ali SEVINNC                    TUR  2:54:51
8  Ali TURAN                      TUR  2:55:06
9  Fatih BUZGAN                   TUR  2:55:10
10 Nejat CETIN                    TUR  2:56:50

WOMEN:
1  Olesya NURGALIEVA              RUS  2:46:34
2  Elena NURGALIEVA               RUS  2:50:31
3  Anna GAVRIUK                   RUS  2:52:32
4  Svetala SEPELEVA               MDA  3:04:43     
5  Natalya GYURTEN                RUS  3:27:28
6  Babette GEER                   USA  3:30:06
7  Aysegul SENTURK                TUR  3:45:13
8  Carole MULLER                  GER  3:54:25
9  Aylin SAVACI ARMADOR           TUR  3:56:39
10 Dana RICHTER                   GER  4:00:33

HALF MARATHON
MEN:
1  Fetene Alemu REGASA            ETH  1:07:02
2  Murat ORAK                     TUR  1:09:04
3  Ahmet ARSLAN                   TUR  1:09:15

WOMEN:
1  Senem ESER                     TUR  1:14:21
2  Elif TOZLU                     TUR  1:22:07
3  Nursel YILDIZ                  TUR  1:23:01
1 MARCH 2015: TREVISO MARATHON, ITALY
MEN:
1  Stefano LA ROSA                ITA  2:12:05
2  Lahcen MOKRAJI                 MAR  2:20:23
3  Hamid MOHAMMENDNUR             ERI  2:21:05
4  Massimiliano STRAPPATO         ITA  2:28:33
5  Vincenzo PUCCIO                ITA  2:29:11
6  Ando OITSPUU                   EST  2:31:29
7  Herman ACHMEULLER              ITA  2:33:27
8  Marco BOFFO                    ITA  2:34:44
9  Goran MURIC                    CRO  2:34:45
10 Alessandro RAITI               ITA  2:35:02

WOMEN:
1  Laura GIORDANO                 ITA  2:39:29
2  Claudia GELSOMINO              ITA  2:47:04
3  Elina JUNNILA                  FIN  2:48:59
4  Marija VRAJIC                  CRO  2:52:24
5  Nikolina SUSTIC                CRO  2:53:00
6  Sara CREMONESE                 ITA  2:55:54
7  Jasmina ILIJAS                 CRO  2:56:24
8  Sara CARDUCCI                  ITA  2:56:56
9  Monica CARLIN                  ITA  2:59:09
10 Ilaria GURINI                  ITA  3:01:35
1 MARCH 2015: WORLD BEST 10km, PUERTO RICO
Sammy Kitwara took his fifth title while Belaynesh Oljira captured Ethiopia's first victory in four years in the 18th edition writes Javier Clavelo Robinson. Facing one of the strongest winds in the history of the race Kitwara posted the slowest winning time since the race turned international in 2000.
The lead group of 15 men started slowly, passing 3km in 9:07, a minute slower than course record pace. 12 men reached half way in 14:50. The race began in earnest after 7km, and four Kenyans — Kitwara, John Mwangangi, Stephen Sambu and Julius Kogo hit the frontalong with Uganda's Moses Kipsiro. In the final kilometre, Kitwara and Mwangangi ran side by side until 100m to go when Kitwara's kick proved decisive.
A group of 11 women at 3km reduced to four with 2km to go: Oljira, Cynthia Limo and Betsy Saina of Kenya as well as Ethiopia's 2011 winner Sentayehu Ejigu. Ejigu dropped back soon after and Limo launched an attack. Oljira responded in the final stretch to nip Limo, whose consolation was a personal best. Competing on the road for the first time since becoming a mother last October, four-time world champion and three-time World Best 10km winner Vivian Cheruiyot lost contact with the leaders after the first third and finished eighth, 15 seconds behind defending champion Mary Wacera.
Of 10,500 starters, close to 10,000 of them finished the race.
MEN:
1  Sammy KITWARA                  KEN  28:51
2  John MWANGANGI                 KEN  28:52
3  Stephen SAMBU                  KEN  28:56
4  Julius KOGO                    KEN  28:56
5  Moses KIPSIRO                  UGA  29:06
6  Ben TRUE                       USA  29:19
7  Paul TANUI                     KEN  29:22
8  Donn CABRAL                    USA  29:22
9  Yenew ALINEREW                 ETH  29:24
10 Leonard KORIR                  KEN  29:36

WOMEN:
1  Belaynesh OLJIRA               ETH  31:57
2  Cynthia LIMO                   KEN  31:58
3  Betsy SAINA                    KEN  32:07
4  Sentayehu Ejigu                ETH  32:26
5  Gemma STEEL                    GBR  32:52
6  Wude AYALEW                    ETH  32:59
7  Mary WACERA                    KEN  33:08
8  Vivian CHERUIYOT               KEN  33:23
9  Beverley RAMOS                 PUR  33:50
10 Risper GEBSAWA                 KEN  34:02
8 MARCH 2015: 261 WOMEN'S MARATHON, PALMA DE MALLORCA, SPAIN
WOMEN (ONLY):
1  Daniela CIRLAN                 ROU  2:51:08
2  Noelia MORA                    ESP  3:20:54
3  Marta JIMENEZ                  ESP  3:20:54
4  Katarzyna ZBIKOWSKA-JUSIS      POL  3:28:14
5  Kirsten STAAS                  GER  3:31:17
6  Sunny CALITZ-PATEL                  3:33:35
7  Karolina CHIEBOSZ              POL  3:33:51
8  Charlie BRADBURN               USA  3:35:55
9  Miriam SANTOS JIMENEZ          ESP  3:40:12
10 Marianne ADALSTEINSSON-SCHILLING    3:43:16

10km:
1  Vanessa Viega COMESANA         ESP  36:34
2  Laura BENGURIA                 ESP  37:29
3  Marga FULLANA                  ESP  37:56
8 MARCH 2015: ASTA 10km INT'L DE TAROUDANT, MOROCCO
MEN:
1  Amos KIPLIMO                   KEN  28:02
2  Ahmed TAMRI                    MAR  28:06
3  Leule GEBRSELASSIE             ETH  28:15
4  Salah Eddine BOUNASSER         MAR  28:15
5  Zakaria BOUDAD                 MAR  28:27
6  Amos KIPRONO                   KEN  28:33
7  Youssef KAMALI                 MAR  28:35
8  Joel MOHALE                    RSA  28:37
9  Abdellah TAGHARRAFET           MAR  28:42
10 Hicham BELLANI                 MAR  28:55

WOMEN:
1  Malika ASSAHSAH                MAR  31:30
2  Hiwot GEBREKIDAN               ETH  32:22
3  Teresiah KWAMBOKA              KEN  33:00
4  Noelene KONRAD                 RSA  33:20
5  Claudia PEREIRA                POR  34:20
6  Yemenu TEWABECH                ETH  34:36
7  Hayat BENHENIA                 MAR  36:07
8  Hassena EZAHI                  MAR  36:19
9  Sana ACHAHBAR                  MAR  36:57
10 Fatima Zahra BENTHAMI          MAR  38:57
8 MARCH 2015: NAGOYA INT'L WOMEN'S MARATHON, JAPAN
Surging away from Mariya Konovalova and Sairi Maeda after 31km, Eunice Jepkirui Kirwa of Bahrain won in the fastest time yet recorded in the event writes Ken Nakamura. The course was changed in 2010 when the race went from being an elite-only to a mass-participation event, but Kirwa's winning time was faster than the previous course record of 2:22:19, recorded 15 years ago by 2000 Olympic champion Naoko Takahashi. It was Kirwa's second-fastest performance and her fourth consecutive win.
Mariya Konovalova (40) broke the over-40 best, surpassing Irina Mikitenko's 2:24:54 at the 2013 Berlin Marathon. Her previous PB was 2:22:46. Top Japanese woman Sairi Maeda was running just the second marathon of her career and improved her personal best by nearly four minutes, moving to eighth on the national all-time list with the fastest performance by a Japanese woman since 2007.
Maeda collided with Rei Ohara at the 15km water station and bruised her left knee, but she got up and quickly caught up with the lead pack. When Kirwa surged ahead at 31km, Maeda was left behind. She slowed and her next two 5km segments took more than 17 minutes, but she kept the deceleration to a minimum. The 23-year-old saved a bit of speed for the end, though, and covered the final 2195m in 7:17, the fastest for that segment among the top finishers. Her 52-year-old mother Junko Maeda ran in the mass race.
The pace makers did a good job of keeping the race fast by covering the first 5km in 16:49, the second 5km in 16:43, the third 5km in 16:59 and the fourth 5km in 16:58. The early lead group of 20 was reduced to about 11 runners by 15km, where Ohara and Maeda collided. Five runners — Kirwa, Konovalova, Maeda, Mai Ito and Ohara — passed the half marathon point in 1:11:08, and anticipation for a fast time started to build. After the pacemakers left the race at 30km, only Kirwa, Konovalova and Maeda were in the lead pack. Then at the turn-around point at 31km, Kirwa made her move.
WOMEN (ONLY):
1  Eunice Jepkirui KIRWA          BRN  2:22:08
2  Mariya KONOVALOVA              RUS  2:22:27
3  Sairi MAEDA                    JPN  2:22:48
4  Mai ITO                        JPN  2:24:42
5  Risa TAKENAKA                  JPN  2:28:09
6  Keiko NOGAMI                   JPN  2:28:19
7  Anna INCERTI                   ITA  2:29:10
8  Reia IWADE                     JPN  2:29:16
9  Olena BURKOVSKA                UKR  2:29:45
10 Eri HAYAKAWA                   JPN  2:30:21
8 MARCH 2015: SEMI MARATHON DE PARIS, FRANCE
MEN:
1  Vincent YATOR                  KEN  1:00:12
2  Mark KORIR                     KEN  1:00:48
3  Abrha ASEFA                    ETH  1:01:06
4  Hassan CHAHDI                  MAR  1:01:38
5  Timothy KIPTOO                 KEN  1:01:41
6  Edwin KIPTOO                   KEN  1:01:59
7  Abdellatif MEFTAH              MAR  1:02:53
8  Denis MAYAUD                   FRA  1:03:01
9  Yohan DURAND                   FRA  1:03:46
10 Matthew HYNES                  GBR  1:03:54

WOMEN:
1  Yebrgual MELESE                ETH  1:09:50
2  Afera GODFAY                   ETH  1:10:04
3  Bekelech BEDADA                ETH  1:10:09
4  Sarah CHEPCHIRCHIR             KEN  1:11:40
5  Karine PASQUIER                FRA  1:13:27
6  Laurane PICOCHE                FRA  1:13:43
7  Corinne HERBRETEAU             FRA  1:15:40
8  Ludivine LACROIX               FRA  1:16:13
9  Elodie NAVARRO                 FRA  1:17:02
10 Lindsay HODGE                  GBR  1:18:08
8 MARCH 2015: SIHANOUKVILLE INT'L HALF MARATHON, CAMBODIA
MEN:
1  Ma VIRO                        CAM  1:19:04
2  Phan SIOPHEAK                  CAM  1:30:51
3  Hiroshi AKE                    JPN  1:37:37
4  Henri HEIKURA                  FIN  1:43:10
5  Dima ASTAKHOV                  RUS  1:45:05

WOMEN:
1  Kylie-Ann RICHARDS             AUS  1:47:44
2  Lois WOODWARD                  GBR  1:52:33
3  Adeline MILLS                  GBR  2:00:39
4  Violette POUGET                FRA  2:01:20
5  Eri Lee KOIKE                  JPN  2:01:55

10.5km
MEN:
1  Keang SAMORN                   CAM    39:20
2  Kang THOERN                    CAM    40:59
3  Chea SAMPHORS                  CAM    43:15

WOMEN:
1  Heng Meng CHU                  CAM    50:10
2  Cherie MCGONAGLE               AUS  1:04:19
3  Rebecca DEVITT                 GBR  1:06:45
9–10 MARCH 2015: 16th ANTARCTICA MARATHON AND HALF
The sold-out field of 188 participants from 20 countries braved the brutally hilly courses on rudimentary gravel roads that connect the research bases of Uruguay, Chile, China and Russia on King George Island. Eighteen research base personnel from Chile, Russia and China also took part. The races are held on consecutive days to observe an environmental restriction of no more than 100 visitors on shore in any single landing area. Results from both days are combined to determine the winners and overall place.
The first race followed a summertime snowstorm the day before. Rising temperatures melted the 10cm of snow and turned the race into a muddy obstacle course that included navigating around glacial streams. Runners on the second day faced much colder temperatures than the 4°C the day before. Wind gusted up to 50km/hour.
In the second race Andrew Morris broke away from a pack of five runners after 15km and held on to win: "In the last two miles it got really cold" said Morris. "I had to stop running 800m from the finish to put my jacket on." Debra Patskowski. Also racing on the second day, was startled by a fur seal during her run but won the women's division.
29 runners met their goal of running a marathon or half-marathon on all seven continents and were inducted into the Seven Continents ClubT during the post-race awards ceremony at an outdoor barbecue.
Runners depart from Ushuaia in Argentina, on the Akademik loffe or Akademik Vavilov, Russian ice-classed ships, for a two-day crossing of the Drake Passage,that connects the southwestern part of the Atlantic Ocean with the southeastern part of the Pacific Ocean and presents some of the roughest sea weather in the world. The entire expedition spans 14 days.
MEN:
1  Andrew MORRIS                  USA  3:27:02
2  Andrew BRETT                   USA  3:29:49
3  Daniel OCONNOR                 USA  3:45:01

WOMEN:
1  Debra PATKOWSKI                USA  3:57:20
2  Erin MACNABB                   USA  4:06:49
3  Lindsay WIESE                  USA  4:25:37

HALF MARATHON:
MEN:
1  Paul WHITE                     CAN  1:37:45

WOMEN:
1  Helen IBBOTSON                 RSA  1:54:11
13 MARCH 2015: JERUSALEM WINNER MARATHON, ISRAEL
MEN:
1  Tadesse YAE                    ETH  2:18:20
2  Raymond BETT                   KEN  2:18:27
3  John MUTAI                     KEN  2:18:31
4  Patrick Muchira MURIUKI        KEN  2:18:45
5  Sammy Kipkorir KIBET           KEN  2:20:08
6  Ronald Kimeli KURGAT           KEN  2:22:29
7  Ernest Kiprugut KEBENEI        KEN  2:25:25
8  Modibe Ludwick MAMABOLA        RSA  2:35:39
9  Frederic RUBEERTI              ITA  2:37:14
10 Seth FISCHER                   ISR  2:53:23
                                  
WOMEN:                            
1  Joan Jepchirchir KIGEN         KEN  2:45:55
2  Tigist WORKU                   ETH  2:46:52
3  Senbet GELANE                  ETH  2:49:09
4  Katerina KARMANENKO            UKR  2:58:46
5  Tigist MEMUYE                  ETH  3:05:43
6  Elisa BETTINI                  ITA  3:28:57
7  Anna PRAIS                          3:32:10
                                  
HALF MARATHON                     
MEN:                              
1  Naile GEBRE                    ETH  1:09:54
                                  
WOMEN:                             
1  Kalkidan BALCHA                ETH  1:24:13
14 MARCH 2015: ROCK 'N' ROLL DC MARATHON, USA
MEN:
1  Patrick MOULTON                USA  2:32:54
2  Mynor LOPEZ                    USA  2:34:25
3  James BEYER                    USA  2:37:31
4  Daven OSKVIG                   USA  2:38:05
5  Esteban MUNERA                 USA  2:39:43
6  Paul JACOBS                    USA  2:40:41
7  Chad KOSANOVICH                USA  2:44:30
8  Michael WARDIAN                USA  2:45:35
9  Kunihiko HAYASHI               USA  2:47:29
10 Chris JETTON                   USA  2:47:52
                                  
WOMEN:                            
1  Martha NELSON                  USA  2:55:31
2  Rebecca BADER                  USA  2:55:53
3  Louise HANNALLAH               USA  3:02:05
4  Elizabeth CONLON               USA  3:02:15
5  Katie WALTER                   USA  3:03:22
6  Melissa DIVECCHIA              USA  3:07:53
7  Kathryn MORALES                USA  3:11:57
8  Ritanne OBRIEN                 USA  3:12:49
9  Jennifer LUCCHESE              USA  3:12:54
10 Linda DESMEULES                USA  3:12:56
                                  
HALF MARATHON                     
MEN:                              
1  Carlos JAMIESON                USA  1:07:43
2  Andrew BRODEUR                 USA  1:08:50
3  Kevin HOYT                     USA  1:08:53
                                  
WOMEN:                            
1  Hirut Beyene GUANGAL           ETH  1:15:54
2  Rachel SCHNEIDER               USA  1:16:24
3  Tina MUIR                      USA  1:17:12
15 MARCH 2015: NAFPLIO MARATHON, GREECE
MEN:
1  Maciek MIERECZKO               POL  2:40:55
2  Konstantinos PAPANASTASIOU     GRE  2:47:55
3  Georgios VLACHOS               GRE  2:48:24
4  Leonidas ATHANASOPOULOS        GRE  2:51:02
5  Yannis MARAGKOS                GRE  2:51:58
6  Stamatis ROMAS                 GRE  2:53:25
7  Ioannis POLYMENIS              GRE  2:58:04
8  Christos SAMERAS               GRE  2:58:11
9  Isidoris PLAVOUKOS             GRE  2:58:34
10 Kostas KARAKOSTAS              GRE  3:01:53

WOMEN:
1  Chara SKOULARIKI               GRE  3:29:50
2  Dimitra VOGIATZI               GRE  3:35:15
3  Antzela TERZI                  GRE  3:37:17
4  Viki KARPOUZA                  GRE  3:38:39
5  Eleni ORFANOUDAKI              GRE  3:38:59
6  Stamatia KLISARI               GRE  3:50:20
7  Theodora ANASTASIADI           GRE  3:50:27
8  Vanessa KOUSTA                 GRE  3:52:31
9  Zinia KANELIDOU                GRE  3:56:45
10 Pamela WAUTERS                 USA  3:57:16

HALF MARATHON
MEN:
1  Christoforos MEROUSIS          GRE  1:08:50
2  Antonios PAPADIMITRIOU         GRE  1:10:30
3  Kostas GKEKLAOUZIS             GRE  1:10:42

WOMEN:
1  Nteniz DIMAKI                  GRE  1:20:42
2  Magda GAZEA                    GRE  1:21:52
3  Carly KILLAM                   USA  1:29:06
15 MARCH 2015: SEOUL INT'L MARATHON, KOREA
Wilson Loyanae posted the event's second fastest ever winning time writes Phil Minshull. The fastest time 2:05:37 was also run by Loyanae, three years ago. Felix Kipchirchir Kiprotich finished strongly to take second in a new personal best.
After passing halfway 1:02:57 Loyanae pushed on after 30km to splinter the pack with a 14:18 split from 30–35km. Jacob Kibet trailed by 15 seconds, and was caught by Kiprotich at 39km. Passing through 40km in 1:59:36 a new course record still seemed a possibility but it gradually slipped from Loyana's grasp as he recorded a slightly weary 6:35 for the final 2195m. In 10th, Switzerland's Abraham Tadesse fell over four minutes short of beating Viktor Rothlin's national record.
Pre-race women's favourite Guteni Shone could not get close to her 2:23:32 personal best but she finished almost two minutes clear. Local Seong-Eun Kim, who had finished fourth in this race for the past three years, finally made the podium in runner-up spot.
This year was the 71st edition of an event which was first run in 1931 over 14.5 miles and, despite several interruptions due to World War II and the Korean War, is the third oldest road race in Asia surpassed only by two Japanese Ekiden (Marathon relay) races.
MEN:
1  Wilson LOYANAE                 KEN  2:06:11
2  Felix Kipchirchir KIPROTICH    KEN  2:06:59
3  Jacob KIBET                    KEN  2:07:47
4  Dadi Yami GEMEDA               ETH  2:08:05
5  Abreham CHERKOS                ETH  2:08:14
6  Yakob JARSO                    ETH  2:09:38

WOMEN: 
1  Guteni SHONE                   ETH  2:26:22
2  Seong Eun KIM                  KOR  2:28:20
3  Xueqin WANG                    CHN  2:28:39
4  Yue CHAO                       CHN  2:29:26
5  Chaltu Chimdesa KUMSA          ETH  2:30:28
6  Megumi AMAKO                   JPN  2:34:28
15 MARCH 2015: ZURICH MARATO DE BARCELONA, SPAIN
MEN:
1  Philip Cheruiyot KANGOGO       KEN  2:08:16
2  Bekana Daba TOLESA             ETH  2:09:41
3  Abdela GODANA                  ETH  2:11:37
4  Moses TOO                      KEN  2:12:00
5  Carles Castillejo SALVADOR     ESP  2:12:03
6  Samuel RUTTO                   KEN  2:13:14
7  Lawrence KIMAYO                KEN  2:14:27
8  Devara DUGUMO                  ALG  2:17:11
9  Teferi Bacha REGASA            ETH  2:17:48
10 Pablo GARDIOL                  URU  2:22:01

WOMEN:
1  Aynalem KASSAHUN               ETH  2:28:18
2  Mula DIRO                      ETH  2:29:10
3  Belaynesh SHIFERA              ETH  2:31:08
4  Teresa Pulido FERNANDEZ        ESP  2:44:53
5  Julie BENNETT                  AUS  2:46:23
6  Degitu Jebesa TOLOSA           ETH  2:48:25
20 MARCH 2015: NOVI SAD HALF MARATHON, SERBIA
MEN:
1  Goran UKIC                     SRB  1:11:36	
2  Sebastjan PUS                  SLO  1:12:13
3  Ognjen STOJANOVIC              SRB  1:12:58
4  Ivan MISKELIJN                 SRB  1:13:31
5  Aleksandar KIRADIEV            MKD  1:14:01	
6  Zan TOSEY                      MKD  1:14:19
7  Milos GASOVIC                  SRB  1:15:03
8  Marko RANKOVIC                 SRB  1:15:23
9  Nenad MILOSAVLJEVIC            SRB  1:16:19
10 Blazo MAKSIMOVIC               SRB  1:18:12

WOMEN:
1  Klara LJUBI                    SLO  1:23:35	
2  Radmila DUROVIC                SRB  1:28:09
3  Vesna KIRADIEVA                MKD  1:28:29	
4  Nevena JOVANOVIC               SRB  1:29:50  
5  Milana GAVRILOV                SRB  1:30:54	
6  Maja SAVIC                     SRB  1:31:24
7  Kristina BELE                  SL0  1:34:53
8  Biljana VLACIC                 SRB  1:37:13
9  Ivana PETROVIC                 SRB  1:37:34	
10 Duska MATIN                    SRB  1:39:07
22 MARCH 2015: DIACORE GABORONE MARATHON, BOTSWANA
MEN:
1  Gilbert MUTANDIRO              ZIM  2:17:34
2  Hosea FRANS                    NAM  2:22:02
3  Simon SHIPINGANA               NAM  2:22:29
4  Aron TYIVAMBI                  NAM  2:25:53
5  Iiyambo PAULUA                 NAM  2:26:35
6  Embashu PINEHAS                NAM  2:38:46
7  Moses SOTHI                    BOT  2:40:15

WOMEN:
1  Anna AMITOKO                   NAM  2:50:23
2  Aimwata OTTILE                 NAM  2:51:40
3  Faithy NYASANGO                ZIM  2:55:14
22 MARCH 2015: EDP MEIA MARATONA DE LISBOA, PORTUGAL
MEN:
1  Mo FARAH                       GBR    59:32
2  Micah KOGO                     KEN    59:33
3  Stephen KIBET                  KEN    59:58
4  Guye ADOLA                     ETH  1:00:45
5  Edwin KIPYEGO                  KEN  1:01:48
6  Kevin KOCHEI                   KEN  1:01:56
7  Sahlesilassie NIGUSSIE         ETH  1:02:10
8  Aschealew Nigussie MEKETA      ETH  1:02:16
9  Silas KIPRUTO                  KEN  1:03:19
10 Ezekiel CHEPKOROM              UGA  1:03:30

WOMEN:
1  Rose CHELIMO                   KEN  1:08:22
2  Sara MOREIRA                   POR  1:09:18
3  Priscah JEPTOO                 KEN  1:09:21
4  Purity Jerotich RIONORIPO      KEN  1:10:24
5  Ana Dulce FELIX                POR  1:10:27
6  Doris CHANGEYWO                KEN  1:11:54
7  Koren JELELA                   ETH  1:11:55
8  Worknesh EDESA                 ETH  1:12:00
9  Poline WANJIKU                 KEN  1:12:09
10 Jane KIPTOO                    KEN  1:12:55
22 MARCH 2015: MARATONA DI ROMA, ITALY
MEN:
1  Abebe Degewo NEGEFA            ETH  2:12:23
2  Birhanu Addis ACHAME           ETH  2:12:32
3  Jamel CHATBI                   ITA  2:14:04
4  Dadi Feyera GEMEDA             ETH  2:15:05
5  Ruggero PERTILE                ITA  2:15:40
6  Weldon KORIR                   KEN  2:22:18
7  Netakibeb TEKESTE              ETH  2:25:58
8  Michael KALOMIRIS              GRE  2:29:30
9  Giorgio CALCATERRA             ITA  2:34:26
10 Domenico LIBERATORE            ITA  2:34:31

WOMEN:
1  Meseret TOLWALK                ETH  2:30:25
2  Alem Fikre KIFLE               ETH  2:31:01
3  Deborah TONIOLO                ITA  2:36:30
4  Annelie JOHASSON               SWE  2:40:05
5  Anastasia KUSHNERENKO          RUS  2:40:23
6  Irina SMOLNIKOVA               KZK  2:43:06
7  Jane FARDELL                   AUS  2:45:07
8  Maurizia CUNICO                ITA  2:52:39
9  Renate VRANKEN                 NED  2:55:31
10 Silvia LUNA                    ITA  2:57:15
22 MARCH 2015: STANDARD CHARTERED STANLEY MARATHON, FALKLAND ISLANDS
MEN:
1  Tim DREW                       GBR  2:35:39
2  Matthew BLUNDEN                GBR  2:37:43
3  Stuart SMITH                   GBR  3:04:15
4  Matthew KRECZAK                GBR  3:07:46
5  Brendon LEE                    RSA  3:08:11
6  Richard SHORT                  GBR  3:08:13
7  Martin COLLINS                 GBR  3:14:07
8  Aaron DURHAM                   GBR  3:14:57
9  Matthew ASTON                  GBR  3:17:57
10 Marco DE BERNARDIS             ARG  3:18:34

WOMEN:
1  Carrie-Ann WARD                GBR  3:39:54
2  Cheryl OROURKE                 GBR  4:01:57
3  Sarah SMYTH                    GBR  4:16:06
22 MARCH 2015: NEW TAIPEI CITY WAN JIN SHI MARATHON, CHINESE TAIPEI
MEN:
1  Eliud Kiplagat BARNGETUNY      KEN  2:13:14
2  Josphat KIptanui TOO           KEN  2:15:51
3  KIPNGETICH                     KEN  2:18:30
4  Andre SAMBU                    KEN  2:21:45
5  Tesfaye Beyene DADI            ETH  2:22:37
6  Hosea KOGEI                    KEN  2:23:08
7  Eshetu Wendimu TSIGE           KEN  2:23:40
8  Etsu MIYATA                    JPN  2:26:35
9  Ahmed NASEF                    ITA  2:27:54
10 Debesay TSIGE                  ETH  2:28:06

WOMEN:
1  Gladys                         KEN  2:39:32
2  Tigist Teshome AYANU           ETH  2:41:31
3  Ruth Wanjiru KURIA             KEN  2:42:18
4  Rose Chepkurui KOSGEI          KEN  2:48:09
5  Almaz Negede FEKADE            ETH  2:51:22
6  Eliana PATELLI                 ITA  2:52:36
7  Lucia KIMANI                   BIH  2:58:07
8  Ya-Fen CHEN                    TPE  3:08:32
9  Yuhsin LIN                     TPE  3:09:34
10 Aregu Lechisa AWAKI            ETH  3:09:47
28 MARCH 2015: PRAGUE HALF MARATHON, CZECH REPUBLIC
MEN:
1  Daniel WANJIRU                 KEN    59:51
2  Wilfred MURGOR                 KEN    59:57
3  Leonard KOMON                  KEN    59:57
4  Nicholas BOR                   KEN  1:00:09
5  Adugna TAKELE                  ETH  1:00:26
6  Amanuel MESEL                  ERI  1:00:26
7  Teshome MEKONEN                ETH  1:00:27
8  Geoffrey RONOH                 KEN  1:00:28
9  Felix KANDIE                   KEN  1:00:42
10 Bernard BETT                   KEN  1:00:43

WOMEN:
1  Worknesh DEGEFA                ETH  1:07:14
2  Yebrqual MELESE                ETH  1:08:21
3  Diane NUKURI                   BDI  1:09:33
4  Viola JELEGAT                  KEN  1:09:42
5  Afera GODFAY                   ETH  1:09:51
6  Lucy KABUU                     KEN  1:10:25
7  Lisa NEMEC                     CRO  1:10:39
8  Lineth CHEPKIRUI               KEN  1:12:08
9  Janet RONO                     KEN  1:12:43
10 Mame FEYISA                    ETH  1:12:56
29 MARCH 2015: VATTENFALL BERLIN HALF MARATHON, GERMANY
MEN:
1  Birhanu LEGESSE                ETH    59:45
2  David KOGEI                    KEN    59:46
3  Abraham CHEROBEN               ETH    59:49
4  Richard MENGICH                KEN    59:59
5  Abraham KIPYATICH              KEN  1:00:03
6  Fentahun HUNEGNAW              ETH  1:00:10
7  Kenneth KIPKEMBOI              KEN  1:00:17
8  Emmanuel NGATUNY               KEN  1:00:58

WOMEN:
1  Cynthia KOSGEI                 KEN  1:10:52
2  Elizeba CHERONO                KEN  1:10:56
3  Isabellah ANDERSSON            SWE  1:11:31
4  Anita BAIERL                   AUT  1:13:23
5  Esther HIDALGO                 ESP  1:14:13
6  Maria MCCAMBRIDGE              IRE  1:14:25
7  Frida LUNDEN                   SWE  1:15:21 
8  Melina TRANKLE                 GER  1:15:34
29 MARCH 2015: CSOB BRATISLAVA MARATHON, SLOVAKIA
MEN:
1  Joel MWANGI                    KEN  2:18:22
2  Iasaac CHESINY                 KEN  2:27:55
3  CHEPKWONY                      KEN  2:28:10
4  Evgeniy GLIVA                  UKR  2:28:31
5  Ivan BUBNOV                    RUS  2:29:44
6  Szabolcs BEDA                  HUN  2:30:03
7  Gabor NEMETH                   HUN  2:31:04
8  Gergely DELI                   HUN  2:33:54
9  Michal KOVAR                   CZE  2:38:24
10 HORVATH                        HUN  2:40:26

WOMEN:
1  Alice KIBOR                    KEN  2:42:55
2  Tunde SZABO                    HUN  2:44:37
3  Marija VRAJIC                  CRO  2:57:32
4  Eva VARGA                      HUN  3:05:49
5  LAPINOVA                       SVK  3:10:12
6  SZABO                          HUN  3:11:13
7  Csilla NAGY                    HUN  3:15:08
8  Lada ZELEZNA                   CZE  3:23:12
9  TESOVICOVA                     SVK  3:27:43
10 PAULINYOVA                     SVK  3:28:36

HALF MARATHON
MEN:
1  Edwin KIPKORIR                 KEN  1:03:10
2  Dickson KURUI                  KEN  1:03:17 
3  Robert KIRUI                   KEN  1:03:19

WOMEN:
1`  Aniko KALOVICS                HUN  1:17:28
2  Jane Wanja NGANGA              KEN  1:17:43
3  Zita KACSER                    HUN  1:21:30
29 MARCH 2015: LIMASSOL MARATHON, CYPRUS
MEN:
1  Ahmet Kassahun JEBEL           CYP  2:46:05
2  Michael KEENAN                 GBR  2:51:04
3  Karavaslis VLASSIS             GRE  2:57:17
4  Clark BRENTON                  GBR  2:57:44
5  Ilya MAZHUKHIN                 RUS  3:02:39
6  Constantinos CONSTANTINIDES    CYP  3:05:08
7  Mikel KAAS                     DEN  3:05:48
8  Panagitis STYLIANOU            CYP  3:07:19
9  Andreas EFSTATIOU              CYP  3:07:37
10 Christopher LEAHY              GBR  3:07:53

WOMEN:
1  Caroline JACKSON               GBR  3:21:16
2  Ioylia KANNAVA                 CYP  3:38:58
3  Georgia LALIOTI                GRE  3:43:21
4  Jennifer CHANG                 GBR  3:47:33
5  Chrissie MCMULLEN              GBR  3:49:35
6  Diamantia PAPANIKOLOPOLOU      CYP  3:49:49
7  Sylvia CONSTANTINIDOU          CYP  3:51:13
8  Pola XATZIPAPA                 CYP  3:54:56
9  Ulrike PRASS                   GER  3:59:01
10 Debbie TAI                     HON  4:04:56

HALF MARATHON
MEN:
1  Andrey BRUYUKHANKOV            RUS  1:09:34
2  Danil SAPUNOV                  UKR  1:10:29
3  Denis KORABLEV                 RUS  1:12:08

WOMEN:
1  Hanna MAKSIMAVA                BLR  1:25:15
2  Dagmara HANDZLIK               CYP  1:26:16
3  Emily HUTCHINSON               CYP  1:26:53
29 MARCH 2015: ASICS MEDIO MARATON DE MADRID, SPAIN
MEN:
1  Alex CHEROP                    KEN  1:02:28
2  Elijah SEREM                   KEN  1:02:30
3  Muhajr Haredin SRAJ            ETH  1:03:17
4  Kidane Tadase HABTESILASE      ETH  1:04:07
5  Dawit Fikadu ADMASU            ETH  1:04:31
6  Alejandro FERNANDEZ            ESP  1:04:36
7  Segundo Oswaldo JAMI           ECU  1:05:38
8  Hassan AHOUCHAR                MAR  1:05:47
9  Antonio NUNEZ                  ESP  1:06:01
10 Youness Ait HADI               MAR  1:06:18

WOMEN:
1  Linah CHERUTO                  KEN  1:10:43
2  Bizunesh Getachew GUDETA       ETH  1:12:07
3  Zeddy Jerop LIMO               KEN  1:15:28
4  Rehima Serro HUSSEN                 1:15:43
5  Leonor Do Carmoda COSTA        POR  1:17:15
6  Monixca Raquel LOPEZ DA SILVA  POR  1:17:46
7  Marisol Madera DURAN           ESP  1:18:06
8  Esther Ramos MARTINEZ          ESP  1:21:30
9  Cristina Blazquez VILLACASTIN  ESP  1:23:13
10 Griselda GONZAKLES SANTILLO    ESP  1:24:23
29 MARCH 2015: NOVI SAD HALF MARATHON, SERBIA
MEN:
1  Goran UKIC                     SRB  1:11:36
2  Sebastjan PUS                  SLO  1:12:13
3  Ognjen STOJANOVIC              SRB  1:12:58
4  Ivan MISKELIJN                 SRB  1:13:31
5  Aleksandar KIRADIEV            MKD  1:14:01
6  Zan TOSEV                      MKD  1:14:19
7  Milos GASOVIC                  SRB  1:15:03
8  Marko RANKOVIC                 SRB  1:15:23
9  Nenad MILOSAVLJEVIC            SRB  1:16:17
10 Blazo MAKSIMOVIC               SRB  1:18:12

WOMEN:
1  Klara LJUBI                    SLO  1:23:35
2  Radmila DUROVIC                SRB  1:28:09
3  Vesna KIRADIEVA                MKD  1:28:29
4  Nevena JOVANOVIC               SRB  1:29:50
5  Milana GAVRILOV                SRB  1:30:54
6  Maja SAVIC                     SRB  1:31:24
7  Kristina BELE                  SLO  1:34:53
8  Biljana VLACIC                 SRB  1:37:13
9  Ivana PETROVIC                 SRB  1:37:34  
10 Duska MATIN                    SRB  1:39:07
March 2015